FastDates.com March 2005
BEST VIEWED with Browser Preferences/Fonts settings on 12 pt Size or Smaller
Superbike, MotoGP Racing & Calendar Girl News
Official Calendar of the SBK World Superbike Championship
Home of the official SBK Fast Dates & Team Ducati Corse Umbrella Girls

Help send a less fortunate, deserving model to summer camp, buy World Superbike girl Chandi's calendar here.

The Usual Suspects line up for the official MotoGP 2005 Rider Group shot. In an ironic turnaround in just one year, the large MotoGP line from the past 3 years is now down to just 21 riders, while last season's floundering SBK World Superbike Championship is back strong, and along with British Superbike is up to a full 40 rider grid..
IRTA MotoGP test Barcelona, Spain

Gibernau on top on final day of IRTA MotoGP test at Barcelona
Barcelona, Spain March 18-20th - Sete Gibernau was the star of the show on the final day of the three-day IRTA MotoGP test at Circuit de Catalunya, near Barcelona. The 4.727km track is Gibernau's home circuit and he put his local knowledge and his Telefonica MoviStar Honda RC211V to good use. The Spaniard was in superb form all-day and claimed fastest time of the weekend in front of the 32,000 race fans in attendance.
Gibernau claimed top honours in today's 40 minute televised 'Shoot out' timed practice session setting a lap time of 1m 41.851s, an absolute track record for a MotoGP machine, and a massive 0.7 seconds faster than his pole position time for the 2004 GP at the track.

Sete won 2 BMWs for his fastest lap time at Barcelona!

The Telefonica MoviStar Honda team leave Barcelona for the final pre-season test, at Jerez next week, in confident mood. Gibernau's performance was backed-up by new teammate Marco Melandri who ended the day in fourth place. Both men had run extensive tyre endurance tests in the morning preferring to work on long term interests rather than set up their RCV's for a one lap fast time.

Sete Gibernau, Telefonica MoviStar Honda: 1m 41.851s (38 laps).
"I'm really satisfied with the results of this test. We've completed all the work we had planned for here and the result is very good. Last night I got together with the team to prepare the endurance; I think that to plan for the fastest lap would have been a mistake. Setting the fastest time was simply the fruit of all the hard work we had done previously. We are still having a few problems on corner entry when the tyres have gone off so that's why I did a race simulation with used tyres. That's the area I'm most interested in working on so that we can get to Jerez with the best possible motorcycle. I'm happy to have taken the pole, especially for all the people here who have given me such superb backing. I hope they enjoyed themselves."
Repsol Honda factory team rider Nicky Hayden continued his upward swing in pace and consistency to boost his confidence as the season nears. The American put in his fastest ever lap at Catalunya in the timed session, half a second faster than his qualifying time at the last Catalan GP.
Nicky Hayden; Repsol Honda: 1m 42.507s (75 laps)
"Overall today has been the best of the weekend. I was real happy to be fighting with the front guys and was trying real hard. Everyone was saying they don't care about the car – man it was a new car we were fighting for! I was really pushing. I'll have to settle for some nice easy payments at my Pa's garage. I should be okay for a ride this summer thanks to Second Chance Auto's.Joking aside, it feels good to be up there. There are still three more days to go before we start a race weekend proper and it'll be show time. The team's really pulling hard, there's a great spirit with the new group and I think we're in pretty good shape."
Teammate Max Biaggi had been fastest man on the opening two days and looked set to hold his dominant position today but his carefully laid test programme was disrupted when he crashed on an oil spill in the morning. Biaggi was back up to speed in the shoot out. He pitted with five minutes remaining and mounted new tyres for a shot at fastest lap. But it was not to be his day. His RCV refused to fire up, an electrical block connection had dislodge in the crash and Biaggi was relegated to sixth fastest - poor reward for his superb overall performance during the three days.

Max taking it to the max at Barcelona.
Biaggi was fastest on day 2 of IRTA MotoGP tests
Day two of three-day test. March 19th: Italian Max Biaggi continued his pre-season testing in the best possible way setting the fastest time of the day at the IRTA MotoGP test at Barcelona, for the second day running. Repsol Honda factory rider Biaggi worked non-stop on Michelin tyre testing before trying for a fast lap. Biaggi had set his time in the very last minute of testing making it almost impossible for another rider to better his time. The Italian's lap of 1'42.260 was some three tenths quicker than the pole position record at this circuit, set by Sete Gibernau (Honda) with a time of 1'42.596 last season.
Max Biaggi, Repsol Honda: 1m 42.260s
"Other pieces of the puzzle are taking the right spot. The final drawing is the one of a RC211V respectable on every circuit. Today we confirmed different solutions we've been working on during the winter. We went in the track with some new parts about chassis and suspension geometry. I consider very important that we have clear ideas about the job to do, but still theres a lot to work on. It means that we can grow much stronger and also that Honda potential is very high. The feeling with my team is getting stronger day by day, I'm happy about it. Even the lap times are not that bad, but, once again, I'm here for my new bike, I'm not looking for a new car."
Nicky Hayden, on the second factory Repsol Honda, was back at his best today. The young American worked hard with the Michelin engineers and quickly regained his confidence in the front-end of his RCV to run consistently fast times. The former AMA Superbike Champion was up to second fastest by mid-afternoon, eventually ending the session in fifth place. Like Biaggi the majority of the Honda RC211V riders dedicated much of their day to rolling chassis testing, mainly in conjunction with Michelin tyre
testing.
Gauloises Yamaha Team riders Valentino Rossi and Colin Edwards enjoyed contrasting fortunes on the second day of the MotoGP Official Tests at the Catalunya circuit in Spain today. Both riders were well inside the circuit record of 1'44.641 but, on another day of bright sunshine and warm spring temperatures, the reigning World Champion Rossi continued to encounter difficulties with the set-up of his 2005 version YZR-M1 machine and ended the day with the ninth fastest time.
Valentino Rossi (Gauloises Yamaha Team) - 1'43.291
"We've had a few problems and worked on the setting to try and get a better feeling but we didn't manage to fix things today. We honestly don't know why we are not able to work at 100%. We've tried a few different ways but we've made some mistakes. Tomorrow I'll try to win the car but today we weren't fast even on qualifying tyres. We've got a lot of work to do. Hopefully the weather stays nice so that we can continue working and prepare for the next test at Jerez."
However, his team-mate Edwards was Yamaha's leading challenger, lapping sixth quickest and making his way through a mountain of tyre testing work alongside Michelin's engineers. Edwards has adapted swiftly to the M1 after switching from Honda at the end of last season and today lapped 2.5 seconds quicker than he had done on the RC211V machine during the race at this circuit in the Catalunya Grand Prix last June.
Gibernau and his team-mate Marco Melandri had enjoyed long spells at the top of the time sheets throughout most of the day. However, as the sun set and the track cooled, Biaggi and Alex Barros both mounted late rallies which would see them take the top two places and relegate Gibernau and Melandri to third and fourth respectively. Nicky Hayden completed the top five.
Team SUZUKI MotoGP racers John Hopkins and Kenny Roberts Jr found extra pace from their GSV-Rs in today's second day of official testing at the Circuit de Catalunya in Spain, helping them both to move into the top 10 fastest lap times. The Suzuki GSV-R was over 10kmh faster along the start finish straight compared to the race in 2004, marking significant progress in the performance and development of Suzuki's Grand Prix prototype.
John Hopkins took more than 1.5seconds off his lap time from yesterday, recording an impressive 1min43.250 on Bridgestone development race tyres. He completed 77-laps in the eight-hour long test session, setting consecutively fast times before finishing under a second behind the day's quickest lap - attained with the use of a qualifying tyre - set by Max Biaggi. Kenny Roberts Jr improved his time from yesterday with a 1min43.563 lap, which was three-quarters of a second faster than yesterday. He spent most of his 55-laps on track testing new front and rear compound Bridgestone tyres.
Team Ducati Marlboro riders Loris Capirossi and Carols Checa were off the pace testing a new electronic engine magagement sytem for engine braking and a slipper clutch on the Desmosedici. Both riders suffered seemingly unrelated crashes to the testing to end the day 2 testing early (See report at left).
Times - Day 2:
1. Max Biaggi (Repsol Honda Team) 1'42.260
2. Alex Barros (Camel Honda) 1'42.506
3. Sete Gibernau (Team Movistar Honda) 1'42.796
4. Marco Melandri (Team Movistar Honda) 1'42.926
5. Nicky Hayden (Repsol Honda Team) 1'42.953
6. COLIN EDWARDS (GAULOISES YAMAHA TEAM) 1'43.129
7. Makoto Tamada (Konica Minolta Honda) 1'43.207
8. John Hopkins (Team Suzuki MotoGP) 1'43.250
9. VALENTINO ROSSI (GAULOISES YAMAHA TEAM) 1'43.291
10. Kenny Roberts (Team Suzuki MotoGP) 1'43.563
Combined times over three days:
1.Sete Gibernau (Team Movistar Honda) 1'41.851
2. Max Biaggi (Repsol Honda Team) 1'42.260
3. Valentino Rossi (GAULOISES YAMAHA TEAM) 1'42.270
4.Alex Barros (Camel Honda) 1'42.506
5.Nicky Hayden (Repsol Honda Team) 1'42.507
6.Marco Melandri (Team Movistar Honda) 1'42.797
7.Makoto Tamada (Konica Minolta Honda) 1'43.823
8.John Hopkins (Team Suzuki MotoGP) 1'43.117
9.Colin Edwards(GAULOISES YAMAHA TEAM) 1'43.129
10.L. Capirossi (Ducati Marlboro Team) 1'43.531
---
2005 SBK World Superbike Championship, Valencia Testing
Alstare Suzuki's Corser & Kagayama quickest at SBK Valencia testing, Bostom sends his only Renegade bike Up in Flames
Suzuki Backs Up Early Season Push

SBK Testing, Valencia, Spain, Mar. 12-13th, 2005 - Troy Corser left the final official test of the 2005 season in top position on the timesheets, closely followed home by his team-mate Yukio Kagayama. After two days of warm and dry track conditions, albeit punctuated by red flags to clear the track after numerous incidents, Corser set a 1'35.566 and Kagayama a final session 1'35.698. The last session of the four was halted with 1'53 on the clock and a trackful of riders ready to go for an improvement in their final placing. Ben Bostrom (Renegade Honda Koji) crashed without injury at the infield hairpin, and with his machine ablaze in the gravel trap and two minutes left to run before the 5pm finish, action was halted for the final time.

Left: Troy Corder put on a wheelie big show at this weekend's Valencia tests, continuing the dominance the the GSXR riders have shown all winter at at the Qatar SBK opener a few weeks ago.
Honda Riders Flying: In the last few minutes of track time, after a flurry of fast laps on qualifying Pirelli tyres, the 30-strong SBK entry jostled for position. Chris Vermeluen (Winston Ten Kate Honda) secured third place on the sheets, first Honda home, thanks to a 1'35.724. His team-mate and compatriot, Karl Muggeridge was a confidence-boosting fifth fastest, with both Ten Kate riders heading off back home to Australia for round two of the championship proper.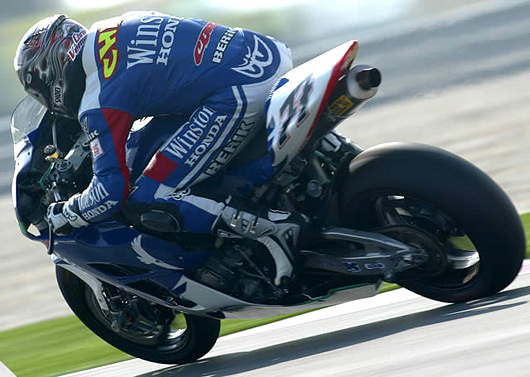 Ducati Up and Down: Regis Laconi (Ducati Xerox) was fastest twin-cylinder rider, as he had been all weekend, taking fourth place overall, the last rider inside the 1'35 bracket, 1'35.881.
His team-mate, reigning champ James Toseland, had a torrid time, crashing heavily on both days, once as a result of an oil leak at the fast turn one, once after passing a slower rider. Both times red flags came out to temporarily halt the track action. Battered and bruised, but fighting on, Toseland secured only 13th fastest time, with a 1'37.183.
Yamaha of Europe: A three rider Yamaha layer cake was topped by the determined form of Noriyuki Haga (Yamaha Motor Italia), sixth fastest and returning to the pace which has made him a 17-time World Superbike race winner. Immediately behind, reigning Spanish Formula Extreme champion Jose-Luis Cardoso (Yamaha DFX Extreme Sterilgarda) was seventh, with top placed Yamaha rider in the current championship table, Andrew Pitt, eighth. A tough test for Norick Abe (Yamaha Motor France) and Sebastien Gimbert (Yamaha Motor France) saw them finish only 18th and 15th respectively, in what is one of the most competitive SBK grids ever assembled.
Kawasaki Top Ten, Klaffi Just Behind: PSG-1 Kawasaki rider Chris Walker stormed into the top ten, his 1'36.793 good enough for ninth while fending off the Klaffi Honda of Pierfrancesco Chili. Walker's prowess made it five different manufacturers in the top nine places, an indication of the even spread of machine capabilities and rider talents throughout the field. The Bertocchi Kawasaki of Ivan Clementi was 14th fastest, just behind champion Toseland.
During the first day of test on the Valencia circuit the PSG-1 Kawasaki Team completed a useful work session on their bikes, helped by the good weather conditions despite the bad forecast. The technical staff and the riders started a program of work which is already showing the first results. Mauro Sanchini took the decision of making a comparative test between the Öhlins and the Bitubo suspensions. "I decided to use the Bitubo suspensions after the race in Qatar, in the past I grow up with Bitubo and together we developed a material which I know very well".
Chris Walker concentrated on the geometry of his bike getting immediately good results. "This bike is really fast and I like it, unfortunately at the moment I'm not able to exploit all its potential. We made some changes on the front part and now I look forward to making the second session".
The first session of the first test day ended with the 9th time for Mauro Sanchini and the 12th for Chris Walker.
Chris didn't want to run with the new tyre and he ended the second session in 14th position. During the second session Mauro decided to move definitely to the Bitubo suspensions on both his bikes and he did as many laps as he could in order to get confident with this new solution, ending the day in 15th position.
At the end of the second day of test on the Valencia track the PSG-1 Kawasaki Corse Team is satisfied of the work. Mauro and Chris were concentrated on the set up work, finding lap after lap a good feeling with their bikes, sensibly improving their times.
In the afternoon both the riders did some fast lap to verify the work made during the two days, 9th time for Chris Walker (1:36:793) and 17th for Mauro Sanchini (1:37:345).
Mauro Sanchini: "I preferred to concentrate my work mostly on the set up of the bike rather than on the time. This is always my philosophy for the tests. I'm satisfied, I did a lot of laps trying many solutions for the race. We must work hard but we have a high technical potential. The engine of my bike is very competitive and we are only at the first developing step. Now we have to find the right set-up but we aren't far from the fastest".

Chris Walker: "My ZX10R is really fast and I think I will get some good satisfactions from it. I must concentrate my work on the set up and find very soon a good feeling with the bike.
Petronas Moving In the Right Direction: An outstanding top 15 finish for Steve Martin (Petronas FP-1) on day one was improved still further, with an overall 11th place a real boost for the entire Petronas team. His team-mate, Garry McCoy, was testing chassis parts for most of the test, and ended up 25th quickest.
Supersport: Winston Ten Kate Honda pilot Sebastien Charpentier made perfect use of his two day testing opportunity to secure the fastest lap of the four complete WSS sessions. His best lap of 1'37.880 was set on the final day. Charpentier's team-mate Katsuaki Fujiwara, the opening round winner in Qatar, was second quickest, with a '38.178.
Yamaha Motor Germany pairing Broc Parkes and Kevin Curtain pushed themselves to third and fourth places, improving significantly from the first day of testing. In a day of team-mates rivalling each other for ultimate chart positions, Fabien Foret (Team Italia Megabike Honda) slotted into fifth, ahead of Michel Fabrizio. A great performance from Stiggy Motorsports rider Stefan Folkesson saw him oust the top Ducati rider, Gianluca Nannelli (Ducati SC Caracchi) for seventh place, in a field of eight. Jurgen van den Goorbergh (Ducati Selmat) fought off a viral infection to finish a disappointed 22nd out of 24 riders.
Superbike Rider Team Bike Time Laps
1.Corser Alstare Suzuki Corona Suzuki GSXR 1000K5 1'35.566 126
2.Kagayama Alstare Suzuki Corona Suzuki GSXR 1000K5 1'35.698 134
3.Vermeulen Honda Ten Kate Honda CBR 1000 RR 1'35.724 126
4.Laconi Ducati Xerox Ducati 999 F05 1'35.881 126
5.Muggeridge Honda Ten Kate Honda CBR 1000 RR 1'36.084 124
6.Haga Yamaha Motor Italia Yamaha YZF R1 1'36.347 115
7.Cardoso DFXtreme Sterilgarda Yamaha YZF R1 1'36.443 94
8.Pitt Yamaha Motor Italia Yamaha YZF R1 1'36.766 127
9.Walker PSG-1 Kawasaki Corse Kawasaki ZX10 1'36.793 108
10.Chili Klaffi Honda Honda CBR 1000 RR 1'36.813 103
11.Martin Foggy Petronas Racing Petronas FP1 1'37.038 117
12.Neukirchner Klaffi Honda Honda CBR 1000 RR 1'37.106 120
13.Toseland Ducati Xerox Ducati 999 F05 1'37.183 122
14.Clementi Kawasaki Bertocchi Kawasaki ZX10 1'37.283 123
15.Gimbert Yamaha Motor France Yamaha YZF R1 1'37.305 125
In the Supersport class team Ten Kate again showed its great potential placing like in Qatar his riders on the two top positions, respectively Charpentier first and Fujiwara second, in front of the two Yamaha Germany pilots. Yamaha is back in the fight then, showing how Pirelli's can well satisfy the needs of all the 600 and promising a thrilling race here on the 24th April.
It's always difficult to make comparisons, many are the variables playing at any time, but considering the times made here in Valencia last year we can talk of a good improvement, with a laptime 1 second and a half better than 2004's best - VD Goorbergh's (1'39.2)Rider Team Bike Best lap Laps
Supersport
1. Charpentier Winston Ten Kate Honda Honda CBR600RR 1'37.880 85
2. Fujiwara Winston Ten Kate Honda Honda CBR600RR 1'38.178 88
3. Parkes Yamaha Motor Germany Yamaha YZF R6 1'38.804 104
4. Curtain Yamaha Motor Germany Yamaha YZF R6 1'38.913 82
5. Foret Team Megabike Honda CBR600RR 1'38.943 97
6. Fabrizio Italia Megabike Honda CBR600RR 1'39.238 111
7. Folkesson Stiggy Motorsports Honda CBR600RR 1'39.382 86
8. Nannelli Ducati SC Carachi Ducati 749R 1'39.535 96
9. Veneman Suzuki Netherland Suzuki GSX 600R 1'39.985 104
10.Fores Alstare Suzuki Corona Suzuki GSX 600R 1'40.072 109
The next competitive outing for the World Superbike and Supersport cohorts will be in Australia, at Phillip Island, on 1-3 April.
Chicks That Kick Ass!

17-year old Tennis Sensation Maria Sharapova

March 15th, 2005 - Coming into the 2005 season, tennis supermodel Maria said her goal was to become the Number 1 Woman's Professional Player in the World. And now, less than 3 months into the season the super hot and sexy 6 foot tall, 17 year old is already well on her way to achieving that goal after winning 2 of the 3 major tournaments already held.

Maria hopes to become Number 1 in time for her 18th birthday. Check out all the action in World and Women's Tennis on ESPN and ESPN2.

More Maria Sharapova.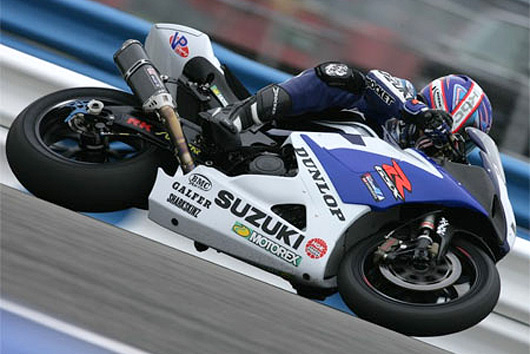 Mladin and the new generation Suzuki GSXR1000 kept on winning today at Dayona.


2005 AMA National Roadracing Championship, Round 1 of 11

Mladin Wins Daytona supershort Superbike Season Opener
American Honda buys the uncontested 200 Miler Xtreme Race
Daytona Beach, FL, Mar. 8-12th, 2005 Team Yoshimura Suzuki's Mat Mladin claimed his 4th AMA Superbike National victory at Daytona today, bringing the newest generation GSXR1000 home ahead of England's Neil Hodgson on the factory Ducati Corse 999F05, and Matt's Yoshimua Suzuki team mate and new Superbike sensation Ben Spies riding his 2nd ever Superbike race.

The now shorted 15 lap Daytona Parts Unlimited Superbike race played out all too quickly before and estimated 5,000 spectators, possibly the smallest fan turnout ever at Daytona Speedway in the last 30 years. The relegation of the premier Superbike class to a shortened sideshow contested by just 3 factory teams, was due in part to tire safety concerns imposed by the banked Daytona Speedway, and the the multiple bike classes structured by AMA Pro Racing which diversified and eliminated factory full factory fields in all the classes, particularly Superbike and the now showcased "Extreme" 200 miller which followed.

The 2005 AMA Superbike Championship might just come down to these two riders, Mladin and Hodgson.
The Superbike final on Saturday morning was followed an hour later by the once world famous Daytona 200 Miler, now relegated to a non-spectactular, essentially non-event featuring the AMA's modified 600cc Formula Xtreame class sponsored by and contested only by American Honda with its 3 factory Honda / Team Erion Racing riders of Miguel Duhamel, Jake Zemke and Kurtis Roberts. Only 2 private support team riders, Vincent Havoseck on the Emgo Suzuki GSXR600 and Josh Hayes on the Attack Kawasaki ZXR600 were able to hang with the factory Hondas after the start, but they both retired early with mechanical problems just 10 laps into the 58 lap race.
The remainder of the heavy populated 62 rider grid in the American Honda sponsored Daytona 200 was comprised of privateer riders on essentially stock 600cc SuperSport class bikes who were unable to match the pace of the American Honda front runners on what were essentially highly developed and very expensive 600cc Superbikes, and the other riders fell to being lapped by the American Honda team riders just 4 laps into the race. The race would play out just as expected with American Honda's Miguel duHamel taking the win, and Erion Honda's Kurtis Roberts doing an excellent job in his return to AMA racing (after 2 disasterous years in MotoGP with his father's Proton team) to hold off Jake Zemke for 2nd in a 1-2-3 team American Honda CBR6000 sweep.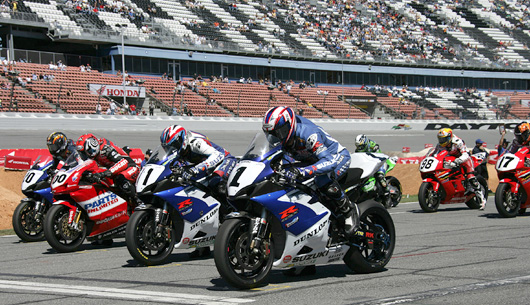 Neil Hodgson found his Ducati to be inside a Yoshimura Suzuki sandwich on the front row in Superbike. The America Honda CBR1000RR were back on row 2, the now home built specials not on the same pace.
Superbike National to Mladin, Hodgson posts a Strong 2nd for Ducati
Saturday 11th - Matt Mladin was the favorite going in to Saturday morning's Parts Unlimited sponsored AMA Superbike race having posted a qualifying time some 1,5 seconds on Thursday, then backing it up in Saturday morning warmup with a lap time 1 second quicker with race tires than anyone else. His closest contender was former 2003 World Superbike Champion Hodgson who would start next to him on the front row, followed by the Suzuki's of Spies and Yates. Somewhat surprisingly the American Honda CBR1000RR bikes of Miguel duHamel, Jake Zemke and Kurtis Roberts were back on row two and not in the hunt, the team not being able to afford HRC factory built lease bikes any longer, and relegated to building their own race bike from stock with aftermarket parts.
" I'm hungry for '05 for sure, maybe more than ever," said Mladin just before the start. " Suzuki really stepped up to the plate with the new motorcycle and we've dome some good things to it. It's looking very positive for the moment. We've got a motorcycle that, from the first race is already far ahead of the last motorcycle we finished the last race season on in 2004.
Additional AMA National Daytona Coverage HERE
AMA Superbike National, 15 laps
1. Mat Mladin (Suzuki)
2. Neil Hodgson (Ducati)
3. Ben Spies (Suzuki)
4. Aaron Yates (Suzuki)
5. Jake Zemke (Honda)
6. Miguel Duhamel (Honda)
7. Jason Pridmore (Suzuki)
8. Geoff May (Suzuki)
9. Kurtis Roberts (Honda)
10. Steve Rapp (Suzuki)
AMA Formula Xtreme 200 Miler, 58 Laps
1. Miguel Duhamel (Honda)
2. Kurtis Roberts (Honda)
3. Jake Zemke (Honda)
4. Danny Eslick (Suzuki)
5. Chris Peris (Yamaha)
6. Jason Perez (Yamaha)
7. Michael Barnes (Yamaha)
8. Ty Howard (Yamaha)
9. Taylor Knapp (Yamaha)
10. Simon Turner (Yamaha)
Fast Dates Calendar Motorcycle Roadracing News. Complete coverage of the SBK World Superbike, AMA National Superbike and MotoGP World Championship. Fast Dates Calendar and Umbrella Girsl. Max Biaggi, Valentino Rossi, Ben and Eric Bostom, James Toseland, Regis Laconi, Loris Capirossi, Troy Bayliss, Troy Corser, Noriyuki Haga. Ducati 999 Monter Multistrada, Yamaha R6 R1, Honda CBR600RR CBR1000RR, Kawasaki ZX6 ZX6RR ZX10, Suzuki GSXR600 GSXR750 GSXR1000, Aprilia Mille, MZ Agusta F4 Brutale