FastDates.com April 2005
Superbike, MotoGP Racing & Calendar Girl News
Official Calendar of the SBK World Superbike Championship
Home of the official SBK Fast Dates & Team Ducati Corse Umbrella Girls

Sweaty leather clad racers or bikini beauties? How about both! Click to Meet Gemma and Monica, our SBK Fast Dates World Superbike Angels for Brands Hatch in August!
---
2005 MotoGP World Championship, Round 2 of 17

Alex Barros Completes a Perfect MotoGP Weekend in Estoril
Estoril, Portugal, April 15-17th - Alex Barros went from pole position to victory to cap a perfect weekend for the Brazilian, having dominated every session of the betandwin.com Grande Premio de Portugal. In unpredictable cloudy and cool conditions at the Estoril circuit, Barros chased early leader Sete Gibernau over the opening stages before the Spaniard crashed out on the seventeenth lap.Valentino Rossi and Max Biaggi did their best to cut down the gap to Barros in the closing stages but wisely decided not to take any risks as they sealed podium finishes.

As light drizzle began to fall, the teams prepared the riders' second machines in case they needed to come in and change to wet tyres. However, despite a precarious final three laps and a huge rear slide on the last of them, Barros held his nerve to clinch his first win in over two years.

"I'm really happy because I had been quickest in every session this weekend but this was the only one that really counted," smiled Barros, who last tasted podium champagne at Valencia at the end of the 2002 season.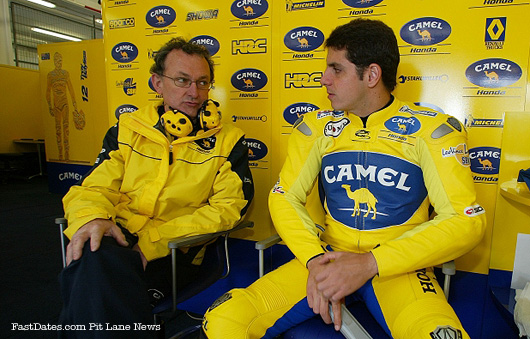 Alex confers in the Camel Honda pits with his team manager before ging out to secure Pole.
Barros Smashes Pole Record at Sunny Estoril
Qualifying, Saturday April 16th - Alex Barros continued his dominance of the betandwin.com Grande Premio de Portugal on Saturday with the fastest times in the final free practice session and in afternoon qualifying, when he smashed the pole position record by 0.731 seconds. Barros, who was also fastest in both practice sessions yesterday, held off a strong challenge for pole from Honda colleague Sete Gibernau and Ducati's Carlos Checa, who sealed his first front row start for the Italian factory in third place behind his Spanish compatriot.

"I'm really, really happy," commented Barros. "We've been working all weekend to find a good base setting for the machine. We tried some new Michelin tyres this morning and I was confused about what race tyre to choose, but we spent a lot of this afternoon's session working on it and now everything is clear. At the end I put a qualifying tyre on and I was surprised by the lap time."

After leading the way in the closing stages of the session, Checa was knocked down to the second row by Valentino Rossi before a last lap charge that took him back above the reigning World Champion at the chequered flag. Rossi now heads an all-Italian second row from Marco Melandri, who made a brave challenge for pole after crashing his number one Honda just eleven minutes from the end of the session, and Checa's Ducati team-mate Loris Capirossi.

Colin Edwards was one of the riders to lose out in the late flurry for times, a mistake in the first turn of his fastest lap costing him valuable tenths and relegating him to seventh place on the Yamaha. Edwards is joined on the third row by Max Biaggi and his factory Honda team-mate Nicky Hayden, who had preceded Melandri into the gravel trap just as the pace increased in the final quarter of the session.

John Hopkins also crashed out whilst putting together a lap that looked certain to put him on the front row, the Suzuki rider eventually qualifying eleventh fastest behind Kawasaki's Shinya Nakano, whilst Makoto Tamada spent the majority of the session nursing his wrist after crashing his Honda early in the session. Fortunately for the Japanese rider his lap time on the third of his four laps was enough for the final position on tomorrow's starting grid.

Randy de Puniet bounced back from his crash in the opening round of the season at Jerez six days ago to take pole position for the 250cc race. The Frenchman and his Aprilia team-mate Sebastián Porto looked impressive throughout this afternoon's session and look certain to provide a stern challenge Honda's Dani Pedrosa, with Porto second fastest ahead of the World Champion today. Andrea Dovizioso completes the front row of the grid in just his second quarter-litre Grand Prix for Honda.

Mika Kallio continued his domination of the 125cc class this weekend with a new pole record on the KTM. Kallio had already dipped under the previous record with his provisional pole time on Friday and today clocked held off the challenge of Honda rival Thomas Luthi. Series leader Maro Simoncelli was third fastest whilst fellow Aprilia rider Hector Faubel secured his first-ever front row start in fourth place.
Starting Lineup Pole Qualifying Results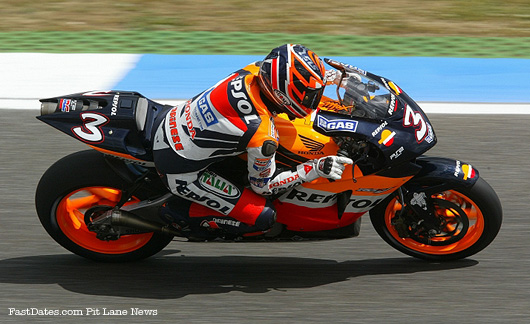 Max Biaggi (3) moved up to take 3rd behind Rossi.

Barros' Perfect Race
The Race, Sunday April 17th - Alex Barros went from pole position to victory to cap a perfect weekend for the Brazilian, having dominated every session of the betandwin.com Grande Premio de Portugal. In unpredictable cloudy and cool conditions at the Estoril circuit, Barros chased early leader Sete Gibernau over the opening stages before the Spaniard crashed out on the seventeenth lap.

As light drizzle began to fall, the teams prepared the riders' second machines in case they needed to come in and change to wet tyres. However, despite a precarious final three laps and a huge rear slide on the last of them, Barros held his nerve to clinch his first win in over two years.

"I'm really happy because I had been quickest in every session this weekend but this was the only one that really counted," smiled Barros, who last tasted podium champagne at Valencia at the end of the 2002 season. "Sete got away well and I didn't get a good start, but once I was up to second place I just tried to put pressure on him. In the end he crashed and it was a hard race mentally from that point on to keep my focus and stay on the bike."

Valentino Rossi and Max Biaggi did their best to cut down the gap to Barros in the closing stages but wisely decided not to take any risks as they sealed podium finishes. Second place for Rossi extended his advantage at the top of the overall standings to seven points, with Barros now moving up to second in the championship, whilst third place for Biaggi represented a welcome first podium of the season for the factory HRC team.
Valentino Rossi (Gauloises Yamaha Team) 2nd
"That was a really difficult race for me. The conditions were so strange, with patches of rain here and there. In the beginning it was light rain, then it got worse and worse so that the first part of the track was very wet. It was a horrible feeling to ride with slicks in the wet. Anyway, I'm very happy to have finished in second place because we're now 20 points ahead, and this was a very important race for us in terms of the championship. The bike still has a few problems and we have a lot of work to do. Today was a bit of miracle really, there was quite a lot of luck involved!
"I gradually got used to the conditions during the race but it's not ideal to ride like that. The new wet race rules are better for TV but it's not entirely safe, although it's clearer now for all the riders when the race has been declared as wet. I think it's impossible in our sport, though, to find a perfect rule for that."

Marco Melandri continued his excellent start to the season, following up third place in the opening round at Jerez with fourth place today after an entertaining battle throughout the race with Colin Edwards. With the American crashing five laps from the end, Carlos Checa took advantage to clinch fifth place on the Ducati after starting from the front row whilst Edwards returned to the track to bring his Yamaha home in sixth.
Colin Edwards (Gauloises Yamaha Team) 6th
"That was a good race although of course I am disappointed about falling. The bike felt completely different from the Jerez race and I felt like I could have kept pace with Rossi and Barros quite easily. Unfortunately I was fighting with Melandri and for the first half of the race I just couldn't make the pass stick on him; gradually the leaders just edged away. Finally I got away from him and I was pushing in order to keep a space between us, but I hit that slippery patch at turn one and went down, it just caught me off guard! Everywhere else on the track was okay and you could get the bike fully leaned over, but turn one was just like ice. It was my mistake and I'm annoyed, but the rest of the race was really encouraging and a big improvement."

Nicky Hayden recovered from a bad start to take seventh after crashes for both John Hopkins and Troy Bayliss in that position, with Shinya Nakano and Loris Capirossi also making the top ten. Bayliss recovered to take twelfth behind Ruben Xaus, with Kenny Roberts, Roberto Rolfo, Toni Elias and James Ellison completing the points.
Round: 2 - Estoril MotoGP, Circuit: Estoril
Circuit Length: 4182
Lap Record: 1' 39.189 (Valentino Rossi, 2003)
Fastest Lap Ever: 1' 38.412 (Loris Capirossi, 2003)
MotoGP Final Results

Estoril MotoGP Results
1 A. Barros Honda BRA 47' 14.053
2 V. Rossi Yamaha ITA +2.771
3 M. Biaggi Honda ITA +6.071
4 M. Melandri Honda ITA +29.546
5 C. Checa Ducati ESP +29.774
6 C. Edwards Yamaha USA +44.216
7 N. Hayden Honda USA +57.121
8 S. Nakano Kawasaki JPN +59.847
9 L. Capirossi Ducati ITA +1' 7.718
10 R. Xaus Yamaha ESP +1' 22.431
11 T. Bayliss Honda AUS +1' 33.529
12 K. Roberts Suzuki USA +1' 34.051
13 R. Rolfo Ducati ITA +1' 35.956
14 T. Elias Yamaha ESP +1' 36.492
15 J. Ellison Blata WCM GBR +2 lap(s)

Fastest Race Lap: A. Barros Honda BRA 1' 38.480



World Championship Standings
1 Valentino Rossi Yamaha ITA 45
2 Alex Barros Honda BRA 38
3 Marco Melandri Honda ITA 29
4 Max Biaggi Honda ITA 25
5 Sete Gibernau Honda ESP 20
6 Shinya Nakano Kawasaki JPN 19
7 Colin Edwards Yamaha USA 17
8 Carlos Checa Ducati ESP 17
9 Troy Bayliss Honda AUS 15
10 Loris Capirossi Ducati ITA 10
11 Nicky Hayden Honda USA 9
12 Makato Tamada Honda JPN 8
13 Ruben Xaus Yamaha ESP 6
14 Toni Elias Yamaha ESP 6
15 Alex Hofman Kawasaki GER 5

Manufacturers Standings MotoGP
1 Yamaha 45
1 Honda 45
2 Kawasaki 19
3 Ducati 17
4 Suzuki 6
5 Blata WCM 1
Casey Stoner took victory in a thrilling 250cc race after an audacious last lap pass on Randy de Puniet. In a packed front group which also featured Andrea Dovizioso, Dani Pedrosa and Alex de Angelis, Stoner made his move around the outside of De Puniet as the Frenchman blocked the inside line in the famous 'Parabolica Interior' corner, before holding on to take his first win in the class. Dovizioso then mugged De Puniet in the chicane to snatch second place, with Pedrosa happy to take fourth ahead of De Angelis. Sebastián Porto had made an electric start to the race but was swallowed up by the pack in the second half as he seemed to suffer a technical problem, eventually crossing the line in ninth place.

Mika Kallio became the first Finnish rider in 30 years to take a Grand Prix victory with his debut win in the 125cc class. Kallio held off a late attack from Spaniard Hector Faubel by just 0.008 seconds after the pair had dominated the race. Swiss rider Thomas Luthi completed the podium.
---
2006 Fast Dates Calendar Photos
Now in Member's Corner!
Our Members Corner fans can now get an excluse, pre release look at all the photosfeatured in the upcoming 2006 Fast Dates and Iron & Lace Calendars which won't go on sale to the public until our normal annual World Premeier at the Los Angles Calendar Motorcycle Show, this year on July 17-18th. If you just can't wait to see beautiful Robin, Andra and Nicki wrapping their legs around the world's hottest SBK Wolrd Superbikes, you need to check out Members Corner Now!
Our Favorite Girls That Kick Ass

Kristen Bell as Veronica Mars

A Modern Day Nancy Drew
heats up UPN Television, Tuesdays 9/8C
In the wealthy, seaside community of Neptune, the rich and powerful make the rules, they own the town and the high school, and desperately try to keep their dirty little secrets just that…secret. Unfortunately for them, there's Veronica Mars, a smart, fearless 17-year-old apprentice private investigator dedicated to solving the town's toughest mysteries.

Veronica (Kristen Bell) actually used to be one of the popular girls, walking the halls of Neptune High with the rest of the "beautiful people." But it all came crumbling down around her after her best friend Lilly was murdered and her then-Sheriff father Keith Mars (Enrico Colantoni) was removed from office for naming Lilly's billionaire father, Jake Kane, as the lead suspect.

During the day, Veronica must negotiate high school like any average teenage girl. At night, Veronica helps with her father's struggling, new private investigator business, sneaking through back alleys and scoping out no-tell motels with a telescopic-lens camera and her math book in an attempt to uncover the California beach town's darkest secrets.

More Kristen Bell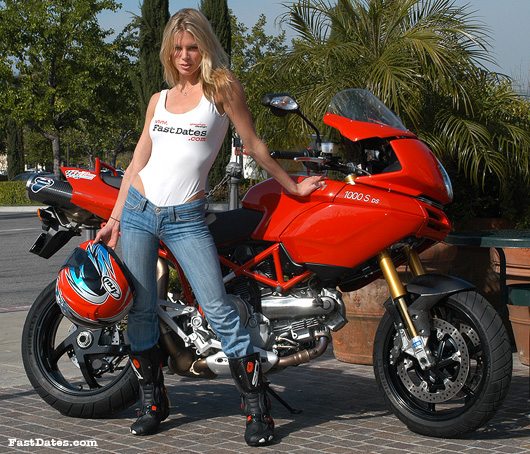 The 2005 Multistrada 1000Smodel features Ohlins race quality suspension front and rear, along with carbon fibre bits like the front fendar and cam belt covers. Also on our bike is the Ducati Performance Termignoni exhaust silencer. Our tester is beautiful SBK Fast Dates Ducati Corse World Superbike girl Robin Cunningham.
SBK Fast Dates Ducati Corse girl and bikini clad Tomb Raider Rockin' Robin Cunningham
gets into some hard core action with the Ducati Multistrada 1000S DS
2005 FastDates.com Bike of the Year Award
Ducati Multistrada 1000S DS
It's no secret the Ducati's Multistrada 1000 DS which was first introduced back in 2003 was one of our favorite motorcycles. The somewhat quirky looking, do everything aircooled V-twin Desmo did everything really well. It may not have been the world's best bike in any one particular category from canyon carver, to off road adventure bike, to around town commuter, to cross country tourer -but it was very close. It does excel in everything really well.
No other bike on the market is quite capable of matching the Ducati Multistrada for overall versatility, performance and just sheer riding pleasure. Now with the introduction of the new upgraded Ohlins suspended 1000S model for 2005 the Multistrada has become so close to perfect in so many categories that, as an overall package the staff at FastDates.com, the world's premier streetbike website, feels the new Multi S is the world's best streetbike. It's so good in fact, we decided to create an award and make the Multistrada 1000S our first ever FastDates.com Bike of the Year for 2005. Our congradulations go out to Ducati and Multistrada designer Pierre Terblanche for creating the perfect bike.
Complete Ducati Multistrada S Feature Story with Rockin' Robin HERE!
---
LA Calendar Motorcycle Show
on July 16-17th is new qualifying round of the
AMD World Championship of Custom Bike Building
| | |
| --- | --- |
| Los Angeles, CA, April 11th - The Los Angeles Calendar Motorcycle Show, America's premier custom and performance street bike event is excited to announce its affiliation with American Motorcycle Dealer magazine, the world's leading dealer trade magazine for the American V-Twin market, as an official Affiliate Sponsor and Qualifying Round of the AMD Pro Show World Championship of Custom Bike Building sponsored by Custom Chrome. | |
The Los Angeles Calendar Motorcycle Show is produced by Gianatsis Design Associates, a well-known and respected advertising design agency in the motorsports market, and producer of the world famous FastDates.com Motorcycle Calendars and Website. Agency Director Jim Gianatsis had this to say about the Show's new affiliation with the AMD Pro Show-
"We have been a strong supporter and friends with publisher Robin Bradley and his American Motorcycle Dealer magazine since he first began publishing it some 10 years ago. For our own advertising clients like Mikuni American and STD Performance, Robin's AMD magazine is the most effective, affordable and attractive way of reaching dealers and distributors world-wide in the American V-Twin market.
Our affiliation as a Qualifying Round for AMD Pro Show's World Championship of Custom Bike Building sponsored by Custom Chrome is a natural pairing. It brings together our LA Calendar Show, America's premier custom and performance consumer street motorcycle event with its key industry manufacturers and retailiers exhibiting their products here to the public, our international media attention from all the world's top motorcycle magazines and TV shows, along with many of the world's top custom bike builders showcasing their hottest newest machinery here,now joining together with AMD's recently established World Championship of Custom Bike Building which will is poised to become the crown jewel in the professional bike building world.
The LA Calendar Motorcycle Show qualifier with its own huge $70,000 Cash and Awards Purse, will be taking place again this year at the Queen Mary in Long Beach, CA, the 3rd weekend of July on the 16-17th this year, will give our Performance Machine Best of Show winner, Best Performance Machine Equipped Bike winner, and the top 3 winners in our Pro Builders Class a guaranted invitation to the AMD World Championship final in Las Vegas on November 15-16th 2005 with its own huge $50,000 cash purse posted by sponsor Custom Chrome.
| | |
| --- | --- |
| | The tie-in is even more significant because Custom Chrome and Motorcycle Stuff under the Global Motorsports Group, are two of the major distributors of our FastDates.com Calendars. Even more exciting is the fact that last year's AMD World Championship winner, Roger Goldammer Cycle Works out of Canada and his beautiful retro Board Track racer, are featured on the cover of the upcoming new 2006 Iron & Lace Custom Motorcycle Pinup Calendar which will premier at our LA Show in July." |
For additional information on the LA Calendar Motorcycle Show Qualifier in July go to Bike Show.
For additional information on the AMD World Final in Novemebr go to AMDProShow.com.
---
Yamaha GMT Team Conquers Le Mans 24 Hour Race
LeMans, FR, April 17th - World Endurance champions Yamaha GMT94 fulfilled a life-long ambition by winning one of the world's most prestigious races - the Le Mans 24 hour - this weekend. The R1 squad and their championship winning riders David Checa, William Costes and Sebastien Gimbert won a pulsating race, defeating rivals Castrol Suzuki by just over 20 seconds at the end of 24 hours and a record 830 laps of the famous circuit.
Starting from pole position, the GMT trio displayed their famous consistency to lead the early stages, until Checa was forced to make an unscheduled pit stop to repair his gear lever after four hours. But by midnight the Yamaha team regained a lead it would never lose, due in no small part to the team's lightning fast pit work. A cautionary pit stop in the final hour to investigate a possible oil leak allowed the Suzuki team to close the gap but with men and machine showing few signs of tiredness, Checa was able to maintain his fast pace to the very end to fend off a late challenge from his rivals.

Yamaha also won the Stocksport class, with Belgian team Acropolis finishing fifth overall with 802 laps completed.

"There has never been any doubt in my mind that we could win Le Mans this year,"said team rider David Checa. We have tested for this, we knew we had the machine that would win, we knew we had the tyres and I knew that my friends William and Sebastien were just as happy as me with the whole package. When we came to Le Mans I knew that, as a team, we were faster than Suzuki and there was just no doubt in my mind that we would win, no doubt at all"

"We have all worked so hard for this," exclaimed team mate Christophe Guyot, "not only the riders but everybody in the team. GMT94 is more like a family than a team. We have put our hearts into this. When I made the decision to go with Yamaha I knew that this moment would come, I had no doubts in my mind. But it's only the first, there will be more!"
2005 Le Mans 24 Hours Results
1 Yamaha GMT 94 (Yamaha) 830 laps, 2 Suzuki Castrol 1 (Suzuki) 830, 3 Suzuki Castrol 2 (Suzuki) 823, 4 National Motos 5 (Honda) 809, 5 Team Acropolis EMS 99 (Yamaha) 802, 6 Bolliger Team Switzerland 8 (Kawasaki) 795, 7 Team AM Moto Racing 110 (Suzuki) 793, 8 JLC Moto Ulteamatum 45 (Suzuki) 793, 9 Decibels Endurance 33 (Yamaha) 791, 10 Team DAP Moto 91 Mobil 1 (Honda) 786.
Fast Dates Calendar Motorcycle Roadracing News. Complete coverage of the SBK World Superbike, AMA National Superbike and MotoGP World Championship. Fast Dates Calendar and Umbrella Girsl. Max Biaggi, Valentino Rossi, Ben and Eric Bostom, James Toseland, Regis Laconi, Loris Capirossi, Troy Bayliss, Troy Corser, Noriyuki Haga. Ducati 999 Monter Multistrada, Yamaha R6 R1, Honda CBR600RR CBR1000RR, Kawasaki ZX6 ZX6RR ZX10, Suzuki GSXR600 GSXR750 GSXR1000, Aprilia Mille, MZ Agusta F4 Brutale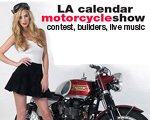 The Biggest Streetbike Show in America!
July 16-17th 2005
$70,000 in Awards!
• World Record Jardine Dyno
• 2-Wheel Tuner Sportbike Class
MotoCreations.com Ducati Class
• AMD World Championship of Bike Building Qualifying Round
Exhibitor Information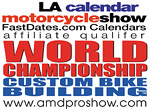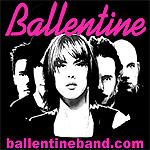 Ballentine Does
LA Calendar
Bike Show
Just one of the incredible bands a t his July's LA Calendar Motorcycle Show is Ballentine, an LA based pop/punk/rock band, began by touring internationally with the USO. Shortly after, they signed an "In-Theater" documentary deal with MovieTunes, which led to having numerous songs from their album, "4U" played in over 20,000 AMC/Carmike Theaters nationwide. Heather (lead vocals) and Frank (bass/vocals) starred on ABC's nationally televised summer reality show, "The Ultimate Love Test" which exposed Ballentine's music to millions of viewers. Most recently, Ballentine signed a recording contract and national distribution deal with OME (Original Man Entertainment) and Lightyear / WEA (Warner/Electra/Atlantic).
Their album "4U" is now available in stores nationwide. Ballentine's approach to music effortlessly blends Pop-Punk and Rock & Roll, creating their signature Rock/Pop-Punk fusion.
Get the Balentine 4U CD!

FIM announcement. MotoGPWorld Championship Grand Prix
Turkish Grand Prix confirmed
May 22nd - Following the agreement signed between the Turkish Motorcycling Federation (TMF) and Dorna Sports, the FIM confirms that the Turkish Grand Prix will take place on the circuit of Istanbul on October 23 next.
Taobao.com announced as title sponsor for MotoGP's first ever event in China
May 22nd - Dorna Sports and Shanghai International Circuit are pleased to announce that the title sponsorship of the first ever MotoGP event in China, which will take place in Shanghai on May 1st, has been granted to taobao.com, one of China's most successful e-commerce websites.
Taobao.com was started in July 2003 and is now the leading e-commerce trade platform in China. In 2004 it was ranked amongst the top 25 most visited websites in the world, with over 56 million page views per day and more than 5.5 million registered users.
Taobao.com have signed a one-year agreement to become the title sponsor of MotoGP's Chinese round and therefore the upcoming event will be officially named Taobao.com Grand Prix of China.
The title sponsorship agreement includes a strategic cooperative partnership with Shanghai International Circuit. This involves taobao.com becoming the exclusive Internet auction platform for the Shanghai International Circuit, participating fully in the life and event programme of the circuit.
Carlos Checka gets Ducati into the top 5 in difficult conditions is Portugal
Portuguese Grand Prix, Estoril
Race Day, Sunday April 17 2005 - Ducati Marlboro Team riders Carlos Checa and Loris Capirossi each scored top ten finishes after an eventful 28-lap Portuguese Grand Prix at Estoril, with Checa an eventual fifth after a difficult opening few laps. Starting from the front row, he dropped down the order until his rear tyre started to work on the cool track conditions and despite wet sections on the track for long periods, he progressed to the top five.
With 20 laps remaining the white flag, signifying rain on the track surface and allowing riders to come in and change to machines with a pre-arranged wet set-up, was shown. All riders nonetheless persevered, with Checa making up ground in the tricky conditions and Capirossi battling against the pain of his ankle injury.
Ducati MotoGP Project Manager Livio Suppo stated: "So finally we saw how the new flag-to-flag rules were in a race. That was a typical situation in which it was difficult to make a decision, as it was tough to see how hard the rain was coming but in the end it all worked out. If they had stopped the race I think it would not have been any different. In terms of the result we are more or less happy. Considering everything Carlos had a good fight and he took fifth place from really nothing. Loris, we have to remember, is still injured. So both riders finished with points, both in the top ten. Thanks to all our technical partners, especially Shell Advance and Bridgestone."
CHECA OVERCOMES TRICKY CONDITIONS FOR FIFTH
The Ducati Marlboro Team rider made a terrific start to the race, capitalising on his front row start, but dropped back, recovering at the finish.
"When you consider the things we had to carry into this weekend, with my shoulder injury and so on, to finish fifth is a positive result. With more side grip in the later laps my suspension started working better and I regained confidence. Then I was able to establish my pace. Fourth was possible but I braked quite hard passing Melandri and ran wide. The most difficult thing today was to see the flags signalling rain when I was on slicks at 300kmph. That was really scary!"
CAPIROSSI TOUGHS IT OUT
FOR A TOP TEN FINISH
The Ducati Marlboro Team man had an especially difficult race, in pain from his ankle and having to ride carefully to even finish.
"Overall I'm happy it's finished because I am not suffering too much pain anymore. Now with a free weekend I will be able to continue my therapy. The track conditions were really unbelievable. Some places it was wet, other places dry and no one stopped in the pits, because it would have been pointless. Luckily only a few riders fell and none fell down in the last three or four laps, when it began raining even more heavily. I tried to be careful and to finish so I brought home some points. The bike has improved and we are working on it very well so I'm confident for next races, when I'll be 100%".

Coming Soon! 2006
FastDates.com Calendars
Exclusive Early Preview!
Get a full look NOW of all the 2006 Calendar photosin the Members Corner Calendar Gallery

World Superbike Girls!
Our official SBK Fast Dates World Superbike girls are featured in
Member's Corner!
Includes FREE Access with to
Paddock Garage
Hot Shots!
Fast Dates Calendar shoots Rossi's MotoGP Championship Yamaha
With Heather Caroline
April 14th - The world's hottest race bike and centerfold model - The Fast Dates Calendar is shooting next week Valentino Rossi's World Championship winning Yamaha M1 MotoGP bike for our next calendar with beautiful red haired Playboy Playmate Heather Caroline. Just for the fun of it we also tossed in Roland Sands' (RolandSands.com) "Hard Rock" custom for the Iron & Lace Calendar, and a Graves Yamaha R1 Superbike. What more could any guy want, except maybe a sponsored ride?
If you are a good boy we might show you some photo out takes in a few weeks.
But for now its back to work....
HODGSON AND BOSTROM TO ATTACK DIFFICULT BARBER MOTORSPORTS PARK COURSE
May 22nd -The Parts Unlimited Ducati Austin team travels to Birmingham, Alabama this weekend for rounds two and three of the 2005 AMA Superbike Championship. The scenic Barber Motorsports Park, located outside the city in the Alabama hills, will see the first race action in the series since last month's Daytona opener. Racers Neil Hodgson and Eric Bostrom hope to capitalize on the team's extensive testing of their factory Ducati 999 race machines since the first race of the season.
For Hodgson, the former World Superbike Champion who has come to the U.S. this year in a bid to become the first man to win the British, World, and American Superbike titles, last month's test at the Birmingham circuit known for its tight series of turns and blind corners was a valuable experience. "I'm learning all the tracks in America, and this one's no different. I thought this track looked to be the most 'normal' of the tracks by watching the videos (of previous races). From riding at the test, it's clearly different than I thought it would be," said the Isle of Man resident currently second in AMA points.
"For such a small circuit, it is still very technical and that's the sign of a good track. I've not made friends with it yet and we're still fighting," laughed Hodgson. "The tricky part is that there's a lot of off-camber braking and fast corners that you can't see the entry. It's quite difficult but I think it's the type of place where you come back for the second time and feel a lot more comfortable. I'm really looking forward to getting back to racing after all this testing."
Eric Bostrom, winner of 12 AMA Superbike races in his career, is still working on adapting the powerful Ducati 999's suspension settings to fit his distinctive riding style. Bostrom showed a marked improvement at recent tests, however. "It's coming good. We've come a long way. Now we need to get the bike setup just a little bit better, then I think that will improve my riding as well," says Bostrom. "We're making progress and getting closer to where we want to be."
Eric agrees the Birmingham circuit is a challenging one, a track that doesn't allow a mighty machine like the Ducati 999 to fully make use of its powerful engine. "The track is really a monster," says Bostrom, who finished fourth and seventh in last year's Barber Motorsport Park Superbike races. "Except for the Esses down by the museum, there aren't a lot of flat turns. Even the Esses aren't very flat, either. Every turn is a challenge because the bike is weighted and unweighted so much. You'll brake uphill and then have to turn on a downhill. Setup is always a real compromise at Barber. It's really a very cool racetrack, but it is very difficult."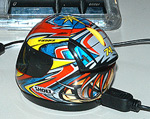 Daijiro Commerative GP Helmet Computer Mice
GP Helmet Mouse is available in the two different trademark Blue / Yellow and Red / Yellow color schemes worn by Daijiro, and have all the hot race features like an 800dpi optical laser for smooth tracking, left/right click functions for precise turn-in, and a quick throttle scrolling function. Included is a long, 36in. detachable USB cable for stealth operation when the tech inspector stops by. The GP Mouse is compatible with both superstock Windows (98 and later) and superbike Apple OS machinery.
Available in America from Sudco International to Dealers,
and Retail direct for $47.00.

Phone weekdays
1-323-728-5407 8am -6pm PT
SUDCO INTERNATIONAL
www.Sudco.com
---
Gauloises Yamaha Team Test
Estoril, Portugal
ROSSI AND EDWARDS COMPLETE POSITIVE DAY OF TESTING IN ESTORIL
Monday, 18th April 2005 - Valentino Rossi and his Gauloises Yamaha team-mate Colin Edwards rounded off the Portuguese stage of the MotoGP World Championship with a further day of testing at Estoril today, following their respective second and sixth-place finishes in yesterday's Grand Prix.
With the weather conditions slightly better than during the damp race, the team continued to work on the set-up and development of the 2005-spec YZR-M1, testing alongside the Fortuna Yamaha Team and riders from Suzuki, Ducati and Kawasaki. As the tricky conditions yesterday highlighted some of the small problems that still exist with the bike, today offered the riders the perfect chance to understand them and work to rectify them, ahead of round three of the Championship in Shanghai on May 1st.\

Valentino Rossi
"This was a positive test and we've had some good results from our work today. We had some problems yesterday and we managed to work through them and understand what happened during the race. I think that we've made some steps forward and I feel happy about what we have done here. I hope that everything we have found out today will help us in China for the next race."

Colin Edwards
"I think I'm moving forward and I am happy with the progress we've made today. Michelin have been working really hard and they brought some good stuff for us to try. We definitely made the bike better today. We worked on ways to make the bike more responsive and I definitely feel more in control. It's left me feeling confident and looking forward to the next stage in China."

Davide Brivio – Gauloises Yamaha Team Director
"Today has helped us to understand some of the difficulties we had yesterday. Valentino has worked on chassis set-up and the balance of the bike and also on the electronics and mapping. Colin also did some work on mapping and looked at ways to improve the power delivery and rideability of the bike. It's been a positive and worthwhile test for both the riders. Now we are looking forward to putting it all to good use in Shanghai."

Bridgestone boost for Team SUZUKI MotoGP
Team SUZUKI MotoGP racers John Hopkins and Kenny Roberts Jr enjoyed a successful test at Estoril in Portugal today as they put new construction Bridgestone race tyres through their paces.
Just one day after the second round of the MotoGP World Championship was held at Estoril, the two Suzuki riders were back on track pushing the new Bridgestone tyres to their limits on their GSV-R prototype race bikes.
Clocking consistently fast lap times, both riders praised the performance of the new Bridgestone rubber.
Tom O'Kane, Chief Technician to Kenny Roberts Jr, said: "The new Bridgestone tyres seem to be a step forward. The riders found improvements in many areas, including endurance and drive grip. Bridgestone will now put the new tyres into production for us."

Steve McQueen in LeMans
The Best racing Movie Ever
Southern California Ducati Dealers Track and Demo Day - April 25th!
We've just gotten word from the organizers, and while space is filling up, there are a few key spots left available for the Southern California Ducati Dealers track day which will be held on Monday, April 25th.
You can either sit at work all day or haul ass around a racetrack. Here is the deal:
The track day will be held at the Fontana Speedway, on the AMA racing course. (Nice.)
$195 for Ducatis, $220 for all other makes.
Demo street rides of 2005 Ducati models will be part of the event.
Want some instruction? The last word we heard had one (1) spot still left in the t! rack rider school. First come, first serve. With a bit of luck and $10 0 the spot can be yours. There are still spots in each of the three levels of experience, with Novice (Level 1) spots going fast.

Interested riders should call 818 249-5707
Job Openings : Pro Italia Expands to Santa Barbara
Pro Italia Motorsports (Ducati, Aprilia, MV Agusta) is currently seeking experienced full and/or part-time staf! f; Parts Sales, Service Technician and Motorcycle Sales. Opportunities are available in their Glendale showroom as well as their soon-to-be announced Santa Barbara shop. Compensation based on experience. Benefits include health insurance and 401K. Some Sunday work.
To apply download and complete our application. Fax application to 818 249-3402, or drop it off at Pro Italia. No calls please.