FastDates.com May 2005
Superbike, MotoGP Racing & Calendar Girl News
Official Calendar of the SBK World Superbike Championship
Home of the official SBK Fast Dates & Team Ducati Corse Umbrella Girls

Meet SBK Fast Dates World Superbike Angel and actrees Robin Cunningham when she hostes the LA Calendar Bike Show July 17-18th
---
2005 SBK Corona Extra World Superbike Championship, Round 4 of 12

Corser and Vermeulen Share Wins at Monza
Monza, Italy, May 6-8th- Two very different World Superbike races delivered two very different results at Monza, in front of a weekend crowd of 93,000. In race one World Championship leader Troy Corser (Alstare Corona Extra Suzuki) scored the win in his accustomed strong front-running form, but had to make do with third in race two, as his fellow Aussie countryman Chris Vermeulen (Winston Ten Kate Honda) took his first win of the year. It was also the first non-Suzuki success, and had Regis Laconi (Ducati Xerox) been able to hold onto his long-term race two lead, there may have been a hometown win for the Italian manufacturer.
After a superb recovery in Race One , James Toseland takes home an excellent third place behind the two Suzukis of Corser and Kagayama, a real confidence boost for the young reigning champion. While in the second race of the day, Regis Laconi led across the startline on every lap until half way through the final lap, when he was passed by Vermuelen (Honda), who went onto take the win.
Race One to Championship leader Troy Corser and Alstare Suzuki
In a pressurised race in windy but otherwise perfect conditions the eventual winner Corser had a real fight after his early lead was eaten into by first Yukio Kagayama and then Regis Laconi. The following James Toseland, having a resurgent ride, made up a four-second deficit to overhaul first Laconi, then Kagayama, before dropping back to finish a close third, behind Kagayama's flying GSX-R. Laconi was fourth, with Yamaha Motor Italia rider Andrew Pitt dropping back to finish a lonely fifth.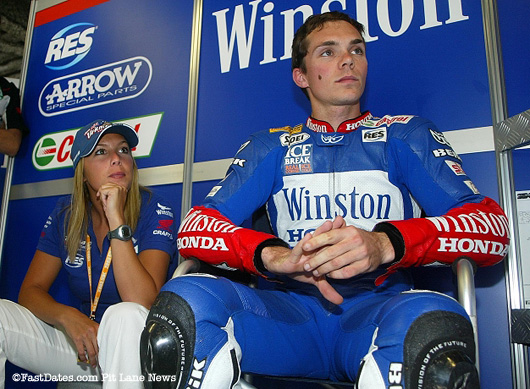 Race Two Gives Vermeulen and Honda First Season Win
With Corser unable to get a jump on the pack in his usual way, the 17-lap race (docked a lap because of a delayed start and a second sighting lap) grew from an eight rider battle for podium places to a pair of two-rider fights for the top honours. Race leader Laconi was hunted down by Vermeulen, who was to take the 25 points on the very last lap, with Laconi a safe second. Behind, it looked as if SBK class rookie Karl Muggeridge (Winston Ten Kate Honda) would score his first podium of the year, but Corser proved too strong in the final sector of the race.
The first CBR1000RR Honda win of the season was particularly welcomed by Chris Vermeulen and the Winston Ten Kate Honda team after a technical stoppage in race one threatened to derail their weekend. Having seen Karl Muggeridge go fastest in regulation qualifying, the team had high hopes for the races, and Muggeridge was to back up Vermeulens win with two strong rides, one against extreme adversity.
Pierfrancesco Chili (Klaffi Honda CBR1000RR) had two tough races himself, but battled to seventh on each occasion, after the drama of a leaking bike on the startline in what was a shortened race two. His team-mate Max Neukirchner (Klaffi Honda CBR1000R) could not start the event, due to a recent thumb operation.
After a superb recovery in race 1, James Toseland takes home an excellent third place behind the two Suzukis of Corser and Kagayama, a real confidence boost for the young reigning champion. While in the second race of the day, Regis Laconi led across the startline on every lap until half way through the final lap, when he was passed by Vermuelen (Honda), who went onto take the win.
"In the last few laps I saw on my pit board that someone was behind me but I didn't have time to see who it was, as I was just trying to keep my small advantage," declared Laconi. "Maybe I pushed too much on my tyre to hold off Troy in the early laps because the left side was becoming very difficult and the tyre was sliding around. But I am very happy because I made a good race result and we pushed very hard to be there today. I really wanted to win today but Chris passed me on the last lap. He was just a little bit faster than me for the last few laps but we will see next time! I gave my best and I am happy when I get a result like that."
CORSER EXTENDS ADVANTAGE: Corser may have lost his near 100% record of wins in the last few races, but with his team-mate Kagayama running wide and then falling to retire in race two his championship lead remains, now 52 ahead. Third place is the property of Vermeulen, some 67 points behind Corser, but only 15 from Kagayama.
COATS OF MANY COLOURS: Karl Muggeridge scored a sixth and then fourth place today just missing the podiums but writing his name large in real race conditions, after some terrible luck in previous races. Both rides were personal highlights in his four round SBK career. For James Toseland, Monza was vindication of his true talents, and although finishing behind his team-mate in race two, he left Monza with points and pride from both his race performances.
YAMAHA'S TOP MAN: Andrew Pitt won many plaudits for perseverance and hard riding on his Yamaha Motor Italia machine, running out fifth and sixth, just unable to stay with the leading groups in either race. His team-mate Noriyuki Haga had another tough weekend, 11th and 9th and not at all happy about his machine set up.
PRIVATE HONDAS: Pierfrancesco Chili (Klaffi Honda) had an eventful race two, when a fluid leak from his Honda on the startline began a series of events which would delay the start. He finished his Monza weekend without adding to his win total of four at the classic Italian circuit, but with two seventh place finishes. His team mate Max Neukirchner was ruled out of the weekend due to medical reasons, with Renegade Honda Koji rider Ben Bostrom finishing 18th on two occasions.
KAWASAKI KING AND NEW DUCATI ROYALTY: Chris Walker was once more the top Kawasaki rider, on the tail of the big starting group in race two. Two eighth places were his reward for another good display of the speed and prowess of the ZX-10. Just behind him in each race was the SC Caracchi Ducati 999 of stand-in rider Gianluca Nannelli, who was easily the top Ducati privateer on show with his ninth and tenth place finishes, despite race two's start coming from pitlane.
PARK LIFE HARD FOR PETRONAS: Steve Martin and Garry McCoy had another tough day of racing, with Martin falling from race one and McCoy pulling in. In race two McCoy was lapped on his way to 21st place, while Martin retired.
Superbike Race 1: (Laps 18 = 104,274 Km)
Pos /Rider /Nat. /Team / Time /Gap
1 / T. CORSER / AUS / Alstare Suzuki Coronaa / 32'40.906 /
2 / Y. KAGAYAMA / JPN / Alstare Suzuki Corona / 32'41.891 / 0.985
3 / J. TOSELAND / GBR / Ducati Xerox / 32'41.946 / 1.040
4 / R. LACONI / FRA / Ducati Xerox / 32'42.663 / 1.757
5 / A. PITT / AUS / Yamaha Motor Italia / 32'49.515 / 8.609
6 / K. MUGGERIDGE / AUS / Winston Ten Kate Honda / 32'53.341 / 12.435
7 / P. CHILI / ITA / Klaffi Honda / 32'53.534 / 12.628
8 / C.WALKER / GBR / PSG-1 Kawasaki Corse / 32'57.562 / 16.656
9 / G.NANNELLI / ITA / Ducati SC Caracchi / 33'01.387 / 20.481
10 / N. ABE / JPN / Yamaha Motor France / 33'02.025 / 21.119
11 / N.HAGA / JPN / Yamaha Motor Italia / 33'04.075 / 23.169
12 / M.BORCIANI / ITA / DFXtreme Sterilgarda / 33'20.780 / 39.874
13 / G.BUSSEI / ITA / Kawasaki Bertocchi / 33'20.986 / 40.080
14 / M.SANCHINI / ITA / PSG-1 Kawasaki Corse / 33'22.390 / 41.484
15 / I. CLEMENTI / ITA / Kawasaki Bertocchi / 33'22.861 / 41.955
Fastest Lap 8° Yukio Kagayama 1'48.082 192,953 Km/
Superbike Race 2 : (Laps 17 = 98,481 Km)
Pos /Rider /Nat. /Team / Time /
1 / C. VERMEULEN / AUS / Winston Ten Kate Honda / 30'49.758 /
2 / R. LACONI / FRA / Ducati Xerox / 30'50.340 / 0.582
3 / T. CORSER / AUS / Alstare Suzuki Corona / 30'52.216 / 2.458
4 / K. MUGGERIDGE / AUS / Winston Ten Kate Honda / 30'53.137 / 3.379
5 / J. TOSELAND / GBR / Ducati Xerox / 30'59.659 / 9.901
6 / A. PITT / AUS / Yamaha Motor Italia WSB / 30'59.834 / 10.076
7 / P. CHILI / ITA / Klaffi Honda / 31'00.874 / 11.116
8 / C.WALKER / GBR / PSG-1 Kawasaki Corse / 31'01.345 / 11.587
9 / N.HAGA / JPN / Yamaha Motor Italia / 31'16.694 / 26.936
10 / G.NANNELLI / ITA / Ducati SC Caracchi / 31'23.217 / 33.459
11 / G.BUSSEI / ITA / Kawasaki Bertocchi / 31'24.942 / 35.184
12 / N. ABE / JPN / Yamaha Motor France / 31'25.370 / 35.612
13 / M.SANCHINI / ITA / PSG-1 Kawasaki / 31'26.575 / 36.817
14 / L. CONFORTI / ITA / Guandalini / 31'35.231 / 45.473
15 / I. CLEMENTI / ITA / Kawasaki Bertocchi / 31'37.108 / 47.350
Fastest Lap 14° Chris Vermeulen 1'48.233 192,684 Km/h
Lap Record: 2002 Troy Bayliss 1'47.434 194,120Km/h
Riders Championship Standings:
1 CORSER 182, 2 KAGAYAMA 130, 3 VERMEULEN 115, 4 LACONI 87, 5 PITT 60,
6 TOSELAND 57, 7 WALKER 54, 8 ABE 54, 9 HAGA 52, 10 CHILI 44, 11 NEUKIRCHNER 41,
12 MUGGERIDGE 38, 13 BUSSEI 31, 14 GIMBERT 26, 15 BOSTROM 19.
Ten Kate Honda's Fujiwara and Carpentier Take Supersport
An outstanding three-rider race for most of the 16-lap Supersport event was reduced to two in the final couple of laps, with Winston Ten Kate Honda rider Katsuaki Fujiwara holding off his team mate Sebastien Charpentier in an often-physical battle around this classic 5.793 km Monza circuit.
A mistake from Charpentier changing gear after a brave pass at the entrance to the last corner allowed Fujiwara to gain the final advantage.
Gianluca Nannelli (Ducati SC Caracchi) had a magnificent ride to third, only dropping off the leading pace in the last two tours. Another local, and regular in the championship, Michel Fabrizio (Team Italia Megabike Honda) was fourth, after a mistake with gear selection on the start line dropped him below 20th place away from the line.
Kevin Curtain was fifth on his Yamaha Motor Germany machine, immediately behind Fabrizio.
In the championship, Fujiwara drew himself closer to the championship lead, with Charpentier on 90 points, Fujiwara on 83 and Curtain on 60.
SUPERSPORT:
RACE : (Laps 16 = 92,688 Km)
Pos /Rider /Nat. /Team / Time /Gap
1 / K. FUJIWARA / JPN / Winston Ten Kate Honda / 30'15.930 /
2 / S. CHARPENTIER / FRA / Winston Ten Kate Honda / 30'15.966 / 0.036
3 / G.NANNELLI / ITA / Ducati SC Caracchi / 30'18.656 / 2.726
4 / M.FABRIZIO / ITA / Italia Megabike / 30'23.973 / 8.043
5 / K. CURTAIN / AUS / Yamaha Motor Germany / 30'24.093 / 8.163
6 / T. LAUSLEHTO / FIN / Klaffi Honda / 30'42.496 / 26.566
7 / B. PARKES / AUS / Yamaha Motor Germany / 30'42.562 / 26.632
8 / S. CHAMBON / FRA / Gil Motor Sport / 30'42.870 / 26.940
9 / I. GOI / ITA / Bike Service / 30'53.427 / 37.497
10 / S. LE GRELLE / BEL / Le Grelle Dholda in Action / 30'53.616 / 37.686
11 / J. FORES / ESP / Alstare Suzuki Corona Extra / 30'53.873 / 37.943
12 / B. VENEMAN / NED / Suzuki Nederland / 31'00.128 / 44.198
13 / J. STIGEFELT / SWE / Stiggy Motorsports / 31'03.884 / 47.954
14 / T. MIKSOVSKY / CZE / Intermoto Czech Republic / 31'13.492 / 57.562
15 / M.BAIOCCO / ITA / Lightspeed Kawasaki / 31'21.888 / 1'05.958
Fastest Lap 15° Sébastien Charpentier 1'52.726 185,004 Km/h
Lap Record: 2003 Chris Vermeulen 1'52.635 185,150Km/h

Riders Championship Standings:
1 CHARPENTIER 90, 2 FUJIWARA 83, 3 CURTAIN 60, 4 FABRIZIO 42, 5 FORET 38, 6 PARKES 38, 7 CHAMBON 32, 8 NANNELLI 31, 9 LAUSLEHTO 24, 10 FORES 23, 11 STIGEFELT 19, 12 VENEMAN 13, 13 VD GOORBERGH 11, 14 LE GRELLE 9, 15 MIKSOVSKY 9.
The next rounds of the World Superbike and Supersport series take place at Silverstone, Great Britain, on May 27 - 29.
---
Front Row Seating! That us in the top of the main grandstands over the pit garages at Lemans as Rossi grids on the pole for Sunday's race. The high definition jumbotron TV screen fed us the entire race live from around the track just as it took place for the world TV feed, to be delayed broadcast later in America.


2005 MotoGP World Roadracing Championship, Round 4 of 18

FastDates.com Goes to LeMans Alice MotoGP!
Valentino Rossi pulls off Exciting Last Lap Win in France

By Jim Gianatsis
Alice French MotoGP, LeMans, France, May 6-8th- There we were in Paris on Saturday night in the ultra exclusive Man Ray Restaurant and Disco with my buddy Lee Chapin from Mikuni, sipping on fine French wine and dining on the club owner's special recommendation of Japanese Sushi and Chinese fare, while gazing at the dozens of beautiful women sitting at the dinner tables all around us. We were the guest of Mikuni's French distributor Cyrille Bihr of Bihr Racing, France's top motorcycle performance parts company with 60 employees.

Life couldn't get much better than this. Lee and I had just gotten off the 120mph TGV bullet train earlier that day after finishing a 1-week Edelweiss sportbike tour on BMWs of the French Alps on the world's most incredible sportbike roads, mixed in with visits to St. Tropez, Nice, movie week at Cannes with Paris Hilton, and a bike blast around the Formula One Grand Prix track at Monaco just before the track was closed for the following weekend's GP race. The next 2 nights we would finish up our dream bike vacation in France with front row tables at The Crazy Horse and the Moulin Rouge for the world's hottest and sexiest strip and burlesque shows with the most beautiful professional dancers.

Then Cyrille broke the news to us that sent our senses into total overload. He had VIP passes for us for the French Alice MotoGP race at LeMans the next morning and did we want to go? Did we! Four hours of sleep and 6 hours later we were blasting down the autodrome at 100mph in Cyrille's new BMW 525 to the quiet French town of LeMans some 90 miles outside Paris which has just fallen to invasion for the race weekend by 100,000 hard core sportbike fans from across France as far away as Great Britain. Stepped in rich racing tradition, the Lemans GP Track today is beautiful self contained permanent race facility, although the famous 24 Hour World Sports Car Race in June still uses additional sections of public road outside the track.

From our grandstand seats above the Pit Garages we watched as Valentino Rossi set a new circuit record on the final lap of the Grand Prix Alice of France to take his third victory from the opening four rounds of the MotoGP World Championship after a thrilling battle with Sete Gibernau. Rossi got a bad start from pole position but made his way through the pack from sixth place as his Yamaha team-mate Colin Edwards led they way.

Rossi snatches pole in dramatic qualifying practice at Le Mans
Valentino Rossi snatched pole position from his team-mate Colin Edwards in a dramatic finale to qualifying for the Grand Prix Alice de France at Le Mans this afternoon. With sunshine breaking through and drying the track after a wet morning practice, the teams and riders worked frenetically throughout the one-hour session to find a race set-up for tomorrow's fourth round of the 2005 MotoGP World Championship.

It was only the second dry practice of the weekend and the riders left it as late as possible before switching to their qualifying tyres and providing a nail-biting end to the session. Marco Melandri, Sete Gibernau, Nicky Hayden and Shinya Nakano all posted strong challenges for pole position but were upstaged by a virtuoso performance from the Yamaha pair, with Edwards moving to the top of the time sheets before being dislodged by a new pole record of 1'33.226 from the World Champion.

"This track wasn't so good for me last year so this pole position is very important," said Rossi. "We suffered a little bit in the practice but we did a great job in the hour we had this afternoon. The weather was good, the track surface was good and we were able to take advantage of every available second, working a lot on the tyres and the suspension. The race configuration is not bad. I put in a qualifying tyre and I wasn't at 100% on the first lap, but the second lap was perfect and the grip was excellent."

The intensity of the session saw twelve riders separated by just 0.765 seconds, signifying virtual parity across the first four rows of the grid. Melandri completes the front row in third place after dominating the session for long periods, with his team-mate Gibernau just 0.002 seconds behind him at the head of the second row in fourth. Hayden and Nakano complete the second row, with John Hopkins heading up row three from Max Biaggi and Carlos Checa. Local favourite Olivier Jacque qualified in thirteenth place, behind Loris Capirossi, Alex Barros and Toni Elías.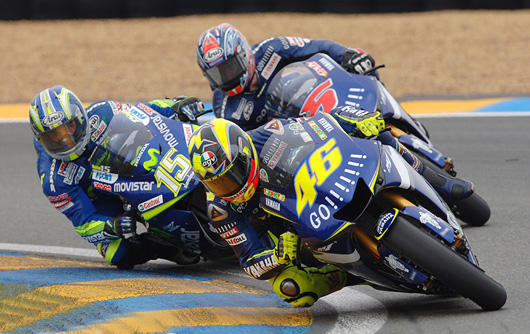 The battle for the lead in the closing laps between Rossi (46), Giberneau (15) and Edwards (5) was intense.
Rossi and Giberneau shook hands on the cool down lap to show there no longer was any bitterness between them after the last lap bump pass by Rossi at Estiril last month.
Americans Edwards and Hayden take early lead on Race day,
run down by a battling Gibernau and Rossi on the closing laps
Rossi got a bad start from pole position but made his way through the pack from sixth place as his Yamaha team-mate Colin Edwards led they way off the start, followed by Nicky Hayden on the factory Repsol Honda and Loris Capirossi on the Marboro Ducati.

Rossi caught Edwards by lap nine after passing Loris Capirossi and Nicky Hayden and the pair built a comfortable advantage over the rest of the field. However, a stunning charge from Gibernau in the second half of the race saw the Spaniard surge from seventh place to third, repeatedly setting the fastest lap of the race and swiftly closing in on the front two. Gibernau's charge sparked Rossi into life and, after both passing Edwards in the same corner on the 21st lap, the pair went head-to-head in a breathtaking finale.

"I made a mistake at the start, just like at the last round in China, but I made positions up lap by lap with some good overtaking moves and eventually caught Colin," explained Rossi, who crossed the line with an advantage of 0.382 seconds after clocking a time of 1'33.226. "I stayed behind him for a while because his rhythm was good, but then Gibernau arrived very fast from behind so I decided to try and overtake him and push to the maximum. Every lap I was better and better and I set the fastest time of the race on the final lap. I am very happy."

Whilst second place for Gibernau moves him up to third in the championship behind his team-mate Marco Melandri, who finished fourth today after an intense battle with Max Biaggi, Edwards's first podium for Yamaha in third place moves him up to sixth overall. Hayden and Capirossi eventually dropped to sixth and seventh respectively after their electric starts, with Shinya Nakano taking eighth place ahead of Toni Elías and Troy Bayliss.

Local hero Olivier Jacque missed out on a top ten finish by less than a second as he clinched eleventh place to the delight of the home crowd, with Rubén Xaus, Kenny Roberts, Jurgen Van Den Goorbergh and Roby Rolfo completing the points. Carlos Checa, Shane Byrne, James Ellison and Alex Barros all crashed out but were uninjured.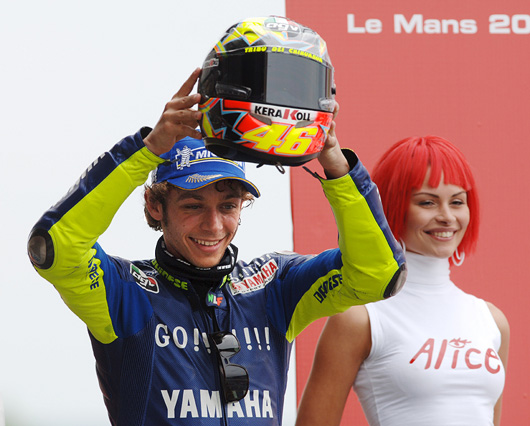 Besides jumping down rabbit holes to Wonderland, Alice is a telephone/ internet service provider in Europe and sponsor of the French Grand Prix. The 2 Alice girls weariing Crazy Horse wigs on the podium with Rossi, and the Miss French GP selected from a beauty pageant at the track on Saturday, were as hot as the race action on the track.
Dani Pedrosa denied Randy De Puniet home victory with a last lap move just three corners from the end of an exciting 250cc race to recover the World Championship lead by four points over Andrea Dovizioso. Dovizioso led for the opening nine laps before Casey Stoner, De Puniet, Jorge Lorenzo and Pedrosa all took turns at the front, with the Frenchman grasping control on the penultimate lap. The 75,000 crowd were on their feet as De Puniet looked certain to take victory but Pedrosa produced a stunning recovery to take his second win of the season. Dovizioso clinched the final podium spot in third place with Stoner and Lorenzo completing the top five.

Thomas Lüthi took his first ever victory in the 125cc race from pole position after streaking into a lead of over eight seconds from the third lap. The Swiss rider never looked in danger as a packed second group gave chase, with Sergio Gadea and Mika Kallio eventually winning the battle for the remaining two podium positions. The result means Kallio now leads the championship by twelve points from Lüthi, with Marco Simoncelli in third place after taking fifth place today.
---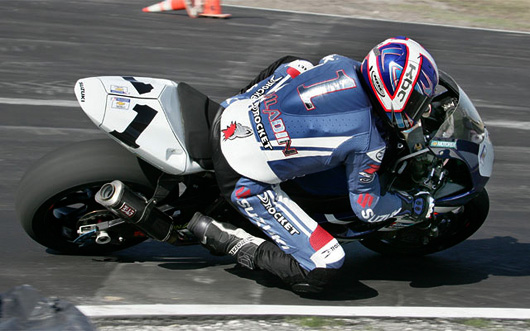 The only view anyone saw of him again all weekend, every weekend, the untouchable Matt Mladin.
2005 AMA Superbike Championship, Round 4 of 11

Mladin again at AMA Superbike Infinion Raceway
Somona, CA, May 7-8th: Team Yoshimura Suzuki's Matt Mladin again won both rounds of the AMA Superbike Championship held at Infinion Raceway this weekend. On Saturday Mladin was followed home by teammate Aaron Yates and former World Superbike Champion Neil Hodgson (Ducati). Sunday the podium was filled by Mladin and teammates Yates and Ben Spies, with Honda's Zemke one spot back.
Saturday Race One to Mladin, Spies and Hodgson
Superbike Race One, Saturday 7th: Parts Unlimited Ducati Austin's Neil Hodgson finished third in the Saturday Infineon Raceway Superbike race, taking his fourth podium of the season in a hard-fought 28-lap event on his Ducati 999. Neil, currently third in the season's points race, had a good battle for second with Aaron Yates but was unable to take the position in the closing laps. Eric Bostrom ended the race in tenth, although he ran as high as second in the early portions of the event once restarted due to a red flag.
"I was out riding on my own and Aaron closed in. That was with about five laps to go. After that, it was a good last five laps of me trying to hang on, trying to see if there was anyway I could do anything," said Hodgson, who finished in the top five at every AMA Superbike race this year and on the podium four times. "There wasn't and that was that."
Neil stayed close to second place but wasn't able to re-take the slot as the grip began to fade late in the 28-lap race. "I think we were all in the same boat. No excuses," said Hodgson. "I'm just trying to keep pushing as hard as I can."
Still, it was a solid result for the 2003 World Superbike champion. Hodgson remains third in AMA Superbike points after six races, a strong debut to his rookie year in the United States.
Teammate Eric Bostrom ran as high as second, but a tire issue caused him to fade to tenth. "Unfortunately, we had a tire problem in the race," said Bostrom. "We had a good start to things and I got in the 1:37s, something I hadn't been able to do all weekend. But then we had a grip problem that made it impossible for me to keep up that pace. I don't want to dwell on the negative about today because we've continually made progress over the last few races."
"Neil rode hard and did his best. Today, that meant third place. It's good to see Neil earn another podium, even if we did come up short when it came to fighting for the win," said team manager Tom Bodenbach. "With Eric's race, sometimes things just don't go your way and that was the case today."
Saturday Superbike Final
1. Mat Mladin (Suzuki)
2. Aaron Yates (Suzuki)
3. Neil Hodgson (Ducati)
4. Ben Spies (Suzuki)
5. Josh Hayes (Kawasaki)
6. Steve Rapp (Suzuki)
7. Jake Holden (Suzuki)
8. Larry Pegram (Honda)
9. Eric Bostrom (Ducati)
10. Marty Craggill (Suzuki)

Sunday Superbike Final
Sunday Superbike Final
1. Mat Mladin (Suzuki)
2. Aaron Yates (Suzuki)
3. Ben Spies (Suzuki)
4. Jake Zemke (Honda)
5. Neil Hodgson (Ducati)
6. Miguel Duhamel (Honda)
7. Eric Bostrom (Ducati)
8. Josh Hayes (Kawasaki)
9. Marty Craggill (Suzuki)
10. Larry Pegram (Honda)
Superbike Standings
1. Mat Mladin (Suzuki) 227
2. Ben Spies (Suzuki) 211
3. Aaron Yates (Suzuki) 207
4. Neil Hodgson (Ducati) 201
5. Eric Bostrom (Ducati) 167
6. Miguel Duhamel (Honda) 149
7. Martin Craggill (Suzuki) 149
8. Lee Acree (Suzuki) 125
9. Steve Rapp (Suzuki) 117
10. Larry Pegram (Suzuki) 116
Fast Dates Calendar Motorcycle Roadracing News. Complete coverage of the SBK World Superbike, AMA National Superbike and MotoGP World Championship. Fast Dates Calendar and Umbrella Girls. Max Biaggi, Valentino Rossi, Ben and Eric Bostom, James Toseland, Regis Laconi, Loris Capirossi, Troy Bayliss, Troy Corser, Noriyuki Haga. Ducati 999 Monster Multistrada, Yamaha R6 R1, Honda CBR600RR CBR1000RR, Kawasaki ZX6 ZX6RR ZX10, Suzuki GSXR600 GSXR750 GSXR1000, Aprilia Mille, MZ Agusta F4 Brutale