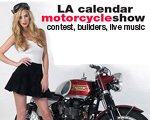 The Biggest Streetbike Show in America!
July 16-17th 2005
$70,000 in Awards!
• World Record Jardine Dyno
• 2-Wheel Tuner Sportbike Class
MotoCreations.com Ducati Class
• AMD World Championship of Bike Building Qualifying Round
Exhibitor Information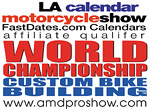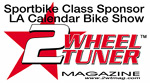 DJ Samantha Lee and Ballentine appearing at
LA Calendar Bike Show
Long Beach , July 16-17th - Beautiful DJ Samantha Lee (Samanthalee.com) has just been confirmed to spin her original tunes both days in the exciting new Metric Midway at this July's LA Calendar Motorcycle Show. The Metric Midway features our exclusive, Jardine West Coast Horsepower Dyno Shootout, the new Motocreations.com Ducati bike display, and the 2Wheel Tuner magazine Sportbike Contest.
Stop by Sammys website to preview her tunes which will rock the Midway all weekend between blasts of the Jardine Dyno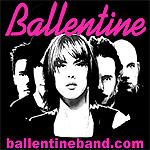 Plus, just one of the incredible bands performing on stage throughout the weekend at the other end of the Queen Mary Park is Ballentine, an LA based pop/punk/rock band, began by touring internationally with the USO. Shortly after, they signed an "In-Theater" documentary deal with MovieTunes, which led to having numerous songs from their album, "4U" played in over 20,000 AMC/Carmike Theaters nationwide. Heather (lead vocals) and Frank (bass/vocals) starred on ABC's nationally televised summer reality show, "The Ultimate Love Test" which exposed Ballentine's music to millions of viewers.
Most recently, Ballentine signed a recording contract and national distribution deal with OME (Original Man Entertainment) and Lightyear / WEA (Warner/Electra/Atlantic).
Their album "4U" is now available in stores nationwide. Ballentine's approach to music effortlessly blends Pop-Punk and Rock & Roll, creating their signature Rock/Pop-Punk fusion.
Get the Ballentine 4U CD!

Ducati's Set MotoGP speed records at Shanghai
During practive for the Shanghai MotoGP the factory Ducati Desmosedici bikes turned the fastest top speed times with Carlos Checa clocking 212.5 mph Loris Capirossi clocking 212.2 mph. Valentino Rozzi's Yamaha M1 was 7 mph slower.
For comparison, a Formula 1 car with around 700 hp, some 3 times more power than the MotoGP bikes, can't run as fast on top speed because of the aerodynamic drag of their downforce wings, bodywork, and exposed open wheels. While a fully enclosed LeMans racer car with 700 hp can run close to 250mph.
American Honda's
Shame & Embarassment
OK, so American Honda's VP of the Motorcycle Division Ray Blank sits on the AMA Pro Racing board and devised the 600cc Formula Extreme class to give Honda a race class they could win without having to go head to head with any other manufacturers. And then he talked the AMA into turning the classic Daytona 200Superbike race into the one brand Honda 600cc Extreme race. Now American Honda flaunts its arogarance by running 2-page $10,000 ad spreads weekly in Cycle News touting its uncontested race wins in Formula Extreme. The above ad appear in Cycle News on Tuesday, just a day after their
1-2 Zemke and Duhamal win in the extreme class at California Speedway against no other factory teams.
It's not enough that American Honda has single handedly almost destroyed American roadracing, but now they falunt it to us on a weekly basis in their race win ads. For shame.
Pit Lane News does not cover cover the AMA 600cc Formula Extreme Championship because it is not a vialble or newsworthy race class.
Kurtis Roberts Complains About Uncompetive American Honda CBR1000RR Superbikes
Kurtis Roberts used a brief interview in this week's Cycle News to complain about the poor performance and uncompetiveness of this season's American Honda CBR1000RR Superbikes.
While Kurtis rides for the factory supported Erion Racing team, as is typical with support team riders, Kurtis is probably contracted directly to American Honda along with Miguel DuHamel and Jake Zemke. And Erion Racing receives much the same bikes and performance parts as the in house American Honda race team has available to them. But both Kurtis and team owner Kevin Erion obviously felt they were outside the comapny enough to sound off about their bike problems without retrobution.
In the interview Kurtis complained that the American Honda prepared CBR1000RRs were being blown away by privateers on super stock spec CBR1000RRs. And Kurtis voiced his opinion that he would probably be faster this season on the old RC51 Superbikes they last raced in 2003.
If you remember here, a few months back, we also told you abut a full page interview in Cycle News with Honda Motorcycle Division VP Ray Blank, he tols us the team was no longer race purchasing bikes from HRC in Japan so they could develop the CBR1000RR for the American market, and pass along the parts and information to racers here.
Whereas, in fact, the American Honda race team probably had its budget cut and can no longer afford to buy the expensive HRC prepared race bikes.
Now before we go to feeling sorry for poor Kurtis, Miguel and Jake having to ride these American honda backyard specials, just remember they had the full 2004 AMA Superbike season to test and copy the specs of their HRC built CBR1000RR bikes, and that they had a new 2005 HRC race kit to duplicate partsoff over for this year.
And now Kurtis is saying the American Honda race team's modified bikes are slower than privateer stock bikes. This is certainly embarasing for the team. But even more embarassing is the fact that Ten Kate Honda (a Honda dealer in Holland) last year in World Superbike took the then just released CBR1000RR in box stock form (without the help of HRC or a big race budget, or big name riders) and turned it into a World Superbike race winner in just a few months.
Meanwhile, American Honda is now struggling with 14 months experience in racing the CBR1000RR, and with trick HRC parts kit, and with experienced Superbike riders. Obviously, there are some serious internal management problems somewhere at American Honda.
Fans Don't Show Up at California Speedway again
Fontana, CA, April 30-May 1st - This past weekend's Suzuki sponsored AMA National Championship races at Califonia Speedwayagain failed to attract a viable spectator tunout. We count around 1,200 spectators each day, Saturday and Sunday.
Even though Southern California is the biggest motorcycle buying market in America, it has always been difficult drawing fans here to poorly designed roadracing facilities with un inspired periphical activities for the jaded SoCal fans.
Despite the fact this was Suzuki's big 20th Anniversay year for the GSXR Superbikes, and their reason to sponsor the AMA Nationals at Fontanam neither Suzuki or the Speedway did very much to advertise the fact, to draw dealer support, or try to get Suzuki owners to the race weekend. We heard after the race that Suzuki dealers did try to give away free race admission tickets to Suzuki owners, but Suzuki forgot to advertsie the fact or offer special activities at the track to help attract them
Ducati USA made an effort to draw Ducati owners to the race with a postcard invitation mailing toregistered owners to join fellow Ducati owners in a Ducati hospitality area with free food and beverages. The Ducati Dealers of Southern California even held a track day at the Speedway on Monday preceeding the race weekend which we attended. Suzuki and its local dealers had no such planned activities for Suzuki owners at Suzuki's own sponsored race.
In another related, stupid marketing move, U.S. Suzuki had their new, very expensive Boulevard Cruiser V-Twin big rig display with its huge pavilion tent at Fontana for a sportbike event that doesn't draw spectators. Yet in their infinite wisdom they have never participated in the Los Angeles Calendar Motorcycle Show, the biggest consumer streetbike show in America
We Ride California Speedway
Fontana, CA, May 26th - On Monday before the big AMA National weekend at California Speedway we got to race the full Superbike couse as part of the SoCal Ducati Dealers and Fast Track Riders lapping school. Our bike was the full zoot Ducati 999R05 Superbike.
It took us about 3 riding sessions to get the track figured out, learn the lines and the breaking points. The infield road course is esentially a flat, featureless parking lot with lots of helpfully placed orange road marker cones to help you find your way around, Then it's a slingshot onto the front straight banking and a tuck behnd the bubble as the bike hits 180mph before you have to sit up, grab the brakes, drop a gear and slice through the temporary plastic curbing that makes up Turn 1-2. By mid afternoon we were bored and ready to head home early.
Quite unlike when we rode the fun and educational Ducati DRE School at the beautiful Misano track in Italy last year and we had to be pried d off my bike when the track closed at 5pm.
Just like Daytona Speedway back east, California Speedway on the west coast has so much potential because it is a great facility with a huge infield area. But it sucks as a roadrace course, and for spectator viewing because the management has no interest, desire, or willingness to spend any money to build the infield area into a world class road race course facility. Sad.
Super Angel Janelle
We just added some super hot new pictures of SBK Fast Dates Calendar Angel Janelle Perzina in her Portfolio in the Meet the Models Gallery. Click on the photo above to get ahead.
Jim Gianatsis / FastDates.com Calendars Signs Licensing Deal with VintageArte.com
Our own world renown motorcycle photographer and publisher of the FastDates.com Calendars and Website, Jim Gianatsis has just signed a licensing agreement with VintageArte.com for them to market on line selected images from Jim's incredible 35 year archive of motorcycle racing and pinup photography.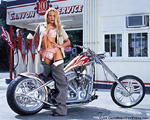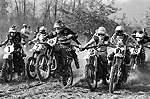 VintageArte.com is a Santa Barbara, CA, based internet art retailer specializing in selling high quality reproduction artwork, electronically printed on to Archival Paper or Canvas, framed or unframed, in sizes ranging from 9x12 inches to 44x60 inch canvass. Through computer marketing software pioneered by Vintage Arte founder Rick Weedn, and now used by E-Bay, Vintage Arte represents its catalog of licensed images for sale on Ebay and through other affiliates website to millions of potential buyers monthly. Now partnering with Weeden at Vintage Arte is Marcel Fortney, who brings 25 years of proven marketing experience in the motorcycle industry.
Vintage Arte will begin representing photographer Jim Gianatsis and his more recent photography from the FastDates.com Iron & Lace Calendars, featuring the world's top custom bikes with beautiful models. Also to be featured will be Jim's even more renown classic motocross race photography from the 1970's golden era of motocross racing, featuring the sports's most legendary riders including Bob Hannah, Roger DeCoster, Marty Smith and Tony DiStefano, in the most competitive and exciting motocross races ever like the Trans-AMA series, which brought together Europe's World Champions to battle America's hot new rising stars.


"I am really exciting to have VintageArte.com representing the best of my huge catalog of motorcycle photography," said Jim. "People are always contacting me to buy my photos, but it has never been cost effective to sell to them, both because of the time involved and the high cost of order custom prints. But now with the internet and digital printing, it all becomes much easier and more affordable.
People will now be able to view a large selection of my photos on line, then they can easily order the photo they like in a size and format to fit both their wall and their budget.
I've got so many incredible photos in my archives of the sport's top riders, bikes, as well as beautiful models that i was afraid no one might ever see again. But my partnership with Vintage Arte will assure my photos can now be collected and enjoyed by everyone."
The Jim Gianatsis collection of motorcycle photography will be available online at VintageArte.com beginning in mid May 2005.
Round 4 – Bennetts British Superbike Championship – Oulton Park
Olton Park, GB, May 2nd - Leon Haslam held on under severe pressure from Bennetts British Superbike Championship leader Michael Rutter to snatch the victory in the second race of the fourth round at Oulton Park.
The two riders bashed fairings heavily on a dramatic final lap of a rain affected race which had made tyre choice a real lottery – Haslam had taken the lead at half distance as Karl Harris ran wide at the chicane, with Rutter relegated to third place in the move.
But then tyre wear, as the full wets chosen by most of the riders began to over-heat, proved problematic.
"I was in trouble- my tyres were shredding," said Haslam. "I knew that Michael was right behind me but when he pushed inside me at the chicane I was not going to give up that easily."
The Airwaves Ducati rider managed to stay on the power to take his seasonal first victory, ending Honda's seven race unbeaten run: "I wanted that victory – it is fantastic for me and the team."
Rutter, who put his feet down to keep his bike upright settled for second place."I could have left it to the final corner, but that left me with only once chance to take him, so I had to go for it – fair play to him.
"Halfway through the race I was in trouble with my tyres but then they started working again and that gave me the confidence to go for it," the HM Plant Honda rider explained.
Harris hit back to take third place, just ahead of James Haydon who was completing a solid day's work as he deputised for the injured defending champion John Reynolds aboard the Rizla Suzuki.
Earlier, Rutter had taken his third victory, by some four seconds, ahead of Gregorio Lavilla, despite making a tardy start that dropped him from pole to sixth on the opening lap.
He had the power and the determination to charge through the pack, but adrift of him Haslam was battling brilliantly. He had started from the pit-lane after the brake lever oAn his his Ducati snapped in a warm-up lap tangle with Harris.
Haslam came through to take fourth place, just adrift of Harris, with the Hawk Kawasaki duo of Glen Richards and Dean Thomas just adrift.
The day though belonged to Rutter: "I'm delighted, a first and a second, and a big lead in the points." He leads Lavilla by 56 points in the title stakes.
James Buckingham heads the British Superbike Cup – the Quay Garage Suzuki rider won the opener, ahead of Steve Brogan and Marty Nutt, but had to settle for third next time out as Malcolm Ashley tasted the winner's champagne for the first time, ahead of Nutt.