LA Calendar Bike Show Exclusive World Premiers July 16-17th!!
The first public appearance of the radical new Dreamcraft Studios DSC-002 Rapture with its 1-piece billet machined aluminum frame. A complete departue from their DCS-001 Sega which premiered with us last year, the Rapture's inspiration came from a 'war machines of the future' theme which the bike's agressive stance stunningly represnts.

Jim Gianatsis will be the first to photograph the newly completed Rapture for the FastDates.com Iron & Lace Calendar and website, with additional photography available for print publications needing editorial feature photography of the bike. Contact: Gianatis Design. More Bike Show Information.
---
Points leader Corser shares the silver and the podium with first race winner Laconi and 2nd race winner Toseland.
2005 SBK Corona World Superbike Championship, Silverstone Round 4 of 12

Ducati Finally Returns to the Top Step at Silverstone
Laconi and Toseland trade wins ahead of points leader Corser
amid the best racing of the season

Silverstone, Great Britain, May 27-29th- After some impressive showings in qualifying the factory Ducati Xerox team showed it still had teeth and claws in race conditions at Silverstone, registering its first race wins of the year after two epic Superbike contests. Regis Laconi won the first of the 28-lap fights, held in front of a weekend crowd of 70,000, before the locals went wild celebrating a battling victory for fellow Brit and reigning World Champion James Toseland in the second leg.
Preview
Thursday 26 May: Silverstone Circuit in Northants is the venue for round 5 of the World Superbike Championship this weekend, but it won't be the legendary Formula 1 track that greets Ducati Xerox Team riders James Toseland and Régis Laconi as they attempt to build on their positive Monza form.
After last year's high-speed thriller around the one of the fastest circuits in the world, the reigning world champion and his French team-mate will line up on the grid on Sunday for 28 laps of the shorter 3.561 km (2.213 miles) International Circuit, used in the popular British Superbike championship. The main change is that instead of powering down Hangar Straight towards Stowe, the riders will now veer off at Becketts and head directly for Abbey before completing the rest of the considerably shorter airfield layout.
Team Ducati Xero's reigning World Champion James Toseland put his 2005 season back on track with a gritty ride to third place at Monza, immediately followed by a positive three-day test session at Mugello, and he now aims to produce more of the same in front of his home crowd. "After Monza I'm really looking forward to every round from now on but in particular Silverstone", said Toseland. "All I can do is apologize to my British fans for my start to the season. For Silverstone and the home crowd I just want to prove exactly why I've got the number 1 on the bike. I didn't buy it, it was earned last year and I want to prove that we can keep it, especially as it's my first time back for a race in Britain since winning the title.
"I was a bit sceptical at first about racing on the short circuit because we haven't ridden it, but in fact there's not much there that we don't know so it should be OK" he added. "I really benefited from the Mugello test after Monza, because we tried a few things and I went 1.2 seconds quicker than last year so now I'm really looking forward to getting out there at Silverstone on Friday".
Ducati Xerox team mate Régis Laconi was unlucky not to win race 2 at Monza after leading until half-way round the final lap, but the 29-year-old Frenchman is confident that his Ducati team is on the right track for the rest of the season. "I believe we are coming better and better now. At Valencia I was on the pace but unfortunately I didn't race, while at Monza I was very close to the win so I feel that the bike is getting more and more competitive as the season goes on", declared Laconi. "I was surprised to learn that we are racing on the short Silverstone circuit, but for me it doesn't matter if it is long or short, I will give everything as always to get a good result. It will be important in qualifying to get the bike set up right for the tight chicane, because we go through there more times in this year's race. Now the circuit is not so fast, so the settings will be different, but it will still be a great track to race on".
After the first Honda-mounted win of the 2005 championship trail was secured at the previous Monza round, all five supported Honda riders, spread across three quality teams, will be out to increase the total at the new-look Silverstone. Chris Vermeulen (Winston Ten Kate Honda CBR1000RR) scored the race two win at Monza, firming up his pre-season promise and adding to his four Honda CBR1000RR wins from his rookie SBK season of 2004.
Vermeulen, like his entire peer group, was surprised to find that the Silverstone event would be run on the 3.561km International circuit, this season, not the usual full Grand Prix track - instantly transforming Silverstone from one of the fastest circuits on the calendar to one of the slowest.
Thus the Silverstone 2005 experience will be a new one, even for the most seasoned rider in the class, Pierfrancesco Chili (Klaffi Honda CBR1000RR), who currently sits in 10th place in the overall championship table. Despite breaking his left collarbone for the third time in four seasons, in practice for the Australian round in March, Chili is recovering well and posted two seventh place finishes at Monza three weeks ago. A recent run of injuries for the Klaffi Honda riders sees Silverstone mark itself as the comeback race for the impressive young talent that is Max Neukirchner (Klaffi Honda CBR1000RR), who was forced to miss the Monza event due to broken thumb on his throttle hand.
Karl Muggeridge (Winston Ten Kate Honda CBR1000RR) overcame some early-season misfortunes to post his two best results at Monza, and climb up the championship ladder to 12th, with the promise of even stronger results as he continues in his rookie season of SBK racing.
Ben Bostrom (Renegade Honda Koji CBR1000RR) continues his reintroduction to World Superbike at Silverstone, and is one rider at least who looks forward to the shortened track, which should simplify his set-up tasks somewhat.
Vermeulen, the 2003 World Supersport Champion, admitted to having ridden on the short Silverstone International track before, in his tenure as a British Championship rider.
"I remember the shorter circuit from my days in the British championship but it'll take a few laps to familiarise myself with it again. The second race win at Monza was long overdue but it felt pretty good all the same. We found the right direction at Monza and we'll definitely be looking to carry that progress through to Silverstone. We basically lifted the bike at the front and the rear and changed the offset to keep it steering good and it seemed to work pretty well. Silverstone is a place that holds good memories for me, having won the Supersport race there in 2003 and then taking my very first Superbike victory last year."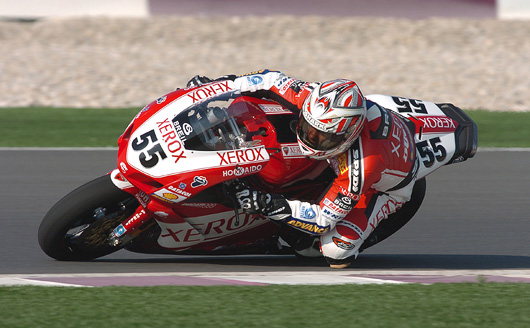 Silverstone finally saw the factory Ducatis headed by Regis Laconi on the top of the time sheet ahead of the Corona Suzukis for the first time this season.
Ducati Corse Quickest in Practice
Friday 27 May: The Ducati Xerox Team powered back to the front in the first qualifying session for the British Round of the World Superbike Championship as Régis Laconi and James Toseland headed the timesheets today on the shorter International circuit at Silverstone. Régis and James were already at the front in the morning's free practice session and then continued their good form in the afternoon with first and second quickest times ahead of the Suzuki duo of Corser and Kagayama.
"I'm very happy because we have done a good job to be fastest today" declared Régis. "This morning I did the best lap time and this afternoon also, so that's good for me and good for Ducati to have both riders at the front for the first time this year. On this track we have to say that we are in a better position than we have been so far. I feel very good on the bike, and all the changes we made, made it go faster. The circuit is very hard because there is no time to recover. You are pushing hard all the time but it's very enjoyable. Some of the corners you have to arrive very quick and brake very hard but that's the sort of track that I like".
"We're back and it's nice to be back for my home race" said James. "It was nice for Monza and I knew it would continue here after the Mugello test, where I managed to find that little something extra. The front tyre is working well, the rear we're just struggling with a little bit but we have been right on the pace since this morning. We needed to get it together after the first three rounds, Davide has done a fantastic job of getting the team to rally around me and getting the morale back. The circuit's actually not too bad, it's interesting and still enjoyable to ride round, but it's going to be difficult to pass in the races. I think I can make up a bit more time in the first part because we're struggling with the bumps in the first corner, just 'pogoing' and taking the weight off the front a bit, but on the rest of the circuit we're fine".
PRACTICE TIMES: 1. Laconi (Ducati Xerox) 1m27.578s; 2. Toseland (Ducati Xerox) 1m27.627s; 3. Corser (Suzuki) 1m27.696s; 4. Kagayama (Suzuki) 1m27.832s; 5. Chili (Honda) 1m28.145s; 6. Muggeridge (Honda) 1m28.189s; 7. Haga (Yamaha) 1m28.240s; 8. Vermeulen (Honda) 1m28.310s; 9. Bostrom (Honda) 1m28.366s; 10. Walker (Kawasaki) 1m28.373s; etc.
TV COVERAGE: British Eurosport (UK) - Saturday 28 May, 1615 BST Superpole (live). Sunday 29 May, 1130 BST race 1 (live), 2200 race 2 (delayed). Eurosport (Pan European) - Sunday 29 May, 2245 race 1 + 2 (delayed).
Image
Saturday Super Pole to Kagayama
Yukio Kagayama (Alstare Corona Extra Suzuki) hammered out an impressive Superpole win in windy conditions at Silverstone, with a weekend best lap time of 1'26.679. In a session where many riders improved on their best time from previous qualifying sessions, Kagayama took his third pole of the year, this time from his revived Japanese compatriot Noriyuki Haga (Yamaha Motor Italia), who had himself only qualified 12th best in the regulation sessions.
The fastest rider on day one, Regis Laconi (Ducati Xerox 999), was third quickest in Superpole, making it three different makes of machine in the first three grid positions. 1996 World Champion Troy Corser (Alstare Corona Extra Suzuki) secured the last place on the front row, a fine location from which to defend his impressive championship lead come raceday.
Chris Vermeulen (Winston Ten Kate Honda) was the quickest man in overall regulation qualifying, and was thus last man away in the single lap Superpole contest. The Aussie rider headed up a further 16 riders who were all within one second of his provisional pole time – making this the second closest qualifying session in SBK history. The winner of Monza race two could only take fifth place after Superpole itself, however, with his team-mate Karl Muggeridge 11th.
Superpole results, Superbike World Championship round 5, Silverstone, Great Britain: 1 Kagayama 1:26.679; 2 Haga +0.306; 3 Laconi +0.407; 4 Corser +0.498; 5 Vermeulen +0.582; 6 Cardoso +0.720; 7 Toseland +0.905; 8 Walker +1.126; 9 Pitt +1.182; 10 Neukirchner +1.209; 11 Muggeridge +1.335; 12 McCoy +1.406; 13 Chili +1.450; 14 Abe +1.454; 15 Bostrom +2.218; 16 Roccoli +2.229
Saturday free practice: 1 Kagayama 1:27.178; Corser 1:27.312; 3 Laconi 1:27.669; 4 Toseland 1:28.082; 5 Haga 1:28.103; 6 Walker 1:28.151; 7 Bostrom 1:28.291; 8 Vermeulen 1:28.298; 9 Chili 1:28.420; 10 Abe 1:28.530; 18 McCoy 1:28.863; 22 Martin 1:30.438
Saturday morning qualifying practice (best qualifying time bracketed): 1 Vermeulen (Winston Ten Kate) 1:27.508; 2 Corser (Alstare Suzuki Corona) 1:27.539; 3 Laconi (Ducati Xerox) 1:27.686 (1:27.578); 4 Toseland (Ducati Xerox) 1:27.741 (1:27.627) 5 Neukirchner (Klaffi Honda) 1:27.641; 6 Kagayama (Alstare Suzuki Corona) 1:27.649; 7 Cardoso (DFX Treme) 1:27.854; 8 Walker (PSG-1 Kawasaki) 1:27.936; 9 Roccoli (Team Lorenzini) 1:28.020; 10 Muggeridge (Winston Ten Kate Honda) 1:28.099; 16 McCoy (Foggy PETRONAS Racing) 1:28.819 (1:28.449); 24 Martin (Foggy PETRONAS Racing) 1:29.696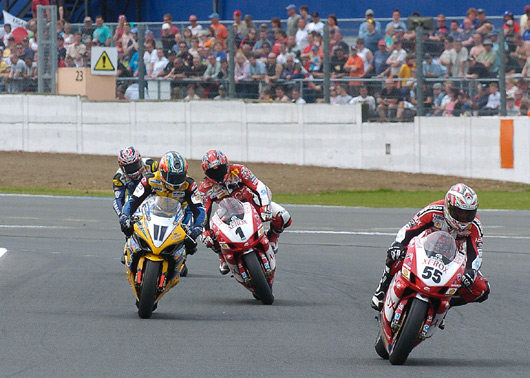 Race One saw Laconi (55) fight his way past Corser (11) to win with justthis slight lead, followed by team mate Toseland (110 and Vermeulen (behind).
The Championship Heats Up as Ducati's Men Slow the Suzuki Steam Roller
Silverstone (UK), Sunday 29 May: Règis Laconi and James Toseland took a win apiece for the Ducati Xerox Team in the fifth round of the World Superbike championship in front of a 70,000 strong crowd at the Silverstone circuit. Frenchman Laconi scored his ninth career triumph and Ducati's first win of the year when he took the chequered flag in Race One, but it was Toseland who really set the home fans alight with a controlled but aggressive display of riding in Race Two to seal the reigning champion's first win of the year.
Race One to a Tearfully happy Laconi:
A great start from Noriyuki Haga (Yamaha Motor Italia) put him in contention for the win for most of the race, but a technical problem with his fuel pump ruled him out late in event, leaving three riders to battle it out. Regis Laconi (Ducati Xerox 999) held off Troy Corser (Alstare Corona Extra Suzuki) to record his first win of the year. Local hero James Toseland (Ducati Xerox) scored third place; a taste of things to come. Such was the pace of the leading three, that fourth placed rider Chris Vermeulen (Winston Ten Kate Honda) was 11 seconds down on the leaders, and Laconi took the new circuit lap record of 1'27.130.
"I have wanted to win since the beginning of the season" said a tearful Régis from the top step of the podium. "I almost did it in Monza, but I was a bit disappointed about losing out on the final lap. Now I am very happy to win this one because it is the first victory this year. It's good because it means that Ducati are doing a great job together to get back to the front and with James on the podium with me it was a good result for all of us. In the last few laps I knew Troy was behind me so I tried my best not to make any mistake in all the corners. I think that if I am very clean in all the corners it becomes hard for Troy to pass. During the race I had to pass three guys to take the lead, so I rode hard and aggressive, but I am a very happy man today because we did a good job and won one more time for Ducati".

Race Two to Reigning Champ Toseland
With long time leader Corser once more fighting with Haga, and Laconi out after a lap two crash, James Toseland hit the lead after 17 laps, running hard at the front but unable to shake off Corser and the very slowly fading Haga. Toseland's final efforts were enough to give him the race win, his first of the year, and bring him closer to the overall championship battle – as well as make the British bank Holiday weekend a party for all his massed countrymen. Corser's second place nonetheless increased his championship lead, to 78 points, from his team-mate Yukio Kagayama, who fell in race one, and was only seventh in the second 28-lap contest.
"Its always nice to win especially with the tough start to this season, but as I said after the first race, I never give up" declared James. "The team has worked fantastically well, thanks to Davide Tardozzi and Paolo Ciabatti for all the work they've done with me. We made a slight change from first race to second race and it was worth half a second a lap faster, the difference between finishing third and first, but it was a long race and seeing L18 after about 45 minutes is really tough!
"I did it the hard way again, letting them get away at the start and having to chip away but once I'd got on the tail, it was difficult with Nori and Troy and it took me quite a few laps to get by. I've never won before at Silverstone and that was one of my goals in life. It feels as good as I thought it would!".
Laconi who had won the first race from Corser, only got as fars as the 2nd lap inRace Two when he lost the rear of his Ducati 999 and crashed out. "In race 2 I was right behind Haga and Corser when I went into the last chicane and lost control of the rear of the bike and there was nothing more that I could do. It was a real pity but I will try and make up for it in front of the Italian fans at the next race at Misano".
Big Name Stars Suffer Varying Fortunes
A strong second race performance for Chris Vermeulen gave him another fourth place, keeping him third in the championship, only three points from second place. Pierfrancesco Chili (Klaffi Honda) fought off cramp and some close attentions from other riders to record a pair of fifth places, while his injured team-mate Max Neukirchner was an impressive seventh, then a crash affected 18th, pushed off the circuit for a time by a fallen machine. Karl Muggeridge (Winston Ten Kate Honda CBR1000RR) slugged out two tenth places, on a day of symmetrical results for the highest placed Honda riders. Chili's team-mate Max Neukirchner (Klaffi Honda CBR1000RR) had a day of contrasts, overcoming the pain of his recently broken wrist to secure seventh in race one, but knocked off his machine temporarily to finish 18th in the second leg.

Chris Walker (PSG-1 Kawasaki ZX-10R) rode his heart out for his home crowd at Silverstone, finishing almost within touching distance of Chili in both races - and swelling his points score enough to go sixth overall in the title race. A good meeting in parts for Kawasaki riders of note put Giovanni Bussei (Bertocchi Kawasaki) an aggressive eighth in the opener, after a brilliant ride through the field.
Andrew Pitt (Yamaha Motor Italia) was forced to take a ride through penalty after crashing in the morning warm up, after which his machine's engine failed to cut out. He finished race one 13th, despite this handicap. A battling ride around a circuit layout he was not keen on saw him ninth in race two. Norick Abe suffered a clutch failure on his Yamaha Motor France Ipone machine, but recovered to beat Pitt over the line for eighth - in his first Silverstone visit. Ben Bostrom (Renegade Honda Koji CBR1000RR) had the sub frame on his machine break in race one and then finish 14th in race two, fighting a lack of front-end grip after changes in set-up between races. Karl Muggeridge (Winston Ten Kate Honda) was tenth in both races.

Garry McCoy broke an unwelcome season-long duck to secure his first points on his Foggy Petronas triple, taking 13th place in race two. His team-mate Steve Martin had one DNF in race one and a 20th place in the second outing.
Superbike Race 1: (Laps 28 = 99,708 Km)
Pos /Rider /Nat. /Team / Time /Gap
1 / R. LACONI / FRA / Ducati Xerox / 40'58.899 /
2 / T. CORSER / AUS / Alstare Suzuki Corona Extra / 40'58.995 / 0.096
3 / J. TOSELAND / GBR / Ducati Xerox / 41'00.035 / 1.136
4 / C. VERMEULEN / AUS / Winston Ten Kate Honda / 41'10.184 / 11.285
5 / P. CHILI / ITA / Klaffi Honda / 41'13.548 / 14.649
6 / C.WALKER / GBR / PSG-1 Kawasaki Corse / 41'15.360 / 16.461
7 / M.NEUKIRCHNER / GER / Klaffi Honda / 41'39.364 / 40.465
8 / G.BUSSEI / ITA / Kawasaki Bertocchi / 41'42.164 / 43.265
9 / J. CARDOSO / ESP / D.F.X. Treme / 41'45.310 / 46.411
10 / K. MUGGERIDGE / AUS / Winston Ten Kate Honda / 41'48.110 / 49.211
11 / Y. KAGAYAMA / JPN / Alstare Suzuki Corona Extra / 41'50.605 / 51.706
12 / M.SANCHINI / ITA / PSG-1 Kawasaki Corse / 41'55.273 / 56.374
13 / A. PITT / AUS / Yamaha Motor Italia WSB / 42'10.501 / 1'11.602
14 / A. VELINI / ITA / Team Pedercini / 42'24.085 / 1'25.186
15 / M.PRAIA / POR / DFXtreme Sterilgarda / 42'24.873 / 1'25.974
Fastest Lap Lap 9° Régis Laconi 1'27.130 147,132 Km/h

Superbike Race 2: (Laps 28 = 99,708 Km)
Pos /Rider /Nat. /Team / Time /
1 / J. TOSELAND / GBR / Ducati Xerox / 40'55.190 /
2 / T. CORSER / AUS / Alstare Suzuki Corona Extra / 40'55.663 / 0.473
3 / N.HAGA / JPN / Yamaha Motor Italia WSB / 40'58.377 / 3.187
4 / C. VERMEULEN / AUS / Winston Ten Kate Honda / 41'01.881 / 6.691
5 / P. CHILI / ITA / Klaffi Honda / 41'12.113 / 16.923
6 / C.WALKER / GBR / PSG-1 Kawasaki Corse / 41'12.247 / 17.057
7 / Y. KAGAYAMA / JPN / Alstare Suzuki Corona Extra / 41'23.438 / 28.248
8 / N. ABE / JPN / Yamaha Motor France-Ipone / 41'26.950 / 31.760
9 / A. PITT / AUS / Yamaha Motor Italia WSB / 41'27.274 / 32.084
10 / K. MUGGERIDGE / AUS / Winston Ten Kate Honda / 41'31.682 / 36.492
11 / L. LANZI / ITA / Ducati SC Caracchi / 41'34.660 / 39.470
12 / I. CLEMENTI / ITA / Team Pedercini / 41'35.372 / 40.182
13 / G.MCCOY / AUS / Foggy Petronas Racing / 41'36.515 / 41.325
14 / B. BOSTROM / USA / Renegade Koji / 41'41.286 / 46.096
15 / M.ROCCOLI / ITA / Italia Lorenzini by Leoni / 41'51.441 / 56.251
Fastest Lap 5° Troy Corser 1'27.166 147,071 Km/h
Lap Record: 2005 Régis Laconi 1'27.130 147,130Km/h
Riders Championship Standings:
1 CORSER 222, 2 KAGAYAMA 144, 3 VERMEULEN 141, 4 LACONI 112, 5 TOSELAND 98,
6 WALKER 74, 7 PITT 70, 8 HAGA 68, 9 CHILI 66, 10 ABE 62, 11 NEUKIRCHNER 50,
12 MUGGERIDGE 50, 13 BUSSEI 39, 14 GIMBERT 26, 15 BOSTROM 21.

Supersport Again to Charpentier
: Winston Ten Kate Honda's 2005 sensation Sebastien Charpentier took victory number three in five attempts, winning out in a near-race long battle with Aussie rider Kevin Curtain (Yamaha Motor Germany). Such was their pace that Charpentier was some 20.4 seconds clear of third place rider Fabien Foret. British wildcard rider Craig Jones (Northpoint Ekerold Honda) retired but it was a season best for GIL Motorsports Honda rider Stephane Chambon, who was fourth overall. Broc Parkes (Yamaha Motor Germany) went fifth after Michel Fabrizio (Team Italia Megabike) retired with clutch problems. Barry Veneman had an excellent sixth on his Suzuki Netherlands machine, while Gianluca Nannelli was top Ducati rider, seventh on his SC 749R. Championship second place rider Katsuaki Fujiwara (Winston Ten Kate Honda) struggled against the pain of injury from a practice crash to finish ninth.
Supersport Race: (Laps 28 = 99,708 Km)
Pos /Rider /Nat. /Team / Time /Gap
1 / S. CHARPENTIER / FRA / Winston Ten Kate Honda / 41'53.540 /
2 / K. CURTAIN / AUS / Yamaha Motor Germany / 41'56.383 / 2.843
3 / F. FORET / FRA / Team Megabike / 42'13.945 / 20.405
4 / S. CHAMBON / FRA / Gil Motor Sport / 42'15.903 / 22.363
5 / B. PARKES / AUS / Yamaha Motor Germany / 42'18.363 / 24.823
6 / B. VENEMAN / NED / Suzuki Nederland / 42'25.550 / 32.010
7 / G.NANNELLI / ITA / Ducati SC Caracchi / 42'27.182 / 33.642
8 / A. CORRADI / ITA / Ducati Selmat / 42'30.866 / 37.326
9 / K. FUJIWARA / JPN / Winston Ten Kate Honda / 42'31.329 / 37.789
10 / T. LAUSLEHTO / FIN / Klaffi Honda / 42'31.368 / 37.828
11 / S. LE GRELLE / BEL / Le Grelle Dholda in Action / 42'40.558 / 47.018
12 / J. FORES / ESP / Alstare Suzuki Corona Extra / 42'41.038 / 47.498
13 / J. DA COSTA / FRA / Lightspeed Kawasaki / 42'42.035 / 48.495
14 / T. TUNSTALL / GBR / Hardinge Bridgeport / 42'44.320 / 50.780
15 / J. JANSEN / NED / Suzuki Nederland / 42'46.512 / 52.972
Fastest Lap 2° Sébastien Charpentier 1'29.027 143,997 Km/h
Lap Record: New Track
Riders Championship Standings:
1 CHARPENTIER 115, 2 FUJIWARA 90, 3 CURTAIN 80, 4 FORET 54, 5 PARKES 49,
6 CHAMBON 45, 7 FABRIZIO 42, 8 NANNELLI 40, 9 LAUSLEHTO 30, 10 FORES 27, 11 VENEMAN 23, 12 STIGEFELT 19, 13 LE GRELLE 14, 14 VD GOORBERGH 11,
15 MIKSOVSKY 9.