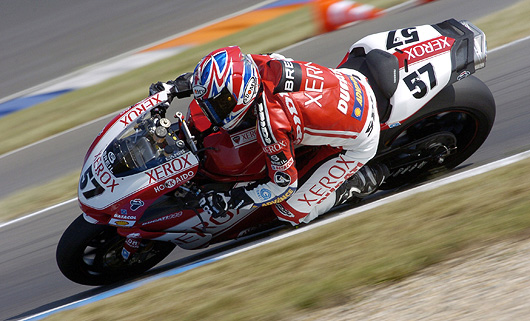 Lorenzi Lanzi sets Superpole at Lausitzring in his first ride for Ducati Corse in World Superbike as he substitutes for an injured Regias Laconi. Need 2 sets of custom team leathers in 4 days? - No problem. Lorenzo returned on Sunday to kick ass and set world Superbike on its head and current Ducati Corse team riders shaking in their boots as to where they'll be riding next year.
SBK World Championship, Lausitzring Germany Round 10 of 12

Lorenzo Lanzi Storms to Superpole for Team Ducati at Lausitzring
Leads Race One Until Penalized, Vermeulen Takes Rain Shorted Win
Lanzi Blows the Lid of World Superbike in Race Two as Corser Crashes!
By Andy Rixon, Kel Edge, Jim Gianatsis & Friends
Eurospeedway Lausitz – Germany , Sept 10-12th -An outstandingly unpredictable day of race action at EuroSpeedway Lausitz saw wins for championship challenger Chris Vermeulen (Winston Ten Kate Honda) and factory debutant, Lorenzo Lanzi (Xerox Ducati). Two of the youngest riders in the top echelons of Superbike, Vermeulen and Lanzi, both 23, were fast in practice and fast off the line, with Lanzi overshooting the first turn at the start of race one, and then pulled into the pits for a stop-and-go penality after he had passed both Noriyuki Haga (Yamaha Motor Italia) and Vermeulen for the lead. Vermeulen took the Race One win from Noriyuki and Championship leader, Troy Corser (Alstare Suzuki). In the second race, Lanzi earned his first ever SBK race win; in his first ever race within a factory team, from Vermeulen and Haga. Championship leader Corser crashed out, but restarted to finish 13th.
For Vermeulen race one delivered him his third race win in a row, after a long fight with Noriyuki Haga, albeit in a race that was foreshortened artificially due the advent of a few spots of rain. Called a result at 20 of the 24 laps, Vermeulen won by 0.269 seconds from Haga, with Corser third. Lorenzo Lanzi, who had run on at the very first corner after his pole position start, rejoined the race 11th after a ride through penalty, yet worked his way up to eighth at the flag.
A Superpole winner at the first attempt in factory colours Lanzi became a race winner too, holding onto along term lead despite intense pressure from behind - from first Noriyuki Haga (who was third) and eventual second place man Vermeulen, who had to make his way through the pack from a slow start.
The end result of Corser's lap two crash and eventual three points for 13th are that his championship lead has been slashed to a still impressive 60 points, with 100 up for grabs by Vermeulen if he wins all four remaining races.

Chris Vermeulen (77), Lorenzo Lanzi (57) and Noriyouki Haga (47) fought hard both races for the win.
Lausitz Warmup
The Superbike World Championship returns to the EuroSpeedway Lausitz after an absence of two years this weekend. Situated in the former East Germany, EuroSpeedway was opened in 2000 and has twice played host to the series, in 2001 and 2002. The venue comprises of a high-speed oval circuit with an inner road course which is used for the superbikes. The circuit itself consists of several slow speed corners linked by long straights. Previous experiences of the circuit suggest that qualifying will be important as overtaking is difficult due to the layout and 'single-line' nature of the track.
Chris Vermeulen (Winston Ten Kate Honda CBR1000RR) added a brace of race wins to his 2005 season total at the recent Assen World Superbike race, clawing back vital points to the championship leader, Troy Corser (Suzuki). His peerless display at Assen, and the positive experience of a recent Lausitzring test session put him firmly on course for more success this weekend.
The recent wet and dry track experience of Laustiz will stand Vermeulen in good stead as he aims for a perfect finish to his 2005 season. "We had a two-day test at Lausitzring in July and, although it rained on the second day, the test was good," he stated. "The bike was working pretty well but there are a lot of areas where we can try to make the bike better so we've got a few things to try this weekend. One thing about Lausitzring is that, if it rains, it's like an ice rink; but I've heard the forecast for the weekend is supposed to be OK. I said before Assen that I saw no reason why we couldn't go for eight wins from the remaining eight races. It went to plan last weekend but now there's only three rounds left and I've still got more races to win, so that's what we'll be concentrating on this weekend."
Chris Vermullen's biggest challengeers remain seroes points lead Troy Corser on the Alstre Corona Suzuki team who is sure to return to top form after a rare oof the podium pair of finishes last week at Assen, Ducati's reigning World Champion James Toseland who came alive last week and nearly pulled off the win both races, as well as Yamaha's Noriyuki Haga.
For the Yamaha Motor Italia team, the visit to Germany is a chance to build on their recent good form. Having spent the opening half of the series developing their machines, the YZF-R1 has been ever present on the podium in the last three rounds, a trend they hope to continue in the final quarter of the year.
Noriyuki Haga moved up to fourth in the championship with a pair of podium finishes in Assen last weekend and, with two wins and three other podiums in his last five starts, the Japanese ace is the form man of the moment. With three rounds and six races remaining, Haga can realistically target third in the championship in this, the YZF-R1's development year in the championship. He said: "Assen was a difficult race. We never found a really good suspension setting and the weather was very hot. We had two very big battles with Chris (Vermeulen) and James (Toseland) and I think it was a good show for the fans. I have one experience of Lausitz, from 2002, but we have never been there with the Yamaha, so it is only in first practice that we can see our performance here."
Team-mate Andrew Pitt gave one of his best performances of the year in Assen with two fine fifth places. The Australian too, is looking to climb from his ninth place in the championship at Lausitz, but more importantly he wants to climb onto the podium. He said: "Lausitz is a great, modern facility and an ok track, nice for testing and riding around by yourself on - but a difficult track to race on because it's so tough to overtake on. Qualifying and a good start will be important here and I'm looking forward to it. I was pleased with how things went in Assen - a little disappointed not to make the podium but happy that we were able to be consistently up there and battling for the podium. Now I really want to get up there on the rostrum in the last six races."
Assen was a meeting to forget for SBK legend Pierfrancesco Chili (Klaffi Honda CBR1000RR) but his indomitable spirit will see him out to make amends at Lausitzring. Max Neukirchner (Klaffi Honda CBR1000RR) has more reasons than most to look forward to Lausitz, as it his only chance to shine in front of a home audience in 2005.
Recent injury and subsequent illness did not stop Ben Bostrom (Renegade Honda Koji CBR1000RR) from posting a top ten finish at Brands, and with more time to heal, he may even improve on his top 15 placing in the championship series, before the final two races in Italy and France.
"We had a two-day test at Lausitzring in July and, although it rained on the second day, the test was good," he stated. "The bike was working pretty well but there are a lot of areas where we can try to make the bike better so we've got a few things to try this weekend. One thing about Lausitzring is that, if it rains, it's like an ice rink; but I've heard the forecast for the weekend is supposed to be OK. I said before Assen that I saw no reason why we couldn't go for eight wins from the remaining eight races. It went to plan last weekend but now there's only three rounds left and I've still got more races to win, so that's what we'll be concentrating on this weekend."
For Chili Lausitz is by no means a favourite venue, but he will be concentrating all his efforts on machine and set-up improvements to allow him to get back into contention for podium places.
"At Lausitzring I always finished top ten," said Chili of his previous experiences. "The track is not so nice for me but it is okay. It is only a pity that we had no tests there before this race. After the results at Assen we will give our all to achieve some better positions again."
Muggeridge made a breakthrough in the transition from Supersport World Champion to top level Superbike pilot at Assen, and hopes to translate that into results at Lausitz.
"It's really time to take the good from the bad here and put my words into action," said Muggeridge. "The bike's not bad but I have to start riding it like a Superbike. Assen was disappointing and a perfect example of riding it like a Supersport bike, which is all about corner speed. I finally found how to ride it at Assen but, the way we had it set up, it was too late. I need to maybe square off the corners a little more and spend less time with the bike on its side, because that's what causes the grip to drop off so dramatically during the race. You need to manipulate the Superbike much more and press all the right buttons, so that's what I'll be trying to do here at Lausitzring this weekend. We had a pretty good test here after Brno so at least we have somewhere to start from."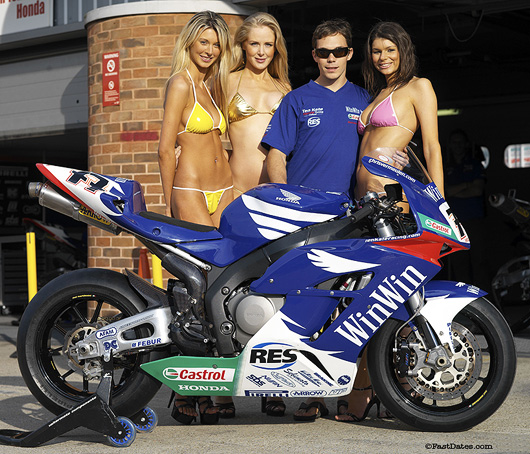 Chris Vermeulen gets inspired with the help of our FastDates Calendar Angels Gemma, Monica and Aaliayah.
Vermeulen Fastest on Friday as Lanzi Rocks for Ducati
Practice Friday 9th Sept - Chris Vermeulen (Winston Ten Kate Honda) snatched the top spot in first qualifying from world championship leader Troy Corser (Alstare Corona Extra Suzuki) with a final lap squeezed in just as the one hour session timed out. The young Aussie rider was the only one to break into the 1'39 mark, with a best of 1'39.847. Nonetheless, the top 11 riders at Eurospeedway Lausitz set times within one second of the best, proving his the strength of the field has heightened weekend on weekend.
The greatest recent improvements in raceday form have come from Vermeulen and his Ten Kate team and the Eurospeedway Lausitz perspective thus far is that Vermeulen has not even used a qualifier to help him so far, adopting the same tactics as at Assen. If he repeats his jump in lap time from there, we can expect a lap possibly into the 1'38s, if weather conditions allow it. Today the circuit experienced temperatures of 28°C during the session, but with changeable weather forecast, anything could happen in the next two days.
HAGA THIRD FASTEST AND LANZI A SENSATIONAL FOURTH Yamaha Motor Italia put both their riders on the provisional front two rows. Noriyuki Haga, a winner this season, took third best time, his team-mate Andrew Pitt eighth fastest. After an unfortunate arm injury suffered by team regular Regis Laconi, ruling him out of this meeting, the Ducati Xerox factory squad provided an adept replacement in the form of Lorenzo Lanzi. The Italian rider stepped into Laconi's breach with aplomb, taking fourth best time, and making it four different bikes in the top four places. Outpacing his temporary team-mate James Toseland, who ended up seventh fastest in this super-close session, Lanzi's ride was nothing if not attention grabbing.
Lorenzo Lanzi made a 'supersub' debut for the injured Régis Laconi in the Ducati Xerox Team at the Lausitzring as he powered to a provisional front row grid position in first qualifying. The 23-year-old was right on the pace from the morning free practice session and finished the day with fourth quickest time of 1m40.144s, just a fraction away from provisional poleman Chris Vermeulen (Honda). James Toseland was just two-tenths of a second off the front row in seventh place with a time of 1m40.276s, set on race tyres, as the British rider was unable to make the best use of his qualifiers in the final few minutes.
"Today was great, I was always up with the front-runners throughout the entire session" declared Lanzi. "It was a pity about the end of the session because I was clearly quicker but there was traffic on the track, and that gives me hope that I can be more competitive. The team has done a great job, it managed to put me at ease both with them and with the bike in just two hours. I am the first Ducati rider and on the front row, I couldn't ask for more. On a single lap there isn't much difference between the F05 and the 999RS that I usually ride, but on your race laps, when the tyres start to wear, the F05 consumes them better and you can keep a higher pace, which allows you to stay up at the front. It's easier to ride and it allows me to enjoy myself, which is important".
Karl Muggeridge (Winston Ten Kate Honda) put himself into the top echelons of Superbike riders after first qualifying, setting fifth fastest time on his big Honda. Pierfrancesco Chili has not always found the requisite feel and sensitivity from his 2005 Klaffi Honda, but today he bounced back from two disappointing Assen rides with a spirited sixth fastest time.
FRIDAY TIMES: 1. Vermeulen (Honda) 1m39.847s; 2. Corser (Suzuki) 1m40.092s; 3. Haga (Yamaha) 1m40.102s; 4. Lanzi (Ducati Xerox) 1m40.144s; 5. Muggeridge (Honda) 1m40.155s; 6. Chili (Honda) 1m40.249s; 7. Toseland (Ducati Xerox) 1m40.276s; 8. Pitt (Yamaha) 1m40.417s; 9. Neukirchner (Honda) 1m40.669s; 10. Schulten (Honda) 1m40.700s; etc.
TV COVERAGE: Eurosport (Europe) - Sunday 11 September, 1200 Race 1 (live), 1730 Race 2 (delayed). British Eurosport (UK) - Saturday 10 September, 1715 (delayed), Sunday 11 September 1000 Race 1 + 2 (live). La7 (Italy) - Saturday 10 September, 1700 Superpole (delayed); Sunday 11 September, 1625 Race 1 (delayed), 1750 Race 2 (delayed).

Little Italian guy Lorenzo Lanzi set fastest time on the big Ducati 999F05 to claim pole.
Sensational Lanzi Takes Superpole for Team Ducati
Saturday Practice and Superpole 10th Sept -Italian Lorenzo Lanzi caused a major sensation in World Superbike this afternoon as he stormed to pole position on the Xerox-backed Ducati 999F05. 23-year-old Lanzi, who was called in this week by Ducati Corse from Scuderia Caracchi to sub for the injured Régis Laconi, has been in terrific form ever since he sat on the bike for the first time on Friday morning. Lanzi's time of 1m39.019s was the quickest lap ever recorded around the 4.265 km Eurospeedway Lausitz circuit and his pole position was the first by an Italian in factory Ducati colours since Pierfrancesco Chili at Assen in 1998. His lap was near perfect, even though he said he made a little mistake, and he crossed the line half a second quicker than he had gone all weekend. This may have been a performance that not only put him on pole but possibly a factory Ducati next season.
"To be honest I really didn't expect to set pole, but seeing as how well I began the weekend on Friday, I was really hoping to be able to do it. After all that's what I'm here for and today I demonstrated that I can stay with the best of them" declared Lorenzo. "Getting on a new bike, one of the best in the world championship and immediately setting pole position with the riders that there are around today is not an easy task, but I succeeded, and in particular it gives me great pleasure to beat Corser, who is a real Superpole specialist. Today I couldn't ask for more and I am so happy! This morning I crashed but it helped me to find the limits of this bike, I only slid off and it wasn't serious. I've got a fantastic feeling with this bike, hopefully tomorrow I'll get a good start and then we'll see in the races!".
Troy Corser was the only one who could spoil the Italians day. The current championship leader looked to be on target with the fastest first sector but then a missed gear meant that the Australian dropped three tenths of a
second and try as he may he couldn't make the time back up crossing the line in second place and seven thousandths of a second slower. Corser is one of many riders who say that the circuit is much bumpier since the last time the series was here in 2002, this is mainly down to the amount of car testing done here, or possibly ground settlement as the whole place sits on top of an old open cast mine!
Last weekends double winner Chris Vermeulen took third place on his Winston Ten Kate Honda. The Australian put in a solid lap, breaking into the 1'39's for the first time this meeting at just the right moment.
Rounding out the front row is defending champion James Toseland. The Ducati rider pushed his bike hard around the twisty circuit and set a steady time. However as he's over half a second slower than his new team mate, and with contracts still open for next season, james might be the only person at Ducati not overly excited with Lanzi's performance. "I'm happy to be on the front row, it's been a bit difficult this weekend. Friday morning was good but then we hit a bit of a brick wall and we just need to take that one little step further" commented James. "I had a tumble this morning and bruised my arm but it was only a slow crash and I'm all right. We're going to try something tomorrow morning but I'm quietly confident for the races. We're just losing a bit of time in one section but it's mainly me really and we need to sort it out. I need to be on the front row here, it's very important to get a good start and stay with these boys and I'm looking forward to tomorrow. But big congratulations to the other guy in the Ducati Xerox Team, Lorenzo Lanzi, who really deserved it today, first time in the team and first pole position!".
Both of the Yamaha Italia R1's qualified on the second row, but it is Andrew Pitt ahead of his team mate Nori Haga for a change. Pitt, who it is rumoured won't be there next year, pushed his R1 very aggressively and will be very happy to qualify ahead of Haga. Behind Pitt and ahead of Haga is Karl Muggeridge on the second Ten Kate Honda. Karl consistently qualifies well but needs to turn this into podium finishes during the races. Bringing up the rear of the second row is Max Neukirchner at his home race. The Klaffi Honda rider put in a good lap and will be hoping to do well in front of his home crowd. With the top nine separated by just over a second we should see another great couple of races.
STARTING-GRID: 1. Lanzi (Ducati Xerox) 1m39.019s; 2. Corser (Suzuki) 1m39.092s; 3. Vermeulen (Honda) 1m39.275s; 4. Toseland (Ducati Xerox) 1m39.665s; 5. Pitt (Yamaha) 1m39.899s; 6. Muggeridge (Honda) 1m39.924s; 7. Haga (Yamaha) 1m40.109s; 8. Neukirchner (Honda) 1m40.187s; 9. Kagayama (Suzuki) 1m40.191s; 10. Martin (Petronas) 1m40.282s; etc.

Vermeulen (77) fights off Corser (11) and Haga

Lorenzo Lanzi Penalized While Leading
Vermeulen Fights Off Haga for Rain Shortened Win
Sunday Sept 11th Race One: Winston Ten Kate Honda rider Chris Vermeulen continued his winning form from Assen to take the chequered flag in race one here at the Lausitzring. Vermeulen had been pushed hard all race by Nori Haga but try as he may Haga could not get past the young Australian. Coming over the line on the 21st lap Vermeulen could be seen indicating upwards to his team and on the next and penultimate lap the race was red flagged as he crossed the line due to some rainfall at the back of the circuit. Vermeulen's win has seen him reduce the gap to Troy Corser in the Championship and with his current form anything is possible.
Lorenzo Lanzi had a nightmare at the first corner where he ran wide and had to take to the oval circuit. He rejoined the pack in 3rd and continued to race even though everyone assumed he would be either given a black flag or a ride through penalty. The Ducati rider then put on a great ride that will do his hopes for a factory ride next season no harm at all. He fought his way up to first and pulled out a lead over Vermeulen and Haga but, as we suspected, he was given a ride through penalty by race control. He rejoined the race in 11th place and proceeded to scythe through the pack in dominating fashion. He eventually finished the race in 8th place and could possibly have improved had the race not finished early. If he can hold his line in the second race a win could be a big possibility. There is no doubt that along with Haga he is one of the most entertaining and exciting riders out on tarack today.
Haga looked menacing all race but was unable to pass Vermeulen. There are a couple of good overtaking points on the circuit but the track in these areas in pretty bumpy and as any move there would be under braking it's not a particularly easy move. Once Lanzi was out of the equation the Yamaha rider took off after Vermeulen and tried everything he could to win. This was evident on the 17th lap when he had a massive moment being thrown out of the seat. He managed to stay on and although he lost some time to Vermeulen he soon made it up but was unable to get past.
Third place went to Troy Corser. The Suzuki rider had got the hole shot at the start but was passed by Vermeulen on the second lap and then going into the first corner on the next lap he ran wide allowing Haga to pass him. Corser dropped away from the lead group and was not able to make up any time. He had a pretty lonely race circulating on his own but he'll be happy to finish on the podium to consolidate his championship position.
Reigning World Champion James Toseland got a poor start dropping back to 6th place behind Andrew Pitt. Toseland was pushing hard but it took him 10 laps before he was able to pass Pitt and take off after the leaders. The gap however was too great for the times he was putting in and he was another rider that had a fairly lonely second half of the race. With Lanzi putting on a great performance the pressure is on Toseland to produce in the next race.
Yukio Kagayama took fifth place 1.5 seconds ahead of Andrew Pitt. Pitt will be hoping for a better result in race two as Yamaha are rumoured to be finalising their line up for next year within the next week or so.
Frankie Chili had another disappointing result, retiring on the 8th lap with mechanical problems. It's even more disappointing given that Chili had looked to be regaining his previous form. Form may fade but class always
shines through so look for him to make amends in race two.
Who will win race two? Can Vermeulen continue his form? Can Corser take the win and crush any hopes Vermeulen may have of the Championship? Will Lanzi take his first win for the Ducati factory team (probably not his last either). All will be answered in a few hours.
LAUSITZ SUPERBIKE Race 1: (Laps 20 = 85,300 Km)
Pos /Rider /Nat. /Team / Time /Gap
1 / VERMEULEN / AUS / Winston Ten Kate Honda / 33'36.341 /
2 / HAGA / JPN / Yamaha Motor Italia WSB / 33'36.610 / 0.269
3 / CORSER / AUS / Alstare Suzuki Corona Extra / 33'38.640 / 2.299
4 / TOSELAND / GBR / Ducati Xerox / 33'43.399 / 7.058
5 / KAGAYAMA / JPN / Alstare Suzuki Corona Extra / 33'49.049 / 12.708
6 / PITT / AUS / Yamaha Motor Italia WSB / 33'50.394 / 14.053
7 / NEUKIRCHNER / GER / Klaffi Honda / 33'52.957 / 16.616
8 / LANZI / ITA / Ducati Xerox / 33'55.364 / 19.023
9 / ABE / JPN / Yamaha Motor France-Ipone / 34'00.992 / 24.651
10 / BOSTROM / USA / Renegade Koji / 34'10.695 / 34.354
11 / MCCOY / AUS / Foggy Petronas Racing / 34'20.726 / 44.385
12 / BUSSEI / ITA / Kawasaki Bertocchi / 34'21.361 / 45.020
13 / CARDOSO / ESP / D.F.X. Treme / 34'28.152 / 51.811
14 / BRIGNOLA / ITA / Ducati SC Caracchi / 34'28.284 / 51.943
15 / CRUCIANI / ITA / PSG-1 Kawasaki Corse / 34'40.452 / 1'04.111
Fastest Lap 7° Noriyuki Haga 1'39.828 153,805 Km/h

Lanzi shares the top step on the podium for Race Two with Ducati team manager davide Tardozi, flanked bt Vermeulen and Haga.

Lanzi Returns With a Vengence and Shakes things up at Ducati
Sunday Sept 11th Race Two: Lorenzo Lanzi thrilled the German crowds with a stunning ride to take his debut win on the Xerox Ducati ahead of Chris Vermeulen in a nail biting fishing that saw Vermeulen doing everything he could he catch Lanzi. Series leader Troy Corser finished in 13th place after crashing.
Lanzi, standing in for Regis Laconi, put his race one mistake behind him and went into the first corner behind Corser and Haga. Karl Muggeridge actually passed him on the first lap but at the start of the second he'd retaken 3rd place physically pushing Muggeridge out of the way. By the end of second lap he'd hit the front after Corser lost the front end of his Suzuki and crashed out, rejoining in 26th. The overtaking move Lanzi put on Haga was very hard with Lanzi actually hitting Haga as he passed him but he made it stick.
Lanzi and Haga then had a huge battle trading places and keeping everyone entertained. However whilst they were having their private battle this was allowing Chris Vermeulen to catch them and by lap 9 it was a three way battle for 1st.
On the 14th lap Lanzi pulled the pin and suddenly pulled out a big gap over the trailing pair. With his head down the young Italian wrung the neck of his Ducati and looked to be heading for a fairly comfortable win. Vermeulen however was not going to let that happen, knowing that Corser was way down the field the Honda rider saw his chance to pull back some points and keep his chances of the championship, however remote, alive. Vermeulen got passed Haga on the 15th lap and took off after Lanzi. With three laps remaining it looked as if Vermeulen might be in with a chance as he did everything he could to close the gap. At the flag Lanzi had ridden the ride of his life and took the chequered flag 0.84 seconds ahead of Vermeulen. Vermeulen's ride was all the more impressive given that he'd had a nightmare start and dropped down to 7th.
Once Vermeulen had pulled away from him, Nori Haga had settled down in third place. The Yamaha rider had given everything he had and deserved the final podium position.
Troy Corser's very rare crash came at the start of the second lap when he lost the front end of his Suzuki. He remounted and rejoined the race in 26th position. The Australian knew he had to do regain a point's position to minimise any damage to his championship position. He scythed through the field lapping at the same pace as the leaders, however he was too far down the field to really make too much up and he eventually finished in 13th place.
Another rider who made a mistake was James Toseland. The Ducati rider made a mistake on lap 13 and ran off the track. He rejoined in 13th place and eventually finished in 11th. He'd had a poor start dropping back to 6th and had got back up to 4th before his mistake. With Lanzi doing so well on the sister machine Toseland will have some explaining to do back in the garage.
Yukio Kagayama had a solid ride to finish in 4th place. Corsers' team mate looked to be catching Haga towards the end but ran out of laps. Karl Muggeridge took his Ten Kate Honda to 5th place ahead of Andrew Pitt on the Yamaha.
With Vermeulen now 60 points behind Corser in the Championship, and 100 points available from the last two rounds of the series, his title chase is very much alive and has set up the next four races to be absolutely nail biting. Will Corser come back fighting? Will Vermeulen win another double? Will Laconi be fit or will Lanzi continue of the factory bike? All will be answered at Imola on 2nd Oct. As usual all the action will be here at FastDates.com.
LAUSITZ SUPERBIKE Race 2: (Laps 24 = 102,360 Km), Pos /Rider /Nat. /Team / Time /
1 / LANZI / ITA / Ducati Xerox / 40'20.947 /
2 / VERMEULEN / AUS / Winston Ten Kate Honda / 40'21.787 / 0.840
3 / HAGA / JPN / Yamaha Motor Italia WSB / 40'25.545 / 4.598
4 / KAGAYAMA / JPN / Alstare Suzuki Corona Extra / 40'26.238 / 5.291
5 / MUGGERIDGE / AUS / Winston Ten Kate Honda / 40'37.183 / 16.236
6 / PITT / AUS / Yamaha Motor Italia WSB / 40'39.309 / 18.362
7 / NEUKIRCHNER / GER / Klaffi Honda / 40'47.307 / 26.360
8 / ABE / JPN / Yamaha Motor France-Ipone / 40'47.400 / 26.453
9 / MARTIN / AUS / Foggy Petronas Racing / 40'48.023 / 27.076
10 / CHILI / ITA / Klaffi Honda / 40'58.250 / 37.303
11 / TOSELAND / GBR / Ducati Xerox / 41'01.944 / 40.997
12 / BUSSEI / ITA / Kawasaki Bertocchi / 41'05.256 / 44.309
13 / CORSER / AUS / Alstare Suzuki Corona Extra / 41'05.432 / 44.485
14 / GIMBERT / FRA / Yamaha Motor France-Ipone / 41'09.406 / 48.459
15 / BOSTROM / USA / Renegade Koji / 41'14.211 / 53.264
Fastest Lap 7° Noriyuki Haga 1'39.790 153,863 Km/h
Lap Record: Ruben Xaus 1'39.679 154,030Km/h 2002
Riders Championship Standings:
1 CORSER 389, 2 VERMEULEN 329, 3 HAGA 239, 4 TOSELAND 215, 5 LACONI 214,
6 KAGAYAMA 211, 7 PITT 137, 8 WALKER 130, 9 CHILI 125, 10 LANZI 118,
11 MUGGERIDGE 111, 12 ABE 110, 13 NEUKIRCHNER 98, 14 BUSSEI 56, 15 BOSTROM 46
---
Charpentier & Ten Kate secure SBK 600cc World Supersport Title
behind Foret amid a Honda 1-2-3 Podium Sandwich at Assen
Assen, NL, Sept 3-5th -Sebastien Charpentier (Winston Ten Kate Honda CBR600RR) entered the Assen race with realistic expectations to leave as champion and after a dramatic 16-lap race with his fellow countryman Fabien Foret (Team Italia Megabike Honda CBR600RR) he duly took Honda's fourth Rider's title in a row - thanks to the 20 points he earned for second place. All four of Honda's championship wins have come from riders on Ten Kate prepared machinery, including Assen race winner Foret in 2002, when riding a CBR600FS. Since then, the CBR600RR has powered Chris Vermeulen (2003) and Karl Muggeridge (2004) to the title, with Charpentier's 2005 domination making it a hat-trick of overall victories.
This far Charpentier has scored 210 points from a possible 225, scored six wins from nine races, taken eight pole positions, and led for 154 race laps, out of a total of 186 completed to date.
The Honda trio on the Assen podium was completed by Michel Fabrizio (Team Italia Megabike Honda CBR600RR) who rode well despite a gearchanging foot injury, suffered during one of his two qualifying falls. Katsuaki Fujiwara (Winston Ten Kate Honda CBR600RR) is now 83 points behind Charpentier; in second place overall, having finished fifth in today's race. He twice ran wide when in a podium challenging position. Charpentier was understandably both relieved and ecstatic about his championship win, and had to show determination as well as speed in the face of a five-rider assault on the podium places for much of the race.
"It is difficult for me to realise the situation right now," stated Charpentier. "The race was great, very hard and Katsuaki passed me, as I thought he would. I think he maybe had a problem changing gears, as he had many rear wheel slides. It was a tough race with Fabien, great fun and it was a perfect day for me. It was also sometimes difficult for me to change gear today, but I was happy to finish second on the final lap. I had realised that Katsuaki was behind, and it was not necessary to push right at the end."
Foret was emotional at his first 2005 race win, but took time to congratulate his friend and countryman on his championship triumph. "I would like to say first of all that Sebastien and I are friends and I am very pleased for him and his win, He was the best this year and deserves his title," said Foret. "For me this year has been very difficult in places and this was a good moment to bring home our first win. I hope we can do well in the next three races. Our bikes are very close to the Ten Kate ones, and anyway, the bikes are still Hondas, strong enough to win today."
Riders Championship Standings:
1 CHARPENTIER 210, 2 FUJIWARA 127, 3 CURTAIN 122, 4 FORET 110, 5 FABRIZIO 98,
6 CHAMBON 76, 7 PARKES 69, 8 FORES 58, 9 NANNELLI 56, 10 LAUSLEHTO 49,
11 VENEMAN 33, 12 STIGEFELT 32, 13 HARMS 31, 14 CORRADI 25, 15 JONES 18.
Our beautiful SBK World Superbike FastDates.com Calendar Angels Gemma, Monica and Aaliayah get up close and personal with Charpentier's 2006 World Supersport Champioship winning Ten Kate Honda CBR600.

---



YZF-R1 Limited Edition 50th Anniversay


Yamaha Introduces Limited Edition Yamaha R1 Anniversary Model for 2006
In celebration of Yamaha's 50th Anniversary of producing motorcycles, Yamaha USA is introducing the exclusive limited-edition 2006 R1 LE (Opps, they missed their own 2005 anniversary by a year!) complete with back torque-limiting slipper clutch, Marchesini wheels, adjustable rear suspension link and Öhlins suspension developed specifically for this model—all that on top of the standard R1's `06 upgrades. The R1 LE features Yamaha 50th Anniversary Yellow/Black paint with special trim and badging which was reintroduced from the 1970s on the M1 MotoGP bikes of Valentino Rossi and Colin Edwards at this past July's Laguna Seca MotoGP round in America. The bike's featured changes from a base model 2006 R1 are:

* 43mm Öhlins custom-valved fully adjustable inverted fork w/ two-way compression damping adjustment
* Öhlins custom-valved fully adjustable rear shock w/hydraulic preload adjuster and two-way compression damping adjustment
* Gold Marchesini forged aluminum wheels
* Adjustable rear suspension bottom link
* Pirelli Diablo Corsa tires
* Starter button doubles as lap timer control
* 50th Anniversary Yellow/Black w/ gold chain, exhaust covers and tank emblems

The only thing missing from the Limited Edition R1 is a full race Termigoni or Graves Motorsports Titanium Racing exhaust system to drop 15 ponds and add another 10 horespower to the sweet package. Maybe someday Yamaha USA might even offer the Yamaha Racing Parts that avaible through all of Yamaha's European distributors.
Seeing how great a Japanese Superbike looks ( and certainly will perform) with these high performance component upgrades, it is unfortunate we had to wait 50 years to see just one of the big four Japanese manufacturers do it. The Italian superbike manufacturers including Ducati, Aprilia and MV Agusta and Bimota have been offering for nearly two decades, upgraded models like this of their base model sportbikes at upgraded premium prices, and they handling improvements have been worth it.
Hopefully the success of Yamaha's Limited Edition R1 will finally encourage all four of the Japanese manufacturers to follow suit with upgraded production models as regualr offerings. In the meantime, Yamaha says they are only producing 500 of the Limited Editon R1s, and when they're gone, they're gone. No price has been announced and delivery is probably spring 2006 as always, but we are sure if you're deposit isn't in your dealer's hands this month you will loose out.
Fast Dates Calendar Motorcycle Roadracing News. Complete coverage of the SBK World Superbike, AMA National Superbike and MotoGP World Championship. Superbike, sportbike, grand prix, MotoGP, race, racing, news, coverage, photos, pictures, Fast Dates Calendar and Umbrella Girls. Racing, road race, track, motorcycle, news, results, girls, models, Mat Aladdin, Max Biaggi, Valentino Rossi, Ben and Eric Bostrom, James Toseland, Regis Laconi, Loris Capirossi, Troy Bayliss, Troy Corser, Noriyuki Haga. Ducati 999 Monster Multistrada, Yamaha R6 R1, Honda CBR600RR CBR1000RR, Kawasaki ZX6 ZX6RR ZX10, Suzuki GSXR600 GSXR750 GSXR1000, Aprilia Mille, MZ Agusta F4 Brutale. Los Angeles Calendar Motorcycle Show.