---
| | |
| --- | --- |
| Care to guess how much money Pirelli threw at J-Lo to be in their calendar which no mere mortals get to see? We guess 7-figures just to get her out of bed, a cool half million and a chartered jet to get her to the French Rivera for the shoot. | |
Jennifer Lopez Does Pirelli Calendar
While it usually is full of big names from the modeling world, the Pirelli calendar, featuring a dozen of the sexiest fashion photos of the year, will be include a new but familiar celebrity face in 2006. Joining the likes of catwalk stars Gisele Bundchen, Natalia Vodianova and Kate Moss will be multifaceted diva Jennifer Lopez, who makes her Pirelli debut. While Gisele and Kate completed their seductive swimwear shoots earlier this week in Cannes, J Lo was spotted on her Riviera assignment on Thursday.
Famed for its risqué tone and artistic nude pics, the Pirelli calendar has included sensual shots of Alek Wek, Karolina Kurkova, Sophie Dahl and Heidi Klum in the past. In 2001, Pirelli went fully-clothed for the first time with celebs such as Mena Suvari, James King and Selma Blair, and US President George W Bush's model niece, Lauren.Fans will have to wait a while to get a peek at Jennifer's sexiest side, however. The official photographs for the 2006 calendar are to be kept top secret until November.
---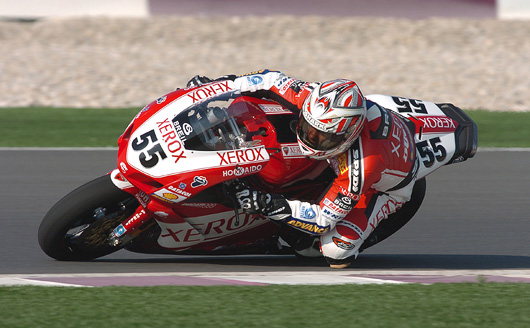 SBK Corona World Superbike Championship, Misano Round 6 of 12
Laconi, Vermeulen, and Corser Pull at 2 Race Sweep at Misano SBK
Misano, Italy, June 24-26th - Team Xerox Ducati's Regis Laconi pull off two resounding race wins at Misano this weekend in the 66th round of the Corona Extra SBK World Superbike Championship. Chris Vermeulen (Winston Ten Kate Honda CBR1000RR) secured a fighting pair of second places at an overheated Misano, coming within 1.491 seconds of his second race win of 2005 in the second outing. His finishing positions replicated his Superpole start, in the runner up position. For the second race in succession Pierfrancesco Chili (Klaffi Honda CBR1000RR) was the next best Fireblade rider, taking an aggregate seventh in race one and straight fifth in race two. Championship points lead Troy Corser on the Corona Suzuki GSXR1000 finished 3rs in both races.

Corser leads Vermeulen and the rest of the fields into the first corner at Misano. We raced on the beautiful Misano circuit during World Ducati Week last year and fell in love with it, and plan to be back again for WDW2006. Below, Corser starts his Superpole run on Saturday for quickest time.
Corser Out Front on Friday at Misano World Superbike
Misano, Italy Friday 24th June 2005: World Championship leader Troy Corser (Alstare Corona Extra Suzuki) scored the provisional pole time at Misano, despite suffering a late fall as he tried to improve his best lap still further. His eventual quickest lap was one of only two inside the 1'35 barrier, a 1'35.717.
Despite still feeling ill effects from the thumb injury he suffered at round three in Spain, Max Neukirchner (Klaffi Honda) soared up the time sheets with a best time of 1'35.836, good enough for second, behind the vastly experienced Corser. The young German's ride to fame continued apace on Friday, showing respect – but no fear – towards his illustrious colleagues.
Championship runner-up in 2005 Regis Laconi (Ducati Xerox 999F05) was third fastest on day one, followed by 2005 SBK rookie Karl Muggeridge (Winston Ten Kate Honda), the latter putting in an outstanding early showing. Winner of the Misano WSS race in 2004, Muggeridge had the better of his troubled team-mate Chris Vermeulen, who could only finish an unexpectedly low 14th, having not set as many laps as expected in the untimed morning session.
World Champ James Toseland was second in the unofficial morning session, and followed that up with fifth best time in the afternoon, setting a 1'36.384. Pierfrancesco Chili (Klaffi Honda CBR1000RR), host of a pre-practice volleyball tournament on Thursday evening, at his private beach in Misano, was sixth - putting two Klaffi machines in the top six.

The vast experience of Yukio Kagayama (Alstare Corona Extra Suzuki) does not run to a full season in World Superbike and thus he is a rookie rider in technical terms. Sitting second in the championship chase thus far, he was seventh quickest in the opening timed session, ahead of another rookie, Lorenzo Alfonsi (DFX Extreme Yamaha). The local rider is the reigning European Superstock Champion, being given his first chance in the top class this season. He was best Yamaha rider on the day.

T Ivan Clementi (Team Pedercini Ducati 999RS) forced his big twin-cylinder machine into ninth place at his local circuit, while the top ten was rounded out by the first of the Petronas three-cylinder machines, ridden by Aussie charger Steve Martin.

Superbike veteran Frankie Chili commerated his 250th SBK World Superbike race at Misano.
A slow start from the main Yamaha entries once more saw Andrew Pitt (Yamaha Motor Italia) one place ahead of his team-mate Noriyuki Haga; Pitt 11th and Haga 12th. With his team down to a single man after Sebastien Gimbert's Silverstone injury, Norick Abe (Yamaha Motor France Ipone) was 24th.
Chris Walker (PSG-1 Kawasaki ZX-10R) suffered a crash in the early sector of the timed hour and thus his best efforts were held back to 19th, three places behind his team-mate Mauro Sanchini. Ben Bostrom (Renegade Honda) was 20th, The Petronas of Garry McCoy was only 31st of 34 entries.
TIMES: 1. Corser (Suzuki) 1m35.717s; 2. Neukirchner (Honda) 1m35.836s; 3. Laconi (Ducati Xerox) 1m36.012s; 4. Muggeridge (Honda) 1m36.170s; 5. Toseland (Ducati Xerox) 1m36.384s; 6. Chili (Honda) 1m36.492s; 7. Kagayama (Suzuki) 1m36.652s; 8. Alfonsi (Yamaha) 1m36.597s; etc.

Regis plays it cool on the starting grid.
Regis Laconi Scores Double Wins for Ducati on Sunday
Misano Adriatico (Italy), Sunday 26 June: A splendid double win for Régis Laconi thrilled a large Santamonica circuit crowd today and re-launched the Ducati Xerox Team rider's ambitions in this year's championship. At the half-way point of the season, Laconi has now closed the gap on leader Troy Corser (Suzuki) to 92 points with six rounds left. In a sweltering Misano (air temperature hovering around 32° and track 53°), the French rider scored two dominant wins, finishing twice on the top of the podium together with Australians Chris Vermeulen (Honda) and Corser (Suzuki) in that order. Team-mate James Toseland also rode two determined races but had to settle for two fourth places.
"This is a great day for us because Misano is always one of our home circuits. There were a lot of people from Ducati here today and a lot of our fans around the circuit" declared Ducati Corse CEO Claudio Domenicali. "We know that the competition in Superbike has improved a lot this year and that for sure we're going to have to work really hard during the rest of the season, but today Laconi rode two extraordinary races and fully deserved the wins".
"This was the second double win of my career, but my first this year and I am so happy" declared Laconi. "Ducati have done a great job to help me win these races today. They were both really hard because of the conditions but the second race was even more so. In particular the last five laps were terrible and I just wanted to finish because really I couldn't do any more, I was just sliding everywhere and I slowed down so much at the finish because I was so tired. A big thanks to Ducati and thanks to my team, we did a great job today and this double win is for them!"
"I rode really hard in both races" commented James. "In the second we made a slight change but it didn't make things much better. Unlike Régis I've never been unbelievably fast around here for some reason, which is my problem and I know I have to sort that out. I was good in a few places but I didn't get the best feeling all weekend and it was a bit frustrating for me out there today. Coming home in fourth was not the plan but that was all I could get and I couldn't do any more. I've had worse days and two fourths are not bad results but I have to feel a bit disappointed. I might have had a podium if the first race hadn't been stopped".

Vermeulen leans the pack through the chicane.
In the opening race of the day, stopped due to a crash and a subsequent oil spill, then delayed once more as riders jumped the re-start and had to be repositioned, Regis Laconi took his Ducati to the win, with an eventually lonely but assured second for Vermeulen. In aggregate third came championship leader Troy Corser. The podium finishing positions in race two were repeated, installing Vermeulen into second in the championship race, with 181 points to Corser's 254.
Karl Muggeridge (Winston Ten Kate Honda CBR1000RR) fought against illness and a comparative lack of traction to record a tenth and a seventh. Max Neukirchner (Klaffi Honda CBR1000RR) was twice a faller in the first race, then a retiree in race two.
Ben Bostrom (Renegade Honda Koji CBR1000RR) was once more battling in the midfield, scoring points in race one but falling again in race two. The championship, Chili is eighth, with 86 points, Muggeridge 10th with 65, Neukirchner 12th on 50 and Bostrom 18th on 23.
Vermeulen slugged it out all day and was pleased to have made progress between races."I was a little closer to Regis (Laconi) that time but the important thing was that I finished ahead of Troy in both races. Regis was really strong today and, although I was OK through the faster parts of the circuit, where I could pick up a tenth or two, I had very little grip in the tighter sections. I nearly lost it in the last chicane on virtually every lap. It was hard work in the heat and doubly hard having to compensate for no grip and the last five laps were really tough."
Chili knows that he needs to find improvements in set-up to be on the same level as the podium challengers, but the 41-year-old was satisfied with the efforts made at Misano."I think we did as well as we could do with the conditions we had. When the tyres support me I can go fast like the guy in front but when the tyre performance drops down it drops our performance down too much. We need to make some more work with the rear linkage as well, because we are not giving the rear shock enough travel. I used the bigger rear tyres this weekend, and it brings with it heavy steering, but it does offer more rear grip, until it drops down."
Muggeridge was in the wars and had the on-site medics to thank for allowing his to complete two points scoring finishes."I'm not feeling so great with this stomach problem that just left me with no energy after seven or eight laps. On top of the other problems that everyone else seems to have, it was just really, really hard work. I really think that without Clinica Mobile I wouldn't have been able to do the second race today. They dosed me up with some fluids after race one, when I was just riding around really. I didn't feel too bad at the start of race two but about six laps from the end I was getting a little queasy again. It's a real shame because I was so much happier on the bike this weekend."
Neukirchner had an eventful raceday, crashing into Chili when the red flags came out, crashing again in the restarted race, then suffering a retirement in race two."In the first race I was behind Frankie and I did not see the red flag right away. So Frankie braked and I hit him, touching my brake lever and then crashing. In the restart the front brake was not right and I had to adjust it four or five times. It was still inconsistent, so I could never work out a real braking point each corner, and I fell again. In the second race I had a problem with the exhaust becoming very noisy, and something slippery going onto the rear tyre, so I had a lot of slides."
Bostrom once more had to fight for every point, starting each race from 16th after failing to finish Superpole."I had a big crash this morning, which didn't help, but race one wasn't so bad. I just wanted to get more grip for the second race so I changed to the largest section rear tyre. It was a bad choice because we were just ploughing the front. You can only ride the thing like that so much and then you will crash. The lights also went red, then yellow, then red, in the restarted race, so a few of us went, wondering what was going on."
The seventh rounds of the WSS and SBK championships take place at Brno on 17th July, a venue not used for SBK racing since the 1996 season.
SUPERBIKE Race 1: (Laps 24 = 97,440 Km)
Pos /Rider /Nat. /Team / Time /Gap
1 / R. LACONI / FRA / Ducati Xerox / 39'07.157 /
2 / C. VERMEULEN / AUS / Winston Ten Kate Honda / 39'11.596 / 4.439
3 / T. CORSER / AUS / Alstare Suzuki Corona Extra / 39'15.200 / 8.043
4 / J. TOSELAND / GBR / Ducati Xerox / 39'17.355 / 10.198
5 / L. LANZI / ITA / Ducati SC Caracchi / 39'21.262 / 14.105
6 / N.HAGA / JPN / Yamaha Motor Italia WSB / 39'23.998 / 16.841
7 / P. CHILI / ITA / Klaffi Honda / 39'25.157 / 18.000
8 / C.WALKER / GBR / PSG-1 Kawasaki Corse / 39'27.267 / 20.110
9 / F. NIETO / ESP / Ducati SC Caracchi / 39'28.625 / 21.468
10 / K. MUGGERIDGE / AUS / Winston Ten Kate Honda / 39'29.747 / 22.590
11 / S. MARTIN / AUS / Foggy Petronas Racing / 39'31.957 / 24.800
12 / M.SANCHINI / ITA / PSG-1 Kawasaki Corse / 39'33.358 / 26.201
13 / J. CARDOSO / ESP / D.F.X. Treme / 39'34.952 / 27.795
14 / B. BOSTROM / USA / Renegade Koji / 39'38.342 / 31.185
15 / I. CLEMENTI / ITA / Team Pedercini / 39'42.132 / 34.975
Fastest Lap 3° Chris Vermeulen 1'36.666 151,201 Km/h
SUPERBIKE Race 2 : (Laps 25 = 101,500 Km)
Pos /Rider /Nat. /Team / Time /
1 / R. LACONI / FRA / Ducati Xerox / 40'46.260 /
2 / C. VERMEULEN / AUS / Winston Ten Kate Honda / 40'47.751 / 1.491
3 / T. CORSER / AUS / Alstare Suzuki Corona Extra / 40'49.403 / 3.143
4 / J. TOSELAND / GBR / Ducati Xerox / 41'00.822 / 14.562
5 / P. CHILI / ITA / Klaffi Honda / 41'02.551 / 16.291
6 / N.HAGA / JPN / Yamaha Motor Italia WSB / 41'04.860 / 18.600
7 / K. MUGGERIDGE / AUS / Winston Ten Kate Honda / 41'10.325 / 24.065
8 / S. MARTIN / AUS / Foggy Petronas Racing / 41'10.763 / 24.503
9 / L. LANZI / ITA / Ducati SC Caracchi / 41'12.125 / 25.865
10 / G.BUSSEI / ITA / Kawasaki Bertocchi / 41'14.718 / 28.458
11 / C.WALKER / GBR / PSG-1 Kawasaki Corse / 41'14.782 / 28.522
12 / Y. KAGAYAMA / JPN / Alstare Suzuki Corona Extra / 41'17.483 / 31.223
13 / M.SANCHINI / ITA / PSG-1 Kawasaki Corse / 41'19.605 / 33.345
14 / L. ALFONSI / ITA / D.F.X. Treme / 41'22.052 / 35.792
15 / N. ABE / JPN / Yamaha Motor France-Ipone / 41'25.920 / 39.660
Fastest Lap 4° Régis Laconi 1'36.806 150,982 Km/h
Lap Record: Troy Bayliss 1'34.913 153,990 Km/h
Riders Championship Standings:
1 CORSER 254, 2 VERMEULEN 181, 3 LACONI 162, 4 KAGAYAMA 148, 5 TOSELAND 124,
6 HAGA 88, 7 WALKER 87, 8 CHILI 86, 9 PITT 70, 10 MUGGERIDGE 65, 11 ABE 63,
12 NEUKIRCHNER 50, 13 BUSSEI 45, 14 LANZI 30, 15 SANCHINI 27.
Charpentier Leads Honda Top Three in 600 SuperSport
In the superheated temperatures of an Italian summer Sebastien Charpentier (Winston Ten Kate Honda CBR600RR) took his fourth win of the year, extending his championship advantage to 34 points. The early front-runner was pole position rider Fabien Foret (Team Italia Megabike Honda CBR600RR) but after a close battle for the last half of a delayed 23-lap race, there was a mere 0.496 between the Frenchmen. Foret had led for ten laps, but from then on in, despite some valiant efforts, Charpentier was the leader across the line."
Charpentier's team-mate, Katsuaki Fujiwara (Winston Ten Kate Honda CBR600RR) looked to be keeping a watching brief on proceedings, but dropped back as tyre wear and the sheer pace of the leading duo told. Nonetheless, he finished a comfortable third, over eight seconds ahead of fourth placed rider Kevin Curtain (Yamaha).
Charpentier's latest race win extends his championship advantage, and he now sits on a total of 140 points. Fujiwara is second, 106, with Foret fourth, on 74. Fabrizio claims seventh, on 42, while Lauslehto held onto his ninth place overall, on 36.
Charpentier, in good shape despite battling throughout a race held in temperatures of 32°C air and 50°C track, knew he was in a tough contest, albeit one he was prepared for after some practice low points."I am particularly happy because Misano is one of my least favourite circuits and it has not been easy this weekend. I've had a couple of crashes and conditions have been difficult to set up the bike properly. After a strange start, when the lights were doing some peculiar things, I managed to settle into a rhythm and actually enjoyed the race. It was great fun and I feel OK, because I am in good physical shape."
---



The Empress's Golden Slippers


What do you give the world's richest and most beautiful female athlete to defend her title at Wimbel dom this month? Well, Victoria's got her Million Dollar Bra, so sponsor Nike stepped up to the grass court to bestow their 18-year old 6-foot tall golden girl Maria Sharapova with 10 pairs of gold leafed Nike
tennis shoes valued at a cool one million dollars. After all, a girl can't be expected to play in the same grass stained tennis shoes every day in front of a world TV audience.