---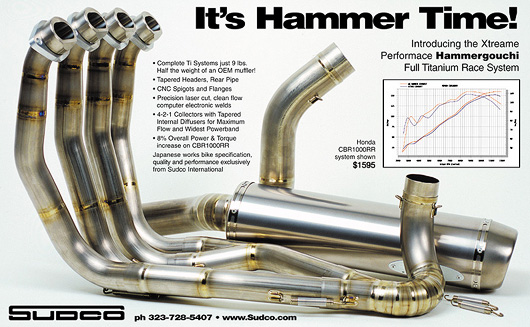 Sudco Introduces Hammergouchi Full Titanium Race Systems
Only 9lbs for complete system, 8-20% overall power increase, just $1595
Sudco International is the exclusive importer from Japan of the incredible new Hammergouchi full Titanium Racing Exhaust System for late model Japanese sportbikes. These systems are higher quality with computer cut and welded with CNC alloy spigot flanges, and perform better than anything the industry has seen before. The "Ti Hammer" has all the trick works bike features and more including tapered header pipes, tapered internal diffusers inside the pipe junctions, and spring assembled sections to eliminate vibration cracking. Their complete omplete Honda CBR1000RR systems show a 8% power gain, while the CBR600RR shows and incredible 20% power gain. Also available are Hammergouchi Titanium Slip-On Rear Silencer Kits.
Just $1595. Call Sudco weekdays (01)
323-728-5407
•
www.Sudco.com
---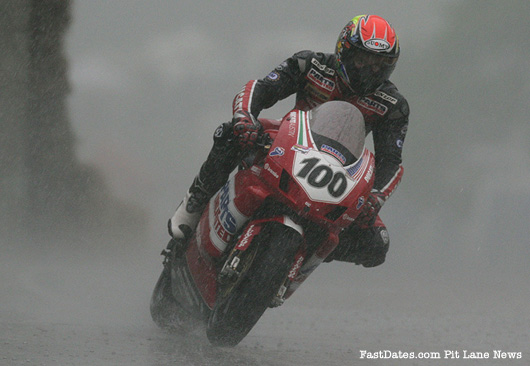 Being from England had its advantages for Neil Hodgson at Road America on Saturday.
2005 AMA Superbike Championship, Road America Round 6 of 11
Neil Hodgson Wins in the Rain on Saturday at Road America
Elkhart Lake, WI, June 4-5th - Eric Bostrom and Neil Hodgson of the Parts Unlimited Ducati Austin team will try to keep up the team's momentum this weekend as they race their Ducati 999 Superbikes at the Road America AMA Superbike doubleheader in Elkhart Lake, Wisconsin.
Bostrom, the winner at the last event at Pikes Peak International Raceway, took his first victory of the season with a final lap pass after a race that saw him in the lead much of the event on his Ducati 999. "We've improved how the bike works for me all season long, and it was fantastic to win a race," said Bostrom, also the winner of a 2003 Superbike race at Road America. "The 999 has always been a great bike but we've really come a long way over the course of the year. It would be naive to think we're finally finished or done because we have to continue to work hard and make things even better. The series is very competitive and you can never rest, even if you win. That said, it will feel really good at Road America if we can run strong again."
Neil Hodgson is an unusual AMA Superbike rookie, having won the World and British Superbike championships as well as being an experienced Grand Prix racer. Neil, however, has never raced at the 4.0-mile circuit and did not get to test at the track. "I must say the circuit looks like it would be really nice, but having never been there before, I can't really say anything about it," said Neil. "I am looking forward to racing the 999 there, and looking forward to a good weekend."
"We're still on a bit of an emotional high since Eric's victory at Pikes Peak," said team manager Tom Bodenbach. "Everyone's been working hard at the shop as usual, but after a win, you seem to have a little extra. We're looking to continue or progress at Road America. Hopefully, we'll have better luck with both bikes this weekend so Neil and Eric can both run near the front."
The green flag will drop on Saturday for the first Superbike race of the weekend, with the second being held Sunday afternoon.
The Circuit: Located in the Wisconsin countryside, the 4.0-mile (6.43 kilometer), 14-turn Road America circuit is in many ways a European-style track. There are three long straights for the powerful Superbikes to reach top speeds, each with a 90 degree turn at the end that prove to be great passing zones. Road America also features turns like The Carousel and The Kink, which was altered for last year's race to improve safety.
Road America is also celebrating its 50th anniversary in 2005.

Neil Hodgson Runs Away With Saturday's Race One in the Rain
Saturday June 4 - Neil Hodgson of the Parts Unlimited Ducati Austin team won his first-ever AMA Superbike race in Elkhart Lake Wisconsin on Saturday. Despite treacherous conditions, the Isle of Man resident put in a passionate ride and won the shortened race going away, winning by 27.420 seconds on his Ducati 999. The former British and World Superbike champion raced at an incredible pace in the rain but still managed to keep his machine upright as other riders fell into the Road America gravel traps.
"I'm really pleased to win this one because Road America is a difficult race. This was a hard one with the conditions as they were. During the final laps, the conditions were some of the worst I've ever had to race in. I took a lot of risks early on and all the way to the finish. I was aquaplaning up the front straight right up until the end, and it was very tough. The team did a great job changing tires, the bike, and everything right before the race when it started to rain."
Hodgson and his Ducati 999 were sliding around the course in a spectacular fashion as the rains fell and the track became slicker as the race progressed. Neil kept the Italian Desmo L-twin under control and upright as his lead continued to expand. "When the adrenaline is in your blood, you actually enjoy riding like that," said Neil of his wild ride. "Maybe not so much after you get off the bike after the race. The sliding around was a combination of more rain and the tires wearing. I saw 'plus 18' on my board about lap five. I thought to myself, 'I really need to slow down and not do anything stupid'. I thought I did take it a little easier, but the next time around, I saw a 'plus 27' or something." Hodgson continued to pull away when the red flag flew as Neil began to work lap 10 and the race was declared finished.
"Neil got the job done in a very impressive way," said team owner Terry Gregoricka. "He was unbelievable today. He's ridden hard all season and it was great to see him out in front and leading. As happy as we were, it was terrible for us emotionally in the pits watching him sliding around the track on TV as the laps counted down, mainly because the conditions were so bad and he had a big lead. Congratulations to Neil for getting his first win in the States. For the team, winning two races in a row is a great accomplishment and we are very pleased."
Teammate Eric Bostrom had a disappointing day. Bostrom was quickest in the pre-race warm-up and was in third place and charging towards the front on the first lap. Unfortunately, another rider collected Eric in a crash in Canada Corner. Eric rode his Ducati 999 back to the pits but could not continue. "There's really not much to say. We were very quick," said Bostrom, who won a similar race at Elkhart Lake in the rain in 2003. "It was game-on. I was ready to go. Obviously, I'm really happy that Ducati and Neil could win for the team and I'd like to congratulate them. As for us, we were feeling really good about things after the wet session and were charging hard in the race. I thought I had squared up Miguel (Duhamel) to make the pass for second place, because I needed to get by him. But he slowed up more than I thought and he ended up crashing."
"Eric was doing a great job before that incident," said Gregoricka. "We're really disappointed for him because he was riding really well and charging toward the front."
Saturday Race One Results - 1. NEIL HODGSON (PARTS UNLIMITED DUCATI AUSTIN 999), 2. Mat Mladin (Suzuki), 3. Josh Hayes (Kawasaki), 4. Ben Spies (Suzuki), 5. Marty Cragill (Suzuki), 6. Jake Zemke (Honda), DNF ERIC BOSTROM (PARTS UNLIMITED DUCATI AUSTIN 999)
AMA Superbike Points (After 9 of 17 races) - 1. Mat Mladin (Suzuki) 288, 2. Ben Spies (Suzuki) 268, 3. Aaron Yates (Suzuki) 239, 4. NEIL HODGSON (PARTS UNLIMITED DUCATI AUSTIN 999) 237, ERIC BOSTROM (PARTS UNLIMITED DUCATI AUSTIN 999) 204, 6. Miguel DuHamel (Honda) 195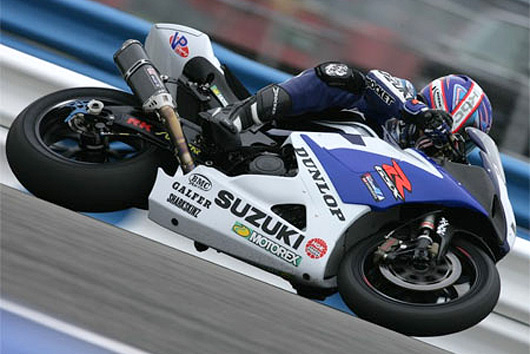 Mladin was untouchable in the dry on Sunday.
Matt Mladin Retuns to the Top on Sunday
Sunday, June 5th - Team Yoshimura Suzuki's Mat Mladin claimed his seventh AMA Superbike victory of the year with a start-to-finish win in today's Elkhart Lake 10th round at Road America in Wisconsin.
The five-time AMA Superbike Champion and current series leader crossed the line on his GSX-R1000 almost 6.5 second clear of team mate and current series number two Ben Spies with Aaron Yates fifth on his Yoshimura Suzuki.
"It was a good race for us," said Mladin from the podium. "I'm glad it stayed dry for everyone and I hope we put on a good show. This year the new Yoshimura Suzuki GSX-R1000 is working really well for us and it's a shame that we had a wet race yesterday, though we still got on the podium. I'd like to thank my crew because we've had some issues this weekend and they got the GSX-R sorted for us so we could get the win today."
In Friday afternoon's initial qualifying session, Mladin took his 43rd career pole position and his sixth one of the year by setting a track record-breaking best lap of 2.12:553 seconds. Team mates Spies and Yates were gridded second and third respectively with Spies posting a best time of 2.13:345 and Yates a 2.14:235 in Saturday's session.
Sunday's 16-lap Superbike race got started and then was almost immediately red flagged from a downed rider. A complete restart resulted in Mladin out front and he gradually created a gap and led the whole race to take the win. "I got the holeshot on the second start, but I was in the lead anyway so it doesn't matter," said Mladin of the red flag.
Like Mladin, Spies got a good start on his Yoshimura Suzuki GSX-R1000. For the first half of the race, he was in a solid fourth then moved up into third. Then, on the last lap, he made an aggressive pass and took second.
"It wasn't so much that I was chasing down the guys in front of me as I was trying to get away from the guys behind me," laughed Spies after the race. "I'd really like to thank my guys for working so hard this weekend. I crashed twice in yesterday's Superbike race and I haven't made things easy on them."
Yates got a bad start after the red flag and was back in 12th place on the first lap. But he pushed his Yoshimura Suzuki GSX-R1000 hard and made his way up through the field.
American Honda's Jake Zemke put the Honda CBR1000RR on the 3rd step of the podium in Sunday's race with teammate Miguel Duhamel very nearly joining him. Zemke ran a strong second for the entire race on the high-speed, four-mile track, finding new speed in the new power-up engine of the Honda CBR1000RR. With second place within sight, Zemke was balked by a lapped rider allowing Ben Spies (Suzuki) the narrow opening he needed to pull in front. Zemke struck back on the uphill run to the flag, only to come up 0.455 seconds short.
"You know, I want to be racing with Mat (Mladin) for a win, not racing for third place, said Zenke afterwards. "But you know that's the way it goes and we got to take it one step at a time and that's kind of what we've been doing all year. And our results have been getting better and better and we're getting closer and closer to the front every weekend. Like I said, it's just really nice to be able to give the crew this little bit of enjoyment for all their hard work. Those guys put in some long hours and it's really tough at times and it's just really nice to be able to be up here and see all the smiles on their faces for all their hard work."
Duhamel was heading a four-rider fight for third when he slowed dramatically on the eighth of 16 laps. A freak mechanical gremlin caused fuel from the overflow bottle to spray into his windscreen and onto his
helmet visor. Unsure of the severity of the problem, Duhamel pitted for quick repairs. He was credited with 22nd. "It's an oversight because it's nothing major," Duhamel said. "Everything on the bike was great. The bike was probably the best we had all weekend."
Ducati Austin's Eric Bostrom fought for the podium on Sunday at Elkhart Lake Wisconsin, finishing just short of making it as he finished fourth on his Ducati 999. Bostrom was a part of a three rider scrap for second but caught some bad breaks with lapped traffic and was unable to make a last lap pass for position on Road America's long straight as he had planned. Saturday's race winner Neil Hodgson was 19th after a mechanical problem.
"We're pretty happy with the direction things went," said Bostrom. "We had better entry grip than we ever had before on the 999. We struggled some with gearing, but overall the bike went well at Elkhart. The second split was our best all weekend and that had been where we were hurting, in the turns. Now it's our strong point."
Eric diced for second place and was in sight of the position, but ended up fourth after having a rougher time through the backmarkers than his rivals. "There was a shake-up between two riders in front of me, so there was an opportunity to make up some ground," said Bostrom, the winner at Pikes Peak last month. "To work so hard for it and have the opportunity disappear was frustrating. When we went into turn 11, I was right on their heels. I was basically in position to make a move in the last turn."
While Bostrom could have benefited with one more lap in the race, Neil Hodgson would have liked one fewer.
"Unfortunately, a belt broke on Neil's bike today," said team engineer Luca Ferraccioli. Hodsgon could not finish the 16th and final lap of the race after running behind Bostrom for most of the event.
"I only had a quarter of a lap to go," said a frustrated Hodsgson, clearly wanting to back up his Saturday win with another good finish. "After yesterday, I was so pleased to win and wanted to have another good day today, but the race was disappointing. I was pretty much near the limit in the race." Hodgson is still in fourth place in AMA Superbike points.
Still, the weekend will be remembered for Hodgson's first AMA victory. Hodgson is the only man in the modern era to win in AMA Superbike, British Superbike, and World Superbike.
The teams will next race at Laguna Seca Raceway at the combined MotoGP/AMA weekend on July 8-10.

Sunday Superbike Results: 1. Mat Mladin (Suzuki), 2. Ben Spies (Suzuki), 3. Jake Zemke (Honda), 4. ERIC BOSTROM (PARTS UNLIMITED DUCATI AUSTIN 999), 5. Aaron Yates (Suzuki), 6. Josh Hayes (Kawasaki), 19th NEIL HODGSON (PARTS UNLIMITED DUCATI AUSTIN 999)
AMA Superbike Points (After 10 of 17 races) - 1. Mat Mladin (Suzuki) 325, 2. Ben Spies (Suzuki) 300, 3. Aaron Yates (Suzuki) 265, 4. NEIL HODGSON (PARTS UNLIMITED DUCATI AUSTIN 999) 249, 5. ERIC BOSTROM (PARTS UNLIMITED DUCATI AUSTIN 999) 231, 6. Miguel Duhamel (Honda) 204
---
Miss Italy Christina Chiabotto gets comforted before her ride by Ducati CEO Frederico Minoli. Ducati felt it was best to get all the smiling PR photos before going out onto the track with Randy Mamola.
F1 STAR & MISS ITALY TASTE SOME MotoGP ADRENALINE
Italian Grand Prix, Mugello, Race Day, Sunday June 5 2005
- Up-and-coming Red Bull F1 driver Tonio Liuzzi was one of Randy Mamola's lucky passengers on the Ducati Marlboro Team two-seater at sun-blessed Mugello this morning. Other passengers included the reigning Miss Italy, Cristina Chiabotto, and Nelson Piquet Junior, another bright young hope of the car world.
Confident that Liuzzi and Piquet were up to some serious high-speed riding, Mamola rode as hard as he could with the car racers. "The only time I've ever ridden the two-seater harder was when I had Luca Cadalora with me here, and he's a former 250 World Champion," said Mamola, a 13-time GP winner.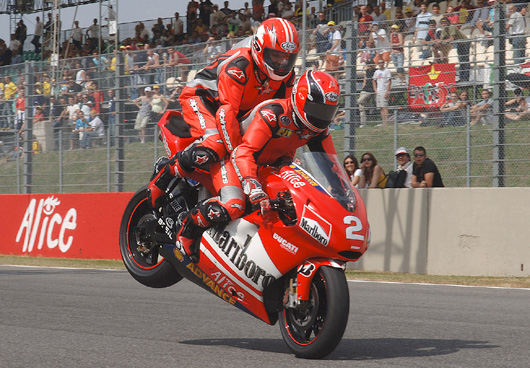 Christina gets ready to show Randy what she had for lunch.
Liuzzi was delighted with his taste of MotoGP action. "I love adrenaline and that was pure adrenaline," grinned the 24-year-old Italian. "It's a different kind of craziness from F1, just awesome. It's incredible what these guys do on bikes, especially when there's such a fine line between going fast and crashing! The way Randy controlled the bike, braking deep into corners, then having the thing sliding around on the exit was incredible. We were so far over that I felt like my face was on the ground, and the wind was so strong on the straight that I thought we'd take off. Now I realise the kind of kick that bikes can give you I'm going to buy another road bike!"
Miss Italy reckons her two-seater experience will stay with her for the rest of her life. "It was a big emotion, even better than I had expected, something I will never ever forget," said Chiabotto, from Turin. "Thanks to Ducati for this amazing experience, thanks also to Randy, I'm proud to have ridden with him, he was great!"
Nineteen-year-old Piquet Junior, son of the former F1 World Champion, and a contender in the 2005 GP2 championship, was similarly gobsmacked by his experience. "I did a parachute jump last week and I thought that was crazy but this was much worse!" he smiled. "Just hanging on was really difficult. I can't even imagine what it's like riding 15 seconds a lap faster on your own."

Better than sidecar? Mamola is lobbying the FIM to keep MotoGP at 990cc, but to require carrying a passenger like in the World Rally Championship. Miss Italy, however, turns up her nose at that idea.