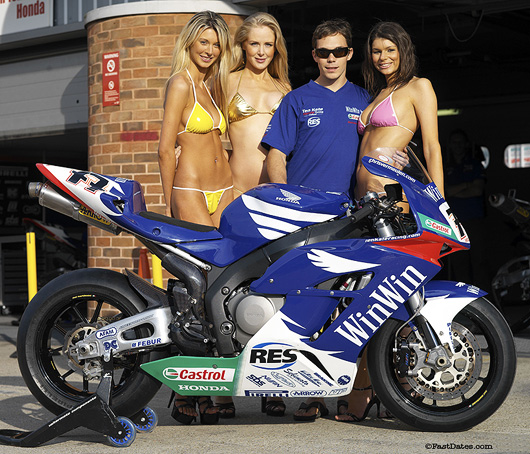 Chris Vermeulen gets inspired with the help of our FastDates Calendar Angels Gemma, Monica and Aaliayah.

SBK World Championship, Assen Netherlands Round 9 of 12

A Weekend of Firsts for Ten Kate Honda beginning with Superpole on Saturday
Chris Vermeulen Doubles at Assen Dutch TT World Superbike Weekend
Charpentier Wins 2005 Supersport Championship
By Andy Rixon & Friends

Charpentier on top of the World in 600cc SuperSport.

Assen, NL, Sept 3-5th - Chris Vermeulen (Winston Ten Kate Honda CBR1000RR) scored a superb double win at the classic SBK venue of Assen, after two very different 16-lap races. He had the perfect start to his race preparations at Assen, taking his and his Ten Kate team's first Superpole win since each started out on the 1000cc class in 2004, thanks to a superb 2'04.179 lap time. This mark was some 0.7 seconds better than second placed rider James Toseland's Ducati.

In the first race, Vermeulen eventually translated his Superpole supremacy to a comfortable win, having led by over five seconds at one stage, before easing up for his second 2005 season win. Second went to Toseland and third to Noriyuki Haga (Yamaha), both of whom Vermeulen had fought in the early laps.

In the second race, Vermeulen had a less effective start, finishing lap one in fifth place, and taking eight laps to get to the lead. He then had an often-tactile battle with Haga, as they slowly dropped Toseland from the pace. Vermeulen had done enough on the penultimate lap to stop Haga attacking him on the final corners, and he took a popular double win with the Dutch crowd.
In 600cc SuperSport Team Ten Kate continued to dominate as Sebastien Charpentier (Winston Ten Kate Honda CBR600RR) entered the Assen race with realistic expectations to leave as champion and after a dramatic 16-lap race with his fellow countryman Fabien Foret (Team Italia Megabike Honda CBR600RR) he duly took Honda's fourth Rider's title in a row -

Toseland wa shis quickest all season as the outgoing Champ needs to secure a ride for next season.
Friday Qualifying Has Ducati's James Tosleand Quickest
James Toseland, the 2004 World Champion, replicated his number one status in the opening qualifying session at the new-style Assen circuit, taking a best time of 2'04.742, but only after a late reaffirmation of his previous number one spot. There were nine changes of leading rider throughout the session, most of them in the final two laps of intense competition for provisional grid places.
Toseland has already won at Assen, the 24 year-old British rider thrilling the packed grandstands last year with a win in race 1 and a second place in race 2 after a superb scrap with Vermeulen. Toseland is lying sixth in the standings, with one win to his name this season, but a 183 point gap from the leader means that he will have to relinquish the number 1 plate on his Ducati 999 at the end of the year.
"I've had a bit of time to think about things in August and come to terms with losing my championship. It was difficult after being on a high after winning it last year" commented Toseland. "That's been a difficult challenge but now all I want to do is concentrate on these last four rounds, starting with Assen. That means coming as high as possible and winning as many races as I can and putting myself in a good position for next year!. It's been a bit disappointing, Ducati haven't won the championship either so it's not been easy. I nearly had two wins here last year so I like Assen. It's the length of the circuit that I love as well as the banking and the corner speed. All these factors make it a great race circuit, a real motorcycle circuit and all riders enjoy racing around here".
One of the few trophies missing from the collection amassed by Troy Corser (Alstare Corona Extra Suzuki) is an Assen race winner's prize. With the Dutch track about to undergo major changes in the winter months, Corser is determined to add an Assen victory to his haul before the nature of the track changes permanently, and twice he put his name at the top of the qualifying list – albeit not at the most crucial time. His team-mate Yukio Kagayama took longer to get used to the new Assen layout, taking ninth fastest time, some 1.179 from provisional pole.
Winston Ten Kate Honda riders Karl Muggeridge and Chris Vermeulen vied with the stopwatch and each other on the first day of qualifying, with Muggeridge – an SBK rookie this year – taking third best time, some 0.3 seconds faster than Vermeulen. Only three Honda riders made it into the top ten, with Max Neukirchner (Klaffi Honda) seventh fastest, over a second from the quickest mark set by Toseland.
Noriyuki Haga (Yamaha Motor Italia) ended the first unofficial practice session fastest but when the stopwatches were running for real he ended up 11th quickest, with his team-mate Andrew Pitt taking the honours as top Yamaha rider, eighth in the rankings. Gianluca Vizziello (Team Italia Lorenzini by Leoni) was an impressive tenth fastest in his rookie Assen SBK visit, while Sebastien Gimbert cast a small shadow over his team-mate Norick Abe (Yamaha Motor France), by going 14th to Abe's 21st.
Two crashes for Ducati Xerox rider Regis Laconi dropped him down the first day order, in 15th position only. His second fall saw him visit the medical centre for checks, having experienced a severe impact from a highside. Thus the second placed Ducati rider on show was the ever-improving Lorenzo Lanzi (SC Caracchi Ducati) who took the fifth quickest time. Ivan Clementi (Team Pedercini had been an early force in qualifying and finished his first day of action 12th overall. The SC Caracchi Ducati team ended its contract with Spanish rider Fonsi Nieto before he set a time, leaving Lanzi in a single rider team at present.
Steve Martin (Petronas FP-1) surprised the Assen grid by posting the seventh fastest lap of the day on his 900cc machine, reckoned by many not to have the legs to make an impact at the long, fast circuit this season. Garry McCoy did not share his positive experience, finishing 26th fastest.
Ben Bostrom (Renegade Honda Koji) and Pierfrancesco Chili (Klaffi Honda) finished out the top 20 positions, in 19th and 20th respectively. Wild card Suzuki rider Jurgen van den Goorbergh (Rizla Suzuki) had a torrid time in the opening session, finishing his day 23rd fastest in his Superbike debut.
PSG-1 Kawasaki rider Chris Walker was once more the leading Kawasaki rider, taking his PSG-1 machine to 13th overall, out of 34 riders on show. Mauro Sanchini returned to SBK action after his recent injury, and ended day one 22nd.
WORLD SUPERSPORT CHAMPIONSHIP
Sebastien Charpentier (Winston Ten Kate Honda) enjoyed a narrow margin of supremacy after the first sessions at a remodelled Assen circuit, and the championship leader is still on course to take the title if he replicates this result in the race. Young Italian charger Michel Fabrizio (Team Italia Megabike Honda) was second, by only 0.074 seconds, with the front running variety added to by the Yamaha Motor Germany machine of Aussie rider Broc Parkes, in third place on the early timesheets. SC Ducati rider Gianluca Nannelli fell in the untimed session and failed to make a lap in qualifying, but he hopes to be fit and ready for the final timed session on Saturday afternoon.
Vermeulen Runs away With Superpole on Saturday, Laconi Out with Injuries
After some great rides and race wins in Superbike since his move to the class in 2004, Winston Ten Kate Honda rider Chris Vermeulen took his first Superpole win at the perfect moment - and in the perfect place. His stunning lap of 2'04.179 was the best of the weekend, and was taken at the home circuit of his Winston Ten Kate Team, giving them their first ever Superpole success in the SBK class as well.
Vermeulen, only ninth fastest after regulation qualifying, had been saving his best for last, running race tyres in almost all the previous sessions which preceding his Superpole triumph. Thus he did not have to wait a long time to set his Superpole lap, keeping his thought processes at racing pace. As an Assen race winner last year for Honda, Vermeulen installed himself in the position of firm favourite, going 0.7 seconds faster than his closest rivals after Superpole.
Vermeulen was the eighth rider out this afternoon and stamped his authority from the very start, riding extremely aggressively. This was particularly evident on one of the left hand corners were he kept the throttle wide open and left massive black lines to the delight of the crowd and the millions of viewers on television no doubt.
Former Assen race winner Noriyuki Haga (Yamaha Motor Italia) came close to disaster at the final chicane in his otherwise impressive Superpole lap,almost unloading from his R1 as the tail came around in the middle of a fast change of direction. He recovered, kept the throttle wide open, and recorded a lap good enough to give him a front row start. The talented Japanese rider had charged round the Dutch circuit like a man possessed, sliding his Yamaha through the corners and living up to his nickname the Samurai of slide. He was out of his seat on the penultimate corner and went into the chicane on one wheel with his rear up in the air under braking. His time
eventually saw him round out the front row in fourth place. His Superpole position made it four different manufacturers in the top four places on the front row. Haga's team-mate Andrew Pitt, who had initially outqualified him, went sixth fastest in Superpole, and now starts his race one place behind second Winston Ten Kate Honda rider, Karl Muggeridge.
It was a day of contrasts within the Ducati Xerox team, as James Toseland overcame recent disappointments to secure the fastest time in regulation qualifying, 2'04.742, and then go second to Vermeulen in Superpole, guaranteeing a prime starting point for his races on Sunday. His team-mate, Regis Laconi, was high-sided from his Ducati 999 in the final part of Friday's first qualifying session. He suffered a deep gash in his right elbow, which had to have eight stitches put in by the Clinica Mobile, and a damaged tendon, both of which have severely hampered any arm movement. Laconi has already left the circuit for France, where doctors will verify the situation to see if he is in a position to race in next weekend's WSBK round at Lausitzring, Germany.
"Obviously I'm very disappointed but it was absolutely impossible for me to race here, and as soon as I move my arm the pain is terrible" declared Laconi on leaving the circuit. "I'm going to Marseilles to a specialist to see if it is possible to do something for the next race".
Troy Corser (Alstare Corona Extra Suzuki) is the most successful Superpole winner in the history of SBK racing, but the championship leader was not able to match the immaculate pace of Vermeulen on this occasion, going third fastest overall as Toseland overhauled him with the last lap of the afternoon. Corser's team-mate Yukio Kagayama survived a couple of 'moments' in his usual dramatic Superpole display, ending up seventh, on the second row of the grid. Rizla Suzuki wild card rider Jurgen van den Goorbergh was a disappointed 23rd, and thus out of the Superpole top 16, despite making significant improvements in his opening day pace.
After a superb fourth place grid qualification before Superpole, Lorenzo Lanzi (SC Caracchi Ducati) dropped down to tenth place overall, one ahead of another quick private Ducati rider from qualifying, Ivan Clementi (Pedercini Ducati).
Max Neukirchner (Klaffi Honda) and Pierfrancesco Chili reversed their relative positions from regulation qualifying, with Chili finishing Superpole in an improved ninth place, but Neukirchner fell as he tried to push the pace - and his front tyre grip - thankfully without injury. As he had qualified on the second row of the provisional grid, his crash meant that he only dropped to 12th on the grid, the last spot one row behind that on which he originally qualified. Ben Bostrom (Renegade Honda Koji) overcame the discomfort of riding with the lingering affects of a testing injury, but could only replicate his original fourth row start, earned with a 13th fastest time in regulation.
Kawasaki rider Chris had to battle an uncooperative machine set-up during Superpole, with his bike wildly out of shape in many sections, preventing him from replicating his fifth place in regulation qualifying. He was an unlucky 13th, first spot on the fourth row. Gianluca Vizziello (Lorenzini by Leoni Yamaha) went 14th, Norick Abe (Yamaha Motor France) 15th. Steve Martin (Petronas FP-1) continued the great form he showed on day one to earn eighth fastest time in Superpole and take an outstanding second row start. Garry McCoy was once more unable to match his team-mate's pace and finished his qualifying sessions 22nd.
Hard man award of the day goes to Ben Bostrom. Whilst taking part in a British Superbike race at Silverstone a few weeks ago the Californian had a monumental highside after two riders, Laverty and Harris, had a coming
together in front of him. John McGuiness, who was behind Ben, said that it was the biggest highside that he had ever seen. The Renegade Koji Honda rider landed on his back and severely shook his internal organs. So much so that he was unable to eat for 10 days and is now noticeably under weight. Hopefully he will be in better shape for tomorrow's races.
Superpole, Superbike World Championship round 9, Assen, Netherlands: 1 Vermeulen 2:04.179; 2 Toseland +0.720; 3 Corser +0.826; 4 Haga +0.899; 5 Muggeridge +1.077; 6 Pitt +1.125; 7 Kagayama +1.255; 8 Martin +1.381; 9 Chili +1.512; 10 Lanzi +1.757; 11 Clementi +1.857; 12 Neukirchner (crash); 13 Walker +2.222; 14 Vizziello +2.275; 15 Abe +2.353; 16 Bostrom +3.445
Saturday free practice results: 1 Vermeulen 2:04.534; 2 Muggeridge 2:05.118; 3 Toseland 2:05.149; 4 Neukirchner 2:05.507; 5 Haga 2:05.597; 6 Pitt 2:05.836; 7 Chili 2:05.981; 8 Walker 2:06.266; 9 Kagayama 2:06.406; 10 Abe 2:06.460; 16 McCoy 2:06.891; 18 Martin 2:07.128
Saturday morning qualifying times (best qualifying time bracketed: 1 Toseland (Ducati Xerox) 2:05.044 (2:04.742); 2 Corser (Alstare Suzuki Corona) 2:05.092 (2:04.835); 3 Muggeridge (Winston Ten Kate Honda) 2:04.860; 4 Lanzi (Ducati Caracchi) 2:05.065; 5 Walker (PSG-1 Kawasaki) 2:05.243; 6 Pitt (Yamaha Italia) 2:05.395; 7 Neukirchner (Klaffi Honda) 2:05.396; 8 Clementi (Team Pedercini) 2:03.399; 9 Vermeulen (Winston Ten Kate Honda) 2:05.721 (2:05.445); 10 Kagayama (Alstare Suzuki Corona) 2:05.649; 11 Martin (Foggy PETRONAS Racing) 2:06.533 (2:05.793; 22 McCoy (Foggy PETRONAS Racing) 2:06.880
WORLD SUPERSPORT CHAMPIONSHIP QUALIFYING Sebastien Charpentier (Winston Ten Kate Honda) battled his way through traffic to set the pole time in final qualifying, the eighth time in nine attempts he has secured pole in his dazzling 2005 season. Second was his team-mate Katsuaki Fujiwara, with a Honda top three completed by Michel Fabrizio (Team Italia Megabike Honda).
Kevin Curtain (Yamaha Motor Germany was the lone R6 rider on the in the front row bracket, while Friday crasher Gianluca Nannelli set sixth best time, to run out top Ducati rider.

Vermeulen fights off points leader Corser and Haga in Race One.
Race One : Vermeulen Dominates on the Ten Kate Honda, Toseland Second
Chris Vermeulen rode the wheels off his bike today to take the win in raceone in dominating fashion. For the first five laps Vermeulen battled with Troy Corser, James Toseland and Nori Haga but by the fifth lap the Australian had got his bike into the lead and didn't look back. He started to pull away from the following pack by consistently setting fastest laps. The Honda rider then had a lonely race to the finish line much to the delight of his team and the thousands of fans. Vermeulen is half Dutch so this is not just a home race for his team but him as well.
Behind Vermeulen the battle for second and third was much closer with James Toseland just beating Nori Haga to the flag. Toseland, who has been the subject of intense rumour about his future, was determined to show his team why he is the defending champion. The English Ducati rider and Haga on the Yamaha traded places multiple times throughout the race keeping everyone on the edge of their seats, or out of them. Toseland seemed to favour the new chicane as a passing point. Every time Haga would pass Toseland he would
throw his Ducati up the inside of Haga at the chicane. On the final couple of laps Toseland managed to pull out a small advantage and by the final lap Haga had settled for third allowing Toseland to take a much deserved second place.
Troy Corser had got away well but was pushed down to third by Vermeulen on the first lap. He pulled out a brilliant move at the end of the lap taking first place and passing both Haga and Vermeulen. There then follow a frantic couple of laps which eventually saw Corser fall back to fourth. The Alstare Corona Suzuki rider then spent the rest of the race watching the battle between Haga and Toseland. He crossed the line in fourth, the first time this season that he hasn't been on the podium.
Fifth place was taken by Andrew Pitt on the second Yamaha Italia bike. Pitt had a pretty steady race staying in contact with Corser but not managing to get close enough to pass him. Pitt must be wishing he is running the same custom engine parts as his team mate Nori Haga. The team are running his machine in standard Yamaha setup but are using some parts that they have fabricated for Haga's bike.
Chris Walker crashed out on the first lap after another rider pushed him wide. Unfortunately for the popular English rider he has sustained a broken elbow which may put the rest of his season in doubt. Finally spare a thought for Frankie Chili, his tenth place finish was his worst here for ten years.

Vermeulen fights off Haga and Toseland again.
Race Two: Vermeulen Does the Double, Haga fights off Toseland
Chris Vermeulen took his Winston Ten Kate Honda to the second win of the day in an inspired ride after an intense battle with Nori Haga. The Australian had a poor start dropping back to 6th at the start. He fought his way back up to the front and eventually took the lead on the eighth lap. He then looked to be duplicating his first race performance and taking off into the distance. Nori Haga wasn't going to let his happen however and after beating up James Toseland the Yamaha rider chased down Vermeulen and got past him on the 13th lap.
Vermeulen pushed his Honda Fireblade as hard as he could, this was evidenced by a massive slide on the 14th lap that would have seen many riders highsided. On the penultimate lap he past Haga and managed to just hold Haga off to take the chequered flag and claim the double. Haga continued to showcase his blistering form that has seen him one of the most entertaining rider to watch with his stunning style.
Toseland was riding really hard and wanted to show that he is still one of the best riders around. After dropping back to 5th at the start, James came back to stuff his Ducati to the front on lap 3 in a great pushing move under Haga that continued in a huge fight with the Japanese ace. Vermeulen then joined them and moved into second place when Toseland almost lost his front end on the last corner. Toseland recovered and reclaimed 2nd place from Haga, until the "Samuari of Slide" repassed him on the 10th lap and pulled away leaving with Vermeulin, leaving Toseland to circulate in 3rd place. James started catching the 2 leaders again towards therace end, but time would run out before the checkered flag was hung out to dry.
Andrew Pitt had a good race on the second Yamaha Italia R1 getting away in 2nd place at the start and then dropping back to 4th. He then held off points leader Troy Corser until the 12th lap when the Suzuki rider managed to get past him. Pitt came over the line in 5th place and for a strongh finish.
Corser certainly wasn't s happy with his 4th place which now requires another race weekend to wrap up his seemingly sure title. Troy looked to be in good shape in the early going, but was baulked by team mate Kagayama, allowing Vermeulen past and dropping Troy back to 5th place. He would come back top catch Pitt in 4th and managed to pass him on the 12th lap.
Behind the leaders, Lorenzo Lanzi had a good ride to finish in 6th place on the SC Caracchi Ducati. Lanzi is definitely a rider to watch as he is being groomed by Ducati for future greatness. Ben Bostrom finished in 10th place an awesome result given the treatment he has had over the past few weeks. He's still not back to full fitness so this result promises good things for the Californian for the last three rounds of the championship. Frankie Chili eventually finished in 14th place on a weekend I'm sure he'd like to forget. Frankie has always done really well at Assen and has always been on the podium for the last 10 years. Perhaps the circuit change has something to do with it.
The racing this weekend showed what a fantastic circuit Assen is for motorcycle racing, producing some of the best of the season. Unfortunately after this weekend the diggers move in and the circuit is to be changed radically. Will we ever see classic racing at Assen again or will it becomeanother soulless European circuit, who knows but we can hope!!
Next week sees the circus roll into the Euro Speedway at the Lausitzring where Troy Corser should be able to wrap up the championship. Will Regis Laconi be able to return from his injuries, or will Ducai team mate Toseland put on another late season spectactular ride that might save his seat on the team for next year? Will Vermeulen do another double? Will Haga continue to entertain (of course he will)! All of the action will be here as it happens on FastDates.com
Results Round: 9 - Netherlands, Circuit: Assen, Circuit Length: 5997
Lap Record: 2' 4.685 (Chris Vermeulen, 2005)
Fastest Lap Ever: 2' 4.179 (Chris Vermeulen, 2005)
Assen Superbike Race One: 16 Laps
Pos. Rider Manufacturer Nat. Total Time
1 C. Vermeulen Honda AUS 33' 36.029
2 J. Toseland Ducati GBR +3.396
3 N. Haga Yamaha JPN +4.876
4 T. Corser Suzuki AUS +6.815
5 A. Pitt Yamaha AUS +10.075
6 Y. Kagayama Suzuki JPN +12.526
7 L. Lanzi Ducati ITA +12.661
8 M. Neukirchner Honda GER +20.595
9 K. Muggeridge Honda AUS +20.872
10 P. Chili Honda ITA +27.691
11 I. Clementi Ducati ITA +36.444
12 S. Gimbert Yamaha FRA +36.844
13 G. McCoy Petronas AUS +37.012
14 S. Martin Petronas AUS +39.262
15 G. Bussei Kawasaki ITA +39.339
16 G. Vizziello Yamaha ITA +40.702
17 J. Cardoso Yamaha ESP +48.399
21 M. Praia Yamaha POR +1' 27.412
Assen Superbike Race Two: 16 Laps
Pos. Rider Manufacturer Nat. Total Time
1 C. Vermeulen Honda AUS 33' 34.053
2 N. Haga Yamaha JPN +0.085
3 J. Toseland Ducati GBR +3.318
4 T. Corser Suzuki AUS +5.938
5 A. Pitt Yamaha AUS +6.394
6 L. Lanzi Ducati ITA +16.480
7 M. Neukirchner Honda GER +17.255
8 K. Muggeridge Honda AUS +22.338
9 N. Abe Yamaha JPN +30.801
10 B. Bostrom Honda USA +34.071
11 Y. Kagayama Suzuki JPN +36.480
12 G. McCoy Petronas AUS +36.658
13 S. Gimbert Yamaha FRA +37.165
14 P. Chili Honda ITA +37.888
15 G. Bussei Kawasaki ITA +38.414

Fastest Race Lap: Vermeulen Honda AUS 2' 4.685
Riders Championship standings WSB, Pos. Rider Manufacturer Nat. Points
1 Troy Corser Suzuki AUS 370, 2 Chris Vermeulen Honda AUS 284, 3 Regis Laconi Ducati FRA 214, 4 Noriyuki Haga Yamaha JPN 203, 5 James Toseland Ducati GBR 197, 6 Yukio Kagayama Suzuki JPN 187, 7 Chris Walker Kawasaki GBR 130, 8 Pierfrancesco Chili Honda ITA 119, 9 Andrew Pitt Yamaha AUS 117, 10 Karl Muggeridge Honda AUS 100, 11 Norifumi Abe Yamaha JPN 95, 12 Lorenzo Lanzi Ducati ITA 85, 13 Max Neukirchner Honda GER 80, 14 Giovanni Bussei Kawasaki ITA 48, 15 Ben Bostrom Honda USA 39, 16 Sebastien Gimbert Yamaha FRA 35

Manufacturers standings WSB, Pos. Manufacturer Points
1 Suzuki 379 , 2 Honda 30 , 3 Ducati 293, 4 Yamaha 244, 5 Kawasaki 145, 6as 25
Charpentier secures Supersport Title
behind Foret amid a Honda 1-2-3 Podium Sandwich
Sebastien Charpentier (Winston Ten Kate Honda CBR600RR) entered the Assen race with realistic expectations to leave as champion and after a dramatic 16-lap race with his fellow countryman Fabien Foret (Team Italia Megabike Honda CBR600RR) he duly took Honda's fourth Rider's title in a row - thanks to the 20 points he earned for second place. All four of Honda's championship wins have come from riders on Ten Kate prepared machinery, including Assen race winner Foret in 2002, when riding a CBR600FS. Since then, the CBR600RR has powered Chris Vermeulen (2003) and Karl Muggeridge (2004) to the title, with Charpentier's 2005 domination making it a hat-trick of overall victories.
This far Charpentier has scored 210 points from a possible 225, scored six wins from nine races, taken eight pole positions, and led for 154 race laps, out of a total of 186 completed to date.
The Honda trio on the Assen podium was completed by Michel Fabrizio (Team Italia Megabike Honda CBR600RR) who rode well despite a gearchanging foot injury, suffered during one of his two qualifying falls. Katsuaki Fujiwara (Winston Ten Kate Honda CBR600RR) is now 83 points behind Charpentier; in second place overall, having finished fifth in today's race. He twice ran wide when in a podium challenging position. Charpentier was understandably both relieved and ecstatic about his championship win, and had to show determination as well as speed in the face of a five-rider assault on the podium places for much of the race.
"It is difficult for me to realise the situation right now," stated Charpentier. "The race was great, very hard and Katsuaki passed me, as I thought he would. I think he maybe had a problem changing gears, as he had many rear wheel slides. It was a tough race with Fabien, great fun and it was a perfect day for me. It was also sometimes difficult for me to change gear today, but I was happy to finish second on the final lap. I had realised that Katsuaki was behind, and it was not necessary to push right at the end."
Foret was emotional at his first 2005 race win, but took time to congratulate his friend and countryman on his championship triumph. "I would like to say first of all that Sebastien and I are friends and I am very pleased for him and his win, He was the best this year and deserves his title," said Foret. "For me this year has been very difficult in places and this was a good moment to bring home our first win. I hope we can do well in the next three races. Our bikes are very close to the Ten Kate ones, and anyway, the bikes are still Hondas, strong enough to win today."
Fabrizio paid tribute to his team for his third place at Assen, with the entire Megabike squad maturing as the season has progressed. "We are a young squad and there was a gap at the beginning of the year because we were racing with the dominant team in the championship," said the Italian. "Our situation is now good and now there has been the first win with Foret. I think now the team is in a very good situation. And I have to thank them because twice on Saturday I fell and they had to rebuild the bike on two occasions."
ASSEN S UPERSPORT RACE: (Laps 16 = 95,952 Km) Pos /Rider /Nat. /Team / Time /Gap
1 / FORET / FRA / Team Megabike / 34'37.800 /
2 / CHARPENTIER / FRA / Winston Ten Kate Honda / 34'38.058 / 0.258
3 / FABRIZIO / ITA / Italia Megabike / 34'38.909 / 1.109
4 / CURTAIN / AUS / Yamaha Motor Germany / 34'39.180 / 1.380
5 / FUJIWARA / JPN / Winston Ten Kate Honda / 34'43.290 / 5.490
6 / HARMS / DEN / Stiggy Motorsports / 34'48.230 / 10.430
7 / PARKES / AUS / Yamaha Motor Germany / 34'54.565 / 16.765
8 / CHAMBON / FRA / Gil Motor Sport / 35'03.392 / 25.592
9 / LAUSLEHTO / FIN / Klaffi Honda / 35'03.448 / 25.648
10 / FORES / ESP / Alstare Suzuki Corona Extra / 35'03.456 / 25.656
11 / LAGRIVE / FRA / Moto 1 - Suzuki / 35'03.670 / 25.870
12 / STIGEFELT / SWE / Stiggy Motorsports / 35'03.815 / 26.015
13 / VOS / NED / & E Sport Racing / 35'03.817 / 26.017
14 / JANSEN / NED / Suzuki Nederland / 35'15.078 / 37.278
15 / KALLIO / FIN / Yamaha Racing Support / 35'15.887 / 38.087
Fastest Lap 5° Katsuaki Fujiwara 2'08.865 167,533 Km/h
Riders Championship Standings:
1 CHARPENTIER 210, 2 FUJIWARA 127, 3 CURTAIN 122, 4 FORET 110, 5 FABRIZIO 98,
6 CHAMBON 76, 7 PARKES 69, 8 FORES 58, 9 NANNELLI 56, 10 LAUSLEHTO 49,
11 VENEMAN 33, 12 STIGEFELT 32, 13 HARMS 31, 14 CORRADI 25, 15 JONES 18.
---
Fast Dates World Superbike Girl & Ducati Corse Girl Janelle Perzina Stars on TV's Big Brother 6
Our own FastDates.com Calendar Angel Janelle Perzina is one of the featured House Guests on this summer's CBS reality television series Big Brother 6. The sexy model and actress has even developed her own fan following from the TV Show and many new websites have sprung up trying to feature her. But our FastDates.com Website and Calendars are one of the few places on the web and in print can find the best pictures of our Janelle, including our exclusive sexy pictorials of her in
Members Corner.

We took Janelle to Laguna Seca World Superbike in 2003 where she also served as official Ducati Corse umbrella girl for Ruben Xaus, with her photos featured in this year's 2005 Fast Dates Calendar
---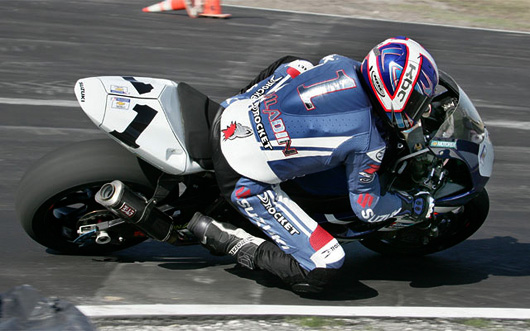 AMA Superbike Championship, Road Atlanta, GA,, Round 10 of 10


The Mladin Show Ends the AMA Superbike Season
at Road Atlanta with his 6th National Championship

Braselton, GA, Sept 3-5 - In a stunning end to the Suzuki 2-race Superbike weekend at Road Atlanta International Raceway on Sunday and the final round of this year's AMA National Roadracing Championshiip, Team Yoshimura Suzuki's Mat Mladin clinched his third record-breaking AMA Superbike Championship by taking an unprecedented sixth title. And team mate Aaron Yates carded his first Superbike win of the season while Ben Spies came in a close second to Yates. Mladin rode an ultra conservative race to protect his points lead, getting away nearly dead last off the start as he babied his clutch, and worked his way up from 24th position on the opening lap to finish 4th behind Austin Ducati's Neil Hodgson.
Mladin Untouchable in Saturday Race One
Mat Mladin aboard his Yoshimura Suzuki survived a late scare from rookie teammate Ben Spies to pick up his record-setting eleventh AMA Superbike victory of the 2005 season this afternoon at Road Atlanta. Seeing all of hard work negated deep into the race due to a red flag, the Aussie quickly regrouped to score the 43rd win of his legendary career.
At the green light, Spies tore into Turn 1 first, but by the time the riders rushed over the hill in Turn 3 on the opening lap Mladin had taken control of the race. He slowly built up a clear advantage from that point on, inching away from his pursuing teammates, Spies and Aaron Yates, rather than ripping free by big chunks per lap in the manner that had become customary.
Then, with a couple seconds in hand and the laps counting down in the 25-lap affair, the five-time champ's advantage was immediately erased with a red flag that was shown while working lap 18 due to a Heath Small spill.
With the regridded for an eight-lap sprint race Mladin saw again this week all of his previous hard work go to waste. He also had to deal with another launch off the line (and he's had his problems in that area as of late), and he knew that his primary rival Spies' GSX-R was working wonderfully for short runs, it was only at full race distance where he was struggling.
The 21-year-old Texan did in fact power into first again at the restart, holding the position for the entire lap (lap 18). However, the reigning king dipped underneath the youngster entering Turn 1 at the start of the next circulation. But Spies wouldn't fade this time as he did earlier, even showing his veteran teammate a wheel on a couple of occasions entering the hard-braking Turn 10. The two looked as if they were about to have company for the race to the flag, as third Yosh man Yates moved onto their tail. However, the big Georgian tucked the front in 10 on the penultimate lap a short distance in front of American Honda's Miguel DuHamel.
Mladin stayed steady at the front despite running with no right kneeslider. He ultimately took the checkered flag with a slim 0.721-second margin of victory. Afterwards, he commented, "You don't want to work for 20 laps or whatever and then have a sprint race to the end because of a red flag. It's crazy working for thirty minutes and then just having a five-minute sprint race at the end. Other than that, the race went okay. I lost knee puck on the second lap and it certainly made riding the bike a little bit different."
Saturday's win moved the Superbike great to 509 points on the season, 27 in front of second-ranked Spies, meaning he only needs to finish 21st or better on Sunday to lock up an unprecedented sixth AMA Superbike crown. It was also his eleventh win of the season, a new AMA Superbike record.
Asked about his record, Mladin smirked, "Should have been thirteen. It's good. It's nice to get eleven wins and get the record and that sort of stuff. But we've still got work to do tomorrow. That's what we're here to do. Just bring the thing home tomorrow and wrap up the championship."
Yates Scores His First Race Win of the Season as
Mladin Garners His 6th AMA Supebike Title on Sunday
In a stunning end to the Suzuki weekend at Road Atlanta on Sunday, Team Yoshimura Suzuki's Mat Mladin clinched his third record-breaking AMA Superbike Championship by taking an unprecedented sixth title. And team mate Aaron Yates carded his first Superbike win of the season while Ben Spies came in a close second to Yates. Mladin rode an ultra conservative race to protect his points lead, getting away nearly dead last off the start as he babied his clutch, and worked his way up from 24th position on the opening lap to finish 4th behind Austin Ducati's Neil Hodgson.
"It was a good year for us," said Mladin. "And Suzuki delivered a motorcycle that made life a lot easier than last year. As I've said all along, the Yoshimura Suzuki GSX-R1000 is an amazing motorcycle."
Mladin had a record-breaking qualifying session in that he not only broke the track record with a time of 1:21.685, but he is also the first AMA Superbike rider to capture every pole position in a single season -- that's 10 for the season and 47 for his career total. His Yoshimura Suzuki team mates qualified closely behind him on the front row, with Spies in the second spot with a 1:23.161 and Yates in third with a 1:23.242.
The 25-lap race started late on Sunday afternoon and was almost immediately red-flagged after a rider crashed. The riders were re-gridded for a full re-start and although Spies got the holeshot, Yates took over the lead almost immediately. The duo led the race entirely.
"What can I say? Let's give it up for the Yoshimura Suzuki GSX-R1000," announced Yates from the podium. "It was a good day and a good race. We got a good start out there and I think I was a little stronger in a couple of spots and I just tried to take advantage of the opportunities -- then I sort of got into cruisin' mode. It's just really great to get the race win for Suzuki."
Spies rode hard and consistently and made a few runs at Yates. But after 25 laps, he maintained a strong second. "I wish there's been no red flag," said Spies. "But I just did the best that I could and tried to be conservative and get on the podium."
Mladin's five previous AMA Superbike titles came aboard the Yoshimura Suzuki GSX-R1000 in 2004 and 2003 and aboard the Yoshimura Suzuki GSX-R750 in 2001, 2000 and 1999
Saturday Superbike:
1. Mat Mladin (Suzuki)
2. Ben Spies (Suzuki)
3. Miguel Duhamel (Honda)
4. Neil Hodgson (Ducati)
5. Eric Bostrom (Ducati)
6. Josh Hayes (Kawasaki)
7. Jason Pridmore (Suzuki)
8. Kurtis Roberts (Honda)
9. Marty Craggill (Suzuki)
10. Lee Acree (Suzuki)

Sunday Superbike:


1. Aaron Yates (Suzuki)
2. Ben Spies (Suzuki)
3. Neil Hodgson (Ducati)
4. Mat Mladin (Suzuki)
5. Jake Zemke (Honda)
6. Josh Hayes (Kawasaki)
7. Jason Pridmore (Suzuki)
8. Eric Bostrom (Ducati)
9. Miguel Duhamel (Honda)
10. Steve Rapp (Suzuki)
2005 AMA Superbike Championship Final Standings:
1. Mat Mladin 536
2. Ben Spies 514
3. Eric Bostrom 431
4. Aaron Yates 414
5. Miguel Duhamel 392
6. Neil Hodgson 384
7. Marty Craggill 331
8. Steve Rapp 305
9. Josh Hayes 302
10. Lee Acree 301
Fast Dates Calendar Motorcycle Roadracing News. Complete coverage of the SBK World Superbike, AMA National Superbike and MotoGP World Championship. Fast Dates Calendar and Umbrella Girls. Racing, motorcycle, news, results, girls, models, Mat Aladdin, Max Biaggi, Valentino Rossi, Ben and Eric Bostrom, James Toseland, Regis Laconi, Loris Capirossi, Troy Bayliss, Troy Corser, Noriyuki Haga. Ducati 999 Monster Multistrada, Yamaha R6 R1, Honda CBR600RR CBR1000RR, Kawasaki ZX6 ZX6RR ZX10, Suzuki GSXR600 GSXR750 GSXR1000, Aprilia Mille, MZ Agusta F4 Brutale. Los Angeles Calendar Motorcycle Show.