---
The famous Rossi bump into Giberneau at Jerez earlier this year. Toss in hometown favorite Nicki Hayden an and Colin Edwards and Laguna Seca MotoGP 2005 should be a wild ride!

US Grand Prix Laguna Seca Preview, USA July 8-10th 2005
53,900 Record Sold Out Weekend
MotoGP heading back to Laguna Seca for Red Bull US Grand Prix
Preview - The MotoGP World Championship will return to the USA this weekend after an absence of over a decade as the red carpet is rolled out at the Mazda Raceway Laguna Seca for the eagerly awaited Red Bull US Grand Prix. The Californian circuit has undergone a major winter facelift, including crucial safety updates, that has allowed the world's premier motorcycle road racing series to return to one of its most spectacular circuits for the first time since 1994.
On that occasion Yamaha rider Luca Cadalora become the first non-American to take Grand Prix victory at the legendary circuit and this weekend Valentino Rossi will aim to pick up where his fellow Italian left off by upstaging the likes of local favourites Colin Edwards, Nicky Hayden, John Hopkins and Kenny Roberts to provide the icing on Yamaha's 50th birthday cake. The Japanese factory are celebrating half a century, virtually to the day, since making their competitive race debut and arrive at the eighth round of the current season leading the way on all fronts.
As well as Rossi's 63-point advantage over Honda rival Marco Melandri in the riders' standings, Yamaha also lead the teams' and manufacturers' championships thanks largely to the reigning World Champion's stunning start to the season. Following his fifth successive victory in the last round at Assen, Rossi has now won six out of the seven races so far this season and boasts an uninterrupted run of podium finishes that stretches back to last October. However, Melandri once again proved that he is growing stronger with every passing round thanks to the best result of his MotoGP career in Holland. After taking a close second place to Rossi, the Italian youngster could be Honda's best bet for their first ever Grand Prix win at Laguna Seca.
One factor that could work against both Melandri and Rossi this weekend is their complete lack of experience at the 3,602m circuit. No fewer than ten of their rivals have ridden there before, despite eleven years of MotoGP exile, although Alex Barros is the only survivor from the last premier-class Grand Prix in 1994. Barros' Honda colleague Max Biaggi finished on the podium in the 250cc race that season, when current Ducati pair Carlos Checa and Loris Capirossi also competed in the quarter-litre category.
Colin Edwards took victory in the last of his fourteen World Superbike appearances at Laguna Seca in 2002, whilst both Troy Bayliss and Rubén Xaus have won races there in the same series. Meanwhile, Edwards' fellow Americans Nicky Hayden and John Hopkins gained extensive experience of the track during their formative years in the AMA national series, whilst Kenny Roberts Jr. made his Grand Prix debut there as a 250cc wildcard in 1993.
Makoto Tamada and Toni Elías are both hopeful of making their first race appearances in the USA after struggling with injury problems over the past few rounds. Tamada underwent surgery on an arm problem in Barcelona last Thursday after his recovery from a broken wrist was delayed by hardening of his forearm muscle, whilst Elías has confirmed that he will be returning to action after also breaking his wrist and missing the last three races at Mugello, Catalunya and Assen.
Whilst MotoGP is making its long awaited return to the USA, there will be no 125cc or 250cc races this weekend. The eighth round of the season for the two minor categories will continue at Donington Park in just over two weeks' time, with support action at Laguna Seca to be provided by a Superstars of Super Karts race, featuring Grand Prix legends such as Eddie Lawson, Kevin Schwantz and Wayne Rainey, and a round of the AMA Superbike series on Saturday and the AMA Supersport and Superstock races on Sunday. Lawson, who won the first ever 500cc race at Laguna Seca in 1988, will be officially inducted into the MotoGP Legends Hall of Fame on Saturday lunchtime.
Interest in one of the year's most eagerly-anticipated MotoGP events is reaching fever pitch in the USA, where promotion is continuing this week with a tour of Hollywood Studios in Los Angeles for Edwards and Checa on Wednesday and a trip to the Golden Gate Bridge in San Francisco for Rossi, Hopkins, Tamada and Xaus on Thursday. Whilst a limited number of general admission tickets for both weekend days are still available at official outlets, the ticket office at Mazda Raceway Laguna Seca has now sold their entire 53,900 allocation for both Saturday and Sunday – the first time they have ever announced a sell-out previous to an event in the 49-year history of the circuit.
Team Yamaha Ready for 50th Anniversary Party at Laguna Seca USA
Laguna Seca Raceway, Monterey, CA - The MotoGP World Championship returns to North America for the first time in eleven years this weekend as the USGP marks the focal point of Yamaha's 50th Anniversary celebrations at Laguna Seca. The eighth round of the 2005 season falls just ten days after the official half-century of the Yamaha Motor Company, marking 50 years since Yamaha's victorious race debut in the 1955 Mount Fuji Ascent race in Japan. Yamaha Factory Racing is hoping to help celebrate in fitting style.
The team will again be launching a two-pronged assault on the MotoGP podium, with Valentino Rossi and Colin Edwards both looking to build on impressive performances in the last round at Assen. Rossi's sixth win in seven races so far this season was also his tenth consecutive podium finish - the longest run by a Yamaha rider since Wayne Rainey scored fifteen straight top three finishes between 1989 and 1990. It also made him the first Yamaha rider ever to score five wins in a row in the premier-class.
Rossi's victory at the Dutch TT also extended his advantage at the top of the standings to 63 points, whilst a return to the podium in third place gave Edwards the ideal springboard ahead of his home Grand Prix. The Italian and the American are two of only five riders in the MotoGP class to have scored points at all seven races this year, helping them establish a significant advantage for Yamaha Factory Racing in the teams' standings and consolidate Yamaha's position as the leading manufacturer.
Whilst Grand Prix has not visited the Mazda Raceway at Laguna Seca in over a decade, Edwards is one of only ten current MotoGP riders to have previous experience of the track. Special provisions have been made in the interest of the safety for the other eleven, with the first free practice on Friday morning extended to two hours, allowing them extra time to learn the layout of the track and adapt the MotoGP machines to its unique demands.
Other changes to this weekend's schedule include the absence of the 250cc and 125cc Grand Prix classes, which have been replaced on the timetable by a round of the AMA Superbike series and a mouth-watering Superstars of Super Karts race, featuring Yamaha legends such as Eddie Lawson and Wayne Rainey. Lawson, who won the first ever 500cc race at Laguna Seca for Yamaha in 1988, will be officially inducted into the MotoGP Legends Hall of Fame on Saturday lunchtime.
VALENTINO ROSSI: A FRESH CHALLENGE
After sweeping all before him so far this season, Valentino Rossi is looking forward to the challenge of competing at a racetrack he has only previously seen on television and video games. It is the World Champion's first visit to California and he admits it is a trip he has been looking forward to ever since the calendar was announced.
"We've all been waiting for this race," says Rossi. "Usually the new races we go to are in strange places but to go to California is a real pleasure! I've been in the U.S. five or six years ago but only for one week. For sure California is a very good place and a lot of people say that the number of MotoGP fans have become more and more over the last few years in the U.S, so I'm expecting a lot of fans for the race. I'm also very happy to go to California for the sun and beautiful girls - I think it's a good place!
"I've never been to California or Laguna, but I know it's a strange track with a difficult first section and it will be hard. I know it only from television but I have been practicing with the Playstation and more or less I know the layout. I think the track is difficult because it goes up and down a lot and it's also quite technical with some very difficult points, such as the first left after the straight and the corkscrew especially. For sure with the MotoGP bike it will be interesting.
"Usually I like a lot the more technical and difficult tracks. I like a track to be quite fast but also if it is more technical, more difficult, I'm happy. The important thing is the condition of the surface; It's important that the grip is good and that there are not too many bumps, because now the bikes are very, very fast. I hope to have a good surface and then I don't think the layout of the track will be a problem."
Luckily for Rossi, the ideal person to help him learn the track is in the same pit garage. However, according to the World Champion, former Laguna Seca winner Colin Edwards could prove to be more of a hindrance than a help to his chances of victory on Sunday, particularly after his return to podium form at the Dutch TT last week.
"Assen was great preparation for Colin's big race and I think he's going to be strong there," he says. "There are some really fast American riders and people like Colin and Nicky Hayden know the track really well, so they have an advantage. Colin is always very fast at Laguna and for sure he has an extra motivation for his home grand prix. So we hope to fight together to arrive on the podium! MotoGP is always great and I hope that we can give the Americans a big show. They will like it I'm sure!"
COLIN EDWARDS: CALIFORNIA KNOWS HOW TO PARTY
In addition to his early racing exploits in the AMA 250cc and Superbike series', Gauloises Yamaha rider Colin Edwards also competed in fourteen World Superbike races at Laguna Seca over eight seasons, including a victory in his last appearance there in 2002, before switching to MotoGP. The Texan is now targeting a repeat performance in motorcycle racing's elite category as he chases his first Grand Prix victory on board the YZR-M1.
"Everybody I know is coming to this race and I want to win, that's the only thing I am thinking of," says the 31 year old. "If anybody else wants to win they have to beat me on my own turf."
Edwards is hoping to make his home advantage count and is confident that the riders who have no previous experience of the Laguna Seca layout will find it difficult to make up the difference – even with the additional hour of free practice on Friday morning. "I'm putting in a protest about the extra practice!" he jokes. "Actually, I'm not so worried about losing my advantage, it took me three or four years to learn the layout well and to figure out all the bumps. The track has the corkscrew in turn six up the hills, a little jump down the back straight and turn one, they're the most difficult sections.
"There are a few secret lines, which I won't be sharing with anyone just yet! They take experience; you don't just learn them overnight. I think it will be difficult for a couple of the riders and I think the guys who have ridden the track in the past will definitely have an advantage. It's a special place and I can't wait to go there feeling really strong.
"I think the Yamaha is going to work really good there. The last bike that I rode there was a Superbike and to get a Grand Prix bike going well there is definitely going to be difficult in some areas. It's not a real horsepower track - any bike on the grid is going to have too much power for the track, so there is no issue with power. It is just a matter of getting the setting on the bike right. You get the suspension right and get the balance working and you never know who will be up top."
The former World Superbike Champion is also expecting a party atmosphere at the eagerly anticipated event and says Laguna Seca is the ideal venue for Yamaha's 50th birthday celebration.
"It's going to be awesome," he promises. "The atmosphere there is just incredible, and there are so many high-profile VIPs coming. It's going to be a real spectacle and I've been counting the days. Laguna is the Hollywood of motorcycling. It has really good people, good food, good atmosphere… the place is unbelievable. Racing belongs there, especially MotoGP. It's been missed for long enough and I couldn't be more excited about going back."
DAVIDE BRIVIO: UNDER PRESSURE
Yamaha Factory Racing's Team Director Davide Brivio is equally excited about the prospects of this weekend's Grand Prix but says that he is also conscious of the weight of expectation around his team. With a rider line-up featuring the reigning World Champion and one of the home favorites, Brivio admits the pressure will be on to make sure Yamaha's anniversary celebrations end on a high.
"We're feeling the pressure a little bit because a lot of our Yamaha colleagues in the USA have worked very hard to bring MotoGP back to Laguna Seca and they are very excited about having us, so we want to reward them with the best possible result," says Brivio. "We are going there after seven fantastic races and it is the perfect way to arrive for Yamaha's 50th Anniversary celebration.
"We're still leading the teams' and manufacturers' standings, Valentino is on top of the championship and Colin had one of his best races of the season so far at Assen, so this is the best possible situation. Personally I am very interested to see Colin at his home race and also Valentino at a completely new venue for him. Of course we are always confident but, as I say, there is some pressure there too."
Brivio also highlighted the importance of the extra hour of practice, which will be crucial for the team as they aim to find an ideal set-up for the YZR-M1 machines at another new circuit. "The additional hour was requested by the riders and everybody agreed that it was a good idea," he explains. "We will just go there with our base set-up and use the extra time to test as many solutions as possible, starting with the gear box and then working from there. In two hours you can do a lot. Hopefully the trend will continue from the last few races, where the bike has worked more or less straight out of the box."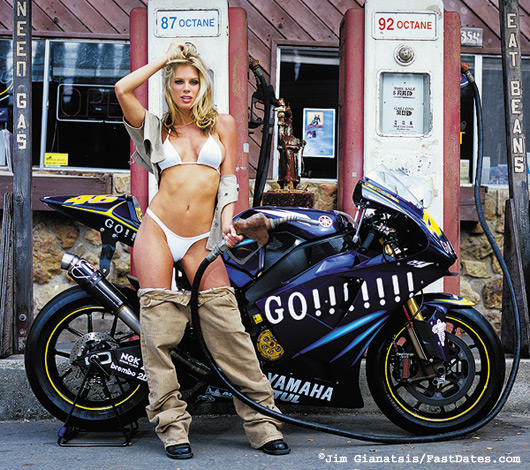 Above, our own Fast Dates calendar Angel Robin Cunningham gets up close and personal with Valentino Rossi's M-1 Yamaha at the Rock Store on Mullholand Highway during our recent pre Laguna Seca shakedown test.
BLAST FROM THE PAST – CELEBRATING 50 YEARS OF YAMAHA GLORY
Yamaha's Grand Prix record at the Laguna Seca racetrack is unrivalled, with no fewer than five of the six 500cc races held there having been won by riders on the YZR500. Eddie Lawson's victory in the inaugural round in 1988 set the tone, followed by a hat-trick for Wayne Rainey between 1989 and 1991. A lone win for John Kocinski on the Cagiva the following season ended the factory's dominance but upheld local supremacy, with all three Laguna Seca winners representing the USA.
As Valentino Rossi aims to overturn the home favorites this weekend, he knows that only one other rider has managed to do so in the past. Fellow Italian Yamaha rider Luca Cadalora won the final encounter at Laguna Seca in 1994, overcoming Kocinski and Australia's Mick Doohan to become the only non-American to win at the Monterey circuit in the history of the premier class.
"I remember it was very funny because the weekend before the race we did a promotional spot on American television and they said only American riders can win at Laguna, so I was extra pleased to prove them wrong!" recalls Cadalora. "It was great, I always liked Laguna Seca. I had already won there on a 250 in 1991 but to win on the 500 was very special. I had a big fight with John Kocinski on the Cagiva and Mick Doohan on the Honda - the bikes were sideways around most of the track and it was so much fun."
"It will be so nice to see the four-strokes racing there. It is not a fast track but there are some really good corners – like the one before the corkscrew and the last downhill section. It will be great to watch from these points and they will also be very important to the lap time. From what I can see of the M1, It is the type of track that will suit the way it handles. Also, Yamaha's engineers and the whole team have done a wonderful job to create a bike that can be set up quickly at new tracks so I think both Valentino and Colin will be on the pace.
"I am sure Valentino will like the track and the Grand Prix in general. Monterey is a great place. It was somewhere I always enjoyed to visit as a racer and it was always a great pleasure to ride there in front of the fans at a track like Laguna Seca."
---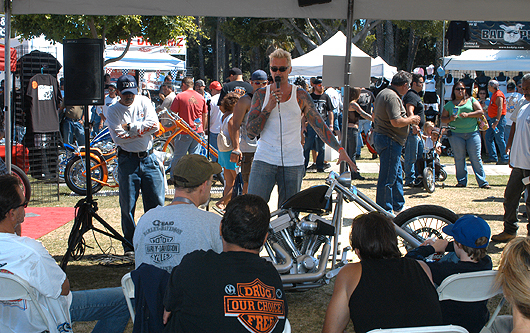 America's Top Custom Bike Builders Conformed for Iron & Lace Calendar Builders Seminars at the LA Calendar Motorcycle Show Weekend July 16-17th
Los Angeles, CA - There's an impressive lineup of America's top celebrity custom bike builders confirmed to be exhibiting the hottest new bikes and conductijng free Iron & Lace Calendar Builders Seminars at the big Los Angeles Calendar Motorcycle Show Weekend on July 16-17th. In fact, many of these top name builders made their first ever pubic appearance as builders at the LA Calendar Show, and garnered world wide recognition of their leading edge bikes in the FastDates.com produced Iron & Lace Calendar photographed by Show producer Jim Gianatsis.
The builder lineup for this year's Show and Seminars includes two Best of Show winners, and many of the hottest bike building stars on TV shows like American Thunder, Biker Buildoff and Build or Bust. Featured in Seminars both days will be 3-time LA Calendar Show winner Jesse Rooke who premiered his first ever custom bike "Single Sided" at the Show just three years ago, and has proven himself to be one of the most exciting and original custom bike builders in the world.
Then there's Russell Mitchell of Exile Cycles, the former and still sexy British male model who's former wife was a FastDates.com Calendar model, and whose basic black " No Bull" street rods have garnered a cult following and are owned by Hollywood stars like George Clooney. Russell's "No Bull" Builder Seminars last year drew a standing room only crowd and the Builders Seminar Midway has been expanded this year to accommodate the swelling ranks of Russell's fans.
Then there's Harold "The Ponz" Ponzerelli of HD Performance, the gruff burly bearded builder who also scored a Best of Show and has had his bikes featured inside and on the cover of the Iron & Lace Calendar for a decade. The Ponz's candy coated choppers have been featured in movies like Biker Boyz, and reside in the million dollar toy collections of Hollywood Stars and Middle Eastern Royal Monarchs.
Other Seminar instructors include Rolland Sands from Performance Machine, tile sponsor of the Calendar Bike Show and the FastDates.com Calendars, who has become a noted builder in his own right. Together with Mitch Bergeron and Mike Stafford of MGS Customs.
No other motorcycle show in America offers fans the exclusive opportunity to sit in on seminars with their favorite celebrity builders and to ask the questions they want to ask. The Iron & Lace Calendar Builder Seminars are just one of the unique features of the Los Angeles Calendar Motorcycle Show, the biggest custom & performance streetbike show in America. The 2005 Show has expanded its hours and size to accommodate its continued growth, and this year has sold out again with 185 major builders, manufacturers and product venders. Complete information at BikeShow