FastDates.com July 2005
Superbike, MotoGP Racing & Calendar Girl News
Official Calendar of the SBK World Superbike Championship
Home of the official SBK Fast Dates & Team Ducati Corse Umbrella Girls

Home boy Nicky Hayden was on top of the world at Laguna Seca with his first MotoGP win.

US Grand Prix Laguna Seca, USA July 8-10th 2005
America's Nicky Hayden On Top of the World
at Red Bull US Grand Prix - 53,900 Record Sold Out Weekend
Laguna Seca Raeway, CA, July 8-10th - It was only a matter of time before Nicky Hayden (Repsol Honda RC211V) made his talent felt in the hard-fought arena of MotoGP racing. The young American shone at his home race with a maiden pole and a career-first win. Not only did the American star provide Honda's President, Mr Takeo Fukui who attended this race, with a victory, but Hayden also gave his father an unscheduled lap of honour on his all-conquering Honda RC211V Grand Prix machine.
Nicky Hayden, Repsol Honda, 1st: "This is like a fairy tale. To come to your home GP and be fastest in nearly all the sessions and get pole and then win is just a dream come true. It s been a while since I won anything – except the dating game TV thing – and this feels amazing. For the race I put my head down and just rode my heart out the whole race. In the middle of the race I saw the time gap come down and I thought 'oh no'. but I kept focussed. Getting Earl on the back at the end is a real dirt track thing. I owe my family everything. My Mum and Dad have given up so much for us all as a family. I remember the roof leaking as a kid when it rained as all the money we had went into racing. This win is for everyone in my team – for Honda in believing in me and for all the great fans around this track today who helped me so much . Every dog has its day and today it all just came together. I'm going to enjoy this moment for sure."
Reigning World Champion Valentino Rossi finished second, and current sixth-place points table position-holder Colin Edwards (both Yamaha) finished third. European riders were at a disadvantage here – and even the World Champion had no answer to the local expertise shown by Hayden and Edwards around the twists and turns of this tricky track.

Hayden was magnificent at the challenging Laguna Seca circuit. Not only did he dominate qualifying, but the Stateside hero made the race his own too. From the lights, the former AMA Superbike Champion made the race his own as he led from the daunting uphill straight.

The MotoGP World Championship returned to the USAafter an absence of over a decade as the red carpet was rolled out at the Mazda Raceway Laguna Seca for the eagerly awaited Red Bull US Grand Prix. The Californian circuit had undergone a major winter facelift, including crucial safety updates, that has allowed the world's premier motorcycle road racing series to return to one of its most spectacular circuits for the first time since 1994.
Hayden Clinches First Pole for His Home Grand Prix ahead of Rossi
Saturday July 9th - Nicky Hayden will start the Red Bull US Grand Prix from the front of the grid on Sunday after setting his first ever MotoGP pole position in today's sell-out qualifying practice at Mazda Raceway Laguna Seca. The Honda rider dominated the morning free practice and set a scorching pace throughout the afternoon before knocking over a second off his best time with a stunning late lap of 1'22.670.
"It's a great feeling after all these years to be first when it counts," said Hayden. "It's been a frustrating couple of years for me because I was used to being on pole and winning races before I arrived in MotoGP and since then it hasn't happened. The weekend just keeps getting better and better and it's great to give my people something to cheer about, I just hope it keeps going that way tomorrow. The whole team has done a great job and the bike feels so good. I'm not really worried about the race - I just want to enjoy it."
Hayden's effort left the rest of the field reeling, with reigning World Champion Valentino Rossi the only rider able to get close in the final stages but still some 0.354 seconds adrift of the 2003 MotoGP Rookie of the Year. Whilst Rossi's late effort secured a place on the front row after spending much of the session outside the top five positions, Alex Barros made a similar charge to clinch third at the expense of his Honda team-mate Troy Bayliss. However, fourth place for Bayliss represents his best grid position so far this season and the Australian will start from the second row for the first time since the final race of 2004 at Valencia, when he also finished on the podium.
Yamaha Factory Racing riders Valentino Rossi and Colin Edwards will start from the first and second rows respectively in the eighth round of the MotoGP World Championship, after finishing second and fifth fastest in today's sell-out qualifying session at Laguna Seca. After lapping fifth and sixth quickest in the morning free practice, both riders were consistently on the pace in the afternoon heat and are confident of their chances in tomorrow's Grand Prix, the first to be held on U.S. soil since 1994.
Riding at the Californian circuit for the first time, Rossi produced a stunning lap to gatecrash the top three at the end of the session and out-qualify ten riders with previous race experience at this circuit. The only man capable of lapping faster than Rossi today was local rider Nicky Hayden (Honda), who took his first ever MotoGP pole position with a time of 1'22.670. Edwards rode equally hard for a top grid position in front of passionate home support and is now targeting a second consecutive podium finish following his third-place in Assen two weeks ago.
VALENTINO ROSSI (2nd; 1'23.024 – 31 laps) "It was very important to make a good lap time today and to be on the front row and second place is very good. The team have worked so hard and there was a big difference in the bike between yesterday and today. This track is very particular compared to any other circuit in the world so the settings have to be very particular too. Now I have started to understand the track and I was able to do a fast lap, but I think I will discover some more secrets in the warm-up. It's always difficult to win races in MotoGP but this time it's even worse because there are more riders than usual with a chance of victory – Hayden is very fast, also Bayliss and Colin. The Americans have an extra motivation but we all want to win and that is what I am here for. We have a good position on the grid, now we need to improve the setting some more and choose the tyres. We'll see what happens at the end of the race."
COLIN EDWARDS (5th; 1'23.469 – 28 laps) "It took a big effort to set that lap and I'm actually quite lucky to be on the second row because we made a small mistake with the front tyre choice at the end of the session. Anyway, the important thing is that we're on the second row and I've got a decent race pace. Nicky did a few laps in the 1'23 mark today, which looks to be the benchmark, and it will be tough to go with that but I'm confident we can do it. Laguna is a funny track and you never quite know what to expect on race day because a lot of things can happen, so we'll just concentrate on the job at hand and go for it. The support here has been amazing all weekend and I can't imagine what the atmosphere will be like tomorrow. Hopefully we can give them all something to shout about."
Colin Edwards will start alongside Bayliss in fifth place as the pair chase a repeat of previous victories here in the World Superbike series, with the American also looking to score consecutive podium finishes for the first time in his MotoGP career after finishing third in the last round at Assen. John Hopkins joins Edwards and Hayden as the third home rider to qualify on the front two rows after lapping sixth fastest on the Suzuki.
With Marco Melandri qualifying eleventh fastest after crashing for the second time this weekend in this afternoon's qualifying practice, Max Biaggi will be aiming to close the gap to second place in the championship as he starts from seventh. The Italian currently lies twenty points adrift of his compatriot and a further 63 points behind series leader Rossi.
Biaggi is joined on the third row of the grid by Ducati's Carlos Checa and Honda rider Makoto Tamada, who was the fastest rider other than Rossi to have no previous race experience at this circuit - despite the fact that he underwent an arm operation just nine days ago. Shinya Nakano completed the top ten ahead of Melandri, Kenny Roberts and Sete Gibernau, whilst Loris Capirossi recovered from a bout of gastroenteritis to qualify fourteenth.
FRONT ROW:
1. Nicky Hayden (USA) Repsol Honda Team, 1'22.670
2. VALENTINO ROSSI (ITA) Yamaha Factory Racing 1'23.024
3. Alex Barros (BRA) Camel Honda, 1'23.312
SECOND ROW:
1. Troy Bayliss (AUS) Ducati Marlboro Team 1'23.358
2. Colin Edwards (USA) Yamaha Factory Racing 1'23.469
5. John Hopkins (USA) Red Bull Suzuki 1'23.493
THIRD ROW:
7. Max Biaggi (ITA) Repsol Honda 1'23.596
8. Carlos Checa (SPA) Ducati Marlboro Team 1'23.597
9. Makoto Tamada (JAP) Konica Minolta Honda 1'23.750
Full Qualifying Results Here
Hayden Completes Dream Weekend with Debut win at Laguna Seca
Sunday July 10th - Nicky Hayden joined a long list of American racing legends today as he became a MotoGP winner for the first time in his career at the Red Bull US Grand Prix. The 23 year old Honda rider led his home race from start to finish, bolting from pole position and leaving the rest of the 21-rider field trailing in his wake. With celebrities including Brad Pitt, Matt LeBlanc and Michael Jordan amongst the 57,932 sell-out crowd cheering him throughout 32 intense laps, Hayden established a two-second advantage over the chasing Valentino Rossi in the first part of the race and then held strong under late pressure from compatriot Colin Edwards to take a memorable first win.
"I can honestly say that this is a dream come true for me," said Hayden, who admitted climbing over the Laguna Seca fences to witness the last Grand Prix here as a 12-year-old in 1994. "You spend your whole life rehearsing the speech for a day like this but now it has happened I can't find the words to describe how I feel. It hasn't been easy for me in MotoGP over the past two seasons but every dog has its day and this was mine. Hopefully it can be the start of bigger things from now on."
Yamaha Motor Company celebrated its 50th Anniversary with a double podium finish at Laguna Seca today, as Colin Edwards and Valentino Rossi took second and third place respectively in the United States Grand Prix. Both riders played a starring role in the eighth round of the MotoGP World Championship and enjoyed a thrilling battle for the final two rostrum positions that went to the last lap of a race won by Nicky Hayden (Honda). Whilst Hayden got an electric start from pole position, both Rossi and Edwards were baulked in their attempts to give chase on the opening lap.
Having started from second on the grid, Rossi made it back to the same position by the end of the first lap after a battle with Troy Bayliss (Honda), whilst Edwards was forced to fight his way through the pack after being forced back to seventh in a combative first-corner clash. With Hayden clear at the front, Rossi rode alone in second place until he was caught by his American team-mate on the sixteenth lap, when Edwards lined up an inch-perfect pass into the famous Corkscrew corner. After briefly closing down the gap to Hayden, Edwards suffered from tyre wear in the closing stages and was happy to settle for a second consecutive podium finish. Third place for Rossi extends his advantage at the top of the championship to 79 points over Marco Melandri (Honda), who crashed out on the first lap.
With Edwards having snatched second place from Rossi with a daring move in the Corkscrew corner at the halfway stage of the race, the American fans were able to celebrate a memorable home one-two in the first MotoGP race here for over a decade. With Edwards also celebrating consecutive podium finishes for the first time in his Grand Prix career, Rossi was equally delighted with a tenth straight rostrum in third place, which extended his series lead to a massive 79 points over Marco Melandri, who crashed out with Alex Barros at the end of a combative first lap.
COLIN EDWARDS (2nd; Race time – 45'17.315; Fastest lap – 1'23.915) "I made another bad start and ended up with two riders making a sandwich of me into turn one. They had my handlebars on each side and just carried me into the corner so I thought it was going to end in a big mess. Once I got clear of the group I got my head down and pushed as hard as I could to pass Valentino. At that point I still had something left to try and catch Nicky but every time I closed the gap he responded, so hats off to him. When the tyres went off I was just hanging on to finish the race. I knew I had an advantage of around two seconds over Valentino but on the last lap I looked at my board and it said 0.6. I guessed it must be a mistake but I then looked over my shoulder in turn two and he was right there! I thought "oh no, not on the last lap!" I gave everything I had left to hold him off and came close to crashing a few times so second place is really pleasing."
VALENTINO ROSSI (3rd; Race time – 45'17.686; Fastest lap – 1'24.207) "I lost some time during practice trying to learn the circuit so the bike was not at 100% today, and also our tyre choice was not perfect. Anyway, Nicky rode very hard and it was impossible to catch him today. I knew Colin was coming but I didn't realise how close he was and he caught me by surprise in the Corkscrew. I lost some time there but at the end he lost some of his rhythm and I tried to catch him. He turned around to look at me and I said: "Hello, I am here!" I thought maybe to attack on the last lap but then I had a vision of both Yamahas in the dirt so decided third place was okay, especially for the championship! Anyway, I am very happy because I expected this to be the hardest race of the season but I am the fastest European rider here and I fought with the Americans. I have learnt a lot to try and beat them next year! "
As well as losing ground on Rossi in the championship Melandri is also coming under pressure for second place from Max Biaggi, who took fourth place today to close the gap to just seven points. Sete Gibernau is also looming a further five points behind Biaggi after a spirited ride today, when he charged from thirteenth on the grid to take fifth place in his first visit to the Californian circuit.
After initially fighting with Rossi for second place on the opening lap, Troy Bayliss progressively lost ground until becoming involved in an intense battle in the second half of the race for sixth place. The Australian eventually got the better of Makoto Tamada to record his best result of the season, with the Japanese rider taking an impressive seventh just ten days after undergoing surgery on an arm problem.
John Hopkins, Shinya Nakano and Loris Capirossi also joined in the skirmish with Bayliss and Tamada before eventually crossing the line in eighth, ninth and tenth respectively, whilst Rubén Xaus came home in a lonely eleventh. Further back, Toni Elías produced a determined performance on his return from a three-race absence through injury but eventually conceded twelfth place to Alex Hofmann on the line. Kenny Roberts Jr. and Shane Bynre completed the top fifteen, with Byrne picking up an historic first point for the KTM-powered Proton KR machine.
Race Classification MotoGP


: (32 laps = 115.52 km)
Pos/ Rider / Nat / Team / Motorcycle / Time/ KM/H
1 / Nicky HAYDEN / USA / Repsol Honda Team / HONDA / 45'15.374 / 153.154
2 / Colin EDWARDS / USA / Gauloises Yamaha Team / YAMAHA / 45'17.315 / 153.045
3 / Valentino ROSSI / ITA / Gauloises Yamaha Team / YAMAHA / 45'17.686 / 153.024
4 / Max BIAGGI / ITA / Repsol Honda Team / HONDA / 45'19.590 / 152.917
5 / Sete GIBERNAU / SPA / Movistar Honda MotoGP / HONDA / 45'19.852 / 152.902
6 / Troy BAYLISS / AUS / Camel Honda / HONDA / 45'37.755 / 151.902
7 / Makoto TAMADA / JPN / Konica Minolta Honda / HONDA / 45'37.867 / 151.896
8 / John HOPKINS / USA / Team Suzuki MotoGP / SUZUKI / 45'38.522 / 151.860
9 / Shinya NAKANO / JPN / Kawasaki Racing Team / KAWASAKI / 45'38.999 / 151.833
10 / Loris CAPIROSSI / ITA / Ducati Marlboro Team / DUCATI / 45'41.497 / 151.695
11 / Ruben XAUS / SPA / Fortuna Yamaha Team / YAMAHA / 45'58.886 / 150.739
12 / Alex HOFMANN / GER / Kawasaki Racing Team / KAWASAKI / 46'06.331 / 150.333
13 / Toni ELIAS / SPA / Fortuna Yamaha Team / YAMAHA / 46'06.717 / 150.312
14 / Kenny ROBERTS / USA / Team Suzuki MotoGP / SUZUKI / 46'29.123 / 149.104
15 / Shane BYRNE / GBR / Team Roberts / PROTON KR / 46'39.630 / 148.545
Fastest Lap (Unofficial new record): Colin EDWARDS 1'23.915 154.871 Km/h Lap 5
Lap Record: New circuit

WORLD CHAMPIONSHIP STANDING
1. VALENTINO ROSSI (ITA) 186
2. Marco Melandri (ITA) 107
3. Max Biaggi (ITA) 100
4. Sete Gibernau (SPA) 95
5. COLIN EDWARDS (USA) 93
6. Nicky Hayden (USA) 85
7. Alex Barros (BRA) 74
8. Loris Capirossi (ITA) 55
9. Shinya Nakano (JAP) 55
---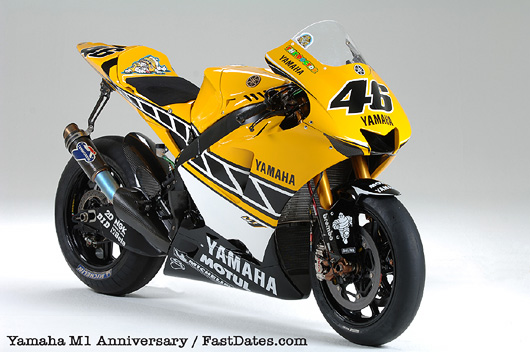 Rossi's number 46 commerates the classic Yamaha Molly paint design of the 1970's
Rossi M1 Anniversary Screensaver 1224
Edwards M1 Anniversary Screensaver 1224
Yamaha Celebrates 50th Anniversary
at Laguna Seca with special MotoGP Livery
July 1st - Yamaha's Factory MotoGP team goes to this weekend's United States Grand Prix in celebratory mood, wearing the famous Yamaha USA colours of yellow, white and black.
This special livery marks Yamaha's 50th Anniversary and acknowledges the significant contribution made by American riders to the marque's racing history. The Yamaha Motor Company was founded on July 1st 1955, just two weeks before the factory's first bike, the YA1, won its first race, the Mount Fuji Ascent race. Since then three American riders have won nine premier-class World Championships with Yamaha – 'King' Kenny Roberts, Eddie Lawson and Wayne Rainey, each taking three crowns across three decades, the 70s, the 80s and the 90s.
The livery that Yamaha Factory Racing YZR-M1 riders Valentino Rossi and Colin Edwards will wear at Laguna Seca was first used by Yamaha USA in the late 1960s and won global renown when Roberts scored his World Championship hat-trick.
Masao Furusawa, Senior General Manager of Yamaha's Engineering Operations, finds that this is a perfect time for the company to celebrate its first half-century. "This is a moment of which we can be proud," he said. "We will be celebrating our 50th Anniversary at Laguna as the reigning World Champions, while our factory MotoGP team leads the riders', manufacturers' and teams' World Championships, so it's great that we can celebrate in style."
Lin Jarvis, Managing Director of Yamaha Motor Racing, explains the thinking behind the yellow, white and black colour scheme of the YZR-M1 50th Anniversary US Edition. "We chose to race in Yamaha USA's historic colours as a tribute to the American riders who have played such an important part in Yamaha's history," he says. "It is also right that we should celebrate the return of Grand Prix racing to the USA, which is great for the American fans and also very important for the future of MotoGP.
"Of course, this isn't the first time that our YZR-M1 has carried the yellow, white and black colours. Some of you may have noticed the seat graphics on Valentino's M1, which since last year have featured his dog Guido wearing an old-school Yamaha USA T-shirt! It will be fantastic to see Valentino racing in yellow, which is his favourite colour. And this is also a big weekend for Colin, his first US Grand Prix, plus he is the first American GP rider in 25 years to race in Yamaha USA's traditional colours. I would also like to take this opportunity to thank our 2005 title sponsor Altadis for their cooperation in permitting Yamaha to race in Yamaha-only livery for this special event."
Rossi's and Edwards' one-off livery is only one aspect of a busy weekend of 50th Anniversary celebrations during the US GP. The fun starts with a Friday night party for media and VIP guests at the Monterey Bay Aquarium.
---


AMA Superbike Championship, Round 8 0f 11

Eroc Bostom Gives Ducati AMA Superbike Victory at Laguna Seca
Monterey, CA (July 9) - Parts Unlimited Ducati Austin's Eric Bostrom was victorious at Laguna Seca on Saturday, winning the AMA Superbike race held in front of a record crowd at the 2.2-mile circuit. Bostrom took the lead at the start and officially led all 28 laps of the race to take his 14th career AMA Superbike victory and his second of 2005. Bostrom won over the highly competitive field by a margin of 5.91 seconds for the Ducati 999's third triumph in the last four AMA Superbike contests.

"It was a fun race," said a jubilant Bostrom, also a winner at Pikes Peak this year. "Everyone was unsure with what the tires would end up doing because no one was able to do race distances (in practice). The whole race strategy was a question mark. Usually, around halfway, you can guess where the set-up is going to go for the rest of the race, but I didn't know if I was going to finish the race in the 1:29s or the 1:25s. Everything stayed consistent with the Ducati 999 and it worked out really well."

Bostrom's only challenge of the race was when series champion Mat Mladin tried to pass Eric in the slow turn 11 early in the race. Mladin was not able to keep Eric behind him on the exit. "He wasn't able to quite stick to the inside so I was able to square him up and get him right back," said Eric after the race.

From that point, Bostrom expertly controlled his Ducati 999 through the corners to pull out his winning margin over the next 25 laps.

"We couldn't be happier! It feels fantastic for the entire team when we are winning races," said Parts Unlimited Ducati Austin team owner Terry Gregoricka. "With the time issues this weekend because of the limited practice, there was a lot of pressure on every member of the team to get things done quickly. It was great for Eric to win in front of all the Ducati fans at the track today. It's a shame Neil's day ended early because he might have been right up there with Eric."

Neil Hodgson saw his race last only half a lap when another rider knocked him out of the event at the Corkscrew. "I'd cycled thousands of miles between the races getting ready for today ... it's so frustrating. The team had put in so much effort to get ready for the race. We'd been having a few problems this weekend and we'd just gotten through them and we were looking forward to having a good race, like Eric's. We felt confident. I tipped it into the Corkscrew on the first lap and then it was out of my hands."

Hodgson said he felt no ill effects from the crash apart from a sore ankle. Bostrom, Hodgson, and Parts Unlimited Ducati Austin will race next at Mid-Ohio on July 22-24.

Superbike Race Results (28 laps) - 1. Eric Bostrom (Ducati), 2. Mat Mladin (Suzuki); 3. Aaron Yates (Suzuki); 4. Ben Spies (Suzuki); 5. Jake Zemke (Honda); 6. Miguel Duhamel (Honda); 7. Kurtis Roberts (Honda); 8. Steve Rapp (Suzuki); 9. Jacob Holden (Suzuki); 10. Jason Pridmore (Suzuki) .

AMA Superbike Points Standings (After 11 of 17 races) - 1. Mat Mladin, Suzuki 358 2. Ben Spies, Suzuki 327 3. Aaron Yates, Suzuki 294 4.ERIC BOSTROM, PARTS UNLIMITED DUCATI AUSTIN 999 268 5. NEIL HODGSON, PARTS UNLIMITED DUCATI AUSTIN 999 249 6. Miguel Duhamel, Honda 229
---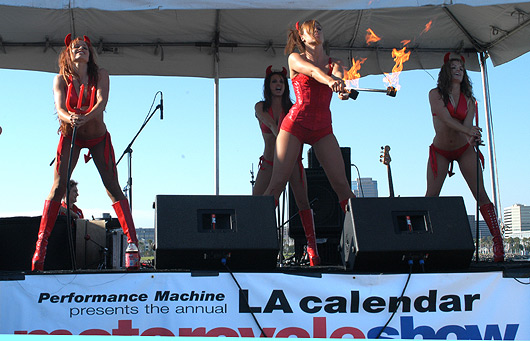 The devil made me do it! It's all about the bikes and beautiful girls! The Purrfect Angelz will heat things up on stage both days again this year.
Top Custom Bike Builders Conformed for Iron & Lace Calendar Builders
Seminars at the LA Calendar Motorcycle Show Weekend July 16-17th
Los Angeles, CA - There's an impressive lineup of America's top celebrity custom bike builders confirmed to be exhibiting the hottest new bikes and conductijng free Iron & Lace Calendar Builders Seminars at the big Los Angeles Calendar Motorcycle Show Weekend on July 16-17th. In fact, many of these top name builders made their first ever pubic appearance as builders at the LA Calendar Show, and garnered world wide recognition of their leading edge bikes in the FastDates.com produced Iron & Lace Calendar photographed by Show producer Jim Gianatsis.
The builder lineup for this year's Show and Seminars includes two Best of Show winners, and many of the hottest bike building stars on TV shows like American Thunder, Biker Buildoff and Build or Bust. Featured in Seminars both days will be 3-time LA Calendar Show winner Jesse Rooke who premiered his first ever custom bike "Single Sided" at the Show just three years ago, and has proven himself to be one of the most exciting and original custom bike builders in the world.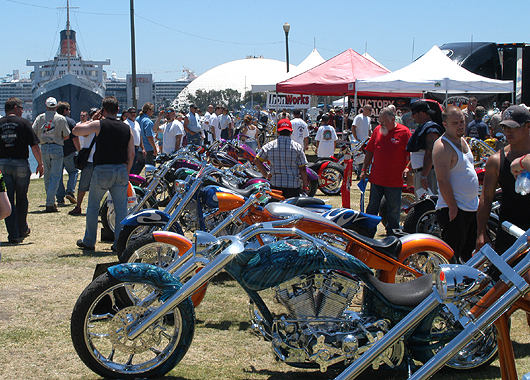 Then there's Russell Mitchell of Exile Cycles, the former and still sexy British male model who's former wife was a FastDates.com Calendar model, and whose basic black " No Bull" street rods have garnered a cult following and are owned by Hollywood stars like George Clooney. Russell's "No Bull" Builder Seminars last year drew a standing room only crowd and the Builders Seminar Midway has been expanded this year to accommodate the swelling ranks of Russell's fans.
Then there's Harold "The Ponz" Ponzerelli of HD Performance, the gruff burly bearded builder who also scored a Best of Show and has had his bikes featured inside and on the cover of the Iron & Lace Calendar for a decade. The Ponz's candy coated choppers have been featured in movies like Biker Boyz, and reside in the million dollar toy collections of Hollywood Stars and Middle Eastern Royal Monarchs.
Other Seminar instructors include Rolland Sands from Performance Machine, tile sponsor of the Calendar Bike Show and the FastDates.com Calendars, who has become a noted builder in his own right. Together with Mitch Bergeron and Mike Stafford of MGS Customs.
No other motorcycle show in America offers fans the exclusive opportunity to sit in on seminars with their favorite celebrity builders and to ask the questions they want to ask. The Iron & Lace Calendar Builder Seminars are just one of the unique features of the Los Angeles Calendar Motorcycle Show, the biggest custom & performance streetbike show in America. The 2005 Show has expanded its hours and size to accommodate its continued growth, and this year has sold out again with 185 major builders, manufacturers and product venders. Complete information at BikeShow
Fast Dates Calendar Motorcycle Roadracing News. Complete coverage of the SBK World Superbike, AMA National Superbike and MotoGP World Championship. Fast Dates Calendar and Umbrella Girls. Max Biaggi, Valentino Rossi, Ben and Eric Bostom, James Toseland, Regis Laconi, Loris Capirossi, Troy Bayliss, Troy Corser, Noriyuki Haga. Ducati 999 Monster Multistrada, Yamaha R6 R1, Honda CBR600RR CBR1000RR, Kawasaki ZX6 ZX6RR ZX10, Suzuki GSXR600 GSXR750 GSXR1000, Aprilia Mille, MZ Agusta F4 Brutale