FastDates.com July 2005
Superbike, MotoGP Racing & Calendar Girl News
Official Calendar of the SBK World Superbike Championship
Home of the official SBK Fast Dates & Team Ducati Corse Umbrella Girls

Nori Haga (41) closes in on Troy Corser (11) quickly in the 2nd race for the pass, pulling away easily to win his and Yamaha's first race of the season.

SBK Corona World Superbike Championship RoundJuly 8-10th 2005
Corser and Haga Win Spectactularly in Bruno
Bruno, Czech Republic , July 15-17th - Troy Corser (Alstare Corona Extra Suzuki) and Noriyuki Haga (Yamaha Motor Italia) scored stunning individual race wins at Brno with Haga providing Yamaha with its first race win of the year. The warm and sunny weather at the Brno track provided relatively consistent conditions for the riders to perform on, but each race delivered very different results, with race two in particular providing thrills throughout the field.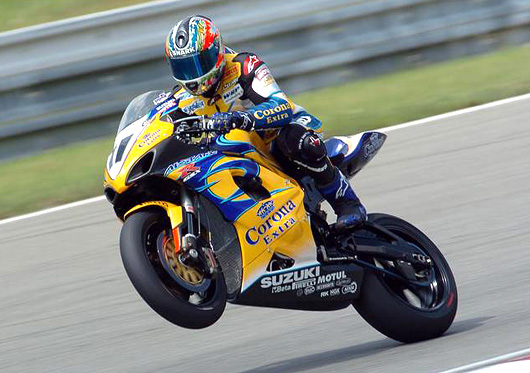 RACE ONE: Corser Runaway as Ducati team mates clash
After Troy Corser had broken away to an immediate lead he continued to stretch his advantage to the breaking point for all his competitors. After a dreadful start James Toseland (Ducati Xerox) fought through from the outer reaches of the top ten to score second, with his team-mate Regis Laconi third. A magnificent fight from PSG-1 Kawasaki rider Chris Walker saw him fourth.
In race 1 both riders rode storming races to put their Ducati 999F05 machines on the podium, Toseland finishing in second place ahead of Laconi after a terrific scrap with Walker (Kawasaki). "It was a hard race, I had a problem with the clutch at the start and that spoiled my whole race, but when I was catching everyone I could see that their tyres were going off, so I had to catch them before mine did as well and so I rode really aggressively. I enjoyed the race but I'm a bit disappointed Troy won again because we just can't afford to finish second."
"I am so happy to be on the podium because being ninth in Superpole was not so good" declared Laconi. "I pushed very hard, I chose the softer tyre at the front and the last few laps were very difficult. I tried to follow James but he was faster than me at the finish and so I settled for third, but I am happy because I took some points from Vermeulen and that's what I need for today."

RACE TWO: The return of Noriyuki Haga
Race two was halted and a restart declared after oil on the track surface had to be cleaned up for safety reasons. The restarted race, run over the full 20 laps, was headed by Corser initially, but Noriyuki Haga summoned up the magic which we have seen so often in World Superbike to take an outstanding win. He had not even qualified in the top 16 for Superpole after practice, and had finished race one only seventh. This is the first time in Superbike history that a rider has won a race and not qualified in the top 16 in practice. Corser was a clear second, from disappointing first race eighth place finisher Chris Vermeulen (Winston Ten Kate Honda).
Laconi and Toseland could only manage seventh and eighth in the second appointment of the day after fading away from the leaders due to tyre problems. This race, rerun over the full 20 laps and not on aggregate, had to be restarted after a delay of 45 minutes to clean up oil on the track following an incident but in the two laps before the red flags came out, Laconi had made a blistering start to head the field and was leading from Corser and Toseland before the interruption. Toseland continued: "In the first start the tyres were unbelievably good and after all the effort we'd made I would have won that race for sure, but there's nothing good I can say about the second race. After lap 3, the tyres were just not performing as well and there was nothing I could do. It's a pity because with Corser's results today it looks as if we're not going to be able to win this championship now."
Laconi added: "I struggled a bit with the gearing over the weekend, that was my fault but we made a change and it was a lot better. After two laps I found myself in the lead and that was fantastic but on the restart after half distance the front started to slide a lot. I was trying my best just to stay on the bike, because it was so hard. I finished seventh, which means I'm disappointed for myself and Ducati because they've done a good job. Now I'm already thinking about the next race, I will take my fight to Brands and do much better. The only positive thing from this weekend is that I gained one point on Vermeulen!"

TOP RIDERS BATTLE FOR TOP PLACES
The off podium battles were tough in both races, the undulations and fast corners of Brno allowing lots of overtaking action to change the race order frequently, from first lap to almost last. The main benefactor of the long race track was Pierfrancesco Chili (Klaffi Honda), who had to work hard in both races to come through the pack after a poor qualifying and so-so starts. His brace of fifth places were impressive to watch, although the large German contingent in the crowd was disappointed with the fortunes of his team-mate Max Neukirchner. He was only 14th in race one, and a retiree in race two, fighting front tyre push in each contest.
A superb start in race two, to second place, almost allowed experienced Brno runner Norick Abe (Yamaha Motor France) a podium, but he lost out to determined Vermeulen on the last two laps.

Karl Muggeridge (Winston Ten Kate Honda), showed strongly in the early parts of both races, but his ultimate results of 13th and ninth were disappointments for him and his team. For Ben Bostrom (Renegade Honda Koji) each race was a torment, as he finished 20th and 18th, well out of the points.

The contrast of results between the races was perfectly summed up by Walker, as his near podium race in the opener dissolved to a tenth in race two, as he was slowly dropped from the freight train of riders fighting for the podium at one stage. Andrew Pitt had two tough races again, with little front grip making him a lonely tenth in the opener and then a slipping clutch putting him out of race two altogether.
The Petronas triples found the challenge of Brno another tough one, and in race one Superpole qualifier Garry McCoy was involved in a collision with Jose Luis Cardoso, injuring his neck and elbow sufficiently to stop him competing in race two. Steve Martin took his three-cylinder machine to 17th and 16th places.
In the overall championship battle, the changeable results behind Corser saw him extend his championship lead to an impressive 94 points, with Vermeulen second on 205 and Laconi third on 187.
600cc SUPERSPORT
A dramatic 18-lap Supersport event had one high profile crash and two high profile retirements, all conducted in front of a backdrop of another race win for championship leader Sebastien Charpentier (Winston Ten Kate Honda). He soared to a points total of 165, and is now 59 points ahead of his nearest rival Katsuaki Fujiwara (Winston Ten Kate Honda) who missed this event through injury. Michel Fabrizio ended his run of bad luck with a superb second place for his Team Italia Megabike Honda squad. Gianluca Nannelli (SC Ducati 749R) scored third, in a race in which top championship runners Kevin Curtain (crash) plus Broc Parkes and Fabien Foret (both retirements for technical reasons) failed to finish and thus score any points. Fujiwara's replacement Craig Jones (Winston Ten Kate Honda) was eventually sixth.

Next up for World Superbike and Supersport riders is Brands Hatch, on August 7th.
RACE 1: 1. Corser (Suzuki); 2. Toseland (Ducati Xerox); 3. Laconi (Ducati Xerox); 4. Walker (Kawasaki) ; 5. Chili (Honda) ; 6. Lanzi (Ducati SC); 7. Haga (Yamaha); 8. Vermeulen (Honda); etc.
RACE 2 : 1. Haga (Yamaha) ; 2. Corser; 3. Vermeulen (Honda); 4. Abe (Yamaha); 5. Chili; 6. Lanzi; 7. Laconi; 8. Toseland; etc.
POINTS (after 7 of 12 rounds): Riders - 1. Corser 299; 2. Vermeulen 205; 3. Laconi 187; 4. Kagayama 158; 5. Toseland 152; 6. Haga 122; etc. Manufacturers - 1. Suzuki 308; 2. Ducati 230; 3. Honda 221; 4. Yamaha 163; 5. Kawasaki 119; 6. Petronas 17.
---
Susan Robertson became the world's first woman to hit 200mph in the flying mile when she logged a 205.345mph run on at El Mirage, California at the weekend.
---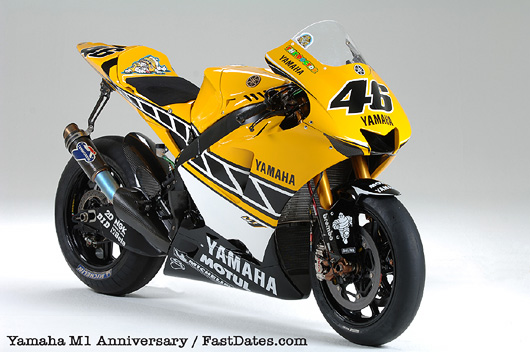 Rossi's number 46 commerates the classic Yamaha Molly paint design of the 1970's
Rossi M1 Anniversary Screensaver 1224
Edwards M1 Anniversary Screensaver 1224
Yamaha Celebrates 50th Anniversary
at Laguna Seca with special MotoGP Livery
July 1st - Yamaha's Factory MotoGP team goes to this weekend's United States Grand Prix in celebratory mood, wearing the famous Yamaha USA colours of yellow, white and black.
This special livery marks Yamaha's 50th Anniversary and acknowledges the significant contribution made by American riders to the marque's racing history. The Yamaha Motor Company was founded on July 1st 1955, just two weeks before the factory's first bike, the YA1, won its first race, the Mount Fuji Ascent race. Since then three American riders have won nine premier-class World Championships with Yamaha – 'King' Kenny Roberts, Eddie Lawson and Wayne Rainey, each taking three crowns across three decades, the 70s, the 80s and the 90s.
The livery that Yamaha Factory Racing YZR-M1 riders Valentino Rossi and Colin Edwards will wear at Laguna Seca was first used by Yamaha USA in the late 1960s and won global renown when Roberts scored his World Championship hat-trick.
---
Jardine Dyno Shootout, Iron & Lace Calendar Bike Builders Seminars & Saturday Night Party, America's Premier Bike Contest is AMD World Championship Qualifier, A Great Weekend of Live Music, Purrfect Angelz and FastDates.com Calendar Girls Gone Wild!

America's Top Custom Bike Builders and Another Record Turnout at the
LA Calendar Motorcycle Show Weekend July 16-17th
Los Angeles, CA, July 16-17th. - It was an an impressive lineup of America's top celebrity custom bike builders with the hottest new bikes, free Iron & Lace Calendar Builders Seminars and literally hundreds of beautiful girls at the big Los Angeles Calendar Motorcycle Show Weekend. In fact, many of these top name builders made their first ever pubic appearance as builders at the LA Calendar Show, and garnered world wide recognition of their leading edge bikes in the FastDates.com produced Iron & Lace Calendar photographed by Show producer Jim Gianatsis.
The Los Angeles Calendar Motorcycle Show Weekend presented by Performance Machine continued to grow again this year as the most popular consumer street bike show in America. Always the 3rd weekend of July at the Queen Mary Event Park in Long Beach, CA,, the Show offers a huge weekend of activities with sold out participation from 195 major motorcycle and product companies, up 30 more from last year in an expanded event layout. The Show again featured leading custom bike builders from across America and around the world, and hotested a 2-day capacity crowd up another 20% over last year.
The Show is produced by Jim Gianatsis of Gianatsis Design Associates, also producer of the renown FastDates.com Motorcycle Pinup Calendars and Website for which the Calendar Bike Show marked the 2006 FastDates.com Calendars' World Premier.
A new addition to the Show this year was its affiliation as an Official Qualifying Round of the American Motorcycle Dealer World Championship of Custom Bike Building, with the top placing bikes in the Performance Machine Bike Show Contest receiving a confirmed invitation to the AMD World Championship Final at Big Twin West in Las Vegas the weekend of November 18-20th.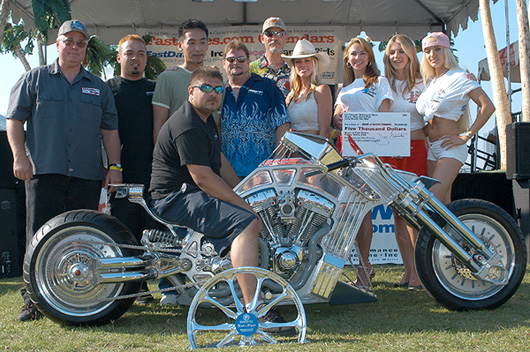 The Performance Machine LA Calendar Motorcycle Best of Show trophy and a big chunk of the $70,000 purse went to Dreamcraft Studios and their new "Rapture" Billet bike.
The LA Calendar Show has become one of America's premier Custom, Sportbike and Classic Bike Contests featuring many of top bike Pro and Amateur builders in America -and now from around the world vying for the prestigious Performance Machine Best of Show Trophy. Winning the coveted top spot this year was Larry Nagel and Paul Yang of Dreamcraft Studios with their radical new $250,000 billet bike "Rapture" featuring a 1-piece frame which was CNC machined over 2-days from a 900 lb.s solid chunk of aluminum. Among Rapture's many other unique features were the scratch built quad tube front forks, a through the swingarm exhaust system, and dual raised windscreen fuel tanks. Whew!
Stage activities were hosted throughout the weekend by FastDates.com Calendar Angel, Miss Texas and Miss Harley-Davidson "Rockin' Robin" Cunningham. Robin was assisted for the trophy presentation on Sunday by Performance Machine marketing director Ted Sands and Bikernet.com's Keith "Bandit" Ball.

Taking top Pro Builder Class honors was John Franco's "Lethal Strike" named for the rattlesnake skin down the top of the gas tank. Built by Wicked Brothers, the judges liked Franco's bike for its simplicity with clean flowing lines which all worked together, the stealth grey paint job accented by all the chrome which had been brushed to a unique dull finish. The Show's title sponsor Performance Machine bolstered the already huge $60,000 Bike Show awards purse with an additional $5,000 cash award for the Best Performance Machine Equipped Bike at the Show going to Mark Daley of Thunderstruck Custom Cycles with his silver and polished chopper featuring all Performance Machine components.
The Show weekend offered an incredible lineup of activities including the Jardine Performance West Coast Horsepower Dyno Shootout - an exclusive feature attraction at the Show. The dyno was hosted by Jardine Marketing Director John Gunter, together with Kerry Bryant and Cycle News editor Scott Rousseau. The dyno ran some 80 bikes non-stop thoughout the 2-day weekend to a standing room only crowd of spectators. The strongest running Harley was East Side Performance's Turbo Nitrous Harley 107 ci with 283.7 hp. World Record holder John Noonan returned to try and breakhis record of 545 hp, but could only manage this year to get his Turbo Nitrous Suzuki Hyabusa up to 339.0 hp to win the unlimited sportbike class.

Fans got to meet many Discovery Channel and Speed TV featured celebrity custom builders from the programs American Thunder, Great Biker Buildoff, and Build or Bust including Russell Mitchell, Jesse Rooke, Roland Sands, Mitch Bergeron, Mike Stafford, and Harold Pontarelli. The builders were featured in Iron & Lace Calendar Bike Builder's Seminars held hourly throughout the weekend in the midway tent located in the center of the Show Park. Each builder explained their own personal style for building world class custom bikes, then they answered questions from enthusiastic fans. The Iron & Lace Calendar Bike Builder Seminars were a big hit among fans and are a regular feature of the Calendar Show.
The LA Calendar Bike Bike show featured 2 days of incredible liver music and entertainment. Both days featured classic rock with the hugely popular Unauthorized Rolling Stones out of San Francisco, together with the Janis Joplin style rock/blues vocals of the beautiful Boudeeka. Alternating with the Stones on Saturday was beautiful blues rock singer Jessie Payo from Jessie and the Rain Dogs, On Sunday it was sexy Pat Benatar stylings of Heather of the band Balentine who traded sets with the Stones.
And really bringing down the house in 2 different performances each day to showcase the PinUp Model calendar theme of the Calendar Show were the the beautiful Purrfect Angelz with their sizzlin'' Las Vegas style stage performances. Along with a Calendar Girl Model Search Pageant each day with $70 0 in prize money that revealed beautiful bikini girls Holly Webber, Natalie Green and Candice Curtis as the winners. Candice's beautiful attributes also earned her a paid calendar shoot the following day with photographer Jim Gianatsis for the next Iron & Lace Calendar. Bikes selected from the Show for the Calendar shoot included a retro hot rod from Zero Engineering of Japan, and a just completed pop stylized bar hopper built by Bob Phillips of Wizard Creations for actor Brad Pitt.
And what would the Calendar Bike Show be without world the premier of the 2006 FastDates.com Calendars with beautiful SBK World Superbike girl Calendar Angels Calendar Angel Andra Cobb, along with newest Angels Christina Linderman and Dominique Lafayette. Plus a plethora of beautiful girls where ever you looked from Hooters, Feelin' Lucky, Archie's Ice Cream, and dozens of other Show exhibitors and venders.
On Saturday night Show producer and calendar photographer Jim Gianatsis hosted the Iron & Lace Calendar Builders Night Party to another capacity crowd aboard the historic Queen Mary ocean liner in the ship's Observation Room Bar. Many of the top Iron & Lace Calendar bike builders were there to party with the Show staff, exhibitors and fans And what would the Iron & Lace calendar builders party be without the beautiful FastDates.com Calendar Angels who were also in attendance with the Purrfect Angelez. Live rock blues music was provided at the party by the Shari Puorto Band.
Incredibly, despite the Show's continued growth, past years' problems with parking and long food lines were now fully resolved. Spectators' motorcycles were parked on site in a secured check-in and fenced lot. While spectators in automobiles were routed, when necessary, quickly into nearby downtown Long Beach parking structures then shuttled in a 5 minute bus ride to the Show.
A wide array of food venders including the Queen Mary BBQ, Hooters Restaurants, Big Mamma's Hot Dogs, Barnett's Lemonade, Archie's Ice cream and mexican food in 2 different Show locations. This included the new Metric Roadhouse in the Show's expanded Paved Lot assured spectators were taken care of quickly with great food choices. The Roadhouse also featured live music both days by beautiful DJ Samantha Lee to make sure exhibitors and fans weren't left out of the action.

Associate Sponsorship support for the premier street bike event weekend in America is provided by Iron Works magazine, Jardine Performance, Hooters, Trader Publications, Bikernet.com, FastDates.com Calendars & Website, ReCycler / Cycle Buys, Quick Throttle magazine, CaliforniaHostess.com, Events by Noonan and SPEED TV's American Thunder. The 2007 LA Calendar Motorcycle Show is scheduled for July 15-16th. Spectators and Exhibitors can find out more about The Show, the Bike Contest and all the available weekend activities online at www.FastDates.com.
2005 LA Calendar Bike Show Contest Results
Best of Show: Larry Nagel and Paul Yang, Dreamcraft Studios "Rapture".
Best PM Equipped Bike at the Show: Mark Daley, Thunderstruck Customs special construction chopper featuring all Performance Machine components.
Pro Builder: 1. John Franco, Wicked Brothers "Lethal Strike" Panhead Softail; 2. Mike Stafford, MGS Custom Bikes "Dragon Slayer" 131 ci H&L w/Diamond Chassis; 3. James Hetfield and Kirk Taylor, Kirk & Jaymwz 88 ci Panhead Pan Demonium in Inverted I-Beam Sprinder frame.
Street Performance: Paul Morris, 1990 HF FXR w/ 131 ci. 9 sec Street Class Drag HD; 2. Robert Prayther, Special Consruction Paucho w/55 ci.; 3. Johnny Lizarraga, Twin Thunder, S&S 113 ci with/ West Coast Choppers Dominator rigid chassis.
Street Custom: 1. Rick Kyker, Todd & Chop Shop Special Construction, 114 ci TP engine; 2. Chris Crowe, 2002 Harley-Davidson Road Glide; 3. Joe Bacal, Special Construction, 121 ci TP and Daytec Red Neck Springer frame..
Classic Early Twin pre 1956: 1. Garage Company, 1959 H-D FL, 2. Tommy Eriksson, 1944 HD Knucklehead modified, 3. Stan Delmore, 1934 Indian Chief modified..
Classic Late Twin from 1956: 1. Da Tiki, Roger Kuwahara / Kustom Fab, stretched '73 HD "Old School" with S&S 98 ci.; 2. Luis & Sandi Maunao, H-D Road King 95th Anniversary; 3. Garage Company1982 H-D FLH.
Sportster: 1. Robert Ramey, Nasty Bikes Special Construction; 2. Robert Ramey, Nasty Bikes Special Construction; 3. Sallie "Wicked Lil' Bitch" Dinkle, Wicked Brothers XL1200.
Sportbike: 1. Mike White, Special Construction Aprilia RS25o with Suzuki RG500 engine; 2. Ricky Montara, RIS Designs, Suzuki GSXR1000; 3. Eddie McCoy, Parts Unlimited, Kawasaki ZX12R.

Jardine West Coast Horsepower Dyno Shootout Class Winners:
Name / Class / Bike / Horsepower
East Side Performance, Turbo Nitrous Harley Harley Dyna 107" 283.7 hp
John Noonan, Turbo Nitrous Suzuki Hyabusa 339.0 hp
Joe Kay, V-Twin 74"-80" Harley V-Rod 110.1 hp
Paul Morris, V-Twin 114"+ Harley 181.7 hp
Steve Prouty, 600cc Sport bike Kawasaki ZX-6R 102.9 hp
Paul Whealy, Sportster/Buell Harley Sportster 120.0 hp
Bennetts Performance, V-Twin 81"-88" Harley Electra Glide 113.9hp
Brian Uyema, V-Twin 89"-95" Harley Dyna 106.9 hp
Anthony Pina, 1000cc Sport bike Suzuki GSXR-1000 162.2 hp
Chris Ghram, 750cc Sport bike Suzuki GSXR-750 127.9 hp
Ray Garofano, Open Sport bike Suzuki Hyabusa 203.8 hp
Bruce Ranyard, V-Twin 96"-113" Harley Dyna 119.3 hp
---
SBK Fast Dates Calendar girl Janelle Perzina featured on CBS Big Brother
Our lovely FastDates.com Calendar Angel Janelle Perzina is currently featured as one of the "House Guests" in Big Brother 6 on CBS TV.
The reality program places contestants in a house where they live, compete, plot and scheme while being filmed 24/7 to prevent being eliminated, trying to survive down to the final winner in the household.

Janelle has been featured in all of our 2004 and 2005 FastDates.com Calendars. During 2003 she traveled with us to Laguna Seca World Suerbike for the shooting of the 2005 Fast Dates Racebike Pinup Calendar, and also served as one of our official Ducati Corse Umbrella girls for team rider Ruben Xaus.

Big Brother 6 airs on CBS TV
Tuesday 9pm • Thursday 8pm
Saturday 8pm
Eastern Time / Pacific Time

Since we last worked with Janelle about 12 months ago, she has had minor plastic surgery to reduce the tip of her nose, has traveled the costal waters, and cities of Southeast Asia by yacht for a reality TV series pilot, and now is living in Miami where she works part time as a VIP cocktail waitress.
Fast Dates Calendar Motorcycle Roadracing News. Complete coverage of the SBK World Superbike, AMA National Superbike and MotoGP World Championship. Fast Dates Calendar and Umbrella Girls. Max Biaggi, Valentino Rossi, Ben and Eric Bostom, James Toseland, Regis Laconi, Loris Capirossi, Troy Bayliss, Troy Corser, Noriyuki Haga. Ducati 999 Monster Multistrada, Yamaha R6 R1, Honda CBR600RR CBR1000RR, Kawasaki ZX6 ZX6RR ZX10, Suzuki GSXR600 GSXR750 GSXR1000, Aprilia Mille, MZ Agusta F4 Brutale



2006 FastDates.com Calendars World Premiers!
Here On Line July 1st!
And Live with the Angels...
LA Bike Show July 16-17th
Brands Hatch SBK Aug 7th
Exclusive Early Preview!
Get a full look NOW of all the 2006 Calendar photos in the Members Corner Calendar Gallery
World Superbike Girls!
Our official SBK Fast Dates World Superbike girls are featured in
Member's Corner!
Includes FREE Access with to
Paddock Garage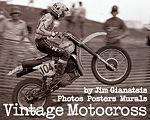 ---
World Superbikes Test
in Wet at Eurospeedway Vermuelen is Fastest

Lausitz, DM July 21-22 - The SBK and SS Test ended at Eurospeedway Lausitzring, circuit that will give hospitality to the 10th Round of Superbike and Supersport World Championship on 11th September. On the track for Superbike have tried the teams Ducati Xerox and SC, Honda Ten Kate, Kawasaki PSG-1 and Foggy Petronas; for Supersport Honda Winston, Yamaha Germany and Ducati SC. The variable weather influenced the first day with rain and wind that have interfered with the teams and riders track work. In spite of all that, the test registered remarkable performance, especially in SS.
In the second day test the rain had the lead part and almost all teams decided to go back home. Only Laconi, Toseland and Walker remained in Germany to test, trying the tyres on the wet track. The test landmark were the following: for SBK Bayliss (Ducati) in qualifying 1'39"395 and Xaus (Ducati) with 1'39"679 as regards the race; for Supersport Foret (Honda) respectively with 1'43"620 and 1'43"807.
SBK results: Vermeulen (Honda) 1'40"1; Laconi (Ducati) 1'40"4; Lanzi (Ducati) 1'40"5; Toseland (Ducati) 1'40"9; Walker (Kawasaki) 1'41"2; Muggeridge (Honda) 1'41"2; Martin 1'42"0; Riba (Kawasaki) 1'42"7.
Edelweiss Tour of France
... How We Spent
Our Summer Vacation


Beautiful Roads
Every mile of road on our trip through the Alps of southern France was breathtakingly beautiful and perfectly maintained. Not a crack or bump in the pavement, not a spec of loose gravel anyway.
We might come across a road crew in the middle of nowhere every 20 miles maintaining the road. We might see another car one an hour. The riding, the roads, the weather was unbelievably perfect.
Crazy at the Crazy Horse
It the most incredible burlesque performance club in the world and no trip to Paris can be complete without it, particularly if you love beautiful women like we do. Each girl is a trained balerina, had picked for purfectly matching bodies. They perform a 2 hour show of choreographed dance and strip sets as their bodies are bathed in colored and textured lighting designs against a musical sound track unlike anything you've ever seen before.
French MotoGP at LeMans
A motorcycle race in Europe has to be experienced to believed.
LeMans is just about 90 miles from Paris, we drove there easily by car on Sunday morning, enjoyed the race day, then were back in Paris by train and at our hotel at 6pm. More than enough time to shower, change, and make our 8pm dinner show reservations at the Crazy Horse.
I made our reservations online two months earlier to assure us a reserved front row table.
More of Our
Ultimate Vacation HERE
Susan Robertson Breaks 200mph Barrier
Team Suzuki Press Office – July 20, 2005 - Susan Robertson became the world's first woman to hit 200mph in the flying mile when she logged a 205.345mph run on at El Mirage, California at the weekend.
The Team FL Makita Suzuki rider piloted her Suzuki Hayabusa on the dry lake bed without any problems and hopes to go faster next month at Speed Week held at the Bonneville Salt Flats.
"I had two really solid runs and I'm sure we can go faster," said 36-year-old Robertson from Newport Beach, California. "We really weren't even planning to go 200 at this event, but things went a little better than expected. We just wanted to do some testing and came away with some favourable numbers. I really think that we can hit 210 in a few weeks, maybe even 212mph."
"We're really proud of her," said Paul Livingston of Spider Grips. "Very few people in the world have ever gone 200mph on two wheels and it puts her in an extremely elite group of riders."
Team FL Racing is backed by Suzuki, Makita, Spider Grips, Dumonde Tech Racing Oils, Race Tech, High Stakes, Pole Position Raceway, Studio 38, Catalyst Composites, Bridgestone Tyres, Sprocket Specialists, Micron Exhaust, NJK leathers, DC Shoe, Brosel Design, K&N Filters, NGK Spark Plugs, Hyperpro, Power Commander, Sports Vue, Tifosi Optics, and IHI Turbo.
No Reprive for Superbike Racing in America
AMA Class Structure Remains Unchanged from 2006 - 2008
Despite the fact they have effectively killed the sport of professional roadracing in America, they have been critized universally in the media, and ignored the pleas of all the factory teams to consolidate their duplicate classes and to get all the factory teams back into the premier 1000cc Superclass for better racing, the AMA Pro Racing Board has annojced in will make no clanges to the class rules for 2006. Read our previous Editorial HERE.
The current class structure and rules in AMA racing has effectively killed the sport here in America, with spectator attendance at Nationals dropping from highs of 20-30,000 people back in the 1990's to as low as 1,000 spectators per race weekend today at venues like California Speedway and Pikes Peak International Raceway

. The bike technical rule sturchture and race scheduling also prevented American riders from competing in the SBK World Superbike Championship when it came to America, causing a corresponding drop in attendace at the Laguna Seca race weeknd last year to just 4,000 people, resulting in America droping its World Superbike round in 2005 as Laguna Seca switching to MotoGP. - Editor
AMA Pro Racing Press Release June 17, 2005 - AMA Pro Racing confirmed today that the 2006 Daytona 200 will again feature Formula Xtreme motorcycles and that the class structure for the AMA Superbike Championship remains unchanged.
The class structure for 2006 is as follows:
Superbike: 901-1000cc four-stroke, two or more cylinders
Supersport: 0-600cc four-stroke, multi-cylinder
Formula Xtreme: 450cc-600cc four-stroke, multi-cylinder; 595cc-750cc four-stroke, liquid-cooled, twin-cylinder; 850cc-1350cc four-stroke, air-cooled, twin-cylinder
Superstock: 745cc-1000cc four-stroke, multi-cylinder
AMA Pro Racing announced on May 26 that 1000cc motorcycles will remain in AMA Superbike through the 2008 racing season. Rules adding 1000cc motorcycles to the class were announced in 2002 for the 2003 racing season. As noted above, current AMA Superbike rules feature 901-1000cc four-stroke engines with two or more cylinders, exclusively.
"The feedback over our announcement regarding 1000cc machines remaining through 2008 has been very positive," said Scott Hollingsworth, AMA Pro Racing CEO. "This stability as well as that in the support classes is designed to encourage greater rider and team participation across the board."
Formula Xtreme machines are used for the Daytona 200 because of the unique demands placed on equipment specifically at the Daytona International Speedway course. As part of a major infield renovation completed at the facility prior to the beginning of the 2005 racing season, the infield road course was also reconfigured. These changes, coupled with switching the 200 to Formula Xtreme equipment, were made in the interest of improving safety at the track.
AMA Superbike remains the premier class within the championship with AMA Supersport, AMA Formula Xtreme and AMA Superstock serving as support classes.
Technical rules for each class will be announced at a later date.
THE NEW DUCATI SPORTCLASSICS ARRIVE IN SEPTEMBER.
• 2000 PAUL SMART 1000 LIMITED EDITIONS
• SPORT 1000 IS OFFERED IN THREE DIFFERENT COLOURS.
Borgo Panigale (BO) July 22, 2005 – Countdown for the arrival of the first two new SportClassics has begun. Ducati's newest family captures the essential beauty and timeless style of the original Ducati sport bikes of the 1970's. Confirming the announcement made at Motogiro competition in June, production of the Paul Smart 1000 Limited Edition will start in September, immediately followed by the Sport 1000.

Created as a tribute to Paul Smart's legendary 1972 victory at the Imola 200 Miglia and the timeless style of his silver Ducati 750 Imola, only 2,000 examples of the Paul Smart 1000 Limited Edition will be produced. Characterised by its Classic Silver bodywork and Sea Green frame, and quality high performance Ohlins suspension, it is a motorcycle that allows riders to capture the verve and style of the original, while still being a motorcycle that lives–up to today's standards of sport bike performance.

Also ready to make its debut appearance is the Sport 1000, now available in three different colours. Added to the Burnt yellow with black racing stripe, reminiscent of the 750 SuperSport of 1973, are a Ducati Red with white stripe, and a Black with white stripe version. With the bold Café Racer style and essential beauty of the original Ducati Sport 750's, they deliver modern Ducati performance and road-going savvy.

The classic inspiration and performance of the Sport Classics doesn't end with the motorcycles. The style that makes the bikes so appealing has been applied to an extensive range of accessories and apparel. Performance exhaust systems to components of extreme materials like titanium and magnesium, plus classically styled riding gear emblazed with iconic logos of Ducati, will be available for the launch of the new family.
Ducati Classics
Pictures & Specs


Round Eight – Bennetts British Superbike Championship
Rutter Defies Broken Collarbone To Increase Title Lead
Snetterton, 10 July 2005 Ryuichi Kiyonari and Gregorio Lavilla took the victories in the eighth round of the Bennetts British Superbike Championship but the real hero at Snetterton was Michael Rutter who defied a broken collar-bone to race on and increase his lead in the title stakes.
The HM Plant Honda rider had crashed heavily, and spectacularly at Russells during qualifying taking a severe battering, having been thrown high over the top of his bike, but it was not until after the two races at the Norfolk circuit that he disclosed the extent of his injuries.
"I broke one collarbone and think that the other has been pushed out a bit," explained Rutter, who had raced on taking fifth and third placings. "It's been a hard weekend – I had a bit of crash that left me sore and beat up and then in the first race had a problem with the quick shift gear change.
"It is not easy to ride this circuit without that working – I was disappointed not to finish on the podium in the first race, and but did my best. In the second I was backing into the corners a bit too much, riding a bit too rigid, maybe trying too hard, but I can't complain," said Rutter who increased his lead over Kiyonari to 45 points.
The Japanese rider, who had taken the first race by eight seconds from Leon Haslam aboard the Airwaves Ducati, crashed out of the second race, in which the determined Lavilla overcame both Rutter and Michael Laverty, riding the Stobart Honda, to take his third victory of the season and avenge his first race crash.
The heroics of Rutter overshadowed another battling performance as reigning champion John Reynolds continued his recovery from the broken leg sustained in a pre-season testing crash.
The Rizla Suzuki rider took a determined third place in the opener, just ahead of his team-mate James Haydon. "That was like a victory – it repays the team for standing by me. At Knockhill I felt it was coming back, each race I'm getting closer, so I am really delighted with this." Next time out he took fourth.
Steve Plater, on his debut with the Hydrex Honda team, enjoyed seventh and fifth placings and Ben Wilson gave the Vivaldi Kawasaki team their best ever result in the championship with a sixth place in the second race.
Chris Martin, despite starting from the back of the grid, took the British SUperbike Cup honours in the first race, ahead of James Buckingham and Steve Brogan, while in the second race Danny Beaumont took the victory, ahead of Brogan, Marty Nutt and Martin.