"We are extreamely excited to have Nicky Lane take a break from her current world travel tour and promotional duties as the reigning Miss Great Britain to join us again this year at Laguna Seca World Superbike July 8-11th, and at our big Los Angeles Calendar Motorcycle Show in Long Beach July 17-18th," said FastDates.com Director Jim Gianatsis. "Two other sensational models will also be attending World Superbike with us. One is beautiful Los Angeles based model Andra Cobb who is featured in the current Mikuni "Explicit Performance" advertising campaign running in the the V-Twin magazines, and actress Robin Cunningham who is a former Miss Texas, Miss Hawaiian Tropic and Miss Harley-Davidson."
"All three girls will be photographed during the Laguna Seca weekend with all the top factory SBK World Superbikes, as well as some of the top AMA teams. These photographs will appear in the next SBK World Superbike endorsed 2006 Fast Dates Calendar sponsored by Performance Machine and Jardine Performance. And on race day all 3 of our Fast Dates models will also served as the offical Team Ducati Corse umbrella girls for Ducati's current World Championship points leaders coming into Laguna Seca, Regis Laconi and James Toseland, and possibly Ducati's AMA Superbike rider and Pikes Peak National winner Eric Bostrom."
The following weekend July 17-18th all 3 girls will be also appearing at The Los Angeles Calendar Motorcycle Show in Long Beach at the Queen Mary Event Park. Sponsored by Performance Machine, Jardine Performance and FastDates.com, thisis the biggest custom and Performance Streetbike show in America. Both Nicki and Andra will be able to meet with fans there and sutograph their pictures in the new 2005 FastDates.com calendars. Andra will also be giving away her special "Explicit performance" poster in the Mikuni booth throughout the weekend
For sportbike fans the Show features among many other activities the Jardine West Coast Horsepower Dyno Shootout, The Performance Machine Bike Contest, and the first SoCal appearance by the Las Vegas Extremes sportbike stunt riders with beautiful 19 year old stunt girls JoJo Farmer. For more details go to http://www.FastDates.com/BIKESHOW.HTM.
Rossi(46) faught hard for the lead and the win in what turned out to be 2 races, with 6 different leaders. Here he holds off Championship points leader Sete Gibernau on the Telefonica Honda RC211
MotoGP World Championship, Round 4 Mugello

Rossi Victorious in Front of Mugello Home Crowd
Mugello Preview: Can Gibernau Keep his Title Momentum Going,
Will Ducati be Back with the Front Runners?
Mugello, Italy, June 4/5/6, 2004: The fourth round of the 2004 MotoGP title race takes place in the Tuscan hills of Italy this weekend with a crowd of 70,000 expected at this fast, flowing, circuit. This race will mark the quarter-way stage in this year's 16-race series and Mugello, as it so often does, will prove to be a pivotal race.
Pivotal for many reasons. Points table leader Sete Gibernau (Telefonica MoviStar Honda RC211V) will be aiming to win his third consecutive race of the season and stamp his authority on the title race at the 'home' Grand Prix of his two closest title rivals. Max Biaggi (Camel Honda RC211V) lies ten points behind the Spaniard and Valentino Rossi (Yamaha) is only four points in arrears of Biaggi.
But an early advantage in the points table is only part of the story. Mugello will also be a test for Rossi's Yamaha. The 5.245km track is a 'power' circuit with a 1.14km uphill straight. The RC211V's of Gibernau and Biaggi have never been short of the outright horsepower needed to take advantage of this long, crucial straight, while a question mark hangs over the power quotient of the Yamaha.
But the imposing main chute is by no means the only element of Mugello that poses a challenge. The right-hand turn at the end of the main 206mph straight is a 'known' passing place and a baulked run through there can upset a rider's rhythm for the rest of the lap - and Mugello's sweeping turns are a test that requires uninterrupted rhythm as much as anything else.
The racing here tends to be close and spectacular with epic slipstreaming battles along the straight and close quarter action through the turns where the adverse cambers and downhill plunges put a high value on machine agility. But without the power to stay in contention on the straight a rider has too much to do to make up ground through the turns in the backfield. This is why power is at a premium here.
The 'home' race advantage is key here too. Riders are never slow to point out that backing from a big, partisan crowd is worth a few extra horsepower and both Biaggi and Rossi will have hardcore legions of fans willing them on to title glory.
Sete Gibernau is under no illusions about how hard it will be to prevail here. "For sure it will be a difficult race as the Italian riders will be in front of their public," he said. "Therefore they will almost have an extra gear as they'll be even more motivated that usual. Plus Mugello isn't exactly a circuit I particularly like. Last year on this track we had the worst result of the season, but I will be racing to win. I have lots of Italian fans too and it would be a fantastic gift to win for my Italian mechanics and for my team."
Max Biaggi cannot wait for the race such is his enthusiasm for the magnificent circuit. Currently holding second place in the points standings Biaggi is in a buoyant mood as the race nears.
"What can you say about Mugello that isn't something positive? The track would be one of my absolute favourites even if it wasn't my home circuit and the venue for the Italian GP. The endless front straightaway, the fast bends, the technically-challenging esses, all make this a fantastic track to ride at: with the "Bucine", the "Arrabbiata" double-apex, the "Casanova-Savelli" where my fan-club always cheers from, as well as all the rest… I love every bit of it. I also like the hilly nature of the track, I'm not a big fan of the flat circuits. The track is very different from Le Mans, it doesn't have the same hard braking for starters, but the positive work my team has done with the set-up after the last race could allow me to have a good base setting with which to go just as well at this track. I think that the race will be very hard fought, there are a lot of us who want and who are capable of going well, and I'm certain to be amongst those." Commented the ultra-fast Roman.
Brazilian Alex Barros (Repsol Honda RC211V) currently lies fourth in the overall title standings and sees this race a perfect opportunity to get further on terms with his rivals. "I'm confident that the important work we did after the last race at Le Mans will be of big benefit for next race," he said. "We struggled in France to find a good balance for the machine. I was not confident with the front end and was having real problems in the turns.
"We worked to find a solution on the day after the race and I was happy with the results where we were able to lap consistently quicker than over the whole race weekend. This work will be important for the set-up for Mugello, which is such a fast and flowing track. We need a good result this weekend to keep in contention in the long race for the championship."
Colin Edwards (Telefonica MoviStar Honda RC211V) needs to get his season on track here too - and feels the time is right after extensive testing. "After the work at the Michelin test track my feeling with the bike is much better," he said. "We had problems with the front whenever the air temperature rose. We changed the forks and we've now resolved these problems. So now I can't wait to go to Mugello. The Italians are favourites but there won't only be Rossi and Biaggi, Sete and I will be up there to fight also. Mugello is a special track, full of history, and I like the atmosphere there."
And Nicky Hayden (Repsol Honda RC211V), currently lying seventh in the overall standings, also needs to pick up a big points haul here too. "I'm looking forward to Mugello," said the American. "It's a really nice track and I like the layout a lot. I never really got up to speed there last year and to be honest had a bit of an off weekend. I want to start this coming important race weekend where we left off from the test at Le Mans after what was really a pretty disappointing race.
"We definitely found some speed in the test and I was lapping a whole lot quicker than I did in the race. The team is working real hard and I so want to get a result for them and all my fans that have been so supportive. I'm under no illusions; it's going to be hard. I'm racing in the best series in the world with the best riders in the world. I've just got to keep chipping away and learning."

COOL GIBERNAU GRABS SECOND CONSECUTIVE POLE
Final Qualifying, Saturday June 5th - Sete Gibernau (Telefonica Movistar Honda RC211V) confirmed his status as the man to beat when he set the fastest ever lap of Mugello in yesterday's provisional qualifying session. His time of 1m 49.553s remained unbeaten as weather conditions today contrived to deprive his challengers of a chance to better his time. Track temperature was sufficiently elevated at 36 degrees from yesterday's 33 degrees to make the difference. Nicky Hayden (Repsol Honda RC211V) qualified second and Valentino Rossi (Yamaha) completes the front row.
The session was red-flagged with eight minutes to go when Kurtis Roberts' Proton caught fire after he crashed. This left most riders with a set of qualifying tyres that they would have to use in heavy traffic and without the benefit of a good rhythm in the session. And the delay upset a lot of team's plans.
But Hayden was one to benefit from the break as he hoisted himself from a provisional seventh up to second. "Things haven't gone to plan so far this season," he said. "So this is a really big step forward. To be on the front row is really important, but it doesn't mean much unless we can back it up in the race tomorrow with a good fast rhythm. After the break in the session I knew I had to go for it and I just put my head down and charged."
Pole man Gibernau is in a confident mood. "Everything is good," he said. "And I even thought I could go faster than yesterday, but I hit some traffic and that prevented me from doing that. The main thing is my race pace is fast and that will be the key tomorrow."

ROSSI VICTORIOUS IN FRONT OF MUGELLO HOME CROWD
Mugello, Italy, Sunday June 6th: Valentino Rossi held his nerve and maintained his race-long aggression to outpace his rivals not once but twice at Mugello in today's Italian Grand Prix. In doing so he seized his second win since joining the Gauloises Fortuna Yamaha Team, in outstanding style. His team-mate Carlos Checa fell on the 4th lap in the first sector of a two-race event, putting himself out of the subsequent re-start, the only one which would count for points.

The initial race was stopped with five laps remaining after the riders raised their hands to signal that the threatening rains had actually started. A six-lap restart would determine the ultimate classification of the race, with the first section now nullified.

Rossi, who had led Sete Gibernau's Honda on the last of the laps in the first running, repeated the trick in seemingly impossible conditions. The 25-year-old from Tavullia won by 0.361 seconds in the restart. With treacherous conditions to deal with Rossi was in a six-rider group at one stage, before asserting his class and quality to outrun Gibernau and third placed Max Biaggi (Honda) in what proved to be a sprint race of maximum risk and changeable traction.

If the second running was a minor classic, the opener was conducted on a no less grand scale. Rossi drew roars from the crowd as he took the advantage from the start, leading into the first corner with his great Italian rival Max Biaggi in second place. Checa, in eighth position, had already made a three place jump from his 11th place start, only to fall on lap four. A huge crash on the main straight for Shinya Nakano (Kawasaki) saw debris littering the track surface; the Japanese rider escaped serious injury by a whisker, although the race continued until the rains descended on lap 17.

The riders lined up for the restart in the order in which they finished the first segment, with Rossi on pole, Gibernau second and Biaggi third. Checa, having fallen in the first part, was not allowed to restart. With this second Yamaha victory Rossi now sits second in the championship on 76 points, ten behind leader Gibernau and four ahead of Biaggi. Checa ended his Mugello race weekend in overall fifth, with 36 points.

VALENTINO ROSSI (1st)
"To win in front of all these people is incredible. It's hard to explain the emotion I felt when I heard the crowds cheering for me on the last few laps. I need to say thank you to all of them. It was like winning twice today. The first one was in the dry, where it seemed like I made thirty or forty overtaking manoeuvres. Every lap there was a fantastic battle with Sete, Max and Tamada. It would have been difficult to win in the dry with Gibernau, but the new race in the rain was held in incredible conditions. To run with a slick on a wet track was very strange at the beginning but fortunately it stopped raining and it was possible to push to the win."

CARLOS CHECA (DNF)
"I passed Capirossi through the second chicane and then on the next corner I opened the gas and lost the rear. Obviously I'm very disappointed and I don't really know what to say. It has dented my morale a little bit. One good thing is that I have been able to retain fifth position in the championship. Now we're going to Barcelona where a good result is really important in front of my home crowd. I hope things will go better there. "

JERRY BURGESS –VALENTINO ROSSI'S CREW CHIEF
"It was very satisfying to win after the second running as Valentino did so well in the first race, which didn't count in the end. We always make preparations in case of rain so we were ready. We had to put him on full slicks in the six-lap race, just like most others. It was a little tricky as the rain was probably heavier then than it had been when they first stopped it, but it all worked out."

DAVIDE BRIVIO – GAULOISES FORTUNA YAMAHA TEAM DIRECTOR
"That was a really strange day but what a result! Valentino and the team worked so well to come out on top from the restart in such difficult conditions. I think we will all remember this race for a very long time. Unfortunately at the same time it was not a good day for Carlos; he started a difficult race from 11th on the grid, he knew it would be hard and didn't make it to the end. Hopefully he can keep his motivation because he's done a good job in the past rounds and Barcelona could be a great chance for him.
MotoGP RESULTS (2nd Race)

1. VALENTINO ROSSI (ITA) Gauloises Fortuna Yamaha 12'06.803
2. Sete Gibernau (SPA) Telefonica Movistar Honda +0.361
3. Max Biaggi (ITA) Camel Honda +1.540
4. Troy Bayliss (AUS) Ducati Marlboro Team +1.782
5. Ruben Xaus (SPA) D'Antin MotoGP +2.389
6. Alex Barros (BRA) Repsol Honda Team +2.446
7. Norick Abe (JPN) Fortuna Gauloises Tech 3 +5.842
8. Loris Capirossi (ITA) Ducati Marlboro Team +6.228
9. Marco Melandri (ITA) Fortuna Gauloises Tech 3 +6.461
10. Shane Byrne (GBR) MS Aprilia Racing +7.198

DNF - CARLOS CHECA (SPA) Gauloises Fortuna Yamaha
WORLD CHAMPIONSHIP STANDINGS

1. Sete Gibernau (SPA) 86
2. VALENTINO ROSSI (ITA) 76
3. Max Biaggi (ITA) 72
4. Alex Barros (BRA) 48
5. CARLOS CHECA (SPA) 36
6. Colin Edwards (USA) 33
7. Loris Capirossi (ITA) 28
8. Nicky Hayden (USA) 27
9. Troy Bayliss (AUS) 23
10. Marco Melandri (ITA) 22
---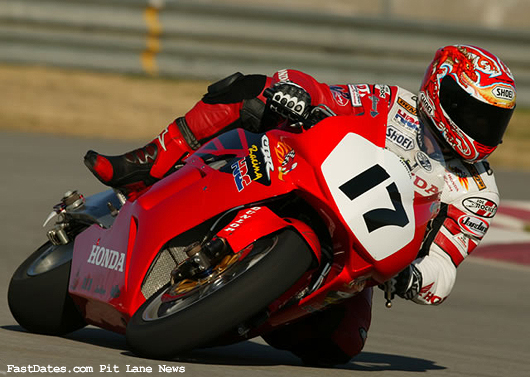 AMA National Championship, Road America Rounds 9 & 10
Honda's Miguel Duhamel Makes History at Road America
Elkhart Lake, WI, June 4-6th - American Honda's Miguel Duhamel did what no one before him ever had, winning both Superbike races and a support race on an AMA Chevrolet Superbike Championship weekend, Duhamel's coming on the longest track of the year, the scenic four-mile Road America circuit in Elkhart Lake, Wisconsin. Sunday's Superbike win moved him to the top of the all-time list and was Honda's 110th in AMA Superbike competition. But Duhamel wasn't the only Honda rider tasting success....
After leading the first 14 of 16 laps, Erion Honda's Jake Zemke finished second to Duhamel in Sunday's Superbike race. He was also second in Saturday's Formula Xtreme race and third in Superbike on Saturday. Erion Honda's Alex Gobert made it an all-Honda podium in Formula Xtreme by taking third. The trio owns the top three spots in the Formula Xtreme Championship, Duhamel's four wins giving him an 11 point lead on Zemke (two wins), 213 to 202, with Gobert third at 166.
The double Superbike wins also pulled Duhamel closer to the Superbike championship lead. By winning for the fourth and fifth time at Road America, he closed the gap to 10 points behind championship leader Mat Mladin (Suzuki). Mladin finished second and third in the two races.
American Honda's Ben Bostrom ran second in the early stages of both races before encountering various problems. On Saturday he finished in fourth, just off the podium. Bostrom had chosen a different construction rear tire than race-winner Duhamel, though it was the same tire compound. On Sunday it was only in the very latest stages of the race that he was denied a podium and finished fifth.
Defending American Superbike champion Mat Mladin made two trips to the podium this weekend after adding a third place finish in today's tenth round of the AMA Chevrolet Superbike Championship, with Saturdays's hard fought second. The long and very fast Road America course at Elkhart Lake Wisconsin was always going to prove to be a tough weekend's work for Mladin and his Yoshimura Suzuki crew, as they gave away a significant speed advantage.

Hard work during practice and typical Mladin determination during both 16-lap Superbike nationals kept the Australian, not only in the thick at the action at the front of the field, but also at the front of the championship leader board, even though he left leave Wisconsin with a reduced lead of 10-points over the weekend's double race winner Miguel DuHamel, 329 to 319.

Sunday's second of the weekend's Superbike nationals was interrupted on lap five when a blown engine resulted in a large oil spill, with a number of riders unable to ovoid the spill and falling. The incident forced officials to stop the race and have it restarted. The restarted race saw Mladin work his way forward to the lead group after initially being seventh on the opening lap. He held sixth place for a number of the early laps before a spirited charge forward saw him reel off a number of fast consistent laps, one of which was a blistering 2-min 14.812, that he set on the eleventh lap as he chased the lead trio. This time was the fastest single laps that Mladin had set all weekend, including that of qualifying.

His resulting charge forward was rewarded on lap fourteen as he passed Ben Bostrom to claim third, which he held to the flag. Victory in Sunday's race went to DuHamel, who after spending much of the race chasing down Jake Zemk ebefore Jake with two laps of the race remaining.
Matt commentned on his 3rd place finish on Sunday. "Third place was a good result for us today and matched with the second from yesterday, that was the best we could do," said Mladin. "The speed differential between the bikes is so great that it is beyond a joke, which was highlighted at such a fast track like this. We have our bike running as best we can with the rules, but we can't keep with the acceleration and speed of some of the others. It's disappointing."

"When the race was red flagged, we took the time to change a couple of things on the bike, but unfortunately we were not able to get back out on the track in time for our warm up lap and had to take our position on the grid with brand new tyres and no warm up lap. That meant I had to try hard and not get carried away while getting some heat into the tyres, before starting to get into a race rhythm. I think we did a good job to grab third from Ben and minimise the point's loss to Miguel. We've got a 10-point lead heading to Brainerd, but I'm not feeling confident that we'll still be in that position after the next few races, with tracks that require high speeds and strong acceleration."
Miguel Duhamel, Sunday, First Place
"Very excellent. Only my dad (ex-racer Yvon Duhamel) would point out that I didn't get pole in (Formula) Xtreme and he might nitpick about not leading the most laps. Besides that I think he's very happy and obviously for myself I'm very happy. With the company that I'm keeping, my dad likes to kid around, but he knows and I know that it's really difficult to do what we do. I feel great about what I pulled off but there's always a bit of luck that goes your way. You need a great team. This weekend was just one of those weekends when everything went well."
Jake Zemke, Sunday, Second Place
The red flag hurt us quite badly not just in the time difference but after we came back in after that restart we had a pretty serious problem with our bike and it kept getting progressively got worse and worse as the race wore on. I'm actually happy to just be sitting here to tell you the truth. I stayed out there and luckily came home and got some points and we'll move on to Brainerd.
Ben Bostrom, Sunday, Fifth Place
We had twice the bike we had yesterday but we're just missing out on the rear grip. Miguel (Duhamel), it looks like he's riding pretty easy. Jake (Zemke) looks like he's riding pretty hard; he definitely didn't have the grip Miguel had. Miguel made it look easy. He was riding pretty comfortable, picking the bike up driving off the corners stronger than anyone. As the tire wore down I got slower.
Miguel Duhamel, Saturday, First Place
I was definitely keeping a great eye on my pit board and I saw the gap go up to 1.4, almost 1.8 seconds. So when you get one second that's a decent gap. It's funny, it's like they were tied to a string. I was able to pull one second and then they were just not falling any more than that. When you're leading you don't want to push too hard and then maybe have a tire problem. You never know. It was on my mind because when I took off the tire was reacting quite a bit different than it's been doing all weekend. I was aggressive, but trying to be smooth because I didn't know what to expect when the race wound down. But yeah, I was definitely watching my pit board. Plus one was a lot more refreshing to see than plus zero.
Jake Zemke, Saturday, Third Place
We had some problems this morning with our brakes and we're still having problems with our brakes. Miguel (Duhamel) got through there and was running well and I was trying to reel him back him. He got away from me there a little bit and in doing so, the only time I was really making on him was on the brakes going in. And eventually they just couldn't handle it any more. Just missed turn five there a little bit and had to turn around and pass Eric (Bostrom) and Ben (Bostrom) back and that was about it.
Ben Bostrom, Saturday, Fourth Place
I think Jake (Zemke) and I got snookered a little bit on tires and (Mat) Mladin and Miguel (Duhamel) must have made the right choice. We all ran the same compound; they ran a different construction. Tomorrow we'll run a different set-up. I knew we were in trouble because I couldn't get a drive to pass (Eric Bostrom) on the straightaway. When the other guys came by, I followed them. We'd seem to make time on the entries and lose it on the exit. That's usually a sign of trouble toward the end of the race. It'll be faster tomorrow.
Saturday Superbike:
1. Miguel Duhamel (Honda)
2. Mat Mladin (Suzuki)
3. Jake Zemke (Honda)
4. Ben Bostrom (Honda)
5. Eric Bostrom (Ducati)
6. Steve Crevier (Suzuki)
7. Aaron Yates (Suzuki)
8. Geoff May (Suzuki)
9. Shawn Higbee (Suzuki)
10. Eric Wood (Suzuki)
Sunday Superbike
1. Miguel Duhamel (Honda)
2. Jake Zemke (Honda)
3. Mat Mladin (Suzuki)
4. Aaron Yates (Suzuki)
5. Ben Bostrom (Honda)
6. Eric Bostrom (Ducati)
7. Steve Crevier (Suzuki)
8. Larry Pegram (Yamaha)
9. Geoff May (Suzuki)
10. Shawn Higbee (Suzuki)
Formula Xtreme:
1. Miguel Duhamel (Honda)
2. Jake Zemke (Honda)
3. Alex Gobert (Honda)
4. Doug Chandler (Ducati)
5. Steve Crevier (Suzuki)
6. Vincent Haskovec (Suzuki)
7. Mike Ciccotto (Buell)
8. Larry Pegram (Yamaha)
9. Pascal Picotte (Yamaha)
10. Blake Young (Suzuki)