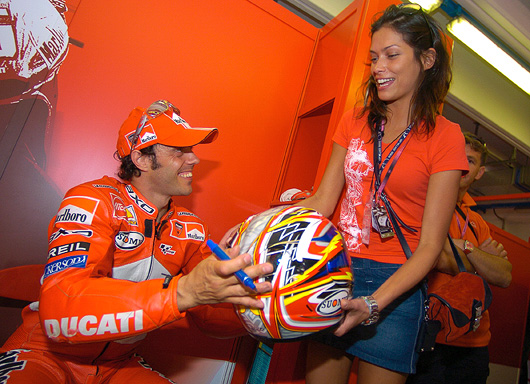 Last weekend it was Lorenzo Lanzi's win in World Superbike, this weekend it's Loris Capirossi in MotoGP as Ducati Corse returns to the top as the the racing season draws to a close.
MotoGP World Championship, Motegi GP of Japan Round 12 of 17

Right in the home of the mighty Japanese teams, points leader Rossi crashes out....
Capirossi Blasts Ducati to New Pole Record and Win at Japanese Grand Prix

Motegi, Japan, Sept 16-18th - Ducati Marlboro Team riders Loris Capirossi and Carlos Checa gave Ducati its best ever overall MotoGP result after Loris won the 24-lap Motegi race and Carlos finished fourth. Capirossi added his win to his pole position and took a new lap record at the Japanese circuit. It was Ducati's second win in MotoGP, and Capirossi's tenth podium finish on a Ducati in MotoGP. It was also the first MotoGP win for an Italian rider on an Italian bike in Japan. Such was Capirossi's early pace that he broke the previous lap record at the second attempt, then again on lap three, dipping under the magic 1'48 bracket to record a new lap record of 1'47.968. His desire to lead took him inside Marco Melandri on lap 10 but he pushed the front too hard on the final left of the lap and almost fell, recovering to rejoin third. He regained second on lap seven, and took the lead on lap 19, to enjoy a final margin of victory of 1.479 seconds.

Checa, ninth on the grid, made a strong charge in the early laps, sitting in sixth place until a crash between Melandri and Valentino Rossi promoted him to fourth. He rode at high pace until the end, proving the all round prowess of the entire Ducati Marlboro team this weekend.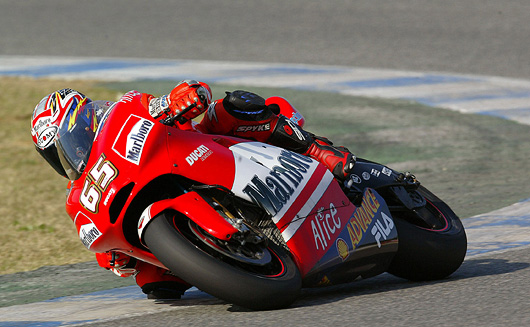 Loris Capirosi on top of the world at Motegi.

Capirossi Secures Pole With Quickest Time in Qualifying
Saturday 17th - Loris Capirossi demonstrated why Ducati were so keen to secure a recent contract renewal for next season with a stunning lap time in today's single qualifying session for the Grand Prix of Japan. The Italian rider will start the twelfth round of the MotoGP World Championship from pole position thanks to his record time of 1'46.363, enough to hold off his closest challenger John Hopkins by 0.498 seconds. The top two riders on the grid are both using Bridgestone tyres, who celebrated victory in last year's race with Makoto Tamada, whilst Marco Melandri was the top Michelin qualifier with the final front row spot in third place.
"For me this is great weekend," smiled Capirossi. "We have worked very hard and I did a lot of consecutive laps on race tyres today. Bridgestone have done a great job for their home race and have given us some excellent tyres to choose from. Tomorrow is a different day, the race is always difficult but I am ready to do my best."
Valentino Rossi missed out on a final qualifying lap as he arrived at the finish line just three seconds after the chequered flag was waved, effectively losing places instead of making them up and eventually dropping to eleventh. It means the reigning World Champion will start from the fourth row of the grid, his worst qualifying performance since being sent to the back of the grid at Qatar last season, as he looks to revalidate his title in tomorrow's race. Tamada showed signs of a return to his best form after a difficult season, challenging for pole before dropping to fourth place as Capirossi raised the stakes in the final moments of the session.
The home favourite is joined on the second row by Max Biaggi and Nicky Hayden, with Biaggi needing to take at least eight points off Rossi in tomorrow's race order to keep his championship hopes alive. Biaggi and Hayden are two of six riders still with a mathematical chance of dethroning Rossi although the more realistic battle between them is for the runner-up spot, currently occupied by the Italian. Sete Gibernau will be looking to turn that situation around and put an end to his recent bad luck as he start from the third row, where he is joined by Carlos Checa and Kenny Roberts. Rossi is sandwiched on row four between Alex Barros and Alex Hofmann, whilst the World Champion's team-mate Colin Edwards had an even more disappointing day today as he struggled to thirteenth place and a fifth-row start ahead of Shinya Nakano and Tohru Ukawa.
Rossi was not the only World Champion with problems today, 250cc title-holder Dani Pedrosa crashing from his Honda for the third time this weekend in the morning free practice session. The Spaniard, nursing shoulder, thumb and elbow injuries after falling twice yesterday, recovered to set the seventh fastest time in the afternoon qualifying session but was unable to prevent his team-mate, Hiroshi Aoyama, from clinching a memorable pole position at his home Grand Prix. Aoyama's younger brother Shuhei also made it a day to remember as he clinched a front row start in third place, behind Jorge Lorenzo but ahead of Alex de Angelis. Andrea Dovizioso, Yuki Takahashi and Randy de Puniet join Pedrosa on the second row whilst Casey Stoner, the Spaniard's main challenger for the championship starts from just behind them in ninth place.
Neither of the two main title contenders were able to seal a front row start for the 125cc race as Gabor Talmacsi clinched his first pole position with a time of 1'58.653. Thomas Lüthi and Mika Kallio, separated by eight points at the top of the standings, will both be on row two after qualifying seventh and fifth respectively, with Kallio unable to improve on his provisional pole time from yesterday. Local rider Tomoyoshi Koyama will start from alongside Talmacsi after qualifying second fastest, with Mattia Pasini and Marco Simoncelli completing the front row.
The open laps freight train with Capirossi (65), Biaggi (3), Hopkins (21), Roberts hidden, Giberneau (15) and Rossi (46).

Capirossi wins Motegi thriller as Rossi crashes out
Loris Capirossi took his first victory of the season in a dramatic Grand Prix of Japan at Motegi this afternoon as Valentino Rossi crashed out and missed his first opportunity to clinch the 2005 MotoGP World Championship. Capirossi made a cautious start from pole position, chasing early leader Marco Melandri over the opening laps before being joined by Max Biaggi. Rossi, meanwhile, made excellent progress from eleventh on the grid and by the time he caught the leading trio on the fourth lap, Melandri had been relegated to third place. With Biaggi now leading from Capirossi the pair were left alone at the front on lap thirteen, Rossi colliding with Melandri into turn ten and sending both riders tumbling into the gravel. Capirossi then stalked his compatriot for the next six laps before making his move and opening up an advantage of 1.4 seconds to take a clear victory, Ducati's first of the season and the first for tyre manufacturers Bridgestone since winning at the same circuit last year with Makoto Tamada. The Japanese rider crossed the line in a distant third place to complete the podium today.

Capirossi battles with Biaggi for the lead at mid race.

"It is good to have taken the win today but the team have done a great job all weekend," said Capirossi, who recently signed a new one-year contract with the Italian factory. "Bridgestone have given us some brilliant tyres here and my consistency was good over a lot of laps in practice. I had a good rhythm in the race but sometimes when I tried to pass I was over the limit. When I took the lead I knew I was faster than Max and I knew it would be my race." Carlos Checa took the chequered flag in fourth place although he was 22 seconds down on his victorious team-mate as only eleven riders finished a crash-strewn race. John Hopkins, who started from the front row of the grid but gradually lost positions as the race wore on, picked up his best ever Grand Prix finish in fifth ahead of Colin Edwards, Nicky Hayden, Kenny Roberts, Toni Elías, Rubén Xaus and Franco Battaini. Alex Hofmann crashed and broke his ankle, almost certainly ruling him out for the rest of the season. With Alex Barros and Sete Gibernau also crashing out, the only rider with a mathematical chance of halting Rossi's championship charge over the next five races is Biaggi, who must score 14 points more than his compatriot to prevent him winning the title in the next race at Sepang in seven days' time. There was a complaint against Rossi regarding the incident with Melandri, which was rejected by Race Direction, meaning a top four finish will be sufficient for the Italian in Malaysia. Whilst Tamada was unable to repeat his home heroics in the MotoGP class, there was a Japanese winner in the 250cc race as Hiroshi Aoyama took his maiden career victory in front of 68,015 jubilant fans. Aoyama started from pole position but conceded ground to Jorge Lorenzo in the opening laps before launching an unstoppable surge in the second half of the race. His team-mate Dani Pedrosa clinched second place after dodging a collision between Jorge Lorenzo and Alex de Angelis on the final lap, with Lorenzo later disqualified for his part in the incident and banned from the next race at Sepang. De Angelis recovered to take seventh place but the main beneficiary was Casey Stoner, who came through to complete the podium in third and extend his advantage over Andrea Dovizioso in second place in the championship. However Stoner now trails Pedrosa by 63 points with five races remaining. Mika Kallio was handed victory due to a red flag decision for the second time this season as the 125cc race was halted five laps from the end following a spectacular crash on the main straight. Thomas Lüthi crashed as he battled with Kallio for the lead, his ankles clipped and bike destroyed by an unsighted Sergio Gadea, who was lucky to escape unhurt. Lüthi, whilst fortunate to avoid serious injury, dislocated his shoulder in the crash and is doubtful for the next round in Malaysia. The Swiss youngster still leads the championship by three points from Kallio after being awarded second place in today's race, the final positions being taken back to the previous lap. Héctor Faubel completed the podium.
Results Motegi MotoGP: (24 laps = 115.224 km)
Pos/ Rider / Nat / Team / Motorcycle / Time/ KM/H
1 / Loris CAPIROSSI / ITA / Ducati Marlboro Team / DUCATI / 43'30.499 / 158.899
2 / Max BIAGGI / ITA / Repsol Honda Team / HONDA / 43'31.978 / 158.809
3 / Makoto TAMADA / JPN / Konica Minolta Honda / HONDA / 43'46.726 / 157.917
4 / Carlos CHECA / SPA / Ducati Marlboro Team / DUCATI / 43'52.647 / 157.562
5 / John HOPKINS / USA / Team Suzuki MotoGP / SUZUKI / 44'03.711 / 156.903
6 / Colin EDWARDS / USA / Gauloises Yamaha Team / YAMAHA / 44'05.414 / 156.802
7 / Nicky HAYDEN / USA / Repsol Honda Team / HONDA / 44'16.393 / 156.154
8 / Kenny ROBERTS / USA / Team Suzuki MotoGP / SUZUKI / 44'26.997 / 155.533
9 / Toni ELIAS / SPA / Fortuna Yamaha Team / YAMAHA / 44'42.536 / 154.632
10 / Ruben XAUS / SPA / Fortuna Yamaha Team / YAMAHA / 45'05.426 / 153.323
11 / Franco BATTAINI / ITA / Blata WCM / BLATA / 44'38.510 / 148.411
Fastest Lap (Unofficial new record): Loris CAPIROSSI 1'47.968 160.080 Km/h Lap 3
Lap Record: Makoto TAMADA 1'48.524 159.260 Km/h 2004World Championship Positions:
1 ROSSI 261 , 2 BIAGGI 149, 3 EDWARDS 133, 4 MELANDRI 126, 5 HAYDEN 121,
6 CAPIROSSI 117, 7 GIBERNAU 115, 8 BARROS 114, 9 CHECA 72, 10 NAKANO 69,
11 TAMADA 64, 12 BAYLISS 54, 13 ROBERTS 49, 14 HOPKINS 46, 15 XAUS 42.
Aoyama Wins 250GP, Pedrosa moves closer towards the title
The 250cc race was another tough contest. Hiroshi Aoyama (Team Movistar Honda RS250RW) triumphed in front of his home crowd with a masterful ride to victory. He sped ahead on lap five and kept out of trouble while Jorge Lorenzo (Fortuna Honda RS250RW) came to grief along with Alex de Angelis in a last lap crash. Dani Pedrosa (Team Movistar Honda RS250RW) finished second, with Casey Stoner (Aprilia) third.Aoyama, de Angelis, Andrea Dovizioso (Scot Racing Team Honda RS250RW), Stoner and Pedrosa were in a class of their own as they left the rest of the grid floundering in their wake by mid-distance of this 23-lap encounter. Despite a rash of practice crashes, Pedrosa kept out of trouble in the race to score vital points here, and the ascendant Spaniard now looks likely to secure his second 250cc World title sooner rather than later.
250cc Race Classification 250cc: (23 laps = 110.423 km)
Pos / Rider / Nat / Team / Motorcycle / Time / KM / H
1 / Hiroshi AOYAMA / JPN / Telefonica Movistar Honda 250 / HONDA / 43'52.454 / 151.008
2 / Daniel PEDROSA / SPA / Telefonica Movistar Honda 250 / HONDA / 43'57.767 / 150.704
3 / Casey STONER / AUS / Carrera Sunglasses - LCR / APRILIA / 44'00.235 / 150.563
4 / Yuki TAKAHASHI / JPN / Team Scot / HONDA / 44'02.676 / 150.424
5 / Randy DE PUNIET / FRA / Aprilia Aspar 250cc / APRILIA / 44'03.217 / 150.393
6 / Andrea DOVIZIOSO / ITA / Team Scot / HONDA / 44'03.508 / 150.376
7 / Alex DE ANGELIS / RSM / MS Aprilia Italia Corse / APRILIA / 44'11.653 / 149.915
8 / Hector BARBERA / SPA / Fortuna Honda / HONDA / 44'17.119 / 149.606
9 / Alex DEBON / SPA / Wurth Honda BQR / HONDA / 44'30.137 / 148.877
10 / Sylvain GUINTOLI / FRA / Equipe GP de France - Scrab / APRILIA / 44'30.576 / 148.852
11 / Simone CORSI / ITA / MS Aprilia Italia Corse / APRILIA / 44'30.648 / 148.848
12 / Steve JENKNER / GER / Nocable.it Race / APRILIA / 44'45.665 / 148.016
13 / Mirko GIANSANTI / ITA / Matteoni Racing / APRILIA / 44'48.818 / 147.842
14 / Alex BALDOLINI / ITA / Campetella Racing / APRILIA / 45'01.094 / 147.171
15 / Radomil ROUS / CZE / Wurth Honda BQR / HONDA / 45'01.659 / 147.140
Fastest Lap (Unofficial new record): Daniel PEDROSA 1'53.199 152.683 Km/h Lap 14
Lap Record: Shinya NAKANO 1'52.253 153.970 Km/h 2000
250cc World Championship Positions:
1 PEDROSA 226, 2 STONER 163, 3 DOVIZIOSO 144, 4 AOYAMA 123, 5 DE ANGELIS 109,
6 DE PUNIET 108, 7 PORTO 105, 8 LORENZO 98, 9 BARBERA 67, 10 CORSI 59,
11 GUINTOLI 55, 12 TAKAHASHI 51, 13 DEBON 46, 14 LOCATELLI 31, 15 WEST 30.
---
British Superbike Championship Olulton Park, Round 11 of 13
Kiyonari Doubles for Honda at Oulton Park
Oulton Park, GB, September 11th - Honda rider Kiyonari pulled off two conzincing race wins today at the Oulton park Round of the british Superbike Championship. Airwaves Ducati rider Gregorio Lavilla battled to defend his championship lead in the Championship following two action-packed races at Oulton Park in the eleventh round today. The Spaniard claimed a pair of second places – the second by just 0.004s – and now trails Kiyonari by one point in the Championship as the series heads to Donington for the penultimate round in two weeks. Gregorio's teammate, Leon Haslam, fought bravely for two fourth positions.
In race one, both riders made steady starts and were immediately involved in scraps with many of their rivals. Gregorio reeled off a series of blistering laps, breaking the lap record of 1'37.2s by a staggering 0.9 secs, and was able to pass both Richards and Kiyonari with daring moves on laps 4 and 7 to take the lead. Gregorio tried to slow the pace in the hope that Reynolds would also pass Kiyonari, however, the Japanese rider forced his way back into the lead which led to a battle to the chequered flag. Leon battled to join the leading group throughout the race and was eventually able to claim fourth on the final lap following a tough race.
The second 18-lapper took a similar course to race one with Gregorio once again tussling with Kiyonari for the majority of the race. In a titanic battle, the lead changed hands six times with some sensational passing manoeuvres. As the pair entered the final bend Gregorio took a tight line to defend his position and appeared to cross the line in first place, only to have it snatched from his grasp in the tightest of finishes. Leon was involved in a battle with Harris, Hill and Richards for much of the race and took a well earned fourth.
Airwaves Ducati Team Manager, Colin Wright, commented: "Both riders gave their all today and it's absolutely devastating for Gregorio to be beaten by such a small margin. The championship is so close and those extra points might be crucial at the end of the season but we won't dwell on it. Leon had a tricky time but as always battled until the end. It's been a hard weekend but we're looking forward to renewing the battle at Donington in two weeks time."
Lavilla was naturally disappointed with the second race: "I took a defensive line in the last corner and that allowed Kiyonari to get slightly better drive in the dash to the line. It's frustrating because the bike felt so much better in the second race and I was really able to push. In race one, I was trying as hard as I could but couldn't force him to make a mistake."
Haslam was upbeat despite enduring a difficult day: "My pace was as good as the leaders at times but I just struggled to pass a few of the guys out there. I'm happy generally with things and the bike felt good. On another day, I could have been up with the leaders challenging but now it's on to my home circuit, for the next round. I'll be hopeful of being quick there."
Superbike Race 1: 1. Kiyonari (Honda), 2. Lavilla (Ducati), 3. Reynolds (Suzuki), 4. Haslam (Ducati), 5. Richards (Kawasaki), 6. Haydon (Suzuki, 7. Hill (Yamaha), 8. Harris (Honda), 9. Mason (Honda), 10. Rutter (Honda)
Superbike Race 2: 1. Kiyonari (Honda), 2. Lavilla (Ducati), 3. Reynolds (Suzuki), 4. Haslam (Ducati), 5. Harris (Honda), 6. Hill (Yamaha), 7. Thomas (Kawasaki), 8. Richards (Kawasaki), 9. Mason (Honda), 10. Plater (Honda).
---

New 2006 KTM 950 SuperMoto and 990 SuperDuke


While everyone we know of continues to wait for the release of the exciting new KTM RC8 Superbike (see picture below) which was revealed at the Cologne International Motorcycle Show 2 years ago, in Europe KTM has gone ahead and instead released

2 new production bikes using the same new 2-cylinder V-75 degree DOHC engine that is scheduled to appear in the RC8.

The new KTM 950 SuperMoto (above) and 990 SuperDuke below, share the new basic engine and chassis, with noteable changes for their different markets. Suprisingly the SuperMoto gets a smaller displacement 950cc engine fed by carburetors, with a mild state of tune around 72 HP that would have it trounced by Ducati's Monster Quatro, Aprili'sa Tuonos or Triumph's Speed Triple, it's principal competitiors. It's also not EPA approved, so don't look for it in the USA any time soon. From all a marketing, performance and production cost standpoint you would think the SuperMoto would get the same 990cc higher horsepower, electronically fuel injected V-75 used in the new KTM 990 SuperDuke. Or at the very least, they might switch engines with the SuperDuke getting the lower power 950, and the SuperMoto getting the 990cc 88HP mill to try to match it's competition. The 990 SuperDuke is the dual purpose version of the same basic bike with different body work, longer travel suspension and wheelbase.

Specification wise, the 990 SuperDuke is confusing in that it doesn't have a front windscreen or optional luggage system so it can compete in the multipurpose touring mode with popular BMW's GS1200R or the Ducati Multistrada. It just seems that KTM placed both new models at the bottom of their respective classes in the market to begin with, rather than come in at the top knowing what they were competing against.
Engine 950 SuperMoto / 990 SuperDuke
Engine double-cylinder 4-stroke V 75°
Displacement (cc) 942 / 999
Bore / stroke (mm) 100 / 60 (3.94 x 2.36") / 101 / 62.4 (3.98 x 2.46")
Performance (homologated) 72 kW @ 8000 rpm / 88 kW @ 9000 rpm
Max. torque 94 Nm @ 6500 rpm / 100 Nm @7000 rpm
Compression ratio 11.5:1
Starter E-starter
Transmission 6 gears, dog-clutch engagement
Mixture preparation 2 Keihin constant pressure carburetors CVRD 43
/ Keihin indirect intake port injection
Control DOHC
Lubrication Pressure lubrication
Engine oil Motorex Power Synt 4T 10W50
Primary drive 67:35
Final drive X-Ring chain 5/8 x 5/16"
Cooling liquid-cooled
Clutch wet multi-disc clutch, operated hydraulically
Transmission ratio 17:41 / 17:38
Battery 12 V 11.2 Ah
Main silencer Twin stainless steel with catalytic converter / Stainless steel with controlled catalytic converter

Chassis 950 SuperMoto / 990 SuperDuke
Frame tubular space frame, chromium-molybdenum, powder-coated
Subframe aluminium
Handlebar aluminum Ø 28/22, conified
Front suspension WP-USD Ø 48 mm (1.89")
Rear suspension WP-Monoshock
SuperDuke Suspension travel front 200mm / 210 mm rear (7.87/8.27")
Front brake 2 x Brembo 4-piston fixed caliper, radially bolted, 305 mm disc, floating (12") / 2 x Brembo 4-piston caliper, 2 x 320 mm disc (12.6")
Rear brake Brembo twin-piston floating caliper, 240 mm disc (9.45")
Rims, front/rear 3.5 x 17" / 5.5 x 17"
Tires, front/rear 120/70 ZR 17"; 180/55 ZR 17"

Steering head angle 66.5° / 64.6°
Wheel caster: 103 mm (4.06") / 110 mm (4.33")
Wheelbase: 1438 mm (56.61") / 1510 mm (59.45")
Ground clearance:) 165 mm (6.5") / (unloaded) 190 mm (7.48")
Seat height: 855 mm (33.66") / 865 mm (34.05")
Fuel capacity approx. 17.5 liters (4.62 gal) / SuperDuke 15 liters (3.96 gal)
Weight (no fuel) approx. 191 kg (421.8 lbs) / SuperDuke 405 lbs.

Above: The KTM 990 SuperDuke looks interesting, but can it compete with the competition? Below: The RC8 Superbike we still have to wait another year for. Hopefully the V-75 engine will be able to produce twice the power it has now, which will be need to be competitive in the Superbike market and on the track.

Below: KTM plans to race the R8, still a year away from production, in World Superbike in 2007. But they should have brought it out in production this year to race it now. Ducati has the 4-cylinder Desmosedici to switch to in WSB if they need more power in 2 years, but KTM won't have that backup option when they finally release it after a 4 yeaar delay. They should reconsider using their MotoGP engine instead.


---

YZF-R1 Limited Edition 50th Anniversay
Yamaha Introduces Limited Edition Yamaha R1 Anniversary Model for 2006
In celebration of Yamaha's 50th Anniversary of producing motorcycles, Yamaha USA is introducing the exclusive limited-edition 2006 R1 LE (Opps, they missed their own 2005 anniversary by a year!) complete with back torque-limiting slipper clutch, Marchesini wheels, adjustable rear suspension link and Öhlins suspension developed specifically for this model—all that on top of the standard R1's `06 upgrades. The R1 LE features Yamaha 50th Anniversary Yellow/Black paint with special trim and badging which was reintroduced from the 1970s on the M1 MotoGP bikes of Valentino Rossi and Colin Edwards at this past July's Laguna Seca MotoGP round in America. The bike's featured changes from a base model 2006 R1 are:
* 43mm Öhlins custom-valved fully adjustable inverted fork w/ two-way compression damping adjustment
* Öhlins custom-valved fully adjustable rear shock w/hydraulic preload adjuster and two-way compression damping adjustment
* Gold Marchesini forged aluminum wheels
* Adjustable rear suspension bottom link
* Pirelli Diablo Corsa tires
* Starter button doubles as lap timer control
* 50th Anniversary Yellow/Black w/ gold chain, exhaust covers and tank emblems
Fast Dates Calendar Motorcycle Roadracing News. Complete coverage of the SBK World Superbike, AMA National Superbike and MotoGP World Championship. Superbike, sportbike, grand prix, MotoGP, race, racing, news, coverage, photos, pictures, Fast Dates Calendar and Umbrella Girls. Racing, road race, track, motorcycle, news, results, girls, models, Mat Aladdin, Max Biaggi, Valentino Rossi, Ben and Eric Bostrom, James Toseland, Regis Laconi, Loris Capirossi, Troy Bayliss, Troy Corser, Noriyuki Haga. Ducati 999 Monster Multistrada, Yamaha R6 R1, Honda CBR600RR CBR1000RR, Kawasaki ZX6 ZX6RR ZX10, Suzuki GSXR600 GSXR750 GSXR1000, Aprilia Mille, MZ Agusta F4 Brutale. Los Angeles Calendar Motorcycle Show.