The 2005 SBK World Superbike Championship winning Alstare Corona Suzuki team. Click for the BIG PICTURE.
2005 SBK World Superbike Championship, Imola Round 12 of 12

Dramatic World Superbike Season Finale
Chris Vermeulen and Lorenzo Lanzi Share Race Wins in France
Report by Andy Rixon, Kel Edge, Julian Thomas and Friends
Magney-Cours, France, Sept 30, Oct 7-9th - Chris Vermeulen (Winston Ten Kate Honda) and Lorenzo Lanzi (SC Caracchi Ducati) took a win apiece after two 23-lap races filled with great contrasts at Magny-Cours, with the lap record falling to each rider in turn. Lanzi finally reduced the best lap to a 1'40.601, as he chased Vermeulen in race two, giving the Caracchi team its best result of the year. The newly crowned 2005 World Champion Troy Corser (Alstare Corona Extra Suzuki) who earned the title last week in Lausitz Germany, started from the fourth row in each race, finished fifth and fourth after superb pushes to the front.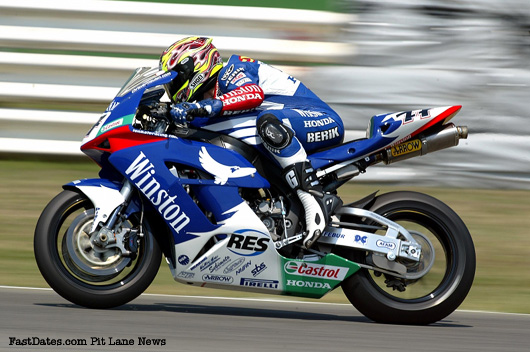 Chris Vermeulen dominated Race One, breaking the lap record twice until Lazi had the final say in Race Two.

Circuit Nevers Magny Cours in France is the venue
for this weekend's finale to the 2005 Superbike World Championship.
The technically interesting circuit is host to many other high profile events, most notably the annual Bol d'Or 24-hour race, the classic endurance event previously held at Paul Ricard, and the French Formula One Grand Prix car race. It's also a favourite circuit of Yamaha Motor Italia rider Noriyuki Haga, who won the last race of the 2004 season to take third in the championship.
A winning team: 2005 World Superbike Champion Troy Corser on the starting grid with wife Sam (left) and Miss Graet Britain Nicki Lane (right), both former and current Fast Dates Calendar models.
Kagayama First to Break lap Record in Friday Practice
Friday Practice: After early mist was blown away by the 31 Superbike on display at Magny Cours the afternoon session belonged to class 'rookie' Yukio Kagayama (Alstare Suzuki Corona Extra), who set a time of 1'40.512. This was 0.242 seconds faster than the previous best of Neil Hodgson (Ducati), set in 2003 - before the advent of control Pirelli tyres in Superbike. Karl Muggeridge (Winston Ten Kate Honda) went second fastest, and like Kagayama, was one of the riders who have tested at the French circuit this year already.

Andrew Pitt (Yamaha Motor Italia) scored the third fastest time of day one, with an all 'rookie' provisional front row running up front of the established Superbike stars. Lorenzo Lanzi (Ducati SC Caracchi 999F05) was fourth, hoping to regain the winning status first experienced at Eurospeedway Lausitz. Lanzi, once more on a full-factory Ducati, was fastest in the morning session.
Troy Corser (Alstare Corona Extra Suzuki) secured fifth fastest time, some 0.712 from his team-mate's provisional pole. Recently crowned champion for the second time in his career, last weekend at Imola, Corser is keen to win on Sunday, to prove his prowess as champion after the bizarre Imola meeting. He was awarded the title after the cancellation of race two, on safety grounds.
Troy suffered unexpected wheelspin problems today, "This afternoon was a bit strange because I tried quite a few different tyres and each time I suffered with wheelspin. It didn't happen when we tested here recently, so we're not sure what's going on. We will have to look at the telemetry and see if we can make some adjustments tomorrow morning and cure the problem. Today we used the Imola set-up, which is more or less the same as I always use, but we will make some changes for sure. The conditions this afternoon were more or less the same as when we tested, so it's a bit of a mystery really."
With his team-mate Garry McCoy replaced at Magny Cours by team test rider Andy Notman, Petronas FP-1 regular Steve Martin backed up his recent good form with a superb sixth fastest time. Notman scored 28th in qualifying.
Davide Checa (Yamaha GMT 94) was in immediate force at Magny-Cours seventh fastest, ahead of the championship runner up, Chris Vermeulen (Winston Ten Kate Honda). An eclectic mix of bikes and teams in the top ten left Chris Walker (PSG-1 Kawasaki) and Giovanni Bussei (Kawasaki Bertocchi) to complete the upper echelons.
Ben Bostrom (Renegade Honda KOJI) scrapped out the opening day in top form, finishing just outside the top ten, despite a still-injured back. Just behind Bostrom, multiple 2005 race winner Noriyuki Haga (Yamaha Motor Italia) was 1.169 seconds from provisional pole. Haga completed the provisional third row. The last Superpole spots on offer after day one were provisionally taken by Max Neukirchner (Klaffi Honda), Sebastien Gimbert (Yamaha Motor France), Norick Abe (Yamaha Motor France) and Fonsi Nieto (PSG-1 Kawasaki). Nieto started the season on Ducati and moved to Kawasaki only recently.
Team Ducati Corse failed to impress with James Toseland (Ducati Xerox) only 17th fastest on day one, with his team-mate Regis Laconi 19th. A tough day for the factory squad shows up the fact that they, compared to most of the other top teams, have not tested at this venue. Pierfrancesco Chili (Klaffi Honda) split the full factory Ducati partners, with Ivan Clementi (Pedercini Ducati) the last rider in the top 20.
Friday Qualifying:
1 Kagayama (J-Alstare Suzuki Corona Extra) 1:40.512, 2 Muggeridge (Aus-Honda) 1:40.854, 3 Pitt (Aus-Yamaha) 1:41.169, 4 Lanzi (I-Ducati) 1:41.184, 5 TROY CORSER (Aus-Alstare Suzuki Corona Extra) 1:41.224, 6 Martin (Aus-Petronas) 1:41.251, 7 Checa (E-Yamaha) 1:42.437, 8 Vermeulen (Aus-Honda) 1:421.473, 9 Walker (GB-Kawasaki) 1:41.520, 10 Bussei (I-Kawasaki) 1:41.597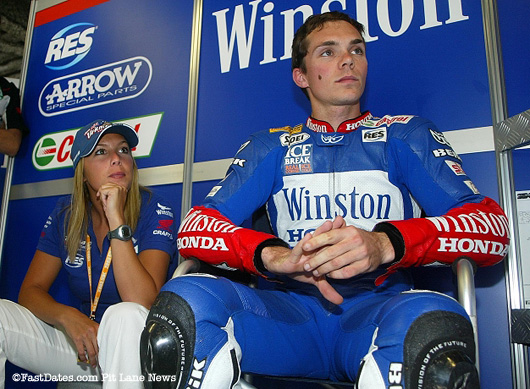 Chris dominated Saturday Super Pole, here with girl freind Toni.
Vermeulen Destroys Previous Best Lap in Super Pole Thriller Over Lanzi
Magny Cours, Saturday 8th - In unseasonably warm conditions at Magny-Cours championship runner-up Chris Vermeulen (Winston Ten Kate Honda) ripped the previous best record lap of the 4.411km circuit to shreds as he scored his third pole position of the season. His lap of 1'39.836 was not just the first one recorded under the 1'40 barrier, but it was also over 0.6 seconds faster than the previous track best, a 1'40.450, set by Lorenzo Lanzi (SC Caracchi Ducati) in this morning's final qualifying session. Vermeulen's new best time was almost a second faster than the previous 2003 record of Neil Hodgson (Ducati), set in the days before Pirelli control tyres became the norm in SBK.
COSMOPOLITAN FRONT ROW FOR MAGNY-COURS RACES ON SUNDAY Lanzi secured second fastest Superpole lap, and thus second on the grid, by beating his own previous best mark with a 1'40.349. He narrowly edged out the serial 2005 race winner, Noriyuki Haga (Yamaha Motor Italia) and the second Winston Ten Kate Honda of Karl Muggeridge.
SECOND ROW CLOSELY PACKED IN LAP TIMES James Toseland (Ducati Xerox) overcame a poor previous qualifying session to record fifth quickest time in Superpole. The top five riders all improved on their previous best times from regulation. Toseland, who turned 25 in the run up to the Magny-Cours weekend, edged out the talented German rider Max Neukirchner (Klaffi Honda) into sixth. The second row was completed by the first Suzuki rider on the sheets, Yukio Kagayama (Alstare Corona Extra Suzuki), and Yamaha Motor Italia runner Andrew Pitt.
CORSER FOURTH ROW AFTER PITBOX MISHAP Newly crowned champion Troy Corser (Alstare Corona Extra Suzuki) was well placed at the start of Superpole, running second fastest in regulation qualifying, just behind Lanzi. His Superpole lap was soon in trouble, as he reached the second split, 1.5 seconds down on Vermeulen's time, and with his rear tyre sliding and smoking. An incorrectly inflated rear tyre was later traced to be the problem, dropping him to the very last spot on the fourth row, some 2.823 seconds from pole.
THIRD ROW PACKED WITH TALENT AND VARIETY The first Kawasaki on the grid is the PSG-1 machine of Chris Walker, the effusive Brit in ninth after his usual committed display of riding. 2004 season runner-up Regis Laconi (Ducati Xerox) went top ten, after finishing regulation qualifying in only 16th place. His injured right elbow has handicapped his progress throughout the qualifying practices, as he tried to build strength back up after his Assen injury.
Ben Bostrom (Renegade Honda Koji) was an assured 11th, with Kawasaki privateer Giovanni Bussei (Kawasaki Bertocchi) 12th.
ROW FOUR FEATURES SOME BIG NAMES Davide Checa (Yamaha GMT 94) headed up the Magny-Cours fourth row from Petronas rider Steve Martin, but behind two major SBK forces were languishing on the last two Superpole qualifying places. Pierfrancesco Chili (Klaffi Honda) was 15th fastest, over two seconds from Vermeulen's Honda, while Corser's incorrectly-inflated rear tyre caused him to finish last in the Superpole competition, dropping 15 places from his regulation qualifying position.

Karl Muggeridge power slides sideways out of a corner as he battles with Toseland, Walker and and Pitt.

Race Day's Season Finales
Vermeulen Wins Race One in Dominating fashion.
Rave One: Vhris Vermeulen won race one at Magny Cours by 8.2 seconds ahead of Yukio Kagayama who was 5.1 seconds ahead of third placed James Toseland. After taking the lead on the first lap Ten Kate Honda rider Chris Vermeulen didn't look back. In a perfect ride the Australian kept pulling away from the rest of the pack and steered his Fireblade all the way to the finish. With Corser starting from 16th, after tyre pressure problems in superpole, Vermeulen must be cursing the cancellation of the last race at Imola that curtailed any chance of his taking the championship.
Kagayama got away in second place at the start and maintained that position until the flag dropped. Unable to make any inroads into Vermeulen lead, Yukio rode a very lonely race for second place, but with so many seats still unsigned for next year it was a very valuable ride.
The battle for third was anything but lonely with up to 7 bikes at times in contention. The first few laps were absolutely manic with riders throwing their machines all over the place and barging each other about. Chris Walker had thrown his Kawasaki underneath Nori Haga on the first lap to claim 3rd place but, unlike the first two riders, he was under intense pressure. James Toseland and Nori Haga were the first two riders to give
Walker a hard time but on the 3rd lap Haga was knocked off by his team mate Andrew Pitt. Toseland got past Walker but made a mistake and was passed by Walker and Muggeridge. This pack were soon joined by Troy Corser who had started from 16th place.
Walker, whose left arm is broken in two places, was riding like a man possessed. Magny Cours is a very physical circuit and to perform as he did shows the toughness of the Kawasaki rider. On the 13th lap he made a mistake on the final corner, possibly a missed gear, and dropped down to eighth place. Muggeridge and Toseland then had a ding dong battle for 3rd place which Toseland eventually won. However Muggeridge was not going to let him have an easy time. At one point on the 22nd lap both riders were riding into each other at 160mph +
Lorenzo Lanzi had qualified in second place on the SC Caracchi bodied works 999F05 Ducati but had a nightmare start dropping back to 10th place. He didn't produce the sort of performance we had expected and finished the race in 9th place. Factory Ducati Corse rider Regis Laconi decided to sit out race day as his previous injuries have still not healed completely and with the circuit being so physical he couldn't ride safely.
The battle remained for third place in the championship with Nori Haga currently in third on 255 points. Toseland is 11 points behind on 244. With his DNF in race one, Haga has to finish well in the second race to claim 3rd. If Toseland manages to pass Haga then Yamaha will be very very unhappy with Andrew Pitt for knocking out his team mate. The final race was just a few hours away. Could Vermeulen finish off with a double? Could Haga hold onto third place in the championship? Could Corser win from 16th place? All would be be answered here first, in a few hourson FastDates.com.
SUPERBIKE Race 1: (Laps 23 = 101,453 Km)
Pos /Rider /Nat. /Team / Time /Gap
1 / C. VERMEULEN / AUS / Winston Ten Kate Honda / 39'03.405 /
2 / Y. KAGAYAMA / JPN / Alstare Suzuki Corona Extra / 39'11.605 / 8.200
3 / J. TOSELAND / GBR / Ducati Xerox / 39'16.741 / 13.336
4 / K. MUGGERIDGE / AUS / Winston Ten Kate Honda / 39'17.292 / 13.887
5 / T. CORSER / AUS / Alstare Suzuki Corona Extra / 39'17.704 / 14.299
6 / A. PITT / AUS / Yamaha Motor Italia WSB / 39'18.675 / 15.270
7 / C.WALKER / GBR / PSG-1 Kawasaki Corse / 39'19.541 / 16.136
8 / M.NEUKIRCHNER / GER / Klaffi Honda / 39'20.021 / 16.616
9 / L. LANZI / ITA / Ducati SC Caracchi / 39'21.606 / 18.201
10 / N. ABE / JPN / Yamaha Motor France-Ipone / 39'34.505 / 31.100
11 / D. CHECA / ESP / Yamaha GMT 94 / 39'37.715 / 34.310
12 / B. BOSTROM / USA / Renegade Koji / 39'37.898 / 34.493
13 / G.BUSSEI / ITA / Kawasaki Bertocchi / 39'42.006 / 38.601
14 / F. NIETO / ESP / PSG-1 Kawasaki Corse / 39'42.319 / 38.914
15 / S. GIMBERT / FRA / Yamaha Motor France-Ipone / 39'43.913 / 40.508
Fastest Lap 7° Chris Vermeulen 1'40.985 157,247 Km/h
Lanzi Attacks Back in Race Two on the SC Caracchi Works F05 Ducati
as Vermeulen DNF's on the Last Lap with a Broken Chain
Race Two:Lorenzo Lanzi put his Ducati on the top step of the podium in race two after some titanic battles saw a thrilling end to the season and the race being restarted after a massive crash at the first corner.
The restart saw Vermeulen take the lead with Haga, Lanzi and Kagayama following. Vermeulen put his head down and looked to be repeating his race one performance however Lorenzo Lanzi had got past Haga and took off after Vermeulen. The Italian on a factory Ducati started to set fastest laps and within 4 laps he was right up with Vermeulen. But try as he might Lanzi couldn't get past Vermeulen, every time he looked like getting closer the Honda rider responded. This lasted until lap 18 when exiting the last corner the chain on Vermeulen's Fireblade snapped leaving the rider freewheeling to a halt. Lanzi took off and rode a solitary race to the final chequered flag of the season.

Left; Lanzi, has he earned a factory Ducati ride for next year? Will Troy Bayliss join him?
The battle for 2nd and 3rd place was even more intense with Nori Haga and Yuki Kagayama having one of the most entertaining duels of the season. The two Japanese, who are great friends off track, swapped places so many times we lost count. With a couple of laps to go Kagayama managed to break away from Haga and crossed the line in second place with Haga taking the final podium place. More importantly for Haga his 3rd place in the race meant that he maintained 3rd place in the championship as Toseland needed to finish well ahead to have any chance of getting past him in the championship.
The next battle was for 4th place and involved James Toseland, Chris Walker and latterly Troy Corser. The injured Chris Walker had caught up to Toseland on the 7th lap and put the former World Champion under a huge amount of pressure but it was Corser who initially got past Toseland. Once clear of the Ducati rider Corser pulled away trying to catch the Haga/Kagayama battle. Walker was pushing hard but it looked like Toseland had enough to hold him off halfway round the final lap Walker stuffed his Kawasaki under the Ducati. Toseland threw everything he had to get back but couldn't manage it. Corser took 4th with Walker in 5th and Toseland in 6th.
Andrew Pitt finished 7th which was a brave ride after being taken out at the start and being thrown over his handlebars after Karl Muggeridge's bike got caught up with him. In fact Muggeridge, Steve Martin and Giovanni Bussei were unable to take part in the restarted race. Bussei came off worst having to be taken to hospital.
Superbike Race 2: (Laps 23 = 101,453 Km)
1 L. LANZI ITA Ducati SC Caracchi 39'01.858
2 Y. KAGAYAMA JPN Alstare Suzuki Corona Extra 39'08.520 6.662
3 N.HAGA JPN Yamaha Motor Italia WSB 39'12.580 10.722
4 T. CORSER AUS Alstare Suzuki Corona Extra 39'15.315 13.457
5 C.WALKER GBR PSG-1 Kawasaki Corse 39'18.509 16.651
6 J. TOSELAND GBR Ducati Xerox 39'18.863 17.005
7 A. PITT AUS Yamaha Motor Italia WSB 39'22.721 20.863
8 M.NEUKIRCHNER GER Klaffi Honda 39'24.138 22.280
9 N. ABE JPN Yamaha Motor France-Ipone 39'24.571 22.713
10 P. CHILI ITA Klaffi Honda 39'32.966 31.108
11 B. BOSTROM USA Renegade Koji 39'34.129 32.271
12 D. CHECA ESP Yamaha GMT 94 39'40.053 38.195
13 F. NIETO ESP PSG-1 Kawasaki Corse 39'47.172 45.314
14 J. DA COSTA FRA DFXtreme Sterilgarda 39'48.780 46.922
15 G.VIZZIELLO ITA Italia Lorenzini by Leoni 39'52.462 50.604
Fastest Lap 3° Lorenzo Lanzi 1'40.601 157,847 Km/h
Record Lap Chris Vermeulen 1'40.985 157,250 Km/h 2005
2005 World Superbike Final Riders Championship Standings:
1 CORSER 420, 2 VERMEULEN 379, 3 HAGA 255, 4 TOSELAND 244, 5 KAGAYAMA 232,
6 LACONI 221, 7 WALKER 149, 8 PITT 147, 9 LANZI 125, 10 CHILI 125,
11 MUGGERIDGE 124, 12 ABE 116, 13 NEUKIRCHNER 115, 14 BUSSEI 64, 15 BOSTROM 53.
2005 World Superbike Manufacturer Points:
1 Suzuki 468, 2 Honda 403, 3 Ducati 385, 4 Yamaha 322, 5 Kawasaki 183, 6 Petronas 48
Summing Up at Hot Day of Action in Both Superbike Races
Andrew Pitt had a strong ride in race one, taking sixth, and in the second race, he overcome the effects of his big first corner crash to take seventh, despite having lost skin from his hands. Chris Walker had a good last day in his first PSG-1 Kawasaki season, his slip to seventh in race one being overturned by a magnificent last fight to fifth in race two, overhauling Toseland on the final circuit. With Haga third in race two (and despite a race one fall) he scored overall third in the series, Toseland went fourth and Kagayama fifth. Race non-starter Regis Laconi (Ducati Xerox) dropped to fifth overall.
Max Neukirchner (Klaffi Honda) scored a pair of eighth places, despite a reduced level of traction from race one to race two. He beat Lanzi in race one, the Italian rider finishing only ninth. Norick Abe (Yamaha Motor France) took a tenth and then a ninth place, on his first visit to Magny-Cours. Vermeulen's late exit gave Pierfrancesco Chili (Klaffi Honda) a top ten finish to add to his race one technical DNF. Ben Bostrom scored a 12th and an 11th place in his last 2005 race for the Renegade Honda squad.

The Bostrom brothers, from American heros to also rans by the end of 2005. Above, Ben on the Renegade Honda was never even a challenger this season in World Superbike.

Steve Martin (Petronas FP-1) was one of the riders involved in the first lap race two crash, as was Julien Da Costa (DFX Yamaha). Martin failed to make the start of race two, and was a retirement from race one. Andy Norman (Petronas FP-1) also failed to make the end of either race.
With many contracts still to be signed there is still frantic activity in the paddock. Ducati are believed to be announcing their line up later this week, believed to be fomer Ducati World Superbike Champion Troy Bayliss and newcomer Lanzi. All the news will be here at FastDates.com as it happens and coming soon will be a full season review.
600cc Supersport Race to Broc Parkes and Yamaha,
Class Championship Secured 2 rounds earlier by Charpentier for Ten Kate Honda
Broc Parkes (Yamaha Motor Germany) took his first race win of the Supersport season, bringing to six the total number of riders who have scored at least one 2005 victory. Despite Sebastien Charpentier's dominant form on the Winston Ten Kate Honda, over the first three-quarters of the season, three manufacturers have had their riders on the top step of the podium – Honda, Yamaha and Ducati.

Behind Parkes a furious battle for second, third and fourth went the way of Kevin Curtain (Yamaha Motor Germany), from Michel Fabrizio (Team Italia Megabike Honda) and his team-mate Fabien Foret. Suzuki rider Javi Fores (Alstare Corona Extra) took fifth. The final points standings have Charpentier on 210, Curtain on 187, Fujiwara third on 149 and Foret fourth on 144. Fabrizio takes fifth with 138. Gianluca Nannelli (SC Caracchi Ducati) finishes top Ducati rider in eighth, with Fores ninth.
Magney-Cours Supersport Race Results: (Laps 23 = 101,453 Km)
Pos /Rider /Nat. /Team / Time /Gap
1 / B. PARKES / AUS / Yamaha Motor Germany / 40'12.350 /
2 / K. CURTAIN / AUS / Yamaha Motor Germany / 40'13.100 / 0.750
3 / M.FABRIZIO / ITA / Italia Megabike / 40'13.565 / 1.215
4 / F. FORET / FRA / Team Megabike / 40'16.448 / 4.098
5 / J. FORES / ESP / Alstare Suzuki Corona Extra / 40'33.973 / 21.623
6 / J. STIGEFELT / SWE / Stiggy Motorsports / 40'35.798 / 23.448
7 / K. FUJIWARA / JPN / Winston Ten Kate Honda / 40'42.458 / 30.108
8 / S. CHAMBON / FRA / Gil Motor Sport / 40'44.494 / 32.144
9 / G.NANNELLI / ITA / Ducati SC Caracchi / 40'44.758 / 32.408
10 / M.LAGRIVE / FRA / Moto 1 - Suzuki / 40'56.728 / 44.378
11 / A. VOS / NED / Winston Ten Kate Honda / 41'02.289 / 49.939
12 / T. LAUSLEHTO / FIN / Klaffi Honda / 41'02.619 / 50.269
13 / I. GOI / ITA / Bike Service / 41'14.051 / 1'01.701
14 / J. JANSSEN / NED / Suzuki Nederland / 41'22.821 / 1'10.471
15 / S. PENNA / FIN / Ajo Promotion / 41'23.675 / 1'11.325
Fastest Lap 6° Michel Fabrizio 1'44.071 152,584 Km/h
Lap Record: Broc Parkes 1'44.457 152,020Km/h 2004
World Supersport Final Riders Championship Standings:
1 CHARPENTIER 210, 2 CURTAIN 187, 3 FUJIWARA 149, 4 FORET 144, 5 FABRIZIO 138,
6 PARKES 125, 7 CHAMBON 94, 8 NANNELLI 88, 9 FORES 71, 10 LAUSLEHTO 60,
11 STIGEFELT 58, 12 CORRADI 50, 13 HARMS 34, 14 VENEMAN 33, 15 LAGRIVE 26.
Corti is Champion in European 600 Superstock Series
Claudio Corti (Trasimeno Yamaha) merely had to finish the race in the points to win the inaugural 600cc Superstock championship, and in finishing seventh he gave eventual race winner Yoann Tiberio (Team Italia Megabike Honda) no chance to take an improbably championship win. Niccolo Canepa (Kawasaki Bertocchi) and Maxime Berger (MBE Honda) completed the Magny–Cours podium.
Corti's final championship score was 188 to Tiberio's 180, with Berger overall third on 121.
2005 GSX-R European Cup
South African rider Hudson Kennaugh wrapped up the inaugural Suzuki GSX-R European Cup with an emphatic win at Magny-Cours. Starting from pole position 'Hurricane' Hudson went off into the lead and was not headed for the rest of the race. His nearest rival in the Championship, Carmelo Morales, who started 2nd, crashed on the 2nd lap which allowed Hudson an easy route to victory.
Hudson Kennaugh - 1st " It really helped that I was also racing in the Supersport event and then when I broke down in that race it gave me extra time to prepare for the Cup. I was also very angry after that breakdown which helped! This has been a great series and I have enjoyed racing against all these guys. I want to say thank you to my team and also the GSX-R Cup organisers who have put on a reallly good show. "
Race Results: 1 Kennaugh (SA), 2 Stamm (SUI), 3 Salon (ESP), 4 Simeon (B), 5 Fouloy (F), 6 Jonchiere (F), 7 Ortega (ESP), 8 Edwards (GB), 9 Weymann (D), 10 Colucci (I)
GSX-R 2005 Championship Points: 1 Kennaugh 103, 2 Salon 94, 3 Morales 83, 4 Fouloy 54, 5 Ortega 47, 6, Lammert 44, 7 SIMEON 42, 8 Edwards 37, 9 Forster 30, 10 SKach 28
---


2006 BMW F 800 S
Pushing into the mid-range: The new BMW F 800 S twin-cylinder sportbike

Munich, Sepr 29th 2005 - With its completely new mid-range sports bikes, BMW Motorrad is ringing in the next round of its model offensive. In the first half of 2006, the F 800 will be the fourth model series to come off the Berlin assembly lines and it is sure to stir up the middle class. The F 800 S is an 800-cc twin which offers lots of character, an excellent suspension and typical BMW properties.The athletic F 800 S sports bike has a dry weight of under 419 lbs. (approx. 441 lbs. ready-to-ride) and is the first model of the new and separate model series. The precise suspension is designed for high directional and cornering stability as well as optimum handling. The classic BMW qualities such as safety, compliance with the highest environmental standards, ergonomic seating position and comfort also for the passenger define the new standard in the mid-range bike. A closed-loop three-way catalytic converter, state-of-the-art digital engine electronics and optional ABS are also a matter of course for this motorcycle. More Details and pictures in Pit Lane News New Bikes HERE.
---
Fast Dates Calendar Motorcycle Roadracing News. Complete coverage of the SBK World Superbike, AMA National Superbike and MotoGP World Championship. Superbike, sportbike, grand prix, MotoGP, race, racing, news, coverage, photos, pictures, Fast Dates Calendar and Umbrella Girls. Racing, road race, track, motorcycle, news, results, girls, models, Mat Aladdin, Max Biaggi, Valentino Rossi, Ben and Eric Bostrom, James Toseland, Regis Laconi, Loris Capirossi, Troy Bayliss, Troy Corser, Noriyuki Haga. Ducati 999 Monster Multistrada, Yamaha R6 R1, Honda CBR600RR CBR1000RR, Kawasaki ZX6 ZX6RR ZX10, Suzuki GSXR600 GSXR750 GSXR1000, Aprilia Mille, MZ Agusta F4 Brutale. Los Angeles Calendar Motorcycle Show.



Click to Order Now!
Fast Dates Racebike Pinup
No other sportbike calendar gives you the world's top factory Superbikes!
Take Chis Vermeulen's Ten Kate Honda CBR1000RR cover bike and al the other top factory World Superbikefor a spin!
14 Month 2006 Calendars
start November 1st 2005
Iron & Lace Custom Bike Pinup
Featuring the beautiful
Fast Dates World Superbike Girls
Chandi, Andra and Taylor in
Iron & Lace, Garage Girls



Title in the Bag for Troy Corser and Suzuki
At Imola last weekend, Alstare Suzuki Corona Extra rider Troy Corser duly wrapped up the 2005 Superbike World Championship, completing a remarkable triple. It was Troy's second Superbike Word title, Suzuki's first and also the first time that Suzuki has taken the Manufacturer's Title. The last fact is particularly noteworthy as there are only two Suzukis on the grid this season (Troy and Yukio Kagayama) against a phalanx of Ducatis, Hondas and Yamahas. Troy is also the first rider, in World Superbike history, to win the title on two different marques - his first was on a privateer Ducati in 1996.
Troy Corser -
"It was great to take the title last weekend and not have to worry about waiting until Magny-Cours to do it. It is a shame that the second race was cancelled in Imola, but the conditions were far too dangerous to race. We had a little celebration on Sunday night with the whole team, but we'll be saving the proper party for Sunday night at Magny-Cours. Before that though, we've got some business to attend to. I feel very good about Magny-Cours and I will be aiming to finish the season in style with a couple of wins. I was very happy when we tested there, so we'll be starting the weekend with lots of information and ready to race. Two wins would be good, though I suppose I could share the wins with Yukio and end the season as we started in Qatar."
Yukio Kagayama -
"Firstly I'd like to congratulate Troy-san for the title. It's important for him, our team and also Suzuki. I don't think Suzuki have realised this achievement yet, because the season is not over. I am happy to go to Magny-Cours because I have tested there and so it will not be yet another new circuit for me to learn. Imola was a disappointment for me, but I hope to make a good show at Magny-Cours and end with a couple of podiums - and maybe a win."


2006 FastDates.com Calendars World Premier
at Brands Hatch
World Superbike England
Complete Coverage Here
Most Riders Remain
Unsigned in
World Superbike -
Will Ducati Corse Clean House and Get an All New Team After Its Worst Season Ever?
With many contracts still to be signed there is still frantic activity in the paddock. Ducati are believed to be announcing their line up later this week, believed to be fomer Ducati World Superbike Champion Troy Bayliss and newcomer Lanzi. Will Laconi or Toseland be sent to the USA to join Neil Hodgson, or to Great Britain to join Gregorio Lavilla on a British Ducati team? All the news will be here at FastDates.com as it happens. And coming soon - a full season review.
Attendance Up at Magny Cours, Even with SBK Title Decided Last Week at Imola
Sunday 9th October 2005 - With a 5% improvement over 2004, the provisional overall weekend attendance figure for the 12th Round of the Superbike World Championship at Magny Cours circuit was 56.000
2006 World superbike official Test Schedule Announced
Magny Cours, Saturday 8th - The 2006 Superbike World Championship Official Tests calendar has been defined. After a thorough analysis and thanks to the co-operation of all teams FGSport has fixed the dates for the entire 2006 Season.
The Official Superbike World Championship Tests will be on the following dates:
Valencia: 27th, 28th & 29th March
Misano: 12th and 13th April
To the tests of Valencia will take part Superbike, Supersport and for the first time Superstock 1000 Permanent Teams.
The Misano tests will be opened only to Superbike and Supersport Permanent Teams.
The Development Teams Tests dates are the following:
Brno: 12th, 13th and 14th June
Eurospeedway Lausitz: 15th, 16th and 17th July
Cool Chick Rock Music
from "Instant Star" and "Radio Roscoe" Teen TV Pop Dramas


Alexz Johnson
Sex Starved Star of Instant Star




Skye Sweetnam
Os So Sweet CoStar and Music source for Radio Roscoe


Megan Slankard
More great pop rock
Hope Partlow
Click to listen to her hit song
"Who We Are"
Martin Unscathed in Magney-Cours Crash as Season Ends on a low for Foggy Petronas Racing
Oct 9th - Foggy PETRONAS Racing's season ended on a low note when Steve Martin was involved in a multiple pile-up at the start of the second race at Magny-Cours, France.
He was unable to re-start that race, leaving the team without a race finish at the final round of the Superbike World Championship, as Chris Vermeulen and Lorenzo Lanzi shared the celebrations.
The day started badly for Steve when a technical problem in morning warm-up forced him to use his number two bike for the first race. When oil was spotted on his belly-pan as he dropped through the field, he was pulled in by the team after 10 laps.
Back on his favoured bike for the second race, Steve was the innocent victim of a spectacular crash at the first corner and was lucky to escape uninjured.
Standing in for the injured Garry McCoy, substitute rider Andi Notman suffered similar misfortune. After crashing out of the first race while lying 19th, his second race was ended after three laps by a technical problem.
Carl Fogarty described his team's fortunes at the final weekend as a 'kick in the teeth'. He said: "After how we have been doing in the last few rounds, this last round was a disaster. It's a kick in the teeth and it hurts. It is going to be hard to bridge the gap to the front-runners but the engine development team are confident they can do that over the winter."
Charlotte Martin
On Your Shore

Join FastDates.com at a Live Charlottte Martin Recording and DVD Release Party in Hollywood Nov 17th!
Join us live as Charlotte invites you to the intimate recording of her debut DVD, Something Like A DVD. The private recording is slated for Thursday, November 17, 2005 at The Silent Movie Theatre and the $40.00 USD ticket price includes entrance to the DVD recording, access to the autograph signing, and one autographed copy of Something Like A DVD.
"Hi everyone! I miss you so much and am so excited to see you on this fall tour and at the DVD show. This tour kind of wraps up the On Your Shore thing for me and I'm sad about that, but at the same time am very excited to pre-release Veins to you all on the road. It will also be available for presale on iTunes and Musictoday in November.
It's time to close and open a new chapter, and I'm grateful to all of you who have stayed on this journey with me and to those of you who just joined me.
I'm super excited about Something Like A DVD!!! It is going to be a lot of things-string sessions from On Your Shore, tour footage from my past tours over 2003-2005, some interviewing and of course...the LIVE TAPING which you are all invited to be at!"

Complete details with ticket ordering on Charlotte's website at:
charlottemartin.com

THQ and Climax announce new MotoGP game for XBox 360™
THQ Inc. have announced that the MotoGP Ultimate Racing Technology game will have next-gen audiences racing on the Xbox 360™ video game and entertainment system from Microsoft.
Combining fast-paced, knee-scraping racing action with the very latest technology, the next installment of MotoGP URT looks set to bring motor sport to an unprecedented level of realism and intensity. The MotoGP URT franchise has met with worldwide critical acclaim with MotoGP URT 3 (launched on September 2nd 2005) being hailed by experts as "the best racing game on Xbox" and "the best motorcycling simulation game".
Ecstacy and Agony for Vermeulen and Honda Riders at Last Race of the Season
A final day of high drama and shifting fortunes made for another delayed end to raceday in the Superbike class. Chris Vermeulen (Winston Ten Kate Honda) got the day off to a superb start with a transcendental win in front of the 56,0000 weekend strong sun-kissed fans, with a margin of victory of over eight seconds from second placed rider Yukio Kagayama (Suzuki). It was his sixth race win of the 2005 season. His weekend ended in an unforeseen fashion, as his chain jumped the sprockets after the rear sprocket appeared to get damaged by a foreign object. Leading the race from Lanzi until he was forced out, he retired on lap 19.
Karl Muggeridge (Winston ten Kate Honda) equalled his season best of fourth in race one, then suffered a heavy fall on the race two start line, while Max Neukirchner (Klaffi Honda CBR1000RR) had the first of two eighth places in race one. His team-mate Pierfrancesco Chili (Klaffi Honda CBR1000RR) took a DNF from race one, but a tenth place from the re-run second race.
Ben Bostrom (Renegade Honda Koji CBR1000RR) soaked up more points in each race, finishing 12th and 11th.
In addition to taking the new outright track best in Superpole qualifying, with a 1'39.836, Vermeulen lapped under lap record pace in race one, with a 1'40.985 - a new race lap record until race two winner Lorenzo Lanzi improved it once again, to 1'40.601. In third place, James Toseland (Ducati) just held off Muggeridge for the final podium slot, after a final few laps of breathtakingly close contact between the two.
In race two a five rider pile up, after Muggeridge and Andrew Pitt (Yamaha) collided shortly after the start, saw Muggeridge receive stitches to a head would caused when his bike landed on him, and two other riders, Giovanni Bussei (Kawasaki) and Steve Martin (Petronas) fail to make the restart.
Vermeulen was delighted with his race one win, but mystified by his race two misfortune. His points total grew to a final 379, only 54 from champion Corser, despite two DNFs.
"In race one it may have looked like it was a bit of a cruise but Yukio kept me honest," said Vermeulen. "He was riding at 100% all the way to the flag. I'm not happy about race two, that's for sure. We've only had two DNFs this season and neither of them has been my fault. It's better if that sort of thing happens on the first lap because after you've put in all that hard work, it hurts a bit. Our season started badly and it's just ended badly, too; but there have been a lot of high points in between and we've certainly shown lately that we've got the bike working a lot better."
Chili ended his inaugural Honda Superbike season in tenth place, once more spending raceday attempting to overcome chassis set-up issues for his particular riding style.
"A very tough weekend," said Chili in summation. "I felt the bike chattering and lost time in race one. Then I thought I had no chance to do better lap times so I retired. In the second race I tried to change everything - offset, spring on the rear, swingarm position - we tried to modify a lot. We needed to get rid of chatter and gain quick steering at the front."
Muggeridge, who was lucky to escape more severe injury than his cut head and bruised body, is only seven points behind Chili in the final table, on 124 points. After race one, Muggeridge was determined to score a podium in race two, after such a good showing.
"I just braked a little too late into the hairpin on that final lap and ran maybe two meters wide, " said Muggeridge of his race one experiences. "That allowed James through and I was just too late to do anything about it."
Neukirchner's rookie season ended in another two secure points scores, as he once more ran with the leading groups of riders.
"The first race was OK," said Max of his Magny-Cours weekend. "I lost only ten seconds to the second placed rider, and the lap times and tyres were very good throughout. But in race two – maybe because the track temperature went up – the same tyres were not good for me. The last ten laps were very hard. I guess in the last few races I scored consistent points, so that was important for me."
In pain for the last few rounds, as he has struggled to throw off a back injury, Bostrom was glad to get Magny Cours over with, scoring nine points and finishing his year overall 15th, on 58 points.
"I'm beat up again," said Bostrom. "I need a few months off I think. The bike was quite good, but the clutch wouldn't take two starts, so we couldn't make a second good start in race two. I just let the clutch out and nothing. It was making so much noise I thought the fairing was dragging at one stage. I backed off and was almost coming in then the noise stopped. In the last five laps I lost a lot of grip from the front as well."
Ducati Xerox Team Ends Season with Toseland on the Podium, Injured Laconi on the Bench, newcomer Lanzi Taking a Win
Magny-Cours (France), Sunday 9 October: The 2005 World Superbike Championship came to a close at Magny-Cours with a third place finish for James Toseland (Ducati Xerox Team) in the first race, which was won by Chris Vermeulen (Honda). Toseland had to fight hard to hold off the challenge from Karl Muggeridge (Honda) for the podium, and then finished sixth in the second race of the day after battling with 2005 world champion Troy Corser (Suzuki) and Chris Walker (Kawasaki).
Team-mate Régis Laconi had a disappointing end to his 2005 season. After checking on his condition in the morning warm-up, the Frenchman was unable to take part in today's races due to his previous arm injury, which was causing him considerable difficulty around the Magny-Cours track.
The day was a memorable one for Ducati however as Lorenzo Lanzi sensationally took his second win of the season in race 2. Lanzi, riding a third Ducati 999F05 for the Ducati SC Caracchi team with additional Xerox branding, took the factory machine to its sixth win of the year in an all-Italian triumph.
"That was a good hard fight I had with Karl but it was very fair" declared Toseland, "I've cleaned the blue paint of my fairing and he can clean the red off his! We were a little bit wide in places, he left half a gap but it was a very close race. I was riding for my pride out there and so I just gave it all I had. It was great and I'm just so pleased to get on the podium after all the difficulties we've had this weekend"
"There was nothing that could be done today because there are just too many right hand curves on this track" declared Laconi. "I have very little strength in my right arm and it was impossible to do more than a couple of laps. I tried this morning and it was not possible to race. It's tough for me because it's the final round but it would have been too dangerous for myself and all the others if I had taken part in the race. I will need another month to get back to full fitness, hopefully I will be ready for the winter tests and obviously also for 2006. That's life, this injury has ruined the end of my season, it's a real pity".
Ducati Corse Superbike director Paolo Ciabatti added: "It has been a difficult season for Ducati and the opposition has been very tough this year. But we have shown that the Ducati 999F05 is still a winning machine and that it has won in the hands of all three riders who have raced it, James, Régis and Lorenzo, and we look forward to the 2006 season. A big thanks to all of our partners who have accompanied us this year, in particular title sponsor Xerox, with whom we are in the first year of our partnership, and technical sponsor Shell Advance for all of their support".