2006 SBK World Superbike Championship

Corser Sets the Pace in World Superbike Testing at Phillip Island

Philip Island, Jan 17-20th 2006 - New machinery modifications and the latest Pirelli control tyres contributed to the high pace set by the leading runners in the most recent pre-season tests, at the Phillip Island circuit in Australia. Three main teams were in attendance, the Alstare Corona Extra Suzuki squad, Yamaha Motor France and Petronas, in what was scheduled to be a full four-day test.

CHAMPION STAMPS HIS AUTHORITY: Current SBK™ World Champion Troy Corser (Alstare Corona Extra Suzuki) was once more the master of not only his home circuit, but of his peer group, as he set the fastest times of the test – in both single lap sprints and race simulations. His absolute best was 1'32.79 but he put in a race simulation time almost 30 seconds faster than last year's race times. The 1996 and 2005 champion put that level of performance down to improvements in his Suzuki GSX-R1000 and a great leap forward in the control Pirelli tyres, particularly the newest rears. He did not opt to run on the final day, such were the high winds – an unpredictable factor which frequently affects this particular track, located so close to the seashore.
Corser's team-mate Yukio Kagayama was one of only three regular SBK pilots to ride on the final day of testing. He nonetheless improved his best time to 1'33.5, for third fastest overall.
Team Alstare Suzuki Corona Extra completed a very successful four day test at Phillip Island and left Australia in a happy and positive mood. Strong winds hampered proceedings on the final day but by then Troy and Yukio had already completed most of the work they had set out to do. Troy did a race simulation faster than his race last year and finished the tests nearly three quarters of a second quicker then his nearest rival. Yukio was only able to do his race simulation on the final day - in conditions the other rides described as 'scary'. However, Yukio knows no fear and completed the race distance without any major dramas.
Unlike most years, the tests were not blighted by large seabirds and the only wildlife to put in a track appearance was a kangaroo on day two just as Troy was going round Honda corner. Fortunately he saw it in time and was able to take avoiding action.
"I was happy with our preseason tests at Phillip Island last year and I'm even more happy this year!" said Troy. These four days have been very positive for all of us and we've done a lot of very useful work. The 2006 bike feels better then last year's bike already and although there are no major changes, a lot of things are working better and I feel very comfortable on the bike straightaway. The engine feels better (both in mid-range and top end) and, thanks to all the work we've done, the electronics are working better as well. I can easily adjust more things on the bike and that's a great feeling to have at this stage. The 2005 GSX-R1000 Alstare Suzuki was a great bike, so there was no need to make any radical changes, but this year's bike feels really good. I'm also happy with the progress Pirelli have made and looking forward to even more improvements. Overall, I'm very happy how the tests have gone and feel ready to race this bike tomorrow!"

MARTIN MAGNIFICENT FOR PETRONAS: Despite comparatively recent kidney surgery and feeling only 95% fit, Petronas FP-1 rider Steve Martin went over two seconds faster in race conditions than he managed last year, with a best of 1'33.4 coming on day three. His plan to complete a final race simulation on the last day fell foul of the high winds, but both he and his rookie team-mate Craig Jones can leave Phillip Island with a feeling of satisfaction at their progress. It was a particular boost to the Foggy Petronas team for Martin to record a best single lap time inside that of Suzuki rider Kagayama. Jones, the young Briton drafted into the team for the 2006 season, set a personal best of 1'35.6.

YAMAHA MOTOR FRANCE FINISHES TESTING EARLY: The three man Yamaha Motor France IPONE squad ended their test with one day left to run, having satisfied themselves of the efficacy of their new front forks and engine electronics systems. Norick Abe set a best time – on race tyres - of 1'34.5, only a tenth of a second faster than his 2005 team-mate Sebastien Gimbert. Each was reported to have gone faster on qualifying rubber. New inductee to the team, Shinichi Nakatomi, scored a best of 1'35.1 on his last day of testing.

SEASON BUILD UP CONTINUES: Preparations continue for the vast array of teams intent on SBK™ glory in 2006, with tests in Spain the most popular choices for many, in the run-up to the start of the year at Losail, Qatar, on Saturday 25 February. Phillip Island itself becomes the venue for the second round of the series, on Sunday 5 March.

Unofficial Times
Troy Corser (Alstare Suzuki): 1'32.79
Steve Martin (Petronas): 1'33.40
Yukio Kagayama (Alstare Suzuki): 1'33.5
Norick Abe (Yamaha Motor France): 1'34.5
Sebastien Gimbert (Yamaha Motor France): 1'34.6
---
Kate Beckinsale returns to Kick
Werewolf Ass and Seek Revenge
Underworld Revolution
Now in theatres!

Jan 20th - In the sequel to the $100 Million world wide hit and a FastDates.com favorite of beautiful Chicks Who Kick Ass, Underworld Evolution continues the saga of war between the aristocratic Death Dealers (vampires) and the barbaric Lycanns (werewolves). The film traces the beginning of the ancient feud between the two tribes as the beautiful vampire heroine Selene (Kate Beckinsale) discovers that she has been betrayed by her own kind and seeks revenge. This is one girl you do not want to piss off! This fast-paced modern-day tale of deadly action, ruthless intrigue and forbidden love (Kate gets naked!) takes them into battle to end all wars as the immortals must finally face their retribution. We've seen it and its great, and it was the Number 1 selling movie on opening weekend.
More on Kate Beckinsale

More on www.EnterThe Underworld.com
---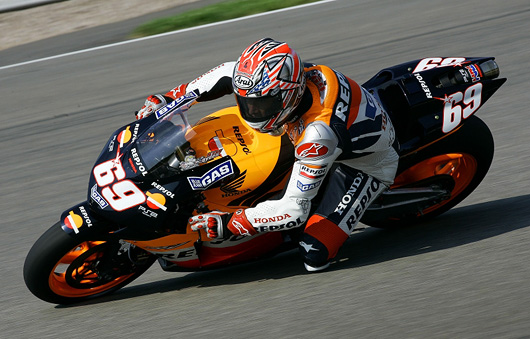 Nicki Hayden (above) will spearhead the Honda factory MotoGP team this season, partnered with rising new star and reigning 250cc World champ Daniel Pedrosa

Honda 2006 Motorcycle Racing Plans

January 18, 2006
- Honda Motor Co., Ltd. has finalized its Motorcycle Racing Plans for 2006, as outlined below. For the 2006 motorcycle racing season, Honda has set its sights on securing the championship in each category as well as on the new challenge of winning with next-generation teams featuring young riders in the World Championship MotoGP class, the top class of world championship road racing. The hottest new rider in the shrinking MotoGP starting fields is Nicki Hayden's new team mate on the front line Repsol squad, 2005 World 250cc Champion Danny Pedrosa. Noticeable by his absence is Honda front runner Sete Giberneau who is now riding for the Ducati motoGP team.
You will note that veteran Max Biaggi is left without a factory Honda ride this season, with the loss of the satelight team's former Camel sponsorship to Yamaha. No word yet if Biaggi has found a ride anywhere in MotoGP or is left out at the end of his racing career. Former Suzuki World Champion Kenny Roberts Jr has lost his Suzuki ride and will be racing for his father's KR team with Honda motors.

Noticeable by its absence in this press release is no mention of American Honda's AMA Superbike team, which receives no support from the Honda factory in Japan. Despite the fact America is Hondas biggest market, the Japanese facotory coninues to have a bad relationship with the motorcycle division of American Honda. This is why the US team has been racing production CBR1000RRs without factory parts or support. Whereas the Japanese factory does support the HM Plant team in British Superbike.
FIM Road Racing World Championship Grand Prix
MotoGP 990cc class
In the MotoGP class of the Road Race World Championship Grand Prix (WGP), Honda plans to race six RC211V MotoGP machines and to supply engines to one team, with the aim of capturing both the riders' and the manufacturers' titles. Daniel Pedrosa, who moves up to the MotoGP class this year after winning consecutive WGP 250cc class championships in 2004 and 2005, joins the works team of Repsol Honda, competing alongside Nicky Hayden, now in his fourth year as a MotoGP class rider.
Team Riders:

Repsol Honda

Fortuna Honda

Konica Minolta Honda Team
Honda LCR

(Engine supply)
Team Roberts

#26 Daniel Pedrosa (Age 20, Spain)
#69 Nicky Hayden (Age 24, USA)
#24 Toni Elias (Age 22, Spain)
#33 Marco Melandri (Age 23, Italy)
#6 Makoto Tamada (Age 29, Japan)
#27 Casey Stoner (Age 20, Australia)



#10 Kenny Roberts Jr. (Age 32, USA)



MotoGP 250cc class
In the 250cc class, Honda will field four riders and two teams with the RS250RW. Shuhei Aoyama, last year's All-Japan Championship GP250cc class champion, will participate as the third recipient1 of the Honda Racing Scholarship, started in 2004 to foster young Japanese riders.
1. First recipient Hiroshi Aoyama, second recipient Yuki Takahashi
Team Riders:

Repsol Honda Team 250

Team Scot

#19 Sebastian Porto (Age 27, Argentina)
#73 Shuhei Aoyama (Age 21, Japan)
#34 Andrea Dovizioso (Age 19, Italy)
#55 Yuki Takahashi (Age 21, Japan)


All Japan Road race Championship Series
Honda's participation in this year's All-Japan Road Race Championship Series, where it captured the series titles in four classes last year for the second year in a row, will be centered on teams run by Honda dealerships and supported by Honda Motorcycle Japan. The teams will be vying to recapture the series championships in their respective categories, running a CBR1000RR in the JSB1000 class, a CBR600RR in the ST600 class, a RS250R in the GP250 class, and a RS125R in the GP125 class.
*Main Honda teams and their participating riders will be announced by Honda Motorcycle Japan on January 18.
ACU2 British Superbike Championship
Due to the success of such riders as Ryuichi Kiyonari, who advanced to the No. 2 spot in the rankings with most season wins, Honda captured the manufacturer's title in the British Superbike (BSB) last year. Honda plans to race two CBR1000RRKs, with the aim of capturing a double title in both the rider's and the manufacturer's categories. ACU stands for Auto-Cycle Union (UK).
Team Riders:

HM Plant Honda Racing

#2 Ryuichi Kiyonari (Age 23, Japan)
#9 Karl Harris (Age 26, UK)
---

Sete Giberneau (left) joins Loris Capirossi on the Ducaci MotoGP team for 2006.
Ducati Introduces its new 2006 MotoGP Team Riders
and Desmosedici GP6 Bike in the Snows of Madonna DiCampigilo
Wrooom 2006, Madonna di Campiglio (Tn), Italy, January 17-19 - The Wrooom - MotoGP Press Ski Meeting 2006, the annual appointment on the mountains of Madonna di Campiglio in Trento, got underway today with the Ducati Marlboro Team riders spending several days of training and relaxation before the start of the coming MotoGP season. The formula of the event revolves around skiing in the mountains together with a round of press meetings and conferences.
Today the first two scheduled press conferences saw Federico Minoli, President and Managing-Director of Ducati Motor Holding, and Sete Gibernau, the Borgo Panigale team's new rider, give some early news on the Ducati Marlboro Team's 2006 season.
"We race to win and in our fourth year of participation in MotoGP we expect to win more than we did in 2005. We are sure that the team is stronger this year and we are ready for this fourth season with all the right cards to get some good results and to capitalize on our investment, also in view of the development of new technology aimed at our production sector" declared Federico Minoli in his speech to the press. "Racing is in Ducati's DNA, we feel that we are responsible for taking and communicating Italian technology all over the world, and we are proud to be able to do so."

"Right from the start of the project we have had a positive collaboration with Phillip Morris" added the President of Ducati Motor Holding, "and I am extremely pleased to announce here today that Ducati Corse has extended the sponsorship agreement with Phillip Morris International until 2011. It is a unique partnership, one that since 2003 has linked together two of the most prestigious names in the world with the positive results that are visible for everyone to see. Together we can look forward to the future and the victories to come".
Then it was the turn of Sete Gibernau, on his first official appointment as Ducati Marlboro Team rider. The Spaniard, who has already had an opportunity to test the Desmosedici GP6, last November at Valencia and Jerez, said he was delighted with his decision and is looking to the future with optimism, confident in the potential of the Ducati-Bridgestone pairing.

"Being in a team which is 100% behind me, with the ambitions, the means and the enthusiasm to produce good results, is like realizing a dream" declared Gibernau on greeting the press at Wroom 2006. "Every day that goes by I feel better in the team and I am sure that it will be an entertaining season, full of satisfaction and that I will be capable of repaying the trust that has been put in me".

"It's going to be a difficult year, because every year MotoGP becomes more and more difficult and competitive, but I'm not afraid of the job ahead as I know exactly what was missing last year and what I need to do this season to get good results. The potential is there, day after day I'm more and more convinced of that, and I can only look ahead with optimism. In a few days time we'll be leaving for the tests but after the first laps I completed in November on the Desmosedici, I could see that it was a great bike, albeit completely different to what I had ridden before. Add to this a great team and a company that has always made racing its philosophy and I am sure that I have made the right decision."



The new 2006 Desmosedici GP6.
January 18 - The Wrooom MotoGP Press Ski Meeting 2006 continues for a second day at Madonna di Campiglio in northern Italy. Today, in a unique and spectacular setting - the finish-line of the legendary '3-Tre' course at Campiglio - the Ducati Marlboro Team pulled the wraps off the Desmosedici GP6, the new MotoGP machine that Loris Capirossi and Sete Gibernau will be campaigning this season.
Claudio Domenicali, Ducati Corse Managing-Director, was on hand to illustrate the key technical changes for the new bike from the Borgo Panigale manufacturer. "Racing in MotoGP allows us to operate with machines that are pure prototypes, developing technology that will subsequently be transferred to our production bikes. Ducati has always borrowed concepts and innovations from the racing world, and we transfers the possible benefits to our entire production range" declared Domenicali to the press after unveiling the Desmosedici GP6.

"The Desmosedici GP6 represents an evolution of the GP5; apparently it doesn't present any marked differences with its predecessor, but it is in fact an important step forward. The bike is lighter but we have done a lot of work on its stiffness (with the frame, rims and front forks), especially at the rear of the bike. The composite structure that we call the seat support has been totally redesigned and stiffness has been increased by more than 80%. The bike's ergonomics have undergone a notable evolution with the fuel tank modified in line with requests from the riders. We have also focussed on the bike's 'driveability', and in this area we have made available a whole new range of instruments and technologies that will allow the race engineers to package the power behaviour and delivery of the engine according to the requests of the riders and the conditions of the track.
We have also worked on engine power, modifying the internal fluid dynamics and as a result we have a different thermodynamic layout. We have attempted to increase power as well as reduce fuel consumption, an area to which we have dedicated a lot of attention, by working maniacally on engine friction. One point of which we are particularly proud is the reliability of the bike; in 2005 we took part in 17 races with two riders, without ever having a problem, and we have also maintained this line for the next season."

"The evolution of the bike has obviously involved our partner, Bridgestone. Even though we know that we still have some work to do on certain kinds of track, we also know that we are on the right road and the results of the last few races of last season confirmed this improvement; our aim now is to be competitive at every circuit."

"The 2006 team is a very strong one on the rider front. Loris is a confirmation for us and as soon as the bike-tyre package allows, he makes no mistakes and brings home great results. A warm welcome for Sete Gibernau, whose joining us is a clear demonstration of the importance that is given in our team to the role of the riders: Sete is a great rider and he and Loris together make up a great team."
Then it was the turn of Loris Capirossi who appears more motivated and fired-up than ever on the eve of his fourth season with the Bologna manufacturer and team."I have seen the birth of this project" declared Loris on greeting the press at Wroom 2006, "and I consider it to be an honour to still be in the team and still be riding the Desmosedici. It is a fantastic, stimulating project that has given us some great satisfaction but which, I feel sure, will give us some more this season. For 2006 we have an extremely efficient package with great potential, thanks to the development and evolution that the bike has had and to the collaboration with similarly motivated and capable partners, like Bridgestone, who demonstrated what they were capable of last year. We've still got some way to go obviously and our championship begins at the forthcoming tests in Malaysia. Our aim will be to produce good performances on a regular basis, which will be the key for the difficult season that lies ahead of us. The team is strong and motivated and everyone is working with great professionalism, expertise and seriousness, we are truly a great team!".
Regarding his new team-mate, Sete Gibernau, Loris added: "We are working well together despite going in different directions, but we both have the same aim - to have a bike that allows us to fight for the win. Sete is a great rider, I get on well with him and the collaboration between us since the first day of testing confirms the Ducati Marlboro Team's potential for the 2006 season."
Tomorrow will be the final day of Wroom 2006. Guests will bid farewell to the snows of Madonna di Campiglio with a slalom race on the Grosté course between Ducati Corse riders and management and journalists. From Monday the Ducati Marlboro Team will get down to its first test of the new season at the Sepang circuit in Malaysia (January 23-25), immediately followed by another three-day test session at the Phillip Island circuit in Australia from January 30 to February 2.
---


Calendar Kitten to Kick Bunny Tail in Lingerie Bowl on TV February 5th
Meet Cora Skinner, one of our newest Calendar Kittens who will be featured in all the upcomming 2007 FastDates.com Calendars. Fortunately you won't have to wait 5 long months for the July 1st release of the Calendars to see more of this very sexy raven haired, log legged beauty. Cora will be featured in the Lingerie Bowl which airs on Pay Per View TV on February 5th during half time on Superbowl Sunday. Cora will be playing on the Los Angeles Temptation team. Be sure to tune in to watch our beautiful Calendar Kitten kickin' some Bunny cottontail! More Cora HERE
Fast Dates Calendar Motorcycle Roadracing News. Complete coverage of the SBK World Superbike, AMA National Superbike and MotoGP World Championship. Superbike, sportbike, grand prix, MotoGP, race, racing, news, coverage, photos, pictures, Fast Dates Calendar and Umbrella Girls. Racing, road race, track, motorcycle, news, results, girls, models, Mat Aladdin, Max Biaggi, Valentino Rossi, Ben and Eric Bostrom, James Toseland, Regis Laconi, Loris Capirossi, Troy Bayliss, Troy Corser, Noriyuki Haga. Ducati 999 Monster Multistrada, Yamaha R6 R1, Honda CBR600RR CBR1000RR, Kawasaki ZX6 ZX6RR ZX10, Suzuki GSXR600 GSXR750 GSXR1000, Aprilia Mille, MZ Agusta F4 Brutale. Los Angeles Calendar Motorcycle Show.



Motorcyclist Magazine Picks on Fast Dates.com Editor in February Issue
To: Mitch Boehm & Brian Catterson, Editors
Motorcyclist Magazine

Hey guys! Thanks for the nice editorial feature in the February issue of Motorcyclist (page 27) on the SBK World Superbike endorsed 2006 Fast Dates Racebike Pinup Calendar sponsored by Performance Machine and Jardine Performance!
As for your comment the FastDates.com Calendars
feature "...unobtainable women astride gorgeous, unobtainable
motorcycles..." it has always been my unselfish goal in life to share
this extraordinary 2-wheeled and 2-legged equipment with my many friends through the
FastDates.com Calendars.
Now, just to support your own fantasy that people do read what you write, I also noticed the photo caption on page 39 of said issue's test of the MV Agusta, "Certainly, the F4 1000S .... Far from cheap at $21,495, it's nonetheless more affordable than a certain editor's Ducati."
In "a certain editor's" defense, I have to say my race replica $30,000 Ducati 999R Superbike with a full Termignoni Race Exhaust system, BST
Carbon Fibre Wheels, Ducati Performance Slipper Clutch and a other assorted goodies, is about as good as it gets. Throw in my beautiful neighbor, Playboy Playmate Tamara Witmer (August 2005) to polish the
paint, and price becomes no object (except at tax return time where it becomes a fully deductible business expense).
I'd like to invite both Motorcyclist's and FastDates.com readers to get involved in the difficult, stressful creative process of producing the upcoming 2007 Fast Dates Racebike Pinup calendar.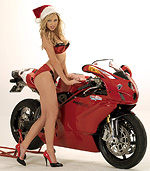 Please try to guess which month of the 2007 Calendar this picture of our Ducati 999R with Playboy Playmate Tamara Witmer will be appearing. Send your guess with your name and mailing address to
Contact@FastDates.com.

From the correct answers, a winner will be drawn at random to receive an autographed copy of the 2007 Fast Dates calendar when it World Premiers this summer July st on FastDates.com, and at the Brands Hatch, Great Britain, SBK World Superbike round August 6th where we'll be shooting the next Fast Dates World Superbike Calendar (Brian, I do need need a photo assist to carry the bikinis if you're available).
Thanks again!
Jim Gianatsis, Editor, FastDates.com Calendars
Click to Order Now!
Fast Dates Racebike Pinup
& Garage Girls



Strong Winds Hamper World Superbike Testing at Phillip Island
Jan 17-20th Strong winds at Phillip Island's costal circuit proved a force to be reckoned with for FPR's Steve Martin and Craig Jones, on the second day of the team's four day test.
Both riders made good progress on their PETRONAS FP1 bikes at the outset of the day, with Craig becoming increasingly confident in his familiarity of the circuit and improving on his lap time from yesterday by over a second, to 1:36.75.
Steve was straight back on the pace and able to consistently lap in the low 1:34s on standard race tyres, to finish the day with a time of 1:34.04 – over one and a half seconds faster than his quickest lap time during the race at Phillip Island last March.
Steve and Craig both completed forty one laps each but, were forced to sit out much of the afternoon's track session, along with other riders present at the test, as strong winds that swept across the costal circuit greatly affected the handling and stability of their bikes.
Craig said, "I'm happy with my progress in learning the track today and it's a shame the winds were so strong this afternoon that it limited the amount of laps we could do. Hopefully it will die down for tomorrow as it's too dangerous to ride at high speed as the wind just pushes you off line. I tested some different rear shock settings and have found a direction I'm happy with, so we've got a good game plan for tomorrow."
Steve commented, "From straight out this morning I was back in the 34s and lapping there comfortably until the terrible wind came in this afternoon. So that we didn't waste testing time I was able to do a few slow runs in the afternoon in order to gather data for some system developments, but tomorrow I'm looking forward to testing three new specification rear tyres which should give me more speed."
Unofficial Times
1. Troy Corser (Alstare Suzuki) 1:32.81
2. Yukio Kagayama (Alstare Suzuki) 1:33.62
3. Steve Martin (Foggy PETRONAS Racing) 1.34.04
4. Norick Abe (Yamaha France) 1:34.88
5. Sebastien Gimbert (Yamaha France) 1:35.20
6. Shinichi Nakatomi (Yamaha France) 1:35.8
7. Craig Jones (Foggy PETRONAS Racing) 1:36.75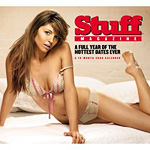 Terminator
Not Licensed to Kill
January 7th - California Gov. Arnold Schwarzenegger did not have the proper motorcycle endorsement on his California driver's license when he collided with a car in his Brentwood neighborhood last weekend, the Los Angeles Police Department said.
Schwarzenegger, accompanied by his 12-year-old son, was operating a sidecar-equipped Harley-Davidson when involved in the collision that left him with 15 stitches in his upper lip.
Although Los Angeles police said the governor broke the law when he drove the bike without a motorcycle license, "We have no way of citing someone we did not observe driving," a police spokeswoman told the Associated Press.
Police referred their findings to the Los Angeles city attorney's office, which said prosecutors decided not to get involved because the incident was a minor matter that would have resulted in no more than a traffic ticket.
In 2001, Schwarzenegger broke six ribs in a crash that sent him to the hospital for four days.
To get a motorcycle endorsement in California, a rider must pass a Department of Motor Vehicle skills test or take a motorcycle training course from a program approved by the California Highway Patrol. Driving a motorcycle without the proper license is an infraction that can result in fines ranging from $100 to $250 or more.
Cerberus Capital acquires Global Motorsport group
GLOBAL MOTORSPORT GROUP has announced that Cerberus Capital Management has purchased a majority stake in the company.
In making the announcement, John J. Lott, CEO and president of Global Motorsport said, "We are thrilled with this investment. The financial backing is a terrific win for our customers, dealers, vendors, company and employees. It will provide our key brands, Custom Chrome and Motorcycle Stuff, with the resources we need to be best positioned entering the 2006 motorcycle sales season."
Global Motorsports Group designs, manufactures, markets and distributes motorcycle parts and accessories and the FastDates.com Calendars through the Custom Chrome, Custom Chrome Europe, Custom Chrome Far East, Santee, and Motorcycle Stuff brands. The company is the largest independent supplier of aftermarket parts and accessories for Harley-Davidson motorcycles and commands significant market share in the broader motorcycle industry.
Headquartered in New York, Cerberus Capital Management, L.P. and it's affiliated entities manage funds and accounts with capital in excess of $16 billion.
---
The 2006 Pirelli Calendar Revealed!
the world's most exclusive and expensively produced pinup calendar
from the word's biggest tire manufacturer.
More Pirelli 2006 Calendar - Caution Nudity!

Gemma Scores
2007 Fast Dates Cover!
Jan 1st, 2006 - Beautiful 20 year old Irish Supermodel Gemma Gleeson was selected by FastDates.com Calendar director Jim Gianatsis to be the featured cover model of the new 2007 SBK Fast Dates Racebike Pinup Calendar which will be released world wide on July 1st, 2006.
Gemma is featured on the cover of the 2007 Calendar with reigning 2006 SBK World Superbike Champion Troy Corser's Team Alstare Corona Suzuki GSXR1000.
Gemma was one of three London based moderls with the agency UniversalModels.com, the official FastDates.com world-wide source for hiring a Calendar Kitten, who shot with Jim at Brands hatch zWorld Superbike in August of 2005 for the 2007 Fast Dates Calendar which is endorsed by the SBK World Superbike Championhip and sponsored by Performance Machine and Jardine Products.


Hire a FastDates.com
Calendar Angel
Now available for your special event and booking needs direct from CaliforniaHostess.com!
Ask for a FastDates.com Calendar Kitten when you call
Dominique at 1-310-430-4301
Pirelli USA hires
Richard Moore as Roadrace Manager
Long time professional racer Richard Moore has been hired by Pirelli USA to be their road racing manager for North America. Richard's racing success include numerous AFM 600 and 750 Stock Production Championships, 2-time WERA Western 24-Hour race winner, and 2-time 250cc lap time record holder at Willow Springs. Internationally, More was first privater in 1987 at the Suzuka 8-Hour race, and a member of the 2nd place Kawasaki team at the 1991 24-hours of LeMans.
Since 1987 Moore has owned and operated Indigo Sport, a supplier of high-preformace motorcycle parts. One of Ridckard's modified Suzuki GSXR race bike was featured in the 1996 Fast Dates Racebike Pinup Calendar with Playboy model sisters and Calendar Kittens Jody and Keri Hoskins.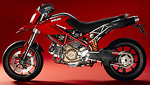 Hypermoto Testastretta?
Ducati Tests Surveys Different New Hypermoto Versions On Line
Jan 20th - The outrageous looking Ducati Hypermoto prototype was the star of the 2005 Milan Motorcycle Show, representing the latest flair from controversial designer Pierre Treblance, also responsible for the controversial 999/749, the trio of Sport Classics now in dealer's showrooms, and the totally great Multistrada which was awarded FastDates.com's Bike of the Year.
We reported last fall that Treblanche was let go from his Cheif Desinger position at Ducati as the company's world wide sales slumped in 2004 and 2005. In actuality, Pierre was demoted as Chief Designer and taken off the factory payrole, but is continuing to work for Ducati as an outside contractor, working from his own studio in Turin, 125 miles from the Bologna factory.
We love his new Hypermoto as a lightened, naked, kick ass version of our favorite bike -the Multistrada. But the Hypermoto's proposed DS1000 2-valve aircooled motor is a bit too tame for our liking, and the single front brake assembly is not enough stoppiing power for a 385lb. canyon racer. A hard core Ducati fan, FastDates.com editor Jim Gianatsis has been lobbying our friends at Ducati fo offer an additional hotter viersions of the protype Hypermoto which is planned for production.
What we'd like to see Ducati offer in addition to the base DS1000 engine 100hp model which they are advertising at 385lbs., two additional higher spec R model versions both with full Ohlins Superbike Suspension. Parhaps an R1 model with the hotter DS1000 3-valve watercooled head engine from their touring bike line with 120hp to still try and keep it light weight. But our first choice for the most radial naked bike ever would be a full race R2 version with the 140hp Testastretta 4-valve full watercooled engine.
We see our proposed new Hypermoto R2 Testastretta as the ultimate canyon carver, dominator in the expected new Supermoto 1000cc International class, and even a Superbike race winner in both club racing and on tigher race tracks at AMA Superbike Nationals.
It seems Ducati is taking our suggestion very seriously, as they are now conducting a survey on the Ducati.com Website to see if anyone else besides us would like to buy a hotter Testastretta engine Hypermoto with full Ohlins suspension. If such a bike gets you excited, we invite you to go on the Ducati website, register, take the survey and cast your vote for our proposed new Hypermoto Testastretta Cast your Opinion in the "New Concept bike" "HyperMotard Wins Best of Show" link pop-up window at Ducati.com