FastDates.com November 2005
Superbike, MotoGP Racing & Calendar Girl News
Official Calendar of the SBK World Superbike Championship
Home of the official SBK Fast Dates & Team Ducati Corse Umbrella Girls

Page 2 - Ducati's new Hypermotard Prototype
Calendar Girls to the MAXIM • Giberneau to Ducati

* Valencia MotoGP - 2005 Season Finale to Marco Melandri
• Magney Cours SBK World Superbike finale to Vermeulen, Lanzi,
Troy Corser and Alstare Corona Suzuki are 2005 World Superbike Champs
* AMA Season Final Mladin Takes 6th Superbike Title at Road Atlanta
• Fast Dates News Calendar Angels Go Wild at Brands Hatch Superbike
• AMA Pro Racing Continues Disastrous Bike Class Structure for 2006
• Dream FastDates.com Streetbike Edelweiss Vacation to France
• Joanna Krupa FastDates Calendar Angels scores Playboy cover pictorial
• Pirelli Calendar 2005 Supermodels get naked in Rio de Janero
• New Bikes! • Triumph 675 Daytona & Scrambler • KTM 990/950 Supers
• Ducati Multistrada S - Fast Dates Bike of the Year 2005!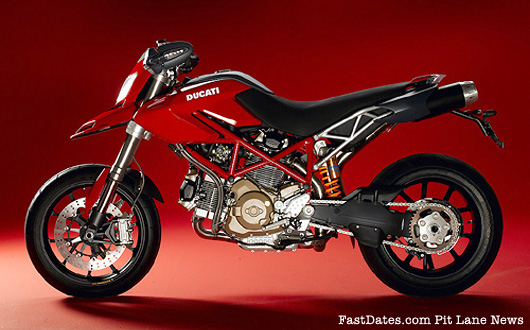 Ducati Unveils new Hypermotard Bike at Milan International Show
Milan, Italy Nov 15th - Ducati used this year's International Motorcycle Show in Milan, Italy, to introduce their first new proposed production prototype in 2 years, the Hypermotard. Think of it as a streetfighter performance version of the Ducati's Multistrada S which won FastDates.com's Bike of the Year title for 2005.
The Ducati Hypermotard is designed to attacks urban canyons and carve up mountain passes with total abandon. Stripped down to its essentials, the Hypermotard is an extreme performance, totally over-the-top motorcycle. Its purpose is single minded – to thrill. Incredibly slim and somewhat light, with a riding position to dominate, the Hypermotard is ready to rock every road. Race styling makes the blood boil, but the Hypermotard offers what no other bike in its class can: speeds exceeding 220 KPH on the track, fuel injection, and big bore acceleration with more than 100 horsepower in a 175Kg / 385lb package.
A rigidly triangulated Trellis frame and track-tested chassis geometry is matched with state-of-the-art suspension. Start off with road-holding 50mm Marzocchi R.A.C. forks, gripped by a triple screw lower fork crown, then add an Ohlins remote reservoir shock that mounts to a stout, single-sided swing arm. Ultra light forged and machined Marchesini racing wheels are paired with a single radial mounted Brembo four piston, four pad calliper gripping a 320mm disc up front and a 240mm disc at the rear.
The 1000DS Dual Spark engine pumps out torque and horsepower that is smooth and linear, because the roads that the Hypermotard seeks are neither smooth nor linear. A Slipper type racing clutch makes aggressive downshifting and heavy braking more exciting by damping the abrupt selection of lower gears while entering a turn. Magnesium engine covers subtract more weight for a feathery feel and athletic manoeuvres.

The wide tapered section handlebars transfer control of the tarmac to the rider. Full-length seat design lets the rider move fore and aft, up-front entering the turns, back for maximum traction on exit.
The Hypermotard. Two wheels, one purpose. The most thrilling ride ever...
We love it the Hypermotrd and will certainly want one in our FastDates.com garage. Unfortunately, this is a prototype concept bike and Ducati is waiting to gauge public reaction at Milan and on their website before putting it into production. With tooling and parts delivery time schedules, that means the Hypermotard could be as long as 2 years away - the time it took them to tool up for their their Classic Bikes. Boo...
Changes we'd like to see on the Hypermotard concept bike would be ditch the motocross front fender which is useless on a street bike and use a lower streetbike fender, ditch the twin round mufflers at back for a lighter single superbike silencer, and run dual front brakes. Their also needs to be a taller windscreen option since we do have to ride down the highway to get to the canyons. This bike will weigh close to 400lbs wet, just as much as a 999 Superbike, so it also needs dual superbike front brakes.
We'd also like to suggest to Ducati a Hypermotard R model with even more power, using the 1000DS 3-valve Desmo 3 motor or the Testastretta 999 motor. Along with an Ohlins front fork.
New Monster S4RS Testastretta Model with Superbike Performance
Ducati's popular Monster line moves to the highest level of performance with the addition of the new S4RS model employing the current Testastretta 999 Superbike engine. Designed with the most experienced riders in mind, who expect the best in terms of technology, performance and componentry, the Monster S4Rs sets a new standard in the category.
The L-twin Testastretta engine is a milestone on the historic journey of sports motorcycles. Testastretta technology allows a reduced angle between the intake and exhaust valves. The result is a clean, compact combustion chamber that is also highly efficient: the flat-crown pistons provide a perfectly smooth combustion environment and linear flame front. The special design of the heads, together with the cutting-edge electronic engine control system, guarantees optimal combustion throughout the rev range and makes for smooth, potent power delivery.
The Testastretta engine features a piston stroke of 63.5 mm and a bore of 100 mm: the short stroke limits average piston speed to allow increased RPMs and improve overall reliability. An exclusive oil pump feeding system is built into the deep sump crankcase to ensure an even oil flow rate during the most dramatic acceleration and braking, or extreme cornering.
The chassis and running gear on this bike are unparalleled. The fully adjustable Öhlins suspension at both ends is complemented by 5 Y-shaped spoke rims that improve the rigidity/weight ratio compared to traditional wheels and enable a reduction of the unsprung weight for better handling. The 320 mm twin disc Brembo brakes on the front have radial-mounted calipers with four pistons and four pads. Radial-mounting guarantees a more rigid caliper-fork mount assembly, thus improving the efficiency of the brake system.
Several details – the silencer cover, exhaust heat plate, front mudguard and cam belt covers are produced in carbon fibre, contributing to the overall weight reduction and making this Monster look even more exclusive. Even a top performance bike such as this can be environmentally responsible, as the Monster S4Rs Testastretta complies with the stringent Euro3 emission control standards.
999 Superbike power and suspension in the new 2006 Monster S4RS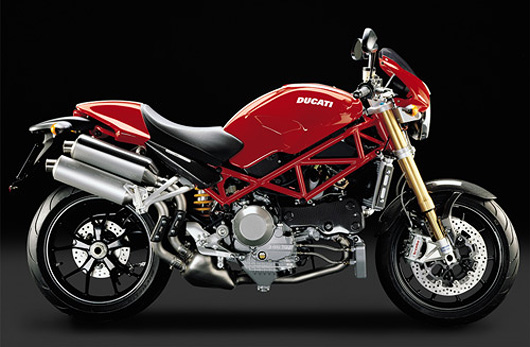 ---
LA Calendar Bike Show's Best of Show winner Dreamraft Rapture
Heads to Las Vegas for the AMD World Championship of Custom Bike Building Nov 18-20th
November 1st - Dreamcraft Studios used the July 16-17th LA Calendar Motorcycle Show for the world premier of their latest new custom bike "Rapture" and took home the coveted Performance Machine Best of Show Award, a big chunk of the Show's $70,000 awards purse, and qualified for American Motorcycle Dealer's World Championship of Custom Bike Building to be held November 18-20th 2005 at Mandelay Bay, Las Vegas, NV, in conjunction with Advanstar's Big Twin West. http://www.amdproshow.com
The LA Calendar Motorcycle Show, produced by FastDates.com Calendar photographer Jim Gianatsis of Gianatsis Design Associates, is an official Affiliate Qualifier Round for the AMD Pro Show World Championship of Custom Bike Building. This year's LA Calendar Show saw its biggest turnout ever of spectators, 195 exhibitors, and some 50 Pro Contest Builders ever to become what is now, arguably, the world's biggest custom and performance streetbike show.
SBK Fast Dates World Superbike & Ducati Corse girl, model and actress "Rockin Robin" Cunningham accompanied Jim Gianatsis to Dreamcraft Studios to shoot their just completed $250.000 billet bike "Rapture" for the next FastDates.com Iron & Lace Custom Bike Pinup Calendar just a few days before this year's Calendar Show. Robin then served as hostess and Master of Ceremonies at the LA Calendar Bike Show a few days later where "Rapture" won the coveted Performance Machine Best of Show title. DreamcraftStudios.com is partnership between builder Larry Nagel and designer Paul Yang.
Look for "Rapture" to be at the AMD Pro Show in Las Vegas to try and claim the $50,000 First Place Award. FastDates.com Calendar Angel and World Superbike girl "Rockin' Robin" Cunningham shown above with Rapture is featured in the new 2006 Iron & Lace and Fast Dates Calendars along with Dreamcraft's first ever exotic custom "Sega." Ask for Iron & Lace at your favorite Dealer, Distributor or order online here at FastDates.com.
---
Valentino Rossi now has 7 world GP titiles to his credit, and the only rider in ths history of the sport to win in every class.

2006 MotoGP World Championship
2006 MotoGP Calendar Announced
Nov 1st- FIM announcement. 2006 MotoGP schedule has been announched.
Dates Grand Prix Circuit
March 26th Spain Jerez de la Frontera
April 8th ** Qatar Doha/Losail
April 30th Turkey Istanbul
May 14th China Shanghai
May 21st France Le Mans
June 4th Italy Mugello
June 18th Catalunya Catalunya
June 24th ** Netherlands Assen
July 2nd Great Britain Donington Park
July 16th Germany Sachsenring
July 23rd United States * Laguna Seca
August 20th Czech Republic Brno
Sept 10th Malaysia Sepang
Sept 17th Australia Phillip Island
Sept 24th Japan Motegi
Oct 22nd Portugal Estoril
Oct 29th Valencia Ricardo Tormo – Valencia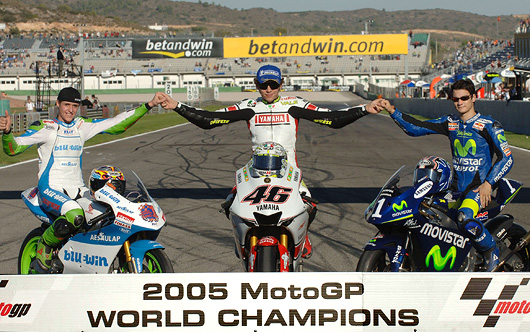 2005 MotoGP Final World Championship Positions 2005:
1 ROSSI 367, 2 MELANDRI 220, 3 HAYDEN 206, 4 EDWARDS 179, 5 BIAGGI 173,
6 CAPIROSSI 157, 7 GIBERNAU 150, 8 BARROS 147, 9 CHECA 138, 10 NAKANO 98,
11 TAMADA 91, 12 ELIAS 74, 13 ROBERTS 63, 14 HOPKINS 63, 15 BAYLISS 54.
2005 Final World Championship Positions 2005:
1 PEDROSA 309, 2 STONER 254, 3 DOVIZIOSO 189, 4 AOYAMA 180, 5 LORENZO 167,
6 PORTO 152, 7 DE ANGELIS 151, 8 DE PUNIET 138, 9 BARBERA 120, 10 GUINTOLI 84,
11 TAKAHASHI 77, 12 DEBON 67, 13 LOCATELLI 61, 14 CORSI 59, 15 GIANSANTI 36.
2005 Final World Championship Positions 2005:
1 LUTHI 242, 2 KALLIO 237, 3 TALMACSI 198, 4 PASINI 183, 5 SIMONCELLI 177, 6 LAI 141,
7 SIMON 123, 8 KOYAMA 119, 9 FAUBEL 113, 10 POGGIALI 107, 11 DI MEGLIO 104,
12 GADEA 68, 13 NIETO 64, 14 OLIVE 60, 15 BAUTISTA 47.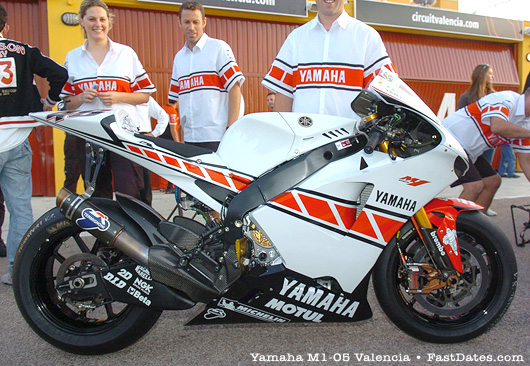 For the final MotoGP round at Valencia, Yamaha painted the factory team M1s of Rossi and Edwards (shown above) in the historical White/Red/Black livery used on their GP bikes in the 1960s and '70s as on the 1975 model YZR500 raced by Giacomo Agostini below.
It certainly looks great, and perhaps will also see FZR production mides with the same color design in the near future. Needless to say, the factory's latest 50th anniversy color scheme, following on the heels of the American Yamaha Yellow/Black team colors run at Laguna Seca in July, did not endear them to team sponsors Gauloises cigarettes. Expect Gauloises to withdraw their sponsorship of the team for 2006 as tobacco marketing laws tighten worldwide, and the Yamaha MotoGP will run without sponsorship beginning next year.
---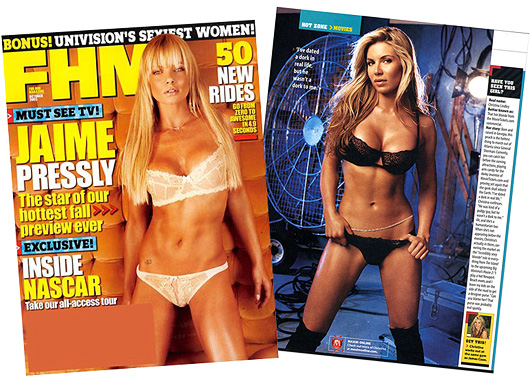 Click to take FHM to the MAXIM

FastDates.com Calendar Angels in Print
One of the most important (and thankless parts of our job) is helping those brain surgeons over at MAXIM and FHM magazines figure out who the world's hottest girls are. The FastDates.com Calendars have always been the stepping stone and showcase for their world's most beautiful models before they get seen anywhere else. Our spies have told us the editors of those slick guys's rags use our Calendars and Website to find beautiful candidates for their hot girls editorial features.
Cases in point: 1998 Berm Busters and Iron & Lace Calendar (Collectors Editions) cover model Jamie Pressly above left is featured on the cover of October 2005's FHM, and our lovely 2005 LA Calendar Motorcycle Show Calendar Angel Christina Lindley above right is the featured Hot Zone Hottie in MAXIM November 2005. You can click on the above picture to order yourself a subscription of heaven.
And remember, we brought them to you first in the pages of the FastDates.com Calendars and Website!
And join our Members Corner for lots of sexy Jamie Pressly pictorials. Jaime is also currently co-staring in the prime time TV sitcom series My Name is Ed where she reprises her type cast traileer trash roles from her movies like Jerry Springer, White Trash, Torque, and Desert Heat.
Below: That's Chistina Lindley in the 3-girl Calendar Angel sandwich at the left between Andra Cobb and Dominique Lafayette. They're next to with 2Wheel Tuner Magazine Sportbike Class winner Mike Witte and his Special Construction Aprilia RS250 with Suzuki RG500 engine at this year's LA Calendar Motorcycle Show. If you've got a hot sportbike wouldn't you like to be in Mike's place at Next Year's Show? The relish on Mike's 4-girl sandwich is our Fast Dates World superbike girl Robin Cunningham in the cowboy hat.
---

2006 SI Swimsuit 15-inch Wall Calendar w/poster

2006 Sports Illustrated Swimsuit Calendars available here!
Click the Covers to Order


2006 SI Swimsuit 12-inch Wall
Fast Dates Calendar Motorcycle Roadracing News. Complete coverage of the SBK World Superbike, AMA National Superbike and MotoGP World Championship. Superbike, sportbike, grand prix, MotoGP, race, racing, news, coverage, photos, pictures, Fast Dates Calendar and Umbrella Girls. Racing, road race, track, motorcycle, news, results, girls, models, Mat Aladdin, Max Biaggi, Valentino Rossi, Ben and Eric Bostrom, James Toseland, Regis Laconi, Loris Capirossi, Troy Bayliss, Troy Corser, Noriyuki Haga. Ducati 999 Monster Multistrada, Yamaha R6 R1, Honda CBR600RR CBR1000RR, Kawasaki ZX6 ZX6RR ZX10, Suzuki GSXR600 GSXR750 GSXR1000, Aprilia Mille, MZ Agusta F4 Brutale. Los Angeles Calendar Motorcycle Show.



Click to Order Now!
Fast Dates Racebike Pinup
No other sportbike calendar gives you the world's top factory Superbikes!
Take Chis Vermeulen's Ten Kate Honda CBR1000RR cover bike and all the top factory World Superbike and our beautiful
Fast Dates Angels on a date!
14 Month 2006 Calendars
start November 1st 2005
Iron & Lace Custom Bike Pinup
Featuring the beautiful
Fast Dates World Superbike Girls
Chandi, Andra and Taylor in
Iron & Lace, Garage Girls



2006 FastDates.com Calendars World Premier
at Brands Hatch
World Superbike England
Complete Coverage Here
Sete Giberneau Joins The Ducati MotoGP Marlboro Team Alongside Loris Capirossi for 2006
Valencia Grand Prix, Valencia
Sunday Nov 6th - The Ducati Marlboro Team has reached agreement with Sete Gibernau to contest the 2006 MotoGP World Championship. The Spanish rider will join Loris Capirossi, who renewed his contract with the squad before September's Japanese GP.
"I'm delighted to welcome Sete," said Federico Minoli, president of Ducati Motor Holding. "We think Sete is one of the strongest guys in MotoGP. He's a talented, gritty and courageous rider. Sete has had a difficult season this year but he has shown throughout that he never gives up, in the best Ducati spirit. For this reason we're very proud to have him in our 2006 line-up alongside Loris. They are both very strong riders and we'll do everything we can to give them what they need to obtain the best possible results."
Gibernau replaces Carlos Checa, who completed his time with the Ducati Marlboro Team in today's Valencia GP.
"It's always difficult to welcome someone while saying goodbye to someone else," continued Minoli. "I want to sincerely thank Carlos for the commitment and professionalism he's shown us. For sure he's a great rider and also a nice guy; working with him has been a great pleasure."
Gibernau is optimistic about his future, trusting in the Ducati/Bridgestone partnership that has already given great joy to Ducati fans with some amazing results, including Capirossi's fantastic victories at the recent Japanese and Malaysian GPs.
"After achieving some great results and much satisfaction during the last few years, and after a season at the highest level but with some difficulties, I decided to make a change in my career," said Gibernau. "First of all I want to thank the people who helped me achieve so many good results. But now it's time to find some new motivation. The professionalism and enthusiasm I've found at Ducati are what made me decide to join forces with the factory. I face this new challenge with real determination, convinced that together we can achieve great success. In recent years Ducati has shown that it has big ambitions and huge potential. I trust that, with my experience, I can make a real contribution to turn our shared dreams into reality."

Hamagouchi Full Titanium Race Exhaust Systerms
Your best / most cost effective performance and handling upgradeNow Just $1395 from Sudco


The Pirelli Calendar Book
The Complete Work

FastDates.com Calendar Angel
Jamie Pressly
featured in FHM
Big Discount Magazine Savings
to FastDates.com Readers



2006 Playboy 15-inch Wall
Anna Nalick
Best New Singer and
Album of the Year!

Yamaha competes in corporate racing colors in Valencia
Valencia, Spain
3/11/200 - To commemorate Yamaha's 50th Anniversary and its extraordinarily successful year in racing this season, Yamaha has decided to race the last round of the 2005 MotoGP World Championship in the company's traditional red, white and black racing color scheme. This follows the Yamaha Factory Team's earlier showing of the yellow and black traditional US racing colors in the US MotoGP round at Laguna Seca.
As a result the YZR-M1 machines of Yamaha Factory Team riders Valentino Rossi and Colin Edwards will sport the red, white and black colors as seen on many of Yamaha's past factory racing bikes.
In fact in 1975, exactly 30 years ago, Yamaha won its first GP500 world championship with Giacomo Agostini riding the then revolutionary two-stoke OW23 YZR500, also painted in Yamaha's corporate racing colors.
Yamaha has enjoyed probably the most successful year in racing ever, winning no less the seven world titles across the MotoGP, MX1 and MX2 World Championships in truly dominant style. By racing in the traditional corporate racing colors Yamaha endeavors once more to exceed expectations and touch people's hearts, making sure the 2005 racing season will be remembered for a long time to come as Yamaha enters "the next 50".
2006 range of Yamaha's Racing Kit Parts now available
27/10/2005 - Yamaha Engineering Corporation (YEC) is again producing a full range of racing parts for the YZF-R1 and YZF-R6 machines, designed in accordance with FIM superbike and supersport regulations. YEC is a Yamaha subsidiary company based in Japan. One of its activities is the production of high performance racing parts, which provide that vital edge for Yamaha riders to compete successfully on race tracks the world over. Among the successful riders that used YEC kitparts in 2005 were Noriyuki Haga, winning two races in the Superbike World Championship, and the Yamaha GMT94 team, winning the Le Mans 24-hour race.
For 2006, YEC has developed a range of parts to turn the all-new YZF-R6 into a world and national level supersport racer. Next to that, new YZF-R1 parts are also available to order now. As an additional service, European YEC customers competing at national, European or world championship level will be invited at the end of December to sign up, free-of-charge, for the Yamaha Race Training (YRT). YRT is a three-day course where teams receive invaluable technical training from Yamaha's Japanese and European race engineers, with ample track time available for pre-season testing. This special training will be held at the Valencia circuit in Spain between 22-24 March 2006 (limited places available).
Motocross riders are catered for too with their own range of racing parts developed by Yamaha Rinaldi Research and Development (YRRD), the company that is also responsible for preparing the factory Yamaha YZ450FM machines of MX1 world champion Stefan Everts. YRRD parts are available for the YZ450F, YZ250F and YZ125 models.
Further information on YEC, including recommended retail prices, YRRD parts and more YRT information, is available by visiting www.yamaha-racingparts.com. The order deadline for the first delivery of 2006 is November 14. To order, customers are requested to contact their national Yamaha distributor.
Haga and Pitt continue with Yamaha Motor Italia in 2006
7/11/05 - Noriyuki Haga and Andrew Pitt will race for the Yamaha Motor Italia squad in
the 2006 Superbike World Championship, fulfilling the team's desire to retain the services of both its riders from the 2005 campaign.
Both men played an important role in developing Yamaha's YZF-R1 in its first year of world superbike competition with Japanese ace Haga recording 10
podium finishes, including two wins, on his way to third place in the championship. Australian Pitt ended the year eighth in the standings with a best result of fourth in the opening race of the season in Qatar.
The Yamaha Motor Italia squad will again benefit from the official backing of Yamaha Motor Europe and for 2006 will use the updated YZF-R1 as the base for their world superbike contender. Preparations for the new season have already begun, with the first test of the 2006 season due to take place in Valencia on 14-15 November.
Noriyuki Haga
"I wanted to stay with Yamaha as we ended the year very strongly and I am very pleased that we have been able to agree terms. We had a good first year
together and it would have been a shame not to take advantage of all the development work we carried out. Yamaha knows what it has to do to make the bike into a championship winner and it was important for me to know that I
have the support needed for 2006. We came close to winning the title in 2000 and my motivation to become champion is still as strong as it ever was.
Becoming world superbike champion is the goal I still have to achieve and I believe that Yamaha can give me what it takes to turn this dream into reality."
Andrew Pitt
"When I signed for last year we always knew that it would be 2006 before we could really see the benefits of our work, therefore I'm delighted to continue with the team and hopefully take advantage of the hard work we put in last year. I enjoy working with this team and we've seen that the bike can be a winner. We know what we have to do to take it to the next level and with a year's experience of the class, the bike and the Pirelli tyres I feel
that I can show my true ability next year."
Laurens Klein Koerkamp - Racing Manager, Yamaha Motor Europe "We were quite late in starting this project last year and I said that our objective would be to develop the bike and put ourselves in a situation where we were winning races by the end of the year. By the middle of the season we were
well on track, and we have shown that we can compete with the best in the class. For 2006 we can take advantage of our year's knowledge. We now have
base settings for each circuit we race on, a year's development work behind us and some chassis improvements from the new YZF R1. The team will again be
run by Massimo Meregalli and working with Andrew and Noriyuki gives us great stability. Our learning year is over and we now know exactly what is required to challenge for the title. It will not be easy, but ultimately it is our goal for 2006."
MotoGP Winter Testing Begins with
The Rain in Spain
Vermeulen gets Suzuki career underway at Valencia MotoGP Tests
Nov 9th -Team SUZUKI MotoGP new signing Chris Vermeulen has completed his first tests on the Suzuki GSV-R at Valencia in Spain.
Vermeulen has joined the Suzuki team following a successful season in World Superbikes – where he finished runner-up in the Championship. The immensely talented 23-year-old Australian first took to the track on Monday afternoon to get himself acquainted with his new bike and crew. He immediately developed a rapport with his Crew Chief Tom O'Kane and the pair quickly made some adjustments to the bike to enable Vermeulen to clock some very impressive times during the 90 minute session.
The test was scheduled to continue for the whole of today but a lengthy break due to a rain shower and colder track temperatures brought the test to a premature end.
John Hopkins and Nobuatsu Aoki also stayed at Valencia to test the latest development parts for the Suzuki prototype MotoGP machine. Hopkins was impressed with the newest generation Ohlins forks and reported that they were a significant improvement on anything he had used before, as they gave him far more feel and controllability.
Team SUZUKI MotoGP has one more day at Valencia where all three riders will continue to put themselves and the bikes through yet more laps of testing.
Chris Vermeulen: "I really enjoyed my first go on the bike. It made a lot of difference getting on the bike on Monday - with the bad weather conditions as they are today. My first impressions are that the bike is very easy to ride and very comfortable. I really enjoyed working with the mechanics, they all have a lot of experience and they're very methodical and really know what they are doing. We have a lot of work still to do but I am sure we can move in the right direction. I'm having fun, despite the weather!"
Sete Giberneau Fires up Ducati Desmosedici for first winter tests at Valendca
Nov 9-10th - Sete Gibernau gets first taste of the Ducati Desmosedici and Bridgestone tyres in poor weather conditions - Loris Capirossi tests latest version of the engine-braking system used at the start of the year.
Valencia (Spain), Wednesday 9 November 2005 - The Ducati Desmosedici took to the track today for its first winter test, just three days after Sunday's final round of the MotoGP championship.
Unfortunately the mild sunny weather that characterized the last race of the 2005 season gave way to cold conditions with several drops of rain that prevented the Ducati Marlboro Team and the other riders on the track from getting close to the times recorded over the weekend.
As a result Sete Gibernau's awaited debut on the Italian bike was conditioned by the weather. The rain that fell late in the morning forced everyone to stop for a break, then after returning to the track in the afternoon Sete completed a total of 32 laps on the 'standard' version of the Desmosedici.
Gibernau managed to get his first run with the Italian V4 bike as well as with Bridgestone tyres, and despite the poor conditions the Spanish rider was impressed.
"Every minute that passes I am more convinced that I made the right decision" declared Sete. "I know that it was a difficult choice to make but this is a great source of motivation for me. The team is fired up and really wants to do well. The first time is always a step into the unknown but I got on well with all the guys. I knew everything was going to be different - the engine, the tubular steel frame instead of aluminium, Bridgestone tyres and Ohlins suspension, and so the feeling on the bike is completely different. I will have to change my style a bit and also the character of the bike to feel entirely at ease with it, but there is a lot of good potential here."
It was also back to work today for Loris Capirossi, whose fitness is slowly but constantly improving. The Italian was scheduled to test with the engine-braking system that had been tried at Jerez during the GP in April and which has been developed throughout the year by official test-rider Vittoriano Guareschi. As the system is still in an experimental phase, Loris, who completed 19 laps, concentrated on providing feedback for future development rather than the search for outright performance. Unfortunately today's conditions prevented the team from getting the most out of the test, which will continue tomorrow, weather permitting.
"My physical condition and the poor weather certainly didn't help me in this test today" declared Loris. "The system has for sure been improved since the first version we used at the start of the year, but the track wasn't in an ideal condition to help us understand exactly the development level of the system. Let's hope the weather improves for tomorrow so we can continue working."
Times:
Sete Gibernau: 1m35.2s
Loris Capirossi: 1m36.8s
Dreadful weather conditions forced the Ducati Marlboro Team to abandon the second and final day of testing scheduled at the Spanish circuit.
Temperatures hovering around 10°C and intermittent rain meant that the track was totally unsuitable for normal testing.
Loris Capirossi and his new team-mate Sete Gibernau therefore wrapped up their first winter testing session early.
The Ducati Marlboro Team riders will next be seen on the track at the end of the month (November 28-30) at the Jerez circuit, where they will debut the Ducati Desmosedici GP6.