A hard day at the office! Frankie Chili lends a hand to polish up his Klaffi Honda CBR1000RR World Superbike for its Fast Dates Calendar shoot with beautiful Irish supermodel Gemma Gleeson.
---
NEW LINE-UP FOR THE 2006 DUCATI XEROX WORLD SUPERBIKE TEAM -
Former World Champions Troy Bayliss returns to SBK Superbike
and Lorenzo Lanzi joins the Factory Team Full Time
Bologna (Italy), Friday 14 October 2005: The Ducati Xerox Team will compete in next year's World Superbike Championship with a new rider line-up. Australian Troy Bayliss returns to Ducati to spearhead the squad and he will be flanked by Italian newcomer Lorenzo Lanzi, who sensationally notched up two late wins in this year's series, the most recent one being last weekend at Magny-Cours in the championship finale.

Leaving World Superbike after the 2002 season, Troy rode the Desmosedici MotoGP bike for Ducati during its successful first season in 2003 (above), followed by a disapointing season in 2004 when the bike was revised and proved not to be as competitive. Troy left Ducati to ride for the factory Camel Honda squad in 2005 with Max Biaggi, but neither proved to be consistantly top contenders. Then a seriously broken arm from a bicycling accident last month has prevented Troy from finishing out the final 4 races of the 2005 MotoGP season for Honda and without many options to remain in MotoGP.

Troy Bayliss is, to put it simply, a legend for Ducati. The 36 year-old from Taree in Australia burst onto the World Superbike scene in 2000 as replacement for the injured Carl Fogarty and then won the title the following year. After finishing runner-up to Colin Edwards in 2002, Troy moved to MotoGP in 2003 and 2004 with the factory Ducati team, with whom he obtained some superb results, in particular in 2003. Troy has now opted to return to the championship in which he made his name, and the Ducati Xerox Team rider will surely be one of the protagonists in next year's series, which gets underway on February 25, in Qatar.
"The biggest thing is that it feels like I'm coming home ... and I don't mean to Australia!" commented Bayliss. "I'm really looking forward to hopping back on a Ducati Superbike. Even though the bike has changed quite a lot, the engine is still very similar and has been much improved since I've been away so it's a built-in package already waiting there for me. I have a lot of good memories from the past and I aim to continue having more of them".
"I've been there and done it before, it's still all in the memory bank so hopefully I can come back and have a good season next year. It's going to be awesome and I just can't wait to start. The championship is looking strong now, all the manufacturers are back and it's going to be great to be there with Ducati and challenge all the other guys for the title".
The other rider in the Ducati Xerox Team will be Lorenzo Lanzi, the 23-year-old Italian from San Piero in Bagno, province of Cesena. The youngster has also had a meteoric rise to fame, becoming a World Superbike winner in his rookie season this year. Three years in 125 and 250 from 1999 to 2001 were followed by Lorenzo's first experience with four-stroke machines and Ducati in the 2003 European Superstock championship, in which he was runner-up.

He then finished fifth in the 2004 World Supersport championship with the Breil-sponsored factory Ducati 749 and was promoted to Superbike the following year with the satellite Ducati SC Caracchi team to race a customer 999RS bike.
As replacement for the injured Régis Laconi, Lanzi then stepped onto the factory 999F05 machine in the Ducati Xerox Team, and scored a sensational win at the Eurospeedway at his first attempt. The decision to move Lorenzo Lanzi into Ducati's factory WSBK team is just reward for one of Italy's most promising new talents.
"I am really happy to join the factory Ducati Xerox Team in the World Superbike Championship, because it was an aim I had fixed for myself in 2003 when I was racing in Superstock" declared Lanzi. "Now that it's happened I am so happy because it is the dream of so many Italian riders to race for the Ducati factory team".
"I have arrived in the team at the right time. I know everyone in the squad and have already won two of the last races of the season so my motivation is high. In addition I will have a true maestro at my side like Troy Bayliss, who will help me for sure. Now I just can't wait to start the new season with my new Ducati Xerox Team!" concluded Lanzi.
Ducati Corse Superbike director Paolo Ciabatti added: "Next year we will be taking part in the World Superbike Championship with an exciting new rider line-up and the F06 version of the Ducati 999. We warmly welcome Troy and Lorenzo into the team and believe that this combination of experience and youth will help us to continue our winning tradition in World Superbike.
"Rider changes are always a hard choice to make and it was particularly difficult on this occasion, because James Toseland and Régis Laconi have both made a fantastic contribution to Ducati's success in the last two years, James winning the 2004 title and Régis scoring ten wins with us. I would like to thank them for everything that they have done for Ducati in this period and wish them all the best for the future".
---
Valentino celebrates.
2005 MotoGP World Championship, Australia Round 15 of 17

Dani Pedrossa Wins the 250cc Championship
Rossi Secures his 11th Season Win at Phillip Island
and Yamaha the Manufacturer's Title
Phillip Island, Australia, Oct 14-16th - Yamaha completed a clean sweep for 2005 today as the Constructors' World Championship was added to the Riders' and Teams' titles thanks to Valentino Rossi's eleventh win of the season at Phillip Island. The Gauloises Yamaha Team rider held off a strong challenge from Nicky Hayden (Honda) to continue his undefeated run at this circuit, which stretches back to 2001.
Rossi started well from second on the grid and chased pole setter Hayden over the opening two laps before taking the lead and making several attempts to escape. However the American hung on and was presented with the opportunity to retake the lead when Rossi intentionally dropped the pace at the halfway stage. After studying Hayden for three laps, Rossi regained control on lap nineteen and managed to open out a one-second cushion as Hayden became embroiled in a scrap with Marco Melandri (Honda) and Carlos Checa (Ducati). Hayden eventually got the better of thetwo Italians, but Rossi was able to control his lead until the end of the race, winning by 1.007 seconds.

"It has been an amazing season and today we have won the constructors' title for Yamaha in the year of their 50th Anniversary, so I am very happy." exclaimed Rossi afterwards. "Congratulations to everybody. Eleven wins in the year matches my own record and to do it at Phillip Island is very special for me. I have won a lot of important races here, especially the 2001 500cc title and the title last year for Yamaha and it is a magic track for me - I love it.
Today was tough, I had a great rival in Nicky Hayden and it was a great race. I got to the front after two laps and had a good rhythm so I pushed two or three times to escape. Every time Nicky came with me so I let him pass me just to see how it was. Then some more riders arrived so I tried again and this time I managed to get a one second advantage, which was like gold! I managed to hold it until the last lap and to celebrate the win in front of this great crowd is always a magnificent pleasure. Thank you to them and to everybody else who has made this season so special."
The Rundown to Phillip Island
The MotoGP World Championship's intercontinental caravan takes to the skies again this week as the riders, teams and officials make their way to the south coast of Australia for the fifteenth round of the season at the picturesque Phillip Island circuit. After a two-week break since contesting three consecutive races across Asia and the Middle East, the Polini Australian Grand Prix will be the 17th consecutive year that the series has visited the country, with the first two events having been held at Phillip Island, followed by six at Eastern Creek, before returning to the current venue in 1997.
Valentino Rossi's record at the fast and flowing circuit is second to none, with no fewer than six Grand Prix victories there in all classes and an unbeaten MotoGP record that stretches back to 2001. The MotoGP World Champion will be hoping his siege of the island can continue this weekend as he aims to clinch his eleventh victory of the year and match his record total of wins in a season, set in 2001 and 2002 when riding for Honda. A win for the Italian will also secure the constructors' title for Yamaha, who need just one point more than Honda to make sure of the honour for the first time in five years.
A host of riders will be combining duties for Honda this weekend as they aim to halt Yamaha and Rossi's progress, as well as staking their claim for second place in the championship. Max Biaggi, Marco Melandri and Nicky Hayden are three of five riders separated by just eleven points in the battle for runner-up honours and all have happy memories of Phillip Island.
The other two riders battling for second spot are Yamaha's Colin Edwards and Ducati rider Loris Capirossi. Edwards has finished on the podium in World Superbike races at Phillip Island on eight occasions, including a win in 2001, whilst Capirossi took victory in the 125cc class back in 1990 and has had four podiums there in the last five years, including his only podium of 2004. The in-form Italian has won two of the last three races and will be looking for his fourth consecutive pole position when qualifying takes place on Saturday.
Dani Pedrosa gets his first chance to seal the 250cc World Championship for the second successive season in Australia despite coming under pressure from his nearest rival Casey Stoner. Pedrosa, who finished fourth at Phillip Island last year to clinch the championship in his rookie season, will take the title if he wins the race and Stoner fails to score more than a single point. However, the Australian is the category's form rider and after back-to-back victories in the last two rounds he has reduced the gap to the leader to just 26 points ahead of his home round. At the front of the queue of riders looking to stop a potential party for either Pedrosa or Stoner will be Jorge Lorenzo, who has until the end of this year to become the youngest ever rider to win a 250cc Grand Prix and last year's Phillip Island winner Sebastián Porto, who also holds the quarter-litre lap record.
A controversial twist to the 125cc World Championship in the last round at Qatar means Mika Kallio is now leading by just two points from Thomas Lüthi with three rounds remaining. Kallio saw victory snatched from his grasp by his KTM team-mate Gabor Talmacsi on the finish line in Doha and will be looking to take matters into his own hands this weekend at a circuit where he has not enjoyed the best of fortune in past seasons. Kallio, who has finished either first or second at the last five races, has failed to finish in each of his three previous starts at Phillip Island, crashing in both 2002 and 2003 and retiring with handling problems last year. However, Lüthi also has a poor record in Australia, failing to score points there in three previous visits.
Rossi Reigns on Day One at Phillip Island
Friday 14th - Valentino Rossi continued to reign supreme as MotoGP returned to Phillip Island today with the recently crowned World Champion on top form in free practice at his favourite track. After taking victory here for the past four seasons Rossi made his intentions of extending his reign for a further year perfectly clear with a scorching lap of 1'30.349 – a time which was inside the current circuit record and over a second too fast for all but three riders to contend with.
"This was a fantastic first day for us, especially the afternoon," said Rossi. "In the race at Sepang a few weeks ago we had a few problems even though we had been very fast in preseason, and here it has been the opposite way around. We had a few difficulties in the morning but we worked them out in the afternoon and found a really good setting. The balance of the bike is excellent and when you have a good feeling at this circuit you can have a lot of fun."
Kenny Roberts and Loris Capirossi will both miss out on the rest of the weekend's action after falling at high speed in this morning's opening session. Roberts fractured his left wrist when he crashed his Suzuki in the notoriously difficult Doohan curve, only to be followed to the medical centre by Capirossi after a virtually identical crash in the same corner. After initial tests the Italian appeared fit enough to return to the track for the afternoon session but further tests at the nearby Dandenong Private Hospital revealed internal bruising and ruled him out of Sunday's race.
In Capirossi's absence his Ducati team-mate Carlos Checa was the only man able to get close to Rossi today, with a late lap from the Spaniard closing the Italian's advantage down to 0.270 seconds. Nicky Hayden and Sete Gibernau were the only two other riders within a second of Rossi's best time, with fifth-fastest Alex Barros some 1.110 seconds adrift of the World Champion, who is aiming for his eleventh victory of the season.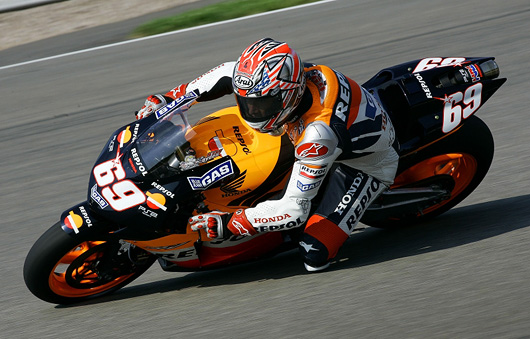 Nicky on top down under.
Hayden on pole with fastest ever lap of Phillip Island,
Superbike rider Chis Vermeulen takes on a factory Honda RC211
Sat 15th - Nicky Hayden became the fastest rider ever to complete a lap of the legendary Phillip Island circuit as he obliterated the pole position record in today's single qualifying practice for the Polini Australian Grand Prix. The American set a time of 1'29.337 despite being held up by a slower rider just two corners from the end, his effort beating Valentino Rossi's previous record here by 0.731 seconds and holding off the Italian's own challenge by a single tenth.
"My goal was to lap below 1'29.5 but the qualifying tyres just got better and better and on the last one I was really going for it," said Hayden, who also started from pole at Laguna Seca and Sachsenring this season. "The bike is working well, the tyres have plenty of grip and that's when I love it. It's always nice to be on pole but it's tomorrow that counts. Everybody in the team is doing their bit and they're all right behind me so all I can do is try to put on good show and see what happens."
Rossi was also held up by a slower rider on his fastest lap, eventually abandoning a potential pole effort to change tyres and launch one final attempt with just two minutes remaining. However, the World Champion was unable to match his previous pace and had to settle for second place on the grid as he looks to score his fifth straight MotoGP victory at this circuit in tomorrow's race. Sete Gibernau gatecrashed the front row in third place at the expense of his Spanish compatriot Carlos Checa, who dominated for much of the session but will start from the front of the second row in fourth place.
Colin Edwards knocked almost two seconds off his best time from a problematic first day as he moved up to fifth place overall and secured a second row start between Checa and Max Biaggi, who flirted with the front row positions before eventually dropping to sixth. Marco Melandri will challenge Biaggi for second place in the championship from eighth on the grid after being out-qualified by rookie youngster Toni Elías, who continued his recent form after recovering from a wrist injury to record his best MotoGP qualifying position in seventh place.
Further back on the grid Chris Vermeulen will make his MotoGP debut as a replacement for the injured Troy Bayliss from fourteenth place after an impressive display. The Australian lapped within a second of his Honda team-mate Alex Barros and just 2.317 seconds off Hayden's pole time, the pace of which was highlighted by the fact that WCM rider Franco Battaini did not meet the official qualifying time after failing to lap within 107% of pole.

Valentino at play with Hayden (69), Malandri (33) and Checa (7)

Rossi takes eleventh win as Pedrosa clinches 250cc title at Phillip Island
Race Day Oct 16th - Valentino Rossi took his eleventh victory of the season in a thrilling race at the Polini Australian Grand Prix on Sunday to extend his unbeaten record at Phillip Island to five years. Rossi was pushed all the way by a determined performance from Nicky Hayden, who led for the opening two laps after starting from pole position before Rossi took control. The Italian's initial lead lasted until the halfway stage when, after several attempts to break Hayden's resistance, he allowed the American a brief spell at the front. However, with eight laps remaining Rossi regained control and opened up a one-second advantage that he maintained until the end of the race, clinching the constructors' World Championship for Yamaha to add to the teams and riders' titles.
"It has been an amazing season and today we have won the constructors' title for Yamaha in the year of their 50th Anniversary so I am very happy, congratulations to everybody," said Rossi. "Eleven wins for the year is a fantastic achievement and to do it at Phillip Island is very special. I have won a lot of races here, a lot of important races, and it is a magic track for me – I love it. Today was tough, I had a great rival in Nicky Hayden and it was a great race."
Hayden's plight to stay in touch with Rossi was hindered by a spirited performance from Honda colleague Marco Melandri, who came through from eighth on the grid to challenge for second place at the midway stage of the race. By the time Hayden had shaken off the Italian's attentions it was too late for him to catch Rossi, despite clocking virtually identical times to the race leader over the closing laps.
Nicky said, "That was a tough race and I enjoyed it. Valentino was setting a good pace so I just sat there. It all felt good running at that speed – just nice and comfortable. A couple of times Rossi picked up the pace and I could respond. Then the others caught up and me and Marco battled a bit and just gave a slight advantage to Valentino. You can't give a guy like him a one-second lead round here with a few laps to go.
A late charge from Carlos Checa saw Ducati celebrating at the end of a difficult weekend, the Spaniard riding alone today in the absence of his injured team-mate Loris Capirossi and coming through to snatch the final podium position from Melandri with a draft pass at the finish line. With Capirossi missing out on today's race and Max Biaggi crashing on the opening lap, fourth place for Melandri moves him up to second in the championship, level on points with Hayden with just two rounds remaining.
"First, I want to dedicate this result to Loris," said Checa, who had his 33rd birthday yesterday. "It's been a different weekend working alone but I'm quite satisfied with the work we've done. After practice we expected a good result, though in the race I couldn't run the pace I'd run yesterday and in morning warm-up. When I got close to Melandri I could see my bike was better in some areas, but we weren't so strong on braking, so it was tough to pass. This is the first time I've scored a result that way, it was exciting, I couldn't believe it. It's been a funny weekend numbers-wise - I was 33 yesterday, I had the highest top speed here at 333km, I was fighting with Melandri whose number is 33 and I finished third. Tonight, I suppose, there will be a party."
"It's been a really nice race," said Melandri. "I fought hard until the end and I was hoping to finish on the podium. I thought I had Checa under control but he passed me in the slipstream. Despite that I am satisfied – it has been a difficult weekend but this morning the team did a great job and the bike was working really well. I gave my maximum and I am happy. I arrived here two points behind Max Biaggi and now I am level with Nicky Hayden in second place."
Whilst Sete Gibernau relegated Colin Edwards to sixth place in today's race with an aggressive pass just four laps from the end, the American also moved ahead of Capirossi and Biaggi in the championship and now lies fourth, just eight points behind Hayden and Melandri. Alex Barros is now all but out of the chase for the runner-up spot after crashing heavily with five laps remaining of today's race and dropping to eighth in the championship. However, his temporary team-mate, Top World Superbike contender Chris Vermeulen will be pleased with his performance after taking eleventh place on his MotoGP debut following a close battle for tenth with John Hopkins.
MotoGP Round: 15 - Australian MotoGP
Circuit: Phillip Island, Circuit Length: 4448
Lap Record: 1' 30.332 (Marco Melandri, 2005)

Race: 27 Laps
Pos. Rider Manufacturer Nat. Total Time
1 V. Rossi Yamaha ITA 41' 8.542
2 N. Hayden Honda USA +1.007
3 C. Checa Ducati ESP +4.215
4 M. Melandri Honda ITA +4.232
5 S. Gibernau Honda ESP +14.088
6 C. Edwards Yamaha USA +33.200
7 S. Nakano Kawasaki JPN +45.055
8 M. Tamada Honda JPN +45.103
9 T. Elias Yamaha ESP +45.104
10 J. Hopkins Suzuki USA +50.260
11 C. Vermeulen Honda AUS +50.697
12 R. Xaus Yamaha ESP +1' 8.324
13 R. Rolfo Ducati ITA +1' 31.737
14 J. Ellison Blata WCM GBR +1 lap(s)
15 F. Battaini Blata WCM ITA +1 lap(s)

Fastest Race Lap:
1 M. Melandri Honda ITA 1' 30.332

Manufacturers standings MotoGP
1 Yamaha 345, 2 Honda 291, 3 Ducati 178, 4 Kawasaki 115, 5 Suzuki 96, 6 Blata WCM 13, 7 Proton KR 1, 7 Moriwaki 1

Championship standings MotoGP
Pos. Rider Manufacturer Nat. Points
1 Valentino Rossi Yamaha ITA 331
2 Marco Melandri Honda ITA 170
3 Nicky Hayden Honda USA 170
4 Colin Edwards Yamaha USA 162
5 Max Biaggi Honda ITA 159
6 Loris Capirossi Ducati ITA 148
7 Sete Gibernau Honda ESP 137
8 Alex Barros Honda BRA 129
9 Carlos Checa Ducati ESP 114
10 Shinya Nakano Kawasaki JPN 87
11 Makato Tamada Honda JPN 76
12 Kenny Roberts Suzuki USA 63
13 John Hopkins Suzuki USA 59
14 Toni Elias Yamaha ESP 58
15 Troy Bayliss Honda AUS 54
16 Ruben Xaus Yamaha ESP 49

Team standings MotoGP
1 Gauloises Yamaha Team 493
2 Repsol Honda Team 329
3 Team Movistar Honda MotoGP 307
4 Ducati Marlboro Team 262
5 Honda Camel 193
6 Kawasaki Racing Team 134
7 Team Suzuki MotoGP 122
8 Fortuna Yamaha Team 111
9 Konica Minolta Honda 88
10 D'Antin MotoGP 25
11 Blata WCM 14
12 Team Roberts KR 1
Pedrossa's 250cc Race and Championship Victory
Dani Pedrosa celebrated the 250cc World Championship title for the second successive season at Phillip Island, taking a surprise victory after his only remaining rival crashed out. Local favourite Casey Stoner started well from pole position but lost control of his Aprilia on the fourth lap, taking factory colleague Alex de Angelis down with him and handing Pedrosa the chance to take the title if he could secure victory. Jorge Lorenzo briefly led before last year's winner Sebastian Porto took control, with Pedrosa stalking the Argentinean all the way to the final corner before emerging to take a dramatic win by just 0.027 seconds at the line. Lorenzo completed the podium in a lonely third place, with Hector Barbera clinching fourth after an entertaining battle with Andrea Dovizioso and Hiroshi Aoyama.
---
The 2005 SBK World Superbike Championship winning Alstare Corona Suzuki team. Click for the BIG PICTURE.
2005 SBK World Superbike Championship, Imola Round 12 of 12

Dramatic World Superbike Season Finale
Chris Vermeulen and Lorenzo Lanzi Share Race Wins in France
Report by Andy Rixon, Kel Edge, Julian Thomas and Friends
Magney-Cours, France, Sept 30, Oct 7-9th - Chris Vermeulen (Winston Ten Kate Honda) and Lorenzo Lanzi (SC Caracchi Ducati) took a win apiece after two 23-lap races filled with great contrasts at Magny-Cours, with the lap record falling to each rider in turn. Lanzi finally reduced the best lap to a 1'40.601, as he chased Vermeulen in race two, giving the Caracchi team its best result of the year. The newly crowned 2005 World Champion Troy Corser (Alstare Corona Extra Suzuki) who earned the title last week in Lausitz Germany, started from the fourth row in each race, finished fifth and fourth after superb pushes to the front. Full Report Here
Kagayama's great performance this weekend may have secured his return seat on the Alstare Corona suzuki team for 2006 with Troy Corser. Ruben Xaus might be a thied member of the team next year.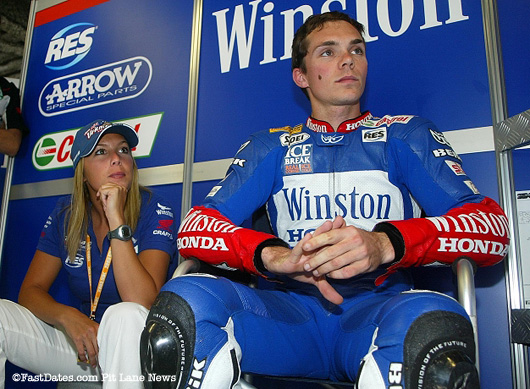 Chris dominated Saturday Super Pole, here with girl freind Toni.
---
2005 British Superbike Championship, Brands Hatch Round 13 of 13

Dramatic BSB Season Finale
Gregorio LaVilla Clinches British Superbike Championship
at Brands Hatch Finale with a Ducati Sweep
Gregorio Lavilla clinched the British Superbike Championship aboard his Ducati 999F04 at Brands Hatch today - both Lavilla and team mate ron Haslam put on an incredible display of top quality riding for Airwaves Ducati. The team had two excellent races, ending the season with another set of one-twos, with Gregorio Lavilla taking the victory in the first race and Leon Haslam in the second. Stuart Easton took victory in the British Supersport race aboard his 749R to make the day a clean sweep for Ducati.
Having had a good warm-up in the morning the riders were feeling confident going into race one. Gregorio Lavilla stated before the race, "If I do well in the first race and hopefully get a win, then I can go out and enjoy the second race with Leon."
Both Airwaves Ducati riders lined up on the front row of the grid and moved into first and second position from the start. Leon led the race for the first 6 laps before being overtaken by his team-mate. Leon and Gregorio pulled away from the battle for third, between James Haydon, Dean Thomas and Lavilla's contender for the title, Ryuichi Kiyonari. The pair stretched their lead out to eventually finish 7 seconds ahead of Haydon.
With an Airwaves Ducati one-two safely under their belts, Gregorio and Leon returned to the circuit for the second race knowing that Gregorio just had to finish the race to be the 2005 British Superbike Champion, something that means a great deal to him, "It may be British Superbikes but I am thinking of it as a World Superbike Championship…that's how much this championship means to me."
The second race was another outstanding exhibition of world-class riding with Leon and Gregorio taking to the front once again after two laps. As in the first race, the two Airwaves Ducati riders opened up an enormous lead from the chasing pack and were 6 seconds up on Dean Thomas by lap six.
With very vocal support coming from the Airwaves Ducati supporters on the home straight, Leon Haslam and Gregorio Lavilla started to enjoy the ride and pushed each other to faster lap times, with Lavilla clocking the fastest time of the race, 1:25.7. By lap 12 there was 0.096 seconds between Haslam in first and Lavilla in second and then a massive 12 seconds to the third placed rider. Haslam came home to take the chequered flag with Lavilla in second, a result which meant Gregorio was the 2005 British Superbike Champion. It has been an outstanding season for the Airwaves Ducati team. Team Manager Colin Wright commented, "It's the Airwaves Ducati Team who have won this championship."
Team Principal Darrell Healey added, "Winning the British Championship for the third time has been a tremendous achievement by all concerned. To return after a year away from competitive racing and to take on the might of HRC Honda with F04 Ducatis has been a truly awesome feat. Big thanks must go to Ducati Corse and our other technical sponsors Dunlop Tyres and Q8Oils, and obviously the team's title sponsor in 2005 Wrigley's Airwaves. This is GSE Racing's greatest achievement to date."
The official Ducati UK Supersport team finished their 2005 season on a high after team rider Stuart Easton rode an impressive race to win the final race of the season in convincing style.
Easton, who had qualified in second spot on his Ducati 749R for the 18 lap race, made a great start and controlled the race from the front, never moving from first position throughout the race.
"What a dream finish to the season," commented Stuart Easton. "We changed some settings in the run up to the weekend, and this really helped. From Friday practice onwards, I knew we could run competitively at the front, and this all fell to plan in the race to get the result we wanted."
To round of their year, the team now plan to contest some Spanish championship rounds to gain further experience, before making their plans for 2006.
Superbike Race 1
1. Lavilla (Ducati)
2. Haslam (Ducati)
3. Haydon (Suzuki)
4. Kiyonari (Honda)
5. Thomas (Kawasaki)
6. Rutter (Honda)
7. Mason (Honda)
8. Plater (Honda)
9. McWilliams (Honda)
10. Rea (Honda)

Superbike Race 2
1. Haslam (Ducati)
2. Lavilla (Ducati)
3. Plater (Honda)
4. Kiyonari (Honda)
5. Thomas (Kawasaki)
6. Richards (Kawasaki)
7. Mason (Honda)
8. Rutter (Honda)
9. Hill (Yamaha)
10. Rea (Honda)
Supersport Race
1. Easton (Ducati)
2. Jones (Honda)
3. Crutchlow (Honda)
4. Sykes (Suzuki)
5. Camier (Honda)
6. Laverty (Honda)
7. Robinson (Honda)
8. Frost (Honda)
9. Andrews (Suzuki)
10. Tunstall (Honda)
2005 British Superbike Final Standings:
1. Lavilla (Ducati) - 461 , 2. Kiyonari (Honda) - 429 , 3. Rutter (Honda) - 371 , 4. Haslam (Ducati) - 350
5. Richards (Kawasaki) - 241, 6. Thomas (Kawasaki) - 196, 7. Harris (Honda) - 195, 8. Mason (Honda) - 174 9. Reynolds (Suzuki) - 139, 10. Laverty (Honda) - 129
2005 British Supersport Final Standings:
1. Camier (Honda) - 202. 2. Jones (Honda) - 189, 3. Easton (Ducati) - 161, 4. Crutchlow (Honda) - 161, 5. Riba (Kawasaki) - 155, 6. Sykes (Suzuki) - 119, 7. Robinson (Honda) - 112, 8. Vincent (Honda) - 91, 9. Laverty (Honda) - 84, 10. Andrews (Suzuki) - 67.
---
Fast Dates Calendar Motorcycle Roadracing News. Complete coverage of the SBK World Superbike, AMA National Superbike and MotoGP World Championship. Superbike, sportbike, grand prix, MotoGP, race, racing, news, coverage, photos, pictures, Fast Dates Calendar and Umbrella Girls. Racing, road race, track, motorcycle, news, results, girls, models, Mat Aladdin, Max Biaggi, Valentino Rossi, Ben and Eric Bostrom, James Toseland, Regis Laconi, Loris Capirossi, Troy Bayliss, Troy Corser, Noriyuki Haga. Ducati 999 Monster Multistrada, Yamaha R6 R1, Honda CBR600RR CBR1000RR, Kawasaki ZX6 ZX6RR ZX10, Suzuki GSXR600 GSXR750 GSXR1000, Aprilia Mille, MZ Agusta F4 Brutale. Los Angeles Calendar Motorcycle Show.



Click to Order Now!
Fast Dates Racebike Pinup
No other sportbike calendar gives you the world's top factory Superbikes!
Take Chis Vermeulen's Ten Kate Honda CBR1000RR cover bike and al the other top factory World Superbikefor a spin!
14 Month 2006 Calendars
start November 1st 2005
Iron & Lace Custom Bike Pinup
Featuring the beautiful
Fast Dates World Superbike Girls
Chandi, Andra and Taylor in
Iron & Lace, Garage Girls



2006 FastDates.com Calendars World Premier
at Brands Hatch
World Superbike England
Complete Coverage Here

The Pirelli Calendar Book
The Complete Work
Roberts Jr crashes out at Phillip Island MotoGP
Possibly ending his career with Suzuki
Oct 14th - Team SUZUKI MotoGP racer Kenny Roberts Jr will take no further part in this weekend's Polini Australian Grand Prix after injuring himself in this morning's practice session.
Roberts Jr had already topped the time-sheets on a drying Phillip Island circuit and had just changed bikes to evaluate the new cowlings that Suzuki has produced for the GSV-R prototype race bike. He crashed heavily at the end of the front straight just as he was going into turn one. The 2000 World Champion was thrown violently from his bike and landed heavily in the gravel. He was immediately taken to the medical centre and following lengthy investigations and x-rays it was discovered he had a fracture in the wrist area of his left hand. Roberts Jr will return to California for further examinations and will not be fit to race at next weekend's inaugural Turkish Grand Prix – so Team SUZUKI MotoGP will run a one-man team.
If Roberts does not return for the final MotoGP round at Valencia on November 6th, this will have been his last ride for the former World Champion with Suzuki in MotoGP. Only John Hopkins is expected to have his contract renewed for next sason.
Loris Capirossi also Seriously Injured in Friday Practice at Phillip Islanf MotoGP
Oct 14th - Loris Capirossi is stable and comfortable in Melbourne's Cabrini hospital, following his heavy tumble at Turn One during Friday afternoon practice at the Phillip Island MotoGP round. The Ducati Marlboro Team rider suffered chest injuries in the fall and is still having bleeding from around his right lung drained. He is expected to leave hospital within the next day or two but has already been ruled out of next weekend's inaugural Turkish MotoGP event.
"Loris is in hospital, being very well looked after by local doctors and a member of the Clinica Mobile staff, he is in some pain but in good spirits," explained Livio Suppo. "We will decide over the next day or so when he will return home to Europe. There are two options: he may be able to fly in a few days, with the chest drain still attached, or wait 12 days or so and fly home normally. For sure he will miss Turkey, which unfortunately means we're now considering a replacement rider for that race."
Capirossi returns home to Europe Sunday Night
Oct 16th - Loris Capirossi was ruled out of today's Australian GP when he crashed heavily at Turn One on Friday. He sustained chest injuries in the fall, with internal bleeding around his right lung. Since then the Ducati Marlboro Team rider has been recovering in Melbourne's Cabrini hospital and he's now been passed fit to fly home to Europe. He will fly with a chest drain attached to drain the bleeding.
"The doctors decided it is best for Loris to fly home tonight," said Livio Suppo. "He will fly with Dr Corbascio, from the Clinica Mobile, and should meet Dr Claudio Costa tomorrow afternoon. Hopefully the chest drain will be taken off soon because it's causing him some pain. Otherwise he feels good and doesn't have any other injuries. For sure he will miss Turkey, but it's too early to talk about Valencia."
Ducati 2006 MotoGP Riders
For next season it is expected that the injured Loris Capirossi will remain with Ducati thanks to his 2 races wins the second half of this season. This year's team mate Carlos Checa is expected to leave the team to replace Troy Bayliss (who returns to Ducati Superbike in 2006) on the Camel Honda factory team. Capirossi's team mate on the Ducati Desmosedici team is going to be none other than Sete Giberneau who will leave the Telefonica Moviestar Honda team where the front runner has been cursed by rival Valentino Rossi with a merciless string of bad luck all year. We guess Ducati and Sete expect him to find some new luck with the team change, but just as likely the Ducati team wants to brighten up their pit garage with the addition of Sete's girlfriend, supermodel Ester Canadas.
FastDates.com Calendar Angel
Joanna Kruppa
featured in Playboy
Big Discount Savings to FastDates.com Readers



2006 Playboy 15-inch Wall
Hope Partlow
Click to listen to her hit song
"Who We Are"
Vermeulen's First MotoGP
Chris Vermeulen, standing in for the injured Troy Bayliss (Camel Honda RC211V), finished 11th on his first RCV ride. The Aussie said, "It was an okay race, nothing more as far as I'm concerned. I wanted to get into the top ten, but I got boxed in at the start and took the first lap cautiously. Then I picked up the pace, I felt good and passed Jacque, Xaus and Hopkins. They're all riders with experience and as I followed them before attacking, especially John, I learnt so many things about race management."
It is expected that Chris will joinNicky Hayden on the factory Repsol Honda tea in MotoGP in 2006.
PEDROSA VICTORY AND 250cc WORLD TITLE GIVES HONDA 600 GRAND PRIX WINS
Sunday October 16 2005
Australian Grand Prix, Phillip Island - VICTORY in today's Australian 250cc Grand Prix handed Dani Pedrosa a third successive World title and Honda its 600th win in the FIM Road Racing Grand Prix Championship and retained Honda's position as the most successful manufacturer in the 56-year history of the sport.
Pedrosa, 20, won a thrilling 25-lap race to seal a triple celebration and help Honda continue an amazing heritage which stretches back to its first victory in 1961.
Dani Pedrosa:
"This is a great day for everyone and to be the rider to give Honda its 600th win means the day could hardly be any better. I was aware of the 600th win and that I could win the title but to actually achieve everything is a fantastic feeling."
Alberto Puig, Movistar Honda Team Manager:
"What an exceptional day. Even in the closing stages of the race I really thought Dani would be clinching the world title today. Add to that Honda's 600th win and it makes a complete day – I am very proud to witness all of this and to be a part of it."
Who won Honda's first Grand Prix Victory?
It was Australian Tom Phillis who won the 125cc class at the Spanish GP in May 1961 on a Honda RC143. Phillis would win 5 more GPs that year in both the 125cc and 250cc class, with team mate Mikie Hailwood winning 5 races in both classes as well, and Jim Redman winning 2 250cc races.
Charlotte Martin
On Your Shore

Join FastDates.com at a Live Charlottte Martin Recording and DVD Release Party in Hollywood Nov 17th!
Join us live as Charlotte invites you to the intimate recording of her debut DVD, Something Like A DVD. The private recording is slated for Thursday, November 17, 2005 at The Silent Movie Theatre and the $40.00 USD ticket price includes entrance to the DVD recording, access to the autograph signing, and one autographed copy of Something Like A DVD.
"Hi everyone! I miss you so much and am so excited to see you on this fall tour and at the DVD show. This tour kind of wraps up the On Your Shore thing for me and I'm sad about that, but at the same time am very excited to pre-release Veins to you all on the road. It will also be available for presale on iTunes and Musictoday in November.
It's time to close and open a new chapter, and I'm grateful to all of you who have stayed on this journey with me and to those of you who just joined me.
I'm super excited about Something Like A DVD!!! It is going to be a lot of things-string sessions from On Your Shore, tour footage from my past tours over 2003-2005, some interviewing and of course...the LIVE TAPING which you are all invited to be at!"

Complete details with ticket ordering on Charlotte's website at:
charlottemartin.com

THQ and Climax announce new MotoGP game for XBox 360™
THQ Inc. have announced that the MotoGP Ultimate Racing Technology game will have next-gen audiences racing on the Xbox 360™ video game and entertainment system from Microsoft.
Combining fast-paced, knee-scraping racing action with the very latest technology, the next installment of MotoGP URT looks set to bring motor sport to an unprecedented level of realism and intensity. The MotoGP URT franchise has met with worldwide critical acclaim with MotoGP URT 3 (launched on September 2nd 2005) being hailed by experts as "the best racing game on Xbox" and "the best motorcycling simulation game".

KTM will not field a factory team in the 2006 Supermoto World Championship.
After four seasons since the inception of the World Championship, which have yielded the company two World Titles, KTM will concentrate its supermoto racing efforts in National Championships.
According to KTM, despite efforts to increase the profile of the World Championship, it has proven very difficult for the FIM and Championship promoters to maintain a stable calendar of quality events. The number of spectators attending World Championship events, and the amount of media coverage, does not warrant the continued investment in a full KTM factory World Championship team, the Austrian manufacturer said in a prepared statement.
KTM will continue, through it's national subsidiaries, to support the National Championships in countries such as the United States, Australia, France, Germany and Italy. Supermoto remains an important racing sector for KTM and the research and development activity remains at current levels to support the domestic racing and the continued development of the supermoto motorcycle models in the KTM range.
The final two races of the 2005 Supermoto World Championship are yet to be held.
Triumph Sticks with Triples
Oct 11th - Triumph Motorcycle Ltd. has built the last of its four-cylinder motorcycles and will limited future production to triple-cylinder engines.
"The couple of hundred 2006 model year Speed Fours that we've brought in are already spoken for, and those represented the last four-cylinder bikes we're ever going to make," Triumph USA's Todd Andersen recently told Powersports Business.
As if to prove the point, Triumph led the 2006 model year launch with the introduction of the Daytona 675 (MSRP $8,999), a bike that sits as the lone three-cylinder in a middleweight sport market dominated by inline fours.
Yamaha's 2006
World Supersport Program
Oct 1st - Yamaha will compete in the 2006 Sup0er.spo.rt World championship with Australian riders kevin Curtin and Broc Parkes racing the new Yamaha YZF-R6 through the Yamaha Motor germany team.
The squad will receive official support from Yamaha Motor Europe and they are already working on development of the new bike. To assure they are ready to compete for race wins from February's opening round in Qatar, yamaha has provided the team with early production machines and a range of kit parts, allowing the team to complete a private shakedown test several weeks ago. Yamaha Motor germany is now focusing on engine development at its Neuss base with Curtin and Parks scheduled to get their first full test of the raxce machine in December.
Yamaha Motor Germany won the Supersport World Championship in 2000 with rider Jšrg Teuchert and has opted to retain the services of both its 2005 riders following their impressive performances this season. Curtain is currently second in the championship with one race win, last time out at EuroSpeedway Lausitz, while Parkes is sixth in the standings in his first year with the team.
Yamaha's all-new YZF-R6 was unveiled to the world's press in paris last month. The new macnine is the company's most tencnologically advanced production model to date and boasts impressive specifications including an inovative electronically controlled throttle system, new chassis, a completely redesigned and more powerful engine with a slipper clutch fitted as standard. Once again, yamaha is offering a full range of racing parts for the YZF-R1 and YZF-R6 through its YEC (Yamaha Engineering Corporation) company. Full information on the kit parts in avaialble at
Yamaha-RacingParts.com.