FastDates.com November 2005
Superbike, MotoGP Racing & Calendar Girl News
Official Calendar of the SBK World Superbike Championship
Home of the official SBK Fast Dates & Team Ducati Corse Umbrella Girls

Page 1 - Shockers! Vermeulen to Suzuki - Roberts dropped
Ben Boz back to Ducati - Eric Boz lands at Yamaha USA
Suzuki says goodbye to Roberts Jr • Toseland to Ten Kate

* Turkish MotoGP - 250cc champ Marco Melandri wins his first MotoGP
• Magney Cours SBK World Superbike finale to Vermeulen, Lanzi,
Troy Corser and Alstare Corona Suzuki are 2005 World Superbike Champs
* AMA Season Final Mladin Takes 6th Superbike Title at Road Atlanta
• Fast Dates News Calendar Angels Go Wild at Brands Hatch Superbike
• AMA Pro Racing Continues Disastrous Bike Class Structure for 2006
• Dream FastDates.com Streetbike Edelweiss Vacation to France
• Joanna Krupa FastDates Calendar Angels scores Playboy cover pictorial
• Pirelli Calendar 2005 Supermodels get naked in Rio de Janero
• New Bikes! • Triumph 675 Daytona & Scrambler • KTM 990/950 Supers
• Ducati Multistrada S - Fast Dates Bike of the Year!
• Ducati 999R FILA Special Edition • MV Agusta F4-1000 • KTM 990
• Ducati 999R05 Our Exclusive First Test with Superbike girl Robin!

Valentino Rossi is cool! When he wrapped up this season's World MotoGP title two races ago at Phillip Island, Australia, who should fly in from Grimm's Fairyland to congratulate the handsome Doctor, er...Prince, but Snow White and her Seven Dwarfs to celebrate Valentino's now 7 World Championship titles! Valentino is the only r ider in the sport to win in all 4 classes as well: 125cc, 250cc, and 500cc which is now replaced by MotoGP.

2005 MotoGP World Championship Final Valencia, Round 17 of 17
MotoGP curtain falls with Spanish fiesta
at Gran Premio BetAndWin.com de la Comunitat Valenciana
Valencia Spain, Nov 4-6th - The MotoGP season reaches a fitting climax in the frenzied atmosphere of the Gran Premio betandwin.com de la Comunitat Valenciana at the Ricardo Tormo circuit in Spain on Sunday. A weekend crowd of over 200,000 will pack the grandstands around the track on the outskirts of Valencia to witness the continuing battle between World Champion Valentino Rossi and the pretenders to his crown, Marco Melandri and Nicky Hayden.
Rossi has won for the last two years in Valencia on both Honda and Yamaha machinery and he seeks a hat-trick of victories to equal Mick Doohan's all-time record of twelve wins in a season. The Italian knows it will not be easy with Melandri, who won the 2002 250cc race in Valencia, thirsting for a repeat of his historic first MotoGP win in Turkey at the last round. Melandri's win has given him an eight-point lead over Hayden in their battle for second place in the championship after the American finished third at Istanbul.
Mathematically Colin Edwards could finish second but Rossi's Yamaha team-mate would have to win his first MotoGP race to have any chance. Max Biaggi, who holds the lap record at Valencia, looks likely to end a disappointing season in fifth place, thirteen points in front of an equally dejected Sete Gibernau. The Spaniard has yet to win this season and he will be aiming to repeat his emotional debut victory of four years ago before a likely move to Ducati at the end of the season.
Loris Capirossi makes a welcome return to the Italian factory team after missing the last two races because of injury. Capirossi was given the all clear after a scan on his damaged lung on Saturday and will be hoping to hit the form that brought him victories in both Japan and Malaysia two months ago. His team-mate Carlos Checa makes his last appearance for the Ducati team and will seeking to end on a high note after an impressive finish to the season.
Dani Pedrosa bows out of the 250cc World Championship after dominating the series for the last two years. Pedrosa, who took victory at Valencia last season, joins MotoGP next year with Repsol Honda and he will want to celebrate his 2005 title in front of his home crowd with a repeat success on Sunday. Casey Stoner could well spoil the party after winning three of the last four races. The Australian is in tremendous form and could also be heading for a MotoGP ride, whilst Randy De Puniet also makes his final 250cc appearance after signing a contract with Kawasaki to move up to the premier class next year.
Thomas Lüthi is on the verge of capturing the 125cc World Championship in the final round. The Swiss teenager holds a 23-point lead over Mika Kallio and only has to finish thirteenth to ensure his first title even if the Finnish rider wins the race. For Kallio to win the championship he must take victory and hope Lüthi scores no more than two points.
Complete race coverage to follow HERE
---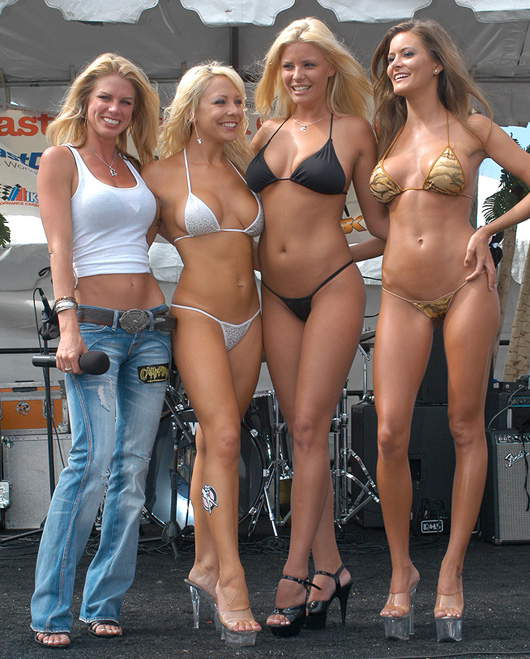 FastDates.com Calendar Angel and cover model Rockin' Robin Cunningham (far left) played hostess to the world's smallest bikini's at the LA Calendar Bike Show's Model Search Pageant. Winner Candice Curtis (black suit) won $500 for 1st place on Sunday and a paid shoot for the 2007 FastDates.com Calendars.

Next to Candice on the right in the gold camaflage bikini (that somehow doesn't hide too much) is Holly GoGo who placed 1st in the Model Search the day before, Saturday. Holly was recently featured on the Spike TV show "Young and Beautiful and Trying to Make it in Hollywood. Can you guess that her stage name comes from working part time as a GoGo dancer in Hollywood? In fact, we first met Holly GoGo when she danced at our Iron & Lace Calendar Party at The Bar Fly on Sunset Strip in Hollywood two years ago.

Billet Bikes, Beautiful Girls, Hunky Builders, Rockin's Music and Unbridled Horsepower
2005 LA Calendar Bike Show featured on Speed TV, Tuesesday Nov 1st!
Los Angeles, CA, Nov 1st - The LA Calendar Motorcycle Show continued its phenomenal growth in 2005 to now become the Biggest Street, Custom and Performance Motorcycle Show in the World! This year we hosted 195 major Exhibitors, Manufacturers and Retailers, our largest ever spectator attendance, and an exciting weekend of exclusive activities and entertainment which no other show has matched. We also receive more TV and print media coverage than any other consumer show in America, making the LA Calendar Motorcycle Show one of the most important events you can attend all year. Tune in on Tuesday November 1st as our TV partner American Thunder on Speed TV offers up a full half-hour program on the 2005 Calendar Bike Show:
LA Calendar Motorcycle Show times on American Thunder, SpeedTV - Tuesday November 1st
8 pm East / 5pm Pacific, American Thunder - LA Calendar Motorcycle Show
11pm East / 8pm Pacific, American Thunder - LA Calendar Motorcycle Show
2 am East / 11pm Pacific, American Thunder - LA Calendar Motorcycle Show
Plus, our complete On-Line Coverage at 2005 Calendar Bike Show
---
Yamaha USA to field Hacking Disalvo and Eric Brostom
in 2006 AMA 600cc Supersport and 1000cc Superstock Classes
Cypress, CA, Nov. 1st -Yamaha Motor Company is pleased to announce its AMA Roadracing plans for 2006 that will be centered around the introductions of both the all-new YZF-R6 and the new race-specYZF-R1 LE. Veteran rider and 2003 Supersport Champion Jamie Hacking returns to Team Blue and White competing on the potent new R6 in the AMA Supersport Class and the new R1 LE in the Superstock Class. "I'm just pumped to ride both these classes this year," said Jamie, "and with these unbelievable new bikes, I'm ready to bring home Yamaha at least one Championship."
Twenty one year-old hot shot Jason DiSalvo also returns and will compete this year on a fully prepped YZF-R6 in the Formula Extreme Class including the prestigious Daytona 200. Jason will also pilot the new R1 LE in an effort to improve his overall second place finishing position in 2005 in the AMA Superstock Class. "We've just started testing the new R6 and it's already miles ahead of last year's bike," said and exuberant DiSalvo. "I'm confident and so looking forward to the season ahead."
Finally, Yamaha is pleased to welcome the charismatic Eric Bostrom, who will round out the Yamaha squad competing in both the Formula Extreme and Superstock classes. "I just saw the new bikes and they are awesome." Said Bostrom. "I feel great and Yamaha has already made me feel so much a part of their family. I just can't wait to start riding."
Graves Motorsports will continue to maintain the Superstock effort in the coming year. Yamaha USA does expect to move to the AMA Superbike class in 2007, but they could have done so for 2006 if they wanted, since Yamaha of Japan has already gained experience racing the R1s in World Superbike this year and has the bikes and parts.
"We are extremely excited about the year ahead," said Racing Division Manager Keith McCarty, "We feel that our new team will have great dynamics and with two new bikes, tremendous potential to win multiple championships."
Unfortunately, Yamaha USA's decision not to compete in the premier AMA Superbike class this year (along with Kawasaki USA) this will continue to adversely effect professional roadracing in America. Spearheading the sports decline is AMA Professional Roadracing's bike class structure of 4 different classes for 2 different sportbike displacements, 600cc and 1000cc, dispersing America's small pool of pro level riders and factory teams across the 4 different class so eveyone has a potential title to win and advertise. Meanwhile, spectator attendance and popularity of the professional raodracing in America continues to decline. Spectator attendance continues to decline at most AMA Nationals, and tracks and promoters can not afford to put on races. - Ed.
---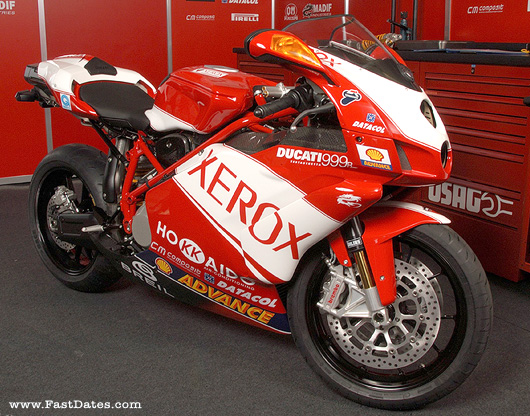 New 2006 Ducati 999R Xerox Superbike and ST3s ABS Sport Tourer
Birmingham, England,Oct 27th – In the run-up to the presentation of its complete Model Year 2006 range at EICMA in Milan from 15 to 20 November, Ducati chose the prestigious Motorcycle and Scooter Show in Birmingham (UK) to preview two of its new models due out next year. The first is an exclusive version of the 999R, in the form of a "Xerox replica", which practically duplicates the official 2005 Superbike World Championship bike right down to the graphics and smallest details – and the second is the new ST3s ABS, Ducati's high-performance sport-touring bike, which will top the range for 2006 and comes complete with ABS and other substantial improvements in terms of equipment and finish.

The 999R "Xerox replica" has a captivatingly aggressive look, in this even more exclusive racing version. Adorned with the graphics of the official bike, this special version of the 999R also features black anodized steering head and footpegs and the red Brembo Racing logo on the radially mounted brake calipers. A further exclusive detail with respect to the standard model is the fully adjustable Ohlins 'Racing' rear shock absorber, with dual adjustment of compression damping for high and low relative speeds, body in aluminum and counterspring.

For lovers of "race replica" bikes, there is also a kit containing red adhesive wheel trim and dedicated stickers for the headlamp fairing.

Like the 999R, the "Xerox replica" is also supplied as standard with a racing kit (the Termignoni exhaust kit consisting of a horizontal, cylindrical half-manifold, in place of the standard part of the exhaust system, which houses the catalytic converter, 'open' silencer and carbon cover specifically for the open silencer), which further accentuates the sporting spirit of this incredible, high-performance Ducati built for track and competition use.

Another unmissable preview is the new ST3s ABS, which will spearhead the Ducati Sport Touring range as of 2006. The ST3 ABS features top-end cycle parts (fully adjustable Showa forks with TiN treatment; fully adjustable Ohlins rear shock absorber; aluminum swingarm; five-spoke wheels), are complemented by a further safety feature in the form of ABS brakes. These were developed in response to the sporting nature of the bike, to ensure maximum safety without compromising performance even at the limit.
The new ST3sABS shares the same versatile Desmo3 liquid-cooled 3-valve engine as the ST3, for an optimum combination of the low-rev torque typical of 2-valve engines with the power of 4-valve units. It also meets Euro 3 anti-pollution standards.
The ST3s ABS will be available from Ducati Dealers in December, while the 999R Xerox will be available in January.The US and Canadian pricing on the two bikes in the press release yesterday are as follows:
999R Xerox - $32,995 USD (41,995 CND) • ST3s ABS - $14,495 USD ($19,995 CND)
---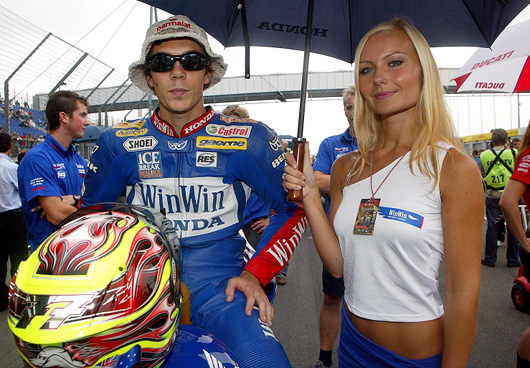 Honda of Japan lets another Champion slip away...
Shocker! Chris Vermeulen signs for Team SUZUKI MotoGP
October 28th - Suzuki and Chris Vermeulen have agreed terms for the next two years, which will see the rising Australian star race the Suzuki GSV-R in the 2006 and 2007 seasons. Vermeulen joins Team SUZUKI MotoGP from a successful season in the World Supersport and Superbike Championship riding for Ten Kate Honda, the 23-year old finishing this season in second place overall, having won the Supersport Title in 2003. He will ride the Suzuki GSV-R for the first time in the forthcoming Valencia test on Wednesday 9th and Thursday 10th November.
It was a suprise move to Suzuki, as Chris was ear marked (see the Istanbul Moto GP coverage beloe) to take Troy Bayliss' seat on the Camel Honda MotoGP Team with the much more competitive Honda RC211, as Troy will return to World Superbike in 2006 to join Ducati where he was World Superbike Champion in 2002. After Honda lost Valentino Rossi to Yamaha back in 2004, it was expected that Honda had learned its lesson not to let any more Champions slip away. But obviously they hadn't. It is also expected that front runner and front crasher Sete Giberneau will be leaving the Movie Star Honda MotoGP team in to join Ducati's GP team in 2006.
Born in Brisbane in Australia, Vermeulen began racing dirt track bikes from the age of 12, before moving onto 250 and 600cc machines in the Australian Championship. In 2000 his talent was noticed by former Suzuki World Champion Barry Sheene, and the late Sheene persuaded Vermeulen to travel to Britain to race. A year in the British Supersport and Superstock championships followed and Vermeulen scored his first Supersport win at Donington Park, accompanied by five wins in the Superstock championship.
For the 2001 season Vermeulen moved onto the world stage with a ride in World Supersport and in 2003 raced to the title in only his third season in this very competitive championship. Vermeulen then made the progression into Superbikes in 2004, developing his machine into a serious contender and notching up four victories.
Vermeulen has already shown, at a young age, his talent to develop a racing motorcycle and his hunger for victory. It is these attributes, coupled with his natural racing talent, which have persuaded Suzuki to offer him the position recently vacated by ex World Champion Kenny Roberts Jr as team-mate to John Hopkins.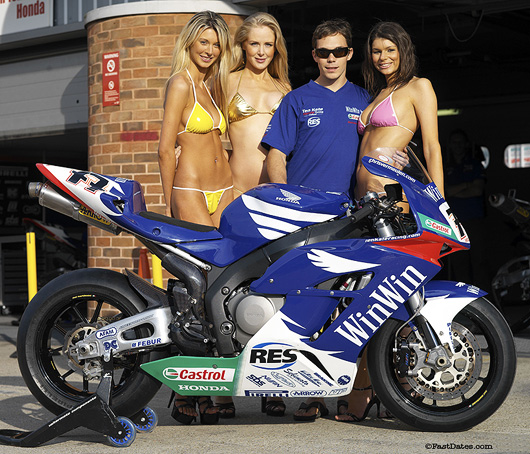 Chris Vermeulen: "I'm so excited about the prospects for next year. It's obviously going to be a difficult season to begin with - there are a lot of new tracks to learn, a new bike and a new team, but I know I am up for the challenge.
"I've known Paul Denning since I came to England in the year 2000 and I'm really looking forward to working with him as well as the whole team. I'll try to take that step up to fill the shoes of Suzuki World Champions like Barry Sheene - Barry was the guy that gave me my first chance - Kevin Schwantz and Kenny Junior. These are all guys that I really respect
"I'm also looking forward to working with Bridgestone as well as Suzuki. It's another new tyre manufacturer for me. I've never ridden on them before, but I've heard and seen a lot of good things and hopefully we can do well together.
"I want to thank Suzuki for giving me this chance in MotoGP and for trusting in my ability. Suzuki has been very honest about the current position, and about its future plans. I am very happy to be part of those plans and I'll be doing everything I can to make sure Suzuki's faith in me is repaid."
Paul Denning – Team Manager: "Suzuki is delighted to have secured the services of Chris. He is one of the rising stars of motorcycle racing and will undoubtedly inject some new life into Team SUZUKI MotoGP. He has already shown his hunger for success and his ability to learn new situations very quickly.
"He is joining the team after a very successful year in World Superbikes where he pushed the eventual World Champion - Suzuki's Troy Corser - all the way. Neither Chris nor Suzuki is under any illusions at the size of our MotoGP task ahead, but we are all confident that Chris is the right choice for the future. We are very grateful to the Ten Kate team for releasing Chris early from his contract, this will enable him to get to know his new crew and ride the GSV-R at Valencia.
"It has been helpful that Chris had the opportunity to ride in MotoGP at the end of this season, but Suzuki's enthusiasm to sign him was established well before this chance came up. His mature performances in these races have only served to justify that enthusiasm!
"On a personal basis, I first met Chris as a fresh-faced 17-year old when he came over to England with Barry Sheene. He quickly established himself as a tough competitor on the track, but a very likeable young man off it. I have watched his career progress and know that now is the right time for him to make the switch to MotoGP and show the true talent and potential that he possesses.
"Suzuki's rider line-up of John Hopkins and Chris is young, aggressive, exciting and shows faith in the future. We all have a lot of work to do – now let's get to it!"
---

Ben Bostrom suffered a disasterous season in World Superbike this year on the Renegade Honda CBR1000RR.
He and the team were always at the back of the pack, while the privateer Ten Kate team were winning races right from the start.

Double Shocker!! Ben Bostrom Returns to Team Ducati
to join Neil Hodgson in 2006 AMA Superbike
Bologna (Italy), Sat 29 Oct 2005: Ben Bostrom is to partner the already-confirmed Neil Hodgson in the Parts Unlimited Ducati Austin team that will compete in next year's AMA Superbike Championship with factory Ducati 999 bikes.
2006 will mark the second season in America's premier racing category for Hodgson, 31 years old from Burnley, England. The former World Superbike champion finished sixth in his debut AMA Superbike season, winning one race at Road America and stepping onto the podium a further five times in the 10 round/17 race series. Hodgson now has a great opportunity to make use of his learning year to aim for the title and thus fulfil his ambition of becoming the only rider to win the 'triple crown' of British, American and World Superbike titles.
"I'm really looking forward to the challenge in 2006" commented Neil. "I know the 999 will be improved and now I understand how to approach AMA. It's going to be tough to beat Mladin but I've studied everything hard this year and I've got a plan for how to beat him! I really enjoyed working with Eric and it will be equally great to work with his brother Ben .... It's just a pity he's not better-looking!"
Bostrom, also 31 years old and born in Redding (California) in 1974, will step onto a factory Ducati Corse machine again after a three-year gap in which he rode Hondas in AMA Superbike in 2003-2004 and the World Superbike Championship for the privater Renegade Team in 2005. Ben previously rode for Ducati Corse on their World Superbike team back in 2001-2004 after winning the AMA National Superbike Championship for American Honda in 2000. Ben put in a strong season his first year with Ducati Corse back in 2001, but since then has not proven to be a top contender and was consequently these past 4 years let go by Ducati, American Honda and Renegade respectively.
Ben now returns home to America after one year on the world stage to take the place of his younger brother Eric, who won four races with the Parts Unlimited Ducati Austin 999 in the last two seasons of AMA racing. Ducati Corse was faced with a huge delema in choosing a team mate for Hodgson for next year, as there are no up and coming riders in Ameirca or World Superbike available to take a chance on. No top International riders are really interested in racing in America because of the small purses, bush league tracks, the traveling, and the almost certainty they will be waxed by the Yoshimura Suzuki steamroller. Ducati Corse hoped that Ducati 2004 World Champion James Toseland would join fellow Brit Neil Hodgson in America, put the opening left by Chris Vermeulen at ten Kate Honda in WSB was a gift for James sent from Heaven.
Based on Bens poor race record the past 4 years, one would expect that Ducati has put Ben on a performance payment contract to assure that Ben won't be earning much Ducati money unless he places well. Still, just the support of 2 factory bikes and a slew of factory mechanics will cost Ducati Corse around $1 million dollars to support Ben for a full season in AMA Superbike.
"You know, this year was a tough one on the racetrack" declared Ben. "So I'm real excited to be back with a factory that I've had so much success with in the past. We've shared lots of good memories, Ducati and I, and I'm looking forward to a strong season together, and to creating new memories with them."
Parts Unlimited Ducati Austin owner Terry Gregoricka commented on his team's new line-up: "Neil had a great first season with us, winning one race and always fighting hard throughout the season and I'm convinced he can challenge for the title in 2006. Ben has had great success with Ducati in the past and I feel sure he will remember that and get on the gas! His crew chief Gary Medley has worked with him before and that's also sure to be an advantage. I believe Neil and Ben will work well together as a team and knowing each other will certainly help. 2006 is going to be even tougher than this year but I am convinced that our two riders will go well and that they can both win races throughout the season."
Ducati Corse Superbike director Paolo Ciabatti added: "We are officially involved in the AMA Superbike Championship for a second year with the Parts Unlimited Ducati Austin team and once again we will have two world-class riders. The American market is very important to Ducati: our participation in the AMA championship with a factory effort shows our strong commitment to the series and is a key element of the company's marketing strategies in this area of the world."
Fast Dates Calendar Motorcycle Roadracing News. Complete coverage of the SBK World Superbike, AMA National Superbike and MotoGP World Championship. Superbike, sportbike, grand prix, MotoGP, race, racing, news, coverage, photos, pictures, Fast Dates Calendar and Umbrella Girls. Racing, road race, track, motorcycle, news, results, girls, models, Mat Aladdin, Max Biaggi, Valentino Rossi, Ben and Eric Bostrom, James Toseland, Regis Laconi, Loris Capirossi, Troy Bayliss, Troy Corser, Noriyuki Haga. Ducati 999 Monster Multistrada, Yamaha R6 R1, Honda CBR600RR CBR1000RR, Kawasaki ZX6 ZX6RR ZX10, Suzuki GSXR600 GSXR750 GSXR1000, Aprilia Mille, MZ Agusta F4 Brutale. Los Angeles Calendar Motorcycle Show.



Click to Order Now!
Fast Dates Racebike Pinup
No other sportbike calendar gives you the world's top factory Superbikes!
Take Chis Vermeulen's Ten Kate Honda CBR1000RR cover bike and al the other top factory World Superbikefor a spin!
14 Month 2006 Calendars
start November 1st 2005
Iron & Lace Custom Bike Pinup
Featuring the beautiful
Fast Dates World Superbike Girls
Chandi, Andra and Taylor in
Iron & Lace, Garage Girls



2006 FastDates.com Calendars World Premier
at Brands Hatch
World Superbike England
Complete Coverage Here
TOSELAND SIGNS FOR WINSTON TEN KATE HONDA
James Toseland will ride for the Winston Ten Kate Honda team in the 2006 World Superbike championship after agreeing terms with Gerrit and Ronald Ten Kate in Holland last Saturday (22 October).
The 25-year-old British rider from Sheffield, who will be renewing his working relationship with Honda after five years with Ducati, was World Superbike champion in 2004 and finished fourth in this year's series. Toseland's signing is to replace team rider Chris Vermeulen who finished 2nd overall in this year's World Superbike Championship, but who is now moving to MotoGP to ride for the Honda factory team.
Ronald ten Kate – team manager: "We are absolutely delighted to have secured James's services for next year's World Superbike campaign with Winston and Honda. It'll be our third year in the series and 2006 probably represents our best opportunity to win the title and add to our four consecutive World Supersport championships. Last year was really a toe in the water for us and I think that this year, with a little more luck earlier in the season, Chris Vermeulen would have had a strong chance of winning the title. James fits exactly what we are looking for in a rider – he's young, talented and highly motivated. We are really looking forward to bringing the best out of him and, in the conversations that we've had, I can see how eager he is to get on the Honda CBR1000RR Fireblade. His career started with Honda and it'll be good to get him winning with Honda again. I know he will fit into the team extremely well and the guys are really looking forward to working with him."
James Toseland - "It's sometimes an over-used expression but I'm just over the moon to be riding with the Winston Ten Kate Honda team for next year. It's been a stressful couple of weeks but now we've done the deal I just can't wait to get on the bike. I've had a good five years with Ducati but now I feel I'm really moving onwards and upwards, as well as coming home to Honda. We all saw in last year's World Superbike debut season for the Ten Kate team that they had a really strong package with the Fireblade that turned them into championship contenders at the end of the season. I've watched the bikes on the track this year – particularly racing against Karl Muggeridge at Magny-Cours – and you can see how much development work they've done. Four consecutive World Supersport championships with four different riders show how strong and consistent the team can be. We all know how powerful the Ten Kate engines are and I'm really excited about helping to continue developing the chassis as well. I visited the team's workshop in Holland over the weekend and it really is very impressive. They're totally switched on and it's obvious that they're doing this to win. I can't wait to start working with them and I'm very excited about becoming part of that famous Ten Kate racing 'family'."
James Toseland
Date of birth: 5 October 1980
Place of birth: Sheffield, United Kingdom
Status: Single
Height/weight: 1.75m/75kg
Hobbies: training, playing piano
Career highlights
1989-1993: Trials
1992: Junior motocross
1994: 125cc Yamaha
1995: Junior road racing championship
1996: British Superteen championship – final position 11th
1997: Honda CB500 Cup – champion
1997: British Supersport championship (Honda) – 3rd
1998: World Supersport championship (Honda) – 18th
1999: World Supersport championship (Honda) – 11th
2000: British Superbike championship (Honda) – 12th
2001: World Superbike championship (Ducati) – 13th
2002: World Superbike championship (Ducati) – 7th
2003: World Superbike championship (Ducati) – 3rd
2004: World Superbike Championship (Ducati) – 1st
2005: World Superbike championship (Ducati) – 4th
Kenny Roberts Jr
and Suzuki to Part Company
Team Suzuki Oct 33nd - Kenny Roberts Jr will not have his Team SUZUKI MotoGP contract renewed for the 2006 season, when his current agreement comes to an end in December.
The 32-year old American joined Suzuki in 1999 and within two years the Suzuki Factory and Roberts Jr were celebrating victory in the 2000 World Championship. In his first two seasons with Suzuki, Roberts Jr won eight Grand Prix and was on the podium a further nine times. Suzuki and Roberts Jr have found success a little harder to come by in recent seasons, but still he showed his race-craft at a rain-soaked Donington Park in July this year where he finished in second place.
Roberts Jr has been instrumental in the development of the prototype Suzuki GSV-R race bike and has been a consistently good ambassador for Suzuki, and a consummate professional, throughout his career. He is the second highest rider in Suzuki's list of Grand Prix starters – behind only 1993 World Champion Kevin Schwantz.
No announcement has yet been made on Roberts Jr's future plans. The 2000 World Champion was due to make his final appearance for Suzuki at the last round of the season in Valencia, but the injuries sustained at Phillip Island have ruled him out of that event.
Kenny Roberts Jr: "I could easily sit here and talk for hours about all the great times I have had with Suzuki; they have always been honest and have given me their best. I will of course miss many people. Over the years I have made many friends here at Suzuki, from the engineering level, to the management and of course within the team. I have many individual people to thank, but that is for another time. I am eternally grateful for what Suzuki has done for me. They have given me the chance to win a World Championship and I wish them the best. I know they can achieve whatever they wish to do."
Paul Denning: – Team Manager: "It has been a great honour to work with a Kenny during my first season in MotoGP. His knowledge and understanding of a racing motorcycle is better than any other racer I have met. He has great respect from all at Suzuki for bringing them the World Championship in 2000 and for the tireless work he has put into developing the GSV-R into a competitive race bike. He will always be regarded as a great champion within the history of Suzuki.
"Suzuki has made this decision because it must look towards the future and the new breed of motorcycles and racers that are due to arrive on the scene. We need to place Suzuki back at the forefront of Grand Prix racing and we must take a fresh and new approach in order to achieve that. Kenny would no doubt have achieved strong results and contributed more to the development of the GSV-R, but we must look further than 2006 and start to make plans for the next generation of machines in 2007 and beyond.
"On behalf of Suzuki Motor Corporation, we would like to thank Kenny for his skill, his dedication and his commitment to Suzuki since 1999. Together, Kenny and Suzuki became World Champions and that is something that will never change.
"On a personal level, I would like to thank Kenny for helping me and the team to learn so much during 2005. We will miss his consummate skills and his partnership. We very much hope that Kenny will stay in contact with us in the future – much like Kevin Schwantz, Kenny will always be one of Suzuki's Champions at all levels."

Hamagouchi Full Titanium Race Exhaust Systerms
Your best / most cost effective performance and handling upgradeNow Just $1395 from Sudco

The Pirelli Calendar Book
The Complete Work
Ducati 2006 MotoGP Riders
For next season it is expected that the injured Loris Capirossi will remain with Ducati thanks to his 2 races wins the second half of this season. This year's team mate Carlos Checa is expected to leave the team to replace Troy Bayliss (who returns to Ducati Superbike in 2006) on the Camel Honda factory team. Capirossi's team mate on the Ducati Desmosedici team is going to be none other than Sete Giberneau who will leave the Telefonica Moviestar Honda team where the front runner has been cursed by rival Valentino Rossi with a merciless string of bad luck all year. We guess Ducati and Sete expect him to find some new luck with the team change, but just as likely the Ducati team wants to brighten up their pit garage with the addition of Sete's girlfriend, supermodel Ester Canadas.
FastDates.com Calendar Angel
Joanna Kruppa
featured in Playboy
Big Discount Savings to FastDates.com Readers



2006 Playboy 15-inch Wall
Hope Partlow
Click to listen to her hit song
"Who We Are"
Yamaha's 2006
World Supersport Program
Oct 1st - Yamaha will compete in the 2006 Sup0er.spo.rt World championship with Australian riders kevin Curtin and Broc Parkes racing the new Yamaha YZF-R6 through the Yamaha Motor germany team.
Yamaha's all-new YZF-R6 was unveiled to the world's press in paris last month. The new macnine is the company's most tencnologically advanced production model to date and boasts impressive specifications including an inovative electronically controlled throttle system, new chassis, a completely redesigned and more powerful engine with a slipper clutch fitted as standard. Once again, yamaha is offering a full range of racing parts for the YZF-R1 and YZF-R6 through its YEC (Yamaha Engineering Corporation) company. Full information on the kit parts in avaialble at
Yamaha-RacingParts.com.
2006 range of Yamaha's Racing Kit Parts now available
27/10/2005 - Yamaha Engineering Corporation (YEC) is again producing a full range of racing parts for the YZF-R1 and YZF-R6 machines, designed in accordance with FIM superbike and supersport regulations. YEC is a Yamaha subsidiary company based in Japan. One of its activities is the production of high performance racing parts, which provide that vital edge for Yamaha riders to compete successfully on race tracks the world over. Among the successful riders that used YEC kitparts in 2005 were Noriyuki Haga, winning two races in the Superbike World Championship, and the Yamaha GMT94 team, winning the Le Mans 24-hour race.
For 2006, YEC has developed a range of parts to turn the all-new YZF-R6 into a world and national level supersport racer. Next to that, new YZF-R1 parts are also available to order now. As an additional service, European YEC customers competing at national, European or world championship level will be invited at the end of December to sign up, free-of-charge, for the Yamaha Race Training (YRT). YRT is a three-day course where teams receive invaluable technical training from Yamaha's Japanese and European race engineers, with ample track time available for pre-season testing. This special training will be held at the Valencia circuit in Spain between 22-24 March 2006 (limited places available).
Motocross riders are catered for too with their own range of racing parts developed by Yamaha Rinaldi Research and Development (YRRD), the company that is also responsible for preparing the factory Yamaha YZ450FM machines of MX1 world champion Stefan Everts. YRRD parts are available for the YZ450F, YZ250F and YZ125 models.
Further information on YEC, including recommended retail prices, YRRD parts and more YRT information, is available by visiting www.yamaha-racingparts.com. The order deadline for the first delivery of 2006 is November 14. To order, customers are requested to contact their national Yamaha distributor.


British Superbike Champs
GSE Racing Ducati Resign Lavilla and Haslam for 2006
Oct 14th - Gregorio Lavilla, the newly crowned British Superbike Champion, has signed to continue with GSE Racing for 2006 and will partner Leon Haslam in the Airwaves Ducati squad for a second year.
Lavilla was highly sought after having had a stunning season, his decision to stay with Airwaves Ducati to defend his title is exciting news for the whole team and for next season's Championship.
Gregorio Lavilla today commented on his decision to stay with Airwaves Ducati. "I have decided to stay with the team for one more year in British Superbikes because, having spoken lots to Darrell and Colin, I believe that we can do good things together. This year the atmosphere within the team has been very good and that is very important to me and I know that if I stay with the team we can achieve even more. Next season's Championship will be good and I want to try to raise the level of it and of course try to win the Championship again. I expect there will be a lot of competition and some tough races but I will be ready for that, the team will be ready for that and the bike will be ready too."
Gregorio joined the Airwaves Ducati team as a late replacement for the injured James Haydon in March. With little or no knowledge of many of the British Superbike Circuits when he joined, he quickly proved himself as one of the best riders and a title contender. Having developed a good relationship with Leon, the team went from strength to strength and would like to continue that into next year.
Team Principle Darrell Healey "We are absolutely delighted Greg has decided to stay with us for next year, we appreciate that he is very hot property and I'm sure his decision was not an easy one to make. It's been our best season ever! After having a year out in 2004 no one could have predicted we would win the championship on our return. We are very proud of our team and the effort they all make."
Team Manager Colin Wright "We have proved to be the strongest team in the Championship, we have enjoyed 33 podium finishes, 8 lap records, only missed out on the podium in one race. Greg and Leon have given us six one two's resulting in Airwaves Ducati scoring 11 more points than its nearest rival! It's been a true team effort. For Greg to join us at Brands Hatch in March and then go on to win the championship is outstanding. Now, having secured him for 2006 it's yet another reason for the team to celebrate."
Ducati Corse Director Paolo Ciabatti also confirmed what bikes the riders will be racing on next year. "We are very pleased for GSE Racing, the result was fantastic and we are very happy with their rider line up. I can confirm that we will provide GSE Racing with Ducati 999F06 machines, the same as the factory team will use in World Superbike, next season."
With Leon and Gregorio set to race on the most up to date Ducati machinery next season the Airwaves Ducati team's return to British Superbikes in 2006 is likely to be as eagerly anticipated as their comeback at the start of this season. By continuing with the same riders, sponsors and with the help of Ducati Corse, GSE Racing is confident they will successfully defend their British Superbike title in 2006.