Ben Bostrom seemed motivated, if not excited to be back on the competive factory Ducati in a career reprive.
2006 AMA Superbike Daytona Tire Tests

Ben Spies and Ben Bostrom vie for top times at Daytona Test
Daytona, FL, Dec 11-12th 2005 -The top factory AMA Superbike teams met at Daytona International Speedway this week for th annual Dunlop winter tire tests to determine new rubber compounds for the first AMA 2006 Superbike round at Daytona in March. Noticeably absent from the test was reigning 5-time national Superbike Champion Matt Mladin who was back home in Australia, with young team mate Ben Spies turing quickest tinme for the test at 1:37.309 on his Yoshimura Suzuki GSXR1000. Sunday's track time was cancelled because of rain, with all the riders lapping the famed American speed bowl on Saturday and Monday in cool conditions.
Parts Unlimited Ducati Austin racers Ben Bostrom and Neil Hodgson bothshook down their Ducati 999 Superbikes in the first off-season test for the team, with Ben second quickest overall. Ben Bostrom, a former Ducati racer in both AMA and World Superbike competition, made his debut with the Parts Unlimited Ducati Austin team at the test. He was the top man on the time sheets when he completed his work and second quickest when the day had ended. "I loved the bike from the first laps on Saturday. The Ducati 999 was just how I like a race bike, very firm and responsive. I could feel every little change we made to the settings. It was good at the test, but we really haven't pushed the limits with it yet. We made some small changes to the suspension and it just felt right to me. I'm excited about the new season ahead of us and I think the lap times showed that."
Ben went down late on Monday but was unhurt. "I had a crash at the end of the day. It was a small crash for the rider but a big crash for the bike, unfortunately. My foot slipped off the brake pedal at the slowest corner of the track and down I went. I locked up the front," he said.
Bostrom's best lap was 1:37.849, well below the existing lap record at the revised 3.0-mile track in his first ride on the Ducati 999 Superbike. "It was interesting to ride the 999 after racing for Ducati while this bike was on the drawing boards a few years ago. I can tell the factory used the data and information us racers gave them to develop the 999. The bike is fantastic."
Neil Hodgson was fourth quickest with a lap of 1:38.707. The former World Superbike champion from England was able to slice his lap times late in the day as he improved in the difficult turn one at Daytona. "The test was good for me, but obviously it is a bit threatening when your teammate is quicker than you," said Hodgson. "It's early days, though, and we managed to cut our times by the end of the test. Still some ways to go for us, but we're getting there. My comfort level at this track is definitely improved here. We were second last year in the race, but I feel more comfortable here already with what we accomplished."
"We are very glad Ben was immediately on the pace. He hasn't ridden a Ducati in many years and had never ridden a 999. Neil struggled some but in the last 40 minutes was able to up his pace," said Ducati's Paolo Ciabatti. "I think it is a good beginning. We have a lot of new personnel this year. We have a good harmony in the team and they got along very well. We are happy at this stage and want to see what we do at the next tests."
Daytona Superbike Times
1. Ben Spies (Suzuki) 1:37.309, 2. Ben Bostrom (Ducati) 1:37.849. 3. Aaron Yates (Suzuki) 1:38.371, 4. Neil Hodgson (Ducati) 1:38.707, 5. Jake Zemke (Honda) 1:39.226, 6. Roger Lee Hayden (Kawasaki) 1:39.334, 7. Miguel Duhamel (Honda) 1:39.375, 8. Tommy Hayden (Kawasaki) 1:40.011, 9. Jason Pridmore (Suzuki) 1:40.976
Click for a Big Picture of Neil's Ducati 999R06

---

Our favorite model in the calendar, Russian ice princess Natalia Vodianova cuddles with kittens in the nude.

The 2006 Pirelli Calendar Revealed!
the world's most exclusive and expensively produced pinup calendar
from the word's biggest tire manufacturer
Over a period of more than 30 years the Pirelli Calendars have shaken the media world with their audacity, innovation and spectacular imagery. The Calendar was very much a product of the cultural revolution which inspired a new sensuality, a new appreciation of the female form and, above all, an urgent need to break taboos. In the sixties a tidal wave of creative energy swept through rock music, fashion, films and photography, and the stuffiness and austerity of post-war London quickly surrendered to a new vitality which turned the city into the style capital of the world. At the same time a tyre manufacturer with a foreign name shot to fame outside Italy with an annual PR extravaganza which became coveted by students, cabinet ministers, royalties and superstars alike. An idea of creative genius became a printed icon for each year, spawned many inferior imitations and stretched the parameters of sensual fantasy and fabulous photography. The Pirelli Calendar has redefined the rules of glamorous photography; by tradition calendars were hung on garage walls - now they hang in museums, and Pirelli have gone on redefining those rules year after year. Its twelve leaves were - and still are - awaited with enthusiastic anticipation.
The Pirelli Calendar Books and the Pirelli Calendar Website are your best opportunity to see what you've been missing. Perhaps someday Pirelli will offer their calendar for sale internationally through their website. But for now, you can find detailed information and pictures from the Pirelli Calendars on the Pirelli website at Pirellical.com
More Pirelli 2006 Calendar - Caution Nudity!
Giselle Bundchen hangs out on the Riviera.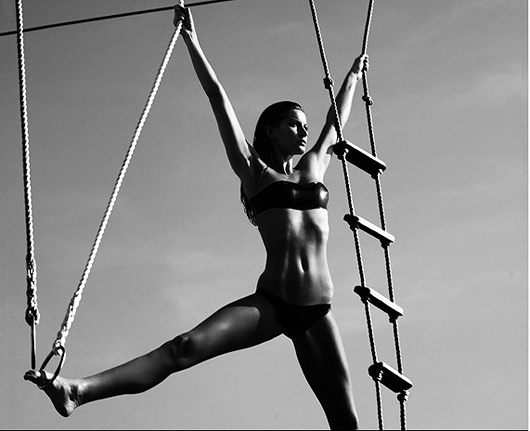 ---
Kate Beckinsale returns to Kick
Werewolf Ass and Seek Revenge
Underworld Revolution

in theatres December 20th!

In the sequel to the $100 Million world wide hit and a FastDates.com favorite of beautiful Chicks Who Kick Ass, Underworld Evolution continues the saga of war between the aristocratic Death Dealers (vampires) and the barbaric Lycanns (werewolves). The film traces the beginning of the ancient feud between the two tribes as the beautiful vampire heroine Selene (Kate Beckinsale) discovers that she has been betrayed by her own kind and seeks revenge. This is one girl you do not want to piss off! This fast-paced modern-day tale of deadly action, ruthless intrigue and forbiden love (!) takes them into battle to end all wars as the immortals must finally face their retribution.

More on Kate Beckinsale

More on www.EnterThe Underworld.com
---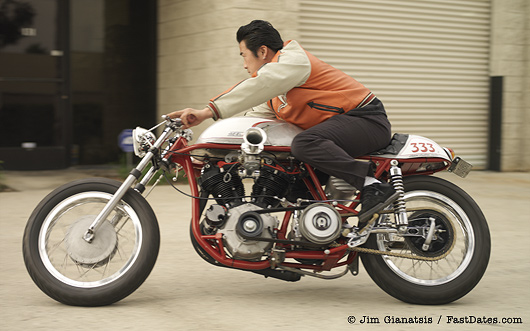 Yasuyoshi turns his shop's driveway into a mini roadrace track.

Chica Custom Cafe Racer
You say you're really bored with nothing to do this winter while you're snowed in back East? How about turning those piles of used bike parts you've had stacked up for years in the garage into a cool Cafe Racer like this retro Harley built by our famed Iron and Lace Calendar builder and Biker Build Off TV star Yasuyoshi Chikazawa of Chica Custom in Huntington Beach, CA. ChicaCustomCycles.com.
The only thing new on this bike is the Akront rims and the headlight. The front end is off an old Japaese streetbike from back in the '70's, the frame was hand built, and the aluminum gas tank was hand beaten and welded. For about $5,000 in swap meet parts and a month's work you've got an exotic retro racer worth some $40,000 on the market. Look for a complete feature pictorial photographed by ace calendar photographer
Jim Gianatsis on this Chica Cafe Racer in an upcoming issue of American Iron magazine.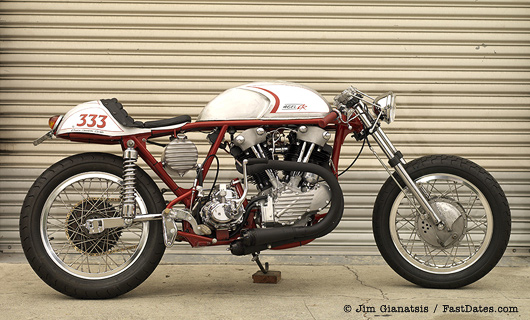 ---

2006 SI Swimsuit 15-inch Wall Calendar w/poster

2006 Sports Illustrated Swimsuit & Playboy Calendars available here!
Click the Covers to Order
---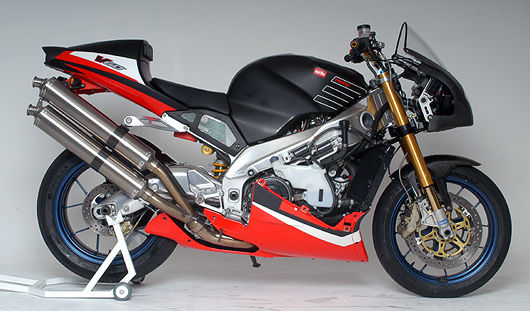 For Sale: FastDates.com Paddock Garage 2001 Aprilia Mille R / Tuono R
Two $20,000 sportbikes for one low price! This is our nearly new with just 1,500 miles, bodywork damaged Mille R Superbike which we converted to a very desireable, limited edition naked Tuono R with all OEM parts handlebars complete with new carbon fibre bikini front fairing. Bike has all the high end components: full Ohlins superbike suspension, forged Marchesini wheels, Aprilia Performance Exhaust System, AFM sprockets and more. Includes the stock clip-ons and upper tripple clamp to convert back to superbike specs. Minor scuffs in right side of tank need easy touch up. Ride as is or add the few still missing body panels. $6,995. Wicked fast and it handles! Available in Los Angeles phone: 818-223-8550
Fast Dates Calendar Motorcycle Roadracing News. Complete coverage of the SBK World Superbike, AMA National Superbike and MotoGP World Championship. Superbike, sportbike, grand prix, MotoGP, race, racing, news, coverage, photos, pictures, Fast Dates Calendar and Umbrella Girls. Racing, road race, track, motorcycle, news, results, girls, models, Mat Aladdin, Max Biaggi, Valentino Rossi, Ben and Eric Bostrom, James Toseland, Regis Laconi, Loris Capirossi, Troy Bayliss, Troy Corser, Noriyuki Haga. Ducati 999 Monster Multistrada, Yamaha R6 R1, Honda CBR600RR CBR1000RR, Kawasaki ZX6 ZX6RR ZX10, Suzuki GSXR600 GSXR750 GSXR1000, Aprilia Mille, MZ Agusta F4 Brutale. Los Angeles Calendar Motorcycle Show.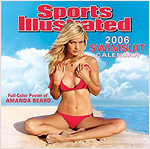 Click to Order Now!
Fast Dates Racebike Pinup
No other sportbike calendar gives you the world's top factory Superbikes!
Take Chis Vermeulen's Ten Kate Honda CBR1000RR cover bike and all the top factory World Superbike and our beautiful
Fast Dates Angels on a date!
14 Month 2006 Calendars
start November 1st 2005
Iron & Lace Custom Bike Pinup
Featuring the beautiful
Fast Dates World Superbike Girls
Chandi, Andra and Taylor in
Iron & Lace, Garage Girls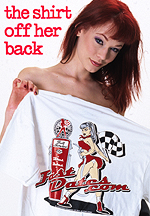 Christmas Wrapping
wear protection all year 'round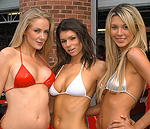 2006 FastDates.com Calendars World Premier
at Brands Hatch
World Superbike England
Complete Coverage Here
Pirelli Calendar model
Kate Moss does drugs and signs a multi million dollar Virgin ad campaign
UPI Dec 10th - Supermodel Kate Moss will become the spokeswoman for Virgin Mobile and star in British TV ads making fun of her fall from grace. Moss has signed the deal and the ads are to start running Christmas Eve, Virgin announced.
Moss fled Britain for the United States a few months back after the Daily Mirror ran photos of her snorting cocaine with her former rocker boyfriend Pete Doherty.
She went into an Arizona rehab center and has scored a number of lucrative jobs since emerging drug-free.
She posed for Italian designer Roberto Cavalli last month, appeared in the 2006 Pirelli calendar and struck deals with Rimmel cosmetics and the French label Longchamp, E! Online reports.
Burberry is reportedly getting ready to reinstate her and she was signed to the Coco Mademoiselle fragrance line.
Remember when motocrosser Ron Leichen was fired by Honda for bringing a little personal maijuana into Japan when he went there to race. It cost him his career. How times have changed!


Hamagouchi Full Titanium Race Exhaust Systerms
Your best / most cost effective performance and handling upgradeNow Just $1395 from Sudco

FastDates.com Calendar Angel
Jamie Pressly
featured in FHM
Big Discount Magazine Savings
to FastDates.com Readers
DUCATI ANNOUNCES $1,000,000 RACING CONTINGENCY PROGRAM FOR 2006
Expanded Ducati Racing Contingency Program increases funds and event support for regional club races in 2006
Cupertino, CA – December 10th, 2005 – Ducati North America officially announces that the popular racing contingency program that debuted in 2005 will return in 2006, better than ever! The 2006 program will have boosted payouts and more coverage for regional club races.

"After a very successful first year, I am pleased to announce that we have raised the bar and are now offering bonus payouts at even more race events in 2006 with the addition of WERA to our roster of racing organizations," said Michael Lock, CEO of Ducati North America. "Racing is an exciting but very expensive sport, and this is our way of supporting the efforts of dedicated Ducati racers throughout the country. Racing is in our blood and Ducati is an important presence at the grass roots as well as the attention-grabbing international level."

For 2006 Ducati will again offer two contingency programs, one for the professional AMA race series and the other for many regional club race series. A significant addition to the program is the WERA series, which is one of the country's premier club racing organizations and boasts over 3000 competitive members.

Specific dates, classes and rules will be announced in early January and will be modeled on the 2005 program.
Troy Bayliss Quickest, Corser 2nd Quickest Despit Missing Final Day of SBK Tests at Qatar
Dohar, Qatar Dec 5-6th - World Superbike Champion Troy Corser was hoping to smash the 1:59 lap mark on the final day of the three-day test at Qatar but a stomach virus ruled him out of contention today. He came to the track hoping to ride in the afternoon, but was in obvious discomfort and so he and the team decided it would be safer not to ride.
Troy had been the fastest rider over the first two days of the test, but his fellow countryman Troy Bayliss (Ducati) managed to post a time of 1:59.13 today - albeit on qualifying rubber.
Third quickest overall was Lorenzo Lanzi (Ducati), ahead of Karl Muggeridge (Honda), James Toseland (Honda), Yukio Kagayama (Suzuki) and Noriyuki Haga (Yamaha).
TROY - "Well it was disappointing not to ride today, because I felt sure I could break the 1:59 barrier. But the tests went very well and we learnt a lot of positive things. We had some new Pirellis to try and they made a big difference to me. They are a significant improvement and they allowed me to lay the bike down in the turns instead of just putting it in there. Now I can feel what the bike is going to do and really use the tyre more. Also the bike felt more stable and I knew it was better all round because I was working harder! During the two days, I tried some new front forks, rear suspension and small bits and bobs - nothing dramatic - just little steps forward.
I think I must have got the stomach virus from some water or food. Last night I felt really crook and had to call the doctor out because I was aching and paining and feeling sick. He gave me some different medicines and I certainly felt better today, but not really up to riding fast. So we called it a day. Troy (Bayliss) did go quicker in the end today, but he was on a qualifier, whereas all my times were done on race rubber, so I don't feel too bad.
Now there's a bit of a gap before our next test in January and I'm looking forward to the break, spending time with my family and friends and being fully refreshed for next years' attack.