FastDates.com November 2005
Superbike, MotoGP Racing & Calendar Girl News
Official Calendar of the SBK World Superbike Championship
Home of the official SBK Fast Dates & Team Ducati Corse Umbrella Girls

Page 1 - FastDates.com Calendar builder Roger Goldammer repeats victory at AMD World Championship of Bike Building
Valencia Superbike Testing • New bikes • Hot Calendar Girls!

* Valencia MotoGP - 2005 Season Finale to Marco Melandri
• Magney Cours SBK World Superbike finale to Vermeulen, Lanzi,
Troy Corser and Alstare Corona Suzuki are 2005 World Superbike Champs
* AMA Season Final Mladin Takes 6th Superbike Title at Road Atlanta
• Fast Dates News Calendar Angels Go Wild at Brands Hatch Superbike
• AMA Pro Racing Continues Disastrous Bike Class Structure for 2006
• Dream FastDates.com Streetbike Edelweiss Vacation to France
• Joanna Krupa FastDates Calendar Angels scores Playboy cover pictorial
• Pirelli Calendar 2005 Supermodels get naked in Rio de Janero
• New Bikes! • Triumph 675 Daytona & Scrambler • KTM 990/950 Supers
• Ducati Multistrada S - Fast Dates Bike of the Year 2005!
Join our Members Corner for lots of sexy FastDates.com Calendar girl Jamie Pressly pictorials.
Jaime is also currently co-staring in the prime time TV sitcom series My Name is Ed where she reprises her type cast traileer trash roles from her movies like Jerry Springer, White Trash, Torque, and Desert Heat.
---
Above: Rover Goldammer's 2005 AMD World Championship winning retro bike on the victory display stand next to the 2006 Iron & Lace Calendar featuring his lasy year's Championship winning Board Track bike on the cover.
2005 AMD Pro Show World Championship / Big Twin West / Custom Chrome Dealer Show

Roger Goldmmer Repeats Victory in Las Vegas at
2005 AMD World Championship of Custom Bike Building
Las Vegas, Nevada, Nov 17-20th 2005 - Roger Goldammer of Goldammer Cycle Works, Canada, returned to the 2005 American Motorcycle Dealer magazine (AMD) Pro Show World Championship of Custom Bike Building held this year at the Mandalay Bay Resort Convention Center in Las Vegas to claim the coveted World Championship Builder title for the 2nd time in the Show's 2 year history. The entry list for the Championship featured 152 bikes from many of the top builders from around the world, making this the biggest pro caliber custom bike show ever held.
Judging in the Radical Builders Class was conducted by the the entered builders themselves, with each builder asked to choose their 12 favorite bikes, in order, with points awarded down from 1st choice. Effectively, Goldammer was awarded the top prize by a judging panel of his peers, and not a a structured set of rules and categories with points for chrome and paint outweighing concept and creativity.
Goldammer's winning bike was an extension of his retro Goldammer Board Track racer which won last year's show and is featured on the cover and inside the FastDates.com 2006 Iron & Lace Calendar sponsored by Mikuni, Performance Machine and Jardine Performance. The rolling chassis is essentially a hardtail version of last year's winner, but without that bike's more expensive hidden rear shock and working rear suspension. And with conventional hub mounted disck brakes replacing the exotic rim disc brakes used previouly on his special 23-inch wheels.
There were many exotic customs at the Show with possibly more exciting chassis designs, but what made this retro 1920's green bike a winner in the eyes of the other builder's was Goldammer's inovative all hand built single cylinder motor based on American V-Twin design components, and forced fed by a beautiful belt driven supercharger. While all the other builders were dropping production based engines into their own exotic chassies, Goldammer was the only builder to take the opposite approach and design an exotic prototype engine for his now production based chassis.
Additional coverage and photos from the AMD World Championship go to Iron & Lace News

Finally, a worthwhile use for your outdated or crashed Suzuki GSXR! Convert it for desert warfare use in Iraq!

---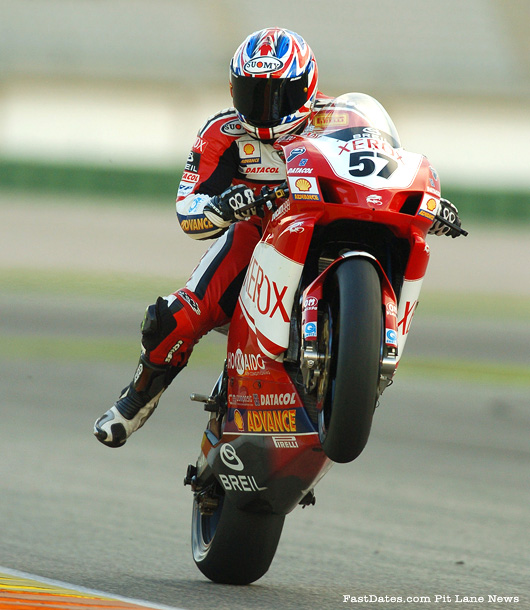 New Ducati Corse rider Lorenzo Lanzi was quickest at the Valencia tests.

SBK World Superbike Championship Pirelli Winter Tire Tests

New Ducati team riders Lanzi and Bayliss Quickest in Valencia Tests
November 16th 2005, Valencia, (Spain) – Only one month after the final Round of Magny Cours the World Superbike riders were back on their bikes for a test of major interest.This tire test sponsored by Pirelli, the spec tire of the SBK Championships, opens the 2006 season. The development teams are called to test on the Spanish track the new tyres developed by Pirelli technicians to face a '06 season that announces to be exciting and extremely battled.

The latest news on the grid included the two Ducati Xerox riders of the past two seasons having left the Bologna team to join team Kawasaki PSG-1 (Regis Laconi) and Honda Ten Kate (James Toseland), leaving their Italian red bikes to Troy Bayliss and Lorenzo Lanzi. Another interesting news is represented by Fonsi Nieto, ready to ride the third Kawasaki, while Yamaha Motor Italia and Suzuki Alstare have confirmed their riders, and Petronas lines up Craig Jones with the still convalescing Steve Martin.

The first day of test was unfortunately ruined by the bad weather that in the last years is always coming with the winter tests in Spain and that allowed only a few laps with rain tyres. A pity because the new solutions to be tested were a lot, and Pirelli was waiting to know the comments on the important news brought for the different classes, the 17" slick and the Nationals.
The two-day test at Valencia was not as productive as it should have been for Team Alstare Suzuki Corona Extra, due to the inclement weather. The first day was a virtual washout and most of the riders only completed a handful of laps in the treacherous conditions. Yukio did not venture out, but newly crowned World Champion Troy Corser did - though a small crash in the afternoon caused a premature end to the proceedings. Fortunately Troy only bruised his left hip but, because he was not due to ride on the second day, his test was over.

The second day was somehow better, with 5 hours of dry testing but with the absence of Troy Corser who had to leave the tests after the rained-out first day to make an appearance at the Intermot Show in Milan. "I went out on day one only because I knew I would not be at the track on day two. I did get a chance to test three different wet tyres, so we got some info. In the afternoon I had a small get-off at the final chicane and banged my left hip a bit. It was a bit sore later, but not too bad. Sometimes when we test at Valencia in winter the weather is superb and we get a lot done. This time though, the weather was bad and so we were unlucky. It happens like that sometimes."
Former World Champ Troy Bayliss made his welcome returned to the fold with his old Superbike number.

The Ducati Xerox Team's 2006 riders Troy Bayliss and Lorenzo Lanzi finally got down to some dry-weather running as the conditions improved on the second and final day of Pirelli tyre testing for the top World Superbike teams at Valencia, setting the quickest times over the two-day test, thus completing their official debut for the Italian factory team.
After yesterday's wash-out, when few riders ventured out onto the track in the wet, conditions were much improved today and Troy was able to ride his Ducati 999 for the first time, together with new team-mate Lorenzo Lanzi.
Bayliss proved himself to be in perfect harmony with the new bike, and the 36 year-old Australian completed 49 laps to get used to a Ducati Superbike again after a three-year gap. Despite a still not entirely healed left wrist following a motocross accident in September, Troy was immediately on the pace and his time of 1m36.1s was good enough for second position behind Lanzi.
"It was a really good day" declared Troy, "and I was surprised how well my wrist stood up. I had a bit of pain on the brakes and when I pushed on the bars, but I still set some good lap times. I was really comfortable with the team and the bike felt like my old armchair! Now I just want to go away and get stronger and fitter for Qatar in three weeks time."
After yesterday's debut in the wet, when he set quickest time, Lorenzo Lanzi continued to impress on the other Ducati Xerox 999. The 24-year-old Italian, winner of two races in his debut year in Superbike, repeated his form today, setting quickest time in 1m35.7s.
"I am really pleased with my performance in these two days" commented Lanzi. "I did 38 laps yesterday and 57 today and I was the quickest overall, even though my motivation is still not at 100%. I like the 999 with the new suspension developments and the tyres as well, and yesterday we also had a good opportunity to lap in the wet, so I'm satisfied."
SBK Superbike top times at Valencia: 1). Lanzi (Ducati) 1:35.7, 2. Bayliss (Ducati) 1:36.1, 3. Kagayama (Alstare Suzuki Corona Extra) 1:36.3, 4. Haga (Yamaha) 1:36.6, 5. Muggeridge (Honda) 1:36.9, 6. Walker (Kawasaki) 1:37.0, 7. Pitt (Yamaha) 1:37.2, 8. Nieto (Kawasaki) 1:37.3, 9. Toseland (Honda) 1:37.5, 10. Laconi (Kawasaki) 1:39.2, 11.Jones (Petronas) 1:41.2
Supersport: the new World Champion Charpentier was the fastest guy with 1'38"2 preceding Vizziello (1'38"6), Foret (1'39"5), Van de Goorbergh (1'40"0) e Chambon (1'40"5). In SuperStock best time for Roccoli with a good 1'37"9.
The next and final testing session this year is scheduled for December 4-6 in the Gulf state of Qatar, the venue for the opening round of next year's championship.
---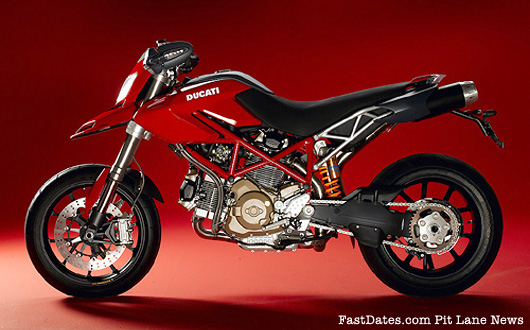 Ducati Unveils new Hypermotard Bike at Milan International Show
DUCATI HYPERMOTARD WINS "BEST OF SHOW" AT EICMA
Milan, Italy Nov 15th- Just a few hours from its unveiling, the new concept bike, the Ducati Hypermotard, has already won its first prestigious and important recognition. The prototype designed by Pierre Terblanche was awarded "Best of Show" at the "Designers Night" held by the Motorcycle Design Association. The new Ducati "jewel" was chosen from the many new motorcycles proposed at EICMA, the 63rd International Motorcycle Exhibition. From November 15-20 EICMA presents the world of international motorcycling on a catwalk of novelty and development.
Milan, Italy Nov 15th - Ducati used this year's International Motorcycle Show in Milan, Italy, to introduce their first new proposed production prototype in 2 years, the Hypermotard. Think of it as a streetfighter performance version of the Ducati's Multistrada S which won FastDates.com's Bike of the Year title for 2005.
The Ducati Hypermotard is designed to attacks urban canyons and carve up mountain passes with total abandon. Stripped down to its essentials, the Hypermotard is an extreme performance, totally over-the-top motorcycle. Its purpose is single minded – to thrill. Incredibly slim and somewhat light, with a riding position to dominate, the Hypermotard is ready to rock every road. Race styling makes the blood boil, but the Hypermotard offers what no other bike in its class can: speeds exceeding 220 KPH on the track, fuel injection, and big bore acceleration with more than 100 horsepower in a 175Kg / 385lb package.
A rigidly triangulated Trellis frame and track-tested chassis geometry is matched with state-of-the-art suspension. Start off with road-holding 50mm Marzocchi R.A.C. forks, gripped by a triple screw lower fork crown, then add an Ohlins remote reservoir shock that mounts to a stout, single-sided swing arm. Ultra light forged and machined Marchesini racing wheels are paired with a single radial mounted Brembo four piston, four pad calliper gripping a 320mm disc up front and a 240mm disc at the rear.
The 1000DS Dual Spark engine pumps out torque and horsepower that is smooth and linear, because the roads that the Hypermotard seeks are neither smooth nor linear. A Slipper type racing clutch makes aggressive downshifting and heavy braking more exciting by damping the abrupt selection of lower gears while entering a turn. Magnesium engine covers subtract more weight for a feathery feel and athletic manoeuvres.

The wide tapered section handlebars transfer control of the tarmac to the rider. Full-length seat design lets the rider move fore and aft, up-front entering the turns, back for maximum traction on exit.
The Hypermotard. Two wheels, one purpose. The most thrilling ride ever...
We love it the Hypermotrd and will certainly want one in our FastDates.com garage. Unfortunately, this is a prototype concept bike and Ducati is waiting to gauge public reaction at Milan and on their website before putting it into production. With tooling and parts delivery time schedules, that means the Hypermotard could be as long as 2 years away - the time it took them to tool up for their their Classic Bikes . Boo...
Changes we'd like to see on the Hypermotard concept bike would be ditch the motocross front fender which is useless on a street bike and use a lower streetbike fender, ditch the twin round mufflers at back for a lighter single superbike silencer, and run dual front brakes. There also needs to be a taller windscreen option since we do have to ride down the highway to get to the canyons. This bike will weigh close to 400lbs wet, just as much as a 999 Superbike, so it definetly needs dual superbike front brakes.
We'd also like to suggest to Ducati a Hypermotard R model with even more power, using the 1000DS 3-valve Desmo 3 motor, or better yet the Testastretta 999 motor. And add Ohlins front forks. Ducati could easily beat Aprilia's popular Tuno R model and KTM's 950 Supermoto by using full superbike components in this much slimmmer and easier to handle new Hypermotard chassis. As presently proposed the Hypermoto looks better than a Tuono and will certainly handle better in the canyons, but it is coming into the market years behind with less power and braking.
---
Chicks that Kick Ass!
Charlize Theron stars in Aeon Flux
in Theatres December 2nd
In this futuristic Si-Fi thriller set 400 years in the future, Charlie Theron stars as Aeon Flux, the top undergoround operative in awar with the totalitarian regime governing what sppears to be a perfect society. Aeon is on the front lines of a rebellion that will reveal a world of secrets. It's a startling vision of a future in flux from Karyn Kusama, director of the aclaimed Girlfight, Aeon Flux is based on the characters created by Peter Chung in the pioneering MTV Animated series.
Moviegoers were first introduced to the seductive charm of Charlize Theron in her feature film debut, MGM's 2 Days in the Valley. Starring with James Spader, Eric Stoltz, and Jeff Daniels, it was the bizarre story of what happens to the lives of ten people in the San Fernando Valley (home of the FastDates.com Calendars and Website and America's Adult Film Industry!) who cross paths over 48 hours. Theron played Helga, Spader's partner and love interest, who can't get enough of the danger that surrounds her. Even among an ensemble cast, Theron gave a standout performance.
Since her film debute 10 years ago, Charlize has started in some 25 major films including the box office hits Cider House Rules, Sweet Novemeber, The Italian Job, and most recently North Country.
In every role she shines as a stong, beautiful, take charge kind of girl that we love to feature in our FastDates.com profiles of "Beautiful Chicks that Kick Ass!"
A beautiful, extreamly talented actress in the vein of Nicole Kidman and Renee Zellwegger who can change their acting, speaking accent. looks and personality to fite exactly the roles they play, Charlize won the Acadency Award for best Actress in 2003 for her role as killer prostitute Aileen Wuornos in the critically aclaimed film Monster. Look for Charlize staring in Aeon Flux in theatres December 2nd 2005, and to follow on DVD.
More Beautiful Chicks That Kick Ass HERE • Visit the Aeon Flux Website at www.aeonflux.com


---
The R1200GS is our favorite touring bike in the BMW line. We rode one for a week in the French Alps during our recent Edelweiss Tour of Western France.


BMW Introduces Updated New R 1200 GS Adventure
11/17/2005
- Launching the R 1200 GS Adventure, BMW Motorrad is proudly presenting the latest version of the ultimate long-distance enduro for the globetrotter and adventurer. Apart from the unique synthesis of dynamic performance, touring and offroad qualities so characteristic of the "basic" model, the R 1200 GS Adventure offers additional offroad qualities and an even higher standard of long-distance riding comfort. So without requiring any supplementary features, this new model from BMW Motorrad gives the rider all these unique qualities in full straight from the factory.
Compared with its predecessor, the R 1150 GS Adventure, the new model is entering the market with numerous improvements and a far larger range of standard equipment - features adding further potential to the unique qualities of the BMW R 1200 GS Adventure and clearly distinguishing the new model from the basic version which naturally still remains in production. Many features previously only available as special equipment or accessories now come as standard on the new R 1200 GS Adventure, such as the 33-litre
(7.3 Imp gal) fuel tank, a new windshield for enhanced protection from wind and weather, the seat adjustable for height, robust tank and engine protection hoops, as well as extra-wide rider footrests combined with adjustable gearshift and brake levers.
With the new Adventure being based on the R 1200 GS, the rider also benefits from significantly more power and torque from BMW Motorrad's latest two-cylinder boxer: maximum output is 74 kW/100 hp at 7,000 rpm
(72 kW/98 hp at 7,000 rpm in the German version), peak torque is 115 Nm/
85 lb-ft at 5,500 rpm.
The other technical features and highlights of the R 1200 GS Adventure are also the same as on the current "basic" model. Using lighter components on the engine, transmission and exhaust damper, as well as weight-optimised components such as the frame, suspension and wheels, the new R 1200 GS Adventure, despite a wider range of series equipment, does not weigh much more than the previous "basic" model.
Last but certainly not least, the new six-speed gearbox, the most recent Paralever and Telelever technology, new instruments in digital technology and the on-board network with CAN bus technology re¬present a significant
step into the future compared with the former R 1150 GS Adventure.
More information on the new BMW R1200GS go to New Bikes BMW
---

2006 SI Swimsuit 15-inch Wall Calendar w/poster

2006 Sports Illustrated Swimsuit Calendars available here!
Click the Covers to Order


2006 SI Swimsuit 12-inch Wall
Fast Dates Calendar Motorcycle Roadracing News. Complete coverage of the SBK World Superbike, AMA National Superbike and MotoGP World Championship. Superbike, sportbike, grand prix, MotoGP, race, racing, news, coverage, photos, pictures, Fast Dates Calendar and Umbrella Girls. Racing, road race, track, motorcycle, news, results, girls, models, Mat Aladdin, Max Biaggi, Valentino Rossi, Ben and Eric Bostrom, James Toseland, Regis Laconi, Loris Capirossi, Troy Bayliss, Troy Corser, Noriyuki Haga. Ducati 999 Monster Multistrada, Yamaha R6 R1, Honda CBR600RR CBR1000RR, Kawasaki ZX6 ZX6RR ZX10, Suzuki GSXR600 GSXR750 GSXR1000, Aprilia Mille, MZ Agusta F4 Brutale. Los Angeles Calendar Motorcycle Show.



Click to Order Now!
Fast Dates Racebike Pinup
No other sportbike calendar gives you the world's top factory Superbikes!
Take Chis Vermeulen's Ten Kate Honda CBR1000RR cover bike and all the top factory World Superbike and our beautiful
Fast Dates Angels on a date!
14 Month 2006 Calendars
start November 1st 2005
Iron & Lace Custom Bike Pinup
Featuring the beautiful
Fast Dates World Superbike Girls
Chandi, Andra and Taylor in
Iron & Lace, Garage Girls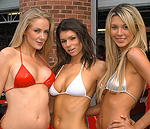 2006 FastDates.com Calendars World Premier
at Brands Hatch
World Superbike England
Complete Coverage Here
New 2006 World Superbike Rules and Technical Regulations Released
by FIM
On the official FIM web site www.fim.ch you can find the General Undertakings and Conditions and Sporting Regulations togheter with the Technical Regulations regarding Superbike & Supersport World Championship and Superstock Cup for the season 2006.
This is the rule book the AMA needs to adopt in total to reduce its plethora of duplicate classes, and to allow AMA teams to compete in World Superbike if and when it might return to America for the benefit of the sport and fans.


Hamagouchi Full Titanium Race Exhaust Systerms
Your best / most cost effective performance and handling upgradeNow Just $1395 from Sudco


The Pirelli Calendar Book
The Complete Work

FastDates.com Calendar Angel
Jamie Pressly
featured in FHM
Big Discount Magazine Savings
to FastDates.com Readers



2006 Playboy 15-inch Wall
Yamaha Motor Italia SBK test report from Valencia
16/11/2005 - Yamaha Motor Italia riders Noriyuki Haga and Andrew Pitt were on track yesterday at a two day test at Valencia circuit, arranged by championship tyre supplier Pirelli for its official development teams.
Running time was limited after Monday's action was washed out due to heavy rain. Pitt was one of only four riders to brave the conditions, completing just a handful of laps on the slippery surface.
Day two saw the arrival of sunshine but the track failed to dry out in the morning, leaving just three hours of dry running. Both riders ran their R1s in virtually the same specification they finished the 2005 season with, the main evolutions being updated Ohlins suspension, which was tested for the first time, and some new specification tyres from Pirelli.
Despite the limited running time, both riders were comfortably faster than their times from April's race. Haga concluded the test with the fourth fastest time of the 12 riders present, a 1'36"6, while Pitt was seventh fastest with a 1'37"2. Lorenzo Lanzi (Ducati) was fastest overall with a 1'35.7.
Team Coordinator Massimo Meregalli commented: "The bad weather reduced the time available and we were only able to get through a small amount of the work we'd planned. However it went well and this test has given us the opportunity to work with three new team members and for them to become familiar with our working practices. Next we have a test in Qatar early next month where we hope to have more track time. We ended the 2005 championship growing in confidence and for 2006 our intention is to be one of the main challengers for the championship title.
Smooth start for Jones on the Petronas FP1
Foggy PETRONAS Racing's new signing Craig Jones made his debut on the PETRONAS FP1 during a trouble-free day of testing at Valencia, Spain, today.
Any hopes of commencing the Pirelli-organised two day test as planned yesterday, were ruined as continuous heavy rainfall resulted in waterlogged and dangerous conditions. A handful of riders from the six other World Superbike teams present took to the track for a few laps each to 'test the water', but were unable to achieve anything valuable. So the team decided to wait for the expected improved weather conditions today in order for Craig to get the most from his first outing on the FP1.
Drying and bright conditions enabled the young Brit to maximise his four hours of track time this afternoon and complete over fifty laps to familiarise himself with the circuit and bike, making minor adjustments to riding position comfort factors and basic bike set-up to suit his riding style.
Craig said: "We've had a trouble-free day and it's been great to get out there and familiarise myself with the track, the bike and how the team works. My first impression is amazement, to feel the power of a superbike after coming from a 600cc.
"I'm very happy with what we've achieved today and I feel comfy on the bike. I've also found a good base setting so we've now got a direction to work towards to tune the bike to my preferences in areas such as the clutch, geometry and suspension. I could have done without my little 'off' towards the end of the day when the back end spun round on me, but me and the bike are okay and it was good that I was able to go back out and complete a few more laps after that.
"Although getting a good lap time wasn't part of my plan at all, I'm really pleased that each time I went out I was able to improve my times and know that there's a lot more to come. Mostly, I've really enjoyed the day and had fun, so now I can't wait to get to Qatar for our next test."
Team manager Jack Valentine commented: "Considering we lost the first day of the test due to the weather and that Craig only had four hours on track today, I'm very happy with the day's work. We set each of his two bikes up with different settings so that he had two options to work from and compare directly, and he already has a clear preference for one of the bike set-ups. We wanted to come away from this test with Craig feeling comfortable and happy on the bike, and having a good direction to pursue at Qatar, and we've achieved both of those things. Other than a small crash towards the end of the day which only caused minor damage to the bike and fortunately no injury to Craig, it was a trouble-free day. He's also been able to steadily reduce his lap times throughout the day and is nowhere near his limit, so we're looking forward to what's to come."
The team expect to be back to full complement for its next test at Doha, Qatar, in December, when Steve Martin returns to the FP1 seat following his recovery from surgery a few weeks ago.
Buy prints and posters direct from thePetronas team gallery at foggyPETRONASracing.com
Nakatomi joins three-man Yamaha Motor France squad for World Superbike
18/11/2005 - Yamaha Motor France will enter the 2006 Superbike World Championship with a three-rider line-up that sees former Japanese 250cc champion Shinichi Nakatomi join the team's 2005 riders Norick Abe and Sebastien Gimbert.
Twenty-seven-year-old Nakatomi is an experienced R1 pilot, having ridden for Yamaha's YSP Racing Team in the Suzuka Eight-hour and Japanese JSB1000 championship since switching to four-strokes in 2003. Having never raced outside his native Japan, Nakatomi is looking forward to the adventure of racing in the world championships, experiencing the western culture and racing the YZF-R1 at world level.
Yamaha Motor France's squad will again be run by experienced tuner Martial Garcia, whose company is responsible, in conjunction with Yamaha's Japanese headquarters, for the development of Yamaha's YEC racing kit parts development programme for the YZF-R1 and YZF-R6. The team expects to use these parts as the base of their 2006 machines and will use the series as well as an opportunity to test and develop the 2007 range of customer race parts.
Completing the squad are Abe and Gimbert, both of whom are looking to improve on their Superbike rookie seasons in 2005. Experienced Grand Prix rider Abe ended his first superbike season in 13th place but, having learned the circuits and the characteristics of the YZF-R1 and championship controlled Pirelli tyres, is looking to become a regular feature in the battle for podium finishes in 2006. Gimbert suffered an injury-plagued 2005 campaign but showed his speed early in the year with a lap record in Qatar and a sixth place in Valencia. The Frenchman will again also feature in Yamaha Motor France's squad at the classic 24-hour races of Le Mans and Bol d'Or.
Shinichi Nakatomi
"Although I still haven't finished the big task of winning the All-Japan JSB1000 title on the YZF-R1, I am going to start a new next season in world superbike and try to focus everything I have learned over the past three years with Yamaha and do the best I can. I don't intend to use my first year in the championship just as a year for learning. I intend to go out there and race aggressively, and I hope to be up there in the race for the championship."
Norick Abe
"This year was my first season racing in the world superbike series and there was a lot that I had to learn. But now, with this season of experience behind me, I am anxious to work on improving the things I wasn't able to do in the off-season and during the season this year so that I can approach the coming season better prepared. Our overseas tests will begin in December and my first aim is to do the best preparation possible during these tests."
Sebastien Gimbert
"I am looking forward to a second year in world superbikes and also staying with the Yamaha Motor France team. My leg injury weakened my performances last season but now I am fully fit and feeling strong. The experiences of myself and the team will allow us to go to each circuit with invaluable knowledge and I believe that we can give a greater representation of our abilities."