Valentino Rossi in the team's sponsored Gauloises colors last season.

Yamaha MotoGP rides a Japanese Camel for 2006
Lawsuits Fly between former sponsor Gauloises and Yamaha of Japan!
January 11th, 2005 - The fur, the lawyers and the lawsuits are flying between the Yamaha MotoGP team and their former sponsors Altadis/Seita who have title sponsors of the Yamaha Factory MotoGP project for the past three seasons under both the Fortuna and the Gauloises brands. It seems that Yamaha had chosen last month to quit it's sponsorship agreement with Altadis/Seita much to their displeasure, and now Yamaha GP team has picked up the Camel cigarette sponsorship which abandoned the Honda MotoGP team when the Honda team ended its rider contract with Camel's favorite rider Max Biaggi after the 2005 season.
You might remember in our race reports in Pit Lane News from last season, we voiced suspicions that something was amiss it the relationship between the Yamaha MotoGP team and Gauloises when the team, its bikes and riders Valentino Rossi and Colin Edwards showed up at the Laguna Seca round in the retro American Yamaha Yellow/Black Molly graphics to celebrate Yamaha's "50th Anniversary" without any sponsorship reference to sponsor Gauloises on the bikes, riders or in press releases.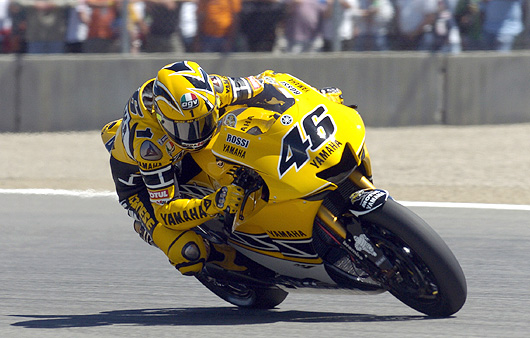 Valentino Rossi at Laguna Seca 2005 in Molly Yamaha USA colors.

It is hard for anyone, including us, to comment on this legal conflict without reading the sponsorship contract between the two parties, but it would seems highly unlikely that multi-million dollar sponsor Gauloises would voluntarily give up its important brand recognition on world TV coverage of the Laguna Seca MotoGP round with the 2 potential winners of the race and the Championship. Granted, the Gauloises cigarette name can not be shown on a TV broadcast originating from America, but the Yamaha MotoGP team was still probably legally bound to run the Gauloises Blue/White colors, just as Ducati and Honda must run their respective Marlboro and Camel cigarette sponsor colors and graphic designs.
The suspected conflict between the Yamaha Factory MotoGP and Altadis/Seita continued to boil in the following months of the season as World Champion Valentino Rossi made ongoing comments voicing his displeasure with cigarettes and the sponsorship of the Yamaha MotoGP team by a cigarette company. That he hoped the team would run without cigarette spponsorship in 2006.

Valentino Rossi at the final 2005 MotoGP Valencia round in Yamaha of Japan traditional colors.

Then at the final 2005 MotoGP round November 6th at Valencia Spain the Yamaha MotoGP team showed up with the bikes, riders and teams in the classic 1970s Yamaha of Japan Red/White racing colors, again with no acknowledgement to sponsor Gauloises. It hardly seems likely this would be a provision of their sponsorship contract, allowing the team to drop the Gauloises sponsorship colors for another race. One would assume the Yamaha MotoGP team and its riders were violating the good will, if not the letter of the sponsorship contract with Gauloises.
The nail in the coffin (pardon the anti-smoking pun) was a press release which Yamaha issued on December 12th (see below) stating it had ended its sponsorship agreement with Altadis/Seita. The press release was blatant in not offering any thanks to Altadis/Seita for its past 3 years of sponsorship support. There was obviously no love or appreciation from Yamaha. Hardly professional.
The screws continued to turn on January 9th when Yamaha Motor Co., Ltd. announced the start of a new partnership with JT International (JTI), a subsidiary of Japan Tobacco Inc., whose brand CAMEL will become the new title sponsor of Yamaha's Factory MotoGP Team for 2006. Obviously politics (and bank accounts and the financial reality of running a MotoGP effort) were in play as the Japanese motorcycle company realigned itself with a Japanese tobacco company.
We now wait to see how this legal conflict will play out between Altadis/Seita and Yamaha of Japan. Unfortunately, Yamaha team rider and World Champion Valentino Rossi is left with a little egg on his face having bad mouthed cigarette sponsorship last year, and now having to finish out the final season of his MotoGP career with another cigarette sponsor.

Here's how the press release have unfolded:
Yamaha MotoGP Announces Split with Altadis/Seita Sponsorship
Dec 12th, 2005 - Yamaha Motor Co., Ltd. hereby announces that Altadis/Seita's sponsorship regarding Yamaha's Factory MotoGP Team will not continue after the end of the 2005 season.
For more than 40 years, Yamaha has successfully participated in the Road Racing Grand Prix World Championship and it has become the leading manufacturer of the MotoGP competition.
Altadis/Seita have been sponsors of the Yamaha Factory MotoGP project for the past three seasons under both the Fortuna and the Gauloises brands, during which time the companies shared two world championship victories in the MotoGP class in 2004 and 2005.
Yamaha will announce its 2006 MotoGP program in January 2006.
Yamaha Factory Racing joins forces with JTI and CAMEL
January 9th - Yamaha Motor Co., Ltd. announces the start of a new partnership with JT International (JTI), a subsidiary of Japan Tobacco Inc., whose brand CAMEL will become the new title sponsor of Yamaha's Factory MotoGP Team for 2006.
The Yamaha Factory MotoGP Team, consisting of reigning-World Champion Valentino Rossi and his team-mate Colin Edwards, will be known as the "Camel Yamaha Team" in 2006.
Managing Director of Yamaha Motor Racing Lin Jarvis commented "Yamaha is very excited to enter into this new partnership with JTI. JTI has been involved in motorsport at the highest level for many years and has been an active sponsor at the top level in the MotoGP class for the past three seasons. We look forward to working with JTI to enhance the respective images of our brands and to challenge together for victory, as Yamaha enters its "next 50 years" and aims to retain its MotoGP titles in 2006."
"A new chapter in the history of Camel in motorsport is just beginning", commented Roberto Zanni, JTI's Regional President for Europe, "After three years of great satisfaction in the premier class of the World Road Racing Championship, we are today launching a new challenge for the title. Our new partnership with Yamaha, the historic, championship-winning Japanese manufacturer, will be highly motivating for us and it will be an honor to be by their side throughout the 2006 season. We share the same passion and desire for victory and, I am sure, success will not be long in coming."
The Camel Yamaha Team will begin its 2006 campaign in Sepang, Malaysia with a three-day test on 23rd, 24th and 25th January.
ALTADIS REQUESTS ARBITRATION TO RESOLVE DISPUTE WITH YAMAHA
January 9th - Altadis has initiated arbitration proceedings, seeking substantial compensation from Yamaha for the damages arising out of what Altadis considers to be a material breach by Yamaha of the two companies' two-year sponsorship agreement.
Altadis seeks both pecuniary damages and declaratory relief with respect to particular obligations that Altadis maintains have survived the termination of the parties' contractual relationship.
Altadis has requested an urgent decision in this regard, in the nature of an interim order obligating Yamaha to refrain from collaborating with any sponsor whose products compete directly with Altadis products for the coming season. Altadis regrets that the negotiations to define the terms of a settlement that would have resolved the dispute without the need to resort to arbitration have proved fruitless.
YAMAHA DENIES ALTADIS' WRONGFUL STATEMENTS
Yamaha Factory Racing Press Release, January 10th 2006, Gerno di Lesmo, Italy - Altadis abruptly announced that it had initiated arbitration proceedings against Yamaha arising out of an alleged breach by Yamaha of the two companies' sponsorship agreement for Yamaha's factory racing team. Yamaha would like to clarify several points in light of Altadis' wrongful statements.
First, Yamaha no longer has any sponsorship agreement with Altadis, as the previous sponsorship agreement was terminated in all respects for the 2006 season.
Second, Yamaha strongly denies that it has ever breached its previous sponsorship agreement with Altadis.
Third, in the absence of any agreement in force between Altadis and Yamaha, there exists no legal obligation preventing Yamaha from contracting with a tobacco sponsor or any other sponsor for the 2006 season.
Yamaha deplores the fact that Altadis' unreasonable actions have frustrated Yamaha's good-faith efforts to resolve this matter in an amicable fashion, and has seen fit to make its unmerited allegations in a public forum.
To date, Yamaha has not been notified of any Request for Arbitration from Altadis. In any event, Yamaha will defend its rights vigorously, and reserves the rights to claim both pecuniary damages and declaratory relief with respect to the wrong and disparaging statements made by Altadis and the harm wilfully caused by its frivolous conduct, for the sake of Yamaha and all of its fans and supporters worldwide who continue to support and sustain the MotoGP sport and Yamaha's MotoGP factory racing team.
---
Kate Beckinsale returns to Kick
Werewolf Ass and Seek Revenge
Underworld Revolution

in theatres in January 20th!

In the sequel to the $100 Million world wide hit and a FastDates.com favorite of beautiful Chicks Who Kick Ass, Underworld Evolution continues the saga of war between the aristocratic Death Dealers (vampires) and the barbaric Lycanns (werewolves). The film traces the beginning of the ancient feud between the two tribes as the beautiful vampire heroine Selene (Kate Beckinsale) discovers that she has been betrayed by her own kind and seeks revenge. This is one girl you do not want to piss off! This fast-paced modern-day tale of deadly action, ruthless intrigue and forbidden love (!) takes them into battle to end all wars as the immortals must finally face their retribution.

More on Kate Beckinsale

More on www.EnterThe Underworld.com
---

2006 SI Swimsuit 15-inch Wall Calendar w/poster

2006 Sports Illustrated Swimsuit & Playboy Calendars available here!
Click the Covers to Order
---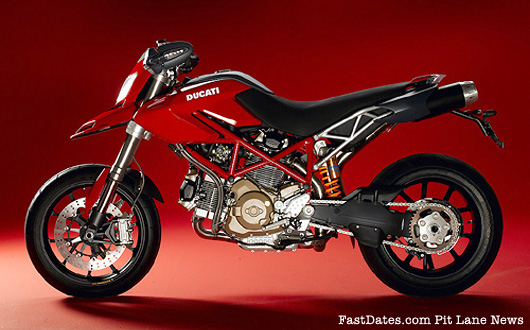 New 1000cc Supermoto Racing Bikes and Series in the Works!
January 8th - We were at the Los Angeles International Automobile Show this past weekend and stumbled into a tiny 3-bike BMW motorcycle exhibit amid a sea of 4 wheel mediocrity. We struck up a conversation with the BMW Motorcycle Division sales representative manning their bike exhibit, and mentioned we like their new HP2 off road bike, and how we'd like to see a street / Supermoto version of it. He told us our wish was going to be answered with BMW soon to be releasing a factory Supermoto Kit for the HP2, possibly with roadrace wheels and a performance exhaust system, although there were no specific details of what and when.
Our only concern with the HP2 Supermoto Kit is the finished bike cost, since the current HP2 Off Road bike retails for an already expensive $19,000. By the time you've added on a $6,000 race kit and assorted trick parts like a slipper clutch and racing silencer, the finished race bike might cost some $30,000! We'd much rather that BMW offered the HP2 Supermoto as a complete bike at the same price as the current HP2 Off Road version.
The Rep got us even more excited when he let it slip exclusively to FastDates.com that BMW and Ducati were making plans together to help start a new Supermoto1000cc class where the HP2 (below) and Ducati's new Hypermoto (above) could be raced.
For comparison, Ducati's new street legal Hypermoto is expected to retail for around $12,000 when it goes into production
Sounds great to us! In fact we've already been lobbying Ducati of Italy to produce additional hotter R1 and R2 versions of their new Hypermoto (100hp) 2 -valve DS1000 engined prototype featuring dual front brakes, and hotter 3-valve DS1000 (120hp) and 4-valve Testastretta (140hp) engines. Meanwhile, the base Hypermoto prototype has been approved for production and Ducati of Italy is pulling out all stops to get then into production hopefully by this time next year, 2007.
Together with the new BMW HP2 Supermoto and Ducati Hypermoto, don't forget there's also Aprilia's Tuono and KTM's 950 Supermoto that could join the racing class if it is open to 1000cc 4-valve engines. We could see 1000cc Supermoto racing, easily suited to American roadrace facilities and offering closer racing, possibly rivaling roadracing in America.
Below: The HP2 to go Supermoto? But a kit version would be very expensive to replace existing offroad forks, wheels, brakes and exhaust. We'd guess adding $10,000 more to the $19,000 bike cost. Much more cost effective and feasible to offer a base HP2 Street Supermoto bike ready to race.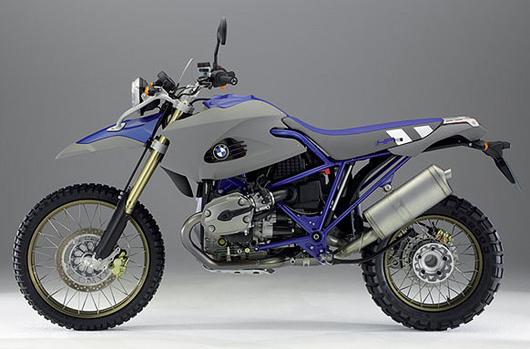 Fast Dates Calendar Motorcycle Roadracing News. Complete coverage of the SBK World Superbike, AMA National Superbike and MotoGP World Championship. Superbike, sportbike, grand prix, MotoGP, race, racing, news, coverage, photos, pictures, Fast Dates Calendar and Umbrella Girls. Racing, road race, track, motorcycle, news, results, girls, models, Mat Aladdin, Max Biaggi, Valentino Rossi, Ben and Eric Bostrom, James Toseland, Regis Laconi, Loris Capirossi, Troy Bayliss, Troy Corser, Noriyuki Haga. Ducati 999 Monster Multistrada, Yamaha R6 R1, Honda CBR600RR CBR1000RR, Kawasaki ZX6 ZX6RR ZX10, Suzuki GSXR600 GSXR750 GSXR1000, Aprilia Mille, MZ Agusta F4 Brutale. Los Angeles Calendar Motorcycle Show.