The World's Fastest Indian
In Theatres February 3rd

"You live more in five minutes on a bike… than some people live in their lifetime," says the plucky, gravel-voiced Burt Munro (Anthony Hopkins), early on in writer-director Roger Donaldson's The World's Fastest Indian. That line and the scene containing it eloquently sum up Munro's fearless devotion to his lifelong love: speed racing, specifically on his re-conditioned 1920s-era Indian motorcycle. World's Fastest is part biopic, part road movie, part triumph of the sprit moviemaking, but, underneath all that, it's a tribute to the aging Munro, whose grit and tenacity elevated him for small-time obscurity to the status of motorcycling legend--the holder of several land speed records.

Donaldson's movie focuses on Munro's 1967 odyssey from his remote New Zealand town to his record-setting speed trials in Utah's Bonneville Salt Flats. Though plagued by a heart ailment, Munro soldiers on, modifying his ancient Indian motorcycle using nothing more than junkyard parts and his try-anything chutzpah. Backed by the goodwill of his townsfolk, Munro ships off to Los Angeles where he commences his cross-country trek towards Utah and the record books.

World's Fastest is, in many ways, thoroughly conventional, but it's executed with such conviction and love for its subject matter that it disarms the viewer completely. Most contemporary movies are so dramatically overreaching, their appeal to our sympathies so strained, that they end up putting us in a defensive posture; we find ourselves continually on guard against their assaults on our intelligence. Donaldson's movie puts no such artificial pressures on its drama and, in effect, makes no undue demands of the viewer. His script never overplays the conflicts in Munro's life: His heart condition, for instance, or the resistance he meets in Bonneville, or his scant resources never inundate the narrative the way they might in a standard-issue Hollywood screenplay. These conflicts do have a place in Munro's life, but Donaldson, to his credit, keeps them at a low simmer.

Yet that most endearing aspect of the script also points to its most glaring weakness. Munro is a hard-nosed scrapper, no doubt, but, at no point, does Donaldson's script isolate and develop a deeper theme to drive the story's dramatic engine -- apart from the rather generic theme of courage conquering fear. The narrative has a pleasant rhythm following the beat-by-beat of Munro overcoming one obstacle after another on his way to the speed trials. But those beats often feel pat and easy -- especially the saccharine sequences of Munro's encounters with a Hollywood transvestite (Chris Williams), with a Latino used-car dealer (Paul Rodriguez) then, later, with a Native American (Saginaw Grant) and a lonely homesteader (Diane Ladd). These simply forward Munro's American experience, failing to evolve his character and to enrich our understanding of him (See the letter at right - Editor).

While World's Fastest's script may not reach any profound heights, what keeps us rooted to the movie (and rooting for Munro) are its motorcycle sequences and Hopkins' performance. Together with cinematographer David Gribble and editor John Gilbert, Donaldson expertly crafts moments of pure open-road exhilaration. Whenever Munro takes off on his bike, the movie achieves a heart-stirring virtuosity on par with the sound barrier-breaking sequences in Philip Kaufman's The Right Stuff and the hell-for-leather acrobatics in last year's The Aviator.

It's those moments that give this otherwise mild-and-polished affair its emotional spikes, but what binds the whole contraption together is Hopkins himself. The world-class Hopkins more than compensates for Donaldson's script, inhabiting his



role with such authenticity and verve that it's impossible to stray your attention from him.
Without an actor of Hopkins' caliber, The World's Fastest Indian might've sunk in its own puddle of overly sweet but honorable intentions. It's thanks to Hopkins that Donaldson serves Burt Munro proudly.
–film review by Jay Antan / FilmCritic.com

If you've ever worked on your own motorcycle or car, rebuilding your race bike in a motel room at 11 'clock on a Saturday race night or pullin g the engine out of your Camaro on your parent's front yard, The World's Fastest Indian is a movie most motorcyclists can relate to on any level. It problably won't win too many Academy Awards (except possibly a Best Actor for Hopkins), but in the small cadre of motorcycle movies that have been were pretty much all bad, this one is sold gold.

Some note of interest: We were at the National Hot rod Show at Pamona, CA, last weekend and ran into the Califonia collector who now owns the origional Burt Munro Indian in purfectly restored condition. Everything on the bike from the frame up was hand built by Munro and it is a real trip to see. We are making plans now to have it on display at the LA Calendar Motorcycle Show in July.

And speaking of bad motorcycle movies, remember little Burt and Big Halsey - the dirt bike movie from the 1970's starting Robert Redford and Michael J. Pollard?
We ran into Pollard this weekend at our favorite Sunday morning biker coffee shop meeting place in Malibu, CA. Pollard definetly looks older and the worse for wear, having been caught up in the Hollywood party scene during the '70s. He still takes acting workshops and goes out on castings, but hasn't had a significant role in years. - Editor

The World's Fastest Indian websites to check out:
www.WorldsFastestIndian.com
Burt Munro Story and photos
www.IndianMotorbikes.com

Below: The real Bert Munro at home in Australia with his beloved Indians. In February 1957 he set a NZ Open Beach record of 131.38 mph, raising this in 1975 to 136 mph at Oreti Beach. In April 1957 he set a 75Occ Road Record at Christchurch at 143.59 mph. In March 1962 he covered the standing 1/4 mile at Invercargill in 12.31 seconds.

Burt, then a grandfather, visited the Bonneville salt flats several times from 1962 onwards. In that year he set a then world record of 178.971 mph with his engine out to 51 cu.in. (85Occ). In 1963 a con-rod broke while he was traveling at an estimated 195mph. In 1966 it was displacing 920cc, when Burt, unhappy with some loss in top speed, completely rebuilt it again.

In 1967, with his engine punched out to 58 cu.in. (950cc) he set a class record of 183.586 mph. To qualify he made a one-way run of 190.07 mph, the fastest ever officially recorded speed on an Indian.



---
2006 SBK CORONA EXTRA SUPERBIKE WORLD CHAMPIONSHIP
SBK Superbike World Championship®
Races Towards Broadband and Mobile Race Broadcast Action
Rome, Wed Feb 1st - FGSport Group, the SBK Superbike World Championship® organiser has signed a three-year contract with digital rights company, Premium TV. Under the terms of the deal, FGSport Group and Premium TV will work together to deliver direct to consumer and syndicated SBK Superbike World Championship® products across both broadband and mobile platforms.
Working closely with FGSport Group, PTV will ensure live, delayed and downloadable digital content is delivered to broadband and mobile users according to specific offers in each country. The deal will also see the company syndicate the SBK Superbike World Championship's® digital rights worldwide.
FGSport Group has created a new website, www.sbk.tv, that will feature video action of the SBK Superbike World Championship®. In those territories where live TV broadcasts have not been agreed, Premium TV will deliver live streaming of race action through the newly built www.sbk.tv broadband console. Premium TV will also be offering live content to mobile syndication partners on a territory-by-territory basis, irrespective of each territory's broadcast deal. The www.sbk.tv site is accessible through www.worldsbk.com.
All content will be protected by Premium TV's DRM technology; ensuring streams are piracy-protected and geo-blocked in line with FGSport Group's broadcast agreements.
In the mobile space, Premium TV is using its proprietary technology to turn digital footage in to mobile-ready content. Users will be able to download a variety of SBK Superbike World Championship® content, which is likely to include live action, pre-race build-up and post-race analysis, and race highlights.
In addition to the same features enjoyed by mobile users, www.sbk.tv viewers will also be able to access archive footage of SBK Superbike World Championship® action via Premium TV's searchable video archive (SVA). The SVA will also enable SBK Superbike World Championship's® fans to create their own personalised archive by storing their favourite video clips on the www.sbk.tv
Paolo Flammini, CEO, FGSport Group, comments: "To successfully deliver all of the excitement, passion and thrills of SBK Superbike World Championship® on broadband and mobile requires considerable technical skill and investment. This is why FGSport Group has partnered with Premium TV, who has a great track record in the sport digital rights space."
Oliver Slipper, Commercial Director, Premium TV, comments: "The signing is a very welcome addition to our portfolio, and underlines our strength in managing digital rights for sports organisations. We're working with the SBK Superbike World Championship® to turn its redundant digital footage in to a tangible revenue stream while at the same time protecting its relationships with broadcasters of its TV rights."
About FGSport Group:
In 2005 the Superbike World Championship achieved the following:
- More than 2-billion worldwide television viewers
- Live broadcasts on 94 television networks covering 173 countries
- 2.758 broadcast hours with a television media value in excess of US$ 700-million
- 1,000,000 race spectators
- More than 215 million Internet site views on www.worldsbk.com
About Premium TV
Premium TV is a specialist digital rights company. It generates revenue for sports, entertainment and publishing companies through the production, delivery and management of broadband and mobile content. Premium TV hosts and manages Internet sites, broadband subscription products such as streaming video, and mobile services for entertainment and sports companies including nine TV channels and 88 football clubs. It generates over £10 million per annum for football clients including the Football League Interactive (FLI), Aston Villa FC and Newcastle FC.
---


Ducati Announces Special Priced "Track Only" S1000 DS Sportbike
Race track only motorcycle production limited to 30 units
Cupertino, CA, Feb 3rd - In conjunction with the release of the 2006 racing contingency program, Ducati North America announces a limited production SS1000 that is intended to be used exclusively for racing and track day events. This motorcycle is stripped of all the street essentials and is priced accordingly, making it the ultimate platform for racers and track day riders alike. By design, it is intended to encourage track day participation and club racing. These motorcycles are ready for immediate delivery to dealers on a special order basis.

"Racing and track riding is very important to Ducati. The Supersport and DS1000 engine is a recognized as a great platform for racing and I want to encourage and support riders and dealers in making the dream a reality. This is a great way for riders of all skill levels to get involved at a very reasonable cost," said Michael Lock, CEO of Ducati North America.

Pricing: MSRP: $7,999
Ordering: Unlike the Ducati racer discount program, a racing license is not required to purchase this motorcycle. Please visit your local dealer immediately to order these motorcycles, as supplies are very limited and expected to sell out quickly.
Technical Details: These motorcycles are almost identical to Model Year 2005 SS1000F. In order to be brought into the United States for "Racing Purposes Only" the following components have been removed: Front Headlamp, Rear Tail Light, Mirror, Turn Signals. "Competition Only" stickers are prominently placed on the bikes as well. The bodywork is stock, so there will be holes where the components have been removed. For most racing organizations, the bodywork would need to be replaced with enclosed belly pan bodywork in order to be used on the track. Colors available are red and yellow.

In addition to this motorcycle, there are many options available for modification through Ducati Performance and your local Ducati dealer. For complete SS1000 specifications, visit www.ducatiusa.com.

For further information, contact your local Ducati dealer. Editors Note: This is a good price for a beginers track day bike. Just note this model 2-valve aircooled engine won't be competitive in most 1000cc race classes. And without the street equipment, its resale value is non exhistant. Hopefully it will have a street legal serial number so it can be converted to street registration if you wanted to.
---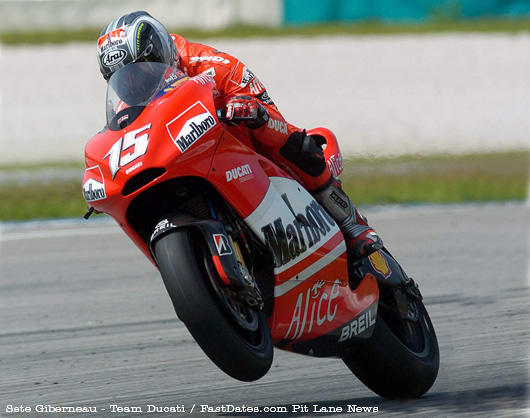 Sete Giberneau has made the transition quickly from Honda to the new Ducati Desmosedici GP6.

2006 MotoGP World Championship - Testing Sepang

Shocker! Giberneau finally Beats Rossi....
Ducati Marlboro Team Riders Dominate First 2006 MotoGP Winter Tests
Loris Capirossi and Sete Gibernau both hit the front on final day of 3-day test at Sepang.
Sepang (Malaysia), Wed 25 Jan 2006 - The majority of teams competing in the MotoGP World Championship this year rolled out their 2006 prototype motorcycles at the first test session of the preseason at the Sepang International Circuit in Malaysia this week. The tropical rainstorm that put paid to yesterday`s session for all the MotoGP teams present at Sepang made way for excellent weather for the final day of testing.
Reigning World Champion Valentino Rossi was joined on track by a host of potential title challengers, including Honda rookie Dani Pedrosa, the double 250cc World Champion, and last year's surprise runner-up Marco Melandri in a three-day session that ended on Wednesday.
However, the time sheets were dominated by one of Rossi's more familiar rivals in the shape of Spanish rider Sete Gibernau, taking part in just his third test session with Ducati. Gibernau lapped in record times on the final
day, clocking an unofficial best effort of 2'01.03 to hold off the challenge of his new team-mate Loris Capirossi, who set the pole position record of 2'01.731 before taking victory in the Grand Prix at this circuit last October.

The Ducati Marlboro Team engineers and riders were able to put in a full day`s work and Loris Capirossi and Sete Gibernau ended up at the top of the unofficial timesheets, both on race and on qualifying tyres.
Sete Gibernau worked hard to reach a total feeling with his Ducati. The Spanish rider, after getting to grips with the GP6, today also completed six laps with the GP5, confirming yesterday`s impressions from his team-mate.
With the GP6 successfully completing its roll-out test, the natural life-cycle of the Ducati Desmosedici GP5 has now come to an end at the Sepang track, where Capirossi set pole and took the win in the 2005 Malaysian GP.

Sete Giberneau discusses with technicians how the new Ducati is working.

Sete Gibernau (73 laps - 2m01.83s race, 2m01.03s qualifying)
"My settling-in period with the team, the bike and the tyres is continuing and I am increasingly satisfied with the choice that I have made. Today I felt pretty good on the GP6 and I also wanted to do a few laps on the GP5, which I have never tried, to make a back-to-back test. This confirmed what Loris, who knows the bike well, had said yesterday: the GP5 is a good bike but the GP6 has more development potential and from now onwards we are only going to use that bike. For the first time I used Bridgestone`s qualifying tyres and they gave me a good feeling. We`ve still got a lot of work to do to be at 100% but we are on the right path".
---


Calendar Kitten to Kick Bunny Tail in Lingerie Bowl on TV February 5th
Meet Cora Skinner, one of our newest Calendar Kittens who will be featured in all the upcomming 2007 FastDates.com Calendars. Fortunately you won't have to wait 5 long months for the July 1st release of the Calendars to see more of this very sexy raven haired, log legged beauty. Cora will be featured in the Lingerie Bowl which airs on Pay Per View TV on February 5th during half time on Superbowl Sunday. Cora will be playing on the Los Angeles Temptation team. Be sure to tune in to watch our beautiful Calendar Kitten kickin' some Bunny cottontail on Suprbowl Sunday! More Cora HERE
---
Team Millennium/KWS Suzuki to run AMA Superbike and Suprersport
Matt Lynn and John Haner with support from Ron Ayers Motorsports.
Feb 1st - Team Millennium/KWS Suzuki sponsored by Ron Ayers Motorsports are proud to announce their participation in the 2006 AMA Superbike and Superstock series on Suzuki GSX-R1000 motorcycles with Pirelli tires and title sponsor Millennium Technologies, the internationally renowned cylinder repair company.
"We are proud to continue our long term relationship with the KWS team and are excited to see how well John and Matt will run on Kevin Hunt's Suzuki's." said Millennium Technologies owner Chris Hackl
Ron Ayers Motorsports of Greenville, NC has offered to provide the Suzuki GSX-R1000 motorcycles to Team Millennium/KWS Suzuki. This move represents a significant increase in existing sponsorship. Ron Ayers Motorsports is the leading discount online OEM parts vender in the country and one of the biggest motorcycle dealers in North Carolina.
"Ron Ayers Motorsports is a huge four line dealer and we could have used products from any of the four major manufactures, but we chose to continue to use Suzuki products because they are the best, especially the GSX-R1000" said team owner Kevin Hunt. "We are extremely happy to have John and Matt with the team, both have a level of commitment and talent that is second to none!"
"KWS Motorsports is the one of the best performance shops in the country" said Ron Ayers Motorsports Jimmy Stallings. "KWS has proven themselves to posses the experience and technology to build and maintain competitive machines at a professional level and they are the only company we would trust to carry the Ron Ayers Motorsports name in competition"
The team will again have two riders. Claiming one of the vacant seats is Matt Lynn of Ball Ground, Georgia. Lynn completed his first full AMA season in 2005, capping it off with a command performance at the WERA GNF, winning the prestigious Suzuki GSX-R1000 Cup at Road Atlanta a few days after his 21st birthday. "A new ride is the best gift a racer could possibly get" said Lynn "There's a lot of work to do between now and Daytona, but I'm used to working hard, so I am up for it".
The senior rider position will be occupied by 28 year old John Haner of Pearland, TX. John is coming off an outstanding 2005 season in AMA Superstock in which he finished fifth in overall points. "I am pumped to be with KWS this year and to be reunited with my 2004 mechanic Michael Godin" said Haner. "KWS builds some of the fastest GSX-R's around and with Pirelli tires we have a great package to chase the factories in Superbike and Superstock."
The team will consist of mechanics Owen Garnett, Michael Godin, and Rick Matheny as well marketing manager Chip Spalding, team owner Kevin Hunt, parts coordinator Steve Robiston, and at track support from Brian Drebber and Britt Lynn.
Team Millennium/KWS Suzuki is proud to be sponsored by the following: Millennium Technologies, KWS Motorsports, Ron Ayers Motorsports, Pirelli Tires, LeoVince Exhaust, Vortex Racing Products, Chicken Hawk Tire Warmers, Pit-Bull, VP Fuels, EK Chains, Web Cams, Catalyst Composites bodywork, and Vesrah Brake Pads. For additional information please contact - Chip Spalding at chip@kwsmotorsports.com
Fast Dates Calendar Motorcycle Roadracing News. Complete coverage of the SBK World Superbike, AMA National Superbike and MotoGP World Championship. Superbike, sportbike, grand prix, MotoGP, race, racing, news, coverage, photos, pictures, Fast Dates Calendar and Umbrella Girls. Racing, road race, track, motorcycle, news, results, girls, models, Mat Aladdin, Max Biaggi, Valentino Rossi, Ben and Eric Bostrom, James Toseland, Regis Laconi, Loris Capirossi, Troy Bayliss, Troy Corser, Noriyuki Haga. Ducati 999 Monster Multistrada, Yamaha R6 R1, Honda CBR600RR CBR1000RR, Kawasaki ZX6 ZX6RR ZX10, Suzuki GSXR600 GSXR750 GSXR1000, Aprilia Mille, MZ Agusta F4 Brutale. Los Angeles Calendar Motorcycle Show.



NEW CONTEST
Win the Next Fast Dates Calendar!
FastDates.com readers are invited to get involved in the difficult, stressful, creative process of producing the upcoming 2007 Fast Dates Racebike Pinup calendar.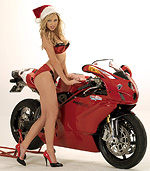 Try to guess which month of the 2007 Calendar this picture of our Ducati 999R project bike with Playboy Playmate Tamara Witmer will be appearing. Send your guess with your name and mailing address to
Contact@FastDates.com.

From the correct answers, a winner will be drawn at random to receive an autographed copy of the 2007 Fast Dates calendar when it World Premiers this summer July st on FastDates.com,
Click to Order Now!
Fast Dates Racebike Pinup
& Garage Girls



Folks Who Knew
Burt Munro
My husband knew H.J Bert Munro and is sorry that he was not able to talk to the people who wrote this story. Bert stopped by Gene's Gas Station when he saw Gene working on his motorcycle. Bert had come into town and was just walking down the street, in his old dirty clothes.Gene thought he was a bum and was not sure what he wanted. Gene befriended him and he and his wife invited Bert to stay at their home, because Bert had no where to stay. He knew no one and was waiting for his Indian bike to arrive. He then stayed for 3 weeks and bought a 1937 Oldsmobile sedan,so he would have transportation for his trip. He traveled to Bolder Dam and went on to see other points of interest. While there he spun a rod bearing and had to find a place to work on the car. He found a ditch, then he straddled the ditch, so he could get under the car and pull the pan. Then proceeded to make a bearing for the rod out of leather, which he carved out of his shoes. Put the pan back on, and put the oil back in that he had drained out of the motor. He continued on his journey without a problem. He drove back to Oakland.
Bert then stayed with Gene again. When his bike arrived, Bert then went on to Utah to the Salt Flats. After Bert left for Australia he wrote letters to them, and Gene still has the letters to this day. It would have been a nice addition to the story to know what happened, when he first arrived in Oakland. I am now Gene's wife for over 11 years, and sharing what he told to me. We are looking forward to seeing this movie as soon as we find it. I didn't know where to send this information and hope it will be received. These events happened in the 1950's. Gene is now 70 and has a fond recollection of the times he spent with Bert. Just a post script to an interesting story of a very talented man. I am sure Anthony Hopkins plays a great part in this movie. He is the best! Mary & Gene Borello/ Georgetown,California
Mid Ohio to Launch Track Riding & Racing Schools
Jan 31st - TrueSports, Inc., owner and operator of the Mid-Ohio Sports Car Course and The Mid-Ohio School, plans to add motorcycle riding instruction to its diverse curriculum when it launches The Mid-Ohio Motorcycle Riding School in April.
Curriculums at the Mid-Ohio Motorcycle Riding School will include Motorcycle Safety Foundation courses for Beginning and Experienced riders, as well as Advanced Cornering and Performance Track Riding programs. The riding school will be operated in partnership with Motorcycle Riding School, based in Chicago, Ill., and Sportbike Track Time, Delta, Ohio. The programs will be priced from $185 to $295.
"This is a move we've been planning for quite a while, and the growth in motorcycle sales and the rising demand for quality riding instruction made the timing right," said TrueSports President Michelle Trueman Gajoch. "The Mid-Ohio Motorcycle Riding School is one more element in a larger strategy for TrueSports, Inc. to make Mid-Ohio a comprehensive training facility appealing to both two- and four-wheeled audiences."
Mid-Ohio Sports Car Course is a 2.4-mile, 15-turn permanent road racing circuit in Lexington, Ohio. The Mid-Ohio School offers 19 different programs. Students partake in classroom sessions, skill drills, expert personal instruction and lapping. The school has graduated more than 19,000 students since its inception in 1993.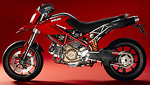 Rumor Control
Ducati Confirms a
Super Hot Hypermoto R
Jan 26th - We just open a letter that arrived today from Bologna:

Dear Jim, Thank you for your note on the Hypermoto prototype. Your comments do make a lot of sense and in fact we are already incorporating some of them (see below) in a (suprise suprise) more agressive version of the origional prototype.
I hope to see you in Laguna!
Frederico Minoli,
President & CEO,
Ducati Motor Holding spa
Jan 20th - The outrageous looking Ducati Hypermoto prototype was the star of the 2005 Milan Motorcycle Show, representing the latest flair from controversial designer Pierre Treblance, also responsible for the controversial 999/749, the trio of Sport Classics now in dealer's showrooms, and the totally great Multistrada which was awarded FastDates.com's Bike of the Year.
We reported last fall that Treblanche was let go from his Cheif Desinger position at Ducati as the company's world wide sales slumped in 2004 and 2005. In actuality, Pierre was demoted as Chief Designer and taken off the factory payrole, but is continuing to work for Ducati as an outside contractor, working from his own studio in Turin, 125 miles from the Bologna factory.
We love his new Hypermoto as a lightened, naked, kick ass version of our favorite bike -the Multistrada. But the Hypermoto's proposed DS1000 2-valve aircooled motor is a bit too tame for our liking, and the single front brake assembly is not enough stoppiing power for a 385lb. canyon racer. A hard core Ducati fan, FastDates.com editor Jim Gianatsis has been lobbying our friends at Ducati fo offer an additional hotter viersions of the protype Hypermoto which is planned for production.
What we'd like to see Ducati offer in addition to the base DS1000 engine 100hp model which they are advertising at 385lbs., two additional higher spec R model versions both with full Ohlins Superbike Suspension. Parhaps an R1 model with the hotter DS1000 3-valve watercooled head engine from their touring bike line with 120hp to still try and keep it light weight. But our first choice for the most radial naked bike ever would be a full race R2 version with the 140hp Testastretta 4-valve full watercooled engine.
We see our proposed new Hypermoto R2 Testastretta as the ultimate canyon carver, dominator in the expected new Supermoto 1000cc International class, and even a Superbike race winner in both club racing and on tigher race tracks at AMA Superbike Nationals.
Ducati Tests Surveys Different New Hypermoto Versions On Line
It seems Ducati is taking our suggestion very seriously, as they are now conducting a survey on the Ducati.com Website to see if anyone else besides us would like to buy a hotter Testastretta engine Hypermoto with full Ohlins suspension. If such a bike gets you excited, we invite you to go on the Ducati website, register, take the survey and cast your vote for our proposed new Hypermoto Testastretta Cast your Opinion in the "New Concept bike" "HyperMotard Wins Best of Show" link pop-up window at Ducati.com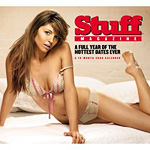 The 2006 Pirelli Calendar Revealed!
the world's most exclusive and expensively produced pinup calendar
from the word's biggest tire manufacturer.
More Pirelli 2006 Calendar - Caution Nudity!


Hire a FastDates.com
Calendar Angel
Now available for your special event and booking needs direct from CaliforniaHostess.com!
Ask for a FastDates.com Calendar Kitten when you call
Dominique at 1-310-430-4301
Supermoto World Champ Boris Chambon signs with Yamaha
Jan 1st - With KTM's surprising withdrawl from the SuperMoto World Championship beginning win 2006 everyone was left wondering what would happen to the Championshiip with the loss of its most important top factory team, and it's newly crowned World Championshipopen class rider.
Supermoto S2 World Champion, Boris Chambon has finally signed a two years deal with Yamaha Evolution, and will defend his title for the Japanese brand. "Before Latina I had only one offer, but when I got the title I had several opportunities and the most interesting for me was to go with Yamaha Evolution. I always raced for European companies, Husqvarna and later KTM, and I wanted to race one day for a Japanese brand. I had a good offer from this team, and I'm ready for the challenge," said Boris in Monaco during the Off Road Awards ceremony.
Boris had the opportunity to met in Monaco Laurens Kleinkoerkamp (Yamaha Europe) and will start testing the bike in January. "I know that we didn't saw so many times a Yamaha in front of the pack, but Andrea Bartolini got some good results, including a win in Namur with a Yamaha. We'll be supported by Yamaha Italy and Yamaha Europe, and I will have factory support from Michelin," added Boris who will probably have Max Manzo as team-mate in the S2 class.
American Suzuki Reorganizes
Motorcycle Division
The management team has been reorganized at American Suzuki Motor Corp. (ASMC) Motorcycle/ATV Division's Brea, Calif., headquarters and manufacturing facility in Rome, GA.
Steve Bortolamedi, formerly the dealer network manager for the Motorcycle/ATV Division, has been named advertising manager. He will be responsible for national and regional advertising for the Motorcycle/ATV Division, including in-store materials and signage and product brochures. Bortolamedi will continue to oversee the Web sites for both Suzuki's motorcycle and marine product groups and the Suzuki Sales P.R.O. retail kiosks. He has worked at ASMC for more than 13 years.
Glenn Hansen will move into the new position of communications manager, responsible for working with media for the introduction of all new motorcycles and ATVs. The Communications Group also will be responsible for product information booklets, model sales guides and more, for enhanced dealership salesperson knowledge. Formerly the advertising and press relations manager for American Suzuki's Motorcycle/ATV Division, Hansen has been with ASMC for three years and has an extensive background in media relations.
Dirk Gould, sales support manager, who currently oversees the Retail Finance Department, will take on additional responsibilities to assist Vice President Mel Harris with sales programs and budgeting. Gould has worked at ASMC for nearly nine years, gaining experience in data analysis and finance.
JAMA: Japan's Cycle Production Up 3% in 2005
January 31st - Japan's four largest motorcycle manufacturers produced 161,278 units in December 2005, down five percent or 8,545 units from 169,823 units produced in December 2004, according to Japan Automobile Manufacturers Association (JAMA), which also said Honda, Suzuki, Yamaha and Kawasaki produced a total of 1,791,585 units in 2005, up three percent or 52,001 units from 2004 year-end production of 1,739,584 units.
For December 2005, Honda produced 48,460 units, down from 50,571 units in December 2004; Suzuki produced 44,179 units, down from 44,812; Yamaha produced 43,588, down from 51,467; and Kawasaki produced 25,016, down from 22,954.
For the full-year 2005, Honda produced 590,251 units, down from 567,628 units in 2004; Suzuki produced 489,005 units, up from 397,104; Yamaha produced 471,254, down from 554,181; and Kawasaki produced 240,648, up from 220,308.