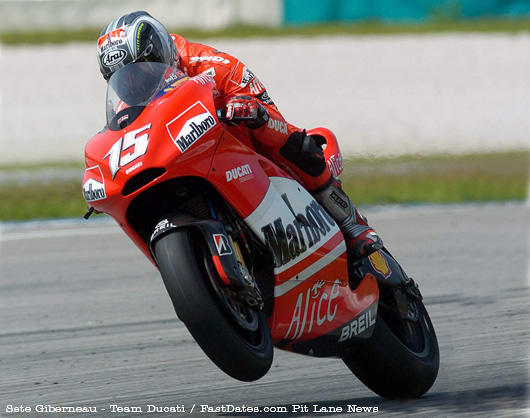 Sete Giberneau has made the transition quickly from Honda to the new Ducati Desmosedici GP6.

2006 MotoGP World Championship - Testing Sepang

Shocker! Giberneau finally Beats Rossi....
Ducati Marlboro Team Riders Dominate First 2006 MotoGP Winter Tests
Loris Capirossi and Sete Gibernau both hit the front on final day of 3-day test at Sepang.
Sepang (Malaysia), Wed 25 Jan 2006 - The majority of teams competing in the MotoGP World Championship this year rolled out their 2006 prototype motorcycles at the first test session of the preseason at the Sepang International Circuit in Malaysia this week. The tropical rainstorm that put paid to yesterday`s session for all the MotoGP teams present at Sepang made way for excellent weather for the final day of testing.
Reigning World Champion Valentino Rossi was joined on track by a host of potential title challengers, including Honda rookie Dani Pedrosa, the double 250cc World Champion, and last year's surprise runner-up Marco Melandri in a three-day session that ended on Wednesday.
However, the time sheets were dominated by one of Rossi's more familiar rivals in the shape of Spanish rider Sete Gibernau, taking part in just his third test session with Ducati. Gibernau lapped in record times on the final
day, clocking an unofficial best effort of 2'01.03 to hold off the challenge of his new team-mate Loris Capirossi, who set the pole position record of 2'01.731 before taking victory in the Grand Prix at this circuit last October.

The Ducati Marlboro Team engineers and riders were able to put in a full day`s work and Loris Capirossi and Sete Gibernau ended up at the top of the unofficial timesheets, both on race and on qualifying tyres.
Sete Gibernau worked hard to reach a total feeling with his Ducati. The Spanish rider, after getting to grips with the GP6, today also completed six laps with the GP5, confirming yesterday`s impressions from his team-mate.
With the GP6 successfully completing its roll-out test, the natural life-cycle of the Ducati Desmosedici GP5 has now come to an end at the Sepang track, where Capirossi set pole and took the win in the 2005 Malaysian GP.

Sete Giberneau discusses with technicians how the new Ducati is working.

Sete Gibernau (73 laps - 2m01.83s race, 2m01.03s qualifying)
"My settling-in period with the team, the bike and the tyres is continuing and I am increasingly satisfied with the choice that I have made. Today I felt pretty good on the GP6 and I also wanted to do a few laps on the GP5, which I have never tried, to make a back-to-back test. This confirmed what Loris, who knows the bike well, had said yesterday: the GP5 is a good bike but the GP6 has more development potential and from now onwards we are only going to use that bike. For the first time I used Bridgestone`s qualifying tyres and they gave me a good feeling. We`ve still got a lot of work to do to be at 100% but we are on the right path".

Extreame Lean! Loris Capirossi was second quickest to his new team mate with the Desmosedici GP6.

On the final day of the session, Loris Capirossi focussed on getting through an intense programme of tyre testing, accumulating information that will be useful for the next session scheduled for Sepang.
Loris Capirossi (76 laps - 2m01.64s race, 2m01.08s qualifying)
"We can also be satisfied with today`s performance. The weather was good all day and we were able to do all the scheduled tyre testing. Bridgestone are working well and we have gathered a lot of useful information for the next test session here at Sepang. I also tried the new qualifying tyres, which have a good potential. I like the GP6 more and more and I can`t wait to test it in Australia, where last year I only did a few laps on the Friday morning before crashing, which forced me to miss the Australian and Turkish GPs".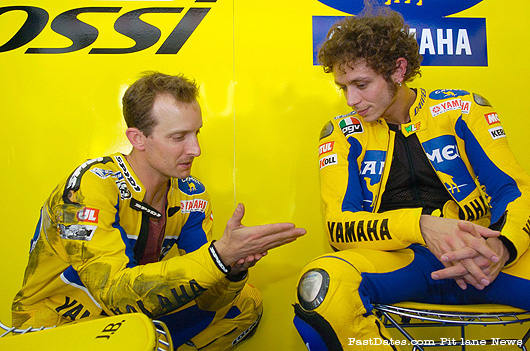 Yamaha factory team mates Colin Edwards and Valentino Rossi in the new Camel team colors discuss handling. Colin was down in 11th place, bested by Superbike star Chris Vermeulin on the works Suzuki..

Rossi ended the test with the fifth fastest time behind Melandri and the impressive Pedrosa. The Italian will now have a twelve day break before rejoining his Yamaha team for further tests alongside Suzuki at Qatar, with
Honda, Kawasaki and Ducati scheduled to return to action a few days earlier at Phillip Island in Australia.
"In general I am happy with this first test and with the evolution of the new bike - I already have a good feeling with it. It's not so different from the 2005 version but it's better in many areas. Yamaha is working especially hard on improving the stability of the bike and making it easier to find the right setting. The engine is also better. Now it's important that we try the bike at a different track and I think it will be interesting in Qatar. Last year I was able to win the race there, one of the best races of the season, but we had some problems throughout the weekend. It will be good to see how the new bike performs there."
"This morning we worked 100% on tyres with Michelin. Last year at the race here we had some problems in this area but Michelin have brought a lot of new tyres here and they seem to be very good. We've been working with them to find a better grip. This afternoon I did the race simulation which was also promising.. "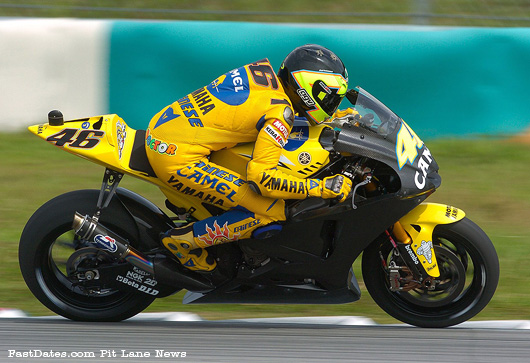 Same Rossi, slightly revised YM1 Yamaha, all new team sponsor Camel

The next test for the the motoGP teams will be from January 31st to February 2nd, at Phillip Island in Australia, the second scheduled 2006 winter session.
Unofficial times:
1. Sete Gibernau (Ducati) 2m01.03s
2. Loris Capirossi (Ducati) 2m01.08s
3. Marco Meandri (Honda) 2m01.10s
4. Daniel Pedrosa (Honda) 2m01.51s
5. Valentino Rossi (Yamaha) 2m01.60s
6. Nicky Hayden (Honda) 2m01.69s
7. Shinya Nakano (Kawasaki) 2m01.79s
8. Randy De Puniet (Kawasaki) 2m02.18s
9. Toni Elias (Honda) 2m02.23s
10. Chris Vermeulen (Suzuki) 2m02.38s

11. Colin Edwards (USA) Yamaha 2'02.54
12. Casey Stoner (AUS) Honda 2'02.67
13. K. Akiyoshi (JPN) Suzuki 2'02.80
14. John Hopkins (USA) Suzuki 2'03.05
15. Alex Hofmann (GER) Ducati 2'03.20
16. Kenny Roberts (USA) KR Honda 2'03.37
17. Jose Luis Cardoso (SPA) Ducati 2'03.50
18. S. Ito (JPN) Ducati 2'03.60
19. James Ellison (GBR) Yamaha 2'04.17
Temperature: air 34° / track 46° C
---


Calendar Kitten to Kick Bunny Tail in Lingerie Bowl on TV February 5th
Meet Cora Skinner, one of our newest Calendar Kittens who will be featured in all the upcomming 2007 FastDates.com Calendars. Fortunately you won't have to wait 5 long months for the July 1st release of the Calendars to see more of this very sexy raven haired, log legged beauty. Cora will be featured in the Lingerie Bowl which airs on Pay Per View TV on February 5th during half time on Superbowl Sunday. Cora will be playing on the Los Angeles Temptation team. Be sure to tune in to watch our beautiful Calendar Kitten kickin' some Bunny cottontail on Suprbowl Sunday! More Cora HERE
---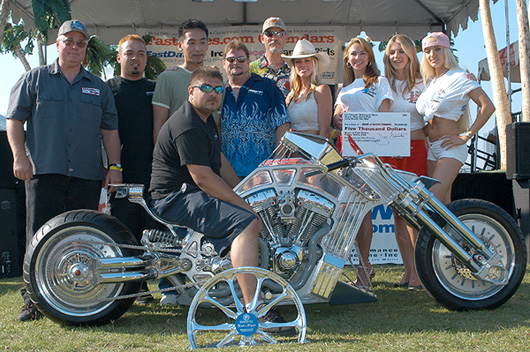 From left: Performance Machine's Ted Sands, Dreamcraft's Ysmael Galera, Paul Yang, Brian Giron and Larry Nagel, Bikernet.com's Keith "Bandit" Ball, Calendar Angels "Rockin' Robin" Cunningham, Andra Cobb, Christina Linderman, Dominique Layafette. Photographed by Show producer Jim Gianatsis

Keith Ball Joins The LA Calendar Motorcycle Show in Expanded Role
Los Angeles, CA Jan 25th
-
Keith Randall Ball
, aka "
Bandit
" the well know American V-Twin industry editor, author and personality and his web based company
Bikernet.com
has entered into an expanded associate partnership with the
Los Angeles Calendar Motorcycle Show
beginning immediately. The announcement was made by
Jim Gianatsis
of
Gianatsis Design Associates
, the Los Angeles based motorsports advertising agency and producer of the Los Angeles Calendar Motorcycle Show. In his expanded role with the Calendar Show, Keith and his staff partner
Nyla Olsen
will assist as Associate Partners in Exhibitor and Sponsorship Marketing, Event Production, as well as in future growth plans for the LA Calendar Motorcycle Show.
Keith Ball comes to the Los Angels Calendar Motorcycle Show, America's premier custom and high performance motorcycle show held every 3rd July weekend (upcoming July 15-16th 2006) at the Queen Mary Event Park in Long Beach, CA, with an impressive list of credentials including having previously served as Executive Vice President and Editorial Director at Paisano Publications (including Easyriders and V-Twin magazines), Editorial Director at the Primedia American Motorcycle Group (including Hot Bike and Street Choppers magazines). Working under the nom de plume "Bandit" he is currently best known for his popular V-Twin fan based news website Bikernet.com now celebrating its 10th anniversary. At previous Calendar Motorcycle Shows where Bikernet.com has participated as both a co sponsor and exhibitor, Keith has also assisted with bike contest judging and on stage hosting.
Keith Ball is just as excited with the expanded association, "I've watched, seen and admired what Jim has done with the LA Calendar Motorcycle Show since it first began 15 years ago. People know I wouldn't add my name, support and effort to something I didn't believe. The LA Calendar Motorcycle Show Weekend is an incredibly exciting event that I really enjoy being a part of, and I can see it has a tremendous amount of continued growth, both at its home venue at the Queen Mary in Long Beach, CA, and possibly with new venues across the country. Additional details in Bike Show Press.
---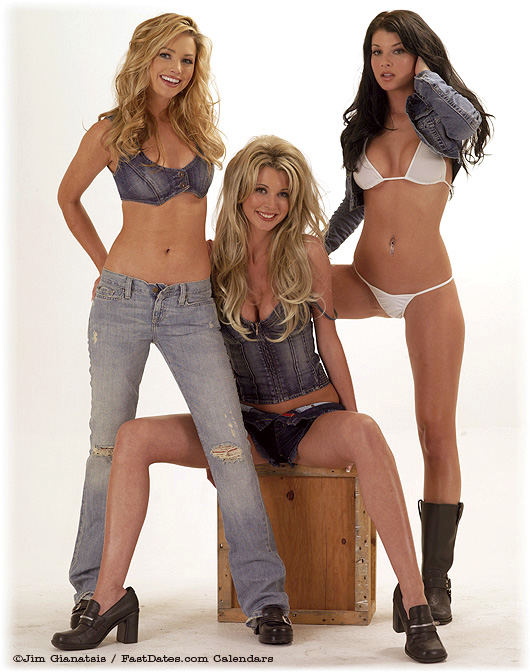 Our all new model line for the 2007 Calendars include from left: Playboy Playmate Tamara Witmer, Irish supermodel import Gemma Gleeson, and Hooters Honey and Lingerie Bowl tight end Cora Skinner. All three girls are profiled in FastDates.com's Meet the Models and featured in Members Corner.
Meet the All New 2007 FastDates.com Calendar Kittens
by photographer Jim Gianatsis
January 2006 -This year, many of our favorite Calendar models had left Los Angeles, some moving back home to persue more permanant lives, boyfriends or marriage, or as one girl did, to become a ski bum at the mountain resorts of Colorado. And the loss of a World Superbike round in America presented out of necessity, what turned out to be a great opportunity to travel to Brands Hatch, Great Britain to shoot the 2007 SBK endorsed Fast Dates calendar with an all new trio of Calendar Kittens from our new FastDates.com Calendar Model agency in London, UniversalModels.TV. Our all new Calendar Kittens at Brands Hatch included 20 year old Irish supermodel Gemma Gleeson, experienced fashion model Monica McDermot and newcommer Aaliayah on her fist big shoot.
In particular, Gemma Gleeson proved to me my favorite model of the group and I knew I wanted to work with her again for our other 2007 Calendars as soon as I saw how well her pictures from Brands Hatch turned out. Gemma had scored the cover of the 2007 Fast Dates Calendar with Troy Corser's Championship winning Alstare Corona Suzuki GSXR1000.
Gemma flew over to America and on Decemeber 19th and had a few days to rest up as a guest at my home before our first big shoot for 2007 Garage Girls which also featured two more new models from our Los Angeles based associate agency CaliforniaHostess.com.

The other girls included flaswless raven haired beauty Cora Skinner who we had already done an Iron & Lace Calendar shoot with back in September, and an exciting new find, August 2005 blond Playboy Playmate Tamara Witmer. The three girls photographed incredible together as you can see in the photo here, making the new 2007 Garage Girls Calendar a must have.

Gemma and our editor share lap time with a shopping mall Santa




You'll want to pick up all 3 of our 2007 FastDates.com calendars featuring beautiful Gemma Gleeson and our exciting new girls we found this year. I promise you won't be disapointed! Read and see more about Gemma's visit to Los Angeles to shoot with FastDates.com in Calendar Girl News. - Jim Gianatsis

Our official SBK Fast Dates World Superbike and Ducati Corse girls at Brands Hatch were Gemma Gleason, Monica McDermet and Aaliayah. Here they warm up Regis Laconi's 999F05 Superbike just before practice, and forthe digital Hassleblad for the next edition of the Fast Dates Calendar.


Fast Dates Calendar Motorcycle Roadracing News. Complete coverage of the SBK World Superbike, AMA National Superbike and MotoGP World Championship. Superbike, sportbike, grand prix, MotoGP, race, racing, news, coverage, photos, pictures, Fast Dates Calendar and Umbrella Girls. Racing, road race, track, motorcycle, news, results, girls, models, Mat Aladdin, Max Biaggi, Valentino Rossi, Ben and Eric Bostrom, James Toseland, Regis Laconi, Loris Capirossi, Troy Bayliss, Troy Corser, Noriyuki Haga. Ducati 999 Monster Multistrada, Yamaha R6 R1, Honda CBR600RR CBR1000RR, Kawasaki ZX6 ZX6RR ZX10, Suzuki GSXR600 GSXR750 GSXR1000, Aprilia Mille, MZ Agusta F4 Brutale. Los Angeles Calendar Motorcycle Show.



NEW CONTEST
Win the Next Fast Dates Calendar!
FastDates.com readers are invited to get involved in the difficult, stressful, creative process of producing the upcoming 2007 Fast Dates Racebike Pinup calendar.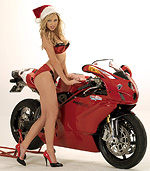 Try to guess which month of the 2007 Calendar this picture of our Ducati 999R project bike with Playboy Playmate Tamara Witmer will be appearing. Send your guess with your name and mailing address to
Contact@FastDates.com.

From the correct answers, a winner will be drawn at random to receive an autographed copy of the 2007 Fast Dates calendar when it World Premiers this summer July st on FastDates.com,
Click to Order Now!
Fast Dates Racebike Pinup
& Garage Girls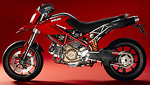 It's Unofficially Official -
Hypermoto Testastretta
Race Model is Coming!!!

Jan 26th - We just open a letter that arrived today from Bologna:

Dear Jim, Thank you for your note on the Hypermoto prototype.
Your comments do make a lot of sense and in fact we are already incorporating some of them (see below) in a (suprise suprise) more agressive version of the origional prototype.
I hope to see you in Laguna!
Frederico Minoli,
President & CEO,
Ducati Motor Holding spa
Jan 20th - The outrageous looking Ducati Hypermoto prototype was the star of the 2005 Milan Motorcycle Show, representing the latest flair from controversial designer Pierre Treblance, also responsible for the controversial 999/749, the trio of Sport Classics now in dealer's showrooms, and the totally great Multistrada which was awarded FastDates.com's Bike of the Year.
We reported last fall that Treblanche was let go from his Cheif Desinger position at Ducati as the company's world wide sales slumped in 2004 and 2005. In actuality, Pierre was demoted as Chief Designer and taken off the factory payrole, but is continuing to work for Ducati as an outside contractor, working from his own studio in Turin, 125 miles from the Bologna factory.
We love his new Hypermoto as a lightened, naked, kick ass version of our favorite bike -the Multistrada. But the Hypermoto's proposed DS1000 2-valve aircooled motor is a bit too tame for our liking, and the single front brake assembly is not enough stoppiing power for a 385lb. canyon racer. A hard core Ducati fan, FastDates.com editor Jim Gianatsis has been lobbying our friends at Ducati fo offer an additional hotter viersions of the protype Hypermoto which is planned for production.
What we'd like to see Ducati offer in addition to the base DS1000 engine 100hp model which they are advertising at 385lbs., two additional higher spec R model versions both with full Ohlins Superbike Suspension. Parhaps an R1 model with the hotter DS1000 3-valve watercooled head engine from their touring bike line with 120hp to still try and keep it light weight. But our first choice for the most radial naked bike ever would be a full race R2 version with the 140hp Testastretta 4-valve full watercooled engine.
We see our proposed new Hypermoto R2 Testastretta as the ultimate canyon carver, dominator in the expected new Supermoto 1000cc International class, and even a Superbike race winner in both club racing and on tigher race tracks at AMA Superbike Nationals.
Ducati Tests Surveys Different New Hypermoto Versions On Line
It seems Ducati is taking our suggestion very seriously, as they are now conducting a survey on the Ducati.com Website to see if anyone else besides us would like to buy a hotter Testastretta engine Hypermoto with full Ohlins suspension. If such a bike gets you excited, we invite you to go on the Ducati website, register, take the survey and cast your vote for our proposed new Hypermoto Testastretta Cast your Opinion in the "New Concept bike" "HyperMotard Wins Best of Show" link pop-up window at Ducati.com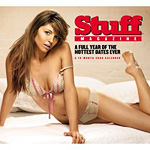 Terminator
Not Licensed to Kill
January 7th - California Gov. Arnold Schwarzenegger did not have the proper motorcycle endorsement on his California driver's license when he collided with a car in his Brentwood neighborhood last weekend, the Los Angeles Police Department said.
Schwarzenegger, accompanied by his 12-year-old son, was operating a sidecar-equipped Harley-Davidson when involved in the collision that left him with 15 stitches in his upper lip.
Although Los Angeles police said the governor broke the law when he drove the bike without a motorcycle license, "We have no way of citing someone we did not observe driving," a police spokeswoman told the Associated Press. (Sure, let's try that defense the next time we run over a pedestran in a crosswalk or drunk drive into a phone pole. -Ed)
Police referred their findings to the Los Angeles city attorney's office, which said prosecutors decided not to get involved because the incident was a minor matter that would have resulted in no more than a traffic ticket.
In 2001, Schwarzenegger broke six ribs in a crash that sent him to the hospital for four days.
To get a motorcycle endorsement in California, a rider must pass a Department of Motor Vehicle skills test or take a motorcycle training course from a program approved by the California Highway Patrol. Driving a motorcycle without the proper license is an infraction that can result in fines ranging from $100 to $250 or more.
The 2006 Pirelli Calendar Revealed!
the world's most exclusive and expensively produced pinup calendar
from the word's biggest tire manufacturer.
More Pirelli 2006 Calendar - Caution Nudity!


Hire a FastDates.com
Calendar Angel
Now available for your special event and booking needs direct from CaliforniaHostess.com!
Ask for a FastDates.com Calendar Kitten when you call
Dominique at 1-310-430-4301
Pirelli USA hires
Richard Moore as Roadrace Manager
Long time professional racer Richard Moore has been hired by Pirelli USA to be their road racing manager for North America. Richard's racing success include numerous AFM 600 and 750 Stock Production Championships, 2-time WERA Western 24-Hour race winner, and 2-time 250cc lap time record holder at Willow Springs. Internationally, More was first privater in 1987 at the Suzuka 8-Hour race, and a member of the 2nd place Kawasaki team at the 1991 24-hours of LeMans.
Since 1987 Moore has owned and operated Indigo Sport, a supplier of high-preformace motorcycle parts. One of Ridckard's modified Suzuki GSXR race bike was featured in the 1996 Fast Dates Racebike Pinup Calendar with Playboy model sisters and Calendar Kittens Jody and Keri Hoskins.