Troy Baylis in his first test of the year for Ducati in full Xerox colors. The SBK season kicks off in just 2 weeks!

2006 SBK Corona Extra Superbike World Championhip - Winter Testing Qatar and Valencia

RETURNING 2001 CHAMPION BACK IN THE GROOVE
Bayliss and Lanzi Leaves Valencia Testing with the Quickest Times

Valencia, Tuesday 7th February 2006 - Troy Bayliss (Ducati Xerox Team) once more ripped into his testing task with gusto at Valencia, setting a quicker time than Neil Hodgson's previous recorded track best on a SBK™ race weekend, with a 1'34.3 on qualifying tyres. He made an even more impressive 1'34.4 on 2006 versions of Pirelli's race spec tyres. Bayliss worked through some additional tyre options before finishing the test early and satisfied with his latest outing. His team-mate Lorenzo Lanzi posted the 2nd quickst time on race tires, and was edged out by new Team Kate rider James Toseland when they switched to qualifiers.
The Aussie Bayless, who returns to Superbike this season for the Italian manufacturer after a three-year spell in MotoGP, continued the superb form he has shown so far in testing since signing for the Ducati Xerox Team at the end of last year and ended the two-day session at the top of the timesheets.
"The first time I tested here in November I did a 36 and now today on the race tyre I did a 34.4 which is quite an improvement" declared Troy, who covered 133 laps of the Valencia track on his Ducati 999F06. "Obviously I feel pretty comfortable on the bike and things are going really well so that makes me happy. The start of the championship is just around the corner and we haven't had to change the bike a lot since I first hopped on it. I'm feeling confident and I'm sure I'm going to be a contender for the championship and especially for the race wins. It's been quite a while since I've won so I'm a bit excited about that and can't wait to get one under my belt. I'm very impressed with the bike and feel good on it. I haven't felt this much at home for a long time!"
Lorenzo Lanzi (136 laps in two days) took a bit more time to settle into the rhythm of the test, but made a big improvement on the second day to end up second quickest on race tyres with a time of 1m35.6s
"I felt that I rode well and am pleased with that, I made a good improvement over yesterday when I struggled to get into the groove and back onto the bike after a break of two months" said Lorenzo. "Today I did some good times, on race tyres we're just two or three tenths away from Troy's pace with 1m35s. The feeling with the bike is good and we learnt a lot these two days so I now think we're ready for Qatar. The championship finally gets underway in a couple of weeks time and it'll be great to get back to racing, especially with the factory Ducati, and the prospects are looking good".

After a slow start on the Ten Kate Honda back in December, Toseland is now up to speed on his new ride

2004 CHAMPION TOSELAND SECOND QUICKEST
James Toseland (Winston Ten Kate Honda) was second fastest rider on qualifying tyres, with Lorenzo Lanzi (Ducati Xerox Team) the second fastest when using race rubber. Each of the top Honda and Ducati riders had access to 2006-spec tyres, including Karl Muggeridge (Winston Ten Kate Honda). Fourth fastest overall Muggeridge equalled Toseland's best on race tyres, but was marginally behind with a qualifying set-up.

NEUKIRCHNER ADAPTS QUICKLY TO DUCATI POWER
Max Neukirchner (Team Pedercini Ducati) and Norick Abe (Yamaha Motor France IPONE) shared a best time of 1'36.4 on the final day, with neither able to use 2006 specification tyres. Neukirchner, a new inductee to the Pedercini squad, enjoyed his time on the Ducati, making the most of its characteristics in a short space of time. Abe tested ignition and electronics packages on day two, stopping him making great improvements to his suspension set-up.

PRIVATE RIDERS TO THE FORE
Ivan Clementi (Pedercini Ducati) and Roberto Rolfo (Caracchi Ducati) also shared a best time; 1'36.6. Marco Borciani (Sterilgarda Berik Ducati) was only a tenth behind, but the biggest improvement over day one came from new Suzuki rider, Fabien Foret (Team Alstare Suzuki Corona Extra) who posted a 1'36.9.
And where was the rest of the reigning World Championship Alstare Corona Suzuki Team with Troy Corser and Yukio Kagayama? "Apparently Troy was so happy with what they had done in the Australia tests last month, he told the team there was no need to test in Valencia. So it was just Alstare's new SBK rider (Foret) testing - on an Alstare built bike, not an old Troy or Kagayama bike." - Kel Edge.

PIRELLI TIMES (R: Race tyres - Q: Qualifying tyres)
Bayliss (Ducati Xerox Team) 1.34''4 R 1.34''3 Q
Lanzi (Ducati Xerox Team) 1.35''6 R 1.35''4 Q
Toseland (Winston Ten Kate Honda) 1.36''2 R 1.35''3 Q
Muggeridge (Winston Ten Kate Honda) 1.36''2 R 1.35''5 Q
Nuekircnker (Team Pedercini Ducati 1.36''4 R
Abe (Yamaha Motor France IPONE) 1'36.4 R
Clementi (Pedercini Ducati 1.36''6 R
Rolfo (Caracchi SC Ducati) 1.36''6 R
Borciani (Sterilgarda Berik Ducati) 1.36''7 R
Foret (Team Alstare Suzuki Corona Extra) 1.36''9 R
Pedercini Pedercini Ducati 1.37''2 R


SUPERSPORT WORLD CHAMPIONSHIP® Sebastien Charpentier (Winston Ten Kate Honda) once more proved to be transcendent, setting a 1'37.1 lap when going for a single quick time, and a host of fast laps with a full race set-up in place. Katsuaki Fujiwara (Megabike Honda) as again his closest challenger, with a 1'37.5 also set on 2006 tyres.
Kenan Sofuoglu (Winston Ten Kate Honda) came on in leaps and bounds in what was his first full test for his new team, taking a 1'38.2 time, and impressing all who watched him. Only these three riders used 2006 spec tyres.
French rookie Yoann Tiberio (Megabike Honda) made a 1'39 flat, while Josh Brookes (Ducati SC Caracchi) did a 1'39.5.

SUPERSPORT WORLD CHAMPIONSHIP® TIMES
Charpentier (Winston Ten Kate Honda) 1.37''1
Fuji (Megabike Honda) 1.37''5
Soufouglou (Winston Ten Kate Honda) 1.38''2
Tiberio (Megabike Honda) 1.39''0
Brookes (Ducati SC Caracchi).39''5
Nedog (Ducati SC Caracchi) 1.41''2

Noriyuki was too busy to busy to pose with his bike, so Gemma filled in nicely. Hope you don't mind.

Haga Quickest as Team Yamaha Tests at Losail and Valencia
7/2/2006 - Yamaha's world superbike stars made their final preparations ahead of the 2006 campaign, with the Yamaha Motor Italia squad testing in Qatar and Yamaha Motor France in Valencia.
Testing alongside Yamaha's MotoGP teams, the Yamaha Motor Italia squad proved the performance and reliability of their new specification engine and fine-tuned the updated Magneti Marelli electronics in their three-day outing at the Losail circuit. The team's 2006 YZF-R1s feature a host of new parts over the 2005 version, designed to give the bike improved power delivery and controllability for the riders. The squad also evaluated a number of chassis parts, including a new swingarm and 2006 specification Ohlins suspension.
With Pirelli supplying only 2005-spec race rubber, the squad was able to concentrate fully on the machine performance rather than testing development tyres. Using these tyres, both riders were quicker on race tyres than at December's Pirelli test, confirming the progress made by the team over the winter months. Haga was the faster of the two riders, setting a 2:00.4, with Pitt fractionally behind on 2:00.8. The Australian was slightly detuned on the final day after picking up a stomach bug but gamely completed his test programme, while Haga's day came to a premature end when he suffered a spectacular highside just 30 minutes before the end of the session. The Japanese rider was uninjured in the crash, although his bike suffered damage.
Over in Spain, Norick Abe spent two days at the Valencia circuit. Having tested extensively at Phillip Island last month, the Japanese rider was back on the Ohlins suspension which he will run in the 2006 season.
Abe was the sole Yamaha Motor France rider in attendance at Valencia. Shinichi Nakatomi, who will run Japanese Soqi suspension, elected to miss the test having twice tested his R1 at the circuit, while Sebastien Gimbert was also absent. The Frenchman did not test as he will not race in Valencia due to a date clash with the Le Mans 24-hour race.
Abe suffered some fueling glitches as the team tested new injection mappings and he was also one of the few riders at the test not running development tyres. His best of the day was a 1:36.4. Fastest at the test was Troy Bayliss (Ducati) with a 1:34.4 lap.
Noriyuki Haga
"Not so bad a test although it was a shame to end with a crash. Going through the last of the high-speed right hand corners I lost the rear and had a big crash. I am ok but maybe I hurt in the morning! The new bike is a real improvement although we are still trying to find the perfect settings. The engine for sure is much nicer: less aggressive and stronger coming out of the corners, and the team has made some improvements in all areas. At the end we made some big changes to the front and, for me, it was a good direction. I am happy with the progress made by the team, but we have not tested with our rivals, so only at the first race will we know how competitive we are."
Andrew Pitt
"I was happy with how it went over the three days. I feel some big improvements from last year, especially with the electronics and the engine braking. We got through a lot here and we're running the 2006 suspension front and back now and it's working well already. The lap times are good and consistent and there was none of the chatter problem that we have had here in the past, so that's also a big step forward. There's a few more things to try before the race and I've still got to find a front tyre that will work good over the race distance."
Norick Abe
"Today we worked mainly on the injection system. We wanted to get a good setting for this and then try for a good suspension setting. It was difficult to get a good setting on the mapping and it is still not perfect. Because of this we didn't get to try any new settings on the suspension."
Massimo Meregalli (Team Coordinator - Yamaha Motor Italia)
"We have been able to get through a lot of work over the last few days. Often at these first tests we face a lot of small problems but other than a few minor electrical things on the first morning these three days have been very good. The team has been working hard over the winter and it has been good to hear the riders' feedback confirm what we had seen on the dyno. We started trying a lot of new parts yesterday and we lost our way a little bit with the set-up, but today both riders found some good settings and were happy with the results. Of course we tested many development tyres when we came in December and we do not know yet which other tyres Pirelli will bring for the race, but we are happy with our settings on the ones we had here. Our times have been under what the tyre technicians predicted so this is a positive sign for the first race."


Haga (Yamaha Motor Italia) suffered a late crash in the last of three days at Losail, but nonetheless secured the fastest time of the test with a 2'00.5. His fall resulted in no significant injury, leaving him in good shape for the start of the season at Qatar on February 25th.
All riders in Qatar were on 2005 Pirelli spec tyres, with more improvements expected when the latest 2006 versions are made available.
Second fastest on day two was Haga's team-mate Andrew Pitt, with Superbike rookie Michel Fabrizio (D.F.X. Treme Honda) heading off his team-mate Pierfancesco Chili.

1. Haga (Yamaha Motor Italia) 2'00"5
2. Pitt (Yamaha Motor Italia) 2'00"8
3. Fabrizio (D.F.X. Treme Honda) 2'01"3
4. Chili (D.F.X. Treme Honda ) 2'01"4
The 2006 World Superbike Championship gets underway on February 25th at the Losail Circuit in Qatar.

---


Joanna Gets Stuffed! - But Who Let the Dogs Out?
We've got a reputation for bring you the world's hottestest, sexiest, most beautiful models in the FastDates.com Calendars. Case in point: our beautiful Calendar Kitten Joanna Krupa has been featured in the past 6 months on the cover and inside every major guy's magazine in the English speaking world including Playboy, Maxim's American and British Editions and 2005 Maxim Calendar, and now (shown above) in a 9-page cover pictorial in the February 2006 issue of Stuff. But we brought her to you first when he discoved Joanna here in Los Angeles back in 2003 and photographed her for the 2004 FastDates.com Calendars Garage Girls and Iron & Lace.

You'll notice that Stuff actually printed 2 different covers with sweet Joanna, one with her holding back on leashes two barking Dobermans like the domimatrix of our fantasies, and the other a more up close and personal shot of Joanna ready to loose her panties. We couldn't figure out any reason for the two different covers (everything between the sheets is the same), other than to get us to buy the same issue twice - which we did (are those Stuff guys smart or what?).
The high point of Joanna's brief interview in Stuff, adding some fluff to her sexy pictorial, was the fact she doesn't spend much money on lingerie, and she's looking for a new boyfriend at the moment. She's also very athletic when in comes to parlor games, evidenced by the fact our makeup artist had to cover up a few rug burns on her before one of our Calendar shoots. If you'ld like to see a lot more of Joanna, we suggest you visit our FastDates.com Members Corner.
---

Rossi was resplended in the new Camel colors and quickest at Losail,just days after setting the Formula One fraternity on its head by turning quick times in a Ferrari at Valencia - 20 seconds quicker than on a bike!

2006 MotoGP World Championship

Rossi and Edwards on top in MotoGP Testing at Qatar

Qatar, Losail 8/2/2006 - The Camel Yamaha Team finished their third day of testing at the Losail International Circuit with the track to themselves today, all other teams having begun testing one day earlier and finished yesterday. Alone on the track, Valentino Rossi and Colin Edwards were quickly able to complete the remaining Michelin tyre work they needed to do, before concluding the test with long runs in the afternoon.
Neither Rossi nor Edwards improved on their times from yesterday of 1'56.53 and 1'56.81 respectively, and these remain the fastest times from the three days of testing. However both riders still lapped under lap record pace today, Rossi setting a best time of 1'56.78 after 49 laps and Edwards 1'57.07 from 57 laps.
The Yamaha riders and team members now have a five day break before they rejoin the rest of the MotoGP paddock for the final 'winter' test in Sepang, Malaysia on 14th, 15th and 16th February.

Vali and Colin looked happy and confident at Losail.
Valentino Rossi (1'56.78, 49 Laps)
"Today was not quite as good as the last two days, mainly because the condition of the track was slightly worse and we didn't have such good grip. I think that last night there was a lot of wind and with only two bikes on the track today it wasn't enough to clean the surface properly. Anyway we continued to work, did our long run and found out some more information about the new M1 in different conditions. We have some vibrations and our top priority now is to find a way to fix this; I hope we can do that in Sepang. Anyway, in general this has been a good test and we have made some more improvements. The times have been quite good and we've done some important work with Michelin. Now I go home for a few days to rest before we start again in Sepang next week."
Colin Edwards (1'57.07, 57 Laps)
"Overall I am really happy with this test and I am looking forward to the season ahead. I am especially pleased with the setting of the bike, which we seem to be improving all the time. Both Yamaha and Michelin have worked really hard over the winter and, together with the new tyres, we've got a really good package. My long run was not bad this afternoon and the encouraging thing was that my times were consistent, even later on as the tyres started to go off slightly in the heat. It's difficult to compare to last year's race since the conditions are so different, but this year's Qatar race is only two months away now, so we hope that the work we've done at this test will put us in a good starting position for that weekend. The general progress of the bike has been great over just two tests this year so now we will hopefully be able to keep working like this in Sepang next week."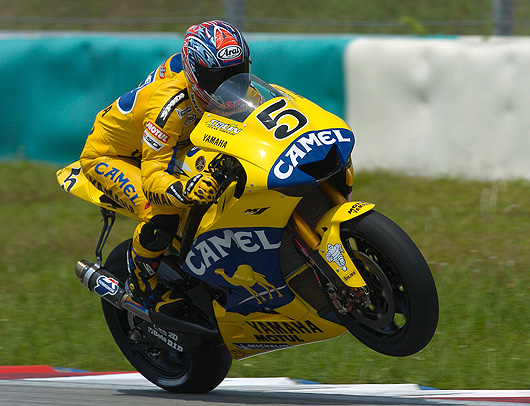 Colin Edwards was 2nd quickest.
Davinde Brivio - Camel Yamaha Team Director
"It was interesting to come here in very good conditions and we got some good information which we can work on for the start of the season. It's good to now go immediately to Sepang to check again the settings that we found there at the first test in January. Sepang is the last really important test for us before the start of the season."
Unofficial Lap Times:
Valentino Rossi (ITA) Yamaha, 1'56.78
Colin Edwards(USA) Yamaha, 1'57.07
Qatar Lap Record: Nicky Hayden (Honda) 2005 - 1'57.903
Qatar Best Lap: Loris Capirossi (Ducati) 2005 - 1'56.917
---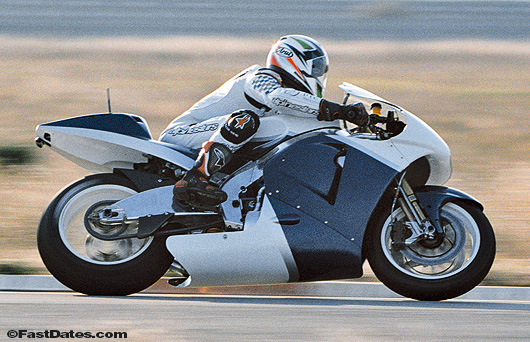 Is this just a dynamic systems test rig as BMW proclaims, or a future Superbike as well? Note the absence of traditional BMW shaft drive/single sided swingarm and paralever foks The bowed perimeter frame under the tank hints this might be powered by the big K1200R style in-line 4 engine, but the chassis and suspenison is full superbike spec.

BMW Mottorad Technology Bearer For Highly Dynamic Systems
02/06/2006 - As part of research activities on future regulation systems, a motorcycle test vehicle has been created under the umbrella of BMW Group research and technology. This vehicle has a very high engine output and lightweight construction technology and is designed to test highly dynamic processes in engine and driving dynamics management under extreme conditions.
BMW Head of Development Prof. Burkhard Göschel said that the choice of a motorcycle to study fundamental technological developments was due to the very interesting challenges relating to the special driving dynamics of motorcycles and their tilted position: "The dynamics of powerful motorcycles operating at the physical limits are among the most complex phenomena in the field at the current time. For our engineers this is a highly sophisticated and at the same time fascinating task." Additional considerations are the special motorcycle requirements in terms of lightweight construction and aerodynamics, which are also to be subjected to research at threshold level. The Director of BMW Motorrad, Dr. Herbert Diess, sees in these BMW research activities valuable impulses for serial development and emphasises: "Regulation systems for longitudinal dynamics such as drive-slip control will be introduced for powerful motorcycles in serial production in the years to come. In addition to ABS they will form part of an integrated concept to increase active safety."
Engine management of the high-performance engine and the entire engine electronics system including hardware and software will form a key focus of the project. By conducting in-house development such as this, engineers benefit from the expertise derived from Formula 1 and BMW's technology leadership in the field of electronics. Dr. Diess explains: "The close networking of all research and development activities with the BMW Group is a competitive advantage and a key element of the strategic orientation of our entire motorcycle development operation".
The motorcycle has only been ridden on BMW's own test circuits to date. However, in the foreseeable future it will also be tested on other closed-off circuits. Functional tests under the widest possible range of realistic conditions provide the best feedback on the interplay between engine, chassis and electronic components. The comparative data thus obtained serves to provide a comprehensive assessment of the capabilities of this technology research vehicle and of the development status of the components in question.



Killer Babe in Toyland
A typical tourist in the middle of winter in Los Angeles? Standing on the street corner on Melrose Avenue where Jay Leno does his Jay Walking interviews on the ToNight Show, SBK Fast Dates World Superbike Calendar Kitten and Irish Supermodel Gemma Gleeson flew in from London to hang with us in Los Angeles at the plush Fast Dates Mansion during the Christmas holidays. All the juicy details HERE
Fast Dates Calendar Motorcycle Roadracing News. Complete coverage of the SBK World Superbike, AMA National Superbike and MotoGP World Championship. Superbike, American Superbike, superbike planet, American Roadracing, sportbike, grand prix, MotoGP, race, racing, news, superbike news, motoGP news, photography coverage, photos, pictures, Fast Dates Calendar and Umbrella Girls. Racing, road race, track, motorcycle, news, results, girls, models, Mat Aladdin, Max Biaggi, Valentino Rossi, Troy Baylis, Ben and Eric Bostrom, James Toseland, Regis Laconi, Loris Capirossi, Troy Bayliss, Troy Corser, Noriyuki Haga. Ducati 999 Monster Multistrada, Yamaha R6 R1, Honda CBR600RR CBR1000RR, Kawasaki ZX6 ZX6RR ZX10, Suzuki GSXR600 GSXR750 GSXR1000, Aprilia Mille, MZ Agusta F4 Brutale. Los Angeles Calendar Motorcycle Show.
Click to Order Now!
Fast Dates Racebike Pinup
& Garage Girls



Formula One Versus Motorcycles
Lap Times at Valencia!
This week's World Superbike tests ar Valencia saw Troy Baylis on the factory Ducati 999F06 breaking the exhisting World Superbike lap record there with a time of 1'34.3'
For comparison, the Formula One circus was also testing at Valencia just a few days before the SBK bikes and Fernando Alonso in the factory Renault turned the top time of 1m11.291s.
While some kid named Valentino Rossi driving a detuned Ferrari F1 car in his first ever public appearance on a proper GP track turned the 9th quickest time of 1m12.856s among the F! circus regulars, even beating series star David Coultard.
It sounds depressing to us bike fans that a F1 car can best a World Superbike by some 20 seconds a lap. And MotoGP bikes don't fare much better against race cars, since MotoGP bikes are only about 2-3 seconds per lap quicker than a Superbike on the same track (See this week's Yamaha MotoGP and Superbike test times at Losail).
And just to depress you a little further, the former World Endurace Championship Sports Cars from Porsche, Mercedes and McLaren fully enclosed bodywork were even quicker than F1 cars thanks to their cleaner aerodynamics for higher top speeds and ground effects for even better braking and cornering.
Productions sports cars aren't too slow either, Our own FastDates.com Edtior has a hoped up new generation Mini Cooper S that blows away production superbikes and supermotard bikes on the twisty canyons in the Santa Monica Mountains above Los Angeles where we run every weekend. Power to weight is a great advantage for sportbike acceleration out of the corners, but there's no substitute for 4 wide tires grabbing traction under braking and through the corners.
Still, nothing is more of a rush than pushing a sportbike through a corner right on the edge of traction....
Scott Hollingsworth Let Go from AMA Pro Racing!
Friday February 3rd - In a prsss release issued today the American Motorcyclist Association (AMA) announced that a three-person team has been named to manage the day-to-day operations of AMA Pro Racing on an interim basis following the January 24 departure of AMA Pro Racing CEO Scott Hollingsworth.
The management team, which will report to AMA Chief Executive Officer Patricia DiPietro, is AMA Pro Racing Vice President and Director of Communications Kerry Graeber, AMA Pro Racing Director of Finance and Administration Michele Rossi, and AMA Pro Racing Motocross and Supercross Series Manager Steve Whitelock.
All other AMA Pro Racing management and staff will continue in their current roles, with AMA Pro Racing senior staff reporting to AMA CEO DiPietro.
AMA Pro Racing, a subsidiary of the AMA, is the leading sanctioning body for motorcycle sport in the United States. Its properties include the Amp'd Mobile AMA Supercross Series, the AMA Toyota Motocross Championship presented by FMF, the AMA Superbike Championship presented by Parts Unlimited, the AMA Ford Quality Checked Flat Track Championship and the AMA Supermoto Championship.
Editors Note: Since the preceeding press release was issued by the AMA without thanking or complimenting Hollingswoth for his past years of service, nor did Hollingswoth offer to stay in his position until a suitable replacment could be found, we must assume Hollingsworth was fired from his position as CEO of AMA Pro racing.
Certainly a good thing, since under Hollingsworth's tenure the last 5 years, AMA Pro Racing has declined to its lowest point in 25 years. For example:
Chevy Trucks pulled out as sponsor of the AMA National Roadracing Championship 2 years ago, leaving America's premier roadracing series without a title sponsor which has yet to be replaced.
The plethoria of national racing classes, instituted by AMA Pro Racing in part to make more income off back gate fees, while allowing the factory teams to compete in four different classes to advertsie their Championship wins and not compete together in the featured Superbike Class with all the top riders for the best possible racing.
Another low point was replacing the AMA Superbike class in the Daytona 200with the 600cc Formula Extreame only contest by Team Honda. America's most prestegious and legendary motorcycle race was turned into a non event. For safety reasons Daytona International Speedway should be removed from the race calendar, but the lack of good quality race facilities for motorcycles in America, and the back gate fees collected by AMA Racing during Motorcycle Speedweek will assure that Daytona remains on the AMA roadracing schedule.
With the decline of the quality of racing and the confusing classes, spectaor attendance at AMA Nationals has dropped to its lowest point since the 1970s. Many races had a difficult time pulling 1,000 spectators.
AMA Pro Rracing actually issued a farsical press release at the end of the 2005 race season stating the popularity of AMA National Roadracing Championship was on the rise with an increase in total spectaor numbers. When in fact, attendance continued its dismal decline last year, but AMA Pro Racing was overly inflating its attendance numbers by counting the 40,000 spectators who came to the combined AMA Superbike and MotoGP weekend at Laguna Seca in July. The year before, 2004 the combiked SBK World Superbike and AMA National weekend only pulled 4,000 paying spectators, prompting Laguna Seca to drop World superbike for MotoGP.
The other divisions of AMA Pro Racing have also suffered under Hollingsworth's watch. The National Dirt Track Championship is also at its lowest point ever, without a major title sponsor or factory team involvement. An the AMA Supermoto Championship has yet to get off the ground past being a side show at other events, and it has lost the national television coverage it had back in 2004 due to poor viewer and sponsorship support.
Unfortunately, without a strong promoter and business director who has a vested interest in making AMA pro Racing successful, we shouldn't get our hopes up that AMA Pro Racing is now going to turn things around. But getting rid of Hollingsworth was certainly the most important first step. We wish them and the sport the best of luck!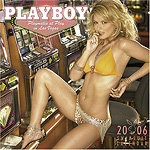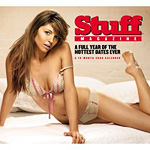 ---


Hire a FastDates.com
Calendar Angel
Now available for your special event and booking needs direct from CaliforniaHostess.com!
Ask for a FastDates.com Calendar Kitten when you call
Dominique at 1-310-430-4301
Yamaha Motor Italia World Superbike Team Welcomes Santander Consumer Bank Italy as Main Sponsor
8/2/2006 - The Yamaha Motor Italia World Superbike Team today announces a three-year sponsorship agreement with Santander Consumer Bank Italy, the leading consumer credit bank in the automotive industry.
The deal will see the YZF-R1 machines of Noriyuki Haga and Andrew Pitt run in the red and white corporate colours of the financial giant, which also works with Yamaha Motor Italia as a partner in the Yamaha Credit System - a finance programme available to Yamaha's Italian customers facilitating the purchase of their machines.
Santander Consumer Bank is part of the Gruppo Santander, the leading financial institution in Spain and one of the top ten international banks in the world. Gruppo Santander operates in 46 countries with 10,000 franchises servicing 59 million clients, with more than 126,000 employees. Santander Consumer Bank (SCB) is an important contributor to the success of the group. In Italy, SCB achieved much of its business success developing financial products for the automotive industry.
Copyright-free images for editorial use of the riders and bikes in their new livery can be found in the photo gallery section of www.yamaha-racing.com/superbike
Laurens Klein Koerkamp - Yamaha Motor Europe, Racing Division
"We're pleased to have secured a three-year partnership with Santander Consumer Bank. It is a very positive development that such a leading financial company values the marketing potential of motorcycle racing, and following their existing relationship with Yamaha Motor Italia this partnership is a perfect fit for us and a valuable new contribution to world superbike racing as a whole. Superbike is all about racing production machines which can be bought in our dealerships and this sponsor also has a strong presence in Yamaha's Italian dealerships providing financial services to our customers. I am sure it will be a very fruitful relationship giving our team the opportunity to further improve its competiveness, while Santander will surely raise their public profile in and outside the motorcycle population."
Mauro Viotto - C.E.O. of Santander Consumer Bank Italy
"For us the partnership with Yamaha Motor Italia is very important from a commercial point of view. For many years we have been developing products, services and operations tailored for automotive partners. We want to support Yamaha Motor Italia and its dealer network with all these tools and with new ones that we will be developing following their needs through the Yamaha Credit System. We've already reached the lead between independent companies in the whole automotive market. Our aim is to increase our market share in motorcycle financing, in order to expand our existing leadership based largely upon consumer credit within the car segment. We think that the sponsorship of the Yamaha Motor Italia World Superbike Team will strengthen our relationship with the Yamaha dealer network, enabling us to reach our business goals together."
Gary Eagan visits Pro Italia - Glendale, CA, February 18th and Santa Barbara, CA19th. Plus Visit to Guy Webster Italiam Bike Collection in Ojai
Join the Pro Italia Ducati & MV Agusta dealerships on Saturday and Sunday the 18th and 19th of February as we welcome long-distance touring master Gary Eagan to Pro Italia Los Angeles and Santa Barbara. Whether you are talking the Iron Butt rally or riding a Multistrada from the northern most point in Alaska to the southern most point in Florida, a total of 5,632 miles, in 4 days 5 hours, Gary knows from long-distance touring and he'll share his experiences with us as well as join us on some group rides. Both shops will feature open houses, each with a seminar, a group ride and a chance to meet Gary.
Saturday, Feb. 18th - Los Angeles showroom, Glendale.
11:00 AM - A group ride leaves 3319 North Verdugo to show Gary the world famous Angeles Crest highway. Return to the shop for food and refreshments.
1:00 PMish - Gary Eagan in-shop seminar - "Body, Bike & Brain" - Gary draws on his vast experience to give a talk on preparing your body physically and mentally as well as prepping the bike itself in order to ride distance effectively and for more enjoyment.
Sunday, Feb. 19th - Santa Barbara showroom
10:15 AM - Doors open.
11:00 AM - Gary Eagan in-shop seminar - "Body, Bike & Brain"
Following Seminar/Q and A - Group ride leaves 320 West Carrillo St. on a trip to visit Guy Webster's Motorcycle museum. If you have never been before, we highly recommend this chance to visit some Guy's "barn" - full (FULL!) of the most fantastic specimens of vintage Italian motorcycles you'll ever see. We have a few images from a Pro Italia trip a few years ago.
For more informaion phone Pro Italia in LA 818 249-5707 | SB 805 884-8443
Ducati Announces Over $1 Million in 2006 USA Racing Contingency
Popular program returns for 2006 with increased payouts and more than 180 races throughout the nation.
Cupertino, CA, February 3, 2006 - Building on the racing legacy and passion that has created one of the most successful motorcycle brands in the world, Ducati North America proudly posts the 2006 Racing Contingency Program. The comprehensive program applies to both regional sportsman and professional racers, and is significantly improved and strengthened over the inaugural 2005 season.
The total program applies to over 180 races and the overall fund has been increased to more than $1,125,000. Changes for the 2006 racing season include the addition of significant funds posted for WERA events and other class and rule changes.

"Racing is what we are all about, I am happy to have the chance to give back to the racers who work year round to race our motorcycles and enjoy them in the purest form of what they were intended to do" says Michael Lock, CEO of Ducati North America. "Racing, even on the club level is a serious and expensive commitment, and we salute and support those that put in the effort".

In addition to the Racing Contingency Program, Ducati North America offers further club racing support with "racer only" pricing on selected new 2006 models, as well as a limited production "Race only" SS1000 model. Please speak with your local dealer for more information on these programs (special terms and conditions apply). For more information about the Company, please visit www.ducatiusa.com
Yamaha Posts Record Earnings in 2005
Tuesday February 7, 2006 - Celebrating its fifth straight year of record earnings, Japan's Yamaha Motor Co. Ltd. said net income for the 12 months ended December 31, 2005, totaled 64 billion yen ($537 million), up from net income of 60 billion yen the company originally had forecast.
Yamaha's operating profit for the 12-month period was 103.3 billion yen ($868 million), up from an earlier estimate of 101 billion yen, and sales were 1.38 trillion yen, up from a forecast of 1.32 trillion yen.
No year-on-year comparisons are available. The figures shown above represent the first time Yamaha has reported earnings based on the calendar year. Previously, the company's fiscal year began in April.
Yamaha derives about 56 percent of sales from its motorcycle business, and said company revenue was buoyed by increased motorcycle interest in Asia and Latin America and higher sales of ATVs and marine product in the U.S.
The company sold 3.85 million motorcycles in 2005, of which 2.73 million were sold in Asia and 223,000 units were sold in the U.S. It sold approximately 285,000 ATVs, 4 percent more than in 2004.
For 2006, Yamaha plans worldwide sales of 4.55 million motorcycles and 274,000 ATVs. The company said it expects sales of 1.45 trillion yen, operating profit of 115 billion yen and net income of 65 billion yen.