Are you getting our awesome FastDates.com Screensavers? If not click on this picture...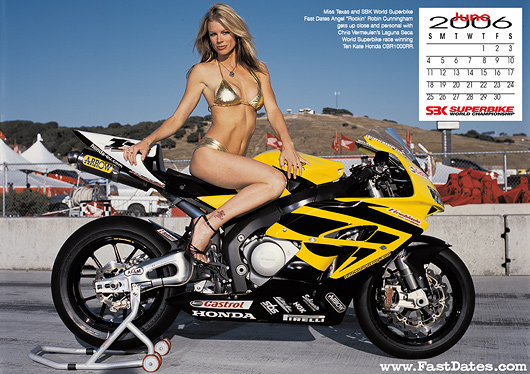 Fast Dates is the Offical Calendar of the SBK World Superbike Championship
FastDates.com Calendars Signs Licensing Agreement with SBK World Superbike

June 1st 2006 - Gianatsis Design, producers of the popular FastDates.com Motorcycle Pinup Calendars, is excited to announce it has entered into a new licensing agreement with FGSport, organizers of the SBK Corona Extra World Superbike Championship for the previously 10-year SBK endorsed Fast Dates Racebike Pinup Calendar to now become the Official Licensed Calendar of the SBK Corona Extra World Superbike Championship.
Under the agreement FGSport will continue to provide Gianatsis Design exclusive access
at the World Superbike rounds to photograph the top factory racebikes with the beautiful SBK Fast Dates Calenar Kittens for the Calendar. And FGSport will be offering the Fast Dates Calendar for sale with their other official merchandise products on the SBK World Superbike Website - www.worldsbk.com
Plans have been made for the 2006 SBK World Superbike Round at Brands Hatch, Great Britain, on August 4-6th to again be the location for the shooting of the next edition of the Fast Dates Calendar by publisher and photographer Jim Gianatsis. And on race weekend the beautiful Calendar Kittens, professional models Emily Hilton, Katie Pugh and Camille Tranter from the London agency Universal Models will also serve as the official SBK Fast Dates spokesmodels and race grid girls. Meow!!!!
| | | |
| --- | --- | --- |
| Emily Hilton | Katie Pugh | Camille Tranter |
FastDates.com Calendars
Sign Marketing Agreement with SpeedTV.com
May 25th 2006 - Gianatsis Design, producers of the popular FastDates.com Motorcycle Pinup Calendars, is excited to announce it has entered into a marketing agreement with SpeedTV.com, the website for America's premier motorsports network SpeedTV.
Under this agreement SpeedTV.com will be selling the FastDates.com Calendars through their affiliation with Motorbooks.com beginning July 1st when the new 2007 FastDates.com Calendars are released. The Calendar titles include the: SBK World Superbike endorsed Fast Dates Racebike and Swimsuit Model Calendar sponsored by Performance Machine, Jardine Performance and the SBK Corona Extra World Superbike Championship; the Iron & Lace Custom Bike and Centerfold Model Calendar sponsored by Mikuni American, Performance Machine and Jardine Performance; and the Garage Girls Beautiful Models Hard at Work Calendar sponsored by CustomChopperBuildersToolbox.com
The marketing agreement also allows SpeedTV.com to sell the sexy FastDates.com Calendar branded images online for cell phone display use to their website visitors. Look for them and our our FastDates.com Calendar Banner ad on the SpeedTV website at http;//www.SpeedTV.com
"This is a fantastic marketing partnership I am happy to enter in to with SpeedTV.com," said Jim Gianatsis, producer and photographer of the FastDates.com Calendars."We've always enjoyed a great peripheral relationship with SpeedTV, what with their race coverage of the SBK World Superbike Championship, and annual coverage of our big LA Calendar Motorcycle Show on their program American Thunder, as well as working with our same sponsors. Now we've brought it all closer together by having SpeedTV.com marketing both the FastDates.com Calendars and Calendar Phone Images."
"We know that both guys, and even girls enjoy and buy our FastDates.com Calendars. SpeedTV.com recognizes this as both a good revenue source for them, while it also provides even more exciting content on their website to help pull and keep even more visitors on their website to find out more about all their great motorsports programming. And maybe some day soon, we just might see the "Making of the FastDates.com Calendars" as a series on SpeedTV."
---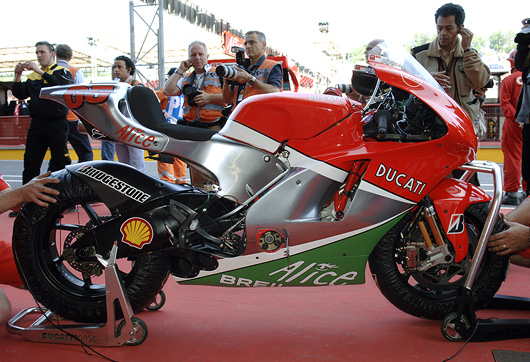 Ducati Desmosedici GP06 Mugello Commerative Anniversary Livery 1224

Ducati Celebrates 80th Anniversary at Mugello with special Bike Livery, Capirossi retakes MotoGP Points lead
Mugello, Italy, Sunday Jun 4 2006 - Ducati Marlboro Team riders Loris Capirossi and Sete Gibernau played starring roles in today's enthralling Italian Grand Prix, both riders leading to the delight of the Italian fans before finally finishing second and fifth. In a suprise unveiling on Sunday morning just before the race, Capirossi and Gibernau raced with special Ducati Race and Italian falg colors livery to celebrate three anniversaries: Ducati's 80th birthday, the 60th anniversary of the company starting motorcycle production and the 50th anniversary of its first use of the desmodromic valve system.
Capirossi came back brilliantly from a sluggish start to take the lead on lap 15. From there he fought a thrilling duel with compatriot Valentino Rossi, ending the race just 0.575 seconds down to retake the World Championship lead, though equal on points with third-place finisher Nicky Hayden. During the early stages Gibernau was Rossi's biggest threat, the Spaniard leading on several occasions before the toe-slider on his right boot got damaged. Gibernau slipped back before mounting a spirited comeback, rapidly closing on fourth-place finisher Dani Pedrosa. By the finish he had worn right through the boot and his little toe was bleeding.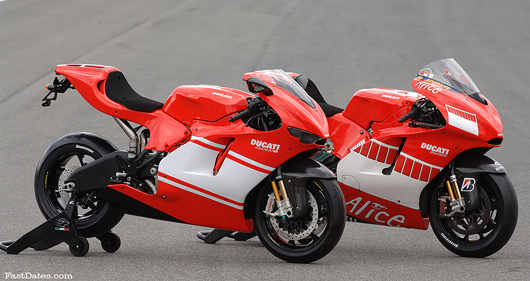 The first ever street legal MotoGP bike, the Desmosedici RR (left) offers 200+ Horsepower and is as true to its MotoGP6 works bike predecessor (right) as cost and streetability will allow. Note the offset cat-eye headlights to not elimimnate the nose air scoup or revert to a center headlight like the Japanese superbikes. We think the bike is awsome and hope the next generation Ducati V-Twin Superbike will look just like this.

Giant Desmosedici Street and Racebike Picture / Screensaver 1224
The Ultimate 200+ HP Desmo Experience
DUCATI DESMOSEDICI RR Production MotoGP/Superbike
June 1st, 2006, Mugello, Italy - Ducati has chosen the magical atmosphere of the Italian Grand Prix at Mugello to launch the Desmosedici RR production prototype. The dream of a true GP replica has finally come true and the Desmosedici RR will be the first-ever road-going motorcycle to offer such a stunning wealth of performance and technology that comes directly from Ducati's experience in MotoGP. The RR derives from the Ducati Corse Grand Prix racing Desmosedici GP6, the same bike with which Loris Capirossi and Sete Gibernau are competing with in the 2006 MotoGP World Championship.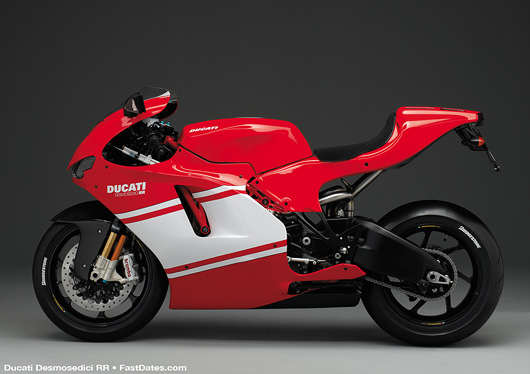 The Mugello launch is the perfect occasion to reveal the shape and the technical characteristics with which the bike will go to market, confirming the high technological features of this exclusive and esoteric machine.
The body design and the aerodynamics faithfully reflect the Desmosedici GP6. The colour scheme, the fittings, the materials used in its construction as well as the technical features of the powerful four-cylinder desmodromic engine built by the Borgo Panigale factory engineers, leave no doubts whatsoever: the Desmosedici RR is the ultimate expression of the most extreme MotoGP racing machine today.

The project is currently in the industrialization phase and, as previously announced, it will be a limited edition motorcycle, with approximately 400 bikes being produced a year at $65,000 each. The RR is scheduled to arrive in the market in July 2007, while from June 2nd 2006 it will be possible to reserve the bike through the official Ducati dealer network, with current Ducati 999R owners receiving first priority.
More Desmosedici - Technical Specifications, Pictures, Screesavers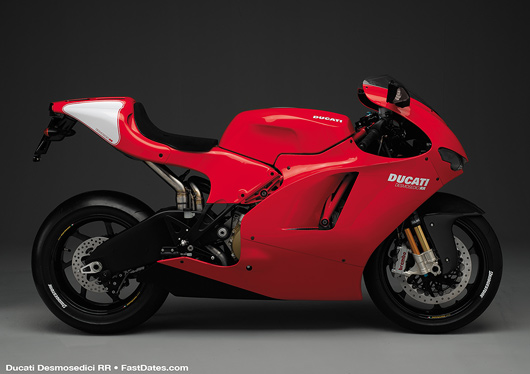 In 2007 when the Desmosedici RR becomes available, anyone could potentially take one right off the dealer's showroom floor to win a World Superbike race. On second thought, they'ld still have to beat Troy Bayliss on that funky old V-Twin Testastretta. And by then it might be a 1200cc. Oh, well....
---
Sands Takes Down Rooke in 2006 Discovery Biker Build Off
Meet Them and Their Bikes at the July 15-16th LA Calendar Motorcycle Show
FastDates.com Calendar Builders Duke it Out!

Roland Sands takes down Jesse Rooke in a V-Twin Sportbike Build Off and Track Race for Discovery Channel's Bikers Build Off

Former AMA MotoGP Champion-Turned Master Builder Leans on Racing Expertise to Defeat Jesse Rooke in the Garage and on the Track - By Erika Decker, Photos from PM
May 1st - On May 1st at Willow Springs Raceway, former AMA MotoGP champ and custom motorcycle innovator Roland Sands, defeated fellow master builder Jesse Rooke, in the 2006 season premiere of Discovery Channel's popular Biker Build Off series, scheduled for broadcast this coming August. Both Jesse and Roland are featured builders in the FastDates.com Calendars, and at the annual LA Calendar Motorcycle Show where they conduct free Iron & Lace Calendar Builder's Seminars. Both builders will be in attendance at this year's July 15-16th Show.
For the 2006 season, Biker Build Off's producers decided to provide a twist to the program's format, incorporating a competitive racing component that, for the first time, truly measured both the form and function of these one-of-a-kind two-wheel works of art. Sands and Rooke were pitted against each other in a two-out-of-three challenge featuring three separate events to determine an overall champion: a road race challenge, a dirt-track challenge and a classic quarter-mile drag race. When it was all said and done, the former AMA champ Sands proved victorious.
| | |
| --- | --- |
| | "I haven't raced competitively since 2002, so I was excited at the opportunity to merge my passion and knowledge for racing with my passion for custom motorcycle design." said Sands. "Jesse (Rooke) and I have been friends for quite a while, and it's always sweeter when you can win bragging rights from a friend on national television." |
In the past, Biker Build Off's format provided builders with only 10 days to create a one-off show-stopping custom motorcycle. Once completed, each builder's competitive fate was placed in the hands of fans who voted to determine the winning builder at specific custom motorcycle events held around the country. The new, purely competitive format was a welcome change for Sands – a builder who's always placed the highest priority on the performance qualities of a motorcycle. Sands was delighted at the notion of putting these custom creations to the ultimate test – racing them head-to-head and leaving no speculation about winners and losers.
"My RSD (Roland Sands Design) creations are always about making artistic form and high-performance functionality collide, so this episode provided the ultimate opportunity for me to showcase this approach to custom motorcycles," said Sands. "My bikes are made to ride hard and push the limits of common sense. To me, that's what motorcycles are all about, and it's why every RSD motorcycle carries within it the heart of a race bike."

This innovative approach to motorcycle design was underscored by industry accolades such as Sands' winning the "Rookie of the Year" award on Discovery Channel's "Ultimate Chop" Biker Build off season finale and awards ceremony in 2005.
The Sands 2006 Biker Build Off entry, "No Regrets" represents Sands unmistakable trademark style – the collision of classic chopper and hi-tech sport bike design. The bike features a Kendall Johnson-modified Harley twin cam motor and transmission, and its trademark "chopper-turned race bike" look was achieved by a variety of components from Sands' newly introduced RSD line of custom motorcycle kits, component parts and accessories now available through Performance Machine. The new RSD line showcases Sands' innovative vision and is designed for motorcycle enthusiasts looking to upgrade their existing motorcycles, injecting them with the innovative design concepts born from Sands' years and expertise as a champion professional racer.
Sands' 2006 Biker Build-Off effort received valuable support from a strong list of industry heavyweights including Harley Davidson, Performance Machine, Alpinestar, Arai Helmets, Ohlins Suspension, Dunlop Tires, Lincoln Welders, Kendall Johnson Customs and Do All Saw.
| | |
| --- | --- |
| | The Jesse Rooke built bike featured a 950cc KTM DOHC watercooled sportbike engine in a beautiful retro boardtracker design painted by Troy Lee Designs. For creativity, design and fabrication, the Rooke bike was the hands down winner. But with it's rigid rear suspension, unique Jesse Rooke Customs girder front forks, and minimal brakes, the Rooke retro bike was at a severe disadvantages when it got to the race track. |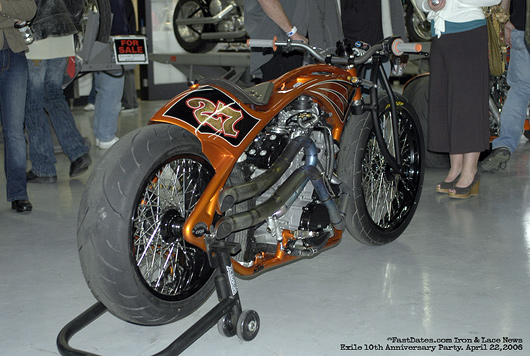 Jesse Rooke's unique KTM powered retro board tracker will be at this year's 2006 LA Calendar Motorcycle Show.
---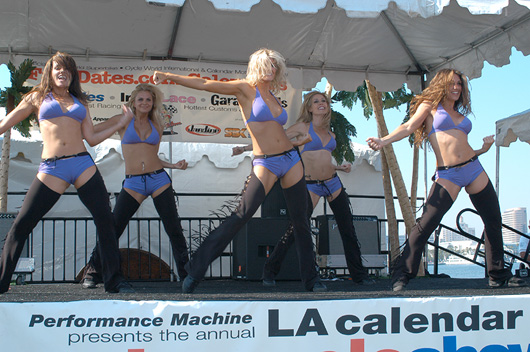 MEOW! Oh my god, how Purrfect is this? But are you man enough to survive it for 4 hours on Saturday with even more beautiful girls, and then again on Sunday! Oh yeah, there'll be some cool bikes there, too...
Weapons of Mass Seduction!
Purrfect Angelz highlight 2006 LA Calendar Motorcycle Show July 15-16th!
Los Angeles, March 1st, 2006
- So why does
Russell Mitchell
, star of TV's Build or Bust and featured custom bike builder in our
Iron & Lace
Custom Motorcycle Pinup Calendar, have such a big smile on his face?
It's because we just told him all those beautiful girls he's posing with of the famed
Purrfect Angelz
show group will be performing all weekend long in expanded performances guaranteed to decimate attendees at America's premier custom and performance streetbike event, The
Los Angeles Calendar Motorcycles Show
on the
July 15-16th weekend, 2006
,
The biggest performance day for the Angelz at this year's Show will take place on Saturday the 15th, where the previous two 20-minute show sets will now serve just as a warm up teaser for 3, yes that's THREE different 1-Hour Purrfect Angelz Stage Shows! from their 3 different world and cross country tours.
The Angelz's feature stage shows will kick off at 12 noon on Saturday with their first one hour show called "Honky Tonk Ba Donka Donk" which they performance at major country and western music venues across America. Cowboy chaps and tiny bikinis never looked this good in Broke Back Mountain. Then at 2:30pm will be their "Salute the Troops" a patriotic medley from the Angelz's USO Tour which they performed for our troops in Afghanistan -with their Weapons of Mass Seduction so obvious we don't need George Bush to find where they're hiding (but you can mount your own invasion at the Angelz's picture autograph table afterwards). The Angelz will wrap up the day at 6pm with the "Biker Babe Banging Bash" which they perform at major biker events across America including Sturgis and Daytona - guaranteed to get the fans up, and bring the house down, and help close just the first incredible day at the world's hottest Motorcycle Show!

Sandwiched in with the Purrfect Angelz both days will be the all-girl Lead Zeppelin tribute band from San Francisco, Zepparella, blues singer Jesse Payo, the Calendar Model Search Pageant and the exclusive Calendar Bike Builder Seminars hosted by America's top celebrity builders including Russell Mitchell of Exile Cycles. Oh , and did we forget to mention the Calendar Bike Building Championship hosted by Performance Machine, the Jardine World Record Dyno Horsepower Shootout, the new Calendar Motorcycle Show Auction featuring incredible Pro Builder customs, classics and exotic bikes, plus 200 major motorcycle and product manufacturers and venders? We did now.
For complete details go to LA Calendar Motorcycle Show.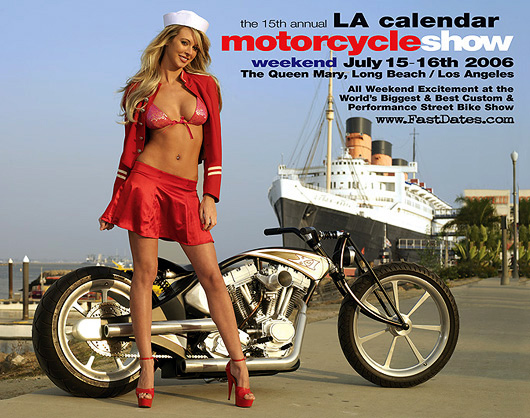 ---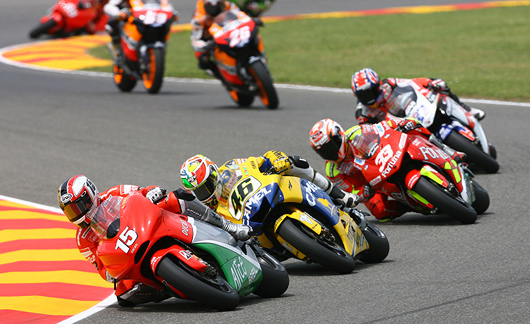 Sete Giberneau fights off Rossi and a slew of Hondas in an exciting pass and repass match up past the middle of the race. Back in the top left corner is Capirossi who will blast up to pass everyone by lap 18.

MotoGP Gran Premio d'Italia Alice, Round 6 of 17 • Mugello Start Big Picture Screensaver 1224
Rossi emerges with victory at Mugello
in one of the most exciting MotoGP races ever

Mugello, Italy, Sunday June 4th - The dramatic scenery of the Mugello circuit in Tuscany provided the backdrop to one of the most exciting MotoGP races in living memory today as Camel Yamaha Team rider Valentino Rossi clinched his second victory of the season in a heart-stopping Italian Grand Prix. The local hero produced one of his best ever performances in front of the adoring 89,200 crowd, emerging from an intense battle with his compatriot Loris Capirossi (Ducati) and a host of other riders to take the chequered flag with a 0.575 second advantage after 23 laps of pure drama. Complete coverage HERE
Valentino Rossi drinks the vIctory champaigne on the winner's podium at Mugello.
Fast Dates Calendar Motorcycle Roadracing News. Complete coverage of the SBK World Superbike, AMA National Superbike and MotoGP World Championship. Superbike, SBK, FIM, AMA, American Superbike, superbike planet, American Roadracing, sportbike, grand prix, MotoGP, race, racing, news, superbike news, sport bike, motoGP news, photography coverage, photos, pictures, Fast Dates Calendar and Umbrella Girls. Racing, road race, track, motorcycle, news, results, girls, models, Mat Aladdin, Max Biaggi, Valentino Rossi, Troy Baylis, Ben and Eric Bostrom, James Toseland, Chris Vermeulen, Maria Sharapova, Kristen Bell, Regis Laconi, Loris Capirossi, Troy Bayliss, Troy Corser, Noriyuki Haga. Ducati 999 Monster Multistrada, Yamaha R6 R1, Honda CBR600RR CBR1000RR, Kawasaki ZX6 ZX6RR ZX10, Suzuki GSXR600 GSXR750 GSXR1000, Aprilia Mille, MZ Agusta F4 Brutale. Los Angeles Calendar Motorcycle Show.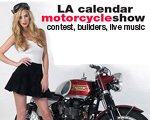 World's Richest Bike Contest includes Sportbikes and a
$70,000 Purse! Win Exhaust Systems from Vance & Hines, compete in the Jardine World record Horsepower Dyno Shootout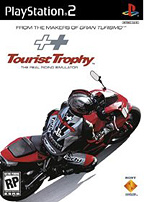 Hot New TT for PS2!
Fast Dates Racebike
& Garage Girls Calendars
Click to Order Now!



Official Pirelli SBK Test Brno
Troy Bayliss / Ducati Team Xerox Demolish Lap Records
Bologna (Italy), Tuesday 13th June: Troy Bayliss (Ducati Xerox Team) demolished the outright Superbike lap record on the second day of testing at the Brno circuit in the Czech Republic. The Australian, whose has raced at Brno before but only in MotoGP, improved last year's best lap time set by Chris Walker by over two seconds to leave the unofficial record at 2m00.8s.
Troy Misses Brno Tests
Reigning World Superbike Champ Troy Corser has been forced to sit out the Pirelli/FG Sport tests at Brno this week because he has contracted chickenpox - probably from one of his children. He could?ve still taken part in the tests but decided to stay at home instead of going to Brno and possibly infecting any of his team members or anybody else in the paddock. As chickenpox doesn't last that long, Troy will be fit to race at the end of the month in the next round of the Superbike World Championship at Misano.
Bayliss's time was set in the morning on the new qualifying tyre brought by Pirelli to the Brno development tests which on the basis of its performance here will now be provided to the entire grid at the forthcoming round of the championship in Misano Adriatico. Rain after the lunch break brought a temporary halt to proceedings but the riders present were able to complete the second day of testing on a dry track in the afternoon.
"Today went much better than yesterday because I didn't crash!" declared Troy. "Overall the day went well, I did a good time on a qualifying tyre but then it rained after lunch and we only got going again at around 4 o'clock. But I had a couple of good race tyres and did a 2m01.6 on them so I'm feeling confident. I've been on the podium here in MotoGP so it's a pretty good track for me."
Lorenzo Lanzi made a good step forward today, moving up from eighth to fourth place.
"This morning I did a lot of laps to try and find a good feeling," declared Lorenzo, "and I think I achieved that because my race pace was not bad at all. In the afternoon it rained and then they closed the track early so I was unable to make the best of the qualifying tyre. However it's a good step forward over yesterday."
TIMES: 1. Bayliss (Ducati Xerox) 2m01.6s; 2. Walker (Kawasaki) 2m02.1s; 3. Muggeridge (Honda) 2m02.2s; 4. Lanzi (Ducati Xerox) 2m02.5s; 5. Toseland (Honda) 2m02.5s; 6. Haga (Yamaha) 2m02.9s; 7. Pitt (Yamaha) 2m02.9s; 8. Nieto (Kawasaki) 2m03.0s; 8. Martin (Petronas) 2m03.7s; 9. Kagayama (Suzuki) 2m04.0s; 10. Foret (Suzuki) 2m04.4s.
Wed 14th June: Troy Bayliss once again dominated proceedings on the final day of Brno testing to wind up quickest overall in the three days for the Ducati Xerox Team.
The Australian, currently leading the 2006 World Superbike Championship by a healthy margin after five rounds, concluded the Pirelli tyre development tests with a quickest time of 2m00.0s on qualifying tyres and 2m00.8s on race rubber, both well under all existing Brno Superbike best lap times.
The Ducati Xerox Team completed its work schedule in the morning of the final day and did not test in the afternoon.
"It's been a good three days", declared Troy. "I did some good times this morning both on qualifying and race tyres and my long-run was 39 seconds quicker than last year's time so I'm feeling pretty good about things. I'm in good spirit and looking forward to racing at Misano next week."
Lorenzo Lanzi finished sixth overall in the three days of tests after making considerable improvement on day 2.
"Yesterday I went well, today maybe a little less because when I put on a qualifying tyres I found there was a lot of traffic on the track so I was unable to make the most of it," declared Lorenzo. "However with the race tyre I have a good pace so I'm confident. I can't wait for Misano, I like that circuit and there'll be a lot of fans there to support me so it's going to be a scorching hot weekend!"
FINAL TIMES:
1. Bayliss (Duc Xerox) 2m00.0s;
2. Walker (Kawasaki) 2m01.0s; 3. Muggeridge (Honda) & Pitt (Yamaha) 2m01.2s;
5. Haga (Yamaha) 2m01.5s;
6. Lanzi (Ducati Xerox) 2m01.6s; 7. Toseland (Honda) 2m01.7s; 8. Nieto (Kawasaki) 2m02.0s;
9. Foret (Suzuki) 2m02.6s;
10. Martin (Petronas) 2m03.1s.
DESMOSEDICI RR TO MAKE APPEARANCE AT RED BULL USGP
07 June 2006 - After a highly anticipated unveiling at Mugello, Ducati North America can officially confirm that the Desmosedici RR will make its next appearance on American soil at the Red Bull USGP, held at the historical Laguna Seca Raceway July 21-23.
The exotic motorcycle will travel with the Ducati Corse Team and will be on display for invited guests in the MotoGP paddock. The Desmosedici RR will also make a brief appearance on Ducati Island during the race weekend.
The anticipation around the release of this motorcycle is significant, as it is the first ever street legal MotoGP replica. Immediately following the June 1 Mugello announcement, Ducati North America opened the customer ordering period via local Ducati dealers. In less than five hours, enough buyers had placed orders to cover the entire first year forecast for North American production.
"Although we anticipated a high demand for the Desmosedici RR, we never could have imagined securing reservations for all of the 2007 North American production this quickly," said Michael Lock, CEO of Ducati North America. "With the tremendous response to the Desmosedici RR, the news of an appearance of the bike at the US MotoGP and our team now leading the MotoGP series, Ducati certainly has a lot to celebrate at Laguna Seca!"
The MSRP of the Desmosedici RR is $65,000. The motorcycle is street legal and comes with a three year warranty and three years of included service maintenance.
• Ducati Corse Race Shop
Exclusive Sneak Visit!
Ducati Preparing for
new generation
1200cc Superbike in 2008
Its no secret that Ducati has been lobbying the FIM sanctioning body and promotor FGSport for a capacity increase in World Superbike beginnig in 2008. They'ld like to see the V-twin capacity go up to 1200cc while the In-line 4s remain at l000cc.
With Troy Bayliss leading this year's World Superbike Championship on a 1000cc Ducati over reigning champ Troy Corser's 1000cc Suzuki, there obviouly isn't the need for a rule change at this point. And the fact Gregorio LaVilla is dominating the BSB Superbike Championship on a Ducati as well, while Ben Spies is leading the AMA Superbike Championship in America, pretty much confirms the 1000cc V-twins and inline 4's are very evenly matched and it is the riders who are making the difference (Maybe its Honda, Kawasaki and Yamaha who should be lobbying for a capacity increase over the Suzuki GSXR and Ducati 999 which are beating them!)
For Ducati, they feel the capacity increase to 1200cc for their trademark Testastretta Superbike is a necessity to keep up with the Japanese in the horsepower wars in the Showroom for customer sales. It doesn't matter that they have their limited production inline 4 MotoGP derived Desmosedici RR waiting in the wings, capable of producing some 240hp in race trim and beating anything the Japanes can produce for the street. (Note: Ducati will have their world premier of the new limited street production Desmosedici on their Ducati.com website on June 1st).
For Ducati it's a tradition to win races with their trademark desmo V-twin, and they want to continue to do so well into the future whithout having to resort to the Desmosedici.
As the owner of a modified Ducati 999R Testastretta myself, I can attest to the fact this detuned production superbike bike already has more power than I've ever be able to use on the street or track. And my buddies who ride Jpanese 1000cc superbikes are no quicker, nor can they use all the power at their disposal with their Japanese 4s in our canyon riding or on the track.
For me, I'd like see the Ducati keep their V-Twin Superbike at 1000cc. If their factory Corse Superbikes are making well over 200hp, Ducati still has lots of room to increase power from the 150hp on their showroom production 999R up to 165-170hp to keep it on par with the 165hp Japanaese street superbikes.
If and when Ducati does need to go faster in World Superbike, there's still a few tricks inside the MotoGP Desmosedici that can be passed over to the top of the line 999R.
What I'd like to see as a Ducati enthusiast and owner, is a new 4th generation Superbike model that incorporates the more maneuverable handling, good looks and easy serviceability of the older generation 916-998 models, together with the better rider fit and comfort of the current 999 generation superbike. And the next generation bike needs to be 30 lbs lighter on the showroom floor. If World Superbikes can weightin at just 362lbs with starters, battery and ballast, I can't see how a set of lights adds 60lbs to their 999 street bike. If Suzuki can build a lightweight GSXR1000, than Ducati should be able too as well. - Jim Gianatsis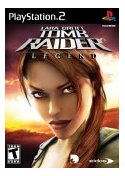 New! Tomb Raider Legend
Click to Order Any
Tom Raider
computer game now
available in all platforms!
Long Way Round
Actor Ewan McGregor & friend Charlie Boorman's incrdible trip around the world on bikes! A must have, it's the best motorcycle movie/story in 30 years! - Since On Any Sunday and Easy Rider
---
Honda men McGuinness and Lougher take top two places in Isle of Man TT Superbike race
John McGuinness scorched to his ninth victory on the Isle of Man as he shattered both lap and race records to take a comfortable victory in this year's opener to the annual festival, the TT Superbike race, decided over six gruelling laps of the 37.73 mile Mountain Course.
The HM Plant Honda rider had a problem free ride as he pulled progressively clear, leaving Ian Lougher trailing by some 39 seconds, on what proved to
be a super day for the Japanese marque as they packed four riders into the top five finishing positions.
McGuinness had warmed up the for race by bettering his own lap record during practice, and the Lancastrian was destined for even higher speeds as he continued his tried and tested strategy of riding the early parts of this high speed dash over the public roads course, on a return trip to Douglas, over Snaefell Mountain as hard as possible.
Riding the Honda CBR1000RR specially developed for dealing with the rigours of taking this torturous course at high speed, McGuinness had opened up an
early lead over the Kawasaki of Ian Hutchinson, but by Ramsey on the opening lap, Lougher had moved into second aboard his Honda CBR1000RR, running in Stobart Motorsport colours.
McGuinness charged over the mounting, trebling his advantage to 12 seconds as he completed the opening lap at a record pace of 127.835mph, but he was
in mood to relent, driving on and mile by mile increasing his advantage ahead of Lougher as, despite having to slow for the pit-stop at the end of the second lap, he was bettering his own record.
The second lap was completed in 17m 41.71secs, an average speed of 127.93mph, which gave him a 22 seconds lead, which was to extend to half a
minute after a further two laps as he again pitted to change the rear tyre and take on fuel.
It was a formality, with McGuinness stretching his advantage in the remaining third of the race, taking his ninth victory on the Island in style: "Fantastic. The bike never missed a beat. A lot of thought and work went into it over the past months. I thoroughly enjoyed riding it, concentrating hard all of the way. We have done the job!
"I felt really strong over the Mountain section, and knew the first two laps were fast, though I was a bit surprised at just how good they were. The whole race problem free, the only minor troubles I had were going through Ramsey on the final lap with a few back markers. It was a
case of backing off a bit and being patient, not taking any risks."
Lougher, taking the 25th podium finish of his career in the TT, commented: "I don't know whether to be happy or sad. I wanted the win in this big-bike
race, but I am second again, which is a great effort. The bike is so fast there were no problems. This is a good start to the week."
Hutchinson, third for Kawasaki, finished around a full minute ahead of Martin Finnegan aboard the Klaffi Honda CBR1000RR, with Cameron Donald, also riding a Honda CBR1000RR fifth from the Yamaha of Jason Griffiths.

Results Man Superbike TT:
Pl / Name / Bike / Time / MPH
1 / John McGuinness / 1000cc Honda Firebla HM Plant Honda Racing / 1h 48'
52.06" / 124.76
2 / Ian Lougher / 1000cc Honda Firebla Stobart Honda / 1h 49' 31.20" / 124.02
3 / Ian Hutchinson / 1000cc Kawasaki ZX1 McAdoo Kawasaki Racing / 1h 49'
54.61" / 123.58
4 / Martin Finnegan / 1000cc Honda Firebla Klaffi Honda / Alpha Boilers /
1h 50' 59.02" / 122.39
5 / Cameron Donald / 1000cc Honda Firebla Robinson Concrete / 1h 51' 26.54"
/ 121.88
6 / Jason Griffiths / 1000cc Yamaha R1 Yamaha UK / 1h 51' 59.67" / 121.28
7 / CARL RENNIE / 1000cc Kawasaki ZX1 Hawk Kawasaki / 1h 52' 03.19" / 121.22
8 / Paul Hunt / 1000cc Yamaha R1 Team Racing Yamaha / 1h 52' 19.41" / 120.93
9 / Davy Morgan / 1000cc Honda Firebla DMRR Honda Racing / 1h 52' 45.90" /
120.45
10 / Raymond Porter / 1000cc Yamaha R1 JD's Motorcycles / 1h 52' 47.28" /
120.43
11 / MARK PARRETT / 1000cc Yamaha R1 Ripley Land / 1h 53' 10.90" / 120.01
12 / Ian Armstrong / 1000cc Yamaha R1 Canteen Smithy / 1h 53' 17.15" / 119.90
13 / John Barton / 1000cc Honda Firebla Marks Bloom Racing / 1h 53' 31.82"
/ 119.64
14 / GARY CARSWELL / 1000cc Suzuki Wilson & Collins / 1h 53' 32.73" / 119.62
15 / CHRIS PALMER / 1000cc Yamaha R1 FCL Racing / 1h 54' 01.36" / 119.12
John McGuinness completes TT Festival
hat-trick with Senior TT victory
Isle of Man, June 9th - John McGuinness shattered both lap and race records as he scorched to his third victory of the week in the Isle of Man TT Festival, finishing ahead of Cameron Donald, Bruce Anstey and Ian Lougher as Honda riders packed three of the top four finishing positions in the prestigious Senior race.
The 32 year old Morecambe rider used the tried and tested tactics of powering as fast as possible into the opening to break the challenge of his rivals, and he has a superbly prepared HM Plant Honda CBR1000RR for the race. The machine had been specially prepared for the rigours of racing this difficult 37.73mile public roads Mountain Course and McGuinness used its qualities to the full, taking his career eleventh success and also the 130th TT success for Honda.
McGuinness was ahead, but by only half a second, as they charged through Glen Helen for the first time, but mile by mile, he was extending his advantage, and also upping the record speed, taking that opening lap in 17m 39.95secs, an average speed of 128.146mph, faster than the record he set in his winning TT Superbike ride the previous Saturday.
But there was better to come with McGuinness revelling in the near perfect, sun-drenched conditions as he shook off the challenges of Guy Martin and then Cameron Donald. As he pitted for fuel and a change of rear wheel, he had powered further into the unknown, with a lap on 17m 29.26mph, an average speed of 129.451mph.
That put him 12 seconds ahead of the determined Donald, aboard the Robinson Concrete backed Honda CBR1000RR. The Aussie, riding in only his second year on the Island, and with broken heels, the result of a crash in last month's North West 200, clocked a second lap of 128.445mph.
He was trying everything he knew, but McGuinness had not only speed on the road, he also had the slicker pit-crew, and twice they played a major role in maintaining his supremacy.
At that second refuelling halt, McGuinness was running 25 seconds ahead, and he was able to ride within himself over the final two laps, checking his signalling boards to take the victory that puts him level third with Philip McCallen and the late, great Steve Hislop in the list of all time TT winners.
"I don't think that I have ever ridden better round here than that. It was an unbelievable victory, awesome. I decided to push from the very start, the bike did not miss a beat, but they pushed me all of the way. It was a tough race.
"The second lap felt good and fast. I had a blistering ride over the mountain, and was able to focus in on Guy Martin as a marker, and then I went ahead of him on the road. It was a terrific lap.
"I am not too fussed about speed, rather, I wanted the win, but this time is was a case of going as fast as you could to achieve that," reflected McGuinness as he took the race, in record time, by 20 seconds from Donald, who commented: "I'm still stunned with that. It is only 18 months ago that they invited me to come over here as a newcomer. I just cannot believe how this race has gone, or my lap times."
Anstey, despite a scary moment or two on the opening lap at Ballacraine when he clipped a bank and some bushes, took third place for the TAS Suzuki team, finishing some eleven seconds ahead of Ian Lougher, riding a Honda CBR1000RR in the Stobart Motorsport colours.
Guy Martin, riding Yamaha, took fifth place, ahead of the Kawasaki of Carl Rennie and local rider Davy Morgan riding another Honda CBR1000RR. Raymond Porter, Nigel Beattie and Gary Carswell completed the top ten finishers
Results
Isle of Man TT Senior Race – six laps, 37.73 mile Mountain Course
1 / J McGuinness (GB) / Honda / 1h 47m 38.84s av sp 126.178mph
2 / C Donald (Australia) / Honda / 1. 47:59.45
3 / B Anstey (New Zealand) / Suzuki / 1. 48: 08.79
4 / I Lougher (GB) / Honda / 1.48:19.11
5 / G Martin (GB) / Yamaha / 1.49:40.71
6 / C Rennie (GB) / Kawasaki / 1.50:57.62
7 / D Morgan (GB) / Honda / 1.51:39.48
8 / R Porter (GB) / Yamaha / 1.51:50.90
9 / N Beattie (GB) / Yamaha / 1.52:07.60
10 / G Carswell (GB) / Suzuki / 1.52:13.76