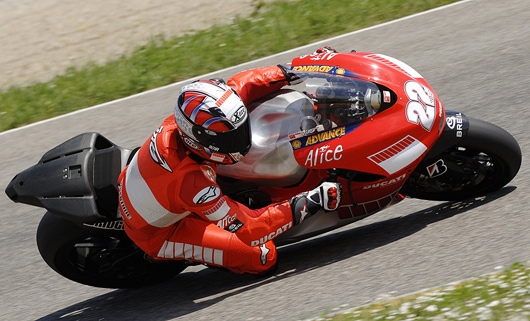 Ducati Confirms Its Entry into New 2007 MotoGP 800cc Formula
First Shakedown Test of the Desmosedici GP07
May 2nd - Factory test-rider Vittoriano Guareschi carries out the first shakedown test of the Ducati Desmosedici GP7, fitted with a new 800cc engine in compliance with 2007 MotoGP regulations. Alongside the development work being carried out by Loris Capirossi and Sete Gibernau for the 2006 MotoGP championship, the Desmosedici GP7 machine that will form the basis for the Italian manufacturer's challenge for the 2007 season had its first shakedown test today at Mugello.
Ducati factory test-rider Vittoriano Guareschi, who has steadfastly carried out this role since 2002, took to the track with the new 800cc powered prototype machine, marking the start of the first track test of the Desmosedici GP7 that will continue until Thursday.
The scene for the shakedown test was Ducati's 'home' circuit of Mugello, which was the venue for the debut of the first version of the Desmosedici way back on August 1, 2002.
Filippo Preziosi (Ducati Corse Technical Director) - "Today the new 800cc engine finally moved from the dyno to the track and we are quite satisfied with this debut. We started off by running a check on all the components of the new bike and over the next two days, if we don't encounter any particular problems, we will move on to phase two and begin the first set-up work. Today is certainly very important, but it is just the start of a long path that we know lies ahead of us. A special thanks goes out to all the guys in Ducati Corse who have worked hard over the past few months to get the bike, with which we will race in next year's championship, out onto the track today, as well as all of our suppliers and technical sponsors, above all Shell Advance, who with their technology, experience and availability are making a decisive contribution to our project."
Vittoriano Guareschi (Ducati Corse official test rider) - "I have to admit that the first lap with the GP7 was really exciting. I am used to testing new solutions on our bikes, but this was different to the others: it is a totally new machine, and so it's even more exciting than usual. It seems just like yesterday that we were testing the Desmosedici GP3 here at Mugello for the first time, but four years have gone by! Today we made another important step forward in the MotoGP project: it is as if our family has given birth to a second 'baby' and the first noises it has made are not bad at all!"
---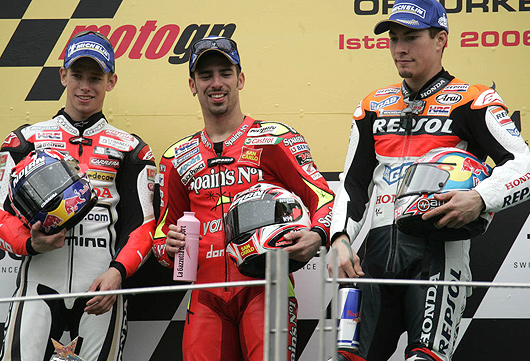 Marco Melandri (center) repeated his Turkish MotoGP victory from last year. Youngster Casey Stoner (left) lead much of the race and was a close second, while American veteran Nicky Hayden who has yet to win a MotoGP was handed 3rd podium spot when team mate Dani Pedrosa slid out on the final lap.

2006 MotoGP World Champioship, Round 4 of 18, Istanbul Turkey
Melandri on Top in Turkish MotoGP Thriller
Istanbul, Turkey, Sunday 30th April 2006 - Marco Melandri was the last-gasp winner of a fantastic Grand Prix of Turkey at the Istanbul Park Circuit, snatching victory from Casey Stoner in the dying moments of the race as the top three made up the third youngest podium of all time in the MotoGP class. The lead changed hands numerous times during the second half of the race, with the Italian repeating his success from last season at the same track.
Melandri's victory came in dramatic circumstances, when it had looked as if it would be a straight battle between Stoner and Dani Pedrosa in a repeat of last year's 250cc race. However, Pedrosa crashed on the start of the last lap in a heartbreaking moment for the rookie Spaniard.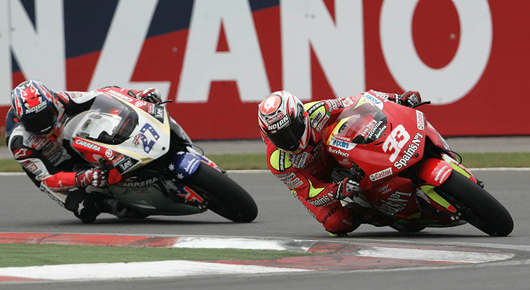 The final lap came down to Casey Stoner (27) and winner Marco Melandri (33,) with Danni Pedrosa having just slid off the track.
Meanwhile, Stoner was close to becoming the joint youngest winner of a MotoGP race, but the Honda LCR rider had to make do with his first podium in the premier class. In what is only his third race in the class, the 20 year-old Australian was unable to hold off Melandri's hard pass with three tight corners remaining, and the Italian ran out the winner in the drag to the line.
Nicky Hayden, who had been run wide by Melandri when he looked to be shaping up to make an overtaking manoeuvre, continued his run of seven consecutive podium finishes. The third place also put him at the top of the tree in the overall classification, a momentous occasion for the American.
Valentino Rossi was largely anonymous at the start of the race, dropping to 14th after running wide. However the reigning World Champion picked his way through the field diligently to come close to taking third from Hayden's grasp, bringing Toni Elias along for the ride as the pair took fourth and fifth.
Loris Capirossi was off the podium for the first time this season in sixth, ahead of pole-man Chris Vermeulen. The Australian did superbly to hold off the field on the first lap, and pushed his Suzuki to the full in order to avoid dropping down the order, eventually clinching a morale-boosting seventh place.
Shinya Nakano, Colin Edwards and Makoto Tamada completed the top ten, on a day which was dry apart from a few light drops of rain during the MotoGP race itself. 38,123 spectators had flocked to the Istanbul Park Circuit, and none of them will have left disappointed, with all threeraces of the highest quality at one of the most exciting circuits on the MotoGP calendar.

Chris Vermeulen's Bridgestone shod Suzuki worked incredibly well in wet qualifying to put him on the pole for Sunday's race. Don't try this at home with your 240hp MotoGP bike.

Shocker! Vermeulen storms to Istanbul pole for Rizla Suzuki MotoGP
29/04/06 - Chris Vermeulen stormed to his and Rizla Suzuki MotoGP's first ever MotoGP pole position at a rain soaked Istanbul in Turkey today. Vermeulen (2'04.617, 15 laps) made his intentions known early on in the qualifying session as he set fastest times to go top of the timesheets. The rookie Australian continued to improve his pace throughout the hour long session and saved the best till last, with a quickest time that was two tenths of a second ahead of his nearest rival, Honda's Nicky Hayden.
"Obviously conditions were very different today, " said Chris. We had a quite a good morning practice and made a few changes to the set-up, the tyres and with the engine management system and it all seemed to work really well. From the start of the qualifying session the bike was working really well and it was comfortable to ride, even when the conditions got pretty bad and grip was hard to find. I did a few laps and then came back in and just watched the weather to see how much rain was about. I tried to go out in the better conditions and it turned out that it was best at the end. I just stayed out and tried to be as fast as I could and in the end I was faster than everybody! For my team, Bridgestone and all the team's sponsors, this is the nicest way to say thanks!"
Vermeulen's team mate John Hopkins (2'05.700, 22laps) also rode a very strong qualifying session to put his Rizla Suzuki GSV-R on the middle of the second row in fifth place. He was only one second off his team-mate and will be sure to make an impact in tomorrow's race whether it is wet or dry. The hard riding Anglo-American lost none of his fire because of the conditions as he made continuous improvements to power his bike up the field. The team's Bridgestone wet weather tyres worked extremely well in today's atrocious conditions, a fact that was emphasised by all six of the Bridgestone shod bikes qualifying in the top eight positions.
Vermeulen (71) leads the start into turn one ahead of Sete Giberneau (15) who would pass quickly to lead the first half of the race before droping back.
A Multi Brand Race Thriller Ends With Hondas Topping the Podium
Sunday April 30, 2006 - This will be remembered as the race when the 2006 rookies showed the grid precisely why they're riding in MotoGP. Marco Melandri (Fortuna Honda RC211V) won the race from Casey Stoner (LCR Honda RC211V) with Nicky Hayden (Repsol Honda RC211V) third. But Dani Pedrosa (Repsol Honda RC211V), who fell on the last lap, was another sensation in a compelling race.
After yesterday's rain, the clouds threatened but failed to deliver another deluge and the 22-lap MotoGP contest got underway in dry conditions. Poleman Chris Vermeulen (Suzuki) got the holeshot into turn one followed by Sete Gibernau (Ducati) and early front man John Hopkins (Suzuki).
But behind this early lead trio lay the eventual bosses of this race: Hayden in fourth, then Stoner and Melandri. Dani, who started from row six after a fruitless qualifying effort had already fought his way his way to 13th by the end of lap one. Melandri, who endured a fifth row start after an equally troubled qualifying performance had shot up to sixth via a lightning-quick launch.
Gibernau had assumed the lead by the end of lap one with Hopkins and Vermeulen in second and third followed by Stoner, Melandri and Hayden. Dani was still scything though the field and by lap three he lay ninth. He then set an early fastest lap of 1m 53.884s on the next circuit of the 5.430km track.
As Vermeulen dropped off the pace Stoner, Hayden and Melandri matched it, then bettered it to put the chase on the lead duo of Gibernau and Hopkins. As the early pressure began to tell, the group of nine riders who had been covered by just three seconds in the early laps began to drift further apart.
Gibernau still held the initiative at the front, but Stoner's pressure on Hopkins began to tell and by lap eight, the order was Gibernau, Stoner, Melandri, then Pedrosa, who had now slotted in another fastest lap of 1m 53.305s. By lap ten Dani was third.
Exactly on mid-race distance the pattern was set as Gibernau faded and Melandri led the pack into turn one on lap 11. Pedrosa lay second, Hayden third and Stoner fourth. Then Dani turned the screw and stole the lead from Melandri at the final turn complex at the end of lap 11.
Four Honda riders now controlled the race from the front and with eventual fourth-place finisher Valentino Rossi (Yamaha) sitting in fifth, more than six seconds adrift of the leaders, it was clear that, barring a mass crash, the podium places would be disputed among the fast foursome.
With three laps to go Stoner held a 0.6 second advantage over Melandri, with Pedrosa in close attendance and Hayden losing touch by a second and a half as the finale loomed. Melandri had tasted his first ever MotoGP win here last year and there was a feeling his experience might count on the last lap.
Sure enough mistakes were made. Dani lost the front on the entry to turn one and crashed out to remount and finish 14th. It was a sad end to a glorious ride. Stoner now had only Melandri to deal with, but 'Macio' is a tough customer with two years' experience in the class. He made it tell with a rugged out-braking manoeuvre into the final complex and Stoner could do nothing to resist.
Melandri said, "I thought that would be a good race and I was right. But from row five I had no idea I'd be involved at the front. I got a really good start and the bike was great in these conditions on the day. But Casey is hard to beat and now it's going to get harder and harder, he rode amazingly well today."
Stoner seemed happy with second, even though he so narrowly missed out on matching the record of Freddie Spencer as the youngest ever winner of a premier class race at 20 years and 196 days old.
He said, "I didn't know how big the group was, and when I realized there was only a few of us, I ran the race knowing I'd have to close on people at some stage. It was great riding with all those others and seeing how much they all move about. You've got to be a bit careful with these bikes because they don't stop as fast as a 250 either."
Nicky was sanguine about his third place. "I had a front brake problem on the startline when the tyre warmer melted onto one of the brake discs. The brakes were never right and I was missing apexes everywhere. I couldn't get into a rhythm so I'm a bit disappointed overall. But I suppose leading the World Championship by a point is a consolation."
Dani said, "Until the last lap I think the race was good. I got a good start and recovered a lot of positions at the beginning. Then I got into a very good rhythm and I was able to overtake riders and catch the leaders, which was the main plan before the race. Near the end it was difficult because I lost some time and there was a little gap to the leaders so I was not completely with them. Then I crashed as I was entering the first turn. I'm sorry for my team because they were really good for the whole weekend."
Toni Elias (Fortuna Honda RC211V), in fifth, said, "I didn't get a good start but bit-by-bit my rhythm improved and as the laps went by and the fuel tank got lighter I got more comfortable with the bike. Together with Valentino we cut through the pack and that helped me to finish fifth. On the final lap I tried to pass him but it was impossible. I'm satisfied with the way the race turned out but I'm still not quick enough over the first few laps so I have to work on this. I want to congratulate my team-mate Marco for his great performance today."
Makoto Tamada (Konica Minolta Honda RC211V), in tenth, said, "After a good start I risked crashing at the first corner and for this reason I lost some positions. I did not have very good grip with the rear tyre so I was never been able to run at a particularly quick pace. Although I did manage to overtake Gibernau quite near the end, in the last series of corners preceding the straight. In comparison to Qatar, the positive note is that the feeling with my RC211V seems to be about to return to a good level."
Kenny Roberts (Roberts KR211V), 13th, said, "I had to struggle out there today I just didn't have the reserves. I was running low 1m 56s lap times and it was only at the end that I started running consistent laps in 1m 55s. In fact I set my fastest lap time with two laps to go. We just don't have the corner entry speed we need. We don't have grip, it's as simple as that. We have the same engine and tyres that won the race so we have work to do."
MotoGP Results
Race Classification MotoGP : (22 laps = 117.48 km)
Pos/ Rider / Nat / Team / Motorcycle / Time/ KM/H / Gap
1 / Marco MELANDRI / ITA / Fortuna Honda / HONDA / 41'54.065 / 168.224
2 / Casey STONER / AUS / Honda LCR / HONDA / 41'54.265 / 168.211 / 0.2
3 / Nicky HAYDEN / USA / Repsol Honda Team / HONDA / 41'59.523 / 167.86 / 5.458
4 / Valentino ROSSI / ITA / Camel Yamaha Team / YAMAHA / 42'00.274 / 167.81 / 6.209
5 / Toni ELIAS / SPA / Fortuna Honda / HONDA / 42'00.652 / 167.785 / 6.587
6 / Loris CAPIROSSI / ITA / Ducati Marlboro Team / DUCATI / 42'10.747 / 167.115 / 16.682
7 / Chris VERMEULEN / AUS / Rizla Suzuki MotoGP / SUZUKI / 42'10.842 / 167.109 / 16.777
8 / Shinya NAKANO / JPN / Kawasaki Racing Team / KAWASAKI / 42'15.602 / 166.795 / 21.537
9 / Colin EDWARDS / USA / Camel Yamaha Team / YAMAHA / 42'16.912 / 166.709 / 22.847
10 / Makoto TAMADA / JPN / Konica Minolta Honda / HONDA / 42'24.548 / 166.209 / 30.483
11 / Sete GIBERNAU / SPA / Ducati Marlboro Team / DUCATI / 42'24.608 / 166.205 / 30.543
12 / Randy DE PUNIET / FRA / Kawasaki Racing Team / KAWASAKI / 42'28.349 / 165.961 / 34.284
13 / Kenny ROBERTS JR / USA / Team Roberts / KR211V / 42'39.177 / 165.259 / 45.112
14 / Dani PEDROSA / SPA / Repsol Honda Team / HONDA / 42'47.590 / 164.717 / 53.525
15 / Carlos CHECA / SPA / Tech 3 Yamaha / YAMAHA / 42'53.920 / 164.312 / 59.855
Pole Position: Chris VERMEULEN 2'04.617 154.264 Km/h
Fastest Lap:Lap 21 - Toni ELIAS 1'52.877 170.309 Km/h (New Record)
Circuit Record Lap:2005 - Marco MELANDRI 1'53.111 169.956 Km/h
Circuit Best Lap: 2005 - Sete GIBERNAU 1'52.334 171.132 Km/h
World Championship Positions:
1 HAYDEN 52, 2 CAPIROSSI 51, 3 MELANDRI 45, 4 STONER 41, 5 ROSSI 40,
6 PEDROSA 32, 7 ELIAS 32, 8 NAKANO 22, 9 EDWARDS 19, 10 GIBERNAU 18,
11 ROBERTS 17, 12 TAMADA 14, 13 VERMEULEN 13, 14 CHECA 8, 15 HOPKINS 7.
250cc GP: Aoyama Scores KTM's First Ever Victory!
Hiroshi Aoyama took KTM's first ever victory in the 250cc class after one of the most breathtaking final laps of all time. The KTM rider was overtaken by both Alex de Angelis and Hector Barbera on either side, and had the spectacular sight of both riders colliding. De Angelis made a miraculous save as he pulled the bike from the brink before going off onto the grass and slowing on the run-off area.
Barbera fared better from the manoeuvre, keeping his bike going to take second place. Andrea Dovizioso, who had exchanged the lead on a number of occasions with Barbera, De Angelis and Aoyama, completed the podium places, and now leads the championship by two points.
After a first corner melee knocked pre-race championship leader and favourite Jorge Lorenzo out of the race on the first corner, there was a guaranteed new winner for the 2006 season. Roberto Locatelli once again made a dramatic comeback through the field, and would eventually finish the race in fourth, Yuki Takahashi and Sylvain Guintoli completed the top six.
250cc Results:
Race Classification 250cc: (20 laps = 106.8 km)
Pos / Rider / Nat / Team / Motorcycle / Time / KM/H / Gap
1 / Hiroshi AOYAMA / JPN / Red Bull KTM GP 250 / KTM / 40'02.376 / 160.041
2 / Hector BARBERA / SPA / Fortuna Aprilia / APRILIA / 40'02.777 / 160.014 / 0.401
3 / Andrea DOVIZIOSO / ITA / Humangest Racing Team / HONDA / 40'02.843 / 160.01 / 0.467
4 / Roberto LOCATELLI / ITA / Team Toth / APRILIA / 40'03.017 / 159.998 / 0.641
5 / Yuki TAKAHASHI / JPN / Humangest Racing Team / HONDA / 40'04.931 / 159.871 / 2.555
6 / Sylvain GUINTOLI / FRA / Equipe GP De France - Scrab / APRILIA / 40'12.930 / 159.341 / 10.554
7 / Jakub SMRZ / CZE / Cardion AB Motoracing / APRILIA / 40'14.910 / 159.21 / 12.534
8 / Alex BALDOLINI / ITA / Matteoni Racing / APRILIA / 40'19.263 / 158.924 / 16.887
9 / Anthony WEST / AUS / Kiefer - Bos - Racing / APRILIA / 40'19.724 / 158.894 / 17.348
10 / Sebastian PORTO / ARG / Repsol Honda / HONDA / 40'23.286 / 158.66 / 20.91
11 / Marco SIMONCELLI / ITA / Squadra Corse Metis Gilera / GILERA / 40'30.801 / 158.17 / 28.425
12 / Alex DE ANGELIS / RSM / Master - MVA Aspar Team / APRILIA / 40'38.332 / 157.681 / 35.956
13 / Martin CARDENAS / COL / Wurth Honda BQR / HONDA / 40'50.667 / 156.887 / 48.291
14 / Dirk HEIDOLF / GER / Kiefer - Bos - Racing / APRILIA / 41'02.980 / 156.103 / 1'00.604
15 / Manuel POGGIALI / RSM / Red Bull KTM GP 250 / KTM / 41'06.264 / 155.895 / 1'03.888
Pole Position: Jorge LORENZO 1'57.841 163.135 Km/h
Fastest Lap: Lap 19 Alex DE ANGELIS 1'58.469 162.270 Km/h
Circuit Record Lap: 2005 - Dani PEDROSA 1'57.595 163.476 Km/h
Circuit Best Lap: 2005 Alex DE ANGELIS 1'56.930 164.406 Km/h
World Championship Positions:
1 DOVIZIOSO 52, 2 LORENZO 50, 3 AOYAMA 46, 4 BARBERA 44, 5 LOCATELLI 38,
6 TAKAHASHI 31, 7 GUINTOLI 27, 8 DE ANGELIS 24, 9 CARDENAS 16, 10 SMRZ 15,
11 PORTO 15, 12 SIMONCELLI 13, 13 BALDOLINI 8, 14 POGGIALI 8, 15 WEST 7.
---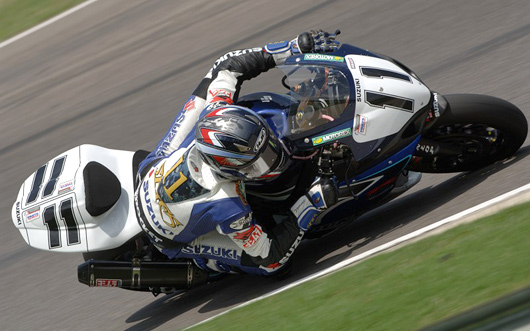 Finally! A nice American kid comes along who can beat that damn Aussie no one likes.

2006 AMA Superbike Championship, Round 3 of 11, California Speedway
Another Superbike Double for the Youngster
Ben Spies Wins Both AMA Superbike Races at California Speedway

Fontana, CA, April 28-30, 2006 - Yoshimura Suzuki's Ben Spies continued his previous week's AMA Superbike double win at Barber Motorsports park, with another double race win weekend at the Suzuki sponsored AMA California Speedway Roadrace Nationals. The only rider capable of challenging Spies was his team mate and 6-time reigning National Superbike Champion Matt Mladin. Following a year spent racing in the very large shadow cast by teammate, Ben Spies came into the 2006 season intent on closing that gap that separated him, the runner-up, from Mat Mladin, the reigning king.
American Honda's Jake Zemke ran a very lonely 3rd place both days. While a good distance behind Jake there were mild scuffles going both days for 4th spot between Miguel Duhamel, Tommy Hayden , Neil Hodgson and Ben Bostrom, and Aaron Yates.
This was the best ever attendance weekend in the 5 year history of the AMA Nationals at California Speedway with a fairly accurate estimate of 7,000 people attending for the weekend including riders and crews, thanks in part to a large turnout of Pro only teams for Saturday's AMA Supermoto Nationals. We physically counted some 3,000 people there on Saturday and again on Sunday, and might guess around 1,000 were there for Friday practice. This was a huge increase from the last 3 years were not much more than 1,000 spectators were there each day. After the first 2 years of poor attendance for the AMA Nationals at California Speedway in Southern California, ironically the sportbike capital of the America, the Speedway closed the main grandstands to spectators as it wasn't cost effective to staff and open them.
This year's AMA National weekend at California Speedway saw a revision to the paddock layout with the Venders Midway moved to the smaller front paddock parking lot to make it feel more crowded and exciting, while the Pro Supermoto Pits were expanded down the entire back side length of the Paddock.
The major metric motorcycle manufacturers were there to support the National weekend with their big rig new bike displays, and were now begining to copy Ducati with owner hospitality areas providing their customers free lunch and beverages (much to the dismay of the numerous food concessionaires). Plus Ducati offered the only rider autograph signing with their riders Neil Hodgson and Ben Bostrom. The track even had a girl rock band in the vender midway to try and capitalise of the theme of our successful FastDates.com LA Calendar Motorcycle Show. But this is what it takes to draw enthusiast to race, particualrly in the entertaiment capital of the world. Unfortunately there were just a few retail venders there, and Tom Hicks from Southern California Motorcycles was the only dealership in attendance and he stepped it up nicely with 2 very cute and scantilly clad spokesmodels in his display area.
Unfortunately, California Speedway is still handicapped by having the worst road race course in the world as it snakes through infield parking areas and a plastic rumble strip making up Turns 1 and 2 coming off the front banking, offering very limited viewing for spectators. The adjoining Pro Supermoto Course in the infield had beenexpanded nearly 3 times in length over past years, but like the roadrace course, spectators again were limited to seeing only about 1/3rd of the course from any one vantage point. The other big deficiency was the fact there was nonoticeable announcing or PA system anywhere in the infield and paddock. If you didn't wear a watch and buy a Race Program you were Shit Outa Luck as to what was going on and when.
Saturday Superbike Race 1 - Spies tops his Yoshimura Suzuki Teamates
Saturday May 29th - Ben Spies continued his spectacular early-season tear in Saturday's AMA Superbike final at California Speedway, scoring a dominating win to extend his victory streak to three. The Texan took the checkered flag at the end of the 28-lap contest with a healthy 6.972-second margin of victory and an even bigger contingent of believers.
Starting from the pole, the Yoshimura Suzuki star leapt out into the lead at the green light only to run wide near the conclusion of the opening lap. The mistake opened the door for his teammates Mat Mladin and Aaron Yates, along with American Honda's Jake Zemke, to rush past. Spies quickly collected himself and dispatched of Zemke and Yates in successive laps at the end of the back straight, taking the Honda rider up the inside and the Suzuki runner around the outside.
By lap 3 Spies was focused on tracking down his escaping teammate, Mladin. The 21-year-old closed down the second-plus gap in a handful of laps and was applying the pressure by lap 8 of 28. He finally made his move as they opened lap 15, reclaiming the lead by powering past Mladin at the end of the front straight. Once out in front, Spies immediately opened up an advantage; Mladin proved unable to match the pace while struggling with tire woes. The Texan went onto build a near nine-second lead before easing off and cruising to his third consecutive AMA Superbike victory.
Asked about his opening lap bobble, Spies said, "I really don't know what happened. Sometimes when you don't have the tires completely broke in they'll just break loose and that's kind of what happened. I really wasn't pushing because I could tell off the start Mat was right behind me in second so it wasn't like I was going to check out. I was just trying to get us away from the field early and just tipped it in and it stepped out. I knew I wasn't going to crash, but I definitely wanted to make the corner so I stood it up."
Commenting on the remainder of the race, he continued, "Mat got a couple seconds on us and I knew that he might try to hammer down and get away. We just tried to pick through everybody and get up to his rear wheel. I tried to save my rear tire and I was being real easy and actually giving up a bit of time coming out. It paid off in the end."
This is the first time since 2002 that Mladin has gone three successive races without a win. While certainly unhappy to be finishing second the six-time champ is looking forward to countering the challenge of his fast emerging rival.
"Ben is riding good," the defending series king admitted. "Today we just chose the wrong tire and went backwards halfway through the race. Ben is putting the pressure on and we need to go out and find something to help out a little bit. It was a pretty good race today; we had some good pace. Unfortunately, we couldn't hold it to the end. That's the way it goes, mate. I can only control what I do. I can't control the way Ben rides and he's riding great at the moment. We have to try and figure something out.
"We'll try to change a few things tomorrow and try some different tires and try to make it happen. It just wasn't our day today and we'll come out tomorrow and see if we can't get another win. Of course I'm accustomed to doing some winning, but as I've said a number of times this year, the way I've been winning over the past few years isn't normal, and it's good that some of these guys are stepping up and finally putting a race up there. I'll be totally honest with you, it's a lot more fun for me than winning by twenty seconds, I can assure you, to actually have a race and try and improve myself. I'm looking forward to tomorrow."
Zemke fought for nine hard laps to work his way past Yates, but once he did he cleared away in third. The Californian went onto claim his second podium finish in as many weekends as the American Honda team continues to make obvious progress with their Stateside-developed CBR1000RR.
"The race went well in a way," Zemke said. "It just took me too long to get around Aaron. Once I did I was about to get away from him a little bit slowly. Ben and Mat had already split at that point so it was just kind of a lonely cruise home in third.
"We've gotten better in the areas where we're struggling over the weekend and it's bound to get better tomorrow. We'll keep rolling forward with it and hopefully we can get something working a little bit better tomorrow."
Arguably the most interesting battle of race was waged one position fourth-place finisher Yates. Parts Unlimited Ducati pilots Neil Hodgson and Ben Bostrom scrapped with second works Honda entry Miguel DuHamel and Team Kawasaki's Tommy Hayden for fifth for practically the entire distance.
Former World Superbike king Hodgson eventually took the honors aboard his 999F06 after bouncing back from a dreadful start that saw him complete lap 1 running outside the top ten. DuHamel aced long-time fifth-place runner Bostrom to scoop up sixth late, while Hayden took a close eighth on the developing ZX-10R.
Jordan Suzuki's Jason Pridmore narrowly Pegram Racing's Larry Pegram for ninth, just fending off a drafting attack at the flag.
Saturday Superbike:
1. Ben Spies (Suzuki)
2. Mat Mladin (Suzuki)
3. Jake Zemke (Honda)
4. Aaron Yates (Suzuki)
5. Neil Hodgson (Ducati)
6. Miguel Duhamel (Honda)
7. Ben Bostrom (Ducati)
8. Tommy Hayden (Kawasaki)
9. Jason Pridmore (Suzuki)
10. Larry Pegram (Honda)

Mladin played bridesmaid to his team mate both days.

Sunday Superbike Race 2 - Repeat Performance for Spies
April 30th - Sunday's AMA Superbike race was a repeat performance as Spies and Mladin immediately broke free at the start with only American Honda's Jake Zemke keeping touch for a time. The two were rarely separated by more than a tenth as Spies led the opening four laps, followed by 13 laps of Mladin establishing the pace.
Spies saw an opportunity at the end of lap 17. He rushed past at the start/finish line and put his head down with hopes of making a break. His bid worked. Prior to lap 18, the two never crossed the stripe more than 0.288 seconds apart. On Spies' first full lap back in the lead, he ripped open more than a half second. He continued to build from there, eventually dropping Mladin more than four seconds behind him by the time he took the checkered flag.
Spies claimed he wasn't as shocked by his triumph this time around. "Fontana has always been a good track for me. Barber was definitely more surprising to me. Here we caught a little bit of a break. Mat had some problems yesterday and today we had to work for it. It's all I had to stay behind him and I could see he started having a little bit of trouble in the middle of the race. I wanted to try and keep the pace and keep going and see if I could stretch it out. I didn't know. I just got in the lead and the gap slowly started going up."
Spies talked about his evolving AMA Superbike dominance, "Winning four in a row -- I guess after the first week at Barber I felt the pressure was still on Mat a little bit to come back and stop me. And now we did it again. If it keeps going -- he's a six-time champ and he's obviously coming to come back and train even harder -- the pressure will be on me more. Now I'm running up front at a couple tracks we're going to so I've got keep going, got to keep putting it on top or right there."
The 21-year-old also talked about having to overcome being starstruck while competing against a legend. "Half the race I was looking back at a huge #1 that says 'Mladin' -- a guy I've been watching since I was eight-years-old. He's one of the guys I looked up to and now I'm racing with him. It's tough. It makes you nervous even when I'm following him let alone when I've got a second on him. We've got to get past that and race the race and race the track, so we're going to work on that."
Mladin was again gracious and pragmatic in defeat. "We just didn't have it today and that was it. We felt pretty good there until lap 15 or 16 and then right around that area to do the lap times -- to stay in the '4s -- got to be harder and harder work. It's the fifth race of the year and I tried to give away a big points lead in Barber and got lucky. I didn't want to do it again today. We just had to shut it down a little bit and try to bring it home. We had nothing for him today.
"Like I said yesterday, it's one of those things; I'm not that used to having somebody to challenge at every race and obviously over the years when you win some races and some championships -- I'm not going to say 'easy' but we had it our way for a long time -- certainly you get a little bit rusty around the edges. It's good to have someone there to help pick up my game and make me a better rider as well. I'm looking forward to the challenge and I'm looking forward to the next race."
Zemke's early success in clinging onto the departing Suzukis pulled him away from the fray behind him. The Californian put in a steady ride to pick up his third podium finish of the '06 campaign. "It was very lonely," the Honda ace said of his ride. "I was actually happy to see lappers for once. 'Alright, I have something to do now!' Ben and Mat were able to set a great pace and luckily I was able to at least see them for the first few laps, which is more than we could say up until now.
"The bike is coming better. The guys put their heads together last night and came up with a set-up that at least allowed us to see the front of the race for a couple laps. We didn't make any inroads but they seemed to have about a second on me and I could just see them right there.
"Hats off to those guys, they rode a great race. We'll keep working. I like the company I'm keeping up here, I just don't like sitting on the end. Suzuki has done their homework and they have a really good motorcycle right now and they've had a good package for the last few years. We're working to make it more than a two-rider race at the front. We're going to keep plugging away at it until we get there."
The only interesting race of the day centered on American Honda's Miguel DuHamel, Parts Unlimited Ducati's Neil Hodgson, and Team Kawasaki's Tommy Hayden fought an intense battle for fourth to the flag. The crafty Canadian picked up the spot in the end. The former World Superbike champ took fifth, followed by the Kentuckian who continues to prove he belongs with the 'big boys' in the Superbike category.
Third works Suzuki runner Aaron Yates and second Ducati entry Ben Bostrom both spent time in the fourth-place battle as well before separately fading into a scrap for seventh that also included Jordan Suzuki's Jason Pridmore. Bostrom, who ran in fourth for several laps, dropped back to ninth before charging up into seventh at the stripe. Yates took eighth with Pridmore finishing ninth. Pegram Racing's Larry Pegram just edged Pridmore's teammate, Steve Rapp, for the final spot in the top ten.
Following another tremendous weekend, Spies opened up his early-season points lead from eight to 19 following five of 19 2006 AMA Superbike races. The increasingly intriguing title race picks up in three weeks time at Infineon Raceway in Sonoma, CA on May 19-21.
Sunday Superbike:
1. Ben Spies (Suzuki)
2. Mat Mladin (Suzuki)
3. Jake Zemke (Honda)
4. Miguel Duhamel (Honda)
5. Neil Hodgson (Ducati)
6. Tommy Hayden (Kawasaki)
7. Ben Bostrom (Ducati)
8. Aaron Yates (Suzuki)
9. Jason Pridmore (Suzuki)
10. Larry Pegram (Honda)
Superbike Championship:
1. Ben Spies (Suzuki) 182
2. Mat Mladin (Suzuki) 163
3. Miguel Duhamel (Honda) 140
4. Neil Hodgson (Ducati) 130
5. Aaron Yates (Suzuki) 126
6. Tommy Hayden (Kawasaki) 124
7. Ben Bostrom (Ducati) 119
8. Jake Zemke (Honda) 110
9. Jason Pridmore (Suzuki) 108
10. Larry Pegram (Honda) 93
Fast Dates Calendar Motorcycle Roadracing News. Complete coverage of the SBK World Superbike, AMA National Superbike and MotoGP World Championship. Superbike, SBK, FIM, AMA, American Superbike, superbike planet, American Roadracing, sportbike, grand prix, MotoGP, race, racing, news, superbike news, sport bike, motoGP news, photography coverage, photos, pictures, Fast Dates Calendar and Umbrella Girls. Racing, road race, track, motorcycle, news, results, girls, models, Mat Aladdin, Max Biaggi, Valentino Rossi, Troy Baylis, Ben and Eric Bostrom, James Toseland, Chris Vermeulen, Maria Sharapova, Kristen Bell, Regis Laconi, Loris Capirossi, Troy Bayliss, Troy Corser, Noriyuki Haga. Ducati 999 Monster Multistrada, Yamaha R6 R1, Honda CBR600RR CBR1000RR, Kawasaki ZX6 ZX6RR ZX10, Suzuki GSXR600 GSXR750 GSXR1000, Aprilia Mille, MZ Agusta F4 Brutale. Los Angeles Calendar Motorcycle Show.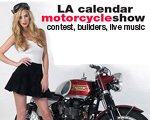 World's Richest Bike Contest includes Sportbikes and a
$70,000 Purse! Win Exhaust Systems from Vance & Hines, compete in the Jardine World record Horsepower Dyno Shootout



Fast Dates Racebike Pinup
& Garage Girls Calendars
Click to Order Now!



2006 Superbike World Championship
Round 4, Monza, 7th May, Preview
The fourth round of this year's Superbike World Championship takes place at the famous and historic Monza circuit in northern Italy. Just a short step from chic and fashionable Milan, Monza has been part of the Superbike World Championship since 1990 and is a firm favourite amongst riders and race fans alike. The 5.792 kilometre circuit always provides fast, close-quarter racing, with tactics and slipstreaming playing an important part. Last year Troy Corser took victory in the first race (to make it six wins out of seven) and a third in the second and team mate Yukio Kagayama took runner-up spot in the race one and then DNF'd in race two.

TROY - "Monza is a great track for fast racing and you must have good horsepower to do well. Having said that, it is a place where slipstreaming plays a big role and it's possible to exit the final chicane third or fourth and still cross the line first! After Valencia, it'll be good to go to a fast track and hopefully my Suzuki will be able to outpower the Ducatis, so that I can go all-out for a couple of wins."
---
Rossi Recovers from Back of the pack to Finish 4th
Camel Yamaha Team rider Valentino Rossi made up valuable points in the MotoGP World Championship title chase after charging from eleventh place on the grid to take fourth overall in today's Turkish Grand Prix. Despite making a quick start from his lowly grid position, the Italian made a mistake on lap two and dropped as far back as twelfth. However crucial changes made to the setup of his YZR-M1 before the race then allowed him to pass no fewer than seven riders, as he lapped at the same pace as the leading group over the course of the race. By the time he had made his way through the pack it was too late for the Italian to challenge for the podium but a crash for Dani Pedrosa (Honda) on the final lap boosted his final position to fourth. Today's result makes Rossi the highest point-scorer of all time in the Grand Prix World Championship, overtaking Max Biaggi.
Rossi's Camel Yamaha team-mate Colin Edwards made a decent start and remained in touch with the leaders for the opening laps but was unable to make any further progress and ended the race in ninth – the same position he had started from on the grid. At the front Marco Melandri (Honda) repeated his win from last season but was pushed all the way by Casey Stoner (Honda), who led the race until three corners from the end, when Melandri made his definitive pass. Nicky Hayden (Honda) was left to snap up the final podium position after Pedrosa's misfortune, the Spanish youngster tumbling out at turn one on the final lap when attacking Melandri and Stoner.
VALENTINO ROSSI (4th; + 6.209) - "I got a good start off the line but I had been thinking about the first corner incident at Jerez and what had happened to Lorenzo in the 250 race, so I decided to go to the inside and it cost me four or five places. I made the positions back by the end of the first lap but I made a mistake under braking on lap two and lost three seconds and the chance for a podium today. We have had so many problems this weekend but we solved some of them in time for the race with some big modifications after the warm-up this morning and then the bike was okay, especially in the second half of the race when I really enjoyed riding it. It will be interesting to see how much more progress we can make in the test tomorrow because it is a long championship and the most important thing right now is not where we are in the standings or the points difference to the leader – the priority is to get the bike working as we know it can. This is a tough series and when you have problems you don't lose one or two places, you lose ten. It looks like there was a great battle at the front – it's a shame I wasn't involved! Looking at the championship right now I would say the top seven all have a chance to win the title but there is a long way to go yet."
COLIN EDWARDS (9th; + 22.847) - "We didn't get it done at all this weekend and we need to sit down and work out why. It was always going to be a tough race today but I just didn't have the feeling or confidence with the bike to go out and battle with the guys we should be running with, which is the front group. We've got a test tomorrow and I'm keen to get out there and get as many laps in as possible. It's hard to overcome problems like the ones we're experiencing now because you don't get enough time during a Grand Prix weekend, so we'll get as much data together as we can before China. We simply have to come up with something for there because this situation can't go on for any longer."
DAVIDE BRIVIO – CAMEL YAMAHA TEAM DIRECTOR - "Looking at Valentino's race pace he could have easily been on the podium today, or even won the race, which is a big plus point for us considering the problems we have had. On lap three he was seven seconds down but he finished closer to the winner than that, despite having to fight past so many riders. Even so this has not been a satisfactory weekend for us and we know we still have a lot of work to do, starting in tomorrow's test. We have two very positive riders and this mood runs all the way through the team, so we will be working very hard tomorrow. The changes we made to Valentino's bike today are encouraging but now we have to further this development. It was a tough Grand Prix but we have come out of it with many positives."
Difficult Day for Ducati Men at Istanbul
April 30th - Ducati Team riders Loris Capirossi and Sete Gibernau endured a challenging race at Istanbul Park this afternoon, finishing sixth and 11th. The result was much less than the team had expected after some promising performances in practice and qualifying. Gibernau had particularly high hopes after placing third in yesterday's wet qualifier and leading this morning's dry warm-up. And he looked in superb form in the early stages of the race, leading from the first turn until the end of lap 11, when tyre concerns began to push him down the order.
Capirossi, who went into the race leading the World Championship, also had every reason to expect another fine result after qualifying fourth and placing third in morning warm-up. He battled hard throughout, ending the first lap in seventh, then slipping to eighth before fighting back to sixth on the final lap. Capirossi goes into round four in China in two weeks holding second overall, just one point behind Nicky Hayden. The race, run in cool but dry conditions was won by Italian Marco Melandri
LORIS CAPIROSSI, finished 6th, 2nd in World Championship
"I can't say I'm happy with sixth, that's not where we should be. This weekend we were pretty good in the wet but we didn't have enough time to prepare for a dry race, so it didn't go as we had expected. Anyway, we are just one point off the World Championship lead and we scored some useful points for what is a very long and difficult championship. We did well to take home what we could, plus we were also the first Bridgestone team at the finish. We knew this track might be difficult, so we came here with many tyres but we preferred not to risk new tyres for the race, choosing what we thought would be best. Now we go to China, which will be another difficult track, so we will keep working like crazy. We started the season in the best way and now we have to maintain that focus and keep doing our best."
SETE GIBERNAU, finished 11th, 10th in World Championship
"There's not much to say really apart from that we had a rear-tyre problem. I couldn't do anything about it. The bike was working okay and I was feeling comfortable in the lead, but from lap four I started to feel some vibration from the rear. I was thinking about coming into the pits to change the tyre but I decided to keep going. It's a pity, I was feeling confident."
Kawasaki Riders Look Competitive
Shinya Nakano took a hard fought eighth place in today's Grand Prix of Turkey aboard his Ninja ZX-RR, while his Kawasaki teammate, Randy de Puniet, crossed the line in 12th place, to claim his first MotoGP race finish.
Nakano was forced to fight for position from the off, battling hard with teammate de Puniet and Honda's Makoto Tamada after a good start from the third row of the grid.
Nakano eventually fought his way through to the front of the trio, leaving de Puniet to continue the battle with Tamada, but by that time the group in front had managed to pull out an insurmountable gap on the Kawasaki rider.
Undeterred, Nakano focused on lapping consistently aboard his Bridgestone shod Ninja ZX-RR, for which he was rewarded towards the end of the 22-lap race when the high attrition rate at the front saw riders either crashing out, or slowing due to tyre problems.
Running in tenth position with two laps to go, Nakano managed to catch and pass Yamaha's Colin Edwards on the penultimate lap to take ninth place, before being elevated to eighth when Dani Pedrosa crashed out of third place with just over one lap to go. Nakano held the position to the line, after Edwards was unable to mount a challenge on the final lap.
Randy de Puniet tried to stay with his teammate when he came past a third of the way into the race, but lost touch with Nakano after being forced into a mistake at the end of the straight as he tried to pass a slowing John Hopkins.
Knowing that Hopkins would slow them both through the chicane, de Puniet attempted a pass on the entry to turn 12, but lost valuable time when he ran wide on the brakes.
Recovering well, de Puniet was quickly back up to speed and lapped consistently throughtout the remainder of the race, to finish in a commendable 12th place, and collect his first MotoGP world championship points.
Shinya Nakano: 8th
"I got into a battle right from the start with Makoto Tamada and Randy, which I think slowed us all down, allowing the leading group to get away from us. I think our tyre choice for today's race was correct, as I was able to keep my lap times consistent throughout the race, and I still had the grip left at the end to push and catch Colin Edwards. I could see I was catching him, but we were equally matched on tyre performance and top speed, so putting in a pass was not so easy. In the end I got him on the brakes going into Turn 10, with a lap and a half to go, to steal one more position. I'm not so happy to only finish eighth today, but if I'm honest, after the problems we had in dry practice here on Friday, it was better than I was expecting."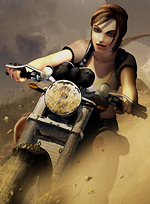 Lora Croft rides a big Monster!
Lara Croft does "Monster" deal with Ducati for Tomb Raider: Legend
Eidos Interactive, one of the world's leading publishers and developers of entertainment software, is pleased to announce that Lara Croft will be riding the Ducati Monster and 999 in her new adventure, Lara Croft Tomb Raider: Legend in a worldwide deal between Eidos and Ducati. The game was just released this week and is avaialble for sale here first on FastDatescom through our affiliation with Amazon.com.
The deal has Lara Croft riding Ducati's air-cooled, two-valved Monster S2R in her latest adventure and features riding scenes in which Lara relies on the bikes performance to get her out of some tricky situations. Her other bike is one of the most famous in motorsports, the legendary 999. The Ducati 999 is the most powerful and advanced twin-cylinder engine motorcycle ever to come out of the Borgo Panigale factory. It symbolises Ducati's long, glorious history and its domination of the World Superbike Championship.For further information visit our Chicks That Kick Ass: Lora Croft in Tomb Raider Legend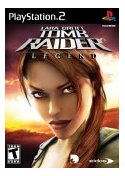 New! Tomb Raider Legend
Click to Order Any
Tom Raider
computer game now
available in all platforms!
Long Way Round
Actor Ewan McGregor & friend Charlie Boorman's incrdible trip around the world on bikes! A must have, it's the best motorcycle movie/story in 30 years! - Since On Any Sunday and Easy Rider
Order our favorite
FastDates.com babe music at low discount prices!
(just click on the CD covers to find out more and to order online)




Alex Johnson
stars in her own TV series on The N channel called
Instant Star about an aspiring teen pop singer. She's really hot, looks and sings ala Avril Lavigne.
---
AMA Clarifies Federal Regulations on Building
Kit and Custom Bikes
April 2006 - The American motorcyclist Association's goverment regulations team met with the Enviromental Protection Agency officials to clarify emission regulations in regards to building custom bikes. A custom bike can mean any motorcycle that is built for riding on the street.
"Even though the regulations governing motorcycle emissions were approved a couple of years ago, there's been a lot of misunderstanding surrounding them," said Edward Moreland of the AMA. Moreland and other AMA staff met with EPA officials to seek claiification on current EPA regulations related to "Kit" and "Custom" Bikes.
Kit Bikes are motorcycles typically built by individuals using off-the-shelf components, while Custom Bikes are generally Show Bikes built by a business and sold to a customer.
Under current regulations, a person is allowed only one Kit Motorcycle in their lifetime that is exempt from meeting EPA emission requirements. For custom motorcycle builders, a builder may create and sell up to 24 bikes a year that don't meet EPA emission requirements, but those machines must be labeled as exempt and only rarely may be ridden (to bike shows or events for display, a.k.a. your local biker hangout or bar or race track).
So as a private individual, if you want to build more than one exempt street bike in your life time, you'll need to take out a business license.
Before the EPA adopted these new rules in 2004, it was illegal for anyone to ride any street motorcycle built in 1980 or later that did not meet EPA emission requirements.
The current EPA rules require new road motorcycles sold nationwide in 2006 model year to meet strict emission standards adopted earlier by California. The first phase of the California emission standards went into effect in 2004, with a 2nd tier scheduled to go into efect in 2008. The EPA adopted the same standards but with a 2-year delay, meaning the 1st phase took effect this year, and the 2nd phase will take place in 2010.
New motorcycles sold in California in 2004 and nationwide in 2006 may not emit more than 1.4 grams per kilometer of hydrocarbons and nitrogen oxides and 12 grams per kilometer of carbon mon monoxide.
The california standard gets tougher in 2008 with a limit of 0.8 grams per kilometer of hydrocarbons and nitrogen oxides and 12 grams per kilometer of carbon monoxide. The federal standard that goes into effect in 2010 is the same.
All major motorcycle manufacturers' street bikes meet federal 2006 emission standards, and several manufacturers' products already meet the 2010 standards.