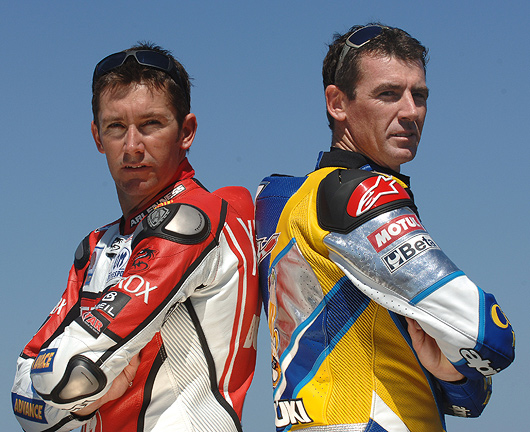 2006 SBK Corona Extra World Superbke Champioship, Round 3 of 13, Valencia, Spain
Can Corser Stop Him? Bayliss is Ducati's
Man on a Mission for Valencia after last Week's FGSport Tests
Battle of the Troy Tops Friday Practice at Valencia
Valencia (Spain), Friday 21 April: Troy Corser on the Alstare Corona Suzuki GSXR1000 posted a marginably quicker time than his fellow Aussie friend and rival Troy Bayliss on the Ducati Xerox 999R06 as their battle continued in first qualifying at Valencia. Just 43/100ths of a second separated the two Australian rivals after the one-hour session while another Aussie, Steve Martin (Petronas) and Japan's Noriyuki Haga (Yamaha) made up the other two slots on the provisional front row of the grid.
Troy Corser: "I am happy because we did an excellent job during the recent tests - in Valencia and Misano. We solved a couple of problems which slowed us down in the first two rounds. This allowed us to work on finding a good set-up for the bike and I think we're heading in the right direction now. The lap times were good and I will be going all- out to win both races here in Valencia. For sure, they're going to be a couple of tough races, but if the conditions are favourable, there's no reason why we can't come away with really good results."
"I can't be fastest all the time but all things considered everything is going OK" declared Troy Bayliss. "We made a couple of minor changes to the bike in Misano and everything seemed to work quite well. When we came here the bike is so close to what it was last time we were here but we seem to be missing a little bit of feeling in the front. So one bike we're definitely going to have exactly the same tomorrow morning and test it again, but honestly we're going OK and the times are good. Valencia is a bit strange in the afternoon, you struggle for grip but on the race tyre, I'm using the hardest one possible and it seems to be working well. This morning I did a lot of laps on it and this afternoon we were just making a few changes here and there. It maybe wasn't as good a session as it could have been but it was OK".
Lorenzo Lanzi improved later in the session to eighth place but then crashed out with a couple of minutes remaining. "I was pushing hard because tomorrow it looks as if it's going to rain and I wanted to be as far up the timesheets as possible. I was doing another good time after the one that put me into eighth place, then I crashed in the second right hander. The front of the bike just turned in on me, I tried to keep it up and finish the curve but there was nothing doing. But there's no problem and I'm not hurt".
Friday Practice Times: 1. Corser (Suzuki) 1m34.920s; 2. Bayliss (Ducati Xerox) 1m34.963s; 3. Martin (Petronas) 1m35.653s; 4. Haga (Yamaha) 1m35.658s; 5. Kagayama (Suzuki) 1m35.670s; 6. Xaus (Ducati) 1m35.721s; 7. Abe (Yamaha) 1m35.974s; 8. Lanzi (Ducati Xerox) 1m35.999s; 9. Nieto (Kawasaki) 1m36.004s; 10. Foret (Suzuki) 1m36.026s; etc.
Valencia Preview
Valencia (Spain), Thursday 20 April: After dominating the recent FGSport official tests at Valencia and Misano Adriatico, championship leader Troy Bayliss (Ducati Xerox) will return to the Ricardo Tormo circuit this weekend as a man on a mission. The 37-year-old Australian unofficially broke both long-standing lap records at the Spanish and the Italian tracks and his aim is now to increase his slender one-point lead over James Toseland (Honda) at the top of the table.
"I've been saying for some time now that ever since I hopped on the bike, it's been going really good" declared Troy. "The only thing that seems a bit strange though is that at every test we've ended up fastest and everything looks so good, but when it comes down to racing we've only had one win, although we've always been up at the front. Here we're quietly confident of doing well but maybe we expected a little bit more at this point of the season. But after the last two tests we're in a good situation and looking forward to this weekend at Valencia. I've done plenty of laps round here in Superbike and MotoGP and know the circuit so well so if we look at everything on paper, it should all go well but you never know with racing!".
Lorenzo Lanzi is still suffering from an incident in training shortly before the recent test at Misano, when he tore a muscle in his ribs. "I feel OK, the problem is when I get on the bike" declared Lorenzo. "I always try and train as much as possible, sometimes these things happen in training. However the last two tests went really well, we are close to the frontrunners, so tomorrow we'll try and start off on the right foot and do a good job in view of the race. For me Valencia is OK as a track, maybe the first part of the circuit is where I have a bit of difficulty. Both Troy and I are counting on doing a good race here, but as we saw in the tests the Suzukis and the Yamahas are both very competitive".
DUCATI XEROX 2-SEATER: The first European round of the season will also mark the first appearance of the Ducati Xerox 2-Seater, in collaboration with the team's title sponsor, Xerox. The bike is an exact replica of the 999F06 used by Troy Bayliss and Lorenzo Lanzi, and it will be present at every round of the season to provide a sensational experience for a selected group of clients, sponsors, media and VIPs. The rides will be provided by expert Italian racer Dario Marchetti, chief instructor at Ducati's DRE (Ducati Riding Experience) riding school and the first pillion passenger on the two-seater at Valencia will be the SBK producer for Spain's World Superbike host broadcaster Telecinco.
'MASCALZONE LATINO' GREETS WORLD SUPERBIKE CHAMPIONS. The Spanish Round of the Superbike World Championship taking place this weekend at Valencia will have an enchanting prologue with a press conference organized by FGSport together with the 'Mascalzone Latino' America's Cup yachting team. The conference will take place at the America's Cup Port on Thursday afternoon. FGSport, the Mascalzone Latino team and the Valencia circuit management, together with top SBK riders such as Troy Bayliss, Troy Corser, Alex Barros, James Toseland, Steve Martin and Andrew Pitt, plus Spanish heroes Ruben Xaus and Fonsi Nieto, will all attend the event. At the end of the press conference the Superbike riders will transfer from the vessel hosting the conference to Mascalzone Latino Ita 77 and will have an opportunity to meet the crew.
CIRCUIT HISTORY. Since its opening by King Juan Carlos I in September 1999 the Comunitat Valenciana Ricardo Tormo Circuit has become a firm fixture in the world of motorsport. The track is located in the Spanish town of Cheste, on the outskirts of Valencia, and it hosted its first SBK round in 2000. The designers based the 4km course on American circuits, enabling spectators to view the entire track. It has a maximum capacity of 110,000 spectators and has excellent transport links, being just a few hundred meters away from the Valencia-Madrid A3 motorway and a ten-minute drive from the airport.
THE CIRCUIT. Name: Comunitat Valenciana Ricardo Tormo Circuit. Length: 4.005 km. Pole Position: right. Corners Left/Right: 8/5. Longest straight: 876 metres.
CHAMPIONSHIP POINTS (after 2 rounds of 13): (Riders) 1. Bayliss (Ducati Xerox) 75; 2. Toseland (Honda) 74; 3. Corser (Suzuki) 63; 4. Barros (Honda) 55; 5. Pitt (Yamaha) 45; 6. Haga (Yamaha) 42 …. 11. Lanzi (Ducati Xerox) 15. (Manufacturers) 1. Honda 78; 2. Ducati 76; 3. Suzuki 73; 4. Yamaha 58; 5. Kawasaki 22; 6. Petronas 3.
STATISTICS: Best lap: Bostrom (Ducati), 1m34.649s (2002). Lap record: Hodgson (Ducati), 1m35.007s (2003). Superpole: Bayliss (Ducati), 1m34.814s (2002). Race distance: 2 x 23 laps/92.115 km.
2005 RESULTS: Race 1 – 1. Corser (Suzuki); 2.Vermeulen (Honda); 3. Kagayama (Suzuki). Race 2 – 1. Corser; 2. Vermeulen; 3. Walker (Kawasaki).
TV COVERAGE: Eurosport 2 (Pan European): Sunday 23 April – 1205 SBK race 1 (live), 2100 SBK race 2 (delayed). Eurosport (Pan European): Sunday 23 April - 2300 SBK race 2 (delayed). La7 (Italy): Sunday 23 April – from 1600 onwards SBK races 1+2 (delayed). Telecinco (Spain): Sunday 23 April – 1130 SBK race 1 (live), 1530 SBK race 2 (live).
---
Lora Croft chasing down bad boys aboard Ducati bikes in her newest game Tomb Raider: Legend
Lara Croft does "Monster" deal with Ducati for Tomb Raider: Legend
April 11th - Eidos Interactive, one of the world's leading publishers and developers of entertainment software, is pleased to announce that Lara Croft will be riding the Ducati Monster and 999 in her new adventure, Lara Croft Tomb Raider: Legend in a worldwide deal between Eidos and Ducati. The game was just released this week and is avaialble for sale here first on FastDatescom through our affiliation with Amazon.com.
The deal has Lara Croft riding Ducati's air-cooled, two-valved Monster S2R in her latest adventure and features riding scenes in which Lara relies on the bikes performance to get her out of some tricky situations. Her other bike is one of the most famous in motorsports, the legendary 999. The Ducati 999 is the most powerful and advanced twin-cylinder engine motorcycle ever to come out of the Borgo Panigale factory. It symbolises Ducati's long, glorious history and its domination of the World Superbike Championship.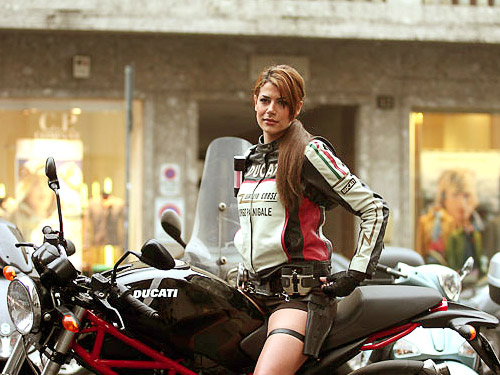 Meet the new spokesmodel for Tomb Raider Legends: Karima Adebibe -with 2 big guns fully loaded for duck!
"Both Lara and Ducati share the same qualities; intelligent design, refined toughness, distinct style, beautiful form and world renowned class." said Matt Gorman, Senior Brand Manager for Tomb Raider: Legend. "We had to get everything just right. Ducati supplied specs for the bikes and we recorded the distinct Ducati engine sounds at the development studio, Crystal Dynamics, so that the bikes in the game are as real as we could get them."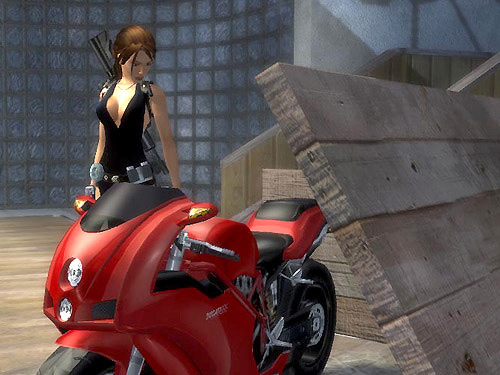 Hmm... I should probably steal this Ducati 999 and ride off the top of the building as it blows up in flames...
"Ducati is enthusiastic to be part of such a technologically and graphically advanced videogame", says Stefania Clapci, Licensing Director at Ducati Motor Holding S.p.A. "Having a female heroine riding on Ducati sport bikes is something completely new, exciting, and exclusive in the videogame world."
Lara Croft Tomb Raider: Legend is the seventh title to be released in the Tomb Raider(tm) series, which originally launched in 1996 and is still one of the best selling videogame franchises of all time, with over 28 million copies sold. Lara Croft(tm) has transcended games in a way no other character has, including action figures, comic books and two major motion pictures starring Angelina Jolie.
For further information visit our Chicks That Kick Ass: Lora Croft in Tomb Raider Legend
---

Click above for a bigger look of the 'Busa Baby!
Below, Playmate Cassandra contemplates her new found fame as a Cycle World cover girl. Could a
Fast Dates Calendar appearance be next?

World Preview - All Sexed Up!
Cycle World's Sport Bike 2006
hits newsstands with a revealing new image

Our esteemed colleague over at Cycle World magazine, editor David Edwards wanted us to let you know they're not just targeting stoggey old Velocette riders any more. Their hot new Sport Bike annual magazine is "... totally redesigned for 2006 and features the lovely Cassandra Lynn, Playboy's Miss February 2006, on the cover." That's right, cheesecake on the cover from the world's biggest selling motorcycle magazine! All right Dave!!!

Dave said they only choose Cassandra to artistically, prospectively balance out the feature story cover photo of our Fast Dates Calendar sponsor Performance Machine's hot new Hayabusa Project Bike. We think impulse news stand sales had more to do with it than "art". But we'll let you be the judge when you pick up your own copy when it hits the newsstands on May 2nd. You can also visit their website to order it online: CycleWorld.com

Dave, Will Cassandra's out takes be there, too?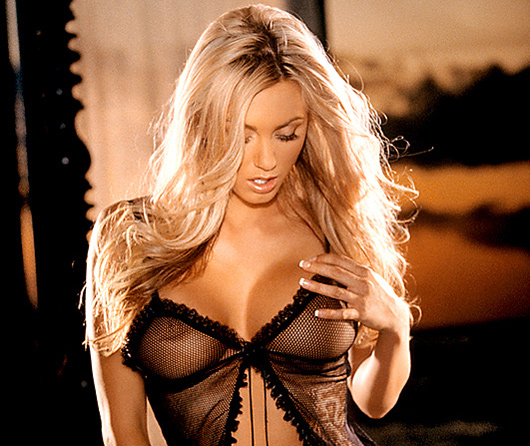 ---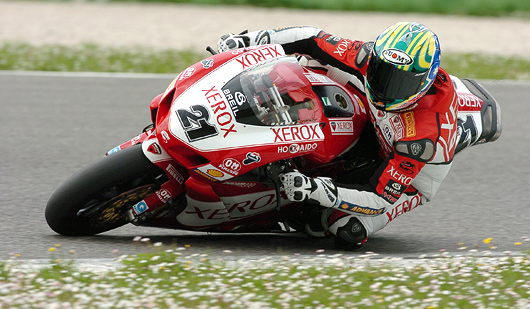 2006 World Superbike Championship Tests, San Marino

Circuit: 4.060km., Weather: Dry, sunny/cloudy
Ducati Xerox Team and Troy Bayliss
Set New Unofficial Best Lap at SBK Misano Testing
Misano (San Marino), 14th April 13-14th - Troy Bayliss (Ducati Xerox) followed up his stunning performance at Valencia two weeks ago with another dominant display in more than nine hours of FGSport-organised World Superbike tests at Misano Adriatico. The two days of action at the Santamonica circuit have concluded the two tests that split the second and third round of the championship.
The 37-year-old Australian took another half-a-second off the time he set yesterday to leave the Santamonica circuit's unofficial best Superbike lap at 1m33.317s. This is two-tenths quicker than Troy's lap record from 2002, which was also the last time the current championship points leader raced here.
"Everything went pretty good again today, the only problem we had was someone spilt some oil on the track and that interfered with my only long-run that I was in the middle of, but it wasn't a big deal because the track's going to be a bit different when we come back" declared Bayliss. "In the last 15 minutes I tried a qualifier and went a bit faster than what I did this morning. I thought I could have dipped into the 32s but it didn't quite happen. We left here in good spirits and now we move on to Valencia, which we're quietly confident about especially after the tests a couple of weeks ago".
Defending World Superbike Champion Troy Corser left Misano circuit knowing that he and the team had done a good job and that it had been a productive two days. Although he couldn't quite finish the fastest rider overall, he and the team know what they have to do before the next outing. Misano is known as a 'twins' circuit , so chasing the factory Dukes was always going to be a tough challenge. And it was a factory Ducati, with Troy Bayliss on board, that set the fastest lap of the two days. Troy finished second and all the top fifteen went under the official lap record!

"Another good test and a very productive one, Corser explained to FastDates.com reporter Kel Edge. "We made another little step forward and have got loads of information and ideas to take with us for the next time out. I worked quite a lot on the suspension and tried a different rear pivot and link. I also tried a different front end geometry - one that I've never tried before on this bike - and I was surprise how good the feeling was. The track has kept consistent over the two days (which is not always the case) and that's been a bit of a bonus. Also, we've had no clutch problems here! I tried the new 'big' 200 tyre from Pirelli and think it could be an improvement. It's got better side grip when you're on full lean. It's a little harder work changing direction, but I don't feel it's losing us any time - just harder work!

There have been no real dramas, though I did take to the gravel this afternoon! In the tight right-hander opposite the pits, I think I must have got a 'neutral' and the bike just kept going on, when I should've had a gear. I had to straighten it up and take to the gravel and just managed to stop before the tyre wall. it was a close thing, bit no big deal really."
Noriyuki Haga was once more the fastest Yamaha qualifier at an official SBK test, and had he not found another rider in his path when running qualifying rubber in the final afternoon session, he may even have had the chance to improve his 1'33.870 best. Haga, who had tested new triple clamps and rear suspension linkages on his R1, decided not to continue in the very last moments of the two day test, thanks to the residue left on the track surface after an oil spill at the first corner. He thus had to rely on his best time from the morning session, rather than the final one.
Noriyuki Haga explained his quick times, "The balance of the bike was good today and I decided to test a soft tyre. I found Kagayama in front of me but without that happening I think I could have set a lap time closer to Bayliss. When the circuit got covered in oil and then cement dust we decided to stop, so I could not use a soft tyre in the afternoon session."
In fourth position after yesterday's session, fourth again at the end of two days; Bayliss's young team-mate Lorenzo Lanzi made a major step forward towards the end of the test, setting a best time of 1m33.933s, almost one second quicker than yesterday.
"Today I managed to make a clear step forward, even though in the afternoon with the race tyre I had a bit of difficulty. We were unable to finish all the scheduled programme because of the red flag that made us lose some time" declared Lanzi. "We were going to make some big changes, but we were unable to do so. I put on a qualifying tyre and the feeling with the bike was excellent, but unfortunately I made an error at the Quercia and almost crashed. However I am happy with my time, even though I know we still have to improve a lot".
World Superbike resumes its championship trail next week in Valencia, Spain with round 3 of the series, while the Misano round is scheduled for June 25th.
Results (2-day)
1 Bayliss (Aus-Ducati) 143 laps, best lap 1:33.317,
2 TROY CORSER (Aus-Alstare Suzuki Corona Extra) 140 laps, best lap 1:33.824,
3 Haga (J-Yamaha) 111 laps, best lap 1:33.870,
4 Lanzi (I-Ducati) 127 laps, best lap 1:33.933,
5 Walker (GB-Kawasaki) 117 laps, best lap 1:33.984,
6 Laconi (F-Kawasaki) 145 laps, best lap 1:34.085,
7 Nieto (E-Kawasaki) 130 laps, best lap 1:34.181,
8 YUKIO KAGAYAMA (J-Alstare Suzuki Corona Extra) 141 laps, best lap 1:34.266,
9 Xaus (E-Ducati) 134 laps, best lap 1:34.315
10 Pitt (Aus-Yamaha) 122 laps, best lap 1:34.469
---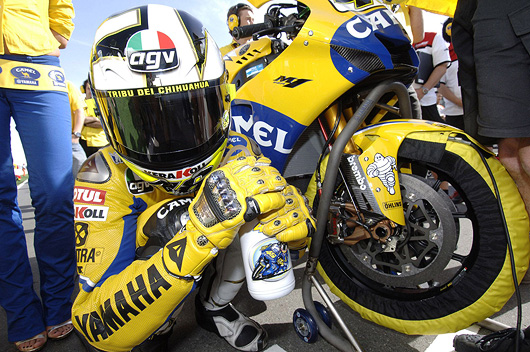 2006 MotoGP World Champioship, Round 2 of 17, Qatar Grand Prix at Losail
Rossi Bounces Back with Victory at Qatar
Losail Circuit, Dohar Qatar, April 6-8th - Camel Yamaha Team rider Valentino Rossi returned to the top step of the podium after a stunning ride in today's Grand Prix of Qatar. Rossi's 54th career MotoGP victory was sealed with a perfectly timed run in the second half of the race, passing early leader Casey Stoner (Honda) on lap 10 of 22 and holding off a late attack from Nicky Hayden (Honda) and Loris Capirossi (Ducati), who completed the podium. The win brings Rossi's premier-class tally level with that of Mick Doohan, with only the legendary Giacomo Agostini now ahead of him on 68 victories. Rossi's victory moves him up to fourth in the championship, fourteen points behind early leader Capirossi after two rounds of seventeen.
Complete Rce Coverage HERE
Fast Dates Calendar Motorcycle Roadracing News. Complete coverage of the SBK World Superbike, AMA National Superbike and MotoGP World Championship. Superbike, SBK, FIM, AMA, American Superbike, superbike planet, American Roadracing, sportbike, grand prix, MotoGP, race, racing, news, superbike news, sport bike, motoGP news, photography coverage, photos, pictures, Fast Dates Calendar and Umbrella Girls. Racing, road race, track, motorcycle, news, results, girls, models, Mat Aladdin, Max Biaggi, Valentino Rossi, Troy Baylis, Ben and Eric Bostrom, James Toseland, Chris Vermeulen, Maria Sharapova, Kristen Bell, Regis Laconi, Loris Capirossi, Troy Bayliss, Troy Corser, Noriyuki Haga. Ducati 999 Monster Multistrada, Yamaha R6 R1, Honda CBR600RR CBR1000RR, Kawasaki ZX6 ZX6RR ZX10, Suzuki GSXR600 GSXR750 GSXR1000, Aprilia Mille, MZ Agusta F4 Brutale. Los Angeles Calendar Motorcycle Show.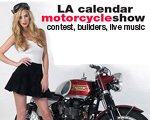 World's Richest Bike Contest includes Sportbikes and a
$70,000 Purse!



Fast Dates Racebike Pinup
& Garage Girls Calendars
Click to Order Now!



---
Ducati and KTM lobby SBK to increase World Superbike displacement for twins to 1200cc
With Alstare Corona Suzuki clinching the World Superbike crown last year with their 1000cc inline 4-cylinder GSXR and Ducati's normally dominate 1000cc V-Twin being trounced at nearly every race, Ducati has been lobbying SBK to help them out with another displacement advantage beginning in 2007, similar to the previous displacement advantage they had back in the 1990's when the Japanese inline 4's were just 750cc to the Italian's bikes, and Honda's RC45.

Also jumping on the 1200cc V-twin band wagon for World Superbike is KTM who wants to race their upcoming new RC8 which is slated for production next year currently displacing 990cc.
KTM has a serious problem though, against the Japanese inline 4's because its' engine runs conventional overhead cams and valve springs and its big, bulky V-Twin valve train limits it's peak RPM's and maximum horsepower output. Whereas the inline fours have much smaller pistons and reciprocating valve gear to allow them to turn much higher RPM, along with significant more piston area to make much more horsepower than a V-Twin.
Ducati doesn't have any problem matching the Japanese inline 4s for RPM thanks to its desmodromic valve system which doesn't use heavy valve springs and isn't susceptible to valve float. And the potential loss of peak power to a small total piston area is nullified by the V-Twin's more useable power range.
Truth be known, we'd say that Ducati lost the World Championship last year to Troy Bayliss's incredible riding ability that out shined any other rider in the Championship. And now this year with Troy Bayliss back with Ducati Corse, Bayliss's riding ability has shown the Bologna twin to be the fastest bike at nearly every track, and back on the top of the winner's podium.

The only question remains, how does SBK encourage KTM to enter World Superbike in 2007 without giving Ducati and unfair advantage? The production superbikes now are so evenly matched, we'd hate to see anything change.

Yamaha Extends Backing of Laguna Seca
Monterey, CA – 4/12/2006 - The Sports Car Racing Association of the Monterey Peninsula (SCRAMP) announced today that Yamaha Motor Corporation has extended its partnership with Mazda Raceway Laguna Seca that will ensure its support of the facility through 2010.
A "Proud Sponsor of the Red Bull U.S. Grand Prix", Yamaha has contributed a significant portion of the $7 million in safety modifications and improvements this year at Mazda Raceway Laguna Seca. This falls on the heels of the $2 million in changes contributed by Yamaha that allowed the MotoGP World Championship to return to the United States and Mazda Raceway Laguna Seca in 2005. The 2005 Red Bull U.S. Grand Prix was the largest event in the 50-year history of Mazda Raceway Laguna Seca, with a weekend attendance of 153,563.
"After the success of last year's event, we all jumped at the opportunity to continue our relationship with SCRAMP," said Bob Starr, Corporate Communications Manager of Yamaha Motor Corporation. "The funds will ultimately be used to improve rider safety and ensure everyone will enjoy MotoGP racing here in the U.S. for years to come."
The Yamaha Marketplace, the well-known and highly attended vendor area located in the lakebed area of Mazda Raceway Laguna Seca, will also continue through 2010. The Yamaha Marketplace contains vendors representing all areas of motorsports, motor sport memorabilia, motorcycling and motorcycling accessories. The Yamaha Marketplace also received significant expansion in 2006 allowing more area for fans and will also include an 8,000 square foot official Mazda Raceway Laguna Seca souvenir superstore during the Red Bull U.S. Grand Prix.
"Without Yamaha's initial involvement with SCRAMP, there would not have been a Red Bull U.S. Grand Prix at Mazda Raceway Laguna Seca," said Gill Campbell, CEO/General Manager of Mazda Raceway Laguna Seca. "To know that Yamaha was willing to step to the plate and continue that support through 2010 allows us to continue to host the MotoGP World Championship for the foreseeable future and keep Mazda Raceway Laguna Seca among the world's premier racing facilities."
Tickets for Mazda Raceway Laguna Seca's 50th Season of Racing, including the U.S. Sports Car Invitational featuring the Grand American Rolex Sports Car Series May 5-7, the Red Bull U.S. Grand Prix July 21-23, the 33rd Rolex Monterey Historic Automobile Races August 18-20 and the Monterey Sports Car Championships featuring the American Le Mans Series October 20-22, are on-sale now.
Tickets and more information are available by calling (800) 327-SECA or on-line at www.laguna-seca.com.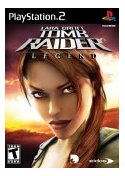 New! Tomb Raider Legend
Click to Order Any
Tom Raider
computer game now
available in all platforms!
British Superbike Thruxton
AirWaves Ducatt's Lavilla and Haslam go 1-2 Both Races
April 17th -The Airwaves Ducati team secured first and second places on their 999F06s in both races of round three of the British Superbike Championship at Thruxton - Lloyds British Ducati back on track in Supersport with a second place.
Gregorio Lavilla won both Superbike races with team-mate Leon Haslam gaining two second place finishes. The duo are now in first and second place in the championship.
Race one saw Leon take the lead and Gregorio slip from third on the grid into fifth place but he put in some stunning laps to move into second on lap 4. Lavilla took first place from his team-mate on lap 7 and the Airwaves Ducati riders were unchallenged for the remainder of the race. Lavilla completed the 22 lap race 4.4 seconds ahead of Haslam with 3rd place Kiyonari a further 8.3 seconds adrift.
In the second race of the day Haslam again took the lead from the start and Lavilla dropped into fourth. The Spaniard passed the Hondas of Rutter and Harris on lap 2 to take second place behind his team-mate, before setting a new lap record of 1:14.890 on lap 3. Lavilla took the lead on lap 5 and again the Airwaves Ducati team gained a significant lead from third place. Lavilla took a comfortable win from Haslam who crossed the line 14 seconds ahead of Harris.
After the race, rider number 91, Leon Haslam, said, "I am really happy with my performance this weekend. I set the fastest ever time round the circuit yesterday and it feels great to be second in the championship. However, it was a little frustrating not being able to challenge Greg but my ankle still needs a little more recovery time. I can't wait for Oulton Park so we can hopefully be at the front and on the podium again."
Double race winner Gregorio Lavilla said, "It has been a good weekend, now we have to keep the momentum going as I know points can be lost and my lead can be reduced so we have to keep concentrating and working hard. I have to thank the team, my mechanics and hospitality guys; they are like a second family to me and have made me feel at home. I am looking forward to Oulton Park and I hope that it goes as well as this weekend."
Colin Wright Airwaves Ducati team manager added, "It's been an excellent weekend for the team; Greg and Leon are now first and second in the championship which puts us back on target. Thanks must go to Dunlop Tyres who had a tough job this weekend but pulled out all the stops to give us the edge over our competitors. The first 3 rounds have been tough for everyone but the team have worked wonders, all those concerned should be proud."
British Supersport
With Thruxton being the fastest circuit on the calendar with an average Supersport race pace of 107.88 miles per hour, Stuart Easton put on a dazzling display aboard his 749R during the most fiercely contested British Supersport race so far this season. Qualifying was a fast and furious affair with just 1 second splitting the top-ten riders on the grid and Easton's lap of 1:17.357 saw the Lloyds British Ducati rider safely on the front row in 3rd.
After settling into the race, Stuart began to make his move on lap 6 of 20 when he passed Cal Crutchlow to take 2nd place behind Eugene Laverty. He maintained 2nd spot comfortably until lap 17 when he decided to take the lead and break away from the three Hondas. A race win was definitely in his sights when, on lap 18, Easton had a massive high-side that threw him out of his seat and nearly off the bike completely. Incredibly he managed to stay on his Ducati, but Laverty re-took the lead and held his position through to the end with less than half a second splitting Laverty, Easton, Crutchlow and Camier as they crossed the line to take the chequered flag.
"That was an unbelievable race from start to finish," said Stuart Easton. "I don't know how I stayed on the bike when I had that 'moment'. It was the biggest high-side I've ever had and stayed on. With a big one like that 99 times out of a 100, I'd have been sliding down the road on my backside, so to finish 2nd in the race and move up to 3rd in the Championship and close the points gap from 14 down to 10 is a fantastic result for me and the Team."
Whilst the battle for the lead was being fought out front, Easton's team mate, Martin Jessopp, was having one of the best races of his young career. Rubbing shoulders with riders such as Pere Riba and Jay Vincent, 20 year old Jessop battled race-long to prove his talent crossing the finish line just 0.2 of a second behind the vastly more experienced Riba.
Bringing his Ducati home in a very creditable 12th place behind the Spaniard, Martin Jessopp commented: "That was a great race and I enjoyed mixing it with some of the really experienced guys out there. I've learned so much this weekend and I now feel really confident on the Ducati 749R. We've got Oulton Park next and that's another good circuit for the Ducati, so I can't wait to get there."
Round four of the BSB Championship is on Monday 1st May at Oulton Park.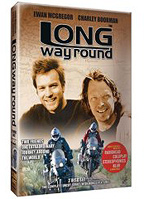 Long Way Round
Actor Ewan McGregor & friend Charlie Boorman's incrdible trip around the world on bikes! A must have, it's the best motorcycle movie/story in 30 years! - Since On Any Sunday and Easy Rider