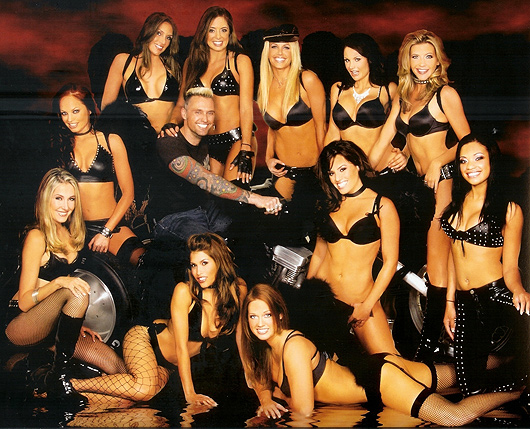 Weapons of Mass Seduction!
Purrfect Angelz to Decimate the
2006 LA Calendar Motorcycle Show July 15-16th
Los Angeles, March 1st, 2006 - So why does Russel Mitchell, star of TV's Build or Bust and featured custom bike builder in our Iron & Lace Custom Motorcycle Pinup Calendar, have such a big smile on his face? It's because we just told him all those beautiful girls he's posing with of the famed Purrfect Angelz show group will be performing all weekend long in expanded performances guaranteed to decimate attendees at this year's big Los Angeles Calendar Motorcycles Show on July 15-16th, 2006, America's premier custom and performance streetbike event.
The Purrfect Angelz have performed the last 3 years at the Calendar Show as their original 5-girl group, performing two 20 minute sets on stage each day to the screaming admiration of jammed pack crowds. But we can never have too much of a good thing, particualy where there's beautiful singing, lap dancing, fire twirling, burlesque shaking, cartwheeling, lingerie and bikini clad girls involved. The fame and the size of the group has been grown these few years, and this year Purrfect Angelz show director Lisa Ligon asked if she could bring the newer, bigger, better, tighter, bouncier, curver, more perfectly endowed 9-girl Purrfect Angelz Show to blitzkreig the Calendar Show from this year on. Who were we to tell her "No"? But only if Lisa agreed to help serve as on-stage cohost and MC throughout the weekend, which she did. Have we got clout or what?
The biggest performance schedule for the Angelz at this year's Show will take place on Saturday the 15th, where the previous two 20-minute show sets will serve as warm up for 3, yes that's THREE different 1-Hour Stage Shows! from their 3 diffent world and cross country tours. The stage shows will kick off at 12 noon withthe Angelz's first one hour one feature show called "Honky Tonk Ba Donka Donk" which they performance at major country and westen music venues -cowboy chaps and just a tiney a bikini never looked this good in Broke Back Mountain. Later at 2:30pm will be their "Salute the Troops" a patriotic medley from the Angelz's USO Tour which they performed for our troops in Afganstan -with Weapons of Mass Seduction so obvious we don't need George Bush to find where they're hiding (but you can mount your own invasion at the Angelz's picture autograph table afterwards). The Angelz will wrap up the day at 6pm with the "Biker Babe Banging Bash" which they perform at major biker events across America including Sturgis and Daytona - guaranteed to get the fans up, and bring the house down, and help close just the first incredible day at the world's hottest bike Show!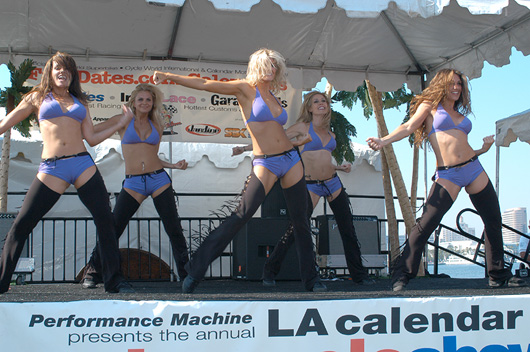 MEOW! Oh my god, how Purrfect is this? But are you man enought to survive it for 4 hours on Saturday with even more beautiful girls, and then again on Sunday! Oh yah, there'll be some cool bikes there, too...

Sandwiched in with the Purrfect Angelz both days will be the all-girl Lead Zepplin tribute band from San Francisco, Zepparella, blues singer Jesse Payo, the Calendar Model Search Pageant and the exclusive Calendar Bike Builder Seminars hosted by America's top celibrity builders including Russell Mitchell of Exile Cycles. Oh , and did we forget to mention the Calendar Bike Building Championship hosted by Performance Machine, the Jardine World Record Dyno Horsepower Shootout, plus 200 major motorcycle and product manufacturers and venders? We did now. For complete details go to LA Calendar Motorcycle Show.
---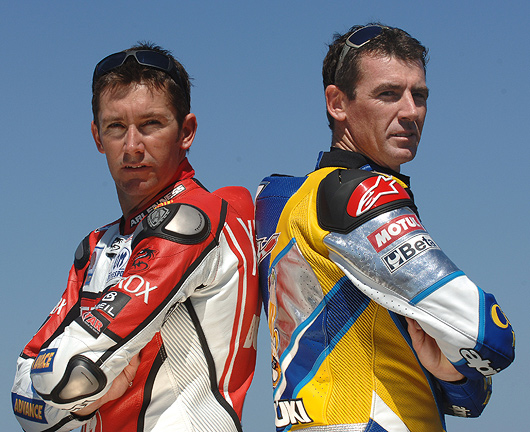 The hottest title fight in World Superbike history heats up with Champions Troy Bayliss (right) and and Troy Corserr (left), plus James Toseland (not shown)among
three of the leading contenders
2006 SBK Corona Extra Superbike World Championship - Phillip Island

The Great Trojan War of 2006 -Troy Bayliss Sets New Lap Record in Superpole
Troy Corser and Troy Bayliss
Trade Dramatic Race Wins at Unpredictable Phillip Island
Phillip Island, March 1-5th 2006 - Having dominated qualifying and Superpole, and having set another new track best of 1'31.908 in morning warm-up, Troy Bayliss was the hottest favourite imaginable for a double win on his home circuit. His lead in race one dropped off to an eventual sixth place, as Troy Corser (Alstare Corona Extra Suzuki) took a determined and committed win, from Alex Barros (Klaffi Honda) and a more distant James Toseland (Winston Ten Kate Honda). Corser crashed out of contention in race two, as Bayliss finally got the much-desired first win of his prodigal SBK season, ahead of Toseland and Barros. The ups and downs for some of the top riders changed the complexion of the championship table, with Bayliss now in a single point lead over Toseland (75 to 74), with Corser third on 63, and Barros fourth on 55.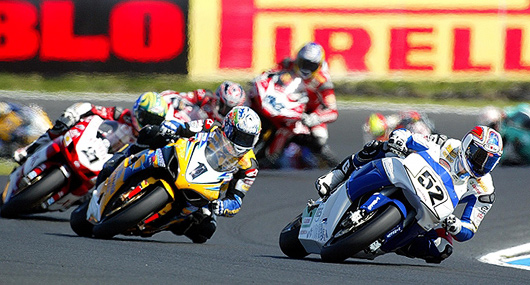 The three World Champs Toseland (52), Corser (10 and Baliss (21) out in front of the first race in the opening laps. Bayliss would quickly pass them both and pull out a huge 6 second lead, only to destroy hjos tires by the 2/3rds and then fade back to finsih 6th.

Just the day before on Saturday, Troy Bayliss smashed Phillip Island's seven-year-old record lap time to take a second successive pole position of the year on the Xerox-backed factory Ducati 999 machine. In scintillating form throughout the weekend, the 36-year-old Australian was quickest in every practice and qualifying session and clinched pole with a time of 1m32.159s, a full second faster than Troy Corser's 1999 mark. Bayliss's Superpole lap also made it three world champions in the top three positions as he lines up with Corser (Suzuki) and James Toseland (Honda) alongside him, while Steve Martin completed the front row for the Petronas team.
After an intense and entertaining first round at Losail, Qatar, on Saturday 25 February, the 2006 World Superbike championship continued its high speed round the world tour with the Australian round at Phillip Island, on Sunday 5 March. Always a popular and immaculately presented circuit, Phillip Island is frequently quoted by top riders as one of their favourite circuits. With its mix of ultra fast corners, hard braking sections and elevation changes, its 4.445km layout is a challenge for the best of riders.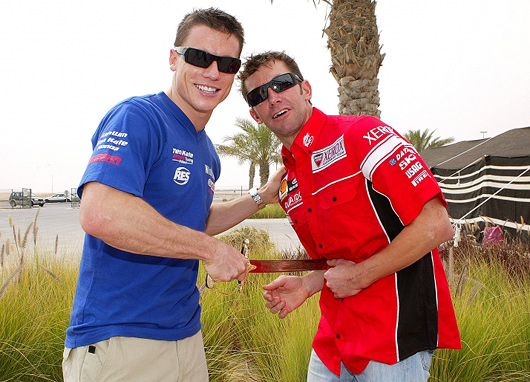 A shrimp for the barbie? Champ Toseland skewers Bayliss to show us just how tasty the season will be.
Phillip Island Race WarmUp
In the opening round at Losail two brilliant 18-lap contests, featuring high-drama climaxes, had fans and teams alike on the edge of their seats, as first James Toseland (Winston Ten Kate Honda) and then Troy Corser (Alstare Corona Extra Suzuki) swept to wins after final lap battles. Despite each taking a victory, they could only manage fourth places in the other Losail races, and thus they share second place in the championship standings, not the lead. With a brace of second place finishes, Troy Bayliss (Ducati Xerox) – another SBK World champion of years gone by – heads for home soil in Australia at the head of the championship, only two points away from the battle for second. Bayliss was in ultimate contention for each Losail race win, turning his strong off-season testing form into repeatable lap times.
After two strong rides in Qatar, one of which led to his first SBK podium finish, 2001 World Supersport Champion Andrew Pitt (Yamaha Motor Italia) is another fast Aussie with designs on the top step of the podium ceremonies. Although based in Europe for the majority of the season, like his fellow Aussie racers, Pitt will be willed on by the strong Phillip Island crowd, keen to see their own flag hoisted not once but twice. Pitt's team-mate, Noriyuki Haga, needs no introduction to World Superbike fans worldwide, and had an overtaking manoeuvre on his countryman Yukio Kagayama (Alstare Corona Extra Suzuki) not resulted in both riders falling from the fight for the lead in race one at Qatar, we may have seen Haga add to his impressive career win total of 19. Losail was particularly cruel to Kagayama, as he also failed to score points in the second race, thus he will be looking to his recent Phillip Island winter test experiences to help him get maximum points on the board in Australia.

More than the Usual Suspects - Click for giant Screensavers 1008 • 1728
2004 season World Supersport Champion Karl Muggeridge (Winston ten Kate Honda) and former MotoGP rider Alex Barros (Klaffi Honda) are just two Honda riders in with a real chance of success in Australia. Muggeridge will have a new bike after his crash-damaged machine held back his performance in Losail, while Barros, about to take part in his third and fourth career World Superbike races, is hoping his hastily prepared machines will have the speed required to stay in contention on the fastest sections of the PI circuit.
Former European Superstock Champion, and Supersport rider last year, Michel Fabrizio (DFX Honda) showed the way home to many more experienced riders in his rookie SBK races at Losail, finishing fifth and eight. Startling results from a complete SBK novice, but even more impressive when you consider that he started each race from the fourth row, having only secured 15th out of 16 in Superpole qualifying. Fabrizio's team-mate, Pierfrancesco Chili, is looking for two good points scoring results in Australia, to help ease the pain of his aching limbs and broken finger, sustained after a race two crash in Qatar.
Lorenzo Lanzi (Ducati Xerox) was another high profile faller at Losail, but despite the pain of his first race get off, and a swollen knee, he has an opportunity to take two solid race finishes in Australia. Last year at PI was one for Lanzi to forget, as he was disqualified from race one, and then finished an unhappy 13th in the second race, held in wet conditions.World Superbike has been good for privateer Ducati rider Roberto Rolfo (Ducati SC Caracchi) so far, as this class rookie has shown great pace and quick learning abilities after a career spent mostly on two stoke machinery. An outstanding seventh place in race one at Losail showed his ability, and he is currently ranked as second best Ducati rider in the series, in overall eighth place. A heroic performance last weekend, while still recovering from a leg injury from pre-season, delivered Ruben Xaus (Ducati Sterilgarda Berik) two points scoring finishes, while his team-mate, Marco Borciani is now a very respectable 12th in the championship stakes.
Spanish Superstar Fonsi Nieto (PSG-1 Kawasaki Corse) is currently the highest placed Kawasaki rider in the championship stakes, but with mechanical niggles and not enough set-up time on the new 2006 spec Pirelli control tyres, all three top Kawasaki riders struggled in Qatar. Regis Laconi (second in wet qualifying at Losail, before dropping just outside Superpole qualifying in dry conditions) also scored points in Qatar, but for Chris Walker (PSG-1 Kawasaki Corse) the aim for Phillip Island is to get two strong point scoring rides in to make up for the eventual disappointments of the Losail double no-score. Franco Battaini (Kawasaki Bertocchi) will not take possession of his 2006 spec machine until he reaches the first European round at Valencia, but he showed glimpses of his assured talents in the wet at Losail. Well familiarised with Phillip Island, after years of competition in GPs, he may find Australia a more forgiving venue than Qatar.
The Petronas FP-1 triple, featuring engine upgrades engineered in over the winter months, performed well in qualifying in the hands of Steve Martin at Losail, but in race conditions, Martin could not get into contention. Another fast Aussie, he loves Phillip Island more than any other circuit, and will be hoping to give useful riding tips to his 21-year-old team-mate, Craig Jones.
Troy Bayliss dominated practice both days and Superpole, breaking the track Superbike record which had stood for 6 years. In Sunday's first race he brrned up his tires while leading, to drop back to 6th, but for the 2nd race he knew to control his pace behing leader Toseland until the final laps then blew past for the win.

Bayliss on Superpole After Setting New Track Record,
Corser and Toseland Share Front Row
Saturday 4th - Troy Bayliss (Ducati Xerox) will start Sunday's two 22-lap races from pole position after a stunning Superpole ride broke a seven-year-old best lap record. Current championship leader, Bayliss was top of every previous timed outing, and his eventual 1'32.159 was better than any recorded SBK™ lap. His peerless pace sets him up as clear favourite for at least one race win on Sunday. He will doubtless experience severe pressure from his compatriot Troy Corser (Alstare Suzuki Corona Extra) who struggled against a spinning rear on the latter parts of his Superpole lap, but nonetheless set an impressive 1'32.373. James Toseland (Winston Ten Kate Honda) put in a 1'33.003 in Superpole, which placed him third fastest. The last spot on the front row could not have been a more popular choice for the legions of Aussie fans in attendance, as Steve Martin secured a prime piece of start line real estate with the fourth fastest Superpole lap. His Petronas team-mate, Englishman Craig Jones, was in the 1'35 bracket, qualifying three from bottom, in 26th.
"It's very nice to be on pole back here at Phillip Island, at the moment I'm having a bit of a dream run" declared Troy Bayliss. "Everything's gone well today, my lap was good enough to take pole, but honestly I thought I was going to do a little bit better. It was messy and I had my feet in the wrong place in a few spots, but I'm happy. I'm not kidding myself however because I realise how hard tomorrow is going to be, with two long races and plenty of heat out there. I really need to get a good start if I want to try and do something special, but Phillip Island makes for great racing and it tends to bring the top few guys together and you end up having a race and then it gets sorted out at about two-thirds distance".
Alex Barros (Klaffi Honda) is clearly enjoying his new Superbike career and set fifth fastest time in only his second World Superbike event. His Honda may not be the fastest yet, but he is using every one of his 20-years of racing experience to summon up every horsepower available. After a disappointing first day, Karl Muggeridge (Winston Ten Kate Honda) improved to sixth after Superpole, while his fellow Aussie Andrew Pitt (Yamaha Motor Italia) and Pitt's team-mate Noriyuki Haga finished off the second row of the grid. Haga dropped time in Superpole, having been third fastest in regulation qualifying.
The tough midfield in World Superbike this season was perfectly characterised by the results of the Superpole battle, with not only four different types of machine on row one, but four different types on row three. It was headed up, after Superpole, by Ducati Xerox rider Lorenzo Lanzi, who was only 15th in regulation qualifying. In tenth place overall, Chris Walker's PSG-1 Kawasaki was the fastest ZX-10R on display. Pierfrancesco Chili (DFX Honda) scored 11th, with his fastest lap on qualifiers, and despite a hairy moment when Yukio Kagayama (Alstare Suzuki Corona Extra) ran off track on the exit of Siberia, he stayed upright to take 12th place, finishing off row three.
Fonsi Nieto (PSG-1 Kawasaki Corse) and his team-mate Regis Laconi lead the four riders on row four, with Laconi making improvements on his Friday times, despite suffering from flu. Roberto Rolfo (Ducati SC Caracchi) had a great regulation qualifying (in seventh) but a poor Superpole, and went 15th, to head up Ivan Clementi (Pedercini Ducati).
Despite some valiant efforts, Norick Abe secured 17th best time after regulation qualifying, making for a fifth row start at one of his favourite circuits. He was not alone in being squeezed out of Superpole by the strength in depth of SBK 2006, as former World Supersport Champion Fabien Foret (Alstare Corona Extra Suzuki) was only 18th fastest. Max Neukirchner missed out on Superpole after he crashed his Pedercini Ducati with ten minutes of the final session left, while Qatar sensation Michel Fabrizio came back to earth with a bump, finishing just inside the top 20 after two days in Australia. Sebastien Gimbert (Yamaha Motor France) just missed out on a top 20 placing, with is rookie team-mate Shinichi Nakatomi in 24th place.
Pos. Rider Manufacturer Nat - 1st Qualifying / 2nd Qualifying / Superpole
1 T. Bayliss Ducati AUS 1' 33.387 1' 32.321 1' 32.321
2 T. Corser Suzuki AUS 1' 33.868 1' 32.991 1' 32.373
3 J. Toseland Honda GBR 1' 33.851 1' 33.548 1' 33.003
4 S. Martin Petronas AUS 1' 34.501 1' 33.566 1' 33.206
5 A. Barros Honda BRA 1' 33.790 1' 33.749 1' 33.373
6 K. Muggeridge Honda AUS 1' 34.756 1' 33.702 1' 33.571
7 A. Pitt Yamaha AUS 1' 34.863 1' 33.658 1' 33.598
8 N. Haga Yamaha JPN 1' 34.577 1' 33.441 1' 33.631
9 L. Lanzi Ducati ITA 1' 35.202 1' 34.174 1' 33.791
10 C. Walker Kawasaki GBR 1' 34.589 1' 33.945 1' 33.928
11 P. Chili Honda ITA 1' 34.601 1' 34.132 1' 33.998
12 Y. Kagayama Suzuki JPN 1' 34.461 1' 34.158 1' 34.111
13 F. Nieto Kawasaki ESP 1' 34.618 1' 33.784 1' 34.158
14 R. Laconi Kawasaki FRA 1' 35.033 1' 34.182 1' 34.492
15 R. Rolfo Ducati ITA 1' 34.644 1' 33.658 1' 34.719
16 I. Clementi Ducati ITA 1' 34.708 1' 34.089 1' 35.032
17 N. Abe Yamaha JPN 1' 35.010 1' 34.269
21 S. Gimbert Yamaha FRA 1' 34.832 1' 34.666
24 S. Nakatomi Yamaha JPN 1' 36.080 1' 35.039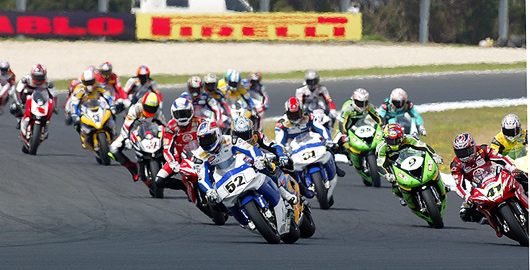 Race One: The Thunder from Down Under.
Troy Corser takes the win in race one after Troy Bayliss is robbed of a win by tyre problems. Hometown hero Corser managed to hold off a charging AlexBarros to take the chequered flag in the first race at Philip Island.
Troy Bayliss had looked to have the race tied up after getting the holeshot at the start and disappearing into the distance leaving Corser, Barros, Toseland and Haga to battle it out for the remaining podium positions.
Bayliss had quickly pulled out a good 5-6 second lead but with six laps remaining it became apparent that he had a big problem with his Pirelli's suddenly going off from being overworked too hard, and he began slowing dramatically, losing his advantage in less than five laps. The unlucky Ducati rider saw his lead disappear on the 18th lap as both Corser and Barros passed him on the start/finish straight. His hopes of maintaining a podium position soon evaporated when James Toseland passed him and at the end both Nori Haga and Robby Rolfo had passed him.
Toseland holds his early advantage over Corser and Barros.

Corser had seen his countryman take off at the start but his attention was firmly on the battle for second place as he was chased by Toseland, Haga, Pitt and Barros. The pace was fierce with Haga and then Barros getting under Corser on the fourth lap but, as is his nature, on the next lap he got them both in one move. Toseland had looked to be threatening , as he did in Qatar last weekend, but after running wide he allowed Corser and Barros past and never quite recovered.
Barros was glued to the back of Corser's Suzuki and it looked like he was playing a waiting game. It must be noted that Phillip Island is one of the circuits that the Brazilian knows as the MotoGP boys race here as well.
After Bayliss dropped back it was a straight fight to the finish. With Corser lighting up his tyres it looked as of Barros might have the drop on him but the wily Australian wasn't going to be denied a home win and in a frantic last lap he held off the challenge and crossed the line to take his second win of the season. Toseland rounded off the final podium position.
Behind the leaders a massive battle was taking place for sixth place with, at times, up to nine rider involved, including Pitt, Muggeridge, Xaus, Walker, Rolfo and Nieto. It was Rolfo on the SC Caracchi Ducati who
eventually pulled away from the frantic battle and managed to pass the suffering Bayliss to take fifth place. Ruben Xaus was again took my award for hard man of the race. He still is suffering from his pre season broken leg and he is far from 100%. Even so he fought his way up from way down the pack to finish in seventh place. What can he do when he's fully fit?
Steve Martin couldn't capitalise on his front row start for the Foggy Petronas team as he dropped back down the field eventually finishing in 14th place.
SUPERBIKE Race 1: (Laps 22 = 97,790 Km)
Pos /Rider /Nat. /Team / Time /Gap
1 / T. CORSER / AUS / Alstare Suzuki Corona Extra / 34'33.545 /
2 / A. BARROS / BRA / Klaffi Honda / 34'33.995 / 0.45
3 / J. TOSELAND / GBR / Winston Ten Kate Honda / 34'41.519 / 7.974
4 / N.HAGA / JPN / Yamaha Motor Italia WSB / 34'48.666 / 15.121
5 / R. ROLFO / ITA / Ducati SC - Caracchi / 34'49.837 / 16.292
6 / T. BAYLISS / AUS / Ducati Xerox / 34'50.665 / 17.12
7 / R. XAUS / ESP / Sterilgarda - Berik / 34'50.737 / 17.192
8 / F. NIETO / ESP / PSG-1 Kawasaki Corse 2 / 34'56.002 / 22.457
9 / A. PITT / AUS / Yamaha Motor Italia WSB / 34'56.035 / 22.49
10 / C.WALKER / GBR / PSG-1 Kawasaki Corse / 34'56.721 / 23.176
11 / L. LANZI / ITA / Ducati Xerox / 35'01.892 / 28.347
12 / Y. KAGAYAMA / JPN / Alstare Suzuki Corona Extra / 35'01.958 / 28.413
13 / R. LACONI / FRA / PSG-1 Kawasaki Corse / 35'02.378 / 28.833
14 / S. MARTIN / AUS / Foggy Petronas Racing / 35'02.522 / 28.977
15 / M.FABRIZIO / ITA / D.F.X. Treme / 35'02.667 / 29.122
Fastest Lap 2° Troy Bayliss 1'32.402 173,178 Km/h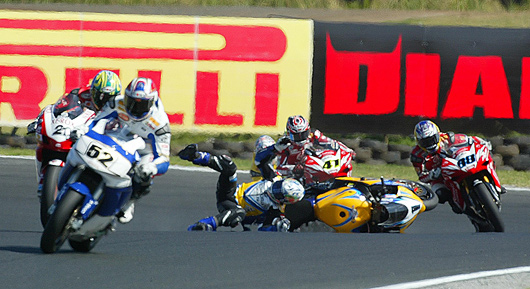 Troy Corser (1) high sides in MG corner on lap 4 while fighting Toseland (52) and Bayliss (21) for the lead. Pitt and Hagsa on the Yamahas would narroly miss the sliding bike and rider, but not Barros behind them who would hit Corsers head. Barros would be tramatized for the race not nowing how badly Corser was injured, but Troy was seemingly OK and was able to run off the track before the necxt group of riders came by.

Race Two: Bayliss wins as Corser crashes out.
Troy Bayliss won the second race at Phillip Island after Troy Corser lost the front end of his Suzuki in dramatic fashion and was then hit whilst on the ground by Alex Barros.
The second 22-lap event of the day took place in similarly warm ambient conditions as the opener, but with a much warmer track temperature showing up, some riders opted for harder compound tyre choices. One such was eventual winner Troy Bayliss, fired up by his problems in race one. It would take 3/4s of the race before Bayliss eventually passed long time leader James Toseland with seven laps left, to take a hugely popular win. In third place, Alex Barros had the best of a three rider fight for much of the race, having survived a scary moment when Troy Corser crashed out of a podium place in front of him, exiting MG corner on lap four, and Barros could not avoid hitting the luckless Aussie. Corser escaped without injury, despite suffering a heavy impact on his crash helmet and neck area, plus his torso. For his own peace of mind, Corser has nonetheless opted to go for further checks in Melbourne, given his history of internal injuries.
After Corser crashed out, Troy Bayliss (21) shaddowed Toeland (52) until the final laps to conserve his tires, then pulled past to take the race win

With Corser out the battle for first place was between Bayliss on the Ducati and James Toseland on the Honda with Alex Barros dropping back after Corser's crash. Bayliss was all over the back of Toseland but he was playing a waiting game, not wanting to destroy his tyres as had happened in race one. He eventually made his move on the 16th lap and didn't look back, consistently pulling away from Toseland to eventually take the win just over five and a half seconds clear. Toseland had ridden a determined race leading for over 16 laps, his Winston Ten Kate Honda performing very well and looking like a championship contender already.
After being caught up in Corsers crash, Alex Barros found himself adrift of the battling pair of Yamaha's belonging to team mates Nori Haga and AndrewPitt. The Brazilian soon got back on the pace and after a furious battle eventually got passed the pair and claimed the final podium position, as he did in race one.
Yet again there was furious battle going on behind the leading groups with up to ten riders involved. Ruben Xaus again had a determined and gutsy ride eventually finishing in eighth place despite his injured leg. He held off the battling Kawasaki's of Walker and Nieto. It was Yukio Kagayama though who finished ahead of the pack in sixth place after a race long battle. The Japanese rider had started in 12th place and
with a gritty ride clawed his way up. Lorenzo Lanzi and Karl Muggeridge crashed out whilst racing in the pack after Lanzi lost the front end of his Ducati and collected Muggeridge on the way, a disappointing way to go out for Muggeridge at his home race.
The exciting thing for the championship is that there are so many riders really fighting it out and all of them in with a chance of a podium.
Steve Martin on the Foggy Petronas again couldn't capitalise on his front row grid position and he fell back through the pack to finish in 15th position. His team mate, Craig Jones, was able to finish the race and hopefully his confidence will be back and he can really show what he can do.


Toseland, Bayliss and Barros on the podium for Race 2. The Argentinian rode great to take the podium in both races, in only his outing in World Superbike.

SUPERBIKE Race 2: (Laps 18 = 96,840 Km)
1 / T. BAYLISS / AUS / Ducati Xerox / 34'33.803 /
2 / J. TOSELAND / GBR / Winston Ten Kate Honda / 34'39.331 / 5.528
3 / A. BARROS / BRA / Klaffi Honda / 34'48.115 / 14.312
4 / N.HAGA / JPN / Yamaha Motor Italia WSB / 34'50.011 / 16.208
5 / A. PITT / AUS / Yamaha Motor Italia WSB / 34'51.459 / 17.656
6 / Y. KAGAYAMA / JPN / Alstare Suzuki Corona Extra / 34'54.635 / 20.832
7 / R. ROLFO / ITA / Ducati SC - Caracchi / 34'54.933 / 21.13
8 / R. XAUS / ESP / Sterilgarda - Berik / 34'59.027 / 25.224
9 / F. NIETO / ESP / PSG-1 Kawasaki Corse 2 / 34'59.441 / 25.638
10 / C.WALKER / GBR / PSG-1 Kawasaki Corse / 34'59.810 / 26.007
11 / M.FABRIZIO / ITA / D.F.X. Treme / 35'06.670 / 32.867
12 / N. ABE / JPN / Yamaha Motor France-Ipone / 35'06.974 / 33.171
13 / M.NEUKIRCHNER / GER / Team Pedercini / 35'07.014 / 33.211
14 / P. CHILI / ITA / D.F.X. Treme / 35'08.117 / 34.314
15 / S. MARTIN / AUS / Foggy Petronas Racing / 35'08.270 / 34.467
Fastest Lap 3° Troy Bayliss 1'32.983 172,096 Km/h
Record Lap T. Bayliss 1'32.402 173,180 Km/h 2006

Riders Championship Standings:
1 BAYLISS 75, 2 TOSELAND 74, 3 CORSER 63, 4 BARROS 55, 5 PITT 45, 6 HAGA 42,
7 ROLFO 32, 8 FABRIZIO 25, 9 XAUS 24, 10 NIETO 19, 11 LANZI 15, 12 KAGAYAMA 14,
13 ABE 14, 14 WALKER 12, 15 MUGGERIDGE 11.
WORLD SUPERSPORT CHAMPIONSHIP – ROUND 2
The big guns of World Supersport fired loudest once more, as Sebastien Charpentier (Winston Ten Kate Honda) took his second successive race win, ahead of Yamaha Motor Germany pairing Kevin Curtain and Broc Parkes. Third was a good finish for Parkes on his own track, bit one rider could count Phillip Island as the race of his life. Young French pilot, Yoann Tiberio (Megabike Honda), put in a fourth in his first ever WSS tour of duty, just edging out another impressive rider, Robbin Harms (Stiggy Motorsports Honda). Josh Brookes (Ducati SC Caracchi) rode his heart out on home tarmac to take his 749 to sixth, the top finishing place for a Ducati rider. A possible sixth for Barry Veneman (Hoegee Suzuki) disappeared when his rear tyre punctured and he slipped down the order to retire. In the championship itself, Charpentier now leads by ten points, from Curtain on 40 and Harms on 21.

SUPERSPORT RACE: (Laps 21 = 93,345 Km)
Pos /Rider /Nat. /Team / Time /Gap
1 / S. CHARPENTIER / FRA / Winston Ten Kate Honda / 34'01.822 /
2 / K. CURTAIN / AUS / Yamaha Motor Germany / 34'03.183 / 1.361
3 / B. PARKES / AUS / Yamaha Motor Germany / 34'09.618 / 7.796
4 / Y. TIBERIO / FRA / Megabike Honda Team / 34'18.610 / 16.788
5 / R.HARMS / DEN / Stiggy Motorsports / 34'18.620 / 16.798
6 / J. BROOKES / AUS / Ducati SC - Caracchi / 34'23.072 / 21.25
7 / J. STIGEFELT / SWE / Dark Dog Stiggy Motorsports / 34'23.166 / 21.344
8 / D.THOMAS / AUS / Gil Motor Sport / 34'28.131 / 26.309
9 / C. ZAISER / AUT / LBR Ducati Racing / 34'28.295 / 26.473
10 / M.ROCCOLI / ITA / Yamaha Team Italia / 34'28.337 / 26.515
11 / S. LE GRELLE / BEL / Legrelle - Honda Belgium / 34'31.661 / 29.839
12 / M.SANCHINI / ITA / RG Team / 34'36.810 / 34.988
13 / G.VIZZIELLO / ITA / Yamaha Team Italia / 34'38.150 / 36.328
14 / D. VAN KEYMEULEN / BEL / Bikersdays Yamaha Moto 1 / 34'39.224 / 37.402
15 / J. FORES / ESP / SLM Racing / 34'40.396 / 38.574
Fastest Lap 3° Broc Parkes 1'36.399 165,998 Km/h
Lap Record: K.Fujiwara 1'36.642 165,580 Km/h 2004
Riders Championship Standings:
1 CHARPENTIER 50 , 2 CURTAIN 40, 3 HARMS 21, 4 STIGEFELT 20, 5 PARKES 16,
6 SOFUOGLU 16, 7 BROOKES 16, 8 ROCCOLI 15, 9 ZAISER 15, 10 FORES 14,
11 TIBERIO 13, 12 VIZZIELLO 10, 13 LE GRELLE 10, 14 THOMAS 8, 15 SANCHINI 4.
The next round is at Valencia on April 23rd - a full 7 weeks away, making the wait unbareable in the most exciting SBK Championship ever! FastDates.com will be there reporting all the action to you as it happens. Has Bayliss finally got into his stride and is this the shape of things to come as some people have predicted? Will Barros take his maiden win at a circuit he knows (as he's been promising)? Will Corser deny his countryman and rival an easy time? Will Xaus be on the podium in his home country? All will be revealed in seven weeks time. In the meantime keep checking here for all the latest information.
---
Chicks That Kick Ass: Milla Jovoich

UltraViolet
Supermodel and Actress and Mille Jovovich is one of our favorite "Chicks that Kick Ass" beginning with her first movie as a shipwrecked teen in the


Blue Lagoon, to 1997's The 5th Element with Bruce Wills that extabished her as a sexy action heroine in a future world. Her first big starring role was 1999s s The Messenger: Joan of Arch. Then in 2002 came the first of the exciting and well produced Resident Evil series where Milla is a Kick Ass commando fighting infected mutant zombies and a deviant government.
In the new movie Ultra Violet , Mille is cast as the comic book hero UltraViolet, one of the last of a viral infected group of humans fighting the industro govenment to prevent ethnetic elimination.

Jovovich's vengeful Violet is a gal on a rampage who takes an innocent boy under her wing. The Pic is hermetically sealed in a synthetic wrapping that's so total -- Sony's top-flight high-def cameras, visibly low-budget CG work, exceptionally hackneyed and imitative action and dialogue --that it arrives a nearly lifeless film.
After a zippy comic book-inspired title sequence that graphically mimics the dazzling intro of "Hulk," Violet warns auds -- all too accurately -- that she was "born into a world you may not understand." Infected with a blood virus first developed to build super soldiers, she is part of an underground group with enhanced physical powers. Her nemesis is Vice Cardinal Daxus (Nick Chinlund), whose complete command of the hyper-high tech city where the action is set.
Violet is ordered by underground leader Nerva (Sebastien Andrieu, slumming after Agnes Jaoui's "Look at Me") to retrieve an encased weapon. After mowing down an army of soldiers in her way, Violet discovers that the weapon is actually a child with special attributes named Six.
For us motorcycle freaks, UltaViolet rides a BMW sportbike though action chase scenes and running run battles that are way over the edge to be believable, even more so than Tom Cruise's running bike shooout in Mission Impossible. But hey, our girl does ride a bikes in the movie, performing anti-gravity stunts stunts that would leave Travas Pastrana slck jawed!
"Ultraviolet" is styled as a CG movie-as-computer game, with a difference. While the best games demand replay, sci-fi/chopsocky specialist Kurt Wimmer's latest isn't likely to lure repeaters, except perhaps lonely young guys communing with an athletically trim Milla Jovovich on their bedroom tubes when this goes to vidvid, which will doubtless be soon.
Tech work is low quality, particularly in effects-heavy sequences that look like rough drafts rather than the finished product. The story line is also one you can't get into, and when UltraViolet prives herself invincible in the movie's first fight sequence against 20 other comando soldiers, the numerous other fight sequences become matter of fact and it becomes impossible to feel any emotion for our heroine who can't be harmed. So what do we have here? A pretty bad movie, but a hot Kick Ass chick who rides a sportbike. We give it 3 stars outa 5.
Fast Dates Calendar Motorcycle Roadracing News. Complete coverage of the SBK World Superbike, AMA National Superbike and MotoGP World Championship. Superbike, SBK, FIM, AMA, American Superbike, superbike planet, American Roadracing, sportbike, grand prix, MotoGP, race, racing, news, superbike news, sport bike, motoGP news, photography coverage, photos, pictures, Fast Dates Calendar and Umbrella Girls. Racing, road race, track, motorcycle, news, results, girls, models, Mat Aladdin, Max Biaggi, Valentino Rossi, Troy Baylis, Ben and Eric Bostrom, James Toseland, Chris Vermeulen, Maria Sharapova, Kristen Bell, Regis Laconi, Loris Capirossi, Troy Bayliss, Troy Corser, Noriyuki Haga. Ducati 999 Monster Multistrada, Yamaha R6 R1, Honda CBR600RR CBR1000RR, Kawasaki ZX6 ZX6RR ZX10, Suzuki GSXR600 GSXR750 GSXR1000, Aprilia Mille, MZ Agusta F4 Brutale. Los Angeles Calendar Motorcycle Show.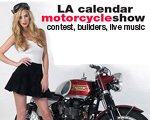 World's Richest Bike Contest features Sportbikes and a
$70,000 Purse!



Fast Dates Racebike Pinup
& Garage Girls Calendars
Click to Order Now!



Wrap Up from Last Week's Losail SBK Season Opener
SURPRISES ON THE GRID – The last time that two Ducatis managed to take first and second place in the qualifications was in Assen 2004, when Chili took pole with the 998 RS03 prepared by PSG-1, followed by Toseland and Laconi with the official Ducati Fila 999F04. Behind Bayliss and Lanzi, Andrew Pitt took third and with it his best career result. The Australian doubled this performance in race 1 where he took the first podium place of his career. Difficult comeback for Xaus, who recorded his worst qualifying performance with the 21st spot; Ruben had never gone past the 20th place, which he occupied only once in his debut race at Nurburgring, Germany in 1998.
A GOOD SIGN FOR JAMES – Toseland took his sixth win in the SBK™ World Championship and his second win in the opening round. In the past winning the first race had been always a good sign of form, since in the last eighteen editions of the championships the winner of the first round for eleven times came out at the end of the year as the World Champion. In recent years this has happened since 2003 (Hodgson, then 2004 Toseland and 2005 Corser). The worst result in the World Championship ranking at the end of the year for a winner of the first race was a sixth place, obtained by Slight in 1992 when he won the first race and didn't win any other races for the rest of the season.
Toseland finished his 100th race in race 2, entering the group of 18 riders who can boast at least 100 race finishes.
ONLY ONE LAP FOR THE WIN – In race 1 James Toseland was in the lead only in the last lap, never having been in the lead during the rest of the race. During the last nine seasons it happened just five times that the winner of the race took over the lead only in the last lap. This is the list: in 2000 at Kyalami race 2 (Colin Edwards) and in Donington Park race 2 (Neil Hodgson), in 2001 at Sugo race 1 (Makoto Tamada), in 2004 at Misano race 2 (Chili) and in 2005 at Monza race 2 (Chris Vermeulen).
GOOD COMEBACK FOR BAYLISS – The 2001 World Champion has come back in style. The Aussie climbed the podium after an absence of four years (Imola 2002 race 2) and took the lead in the world championship for the first time since Assen 2002, the year that Edwards won. Troy took his eighth pole going at the eighth spot all time with Giancarlo Falappa, Scott Russell and Aaron Sligth. 48 times on the podium, which gives him the eighth spot all-time for podium places ahead of Fabrizio Pirovano (47).
EXPERIENCE PAYS – In the 417 races for which the birth date of the riders on the podium is known, race 2 in Losail is the fifth for the highest average age recorded. The "oldest" podium is Malaysia 1992 race 1 run in Johor, where the three riders on the podium, Raymond Roche, Fabrizio Pirovano and Rob Phillis averaged 34 years, 10 months and 8 days. Race 2 in Losail saw Corser, Bayliss and Haga on the podium, for a combined average age of 34 years, 0 months and 12 days. Oddly enough, Corser is present also on the "youngest" podium in SBK™ history, when in race 2 in Laguna Seca 1995 he was alongside Anthony Gobert and Mike Hale for an average age of 22 years, 2 months and 16 days.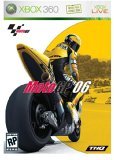 MotoGP 2006 XBox!
Troy Bayliss (Ducati Xerox Team) Returns Home to Phillip Island with 2-Point Championship Lead
Phillip Island (Australia), Thursday 2 March: Following last weekend's thrilling series opener in Qatar, Troy Bayliss returns to Phillip Island, Australia for the second round of the World Superbike Championship with a two-point lead in the standings. The 36 year-old Aussie from Taree finished runner-up in both Losail races to lead the world championship for production-based machinery for the first time since Assen 2002. That year Troy lost out on his second successive title, but the tough Aussie, who has returned to Superbikes this year after a spell in MotoGP, is determined to regain his crown from last year's champion and Aussie rival, Troy Corser (Suzuki).
"I'm back here at Phillip Island with the Ducati Xerox squad and it's a team where I've spent most of my career in Superbikes, which makes me very happy because I feel much more at home" declared Troy. "In Qatar we did a really good job, despite having to use the hardest front tyre that Pirelli had, but everyone had this problem, whereas at Phillip Island we'll be able to use the front tyre we like and feel more comfortable with. There was plenty of action in Qatar because all the manufacturers are up at the front and that's exactly what the public wants to see, different brands of bike fighting for the win. A lot of guys like myself have also come back from MotoGP and everyone seems to be capable of doing a good result, which is exactly what the championship needs. Obviously we want to be consistent because points is what's going to win us the championship in the end, but I love to win races as well and the last time I was at Phillip Island in Superbikes we did that twice. It's not going to be easy this time but I'm feeling confident".
Lorenzo Lanzi had a weekend of mixed fortunes in Qatar on his first outing as full-time rider for the Ducati Xerox Team. The 24-year-old Italian scored a front-row slot alongside poleman Bayliss in Superpole, but a high-side in the first race left him slightly bruised for race 2, in which he could only finish sixth.
"My start to the season wasn't the best, apart from qualifying, but luckily the nasty crash I had in race 1 didn't have any serious consequences. In race 2 I didn't really like my sixth place, but I couldn't do much better because of my physical condition" declared Lorenzo. "Now we are at Phillip Island and I am convinced that I can get some good results here. I like the track, hopefully I can get off to a good start in free practice by finding the right settings and doing a qualifying session like in Qatar. I would be happy to get on the front row here, which will give me a chance of fighting on equal footing with the best. The track is great from the mid-point of the lap onwards, the final part. It's so fast and I like fast tracks, but it's not going to be easy to set things up as I've never ridden here with this bike before".
2006 Ducati Daytona Party ramps up to kick off the AMA Race Season Friday March 10th
The Ducati.Net Ducati Owners Club and Ducati North America present Ducati Day at Speedpark Motorsports on Friday, March 10th, 2006. This party kicks off the 2006 AMA racing season in Daytona Beach, Florida across from the world famous Daytona International Speedway. The event includes Ducati race team appearances, tech talk classroom sessions, a Ducati only bike show, umbrella girls, the American Ducati Idol motor sound contest, a vendor row and more. Those attending DDD will be able to soak up the sun while admiring Ducatis on display, race go-carts or test their skills aboard Speedpark's 22-foot dragsters.
Long known for its prestigious Ducati bike show, the 2006 DDD celebrates the famous Italian marquee's history with a special award for the best entry built prior to 1985. The "Best Special" class, introduced in 2005 as a salute to Daytona's long tradition of custom built "specials," has now become a standard show call for 2006. The entry fee to participate in the bike show is $10.
CycleCat Motorcycle Performance products, a long time sponsor of Ducati.Net and Ducati Day, will provide trophies for this special event.
Returning this year is the popular American Ducati Idol "Let Your Ducati Sing" contest, where the Ducati with the best exhaust note is chosen. The visiting members of the Desmodromiclub of Rome, Italy will again judge this event.
Celebrities expected to attend and sign autographs include renowned racer Ben Bostrom, returning to Ducati this year on the Parts Unlimited Ducati Austin AMA 999 Superbike, as well as popular former World Superbike Champion Neil Hodgson, runner up in last years Daytona Superbike event. Also expected to attend is world famous long distance record holder Gary Eagan, who will be giving a seminar on his travels aboard a Ducati ST4s and Multistrada.
General questions about DDD and the featured activities should be directed to Ms. Vicki Smith by calling on 954-764-3847 or emailing to veloce916@aol.com. Full details are on the website at www.DucatiDayDaytona.com.
Directions: Speedpark is located across from the Daytona Speedway's highest grandstand, the Winston Tower, just behind the Hooters on Intl. Speedway Blvd. Party hours are 10:30am - 3:30 pm.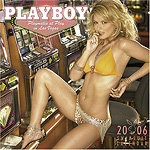 ---


Hire a FastDates.com
Calendar Angel
Now available for your special event and booking needs direct from CaliforniaHostess.com!
Ask for a FastDates.com Calendar Kitten when you call
Dominique at 1-310-430-4301
Troy Bayliss Returns to His Winning Ways at Phillip Island after 4 Years
Phillip Island (Australia), Sunday 5 March: Troy Bayliss put a first race disappointment behind him to take the Ducati Xerox Team's first win of the season and the Australian's 23rd World Superbike career victory at Phillip Island. It was the former world champion's first win since Laguna Seca in 2002 and helps to maintain a slim one-point lead in this year's championship.
Bayliss set a storming pace in the first race, but excessive tyre wear in the final stages dropped him down to sixth behind eventual winner Troy Corser (Suzuki). Troy made amends in the second race when he fitted a harder rear tyre compound on his Ducati 999 and rode a more defensive race. He out-braked Toseland (Honda) into Honda corner on lap 16 to take the chequered flag in front of an ecstatic home crowd. Earlier winner Corser crashed out on lap 4.
"It's been a really good weekend, obviously I was on a bit of a downer after race 1, but that's racing", declared Troy. "It all went well because we've got a smart team and they know what to do. We obviously did a race distance on the tyre before but something strange happened. Anyway we put that behind us and we decided to use the hardest tyre Pirelli brought along. Then I made my move on Toseland at two-thirds race distance and although I was nearly in the same situation with the tyres with three laps to go, I still managed to pull a good enough gap to win. We're leading the championship again, so that's a bonus. Now we move on to Valencia and Monza which are places we like so I hope to keep the momentum going".
Lanzi, who had to start from the pit-lane after encountering a clutch problem during the warm-up lap, powered up the field to eleventh place, but was unable to make further progress as he struggled to maintain the pace. In the second race he was attempting to move up amongst the mid-field runners when he high-sided on lap 11.
"It has been a pretty tough weekend, we didn't find the right direction immediately with the team and I made a few errors" commented Lorenzo. "This morning in the warm-up finally we found a good set-up to race maybe for the podium, but then we had bad luck with the clutch in race 1 and I had to start last. In race 2 I was recuperating places but I made a mistake and crashed. Muggeridge was ahead of me, and I brought him down when I high-sided. Now we've got a month and a half before the next race, so I can get back to 100% fitness, because here I was still in a bit of pain with my ankle and knee from the crash in Qatar".
Mixed Emotions for Alstare Corona Suzuki and Champ Troy Corser at Phillip Island
March 5th - Team Alstare Suzuki Corona Extra experienced practically every sort of emotion in the second round of the Superbike World Championship at Phillip Island today, with Troy causing most of the ups and downs. He won the first race - a tremendous battle with Bayliss (Ducati) and Barros (Honda) - after keeping his cool when Bayliss romped away from the rest of the field from the start.
When Bayliss was forced to slow (because he had trashed his tyres) Troy took the opportunity to take the lead. Barros was right with him and proved to be more than a handful in the closing stages, but Troy used his experience and took the chequered flag by almost half a second. Third went to Toseland, ahead of Haga (Yamaha), Rolfo (Ducati) and Bayliss.
Yukio Kagayama suffered clutch problems and was forced to overshoot Honda hairpin and rejoined the track in twenty-first place. He charged his way back up the field and managed to take twelfth place before running out of laps. Fabien Foret was thirteenth after the first lap, but was forced to retire with a throttle problem after ten laps.
The second race was another one of drama for the team, starting with Troy's crash after three laps, when he highsided just after Lukey Heights. In the fall, he was hit by Barros' Honda and was lucky to escape serious injury. The footpeg of Barros' bike hit him just behind his head and the rest of the bike struck his shoulder, elbow and hip. Troy was taken to the Clinica Mobile but the X-rays revealed no broken bones. Nevertheless, to make sure, Troy went to Melbourne hospital for a precautionary check.
Yukio was twelfth at the end of lap one before getting stuck in a group of riders. He had a difficult time getting through the pack, but he fought hard and managed to take sixth position at the flag. Fabien made a good start, but had to run wide at the second turn to avoid another rider and this dropped him well down the order. He ended eighteenth after being caught up for the second part of the race with the Yamahas of Shinichi Nakatomi and Sebastien Gimbert. Bayliss won the race comfortably, with Toseland second and Barros third. Fourth went to Haga, ahead of Pitt and Kagayama.

Troy Corser's Comments:
Race 1: 1st, Race 2: DNF
"Well that was a day and a half for sure. A fantastic win the the first race and then a crash in the second! I knew Bayliss would not be able to keep up that pace in the first race and that his tyres would not last. I got caught in a group at the beginning and knew that I couldn't hang around with them too long, so when James (Toseland) made a little mistake and ran wide, at Honda, I sneaked through.
When I caught Bayliss, I could see he was having problems, so it was no surprise when I passed him - in fact he let me through. I then had a pretty good fight with Barros, but held him off at the end."
"In Race Two, on the approach to the turn after Lukey Heights, I lost the rear end suddenly and highsided. I felt a thud on my back and knew I had been hit by a bike. I went to a hospital in Melbourne for a check-up. I really don't know why I crashed, because the telemetry shows that I wasn't doing anything different to the previous laps. But that's racing!"

Yukio Kagayama
Race 1: 12th, Race 2: 6th
"Not such a good day , I think. I had problems with the clutch in the first race - similar to Qatar - and it was very difficult to ride the bike. The feeling was not consistent and sometimes it worked OK and sometimes it did not! I did my best to stay out and finished 12th. In race two, my start was not perfect and that meant I had a lot to do in the race. It is always hard to make a good result from the third row of the grid, but if I had made a better start then I think I could've challenged for a podium.

Fabien Foret
Race 1: DNF, Race 2: 18th
It was a bit of a disappointment for me today, but it's all part of my learning process in Superbikes, I guess. I really thought that I would be able to score some points today, but the DNF in race one didn't help. My throttle was not consistent at all - sometimes it would stay open after I had shut it - so I had to pull in. I made a good start in the second race, but had to run wide to avoid a rider who had made a mistake and that cost me many places. Then I got caught up in a battle with two Yamaha riders and that was that. I am looking forward to some tests before the next race because I need to understand this bike more than I do at the moment.
James Toseland and Alex Barros Take 2 Podiums Each for on Hondas
Alex Barros (Klaffi Honda CBR1000RR) and James Toseland (Winston Ten Kate Honda CBR1000RR) shared second and third place finishes at the Australian World Superbike round, and thus shared the honour of top Honda rider on display at the classic Phillip Island track. For other supported Honda riders, fortune was less kind, with Michel Fabrizio (DFX Honda CBR1000RR) next best with an 11th in race one, Pierfrancesco Chili (DFX Honda CBR1000RR) only in the points once and Karl Muggeridge (Winston Ten Kate Honda CBR1000RR) not scoring at all in his home event.
In the first 22-lap race of the day, Toseland, who had qualified an impressive third in Superpole in only his second meeting on his new machine, secured third after long term leader Troy Bayliss faded to sixth. Troy Corser held off Barros for the win, with the Brazilian scoring his best ride of the season so far. He was to go third in race two, after a fight with Noriyuki Haga. Fabrizio fended off his team-mate to take the last point on offer in race one, improving from his 20th place in qualifying. In race two he was to improve to 11th, for overall eighth, on 25 points. Chili scored 14th in race two, despite fatigue and the effects of his recent Qatar crash.
Muggeridge, who qualified sixth, had to retire from race one with set-up and tyre issues on the hot tarmac, and was then unceremoniously knocked out of the second race, when Lorenzo Lanzi's Ducati skittled him at Honda hairpin.
Toseland, who has now scored one win and two further podiums in the four 2006 season races so far, was satisfied with his race rhythm, on a day when warm track conditions made for some unpredictable results. He is now second in the championship race, with 74 points to leader Bayliss' 75.
"In race two I kept getting a plus zero on my pitboard, because Troy was right behind," said Toseland. "I didn't make a mistake but Troy just outbraked me into the hairpin and then he pulled away at the end there. It was a great race though, and I made sure I rode well in the places where it would be difficult for him to get past me. In the first race Troy was unlucky not to win. In race two I waited to see if he would have similar problems as race one but when it was obvious he was fast and I had to settle for second. But I'm happy; we had a good, consistent weekend again. We're pushing them hard and we're only one point from the lead right now."
Barros had two highly impressive rides on a machine which is still undergoing development; with the Brazilian's experience of racecraft a valuable asset around Phillip Island's high speed twists and turns.
"Things are obviously getting better and better," said Barros after his second podium of the day. "I lost a little bit of concentration when Troy Corser crashed right in front of me, and I could not avoid him. I was afraid that I injured him, but I was told he was OK. But in this moment I could not avoid hitting him. I had some good fights today, especially with Haga. I really enjoyed today's races, and to get two podiums was great for our team at this stage."
Fabrizio ran off the track in race one, and finished the second lap dead last, which explained the discrepancy in his race one and two results.
"My rear tyre was finished five laps before the end of race one," said Michel. "I had the same problem in race two, but without the earlier problem, I kept my position better, and managed the lack of grip. I am 80% happy but for sure I must have more feeling with the bike in a short space of time."
Chili was philosophical about his Phillip Island experiences, as he scored a 16th and a 14th in difficult circumstances.
"It was very taxing in race one because the bike had a lot of chatter," said Chili. "It felt very hard and operating the clutch was very difficult for so many laps in a row, considering my broken finger on my left hand. That meant that I was completely finished before the end of race two."
Muggeridge was blunt in summation of his latest race weekend, but knows that all the indications are for better performances quite soon.
"A terrible weekend in the office, but at least in the second race we had the bike a lot better," said Muggeridge. "We made a bit of a mess on Friday so we had to catch up all weekend. Even though it was a crash from someone else that took me out of race two, I can walk away confident for the next few. The bike is a lot better now so we can do it for sure."
The first European round of the year will be at Valencia, on 23 April.