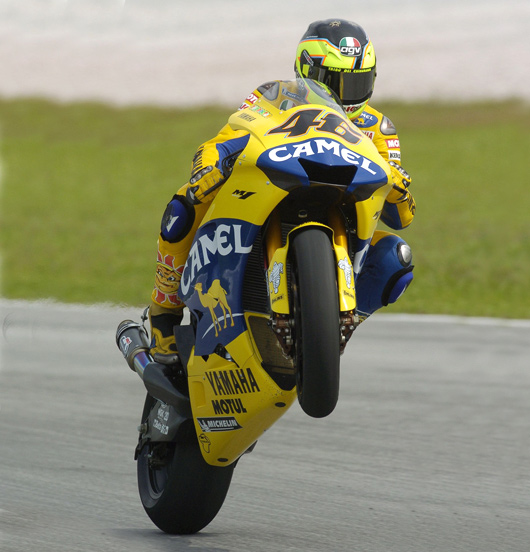 The world's best motorcycle racer ever, Valentino Rossi might just possibly be defending his MotoGP crown for the last time this season.
2006 MotoGP World Roadracing Championship, Round 1

MotoGP 2006 Season Begins This Weekend at Jerez

Jerez, Spain, March 20th - After a preseason packed with team changes, broken circuit records and new and improved bikes, the MotoGP World Championship 2006 season gets underway this week. Sunday's Gran Premio betandwin.com de España will be the first chance to see all the old favourites, young pretenders and surprise packages set to wow spectators over the next 17 races.

Reigning MotoGP World Champion Valentino Rossi will be out to defend his crown for the fifth consecutive season in 2006, but the popular Italian will have to be looking over his shoulder over the next eight months as the premier class' top contenders won't be giving it up without a fight. Riders such as Marco Melandri, Sete Gibernau, Nicky Hayden and Dani Pedrosa will be going all out to break the Yamaha rider's dominant winning streak.

Rossi at right with American team mate Colin Edwards.

ROSSI: NEW ARRIVALS AND NEW RIVALS
Valentino Rossi defends his MotoGP title from a host of new riders this year after an influx of young talent from the 250cc and World Superbike categories. Dani Pedrosa (Honda), Casey Stoner (Honda), Randy de Puniet (Kawasaki) and Chris Vermeulen (Suzuki) have all demonstrated rapid progress during the pre-season tests and Rossi is looking forward to the fresh challenges they will present.
"This year my main rivals have changed and the average age is much younger, so I will have to work out their strengths and weaknesses," said Rossi. "I have watched the career of Dani Pedrosa very closely since he was in 125cc and I have always been impressed by him and I expect him to be strong from the first race. Besides him, there are many different riders, manufacturers and teams that have been fast at different times throughout the pre-season so I hope that we can have some really good battles for the fans!"
If Rossi needs further motivation to open his fifth consecutive title defence with a victory, he has the added target of protecting an impressive record of opening-round successes in recent years. The Italian has been victorious in round one of each of the last five seasons, all of which have ended with championship success, but he says that work must be done to improve the performance of his 2006-specification YZR-M1 at Jerez after recent tests at the same circuit.
"We need to find more grip when the tyre is on the side," he explains. "At the test our speed in the corner was down considerably in some places so, where we usually have an advantage with the Yamaha, we were behind. Anyway, now the Yamaha engineers understand what has happened and they have a lot of data and information to fix it for the race. I have confidence in them, in Jeremy Burgess and in Michelin and I know that when we can use our bike at 100%, as we showed in Barcelona, it is the best bike on the grid. I love racing in Spain and I have many fans there, so I always look forward to the race in Jerez!"
With the exception of rookie Casey Stoner who was recovering from surgery, all the MotoGP riders will have the Jerez Circuit's twists and turns fresh in their minds. The final preseason test took place just over a week ago at the Andalusian track, with Ducati riders Loris Capirossi and Sete Gibernau topping the timesheets. Capirossi and his team-mate have demonstrated the strength of the Desmocedici GP6 throughout the preseason, and will be wanting to carry their form into the season proper.

Ahead of this weekend's curtain raiser Capirossi stated, "I think we are well prepared for the first race, the team and Bridgestone are really strong at the moment, my bike feels perfect for Jerez after the set-up modifications we made during the final tests. It's not always easy to find perfect settings but the bike is great now, and hopefully what we learned during the last tests will help us at other tracks. We have worked very hard this winter. The bike is better than before, the engine is more rider-friendly and the tyres have also improved a lot. Bridgestone have done very good work over the winter, so my thanks to them. Jerez is a good track, it's nice to ride and very technical. To go quick at Jerez you need a well-balanced bike and a good front end because you need confidence to attack all the fast corners."

Impressive performances at the final test also came from Kawasaki's Shinya Nakano and young rookie Dani Pedrosa, who is looking to become an immediate challenger for Rossi's world title. With the Yamaha also looking strong in tests returning rider Carlos Checa even surprised himself with his fast times, and with John Hopkins' performing well for Suzuki the championship is shaping up to be as competitive than ever.

250cc Preview
With Pedrosa making the jump in category to MotoGP, this year will see a new 250cc champion crowned. Casey Stoner and Randy de Puniet will join the Spaniard in the premier class, leaving a wide open quarter litre category. Jorge Lorenzo had a tight grip on the top spot during the final test, although his fellow Aprilia riders Alex de Angelis and Hector Barbera have not been far behind. Andrea Dovizioso and Sebastian Porto will also enter the 2006 as favourites to challenge for the title, with solid preseason results for Yuki Takahashi and Jakub Smrz indicating that any one of a number of riders could be victorious.

125cc Preview
In 125cc, Champion Thomas Luthi will be taking to the Jerez Circuit for the first time this season, coming back from a fractured collarbone suffered in the earlier official test at Catalunya. With Julian Simon, Mattia Pasini and last year's runner-up Mika Kallio chasing after the Swiss rider, the exciting junior category is sure to provide more of the usual thrills and spills throughout the coming season.

All three cylinder classes will be on the track from Friday morning, hoping to start their World Championship on a high note. The latest information, including live timing and streaming video is available at MotoGP's official website, motogp.com.
---



Capirossi gets down and dirty with the Desmosedici.



2006 MotoGP World Championship Testing

Team Ducati tops first day
Capirossi and Giberneau on Ducati on Top
of Final 3-day MotoGP Tests at Jerez
Jerez, Spain March 10-12th - On a day in which preseason testing drew to a close for MotoGP, the crowds at the Jerez circuit in southern Spain saw veteran Loris Capirossi demonstrate why he is a serious title contender for 2006. The Ducati rider today earned the fastest lap of the three day MotoGP Official Test, a 1'39.411 which knocked eight milliseconds off Valentino Rossi's 2005 pole position record.

"The truth is that a lot of things have changed since we tested in November. We have improved in many areas and now we have a bike which is very competitive here, we can go round fast and have a good rhythm. We are hoping that things go well for us at the Grand Prix in less than two weeks," explained Capirossi.
Giberneau discusses handling with the team members.

The Italian was also fastest on Friday's session at the Andalusian circuit, just ahead of team-mate Sete Gibernau, a feat which was mirrored in today's final outing. Gibernau was the only other rider to break the 1'40 barrier, and the Ducati one-two is a positive sign for both the team and their tyre suppliers Bridgestone.
Further good news came for the Japanese tyre brand in third place, as after topping the timesheets yesterday, Shinya Nakano was once again in fine form onboard the Kawasaki Ninja. He was joined in the top five by fellow Kawasaki rider and MotoGP rookie Randy de Puniet, who was fifth.
Another rookie to place highly was Spaniard Dani Pedrosa. The reigning 250cc champion put in the fourth fastest lap a second off that of Capirossi, but will be pleased at the amount of miles he has been able to put in on the RC211V this weekend. Team-mate Nicky Hayden was the next highest Honda rider in sixth, ahead of countryman Colin Edwards.
Edwards' Yamaha was part of a group of three bikes to go round within a tenth of each other. Immediately behind the Texan was Toni Elias, at his home circuit and the final Honda to place in the top ten, who in turn was closely pursued by yet another strong rookie showing, Suzuki's Chris Vermeulen.
Completing the top ten on the timesheets was reigning World Champion Valentino Rossi. The charismatic Italian was one and a half seconds behind Capirossi on a day where many teams were focusing their energies on tyre testing. It will only be with the first free practices and race of the season, which will take place at the Circuito de Jerez in two weeks' time, that the true potential of the title contenders will become apparent. However today's final day of testing, under dry sunny conditions with a temperature of around 25 degrees, has served as a tasty appetiser ahead of March 26th's main course, the Gran Premio betandwin.com de España.
Jerez Final 3-Day Best Lap Times:
1.Loris Capirossi (ITA) Ducati Marlboro Team, 1'39.411
2.Sete Gibernau (SPA) Ducati Marlboro Team, 1'39.663
3.Shinya Nakano (JPN) Kawasaki Racing Team, 1'39.776
4.Dani Pedrosa (SPA) Repsol Honda Team, 1'40.416
5.Randy de Puniet (FRA) Kawasaki Racing Team, 1'40.468
6.Nicky Hayden (USA) Repsol Honda Team, 1'40.570
7.COLIN EDWARDS (USA) Camel Yamaha Team, 1'40.721
8.Toni Elias (SPA) Fortuna Honda, 1'40.732
9.Chris Vermeulen (AUS) Rizla Suzuki MotoGP, 1'40.750
10.VALENTINO ROSSI (ITA) Camel Yamaha Team, 1'40.907
11.Carlos Checa (SPA) Tech 3 Yamaha, 1'41.134
12.Marco Melandri (ITA) Fortuna Honda, 1'41.208
13.John Hopkins (USA) Rizla Suzuki MotoGP, 1'41.208
14.Makoto Tamada (JPN) Konica Minolta Honda, 1'41.380
15.Kenny Roberts (USA) Team Roberts, 1'41.673
16.Jose Luis Cardoso (SPA) D'Antin Pramac, 1'41.761
17.Alex Hofmann (GER) D'Antin Pramac, 1'42.034
18.James Ellison (GBR) Tech 3 Yamaha, 1'42.686
19.Vittoriano Guareschi (ITA) Ducati, 1'42.759
20.Tadayuki Okada (JPN) HRC, 1'43.513

Jerez Lap Record: Valentino Rossi (Yamaha) 2005 - 1'40.596
Jerez Best Lap: Valentino Rossi (Yamaha) 2005 - 1'39.419
---
Maria Kicks Ass at Indian Wells WTA to Takes Women's title


INDIAN WELLS,CA, March 18th - Just in case you missed it on HD TV, or in person, our favorite Chicks Who Kick Ass babe Maria Sharapova was rock solid in the wind against Elena Dementieva in the Pacific Life Open title match. Maria Sharapova dominated the match against Elena Dementieva to win her first WTA title of the season.


The 18-year-old Sharapova, 6'2' tall and the richest woman athlete in the world, ever, with her blonde ponytail whipping in the gusts, Maria defeated the other sexy Russian Dementieva 6-1, 6-2 Saturday in an all-Russian final.

The title was the first of the year and the 11th of her career for Sharapova, the 2004 Wimbledon champion who lives in Bradenton, Fla. After Dementieva hit still another backhand into the net on match point, Sharapova beamed, did her ballerina-like waves to the crowd, then blew kisses to the fans. She dominated the match with powerful, well-placed groundstrokes that kept the 24-year-old Dementieva off-balance.

Sharapova ran her record against Dementieva to 4-1, including a 2004 victory at Rome that was her first win against a top 10 player. Two days earlier Sharapova had defeated the pretty Martina Hingis who is making her return to World Tennis this year afer a 3 year retirement. Hingis had actually beaten Sharapova last month at a WTA round in Dubai.

For more on Maria go to Maria Sharapova
---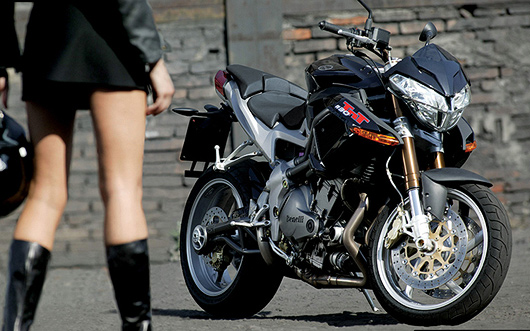 New Benelli TNT and Tornado Superbike Bikes
Here's a preview of the new Binelli sportbikes headed for America this spring. The new TNT 1130cc naked bike (above) and the fully faired Tornado Superbike (below) features the Italian manufactuer's trademarek DOHC 4-valve 3-cylinder engineswith fuel injection and specs include slipper clutches. Both bikes feature very unique Tinker-Toy style frame construction with large diameter bent frame tubes joined at steering head and swingarm pivot with cast aluminum sections. The TNT has a tube swingarm, while the Toranado gets an cast aluminum constructed banana swingarm.
The TNT Naked Bike is all sharp angles in its styling is very futuristic space age, Darth Vader looking. We saw the bikes in person at the Rock Store last week, our favorite bike hangout in Los Angeles, where the US Importer had brought them by to show off. The TNT is definetly at striking, if not strange looking bike. And it certainly looks to be in direct competition with the Triumph 1050 Speed Triple and the MV Brutale 1000cc naked bikes. We should have more on availability and the US Distributor contact information in a few weeks in our New Bikes Section.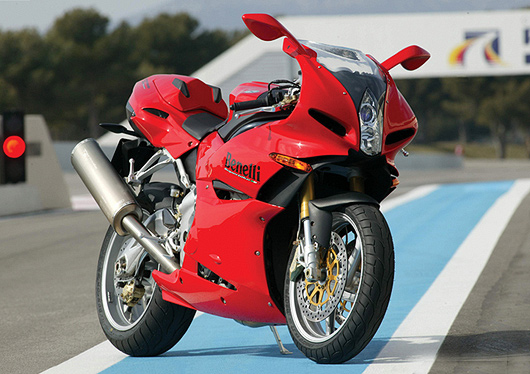 ---


Troy Story, Aussie Express, Trojan Wars, whatever you call it... Last round in World Superbike at Phillip Island
Fast Dates Calendar Motorcycle Roadracing News. Complete coverage of the SBK World Superbike, AMA National Superbike and MotoGP World Championship. Superbike, SBK, FIM, AMA, American Superbike, superbike planet, American Roadracing, sportbike, grand prix, MotoGP, race, racing, news, superbike news, sport bike, motoGP news, photography coverage, photos, pictures, Fast Dates Calendar and Umbrella Girls. Racing, road race, track, motorcycle, news, results, girls, models, Mat Aladdin, Max Biaggi, Valentino Rossi, Troy Baylis, Ben and Eric Bostrom, James Toseland, Chris Vermeulen, Maria Sharapova, Kristen Bell, Regis Laconi, Loris Capirossi, Troy Bayliss, Troy Corser, Noriyuki Haga. Ducati 999 Monster Multistrada, Yamaha R6 R1, Honda CBR600RR CBR1000RR, Kawasaki ZX6 ZX6RR ZX10, Suzuki GSXR600 GSXR750 GSXR1000, Aprilia Mille, MZ Agusta F4 Brutale. Los Angeles Calendar Motorcycle Show.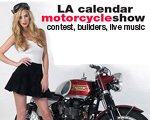 World's Richest Bike Contest features Sportbikes and a
$70,000 Purse!



Fast Dates Racebike Pinup
& Garage Girls Calendars
Click to Order Now!





Party Alert! Sat April 22rd 2006 Exile Cycles10th Anniversary Open House
It's their birthday, famed Iron & Lace Calendar builder and Build or Bust TV star Russell Mitchell is holding a party at his big new shop and we are all invited! Russell's Open House at Exile Cycles on April 22nd 2006. Come and join us for some sex and drugs and rock and roll. O.K. so we lied about one, but there will be bands playing, beer flowing, and the lovely Purrfect Angelz dancing up a storm. The event takes place noon to 6pm at their new shop in North Hollywood.
Exile Cycles, 13209 Saticoy St., North Hollywood, CA 91605 • Phone: 818 255 3330 • exilecycles.com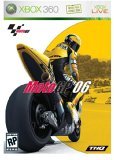 MotoGP 2006 XBox!
MotoGP: Ducati Morldoro Men Rule Jerez Qualifying
Mar 25th -Ducati Marlboro Team riders Loris Capirossi and Sete Gibernau stormed to a brilliant one-two qualifying performance at Jerez this afternoon, putting them in the best possible position for tomorrow's season-opening Spanish GP. The pair dominated the session, using the speed of their Desmosedici GP6s and the grip of their Bridgestone tyres to ride the fastest two laps ever recorded at Jerez.
Capirossi upped his pace time and again during the outing to end the session on pole just ahead of Gibernau, whose last and fastest lap brought him to within 0.221 seconds of his team-mate. Today's result is a carbon copy of the Ducati Marlboro Team's first Spanish GP in 2003 when Capirossi was on pole and team-mate Troy Bayliss second.
Federico Minoli (Ducati Motor Holding CEO and president)
"An amazing performance, just like 2003, you couldn't ask for a better start to the season. The bike really showed its power in T3 and T4. Loris showed his class all around the circuit and Sete was also great. Considering this is only his first GP on the Desmosedici, it gives us great hope for the future."
Loris Capirossi (pole position, 1:39.064)
"What a fun day, I could ride the way I like to ride. The bike was sideways as usual, but everything was under control! I was going for a 1.38 on my last lap but I just missed it. So far this has been a very positive weekend, following on from the great tests we did here two weeks ago. During those tests we weren't looking for sensational lap times, we were working so we could come here for the race with a bike that works consistently for a lot of laps, and we have found a good balance. Bridgestone have improved a lot, I was a lot faster today with soft tyres than last time here and we are really good with race tyres too. We haven't seen Ducati first and second in qualifying since 2003 and I think we should also be able to make a great race too. I don't think I'll try and leave everyone behind from the first lap because this track is very demanding on tyres and it would be better to save them for later. As always, my thanks to Ducati and Bridgestone."
Sete Gibernau (second fastest, 1:39.285)
"I'm keeping my feet on the ground. Like I keep saying, I'm in the middle of a learning process with the bike, the team, the tyres, everything. My goal today was to be on the first or the second row, but everyone's done such a great job, the team, the factory, Bridgestone, my crew chief Juan (Martinez), so I have to say thank you to everyone involved in this project. They have given me back the feeling I need to go racing. Tomorrow will be a learning race for me, my aim is to get away with the leading group and try to be with them all the way to the end of the race. I hope I can do it."

CommercialBank sponsors Grand Prix of Qatar for three years
The Grand Prix of Qatar enters its third year on the MotoGP World Championship calendar in 2006, and as the race becomes an established world class event within the Gulf state, one of the country's leading banking institutions Commercialbank today confirmed a deal to become the title sponsor of the race for the next three years during a special presentation event in Doha.

Formed in 1975 as Qatar's first private sector bank, Commercialbank has grown its corporate and personal banking businesses successfully each year since its launch to become one of the most important banks in the state. As a committed supporter of the Qatari community, Commercialbank agreed a deal with MotoGP World Championship rights-holders Dorna Sports to become title sponsor of the Qatari round of the series, taking full naming rights and all the other benefits enjoyed by the position, whilst projecting a positive image of Qatar to MotoGP's massive global audience.

Commercialbank's Deputy CEO, Mohammed Mandani, said, "Becoming the title sponsor of the Commercialbank Grand Prix of Qatar is a great honour for us and will help to project Qatar's global reputation as an economic and sporting powerhouse of the Gulf region."

Meanwhile Qatar Motor and Motorcycle Federation President, Nasser bin Khalifa Al Attiya, said, "Each year since the launch of MotoGP in Qatar in 2004, the event has grown in status. Commercialbank, a leading Qatari bank, will enable us to lift the event to a new level on the global stage."

As such, the second round of the MotoGP World Championship in 2006 will be known as the Commercialbank Grand Prix of Qatar. The event will take place at the Losail International Circuit, just a few miles to the north of the capital city of Doha, and as has become traditional the races are scheduled to be run on a Saturday, April 8th.
A-Style take title sponsorship for TT Assen
The TT Assen is the MotoGP World Championship's longest serving race, having been on the series calendar ever since its inception in 1949, and the 'Cathedral' of motorcycling this year celebrates a new title sponsor for its event. Popular Italian fashion brand A-Style has signed a deal with Dorna Sports, commercial rights-holders for the MotoGP World Championship, to take all the benefits of being a title sponsor, which includes naming rights to the race as well as an overall presence throughout the event.

A-Style became a familiar logo over a decade ago, when graphic designer Marco Bruns conceived and patented the 'world's funkiest "A"' and it became a popular sticker and print for surf, skate and urban orientated gear. Clothing designer Simone Sidoti was later to join forces with Bruns, and the logo became a lifestyle brand with a full collection of men's and women's fashion which has since become popular with celebrities and sportsmen in 700 stores across the world.

The Dutch round of the MotoGP World Championship in 2006 will as such be named the A-Style TT Assen, and will be the first time the series will race on the newly configured TT Circuit. As is tradition, the A-Style TT Assen will take place on the last Saturday in June, the 24th, and is the eighth event on the seventeen-round MotoGP World Championship 2006.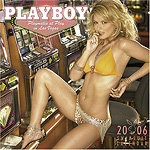 ---


Hire a FastDates.com
Calendar Angel
Now available for your special event and booking needs direct from CaliforniaHostess.com!
Ask for a FastDates.com Calendar Kitten when you call
Dominique at 1-310-430-4301
New-look motogp.com for 2006 season
The official website of the MotoGP World Championship, www.motogp.com today presented its new design and all-new contents package. The update is intended to maintain and improve upon the high quality MotoGP experience for all fans.

In anticipation of the first Grand Prix of the 2006 season, which takes place in less than ten days in Jerez, the website will now contain multimedia content of an optimised resolution (380x284 pixels) and 450kbps quality, along with all the usual up-to-the-minute news.

Heading into the brand new season of the MotoGP World Championship, motogp.com will continue to be the first point of call for all fans seeking MotoGP related information, statistics and entertainment.

With over 30 million visitors in 2005, and subscribers in more than 200 countries, motogp.com offers in-depth and exclusive coverage of the MotoGP World Championship. Multimedia features, latest reports and in-depth interviews are available for every one of the season's 17 races. With Live Timing (realtime statistics for practice sessions and races) and Live Video (streaming coverage of qualifying sessions and races for MotoGP, 250cc and 125cc) you don't have to miss a second of the weekend's action.

In accordance with MotoGP's worldwide appeal, eight versions of the official website are currently available (English, Spanish, French, Italian, Japanese, German, Dutch and Portuguese).

As an added bonus, this season has seen the debut of the MotoGP Channel; a daily section of videos and reports narrated by our English, Spanish, Italian and French journalists.
British Superbike:
Gregorio Lavilla Takes Brands Pole At Record Pace
March 25th -Gregorio Lavilla begins the defence of his Bennetts British Superbike crown from pole position after setting the fastest ever motorcycle lap of the demanding Brands Hatch Indy circuit.
The Spaniard was inch perfect as he headed off the challenge of his Airwaves Ducati team-mate Leon Haslam around the tight, twisting 1.2262, taking half a second off the record in a time of 45.533secs, at an average speed of 96.94mph.
'I am very happy - now I have the records on both the short and the long circuits - my fast lap was very good, and smooth, but importantly, I have been putting in consistent lap times using race tyres, so I am feeling confident,' said Lavilla as he enjoyed a performance that puts him into the lead in the Audi Performance Award.
This rewards speed in qualifying over the whole season with a £50,000 limited edition Audi A4 Cabriolet: 'The present, it is very nice to win, but there is a long way to go,' smiled Lavilla.
Haslam, who had been on the pace throughout, enjoyed a best lap of 45.581secs, kept the pressure on his team-mate, underlining his own determination to begin the campaign on a winning note. 'Second is not good enough for me - I want to be out front and to win the title.
Karl Harris, the former triple British Supersport Champion, was third fastest for HM Plant Honda with a lap of 45.818 secs, while Dean Thomas, Hawk Kawasaki, completes the front row of the grid, only marginally down.
Shane Byrne, returning to the domestic series after two years in World MotoGP, was eighth fastest on the Rizla Suzuki: 'I'm as happy as I be with that, but seriously, we are making a good solid start and as the weekend has gone on, I've got happier and happier - the boys have done a good job for me.'
Honda riders Jonathan Rea, Michael Rutter and Ryuichi Kiyonari were all ahead of Byrne on the leaderboard as they start from the second row of the grid, while adrift of them James Haydon, on the second Rizla Suzuki, Glen Richards on the Hydrex Honda and the Vivaldi Suzuki duo of Scott Smart and Ben Wilson are on the third row.
Marty Nutt, nineteenth fastest overall, was the best of the British Superbike Cup qualifiers, ahead of Chris Martin, Malcolm Ashley, Zak Barry and Gareth Glynn.
Lincolnshire rider Steve Plater missed the opening round having sustained a knee injury in a fall at Hailwood during qualifying.
MotoGP: Improvements
For Rizla Suzuki At Jerez
March 25th - Rizla Suzuki MotoGP racers Chris Vermeulen and John Hopkins qualified in 11th and 12th places respectively for tomorrow's Gran Premio betandwin.com De Espana, after today's qualifying session at Jerez in Spain.
Hopkins and Vermeulen both made dramatic improvements today and now have a clearer direction for Sunday's 27 lap race. They worked with their own teams on chassis settings and finding the best Bridgestone tyres to use in the race. Hopkins believed he could have been further up the grid but just couldn't find that one quick and smooth lap that he was after.
Today's weather was a vast improvement on Friday's, as bright sunshine helped the air temperatures reach 20°c and track surface temperatures were up in the high 30s. Pole position was set by Loris Capirossi on his Bridgestone shod Ducati.
The Gran Premio betandwin.com De Espana is the first round of the MotoGP World Championship and will get underway at 14.00hrs CET tomorrow. It will also mark the MotoGP debut for the new Rizla Suzuki team and a first Suzuki MotoGP for Vermeulen.
John Hopkins:
"I'd say that we concentrated a lot on race set-up today. Everything went really well and we have made some good steps forward for tomorrow's race. Over the winter one of my goals has been to put in consistently quick laps and unfortunately I wasn't able to get my head around the qualifiers today. I just couldn't get in a fast lap and kept making little mistakes. This means we'll have to start on the fourth row ­ which is a lot further back than we wanted to be ­ but I really hope we will do better in the race than we did in qualifying. I need a good start tomorrow and then not to let anyone get away from me, then see what happens."
Chris Vermeulen:
"I am quite happy with today. We have made some progress with the Bridgestone front tyre ­ which really helped the bike to turn better. The crew worked really well today and helped me to find what I was looking for. This afternoon we used some qualifiers and managed to move myself up the grid to 11th. I was hoping to get into the top 10, but we'll work on that tomorrow!"
Paul Denning ­ Team Manager:
"We've certainly made improvement both in terms of position and technical capability of the Rizla Suzuki GSV-R compared to yesterday. But we have still not ended up ­ particularly in John's case - where we feel we could be. Chris did an outstanding job in his first qualifying session as a Suzuki rider and John looked set for a big improvement in his time - ."