Both races were a Xerox copy with Bayliss (middle) on top of the podium surrounded bt Corser and Lanzi.

2006 SBK Corona Extra World Superbke Champioship, Round 3 of 13, Valencia, Spain
Bayliss Doubles over Corser in a Xerox Copy at Valencia
Tight faught battles to the finish come down to tire choice By Andy Rixon & Friends
Valencia, Sunday 23 April 2006 - Troy Bayliss (Ducati Xerox) and Troy Corser (Alstare Suzuki Corona Extra) were on a different plane of existence from their peers at Valencia, each Australian rider taking turns to lead the races, which were both eventually won by Bayliss. His first double win of the year means that he has now scored three straight wins, after his race two success in Australia. He leads the championship, by 22 points, from Corser. Each Valencia race had identical top five finishers with Bayliss's young Italian team-mate Lorenzo Lanzi grabbing third place on both occasions for his first podiums of the year.
"Everything went really well in both races" declared Troy. "We thought about changing the tyre for race 2 but we didn't and it was the right decision to stick with the hard tyre. I didn't think Corser was going to be as quick as he was in that second race, I thought it would be the same as the first but he went really well. I know that the limit of my tyre (a harder compound choice than Corser who ran a softer rear to attempt an early lap disappearing act -Ed.) on the rear is exactly 1:35.7 or 35.8 seconds, but it stays good for the whole race and when I saw him pulling away it was disheartening. I just kept my eye on the board and did every lap like a qualifying lap, just hoping he was going to run into the same sort of problems as the first one and he did. Then once I got there it took me a long while to put it together and get past him. A big thanks to the Ducati Xerox squad, Shell Advance and all our other sponsors, with who I want to share the joy for this double win today!"
Valencia Preview
Valencia (Spain), Thursday 20 April: After dominating the recent FGSport official tests at Valencia and Misano Adriatico, championship leader Troy Bayliss (Ducati Xerox) will return to the Ricardo Tormo circuit this weekend as a man on a mission. The 37-year-old Australian unofficially broke both long-standing lap records at the Spanish and the Italian tracks and his aim is now to increase his slender one-point lead over James Toseland (Honda) at the top of the table.
"I've been saying for some time now that ever since I hopped on the bike, it's been going really good" declared Troy. "The only thing that seems a bit strange though is that at every test we've ended up fastest and everything looks so good, but when it comes down to racing we've only had one win, although we've always been up at the front. Here we're quietly confident of doing well but maybe we expected a little bit more at this point of the season. But after the last two tests we're in a good situation and looking forward to this weekend at Valencia. I've done plenty of laps round here in Superbike and MotoGP and know the circuit so well so if we look at everything on paper, it should all go well but you never know with racing!".
Lorenzo Lanzi is still suffering from an incident in training shortly before the recent test at Misano, when he tore a muscle in his ribs. "I feel OK, the problem is when I get on the bike" declared Lorenzo. "I always try and train as much as possible, sometimes these things happen in training. However the last two tests went really well, we are close to the frontrunners, so tomorrow we'll try and start off on the right foot and do a good job in view of the race. For me Valencia is OK as a track, maybe the first part of the circuit is where I have a bit of difficulty. Both Troy and I are counting on doing a good race here, but as we saw in the tests the Suzukis and the Yamahas are both very competitive".
DUCATI XEROX 2-SEATER: The first European round of the season will also mark the first appearance of the Ducati Xerox 2-Seater, in collaboration with the team's title sponsor, Xerox. The bike is an exact replica of the 999F06 used by Troy Bayliss and Lorenzo Lanzi, and it will be present at every round of the season to provide a sensational experience for a selected group of clients, sponsors, media and VIPs. The rides will be provided by expert Italian racer Dario Marchetti, chief instructor at Ducati's DRE (Ducati Riding Experience) riding school and the first pillion passenger on the two-seater at Valencia will be the SBK producer for Spain's World Superbike host broadcaster Telecinco.
'MASCALZONE LATINO' GREETS WORLD SUPERBIKE CHAMPIONS. The Spanish Round of the Superbike World Championship taking place this weekend at Valencia will have an enchanting prologue with a press conference organized by FGSport together with the 'Mascalzone Latino' America's Cup yachting team. The conference will take place at the America's Cup Port on Thursday afternoon. FGSport, the Mascalzone Latino team and the Valencia circuit management, together with top SBK riders such as Troy Bayliss, Troy Corser, Alex Barros, James Toseland, Steve Martin and Andrew Pitt, plus Spanish heroes Ruben Xaus and Fonsi Nieto, will all attend the event. At the end of the press conference the Superbike riders will transfer from the vessel hosting the conference to Mascalzone Latino Ita 77 and will have an opportunity to meet the crew.
CIRCUIT HISTORY. Since its opening by King Juan Carlos I in September 1999 the Comunitat Valenciana Ricardo Tormo Circuit has become a firm fixture in the world of motorsport. The track is located in the Spanish town of Cheste, on the outskirts of Valencia, and it hosted its first SBK round in 2000. The designers based the 4km course on American circuits, enabling spectators to view the entire track. It has a maximum capacity of 110,000 spectators and has excellent transport links, being just a few hundred meters away from the Valencia-Madrid A3 motorway and a ten-minute drive from the airport.
THE CIRCUIT. Name: Comunitat Valenciana Ricardo Tormo Circuit. Length: 4.005 km. Pole Position: right. Corners Left/Right: 8/5. Longest straight: 876 metres.
CHAMPIONSHIP POINTS (after 2 rounds of 13): (Riders) 1. Bayliss (Ducati Xerox) 75; 2. Toseland (Honda) 74; 3. Corser (Suzuki) 63; 4. Barros (Honda) 55; 5. Pitt (Yamaha) 45; 6. Haga (Yamaha) 42 …. 11. Lanzi (Ducati Xerox) 15. (Manufacturers) 1. Honda 78; 2. Ducati 76; 3. Suzuki 73; 4. Yamaha 58; 5. Kawasaki 22; 6. Petronas 3.
STATISTICS: Best lap: Bostrom (Ducati), 1m34.649s (2002). Lap record: Hodgson (Ducati), 1m35.007s (2003). Superpole: Bayliss (Ducati), 1m34.814s (2002). Race distance: 2 x 23 laps/92.115 km.
2005 RESULTS: Race 1 – 1. Corser (Suzuki); 2.Vermeulen (Honda); 3. Kagayama (Suzuki). Race 2 – 1. Corser; 2. Vermeulen; 3. Walker (Kawasaki).
This Round's Battle of the Troys Begins with Friday Practice at Valencia
Valencia (Spain), Friday 21 April: Troy Corser on the Alstare Corona Suzuki GSXR1000 posted a marginably quicker time than his fellow Aussie friend and rival Troy Bayliss on the Ducati Xerox 999R06 as their battle continued in first qualifying at Valencia. Just 43/100ths of a second separated the two Australian rivals after the one-hour session while another Aussie, Steve Martin (Petronas) and Japan's Noriyuki Haga (Yamaha) made up the other two slots on the provisional front row of the grid.
Troy Corser: "I am happy because we did an excellent job during the recent tests - in Valencia and Misano. We solved a couple of problems which slowed us down in the first two rounds. This allowed us to work on finding a good set-up for the bike and I think we're heading in the right direction now. The lap times were good and I will be going all- out to win both races here in Valencia. For sure, they're going to be a couple of tough races, but if the conditions are favourable, there's no reason why we can't come away with really good results."
"I can't be fastest all the time but all things considered everything is going OK" declared Troy Bayliss. "We made a couple of minor changes to the bike in Misano and everything seemed to work quite well. When we came here the bike is so close to what it was last time we were here but we seem to be missing a little bit of feeling in the front. So one bike we're definitely going to have exactly the same tomorrow morning and test it again, but honestly we're going OK and the times are good. Valencia is a bit strange in the afternoon, you struggle for grip but on the race tyre, I'm using the hardest one possible and it seems to be working well. This morning I did a lot of laps on it and this afternoon we were just making a few changes here and there. It maybe wasn't as good a session as it could have been but it was OK".
Lorenzo Lanzi improved later in the session to eighth place but then crashed out with a couple of minutes remaining. "I was pushing hard because tomorrow it looks as if it's going to rain and I wanted to be as far up the timesheets as possible. I was doing another good time after the one that put me into eighth place, then I crashed in the second right hander. The front of the bike just turned in on me, I tried to keep it up and finish the curve but there was nothing doing. But there's no problem and I'm not hurt".
Friday Practice Times: 1. Corser (Suzuki) 1m34.920s; 2. Bayliss (Ducati Xerox) 1m34.963s; 3. Martin (Petronas) 1m35.653s; 4. Haga (Yamaha) 1m35.658s; 5. Kagayama (Suzuki) 1m35.670s; 6. Xaus (Ducati) 1m35.721s; 7. Abe (Yamaha) 1m35.974s; 8. Lanzi (Ducati Xerox) 1m35.999s; 9. Nieto (Kawasaki) 1m36.004s; 10. Foret (Suzuki) 1m36.026s; etc.
Troy Corser Wins the Battle of Superpole
Saturday 22nd - Corser on the Alstare Suzuki held off the challenge of the two Ducati's of Troy Bayliss and Lorenzo Lanzi and the Foggy Petronas of Steve Martin. Corser actually did his Superpole lap on a race tyre rather than a qualifier after watching other riders go out on qualifiers and deciding that there was no obvious advantage. Corser's lap wasn't perfect with a slight mistake at the beginning causing him to run slightly wide. At the end of the first sector he was actually down on Bayliss's time, but the defending champion soon pulled it back and was up at the second sector and crossed the line 0.183 ahead of his countryman and arch rival.
Earlier Lorenzo Lanzi had put in a storming lap to move himself up from eighth to third. The time he set of 1'35.203 looked to be very good when the next group of riders, including Xaus, Haga, Walker and Chris Walker, failed to better it. It was left to his team mate Bayliss to displace the Italian from the top of the time sheets. Bayliss put in a strong lap at the start but dropped off a little time by the second sector, giving rise to the possibility of being out qualified but his team mate. He managed to keep the advantage though and crossed the line 0.028 ahead of Lanzi. What has to be taken into consideration with Bayliss's time is the fact that he had a crash right at the end of free practise, just before superpole, and also had to run in a new front tyre. With that in mind who knows what his time could have been.
Steve Martin's solid performance on the Foggy Petronas bodes well for the Australian. He's been consistently quick all weekend and the team must be hopefully of a podium finish tomorrow whatever the weather.
The weather remains the unknown factor in all of this. If we have rain, as has been forecast, then there will be n wet weather setup's available as we've only had damp conditions here. Also, according to Troy Corser, Valencia in the wet is not slippy it's positively icy. Corser suggested that if it is wet then the Foggy Petronas bike could do very well.
When quizzed about wet setup's troy Bayliss said that he'd had a chance to try the Pirelli's in the wet at Qatar so he'd use that setup and take it from there. A dry race will definitely give us another great battle between the two Troy's with the added bonus of the second Ducati as well. If it's wet it will be a lottery with all the top riders saying they would be happy just to walk away with some decent points.

TROY - 1st, 1:34.992 - "Well that was some Superpole. I ran a bit wide in one of the turns in the first section and knew I was down on Bayliss. But I didn't panic. I knew I could make up some of the time in the second and third splits, so I put my head down and concentrated on being as smooth as I could. I knew it was going to be a close thing, but it was great to take Superpole. This track has always favoured twins - although I won both races here last year. I know that we are a bit of disadvantage exiting the slow turns compared to the twins, but our bike is better towards the top end, so in the end it's six of one and half a dozen of the other.

In the afternoon free practice I did quite a long run and maybe it was a bit too long because, by the time I came into the pits to put on a qualifying tyre it was too late to complete a lap! But I didn't like the feel of it on the lap itself, so when the time came to do my Superpole lap, we decided not to use a qualifier, but just use a soft tyre instead - and it worked out pretty good, don't you think? Tomorrow's races are going to be much tougher than last year because there are lot more good guys and good bikes out there this time. A lot will depend on the weather, because that seems to affect the tyres quite a bit. I don't think anybody really wants rain, because when it's wet, the track is more like an ice-rink! I'm hoping for dry conditions, good races and a couple of podiums for sure."

SuperPole Final Qualifying: 1 TROY CORSER ((Aus-Alstare Suzuki Corona Extra) 1:34.992, 2 Bayliss (Aus-Ducati) 1:35.175, 3 Lanzi (I-Ducati) 1:35.203, 4 Martin (Aus-Petronas) 1:35.255, 5 Nieto (E-Kawasaki) 1:35.351, 6 Laconi (F-Kawasaki) 1:35.410, 7 Walker (GB-Kawasaki) 1:35.452, 8 Abe (J-Yamaha) 1:35.701, 9 Toseland (GB-Honda) 1:35.784, 10 Haga (J-Yamaha) 1:36.115
Race One: Bayliss Takes a hard fought win from Corser decided by tyre choice.
Bayliss got the hole shot at the start closely followed by Corser and Lanzi. Corser threw his Suzuki up the inside of Bayliss at the second corner to pass him and take the lead. Bayliss, by his own admission, did everything he could to stay with Corser for the next 15 laps, as he knew that the tyres on the Suzuki were going to give him an advantage at first, as he was running a softer compound. Once the sun came out Corser found his machine becoming more unstable and harder to control. Bayliss taking advantage of this passed the defending champion on the 19th lap and pulled away eventually crossing the finish line 2.7 seconds clear.
"I gave it everything I had in the first 15 laps", said Bayliss. "After that I didn't have to push any harder, Troy's times started to drop as his tyres went off". "I'm going to be running the hardest compound Pirelli this
afternoon, it may drop a bit of time or improve a bit but it will be consistent".
"I couldn't get the same lap times out of the rear as yesterday", said Corser. "Once the sun came out from behind the clouds the tyre started to slide. I won't be making any changes to the bike as it's perfect, just the tyre".
Lorenzo Lanzi settled into third place after Corser and Bayliss disappeared at the start. The Italian Ducati rider just couldn't match their pace. He found himself coming under pressure from Nori Haga on the Yamaha Italia bike fairly quickly and was passed going into the first corner on lap eight. It looked like Norick Abe might pass Lanzi as well but the Ducati rider dug deep and managed to reel Haga back in, passing him five laps later.
Lanzi then put his head down but it remained a three way battle as he couldn't drop the two battling Japanese riders until, with three laps to go he was able to break their tow and make a gap. He crossed the line in third
place after a very determined ride. "It was not possible to stay with the two Troy's from the start", said
Lanzi. "I believe I can in the second race though as I need to make a change to my rear shock which should stop the rear spinning up like it did in this race".
Haga, whilst concentrating on Lanzi, was coming under pressure from Abe. Abe has been given a new engine by his Yamaha France squad this weekend and has been over the moon with it's performance. On the penultimate lap Abe passed Haga and was able to stay in front of him to the line.
Yukio Kagayama put in consistently quick laps to make his way up from 12th on the grid to eventually finish sixth. Kagayama, on the second Alstare Suzuki, had been relegated to 12th on the grid after not starting superpole yesterday. He fought his way through the field and took valuable points.
Ruben Xaus delighted his home crowd with a good performance converting his grid position of thirteenth into a seventh place finish in the race.
Steve Martin saw all of his hopes of a possible podium finish disappearafter he retired into the pits on the 14th lap. He'd earlier dropped back to 10th place at the start and dropped back even further on the following laps before eventually retiring.
Another rider who had a disappointing race after promising much was Chris Walker on the PSG-1 Kawasaki. Walker had been quick all weekend and at the start was fighting with his team mate, Regis Laconi. However on the 18th lap he took to the gravel, rejoining at the back of the pack where he eventually
finished.
Alex Barros made hard work of his eventual 11th place finish. The former MotoGP rider, now riding for the Klaffi Honda team, found himself in 27th place at the end of lap one, a place even he didn't expect to be. He then
had to fight his way through the field. He was noticeably slow away on the sighting lap, so it's possible he had a problem that sorted itself out, whatever the reason he'll be hoping for better in race two.
SUPERBIKE Race 1: (Laps 23 = 92,115 Km)
Pos /Rider /Nat. /Team / Time /Gap
1 / T. BAYLISS / AUS / Ducati Xerox / 37'04.634 /
2 / T. CORSER / AUS / Alstare Suzuki Corona Extra / 37'07.399 / 2.765
3 / L. LANZI / ITA / Ducati Xerox / 37'18.859 / 14.225
4 / N. ABE / JPN / Yamaha Motor France-Ipone / 37'21.760 / 17.126
5 / N.HAGA / JPN / Yamaha Motor Italia WSB / 37'22.859 / 18.225
6 / Y. KAGAYAMA / JPN / Alstare Suzuki Corona Extra / 37'23.129 / 18.495
7 / R. XAUS / ESP / Sterilgarda - Berik / 37'27.327 / 22.693
8 / R. LACONI / FRA / PSG-1 Kawasaki Corse / 37'28.867 / 24.233
9 / J. TOSELAND / GBR / Winston Ten Kate Honda / 37'33.433 / 28.799
10 / A. PITT / AUS / Yamaha Motor Italia WSB / 37'33.580 / 28.946
11 / A. BARROS / BRA / Klaffi Honda / 37'39.192 / 34.558
12 / S. NAKATOMI / JPN / Yamaha Motor France-Ipone / 37'41.785 / 37.151
13 / M.FABRIZIO / ITA / D.F.X. Treme / 37'48.002 / 43.368
14 / J. DE GEA / ESP / Honda BQR / 37'50.387 / 45.753
15 / F. FORET / FRA / Alstare Eng. Corona Extra / 37'51.220 / 46.586
Fastest Lap 4° Troy Corser 1'35.722 150,624 Km/h
A bird's eye view of the podium with Lanzi, Ducati Corse Marketing Director Paolo Ciabatti and Troy Corser.

Race Two: Bayliss Makes It A Xerox Copy
Troy Bayliss today rode his Xerox Ducati to his second win of the day to take his first double since his return to the series from MotoGP. The Australian had hoped to replicate his performance of race one but Troy Corser was not going to give up without a fight. It was Bayliss that got away at the front going into the first corner but, as in race one, Corser came straight back at him at the next and got past him despite Bayliss expecting the move. Corser then proceeded to pull away rapidly and by lap eight he was over 2.5 seconds clear of Bayliss. Not only that but Troy had to contend with a charging Nori Haga for the first eight laps. The Yamaha rider looked very threatening but his challenge petered out as Bayliss opened up a gap as he closed on Corser.
As in the first race by about two thirds distance the performance of Corser's rear tyre started to degrade. Bayliss, with a different setup, expected this and started to bridge the gap, helped when Corser suffered a false neutral going into the hairpin. Bayliss was right up with Corser from about lap 15 by try what may he couldn't get past him until going into turn one on the penultimate lap when he took Corser up the inside. He was still
pushing hard trying to ensure that Corser wouldn't come back on him, so much so that he ran wide over the curbs but managed to control his Ducati to take it to the line followed by a clearly disappointed Corser.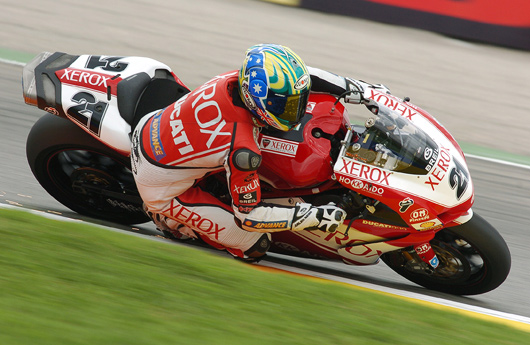 "It wasn't as easy as the first race", said Bayliss. "I was tried as hard as I could everywhere but couldn't get past him". "His mistake certainly helped me bridge the gap but I knew that in the first third of the race he'd be
quicker, the second third about the same and the final third I'd be quicker because of the way our bikes are setup". "Mind you I didn't expect him to disappear into the distance like he did"!
"I got a false neutral going into the hairpin and nearly crashed", said Corser. "That gave Troy a chance to catch me up and that was it". "I had to keep adjusting the slack on my clutch and that's never a good thing during a race. I definitely worked it harder in this second race".
Lorenzo Lanzi took third place to make the podium a mirror of the first race. However, like his team mate Bayliss, he wasn't to have an easy time of it. At the start Nori Haga had got the jump on Lanzi and pulled out a gap as he battled with Bayliss but as his challenge faded he fell back into the clutches of Lanzi and a resurrected Norick Abe. Abe got the better of Lanzi on the 12th lap and it looked like the Italian was not going to get to step
on the podium for the second time today. On the 21st lap first Abe and then Lanzi passed a struggling Haga. Lanzi continued to stay glued to the back of Abe's Yamaha France R1 and on the final lap going into the first corner he made his move and took the chequered flag for third place. Abe was happy with fourth place and is hoping that this new engine can continue to deliver and make him a definite challenger for a podium finish.
Haga had to settle for fifth place in the end only just ahead of a charging Fonsi Nieto. Riding in front of his home crowd obviously gave Nieto a boost, and he needed one. He had dropped back to 15th place by the end of lap one and had a long hard fight to claw his way back up the field, which he did, the first Kawasaki home in the second race.
Chris Walker, who finished seventh, had a much better result than race one when he came home last. The PSG-1 Kawasaki rider had looked powerful moving up to sixth place at the start, a position he held until the 19th lap when he was passed by Nieto. The Kawasaki has looked strong nearly all weekend.
Walker's fellow countryman, James Toseland, had a disappointing weekend finishing seventh in race one and 11th in this race. He was having massive slides almost every lap, something he'd been doing all weekend, which didn't help his lap times.
Reuben Xaus had a huge crash as he was thrown from his Ducati, which then proceeded to cartwheel through the gravel, but luckily he was seen to walk away from it.
Alex Barros continued to suffer from the handling problems which have plagued him all weekend and severely limited his performance. The Honda's electronics are not operating as he needs, this means his tyre wear is high
and as soon as they go of he is forced to do all of his braking on the straight and having to sit the bike up before he can get on the power. This is something that Honda are working on but until then on the short circuits
the same will happen. With the top Honda placed 11th in this race this is obviously a problem that is not restricted to Alex's bike. "I never dreamed it would be this bad", said Alex. "Even on a bad day I
thought I'd be top five not this". "I couldn't get the bike setup at all, in the end I reverted to a setup I used during the tests". "These sort of performances compromise a title challenge, but I won't stop fighting".
Steve Martin finished in 15th place, a disappointing result for the Foggy Petronas team. They were a victim of horsepower as they are giving away a lot to the other teams. Once Martin had been passed he didn't have the power to come back at them on the straights. It had all looked hopeful for them but they go away with just one point from the weekend.
The championship moves to Monza for the next round in two weeks time. Can Bayliss do another double? Will Corser get his revenge? Will Lanzi continue a podium run? Will Honda sort their handling problem? All will be revealed right here on FastDates.com
SUPERBIKE Race 2: (Laps 23 = 92,115 Km)
1 / T. BAYLISS / AUS / Ducati Xerox / 37'06.508 /
2 / T. CORSER / AUS / Alstare Suzuki Corona Extra / 37'07.298 / 0.79
3 / L. LANZI / ITA / Ducati Xerox / 37'21.641 / 15.133
4 / N. ABE / JPN / Yamaha Motor France-Ipone / 37'22.512 / 16.004
5 / N.HAGA / JPN / Yamaha Motor Italia WSB / 37'23.437 / 16.929
6 / F. NIETO / ESP / PSG-1 Kawasaki Corse 2 / 37'23.564 / 17.056
7 / C.WALKER / GBR / PSG-1 Kawasaki Corse / 37'26.475 / 19.967
8 / R. LACONI / FRA / PSG-1 Kawasaki Corse / 37'27.903 / 21.395
9 / A. PITT / AUS / Yamaha Motor Italia WSB / 37'28.309 / 21.801
10 / M.FABRIZIO / ITA / D.F.X. Treme / 37'38.674 / 32.166
11 / J. TOSELAND / GBR / Winston Ten Kate Honda / 37'38.767 / 32.259
12 / S. NAKATOMI / JPN / Yamaha Motor France-Ipone / 37'38.863 / 32.355
13 / F. FORET / FRA / Alstare Eng. Corona Extra / 37'39.156 / 32.648
14 / A. BARROS / BRA / Klaffi Honda / 37'40.383 / 33.875
15 / S. MARTIN / AUS / Foggy Petronas Racing / 37'44.560 / 38.052
Fastest Lap 3° Troy Corser 1'35.374 151,173 Km/h
Record Lap N.Hodgson 1'35.007 151,760 2003
Superbike Riders Championship Standings:
1 BAYLISS 125, 2 CORSER 103, 3 TOSELAND 86, 4 HAGA 64, 5 BARROS 62, 6 PITT 58,
7 LANZI 47, 8 ABE 40, 9 FABRIZIO 34, 10 XAUS 33, 11 ROLFO 32, 12 NIETO 29,
13 KAGAYAMA 24, 14 LACONI 22, 15 WALKER 21.
SUPERSPORT RACE: (Laps 23 = 92,115 Km)
Pos /Rider /Nat. /Team / Time /Gap
1 / S. CHARPENTIER / FRA / Winston Ten Kate Honda / 38'12.713 /
2 / K. CURTAIN / AUS / Yamaha Motor Germany / 38'19.250 / 6.537
3 / K. FUJIWARA / JPN / Megabike Honda Team / 38'22.167 / 9.454
4 / B. PARKES / AUS / Yamaha Motor Germany / 38'24.463 / 11.75
5 / R.HARMS / DEN / Stiggy Motorsports / 38'29.720 / 17.007
6 / Y. TIBERIO / FRA / Megabike Honda Team / 38'32.261 / 19.548
7 / J. FORES / ESP / SLM Racing / 38'35.113 / 22.4
8 / M.ROCCOLI / ITA / Yamaha Team Italia / 38'35.226 / 22.513
9 / G.VIZZIELLO / ITA / Yamaha Team Italia / 38'37.421 / 24.708
10 / B. VENEMAN / NED / Hoegee Suzuki / 38'38.030 / 25.317
11 / J. BROOKES / AUS / Team Manila Grace SC / 38'39.907 / 27.194
12 / W.DE ANGELIS / RSM / Intermoto Czech Klaffi / 38'44.453 / 31.74
13 / T. LAUSLEHTO / FIN / Dark Dog Stiggy Motorsports / 38'49.795 / 37.082
14 / S. LE GRELLE / BEL / Legrelle - Honda Belgium / 38'54.664 / 41.951
15 / T. TUNSTALL / GBR / Hardinge Ice Valley M. / 38'55.529 / 42.816
Fastest Lap 2° Sébastien Charpentier 1'38.664 146,132 Km/h
Record Lap: A.Corradi 1'38.874 145,820km/h 2003
Supersport Riders Championship Standings:
1 CHARPENTIER 75, 2 CURTAIN 60, 3 HARMS 32, 4 PARKES 29, 5 TIBERIO 23, 6 FORES 23,
7 ROCCOLI 23, 8 BROOKES 21, 9 STIGEFELT 20, 10 VIZZIELLO 17, 11 FUJIWARA 16,
12 SOFUOGLU 16, 13 ZAISER 15, 14 LE GRELLE 12, 15 THOMAS 8.
---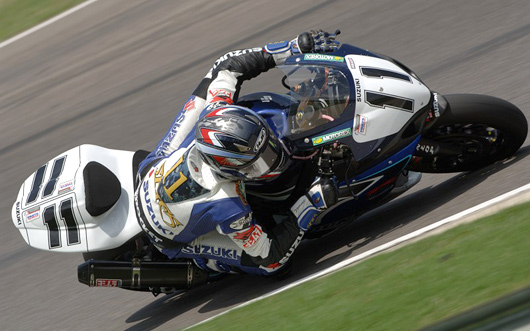 2006 AMA Superbike Championship, Round 2 of 11, Barber Motorsports Park
Another Superbike Double in America this weekend...
Ben Spies Wins Both AMA Superbike Races at Barber

Burmingham, AL, April 21-23, 2006 - Yoshimura Suzuki's Ben Spies put the finishing touches on a near-perfect race weekend at Barber Motorsports Park on Sunday afternoon, completing the doubleheader sweep in a wild AMA Superbike contest. Following a year spent racing in the very large shadow cast by his six-time AMA Superbike title-winning teammate, Ben Spies came into the 2006 season intent on closing that gap that separated him, the runner-up, from Mat Mladin, the reigning king.
Despite suffering a defeat on the final lap, just pushing Mladin for the entire race at Daytona, he first AMA Superbike round of the season, was a big step towards that goal. On Saturday morning at Barber Motorsports park, another major step was taken when the young Texan snapped his teammate's year-plus pole streak to qualify on top for the first time in his Superbike career.
Saturday Superbike Race 1 - Spies tops his Yosh Suzuki Teamates
April 22nd - This afternoon at Barber Motorsports Park, Spies took a massive step forward, beating his teammate in a head-to-head contest to claim his second Superbike race victory. The Texan led early, and after being overtaken by Mladin up the inside entering Turn 5 on lap 4 of 28, he switched up his strategy and starting applying heavy pressure from second.
Studying the master up close for eleven laps, Spies reclaimed the lead on lap 16 with a slick move that saw the former FX champ choose the opposite side of the lapper and effectively cut the leader 'off at the pass' in 8. Once out in front he impressively opened up a near-second gap on the champ, but Mladin wasn't willing to give in that easily. As the laps ran down, the Aussie worked himself back in contention and was nipping at Spies' heels again in a matter of laps.
However on lap 24, Mladin was stood up by a lapper who had been caught off guard by Spies' arrival on his outside in Turn 9. He ran off the track momentarily on the right and then again on the left as he regained control through the esses.
By the time Mladin had recovered, Spies was long gone and on his way to the checkered flag, pumping his fist and riding on one wheel. After the race Spies admitted, "I didn't even know what had happened with Mat. With about three to go there were three new crash marks around the whole lap. I didn't know if he had fallen or what. That's why I started turning around and having a look when I couldn't hear him anymore."
Spies' first career Superbike win came at California Speedway last season after Mladin retired from the lead with a mechanical problem. Spies was clearly unsatisfied on that occasion, remarking, "This wasn't the way I wanted it to happen."
Today was much closer to his ideal, but it was obvious that he's still itching to pick up that 'down to the last corner' triumph over #1. Commenting on his second victory, Spies said, "The feeling is awesome. It didn't get to go down to the last lap, but I was happy I stayed there the whole race on a real racetrack and made it happen. Will it happen again tomorrow or the whole year? I don't know but we're going to keep working."
Following his off-track excursion, Mladin kept it on two wheels and held down second, preventing Spies from overtaking him in the early-season order (though they are currently tied in points). The Aussie explained what had happened, "It was just a slower guy, that's all. Ben went to the outside of him and sort of spooked him a little bit and he stood it up. I was committed on the same line as Ben at that stage. I was starting to try to figure out the end of the race and I had gotten back up on Ben's back wheel and tried figuring out what might happen in the end.
"Unfortunately we got caught up in it today. That's the way it goes. You win some, you lose some in that situation. It was a good fun race. Last year I didn't have many races like that, and it was good to have the heartbeat picked up again. It was nice. Congrats to Ben."
A Yosh podium sweep seemed in order until Aaron Yates lost the front entering Turn 5 on lap 22. American Honda's Jake Zemke, who had earlier dispatched the factory Kawasakis, was more than happy to accept the 'gifted' third place, his first podium since the Road America round last season.
Afterwards, Zemke said, "We're definitely making progress from last year, but those two guys that were out in front were pretty far gone. We've still got a ways to go. The boys are working hard at it and hopefully sooner than later we will be challenging these two up at the front.
"It was a bit of a long race. When I got up to fourth I was catching Aaron a little bit and he picked up the pace and we evened out for a long time. It was good. I'm happy to get the Honda up here and it's a lot better than where we started at Daytona. At least we're going in the right direction."
Zemke's teammate, Miguel DuHamel, put a final lap maneuver on Tommy Hayden to steal away fifth, while Parts Unlimited Ducati's Neil Hodgson watched on from close behind after charging up from well down the order.
Second Kawasaki man Roger Hayden crashed out of fourth early in the race, falling in Turn 2 while working lap 4. Both Yates and Hayden carried on after their spills. Yates managed to grab seventh ahead of Millennium Technology's John Haner, second works Ducati runner Ben Bostrom, and Jordan Suzuki's Jason Pridmore, while Hayden brought his ZX-10R home in fourteenth.
Saturday Superbike:
1. Ben Spies (Suzuki)
2. Mat Mladin (Suzuki)
3. Jake Zemke (Honda)
4. Miguel Duhamel (Honda)
5. Tommy Hayden (Kawasaki)
6. Neil Hodgson (Ducati)
7. Aaron Yates (Suzuki)
8. John Haner (Suzuki)
9. Ben Bostrom (Ducati)
10. Jason Pridmore

Miguel DuHamel faught off Mladin to take 2nd on Sunday

Sunday Superbike Race 2 - Mladin crashes, later Restart helps the Champ
In the early going six-time champ Mat Mladin appeared to be on his way to getting his revenge for Saturday's defeat, pulling out an early second-plus advantage. However, the Aussie shockingly lost it on the brakes entering Turn 5 while working the race's fifth lap and was sent sliding into the gravel.
The fight behind him consisting of Spies, Team Kawasaki Road Racing's Tommy Hayden, and American Honda's Miguel DuHamel was instantly transformed into a fight for the lead. After a number of circulations an order was finally established and Spies looked set to take his third win. DuHamel was clear in second, and Hayden seemed all but assured of his first Superbike podium several seconds back in third.
That was until the race was turned upside down on lap 21 of 28. Roger Hayden came together with James Kerker while navigating traffic in an attempt to pressure third Yosh man Aaron Yates for fourth. The two went down on the exit of 4 bringing out a red flag and subsequent restart.
Adding to the drama was the fact that Mladin, who had remounted and charged up to 14th from outside the top 30 by that time, would be allowed to make repairs and get a second chance, starting from just a few rows behind his rivals.
Although it would have been understandable if he had been knocked off his game by the turn of events, young Spies proved unflappable. He got a lightning restart and opened up more than a second advantage by the completion of lap 21, the first after the second green light.
From there it was smooth sailing to complete his pole/win/win weekend. Commenting on his incredible success during this visit to BMP, Spies said. "It was a pretty big shock. The first goal was outqualifying Mat. And then getting two races wins? If you would have told me that before the weekend…"
Commenting on today's contest, he said, "The first race I got off to a decent start. I was behind Tommy and had a couple laps where I couldn't get by him. Then I got by him and set my sights on Mat. The tire just wasn't quite like it was yesterday; I couldn't do the same lines I wanted. He was inching away a little bit and I was thinking towards the end of the race he might come back to us in lappers. And then boom, he was down.
"Tommy stepped it up as soon as that happened. I had a real hard time shaking him but I kept doing '6.2, '6.3 and finally shook him. I got a few seconds and just settled into a pace. And then the red flag came out. A few choice words in the helmet later I came in and put some new tires on and got a good start. I gave it some juice for a few laps and got the win."
Ben Spies cleared off to grab his second checkered flag in as many days as ahuge fight for the runner-up spot broke out involving DuHamel, Tom Hayden, Yates, and Mladin, who had quickly slotted himself up into fifth after restarting on the fourth row. Tommy Hayden, who has shown to be especially potent during the races' opening several laps aboard his developing ZX-10R, looked to be in good shape as he confidently stole second away from DuHamel with a nifty outbraking maneuver in 5 on lap 26. Yates tucked underneath the Canadian a lap later and targeted Hayden for a final lap assault.
The Suzuki rider attempted to put his GSX-R1000 up the inside of Hayden's green machine in 5. Neither man gave any ground and they ultimately came together. Miraculously both stayed upright. The incident did allow DuHamel and Mladin to surge past, however, as both of the veteran riders later claimed they could see the clash unfolding before contact was ever made. The champ put a final corner move on DuHamel to sneak into second but a superior drive saw the American Honda runner reclaim the position just as they took the flag.
Finishing in the runner-up spot, DuHamel said, "I'm happy we were able to bring it around. This morning in practice we were ninth fastest which is basically the last factory guy. We made a couple adjustments and before the red flag I was really pleased. I tried to keep Ben in sight. He was inching away but I thought maybe a lapped rider or something would allow me to get close to him. My bike was working terrific. It wasn't as good after the red flag.
"Tommy and Aaron were riding really good on the new tires. For me it wasn't working that good. Ben pulled like a second-and-a-half the first lap after the restart. I was really surprised. Sometimes I was just standing still doing a smoke show. Maybe I gave it too much stick, but I think something was a little off. I don't know what it was."
DuHamel was optimistic as his team moves forward on the AmHon developed CBR1000RR. "The bike is good, we just have to get the set-up. It's sensitive. We got Öhlins, which are great suspension, but we're still discovering a lot of stuff on it. One click makes a difference compared to the Showa suspension. For sure I'm pumped."
Third-place finisher Mladin admitted, "We got lucky with the red flag today. When you win a lot of races, most of the time the red flag goes against you but today it really helped. By the looks of the way things were going before the red flag we maybe would have got up eighth. Third is better than eighth, more points. Now (Ben's) got the points lead. He has to sleep with it. Now he's going to know what it feels like."
Commenting on the contact between Yates and Hayden on final lap, Mladin explained, "We all went down into the hairpin together. Aaron got a really good drive out of 2 and I knew he was going up the inside. So I got down on the outside sort of with Miguel and figured something could happen and if it does, I'm going to be ready to square it up. I saw Aaron going in and Tommy coming down and thought, 'You know what? This is third place right here,' before it even happened."
Yates managed to just hold off the works Ducati duo of Neil Hodgson and Ben Bostrom to secure fourth, while Hayden could manage only seventh in the race after twice looking on the verge of landing on the box. Jordan Suzuki's Jacob Holden picked up eighth, with Larry Pegram on the retro-schemed CBR and Holden's teammate, Jason Pridmore, completing the top ten.
There will be little time to fully absorb this dramatic and eventful Barber Motorsports Park weekend as the AMA Superbike Championship picks up next weekend at California Speedway.
Sunday Superbike:
1. Ben Spies (Suzuki)
2. Miguel Duhamel (Honda)
3. Mat Mladin (Suzuki)
4. Aaron Yates (Suzuki)
5. Neil Hodgson (Ducati)
6. Ben Bostrom (Ducati)
7. Tommy Hayden (Kawasaki)
8. Jacob Holden (Suzuki)
9. Larry Pegram (Honda)
10. Jason Pridmore (Suzuki)
Championship Standings:
1. Ben Spies (Suzuki) 107
2. Mat Mladin (Suzuki) 99
3. Miguel Duhamel (Honda) 88
4. Neil Hodgson (Ducati) 78
5. Aaron Yates (Suzuki) 76
Tommy Hayden (Kawasaki) 76
7. Ben Bostrom (Ducati) 71
8. Jason Pridmore (Suzuki) 64
9. Jake Zemke (Honda) 52
10. Larry Pegram (Honda) 51
---


Click above for a bigger look of the 'Busa Baby!
Below, Playmate Cassandra contemplates her new found fame as a Cycle World cover girl.

World Preview - All Sexed Up!
Cycle World's Sport Bike 2006
hits newsstands with a revealing new image

Our esteemed colleague over at Cycle World magazine, editor David Edwards wanted us to let you know they're not just targeting stoggey old Velocette riders any more. Their hot new Sport Bike annual magazine is "... totally redesigned for 2006 and features the lovely Cassandra Lynn, Playboy's Miss February 2006, on the cover." That's right, cheesecake on the cover from the world's biggest selling motorcycle magazine! All right Dave!!!

Dave said they only choose Cassandra to artistically, prospectively balance out the feature story cover photo of our Fast Dates Calendar sponsor Performance Machine's hot new Hayabusa Project Bike. We think impulse news stand sales had more to do with it than "art". But we'll let you be the judge when you pick up your own copy when it hits the newsstands on May 2nd. You can also visit their website to order it online: CycleWorld.com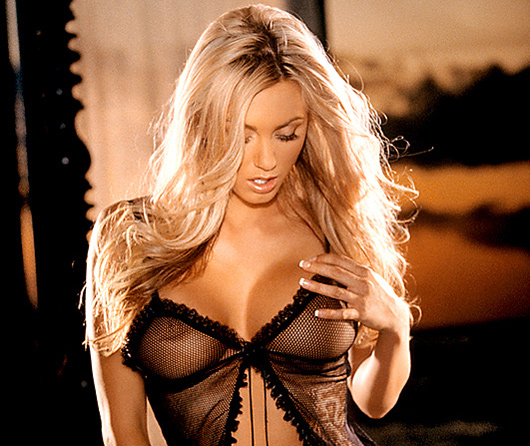 Fast Dates Calendar Motorcycle Roadracing News. Complete coverage of the SBK World Superbike, AMA National Superbike and MotoGP World Championship. Superbike, SBK, FIM, AMA, American Superbike, superbike planet, American Roadracing, sportbike, grand prix, MotoGP, race, racing, news, superbike news, sport bike, motoGP news, photography coverage, photos, pictures, Fast Dates Calendar and Umbrella Girls. Racing, road race, track, motorcycle, news, results, girls, models, Mat Aladdin, Max Biaggi, Valentino Rossi, Troy Baylis, Ben and Eric Bostrom, James Toseland, Chris Vermeulen, Maria Sharapova, Kristen Bell, Regis Laconi, Loris Capirossi, Troy Bayliss, Troy Corser, Noriyuki Haga. Ducati 999 Monster Multistrada, Yamaha R6 R1, Honda CBR600RR CBR1000RR, Kawasaki ZX6 ZX6RR ZX10, Suzuki GSXR600 GSXR750 GSXR1000, Aprilia Mille, MZ Agusta F4 Brutale. Los Angeles Calendar Motorcycle Show.