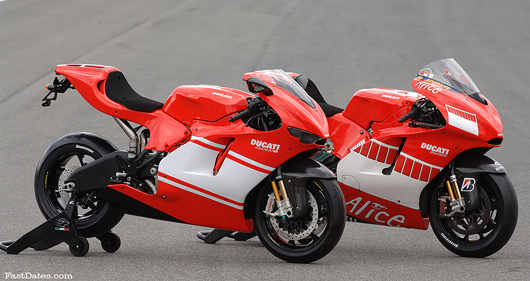 The first ever street legal MotoGP bike, the Desmosedici RR (left) offers 200+ Horsepower and is as true to its MotoGP6 works bike predecessor (right) as cost and streetability will allow. Note the offset cat-eye headlights to not elimimnate the nose air scoup or revert to a center headlight like the Japanese superbikes. We think the bike is awsome and hope the next generation Ducati V-Twin Superbike will look just like this.

Giant Desmosedici Street and Racebike Picture / Screensaver 1224
Ducati Desmosedici GP06 Mugello Commerative Anniversary Livery 1224
The Ultimate 200+ HP Desmo Experience
DUCATI DESMOSEDICI RR Production MotoGP/Superbike
June 1st, 2006, Mugello, Italy - Ducati has chosen the magical atmosphere of the Italian Grand Prix at Mugello to launch the Desmosedici RR production prototype. The dream of a true GP replica has finally come true and the Desmosedici RR will be the first-ever road-going motorcycle to offer such a stunning wealth of performance and technology that comes directly from Ducati's experience in MotoGP. The RR derives from the Ducati Corse Grand Prix racing Desmosedici GP6, the same bike with which Loris Capirossi and Sete Gibernau are competing with in the 2006 MotoGP World Championship.
The Mugello launch is the perfect occasion to reveal the shape and the technical characteristics with which the bike will go to market, confirming the high technological features of this exclusive and esoteric machine.
The body design and the aerodynamics faithfully reflect the Desmosedici GP6. The colour scheme, the fittings, the materials used in its construction as well as the technical features of the powerful four-cylinder desmodromic engine built by the Borgo Panigale factory engineers, leave no doubts whatsoever: the Desmosedici RR is the ultimate expression of the most extreme MotoGP racing machine today.

The most beautiful sportbike ever? We hope the next generation Ducati Superbike will look just like this.

The project is currently in the industrialization phase and, as previously announced, it will be a limited edition motorcycle, with approximately 400 bikes being produced a year. The RR is scheduled to arrive in the market in July 2007, while from June 2nd 2006 it will be possible to reserve the bike through the official Ducati dealer network, with Ducati 999R owners receiving priority.
When the Desmosedici RR was first announced at World Ducati Week 2004 the announced delived of the first bike was to be May 2006 (at World Ducati Week 2006 which was cancelled due to company ownership changes and financial belt tightening) with a retail price around $50,000. As a current 999R owner we got our phone call from our local Ducati dealer yesterday, looking for our order and saying the price was now $69,995.
When the Desmosedici RR rolls off the production line next year it will be eligible to compete in World Superbike where it would certainly be invincible with its newer generation chassis and much more powerful motor, but presently Ducati plans to continue in Superbike with their V-Twin Testastretta Superbike model in either 1000cc or 1200cc displacement to continue to showcase their desmo V-Twin street bike product line.
Delaying production of the 1000cc Desmosedici until 2007 will also allow Ducati to remain eligible to compete in MotoGP when that formula downsizes to 800cc next year, and Ducati will be using a new prototype engine which shouldn't conflict with MotoGP's no production engine rule.
This is certainly the finest, most impressive sportbike ever offered to the public, probably capable of winning World Superbike races right out of the box, and besting anything that Japan will have to offer to the public in the next 10 years. It's the new frontier of Ducati technological evolution, a dream come true, demonstrating once again the courage and the passion of Ducati, as well as the ability to transfer the experience of the racing world to a machine that is destined for road use.
Federico Minoli - Chairman and Managing Director of Ducati Motor Holding - and Claudio Domenicali - Product Director of Ducati Motor and Managing Director of Ducati Corse - together with Ducati Corse riders Loris Capirossi, Sete Gibernau and Vittoriano Guareschi were at Mugello to unveil Ducati's latest jewel of technology.
"This is an important moment for us, another dream come true. Producing the Desmosedici RR means offering the ultimate expression of Ducati technology, while remaining faithful to the tradition of every one of our road and racing bikes," declared Federico Minoli. "It is a challenge that we wanted to accept and although relatively few bikes will be made, the RR will be a true object of desire for all Ducatisti. It will be the ultimate Ducati experience, one that best exemplifies the passion and the ingenuity for which we are famous. Meanwhile the twin-cylinder remains and will continue to remain Ducati's traditional engine, having equipped all of our production models in the past and equipping them in the future."
"The Desmosedici RR is a true Grand Prix replica," commented Claudio Domenicali. "The technological level of this bike is extraordinarily high and for the first time ever all the authentic performance and technology of the ultimate MotoGP racing machine have been transferred to a road-going motorcycle. Over 200 hp of power for a bike that features exclusive components and quality materials, destined to become the new point of reference for production motorcycles. There couldn't have been a better place than Mugello for the unveiling of this new bike and who better to take the wraps off it than Loris, Sete and Vittoriano, because this bike is also their bike and all of their experience has gone into developing this road-going motorcycle."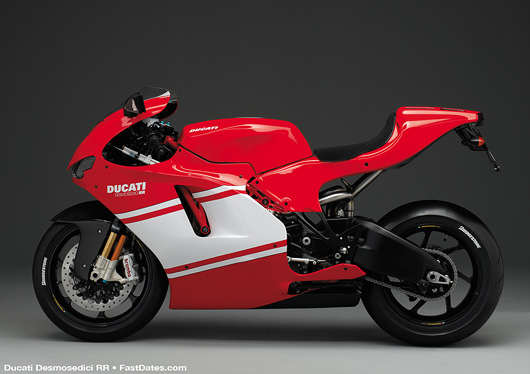 The Ducati Desmosedici RR features advanced technology and aerodynamics that are derived from the GP6 currently being raced in the 2006 MotoGP World Championship.
The engine of the Desmosedici RR accurately reflects that of the MotoGP bike: Ducati's traditional desmodromic distribution, guaranteeing precise valve control up to the highest revs, is perfectly matched to the 989 cc four-cylinder 'L' layout, with four titanium valves per cylinder, in asymmetrical Twin Pulse configuration, producing a masterwork of precision engineering.
The double overhead cams are gear driven, a sophisticated and reliable solution that enables precise valve timing in all conditions. This authentic copy of the Grand Prix engine is completed by a six-speed transmission, which retains its 'racing' characteristic by being cassette type, and a hydraulically actuated dry multi-plate slipper clutch.
The aim of producing a light but robust engine has led not only to an unrivalled quality component design but also the use of exclusive racing-derived materials: sand-cast, aluminium crankcase and cylinder heads, titanium connecting rods and valves, sand-cast magnesium engine covers.
Four 50 mm Magneti Marelli throttle bodies are present, with 12-hole 'microjet' injectors. For sophisticated management of the powerful four-cylinder engine a Magneti Marelli 5SM ECU and high-speed CAN line electronics have been used. An all-time 'first' comes with the use of a '4 into 2 into 1' exhaust, with "vertical exit" silencer, hidden in the tail cover.
These are all benchmark performance features for a MotoGP replica bike, which is capable of delivering more than 200 hp of power with the 102 dB racing silencer and dedicated CPU race kit. Amazingly the Desmosedici RR with its catalytic oxygen sensor exhaust, homologated for road use, fully complies with Euro3 emissions regulations. The Desmosedici RR will be available with a special race kit that includes a 102 dB racing exhaust, a dedicated CPU, bike cover, paddock stand.
For this exclusive Ducati which is priced at $64,995, a new dedicated service plan is included. Each Ducati Desmosedici RR owner can benefit with a three-year warranty and three years of scheduled maintenance, free of charge.
Two versions of the RR will be available: 1) the Desmosedici RR - painted in 'Rosso GP', with a white number plate on the tail section; 2) the Desmosedici RR 'Team Version' - painted in 'Rosso GP', and as with the factory Corse bikes, has a broad white stripe on the fairing. A team sponsor decal kit will be provided with each bike.
More Desmosedici - Technical Specifications, Pictures, Screesavers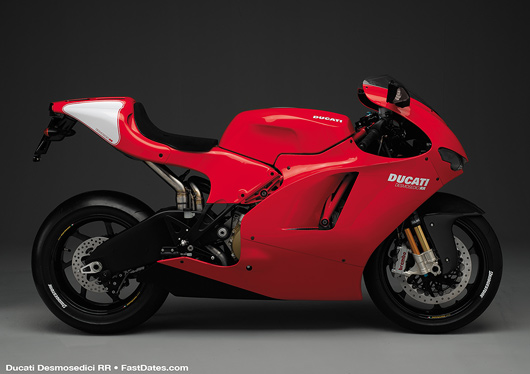 In 2007 when the Desmosedici RR becomes available, anyone could potentially take one right off the dealer's showroom floor to win a World Superbike race. On second thought, they'ld still have to beat Troy Bayliss on the funky old V-Twin. Oh, well....
---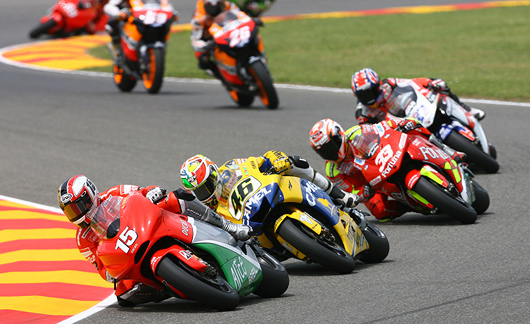 Sete Giberneau fights off Rossi and a slew of Hondas in an exciting pass and repass match up past the middle of the race. Back in the top left corner is Capirossi who will blast up to pass everyone by lap 18.

MotoGP Gran Premio d'Italia Alice, Round 6 of 17 • Mugello Start Big Picture Screensaver 1224
Rossi emerges with victory at Mugello
in one of the most exciting MotoGP races ever

Mugello, Italy, Sunday June 4th - The dramatic scenery of the Mugello circuit in Tuscany provided the backdrop to one of the most exciting MotoGP races in living memory today as Camel Yamaha Team rider Valentino Rossi clinched his second victory of the season in a heart-stopping Italian Grand Prix. The local hero produced one of his best ever performances in front of the adoring 89,200 crowd, emerging from an intense battle with his compatriot Loris Capirossi (Ducati) and a host of other riders to take the chequered flag with a 0.575 second advantage after 23 laps of pure drama.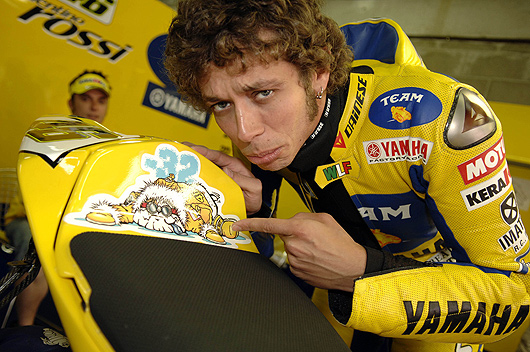 32 points behind in the Championship going into Mugello, Rossi wants to go out a winner and has resigned with Yamaha again for 2007. Winning this week in Italy now became doubly important.
Mugello MotoGP Preview: Ducati Desmosedici RR World Introduction
An Unfinished Life - Rossi Puts Car Racing on Hold and ReSigns with Yamaha
Thursday 1st June 2006 - Whilst the Thursday before a Grand Prix is usually a somewhat quiet affair, with teams and riders slowly arriving at the circuit, Mugello as always does things a little differently. With the Gran Premio d'Italia Alice set for Sunday, there has already been some exciting news from the Italian Circuit.
The big story of the day has of course been the official announcement from Yamaha that Valentino Rossi has made the decision to ride with them in MotoGP next season. After months of speculation and a statement from Rossi last week that he would not be leaving the World Championship, today's news was welcomed by all involved in the series.
Rossi could also have the pleasure of riding in two home Grands Prix in 2007, with the news that Misano Adriatico could hold a race next season subject to FIM approval. The agreement between Dorna and the Gran Premio di San Marino e della Riviera di Rimini will be for a duration of five years (2007-2011) and will see a long-term economic investment from all three public and private parties involved in the project.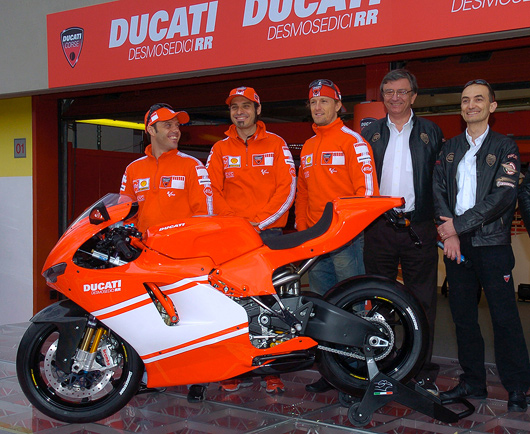 Federico Minoli - Chairman and Managing Director of Ducati Motor Holding - and Claudio Domenicali - Product Director of Ducati Motor and Managing Director of Ducati Corse - together with Ducati Corse riders Loris Capirossi, Sete Gibernau and development rider Vittoriano Guareschi were at Mugello to unveil Ducati's latest jewel of technology.
The local Borgo Panigale mafia from the Ducati factory chose the perfect occasion of the Gran Premio d'Italia Alice to present their new production prototype. The Desmosedici RR is a replica model of the MotoGP 2006 transformed into a street bike. Invited guests were presented with all the details of the bike, scheduled to go on sale in June next year. It will be produced as a limited edition of 400 models.
The presentation was held by Federico Minoli, managing director of Ducati Motor Holding, alongside Ducati Corse director Claudio Domenicale and MotoGP riders Loris Capirossi and Sete Gibernau alongside test rider Vittoriano Guareschi.
As is customary at a MotoGP event, both a press conference and a pre-event local visit were also held. The former saw Rossi, Nicky Hayden, Marco Melandri, Dani Pedrosa and Loris Capirossi answering questions for the press, whilst the latter was a visit to the Basilica de la Santa Cruce attended by James Ellison, Mattia Pasini and Alex de Angelis.
The paddock at the Mugello Circuit is already filled up with trucks, hospitality areas and motorhomes, at an event which always sees a spectacular attendance from some of the most passionate fans in the whole of motorsport. Unfortunately the Italian weather is proving more difficult to predict, and sunny spells have been interrupted by sharp heavy showers, with more predicted for tomorrow.

Valentino Rossi (Yamaha) - "It was an important decision, one which I took my time over. I had the chance to drive the best race car in the world, the best machine in Formula 1 (Ferrari F1 race car), and understand my potential. Bikes are better for me to be at the top level. There are good riders and bikes.
After the (Ferrari) test here in November I really thought about going. I had a great test in Fiorano, about a second off the lap record, and that made the decision difficult. Then I went to Valencia and drove alongside the other drivers, experiencing the atmosphere and the media pressure, and then I decided. In the future I'm sure that I will do car racing, but maybe not Formula 1. I think that maybe if I was going to make the change then now would be the time.
I have to win this weekend, it's the number one event of the year and it feels like a win here serves as more than double the points. I need to close the gap, and after Le Mans the new chassis is good and very rideable. This is the key moment of the year."
Nicky Hayden (Honda) - "I had a bout of Bronchitis in Le Mans, but it's over now. No excuses here, I feel good and it's one of the best tracks on the calendar. The fans are passionate and we all love being here.
We're right in the Italian riders' backyard, they've put in a lot of laps here and it's up to the rest of us to spoil it for them. The weather is iffy but we can't help that, we'll hope for dry weather tomorrow because we'll need all the dry time we can get on the track. It's still early to say how we'll do, but we need to come back and answer the bell after having had problems in Le Mans.
Rossi is tough, I'm glad that he is staying because then if you win a race you know that you have done so by beating the best. At times I wish that he would go, but it's great for us riders and the series that he stays. If I was scared of him I'd have stayed in AMA."
Marco Melandri (Honda) - "It will be a very hard weekend. I think that it is a must-win race for Valentino.
The race last year was one of the best of my life, even though I didn't manage to get on the podium. Riding against Loris for the third place was great, and a podium finish on Sunday would make me very happy.
45 minutes at 100% is tough here for all riders.
I am happy that Valentino is staying. It means that we have one more chance to beat him next year if nobody manages it in 2006."
Loris Capirossi (Ducati) - "Ducati are always fast here, but this year is a little different in the fact that we aren't focusing on our top speed as much as overall performance and rideability.
Last year was great, the all-Italian podium was a good moment. This year it might be different though, we have to wait and see what kind of weather we get. Le Mans wasn't a good track for us, but here we are definitely in our element. Valentino staying makes me really happy. It always feels better when you win knowing that you have beaten the World Champion."
Dani Pedrosa (Honda) - "I think that I have to learn quickly here like at every track. It is a question of getting used to the circuit and then starting to work.
It's not been too bad a start, I have made a few mistakes but because the riders are so strong here you have to fight for everything."
Rossi back on top on first day at Mugello
Friday June 2nd 2006 - With a flood of spectators in the paddock at the Mugello Circuit, not even the weather could dampen the first practice day of MotoGP's annual Italian visit.
Reigning World Champion Valentino Rossi showed the reason why he has won the past four Grands Prix at Mugello, dominating both the morning and afternoon Free Practice sessions. After announcing yesterday that he would stay in the sport for at least another year, Rossi put in a fastest time of 1'51.238 to demonstrate his mastery of his home track, coming in ahead of home Ducati's duo of Loris Capirossi and Sete Gibernau. The top three all clocked their fastest laps during the first Free Practice in the morning.
John Hopkins continued his efforts to push his Suzuki bike to the next level with a flying afternoon session. Hopkins took fourth place ahead of Australian rookie Casey Stoner and World Championship leader Nicky Hayden. Marco Melandri, Kenny Roberts Jr, Makoto Tamada and Colin Edwards completed the top ten, with the Camel Yamaha rider trying out the new chassis used by team-mate Rossi in Le Mans for the first time.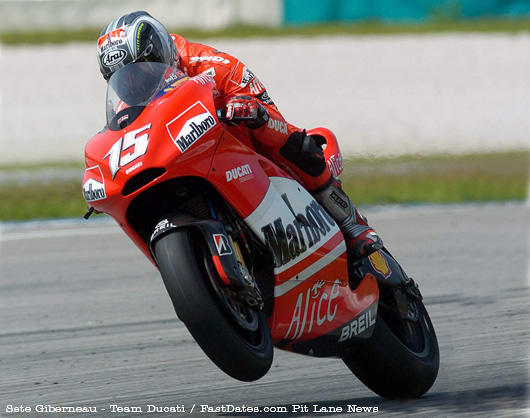 Sete and Loris are Quickest
Ducati's New Street Bike Dominates Saturday Practice and Takes Pole
Saturday June 3rd 2006 - With overcast skies holding out for the MotoGP riders at Mugello, all three of today's qualifying practices for the Gran Premio d'Italia Alice took place in the dry in front of a boisterous Italian crowd. Sete Gibernau took pole at the Mugello Circuit, and will head a Ducati one-two on the grid for the Gran Premio d'Italia Alice tomorrow afternoon. The Spaniard knocked two tenths off Valentino Rossi's 2005 pole time, and his 1'48.969 lap puts him alongside team-mate Loris Capirossi for his first pole at his team's home circuit.
Rossi completes the front row, out for his fifth win in as many seasons at the Italian track. The reigning World Champion needs a win in Mugello in his quest to retain the crown, hoping to close the 43 point gap between him and championship leader Nicky Hayden. The American rider himself will line up on front of the second row, ahead of Shinya Nakano and second in the standings Marco Melandri.
Continuing his positive run of qualifying form, John Hopkins was just outside the top six, with Dani Pedrosa behind him after claiming pole in the previous two races. Casey Stoner and Makoto Tamada completed the top ten. Nicky Hayden maintains his lead of the BMW M Award, the competition for the fastest overall times in qualifying sessions over the duration of the season. There is nearly a three second cushion between him and Colin Edwards, with Suzuki riders Hopkins and Chris Vermeulen two seconds behind.
In a suprise move on Sunday morning, Ducati unveiled special commerative anniversary painted bodywork for their 2 pole sitting factory bikes. Here they leave the starting line with Rossi.

Ducati Team mates Giberneau and Capirossi
battle with Yamaha's Rossi for the MotoGP of Italy
Sunday June 4th - MotoGP provided one of the best races so far seen this season in front of a passionate 89,000-strong crowd here at Mugello. Valentino Rossi (Yamaha) won from Loris Capirossi (Ducati) with Nicky Hayden (Repsol Honda RC211V) a tenacious third. After intermittent rain over the first two days of this Grand Prix race day was bright for the most part and despite drops of rain falling during the 250cc race, the main event remained dry to provide enthralling racing over 23-laps of this magnificent 5.245km course.
Sete Gibernau (Ducati) led from pole into turn one with Rossi hard on his tail and Shinya Nakano (Kawasaki) in third who got a flier of a start from row two. Casey Stoner (LCR Honda RC211V) was up there in fourth with Marco Melandri (Fortuna Honda RC211V) in tow in fifth.
Rossi got an excellent start from the front row of the grid, passing early leader Sete Gibernau (Ducati) on the first lap and attempting to escape a hungry chasing pack. However, the Spaniard refused to lie down and the bitter rivals soon became engaged in a heated and very exciting pass and repass fight during for the first 10 laps before Rossi finally took control and pulled out a bried lead as Giberneau became engulfed in the hungry pack coming up from behind.
Melandri made an early move to set the pace on lap four and squeezed past Rossi to take second place. While places were changing hands at the front Dani Pedrosa (Repsol Honda RC211V) set an early fastest lap of the race at 1m 50.300s as he tried to move up from seventh.
As Rossi hit the front on lap seven, Capirossi was making up for his poor start by setting a fastest lap of 1m 50.195s as he fought to get on terms with the front-men from seventh place on that lap. Rossi and Gibernau meanwhile had stretched out a 1.2 second lead over Hayden in third.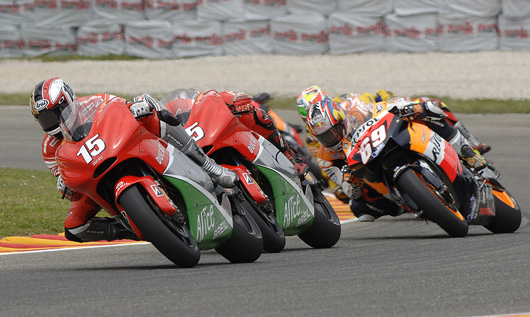 Above 3/4s race distance : Rossi has slipped back to fth place with a missed shift, and Capirissi (65) has charged past Hayden (69) into 2nd and will soon pass Giberneau for the lead.
Stoner who was holding fourth place then crashed out of the race on lap nine. It was a big off and the young Aussie, although unscathed, went for a precautionary medical check. "I feel a little average, said Casey. "My neck is quite sore but there is no problem. Unfortunately I made a small mistake and the front-end went on a bump. I was a little frustrated by Melandri holding me up – he was very hard on the brakes. But there are lots of positives because I was very competitive here."
Capirossi soon recovered from a bad start and by lap fourteen he was in the hunt for the lead, closing relentlessly on the leading riders. The experienced Italian was fourth on lap 11, third by lap 13, and then on lap 15 he slipped inside both Rossi and Gibernau to head the pack as the lead duo both went wide at turn one. Rossi, who dropped back to fifth place as Marco Melandri and Nicky Hayden (both Honda) also came through. There was now a six-rider bunch in close formation at the front and the action would get more furious yet.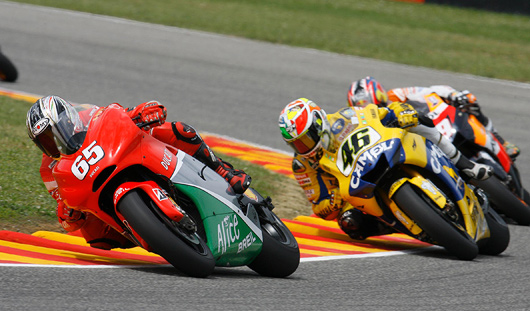 Loris Capirossi on the commerative painted Desmosedici blew past Hayden and Rossi to take over the lead during the closing laps of the race.
As Gibnernau dropped back it was Capirossi and Hayden at the front until Rossi made a move for second at the downhill chicane. Within four laps Rossi was back on Capirossi's tail and the pair went head-to-head in a thrilling finale, which saw the Yamaha rider snatch the lead on the last lap and open out a crucial gap that carried him to the line. Melandri meanwhile ran wide and out of the running for a possible podium place. As the final laps counted down the fight at the front became a three-way affair as Pedrosa lost contact in fourth with Gibernau behind him.
Rossi took the lead on the penultimate lap, again at the high-speed downhill chicane, but on the final lap into turn one Capirossi outbraked the reigning champ until he ran wide allowing Rossi to re-pass. Hayden, try as he might, could not quite make enough ground to challenge either of them and third place had to be consolation for a gritty ride.
Dani finished fourth and Melandri sixth with his team-mate Toni Elias (Fortuna Honda RC211V) in seventh. But Kenny Roberts (Roberts KR211V) had a great ride to eighth, using a new chassis on the KR machine, ahead of Makoto Tamada (Konica Minolta Honda RC211V) in ninth.
Valentino Rossi drinks the vIctory champaigne on the winner's podium at Mugello.
Mugello Podium Big Picture 1225
Valentino Rossi (1st; 42'39.610)
"That was for sure one of the toughest battles of my entire career. I got a really good start and after I passed Sete I tried to escape but it was impossible, he was so strong today. For a long time I didn't know where Loris was because he had a bad start but once he arrived I knew I was in for a hard fight. I decided to let him pass and run behind him for a while but I didn't realise so many other riders were so close and they all came through! Suddenly I was down in fifth and had it all to do again.
It was just an amazing fight for everybody and I think it is fantastic that it went down to the final lap between two riders, two factories, two tyre manufacturers but just one Country! This is great news for our sport. If I had to bet on who would win the last lap I honestly wouldn't have been able to choose. I don't think I took a breath over the last two laps but I made it and I am unbelievably happy. To do it in front of so many fans, family and friends is a special emotion and I won't be thinking about the championship tonight - just this wonderful race."
LORIS CAPIROSSI, finished 2nd, 1st overall (99 points)
"My start was so bad and I had chosen quite hard tyres so I was a little bit quiet in the first few laps. When my rhythm came good I started overtaking guys, though it wasn't easy because everyone was going so quick today. The battle with Valentino and Nicky was great, we overtook each other many times but always in a correct manner, it's always so nice to ride with Valentino. I enjoy races like that even if I don't win! To win here at Mugello is the best, but today I'm happy with second. Everyone in the team made a really great job this weekend, so thanks to them all. Bridgestone are coming better and better, we're at a very high level now and I hope we can continue improving. Our season started so well and it continues to go well, now I want more of this!"
NICKI HAYDEN, 3rd: "It was a good battle and everybody was out for blood today. I've had a few hard battles like that for seventh but it's fun when it's for the lead. Everyone was trying hard but nobody did anything too crazy. Melandri came up under me one time and I got into the corner hotter than I had all weekend – and he was in two bikes hotter than me so I didn't think he was going to keep it on the island. With the atmosphere here and the crowd, these are the days you really enjoy."
SETE GIBERNAU, finished 5th
"We had a few moments out there but we had good fun and I enjoyed it a lot, it's been a while since I've been riding to win a race. I led a few laps, it was nice to be up there again and we fought good, so it was perfect. The team did a great job and Bridgestone did a great job too, they gave me a real good bike and tyres, so all credit to the guys, though the bike was a little wobbly on the main straight! When I had the problem with my boot it was difficult to adapt, it took two laps or so to adjust, then I came back. It was just a pity what happened with my boot, but that's racing. I'm starting to enjoy riding again and I'm beginning to really understand how to get the best out of the Ducati."
Rossi's team-mate Colin Edwards, meanwhile, battled through another tough race after being run wide into the gravel on the second lap. The Texan fought back from last place to finish in the points in twelfth place but has lost ground in the championship, dropping to eighth. Rossi's win moves him up to fifth overall, 34 points behind leaders Capirossi and Hayden, who are currently tied on points.
In addition to the activity on the track, Valentino's dance around the Mugello hills were enjoyed today 1,500 Yamaha fans at the Factory's Materassi stand. Every time the Yamaha riders passed the Yamaha tribune, the sound of the engines was accompanied by a standing ovation from a sea of yellow.
Results MotoGP Race Classification MotoGP : (23 laps = 120.635 km)
Pos/ Rider / Nat / Team / Motorcycle / Time/ KM/H / Gap
1 / Valentino ROSSI / ITA / Camel Yamaha Team / YAMAHA / 42'39.610 / 169.668 /
2 / Loris CAPIROSSI / ITA / Ducati Marlboro Team / DUCATI / 42'40.185 / 169.63 / 0.575
3 / Nicky HAYDEN / USA / Repsol Honda Team / HONDA / 42'40.345 / 169.62 / 0.735
4 / Dani PEDROSA / SPA / Repsol Honda Team / HONDA / 42'41.617 / 169.535 / 2.007
5 / Sete GIBERNAU / SPA / Ducati Marlboro Team / DUCATI / 42'42.680 / 169.465 / 3.07
6 / Marco MELANDRI / ITA / Fortuna Honda / HONDA / 42'51.403 / 168.89 / 11.793
7 / Toni ELIAS / SPA / Fortuna Honda / HONDA / 42'58.609 / 168.418 / 18.999
8 / Kenny ROBERTS JR / USA / Team Roberts / KR211V / 42'58.782 / 168.407 / 19.172
9 / Makoto TAMADA / JPN / Konica Minolta Honda / HONDA / 42'58.841 / 168.403 / 19.231
10 / John HOPKINS / USA / Rizla Suzuki MotoGP / SUZUKI / 42'59.431 / 168.365 / 19.821
11 / Shinya NAKANO / JPN / Kawasaki Racing Team / KAWASAKI / 42'59.473 / 168.362 / 19.863
12 / Colin EDWARDS / USA / Camel Yamaha Team / YAMAHA / 43'10.288 / 167.659 / 30.678
13 / Randy DE PUNIET / FRA / Kawasaki Racing Team / KAWASAKI / 43'16.808 / 167.238 / 37.198
14 / Chris VERMEULEN / AUS / Rizla Suzuki MotoGP / SUZUKI / 43'21.322 / 166.948 / 41.712
15 / Carlos CHECA / SPA / Tech 3 Yamaha / YAMAHA / 43'35.866 / 166.019 / 56.256
Pole Position: Sete GIBERNAU 1'48.969 173.278 Km/h
Fastest Lap: Loris CAPIROSSI 1'50.195 171.350 Km/h Lap 7
Circuit Record Lap: 2005 Max BIAGGI 1'50.117 171.472 Km/h
Circuit Best Lap: 2006 - Sete GIBERNAU 1'48.969 173.278 Km/h
World Championship Positions:
1 CAPIROSSI 99, 2 HAYDEN 99, 3 MELANDRI 89, 4 PEDROSA 86, 5 ROSSI 65,
6 STONER 65, 7 ELIAS 53, 8 EDWARDS 49, 9 GIBERNAU 44, 10 TAMADA 40,
11 NAKANO 37, 12 ROBERTS 28, 13 HOPKINS 27, 14 VERMEULEN 21, 15 CHECA 16.

GP 250cc Race Classification 250cc: (21 laps = 110.145 km)
Pos / Rider / Nat / Team / Motorcycle / Time / KM/H / Gap
1 / Jorge LORENZO / SPA / Fortuna Aprilia / APRILIA / 40'35.185 / 162.83 /
2 / Alex DE ANGELIS / RSM / Master - MVA Aspar Team / APRILIA / 40'35.296 / 162.822 / 0.111
3 / Andrea DOVIZIOSO / ITA / Humangest Racing Team / HONDA / 40'35.505 / 162.808 / 0.32
4 / Yuki TAKAHASHI / JPN / Humangest Racing Team / HONDA / 40'35.519 / 162.808 / 0.334
5 / Alex DEBON / SPA / Aprilia Racing / APRILIA / 40'38.500 / 162.608 / 3.315
6 / Roberto LOCATELLI / ITA / Team Toth / APRILIA / 40'38.512 / 162.608 / 3.327
7 / Marco SIMONCELLI / ITA / Squadra Corse Metis Gilera / GILERA / 40'43.115 / 162.301 / 7.93
8 / Anthony WEST / AUS / Kiefer - Bos - Racing / APRILIA / 41'01.233 / 161.107 / 26.048
9 / Shuhei AOYAMA / JPN / Repsol Honda / HONDA / 41'01.801 / 161.069 / 26.616
10 / Andrea BALLERINI / ITA / Campetella Racing / APRILIA / 41'05.755 / 160.811 / 30.57
11 / Sylvain GUINTOLI / FRA / Equipe GP De France - Scrab / APRILIA / 41'08.039 / 160.662 / 32.854
12 / Manuel POGGIALI / RSM / Red Bull KTM GP 250 / KTM / 41'08.928 / 160.604 / 33.743
13 / Sebastian PORTO / ARG / Repsol Honda / HONDA / 41'48.734 / 158.056 / 1'13.549
14 / Arturo TIZON / SPA / Wurth Honda BQR / HONDA / 41'51.344 / 157.892 / 1'16.159
15 / Fabrizio PERREN / ARG / Stop And Go Racing Team / HONDA / 41'53.718 / 157.743 / 1'18.533
Pole Position: Jorge LORENZO 1'53.787 165.941 Km/h
Fastest Lap: Roberto LOCATELLI 1'54.749 164.550 Km/h Lap 14
Circuit Record Lap: 2005 - Alex DE ANGELIS 1'54.332 165.150 Km/h
Circuit Best Lap: 2005 - Jorge LORENZO 1'53.457 166.424 Km/h
250cc World Championship Positions:
1 DOVIZIOSO 108, 2 LORENZO 88, 3 TAKAHASHI 80, 4 BARBERA 78, 5 AOYAMA 75,
6 LOCATELLI 67, 7 DE ANGELIS 55, 8 GUINTOLI 43, 9 SIMONCELLI 40, 10 AOYAMA 34,
11 SMRZ 27, 12 WEST 27, 13 CARDENAS 22, 14 PORTO 20, 15 POGGIALI 17.
---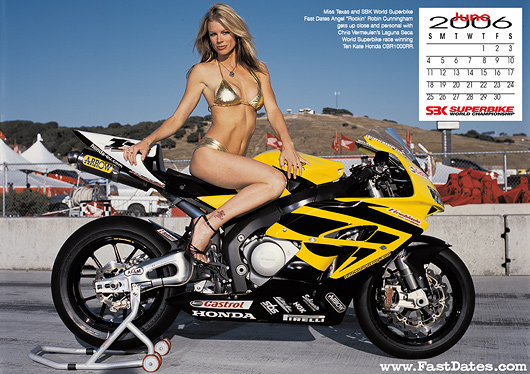 Are you getting our big awesome monthly screensavers? If not click on this picture...
---
AMA National Superbike Championship Road America, Round 5 of 11
Mladin stops Spies win streak with a Double at Road America
Elkhart Lake, WI, June 03, 2006 - After suffering six straight defeats at the hands of his up-and-coming rival Ben Spies, Yoshimura Suzuki's Mat Mladin struck back this afternoon at Road America, topping his teammate in a classic AMA Superbike duel at Road America.
Mladin clawed his way to the front in the race's early stages and then fought off a remarkable late charge from Spies to claim the 45th victory of his decorated AMA Superbike career by just 0.148 seconds at the checkered flag This six-time champ was unable to successfully leverage the pole position he scored earlier in the day, bogging a bit off the line and then entering Turn 1 down in sixth position.
"Coming through the first corner I was laughing my head off," Mladin later explained. "I was literally laughing in my helmet because I was so far back. Ben knew I got a bad start and halfway up the straight he looked at me thinking 'oh beauty, I'm gone!'… I was just laughing because it was such a terrible start and when he looked over I couldn't contain myself and cracked up."
Meanwhile, points leader Spies stuffed up the inside of American Honda's Miguel DuHamel to take the lead and cross the stripe in first place after the opening lap. Spies eked out a small advantage at the front despite a very impressive challenge on DuHamel's part while the Aussie steadily worked his way past the works Ducatis of Neil Hodgson and Ben Bostrom on the opening lap and then Jake Zemke on lap three to move into third.
Mladin used DuHamel's draft to pull closer to both the Canadian and the leader over the next several laps. By the time he drafted past DuHamel to start lap 6, Mladin was within striking distance of Spies as well.
On the next lap Mladin attempted a bold inside maneuver in the hard-braking Turn 5 and briefly claimed the lead. Spies shot right back underneath him however, and the two shared a glance as they charged up the hill towards 6. The former GP500 runner finally made his bid for the lead stick in the new chicane section later that same lap.
The Aussie then looked like he might break away, taking full advantage of a near highside by Spies' on lap 7. Mladin bumped the gap up from 0.123 seconds to 0.597 seconds to 1.323 seconds over the new three laps.
Spies started working forward as the laps wound down, however, sliding his way to some blisteringly quick times in the low 2:12s as he reeled his rival back in. On lap 14 of 16, Spies ripped off a stunning 2:11.934 to break Mladin's lap record and close right in on the tailpipe of the #1 GSX-R1000.
Over the final two laps Spies stayed right in Mladin's tow but never got quite close enough to try his luck against the all-timer. A lapper under the Billy Mitchell Bridge on the final lap made things a bit interesting, allowing Spies to think about a possible slipstream pass at the stripe but Mladin managed to beat him to the flag by just three bike lengths.
On the cool down lap it was obvious that Mladin was excited to be back on top of the box, displaying more emotion than usual following his hard-earned triumph. "Honestly, it was a good race today," he said. "I had to push very hard and from about half race distance I tried to go as hard as I could and not make too many mistakes. We started to get the thing down into the low '12s and Ben was still there. I was going as hard as I could and ended it up being a good race. The bike worked very, very well. I've done a few different things from the last couple races and learned a little bit and things are coming on pretty good."
Commenting on preventing Spies from establishing a new all-time consecutive wins mark, Mladin joked, "Miguel owes me five bucks for stopping Ben's win streak."
Spies stated, "I rode as hard as I could and I couldn't have done anything different. In the middle of the race I was making a few mistakes and I made one big mistake and that's when he got that gap on me. I tried to stay right there and with a few laps to go I tried to put my head down, not make any mistakes, and ride as hard as I could. We barely got back to the back of him.
Behind the top two, Honda runners DuHamel and Zemke enjoyed a dogfight of their own. Zemke moved into third following a DuHamel mistake on lap 10 and the Canadian worked the remainder of the 100k race's distance to overcome his mishap. He came back from almost two seconds down but still ultimately fell 0.196 seconds short of reclaiming a podium finishing position.
Zemke also spoke about the progress the team has made with their American-developed CBR1000RR Superbikes since kicking off the program prior to the '05 season. "This race last year was where we got our first podium since we started our development program. It seemed like it took all the way until the end of the season before we could get back to the podium, and it wasn't me, it was only Miguel. So to be on the podium four times this year and have a Honda on the podium in every race this year, we're really happy about that.
Former World Superbike champ Neil Hodgson was the best of the rest, running a fairly lonely race in fifth while a slow starting Aaron Yates fought and eventually won out for sixth over Kawasaki's Tommy Hayden and second Ducati man Bostrom. Jason Pridmore made a late pass on teammate Steve Rapp to claim ninth as the Jordan Suzukis rounded out the top ten.
Mladin's pole, win, and most laps led point bring the Australian six points closer to title leader Spies, cutting the gap to 24 (289 vs. 265) heading into Sunday's 16-lap final.
Saturday Superbike Race One Results:
1. Mat Mladin, Suzuki 2. Ben Spies, Suzuki 3. Jake Zemke, Honda 4. Miguel Duhamel, Honda 5. Neil Hodgson, Parts Unlimited Ducati 6. Aaron Yates, Suzuki 7. Tommy Hayden, Kawasaki 8. Ben Bostrom, Parts Unlimited Ducati 9. Jason Pridmore, Suzuki 10. Steve Rapp, Suzuki
Sunday Race 2: Another Mladin Domination
Sunday June 4th - Mat Mladin managed to stop the bleeding and halt his Yoshimura Suzuki teammate Ben Spies' AMA Superbike win streak at six on Saturday, it wasn't until Sunday's 100k final at Road America that we were really treated to a 'vintage Mladin' performance. Early in the contest it looked like Mladin's new found momentum may be stamped out before it really took hold, as the 34-old ace bogged heavily coming off the stripe. While Spies put his head down at the front, the defending series king found himself down in the region of 20th place heading into Turn 1 for the first time.
Mladin worked extremely hard to dig himself out of that hole, crossing the line down in tenth at the completion of the opening lap. He then dropped a bevy of Superbike stars over next two laps, blasting past his teammate Aaron Yates, Parts Unlimited Ducati runners Neil Hodgson and Ben Bostrom, and works Kawasaki entry Tommy Hayden to move into fourth by the start of lap 4 of 16. Mladin picked off Saturday third-place finisher Jake Zemke aboard the CBR1000RR on the very next lap and set his sights on a heated battle for the lead being contested by Spies and a very racy DuHamel, still some five seconds away.
However, just when his ability to erase that advantage with a clear track in front of him was about to be put to the test a red flag was shown due to oil laid down on the back straight, bringing the race to a temporary stop.While the restart appeared to be a major advantage for Mladin, he later claimed that he was actually a bit disappointed to see it fly as he was relishing the challenge.
He didn't make things that much easier for himself the next time around though, falling from third on the grid to seventh in Turn 1 when the race got back underway. The Suzuki hero kicked off lap 6 almost three seconds out of first but ripped his way up the order with an incredible string of 2:11-lap times.
Consider that Mladin established a new track record during qualifying with a 2:11.970 lap, a mark topped during Saturday's race by Spies at 2:11.934. Mladin was on a whole different level Sunday, laying down seven consecutive laps beneath the previous benchmarks, including an astonishing 11:208 circulation.
While Spies was running a terrific pace (consistent low '12s), he had nothing in response for Mladin after he slammed up the inside in the new chicane section on lap 11, the very same corner Mladin had dispatched of American Honda's Jake Zemke two laps earlier.
The new leader didn't ease up until the final lap, allowing him to open up 5.921-second lead by the time he took the checkered flag on one wheel. Even Mat's comments afterwards felt more 'Mladin-esque' as his ultra-competitive nature shone through a bit. "After the second race at Infineon, anyone that thought the championship was over obviously hasn't been watching what's been going on the last seven or eight years. If anyone thought we were just going to roll over, that certainly wasn't the case. We've been working hard and I've been working hard."
Speaking about his approach to Sunday's race, Mladin explained, "We put the new forks in today that Ben's been on the whole season and finally got them feeling pretty good. That certainly helped out a lot. And then this morning we made one change to the bike and that certainly helped out in a couple spots. After I watched the race last night I felt that I could make a bit more time on Ben. Yesterday after watching the race I felt Ben was staying in the race because he was catching the end of the draft halfway down both of the straights. I thought if I could get away and put some good laps in and break that little bit of wind that might be all we had to do and today it worked."
Spies finished second while keeping an eye on Zemke, who took third to duplicate Saturday's podium order."The first part of the race was really good," the 21-year-old Spies said. "I knew what laps we could run and right before the red flag I was actually on a lap that would have probably gone into the high '11s. The second start, something was just a bit off. I don't really know what it was. It's not a big deal -- we obviously didn't have his pace today either way -- but something definitely was amiss. When Mat came by me I tried to hang with him a little bit but I knew there was no way -- I just couldn't do it and I was going to throw it down the drain there. I just kept it up on two wheels and the last couple laps got pretty difficult. I kept tabs on Jake and made sure we could finish in front of him."
Third-place man Zemke said, "All in all I'm really happy because I actually finished on the same straightaway as they two for once. We've come a long ways since last year and we're really working hard to get that bike up to the front. These guys are just riding awesome right now and they're taking it to us. But we're going to keep plugging away at it and we're not going to just give up and roll over. We'll keep charging and we'll keep trying and one of these day's we'll get to race with these guys."
DuHamel, who appeared capable of providing Spies with a real challenge prior to the red flag, fell back late in the race and as ran low on fuel. He was pipped at the line for fourth by former World and British Superbike champ Hodgson, and the Canadian was very nearly overhauled by Yates as well, finishing less than a tenth of a second in front of the sixth-placed Georgian. Bostrom finished seventh with ZX-10R-mounted Hayden eighth. The Jordan Suzuki trio of Jason Pridmore, Jacob Holden, and Steve Rapp came home in ninth through eleventh, respectively.
Mladin's huge weekend saw Spies' early-season title advantage whittled down to just 21 points (322 vs. 301). DuHamel lies a distant third at 251 with nine of 19 races completed.The Mladin/Spies showdown will pick back up in two weeks time at Miller Motorsports Park in Tooele, UT June 16-18.
Sunday Superbike Race Two Results:
1. Mat Mladin, Suzuki 2. Ben Spies, Suzuki 3. Jake Zemke, Honda 4. Neil Hodgson, Parts Unlimited Ducati 5. Miguel Duhamel, Ducati 6. Aaron Yates, Suzuki 7. Ben Bostrom, Parts Unlimited Ducati 8. Tommy Hayden, Kawasaki 9. Jason Pridmore, Suzuki 10. Jake Holden, Suzuki
AMA Superbike points (after nine races):
1. Ben Spies, Suzuki 322, 2. Mat Mladin, Suzuki 301, 3. Miguel Duhamel, Honda 251 4. Neil Hodgson, Parts Unlimited Ducati 236 5. Aaron Yates, Suzuki 229 6. Tommy Hayden, Kawasaki 220 7. Ben Bostrom, Parts Unlimited Ducati 215 8. Jake Zemke, Honda 214 9. Jason Pridmore, Suzuki 192 10. Larry Pegram, Honda 170
Fast Dates Calendar Motorcycle Roadracing News. Complete coverage of the SBK World Superbike, AMA National Superbike and MotoGP World Championship. Superbike, SBK, FIM, AMA, American Superbike, superbike planet, American Roadracing, sportbike, grand prix, MotoGP, race, racing, news, superbike news, sport bike, motoGP news, photography coverage, photos, pictures, Fast Dates Calendar and Umbrella Girls. Racing, road race, track, motorcycle, news, results, girls, models, Mat Aladdin, Max Biaggi, Valentino Rossi, Troy Baylis, Ben and Eric Bostrom, James Toseland, Chris Vermeulen, Maria Sharapova, Kristen Bell, Regis Laconi, Loris Capirossi, Troy Bayliss, Troy Corser, Noriyuki Haga. Ducati 999 Monster Multistrada, Yamaha R6 R1, Honda CBR600RR CBR1000RR, Kawasaki ZX6 ZX6RR ZX10, Suzuki GSXR600 GSXR750 GSXR1000, Aprilia Mille, MZ Agusta F4 Brutale. Los Angeles Calendar Motorcycle Show.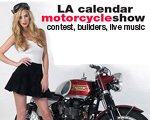 World's Richest Bike Contest includes Sportbikes and a
$70,000 Purse! Win Exhaust Systems from Vance & Hines, compete in the Jardine World record Horsepower Dyno Shootout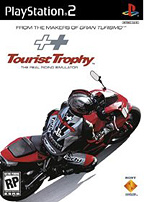 Hot New TT for PS2!
Fast Dates Racebike
& Garage Girls Calendars
Click to Order Now!



Ducati Celebrates 80th Anniversary at Mugello with special Bike Livery, Capirossi retakes MotoGP Points lead
Sunday Jun 4 2006 Ducati Marlboro Team riders Loris Capirossi and Sete Gibernau played starring roles in today's enthralling Italian Grand Prix, both riders leading to the delight of the Italian fans before finally finishing second and fifth.
Capirossi came back brilliantly from a sluggish start to take the lead on lap 15. From there he fought a thrilling duel with compatriot Valentino Rossi, ending the race just 0.575 seconds down to retake the World Championship lead, though equal on points with third-place finisher Nicky Hayden. During the early stages Gibernau was Rossi's biggest threat, the Spaniard leading on several occasions before the toe-slider on his right boot got damaged. Gibernau slipped back before mounting a spirited comeback, rapidly closing on fourth-place finisher Dani Pedrosa. By the finish he had worn right through the boot and his little toe was bleeding.
Capirossi and Gibernau raced with special livery to celebrate three anniversaries: Ducati's 80th birthday, the 60th anniversary of the company starting motorcycle production and the 50th anniversary of its first use of the desmodromic valve system.
FEDERICO MINOLI, Ducati Motor Holding CEO and president
"That was a great way to mark the three anniversaries we are celebrating this year. We had a one-two on the grid and we were in the thick of the action for the race win. Loris rode like a lion, making an unbelievable comeback, while Sete showed once again that he's a great rider, without that boot problem he would also have fought for the win. "
First steps taken towards MotoGP feature film, "Velocity"
June 2nd 2006 - At the Gran Premio d'Italia Alice, the public at large will see the first phase of a new MotoGP feature film project, "Velocity". When Kenny Roberts Jr. takes to the track tomorrow morning, his KR211V will sport a brand new sponsor, Venture Petroleum, however the sponsor is fictitious and is all part of the new movie script.
It is just a first stage of filming of "Velocity", the first dramatic feature movie to be granted permission to use MotoGP as its backdrop. With the backing of MotoGP commercial rights-holders Dorna Sports, the film will feature real race footage from the 2006 season, with the aim being for the release date to occur in Spring 2007 after further filming at locations around the world.
"Velocity" is written and directed by award-winning former professional motorcycle racer and Hollywood stuntman Jeff Jensen, whose latest feature, "High Speed" starring Sienna Miller, has won "Best Dramatic Feature" at three film festivals.
Jeff is one of our Sunday morning riding buddies. Part of a diverse group of sportbike enthusiasts who meety up every Sunday morning 8:30am at the Coffee Bean in Malibu, CA. From there we head out on a spirited canyon ride through the Santa Monica Mountains to the famous biker hangout the Rock Store on Mulholand Highway in Cornell, CA.

DESMOSEDICI RR TO MAKE APPEARANCE AT RED BULL USGP
07 June 2006 - After a highly anticipated unveiling at Mugello, Ducati North America can officially confirm that the Desmosedici RR will make its next appearance on American soil at the Red Bull USGP, held at the historical Laguna Seca Raceway July 21-23.
The exotic motorcycle will travel with the Ducati Corse Team and will be on display for invited guests in the MotoGP paddock. The Desmosedici RR will also make a brief appearance on Ducati Island during the race weekend.
The anticipation around the release of this motorcycle is significant, as it is the first ever street legal MotoGP replica. Immediately following the June 1 Mugello announcement, Ducati North America opened the customer ordering period via local Ducati dealers. In less than five hours, enough buyers had placed orders to cover the entire first year forecast for North American production.
"Although we anticipated a high demand for the Desmosedici RR, we never could have imagined securing reservations for all of the 2007 North American production this quickly," said Michael Lock, CEO of Ducati North America. "With the tremendous response to the Desmosedici RR, the news of an appearance of the bike at the US MotoGP and our team now leading the MotoGP series, Ducati certainly has a lot to celebrate at Laguna Seca!"
The MSRP of the Desmosedici RR is $65,000. The motorcycle is street legal and comes with a three year warranty and three years of included service maintenance.
• Ducati Corse Race Shop
Exclusive Sneak Visit!
Ducati Preparing for
new generation
1200cc Superbike in 2008
Its no secret that Ducati has been lobbying the FIM sanctioning body and promotor FGSport for a capacity increase in World Superbike beginnig in 2008. They'ld like to see the V-twin capacity go up to 1200cc while the In-line 4s remain at l000cc.
With Troy Bayliss leading this year's World Superbike Championship on a 1000cc Ducati over reigning champ Troy Corser's 1000cc Suzuki, there obviouly isn't the need for a rule change at this point. And the fact Gregorio LaVilla is dominating the BSB Superbike Championship on a Ducati as well, while Ben Spies is leading the AMA Superbike Championship in America, pretty much confirms the 1000cc V-twins and inline 4's are very evenly matched and it is the riders who are making the difference (Maybe its Honda, Kawasaki and Yamaha who should be lobbying for a capacity increase over the Suzuki GSXR and Ducati 999 which are beating them!)
For Ducati, they feel the capacity increase to 1200cc for their trademark Testastretta Superbike is a necessity to keep up with the Japanese in the horsepower wars in the Showroom for customer sales. It doesn't matter that they have their limited production inline 4 MotoGP derived Desmosedici RR waiting in the wings, capable of producing some 240hp in race trim and beating anything the Japanes can produce for the street. (Note: Ducati will have their world premier of the new limited street production Desmosedici on their Ducati.com website on June 1st).
For Ducati it's a tradition to win races with their trademark desmo V-twin, and they want to continue to do so well into the future whithout having to resort to the Desmosedici.
As the owner of a modified Ducati 999R Testastretta myself, I can attest to the fact this detuned production superbike bike already has more power than I've ever be able to use on the street or track. And my buddies who ride Jpanese 1000cc superbikes are no quicker, nor can they use all the power at their disposal with their Japanese 4s in our canyon riding or on the track.
For me, I'd like see the Ducati keep their V-Twin Superbike at 1000cc. If their factory Corse Superbikes are making well over 200hp, Ducati still has lots of room to increase power from the 150hp on their showroom production 999R up to 165-170hp to keep it on par with the 165hp Japanaese street superbikes.
If and when Ducati does need to go faster in World Superbike, there's still a few tricks inside the MotoGP Desmosedici that can be passed over to the top of the line 999R.
What I'd like to see as a Ducati enthusiast and owner, is a new 4th generation Superbike model that incorporates the more maneuverable handling, good looks and easy serviceability of the older generation 916-998 models, together with the better rider fit and comfort of the current 999 generation superbike. And the next generation bike needs to be 30 lbs lighter on the showroom floor. If World Superbikes can weightin at just 362lbs with starters, battery and ballast, I can't see how a set of lights adds 60lbs to their 999 street bike. If Suzuki can build a lightweight GSXR1000, than Ducati should be able too as well. - Jim Gianatsis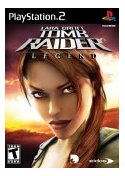 New! Tomb Raider Legend
Click to Order Any
Tom Raider
computer game now
available in all platforms!
Long Way Round
Actor Ewan McGregor & friend Charlie Boorman's incrdible trip around the world on bikes! A must have, it's the best motorcycle movie/story in 30 years! - Since On Any Sunday and Easy Rider
Order our favorite
FastDates.com babe music at low discount prices!
(just click on the CD covers to find out more and to order online)

---
Honda men McGuinness and Lougher take top two places in Isle of Man TT Superbike race
John McGuinness scorched to his ninth victory on the Isle of Man as he shattered both lap and race records to take a comfortable victory in this year's opener to the annual festival, the TT Superbike race, decided over six gruelling laps of the 37.73 mile Mountain Course.
The HM Plant Honda rider had a problem free ride as he pulled progressively clear, leaving Ian Lougher trailing by some 39 seconds, on what proved to
be a super day for the Japanese marque as they packed four riders into the top five finishing positions.
McGuinness had warmed up the for race by bettering his own lap record during practice, and the Lancastrian was destined for even higher speeds as he continued his tried and tested strategy of riding the early parts of this high speed dash over the public roads course, on a return trip to Douglas, over Snaefell Mountain as hard as possible.
Riding the Honda CBR1000RR specially developed for dealing with the rigours of taking this torturous course at high speed, McGuinness had opened up an
early lead over the Kawasaki of Ian Hutchinson, but by Ramsey on the opening lap, Lougher had moved into second aboard his Honda CBR1000RR, running in Stobart Motorsport colours.
McGuinness charged over the mounting, trebling his advantage to 12 seconds as he completed the opening lap at a record pace of 127.835mph, but he was
in mood to relent, driving on and mile by mile increasing his advantage ahead of Lougher as, despite having to slow for the pit-stop at the end of the second lap, he was bettering his own record.
The second lap was completed in 17m 41.71secs, an average speed of 127.93mph, which gave him a 22 seconds lead, which was to extend to half a
minute after a further two laps as he again pitted to change the rear tyre and take on fuel.
It was a formality, with McGuinness stretching his advantage in the remaining third of the race, taking his ninth victory on the Island in style: "Fantastic. The bike never missed a beat. A lot of thought and work went into it over the past months. I thoroughly enjoyed riding it, concentrating hard all of the way. We have done the job!
"I felt really strong over the Mountain section, and knew the first two laps were fast, though I was a bit surprised at just how good they were. The whole race problem free, the only minor troubles I had were going through Ramsey on the final lap with a few back markers. It was a
case of backing off a bit and being patient, not taking any risks."
Lougher, taking the 25th podium finish of his career in the TT, commented: "I don't know whether to be happy or sad. I wanted the win in this big-bike
race, but I am second again, which is a great effort. The bike is so fast there were no problems. This is a good start to the week."
Hutchinson, third for Kawasaki, finished around a full minute ahead of Martin Finnegan aboard the Klaffi Honda CBR1000RR, with Cameron Donald, also riding a Honda CBR1000RR fifth from the Yamaha of Jason Griffiths.

Results Man Superbike TT:
Pl / Name / Bike / Time / MPH
1 / John McGuinness / 1000cc Honda Firebla HM Plant Honda Racing / 1h 48'
52.06" / 124.76
2 / Ian Lougher / 1000cc Honda Firebla Stobart Honda / 1h 49' 31.20" / 124.02
3 / Ian Hutchinson / 1000cc Kawasaki ZX1 McAdoo Kawasaki Racing / 1h 49'
54.61" / 123.58
4 / Martin Finnegan / 1000cc Honda Firebla Klaffi Honda / Alpha Boilers /
1h 50' 59.02" / 122.39
5 / Cameron Donald / 1000cc Honda Firebla Robinson Concrete / 1h 51' 26.54"
/ 121.88
6 / Jason Griffiths / 1000cc Yamaha R1 Yamaha UK / 1h 51' 59.67" / 121.28
7 / CARL RENNIE / 1000cc Kawasaki ZX1 Hawk Kawasaki / 1h 52' 03.19" / 121.22
8 / Paul Hunt / 1000cc Yamaha R1 Team Racing Yamaha / 1h 52' 19.41" / 120.93
9 / Davy Morgan / 1000cc Honda Firebla DMRR Honda Racing / 1h 52' 45.90" /
120.45
10 / Raymond Porter / 1000cc Yamaha R1 JD's Motorcycles / 1h 52' 47.28" /
120.43
11 / MARK PARRETT / 1000cc Yamaha R1 Ripley Land / 1h 53' 10.90" / 120.01
12 / Ian Armstrong / 1000cc Yamaha R1 Canteen Smithy / 1h 53' 17.15" / 119.90
13 / John Barton / 1000cc Honda Firebla Marks Bloom Racing / 1h 53' 31.82"
/ 119.64
14 / GARY CARSWELL / 1000cc Suzuki Wilson & Collins / 1h 53' 32.73" / 119.62
15 / CHRIS PALMER / 1000cc Yamaha R1 FCL Racing / 1h 54' 01.36" / 119.12
John McGuinness completes TT Festival
hat-trick with Senior TT victory
Isle of Man, June 9th - John McGuinness shattered both lap and race records as he scorched to his third victory of the week in the Isle of Man TT Festival, finishing ahead of Cameron Donald, Bruce Anstey and Ian Lougher as Honda riders packed three of the top four finishing positions in the prestigious Senior race.
The 32 year old Morecambe rider used the tried and tested tactics of powering as fast as possible into the opening to break the challenge of his rivals, and he has a superbly prepared HM Plant Honda CBR1000RR for the race. The machine had been specially prepared for the rigours of racing this difficult 37.73mile public roads Mountain Course and McGuinness used its qualities to the full, taking his career eleventh success and also the 130th TT success for Honda.
McGuinness was ahead, but by only half a second, as they charged through Glen Helen for the first time, but mile by mile, he was extending his advantage, and also upping the record speed, taking that opening lap in 17m 39.95secs, an average speed of 128.146mph, faster than the record he set in his winning TT Superbike ride the previous Saturday.
But there was better to come with McGuinness revelling in the near perfect, sun-drenched conditions as he shook off the challenges of Guy Martin and then Cameron Donald. As he pitted for fuel and a change of rear wheel, he had powered further into the unknown, with a lap on 17m 29.26mph, an average speed of 129.451mph.
That put him 12 seconds ahead of the determined Donald, aboard the Robinson Concrete backed Honda CBR1000RR. The Aussie, riding in only his second year on the Island, and with broken heels, the result of a crash in last month's North West 200, clocked a second lap of 128.445mph.
He was trying everything he knew, but McGuinness had not only speed on the road, he also had the slicker pit-crew, and twice they played a major role in maintaining his supremacy.
At that second refuelling halt, McGuinness was running 25 seconds ahead, and he was able to ride within himself over the final two laps, checking his signalling boards to take the victory that puts him level third with Philip McCallen and the late, great Steve Hislop in the list of all time TT winners.
"I don't think that I have ever ridden better round here than that. It was an unbelievable victory, awesome. I decided to push from the very start, the bike did not miss a beat, but they pushed me all of the way. It was a tough race.
"The second lap felt good and fast. I had a blistering ride over the mountain, and was able to focus in on Guy Martin as a marker, and then I went ahead of him on the road. It was a terrific lap.
"I am not too fussed about speed, rather, I wanted the win, but this time is was a case of going as fast as you could to achieve that," reflected McGuinness as he took the race, in record time, by 20 seconds from Donald, who commented: "I'm still stunned with that. It is only 18 months ago that they invited me to come over here as a newcomer. I just cannot believe how this race has gone, or my lap times."
Anstey, despite a scary moment or two on the opening lap at Ballacraine when he clipped a bank and some bushes, took third place for the TAS Suzuki team, finishing some eleven seconds ahead of Ian Lougher, riding a Honda CBR1000RR in the Stobart Motorsport colours.
Guy Martin, riding Yamaha, took fifth place, ahead of the Kawasaki of Carl Rennie and local rider Davy Morgan riding another Honda CBR1000RR. Raymond Porter, Nigel Beattie and Gary Carswell completed the top ten finishers
Results
Isle of Man TT Senior Race – six laps, 37.73 mile Mountain Course
1 / J McGuinness (GB) / Honda / 1h 47m 38.84s av sp 126.178mph
2 / C Donald (Australia) / Honda / 1. 47:59.45
3 / B Anstey (New Zealand) / Suzuki / 1. 48: 08.79
4 / I Lougher (GB) / Honda / 1.48:19.11
5 / G Martin (GB) / Yamaha / 1.49:40.71
6 / C Rennie (GB) / Kawasaki / 1.50:57.62
7 / D Morgan (GB) / Honda / 1.51:39.48
8 / R Porter (GB) / Yamaha / 1.51:50.90
9 / N Beattie (GB) / Yamaha / 1.52:07.60
10 / G Carswell (GB) / Suzuki / 1.52:13.76