Nicki Hayden lead the 2006 MotoGP Championship going into China without ever having won a race. His 2nd place at this weekend's race in China would strengthen his points lead even further

2006 MotoGP World Championship, Round 4 China

MotoGP of China to Dani Pedrosa with a Honda 1-2 Punch
May 12-14th, Shanghai, China - Dani Pedrosa took his first MotoGP victory today at the Shanghai Circuit, confirming his status as a serious title contender in his debut season. The Repsol Honda rider, who started from pole, came back from a quiet start to lead the entire second half of the race ahead of team-mate Nicky Hayden. Colin Edwards put himself on the podium for the first time this season whilst fellow Camel Yamaha rider Valentino Rossi saw his spectacular fightback through the field cut short by a tyre problem.
Above Pendrosa ran away from American's Hayden and Edwards in the second half of the race.

After a fantastic Grand Prix of Turkey, the MotoGP tour has landed in China for the fourth race of an amazingly unpredictable 2006 season. The Shanghai International Circuit hosted MotoGP for only the second time, following on from a rain-soaked 2005 Grand Prix, but has already established itself as one of the world's top motorsport venues.
Preview - Hayden Leads the Way
Nicky Hayden arrives in China as the current championship leader with 52 points. The Repsol Honda rider's amazing consistency has given him seven consecutive podium finishes, his most recent being a third place at Istanbul Park in Turkey. The American rider will have to be looking over his shoulder in China, with no room for error in Shanghai if he wishes to hold onto the top spot. Ducati Marlboro's Loris Capirossi, the series leader up until the Grand Prix of Turkey, trails Hayden by only one point, whilst Marco Melandri, winner in Turkey, will start the race third in the championship.

The top seven riders in the championship are only separated by 20 points, so mathematically any one of them has a chance to lead the series by the end of Sunday's event. Rookie sensation Casey Stoner lies in fourth place after a superb first MotoGP podium finish in Turkey, and with reigning World Champion Valentino Rossi just behind him in fifth, the duo can both look back on wet weather victories here last year; Rossi's in MotoGP and Stoner in 250cc.

Nicki Hayden
Stoner was actually one of a selection of riders who headed into the city for a pre-event visit to the famous Bund area today. Alongside the majestic river Yangtze, Casey Stoner, Andrea Dovizioso and Makoto Tamada took part in a few traditional Chinese activities in front of a small gathering of fans and masses of local media.
After a short introduction and interview session translated into Mandarin for the fans, a Kung Fu expert took to the stage. Guiding the riders through "tiger stance" into "feathered crane," the game subjects soon picked up the basics. This was followed by a lesson in Chinese drumming, playing along with the popular song "Strong men strive for victory."
Catering for some of MotoGP's newest fans, an autograph session took place by the river, with the stunning towers and buildings as a backdrop. Meanwhile in the pre-event press conference MotoGP's new championship leader Hayden was joined by Melandri, Rossi, Shinya Nakano and Chris Vermeulen, with the Australian fresh from a positive weekend in Turkey where he took a gutsy seventh place after starting from a hard-fought pole-position.
Despite the sunny conditions in Shanghai today, weather forecasts are for rain on Friday and Saturday, with the track drying by Sunday's race-day, which could make for another race equally as exciting as the Turkish event, which lit up an already thrilling season.
Nicky Hayden (Honda): "Of course, I'm happy to be leading the championship, it's a good feeling but I know that there's a long way to go. The next few races are very important, but having already had a good start to the season allows us to put the heat on the others. We've got two races back-to-back, then heading into Europe is always hectic. We're at the business end of the season now. For me, having been consistent is a good sign, I just want to take it up another level and get the W.
It's not an easy circuit, and it was tricky last year. In the dry the surface has a good grip though, which makes it a lot better. There are 3 first gear corners, which in my opinion is 3 too many. The only thing that I really care about is that it is safe, which where I come from isn't always the case. We had problems in winter testing, but I set my goals high in any case."
Valentino Rossi (Yamaha): "The championship situation isn't so bad. If we had earned more points in Jerez then it would have been even better. We know that it's a long season.
We looked at the chattering problem after Turkey, and I think that we have found a few solutions. It will be difficult here, you need to get to know the settings in practice. The feeling changes a lot from track to track, this time it is a big question mark. This season has been great. There are young and old riders, and it's fun for spectators….maybe a little less for us!
Last year Shanghai was a bit of a turning point for us, from the race onwards we were very competitive. This year, we need to understand very early on if we are going to have problems or not."
Rossi Tops Wet Practice on Friday at Record Pace
Friday May 12th -Valentino Rossi continued where he left off a year ago at the Shanghai Circuit today, as the first day of practice for the Polini Grand Prix of China got underway. Last year's race winner in the wet, the reigning world champion was able to top the timesheets in both sessions under similar conditions to the first ever Chinese race in 2005.
The Italian Yamaha rider's time of 2'09.393 was enough to put him above Ducati's Loris Capirossi by over three tenths of a second, whilst John Hopkins (Suzuki), Sete Gibernau (Ducati) and Nicky Hayden (Honda) completed the top five. The lap was over four seconds quicker than last year's fastest lap of the race, although conditions were not quite as treacherous as back then.
It had looked as though Hopkins would start from pole after a scorching lap just seconds before the flag. However first Capirossi and then Rossi, who looked extremely comfortable allowing his Yamaha M1 slide across the puddles, took top spot from him. The race winner from the last round in Istanbul, Marco Melandri, finished in sixth place more than a second off Rossi's time, ahead of Dani Pedrosa, Casey Stoner, Makoto Tamada and Randy de Puniet.The rain, which had held off during the 125cc qualifying session, had begun to fall again during the opening minutes of the second MotoGP session, and continued to pour down for the rest of the day.

Reigning 250cc World Champ Dani Pedrosa in the rain at Shanghai.

Pedrosa Steals Front Row In Final Qualifying - Rossi Drops to Back Row!
Saturday 13th - Dani Pedrosa will start tomorrow's Polini Grand Prix of China from pole position, after putting in a last minute record-setting lap. The 20 year-old Spaniard's first pole in the class came in a time of 1'59.009, with a mildly wet track and in a session split in half by rain showers.
It looked at one stage as if Sete Gibernau would maintain his advantage from the first half-hour when the rain started to fall, but after ten minutes break the riders came back out, and the lap-times quickly improved, dropping the Spaniard down the pecking order.
John Hopkins meanwhile earns his first front row of the season, ahead of a rejuvenated Colin Edwards. Both the Americans had sat in top spot at various stages in the session, as had Shinya Nakano, who was eventually dropped to fourth, ahead of championship leader Nicky Hayden and Gibernau.
After having taken second place in Turkey, Casey Stoner sits in a respectable seventh place, whilst the race winner from that race, Marco Melandri, is the top Italian rider on the grid in eighth. They will be joined on row three by Randy de Puniet, who will be hoping to take inspiration from last year's race-day performance from his compatriot Olivier Jacque, who steered the Kawasaki into an impressive second place.
Second in the championship, Loris Capirossi heads row four in tenth, alongside Makoto Tamada and Chris Vermeulen. Directly behind the Ducati of Capirossi is reigning World Champion Valentino Rossi who had led both practices in the rain yesterday, with Carlos Checa and Toni Elias also on the fifth row.
VALENTINO ROSSI (13th; 2'00.720, 18 laps) - The reigning World Champ was extreamely fustrated, "For sure we have a lot of problems and it's disappointing to be back in this position again after such a good day yesterday. When the grip becomes normal again, like today, we have a lot of chatter and it's very hard to ride the bike. Really this situation is quite bad, as the chatter has returned again today and it is similar to how it was in Jerez. Now we have to start from the fifth row and so it's going to be a very hard race. We have talked a lot tonight in the garage and now we will try some things in the morning during warm-up and hope that we can make some final improvements. Now I need to ride a defensive race, try not to make any mistakes and try to take as many points as possible."
Weather forecasts are for no rain tomorrow, but such have been the changeable conditions that every rider will be eagerly looking through the bedroom window first thing tomorrow morning to hope it remains dry.
FIRST ROW:
1. Dani Pedrosa (SPA) Repsol Honda Team, 1'59.009
2. John Hopkins (USA) Rizla Suzuki MotoGP, 1'59.373
3. Colin Edwards (USA) Camel Yamaha Team, 1'59.383
SECOND ROW
4. Shinya Nakano (JPN) Kawasaki Racing Team, 1'59.570
5. Nicky Hayden (USA) Repsol Honda Team, 1'59.574
6. Sete Gibernau (SPA) Ducati Marlboro Team, 1'59.639
THIRD ROW
7. Casey Stoner (AUS) Honda LCR, 1'59.890
8. Marco Melandri (ITA) Fortuna Honda, 2'00.014
9. Randy de Puniet (FRA) Kawasaki Racing Team, 2'00.044
FOURTH ROW
10. Loris Capirossi (ITA) Ducati Marlboro Team, 2'00.078
11. Makoto Tamada (JPN) Konica Minolta Honda, 2'00.176
12. Chris Vermeulen (AUS) Rizla Suzuki MotoGP, 2'00.304
FIFTH ROW
13. Valentino Rossi (ITA) Camel Yamaha Team, 2'00.720
14. Carlos Checa (SPA) Tech 3 Yamaha, 2'01.052
15. Toni Elias (SPA) Fortuna Honda, 2'01.275
Pendrosa (26) held off teammate Hayden the second half of the race.
Pedrosa Wins His First MotoGP On Sunday
May 14th - After unsettled weather for the two days of practice, race day was hot and dry with the track temperature at 26 degrees and ambient at 31 degrees. A modest crowd of 32,000 (up almost double from the Chinese MotoGP's first race the year before) was in place as the lights signaled the start of this, the fourth race of the season.
Dani made the holeshot from the grid into turn one, but ran wide at the apex of the first right-hander allowing Edwards through to take the lead with the other front row qualifier John Hopkins (Suzuki) taking up second place. With 22-laps of this 5.281km track ahead of them in debilitating conditions, this was always going to be a race where the fittest riders would prevail, and where the best set-up machines would reduce rider fatigue by a significant amount.
Edwards and Hopkins would lead the race up to the midway point when they were displaced by harder charging team mates Dani Pedrosa and Nicky Hayden on the Repsol Hondas. At the start of lap 10 Dani, who had started from pole and dropped to fifth by lap two completed his charge to the front. used his speed along the pit straight to slip past Edwards and lead into turn one. Pedrosa and Hayden then exchanged fastest laps over the next few until the 20 year-old Spaniard set the definitive lap record on lap 19 of 22.
His team-mate Nicky, riding hard for his second career win, stuck fast to Dani in second place as the Honda duo left Edwards and Hopkins in their wake. The Americans disputing third place would eventually finish more than 14 seconds adrift of the RC211V-mounted pacesetters. As the Honda runners exchanged fastest laps with one another as Hayden put the pressure on the leader and Pedrosa responded to it, the time dropped from Pedrosa's initial 2m 00.205s lap to a 1m 59.318s mark, again established by Pedrosa, on the penultimate lap. Keeping more or less a one second gap to Hayden to the finish line, Pedrosa now becomes the joint second-youngest rider ever to win a MotoGP race, behind Freddie Spencer and level with Norick Abe.
Reigning MotoGP Champ Danni Pedrosa ads his first MotoGP Open Class feather to his cap.
Dani Pedrosa, Repsol Honda: 1st. "This is a perfect result for me and it was a fantastic race for me and for the Repsol Honda team. They have been working really hard and it was a great result for both riders - so I'm really happy for the team. The race was hard and the pace was high, but the conditions today were very good and I was able to get into a good rhythm. The tyres worked very well today and so I have to thank Michelin for that. I did a good start this time but I left the braking a little bit late and I went slightly wide so I was not able to keep a tight line and lost a few positions. But I was able to pick off the positions one by one. Once in the lead I was always looking at the pit board and seeing zero point something. I was trying to maintain the gap but it was not easy because Nicky was pushing more and more and the tyres were losing a little grip. Winning is always very special but the level in MotoGP is higher, so this is very special for me."
The Repsol duo were in a race of their own but there was frantic action downfield in a brutal scrap for fifth place between Casey Stoner (LCR Honda RC211V), Marco Melandri (Fortuna Honda RC211V) and Makoto Tamada (Konica Minolta Honda RC211V), with Stoner, who had run off track on lap 15 and rejoined in tenth place, getting the verdict – but the paint from Tamada's machine left on his fairing showed how hard he had to fight for that place. At the flag five Hondas filled the top seven places with Nicky achieving his eighth consecutive podium finish to extend his World Championship points lead. But there were other significant events.
Rossi (46) on his charge up through the field slices and dices past arch rival Giberneau (15).

Reigning World Champion Valentino Rossi (Yamaha) suffered a poor start from the forth row and was almost in last place through turn one, but in typical Rossi fashion began working his way steadily towards the front, pasing every one he came apon, and could possibly have reeled in the race leaders in the closing laps. But then with 6 laps to go and lying in 5th place place some 3-4 seconds behind leaders Pedrosa and Edwards, Valentino was forced to pit because of a bad tire vibration. His crew quickly changed theYamaha's rear tire and sent him back out to garner whaever points might still be available. But the problem wasn't fixed as it proved to be a chunked front Michelin tire that couldn't sustain his heated pace. Rossi returned back to the pits on the followling laps and retired from the race.
Valentino Rossi (DNF) "I didn't get a bad start to the race and I passed a lot of riders but I had a battle with Marco Melandri that cost me some time. Some of his moves were quite strong, which I could understand if we were fighting for the win on the last lap but not for eighth place at that stage of the race. Anyway, the bike felt good but just as I got my pace to 2'00.1 it suddenly started to feel wrong and I thought I had a problem with the rear tyre. I came in to change it but as I went back out I realised it was actually the front tyre, so that was the end of the race for me. I'm really disappointed because I felt in the race that I had the pace to at least pass Hopkins and Edwards, so as far as I am concerned we have lost 16 points and a podium, which would have been a good result after the problems we've had this weekend. We've lost some ground in the championship so I am feeling very disappointed right now but there is a long way to go yet."
Rossi's team mate Edwards set a scorching pace that only a handful of riders were able to follow, but finally succumbed to pressure from Dani Pedrosa (Honda) on lap ten, the young Spaniard forcing his way past and taking his team-mate Nicky Hayden along for company.

Colin Edwards closes on Loris Capiroisi with Shanghai's main grandstand facility in the backgound.
Colin Edwards (3rd; + 14.634) "I got a really good start and just decided to go as fast as I could over the opening laps. I was close to losing control on a couple of occasions but I decided that I'd rather crash out of the lead today than miss my chance of finishing on the podium, which meant I just couldn't back off. I had some chatter and I could only push the bike so hard; if I went any faster than 2'00.7 then the chatter forced me to slow down, so I didn't have much choice but to hang in there! The freight train came past with Dani and Nicky but I couldn't hang on to the back, they were both just too fast. We've had some problems this weekend and I didn't expect to be on the podium but I can't thank my team, Yamaha and Michelin enough for the way they worked to put me in a competitive position. I think I scored my first podium in round four last season too, so hopefully this can be a sign to kick on from here."
Rizla Suzuki MotoGP racer John Hopkins scored his best ever MotoGP finish as he held on to fourth place behind Edwards. The Anglo-American star got off to a great start from the front row of the grid and ran in second place for over a third of the race before being passed by eventual winner Pedrosa and Nicky Hayden, but continued with his strong pace and chased down Colin Edwards. Hopkins tried everything to get past Edwards but just couldn't find the extra speed from his Rizla Suzuki GSV-R to do so. After settling for his hard fought position two laps from the end, he wheelied his bike across the line in fourth place in front of his cheering crew.
Chris Vermeulen had a less happy day on his Rizla Suzuki. Starting in 12th place he fought hard with several riders early on but a mistake on lap four caused the rookie Australian to crash out. He was unhurt in the incident, but was unable to remount and carry on racing.
The Ducati challenge also faded with one-time third-placed Sete Gibernau finishing in ninth behind his team-mate Loris Capirossi.
Vermeulen in the huge pit lane in front of the giant front straight grandstands at Shanghai.

Dani is now the second equal youngest rider to win a premier class at 20 years and 227 days old (he shares the record with Norick Abe). He said, "Once in the lead I was always looking at the pit board and seeing zero point something. I was trying to maintain the gap but it was not easy because Nicky was pushing more and more and the tyres were losing a little grip. Winning is always very special but the level in MotoGP is higher, so this is very special for me."
Rizla Suzuki's John Hopkins meanwhile had a great start to the race, following Edwards' holeshot and keeping up with the 'Texan Tornado' for practically the whole race. Whilst Edwards pulled away slightly towards the end to seal third, Hopkins' bike, tyres and nerve held out for fourth place, the highest of his career.
Casey Stoner, who dropped down to tenth at one point after running off track, impressively made his way back up to fifth to continue his run of top six finishes.
A superb battle was taking place between Konica Minolta Honda's Makoto Tamada and the Ducati Marlboro duo of Loris Capirossi and Sete Gibernau, which had the 32,402 Asian crowd on the edge of their seats, as he repeatedly looked to pass on the inside. A well deserved sixth place came at the expense of Marco Melandri, with Capirossi, Gibernau and Shinya Nakano closing out the top ten behind him.
Rossi's exit from the race came after his second trip to the pits. The reigning World Champion entered the boxes on lap fifteen to have his rear tyre changed, but completed only one more lap before having to retire. Australian Chris Vermeulen was the only other retiree, crashing out early.
Victory for a clearly delighted Pedrosa puts him up to third in the overall classification, with Hayden extending his championship lead to thirteen points over Loris Capirossi.
Results Chinese MotoGP
Race Classification MotoGP : (22 laps = 116.182 km)
Pos/ Rider / Nat / Team / Motorcycle / Time/ KM/H / Gap
1 / Dani PEDROSA / SPA / Repsol Honda Team / HONDA / 44'07.734 / 157.967 /
2 / Nicky HAYDEN / USA / Repsol Honda Team / HONDA / 44'09.239 / 157.877 / 1.505
3 / Colin EDWARDS / USA / Camel Yamaha Team / YAMAHA / 44'22.368 / 157.098 / 14.634
4 / John HOPKINS / USA / Rizla Suzuki MotoGP / SUZUKI / 44'26.999 / 156.826 / 19.265
5 / Casey STONER / AUS / Honda LCR / HONDA / 44'30.795 / 156.603 / 23.061
6 / Makoto TAMADA / JPN / Konica Minolta Honda / HONDA / 44'31.613 / 156.555 / 23.879
7 / Marco MELANDRI / ITA / Fortuna Honda / HONDA / 44'31.835 / 156.542 / 24.101
8 / Loris CAPIROSSI / ITA / Ducati Marlboro Team / DUCATI / 44'32.201 / 156.52 / 24.467
9 / Sete GIBERNAU / SPA / Ducati Marlboro Team / DUCATI / 44'36.092 / 156.293 / 28.358
10 / Shinya NAKANO / JPN / Kawasaki Racing Team / KAWASAKI / 44'41.549 / 155.975 / 33.815
11 / Toni ELIAS / SPA / Fortuna Honda / HONDA / 44'43.050 / 155.887 / 35.316
12 / Randy DE PUNIET / FRA / Kawasaki Racing Team / KAWASAKI / 44'59.738 / 154.924 / 52.004
13 / Kenny ROBERTS JR / USA / Team Roberts / KR211V / 45'04.027 / 154.678 / 56.293
14 / Carlos CHECA / SPA / Tech 3 Yamaha / YAMAHA / 45'11.309 / 154.263 / 1'03.575
15 / Alex HOFMANN / GER / Pramac d'Antín MotoGP / DUCATI / 45'18.906 / 153.832 / 1'11.172
Pole Position: Dani PEDROSA 1'59.009 159.749 Km/h
Fastest Lap (New ecord):Lap 19 - Dani PEDROSA 1'59.318 159.335 Km/h
Circuit Record Lap:2005 - Alex BARROS 2'13.716 142.178 Km/h
Circuit Best Lap: 2006 - Dani PEDROSA 1'59.009 159.749 Km/h
World Championship Positions:
1 HAYDEN 72, 2 CAPIROSSI 59, 3 PEDROSA 57, 4 MELANDRI 54, 5 STONER 52,
6 ROSSI 40, 7 ELIAS 37, 8 EDWARDS 35, 9 NAKANO 28, 10 GIBERNAU 25,
11 TAMADA 24, 12 HOPKINS 20, 13 ROBERTS 20, 14 VERMEULEN 13, 15 CHECA 10.
Grand Prix 250cc
After earning his first pole position in the 250cc category yesterday, Hector Barbera was the victor in the quarter-litre race in Shanghai today. The Spaniard beat Andrea Dovizioso after a hard fought dogfight between the two which ran from start to finish. Barbera finished two tenths ahead of his rival and some three seconds faster than third-placed Hiroshi Aoyama. The Japanese KTM rider took third after Jorge Lorenzo ran wide on the penultimate lap to let him through.
Dovizioso continues to occupy the top spot in the overall classification, ahead of Barbera, whilst Lorenzo drops to third after coming home in fourth place.
---


Calendar Kitten Update: LeeAnn Tweeden
Former FastDates.com Calendar Kitten LeeAnn Tweeden has been a busy little beaver since we saw her last. The former Supercross TV announcer and Frederick's of Hollywood lingerie model and girlfriend to superbike racer Ben Bostrom, has found a home at the FOX Sports TVcable channel the last few years and is currently featured on their show "The Best Damn Sports Show Period." LeeAnn also finds time time to visit our troops overseas on various USO Tours, and is currently writing a monthly motorsports column called "Fast Lane With LeeAnn Tweeden" in FHM magazine.
LeeAnn also has her own website with a sexy Members Corner showing more hot shots like the one above. Somehow on her web Bio Page she forgets to mention that we gave her her first big modeling job when she first moved to Los Angeles as an aspiring model, and it was her photoshoot for our 1997 Berm Busters Motocross Calendar where we introduced her to racer Jeremy McGrath that helped lead to her first TV announcing gig for Supercross on TV. How soon they all (LeeAnn, Pamela, Jamie, Joanna, Nicki, etc) forget.... Oh, well. You can keep up to date with all of LeeAnn's rubber burning adventures on her website at www.LeeAnnTweeden.com
---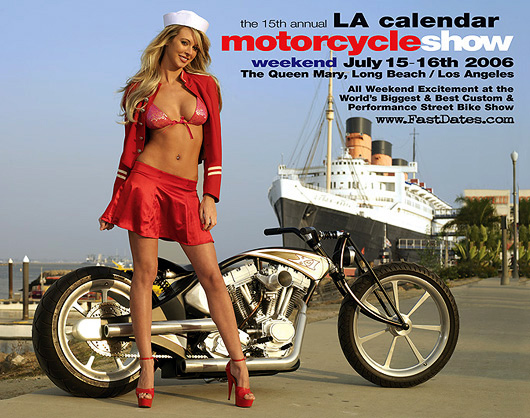 Preview: 2006 LA Calendar Motorcycle Show Weekend July 15-16th

$70,000 Purse at America's Premier Street Bike Weekend
Road Bike Metric Midway Features Sportbikes and Metric Cruisers
The 15th annual Los Angeles Calendar Motorcycle Show Weekend July 15-16th 2006 at the Queen Mary Event Park in Long Beach / Los Angeles, continues its extraordinary growth and success having become the biggest Custom and Performance Streetbike Show in America and possibly the World focused on the custom, cruiser and high performance sport / streetbike markets. The Calendar Bike Show Weekend features one of the world's top bike show contests with one of the biggest purses ever.
Many of the world's top Pro and Amateur Builder street bike builders will be on hand to compete in the Performance Machine Calendar Show Bike Building Championship with a record breaking purse of our $70,000 in cash and awards. This year's Show Contest features 3 new classes including Street Chopper, Bar Hopper, plus the new RoadBike Magazine Metric Class located in the exciting new Roadbike Metric Midway featuring Japanese Cruisers, along with classes for European and Japanese Sportbikes. There will be a total of 10 Calendar Bike Building Championship Classes including the premier Radical Pro Builder Class sponsored by American Iron magazine with a $5,000 cash purse up for grabs, plus the coveted Performance Machine Best of Show Trophy.
Other Championship Classes feature contingency sponsorships by Jardine, Vance & Hines, Havoc Industries, American Iron and Iron Works magazines with winners receiving complete exhaust systems of their choice, magazine subscriptions, and other many other awards totaling $70,000. Not the least of which is the $5,000 product award for Best Performance Machine Equipped Bike at the show from the title sponsor. Many of the class sponsors will be constructing unique one off trophies for 1st place, and in most other classes the Iron & Lace Calendar sponsor's famous Mikuni Carburetor Desk Set awards will go out for 1st in each class, with 2nd and 3rd receiving the Show's Engraved Liquor Flasks for the most unique and coveted awards from America's premier Bike show.
And perhaps most exciting of all, selected bikes form the Calendar Bike Building Championship will be invited by producer Jim Gianatsis to have their motorcycles photographed and featured in the next FastDates.com's Iron & Lace Custom Bikes & Centerfold Models, and SBK Fast Dates Racebike Pinup and Swimsuit Model Calendars sponsored by Mikuni, Performance Machine and Jardine Performance. Many of the world's premier custom bike builders including Jesse Rooke, Harold Pontarelli, Russell Mitchell and Dreamcraft Studios scored their first Bike Show wins and won international media recognition in the Calendars and at the Calendar Motorcycle show as their springboard to fame and fortune.
Spectator attendance reaches close to 20,000 hard core motorcycle enthusiasts at the exciting 2-day weekend. Exhibitors include 195 major motorcycle and parts manufacturers, with selected product and apparel venders added into the mix to keep it fun for the entire family. Spectators have a chance to meet top celebrity custom bike builders and attend free Iron & Lace Calendar Bike Builder Seminars with America's top celebrity Iron & Lace Calendar builders including Russell Mitchell of Exile, Jesse Rooke, Roland Sands, Mike Stafford of MGS Customs, Harold Pontarelli and Joe Takai of Mercury Customs. All weekend long you can watch or enter your own bike in the exciting Jardine World Record Horsepower Dyno Shoot Out.
A new feature at the Show this year will be the Calendar Motorcycle Show Auction which will take place late on Saturday afternoon. Top builders will have a chance to put their latest creations on the block with a Reseve Price, or move out an older custom or show bike to the best availble bid. With Los Angeles being home to the most affluent bike owners in America, the Calendar Motorcycle Show Auction is certain to pull some incredible bikes and bidders and will continue to grow in years to come.
All weekend long entertainment includes 2-Day Musical Festival showcasing top sexy rockin' girl bands and singers including the Lead Zeppelin tribute band Zeparella, beautiful blues rocker Jesse Payo. The exciting Purrfect Angelz will be performing their exciting stage shows both days, including three different 1-hour Shows on Saturday featuring their USO performance for our troops in the Middle East. And don't forget the world premier of the new 2007 FastDates.com Motorcycle Pinup Calendars with the beautiful Calendar Kittens in attendance including Playboy Playamte Tamara Witmer, Irish Supermodel / SBK Fast Dates umbrella girl Gemma Gleeson and Cora Skinner. There will also be a Calendar Girl Model Search Pageant with cash prizes both days. Bike Show admission includes complimentary admission to the historic Queen Mary ocean liner, and the Saturday Night Calendar Bike Builder's Party featuring the rock band Reckless Driver with Mary Falls. For additional information visit the Calendar Bike Show website at http://www.FastDates.com
The LA Calendar Motorcycle Show is Sponsored by Performance Machine, Jardine Performance, American Iron American V-Twin and RoadBike Metric Cruiser magazine, The Los Angeles Times / ReCycler.com / Cycle Buys, Speed TV's American Thunder, Trader Publications / Cycle Trader, BikerNet.com, Quick Throttle and Connection magazines, the FastDates.com Calendars.
---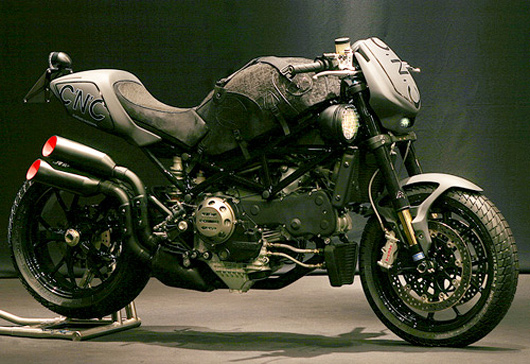 "It's Alive!" - Ennio Capasa's "Black Dogo" Monster is Born
Designer Ennio Capasa creates a real Monster based on the Ducati S4RS.
Taking his inspiration from the American dirt-track bikes of the 1970s and 80s and their spectacular performance in rough conditions, Capasa has designed a completely unique motorcycle beast. Assisted by Simone Falcetta, a design specialist, and developed by NCR-Poggipolini, the premium builder of high performance Italian sport bikes, Capasa has inverted the typical design process. Here the designer has adapted to the off road what was originally a street bike. The new bike is perfect for the ultimate C'N'C voyage: "off the beaten track," ready to tackle the toughest of roads.
The Black Dogo is like the Argentine Mastif, sinuous and powerful, light and tenacious. The front end of the bike is snub and aggressive, the back lean with a short, curved mudguard. The mufflers and seat are short and compact. The tank is covered by elephant leather and has elasticized bands to carry various objects and travel gear. The rear view mirrors have been substituted with video cameras and the instrument panel with a monitor: solutions up to now unavailable on a production motorcycle.
Unlike the Dogo, which is white, Capasa's Ducati C'N'C Monster is black and metal. The fairing is matte black rubber and velvety to the touch. The black frame is bright and shiny. The headlights dark and opaque. The engine is particularly luminous. The tank's elephant skin is black.
"I have always loved motorcycles and especially Ducatis. For this reason I began working on the Monster Dogo project right from the beginning of the C'N'C launch," said Ennio Capasa. "My passion has led me to spend more and more time at the Ducati factory in Bologna where Ducati designs and builds its legendary sport motorcycles. Dreaming of building a Ducati C'N'C became somewhat of an obsession for me. A project that I viewed as a challenge and a privilege. Industrial design has always been central to my design interests and I think the results speak to this passion. The Black Dogo is a highly technological and futuristic motorcycle, a bike that I always craved. From the street to the off road, from the city to a dream vacation, aggressive, but sweet to ride… this is the bike I will ride for many years."
"It is a great pleasure and true honour that a designer at the level of Ennio Capasa is inspired by our Monster S4RS," commented Federico Minoli, President and CEO of Ducati. "It is testament to the passion and creativity that Ducati continues to enjoy in the worlds of fashion and design."
From a FastDates.com editorial standpoint the Black Dog really is a "monster". Just adding dirt track tires on a dated street hotrod on steroids does not an offroad bike, make. What this really is, is a factory supported design project to keep cult interest alive for its quirky Monster model line until Ducati can invent and introduce a more contemporary line of street sportbikes to replace the Monsters. For an off road design study, the more versatile Ducati Multistrada would have been the place to start, while next year's new Hypermoto should form the platform for an incredile new and modern lineup of street and offroad performance bikes from the Bologna firm.

The Ducati Xerox World Superbike team with riders Troy Bayliss and Lorenzo Lanzi pose on the legendary banking at Monza in Italy. Click for a big 1224 Screensaver
Fast Dates Calendar Motorcycle Roadracing News. Complete coverage of the SBK World Superbike, AMA National Superbike and MotoGP World Championship. Superbike, SBK, FIM, AMA, American Superbike, superbike planet, American Roadracing, sportbike, grand prix, MotoGP, race, racing, news, superbike news, sport bike, motoGP news, photography coverage, photos, pictures, Fast Dates Calendar and Umbrella Girls. Racing, road race, track, motorcycle, news, results, girls, models, Mat Aladdin, Max Biaggi, Valentino Rossi, Troy Baylis, Ben and Eric Bostrom, James Toseland, Chris Vermeulen, Maria Sharapova, Kristen Bell, Regis Laconi, Loris Capirossi, Troy Bayliss, Troy Corser, Noriyuki Haga. Ducati 999 Monster Multistrada, Yamaha R6 R1, Honda CBR600RR CBR1000RR, Kawasaki ZX6 ZX6RR ZX10, Suzuki GSXR600 GSXR750 GSXR1000, Aprilia Mille, MZ Agusta F4 Brutale. Los Angeles Calendar Motorcycle Show.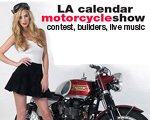 World's Richest Bike Contest includes Sportbikes and a
$70,000 Purse! Win Exhaust Systems from Vance & Hines, compete in the Jardine World record Horsepower Dyno Shootout
NEW! FastDates.com
Monthly ScreenSavers
Click to Find Out What Day It Is!



Fast Dates Racebike
& Garage Girls Calendars
Click to Order Now!



South Africa SBK
World Superbike Round Cancelled
The Round of the Superbike and Supersport World Championships scheduled in South Africa on October 22 is cancelled. The Championship will thus be ending in Magny-Cours on October 8.
SBK and SS teams already preparing for Brno
The last echoes of the spectacular weekend of racing at Monza have not yet died away and some of the teams are already back at work. Team Honda Klaffi (Barros), Team Yamaha France (Abe, Nakatomi and Gimbert) and Team Honda DFX (Fabrizio) for SBK, plus Team Megabike Honda (Fujiwara and Tiberio) for Supersport will be at Brno in the Czech republic on the 9th and 10th May for two days of testing. The session will be particularly important for Alex Barros, protagonist at Monza with a second and a fourth place, who will seize the opportunity to develop his Honda, as he was unable to do in the months prior to the championship. Only Michel Fabrizio will be taking part for Team DFX, since Gianluca Nannelli is out of the Brno race having broken his right hand in the first race at Monza. (Nannelli will certainly be fit in time for Silverstone.) Pierfrancesco Chili is also working hard to be fit for the British race on the 28th May
Rider Quotes from Shanghai MotoGP
Nicky Hayden, Repsol Honda: 2nd. "I tried to go a little bit faster every lap and put some heat on Dani, but that dude just wouldn't crack! So I definitely give Dani credit because he rode a really strong race. I felt good when I kept going a little bit faster, but it just wasn't enough and when I got close to him I didn't want to do anything silly. Congratulations to the team, and not just my guys but all the guys involved in Repsol Honda, they deserve it. I'm trying to be consistent in every race and every session, and while getting the points and podiums is good, I really want to win. I like to think that win's not far away. It's nice to pull out a little gap in championship but it's early days. Honda's fighting hard for this championship and I want to win so I'm looking forward to getting to Le Mans next weekend."
John Hopkins, Rizla Suzuki 5th: "I'm ecstatic right now! I feel really good about the whole race. I got off the line well and worked hard all through the race. I knew I had to be in the draft of another bike and not to use my tyres up too early. I got behind Colin Edwards and let him pull me along. We were passed by Nicky and Dani, and they were running an unbelievable pace, it was something we couldn't keep with. From then on I stuck on Colin's wheel and thought I'd have a bit more towards the end. I started to push harder in the last few laps, but it was going beyond the limit and at the end of the day I really wanted to finish in my best ever position – so that's what I did!
"I have got to give a big thanks to my whole crew, they worked fantastically all weekend and without them I wouldn't be anywhere – they're a lot of the reason why I am here at Suzuki. The Bridgestone tyres worked awesome today, I reckon I had a bit more edge-grip than Colin and they were still working well at the end of the race.
"I am really happy and I just also want to say it's my Mum's birthday, so Happy Birthday to her and Happy American Mother's Day to her as well – I hope she was pleased with the finish!"
Casey Stoner, LCR Honda: 5th: "I made a good start but then I got shunted around at turn one and then held up behind Gibernau and that destroyed my race. He had better corner exit speed and he was late on the brakes and there was no way to pass. I also had a lot of rear grip problems mid-corner, it wasn't the tyre, all the Honda's were the same except the factory bikes of Dani and Nicky. I made a small mistake on the brakes trying to make up time and without that I think I had the pace to challenge Edwards for the podium. It was another good result for the championship."
Makoto Tamada, Konica Minolta Honda: 6th: "It's the first time this year that I fell I have run a race expressing my driving characteristics. I had a good start but I lost some positions during the first lap. I have not been part of the leading group since a long time and this requested me to turn some laps before finding the right feeling again in fact, I have been able to realize the fastest time during the last lap.I really loved making different over takings during the race. It has been fantastic to feel this sensation again."
Marco Melandri, Fortuna Honda: 7th. "It has been a difficult weekend complicated by the changeable weather conditions. We struggled a lot to find a good set up and we didn't succeed to find a good solution. I took the start from the third row and I tried to recover positions but I suffered with full tank. I didn't feel so comfortable so I did my best to score as much points as possible. I'm disappointed but I'm not demotivated and I'm confident for next week race in Le Mans."
Toni Elias, Fortuna Honda: 11th. "I'm not happy because we struggled a lot during the whole weekend and despite we worked hard, we couldn't find some good solutions in order to improve my feeling with the bike. We suffered both on wet and dry conditions. Despite the problems we had, I think it's a positive moment because now we can analyse the problems. I know our potential and I look forward to go to Le Mans.
Kenny Roberts Jnr, KR Honda: 13th. "I tried as hard as I could, every lap. I could run high 2m 01s laps pushing hard but that was it. I tried different techniques squaring off the corners but just went slower that way. When I rode it like a 250 I went quicker but hit a limit and started sliding that was as fast as could go. Now we can look forward to Le Mans and hope the new chassis we have will be an improvement. "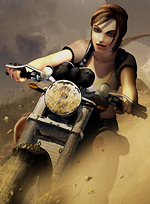 Lora Croft rides a big Monster!
Lara Croft does "Monster" deal with Ducati for Tomb Raider: Legend
Eidos Interactive, one of the world's leading publishers and developers of entertainment software, is pleased to announce that Lara Croft will be riding the Ducati Monster and 999 in her new adventure, Lara Croft Tomb Raider: Legend in a worldwide deal between Eidos and Ducati. The game was just released this week and is avaialble for sale here first on FastDatescom through our affiliation with Amazon.com.
The deal has Lara Croft riding Ducati's air-cooled, two-valved Monster S2R in her latest adventure and features riding scenes in which Lara relies on the bikes performance to get her out of some tricky situations. Her other bike is one of the most famous in motorsports, the legendary 999. The Ducati 999 is the most powerful and advanced twin-cylinder engine motorcycle ever to come out of the Borgo Panigale factory. It symbolises Ducati's long, glorious history and its domination of the World Superbike Championship.For further information visit our Chicks That Kick Ass: Lora Croft in Tomb Raider Legend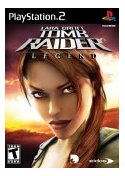 New! Tomb Raider Legend
Click to Order Any
Tom Raider
computer game now
available in all platforms!
Long Way Round
Actor Ewan McGregor & friend Charlie Boorman's incrdible trip around the world on bikes! A must have, it's the best motorcycle movie/story in 30 years! - Since On Any Sunday and Easy Rider
Order our favorite
FastDates.com babe music at low discount prices!
(just click on the CD covers to find out more and to order online)

---
Results Below Expectations for the Ducati Team in China
Ducati Marlboro Team riders Loris Capirossi and Sete Gibernau endured a difficult Chinese GP at Shanghai this afternoon, placing eighth and ninth at the end of a weekend plagued by changeable weather.
Both men had to be happy with lower results than they had expected after making poor tyre choices, but they did at least maintain their World Championship positions, Capirossi still holding second overall on points, Gibernau still tenth.
With Friday washed out by rain and yesterday afternoon's qualifying session also interrupted by showers, riders and teams had little time to choose the correct tyres for today's race, run in warm and dry conditions. Gibernau had qualified sixth and ran third for the first few laps but was unable to maintain that pace, spending much of the race in a sometime hectic four-way contest for seventh place. Capirossi had qualified tenth, ran eighth in the early laps, dropped to tenth, then fought back to eighth, clocking the fourth fastest lap of the race.
LORIS CAPIROSSI, 8th:
"A difficult weekend. We were fast in the wet but we didn't have enough dry-track time to make the right choice from all the new tyres that Bridgestone brought here. In warm-up I used a new front and a new rear, the same I choose for the race. That rear tyre was okay for the first laps but then it lost a little, it wasn't the best choice. With more time we probably would have chosen a different tyre. Anyway, I scored some points, so I'm still second in the championship and some of the tracks coming up should be easier for us. We still have total trust in Bridgestone. As Qatar and Jerez showed, we can be very strong at tracks where we used to struggle. We must keep on believing and working hard. I know I can win, so when the moment comes Sete and I will be up front. We are ready to fight all the way."
SETE GIBERNAU, 9th
"With the weather we've had here and a few problems, we made a bad tyre choice, it was our mistake. We had a few troubles over the weekend, then warm-up was bad, just a little problem, then we went for some tyres that we didn't know. I couldn't warm up the left side of the rear, it was too hard, but like I said, it was our choice. I had a bit of a battle with a few other guys, it got pretty tight at times but it was all fair, though I was struggling a bit too much to have fun. Looking ahead to the next few races, we just need to keep our heads down, keep learning and keep improving."
LIVIO SUPPO, Ducati MotoGP project manager
"We must analyse the data to work out why we didn't get the results we expected. In theory today's warmer weather should have worked better for us, but we just didn't have enough time to test everything we needed to test, though, of course, that was the same for everyone. We need to work on that so we can be more reactive in the future. This is a very competitive Championship and we'll do our best to keep at the front".
Kawasaki's Nakano and De Puniet Showed Their Determination
Kawasaki's Shinya Nakano and Randy de Puniet were left frustrated after today's Grand Prix of China in Shanghai, as traction problems robbed both riders of the opportunity to do battle with their factory rivals at the front of the race.
Nakano brought his Kawasaki Ninja ZX-RR home in tenth place, with de Puniet two places further back in twelfth, as Honda's Dani Pedrosa converted a pole position start into his first premier class win in today's 22-lap race.
An aggressive start by Nakano saw him dive under two riders in as many corners to claim fourth place, but the 28-year-old Japanese rider was pushed back to seventh at the end of the opening lap, as three riders drafted past him on the front straight.
The Kawasaki rider hung onto the rear of the leading group for a further two laps, but the aggressive power delivery of his Ninja ZX-RR was causing his rear tyre to spin up out of the turns, losing him vital time out of every corner and eventually leading to him losing touch with the battle ahead of him.
Unable to close the gap, and now also struggling with deteriorating front grip on his Ninja ZX-RR, Nakano took the sensible option and rode for the points in the final third of the race. The Japanese ace held on to secure a top ten finish, but was left frustrated that he had not been allowed him to fulfil the potential shown in the opening lap because of problems beyond his control.
Nakano's Kawasaki teammate, Randy de Puniet, was also quick away from the line, but the MotoGP rookie lost ground on the run up to the first turn, as he struggled to select second gear on his Ninja ZX-RR.
The 25-year-old Frenchman was quick to get his head down in an attempt to make up the lost ground, but was frustrated when his rear tyre started to lose grip just six laps into the race.
De Puniet continued to push as hard as possible but, with the rear tyre spinning up out of every turn, was unable to close the gap to the group of riders ahead and, like his teammate, was eventually forced to ride purely for the points.
The Kawasaki Racing Team will leave Shanghai on Sunday evening, and travel direct to Le Mans for the French Grand Prix, which takes place in just seven days time.
Shinya Nakano: 10th
"I got a good start and the bike felt real good; I could push hard and I was enjoying fighting for position. But then a group of riders went past me and, while I managed to stay with them for a few laps, I started to lose ground when the rear tyre started spinning up out of the turns. We had similar problems in Istanbul, although this wasn't as bad, but it was enough to lose me time and to lose contact with the group ahead of me. Towards the end I started to lose grip at the front as well, and actually lost the front completely at one point. It was then that I decided I had a big enough gap over Elias and that riding for the points might be the best plan. It's frustrating, for sure, but I think it is a problem that we can overcome. I just hope we can find a solution before the French Grand Prix, as it's only one week away."
Randy de Puniet: 12th
"Heading into the first turn I couldn't get the bike to select second gear, and I had to back off the throttle before it would go in. When I looked up, the group in front of me had gone. I tried as hard as could to make up the lost ground, but then I started to lose grip at the rear, and it got progressively worse over the next ten laps. I'm disappointed not to have finished higher than I did in Istanbul, but I was riding right on the maximum. If I had pushed any harder then I would have crashed. Despite the disappointment, it was another race finish, and more experience for me. Now I need to look forward to next week, and my home race at Le Mans, where I hope I can secure a good result, both for me and the team."