The Ducati Xerox World Superbike team with riders Troy Bayliss and Lorenzo Lanzi pose on the legendary banking at Monza in Italy. Click for a big 1224 Screensaver


2006 SBK Superbike World Championship Round 4 Monza

The Former Champ Scores his Second Consecutive Double
The Italian Gods Smile on Bayliss and Ducati at a Packed MonzaMonza (Italy), Sunday 7 May - Troy Bayliss (Ducati Xerox) extended his World Superbike winning streak to five as he notched up another two wins at Monza to add to his race 2 triumph in Australia and his double at Valencia. The 37-year-old, whose return to the championship this year after three years in MotoGP, has been nothing short of sensational, now leads the table by 36 points from his closest rival Troy Corser (Suzuki), who twice finished on the podium today. The wins were Troy's fifth and sixth at the high-speed Autodromo, and his third double win at Monza to go with the same results in 2001 and 2002.
"I love coming to Monza and I've got fond memories of the place ever since I first arrived here with Ducati in 2000 but to win like I did today is pretty special. Ernesto Marinelli, my main man, had a few solutions this morning to solve the bike's stability, he's normally right and we didn't really have any problems at all" declared Troy after race 1.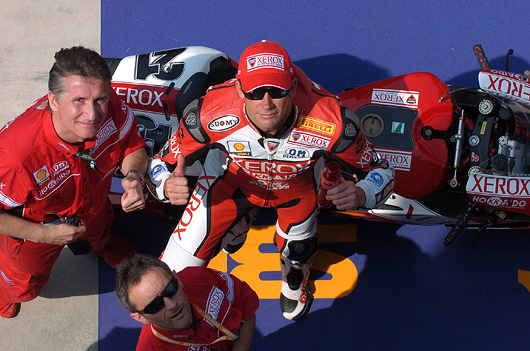 Winner Bayliss in the Monza impound with team Ducati Superbike marketing director Paolo Ciabatti.

"The second race was a bit harder, because the guys got a bit of a jump and Corser and Haga made a good first few laps, while I was with James for a bit and it was difficult to get past. Eventually I caught the two in the front. Troy and I played a bit of cat-and-mouse but the most important thing was that we got away from Nori and it came down to us two in the last few laps. I love to do well here in front of all the Italians, there's just something special about the place, I've done the double here today and the last time I was here I was lucky enough to get the same result. I think I've got the best team in the paddock and a big thanks to everyone for these wins today".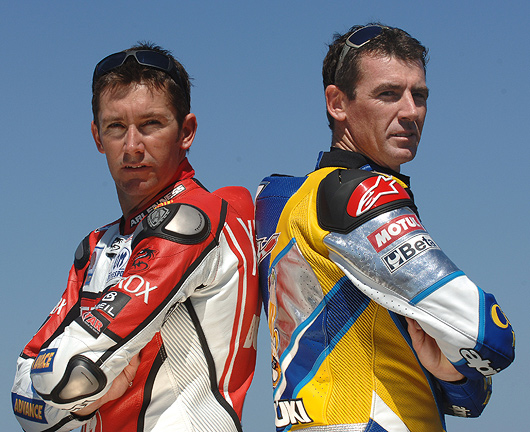 Two Aussies and only one World Title per season Up for grabs. Luckily there's more than one season and one World Championship between them.

Preview
Can Corser Stop the Bayliss Steam Roller at Legendary Monza?
Monza, Italy, May 5-7th -The fourth round of this year's Superbike World Championship takes place at the famous and historic Monza circuit in northern Italy. Just a short step from chic and fashionable Milan, Monza has been part of the Superbike World Championship since 1990 and is a firm favourite amongst riders and race fans alike. The 5.792 kilometre circuit always provides fast, close-quarter racing, with tactics and slipstreaming playing an important part. Last year Troy Corser took victory in the first race (to make it six wins out of seven) and a third in the second and team mate Yukio Kagayama took runner-up spot in the race one and then DNF'd in race two.

Troy Corser - "Monza is a great track for fast racing and you must have good horsepower to do well. Having said that, it is a place where slipstreaming plays a big role and it's possible to exit the final chicane third or fourth and still cross the line first! After Valencia, it'll be good to go to a fast track and hopefully my Suzuki will be able to outpower the Ducatis, so that I can go all-out for a couple of wins."
THE TROY'S IN MONZA – World Championship leader Troy Bayliss is back in Monza after a 3 years absence, but comes back as a winner. In his last 4 starts he racked up 4 wins (in 2001 and 2002) that out of 6 total starts make him one of the riders with the best performances on the italian track. Bayliss is the most successful winner of all times in Monza together with Fogarty, Pirovano and Chili. Only one win and 5 retirements out of 18 starts for Troy Corser in a circuit he like much. It's one of the few tracks in which Corser hasn't scored a pole position and for a rider that obtained 35 poles in 16 different tracks, that looks a bit strange.
It's worth remembering that in 2005 in Monza Corser ended a 5 wins streak started in Phillip Island race 1 when he finished third in race 2, and he wasn't able to find his way to the top step of the podium until Brno race 1, 5 races later.
LESS THAN A SECOND – It's the gap race recorded at the end of 17 (out of 28) races run in Monza, a fotofinish track. The 5 thousandths of a second in race 1, 1997, and in race 2, 1999, are the minimum gap ever recorded in the whole history of the World Championship. These are the 10 closest finishes:

1999 Race 2 Fogarty/Edwards .005"
1997 Race 1 Kocinski/Slight .005"
1996 Race 2 Chili/Slight .007"
2000 Race 1 Chili/Edwards .028"
2000 Race 2 Edwards/Chili .031"
2003 Race 2 Hodgsoon?Lavilla .044"
1993 Race 1 Slight/Russell .045"
2001 Race 1 Bayliss/Edwards .066"
1990 Rave 2 Pirovano/Monti .070"
1998 Race 1 Edwards/Slight .083"

The 2 races in 2005 ended respectively with a gap of 0"985 in race 1 (Corser in front of Kagayama) and 0"582 in race 2 (Vermeulen on Laconi)
2005 SUPERPOLE™ - In 2005 Yukio Kagayama with the Suzuki obtained the pole spot with only 0"007 over team-mate Corser, the third gap in qualifying in the history of the World Championship behind the 0"002 that separated Akira Yanagawa by Wataru Yoshikawa in Sugo 1997 and the 0"005 that have been recorded in two races: Estoril 1993 (Aaron Slight - Carl Fogarty) and in Laguna Seca 1999 (Corser - Anthony Gobert).
LACONI AIMS 1000 POINTS – The french rider misses only 11 points to become the 16th rider in the history of the series to have scored at least 1000 points. The all-time leader is Fogarty with 3020.
WEEK ANNIVERSARIES
• May 2 – 1994, Donington, first presence in the front row, first podium and first fastest lap for Troy Corser - 1999, Donington, 50th fastest lap for Honda by Colin Edwards
• May 4 – 1997, Donington, first pole position for Neil Hodgson e 50th race start for Pierfrancesco Chili.
• May 7 – 1995, Hockenheim, first presence in the front row for Pierfrancesco Chili, first pole position for Troy Corser
MILESTONES IN MONZA
• 1992 – first podium for Piergiorgio Bontempi. At the time the italian rider was at his 43rd start. Up to the end of his career (in 2004) Bontempi will pick up 2 other podium finishes (Spain and Portugal 1993) but he will never be able to win a race. At the moment he is the rider in SBK™ history with most race starts (194) without a win.
• 1995 – 100th race start for Carl Fogarty (that will end the career with 221), first win and first fastest lap for Pierfrancesco Chili and first podium for Colin Edwards;
• 1996 – 10th fastest lap for Troy Corser, at the moment the australian counts 40;
• 1997 – 150th race start for Carl Fogarty;
• 1998 – 100th race start for Scott Russell, first win for Colin Edwards;
• 1999 – 150th win for Ducati by Carl Fogarty in race 2;
• 2000 – 25th pole for Honda (Colin Edwards);
• 2003 – 200th win for Ducati by Neil Hodgson, first fastest lap for Regis Laconi;
• 2004 – 10th podium for Regis Laconi;
• 2005 – 10th pole position and 25th fastest lap for Suzuki (Kagayama), 25th podium for James Toseland, first presence on the front row for Karl Muggeridge
HIGHS AND LOWS OF 2005 IN MONZA
• Best race career result for Karl Muggeridge, a fourth in race 2 that he will repeat in Magny Cours race 1;
• Best season race result for Marco Borciani, a 12th place in race 1 (scored also in Losail in race 1);
• Worst season race result for Noriyuki Haga, 11th in race 1 (scored also in Losail in gara 2);
• Double retirement for Steve Martin, during last season the aussie recorded a double DNF also in Phillip Island. A bad weekend for Martin, that in Monza recorded the worst qualifying performance of 2005: a 24th spot scored also in the following race in Silverstone.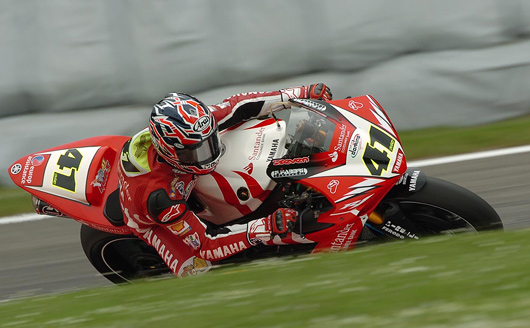 Haga san topped wet practice on Friday.

Noriuki Haga Tops Friday's Wet Practice
Yamaha Motor Italia rider Noriyuki Haga gave his team reason to cheer at their home race as he sped to provisional pole position for Sunday's races at Monza. Light drizzle throughout the afternoon's one-hour qualifying session meant a reduced number of laps for the 30 superbike entrants but, despite the tricky conditions, Haga's best lap of 1:47.007 was only a fraction slower than Neil Hodgson's three-year-old ultimate lap record. Closest to Haga was championship leader Troy Bayliss (Ducati Xerox), only 0.036 seconds from the rapid Japanese rider.
Noriyuki Haga (Yamaha Motor Italia) "A good session. We've made some changes to the bike and they seem to be working well here. The team has brought a new swinging arm for us to try and it seems to have some benefits, although there are also a few disadvantages too. We need to test more tomorrow to make a final decision, but the bike feels good. I ran a lot of laps along with Troy Bayliss and we were able to have some fun passing and repassing each other. Hopefully we can make some more improvements for the race. The team has many fans and sponsors here this weekend and I have some friends coming over from Japan tonight. I hope that we can put a good performance on for them."
CORSER THIRD QUICKEST WITH TOSELAND ON HIS TAIL Troy Corser (Alstare Suzuki Corona Extra) was the closest rider to the Haga/Bayliss battle, with the 2005 champion third fastest, just over half a second from Haga's best. The provisional front row was completed by James Toseland (Winston Ten Kate Honda), riding with a small degree of caution, as the track was damp enough to hold back a full attack. The top five was completed by PSG-1 Kawasaki Corse's Regis Laconi, pushing hard on the big Kawasaki and making it five different machines in the top five positions.
ALEX BARROS IMPROVES TO GO TOP SIX Alex Barros (Klaffi Honda) used his Honda power to record the sixth best lap of the opening day's qualifying session, finishing only 0.006 seconds from Laconi's fifth place Kawasaki. An incredibly tight provisional second row was completed by Haga's team-mate Andrew Pitt and the privateer Sterilgarda Berik Ducati of Spanish star Ruben Xaus. The latter's 999 was the fastest bike through the speed trap, at a whopping 310kmph.
ROOKIES TO THE FORE, EVEN IN TRICKY CONDITIONS Michel Fabrizio (DFX Treme Honda) and Roberto Rolfo (Ducati SC Caracchi 999) are both first year SBK riders, but each local man showed a good grasp of Monza's early challenges to finish inside the top ten. Two more experienced riders followed them home, with Chris Walker (PSG-1 Kawasaki Corse) and Lorenzo Lanzi (Ducati Xerox) completing the top 12 places, and the third provisional row.
NEUKIRCHNER IN PROVISIONAL SUPERPOLE PLACE Should day two dawn wet for the final qualifying session, then today's times will count towards Superpole qualification. In those circumstances German youngster Max Neukirchner (Pedercini Ducati) will have already qualified for Superpole, as will the rest of the provisional fourth row,
Yukio Kagayama (Alstare Suzuki Corona Extra), Sebastien Gimbert (Yamaha Motor France Ipone) and Team Pedercini rider, Ivan Clementi.
ABE CONCUSSED AND NANNELLI INJURED Yamaha Motor France Ipone rider Norick Abe, who had two impressive races at Valencia, fell exiting the Ascari chicane and suffered a heavy concussion during his tumble. He is currently in the Monza medical centre, undergoing observation. The Japanese rider lost control of his YZF-R1 while exiting the Ascari chicane and was taken to hospital for precautionary checks. Tests confirmed that the rider has not broken any bones, although the team will wait until the morning before deciding if he is fit enough to take any further part in the weekend. Frenchman Sebastien Gimbert was the team's fastest rider, in 15th, with Japanese rookie Shinichi Nakatomi ending the day 23rd on his first visit to the circuit.
Gianluca Nannelli, Pierfrancesco Chili's temporary replacement in the DFX Treme Honda team also fell at Ascari and suffered a light concession, plus an injured hand.
Friday Practice Session 1 :
Pos. Rider Manufacturer Nat. 1st Qualifying
1 N. Haga Yamaha JPN 1' 47.007
2 T. Bayliss Ducati AUS 1' 47.043
3 T. Corser Suzuki AUS 1' 47.591
4 J. Toseland Honda GBR 1' 47.751
5 R. Laconi Kawasaki FRA 1' 47.763
6 A. Barros Honda BRA 1' 47.769
7 A. Pitt Yamaha AUS 1' 47.793
8 R. Xaus Ducati ESP 1' 47.852
9 M. Fabrizio Honda ITA 1' 48.070
10 R. Rolfo Ducati ITA 1' 48.334
11 C. Walker Kawasaki GBR 1' 48.530
12 L. Lanzi Ducati ITA 1' 48.575
13 M. Neukirchner Ducati GER 1' 48.712
14 Y. Kagayama Suzuki JPN 1' 48.828
15 S. Gimbert Yamaha FRA 1' 48.871
16 I. Clementi Ducati ITA 1' 49.226
19 N. Abe Yamaha JPN 1' 49.497
23 S. Nakatomi Yamaha JPN 1' 49.890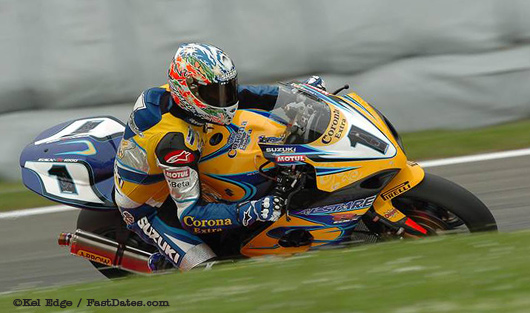 Superpole: Corser on Top Again in Monza.
Saturday 7th - Troy Corser set a new best lap on his way to taking pole for tomorrows race ahead of his arch rival and countryman Troy Bayliss. Ex MotoGP star Alex Barros, on the Klaffi Honda, achieved his first front row start of the season by coming in third and the front row is rounded off by regis Laconi on the PSG-1 Kawasaki.
Corser started his lap with a new front tyre and was a little cautious but as soon as he realised he had the grip and could really push the tyre he pulled the pin with his sector times demonstrating this. In the first and
second sectors he was behind Bayliss' time but he owned the third and fourth sectors and crossed the line with a time of 1'46.058, 0.3 ahead of Bayliss'.
"I put a new front race tyre in for superpole so I took it easy at first", said Corser. "I was more worried about my front tyre than the rear so when I knew I could push it I knew I could do a good lap. At this circuit it's
pretty hard to pull away during a race so tomorrow is gonna be a long hard race".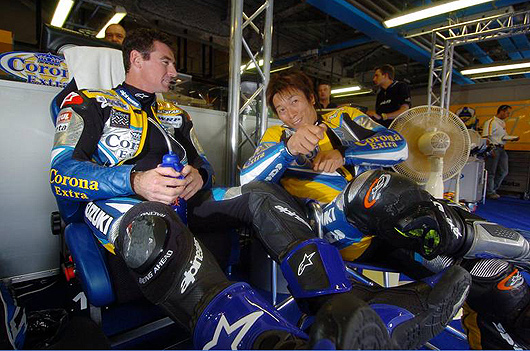 Corser and Alstare Corona Suzuki team mate Kagayama ready to tackle Super pole

Bayliss' Xerox Ducati was visibly moving around a lot on the straights. "If I move on the bike it unsettles it, it's been doing it all weekend", said Bayliss. "Luckily it only happens on the straights not in the corners so I can still push. The team have been working on it and hopefully we can get it sorted. I'm very happy here, I always look forward to Monza but it's goingto be very tough".
Alex Barros has been going quick all weekend, obviously happy that hismachine is working well. "I'm pleased that here I can show the real power ofthe Honda. At Valencia we had many problems but here we can show what I cando. We are still not at the same level as Ducati but I am very happy".
Laconi's fourth place is a great result for the PSG-1 team, made even betterby his team mate, Chris Walker, lining up next to him in fifth. Walkercrashed early in the free practise session that immediately precedes
Superpole, and his team did a great job getting his machine ready as he'd crashed yesterday as well. Considering he started Superpole in 11th position his performance was all the more impressive.
Next up was Andrew Pitt, on the Yamaha Italia R1, who has been looking on form all weekend. The Australian couldn't quite replicate his performance from normal qualifying were he finished third, but he'll be happy that he
out qualified his team mate Nori Haga.
Another Australian, Karl Muggeridge, takes the seventh place on the Ten Kate Honda Fireblade. Muggeridge is returning after fracturing a vertebrae at the Valencia test earlier this year. His performance today shows his commitment and he'll be a podium contender in tomorrows races. The second row is rounded off by Muggeridge's team mate James Toseland. The Englishman wrung the neck of his Fireblade but couldn't get enough out of it to finish any higher up.
Superbike Super Pole Final Qualifying
1 TROY CORSER (Aus-Alstare Suzuki Corona Extra) 1:46.058, 2 Bayliss (Aus-Ducati) 1:46.360, 3 Barros (Bra-Honda) 1:46.511, 4 Laconi (F-Kawasaki) 1:46.597, 5 Walker (GB-Kawasaki) 1:46.978, 6 Pitt (Aus-Yamaha) 1:47.015, 7 Muggeridge (Aus-Honda) 1:47.082, 8 Toseland (GB-Honda) 1:47.133, 9 YUKIO KAGAYAMA (J-Alstare Suzuki Corona Extra) 1:47.156, 10 Haga (J-Yamaha) 1:47..627, 12 FABIEN FORET (F-Alstare Engineering Corona Extra) 1:48.009,
Tomorrow's races look set to be a real battle for all the riders and a great spectacle for all the fans.
Can Bayliss do another double in front of the Ducati fans? Can Corser deny his rival? Can Barros stand on top of the podium? Dark horse for tomorrow - Chris Walker on the Kawasaki? Who knows, but tomorrow you can find out right here first at FastDates.com.

Bayliss pulls away from persuers Corser and Haga through the chicane in front of a pack crowd.

Sunday Superbike
Troy Bayliss Takes the Double at Record Pace,
Patience Rewards Him and Ducati with a Double Pot of Gold
Monza, Saturday May 6th - With the Monza weather proving to be gloriously sunny, it shone brightest of all on Troy Bayliss (Ducati Xerox) as he scored the wins in race one and two. He had serious problems from Troy Corser and Noriyuki Haga on occasion, but taking the new lap record of 1'46.815 in Race Two to boot, he performed immaculately once again.

Race One: Runaway for Bayliss
The opening 18-lap race at Monza was the personal property of Bayliss, who won by over three seconds from eventual second place man Alex Barros, who had to work through the pack in assured fashion. Alex Barros (Klaffi Honda CBR1000RR) secured a superb second place finish in the first SBK race at Monza, and then went on to underline his return to form with a fourth place in race two. Troy Corser took a close third, with Noriyuki Haga just squeezed off the podium in fourth.

In the opening race fine weather allowed the 30 starters a clean holeshot, but after a crash involving Gianluca Nannelli, Michel Fabrizio and five others, the field was almost immediately reduced to 23. The multiple rider pile up reduced the midfield and allowed the top riders to make a clean break at the earliest possible opportunity, as the rest picked through the fallen bikes and riders. No riders were seriously hurt in the crash.
Alex Barros played a superb game of slipstreaming and patience, passing riders until he reached his eventual second place finish, behind winner Troy Bayliss. He had qualified third in Superpole. Toseland's attempt to get back into contention on the final lap saw him fall from fifth, at the Parabolica on the 17th lap. His brake pads had been shaken loose after a violent wobble exiting the Ascari chicane, and reduced his immediate braking effort at a key time. His team-mate Karl Muggeridge enjoyed an instantly rewarding return to action, scoring sixth place.
Barros, who has not raced at Monza since the mid eighties, was happy with his Monza efforts, and those of his team. "In the first corner I had a problem because there was too much traffic," stated Barros after the first race podium ceremony. "The worst moment in the race was when Kagayama crashed right in front of me. I really had to struggle to miss him. After that things went well for me and the slipstreaming games were great. The machine was also great this weekend."

SUPERBIKE Race 1: (Laps 18 = 104,274 Km)
Pos /Rider /Nat. /Team / Time /Gap
1 / T. BAYLISS / AUS / Ducati Xerox / 32'23.100 /
2 / A. BARROS / BRA / Klaffi Honda / 32'27.082 / 3.982
3 / T. CORSER / AUS / Alstare Suzuki Corona Extra / 32'27.316 / 4.216
4 / N.HAGA / JPN / Yamaha Motor Italia WSB / 32'27.495 / 4.395
5 / A. PITT / AUS / Yamaha Motor Italia WSB / 32'36.705 / 13.605
6 / K. MUGGERIDGE / AUS / Winston Ten Kate Honda / 32'36.765 / 13.665
7 / R. LACONI / FRA / PSG-1 Kawasaki Corse / 32'37.166 / 14.066
8 / R. ROLFO / ITA / Ducati SC - Caracchi / 32'42.270 / 19.17
9 / L. LANZI / ITA / Ducati Xerox / 32'48.829 / 25.729
10 / S. NAKATOMI / JPN / Yamaha Motor France-Ipone / 32'51.450 / 28.35
11 / C.WALKER / GBR / PSG-1 Kawasaki Corse / 32'52.739 / 29.639
12 / S. GIMBERT / FRA / Yamaha Motor France-Ipone / 32'53.454 / 30.354
13 / F. FORET / FRA / Alstare Eng. Corona Extra / 33'06.938 / 43.838
14 / L. ALFONSI / ITA / PN Corse / 33'07.412 / 44.312
15 / I. CLEMENTI / ITA / Team Pedercini / 33'07.630 / 44.53
Fastest Lap 3° Alex Barros 1'47.027 194,856 Km/h

Race Two: Bayliss Emerges from a Hard Fought 3-Way with Corser and Haga
Bayliss had a three rider fight with Corser and Haga in race two, before stretching the legs of his loping Ducati twin to secure his second win of the day, and his fifth SBK race in a row. A slower starting Barros claimed fourth place, when a battle between himself and Toseland was terminated by Toseland slowing as his bike ran out of fuel. Toseland was clear of the following pack when trouble struck, and took fifth.
Noriyuki Haga gave the Tifosi plenty to cheer about with a fine podium finish at Monza today. The ever-popular Yamaha Motor Italia star equaled his best ever result around the historic circuit with third place in race two to the delight of his locally based team and a large and passionate crowd. "I'm very happy to finally get on the podium in Monza. We had two hard races and in the second I thought that I could stay with Bayliss and Corser but I had a small problem with rear grip. Our bike has worked very well this weekend and I am pleased for that I can make this good result at the home race of my team. I am now looking to get another good result in Silverstone as this is a track I like very much and where we had the first podium for the R1 last year."

Toseland was understandably disappointed by his race results, but happy to still be third overall in the Championship. "I'm not happy with the crash in race one, and not happy with the conclusion of the race in race two," said Toseland. "We ran out of fuel and that allowed Barros to come by. Enough said about that. But we've got some work to do, to try and get the power down. This circuit was better for us for sure but we have a lot more work to do."
Toseland's Ten Kate Honda team mate Karl Muggeridge had every reason to be happy with his comeback from injury at Monza, and was only let down by his strength and stamina in the final laps of the races. "We had a pretty good weekend, all things considered," stated Muggeridge. "I'm just a bit disappointed that I am not a bit fitter and I had quite low energy. I had good speed, so that was a positive thing after being out for a while. We have a good break to Silverstone now, so I can work on myself. All in all, I'm satisfied with my comeback rides."
Andrew Pitt (Yamaha Motor Italia) "It was all about making a good start and unfortunately in both races I couldn't get cleanly through the first chicane. I thought that I rode well and my lap times were the same as the guys in the front group but they had already made a break and it was impossible to catch them. I'm disappointed as I expected more and thought we could be on the podium today but in both races I beat the guys I was racing with and that's about as much as I could do."
Shinichi Nakatomi (Yamaha Motor France) "I was too far behind on the start but on the track I could catch people. After ten or 11 laps I was catching again but l missed a gear and lost about five positions. After that, I had to work very hard but we got some points in both races. It was a positive for us."

BAYLISS EXTENDS LEAD BUT CORSER STILL IN TOUCH Bayliss now sits on a meaty 175 points from a possible 200 so far, while 2005 champion Corser is still well in the hunt with seven rounds remaining, having scored 139. A close battle is developing for third, with Toseland on 97, Barros on 95 and Haga on 93.

AUSSIES COME ON LEAPS AND BOUNDS On another good day in SBK for Australian riders, Andrew Pitt (Yamaha Motor Italia) scored a fifth and a sixth, putting smiles on the faces of his team, which is based only a couple of kilometres from Monza.
Karl Muggeridge (Winston Ten Kate Honda) finished one place behind Pitt in each race, an encouraging pair of results for a rider recovering from recent spinal injuries.

KAWASAKI RIDERS UP AND DOWN Regis Laconi (PSG-1 Kawasaki Corse) ran with the leading bunch in each 18-lap race and enjoyed his team's best individual finish of the weekend, with seventh in race one. He was forced out of race two with an electrical problem, and his team-mate Fonsi Nieto scored the top Kawasaki slot, in eighth, one place up on Chris Walker. Nieto was one of the unlucky seven who crashed in the first chicane of race one, an event in which Walker finished 11th.

ROLFO MAKES THE TOP TEN, ABE RACES AND NAKATOMI SHINES Robby Rolfo (Ducati SC Caracchi) scored an eighth and a tenth place at Monza, in front of his home fans, and was the best scoring home rider of the weekend. Norick Abe (Yamaha Motor France Ipone) raced on Sunday despite his huge crash of Friday, and also missing all of Saturday's practice. Taken out by the melee on lap one of race one, he rode to 16th for pride's sake in race two. His team-mate, Shinichi Nakatomi, had two good rookie rides at Monza, taking tenth and 12th places.

LANZI TOP TEN AND THEN 11th Lorenzo Lanzi (Ducati Xerox) did not have his best home weekend, running to a ninth and 11th place finish. A miserable Monza for Michel Fabrizio only gave him two points for 14th in race two, while Ruben Xaus (Sterilgarda Berik) was one of the first corner fallers in the opener, and took the last point on offer in race two.
Superbike Race 2: (Laps 18 = 104,274 Km)
1 / T. BAYLISS / AUS / Ducati Xerox / 32'17.705 /
2 / T. CORSER / AUS / Alstare Suzuki Corona Extra / 32'19.621 / 1.916
3 / N.HAGA / JPN / Yamaha Motor Italia WSB / 32'24.184 / 6.479
4 / A. BARROS / BRA / Klaffi Honda / 32'27.932 / 10.227
5 / J. TOSELAND / GBR / Winston Ten Kate Honda / 32'29.615 / 11.91
6 / A. PITT / AUS / Yamaha Motor Italia WSB / 32'35.256 / 17.551
7 / K. MUGGERIDGE / AUS / Winston Ten Kate Honda / 32'35.425 / 17.72
8 / F. NIETO / ESP / PSG-1 Kawasaki Corse 2 / 32'35.530 / 17.825
9 / C.WALKER / GBR / PSG-1 Kawasaki Corse / 32'40.578 / 22.873
10 / R. ROLFO / ITA / Ducati SC - Caracchi / 32'49.308 / 31.603
11 / L. LANZI / ITA / Ducati Xerox / 32'49.315 / 31.61
12 / S. NAKATOMI / JPN / Yamaha Motor France-Ipone / 32'51.987 / 34.282
13 / F. FORET / FRA / Alstare Eng. Corona Extra / 32'52.978 / 35.273
14 / M.FABRIZIO / ITA / D.F.X. Treme / 32'53.011 / 35.306
15 / R. XAUS / ESP / Sterilgarda - Berik / 32'58.227 / 40.522
Fastest Lap 4° Troy Bayliss 1'46.815 195,242 Km/h
Record Lap A.Barros 1'47.027 194,860 2006
Riders Championship Standings:
1 BAYLISS 175, 2 CORSER 139, 3 TOSELAND 97, 4 BARROS 95, 5 HAGA 93,
6 PITT 79, 7 LANZI 59, 8 ROLFO 46, 9 ABE 40, 10 NIETO 37, 11 FABRIZIO 36,
12 XAUS 34, 13 WALKER 33, 14 LACONI 31, 15 MUGGERIDGE 30.

World 600cc Supersport to to Youngster Yoann Tiberio
Monza's WSS race provided the best race of the Supersport season so far, and delivered a new winner, 19-year-old Yoann Tiberio (Megabike Honda). Sebastien Charpentier (Winston Ten Kate Honda) made his usual incredible start and scored an early lead, but this time around his start was simply too fast, and he was penalised with a stop-and-go penalty. He recovered from this - and a further unplanned off track excursion while braking - to score an incredible third, and take a new lap record of 1.51.403 along the way. Rising star Robbin Harms (Stiggy Motorsports Honda) scored a strong second place, after Tiberio's main rival for the win, Kevin Curtain (Yamaha Motor Germany), suffered a dramatic machine failure on the start/finish straight of lap 13.
Massimo Roccoli (Yamaha Team Italia) and Kenan Sofuoglu (Winston ten Kate Honda) clashed fairings on the final corner, with Roccoli claiming the fourth place on offer. Katsuaki Fujiwara (Megabike Honda) crashed out of contention, alongside Gianluca Vizziello (Yamaha team Italia). Wildcard rider Stuart Easton scored a magnificent sixth on his first ride on the SC Caracchi Ducati.
Charpentier's astounding ride to third, and Curtain's no score, conspired to give Charpentier a 31 point lead with four races gone, with Harms third on 52 and Tiberio fourth, with 48.
SUPERSPORT:
RACE : (Laps 16 = 92,688 Km)
Pos /Rider /Nat. /Team / Time /Gap
1 / Y. TIBERIO / FRA / Megabike Honda Team / 30'14.618 /
2 / R.HARMS / DEN / Stiggy Motorsports / 30'16.542 / 1.924
3 / S. CHARPENTIER / FRA / Winston Ten Kate Honda / 30'18.873 / 4.255
4 / M.ROCCOLI / ITA / Yamaha Team Italia / 30'21.842 / 7.224
5 / K. SOFUOGLU / TUR / Winston Ten Kate Honda / 30'22.117 / 7.499
6 / S. EASTON / GBR / Team Manila Grace SC / 30'23.633 / 9.015
7 / B. PARKES / AUS / Yamaha Motor Germany / 30'23.735 / 9.117
8 / J. STIGEFELT / SWE / Dark Dog Stiggy Motorsports / 30'25.484 / 10.866
9 / J. FORES / ESP / SLM Racing / 30'25.615 / 10.997
10 / S. CHAMBON / FRA / Gil Motor Sport / 30'36.460 / 21.842
11 / T. LAUSLEHTO / FIN / Dark Dog Stiggy Motorsports / 30'39.950 / 25.332
12 / S. CRUCIANI / ITA / Passione Moto / 30'40.096 / 25.478
13 / D. CHECA / ESP / Yamaha - GMT 94 / 30'41.272 / 26.654
14 / V. KALLIO / FIN / Yamaha Racing Support / 30'48.630 / 34.012
15 / K. ANDERSEN / NOR / Hoegee Suzuki / 30'53.024 / 38.406
Fastest Lap Fastest Lap 8° Sébastien Charpentier 1'51.403 187,201 Km/h
Lap Record: C.Vermeulen 1'52.635 185,150 2003
Riders Championship Standings:
1 CHARPENTIER 91, 2 CURTAIN 60, 3 HARMS 52, 4 TIBERIO 48, 5 PARKES 38,
6 ROCCOLI 36, 7 FORES 30, 8 STIGEFELT 28, 9 SOFUOGLU 27, 10 BROOKES 21,
11 VIZZIELLO 17, 12 FUJIWARA 16, 13 ZAISER 15, 14 LE GRELLE 12, 15 EASTON 10.

SUPERSTOCK 1000 FIM CUP
Alessandro Polita (Celani Suzuki) jumped to the immediate lead in the Superstock 1000 race, with Danilo Dell'Omo (TCM Team Cruciani Corse) and Ricardo Chiarello (Lightspeed Kawasaki) in the second podium slots. At the end of lap three Chiarello had pushed through to second and was closing on the championship leader from then on. He was unable to match the speed of the Suzuki man, but took a close second, only 0.357 from the win. Badovini made it a good day for the local MV factory, taking third on his Biassono Unionbike F4. In the championship Polita leads Badovini, with 50 points to Badovini's 32 and Chiarello third on 22.

SILVERSTONE NEXT UP FOR SBK HORDES
Silverstone, on May 28th, will form the first of two British races for the SBK field this season.
---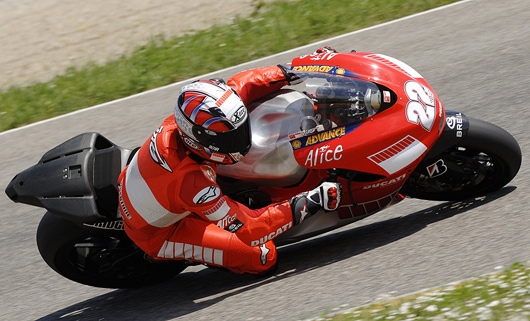 Ducati Confirms Its Entry into New 2007 MotoGP 800cc Formula
First Shakedown Test of the Desmosedici GP07
May 2nd - Factory test-rider Vittoriano Guareschi carries out the first shakedown test of the Ducati Desmosedici GP7, fitted with a new 800cc engine in compliance with 2007 MotoGP regulations. Alongside the development work being carried out by Loris Capirossi and Sete Gibernau for the 2006 MotoGP championship, the Desmosedici GP7 machine that will form the basis for the Italian manufacturer's challenge for the 2007 season had its first shakedown test today at Mugello.

Ducati factory test-rider Vittoriano Guareschi, who has steadfastly carried out this role since 2002, took to the track with the new 800cc powered prototype machine, marking the start of the first track test of the Desmosedici GP7 that will continue until Thursday. The scene for the shakedown test was Ducati's 'home' circuit of Mugello, which was the venue for the debut of the first version of the Desmosedici way back on August 1, 2002.
Filippo Preziosi (Ducati Corse Technical Director) - "Today the new 800cc engine finally moved from the dyno to the track and we are quite satisfied with this debut. We started off by running a check on all the components of the new bike and over the next two days, if we don't encounter any particular problems, we will move on to phase two and begin the first set-up work. Today is certainly very important, but it is just the start of a long path that we know lies ahead of us."
---


Calendar Kitten Update: LeeAnn Tweeden
Former FastDates.com Calendar Kitten LeeAnn Tweeden has been a busy little beaver since we saw her last. The former Supercross TV announcer and Frederick's of Hollywood lingerie model and girlfriend to superbike racer Ben Bostrom, has found a home at the FOX Sports TVcable channel the last few years and is currently featured on their show "The Best Damn Sports Show Period." LeeAnn also finds time time to visit our troops overseas on various USO Tours, and is currently writing a monthly motorsports column called "Fast Lane With LeeAnn Tweeden" in FHM magazine.
LeeAnn also has her own website with a sexy Members Corner showing more hot shots like the one above. Somehow on her web Bio Page she forgets to mention that we gave her her first big modeling job when she first moved to Los Angeles as an aspiring model, and it was her photoshoot for our 1997 Berm Busters Motocross Calendar where we introduced her to racer Jeremy McGrath that helped lead to her first TV announcing gig for Supercross on TV. How soon they all (LeeAnn, Pamela, Jamie, Joanna, Nicki, etc) forget.... Oh, well. You can keep up to date with all of LeeAnn's rubber burning adventures on her website at www.LeeAnnTweeden.com
Fast Dates Calendar Motorcycle Roadracing News. Complete coverage of the SBK World Superbike, AMA National Superbike and MotoGP World Championship. Superbike, SBK, FIM, AMA, American Superbike, superbike planet, American Roadracing, sportbike, grand prix, MotoGP, race, racing, news, superbike news, sport bike, motoGP news, photography coverage, photos, pictures, Fast Dates Calendar and Umbrella Girls. Racing, road race, track, motorcycle, news, results, girls, models, Mat Aladdin, Max Biaggi, Valentino Rossi, Troy Baylis, Ben and Eric Bostrom, James Toseland, Chris Vermeulen, Maria Sharapova, Kristen Bell, Regis Laconi, Loris Capirossi, Troy Bayliss, Troy Corser, Noriyuki Haga. Ducati 999 Monster Multistrada, Yamaha R6 R1, Honda CBR600RR CBR1000RR, Kawasaki ZX6 ZX6RR ZX10, Suzuki GSXR600 GSXR750 GSXR1000, Aprilia Mille, MZ Agusta F4 Brutale. Los Angeles Calendar Motorcycle Show.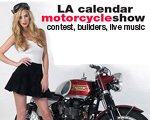 World's Richest Bike Contest includes Sportbikes and a
$70,000 Purse! Win Exhaust Systems from Vance & Hines, compete in the Jardine World record Horsepower Dyno Shootout



Fast Dates Racebike Pinup
& Garage Girls Calendars
Click to Order Now!



TROY DOES IT AGAIN!
Tops Monza Super Pole
Troy Corser fully lived up to his reputation as 'Mr Superpole' at Monza today, pipping his fellow countryman Troy Bayliss (Ducati) at the climax of a dramatic 16-rider shoot-out. Bayliss had put in a stormer of a lap to knock Alex Barros (Honda) off the top spot and looked set to claim Superpole. Troy started his Superpole lap cautiously and was slower then Bayliss at the first split, but was quicker in the second. There was still a lot of work to do though and it was going to take a superhuman effort in the third and final split if Troy was going to do it. But that's just what he did! The final section was perfection itself and Troy crossed the line three tenths of a second ahead of his rival. Third was Barros, with Laconi (Kawasaki) fourth - making it four different manufacturers on the front row of the grid.

TROY - 1st, 1:46.058 We tried a new qualifying tyre in the afternoon free practice and decided to give it a go in Superpole. Going into the first chicane I was a bit careful on the brakes, so I knew that was going to lose some time. But then, I was confident that my tyres would do the job OK, so I put my head down and went for it. The second split was pretty good, and I don't think I could've done the final split any better - it worked a treat. The bike's been pretty good all weekend so far and now we've got two long, hard races where tactics and slipstreaming play an important part. You can never make a break at Monza, so it's all going to come down to the last few laps, but I'm ready for that.
Troy Corser &
Alstare Corona Suzuki Team Monza Results
Team Alstare Suzuki Corona Extra rider Troy Corser rode his heart out at Monza today, taking two podiums, but not the top spot he wanted. It was a fantastic pair of races for the reigning world champion, who showed his 'never give up' spirit in both of today's 18-lap races. He had front brake problems in race one, and nearly crashed twice, but despite that he still managed to take third place behind Troy Bayliss (Ducati) and Alex Barros (Honda). In race two, he and Bayliss traded the lead for most of the 18-lapper, but his Suzuki could not quite match the Ducatis' acceleration out of the turns and when Bayliss pulled out a small advantage Troy could not push any harder and catch up. Bayliss crossed the line to take his second win of the day, with Troy second and Noriyuki Haga third.
It was an unlucky day for Troy's team mate Yukio Kagayama. In the first race, he got taken out when James Toseland highsided next to him and crashed. In race two, he was forced to retire with clutch problems. Team Alstare Engineering Corona Extra rider Fabien Foret finished thirteenth in both races and scooped six points.
TROY - Race 1: 3rd, Race 2: 2nd: Today, like at Valencia, I rode as hard as I could and when you do that and don't win you just have to reach out and shake the hand of the winner. In race one, I had some front brake problems. The lever was inconsistent and sometimes it'd be Ok and sometimes it would come nearly all the way back to the bar! That made it a bit entertaining, I can tell you! I nearly crashed a couple of times, so in the end I was happy to get on the podium. There were no real problems in race two and there was just no way I could've ridden any harder. The Ducati can accelerate out of the turns like no other bike - especially the four cylinder ones -and their traction control allows Bayliss to get on the gas hard when the bike is still leant over. We cannot do that, and that is where we lose ground and time. It's a little frustrating to ride so hard and not win, so we'll have to figure out what to do and try and get our own back in Silverstone.
YUKIO - Race 1: DNF, Race 2: DNF: Today I am not a lucky man. Really, it's not that I had no luck, I did have luck, but it was all bad luck! In the first race I was next to Toseland when he highsided and we touched. I went down and crashed but the impact of my bike helped to stay on his bike and recover, so he was a lucky man. In race two, I had clutch problems and it was impossible to continue so I had to pull in. I hope for better luck next time.
FABIEN - Race 1: 13th Race 2: 13th: I was not so happy with my result in the first race because we had some small problems, I made a good start but then a little problem with my front tyre meant I couldn't push hard and so I didn't enjoy the race. I was much happier with race two because I was involved in a good battle with Lanzi, Nakatomi and Fabrizio. We used the same bike as race one, but just changed the settings a little and it felt much better. Also, my lap times were much more consistent. I am a little disappointed overall because before this weekend I wanted to get into the top ten, so now I will try and do it in the next round in Silverstone.
Monza Also Takes its Toll on the Luckless Foggarty Petronas Team
The intense demands of the Monza circuit took their toll on the Foggy PETRONAS Racing team as Steve Martin and Craig Jones were unable to complete a race.
Mechanical problems which had been evident during the two days of qualifying persisted on race day, while championship leader Troy Bayliss romped to victory in both contests to extend his championship lead.
Team manager Jack Valentine said: "Monza has always been a tough circuit for us and the nature of the circuit again has highlighted some of the weaknesses that persist with a bike which is still continually being developed. We will get to work on solutions straight away to ensure that we are in better shape for the next round at Silverstone."
Craig and Steve stayed clear of the first race carnage at the first chicane, where seven riders crashed, leaving Craig in 14th place going into the first split before he pulled in with an electrical problem, shortly before Steve retired with an oil leak.
And, on a day littered with a total of 19 DNFs, the second race was equally short as Craig, running a new gearbox, ran off into the gravel and Steve had to pull in with further mechanical issues.
Craig said: "In the first race I think Nannelli came flying along the grass, went down and wiped everyone out in front of me so I was the first through unscathed. I was able to do my fastest lap of the weekend, a 50.8, and if the stability problems hadn't returned with the changes that we had to make to improve handling after morning warm-up, I think I could have lapped in the mid-49s. But then I had a problem with the bike cutting out so I had no option but to come in. We ran a different gearbox for the second race and, when I changed down for Parabolica as normal, I ran out of track but managed to keep the bike upright in the gravel."
Steve said: "I was one of the first guys behind the accident in the first race, so I had to brake and let everyone get out of the way. Then I was able to lap at 49.4, my fastest pace of the weekend, with clear air in front of me. But I felt the back end siding round and could see oil on my boots so I had to retire. In race two there seemed to be a problem with the fuelling on the out-lap, which we tried to fix on the line. The bike then got slower and slower in the opening two laps and I had to park it up.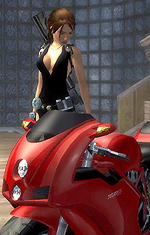 Lora Croft rides a big Monster!
Lara Croft does "Monster" deal with Ducati for Tomb Raider: Legend
Eidos Interactive, one of the world's leading publishers and developers of entertainment software, is pleased to announce that Lara Croft will be riding the Ducati Monster and 999 in her new adventure, Lara Croft Tomb Raider: Legend in a worldwide deal between Eidos and Ducati. The game was just released this week and is avaialble for sale here first on FastDatescom through our affiliation with Amazon.com.
The deal has Lara Croft riding Ducati's air-cooled, two-valved Monster S2R in her latest adventure and features riding scenes in which Lara relies on the bikes performance to get her out of some tricky situations. Her other bike is one of the most famous in motorsports, the legendary 999. The Ducati 999 is the most powerful and advanced twin-cylinder engine motorcycle ever to come out of the Borgo Panigale factory. It symbolises Ducati's long, glorious history and its domination of the World Superbike Championship.For further information visit our Chicks That Kick Ass: Lora Croft in Tomb Raider Legend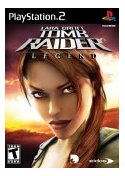 New! Tomb Raider Legend
Click to Order Any
Tom Raider
computer game now
available in all platforms!
Long Way Round
Actor Ewan McGregor & friend Charlie Boorman's incrdible trip around the world on bikes! A must have, it's the best motorcycle movie/story in 30 years! - Since On Any Sunday and Easy Rider
Order our favorite
FastDates.com babe music at low discount prices!
(just click on the CD covers to find out more and to order online)



Alex Johnson
stars in her own TV series on The N channel called
Instant Star about an aspiring teen pop singer. She's really hot, looks and sings ala Avril Lavigne.
---
Tiberio Takes First ever Win In World Supersport Points Leader Charpentier Battles to Third
Honda riders continued their domination of the 2006 World Supersport Championship, but unlike the first three races of the season, world championship leader Sebastien Charpentier (Winston Ten Kate Honda CBR600RR) was not the winner. That honour went to WSS rookie Yoann Tiberio (Megabike Honda CBR600RR) who turned an eighth place qualifying performance into an impressive victory in front of a sun-drenched Italian crowd. Honda riders have won every race this season and Monza delivered the first all Honda podium of the season to boot. Honda now leads the Manufacturers' Championship by 27 points, from Yamaha.
The 19-year-old Frenchman scored his win in dramatic fashion, when early leader Charpentier was punished with a stop-go penalty for a jump-start. Tiberio thus found himself in an eventual two-rider battle for the win until his rival Kevin Curtain (Yamaha) was forced out of contention. He only had to keep a safe distance between himself and eventual second placed rider Robin Harms (Stiggy Motorsports Honda CBR600RR) to take a final margin of victory of 1.924 seconds.
Behind the leading battle, pole winner Charpentier had dropped to 11th place, broke the lap record immediately after his stop/go, ran off track down an escape road soon after and still returned to the action to score a remarkable third place. With Curtain not scoring, he extended his championship lead to 31 points, with Harms overall third on 52 and Tiberio fourth with 48.

Ducati Moves Ahead with Capital Stock Increase
Thursday May 4, 2006 - Acting after government authorization, the Board of Directors of Ducati Motor Holding S.p.A. have released the prospectus relating to the offer of Euro 80 million ($101.5 million) worth of stock in Ducati Motor Holding S.p.A.
The Board of Directors approved that 1) the maximum number of new shares to be issued under the capital increase is 160,343,960; 2) the relative issuing share price is Euro 0.4985; and 3) the ratio between shares offered by way of subscription rights and shares owned is 1 new share per 1 owned share.
The offer period and negotiation on the stock market of subscription rights will begin on May 8; the last day of negotiation on the stock market of subscription rights will be May 19; and the offer period will end on May 26, which is also the last day for payment of the new shares.
Subscription rights not exercised by May 26 will be offered on the stock market by Ducati Motor Holding S.p.A. At present, the expected start and end dates of the period for the offer on the stock exchange will be from June 5 to June 9.
UniCredit Banca Mobiliare S.p.A. and the other members of the syndicate of stand-by underwriters will subscribe to all the shares that may remain unsubscribed to at the end of the offer period on the stock market.
Ducati officials say the capital increase is related to financing the company's three-year re-launch plan (April 25, www.powersportsbusiness.com). They say key elements of the three-year plan include a concentration on the high end of the market, emphasis on increasing margins, generation of cash-flow and a reduction in fixed costs.
BMW's 1Q U.S. Cycle Sales Drop 9.6%
Thursday May 4, 2006 - BMW said it sold 19,051 motorcycles worldwide during its first quarter ended March 31, a 10.6 percent drop from the 21,304 units retailed during the first three months of 2005.
Motorcycle segment revenue for the first quarter was Euro 313 million, down 1.6 percent from Euro 318 million for the same period in 2005. Pre-tax profit was Euro 29 million, down 6.5 percent from Euro 31 million last year.
BMW's first quarter motorcycle sales in the U.S. numbered 2,304 units, a decline of 9.6 percent from the first quarter 2005. In Europe, the brand sold 14,185 units, 12.8 percent fewer than last year. The largest downturn in sales occurred in Germany, the brand's strongest market, where the sale of 3,817 units represented a sales decline of 30.9 percent compared to last year.
Worldwide, BMW's best-selling model during the recently ended first quarter was the R 1200 GS, responsible for sales of 6,046 units. The R 1200 GS was followed by the F 650 GS, responsible for sales of 2,834 units; and the R 1200 RT, responsible for 2,673 sales.
Lavilla Gives Ducati Another Double Weekend
BENNETTS BRITISH SUPERBIKE CHAMPIONSHIPROUND FOUR – OULTON PARK
May 6th - -Gregorio Lavilla tightened his grip on the Bennetts British Superbike Championship with a winning fourth round double at Oulton Park but the Spaniard admitted these were the toughest races he has experienced so far in the defence of his crown.
The two races provided brilliant, fiercely competitive action for the massive Holiday Monday crowd at the Cheshire circuit as Lavilla held off first Shane Byrne and then Karl Harris to move into a 182-121 lead over his team-mate Leon Haslam who had to be content with third and seventh places.
The opening race saw Haslam, starting from pole, dictate the early terms, but Lavilla was on the charge, moving smoothly through from fourth place to be ahead at half distance, with Byrne in hot pursuit.
The former champion was riding in severe discomfort, having compounded the debilitating effects of gastro-enteritis with a bruising in a heavy tumble during qualifying, but he was riding his Rizla Suzuki to the full, and moved ahead for a couple of laps.
Lavilla hit back, taking charge over the final four laps, though his winning margin was less than half a second. "I stuck to my plan, though it was hard getting the power down – it was hard to pass Shane and this was the hardest race so far, but good fun."
Next time out, Lavilla accounted for the early leaders Michael Rutter and Karl Harris to be out-front on the third lap, but he was not allowed to pull clear. Harris, still smarting from being edged wide in the opening race, was determined to show what might have been.
The HM Plant Honda rider was giving nothing away, running the Ducati closely, and several times moving ahead, briefly, including a dramatic last corner challenge, but Lavilla took the victory by 0.058seconds.
"I played my cards right," smiled Lavilla. "Last year I was beaten by Ryuichi Kiyonari by the smallest possible margin in a similar move, but I learned from that experience, and was able to get the line and the victory.
"All of the teams are getting very close to us now and that means I have to work very hard – I am not talking or thinking about the title. Last year, Michael Rutter was 65 points clear at one stage and he did not take the championship. I am concentrating on each race, and scoring good points."
Harris was disappointed to finish second: "I'm gutted – I planned to top him here but that will have to wait now for the next round at Mondello Park."
Byrne was credited with third place after race officials studied an incident at the chicane on the final lap, ruling that Jonathan Rea had gained an advantage as he took to the grass, and relegating him to fourth, just ahead of Kiyonari and Rutter.
James Buckingham, with a winning double aboard the Quay Garage Honda, moved top of the British Superbike Cup standings, four points clear of Chris Martin who took third and second places on a day that saw Marty Nutt lose ground – the young Ulsterman had taken second place first time out, but then was sidelined by a machine problem.
Cirrent BSB Standings
Lavilla - Airwaves Ducati 182
Haslam - Airwaves Ducati 121
Kiyonari - HM Plant Honda 108
Harris - HM Plant Honda 88
Byrne - Rizla Suzuki

Free to enter competition to join Rizla Suzuki as a VIP at Oulton Park
YOU could win two VIP passes worth £600 to join Rizla Suzuki at the ninth round of the 2006 British Superbike Championship at Oulton Park on Sunday, July 23rd, in this free to enter competition in conjunction with Express Insurance.
Oulton Park is one of the riders' favourite circuits with its fast flowing bends and dramatic changes in elevation. Thanks to spectacular backdrops and its friendly atmosphere, it is also one of the best rounds to visit for spectators.
To be in with a chance of winning this competition you need to log in as a Fan Club member (free to join. You can also upgrade to Fan Club + for additional benefits at a later date, see Fan Club section for further details). To enter the competition simply log on to www.rizla-suzuki.co.uk and go to the Express Insurance Competition Corner and answer the question. The competition ends on Friday, July 7th at Noon.
For more news, visit www.rizla-suzuki.co.uk now!