After months of waiting, the agreement between Max Biaggi and Francis Batta has finally been signed.
Max Biaggi: Team Alstare Suzuki Corona Extra's new spearhead!
Alleur, Belgium – Sept. 14th 2006 - Max Biaggi, the former MotoGP star who needs no introduction, is more motivated and fitter than ever. He has already asked to test his new Suzuki GSX-R1000 K7 as soon as possible. "Today is a good day," he said. "I have always followed the World Superbike Championship and my view is that it is an extremely exciting championship. I have always admired the riders taking part in the World Superbike Championship and I value the class's technical level.
I have known Francis Batta and his family for years and have a lot of respect for him as he has devoted so much time and attention to promoting the profile of the World Superbike Championship. I am back in competitive sport and I am happy to be riding for an official team - Team Alstare Suzuki Corona Extra. I am as determined as ever, and really want to win the Superbike World Championship. This is probably the biggest challenge of my sporting career."
Francis Batta has always wanted to work with Max Biaggi. He said, "Max Biaggi is definitely a valuable addition to my team and to the world of Superbike. He will have the best possible staff at his disposal. I have enormous trust in his capabilities and know that his desire is to become the first Italian rider to win the World Superbike Championship."
Paolo Alberto Flammini, CEO of FGSport, showed huge enthusiasm when hearing the news of Max Biaggi's arrival. As soon as Francis Batta told him that the agreement had been signed, he declared: "The arrival in the Superbike World Championship of one of the greatest riders in the history of motorcycle racing proves the tremendous fascination the series has for motorcycle fanatics. Furthermore, Max's participation is the result of a collaboration between Team Alstare and FGSport. We are convinced that he will help boost public interest in the World Superbike Championship. His presence will also improve the competitiveness and spectacle which make the World Superbike Championship one of the most exciting series in the world today."
FGSport has been wanting a top name Italian rider to join the SBK World Championship to help bolster the series in it's home country of Italy where fan support has shifted in recent years to MotoGP. It remains uncertain at this time which of the two current Alstare Corona Superbike team riders, Troy Corser or Yukio Kagayama, might be let go at the end of the 2006 season should Alstare remain a 2-rider team. Both are top level riders in SBK and will probably out place newcomer Biaggi on similar team equipment. Corser is the fan favorite, while Kagayama has closer ties to the Suzuki factory. There is a possibility that Alstare Suzuki may have a 2nd ABK team next year which could take the rider nudged out of the 1st team by Biaggi. And then agian, it would be nice to see Troy Corser reunited at Team Ducati with fellow Aussie Troy Bayliss!
---
New Ducati 2007 Superbike 1098cc Revealed
Above is a spy shot of the all new 2007 Ducati Superbike featuring less weight, more power, new single sided swingarm and a $3,000 lower cost, available in dealers this coming March. More details in the sidebar at right.
---

Melandri works his way past Kenny Roberts Jr. in the early laps.

2006 MotoGP World Championship, Australian Grand PrixRound 14 of 17
Hayden's Points Lead Slips Further...
Melandi Wins over Rossi and Vermeulen
at Rain Slick Phillip Island MotoGP
Australian Grand Prix at Phillip Island, Sunday Sept. 17, 2006 - Rain played havoc with the MotoGP race here at Phillip Island. The start was delayed, the race declared a 'wet' race, reduced by one lap to 26-laps from 27, and an incident-packed contest unfolded in front of a 44,500 crowd. Marco Melandri (Fortuna Honda RC211V) won from Chris Vermeulen (Suzuki) with Valentino Rossi (Yamaha) third.
With a 23-degree ambient temperature and a 33-degree track temperature under cloud cover, riders lined up for the sighting lap as spots of rain fell on the grid. All teams were ready with spare bikes shod with wet or intermediate tyres in preparation for possible machine swaps under the 'wet' race rules.

Shinya Nakano (Kawasaki) shot into the lead from the lights to lead Sete Gibernau (Ducati) by an incredible 3.5 seconds by the end of lap two. Melandri lay third, Dani Pedrosa (Repsol Honda RC211V) fourth and series points leader Nicky Hayden (Repsol Honda RC211V) was way down in 14th after a bad start.

As lap five began the rain worsened as Rossi moved up to fifth, then passed Pedrosa for fourth and then went third past Melandri until Marco repassed him. On the next lap Rossi went second overhauling Melandri again and then Gibernau. But Nakano was still in front – now by a massive 4.8 seconds.
By lap nine it was raining hard. Colin Edwards (Yamaha) had crashed and Hayden, Rossi, Gibernau and Melandri had been into the pits to swap bikes for wet-shod machines. Nakano delayed his pit entry until lap ten and he emerged behind new leader Carlos Checa (Yamaha) who been among the first to pit.
The mid-race order was now Gibernau, Vermeulen, Melandri, Casey Stoner (LCR Honda RC211V), Nakano, Checa, Rossi then Hayden. Dani was to lose out to the confusion in pit lane as the majority of riders came in the change machines at the same time. He entered pit lane in eighth position but was hindered by Tamada's retired machine parked in his path and found himself down in 13th place when he returned to the track.
As the track dried Melandri got stronger and sped past Vermeulen for second before relieving Gibernau of the lead on lap 16 and then working that advantage to nearly ten seconds by the flag.
On lap 18 there was controversy as Rossi sped passed Stoner under a waving yellow flag following an incident involving Carlos Checa (Yamaha). Rossi retained his position into the next corner and gained precious time on Hayden. The Race Direction later ruled no further action should be taken as it was deemed Stoner had momentarily re-passed Rossi.
The fight for the rest of the places became super-intense as the final lap began. Gibernau, Rossi, Stoner and Hayden were bunched up and scrapping for every place and point. Gibernau was clearly suffering severe tyre wear and as the rain again fell hard he couldn't keep Rossi at bay for third as they crossed the line. Nor could Hayden get past Gibernau and Nicky had to accept fifth, Stoner sixth.

Chris Vermeulen had his best race of the year on the Rizla Suzuki, here holding off Roberts, Rossi and Gibrneau for 2nd place.
Chris Vermeulen: "I'm obviously very happy to get my first MotoGP podium at my home Grand Prix! The support everyone gave me here at Phillip Island, and the bike the team gave me, was superb. We did no testing in the rain and used a brand new Bridgestone wet that we didn't have any experience of - in hindsight I probably would have chosen a harder tyre but we didn't know that at the time. I've got to give full credit to my team, when I came into the pits they were ready and everything went to plan. That's down to Tom, the organisation of the crew and everyone working with us. I've got a new track to learn next weekend but I'll be going all out to get another one of these at Motegi!"
VALENTINO ROSSI (3rd; +10.526) "I'm a little disappointed with third place because I know that in dry conditions we had a very good set-up and I think the result could have been better. Anyway, we can't do anything about the weather and in these circumstances I have to be thankful for third place because we have pulled some more points back on Nicky. After we changed the bike I lost a few places because I didn't have a good feeling initially on the wet tyre. Honestly I think this was my fault because once I found my rhythm I realized my M1 was in good shape and I was able to push more. I'm really happy with the second half of the race because the gap to Sete was seven seconds, but I made my mind up to try and pass him and my bike and my Michelin tyre worked very well to the end. I saw the red dot getting bigger and bigger and to pass him in the last corner was excellent. I would have liked to win for the sixth time here but at least I got to celebrate on the podium in front of all these wonderful fans. Now we are 21 points behind – it is a lot, but not impossible."
The World Championship points table now shows Nicky still ahead on 225, Rossi second with 204 and Melandri and Pedrosa, who was 15th, tied on 193 each. Loris Capirossi (Ducati), who was seventh, has 180 points. Honda leads the Constructors' series with 303 points to Yamaha's 242. Three races remain.
Of his third win of the season so far Marco said, "It was an incredible race and it came just at the right time for me. To win at Phillip Island, (the track where I won the 250 title), in whatever conditions, is an incredible feeling. I was really motivated because I went really well in the warm-up this morning and made some small changes for the race. I had to ride without forcing it because it was hard to keep the feeling in slippery conditions. I want to thank the team and Honda and Michelin because everything worked perfectly."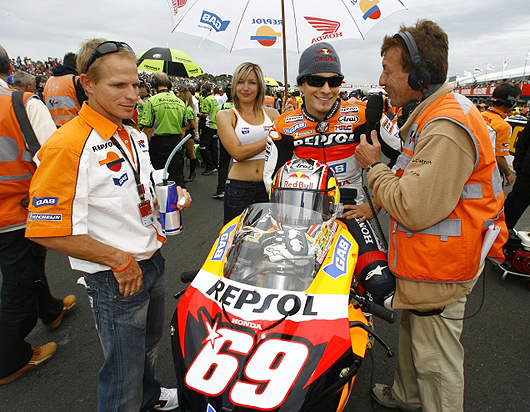 Nicky said, "What a wild race. I had some problems getting off the line and in the first few laps it was just wet and it felt pretty sketchy to me. I was using quite a hard tyre and I was just getting eaten up and losing positions at the beginning. Then it started to rain, we came in and switched bikes and it was actually really good fun – I enjoyed it. I got Rossi, he got me back and we were catching some guys in front of us. It was looking OK until he got Sete in between us, which was not great, but we're still holding on with three races to go and we'll just roll into Motegi and keep fighting."
Casey said, "I'm pretty disappointed. The weekend was going great until the rain and I felt very good after being fastest in the morning warm-up. At the start I took it easy. Then the rain came and it really hammered down, visibility was very bad, but I've got a good feeling in the wet and was able to make up some positions before the pitstop. But on the spare bike the rear wet tyre felt like a slick – it was too hard a compound and I struggled for grip on the left side – it was a disaster."

Tamada scored well on the grid, if not on the track!
MotoGP 990cc: (26 laps = 115.648 km)
Pos/ Rider / Nat / Team / Motorcycle / Time/ KM/H / Gap
1 / Marco MELANDRI / ITA / Fortuna Honda / HONDA / 44'15.621 / 156.774 /
2 / Chris VERMEULEN / AUS / Rizla Suzuki MotoGP / SUZUKI / 44'25.320 / 156.203 / 9.699
3 / Valentino ROSSI / ITA / Camel Yamaha Team / YAMAHA / 44'26.147 / 156.155 / 10.526
4 / Sete GIBERNAU / SPA / Ducati Marlboro Team / DUCATI / 44'26.236 / 156.15 / 10.615
5 / Nicky HAYDEN / USA / Repsol Honda Team / HONDA / 44'26.315 / 156.145 / 10.694
6 / Casey STONER / AUS / Honda LCR / HONDA / 44'26.944 / 156.108 / 11.323
7 / Loris CAPIROSSI / ITA / Ducati Marlboro Team / DUCATI / 44'42.176 / 155.222 / 26.555
8 / Shinya NAKANO / JPN / Kawasaki Racing Team / KAWASAKI / 44'42.287 / 155.215 / 26.666
9 / Toni ELIAS / SPA / Fortuna Honda / HONDA / 45'12.855 / 153.466 / 57.234
10 / Makoto TAMADA / JPN / Konica Minolta Honda / HONDA / 45'17.852 / 153.184 / 1'02.231
11 / Randy DE PUNIET / FRA / Kawasaki Racing Team / KAWASAKI / 45'18.053 / 153.173 / 1'02.432
12 / John HOPKINS / USA / Rizla Suzuki MotoGP / SUZUKI / 45'34.430 / 152.255 / 1'18.809
13 / Alex HOFMANN / GER / Pramac d'Antín MotoGP / DUCATI / 46'03.854 / 150.634 / 1'48.233
14 / Kenny ROBERTS JR / USA / Team Roberts / KR211V / 44'23.691 / 150.287 / 1 lap
15 / Dani PEDROSA / SPA / Repsol Honda Team / HONDA / 44'31.119 / 149.869 / 1 lap
Pole Position: Nicky HAYDEN 1'29.020 179.878 Km/h
Fastest Lap: Valentino ROSSI 1'30.917 176.125 Km/h Lap 4
Circuit Record Lap: 2005 - Marco MELANDRI 1'30.332 177.266 Km/h
Circuit Best Lap: 2006 - Nicky HAYDEN 1'29.020 179.878 Km/h
World Championship Positions:
1 HAYDEN 225, 2 ROSSI 204, 3 MELANDRI 193, 4 PEDROSA 193, 5 CAPIROSSI 180,
6 STONER 119, 7 ROBERTS 103, 8 HOPKINS 97, 9 EDWARDS 96, 10 VERMEULEN 86,
11 NAKANO 83, 12 GIBERNAU 82, 13 TAMADA 75, 14 ELIAS 71, 15 CHECA 58.
250cc Grand Prix: (25 laps = 111.2 km)
Pos / Rider / Nat / Team / Motorcycle / Time / KM/H / Gap
1 / Jorge LORENZO / SPA / Fortuna Aprilia / APRILIA / 39'17.327 / 169.819 /
2 / Alex DE ANGELIS / RSM / Master - MVA Aspar Team / APRILIA / 39'17.336 / 169.818 / 0.009
3 / Hiroshi AOYAMA / JPN / Red Bull KTM GP 250 / KTM / 39'23.887 / 169.348 / 6.56
4 / Andrea DOVIZIOSO / ITA / Humangest Racing Team / HONDA / 39'35.523 / 168.518 / 18.196
5 / Shuhei AOYAMA / JPN / Repsol Honda / HONDA / 39'53.327 / 167.265 / 36
6 / Hector BARBERA / SPA / Fortuna Aprilia / APRILIA / 39'53.811 / 167.231 / 36.484
7 / Roberto LOCATELLI / ITA / Team Toth / APRILIA / 39'54.377 / 167.191 / 37.05
8 / Jakub SMRZ / CZE / Cardion AB Motoracing / APRILIA / 39'54.461 / 167.185 / 37.134
9 / Anthony WEST / AUS / Kiefer - Bos - Racing / APRILIA / 40'16.980 / 165.628 / 59.653
10 / Marco SIMONCELLI / ITA / Squadra Corse Metis Gilera / GILERA / 40'21.156 / 165.342 / 1'03.829
---
Chicks That Kick Ass!

Maria Sharapova Claims US Open Title

New York City, Sunday, 10 September 2006 - Maria Sharapova defied the odds by beating Justine Henin-Hardenne in the final round of the US Open held at the Billy Jean King Tennis Center outside New York City, in an hour and a half, 6-4, 6-4. Proving to everyone, fans and detractors alike, that she is not just a one grand slammer from her last major win at Wimbledon 2 years ago, the young 19-year old Russian brushed aside a 4-1 record in head-to-head wins that Henin-Hardenne holds over her in collecting her second grand slam title.
The beautiful teenager is considered to be the world's 3rd richest professional athlete behinds Formula One's Michael Schumacher and Golf's Tiger Woods, with Maria earning close to $30 million per year in prize money and endorsements. The U.S. Open is one of the premier Grand Slam events on the World Tennis Association professional tour.


Click to order the 2007 Maria Sharapova Wall Calendar.
In the first set at the 2006 US Open, Henin-Hardenne led Sharapova after she double-faulted twice in the second game of the first set at 2-0. Sharapova maintainedher composure, waited for Henin-Hardenne to make errors, then hit her shot once an opportunity presented itself. True enough, Sharapova, aided with her big serves and deadly forehands, won the next two games to even the score at 2-2.
The two players then held their respective serves twice before Sharapova broke Henin-Hardenne's serve in the ninth game, courtesy of three groundstroke errors made by the tenacious Belgian, making the young Russian serve for the set, 5-4. A determined Sharapova fought Henin-Hardenne's charge shot by shot in the tenth game until she ended up holding her serve, thereby winning the first set, 6-4, in forty-five minutes.
Sharapova's first set triumph pumped her confidence as she warded off attempts by Henin-Hardenne to break her serve. Though double faulting twice in the second serve, Sharapova picked up her game and matched Henin-Hardenne's great service game. After six games, the two players won three games apiece, and held their respective serves. As the second set progressed, Sharapova's confidence grew, often times coming to the net with great success. Henin-Hardenne's game was crumbling, incurring a double fault, and a failed drop shot. Sharapova then won the seventh game by breaking Henin-Hardenne's serve, 4-3. Then with her great service game and wide court coverage, Sharapova sealed the next game with an ace for a 5-3 lead. Sensing an upset, Henin-Hardenne held her serve to prolong the match at least for another game, narrowing Sharapova's lead to 5-4. There was nothing Henin-Hardenne could do as Sharapova had answers to every shot Henin-Hardenne unleashed. Sharapova then won the set in forty-five minutes, 6-4, and the match after converting the second match point.
Just when it occurred to her that she won the US Open, Sharapova then dropped to her knees, then ran towards her beaten foe and kissed her. She then went to the stands to give her father, Yuri Sharapov, a big hug before going back to court and called her mother using her mobile phone.
"I figured I lost the last four times to Justine, so I figured I had to do the total opposite, but I have to congratulate her on an amazing career and reaching all four finals this year," Sharapova said.
See and read more of sexy Maria Sharapova in her Chicks That Kick Ass profile.
---
British Superbike Championship, Silverstone Round 11 of 12

Kiyonari Doubles, LaVilla Regains British Championship lead at Silverstone
Silverstine, GB, Sept 17th - Gregorio Lavilla goes into the season finale at Brands Hatch as the one to beat after he achieved two 2nd places on the "Black Mint" Airwaves Ducati 999F06. Former championship leader Leon Haslam had a day of mixed results, failing to finish the first race but coming 3rd in the second.
| | |
| --- | --- |
| Race One saw Leon Haslam leading by the first lap with Lavilla back in 5th. Then having done well to stay on the bike after a massive high speed wobble, on lap 2 the reigning champion picked off a rider a lap to end up 3rd by the end of lap 5. With now Kiyonari and Leon moving away at the front, Greg was locked in a battle with Rutter, Rea and Harris for the final podium spot; however they all advanced one place when Leon came off his Ducati 999F06 on lap 8. With Kiyonari stretching his lead, Greg continued to fight and finishing in a well in 2nd . | |
Race Two saw Leon take the lead from the start with Greg moving from 4th to 3rd by the end of the first lap. Kiyonari took the lead on lap 3 leaving the Airwaves Ducatis in 2nd and 3rd but with only a second separating the top 3, the competition for podium spots looked as if it would go to the finish. Greg overtook his team-mate on lap 6 and Leon started to drop off of the pace as the battle for 1st continued between Greg and Kiyonari. However Greg had little opportunity to steal the lead and the race finished with Greg 2nd and Leon 3rd. The day's results mean that Greg goes into the final round with 377 championship points and a slender 1 point lead over Kiyonari, Leon is a only 8 points behind on 368.
After failing to finish the first race Leon Haslam was quick to look ahead to Brands and not dwell on the day's disappointments. "I was pushing a bit too much in the first race and I made that little mistake which cost me a finish. I then had to change to my second bike which I don't like as much but I am obviously pleased with the second race result. Brands will be a great weekend now and I for one am really looking forward to it!"
Current championship leader Gregorio Lavilla commented, "I am really happy with my results today and being in the lead going into the final round is obviously a nice place to be, even if it is only by 1 point! In the first race my start was not great and the bike was feeling a bit different to yesterday but after I had a close call early on I settled down and it was good to come out with a podium finish. The second race was much better as we had made some changes to the bike, my Dunlop tyres felt good and my lap times were quicker so I felt much more comfortable. Going to Brands as championship leader does not affect me. I will go there to put in the best performance I can and hopefully the title will be ours again."
Colin Wright was quick to praise the team's performance. "In spite of the fact that we achieved another three podium positions, its been a tough weekend for us. Both Leon and Greg have experienced problems but overcame them and presented themselves as true professionals. I am very proud of them and all the guys and girls who make GSE Racing so special. Whatever the outcome at Brands we will end the season on a high – may the best man win!"
The final round of the British Superbike Championship takes place on October 1st at Brands Hatch.
Superbike Race 1




1. Kiyonari (Honda)




2. Lavilla (Ducati)




3. Harris (Honda)




4. Rea (Honda)




5. Rutter (Honda)




6. Hill (Yamaha)




7. Wilson (Suzuki)




8. Thomas (Kawasaki)




9. Richards (Honda)




10. Hickman (Kawasaki)





Superbike Race 2


1. Kiyonari (Honda)
2. Lavilla (Ducati)
3. Haslam (Ducati)
4. Byrne (Suzuki)
5. Rea (Honda)
6. Harris (Honda)
7. Rutter (Honda)
8. Thomas (Kawasaki)
9. Haydon (Suzuki)
10. Wilson (Suzuki)

Superbike Standings
1. Lavilla (Ducati) 377
2. Kiyonari (Honda) 376
3. Haslam (Ducati) 368
4. Byrne (Suzuki) 224
5. Harris (Honda) 218
6. Rea (Honda) 216
7. Hill (Yamaha) 161
8. Rutter (Honda) 158
9. Laverty (Honda) 157
10. Richards (Honda) 115
---
Official SBK World Superbike Fast Dates Screensavers
Sexy Irish Supermodel and SBK Fast Dates Calendar Kitten Gemma Gleeson gets up close and personal with the DFX Team Sterilgarda Yamaha R1. You can get up close and personal with them both by joining our Monthly Screen Savers & Members Corner
New 2007
Fast Dates Racebike,
Iron & Lace Custom
& Garage Girls Calendars
Click to Order Now!




2007 SI Swimsuit 15-inch Wall Calendar w/poster


2007 Hot Rides 12-inch Wall
All New Ducati 1098cc Superbike Available
Spring 2007
Our spies in Bologna have revealed the all new, next generation Ducati Superbike will be unvieled at the Intermot International Motorcycle Show in Europe next month and will appear in dealerships as soon as March 2007.
The new base model Ducati Superbike will have its Testastretta engine displacement increased to 1098cc and will be upped in horsepower from the current 999's base 124hp up to 140hp.
Additionally, the new bike will get a major 42 lb.reduction in overall weight to put it on an equal power to weight performance rating with its current Japanese inline four competition.
Significant design changes on the all new Ducati Superbike will include a much more stylish MotoGP Desmosedici RR style body work with Yamaha R1 like twin headlights positioned each side of a large single front air scoop. The chassis will also return to the traditional Ducati 916-998 single sided swingarm which was much loved by Ducatisti both for its looks, exclusitivity and ease of rear wheel removeable and chain adjustment.
One styling change we don't like on the new generation bike is the change back to the use of two round under the tail mufflers like on the previous generation 916-998 models. We like the single flat silencer of the current 999 Superbike as it is unique and different from all the other other superbikes on the market.
But the good news doesn't stop there, the base model's suggested retail price will fall a significant $3,000 from the current 999 base model's $17,995 to a much more affordable $$14,995. Ducati is looking at competiting directly with the Japanese for a much big share of the world's sportbike market.
There's no word yet on the up rated new Ducati Superbike S and R models which could take another 6-12 months to appear as is customary with Ducati. The delay may also be necessary in case the FIM does increase the engine displacment in World Superbike to 1200cc for V-twins beginning in 2008, in which case the R-model could go into production later in 2007 with a race homologated larger 1198cc engine.
Motorcyclist magazine will be the first US based print streetbike magazine to feature the new Ducati 1098cc Superbike in a cover feature for their December 2006 issue. And of course you'll see it first on the web at Ducati.com and here at FastDates.com.
Ducati Ups Displacement and Power of the 2007 Multistrada
The new 2007 Ducati Multistrada 1100 receives a boost in cylinder size thanks to an evolution of the renowned Desmodue air-cooled twin-cylinder engine. For this model the Ducati 1100 Dual Spark now has a displacement of 1078 cc, which offers more torque and extraordinary reliability.
The current model Multistrada 1000S DS was awarded FastDates.com's prestegious 2005 Bike of the Year accolade, so this displacement increase should make a great bike even better.
The new engine benefits from a bore increase of 4 mm to 98 mm, vs. the 1000 Dual Spark's 94 mm. As a result the cylinder displacement is 1078 cc, a considerable increase on the 992 cc of the previous version.
This new engine now offers a power output of 95 HP at 7750 rpm and 10,5 Kgm of torque at 4750 rpm - up from 92hp and 9.2Kgm of the current 992cc 1000DS engine. These increased values contribute to the bike's rideability and the powerful mid-range delivery of this modern air-cooled engine highlights the sporting character of the new Multistrada 1100.
The engine has been designed to comply with the Euro 3 norms while, at the same time, boosting performance. Other than this engine displacment increase the Multistrada motorcycle remains unchanged going into 2007. Expect the new 1100 model to be in Ducati dealers shortly.
For those riders who demand the ultimate in sports performance, the Multistrada 1100 S features 43mm Öhlins forks, a fully adjustable Öhlins rear shock with remote preload adjustment and other component upgrades to ensure performance reminiscent of a Superbike.
The 2007 Multistrada 1100 and 1100 S are available now in dealerships and have MSRPs of $11,995 USD ($14,995 CND) and $13,995 USD ($17,995 CND), respectively.
Claudio Domenicali, Ducati's Product Director On the Company's Design Direction and Future
Brithish Telegraph Interview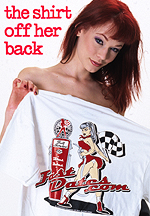 ---
Photo Highlights from
Brands Hatch 2006
staring the Fast Dates Calendar Kittens
The Complete Story Here
So cute and oh so deadly, the Calendar Kittens on Friday afternoon before or annual Fast Dates calendar shoot.
Read the complete story HERE
Camilla and Katie in their Team Ducati uniforms on Sunday in from of the Pit Garage.
Paolo Ciabatti adjusts Katie's Supergirl cape as they head out to the starting grid for the Superbike race.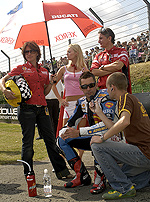 Katie on the starting grid with Troy Bayliss and his wife Kim, Paolo.
The very popular andlegendary 43-year young Franki Chili waves "good bye" to the fans during a parade lap to honor his final race at Brands Hatch.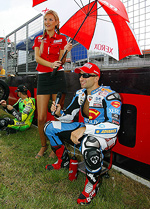 Camilla helps keep Lorenzo Lanzi cool in the shade just before the start of Race One.
---
Phillip Island
Race Wrap Up
ROSSI SALVAGES PODIUM IN DRAMATIC FLAG TO FLAG RACE AT PHILLIP ISLAND
Valentino Rossi clinched the final spot on the podium with a daring manoeuvre in the very last corner of a dramatic flag-to-flag race, the first of its kind in MotoGP, held in mixed weather conditions at Phillip Island this afternoon. The drama started on the warm-up lap when a light shower meant that the race was recalled as wet, giving the riders chance to change tyres on the grid. However, with track conditions still relatively dry they all opted to stay on slicks until the rain intensified – Rossi eventually coming in to pit on lap eight, having battled back to third after dropping to ninth after a poor start from the front row.
The Italian's team-mate Colin Edwards had also been about to come in and change his tyres on the same lap but the American was caught out by a slippery patch of track in the middle of the second corner, which caused the rear tyre of his YZR-M1 machine to lose grip and step out before digging in again and throwing him over the handlebars. Edwards landed hard on his backside and was badly winded but thankfully he escaped any serious injury.
Rossi jumped onto his second bike and headed back out onto the track, although over-cautiousness on the wet tyres saw him lose several places and drop to eighth. After a brief battle with eventual winner Marco Melandri (Honda), Rossi took a few laps to carefully judge the condition of a track that had now begun to dry out again, making the performance of the wet tyres difficult to predict. Over the closing la ps he picked up his pace and launched a typical charge past several riders, culminating in a thrilling final corner move on Sete Gibernau (Ducati) that sealed third place and moved him up to second in the championship, 21 points behind Nicky Hayden (Honda), who finished fifth. Chris Vermeulen (Suzuki) completed the podium in second place.
Stunning podium for Vermeulen and Rizla Suzuki at Phillip Island
Chris Vermeulen stormed to his first ever MotoGP podium at a rain affected Australian Grand Prix from Phillip Island in Australia.
Vermeulen started from 16th place on the grid and by lap seven had moved up to 12th, when most riders chose to enter the pit-lane and change to their ÔwetÕ setting bikes as heavy rain started to fall. Vermeulen raced past many riders on the pit-entry lap and re-joined the race in 7th place, and by the next lap was up to third. The young Australian star then passed Sete Gibernau for second place and dug deep to hold his position for the remaining 10 laps.
The race was watched by over 44,000 Australian fans who cheered Vermeulen all the way to the chequered flag behind eventual winner Marco Melandri.
Team-mate John Hopkins had a very different race to Vermeulen. Having started in 15th he made an amazing start and was up to seventh by the end of the first lap. When he came in to the pits to change machines he was in fifth, but he just couldnÕt get the drive he needed and dropped back to 12th by the end of the race. The points that he scored for that position did enable him to move up to eighth place in World Championship table and close the gap on Kenny Roberts Jr in seventh.
Rizla Suzuki MotoGP now travels to Motegi in Japan for round 15 of the MotoGP World Championship on Sunday 24th September for the final leg of the three week fly-away tour.
Chris Vermeulen: "I'm obviously very happy to get my first MotoGP podium at my home Grand Prix! The support everyone gave me here at Phillip Island, and the bike the team gave me, was superb. We did no testing in the rain and used a brand new Bridgestone wet that we didn't have any experience of - in hindsight I probably would have chosen a harder tyre but we didn't know that at the time. I've got to give full credit to my team, when I came into the pits they were ready and everything went to plan. That's down to Tom, the organisation of the crew and everyone working with us. I've got a new track to learn next weekend but I'll be going all out to get another one of these at Motegi!"
DUCATI MARLBORO MEN THWARTED BY ISLAND WEATHER
Ducati Marlboro Team rider Sete Gibernau lost his first podium finish for the team during the final few metres of this afternoon's Australian GP, run in tricky dry, wet and half wet and dry conditions. Gibernau finished the race just 0.089 seconds outside third place. Team-mate Loris Capirossi also suffered in the chaotic conditions, ending up in seventh position.
Following the start, briefly delayed after the first spots of rain fell, Gibernau stormed through from the fourth row to take second place on lap two and began eating into Shinya Nakano's lead. But after five laps the rain intensified, most riders entering the pits at the end of lap eight to swap to their spare bikes equipped with rain tyres. This was the first time that anyone had changed bikes mid-race since flag-to-flag races were introduced at the start of 2005.
Gibernau led the next six laps but once the rain subsided and the track dried he began to struggle with rear traction and was unable to get on the gas as hard as he wanted, losing third place to Valentino Rossi with the chequered flag in sight. After the race it was alleged that Rossi had earlier made an illegal pass when he overtook another rider under yellow flags, but he was not penalised.
Capirossi's result did at least make him the first rider in GP history to complete 200 points scoring rides.
SETE GIBERNAU, finished 4th, 12th overall, 82 points
"We did everything right. I got a good start in the dry, I had a really good pace and I was going by them one by one. When we pitted to swap bikes I was second, then I was first, I was going to split from the pack in the rain but then the track started drying and my rain tyres weren't right for the conditions. If it had been completely wet or completely dry we would have had a good chance of a win today. All credit to the guys in the team and to Bridgestone, they gave me tyres that worked great in the wet and the dry. Now I can't wait for Motegi where I hope it will be payback time."
LORIS CAPIROSSI, finished 7th, 5th overall, 180 points
"We agreed with Race Direction that if it rained on the warm-up lap we would stop on the grid, not in the pits. So that's what we did and they declared it a wet race. We started on slicks but if there was any bad luck today it fell upon us. I had the fastest rhythm in morning warm-up, so even though I started from the fifth row I was up into fifth by the second turn! If it had stayed dry I would have been able to attack. When the rain came and we swapped bikes I took a couple of laps to get a feel for the conditions and once again I was very fast. I was catching Valentino (Rossi) and I thought I could fight for a podium but then the track began to dry and I couldn't do any better. I did what I could but I hate races like that and I can't wait to get back on track and fight again at Motegi."
MOTORCYCLE WORLD LAND SPEED RECORD FALLS AGAIN!
Chris Carr and Denis Manning set new land-speed record at Bonneville; second record in three days
In what will be remembered as the biggest day in the history of motorcycle land-speed racing, AMA Grand National Champion Chris Carr shattered the two-day-old FIM world record by piloting Denis Manning's BUB Enterprises streamliner to 350.884 mph at the AMA/FIM International Motorcycle Speed Trials by BUB on the Bonneville salt flats.
Carr broke the record of 342.797 mph set earlier in the week by Ack Attack, the first motorcycle to break the long-standing 16-year-old mark of 322 mph set by the Easyriders streamliner piloted by Dave Campos. With salt conditions perfect, even Carr's new record is not safe.
Chris Carr celebrates his new world record"It don't know how long the record will stand," said Carr, tearful with joy. "It might stand for only a couple of hours, but right now, I'm the fastest guy in the world."
As it turned out, Carr will be the fastest motorcycle rider in the world for at least a year. Despite additional attempts at the record by Ack Attack and another contender, the EZ-Hook streamliner built by Sam Wheeler, the speed trials ended Thursday with nobody able to surpass Carr's mark.
FIM rules state that a world record must surpass the existing record by at least 1 percent, so Ack Attack would have had to average nearly 354 mph in its two runs to dethrone the BUB streamliner. Rocky Robinson rode Ack Attack to a 349.031 mph run in the westward direction — the fastest run yet heading west — suggesting that a record run was possible. But winds prevented them from making the required backup run in the opposite direction within two hours.
Carr's record won't become official until it is ratified by the FIM at its congress in October.