Another 2nd place, but Nicky Hayden gets our vote for the "Most Intelligent Use of Victory Champaign, Ever."
Why does everyone one else in the history of motorsports waste the victory champaign spraying down the fans and the press photographers, when you could be getting the trophy girl drunk, improving her oral skills, and getting her back to your motorhome? Smart thinking Nicky! Racing will never be the same again. Video guy records the making of the new MotoGP Girls Gone Wild Video.

MotoGP Gran Premi Cinzano de Cataluna, Round 8 of 17
Rossi Scores 2nd Consecutive Victory at a Barcelona Crash Fest
Points leader Capirossi taken out by Teanm mate Giberneau in Turn One

Gran Premi Cinzano de Catalunya, Spain 16-18th Jun - Camel Yamaha Team rider Valentino Rossi emerged from a crash-strewn race at Catalunya with 25 more points to boost his world title defence, thanks to his third Grand Prix victory of the season at Montmelo today. One of the most dramatic races in recent history began to unfold from the first corner, when Sete Gibernau (Ducati) collided with his team-mate Loris Capirossi under braking and both riders went tumbling into the gravel at high speed, taking Marco Melandri (Honda) with them. All three riders were injured and unable to join the restarted race after the red flags were subsequently raised, although John Hopkins (Suzuki), Randy de Puniet (Kawasaki) and Dani Pedrosa (Honda) did make it back to the grid after also running off track during the first corner melee.
Casey Stoner (Honda) repeated the excellent start he got at the first race start, taking the hole-shot and then leading over the first eight laps before eventually folding under constant pressure from Rossi and sliding into the gravel. With extremely high temperatures and low grip levels several other riders also crashed out, leaving Nicky Hayden (Honda) as the only man capable of chasing the Italian. With less than a second separating the pair for most of the race, Rossi turned on the style with typical flair in the closing stages and had opened out a 4.509 second advantage over the American when he took the chequered flag.
With no fewer than eight riders failing to make it to the end of the race it was a credit to Rossi's team-mate Colin Edwards that he arrived home in fifth place, collecting some valuable championship points and more crucial data with the new version of the YZR-M1 chassis that was available to him on both bikes for the first time this season. The American's compatriots Hayden and Kenny Roberts (Team KR) completed the podium.
"The start of the race was hard for everybody,: said Rossi, "because we were all very worried about the riders who crashed – especially Marco Melandri because we could see his accident was a bad one. Just before the start Doctor Costa told me that Marco was more or less ok and I was very relieved. Even then it was tough to concentrate on re-starting the race. I made a mistake at the start and Stoner came past me, but my bike was working so well that I was able to push from the beginning and when the fuel came down it was even better.
I knew that some of the other riders were having trouble with their tyres but my team have done a great job with Michelin this weekend and I had lots of grip to the end. Hayden pushed very hard but I kept my pace up and was able to extend the advantage over him. The M1 has been so much fun to ride all weekend and I want to say a big thank you to the whole team for getting it to this stage. To win at two of my favourite tracks like Mugello and Catalunya is a big, big satisfaction for me."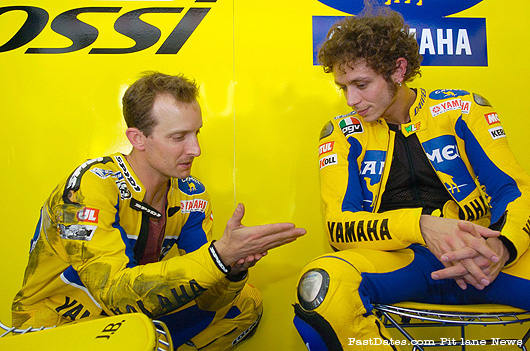 Edwards to team mate Rossi - "Shucks, it was like I leaned the motorcycle over into the corner and it just fell down like I hit a fresh cow pattie- Smack! We just don't have too many corners in Texas to practice on." Rossi - "Maybe try to go faster next time, and the centrifugal force, she should hold you up, Si?"
Rossi Dodges the Rain to Lead Day One in Catalunya
Friday 16th Jun - Despite the appearance of the rain which seems to follow the MotoGP tour the world over this year, the World Championship's passionate fans still flocked to the Circuit de Catalunya today to witness the excitement of the buzzing paddock. With the Gran Premi Cinzano de Catalunya taking place on Sunday, today's sessions served to establish the early pace-setters in all three categories.
Valentino Rossi continued on the comeback trail on the first day of practice, finishing as the fastest rider with a lap of 1'42.837. The Camel Yamaha man has been one of the most successful riders in the history of the Circuit de Catalunya, and knows that a win is essential for his championship aspirations.
The second practice session went ahead without interruptions, although the track was slowly drying after a sudden downpour soaked 125cc practice. Having put in the fastest lap of the first free practice, Kenny Roberts Jr. benefited from the slower second session to finish the day in second position overall. The American was just ahead of home rider Dani Pedrosa, another rider with a formidable record in Catalunya.
The last time Colin Edwards came to the Montmelo Circuit he left as the proud owner of a brand new BMW M ZX Roadster, courtesy of a victory in a special qualifying session back at the Official Test in March. On day one of practice the Texan Tornado clocked the fourth fastest time, ahead of Australian duo Chris Vermeulen and Casey Stoner. John Hopkins continued the impressive form of the Suzuki team, with a seventh place in the combined standings.
Championship leader Loris Capirossi clocked the eighth fastest time of the day, with third and second placed championship riders Marco Melandri and Nicky Hayden completing the top ten.
The paddock also welcomed two of Spain's biggest rallying stars this afternoon, with Citroen driver Xevi Pons and KTM Dakar rider Isidre Esteve experiencing some of the excitement of the World Championship. The raid and rally drivers made the most of their time at the track, shooting the breeze with fellow countryman Toni Elias in the Fortuna Honda box.
Rossi heads MotoGP grid for Catalunya -his first pole since 2005
Saturday 17th June 2006 - Under bright Spanish sunshine on the outskirts of Barcelona, the MotoGP World Championship held the all important qualifying sessions to decide grid positions for tomorrow's Gran Premi Cinzano de Catalunya. Fans flocked to the circuit from far and wide, and were not left disappointed after three fantastic battles to top the timesheets.
A rider with a history of success at the Circuit de Catalunya, Valentino Rossi will start tomorrow's crucial race at the head of the field, taking the 31st premier class pole of his illustrious career. The Camel Yamaha rider justified his position as the favourite for tomorrow's Gran Premi Cinzano de Catalunya by storming round the track in a time of 1'41.855, the fastest that he has ever ridden around the Montmelo track. The early stages of the qualifying session saw Rossi take a trip onto the grass, before he came back to take the spectacular pole.
Valentino Rossi (1st - 1'41.855; 26 laps) - "I am really, really happy - it is a big satisfaction to be back on pole after such a long time. The bike has been working really well all weekend and I have to say a big 'thank you' to everybody at Yamaha and all my engineers because they have worked so hard to build this new chassis and then make it work so well in such a short space of time. I said yesterday that we have been able to work in a normal way and this meant that today I was able to focus on finding a good setting for the qualifying tyre and putting some fast laps in at the end. It is the first time I have had this pleasure in a long time and to do it at this track is amazing because it is so much fun to ride here. There are some tough riders out there but I have a special feeling in front of these fans. They always treat me so well and I want to put on a good show for them tomorrow."
Second place on the grid goes to John Hopkins, the Suzuki rider also breaking the 1'42 barrier on a great day for the team.
Another rider delighted with his qualifying performance will be Kenny Roberts Jr, one of the most prominent riders during the previous three sessions at the Catalunya Track. On board his father's KR211V machine with the Honda engine, the American former World Champion takes his first front row start since Donington 2004, third on the grid.
Chris Vermeulen earned his best dry weather qualifying position of 2006, putting two Suzuki bikes in the first four whilst Shinya Nakano continued his fine run of qualifying form with a fifth position on the Kawasaki.
Championship leader Loris Capirossi rounds off the second row for tomorrow's race, ahead of closest rival Nicky Hayden, Casey Stoner and late crasher Marco Melandri on row 3. French rider Randy de Puniet completes the top ten ahead of home rider Dani Pedrosa who disappointed in qualifying despite having shown good pace throughout the weekend.
LORIS CAPIROSSI, 6th fastest, 1m 42.247s - "Considering the way I rode that last lap, I think I deserved better than sixth place! But sixth means the second row and that's not so bad. We are still working on our bike set-up, it's more difficult than usual, and I'm pushing harder on the track, which means it's easy to make mistakes. There are other Bridgestone bikes faster than us, so we still have some improvements to make. Even so, I'm satisfied, not with our qualifying performance, but with the way we have worked so far. This morning I was the only guy who did 18 laps on race tyres and my lap times were pretty good. Bridgestone have made a very big step forward at this track. My best lap today would have given me pole last year and my race pace this morning would have put me on the podium last year. Obviously everyone has improved since then but while we were in real difficulties here last year, we are now in a position where we can do something. Anyway, we must believe in ourselves and I am determined as ever. Tomorrow I will give 100 per cent until the chequered flag."
Pos. Rider Manufacturer Nat. 1st Qualifying
1 V. Rossi Yamaha ITA 1' 41.855
2 J. Hopkins Suzuki USA 1' 41.984
3 K. Roberts Team Roberts KR USA 1' 42.055
4 C. Vermeulen Suzuki AUS 1' 42.211
5 S. Nakano Kawasaki JPN 1' 42.216
6 L. Capirossi Ducati ITA 1' 42.247
7 N. Hayden Honda USA 1' 42.305
8 C. Stoner Honda AUS 1' 42.344


9 M. Melandri Honda ITA 1' 42.492
10 R. De Puniet Kawasaki FRA 1' 42.620
11 D. Pedrosa Honda ESP 1' 42.648
12 C. Edwards Yamaha USA 1' 42.655
13 S. Gibernau Ducati ESP 1' 42.712
14 T. Elias Honda ESP 1' 42.853
15 M. Tamada Honda JPN 1' 42.869
16 C. Checa Yamaha ESP 1' 43.606
18 J. Ellison Yamaha GBR 1' 44.727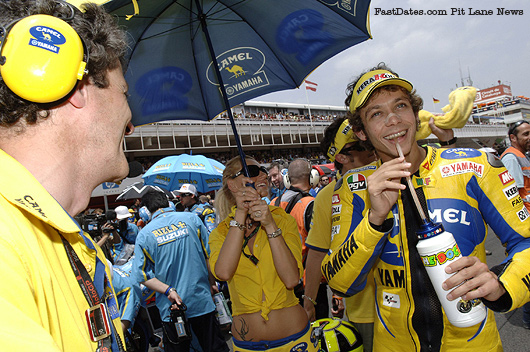 Rossi Wins Accident-Strewn MotoGP Race
June 18th - Valentino Rossi was victorious in Catalunya to further cut the lead in the MotoGP World Championship , although the race will perhaps be better remembered for a first corner crash which left a number of riders out of the restart.
Contact between Ducati team-mates Sete Gibernau and Loris Capirossi caused both riders to hit the deck, taking with them Marco Melandri, John Hopkins and Randy de Puniet all fell, with the former's condition causing particular concern to onlookers. Melandri, Gibernau and Capirossi were all taken to hospital in Barcelona, where they will undergo tests. First impressions are that all three are not seriously injured, Gibernau suffering a fractured collarbone, Melandri a dislocated acromion and Capirossi abdominal contusions.
Inspection of the race video revealed that the two Ducati riders converved on each other as they set up for the first corner. Giberneau was was to the left rear of Capirossi, and Giberneau's front brake lever was jammed into the full position as they contacted eahc other, sending Giberneau's bike into a cartwheeling wheelstand which took at least six bikes from behind incuding the Championship points leader Capirossi.
Casey Stoner leads Rossi and hayden through Turn One as Giberneau (65 sliding off the track) takes out a third of the field to stop the race. Click for the Fast Dates.com Pit Lane News BIG PICTURE

Meanwhile the restart was held up because of a problem with Vermeulen's bike on the grid and it was third time lucky as the race got underway. Rossi started slowly from the blocks on the restart, dropping down to sixth before making his way back up through the field. Once the Doctor took the lead however he set about putting some distance between him and the chasing pack, eventually finishing four and a half seconds ahead of second placed man Nicky Hayden. Rossi's eighth career victory at the Circuit de Catalunya brings him within 29 points of the American at the top of the classification.
Nicky Hayden continued his impressive record of podium finishes, following on from his third place in Mugello to take second at the Circuit de Catalunya. The Repsol Honda rider was out on his own for the last portion of the race, not quite close enough to challenge Rossi for the win but under no real pressure from the riders behind him.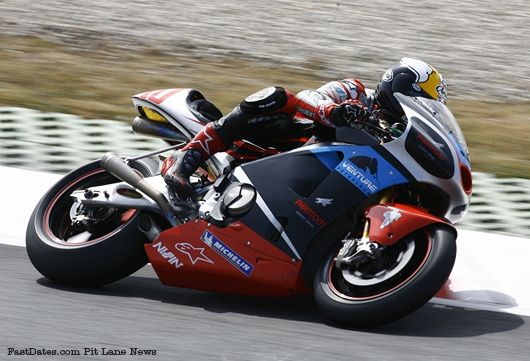 KR Jr. on the Honda powered KR Sr. scored their first ever podium finish.

Kenny Roberts, starting from the front row for the first time since the 2004 German Grand Prix, ended a six year wait for a rostrum finish to complete a fantastic weekend for the American and Team Roberts. Just behind him was his former teammate John Hopkins, who was involved in the first corner incident, and was just edged out by his countryman Roberts on the final laps, forced to settle for fourth. In a particularly successful day for American riders, Camel Yamaha's Colin Edwards took fifth place.
The Gran Premi Cinzano de Catalunya was the most successful race of the season for Rizla Suzuki, with Chris
Vermeulen joining team-mate Hopkins in the top six. The Australian rookie had delayed the second restart after signalling that his bike had stalled on the approach to the grid, and resisted the urge to push beyond mechanical capabilities and risk missing out on valuable points once the race finally got underway.
Makoto Tamada came in seventh, with Carlos Checa, James Ellison, Alex Hofmann and Jose Luis Cardoso the other riders to finish the race.
There was disappointment for home rider Dani Pedrosa, who had to retire after making contact with Kenny Roberts Jr. The Spaniard was joined on the sidelines by Casey Stoner, who slid off the track from second place after having led from the restart. Shinya Nakano was shown the black flag for not restarting from the back of the grid when he changed machines, completing a frustrating day for Kawasaki Racing, the team having already seen their French rider Randy de Puniet crash out.
Nicky Hayden, Repsol Honda: 2nd. "Sure I want to win, but I'm kinda happy with being able to run that pace today because I've struggled a bit all weekend. I was 10th in the warm up this morning and 10th on Friday, and I knew today that when the light went out I really had to find some speed and really dig in to recover as best I could. So I was really happy to be able to raise my game. There was a lot of drama at the first corner, but I just had to stay focussed, that's my job, and luckily it seems like everyone's ok, which is really important. Rossi was playing today – he had more in the tank and was saving his tyres so I knew it was going to be hard to stay with him at the end of the race, especially the hotter it got out there because that made traction an even bigger issue. I wanted to be smart and stay consistent today – I can't afford to have any off-days. Somewhere along the way consistency won't be enough though - I want to win some races."
Kenny Roberts Jnr, KR Honda: 3rd. "What I wanted didn't really happen today. I'm not really confident in myself in the beginning of the race but I'm getting there. In the race I was running with John (Hopkins) but I didn't know if there was somebody behind him. When I let him passed I realised we were alone. So I kept pushing and passed him down the straight with Honda power, it was awesome. It's great to be here because in the winter I thought I would be at home sitting on the couch watching the races till my Dad called and asked if I wanted to ride his bike with a Honda engine and Michelin tyres. You bet I did. We got the bike working 50% at Le Mans, 75% at Mugello and then 100% at the test after Mugello. This is just the start, when the team get a second rider we will really go places."

Right: "Gee Dad, putting that Honda MotoGP V5 motor in a Honda CBR1000RR chassis really made all the difference. Why didn't you do that 6 years ago and we could have saved 20 million dollars?"
Results MotoGP
Race Classification MotoGP : (24 laps = 113.448 km)
Pos/ Rider / Nat / Team / Motorcycle / Time/ KM/H / Gap
1 / Valentino ROSSI / ITA / Camel Yamaha Team / YAMAHA / 41'31.237 / 163.939 /
2 / Nicky HAYDEN / USA / Repsol Honda Team / HONDA / 41'35.746 / 163.643 / 4.509
3 / Kenny ROBERTS JR / USA / Team Roberts / KR211V / 41'40.411 / 163.338 / 9.174
4 / John HOPKINS / USA / Rizla Suzuki MotoGP / SUZUKI / 41'44.702 / 163.058 / 13.465
5 / Colin EDWARDS / USA / Camel Yamaha Team / YAMAHA / 41'53.785 / 162.469 / 22.548
6 / Chris VERMEULEN / AUS / Rizla Suzuki MotoGP / SUZUKI / 41'56.435 / 162.298 / 25.198
7 / Makoto TAMADA / JPN / Konica Minolta Honda / HONDA / 42'01.859 / 161.949 / 30.622
8 / Carlos CHECA / SPA / Tech 3 Yamaha / YAMAHA / 42'02.514 / 161.907 / 31.277
9 / James ELLISON / GBR / Tech 3 Yamaha / YAMAHA / 42'30.440 / 160.134 / 59.203
10 / Alex HOFMANN / GER / Pramac d'Antín MotoGP / DUCATI / 42'45.299 / 159.206 / 1'14.062
11 / Jose Luis CARDOSO / SPA / Pramac d'Antín MotoGP / DUCATI / 43'18.052 / 157.199 / 1'46.815
Pole Position: Valentino ROSSI 1'41.855 167.072 Km/h
Fastest Lap(New record): Nicky HAYDEN 1'43.048 165.138 Km/h Lap 10
Circuit Record Lap: 2005 Valentino ROSSI 1'43.195 164.903 Km/h
Circuit Best Lap: 2006 - Valentino ROSSI 1'41.855 167.072 Km/h
World Championship Positions:
1 HAYDEN 119, 2 CAPIROSSI 99, 3 ROSSI 90, 4 MELANDRI 89, 5 PEDROSA 86,
6 STONER 65, 7 EDWARDS 60, 8 ELIAS 53, 9 TAMADA 49, 10 ROBERTS 44,
11 GIBERNAU 44, 12 HOPKINS 40, 13 NAKANO 37, 14 VERMEULEN 31, 15 CHECA 24.

250cc Grand Prix to Dovizioso
Andrea Dovizioso took his long-awaited first 250cc victory in Catalunya, after a heart-stopping final few laps. The clearly delighted Humangest Honda rider held off home rider Jorge Lorenzo and Master MVA Aspar rider Alex de Angelis to head the quarter litre category for the first time.
Lorenzo had charged through on the final five laps after lying several seconds down on the front group, eventually taking second when De Angelis and Locatelli touched going into the first turn, the former 125cc World Champion Locatelli running wide and out of contention for the podium.
Results 250cc
Race Classification 250cc: (23 laps = 108.721 km)
Pos / Rider / Nat / Team / Motorcycle / Time / KM/H / Gap
1 / Andrea DOVIZIOSO / ITA / Humangest Racing Team / HONDA / 41'28.179 / 157.302 /
2 / Jorge LORENZO / SPA / Fortuna Aprilia / APRILIA / 41'28.274 / 157.296 / 0.095
3 / Alex DE ANGELIS / RSM / Master - MVA Aspar Team / APRILIA / 41'28.601 / 157.275 / 0.422
4 / Roberto LOCATELLI / ITA / Team Toth / APRILIA / 41'29.766 / 157.201 / 1.587
5 / Alex DEBON / SPA / Fortuna Aprilia / APRILIA / 41'31.315 / 157.104 / 3.136
6 / Hiroshi AOYAMA / JPN / Red Bull KTM GP 250 / KTM / 41'32.211 / 157.047 / 4.032
7 / Yuki TAKAHASHI / JPN / Humangest Racing Team / HONDA / 41'32.251 / 157.045 / 4.072
8 / Sylvain GUINTOLI / FRA / Equipe GP De France - Scrab / APRILIA / 41'35.494 / 156.84 / 7.315
9 / Anthony WEST / AUS / Kiefer - Bos - Racing / APRILIA / 42'11.286 / 154.623 / 43.107
10 / Martin CARDENAS / COL / Wurth Honda BQR / HONDA / 42'11.372 / 154.617 / 43.193
11 / Manuel POGGIALI / RSM / Red Bull KTM GP 250 / KTM / 42'11.761 / 154.594 / 43.582
12 / Andrea BALLERINI / ITA / Campetella Racing / APRILIA / 42'12.584 / 154.543 / 44.405
13 / Jules CLUZEL / FRA / Equipe GP De France - Scrab / APRILIA / 42'20.605 / 154.056 / 52.426
14 / Arturo TIZON / SPA / Wurth Honda BQR / HONDA / 42'33.655 / 153.268 / 1'05.476
15 / Fabricio PERREN / ARG / Stop And Go Racing Team / HONDA / 42'37.050 / 153.065 / 1'08.871
---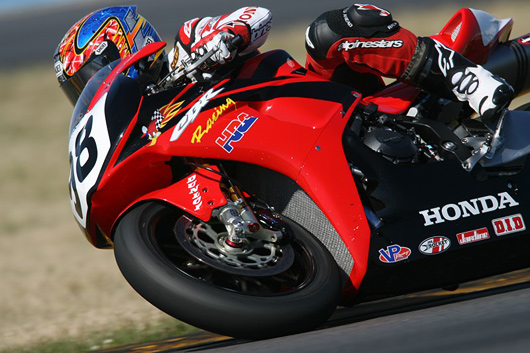 AMA Superbike Championship, Miller Motorsports Park, Utah, Round 6 of 11

Spies and Zemke Trade Wins at Miller Motorsports Inaugural
Tooele (Utah) 16 June 2006: Parts Unlimited Ducati's Ben Bostrom qualified on the provisional front row at Miller Motorsports Park. The Californian, mounted on a Ducati 999 Superbike, set his best mark of 1:50.403, which was good for fourth fastest in the afternoon session on the 3.048-mile (4.9-kilometer) circuit. Neil Hodgson was seventh fastest with a time of 1:51.315 in the premier AMA class.
Bostrom, who was fastest at the test here in Utah earlier this season, was very competitive with the other riders on race tires at the new circuit. "The lap time seemed to come pretty easily after we got everything sorted out," said Bostrom. "We stuck the hardest race tire Dunlop had for the whole session. We were looking to prepare for the race and it's going to be a long 21 laps. It was good for us to get up on the front row, even if qualifying isn't decided yet and there is still a session in the morning. I'm stoked to be on the front row but we still have a lot of work to do."
Neil Hodsgon followed three places later in the order. The Englishman set his quick lap on his 13th time around the circuit. "We had some issues today and weren't really happy with the way the session went. It seemed the time really flashed by us and that the session lasted about five minutes," said Neil, the former World Superbike champion. "We know what gearing we'll use and we should be able to pull it together for the race. We have a direction to work in the morning. In qualifying, we'll try to get as many laps as possible."
Tomorrow's race, the inaugural AMA Superbike event at Miller Motorsports Park, begins at 3:50 local time.
Qualifying times: 1. Mat Mladin, Suzuki 1:49.694 2. 2. Ben Spies, Suzuki 1:49.962 3. Jake Zemke, Honda 1:50.332 4. Ben Bostrom, Parts Unlimited Ducati Team 1:50.403 5. Tommy Hayden, Kawasaki 1:50.938 6. Aaron Yates, Suzuki 1:51.252 7. Neil Hodgson, Parts Unlimited Ducati 1:51.315 8. Miguel Duhamel, Honda 1:51.371 9. Jason Pridmore, Suzuki 1:52.779 10. Larry Pegram, Honda 1:52.996
Suzuki's Spies and Mladin fight with Bostrom and Hodgson for Superbike Win at Miller Motorsports
Saturday Superbike June17: Parts Unlimited Ducati's Ben Bostrom finished third in Saturday's Superbike race at Miller Motorsports Park. Bostrom fought with a four-rider pack for the win through most of the 21-lap race, the first-ever AMA Superbike event at the track. Racing his Ducati 999, Ben showed both his aggressiveness and a veteran's talent for tire conservation to finish on the podium for the first time in 2006. His teammate Neil Hodgson finished right behind Bostrom in fourth place.
Bostrom, who qualified on the front row, was a key factor in the exciting scrap for the lead at the 3.048-mile circuit. He moved up to third spot on lap 15 and never relented the position, despite a challenge by Jake Zemke.
"It feels good to get back on the box," said Bostrom, the 1998 series champion. "It has been a while since I've been up here and to do it in an exciting race like this one means even more. The pace was really fast. My plan was to stay with the lead pack and wait until the last five laps and then move to the front. We didn't quite get to there, but it's great to get back on the podium for Ducati. I can't wait for tomorrow and the rest of the season."
Neil's finish helped solidify his fourth place rank in the current AMA Superbike points standings.
"We were fourth today despite a few problems," said Hodgson. "I would have liked to have been up there with Ben today and his performance was encouraging for the team. Still, we got a good finish. Tomorrow, we'll make some changes and look forward to racing again."
"Ben rode a great race and stuck with the leaders nearly the whole time," said team owner Terry Gregoricka. "We needed a boost and Ben gave it to us. He had a good shot at the win and really tried hard. Neil was fourth and managed to earn the next spot for the team, so it was a good day."
Saturday Results: 1. Ben Spies, Suzuki 2. Mat Mladin, Suzuki 3. Ben Bostrom, Parts Unlimited Ducati 4. Neil Hodgson, Parts Unlimited Ducati 5. Tommy Hayden, Kawasaki 6. Aaron Yates, Suzuki 7. Miguel Duhamel, Honda 8. Jake Zemke, Honda 9. Jason Pridmore, Suzuki 10. Jake Holden, Suzuki
Jake Zemke Puts Honda on Top for the First Time this year, on Sunday
Sunday Superbike June 17th: American Honda's Jake Zemke celebrated the Honda Summit of Speed by putting the Honda CBR1000RR atop the Superbike podium with a convincing victory on the inaugural weekend of racing at Miller Motorsports Park in Tooele, Utah.
"It's been a year and a half of hard work and the guys never stopped working and that's what paid off today," Zemke said after his third career AMA Superbike win. "Nobody's lost their drive or their motivation during
the whole process. There were some long weekends last year and this year's been really good. Up until Saturday's race, there'd been a Honda on the box every race this season."
Zemke set the tone for the weekend by challenging for the win on Saturday. The Californian was bumped out of the lead on the 15th of 21 laps, dropping from first to fourth. While fighting his way back to the front, Zemke
crashed heavily into the dusty run-off on the 18th lap. Undeterred, he picked up his motorcycle and finished eighth, one spot behind teammate Miguel Duhamel. Duhamel struggled with a cold all weekend and also fought a front tire push that developed early in Saturday's race.
Sunday's race was stopped on the ninth of 21 laps when corner workers suspected oil on the track. Zemke was second at the time after his team had worked hard to replicate the Honda CBR1000RR he'd ridden to such good
effect for most of Saturday's race. On the re-start Zemke slotted into third, moving to second lap 15, then
into the lead two laps later with a draft-pass into turn one. The advantage over second-placed Mat Mladin (Suz) grew quickly and topped out at 4.134 seconds after 21 laps of racing.
Behind second-placed Mladin came Saturday's winner, Ben Spies, in third. Fourth went to a determined Duhamel. Still not 100% physically, Duhamel fought back after being passed by Tommy Hayden (Kaw) on the final lap and came within just over a second of joining teammate Zemke on the podium.
Jake Zemke 8th Saturday, 1st Sunday - About Saturday: Matt got inside me going up into the little 'S' section up
there-his entrance line was really tight-and I had already turned in from the outside and I was online to make the corner and we hit pretty good and it pretty much knocked me right off the track and he went all the way to
the edge of the track and that let (Ben) Spies go by us both and from then on I was just trying to play catch up and we kept getting these lappers. I finally had one lap of clear track and I closed quite a bit on those guys
and then I just lost the front right on the seam going in there, right where the pavement seam is there is a little bit of a dip right there and I was pushing too hard on the front. It's funny, because at the start of that
lap I told myself, 'OK, don't push too hard on the front, because I knew the thing was already just a little bit greasy.' And I pushed too hard on the front. I wasn't going to settle for anything but being on the podium, I
mean, realistically, we had a great shot at winning that race.
Jake on Sunday: I just tried to do what I was wanting to do yesterday which was just wait until the last five laps and really put my head down and try to make a break and today it worked. Luckily, I was able to run a couple of
quick laps there and get away from Mat (Mladin) just a bit and that's all she wrote. Then I could back it down a little bit and just bring it on home. We've come a long way in a short amount of time. It's definitely
worth all the hard effort that we put in to have a package like we had this whole weekend, that we can go out there and race heads-up with these guys and ride the wheels off the thing and that's what we were able to do today and that was a great race.
Sunday Superbike:
1. Jake Zemke (Honda)
2. Mat Mladin (Suzuki)
3. Ben Spies (Suzuki)
4. Miguel Duhamel (Honda)
5. Tommy Hayden (Kawasaki)
6. Neil Hodgson (Ducati)
7. Aaron Yates (Suzuki)
8. Jason Pridmore (Suzuki)
9. Steve Rapp (Suzuki)
10. Matt Lynn (Suzuki)

Saturday Superbike:
1. Ben Spies (Suzuki)
2. Mat Mladin (Suzuki)
3. Ben Bostrom (Ducati)
4. Neil Hodgson (Ducati)
5. Tommy Hayden (Kawasaki)
6. Aaron Yates (Suzuki)
7. Miguel Duhamel (Honda)
8. Jake Zemke (Honda)
9. Jason Pridmore (Suzuki)
10. Jake Holden (Suzuki)

Championship Standings:


1. Ben Spies (388)
2. Mat Mladin (367)
3. Miguel Duhamel (302)
4. Neil Hodgson (288)
5. Aaron Yates (278)
6. Jake Zemke (273)
7. Tommy Hayden (272)
8. Ben Bostrom (244)
9. Jason Pridmore (237)
10. Steve Rapp (205)
---
Penthouse Pet of the Year Zdenka wants to know...
Are you getting our awesome FastDates.com Screensavers? If not click on her picture...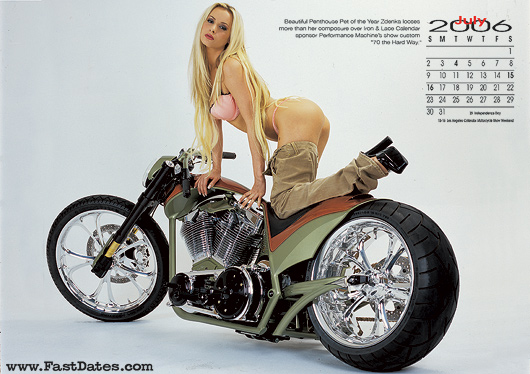 Fast Dates is the Offical Calendar of the SBK World Superbike Championship
FastDates.com Calendars Signs Licensing Agreement with SBK World Superbike

June 1st 2006 - Gianatsis Design, producers of the popular FastDates.com Motorcycle Pinup Calendars, is excited to announce it has entered into a new licensing agreement with FGSport, organizers of the SBK Corona Extra World Superbike Championship for the previously 10-year SBK endorsed Fast Dates Racebike Pinup Calendar to now become the Official Licensed Calendar of the SBK Corona Extra World Superbike Championship.
Under the agreement FGSport will continue to provide Gianatsis Design exclusive access
at the World Superbike rounds to photograph the top factory racebikes with the beautiful SBK Fast Dates Calenar Kittens for the Calendar. And FGSport will be offering the Fast Dates Calendar for sale with their other official merchandise products on the SBK World Superbike Website - www.worldsbk.com
Plans have been made for the 2006 SBK World Superbike Round at Brands Hatch, Great Britain, on August 4-6th to again be the location for the shooting of the next edition of the Fast Dates Calendar by publisher and photographer Jim Gianatsis. And on race weekend the beautiful Calendar Kittens, professional models Emily Hilton, Katie Pugh and Camille Tranter from the London agency Universal Models will also serve as the official SBK Fast Dates spokesmodels and race grid girls. Meow!!!!
| | | |
| --- | --- | --- |
| Emily Hilton | Katie Pugh | Camille Tranter |
FastDates.com Calendars
Sign Marketing Agreement with SpeedTV.com
May 25th 2006 - Gianatsis Design, producers of the popular FastDates.com Motorcycle Pinup Calendars, is excited to announce it has entered into a marketing agreement with SpeedTV.com, the website for America's premier motorsports network SpeedTV.
Under this agreement SpeedTV.com will be selling the FastDates.com Calendars through their affiliation with Motorbooks.com beginning July 1st when the new 2007 FastDates.com Calendars are released. The Calendar titles include the: SBK World Superbike endorsed Fast Dates Racebike and Swimsuit Model Calendar sponsored by Performance Machine, Jardine Performance and the SBK Corona Extra World Superbike Championship; the Iron & Lace Custom Bike and Centerfold Model Calendar sponsored by Mikuni American, Performance Machine and Jardine Performance; and the Garage Girls Beautiful Models Hard at Work Calendar sponsored by CustomChopperBuildersToolbox.com
The marketing agreement also allows SpeedTV.com to sell the sexy FastDates.com Calendar branded images online for cell phone display use to their website visitors. Look for them and our our FastDates.com Calendar Banner ad on the SpeedTV website at http;//www.SpeedTV.com
"This is a fantastic marketing partnership I am happy to enter in to with SpeedTV.com," said Jim Gianatsis, producer and photographer of the FastDates.com Calendars."We've always enjoyed a great peripheral relationship with SpeedTV, what with their race coverage of the SBK World Superbike Championship, and annual coverage of our big LA Calendar Motorcycle Show on their program American Thunder, as well as working with our same sponsors. Now we've brought it all closer together by having SpeedTV.com marketing both the FastDates.com Calendars and Calendar Phone Images."
"We know that both guys, and even girls enjoy and buy our FastDates.com Calendars. SpeedTV.com recognizes this as both a good revenue source for them, while it also provides even more exciting content on their website to help pull and keep even more visitors on their website to find out more about all their great motorsports programming. And maybe some day soon, we just might see the "Making of the FastDates.com Calendars" as a series on SpeedTV."
---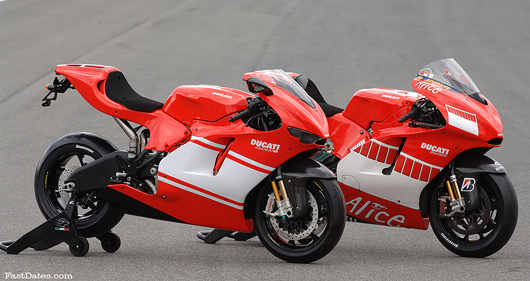 The first ever street legal MotoGP bike, the Desmosedici RR (left) offers 200+ Horsepower and is as true to its MotoGP6 works bike predecessor (right) as cost and streetability will allow. Note the offset cat-eye headlights to not elimimnate the nose air scoup or revert to a center headlight like the Japanese superbikes. We think the bike is awsome and hope the next generation Ducati V-Twin Superbike will look just like this.

Giant Desmosedici Street and Racebike Picture / Screensaver 1224
The Ultimate 200+ HP Desmo Experience
DUCATI DESMOSEDICI RR Production MotoGP/Superbike
June 1st, 2006, Mugello, Italy - Ducati has chosen the magical atmosphere of the Italian Grand Prix at Mugello to launch the Desmosedici RR production prototype. The dream of a true GP replica has finally come true and the Desmosedici RR will be the first-ever road-going motorcycle to offer such a stunning wealth of performance and technology that comes directly from Ducati's experience in MotoGP. The RR derives from the Ducati Corse Grand Prix racing Desmosedici GP6, the same bike with which Loris Capirossi and Sete Gibernau are competing with in the 2006 MotoGP World Championship.
More Desmosedici - Technical Specifications, Pictures, Screesavers
---
Sands Takes Down Rooke in 2006 Discovery Biker Build Off
Meet Them and Their Bikes at the July 15-16th LA Calendar Motorcycle Show
FastDates.com Calendar Builders Duke it Out!

Roland Sands takes down Jesse Rooke in a V-Twin Sportbike Build Off and Track Race for Discovery Channel's Bikers Build Off

Former AMA MotoGP Champion-Turned Master Builder Leans on Racing Expertise to Defeat Jesse Rooke in the Garage and on the Track - By Erika Decker, Photos from PM
May 1st - On May 1st at Willow Springs Raceway, former AMA MotoGP champ and custom motorcycle innovator Roland Sands, defeated fellow master builder Jesse Rooke, in the 2006 season premiere of Discovery Channel's popular Biker Build Off series, scheduled for broadcast this coming August. Both Jesse and Roland are featured builders in the FastDates.com Calendars, and at the annual LA Calendar Motorcycle Show where they conduct free Iron & Lace Calendar Builder's Seminars. Both builders will be in attendance at this year's July 15-16th Show.
For the 2006 season, Biker Build Off's producers decided to provide a twist to the program's format, incorporating a competitive racing component that, for the first time, truly measured both the form and function of these one-of-a-kind two-wheel works of art. Sands and Rooke were pitted against each other in a two-out-of-three challenge featuring three separate events to determine an overall champion: a road race challenge, a dirt-track challenge and a classic quarter-mile drag race. When it was all said and done, the former AMA champ Sands proved victorious.
| | |
| --- | --- |
| | "I haven't raced competitively since 2002, so I was excited at the opportunity to merge my passion and knowledge for racing with my passion for custom motorcycle design." said Sands. "Jesse (Rooke) and I have been friends for quite a while, and it's always sweeter when you can win bragging rights from a friend on national television." |
| | |
| --- | --- |
| | The Jesse Rooke built bike featured a 950cc KTM DOHC watercooled sportbike engine in a beautiful retro boardtracker design painted by Troy Lee Designs. For creativity, design and fabrication, the Rooke bike was the hands down winner. But with it's rigid rear suspension, unique Jesse Rooke Customs girder front forks, and minimal brakes, the Rooke retro bike was at a severe disadvantages when it got to the race track. |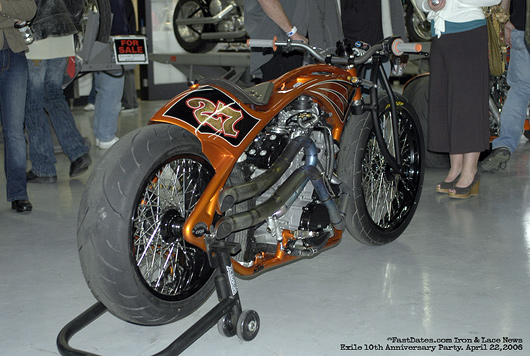 Jesse Rooke's unique KTM powered retro board tracker will be at this year's 2006 LA Calendar Motorcycle Show.
---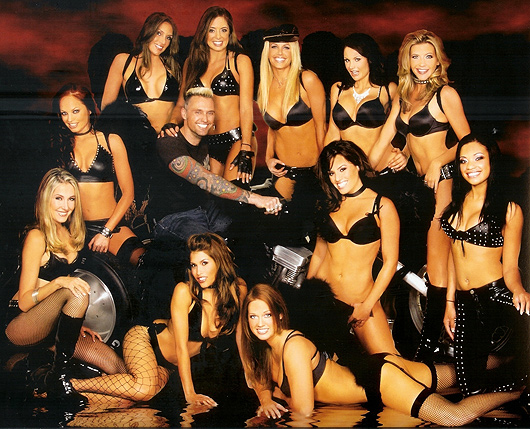 MEOW! Oh my god, how Purrfect is this? But are you man enough like Biker Build off and Build or Bust star Russell Mitchell to survive it for 4 hours on Saturday with even more beautiful girls, and then again on Sunday!
Oh yeah, there'll be some cool bikes there, too...
Weapons of Mass Seduction!
Purrfect Angelz highlight 2006 LA Calendar Motorcycle Show July 15-16th!
Los Angeles, March 1st, 2006
- So why does
Russell Mitchell
, star of TV's Build or Bust and featured custom bike builder in our
Iron & Lace
Custom Motorcycle Pinup Calendar, have such a big smile on his face?
It's because we just told him all those beautiful girls he's posing with of the famed
Purrfect Angelz
show group will be performing all weekend long in expanded performances guaranteed to decimate attendees at America's premier custom and performance streetbike event, The
Los Angeles Calendar Motorcycles Show
on the
July 15-16th weekend, 2006
,
The biggest performance day for the Angelz at this year's Show will take place on Saturday the 15th, where the previous two 20-minute show sets will now serve just as a warm up teaser for 3, yes that's THREE different 1-Hour Purrfect Angelz Stage Shows! from their 3 different world and cross country tours. For complete details go to LA Calendar Motorcycle Show.

Fast Dates Calendar Motorcycle Roadracing News. Complete coverage of the SBK World Superbike, AMA National Superbike and MotoGP World Championship. Superbike, SBK, FIM, AMA, American Superbike, superbike planet, American Roadracing, sportbike, grand prix, MotoGP, race, racing, news, superbike news, sport bike, motoGP news, photography coverage, photos, pictures, Fast Dates Calendar and Umbrella Girls. Racing, road race, track, motorcycle, news, results, girls, models, Mat Aladdin, Max Biaggi, Valentino Rossi, Troy Baylis, Ben and Eric Bostrom, James Toseland, Chris Vermeulen, Maria Sharapova, Kristen Bell, Regis Laconi, Loris Capirossi, Troy Bayliss, Troy Corser, Noriyuki Haga. Ducati 999 Monster Multistrada, Yamaha R6 R1, Honda CBR600RR CBR1000RR, Kawasaki ZX6 ZX6RR ZX10, Suzuki GSXR600 GSXR750 GSXR1000, Aprilia Mille, MZ Agusta F4 Brutale. Los Angeles Calendar Motorcycle Show.