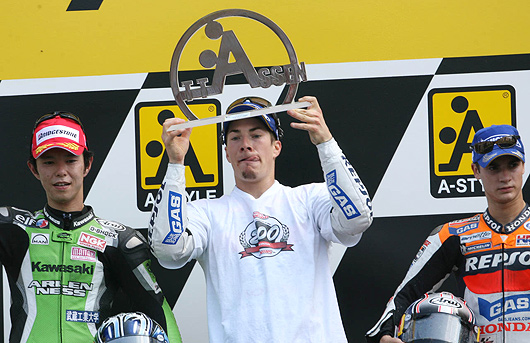 Points leader Hayden's first win this season , Shinya Nakano scored Kawasaki's highest finish ever with a 2nd place, Prerosa 3rd.

MotoGP A-Style TT Assen, Round 9 of 17
First European Win for Hayden at Assen TT
in Exciting Last Lap Battle With Edwards
June 22-25th, Assen Holland - An amazing climax to the A-Style TT Assen saw Nicky Hayden take his first win of the season and Colin Edwards suffer a heartbreaking crash just metres from the finish line.
Edwards looked to have miraculously snatched victory from his American compatriot in Holland, forcing Hayden off-road with a daring manoeuvre and with the chequered flag in sight. However, his own excursion onto the grass flung him off his Yamaha M1 to shatter his dreams of a memorable maiden win.
Hayden had taken the lead just a lap before, the result of which seemed to leave Edwards without a chance of recovering after he was forced across a run-off area. The Yamaha rider incredibly fought back to take the lead again on the final lap, but with the final corner drama to ensue, it was Honda's clearly ecstatic Hayden who earned his first victory since Laguna Seca 2005 to further extend his championship lead to 42 points.
Always a high qualifier, Shinya Nakano has faded in previous races, and had seemed to be cursed with a string of unlucky penalties. Today the popular Japanese rider earned a well deserved podium finish, bravely holding off a strong trailing pack for second place. Dani Pedrosa came back from a poor start to take third after an intense battle with fourth placed rider Casey Stoner. The Spaniard now lies second in the overall classification to make it a Repsol Honda top two.
Kenny Roberts Jr. continued his run of good form with a fifth place ride on the Team Roberts bike, whilst fellow American and Assen poleman John Hopkins held onto a top six position after pushing the Suzuki to the limit chasing Edwards in the early laps.
The next two across the line showed the true desire and professionalism of a MotoGP rider. Marco Melandri gave a gutsy performance to come in seventh, less than a week after suffering a catalogue of injuries in a horrific first corner crash in Catalunya. Valentino Rossi meanwhile, doubtful for the race after breaking a bone in his hand on Thursday, made his way up from last on the grid to take eighth in one of his defining performances. Carlos Checa and Chris Vermeulen completed the top ten.

Valentino Rossi suffered serious hand and foot injuries after this Friday morning trip through the gravel trap at Assen, but returned from the hospital to participate in afternoon practice and Sunday's race.
Rossi and Elias Injured, Edwards Quickest in Dutch TT Warmup
Thursday - On an overcast day which saw light showers at the scene of Saturday's A-Style TT Assen, the MotoGP riders took to the Dutch track for their first practice sessions at the newly modified "Cathedral of motorcycling".
The day was not without incident, as two spectacular crashes in the premier class gave the day its major talking points. Valentino Rossi's initial acquaintance with the circuit lasted just six laps, before he high-sided his Yamaha M1 on and was taken immediately to the Clinica Mobile, sitting out the rest of the 90 minute first contact with the Assen Circuit. At 11.15am local time the Italian was taken to the Assen Hospital, where he was diagnosed with chest contusions, hairline fractures to the right hand and left ankle and a haematoma on his right elbow. Rossi underwent a CAT scan at the Dutch hospital and, after having been given the all-clear on damage to his chest, took part in the afternoon practice.
Toni Elias was another victim of a first day incident, suffering a fracture at the head of the humerus of his left shoulder. The Spaniard has already returned home to Barcelona to be examined by Dr Xavier Mir. After initially being treated in Clinica Mobile, Elias was able to return to the first practice. However, he was later diagnosed as being unfit to race.
In the practices themselves, Colin Edwards earned the best time of the day, a 1'38.144 lap which put him one tenth of a second ahead of surprise package Carlos Checa, also on a Yamaha, but on Dunlop tyres compared to Edwards' Michelins. Third place went to Casey Stoner, ahead of the continually resurgent Kenny Roberts Jr. Randy de Puniet occupied fifth ahead of Suzuki's John Hopkins.
Chris Vermeulen, on one of the few tracks on the calendar with which he is familiar (albeit in its former configuration), was seventh fastest, ahead of Makoto Tamada, Shinya Nakano and Nicky Hayden. The day also saw the debut of Alex Hofmann on the Ducati, standing in for Sete Gibernau, and Ivan Silva for Pramac d'Antin. Marco Melandri also decided to ride after his participation was placed in doubt by the heavy crash in Catalunya.
John Hopkins Takes Pole on Suzuki
Friday 23rd - John Hopkins took his maiden MotoGP pole this afternoon, Rizla Suzuki's second of the 2006 season. The Anglo-American clocked a time of 1'36.411 to take the top spot on an overcast day at the Assen Circuit, leading a front four containing four different manufacturers.
Hopkins edged out second placed rider Shinya Nakano by just 13 thousandths of a second, with the strong-qualifying Japanese rider putting himself on the front row. Colin Edwards, fastest in every practice session ahead of Saturday's A-style TT Assen, completed the first line.
John Hopkins: "What can I say? I've had lots of front row starts and now I've finally got that pole position! I'm really happy about it. I am pleased with how the set-up has gone and I am enjoying the track and making the best of everything. My team is working really hard and Bridgestone have brought some great tyres for this weekend. We have got to try really hard tomorrow and go after that first podium. Colin Edwards is running a really fast pace so we know we will have to work hard in the race. It's a huge weight off our shoulders – getting this pole position out of the way – now we have to concentrate on the 26-laps tomorrow. I am feeling good about the whole situation. My thanks go to the crew, to Bridgestone for some awesome tyres and to Suzuki for improving their level so much, everything seems to be coming together and we are looking forward to tomorrow."
Repsol Honda riders Nicky Hayden and Dani Pedrosa headed row two, still under the 1'37 barrier, whilst Chris Vermeulen rounded off a superb day for Rizla Suzuki by placing in the top six qualifiers.
Marco Melandri, still tender from his huge crash in Catalunya, battled through the pain barrier to finish ahead of yesterday's surprise package Carlos Checa, whilst Ducati debutant Alex Hofmann earned his best qualifying performance of the season in ninth.
The big news of the day came from World Champion Valentino Rossi, always making headlines even when off the pole-spot. The MotoGP star rode just four laps in the morning session before heading to the Clinica Mobile. After further treatment to the hairline fracture on the title-holder's hand, Rossi came out for the qualifying session, where he put in just thirteen laps of the newly-modified track. After an initial attempt to earn a high grid position without qualifying tyres, the Camel Yamaha rider called it a day in order to rest for tomorrow's race. Technicians for the team have modified the brake lever of the M1 to aid Rossi's comfort, their rider starting from eighteenth and last place on the grid and taking the decision whether to compete or not after tomorrow's warm-up.
Fellow injury-listed Italian Loris Capirossi was also suffering the after-effects of his Catalunya crash, and will start tomorrow's Dutch race from fifteenth on the Ducati.
Hayden's Assen TT Victory Secures Honda's 200the Premier Win
Saturday June 24th - This MotoGP race was an epic – Nicky Hayden (Repsol Honda RC211V) won it at the last turn on the last lap from Colin Edwards (Yamaha) who crashed, remounting to finish 13th, while Shinya Nakano (Kawasaki) inherited second place and Dani Pedrosa (Repsol Honda RC211V) third. With two Honda riders on the podium and the factory's 200th Grand Prix win in the premier class now established – this was a good day for the Japanese factory.
With so many competitors riding injured; Marco Melandri (Fortuna Honda RC211V) carrying neck and shoulder injuries, Loris Capirossi a bruised chest, Valentino Rossi (Yamaha) a broken foot and throttle hand and with Toni Elias (Fortuna Honda RC211V) in hospital in Barcelona receiving treatment on a broken shoulder, this was a race where taking points would be critical in terms of the World Championship.
In bright sunshine with the track at 29-degrees and air temperature at 23-degrees, all those bar Elias took to the grid in front of a capacity 91,000 crowd: Rossi from 18th and last after his crash on Thursday, Melandri from a very creditable seventh on the grid and Capirossi from 15th.
Pole man John Hopkins (Suzuki) was second into turn one from the lights as Edwards headed the field. As lap one was swiftly completed, Edwards led from Hopkins and Nakano with Nicky fourth ahead of Melandri and Pedrosa. But by lap four Nicky set a fastest lap of 1m 37.106 seconds having moved past Nakano for third on lap two.
Edwards, Hopkins and Hayden soon established a 1.3 second lead over Nakano in fourth, with Casey Stoner (LCR Honda RC211V) now fifth ahead of Dani and Melandri, with Chris Vermeulen (Suzuki) eighth, Kenny Roberts (Roberts KR211V) in ninth and Makoto Tamada (Konica Minolta Honda RC211V) lying tenth.
By mid-race distance of this 26-lapper around the new, tighter confines of the shortened 4.555km Circuit Van Drenthe, Edwards and Hayden had dropped Nakano and Hopkins. The leading duo held a 2.2 second advantage and they would stretch that to five seconds during the final laps.
Behind the dicing lead duo it was all action as Hopkins faded and lost ground while Nakano held station in third, just ahead of a Pedrosa, Stoner and Roberts, who were locked in combat for fourth place.

Hayden catches on Edwards in the closing laps.

As the last three laps approached it became clear Nicky was going to get close to Edwards to heap as much pressure on the Texan as he could. And on the penultimate lap Hayden slid up next to Edwards on the brakes into the back chicane. Edwards ran off track after the move and although he straight-lined the remainder of that chicane he was now just over a second down on the flying Hayden. It looked like Nicky's race now.
But Edwards dug deep and had clawed his way back in touch as they fought on the last lap. Edwards moved inside Nicky as they entered the Hoge Heide kink and then squeezed Nicky to the left as the Honda man bravely tried to outbrake his rival around the outside of the final chicane as the finish line loomed.
Nicky was forced to straight-line the final chicane losing drive and the lead. But Edwards lost the rear of his machine as he put the power down while still on the grass of that chicane. He was spat off, his bike careering into the tyre wall. The crestfallen Yamaha rider remounted but smashed the screen of his machine in frustration as he collected 13th place instead of a possible win.
Pedrosa got the verdict from Stoner and Roberts for what he thought was fourth only to be directed towards the podium after seeing the stricken Edwards extracting his Yamaha from the run-off area. This was some race in what is turning out to be some World Championship.
Hayden has increased his lead at the top of the points table and now sits on 144 points to Dani's 102. Capirossi is third on 100 points, and Rossi fourth on 98 after his eighth place finish here. Melandri also has 98 after his seventh place finish. Stoner lies sixth with 78, Edwards seventh on 63.
After his second career win, and his first of this season, a jubilant Nicky said, "It was a wild one today and I definitely enjoyed it – it's just a really good day for me. I'm proud to win for Repsol Honda and really proud to score Honda's 200th win in the top class of Grand Prix too. At the end of the race I felt really good and really strong. Going into the last chicane he was going in so deep so I used a move I used on Hopkins earlier in the race. Honestly it wasn't going to work and I caught neutral, but he ran off the track too."
Shinya Nakano in 2nd, "It goes without saying that I'm happy to score my best result in MotoGP with second place here today, although I was happy enough when I thought I was going to finish third! I knew I needed to be on the front row to secure a good result on this new Assen circuit, and Bridgestone certainly gave me the qualifying tyre to achieve that. I got a good start, but I just couldn't stay with Colin, Nicky and John during the opening laps. We had to go for a hard front tyre because of the rise in temperature this afternoon, and I had some chatter from the front early on in the race. But then it improved and I was able to chase down and pass John as the race approached the halfway stage. At the end I was too far back to see what happened to Colin, but as I came through the final chicane I saw his bike on the side of the track, but it was a second or so before I realised that this meant I was in second place. I have to say thank you to the team who, despite our recent run of bad luck, have never lost their confidence in me. When the team are confident in me, it gives me confidence on the bike. This result was not just down to me, but to everyone in the Kawasaki Racing Team who've worked so hard this year."
Dani, in 3rd, said, "I lost a lot of time at the beginning of the race, especially battling with Melandri. On the last lap Stoner tried to overtake me and in the last section I re-overtook him and we almost touched once so it was pretty close. Nicky and Colin's pace was a bit faster than mine so I think third position is good for the team, and I was also lucky because Colin crashed at the last corner and gave me the final place on the podium."
Fourth-placed Stoner said, "I made a good start but got blocked by another rider. Then I got a good pace going and got fifth and then Dani came past so I was happy to sit in behind him for few laps. Dani was a little slower than me but hard to pass, then I made a mistake on the final lap, which allowed Dani to get past again. The positive is that we had a good race package and were racing for a podium."
I just tried to keep working my way up after a poor start," said Kenny Roberts, who finished fifth. "I felt I had a bit better pace than Pedrosa and Stoner but whenever I tried something on them, they tried it back on me. I need to make sure I now get better grid positions and stay out of trouble on the first five laps."
Rossi checks his injured hand which is heavily taped.

Valentino Rossi also produced one of his best rides of the season so far as he battled through the pain of cracked bones in his hand and ankle to take the flag in eighth place. Rossi started from the very back of the grid after struggling to qualify with the injury he picked up during Thursday morning's free practice session. However he made up ten positions in a brave ride to seal eight valuable championship points.
Valentino Rossi (8th; +23.591) "That was a really hard race for me but Doctor Costa, Marco Montanari and the entire Clinica Mobile team did a great job on my hand and I was able to race until the end. I was in some pain, especially at the start and I wasn't able to ride at 100% of my ability, but it was okay. At the start I was worried how it would go, but when the adrenalin kicked in I started to feel like I could race and by the time we got to the midway point I was feeling much better and having some fun. I lost strength in my hand over the last three laps but I was able to hang on and we picked up some decent points in eighth place. The team have done a great job this weekend in difficult conditions. I wasn't able to do many laps in practice so they didn't have much data but the bike and the tyres felt great so I have to say a big thanks to everybody. I feel very sorry for Colin - he rode a great race and he was unlucky to make the mistake at the end because he deserved to win."
The 'Texan Tornado' looked consigned to second place but Colin s produced a stunning fight-back to pull level with Hayden on the final lap and retake the lead with just a few corners to go. When Hayden launched one last attack into the final chicane, only to run straight onto the gravel, Edwards seemed certain to win but there was one final twist in the tale as he ran onto the grass on the exit from the corner and lost control of his YZR-M1 machine, which threw him into the air. As Edwards slid to the ground within touching distance of the finish line Hayden returned to the track to snatch his first win of the season, leaving the Yamaha man to pick his bike up and limp across the line in 13th place.
Colin Edwards (13th; +40.412) "What can I say? Obviously I'm really disappointed because I know I should have won that race. The bike felt great from the start and I was really enjoying riding it out there. I knew my pace in practice would be hard for the other guys to cope with and that's how it proved to be. I got the start I wanted and just kept my head down, doing those times. When Nicky came up inside me two laps from the end he left the pass pretty late and there was nowhere for me to turn the bike into. I had to go straight and luckily it was at a point of the track where I could run back on again. I was determined not to lose hold of him and just gave it everything to give myself a chance on the last lap. I got past him and then tried to keep a really defensive line out of the final corner - I had no idea Nicky had run onto the gravel otherwise I wouldn't have needed to do it. Unfortunately I ran it a bit too tight onto the grass and the rear just spun up as I opened the throttle and it threw me off. I'm gutted but fair play to Nicky, it was a great race."
MotoGP Results
Race Classification MotoGP : (26 laps = 118.43 km)
Pos/ Rider / Nat / Team / Motorcycle / Time/ KM/H / Gap
1 / Nicky HAYDEN / USA / Repsol Honda Team / HONDA / 42'27.404 / 167.365 /
2 / Shinya NAKANO / JPN / Kawasaki Racing Team / KAWASAKI / 42'32.288 / 167.045 / 4.884
3 / Dani PEDROSA / SPA / Repsol Honda Team / HONDA / 42'34.929 / 166.872 / 7.525
4 / Casey STONER / AUS / Honda LCR / HONDA / 42'34.959 / 166.87 / 7.555
5 / Kenny ROBERTS JR / USA / Team Roberts / KR211V / 42'35.482 / 166.836 / 8.078
6 / John HOPKINS / USA / Rizla Suzuki MotoGP / SUZUKI / 42'44.469 / 166.251 / 17.065
7 / Marco MELANDRI / ITA / Fortuna Honda / HONDA / 42'45.494 / 166.185 / 18.09
8 / Valentino ROSSI / ITA / Camel Yamaha Team / YAMAHA / 42'51.355 / 165.806 / 23.951
9 / Carlos CHECA / SPA / Tech 3 Yamaha / YAMAHA / 42'56.431 / 165.48 / 29.027
10 / Chris VERMEULEN / AUS / Rizla Suzuki MotoGP / SUZUKI / 42'59.031 / 165.313 / 31.627
11 / Makoto TAMADA / JPN / Konica Minolta Honda / HONDA / 43'00.245 / 165.235 / 32.841
12 / Alex HOFMANN / GER / Ducati Marlboro Team / DUCATI / 43'01.547 / 165.152 / 34.143
13 / Colin EDWARDS / USA / Camel Yamaha Team / YAMAHA / 43'07.816 / 164.752 / 40.412
14 / Randy DE PUNIET / FRA / Kawasaki Racing Team / KAWASAKI / 43'31.052 / 163.285 / 1'03.648
15 / Loris CAPIROSSI / ITA / Ducati Marlboro Team / DUCATI / 43'44.707 / 162.436 / 1'17.303
Pole Position: John HOPKINS 1'36.411 170.084 Km/h
Fastest Lap(New record): Nicky HAYDEN 1'37.106 168.867 Km/h Lap 4
Circuit Record Lap: 2006 New Circuit
Circuit Best Lap: 2006 - John HOPKINS 1'36.411 170.084 Km/h
World Championship Positions:
1 HAYDEN 144, 2 PEDROSA 102, 3 CAPIROSSI 100, 4 ROSSI 98, 5 MELANDRI 98,
6 STONER 78, 7 EDWARDS 63, 8 NAKANO 57, 9 ROBERTS 55, 10 TAMADA 54,
11 ELIAS 53, 12 HOPKINS 50, 13 GIBERNAU 44, 14 VERMEULEN 37, 15 CHECA 31.
Lorenzo Wins 250cc
Jorge Lorenzo closed the gap between himself and Andrea Dovizioso in the 250cc classification, taking a runaway victory in the 250s. The Aprilia rider won in style with an eight second advantage, having led from start to finish at the Assen TT Circuit. Alex de Angelis continued his run of form to edge out Andrea Dovizioso for second, the Humangest Honda rider unable to follow up his first 250cc win from Catalunya.
As Lorenzo left the rest of the category in his trail with a fine start, there was a multiple bike crash behind him, with Martin Cardenas, Sylvain Guintoli, Andrea Ballerini, Jules Cluzel and Jakub Smrz all caught up in the incident.
Fourth place went to Alex Debon, in another great stand-in performance from the Spaniard for Fortuna Honda, followed by Roberto Locatelli, Yuki Takahashi, Marco Simoncelli and Anthony West. Red Bull KTM riders Hiroshi Aoyama and Manuel Poggiali completed the top ten.
250cc GP Results
Race Classification 250cc: (24 laps = 109.32 km)
Pos / Rider / Nat / Team / Motorcycle / Time / KM/H / Gap
1 / Jorge LORENZO / SPA / Fortuna Aprilia / APRILIA / 40'30.770 / 161.904 /
2 / Alex DE ANGELIS / RSM / Master - MVA Aspar Team / APRILIA / 40'38.938 / 161.362 / 8.168
3 / Andrea DOVIZIOSO / ITA / Humangest Racing Team / HONDA / 40'39.011 / 161.357 / 8.241
4 / Alex DEBON / SPA / Fortuna Aprilia / APRILIA / 41'02.645 / 159.808 / 31.875
5 / Roberto LOCATELLI / ITA / Team Toth / APRILIA / 41'05.456 / 159.626 / 34.686
6 / Yuki TAKAHASHI / JPN / Humangest Racing Team / HONDA / 41'10.096 / 159.326 / 39.326
7 / Marco SIMONCELLI / ITA / Squadra Corse Metis Gilera / GILERA / 41'10.153 / 159.322 / 39.383
8 / Anthony WEST / AUS / Kiefer - Bos - Racing / APRILIA / 41'15.874 / 158.954 / 45.104
9 / Hiroshi AOYAMA / JPN / Red Bull KTM GP 250 / KTM / 41'18.296 / 158.799 / 47.526
---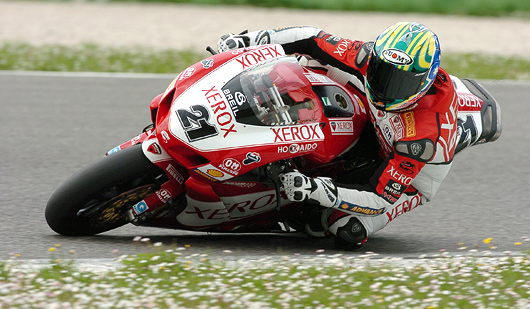 Championship points leader Troy Baylis was invincible in Race One to Ducati's home track at Misano.

2006 SBK Corona Extra Superbike World Championship, Misano – Round 6

Half Way Point in the World Superbike Season
Bayliss and Pitt Trade Misano Superbike Wins

Misano Adriatico, Italy, June 23- 25th- Troy Bayliss extended his unbeaten run to eight at Misano Adriatico as the first race saw the Ducati Xerox Team rider take a superb win from seventh on the grid. With clinical efficiency Bayliss picked off the six riders ahead of him on the track one by one to take the lead on lap 11 and power to the 25 points. The second race of the day could have produced a similar result until Bayliss slid onto the grass on lap 17 while challenging for second place and then remounted to finish twelfth as Andrew Pitt (Yamaha) headed for his maiden WSBK win. With championship contender Troy Corser (Suzuki) crashing out twice, Bayliss now has a 94 point lead over Noriyuki Haga (Yamaha) as the World Superbike Championship enters the second half of the season.
Warm Up to A Dramatic Italian Superbike Weekend on the Beautiful Mediterranean
The Santamonica Circuit at Misano Adriatico is a perennial favourite on the World Superbike calendar, the seaside venue offering a holiday atmosphere to both fans and teams alike - away from the intensity of competition at the racetrack at least. The San Marino round takes place in its traditional mid-summer slot once more, with high expectations of seasonal sunshine blessing the 4.060km circuit throughout race weekend.

Misano offers a wide contrast of corners over its relatively short 4km length, with the triple lefts leading onto the back straight posing a unique challenge for all riders, and juxtaposed with long hairpins at Tramonto, Curva de Rio and Curva del Carro. Races have been won and lost on the approach and exit of the final chicane, the Variante del Parco, and the exceptionally high track temperatures mean the left hand side of the tyres will undergo a severe workout over full race distance. One of the toughest challenges of the year; one of the most enjoyable for the fans.

BAYLISS CHASED BY TRIO OF TALENT Troy Bayliss (Ducati Xerox) is the man for the rest of the 28 regular SBK competitors and three wildcards to beat, sitting as he does with a clear lead over his peers after five rounds and ten races. Having won seven in-a-row so far, Bayliss returns to another of his team's home tracks with expectations of more wins, but right behind him are two riders who have already beaten him this season, and another who is capable of beating anyone on his day. This far 2005 Champion Troy Corser (Alstare Suzuki Corona Extra) has scored two wins, but two non-finishes have left him some 76 points behind Bayliss.

James Toseland (Winston Ten Kate Honda) has scored one win thus far, and is likely to begin the Misano weekend with a new electronics package on his Winston Ten Kate Honda CBR1000RR, after recent test at Brno. Currently fourth overall, Toseland is only four points down on Yamaha's leading light of the 2006 year so far, Noriyuki Haga (Yamaha Motor Italia). Four times a podium finisher already, Haga will be pushing for a win on his team's native soil, partnered by another proven podium finisher in '06, Andrew Pitt (Yamaha Motor Italia), currently sixth overall.
BARROS READY FOR LATEST CHALLENGE IN ROOKIE SBK SEASON
Alex Barros (Klaffi Honda) has entered World Superbike at a very high level, and has already taken a trio of podium finishes. He hopes for even more from the Misano weekend, as he has tested a full race spec CBR1000RR at Misano already this year, a luxury he has not previously enjoyed since his move over from MotoGP. In a one-man team, Barros can only improve as his SBK experience grows, and he looks to the second half of the season with confidence of scoring consistently high points throughout. The aforementioned Pitt lies sixth, with two heavy hitting Ducati riders immediately behind. Lorenzo Lanzi's form has been changeable in his first full factory season for the Ducati Xerox team, but he sits in seventh place, six points ahead of Ducati privateer Ruben Xaus (Sterilgarda Berik Ducati). Having just missed out on a podium in race one at the most recent Silverstone round, Xaus looks to Misano as another opportunity to show his outstanding prowess, especially around the triple lefts of the Curva Grande.

ABE AND WALKER ON EQUAL POINTS The second year of SBK competition for Norick Abe (Yamaha Motor France Ipone) has been another mixed bag, with injury interspersed by some great individual performances, most notably at Valencia where he scored a brace of fourth places. He currently ties on 51 points with top Kawasaki runner Chris Walker (PSG-1 Kawasaki Corse), with the Englishman still looking for his first podium of '06. Walker's classy team-mates, Fonsi Nieto and Regis Laconi now sit 11th and 14th respectively. The Kawasaki Bertocchi squad once more features their latest recruit Joshua Brookes, after the exit of Franco Battaini before the previous Silverstone round.

The championship top 12 is currently rounded out by another former MotoGP rider of great skill, Roberto Rolfo (Team Ducati SC Caracchi) who has nonetheless found the challenge of World Superbike every bit as tough as any he has faced before.

Injury and bad luck are capable of holding back the championship push of many a top rider, so don't be surprised to see big names like Karl Muggeridge (Winston Ten Kate Honda, currently 13th), Yukio Kagayama (Alstare Corona Extra Suzuki, currently 16th) and Michel Fabrizio (DFX Treme Honda, currently 15th) reasserting themselves this weekend. Returning to the fray at his home track is SBK legend Pierfrancesco Chili (DFX Treme Honda), back from recent pelvic and shoulder injuries.

PRIVATEERS LOOK TO PROGRESS IN ITALY Other names with a proven Misano pedigree include former WSS champion Fabien Foret (Alstare Engineering Suzuki), and Marco Borciani (Sterilgarda Berik Ducati), not forgetting the factory Petronas rider Steve Martin (Petronas FP-1), who may find the Misano circuit one of the better ones for his 900cc triple. His team-mate Craig Jones is looking to score his first points of what has been a tough and demanding year.

WORLD SUPERSPORT CHAMPIONSHIP Championship leader by 40 points Sebastien Charpentier (Winston Ten Kate Honda) will miss the Misano round after breaking a collarbone and his pelvis in a testing crash at Brno recently, and his place will be taken by Dutch rider Arie Vos. He will partner regular Winston Ten Kate rider Kenan Sofuoglu, but Charpentier's misfortune could be Yamaha Motor Germany rider Kevin Curtain's opportunity to make up for the bad luck he had in Monza, when he was forced to retire. Fourth highest points scorer Broc Parkes, Curtain's team-mate, was also fast in recent Brno tests, not to mention second at the recent Silverstone race. Pick of the privateer bunch this year has to be Robbin Harms (Stiggy Motorsports Honda) who currently sits third in the overall series. A strong Honda entry will feature Monza race-winning rookie Yoann Tiberio (Megabike Honda) but team regular Katsuaki Fujiwara (Megabike Honda) misses the Misano round through injury, and will be replaced by Simone Sanna. Once more British privateer rider Stuart Easton will ride for the team Manila Grace SC Ducati squad.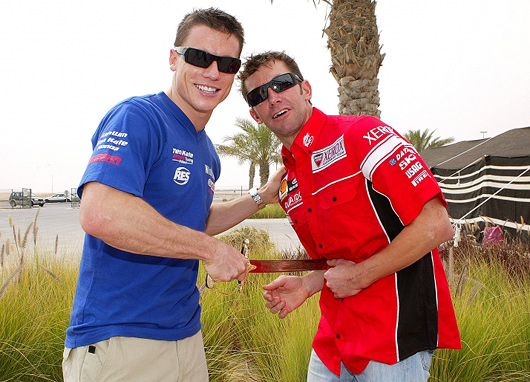 Toseland wants to take a slice out of Bayliss's point's lead.

Toseland Storms to Pole at Steamy Misano, Bayliss Seventh
SUPERPOLE Saturday 24th June 2006 - James Toseland scored his and his Winston Ten Kate Team's first Superpole win of the year after a blitzing 1.33.833 lap of the 4.060km Misano Adriatico circuit. After posting fastest time in qualifying, Troy Bayliss (Ducati Xerox) looked on course to take his third Superpole win of the season, but in a tight Superpole competition, Bayliss rode to seventh overall, for a second row start.
Toseland will be joined on the front row by Troy Corser (Alstare Suzuki Corona Extra), Andrew Pitt (Yamaha Motor Italia) and the third Australian in a row, Steve Martin (Petronas FP-1). Martin's performances in qualifying have been superhuman this weekend, despite his machine's 100cc disadvantage to the opposition.
Points leader Bayliss, quickest in both qualifying sessions, was unable to find the required rhythm in the one-lap dash and could only qualify in seventh place as James Toseland (Honda) took the pole. "That was a messy lap" declared Troy, "I nearly lost the front and then in the second last chicane almost hit the ripple-strip. I had no rhythm at all with the qualifying tyre. I am a little bit disappointed but it makes it all a little bit more interesting tomorrow. However we did a long-run in the free practice and did a pretty good job. I don't think anyone else can run at my pace so I'm feeling very confident for the race. For sure the second row makes a little bit of difference but I'll get a good start and go on from there."

PSG-1 Kawasaki Corse rider Chris Walker went fifth fastest in Superpole, setting himself on a good spot for the two 25-lap Superbike races on Sunday. His placing ensured that there would be five different manufacturers represented in the top five places, and with Bayliss in seventh, six different machines in the top seven. Noriyuki Haga (Yamaha Motor Italia) scored sixth fastest time, after a display of wheel spinning and tyre smoking on the Misano tarmac, which reach over 50°C once again. Lorenzo Lanzi (Ducati Xerox) completed the second row, just behind his team-mate Bayliss.
Regis Laconi (PSG-1 Kawasaki Corse) scored a ninth fastest time just ahead of the equally aggressive Yukio Kagayama (Alstare Suzuki Corona Extra), with this pairing rounding out the top ten. Only 0.8 seconds separated first and tenth in Superpole. The Hondas of Alex Barros (Klaffi Honda) and Michel Fabrizio (DFX Treme Honda) rounded out the third row of the grid. No fewer than 30 riders qualified for Sunday's races, but only 15 made Superpole, after Max Neukirchner (Pedercini Ducati) had to withdraw after a practice crash, which resulted in a small fracture of his right wrist.
STARTING-GRID: 1. Toseland (Honda) 1m33.833s; 2. Corser (Suzuki) 1m33.866s; 3. Pitt (Yamaha) 1m34.031s; 4. Martin (Petronas) 1m34.178s; 5. Walker (Kawasaki) 1m34.472s; 6. Haga (Yamaha) 1m34.487s; 7. Bayliss (Ducati Xerox) 1m34.523s; 8. Lanzi (Ducati Xerox) 1m34.556s; 9. Laconi (Kawasaki) 1m34.648s; 10. Kagayama (Suzuki) 1m34.685s; etc.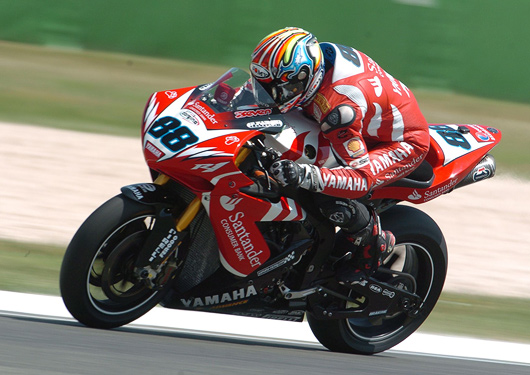 Andrew Pitt took his first ever World Superbike win at Misano.

Thrills and Spills as Bayliss and Pitt Sharer Dramatic Race Wins
Misano, Sunday June 25th - Troy Bayliss (Ducati Xerox) rode to his eighth straight win of the 2006 season in the First Race at the Misano Ciruit, before falling in Race Two during an exceptionally dramatic race; deservedly won by Yamaha Motor Italia rider Andrew Pitt. Bayliss leaves Misano with an extended championship lead, after a crash-inspired double DNF for former closest challenger, Troy Corser (Suzuki).
First Race James Toseland (Winston Ten Kate Honda CBR1000RR) and then Alex Barros (Klaffi Honda CBR1000RR) scaled the podium to second position at an overheated Misano, after a dramatic and often unpredictable race day in Italy. Corser again fell while leading race two, and drop from second in the Championship Points table to fourth. Bayliss scored only four points for 12th in race two but still commands a handsome lead. Noriyuki Haga (Yamaha Motor Italia) is now second, with Bayliss on 254, Haga 160, James Toseland (Winston Ten Kate Honda) 157 and Corser an unchanged 149.

Troy Bayliss (21) slips smoothly into 2nd ahead of Haga, Corser and Walker, then reeled in Toseland for the win.

Race One - Bayliss in the Zone
The first of two 25-lap races was held in temperatures of 28°C, and was taken in eventually convincing style by Bayliss, running clear of early leader and eventual second place man Toseland on lap 11. The winning margin was almost seven seconds. Toseland's shadow, Corser, fell out of contention on lap 16, losing the front once more. Yukio Kagayama's strong third place on his Alstare Suzuki Corona Extra machine was his first podium finish of the 2006 season.
Race One started in the best possible way for Superpole winner Toseland, running to the front early in the opening lap and leading for the first 10 of 25 laps. He was to keep second when Troy Bayliss passed to take the win. Barros looked set for a potential podium at one stage, but was forced to slow towards the end of the race, taking fourth and a welcome 13 points.
SUPERBIKE Race 1: (Laps 25 = 101,500 Km)
Pos /Rider /Nat. /Team / Time /Gap
1 / T. BAYLISS / AUS / Ducati Xerox / 40'06.480 /
2 / J. TOSELAND / GBR / Winston Ten Kate Honda / 40'13.423 / 6.943
3 / Y. KAGAYAMA / JPN / Alstare Suzuki Corona Extra / 40'16.621 / 10.141
4 / A. BARROS / BRA / Klaffi Honda / 40'21.497 / 15.017
5 / N.HAGA / JPN / Yamaha Motor Italia WSB / 40'21.856 / 15.376
6 / R. LACONI / FRA / PSG-1 Kawasaki Corse / 40'23.243 / 16.763
7 / L. LANZI / ITA / Ducati Xerox / 40'30.337 / 23.857
8 / F. NIETO / ESP / PSG-1 Kawasaki Corse 2 / 40'40.647 / 34.167
9 / R. XAUS / ESP / Sterilgarda - Berik / 40'41.734 / 35.254
10 / N. ABE / JPN / Yamaha Motor France-Ipone / 40'41.815 / 35.335
11 / K. MUGGERIDGE / AUS / Winston Ten Kate Honda / 40'45.903 / 39.423
12 / S. GIMBERT / FRA / Yamaha Motor France-Ipone / 40'46.089 / 39.609
13 / F. FORET / FRA / Alstare Eng. Corona Extra / 40'46.235 / 39.755
14 / V. IANNUZZO / ITA / Celani Team Suzuki Italia / 40'50.545 / 44.065
15 / R. ROLFO / ITA / Ducati SC - Caracchi / 40'54.975 / 48.495
Fastest Lap 4° Troy Bayliss 1'35.185 153,554 Km/h

Andreww Pit out front at the start ahead of Yamaha team mate Haga (41). Nieto (9), Corser (1) and Bayliss (21).
Race Two - Andrew Pitt's 1st Superbike Win as the Leaders Crash out
The second race saw all three of the previous race winners in 2006 so far, Corser, Bayliss and Toseland, either crash or run off the track while in podium positions. None could do much about the race long pace of Pitt, who scored his first ever World Superbike win in fine front-running style. Alex Barros (Klaffi Honda) was the best Honda rider in race two, second, despite an atrocious start, in contrast to his slick start in race one. Noriyuki Haga (Yamaha Motor Italia) had to give his all to beat Chris Walker (PSG-1 Kawasaki Corse) to the final podium slot after a classic man-to-man battle in the latter stages. Corser fell again, on lap eight, while leading Pitt.
Race two was a dramatic event for Toseland, who could have scored his second win of the year, but for running off track after a rear wheel slide around the awesomely fast Curvone section, while chasing down Pitt. Scrabbling to get back onto the track as soon as possible, after a high-speed rodeo ride through the gravel, his machine developed a vibration from then on, and he slowed to finish eighth.
Alex Barros was in dazzling form on his Klaffi Honda in race two, despite a slow start in the second race. Only 12th on lap one, he recovered composure and pace to take second, and was aided somewhat after first Corser, then championship leader and race one winner Bayliss fell, with Corser retiring and Bayliss finishing only 12th.
Superbike Race 2: (Laps 25 = 101,500 Km)
1 / A. PITT / AUS / Yamaha Motor Italia WSB / 40'18.671 /
2 / A. BARROS / BRA / Klaffi Honda / 40'21.388 / 2.717
3 / N.HAGA / JPN / Yamaha Motor Italia WSB / 40'25.230 / 6.559
4 / C.WALKER / GBR / PSG-1 Kawasaki Corse / 40'25.771 / 7.1
5 / Y. KAGAYAMA / JPN / Alstare Suzuki Corona Extra / 40'25.947 / 7.276
6 / M.FABRIZIO / ITA / D.F.X. Treme / 40'32.587 / 13.916
7 / L. LANZI / ITA / Ducati Xerox / 40'32.819 / 14.148
8 / J. TOSELAND / GBR / Winston Ten Kate Honda / 40'33.736 / 15.065
9 / R. XAUS / ESP / Sterilgarda - Berik / 40'34.105 / 15.434
10 / F. FORET / FRA / Alstare Eng. Corona Extra / 40'39.250 / 20.579
11 / F. NIETO / ESP / PSG-1 Kawasaki Corse 2 / 40'40.111 / 21.44
12 / T. BAYLISS / AUS / Ducati Xerox / 40'42.088 / 23.417
13 / N. ABE / JPN / Yamaha Motor France-Ipone / 40'44.273 / 25.602
14 / K. MUGGERIDGE / AUS / Winston Ten Kate Honda / 40'44.759 / 26.088
15 / R. ROLFO / ITA / Ducati SC - Caracchi / 40'45.383 / 26.712
Fastest Lap 2° Andrew Pitt 1'35.123 153,654 Km/h
Record Lap Troy Bayliss 1'34.913 153,990Km/h 2002
Riders Championship Standings:
1 BAYLISS 254, 2 HAGA 160, 3 TOSELAND 157, 4 CORSER 149, 5 BARROS 146,
6 PITT 128, 7 LANZI 80, 8 XAUS 70, 9 WALKER 64, 10 NIETO 61, 11 ABE 60,
12 KAGAYAMA 56, 13 LACONI 52, 14 MUGGERIDGE 52, 15 ROLFO 48.

HOT COMPETITION AROUND THE MISANO MELTING POT
With air temperatures into the low thirties and 25 lap races to complete all the riders knew that Misano would be a challenge, but this time round the formbook was consumed by fire. Barros scored fourth in race one, ahead of Haga and 2005 double race winner Regis Laconi (PSG-1 Kawasaki Corse) one of a few riders who used a smaller width race tyre. Lorenzo Lanzi (Ducati Xerox) went seventh, with the top ten rounded out by Fonsi Nieto (PSG-1 Kawasaki Corse), Ducati privateer Ruben Xaus (Sterilgarda Berik Ducati) and Norick Abe (Yamaha Motor France Ipone) who recovered well from a disastrous qualifying.

In the second race, littered with incident for the top riders, Kagayama scored fifth, with race one retiree Michel Fabrizio (DFX Treme Honda) sixth, one up on Lanzi, Toseland's excursion off track left him eighth, with Xaus ninth and Alstare Engineering Suzuki rider Fabien Foret, a former Misano Supersport race winner, tenth.

SuperSport World Championship
Sebastien Charpentier (Winston Ten Kate Honda) saw his lead diminished a little after he was forced to miss the Misano race, but in the reigning champion's absence the remaining Supersport riders served up a sizzling competition, with the top prize finally awarded to WSS rookie Massimo Roccoli (Yamaha Team Italia). He won by only 0.2 seconds from Simone Sanna (Megabike Honda) who was standing-in for the injured Katsuaki Fujiwara (Megabike Honda). Broc Parkes (Yamaha Motor Germany) took a new Supersport lap record (1'37.628), and third place on the podium, promoting himself to overall third in the championship chase.
Second in the table, but only sixth today, Kevin Curtain (Yamaha Motor Germany) fought off pre-race illness and and far-from ideal machine set-up to take sixth place. In the championship, Charpentier is on an unchanged 116, Curtain is on 86, with Parkes on 74, tied with Robbin Harms (Stiggy Motorsports Honda), who was fifth at Misano.
SuperSport: (Laps 23 = 93,380 Km)
Pos /Rider /Nat. /Team / Time /Gap
1 / M.ROCCOLI / ITA / Yamaha Team Italia / 37'55.059 /
2 / S. SANNA / ITA / Megabike Honda Team / 37'55.301 / 0.242
3 / B. PARKES / AUS / Yamaha Motor Germany / 37'59.995 / 4.936
4 / D. CHECA / ESP / Yamaha - GMT 94 / 38'01.551 / 6.492
5 / R.HARMS / DEN / Stiggy Motorsports / 38'04.864 / 9.805
6 / K. CURTAIN / AUS / Yamaha Motor Germany / 38'05.206 / 10.147
7 / G.VIZZIELLO / ITA / Yamaha Team Italia / 38'08.227 / 13.168
8 / K. SOFUOGLU / TUR / Winston Ten Kate Honda / 38'09.799 / 14.74
9 / J. STIGEFELT / SWE / Dark Dog Stiggy Motorsports / 38'11.166 / 16.107
10 / J. FORES / ESP / SLM Racing / 38'14.724 / 19.665
11 / M.BERGER / FRA / Gil Motor Sport / 38'14.894 / 19.835
12 / W.DE ANGELIS / RSM / Intermoto Czech Klaffi / 38'19.180 / 24.121
13 / M.LAGRIVE / FRA / Intermoto Czech Klaffi / 38'19.280 / 24.221
14 / A. VOS / NED / Winston Ten Kate Honda / 38'20.616 / 25.557
15 / M.SANCHINI / ITA / Bikersdays Yamaha Moto / 38'21.533 / 26.474
Fastest Lap 2° Broc Parkes 1'37.628 149,711 Km/h
Lap Record: K.Fujiwara 1'37.924 149,260Km/h 2003
Riders Championship Standings:
1 CHARPENTIER 116, 2 CURTAIN 86, 3 PARKES 74, 4 HARMS 74, 5 ROCCOLI 71,
6 TIBERIO 50, 7 FORES 45, 8 STIGEFELT 42, 9 SOFUOGLU 35, 10 VIZZIELLO 26,
11 FUJIWARA 22, 12 CHECA 21, 13 BROOKES 21, 14 SANNA 20, 15 ZAISER 15.
---
Another 2nd place last week at Catalunya, but Nicky Hayden gets our vote for the "Most Intelligent Use of Victory Champaign, Ever." Why does everyone one else in the history of motorsports waste the victory champaign spraying down the fans and the press photographers, when you could be getting the trophy girl drunk, improving her oral skills, and getting her back to your motorhome? Smart thinking Nicky! Racing will never be the same again. Video guy records the making of the new MotoGP Girls Gone Wild Video.
Fast Dates Calendar Motorcycle Roadracing News. Complete coverage of the SBK World Superbike, AMA National Superbike and MotoGP World Championship. Superbike, SBK, FIM, AMA, American Superbike, superbike planet, American Roadracing, sportbike, grand prix, MotoGP, race, racing, news, superbike news, sport bike, motoGP news, photography coverage, photos, pictures, Fast Dates Calendar and Umbrella Girls. Racing, road race, track, motorcycle, news, results, girls, models, Mat Aladdin, Max Biaggi, Valentino Rossi, Troy Baylis, Ben and Eric Bostrom, James Toseland, Chris Vermeulen, Maria Sharapova, Kristen Bell, Regis Laconi, Loris Capirossi, Troy Bayliss, Troy Corser, Noriyuki Haga. Ducati 999 Monster Multistrada, Yamaha R6 R1, Honda CBR600RR CBR1000RR, Kawasaki ZX6 ZX6RR ZX10, Suzuki GSXR600 GSXR750 GSXR1000, Aprilia Mille, MZ Agusta F4 Brutale. Los Angeles Calendar Motorcycle Show.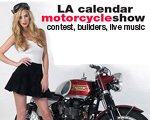 July 15-16th in Long Beach
World's Richest Bike Contest includes Sportbikes and a
$70,000 Purse! Win Exhaust Systems from Jardine, Vance & Hines, compete in the Jardine World Record Horsepower Dyno Shootout and our new Burnout Contest!

Fast Dates Racebike
& Garage Girls Calendars
Click to Order Now!



Colin Edwards and Noriyuki Haga Reunite on Yamaha Superbike for Suzuka 8-Hour Race
26/6/2006 - Yamaha has finalized its plans for round five of the 2006 Endurance World Championship, the Suzuka 8-hour race held at the Japanese circuit on 30 July.
A three-team entry will be headed by the YAMAHA BLUE RACING team, which will feature riders Colin Edwards and Noriyuki Haga riding a specially prepared YZF-R1 SP. The event will mark a reunion of the rider pairing which won the event in 1996, when they rode a Yamaha YZF750SP.
Edwards is currently riding a Yamaha YZR-M1 for the factory's MotoGP team and is seen as one of the most consistent riders in the class. The American has won the Suzuka 8-Hour three times and the Superbike World Championship in 2000 and 2002.
Haga is currently second in the Superbike World Championship, where he competes on a Yamaha YZF-R1 for the Yamaha Motor Italia squad. It will be Haga's first entry in the 8-hour since 2001.
The other two factory-supported entries are the YSP Racing Team sponsored by PRESTO Corporation and Team Cha-llenger. The YSP Racing Team sponsored by PRESTO Corporation will enter the pair of Katsuyuki Nakasuga, who is competing this season in the JSB1000 class of the All Japan Championships, and Shinichi Nakatomi, who rides for Yamaha Motor France in the Superbike World Championship.
Team Cha-llenger will enter with riders Norihiko Fujiwara, who has ridden in the 8-hour almost every year since 1992, and Nobuyuki Osaki, a Japanese supersport championship competitor.
Many of the Endurance World Championship regulars will also make the trip to Japan, including Yamaha Austria Racing Team and Yamaha Phase One Endurance, who are currently second and fifth in the championship
Update on Ducati's GP Riders Condition
CAPIROSSI RETURNS HOME TO PREPARE FOR ASSEN - GIBERNAU TO UNDERGO COLLARBONE OPERATION TOMORROW, WILL MISS DUTCH TT
Monday Jun 19 2006 - The latest updates on the condition of Loris Capirossi and Sete Gibernau following yesterday's horrific first corner crash at the Circuit de Catalunya have brought a sigh of relief to the MotoGP world. Luckily the consequences are not as serious as first thought, but they will have a partial effect on the Ducati Marlboro Team's participation in the Dutch TT race on Saturday.
Capirossi will take part in the next round of the MotoGP World Championship, while Gibernau will still be recovering following an operation to his collarbone.
Loris left Catalunya General Hospital in Barcelona today after remaining overnight for observation and has returned to Monte Carlo. Medical checks confirmed that the Italian rider can take part in the next round of the championship.
Sete Gibernau's condition is more complicated. The Spanish rider today underwent a further brain scan to rule out any possible complications for the operation to fix the minor fracture to his left collarbone, scheduled for late tomorrow morning. Surgeons will replace a plate inserted following an earlier accident with a larger plate. Only after this operation will it be possible to confirm when Gibernau can race again, but he will certainly miss the next round in the Netherlands.
CAPIROSSI HEADS TO ASSEN FOR DUTCH TT RACE, GIBERNAU RECOVERS IN BARCELONA. ALEX HOFMANN TO REPLACE THE CATALAN RIDER
Tuesday Jun 20 2006 - Sete Gibernau underwent an operation to fix the fracture in his left collarbone today. The Spanish rider now needs a period of recovery and he will be replaced by Alex Hofmann at the Dutch TT. Loris Capirossi, undergoing physiotherapy to get back in shape as soon as possible, is already on his way to Assen.
Sete underwent surgery at Dexeus Hospital in Barcelona, where Dr Xavier Mir and Dr Ignacio Ginebrera replaced the metal plate already present in his collarbone from a previous incident with a new one in titanium. Dr Mir declared that a recovery period of 3-5 weeks will be necessary before the Spanish rider can return to the track.
"The operation went well", declared Dr Mir. "We removed the plate covering the old injury to Sete Gibernau's left collarbone and repaired the new fracture by applying a new titanium plate. The rider will now have to wait between 3 to 5 weeks before being able to race again".
Thanks to the Pramac d'Antin MotoGP Team and its sponsors, Luis d'Antin, Paolo Campitoti and Alex Hofmann, the Italian team will however be in a position to race both its Desmosedici GP6 machines at the imminent race in the Netherlands, despite the short period of time between Barcelona and Assen. For the Dutch TT, Sete Gibernau will be replaced by the German rider.

Loris Capirossi (2nd place in World Championship with 99 points)
After being kept in overnight for observation on Sunday at Catalunya General Hospital, Loris returned to Monte Carlo with his physiotherapist Roberto Brusi. Both men immediately got down to work with a massage therapy aimed at eliminating as quickly as possible the effects of the bruising Capirossi received during the horrific first-corner incident at Barcelona. The gutsy Italian rider is now on his way to Assen for the Dutch TT race.
"That was a big crash but luckily I got off quite lightly. I received a nasty blow to the chest, which is still bothering me. My physiotherapist Roberto has been with me all the time and we immediately began to work on rehab, with a series of massages to help the bruising go down. I'd like to thank the Clinica Mobile and Dr Costa, whose assistance as always has been absolutely priceless. I'm not yet 100% fit but the important thing is to get back on the bike as soon as possible and see how it goes: I'm going to Assen with even more fighting spirit than usual!"

Livio Suppo (Ducati MotoGP project leader)
"I am relieved to see that the consequences of last Sunday's crash are being resolved relatively easily. Loris is undergoing rehabilitation and is now on the way to the Netherlands in his usual determined frame of mind. Sete has just come out of the operating room and the doctors confirmed that the operation was successful. We are very sorry that he has to miss the next two GPs, but it could have been worse so we must breathe a sigh of relief and hope that Sete completely recovers as soon as possible. I would like to thank Alex Hofmann, Luis D'Antin, Paolo Campitoti, all the Pramac D'Antin MotoGP Team and their sponsors for the availability they have shown towards us. Although the Assen race comes just 6 days after the incident at Barcelona, we will now be in a position to line up with both of our bikes".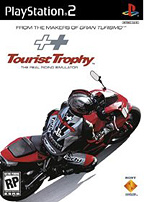 Hot New TT for PS2!

Hot New Suzuki TT PS2
HONDA'S DOUBLE CENTURY MAKES HISTORY
It's appropriate that Honda has scored its 200th premier class Grand Prix race win during an era when anything in the 200 range is particularly in vogue. The latest all-conquering Honda MotoGP machine, the 990cc RC211V Vee-five, is well into 200bhp territory, and easily capable of reaching a terminal tarmac velocity of over 200mph – should the need ever arise.
To the uninitiated Honda's own unique senior class 'double-ton' reached at Assen, Holland by American Nicky Hayden riding for the Repsol Honda factory team, may seem to have been a long time in the making. If, however, you consider that Honda only entered the premier class for the first time in 1966, and from the end of 1967 season until 1982 Honda's early 500cc GP winning ways were curtailed, a different and even more impressive context is placed on the latest Honda racing landmark. 200 wins, in less than – effectively - 27 years.
Suguru Kanazawa, President and Director of Honda Racing Corporation said:
"I would like to thank Nicky for today's victory, Honda's 200th World Grand Prix win in the "Premier" class. This is an historic day for Honda - we entered the first race on May 22 1966 in West Germany and won the debut race. The circuit may be different but this is the 40th anniversary for us racing in the highest class of racing so we especially happy to achieve this victory now. We would also like to extend our gratitude to all of the riders, teams and our partners in those 40 years who have all contributed to reaching this landmark. We will continue to challenge the technological barriers to achieve world titles and we look forward to many years of participation in the future."
Honda is, indeed, as quick with the statistics as it is with the machinery, and is the first manufacturer to reach the unique total of 200 MotoGP wins. The next nearest challenger is over 50 wins shy of the magic double ton, at the present time.
The first two years of full factory Honda involvement in 500cc Grands Prix only came to pass after winning every imaginable honour in the smaller 50, 125, 250 and 350cc categories.
Rhodesian Jim Redman, a proven champion in the middleweight categories for Honda, was chosen as the man to take on the biggest of all racing worlds. A daunting task, it may have seemed, but he still won the four-cylinder RC181 its first ever 500 GP, at Hockenheim, West Germany (by some 26 seconds, no less) on May 22 1966. The Redman/RC181 pairing also triumphed at the next race at Assen, before a heavy crash at the fearsome Spa-Francorchamps circuit ended his season prematurely.
Redman was immediately replaced by the ever-rising brilliance of former 500 champion Mike Hailwood for the remainder of '66, but despite winning three of the seven available races, he did not win the championship itself.
The combined efforts of Redman and Hailwood, and the remarkable air-cooled in-line-four cylinder RC181 did, however, deliver the 500cc Constructors' Championship to Honda at the first time of asking. In the following year, Hailwood tied with Agostini on points, but on count-back, Hailwood and Honda lost out on their much-desired crowns. Nonetheless, another five race wins accrued towards the current 200.
After some brave experimentation with the oval-pistoned NR500 four-stroke project (which was, however, to prove prescient in terms of future MotoGP racing formulae) the first ever two-stroke Honda 500 GP machine was such an instant success in 1982 that Honda did not take long to get on the winning trail once more.
Conventional wisdom says that the more cylinders the better, and even Honda's early four-stoke racers adhered to that edict with an array of immaculately conceived fours and sixes. Never ones to tarry too long on the safe side of the leading edge, however, Honda realised that a manoeuvrable, light and relatively torquey three-cylinder two-stroke would be more than a match for everyone else's fours, over a season at least. Enter the water-cooled NS500.
In its debut race in the top class, Freddie Spencer scored third in Buenos Aires, took pole in race three at Jarama, and took his and the NS500's first GP win at Spa Francorchamps, round 7.
Spurred on by this success, Takazumi Katayama notched up a win at Anderstorp, Sweden, as Spencer added another at the San Marino GP held at Mugello, Italy.
In 1983 Honda and boy wonder Spencer fulfilled their own inevitable prophecies and won the biggest crown of all, the Riders' World Championship. Honda added a Manufacturers' crown to their first from 1966. Spencer had scored a super-six race wins to beat Kenny Roberts and Yamaha, in one of the best man-to-man fights in all of GP history.
As 1984 was ushered in the Manufacturers' title was retained, but in a whole new era for Honda's expansive engineering vision, race wins came as a result of two machines; the latest NS500 triple and the radical four-cylinder NSR500 vee-four, with Spencer and eventual second place man Randy Mamola swapping race wins, and outings on either triple of four. Eight race wins overall (five for Freddie and three for Randy) even if he Riders' title was lost, but not for long.
In 1985 Spencer took his second and Honda's second World Championship (scooping the small matter of the 250 crown along the way) easing to seven wins (on a heavily revised NSR) to Mamola's one (on an NS).
The very next new kid on the block, Wayne Gardner, scored three wins in 1986, before taking the riders title for Rothmans Honda in 1987, winning another seven. Four more in 1988 for Gardner, very much in Rothmans Honda colours still, were not enough to keep the title.
With former Freddie guru Erv Kanemoto at the pit garage helm for new-signing Eddie Lawson - long a thorn in Honda's side – the championship was his for the taking, as he battled his way to four race wins, the Riders' title and, with Gardner and Pierfrancesco Chili's singles, the Manufacturers' crown came back again.
A barren spell for titles in the early nineties was not without wins for Honda riders, as Gardner scored two in 1990 and one in 1992. There was another Aussie making a name for himself though, and it was to be the name ever in Honda's premier class colours, Mick Doohan, who would score a career total of 54 race victories on the all-conquering NSR500.
Honda had frequently supplied top private, importer or satellite teams with good equipment in the early two-stroke era, but when Alex Criville scored a race win at Assen for the Fortuna Honda squad, Honda's lease policy for factory equipment really proved its worth – and it has been doing so ever since
A largely barren 1993, with only one win each for Mick Doohan and Daryl Beattie. Long-time sponsor Rothmans made a strategic switch to F1 in 1994 while Mick Doohan went on to take an incredible nine wins riding in Honda colours. He would take the title for five years straight, as Honda retained the manufacturer's award with equal regularity.
From 1994 to his enforced retirement after injury during 1999, Mick was the man to beat and frequently the only people who could were his fellow Honda riders, in full factory and lease teams.
Alberto Puig (Fortuna Honda) joined a growing band of Spanish race victors, in 1995.
In 1996 Mick scored eight wins, Criville two, with Italian ace Luca Cadalora also taking two for Kanemoto. Carlos Checa also scored his maiden win, for the Fortuna Honda squad.
In the '97 season Tady Okada was a third Repsol Honda rider, and earned two wins to Criville's single, but again Doohan was the powerhouse, with Mick taking 12 of Honda's 15 race victories.
In the last year of his MotoGP domination, Mick raced to eight wins, Criville two and Tady Okada took a single. Checa scored another (this time for Movistar) and the abilities of the ever-improving NSR even allowed one Max Biaggi, riding for Kanemoto on a Marlboro Honda, to win his debut MotoGP race, Suzuka.
After the exit of Doohan the floodplains of opportunity were filled by new champion Criville, winning six 1999 events to Okada's three, and the Manufacturers' crown once more went to Honda.
The New Millennium may have come a little too early for the rising sun and moon of Valentino Rossi to win in his debut 500 year, but Honda's lease scheme proved its value yet again, as factory rider and reigning champion Criville scored only a single win, but Alex Barros (Emerson Honda) and Rossi (Nastro Azzuro Honda) waded in with two apiece, as Loris Capirossi (Barros' team-mate) took one other.
The beginning of the end of the two-stroke era, with its last full grid of 2-strokes in 2001, provided a glorious exit for the NSR500, and a glorious entry for Rossi into the list of champions. Eleven wins later (plus another NSR triumph for West Honda satellite rider Barros) and Honda were Manufacturers' champions again.
With racing technology coming full circle back to four-strokes, and making a leap from 500cc to 990cc in 2002, Honda and Valentino Rossi won their respective titles. The RC211V five-cylinder 990cc four-stroke had a winning debut at Suzuka in the Hands of Rossi (now in factory Repsol colours). Eight wins on, plus a single for Repsol rider Tohru Ukawa and two for West Honda's Barros, and the new four-stroke golden age was proving to be Honda-shaped.
In 2003 Rossi stormed the ramparts with his RC211V once more, taking nine wins, but he was far from alone in challenging for top honours. Sete Gibernau scored second overall, and ripped four wins from Rossi's grasp, on his Telefonica machine in the Gresini squad. Max Biaggi's Camel machine took full points in the UK and at Motegi, ensuring that the Manufacturers' crown stayed with Honda.
Although Rossi's move to Yamaha in 2004 gave him the first of two consecutive Riders' Championships, that first year's Manufacturers' crown stayed with Honda, thanks to Gibernau's four wins, two for Camel rider Makoto Tamada and one for his team-mate, Biaggi.
Tamada was only the first of a solid wall of riding talent Honda was to draw on for the 2005 season, as RC211V wins went to three different Honda riders, in a field featuring seven RCs. Barros gave the Camel Honda team a victory in Portugal but the new Honda kids were coming, and they had teeth and claws. Official Repsol factory Honda squad rider Nicky Hayden took a popular win at the US GP and the season was ended in stunning fashion by Marco Melandri (Telefonica/Gresini) with two race wins.
Honda's continued policy to provide lease machines to high quality teams continues to this day, and in 2006, the story has been one of youth stepping up to the challenge. Melandri, now with Fortuna sponsorship on his HRC lease machine, has taken two wins, the latter the precursor to Honda's 200th. Without the stunning season start of rookie Dani Pedrosa (Repsol Honda) Melandri would only have scored win 198 at Le Mans, not the 199 that set up today's celebration of a unique achievement. On the five-year-old RC211V, youth is having its day, and with new 800cc machines on their way in 2007, yet another alloy and carbon fibre Honda rookie will be unveiled, to carry on the march towards 300 MotoGP wins.
Highlights from Hondas 500cc MotoGP History
1966: Honda make debut in 500cc World Championship.
RC181.in-line four-cylinder air-cooled four-stroke.
Jim Redman races RC181 to debut victory at West German Grand Prix Hockenheim.
Mike Hailwood wins Senior TT.
Honda wins Manufacturers Championship.
1967: Mike Hailwood wins Senior TT.
1982: Honda returns to 500cc World Championship.
NS500 V three-cylinder water-cooled two-stroke.
Freddie Spencer races NS500 to third place in debut race at Argentine Grand Prix,
Buenos Aires
Spencer and NS500 win Belgian Grand Prix Francorchamps.
1983: Freddie Spencer 500cc World Champion NS500 Honda the Manufacturers World
Championship
1984: Honda introduce NSR500 V four-cylinder water-cooled two-stroke with radical
fuel tank under engine design..
1985: Freddie Spencer 500cc World Champion NSR500 Honda the Manufacturers World
Championship
1987: Wayne Gardner 500cc World Champion on NSR500.
1989: Eddie Lawson 500cc World Champion on NSR500.
1992: Honda regains 500cc Manufacturers World Championship.
1994: Michael Doohan and Honda NSR500 score first of five-consecutive rider and
Manufacturers World Championships.
1999: Alex Criville and Honda NSR500win rider and Manufacturers World Championships.
2001: Valentino Rossi and Honda NSR500 win final 500cc World Championship titles.
2002: Honda introduce RC211V five-cylinder liquid-cooled 990cc four-stroke grand prix
machine.
Valentino Rossi and RC211V win rider and Manufacturer World Championships.
2003: Valentino Rossi and RC211V win rider and Manufacturer World Championships.
2004: Honda wins Manufacturers World Championship RC211V
2006: Honda and Nicky Hayden record 200th 500cc-MotoGP victory.
Winning Honda riders:
54 - Mick Doohan
33 - Valentino Rossi
20 - Freddie Spencer
18 - Wayne Gardner
15 - Alex Criville
8 - Sete Gibernau, Mike Hailwood
6 - Alex Barros
5 - Max Biaggi
4 - Eddie Lawson, Randy Mamola, Marco Melandri, Tady Okada
2 - Luca Cadalora, Carlos Checa, Jim Redman, Makoto Tamada, Nicky Hayden.
1 - Daryl Beattie, Loris Capirossi, Pier-Francesco Chili,
Takazumi Katayama, Dani Pedrosa, Alberto Puig, Tohru Ukawa.
Misano Superbike
Rider's Notes
Troyy Bayliss on the Podium after his Race One win: "We are all very happy with the result but a dampener has been put on things because the Team's warehouse guy Lorenzo Ghiselli lost his life in a road accident on Friday night so I'd like to dedicate this win to "Lollo" who will be sadly missed by everybody."
"To be honest I really wanted to win the second race and after a mixed start it took me a long while to get into the rhythm. Then finally when I caught the guys the bike just didn't feel as good as in the first race at the front and I stepped over the edge a bit. Maybe I should have settled for third, but I'm a racer and I wanted to keep the winning streak going. Now it's broken but we increased our points lead from 76 to 94 so I'm happy for everyone and now we move on".
Toseland had the memory of a fine race one almost wiped out by the disappointment of race two, but knew that he had given everything to the cause.
"I was slowly catching the leader Andrew Pitt going round the hairpin and I was going to line him up to pass down the back straight," stated Toseland. "As I accelerated out of the hairpin, into third, then fourth, the track kinks left and the rear just came round - and didn't stop. So I ran off into the gravel. After that the bike started to vibrate, like the tyre had moved on the rim, so the left-handers were very difficult. I am disappointed for the team and myself, because that was a possible race win. Pitt was riding very well, but if I didn't run on we could have been second in the championship, not just third. I gave it my all this weekend, got pole position, second place in race one, and I am just going to try like this until the end."
Muggeridge paid the price for a difficult qualifying session, when he got caught out with the wrong settings for his new qualifying tyres. In the race, this determined the shape and size of his afternoon endeavours.
"Off the start, coming around for the first lap, I was already something like ten seconds down, and just got boxed everywhere, every time," said Muggeridge. "Then you have to ride with the crazies at that point. They just try and ram up the inside every time. It was very hard and I had to use up my tyre to try and avoid them, so in the end I had no tyre left. We have a test for three days soon and that will be very important for us."
Lorenzo Lanzi had a difficult race 1 to finish seventh after starting from eighth on the grid. The result was the same in race two, seventh place, but the Italian's performance was much improved as he put in a surge on the final lap to pass Toseland. "It was a great battle with James, but I really wanted to finish ahead of Fabrizio as I was constantly quicker than him" commented Lorenzo. "The last few laps I was one of the fastest guys out there but I got bogged down a bit because the bike wasn't quite right in certain parts of the track. I really have to get better starts because I know I can stay up there with the guys in front as I proved last year. But I've got a great team around me; hopefully we can improve as quickly as possible because I want to get back to winning again".
"Pity, Troy was going very well and the crash happened when he wasn't pushing that hard" declared Ducati Corse Director General Filippo Preziosi. "With his race 1 win he demonstrated to be the best rider out there and for this we are very proud of him and what he is doing in the championship. Lorenzo also contributed to the good result because he managed to pass Toseland on the last lap and take points away from a tough rival so a big thanks to him as well".
Pierfrancesco Chili was disappointed to not finish but the reality of his weak physical condition, after a recent pelvic and shoulder injury, caught up with his determination to show well in front of his home fans.
"I was very tired after race one," stated Chili. "I had to try and adjust the bike for race two. I only managed a few laps and I was so physically drained I had to pull in. It's very disappointing but I could do no more."
Michel Fabrizio had two opposite experiences at Misano, one sour, the other sweet. He now sits 16th overall, on 47 points.
"I lost the front at the Curva del Rio, but it was a Michel Fabrizio problem, not a bike problem," admitted Fabrizio. "In race two I was very happy with the set-up and the result and it was fun to race with Toseland and Lanzi."
Nannelli failed to score in either race, pulling out of race one and falling in the second.
"After a few laps I realised that the suspension set up was not right, so I had to stop," said Nannelli. "In race two I crashed when I lost the front and that was that."
Lorenzo Lanzi had a difficult race 1 to finish seventh after starting from eighth on the grid. The result was the same in race two, seventh place, but the Italian's performance was much improved as he put in a surge on the final lap to pass Toseland. "It was a great battle with James, but I really wanted to finish ahead of Fabrizio as I was constantly quicker than him" commented Lorenzo. "The last few laps I was one of the fastest guys out there but I got bogged down a bit because the bike wasn't quite right in certain parts of the track. I really have to get better starts because I know I can stay up there with the guys in front as I proved last year. But I've got a great team around me; hopefully we can improve as quickly as possible because I want to get back to winning again".
The seventh round of the WSS and SBK championships take place at Brno, on July 23.