Bayliss (21) and Haga (41) traded the lead and the wins both races at Brands Hatch.

2006 SBK Corona Extra Superbike World Championship, Brands Hatch Round 8 of 12
Exciting SBK Fast Dates Calendar Shoot Weekend
at the World Superbike Championship's Premier Round
Superman Bayliss and Super Haga Trade Brands Hatch Wins
Toseland Joins Them On ther Podium as Corser Struggles With Tire Choices

Brands Hatch, Great Britain, August 4-6th -Troy Bayliss (Ducati Xerox), attired in 'Superman Returns' leathers and artwork, scored the race one win at Brands Hatch, where 115,000 spectators enjoyed the race action over the entire weekend. In the second 25-lap outing Noriyuki Haga (Yamaha Motor Italia) prevented Bayliss from doing the double in thrilling fashion, beating the championship leader by only 0.184 seconds. The local crowd got a treat, when James Toseland (Winston Ten Kate Honda) scored a podium finish of second in race one. In the championship battle, Bayliss now leads Haga by 77 points, 307 to 230, with Toseland overall third, on 219.
Bayliss Takes an Early Stand at Brands - Its Troy Versus Troy
With Haga Just behind, Kurtis Roberts Joins the World Series
FIRST QUALIFYING PRACTICE
Friday 4 August - After the first day of regulation qualifying at Brands Hatch, Troy Bayliss (Ducati Xerox) scored the overnight pole placing, with a 1'26.272 lap; almost under the existing best lap at the classic English circuit after only one day of practice. His quick early marker was almost matched by his old friend and rival Troy Corser (Alstare Suzuki Corona Extra) who was only 0.222 seconds down after one hour of free practice, and one hour of qualifying. The leading duo were closely followed by Noriyuki Haga (Yamaha Motor Italia) who took his Yamaha to within 0.291 seconds of Bayliss' Ducati. The provisional front row was completed by Misano race winner, Andrew Pitt, Haga's team-mate.
Karl Muggeridge (Winston Ten Kate Honda) scored fifth best time, making him the best Honda rider on display on day one. The Aussie, back to full fitness, headed the fastest local rider on day one - SBK regular in the PSG-1 Kawasaki Corse squad - Chris Walker. Proof that a strong performance at Brands is as much about track knowledge and rider skill as machinery, Ruben Xaus (Berik Sterilgarda Ducati) went seventh fastest, on a privateer Ducati.
After scooping Superpole at Silverstone, British wild card rider Tommy Hill showed his prowess at the full Brands Hatch circuit, finishing day one in eighth place in the rankings. After his most successful SBK race weekend in his two-year SBK career, double Brno race winner Yukio Kagayama (Alstare Suzuki Corona Extra) slotted home ninth, with the top ten rounded out by Bayliss' team-mate, Lorenzo Lanzi (Ducati Xerox).
James Toseland (Winston Ten Kate Honda) was disappointed to finish his first day at Brands Hatch just outside the top ten positions, after suffering braking problems with his machine. His old Ducati team-mate, Regis Laconi (PSG-1 Kawasaki Corse) was 12th, despite a highside crash in the unofficial morning session, while double Brno podium sensation Michel Fabrizio (DFX Treme Honda) scoring the last place in the top 13.
Despite some threatening clouds surrounding the Brands Hatch circuit all day, Friday stayed dry throughout, but should conditions deteriorate for the final regulation qualifying session on Saturday morning, the current top 16 will be the ones who go forward to Saturday afternoon's Superpole contest, which is the final determiner of the first four rows of the grid. Rounding out the top 16 on day one are Fonsi Nieto (PSG-1 Kawasaki Corse), Sebastien Gimbert (Yamaha Motor France) and Alex Barros (Klaffi Honda). Barros, unlike most of his peer group, was sampling Brands Hatch for the first time. New rider Kurtis Roberts (Pedercini Ducati) set an early qualifying time on his SBK weekend, and his first at Brands Hatch, some 4.7 seconds behind Bayliss. He had missed the first untimed session for administrative reasons.
At the end of Practice on Friday afternoon, FastDates.com Calendar publisher Jim Gianatsis had all the top factory and privateer teamswith their bikes join him on Pit Lane for the annual photo shoot of the official SBK Fast Dates racebike Swimsuit Pinup Calendar for 2008. The teams were also given copies of the just released 2007 Fast Dates Calendar which was photographed there at Brands Hatch the year before. This year's shoot almost never got to take place as this year's new models initially refused to pose in the provided bikinis in front of the assembled audience of team mechanics and media who alway look forward to the annual Fast Dates Calendar Shoot as an exciting break to the tedium of turning wrenches in the pit garages all season long.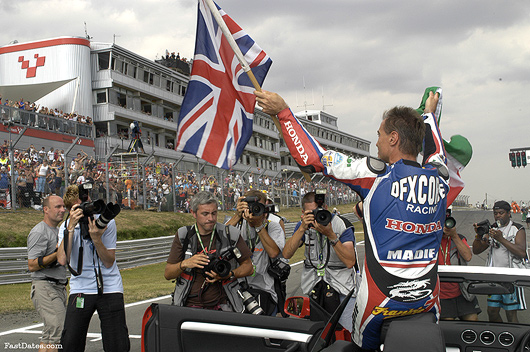 Frankie Chili took a farewell salute parade lap to thank his fans at Brands. The 43-year old superhero will retire at the end of this season.

Championship Leader Bayliss Roars to Pole at Record Pace
SUPERPOLE
Saturday 5th - Troy Bayliss (Ducati Xerox) boomed his factory machine to Superpole victory at Brands Hatch, scoring a new track best time of 1'25.449. Having posted the fastest pre-Superpole qualifying lap, he was last away and made up time from the very start against eventual second place rider Noriyuki Haga (Yamaha Motor Italia). Team-mates Karl Muggeridge (Winston Ten Kate Honda) and James Toseland (Winston Ten Kate Honda) rode to pre-race front row positions, after finishing third and fourth fastest respectively.
Troy Corser (Alstare Suzuki Corona Extra) had set a new track best earlier in the day, but could only finish fifth overall in Superpole, earning a second row start on his GSX-R. The 1996 and 2005 World Champion has been fast all weekend, and is heavily tipped to feature in the leading groups in Sunday's races. Another 2006 season race winner, Andrew Pitt (Yamaha Motor Italia) continued his good form with sixth fastest time in Superpole. Regis Laconi (PSG-1 Kawasaki Corse) pushed himself to the top Kawasaki spot, with his team-mate Chris Walker just one place behind at his local circuit.
Yukio Kagayama (Alstare Suzuki Corona Extra) could not hide his disappointment at finishing Superpole in only ninth place, despite just beating his previous best qualifying time. He nonetheless fended off the Silverstone Superpole winner, Tommy Hill (Virgin Mobile Yamaha) who took a still impressive top ten in his second wild card ride of the year. Lorenzo Lanzi (Ducati Xerox) and Fonsi Nieto (PSG-1 Kawasaki Corse - who is not a fan of the Brands layout) rounded out the third row.
Multiple-SBK race winner Ruben Xaus (Sterilgarda Berik Ducati) starts the SBK races from the first spot on row four, ahead of Brno sensation Michel Fabrizio (DFX Treme Honda), series regular Sebastien Gimbert (Yamaha Motor France Ipone) and former Brands Hatch race winner, Pierfrancesco Chili (DFX Treme Honda).
Despite his instant admiration for the classic Brands Hatch circuit on his first visit, Alex Barros (Klaffi Honda) could not get his suspension sorted enough in practice to make Superpole, mistiming his final run for a qualifying time by just enough to stop him posting one final fast lap. He ended up 18th, one place behind Steve Martin (Petronas FP-1) with Martin experiencing machinery issues that hampered his attempts at qualifying. Kurtis Roberts (Pedercini Ducati) crashed today, at Dingle Dell, and ended up 27th and last in qualifying for his first SBK race in Pedercini colours.
2006 WSB Brands Hatch Superpole
Pos. Rider Manufacturer Nat. Total Time
1 Troy Bayliss Ducati AUS 1'25.449
2 Noriyuki Haga Yamaha JPN 1'25.857
3 Karl Muggeridge Honda AUS 1'25.901
4 James Toseland Honda GBR 1'25.933
5 Troy Corser Suzuki AUS 1'26.000
6 Andrew Pitt Yamaha AUS 1'26.291
7 Regis Laconi Kawasaki FRA 1'26.323

8 Chris Walker Kawasaki GBR 1'26.542
9 Yukio Kagayama Suzuki JPN 1'26.560
10 Tommy Hill Yamaha GBR 1'26.580
11 Lorenzo Lanzi Ducati ITA 1'26.794
12 Fonsi Nieto Kawasaki ESP 1'26.814
13 Ruben Xaus Ducati ESP 1'26.850
14 Michel Fabrizio Honda ITA 1'27.047
15 Sebastien Gimbert Yamaha FRA 1'27.102
World Supersport Qualifying
Broc Parkes (Yamaha Motor Germany) scored his second pole position of the season at Brands Hatch, adding to his pre-race primacy at Misano. Current world championship leader Sebastien Charpentier (Winston Ten Kate Honda) proved to be second fastest after a late flurry of speed, easing out his number one championship challenger Kevin Curtain (Yamaha Motor Germany) to third. The front row Yamaha/Honda homogeny continued with the second Winston Ten Kate Honda rider, Kenan Sofuoglu, scoring fourth spot. Always a force at his favoutite circuit of Brands Hatch, Stephane Chambon (Gil Motorsport Kawasaki) was fifth fastest, easily his best qualifying of the season.
Wildcard Northpoint Ekerold Honda riders Cal Crutchlow and Leon Camier ended up sixth and seventh respectively, just up on Misano race winner, Massimo Roccoli (Yamaha Team Italia).

Superman Troy Bayliss at Brands Hatch in a Ducati Corse promotion for the movie Superman Returns.

Fast Dates Calendar Joins Ducati Xerox Team
for Presentation of the Superman Returns Ducati 999F06
Brands Hatch (UK), Saturday 5th August 2006: The Ducati Xerox Team unveiled a themed Ducati 999F06 in front of the teamâ€TMs pit garage today during the World Superbike Championship race in Brands Hatch, as part of the joint promotion between Warner Bros. Consumer Products, Ducati Corse and Suomy for the launch of Warner Bros. Picturesâ€TM action adventure film Superman Returns.
The 999F06 machines of Australian Troy Bayliss and Italian Lorenzo Lanzi, along with the riders TM leathers and helmets, feature graphic imagery based on the Warner Bros.TM blockbuster feature film. The riders TM helmets have been produced by Suomy, an official Superman Returns licensee producing motorcycle gear, apparel and accessories.
The bikes retain their regular Xerox livery, but are now highlighted with a flying 'Man of Steelâ€TM graphic on the underbody fairing. Grey Superman shields are also present on the fuel tank, the front mudguard and on the side deflectors.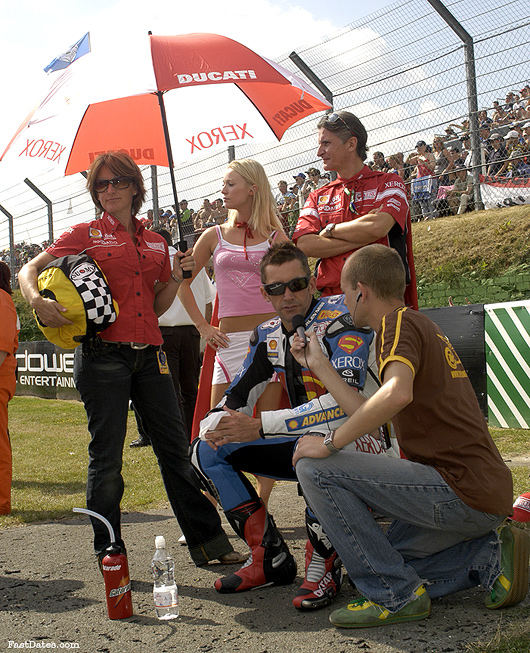 Troy gets interviewed on the grid under his wife Kim's umbrella, as caped crusaders and FastDates.com Calendar Kitten Katie Puch and team director Paolo Ciabatti stand guard.

Instead of their regular red and white leathers, Troy Bayliss and Lorenzo Lanzi will switch to a blue and white set for the Brands Hatch WSBK round, with the legendary Superman shield logo strongly emblazoned both front and rear. The Suomy helmets of both riders have an exclusive design, and for a final light touch the mechanics on the grid will wear red Superman capes.
The Superman Returns-based colour scheme will appear on the machines and riders on Sunday at Brands Hatch, during the morning World Superbike warm-up and the two races, scheduled for 1200 and 1530. Joining Troy at his Pole Position on the starting grid for both races on Sunday was FastDates.com Calendar Kitten Katie Pugh in her role as the Caped Crusader - Supergirl, together with caped Ducati Corse team director Paolo Ciabatti.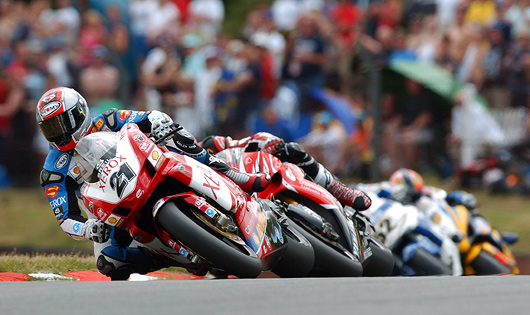 Bayliss leads Haga, Toseland and Corser around the 115,000 spectator jammed Brands Hatch circuit.

Superman Troy Bayliss racks up Ducati's 250th World Superbike Win
Superbike Race One
Brands Hatch (UK), Sunday 6 August: Troy Bayliss (Ducati Xerox) notched up Ducati's 250th victory in the World Superbike Championship in Race One at Brands Hatch today as he powered his 999F06 to a ninth win of the season. The 37-year-old Australian, running "Superman Returns" TM graphic designs on his bike, leathers and helmet to promote the new Warner Brothers movie, held off the attacks of Noriyuki Haga (Yamaha) and then James Toseland (Honda) before pulling out a slight lead to win.
Joining the Superman leathers clad Bayliss on the grid for the start of both races were his wife Kim, along with Superman cape clad Ducati Corse Superbike director Paolo Ciabatti with Fast Dates Calendar Angel Katie Pugh.
"I had a bit of a battle with Nori but I didn't show all my cards. I had to follow him for a while but I was pretty much on the limit myself. Then Nori started to get a little bit slower so I passed him. I could see that James was coming and thought that this was the time to go because once James got there, there was no way he was going to let go. I put three or four laps in really good and that was it." It was a similar battle for victory in race 2 but this time Haga had the edge over Troy in the end. "I love having a hard and fair race with Nori and as much as I wanted that second win, I probably messed up a little bit when I let Nori pass twice. I wanted to have a look at his form and the second time I shouldn't have done it but we've increased our points lead a little bit so I'm really happy with the weekend."
In the first 25-lap contest Bayliss had a fight on his hands with Haga until the Japanese rider was forced back by Bayliss' pace, while Toseland improved from fifth on lap one to score second, some 1.6 seconds behind Bayliss. Less than a second ahead of Haga. The leading group was a spread down to fourth, with Andrew Pitt (Yamaha Motor Italia) taking the first off podium position.
Previous week's double winner Yukio Kagayama (Alstare Suzuki Corona Extra) scored fifth place in the first race, and would layer return to take seventh in Race Two. His team-mate Troy Corser (Alstare Suzuki Corona Extra) could not get into permanent podium contention due to a poor tire compound choice which left him without the necessary grip to stay with the front runners as his tires heated up. The reigning champ would score sixth place in each race, dropping him further from the championship fight, to fourth, on 193 points.
Chris Walker (PSG-1 Kawasaki Corse) showed well early in each race, but could not get into the top five positions on race set-up. He scored a seventh and an eighth. Alex Barros (Klaffi Honda) had to fight back from lowly first lap positions, after qualifying only 18th, to score one eighth place and one ninth, suffering from problems with his quick-shifter in race two. Karl Muggeridge (Winston Ten Kate Honda) looked to be capable of two top five finishes in each race, but fell in peculiarly similar circumstances, when his machine clipped the trackside kerbing in each race. Ruben Xaus (Sterilgarda Berik Ducati) completed the first race top ten, as he did in race two, with Laconi ninth in the opener.
Wildcard rider Tommy Hill (Virgin Mobile Yamaha) scored an impressive top 11 finish, after a battle with five other riders in race one.
Bayliss' Ducati team mate Lorenzo Lanzi finished the two races outside the top 10 after starting from eleventh place on the grid. "I got a good start in race 1 but it was a disaster at the first curve when I made contact with Nieto and Hill and lost some places. From the mid-point of the race onwards I was lapping in good times but then I got caught up in the midfield group and I was unable to get past Hill. In race 2 I got a better start, the bike was going well and I had the feeling that I had at Brno. But then I started to have a few problems with the tyres and slipped back. Pity because I really wanted to do a good race at Brands. Hopefully the last four rounds will go better and I can finish the championship in style."
Superbike Race 1: (Laps 25 = 92,575 Km)
Pos /Rider /Nat. /Team / Time /Gap
1 / T. BAYLISS / AUS / Ducati Xerox / 36'26.855 /
2 / J. TOSELAND / GBR / Winston Ten Kate Honda / 36'28.512 / 1.657
3 / N.HAGA / JPN / Yamaha Motor Italia WSB / 36'29.103 / 2.248
4 / A. PITT / AUS / Yamaha Motor Italia WSB / 36'29.715 / 2.86
5 / Y. KAGAYAMA / JPN / Alstare Suzuki Corona Extra / 36'36.521 / 9.666
6 / T. CORSER / AUS / Alstare Suzuki Corona Extra / 36'43.586 / 16.731
7 / C.WALKER / GBR / PSG-1 Kawasaki Corse / 36'43.747 / 16.892
8 / A. BARROS / BRA / Klaffi Honda / 36'47.562 / 20.707
9 / R. LACONI / FRA / PSG-1 Kawasaki Corse / 36'52.051 / 25.196
10 / R. XAUS / ESP / Sterilgarda - Berik / 36'52.193 / 25.338
11 / T. HILL / GBR / Virgin Mobile Yamaha / 36'53.332 / 26.477
12 / L. LANZI / ITA / Ducati Xerox / 36'53.564 / 26.709
13 / N. ABE / JPN / Yamaha Motor France-Ipone / 36'54.190 / 27.335
14 / F. NIETO / ESP / PSG-1 Kawasaki Corse 2 / 36'56.320 / 29.465
15 / S. GIMBERT / FRA / Yamaha Motor France-Ipone / 37'06.050 / 39.195
Fastest Lap 4° James Toseland 1'26.351 154,379 Km/h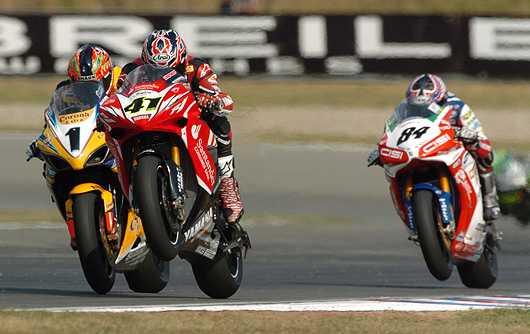 Haga (41) wheelies past Corser (1) and ahead of Michel Fabrizio (84) to reel in Bayliss for the win in Race Two.

Haga Fights Bayliss in Race Two for His First Win of the Year
Superbike Race Two
After being forced to settle for 2nd in Race One behind Championship points leader Troy Bayliss, Yamaha Motor Italia rider Noriyuki Haga thrilled the large and passionate Brands Hatch crowd by taking his YZF-R1 to a spectacular win in the Second Race of the Superbike World Championship today by just two tenths of a second ahead of Bayliss (Ducati Xerox) after a hard faught 85km of breathtaking, hard faught racing . Haga's Team-mate Andrew Pitt rode brilliantly to take a hard fought third place to give the team its second double podium finish of the season.
Earlier in the day Haga finished third in race one after contesting the lead with Bayliss and Honda rider James Toseland. For the second outing Haga switched to his back-up machine, which used alternative settings, to take his fourth win at the venue in three years. In a thrilling race the pair were never separated by more than a quarter of a second as they crossed the line for lap after lap. Championship leader Bayliss applied considerable pressure in the final lap but the Yamaha man, wearing a new helmet design for this race, showed all of his experience and legendary late braking skills to take his first race win of the year and the 20th of his illustrious world superbike career.
Noriyuki Haga (Yamaha Motor Italia): "In the first race I could not push as hard as I wanted to in the last five laps and for the second race I used my other bike, which had other settings. I had a big fight with Troy and I was determined not to see his exhaust pipes again. It feels so good to win today. We have been close so many times, especially at the first race - where I crashed on the last lap - but for some reasons I have not been able to take the win. Today the feeling with the bike was very good and the tyres worked perfectly all the way to the end."
Team-mate Pitt proved to be one of the stars of the show at Brands, providing plenty of thrills for the fans as he overcame bad starts to take a third and fourth place finish. The Australian over-revved his YZF-R1 on the line on both occasions, relegating him to the middle of the pack. The former supersport world champion was able to match the pace of the very fastest men, working his way to fourth in the opener and a fine third in the second race to complete a great day for the Italian Yamaha squad.
Andrew Pitt (Yamaha Motor Italia): "I made a terrible start in both races, which is surprising as our R1 is normally one of the quickest bikes off the line. I think that I was a bit anxious and just gave it too many revs, but each time I lost a lot of places. I just had to get my head down and get through as quickly as possible. My rhythm was good and I was pleased with my fourth place in race one, so to top it off with a podium is a fantastic end to the day. I'm especially pleased as I have some friends over from Australia for this race. They've come a long way so it is great to give them something to cheer."
Norick Abe (Yamaha Motor France): "Brands Hatch is difficult, very difficult, and until yesterday our chances were dead. In the race things were not so bad, and in race one I finally had a battle with many riders, and scored points. So compared to qualifying, it was a big jump up. It was the best I could do. We changed the setting between races and in the beginning it was not so bad, just at the end of the race the rear was moving and sliding and my lap time went up and up. But compared to qualifying, it was much better."
British Wild card rider Tommy Hill (Virgin Mobile Yamaha): "These boys are on it, and it was definitely a fast pace out there. I just needed to get past Nieto to get up to Walker and Kagayama, but it took too long. We changed the rear tyre to get more grip on the rear in race two but the bike had no drive and I had to stop. That was disappointing but things are a different league here and I have learned a lot."
Hill was forced out in race two, when his machine lost forward drive. Behind Hill in the opener came such SBK regular luminaries as Lorenzo Lanzi (Ducati Xerox), Norick Abe (Yamaha Motor France Ipone), Fonsi Nieto (PSG-1 Kawasaki Corse) and final point scorer, Sebastien Gimbert (Yamaha Motor France Ipone).
In the second race, the last points were taken by Lanzi (in 11th), first race crasher Michel Fabrizio (DFX Honda), Abe, Gimbert and Suzuki privateer, Vittorio Iannuzzo (Celani Suzuki). Pierfrancesco Chili (DFX Honda) failed to score finishes in either race, but made a final lap to wave goodbye to his British fans, in what will be his last SBK race at this venue. Steve Martin missed out on a single point for the Foggy Petronas team, by finishing 16th in race two.
With two thirds of the season gone, Haga retains second in the championship, 77 points behind Bayliss and 11 ahead of third placed James Toseland. Pitt stays sixth in the points and has reduced the gap to fourth placed Troy Corser (Suzuki) to 36 points. Honda's Alex Barros is fifth in the series.
NEW STYLE ASSEN AWAITS SBK IN SEPTEMBER The ninth round of 12 SBK weekends will take place at the newly remodelled Circuit van Drenthe in Assen, between 1 and 3 September.
Superbike Race 2: (Laps 25 = 92,575 Km)
1 / N.HAGA / JPN / Yamaha Motor Italia WSB / 36'29.709 /
2 / T. BAYLISS / AUS / Ducati Xerox / 36'29.893 / 0.184
3 / A. PITT / AUS / Yamaha Motor Italia WSB / 36'31.951 / 2.242
4 / R. LACONI / FRA / PSG-1 Kawasaki Corse / 36'36.232 / 6.523
5 / J. TOSELAND / GBR / Winston Ten Kate Honda / 36'36.782 / 7.073
6 / T. CORSER / AUS / Alstare Suzuki Corona Extra / 36'37.230 / 7.521
7 / Y. KAGAYAMA / JPN / Alstare Suzuki Corona Extra / 36'40.612 / 10.903
8 / C.WALKER / GBR / PSG-1 Kawasaki Corse / 36'49.424 / 19.715
9 / A. BARROS / BRA / Klaffi Honda / 36'51.911 / 22.202
10 / R. XAUS / ESP / Sterilgarda - Berik / 36'56.506 / 26.797
11 / L. LANZI / ITA / Ducati Xerox / 36'59.411 / 29.702
12 / M.FABRIZIO / ITA / D.F.X. Treme / 36'59.513 / 29.804
13 / N. ABE / JPN / Yamaha Motor France-Ipone / 37'01.538 / 31.829
14 / S. GIMBERT / FRA / Yamaha Motor France-Ipone / 37'03.886 / 34.177
15 / V. IANNUZZO / ITA / Celani Team Suzuki Italia / 37'04.976 / 35.267
Fastest Lap 2° Troy Bayliss 1'26.706 153,747 Km/h
Record Lap: J.Toseland 1'26.351 154,380Km/h 2006
Riders Championship Standings:
1 BAYLISS 287, 2 TOSELAND 208, 3 HAGA 205, 4 CORSER 183, 5 BARROS 159, 6 PITT 141,
7 KAGAYAMA 117, 8 LANZI 91, 9 WALKER 88, 10 FABRIZIO 83, 11 NIETO 83, 12 XAUS 78,
13 ABE 74, 14 MUGGERIDGE 66, 15 LACONI 59.
600 SUPERSPORT WORLD CHAMPIONSHIP
A Yamaha 1-2 at Brands leaves the World Supersport Championship in a state of complete parity between the main warring factions for the title itself. Broc Parkes' first win of the year, from his team-mate Kevin Curtain (Yamaha Motor Germany) and Kenan Sofuoglu (Winston Ten Kate Honda) pushes him to within 12 points of the championship lead, which is now shared on 131 points by Sebastien Charpentier (Winston Ten Kate Honda) and Curtain. Charpentier was sixth in the race itself, still recovering from his pelvic and collarbone injuries, behind fourth placed Robbin Harms (Stiggy Motorsports) and top wildcard man, Cal Crutchlow (Northpoint Ekerold Honda). Stephane Chambon (Gil Motorsports Kawasaki) had a happy outing at Brands, taking seventh place.
SUPERSPORT RACE: (Laps 23 = 85,169 Km)
Pos /Rider /Nat. /Team / Time /Gap
1 / B. PARKES / AUS / Yamaha Motor Germany / 34'27.306 /
2 / K. CURTAIN / AUS / Yamaha Motor Germany / 34'29.064 / 1.758
3 / K. SOFUOGLU / TUR / Winston Ten Kate Honda / 34'29.394 / 2.088
4 / R.HARMS / DEN / Stiggy Motorsports / 34'39.452 / 12.146
5 / C.CRUTCHLOW / GBR / Northpoint Eckerold Honda / 34'39.615 / 12.309
6 / S. CHARPENTIER / FRA / Winston Ten Kate Honda / 34'39.876 / 12.57
7 / S. CHAMBON / FRA / Gil Motor Sport / 34'42.450 / 15.144
8 / G.NANNELLI / ITA / Team Manila Grace SC / 34'44.154 / 16.848
9 / M.ROCCOLI / ITA / Yamaha Team Italia / 34'44.364 / 17.058
10 / L. CAMIER / GBR / Northpoint Eckerold Honda / 34'44.686 / 17.38
11 / J. STIGEFELT / SWE / Dark Dog Stiggy Motorsports / 34'47.140 / 19.834
12 / Y. TIBERIO / FRA / Megabike Honda Team / 34'48.273 / 20.967
13 / M.BERGER / FRA / Gil Motor Sport / 34'48.903 / 21.597
14 / M.SANCHINI / ITA / Bikersdays Yamaha Moto / 34'51.354 / 24.048
15 / B. VENEMAN / NED / Hoegee Suzuki / 34'52.377 / 25.071
Fastest Lap 5° Kevin Curtain 1'29.074 149,660 Km/h
Lap Record: S.Chambon 1'29.149 149,530Km/h 2003
Riders Championship Standings:
1 CHARPENTIER 131, 2 CURTAIN 131, 3 PARKES 119, 4 HARMS 87, 5 ROCCOLI 78,
6 TIBERIO 67, 7 SOFUOGLU 67, 8 STIGEFELT 57, 9 FORES 49, 10 VIZZIELLO 37,
11 CHECA 29, 12 SANNA 27, 13 FUJIWARA 22, 14 BROOKES 21, 15 ZAISER 21
SUPERSTOCK 1000 FIM CUP
Luca Scassa (EVR Corse Ormeni Racing) pounced on a mistake from last lap leader Ayrton Badovini (Biassono Unionbike MV Agusta) to secure his first and MV Agusta's second win in the Superstock category. Alessandro Polita (Celani Suzuki Italia) looked a likely winner for some time, and finally looked like having to settle for third until the final corners, when he capitalised on Badovini's misfortune to score second, and extend his championship lead. Polita now sits on 115, with Badovini on 109, and Scassa on 96.
SUPERSTOCK 600 EUROPEAN CHAMPIONSHIP
Xavier Simeon (Alstare Suzuki Corona Extra) scored the 600 Superstock class win from Niccolo Canepa (Ducati Xerox) after a 12-lap fight around Brands at the end of raceday itself. His win extended Simeon's lead over Canepa to 39 points, 140 to 101.
---

Ally and AJ on their "Chemical React" national summer tour, all grown up, very sexy and rockin' hard!
Chicks That Kick Ass!

Ally and AJ
From Disney Pop Princesess to Sexy Rock Divas
The newest addition to our favorite girl singers list is the teen sister group Ally & AJ Michalka who have pened and performed songs for a number of Disney pre teen movies and whose first full length CD "Into The Rush" released late last year features an incredible collection of their own excellent origional written and performed hits with incredible vocals, with good looks to match!
When we found out Ally and AJ were performing this past weekend at the House of Blues in Hollywood, CA, we were there in a flash to see the teen pop princess sisters in action. Still under the radar, the sisters have yet to be discovered by the adult listening audience and we found ourselves jam pack into the standing room only club house with about 500 hard core pre teen girls aged 8-10 chapporoned by their parents. When Ally and AJ took to the stage the piercing screams from their grade school girl fan club was more deafening than anything you could image.
But it was quite obvious from their sexy attire and new hard rock looks that the Michalka sister were all grown up and looking like veteran rock divas at this home town stop in the middle of their 4 month road tour. And they were playing for an adult audience who had yet to discover them. Incredibly beautiful and sexy, every AJ and Ally song is potentially a chart topping hit. Even more impressive was the fact how incredibly talented they are as musicians. Both performed on electrical and acoustal guitars, piano and electric keyboards, and then if we could be amazed enough, then on one song they got down on their knees with mini conga drums between their legs and hammered out a latin rock jazz melody duel that was additionally incredible.
There's not many male bands this talented, let along a couple of girl teens.

Click to Order! New Enhanced - Into the Rush CD with added Songs and Video
Click on their new just released Special Edition CD & DVD cover Into the Rush here to order it online, and visit their website to hear and see more of these incredibly talented and beautifully sexy sisters. AlyandAJ.com
---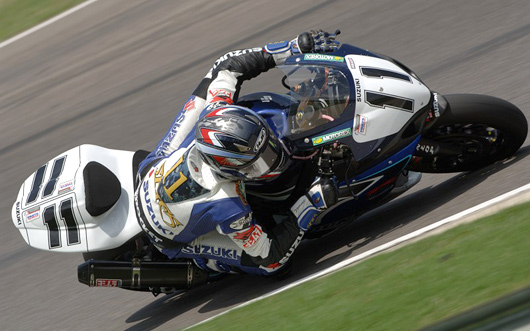 With a 45 points lead and 3 Rounds remaining, Ben Spies looks to be is a shoe-in for this year's AMA Superbike Championship

2006 AMA Superbike Championship, Mid-Ohio Round 8 of 11
Double AMA Superbike Podiums for Spies,
Mladin and Duhamel at Mid-Ohio
Mid Ohio Motorsports Course, OH, Aug 5-6th - Yoshimura Suzuki's Ben Spies, his team mate and reigning champ Matt Mladin, and American Honda's Miguel Duhamel solidified their teop 3 places respectively in the AMA Superbike Championship with a pair of podiums in the Honda Super Cycle Weekend at the Mid-Ohio Sports Car Course in Lexington, Ohio.
The all-time wins leader at Mid-Ohio with nine victories, Duhamel admitted he wasn't in a position to add to that total, but he did run in second place and was ready to take advantage of any miscues by the leader on both days. On Saturday, Miguel held second until the 24th of 26 laps when defending class champion Mat Mladin made the pass for the second step on the podium. Sunday, Duhamel reluctantly ceded the runner-up position to Mladin on the 18th lap after running into minor problems late in the race.
Still, Mladin ended the weekend with a more solid grasp on his third place in the championship after 14 of 19 races. He trails only Spies and Mladin and has a 29 point cushion on the fourth place rider.
Teammate Jake Zemke followed Duhamel home on Sunday after falling in Saturday's race while in fourth place less than five laps from the end. The crash was caused when the front forks bottomed out for a brief instant in one of the faster sections of the 2.4-mile road course. The team hoped to make an improvement for Sunday's race, but it didn't work as planned and Zemke struggled with traction on both ends.
The Sunday race saw both Parts Unlimited Ducati teammates compete for positions inside the top five, with Neil Hodgson taking fifth place on his Ducati 999. Ben Bostrom challenged for fourth position most of the race before a crash ended his day early.
Neil fought through an exciting, close battle with Aaron Yates for much of the event. Hodgson held his rival at bay for much of the 26-lap distance. "It was a tough race. I was riding hard out there and battling with Yates for position," said the Isle of Man resident and former World Superbike champion. "Certainly, we're getting the bike to turn better and change direction better. I feel like we are making progress. We're looking forward to racing again in Virginia."
Bostrom challenged for fourth place until an incident in the Keyhole ended his day four laps before the finish. "The crash was my fault," said Ben Bostrom. "I thought we had a great bike out there but we were stuck behind (Jake) Zemke and had a hard time getting around him. I was a little frustrated with it and I knew there were only a few laps to go. I was also taking pressure from Yates, too. We passed a lapper in the Keyhole and I decided to get a good drive down the straight. I got into the throttle too hard and it threw me off, taking out Yates as well. Fortunately, we were both okay."
Miguel Duhamel, Saturday 3rd, "Ben (Spies) disappeared and then Mat (Mladin) came by us and we were trying to hang onto him, see if we could make up a little bit on Ben. But the best we did is we stopped the bleeding a bit. After that, he pulled away, and our cards were pretty much played. I was pretty much done towards the end of the race. But it feels good to be up here. The bike was working good, and obviously we're going to look at it tonight and try to make it a little faster. At Laguna (the previous round) we were a little disappointed. I was hoping to be on the box there too. But at least we were able to put it on the box, and hopefully we'll be able to be at least closer, if not one or two steps higher, tomorrow. We have to look at some stuff. There's still a few options left on our bike to make it a little faster. Maybe more than a little faster."
Miguel Duhamel, Sunday 3rd: "I really wanted second. I thought it would be great that I had a little progression from yesterday. The bike was better, my lap times were faster, and Ben (Spies) was Ben. He was just out there and he rode great, congrats to him and Mat (Mladin). It feels good for me. We have the CBR1000, ride that hard the whole race and feel great at the end. Hopefully we can do a bit better. I think our bike is approaching those kind of set-ups that we've been looking for for a little while now. So obviously, this doesn't hurt the old confidence and it's going to definitely increase, I think, my chances to go harder. I think the team will be motivated, I'm motivated. Yeah, I'm looking forward to it. I'm really, really excited about the rest of the season. Hopefully we can get a little closer to Ben and get a shot at winning this thing.
Jake Zemke, Saturday DNF, Sunday 4th: "Actually, the second part (of the Superbike race) was better. The first part we were doing okay and it seemed like those guys were coming back to me a bit. Miguel (Duhamel) looked like he was struggling a bit with the rear and Mat (Mladin) looked like he was struggling with the front. On the restart, with just 10 laps left, I wanted to go to the softer tire but we didn't have it on the same rim width that we've been running. It was on the wider rim so it took me two laps of that restart to get comfortable with it and we'd made an adjustment with the front end as well. It took a couple of laps but then I dropped right into the 25s and was pulling those guys back in before I lost the front there."

"Obviously we had a problem with yesterday and we knew we couldn't go into the race with the same bike we had yesterday, so we kind of just took a stab at it and the bike was actually a bit worse today. I would've been better off having what I had yesterday and just fighting through the problems that we ended up having yesterday. We wanted to fix that and in doing so we made the bike quite a bit harder to get around the race track everywhere else and we still didn't solve the problem of it being on the bottom. It was still hitting the bottom. After those guys got out in front, Mat (Mladin) and Miguel (Duhamel), they stayed the same distance. I was able to hold the pace once their tires went off a little bit, because I couldn't get any grip from the front or the rear from the very get-go."
Saturday Superbike:


1. Ben Spies (Suzuki)
2. Mat Mladin (Suzuki)
3. Miguel Duhamel (Honda)
4. Aaron Yates (Suzuki)
5. Tommy Hayden (Kawasaki)
6. Steve Rapp (Suzuki)
7. Jake Holden (Suzuki)
8. Roger Lee Hayden (Kawasaki)
9. Larry Pegram (Honda)
10. Matt Lynn (Suzuki)

Sunday Superbike:


1. Ben Spies (Suzuki)
2. Mat Mladin (Suzuki)
3. Miguel Duhamel (Honda)
4. Jake Zemke (Honda)
5. Neil Hodgson (Ducati)
6. Jason Pridmore (Suzuki)
7. Tommy Hayden (Kawasaki)
8. Roger Lee Hayden (Kawasaki)
9. Jake Holden (Suzuki)
10. Matt Lynn (Suzuki)

Championship Standings:


1. Ben Spies (Suzuki) 501
2. Mat Mladin (Suzuki) 456
3. Miguel Duhamel (Honda) 387
4. Neil Hodgson (Ducati) 358
5. Tommy Hayden (Kawasaki) 354
6. Aaron Yates (Suzuki) 335
7. Jake Zemke (Honda) 325
8. Jason Pridmore (Suzuki) 285
9. Ben Bostrom (Ducati) 284
10. Larry Pegram (Honda) 260
New 2007
Fast Dates Racebike,
Iron & Lace Custom
& Garage Girls Calendars
Click to Order Now!



Reigning Champ Troy Corser Suffers Fustration and Disappointment at Brands
Troy left Brands Hatch both frustrated and disappointed. Thanks to tyre problems in both 25-lappers, all he could show for his endeavours was a pair of sixth places and that meant he was unable to close the gap on the leaders in the championship.
Runaway series leader Troy Bayliss (Ducati) and Noriyuki Haga (Yamaha) dominated the races, taking one win apiece. It was win number nine for Bayliss, but remarkably it was Haga's debut win of the season. In race one, Bayliss finished over one and a half seconds ahead of local crowd favourite James Toseland (Honda), with Haga third. Fourth was Pitt (Yamaha), with Kagayama (Suzuki) and Troy sixth. In the second race, Haga's margin of victory over Bayliss was a mere tenth of a second. Third was Pitt, with Laconi (Kawasaki) fourth, Toseland fifth and Troy sixth.

TROY - Race 1: 6th, Race 2: 6th- "It's hard to say how I feel after a day like today. I suppose I'm both disappointed and frustrated because I expected so much more. In a way, today was a bit like Brno. There I felt I was better then the bike, and here at Brands I felt the same. The problems in both races were the same - tyres. The rear tyre went off in race one after ten laps and from then I just couldn't keep up with the leaders. I was faster in some places then James (Toseland), but once he got past, I found it difficult to re-pass him.
I was happy enough with the front tyre, so we kept the same one for race two, but we changed the rear to the hardest one available. The bike felt a bit better, but once again I found it hard to maintain the same pace as the leaders. Something has got to change, because I don't like being in this position. I'm going to do extra training over the next three weeks and see if that helps at all, but I don't want to finish the season unable to run with the top guys." - See ya,Troy
Photo Highlights from
Brands Hatch 2006
staring the Fast Dates Calendar Kittens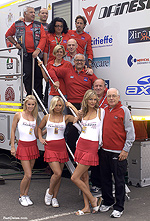 The Calendar Kittens stop by the Clinica Mobile in the Paddock to say hello to our friend Dr. Massimo Corbascio (center with glasses) and his staff.
So cute and oh so deadly, the Calendar Kittens on Friday afternoon before or annual Fast Dates calendar shoot.
Read the complete story HERE
Camilla and Katie in their Team Ducati uniforms on Sunday in from of the Pit Garage.
Paolo Ciabatti adjusts Katie's Supergirl cape as they head out to the starting grid for the Superbike race.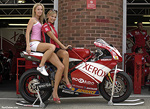 Our girls Katie and Camilla get ready to go for a ride on the Ducati 999R Promotional bike with Italian racer Dario Marchetti, chief instructor at Ducati's DRE (Ducati racing Experience) track schools. Note how the tires are scrubbed to the edge.....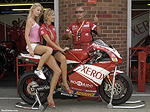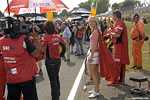 Katie on the starting grid with Troy Bayliss and his wife Kim, Paolo.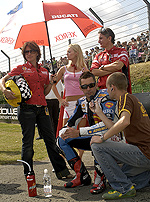 Superman logos on the gas tanks pf the team's 999F06 Superbikes.
The very popular andlegendary 43-year young Franki Chili waves "good bye" to the fans during a parade lap to honor his final race at Brands Hatch.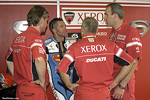 Troy Corser returns to the Ducati garage and talks to Team Director Paolo Cioabatti, manager Davide Tardosi and his head mechanic after clinching Superpole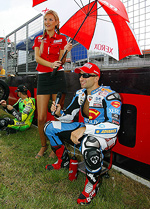 Camilla helps keep Lorenzo Lanzi cool in the shade just before the start of Race One.
Lack of luck for Foggy PETRONAS Racing at Brands Hatch, their last ever race on British soil
Luck was not on the side of Craig Jones and his Foggy PETRONAS Racing team-mate Steve Martin for the eighth round races of the Superbike World Championship at Brands Hatch, Great Britain.
Located in garage 13 in pit-lane, Craig was forced to retire on lap 13 of both races while Steve finished just out of the points in 16th and 17th places.
Craig's tale of woe started when oil leaked onto his rear tyre in the first race, forcing him to pull in. Steve was lying in the points with three laps remaining before a gear-shifter failure dropped him down to 17th.
There was more misfortune for Craig in race two when his rear tyre spun on the rim, eventually making the bike impossible to ride. Steve enjoyed a problem free second race but finished just five seconds off a point-scoring finish in the PETRONAS FP1's last race on British soil.
Craig said: "When the tyres were good in the first race I was going well, but as soon as they went off I started to struggle. I knew there was a problem when I went into Stirlings and the bike felt out of character for that corner. I was actually lucky to save it when I was nearly thrown over the bars because of the oil on the rear wheel. The problems in race two started after three laps and got progressively worse. By mid-race it was bouncing me out of the corners and I was struggling to hold on. It is so frustrating because we had solved our earlier problems and I was riding well. I was catching a group that eventually finished in the points so, with just a tiny bit of luck, I feel I could have scored my first points."
Steve said: "I was quite happy with the first race because I felt I was riding well. I was pleased with the consistency of the lap times until I suffered a gear shifter problem with three laps to go and dropped out of the points because I had to change gears manually and that cost me more than half a second a lap. It may sound crazy but I was also pleased with the second race. I was riding well, pushing on the limit, and I was again happy with the consistency until the tyres went off. As soon as that happened, about three quarters of the way through, I was unable to carry as much corner speed. It has been a difficult weekend but there are positives that we can take into the final four rounds."
Tough Day for Hodgson and Bostrom at Mid Ohio AMA Superbike
Lexington (Ohio) 5 Aug 2006: Ben Bostrom and Neil Hodgson fought through a difficult day at Mid-Ohio Sports Car Course on Saturday. Both Parts Unlimited Ducati riders had to pit, which ruined their chances at another podium for the Ducati 999 Superbike. Although both riders mounted a challenge on Saturday, their final results didn't reflect their competitiveness.
Ben Bostrom vaulted to a strong second place in the 26-lap race before a minor technical issue slowed him and caused him to pit. Ben was able to return to the track and perform at a very competitive level, turning in strong lap times despite heavy traffic. "I felt it was a bit dangerous for me to continue on, so I pulled in," said Bostrom, who finished in 20th place officially as he took the checkered flag. "Hopefully, our run of bad luck is over now. We were up to second in the race before our problem and things were going well. Unfortunately, it wasn't meant to be today and we had to pit. After the red flag, it was quite scary charging through the field on the restart. I'm looking forward to getting back out there tomorrow to show what we can do."
Hodgson was classified 16th despite pulling into the pits after the red flag for a repair to his machine. The brief stop happened on the warm-up lap for the restart. After a technical issue with the bike was repaired, he rejoined the field. "It didn't go very well for us, really. It was a bad day for us," said Hodgson. "We had a technical problem, and I had to pull in. We're hoping for a better day on Sunday. Today was very frustrating for the whole team."
"Despite the gremlins we had today, we're looking forward to competing again in tomorrow's race," said team manager Tom Bodenbach. "Ben's lap times in the beginning of the race and after the restart showed he can be competitive. Neil and his crew are working on some changes they think will help get him up to the front, too."