New Ducati Superbike Breaks Cover - To Be Unveiled at Laguna Seca MotoGP Weekend
Above is a spy photo which broke cover a few weeks ago in an Italian motorcycle magazine showing the next generation Ducati Superbike disguised in black tape and paint under going testing at a track in Italy. The harsh angular lines of the current 999 Superbike which were never too popular seem to remain, but there is a welcome return to the previous generation's single sided swimgarm and the twin silencer exhaust system. The bike's engine is rumored to be 1088cc which is strange in light of the possible displacement increase to 1200cc in World Superbike sarting in 2008. If rue, we'd venture to guess this 1088cc displacement will be for the base models, and that a full-on R model will be released next year with a displacement closer to 1200cc. Pit Lane News will have complete details and pictures after the press unveiling next week.
---
Will Americans Nicky Hayden (69) who won last year, or Colin Edwards (5) be able to score again for the home team? Will Valentino Rossi continue to chip away at Hayden's Championship pointas lead?


MotoGP World Championship, Red Bull US Grand Prix, Round 11 of 17
MotoGP Set for Crucial Clash at Red Bull U.S. Grand Prix
Laguna Seca, CA, July 21-23rd -After one of the most exciting races of the season in Germany, the MotoGP tour heads to Laguna Seca for the eagerly anticipated Red Bull U.S. Grand Prix.
The Sachsenring clash proved to be the ideal build-up for the eagerly awaited American race, as the top four in the overall classification battled amongst themselves for the victory right up to the breathtaking climax, with reigning World Champion Valentino Rossi eventually taking the win.
It is home rider Nicky Hayden, however, who enters the Californian race at the top of the leaderboard. The Kentucky Kid earned his first MotoGP victory last year at the circuit, and his experience of the twists and turns of Laguna Seca could prove invaluable if he is to repeat the achievement this year. This season is Hayden's best chance of taking the title, with everyone aware of the importance the race holds.
Victory at Sachsenring pushes Valentino Rossi into second place overall, piling the pressure on Hayden at the top. He lies 26 points behind his American rival and, although he will be unable to leapfrog into the top spot next weekend, a win would further close the gap and provide a huge psychological advantage for MotoGP's man-to-beat.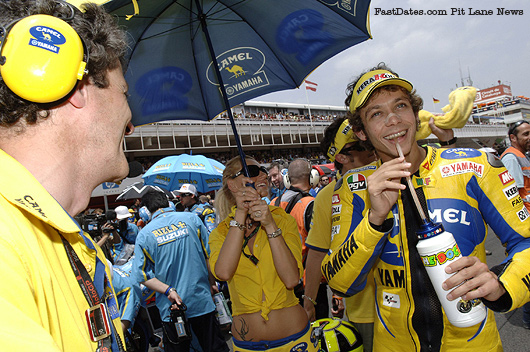 The prince of MotoGP has overcome much adversity this year and intends to keep his crown. A win or finish ahead of points leader Hayden at Laguna is imperative to help close the gap.

Rossi himself will have to be looking over his shoulder though, as two of MotoGP's young pretenders to his throne also arrive at the race in fine form. Rookie sensation and reigning 250cc World Champion Dani Pedrosa will be making his debut on American soil, and will have a steep learning curve to overcome if he is to challenge for glory. Behind him, gutsy Italian Marco Melandri will be putting forward his case for the title. The Fortuna Honda rider has been racing with a fractured collarbone for the last few races, previously unbeknownst to him, and has been astonishing spectators with a string of impressive finishes.
Loris Capirossi is fifth in the standings, ahead of Australian rookie Casey Stoner and American rider Colin Edwards. The Yamaha factory team rider has a superb pedigree at Laguna Seca, and was last year's second place finisher. After a couple of inauspicious finishes, his home race is an ideal occasion for the Texan Tornado to turn around his season.

Newly Revised Laguna Seca Circuit
MotoGP returned to the US for the first time in 10 years for the Red Bull U.S. Grand Prix at Mazda Raceway Laguna Seca last July, with a fairy-tale first GP win for American Nicky Hayden. The Californian track played host to Grand Prix events from 1988 to 1994 but advancements in MotoGP racing machines required the event to be moved elsewhere while the track was modified and adapted to meet present day safety requirements.
Since December 2004 the circuit has undergone major changes, primarily to increase track safety. The first phase of modernisation included an expanded exit lane, replacement of the kerbs and widening of the main straight, whilst more recent changes involved moving back walls to create bigger run-off areas. The circuit's principal features, such as the infamous 'Corkscrew', remain the same, with 3,61 km (2.243 miles) of track and 11 curves. Much of the cost for the millions of dollars in renovations to the circuit was paid for by American Yamaha.
Practice sessions for the Red Bull U.S. Grand Prix kick off on Friday at 10am local time (GMT-7, CET-9), with qualifying on the Saturday afternoon. The race itself takes place on Sunday at 2pm.


MotoGP World Championship, Motorrad Grand Prix Deutschland, Round 10 0f 17

Rossi comes from behind to Win German MotoGP
Closing the points gap on Hayden
Sachsenring, Germany, July 14-16th 2006 - Just seven days after Italy won the football World Cup with a dramatic victory against France in Berlin, Camel Yamaha Team rider Valentino Rossi produced an equally stunning performance to seal another success for his country on German soil thanks to a remarkable MotoGP win at the Sachsenring circuit near Dresden. Starting from tenth place on the grid after struggling to find the right set-up for his YZR-M1 machine in practice, the odds were stacked heavily against Rossi as he aimed to close the gap on series leader Nicky Hayden (Honda) with another win. However, the reigning World Champion again confounded all the predictions with his superb skill and dogged determination.
Already shifted up one place on the grid from his qualifying position of eleventh after Casey Stoner (Honda) was ruled out of the race through injury, Rossi continued to make his way forward as soon as the red lights were out, passing four riders by the end of the first lap to immediately get in contact with the lead group. After carefully picking off Kenny Roberts (Team KR) and Makoto Tamada (Honda), Rossi set about the lead group of Hayden, Dani Pedrosa (Honda) and Marco Melandri (Honda) and by lap 13 of 30 he was in front. The Italian held on to a slim lead for all but one of the remaining laps, when Melandri made one of his many attacks stick, before holding off a barrage of attacks from all three rivals in a dramatic final corner to seal his fourth win of the season.
Whilst Rossi was able to rescue a dismal situation in practice, unfortunately the same could not be said for his team-mate Colin Edwards, who was unable to make any further progress with his bike setting in the morning warm-up and struggled to eleventh place.
VALENTINO ROSSI (1st; 41'49.248) "That was an unbelievable race for me and my team. The first thing I have to say is 'sorry' to my M1 because last night was the first time in our relationship that I ever doubted her! But she was true to me once again and for this I owe a huge thank you to Jeremy and all my mechanics and engineers. Last night I didn't think I could win this race but we made a change in the morning warm-up and then again before the race in the afternoon and today my M1 flew. In some parts of the track it was very, very fast. We also did a great job together with Michelin and at the start I realised that my rhythm was good enough to battle for the win. Once I got to the front I knew I was probably two or three tenths faster than the other guys but it wasn't enough to escape and I had to battle with Dani, Nicky and Marco – each one was a great fight. Marco was so strong at the end of the race and I have to give my big congratulations to him, but thankfully I got the right line in the last corner and I was able to win. Italy became World Champions in the football last weekend and I won today; Germany is a good country for us!"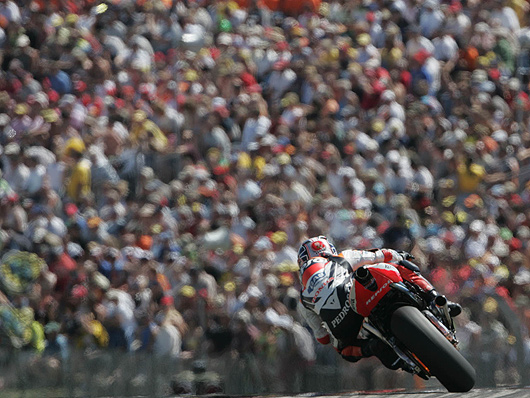 Danny Pedrosa sets pole in font of a few fans.

Pole to Pedrosa as Rossi Struggles with Setup
Under glorious sunshine and ideal temperatures for riding, and at a Sachsenring circuit packed to the rafters with loyal fans, the MotoGP riders took part in an exciting qualifying sessions to decide who would lead the grid tomorrow in the betandwin.com Motorrad Grand Prix Deutschland.
Dani Pedrosa will start the German race from pole position, the fourth pole of his debut season in MotoGP. Repsol Honda's Spanish sensation has already won from the top spot twice this season, at China and Donington, and this weekend has the chance to close the 26-point gap to team-mate Nicky Hayden, who accompanies Pedrosa on the front row. They are separated by second-placed rider Kenny Roberts Jr, who has been in fantastic form thus far on his 2006 visit to the Sachsenring Circuit. Team Roberts' sole rider joined Pedrosa as the only man to break the 1'22 barrier.
Always strong in qualifying, Shinya Nakano heads the second row, although it looked for a while during the hour that he would claim his first MotoGP pole. He will start ahead of three riders still carrying injuries from last month; Loris Capirossi, Marco Melandri and Sete Gibernau complete the top seven positions, followed by Casey Stoner, John Hopkins and Makoto Tamada.
Valentino Rossi, who needs a win to keep up the pressure on Hayden at the top of the leaderboard heading into the American's home race, could only manage to qualify eleventh at Sachsenring and will look to produce another of the classic performances which have seen him win races from such positions in the past.
Rossi dives into the lead ahead of Melandri, Hayden and Pedrosa.

Rossi Snatches Victory from Honda's Hayden and Melandri in the Closing laps
Sunday 16th - Valentino Rossi took a spectacular victory in today's BetAndWin.com Motorrad Grand Prix Deutschland, moving up to second in the overall classification in front of 93,748 motorbike racing aficionados. The Italian led a pack of four of which any rider was in with a chance for the win up to the final corner, the most prominent of whom was compatriot Marco Melandri.
This was one of the great MotoGP races. Fought at high intensity for 30-laps the action never let up and it was Valentino Rossi (Yamaha) who eventually prevailed over Marco Melandri (Fortuna Honda RC211V) in second and series points' leader Nicky Hayden (Repsol Honda RC211V) who was third.
In beating heat with track temperature at an elevated 38 degrees, this battle was as tough on riders as it was gripping for the sell-out 90,000 crowd. It was Dani Pedrosa (Repsol Honda RC211V) who led the pack into turn one with Kenny Roberts (Roberts KR211V) heading Hayden and Makoto Tamada (Konica Minolta Honda RC211V) in fourth.
Rossi had started the race from down in tenth spot on the grid after disappointing in practice, and it was left to the Repsol Honda duo Nicky Hayden and Dani Pedrosa to make the early pace. They fought amongst themselves and the front two for the entire race, taking turns in leading. With fourth-placed Pedrosa finishing just over three hundredths of a second behind Rossi, it was an indication of just how close the finish really was.
But then Nicky hit the front at the big downhill left-hander taking both Dani and Kenny in one bite. Tamada was also showing the sort of form that was once his trademark, hoisting himself to third at the same spot. This was where nearly all the overtaking action would take place.
Melandri then took Tamada for third at that same place before Makoto re-passed him at the final uphill left before the start/finish straight. Melandri was going hard at it setting a fastest lap on lap three, but Tamada was letting no one go.
It was Dani's turn to set a fastest lap on lap four when he circulated the 3.671km rollercoaster in 1m 23.355 seconds. The order was Hayden, Pedrosa, Melandri, Tamada, Rossi and Roberts. Loris Capirossi (Ducati) was hanging onto them, but he would soon be dropped.
Tamada and Melandri both refused to yield third to each other swapping the position on each lap for three consecutive circuits, until Melandri moved past permanently on lap eight, then to second on lap nine to then take the lead from Nicky on lap 11 at turn one.
Pedrosa now lay second as Rossi moved to third past Tamada at that fast downhill left. At the final turn on that same lap Roberts lost the front-end of his machine on the inside and took out a blameless Tamada when his downed bike slid to the outside. Both riders were uninjured. One former World Champion was extremely apologetic.
Now it was a four-way fight. And Rossi wasted no time in stealing second from Dani. As the fast four circulated, they knew it was close enough for the final lap to be the only that mattered.

Hayden and Pedrosa try a dramatic last lap, last corner attempt to repass Rossi.

Even the penultimate lap itself became a desperate shuffle for prime position as the last lap loomed. Dani and Nicky tangled at the tight Omega turn while Rossi again used the big downhill to take the lead from Marco and try to hold it on the final lap.
Try as his three rivals did, none of them could make a pass stick at the end. Despite Melandri actually getting his front wheel ahead twice, he never had the track position to keep it there. The four crossed the line with just 0.3 seconds covering them. Dani in fourth at least had the consolation of setting a new lap record way back on that fourth lap. Fortuna Honda's Italian rider, racing with a fractured collarbone, was just unable to hold out on the final lap having cheekily dived through just a lap before. As the young pretender made a daring manoeuvre to pass Rossi on the fastest corner on the circuit, the reigning World Champion bravely held firm and subsequently closed the door on the final two bends to close out a thrilling win.
Loris Capirossi headed a trailing twosome of himself and Shinya Nakano, whilst Chris Vermeulen and Sete Gibernau completed a pack of Bridgestone riders. Carlos Checa and John Hopkins rounded off the top ten.
There was heartbreak for Makoto Tamada on lap thirteen, as the Konica Minolta rider was caught up in a crash with Kenny Roberts whilst on flying form, challenging for the top positions in a fearless display. Tamada became entangled in Roberts' bike, but was able to escape without serious injury.
Rossi celebrated in his own inimitable style, donning an Italian football shirt adorned with the name of controversial star Marco Materazzi. He now trails Hayden in the championship by just 26 points, heading into the American's home race at Laguna Seca.
Casey Stoner was forced to miss the race having suffered a crash during the morning warm-up. LCR Honda's Australian rider was diagnosed with a concussion and bruising of the hands.
Results MotoGP: (30 laps = 110.13 km)
Pos/ Rider / Nat / Team / Motorcycle / Time/ KM/H / Gap
1 / Valentino ROSSI / ITA / Camel Yamaha Team / YAMAHA / 41'59.248 / 157.375 /
2 / Marco MELANDRI / ITA / Fortuna Honda / HONDA / 41'59.393 / 157.366 / 0.145
3 / Nicky HAYDEN / USA / Repsol Honda Team / HONDA / 41'59.514 / 157.358 / 0.266
4 / Dani PEDROSA / SPA / Repsol Honda Team / HONDA / 41'59.555 / 157.356 / 0.307
5 / Loris CAPIROSSI / ITA / Ducati Marlboro Team / DUCATI / 42'08.012 / 156.829 / 8.764
6 / Shinya NAKANO / JPN / Kawasaki Racing Team / KAWASAKI / 42'08.395 / 156.806 / 9.147
7 / Chris VERMEULEN / AUS / Rizla Suzuki MotoGP / SUZUKI / 42'15.856 / 156.344 / 16.608
8 / Sete GIBERNAU / SPA / Ducati Marlboro Team / DUCATI / 42'15.896 / 156.342 / 16.648
9 / Carlos CHECA / SPA / Tech 3 Yamaha / YAMAHA / 42'16.345 / 156.314 / 17.097
10 / John HOPKINS / USA / Rizla Suzuki MotoGP / SUZUKI / 42'17.034 / 156.272 / 17.786
11 / Toni ELIAS / SPA / Fortuna Honda / HONDA / 42'26.673 / 155.68 / 27.425
12 / Colin EDWARDS / USA / Camel Yamaha Team / YAMAHA / 42'28.556 / 155.565 / 29.308
13 / James ELLISON / GBR / Tech 3 Yamaha / YAMAHA / 43'01.277 / 153.593 / 1'02.029
14 / Jose Luis CARDOSO / SPA / Pramac d'Antín MotoGP / DUCATI / 43'19.245 / 152.531 / 1'19.997
Pole Position: Dani PEDROSA 1'21.815 161.530 Km/h
Fastest Lap(New record): Dani PEDROSA 1'23.355 158.545 Km/h Lap 4
Circuit Record Lap: 2005 - Sete GIBERNAU 1'23.705 157.883 Km/h
Circuit Best Lap: 2006 - Dani PEDROSA 1'21.815 161.530 Km/h
World Championship Positions:
1 HAYDEN 169, 2 ROSSI 143, 3 PEDROSA 140, 4 MELANDRI 134, 5 CAPIROSSI 118,
6 STONER 91, 7 EDWARDS 77, 8 NAKANO 67, 9 ROBERTS 66, 10 HOPKINS 64,
11 TAMADA 59, 12 ELIAS 58, 13 GIBERNAU 52, 14 VERMEULEN 46, 15 CHECA 44.
250cc GP to Takahashi on Honda
Yuki Takahashi took his second 250cc victory of 2006 after a sensational final corner move. The Japanese rider hadn't led the field at any point up until the ascending turn, and had caught up with de Angelis on a sensational last lap. The win represents Honda's 200th victory in the quarter litre category.
The result was cruel to de Angelis, who had led the race since lap nine, at one point looking to be out of the reaches of the trailing pack. The San Marino native tried to regain the lead on the line, but with his front wheel lifting was unable to take the top spot.
Jorge Lorenzo took third in the race, which puts him back on top of the 250cc World Championship. The Spaniard had a bad start from pole, but by lap two had regained the lead before battling first with de Angelis, then with Takahashi, Andrea Dovizioso and team-mate Hector Barbera. Dovizioso came in fourth, ahead of Barbera, Roberto Locatelli, Anthony West, Aoyama brothers Hiroshi and Shuhei, and Sylvain Guintoli.
Yuki Takahashi, Humangest Honda: 1st. "It's incredible! Another Takahashi rider won the first GP in 1961 on a 250cc Honda and I clinched the 200th success for the Japanese Manufacturer. This was a great satisfaction for me, it has been a very tough race. At the beginning I struggled a bit, I almost lost the front in the down-hill and I wasn't able ride as I would. Then I changed my riding style trying not to hang out too much from the bike. I did it and my rhythm improved. I caught Lorenzo and following him I could reduce the gap. But, he made a mistake and so I could pass him; I had only De Angelis in front of me. He was very fast but from behind I could study him and I understood I could beat him. My idea was to pass him at the first corner but I missed it and I get a bit confused. Then, I overtook him at the last turn and eventually win the race. The team did a great job and my bike was perfect, so that I could push until the end".
250cc Race Classification: (29 laps = 106.459 km)
Pos / Rider / Nat / Team / Motorcycle / Time / KM/H / Gap
1 / Yuki TAKAHASHI / JPN / Humangest Racing Team / HONDA / 41'30.350 / 153.894 /
2 / Alex DE ANGELIS / RSM / Master - MVA Aspar Team / APRILIA / 41'30.408 / 153.891 / 0.058
3 / Jorge LORENZO / SPA / Fortuna Aprilia / APRILIA / 41'31.363 / 153.832 / 1.013
4 / Andrea DOVIZIOSO / ITA / Humangest Racing Team / HONDA / 41'34.371 / 153.646 / 4.021
5 / Hector BARBERA / SPA / Fortuna Aprilia / APRILIA / 41'39.734 / 153.317 / 9.384
6 / Roberto LOCATELLI / ITA / Team Toth / APRILIA / 41'49.592 / 152.715 / 19.242
7 / Anthony WEST / AUS / Kiefer - Bos - Racing / APRILIA / 41'56.807 / 152.277 / 26.457
8 / Hiroshi AOYAMA / JPN / Red Bull KTM GP 250 / KTM / 41'56.957 / 152.268 / 26.607
9 / Shuhei AOYAMA / JPN / Repsol Honda / HONDA / 41'57.091 / 152.26 / 26.741
10 / Sylvain GUINTOLI / FRA / Equipe GP De France - Scrab / APRILIA / 42'00.971 / 152.025 / 30.621
11 / Alex BALDOLINI / ITA / Matteoni Racing / APRILIA / 42'15.104 / 151.178 / 44.754
12 / Franco BATTAINI / ITA / Campetella Racing / APRILIA / 42'15.413 / 151.159 / 45.063
13 / Manuel POGGIALI / RSM / Red Bull KTM GP 250 / KTM / 42'19.143 / 150.937 / 48.793
14 / Jakub SMRZ / CZE / Cardion AB Motoracing / APRILIA / 42'22.667 / 150.728 / 52.317
15 / Aleix ESPARGARO / SPA / Wurth Honda BQR / HONDA / 42'22.719 / 150.725 / 52.369

Pole Position: Jorge LORENZO 1'25.073 155.344 Km/h
Fastest Lap: Alex DE ANGELIS 1'25.284 154.959 Km/h Lap 3
Circuit Record Lap: 2004 - Sebastian PORTO 1'25.118 155.262 Km/h
Circuit Best Lap: 2005 - Alex DE ANGELIS 1'24.618 156.179 Km/h
World Championship Positions:
1 LORENZO 174, 2 DOVIZIOSO 172, 3 TAKAHASHI 133, 4 DE ANGELIS131, 5 AOYAMA 116,
6 LOCATELLI 114, 7 BARBERA 100, 8 GUINTOLI 65, 9 WEST 58, 10 SIMONCELLI 55,
11 AOYAMA 48, 12 DEBON 35, 13 SMRZ 34, 14 POGGIALI 31, 15 CARDENAS 28.
125cc: Race Classification: (27 laps = 99.117 km)
Pos / Rider / Nat / Team / Motorcycle / Time / KM/H / Gap
1 / Mattia PASINI / ITA / Master - MVA Aspar Team / APRILIA / 39'44.091 / 149.667 /
2 / Alvaro BAUTISTA / SPA / Master - MVA Aspar Team / APRILIA / 39'44.101 / 149.666 / 0.01
3 / Lukas PESEK / CZE / Derbi Racing / DERBI / 39'44.202 / 149.66 / 0.111
4 / Hector FAUBEL / SPA / Master - MVA Aspar Team / APRILIA / 39'53.389 / 149.086 / 9.298
5 / Simone CORSI / ITA / Squadra Corse Metis Gilera / GILERA / 39'53.463 / 149.081 / 9.372
6 / Thomas LUTHI / SWI / Elit - Caffe Latte / HONDA / 39'54.661 / 149.006 / 10.57
7 / Nicolas TEROL / SPA / Derbi Racing / DERBI / 39'55.926 / 148.928 / 11.835
8 / Mika KALLIO / FIN / Red Bull KTM GP 125 / KTM / 39'55.996 / 148.923 / 11.905
9 / Joan OLIVE / SPA / SSM Racing / APRILIA / 40'10.108 / 148.051 / 26.017
10 / Sergio GADEA / SPA / Master - MVA Aspar Team / APRILIA / 40'10.263 / 148.042 / 26.172
11 / Fabrizio LAI / ITA / Valsir Seedorf Racing / HONDA / 40'10.452 / 148.03 / 26.361
12 / Bradley SMITH / GBR / Repsol Honda / HONDA / 40'10.480 / 148.029 / 26.389
13 / Sandro CORTESE / GER / Elit - Caffe Latte / HONDA / 40'10.571 / 148.023 / 26.48
14 / Gabor TALMACSI / HUN / Humangest Racing Team / HONDA / 40'10.697 / 148.015 / 26.606
15 / Tomoyoshi KOYAMA / JPN / Malaguti Ajo Corse / MALAGUTI / 40'11.159 / 147.987 / 27.068

Pole Position: Alvaro Lukas PESEK 1'27.064 151.791 Km/h
Fastest Lap (New record): Alvaro BAUTISTA 1'27.519 151.002 Km/h Lap 10
Circuit Record Lap: 2004 – Hector BARBERA 1'27.680 150.725 Km/h
Circuit Best Lap:2006 - Lukas PESEK 1'27.064 151.791 Km/h
World Championship Positions:
1 BAUTISTA 205, 2 KALLIO 141, 3 PASINI 137, 4 FAUBEL 123, 5 GADEA 120, 6 PESEK 102,
7 LUTHI 80, 8 CORSI 70, 9 TALMACSI 65, 10 OLIVE 60, 11 LAI 50, 12 NIETO 50,
13 SIMON 46, 14 DE ROSA 28, 15 KOYAMA 24.
---


BMW Introduces the new R 1200 R
BMW Motorrad is continuing a long tradition in the production of roadster motorcycles and is proudly presenting a worthy successor to the very successful R 1150 R.
We feel in love with BMW's latest GS1200R dual purpose touring bike when we took it on the incredible Edelweiss Western Alps Tour last year. If we could nit pick it at all, it was its tall off-road height and long travel suspension which we really didn't need for the street based riding we did. This new R 1200R with its street oriented suspension looks to be the perfect naked road bike -with the possible exception of this ugly gas tank. We like the styling of the GS1200 R tank much better.

With sales of the R 1150 R and R 850 R amounting to almost 60,000 units since 2001, there is obviously great demand for a motorcycle in classic design combining unique character with timeless elegance. It is equally obvious that the outstanding all-round qualities of the Roadster have contributed to the great success of this type of motorcycle in the market and will be borne out even more significantly in future by the R 1200 R. Indeed, this new Roadster takes up the general trend towards enhanced dynamics without neglecting the strengths of the basic concept, combining a significantly higher standard of agility with excellent all-round touring qualities.
The 1,200-cc power unit develops 80 kW/109 hp and thus exceeds the output of the former engine by almost 28%. This flat-twin power unit comes with the same level of development already boasted in the R 1200 RT, with the oil cooler on the new Roadster now fitted behind the wheel fork. The rear section of the tubular spaceframe has been specially developed for the Roadster, helping to give the entire rear end a light and nimble appearance and reducing the overall weight of the machine. Dry weight of BMW Motorrad's new R 1200 R all-rounder is therefore just 198 kg or 437 lb. In road trim and with a full tank, in turn, the new machine also remains very light at just 223 kg or 492 lb, much lighter than other four-cylinders in this market segment.
Benefiting from the most advanced technologies, the Roadster sets new standards in the market, once again underlining BMW's claim to leadership in road safety. And for the first time the new model features the new generation of BMW Motorrad Integral ABS, which may be combined as an option with ASC anti-spin control from 2007. TPC tyre pressure control warning the rider of a loss of pressure also while riding is currently being developed as a further feature
for superior safety.
Last but certainly not least, the particularly wide range of optional extras and special equipment allows the customer to personalise the design and features of this classic all-rounder.
The most significant features of the new R 1200 R at a glance:
• Excellent all-round qualities.
• Air-cooled flat-twin 1,170-cc power unit with balance shaft.
• Maximum output up almost 28% over the former model to 80 kW/109 hp at 7,500 rpm.
• Maximum torque up almost 17% over the R 1150 R to 115 Nm/85 lb-ft at 6,000 rpm.
• BMS-K electronic engine management with dual ignition, anti-knock control, oxygen sensor, and fully controlled three-way catalytic converter.
• Light and stable, two-piece tubular steel frame.
• Stiff Telelever with sensitive response and a high standard of steering precision.
• Excellent handling, supreme directional stability.
• EVO Paralever with light drive shaft.
• ESA Electronic Suspension Adjustment as an option.
• Dry weight 198 kg/437 lb, overall weight with full tank in road trim 223 kg/492lb.
• High-performance brake system.
• New BMW Motorrad Integral ABS with automatic stability control ASC (both available as an option).
• Dynamic, modern but timeless design.
• Particularly wide range of accessories.
---
Colin and Nori with the factory Yamaha R1 SP they will be racing at the Suzuka the end of this month. With his lack luster performances in MotoGP this season, Colin just might be returning to Superbike full time next season, possibly for American Yamaha?
He needs a top finsih at Suzuka to secure a Superbike ride next year.
EDWARDS AND HAGA REUNITE FOR SUZUKA EIGHT-HOUR
Yamaha has finalized its plans for round five of the 2006 Endurance World Championship, the Suzuka 8-hour race held at the Japanese circuit on 30 July. A three-team entry will be headed by the YAMAHA BLUE RACING team, which will feature riders Colin Edwards and Noriyuki Haga riding a specially prepared YZF-R1 SP. The event will mark a reunion of the rider pairing which won the event in 1996, when they rode a Yamaha YZF750SP.
Edwards is currently riding a Yamaha YZR-M1 for the factory's MotoGP team and is seen as one of the most consistent riders in the class. The American has won the Suzuka 8-Hour three times and the Superbike World Championship in 2000 and 2002.
Haga is currently second in the Superbike World Championship, where he competes on a Yamaha YZF-R1 for the Yamaha Motor Italia squad. It will be Haga's first entry in the 8-hour since 2001.
The other two factory-supported entries are the YSP Racing Team sponsored by PRESTO Corporation and Team Cha-llenger. The YSP Racing Team sponsored by PRESTO Corporation will enter the pair of Katsuyuki Nakasuga, who is competing this season in the JSB1000 class of the All Japan Championships, and Shinichi Nakatomi, who rides for Yamaha Motor France in the Superbike World Championship.
Team Challenger will enter with riders Norihiko Fujiwara, who has ridden in the 8-hour almost every year since 1992, and Nobuyuki Osaki, a Japanese supersport championship competitor.
Many of the Endurance World Championship regulars will also make the trip to Japan, including Yamaha Austria Racing Team and Yamaha Phase One Endurance, who are currently second and fifth in the championship.
Fast Dates Calendar Motorcycle Roadracing News. Complete coverage of the SBK World Superbike, AMA National Superbike and MotoGP World Championship. Superbike, SBK, FIM, AMA, American Superbike, superbike planet, American Roadracing, sportbike, grand prix, MotoGP, race, racing, news, superbike news, sport bike, motoGP news, photography coverage, photos, pictures, Fast Dates Calendar and Umbrella Girls. Racing, road race, track, motorcycle, news, results, girls, models, Mat Aladdin, Max Biaggi, Valentino Rossi, Troy Baylis, Ben and Eric Bostrom, James Toseland, Chris Vermeulen, Maria Sharapova, Kristen Bell, Regis Laconi, Loris Capirossi, Troy Bayliss, Troy Corser, Noriyuki Haga. Ducati 999 Monster Multistrada, Yamaha R6 R1, Honda CBR600RR CBR1000RR, Kawasaki ZX6 ZX6RR ZX10, Suzuki GSXR600 GSXR750 GSXR1000, Aprilia Mille, MZ Agusta F4 Brutale. Los Angeles Calendar Motorcycle Show.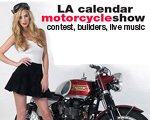 July 15-16th in Long Beach
World's Richest Bike Contest includes Sportbikes and a
$70,000 Purse! Win Exhaust Systems from Jardine, Vance & Hines, compete in the Jardine World Record Horsepower Dyno Shootout and our new Burnout Contest!
New 2007
Fast Dates Racebike,
Iron & Lace Custom
& Garage Girls Calendars
Click to Order Now!



Ducati to Unveil New Superbike at Laguna Seca
12:30-1:00pm - NEW 2007 Ducati Superbike launch – located on Ducati Island. Come and join the Parts Unlimited Ducati Team as Ducati unveils a new 2007 Superbike model. This event is open to everyone.

Will this be a mildly restyled 999 Testastretta? Or will it be the all-new chassis design that is expected to be revealed in the fall of 2007 with the new 2008 season 1200cc desmo Superbike engine, but possibly with the current 999 engine to carry it through until then?
Stay tuned here for the first pictures and innformation to be revealed hereon Monday the 24th.
Friday-Sunday: Ducati Island – located on the infield and with a host of events planned that are all related to Ducati and Ducati owners. This is the eighth year of Ducati Island, and is the largest annual organized gathering in North America of Ducati owners. The island is open Friday through Sunday from 9-6. Activities will include autograph signings with Doug Polen, Frank Scurria, Paul Smart and both the MotoGP and AMA teams, as well as the Ducati Garage Challenge, a Museo filled with some significant bikes, hospitality and many other events.
2007 MotoCzysz C1 Unveiling Planned For
Red Bull USGP
Portland, Oregon June 23, 2006: MotoCzysz, America's newest motorcycle manufacturer has chosen the 2006 Red Bull USGP, July 21-23, for the official unveiling of their next generation C1 factory road race bikes. The new MotoCzysz C1 race bikes that will see competition in 2006, will be displayed at the MotoCzysz GP paddock inspired exhibit located in the manufacturers' area of Mazda Laguna Seca Raceway in beautiful Monterey, California.
"There is little time to appreciate what you have designed, once a design is complete you immediately start work on how to make it better. It is a relentless but seductive process." Says Michael Czysz, Chief Designer/ CEO "MotoCzysz has now realized a significant part of our dream, it will be my honor to present our first official race bike at the USGP, this motorcycle will be the most advanced and
capable motorcycle ever made in America."
Based on the successful proof of concept prototype, the next
generation C1 is a no holds barred American bred contender. The world class team of designers and engineers has evolved the proprietary and
radical new technologies from the original prototype to make the C1 a true, competitive race bike. The stunning new C1 will be proudly displayed, in full race trim, to feed the eyes and ears of the thousands of fans in attendance.
The MotoCzysz GP paddock inspire exhibit will also offer a new line of official MotoCzysz men's and women's apparel available for purchase. Fans are invited to stop by to see the new MotoCzysz C1, pick up a limited edition poster and experience the MotoCzysz
lifestyle. Michael Czysz and Engineers will be on hand for scheduled Q&A sessions.
MotoCzysz, an American motorcycle company producing the most advanced, high performance motorcycles made in the U.S.A. The world
class team of designers and engineers has produced innovative solutions that have been awarded US and world wide patents, including a patent for a high performance counter rotating, twin crank combustion engine. For more information, visit motoczysz.com. For investment opportunities please write info@motoczysz.com.
Haga and Corser lead
3-day Pirelli World Superbike Test in Germany
Rome, Monday 17th July 2006 - EQUAL ON TIMES BUT HAGA EDGES THE GLORY The SBK development teams enjoyed a fruitful three days test session at Eurospeedway Lausitz, evaluating the latest crop of Pirelli tyres at the self-same track they will race on when the SBK series stops off in Germany in September.

Both race tyres and qualifying rubber were tried out at Lausitz, by teams representing all of the major manufacturers involved in both SBK and World Supersport championships.

Fastest overall - in both race and qualifying trim - proved to be Yamaha rider Noriyuki Haga (Yamaha Motor Italia). He had his best qualifying tyre time (1'37.6) matched by Troy Corser (Alstare Suzuki Corona Extra) but went marginally faster than the Aussie rider on race rubber, edging ahead in the final analysis. Haga's best race tyre time was also matched by Troy Bayliss (Ducati Xerox), who was third quickest with a qualifying set-up, having made two long runs on race rubber to test ultimate tyre endurance. The Ducati team broke off testing early, having completed their planned body of work.

The best SBK lap previously recorded (in qualifying trim) was 1'39.019, the race lap record being 1'39.679. Only four riders failed to beat the previous best qualifying best at some stage of the test.
FAST STARTER KEEPS IT UP Haga proved to be equal quickest out of the blocks on day one, taking the joint fastest time with Bayliss after a single day of action, and kept up the good pace from then on, eventually beating his own personal best Lausitz race lap by 1.5 seconds, with a race tyre fitted.
On day two, Bayliss and Andrew Pitt (Yamaha Motor Italia) were the new fastest riders, until the final day reduced the best times still further.
The Winston Honda Ten Kate squad of James Toseland and Karl Muggeridge spent large amounts of time working with their new electronics packages, and this contributed to each not breaking through the 1'39 barrier, with the English and Aussie riders setting an identical best time of 1'39.0, while using race tyres. Toseland did not improve this on qualifying tyres, while Muggeridge did not use a qualifier. The next port of call for all involved is Brno, for round seven, on 23 July.
WORLD SUPERPSORT In the Supersport class, the planned appearance of injured championship leader Sebastien Charpentier (Winston Ten Kate Honda) proved to be optimistic, despite his assertion that he will ride at Brno in the forthcoming race weekend.
The Supersport pace was nonetheless as blistering as expected, with Kevin Curtain and Broc Parkes (both Yamaha Motor Germany) scoring the quickest times, comfortably under the previous Brno WSS best of 1'42.017.
TIMES
SBK - R = Race Tyre, Q = Qualifying Tyre
Noriyuki Haga (Y)
R 1'38''2, Q 1'37''6
Troy Corser (S)
R 1'38''4, Q 1'37''6
Troy Bayliss (D)
R 1'38''2, Q 1'37''8
Andrew Pitt (Y)
R 1'38''3, Q 1'38''1
Lorenzo Lanzi (D)
R 1'39''0, Q 1'38''5
Yukio Kagayama (S)
R 1'38''4, Q 1'38''6
James Toseland (H)
R 1'39''0, Q 1'39''7
Karl Muggeridge (H)
(H) R 1'39''0, NO Q
Chris Walker (K)
(K) R 1'39''5, Q 1'39''2
Fonso Nieto (K)
R 1'39''7, Q 1'39''5
Steve Martin (P)
R 1'40''1, Q 1'40''1
Craig Jones (P)
R 1'40''5, NO
Sachsenring Side Bar
Whilst Rossi was able to rescue a dismal situation in practice at the Sachsenring and turn it into a 1st Place vistory, unfortunately the same could not be said for his team-mate Colin Edwards, who was unable to make any further progress with his bike setting in the morning warm-up and struggled to eleventh place.
COLIN EDWARDS (11th; + 29.308) "What can I say? I guess I'm just slow around here. The guys worked their butts off all weekend trying to give me something but we simply couldn't get the bike working and I never had the pace. It looked like Valentino was in the same situation but today he pulled out something like his 700th miracle and you can only take your hat off to a great champion. We changed some things for the warm-up this morning but I wasn't comfortable so we went back to the setting from yesterday, which we knew wasn't ideal either. The first few laps were okay but I struggled to pass Toni Elias and by the time I got past him we were way back. From there on it was just a battle to keep the bike on the track and there wasn't much more I could do but bring it home."
DAVIDE BRIVIO – CAMEL YAMAHA TEAM DIRECTOR"Valentino was unbelievable today, fantastic. This was a very important victory for the championship because we've collected a lot of points but more than that it is a big psychological boost to win a fight in this way. This victory is a fruit of the hard work from the engineers, the team and Valentino – we have a great group of people here and they never give up. We always try to win races and today Valentino made it possible. Colin wasn't able to recover a difficult situation but now he has seven days before getting a big chance to turn things around in his home Grand Prix."
Marco Melandri, Fortuna Honda: 2nd With one lap to go I said to myself, 'try, you can do it' and I stayed on the brakes so hard when I could, but then in the last two corners Valentino closed the door. It was fun but it's still hard to have to say to yourself 'second will do here'. As the fuel load lightened the bike got better and I know if I can fight like that every Sunday then I will win again."
Nicky Hayden, Repsol Honda: 3rd. "We had a good battle today and I really enjoyed it. Everybody rode well and fought hard and nobody gave an inch. Towards the end I knew these guys were going to fight it out so I thought I had a good chance to get in front. On the last lap I thought Marco would go up the inside and maybe open the door at the bottom of the hill and that's what I was planning on at the end. I'm not completely satisfied with third because this is a good track for me and I thought I had a shot at the win today, but I enjoyed the battle. The other guys did a great job and also a big thanks goes to everybody in my team. Though we couldn't quite get off the corners quick enough today, at other spots on the lap the bike was really good. Now I'm really looking forward to going home – and I'm proud to be going to Laguna leading the points. We'll definitely be trying to get 25 more there."
Dani Pedrosa, Repsol Honda: 4th. "It was a good race between all four riders at the front but unfortunately I finished at the back of the group, so of course I feel a little bit disappointed. I was quick for most of the lap except in the downhill corner near the end of the lap where I was losing too much time. I will have to improve myself in the overtaking places because I tried hard in this race to not be overtaken and also to overtake the others, but it was not quite enough. I think I was actually faster than the others, however I wasn't able to get to the front and that's why I couldn't show my true speed today. Still, the season is going well and I'm pretty happy with most of my performance today."
Toni Elias, Fortuna Honda: 11th. "Our objective was to finish the race so I'm satisfied with my perforance considering my physical condition. I raced with pain killing injections but after eight laps I began to suffer a lot. The solution was to push hard then relax – push hard then relax. Racing that way is very hard especially on a physical track like this one."
Casey Stoner, LCR Honda: Casey did not race following a crash in the morning warm up. "I made a small mistake in the warm-up and crashed, but there was absolutely no problem with me -- physically or mentally -- I was capable of racing today. I was cleared by the scans, and it is very disappointing the circuit doctor would not allow me to race. I really feel that I had very strong chance of scoring points here after a very positive practice on the updated chassis which HRC supplied to the team. It's frustrating and all I can do now is try and regroup for Laguna Seca next week. I've never been to America so that should be cool."
Makoto Tamada, Konica Minolta Honda: dnf – crash. "When I saw Kenny Roberts Jr. hitting me from the inside I was nearly desperate because up to that point I was racing well. I had a good start, immediately making up five positions and reaching the first corner in fourth place. I had no problem to turn at the leading group pace and I think overtaking Melandri and Rossi can be a demonstration. Kenny's error deprived me of the possible good result; I'm sorry for the KONICA MINOLTA Honda Team staff because even today the bike was really fast. I suppose I'll have no physical problems and I'll be present at Laguna Seca."
Kenny Roberts Jnr, KR Honda: dnf – crash. "When I crashed it was at the time I needed to make a move to stay with the leaders. But I got boxed in when I went under Tamada on the brakes. Nicky (Hayden) was on the out side and closing so I had to carry the brakes into the corner longer than I wanted to, I didn't want them to get away and I lost the front end. It was an aggressive kind of race today. I'm really sorry I collected Tamada, we spoke about it and he's OK with me about it."
Bridgepoint takes shareholding in sports business Dorna, the owner of MotoGP
Tuesday July 18th 2006 - Bridgepoint has reached a binding agreement with CVC and Dorna, the sports business, to replace CVC as a shareholder in the company. Dorna has the exclusive rights to promote and manage MotoGP (the Motorcycle Road Racing World Championship). The value of the transaction is undisclosed.
William Jackson, Bridgepoint managing partner, said:
"Bridgepoint has followed Dorna for some years and is pleased to take over as its principal shareholder at an exciting time in the development of the motorcycle world championships. Dorna has an outstanding management team which has the passion, commitment and ability to continue the successful development of a unique sports business with an unrivalled heritage."
Carmelo Ezpeleta, Dorna CEO, said: "I am delighted to have Bridgepoint as a partner for the next phase in the development of Dorna and I am sure that they will make a significant contribution to the growth of the business."
The FIM (Fédération Internationale de Motocyclisme) has been informed about the transaction. The transaction is subject to approval by the relevant competition authorities.
CVC were advised by JPMorgan, and Bridgepoint were advised by 360 Corporate and Société Générale Corporate & Investment Banking.
Notes: 1. Bridgepoint is a European private equity firm focussing on the acquisition of companies valued up to €750 million. With €6 billion under management, it typically focuses on acquiring well managed companies in attractive sectors with the potential to grow organically or through acquisition. See www.bridgepoint.eu.
In January 2006 Bridgepoint sold its stake in Spanish wind farm developer and operator CESA following an offer for the entire company which valued the business at €1.47 billon.
2. CVC is an independent private equity group, which advises funds of over Eur 16.8 billion in Europe and Asia. CVC's last fund of Eur 6 billion (US$7.2 billion) CVC European Equity Partners IV, is one of Europe's largest private equity funds. CVC operates an integrated European network of 12 offices, run by an experienced team of 62 investment professionals led by 16 partners. In Spain, CVC has closed 11 significant transactions including the acquisition of Cortefiel for Eur 1,450 m, Mivisa (€550 m), the acquisition of the high voltage transmission network of Iberdrola (Eur 806 m), or the buy-out of Torraspapel (Eur 602 m).
British Superbike
Knockhill Raceway
Victory for
Kiyonari and Shakey
July 16th - Honda's Ryuichi Kiyonari and Rizla Suzuki's Shane 'Shakey' Byrne won the second race at a sun-drenched Knockhill circuit in Scotland at the eighth round of the Bennetts British Superbike Championship to end a 22-month drought of victories for the team.
Shakey led the opening race and enjoyed a three-way scrap for the win, eventually finishing second just behind Honda's Ryuichi Kiyonari. In the second race the Rizla Suzuki ace led from start to finish. He performed a wheelie the length of the straight in celebration as he received the loudest cheer of the weekend from the huge crowd.
The last time Rizla Suzuki won a race was at Oulton Park in September 2004 when John Reynolds was on his way to claiming the British Superbike title.
Shakey was the lone Rizla Suzuki racer at Knockhill as his team mate James Haydon missed the event while he continues to recuperate from the foot and shoulder injuries he sustained in a crash at Snetterton in Norfolk four weeks ago.
Rizla Suzuki will replace James with a stand in rider at the ninth round of the British Superbike Championship at Oulton Park in Cheshire next weekend. James will attend Oulton Park to support the team. Superbike racing starts at 1315 on Sunday, July 23rd and will be televised on ITV1 at 1500 and Sky Sports at 2100.
Shakey:
"Everybody has been telling me how much Rizla Suzuki needed a win and I knew how important it was for the team. What people didn't realise is just how much I needed to win as well; it has been a long time since I topped the podium and led a race from start to finish.
"A massive thank you to my team for all the support - they made the difference today. In the first race I was always in contention but had to be content with second. My crew made some inspired changes to the bike in between the races and in the second race I managed to break away for the win.
"It's been a mega day for Rizla Suzuki, for me and for the Scottish fans. To win the Steve Hislop Memorial for the fastest lap is a real bonus as well. I couldn't be much happier and can't wait to get to Oulton Park to see if I can do it all again. I don't normally drink but I'll be having a few this evening to celebrate!"
***Hear what Shakey personally has to say about his maiden win for Rizla Suzuki by visiting www.rizla-suzuki.co.uk and clicking on the multimedia section.
Robert Wicks, Team Manager:
"Well done Shakey and Rizla Suzuki for this win, it has been a long time coming. We have had some bad luck recently but through sheer effort and will power we have turned things around for a fantastic result.
"Shakey and the team have shown their true class and this result is not only for them, it is for Rizla, Suzuki, all our sponsors and all of the fans who have stuck with us through thick and thin. Thank you one and all, we hope we can continue in this vein for the rest of the season.
"The weather has been warm and dry for the second year in a row at Knockhill and the racing has been nothing short of spectacular. A lot of credit must go to the circuit staff for their enthusiasm and drive to make the event a big success; it has been a pleasure to race here.
"Now we will go back to the team HQ to prepare for next week's ninth round of the Championship. There is a lot of work to be completed in a short space of time and we hope today's results will provide us with strong momentum through the second half of the season."
Race One Results: 1: Ryuichi Kiyonari (Honda) 24:34.062, 2: SHANE BYRNE (RIZLA SUZUKI) +0.591, 3: Leon Haslam (Ducati) +1.461, 4: Jonathan Rea (Honda) +2.361, 5: Michael Laverty (Honda) +15.458, 6: Craig Coxhell (Kawasaki) +19.204, 7: Karl Harris (Honda) +19.657, 8: Tommy Hill (Yamaha) +20.093, 9: Glen Richards (Honda) +20.185, 10: Scott Smart (Suzuki) +20.246.
Race Two Results: 1: SHANE BYRNE (RIZLA SUZUKI) 24:28.093, 2: Rea +3.154, 3: Haslam +3.454, 4: Hill +16.542, 5: Laverty +16.783, 6: Harris +19.155, 7: Smart +19.243, 8: Richards +20.265, 9: Coxhell +21.543, 10: Michael Rutter (Honda) +27.247.
Championship Standings after eight of 13-rounds: 1: Lavilla 244, 2: Haslam 233, 3: Kiyonari 224, 4: SHANE BYRNE (RIZLA SUZUKI) 150, 5=: Harris 129, Rea 129, 7: Laverty 118, 8: Hill 108, 9: Rutter 99, 10: Smart 74, 16: JAMES HAYDON (RIZLA SUZUKI) 36.