LA Calendar Motorcycle Show producer Jim Gianatsis with FastDates.com Calendar Kittens Cora Skinner, Playboy Playmates Athena Lundberg and Tamara Witmer.

A Bigger Purse than an AMA National - $70,000 in Cash and Awards at the
The Biggest & Best Custom & High Performance Street & Sportbike Event in America!

Performance Machine presents the
15th Annual 2006 LA Calendar Motorcycle Show Weekend
America's Premier Custom & Performance Motorcycle Show
Again Blows the Lid Off Long Beach
The Queen Mary, Long Beach, CA July 15-16th, 2006 - The 15th annual Los Angeles Calendar Motorcycle Show Weekend presented by Performance Machine and produced by Jim Gianatsis of Giantsis Design Associates held annually every 3rd weekend in July at the Queen Mary Event Park in Long Beach / Los Angeles continued to kick out all the stops again this year despite the long summer heat wave and the current attendance slump at most other motorcycle events to uphold the Calendar Shows' well earn reputation as the biggest and most exciting Custom and Performance Street Motorcycle Show in America. The expanded Queen Mary Event park venue which has spilled out from the beautiful grass park alongside the Pacific Ocean into the Queen Mary parking lot again was again sold out of exhibitor space and standing room only for spectators both days, hosting 180 major custom bike and product manufacturers, top name custom bike builders and selected venders from across America. Coverage Continues HERE....
---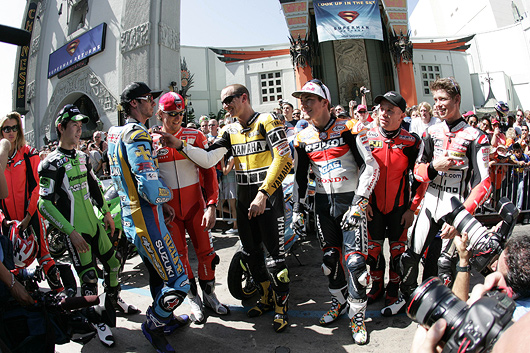 MotoGP Riders Burn the Asphalt Carpet in Hollywood
Hollywood, CA, July 19th - Some of the top factory riders played their part in introducing MotoGP to Hollywood yesterday ahead of this week's United States Grand Prix, joining fellow MotoGP riders in a spectacular parade up Hollywood Boulevard. Colin Edwards (Yamaha) , riding a specially-prepared YZF-R6 in the famous yellow, white and black 'Anniversary' livery carried by Yamaha at last year's US Grand Prix, joined Nicky Hayden and Casey Stoner (Honda), Shinya Nakano (Kawasaki), John Hopkins (Suzuki), and Sete Gibernau (Ducati), as well as ex-racer Randy Mamola on-board Ducati's two-seat MotoGP bike, to ride up the famous street and perform for the crowds in front of the famous Gruman's Chinese Theatre.
The riders then took part in a press conference and interviews for the US media at the Roosevelt Hotel, before attending the first screening of the new MotoGP movie, The Doctor, The Tornado and The Kentucky Kid at Paramount Studios. The movie is centred around last year's United States Grand Prix and both Edwards and team-mate Valentino Rossi play a starring role.
"It was quite strange to be riding a bike up Hollywood Boulevard, but it was fantastic how many fans turned out to see us!" commented Edwards. "The turnout yesterday showed how MotoGP is growing in popularity here in the US and it was really special for us American riders to come home and get that kind of welcome. The movie is great, I really enjoyed it and re-living last year's race again has just brought home to me how much I want to win this year! We've got to build on last year's result and the only way we can do that is by winning! I can't wait till Sunday; I'm putting on my boxing gloves and I'm going come out fighting the second those lights go out!"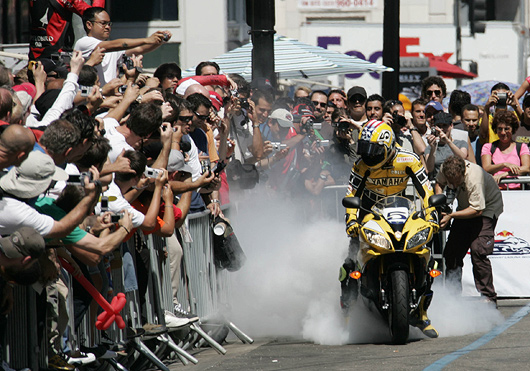 ---
A jubliant Nicky Hayden in Pit Lane after securing another Laguna Seca win and extending his lead in the MotoGP Championship.


MotoGP World Championship, Red Bull US Grand Prix, Round 11 of 17
Nicky Hayden Returns Another Home Victory at Laguna Seca
Laguna Seca, CA, July 21-23rd -Nicky Hayden (Repsol Honda RC211V) won his home race for the second consecutive year here at Laguna Seca, his team-mate Dani Pedrosa (Repsol Honda RC211V) finished second and another Honda star Marco Melandri (Fortuna Honda RC211V) was third as the factory completed a clean-sweep of podium places.
This was an intense race. Intense because of the heat – a 62-degree track temperature, intense because of the importance of this race in terms of where it falls in the World Championship calendar, and intense because of the nature of the track and the raw qualities needed to succeed here.
This is the first time a rider who didn't qualify on the front row has won here. But it was clear from the start that Hayden, who only qualified sixth fastest, was in no mood to be denied in his own backyard. He rocketed into third place at turn one, but then cleverly took his time to settle into a race rhythm that would get the only result he wanted when front runner Chris Vermeulen suffered problems with his factory Suzuki.

Preview: MotoGP Set for Crucial Clash at Red Bull U.S. Grand Prix
After one of the most exciting races of the season in Germany, the MotoGP tour heads to Laguna Seca for the eagerly anticipated Red Bull U.S. Grand Prix. The Sachsenring clash proved to be the ideal build-up for the eagerly awaited American race, as the top four in the overall classification battled amongst themselves for the victory right up to the breathtaking climax, with reigning World Champion Valentino Rossi eventually taking the win.
It is home rider Nicky Hayden, however, who enters the Californian race at the top of the leaderboard. The Kentucky Kid earned his first MotoGP victory last year at the circuit, and his experience of the twists and turns of Laguna Seca could prove invaluable if he is to repeat the achievement this year. This season is Hayden's best chance of taking the title, with everyone aware of the importance the race holds.
Victory at Sachsenring pushes Valentino Rossi into second place overall, piling the pressure on Hayden at the top. He lies 26 points behind his American rival and, although he will be unable to leapfrog into the top spot next weekend, a win would further close the gap and provide a huge psychological advantage for MotoGP's man-to-beat.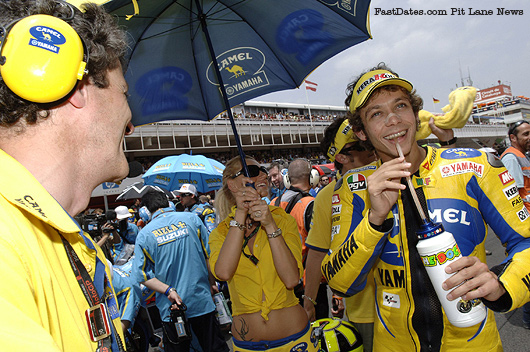 The prince of MotoGP has overcome much adversity this year and intends to keep his crown. A win or finish ahead of points leader Hayden at Laguna is imperative to help close the gap.

Rossi himself will have to be looking over his shoulder though, as two of MotoGP's young pretenders to his throne also arrive at the race in fine form. Rookie sensation and reigning 250cc World Champion Dani Pedrosa will be making his debut on American soil, and will have a steep learning curve to overcome if he is to challenge for glory. Behind him, gutsy Italian Marco Melandri will be putting forward his case for the title. The Fortuna Honda rider has been racing with a fractured collarbone for the last few races, previously unbeknownst to him, and has been astonishing spectators with a string of impressive finishes.
Loris Capirossi is fifth in the standings, ahead of Australian rookie Casey Stoner and American rider Colin Edwards. The Yamaha factory team rider has a superb pedigree at Laguna Seca, and was last year's second place finisher. After a couple of inauspicious finishes, his home race is an ideal occasion for the Texan Tornado to turn around his season.

Newly Revised Laguna Seca Circuit
MotoGP returned to the US for the first time in 10 years for the Red Bull U.S. Grand Prix at Mazda Raceway Laguna Seca last July, with a fairy-tale first GP win for American Nicky Hayden. The Californian track played host to Grand Prix events from 1988 to 1994 but advancements in MotoGP racing machines required the event to be moved elsewhere while the track was modified and adapted to meet present day safety requirements.
Since December 2004 the circuit has undergone major changes, primarily to increase track safety. The first phase of modernisation included an expanded exit lane, replacement of the kerbs and widening of the main straight, whilst more recent changes involved moving back walls to create bigger run-off areas. The circuit's principal features, such as the infamous 'Corkscrew', remain the same, with 3,61 km (2.243 miles) of track and 11 curves. Much of the cost for the millions of dollars in renovations to the circuit was paid for by American Yamaha.
Practice sessions for the Red Bull U.S. Grand Prix kick off on Friday at 10am local time (GMT-7, CET-9), with qualifying on the Saturday afternoon. The race itself takes place on Sunday at 2pm.

Kenny Roberts Jr on the KR Honda leads Casey Stoner through the Corkscrew.

Kenny Roberts Jr - Fastest in Friday Free Practice
Red Bull U.S. Grand Prix - Friday 21st - With the paddock packed with MotoGP fans enjoying the blazing Californian sunshine, the teams and riders got down to the important task of opening their preparations for Sunday's Red Bull U.S. Grand Prix.
Kenny Roberts Jr. showed no signs of letting up the pace at his home track, topping the timesheets in both free practice sessions today. The American who rides for his father's 'Team Roberts' set-up clocked a time of 1'23.859, the only rider to go round in under 1 minute 24 seconds in the entire day.
Nicky Hayden, victor at Laguna Seca last year and current leader of the World Championship, was 0.266 seconds behind him in second, with team-mate Dani Pedrosa getting to grips with the track early to come in third. Marco Melandri, Chris Vermeulen and Colin Edwards rounded off the top six, ahead of Makoto Tamada, Toni Elias, Casey Stoner and John Hopkins.
A few riders, including World Champion Valentino Rossi and rookie sensation Casey Stoner, were caught out by the circuit's world-renowned Corkscrew turn on day one at the track, both running off into the gravel but being able to continue unharmed.
There was a big surprise for Nicky Hayden after his first practice session at Laguna Seca, as his racing idol Bubba Shobert paid a visit to the World Championship leader's pit garage. The Repsol Honda rider was greeted by the dirt-track legend in his pit after the morning session, and was the recipient of much admiration from the three time American dirt-track and once AMA Superbike champion. Hayden and Shobert had a friendly conversation and exchanged helmets.
Saturday the Mazda Raceway Laguna Seca plays host to the qualifying session for the Red Bull U.S. Grand Prix, with free practice in the morning at 10am, and the qualifier at 2pm.


Vermeulen Scorches Suzuki to Pole at Laguna Seca,
Edwards and Roberts join him on front row as the new track comes apart
Saturday 22nd - The MotoGP paddock was the scene for a minor heatwave today, adding to the pressure cooker atmosphere of the World Championship title chase. To make matters worse for the riders battling for the title, taking pole position today was one of the riders who before this weekend wasn't even being touted as a possible winner.
Fomer World Superbike star and Australian MotoGP rookie Chris Vermeulen snatched his second pole of the season at the Mazda Raceway Laguna Seca under rather different conditions to that under which he took his first. Unlike the rain in Istanbul, today he braved scorching heat approaching 40ºC to put himself at the head of the grid for tomorrow's Red Bull U.S. Grand Prix.
1st: Chris Vermeulen (Suzuki): "For a qualifying session it couldn't have gone better. We're in pole position! I did three fast laps at almost identical times and nobody else was close for a while. It got a bit nearer at the end and perhaps a bit too close for comfort. My whole team, Bridgestone, Ohlins and everybody else has been working really really hard. All credit to all my guys as I just had to ride the bike. The track conditions were difficult this afternoon because it was so hot and that made it slippery. The track was actually starting to tear up in places and you could see the bitumen coming away from the concrete underneath. Tomorrow will be hard with this heat over 32-laps, we have a good set-up and think we have the tyres for the job - we hope it is all going to work for us."
I'm a bit faster than I was a few years ago here, I've already won here twice in 2004 in Superbikes and this year the Suzuki and Bridgestones seem to be good here. There's a lot of laps in the race though, and there's 14 or 15 riders who are all in with a shot tomorrow. I really enjoy this track and hope I can get a good result."
The Rizla Suzuki rider likes laguna Seca having won here previously in World Superbike, and used that experience to clock a 1'23.168 lap for his first dry MotoGP pole, just ahead of home rider Colin Edwards. The Camel Yamaha man was himself hotly pursued by fellow American Kenny Roberts Jr, who had been fastest yesterday in both practice sessions.

Colin had a special American flag commerative paint job on his M1 for Yamaha for Laguna Seca. Some of that budget should have been spent on the Team Yamaha grid girls.

2nd: Colin Edwards (Yamaha): "I'm looking forward to racing here, I think it's pretty obvious that the bike is fast through the first three sections and then we just tail off. The team have been working so hard for this race, trying out all sorts of stuff."
3rd: Kenny Roberts Jr. (KR211V): "I wanted a front row today, but I have to say that it's a bit disappointing after pace having such a good advantage with the settings yesterday. We couldn't translate that to today, and we struggled with the soft grip tyres. I 'm sure that on race tyres we can do a good job."
The second row will be headed by Laguna Seca newcomer Dani Pedrosa, who has got to grips with the track quickly and qualifies ahead of some of Laguna Seca's more established racers. He lines up alongside U.S. representatives John Hopkins and Nicky Hayden. The latter was victorious last year and enters the race as World Championship leader, but will have a tough fight on his hands tomorrow as he looks to extend his advantage. Hayden had actually set the fastest lap of the weekend so far in the morning free practice session with a 1'22.843, two-tenths outside his own pole record from last year.
Despite going off track at the notoriously testing Corkscrew section of the track, Casey Stoner was still within half a second of Vermeulen as he put himself at the head of row three in seventh, alongside Shinya Nakano and Marco Melandri. Valentino Rossi will start tenth, and is desperate for a win at title rival Hayden's home track, with the chance to close the gap in his quest for a sixth consecutive MotoGP title. The rest of the pack will do well to remember that Rossi won last week's race at Sachsenring from tenth spot on the grid.
Tomorrow's Red Bull U.S. Grand Prix promises to be yet another classic in a season of vintage MotoGP racing, with the red light set to go out at 2pm local time (GMT-7, CET-9)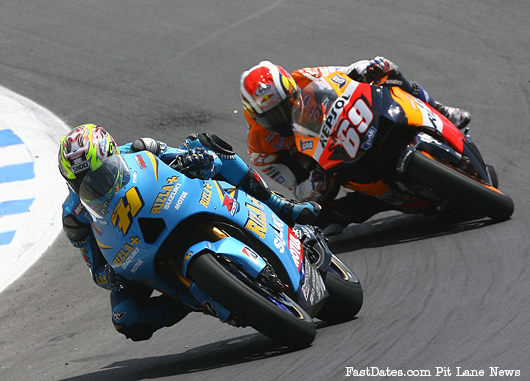 Hayden closes in the corkscrew on race leader Vermeulen found his bike loosing power due to fuel starvation.

Hayden Reclaims Vital Home MotoGP Victory as Laguna Seca
Red Bull U.S. Grand Prix - Sunday 23rd - Amidst record temperatures in California, Round 11 of the MotoGP World Championship took place today at the Mazda Raceway Laguna Seca, with the sell-out 51,378 crowd treated to a home victory at the Red Bull U.S. Grand Prix.Nicky Hayden took his second win of the season, at the scene of his maiden MotoGP triumph, and saw his championship lead extended to 34 points with the late retirement of Valentino Rossi with an engine problem.
Hayden became the first rider to win this race not starting from the front row and boosted his chances of a first MotoGP title. Reacting sharply when the red light went out, the Kentucky Kid was third by the end of the first two turns and then spent the first half of the race on the trail of poleman Chris Vermeulen.
Chris Vermeulen (Suzuki) did all that could be asked of him by getting the holeshot from pole and he went hard at it early on stretching out a lead of just under a second over Kenny Roberts (Roberts KR211V) by lap two.
The early order was Vermeulen, Roberts, Hayden, Casey Stoner (LCR Honda RC211V), Colin Edwards (Yamaha) and Melandri. These would be the men fighting it out at the end, although Valentino Rossi (Yamaha) looked as if he might be a contender until his machine let him down in the closing laps as his engine blew from a reported failed cooling system.
Rossi (46) blasts his way up through the field before his engine blew, passing American team mate Colin Edawads (5) and Suzuki's John Hopkins (21). Edward's lackluster 9th place fnish on his home track, amid a season of lackuster finishes, probably ended his chances of returning to MotoGP with Yamaha next year.
With the support races delayed until after the grand prix because of the punishing heat and with the track only just retaining its integrity in the beating sun with a 40-degree ambient temperature roasting both riders and machinery, this was a race where only the fittest and the coolest would survive.
Hayden dived inside Roberts for second place at the Corkscrew turn on lap nine while Vermeulen held a 1.7 second advantage over his pursuers, while Pedrosa, Stoner and Roberts then set about each other for third. They would conspire to trip each other up for two hard-fought laps before they realised there was still more than two thirds of race distance to run over 32-laps of this 3.610km track.
Unfortunately for race leader Chris Vermeulen as he was maintaining his strong lead, a fuel supply system issue becan a problem at mid point of the race – possibly caused by the extreme heat at Laguna - making his Rizla Suzuki GSV-R lose power and he was overtaken by eventual winner and Championship leader Nicky Hayden. Although Vermeulen fought to preserve his podium position and looked certain to achieve that feat, his slowing bike was unable to keep pace with those around him and he eventually limped home in fifth place – his best finish of the season so far.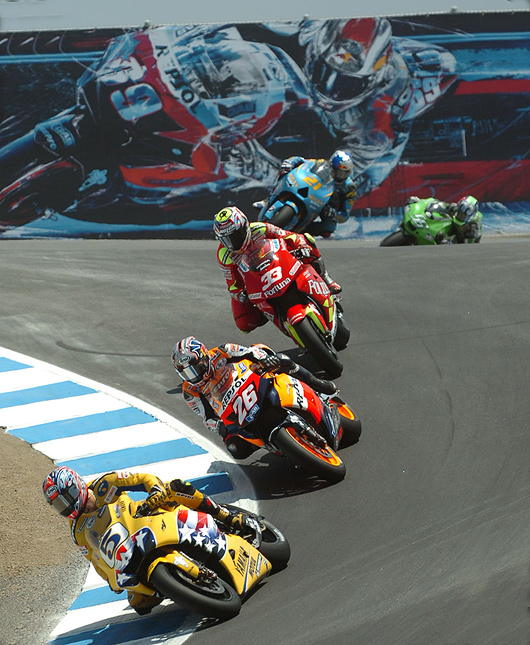 On lap 17 Hayden seized the lead from the slowing Vermeulen. By lap 19 Nicky had a 1.4 second lead over Vermeulen and now the race looked as if it would a question of sensible tyre management as well as an ability to maintain concentration in these deleterious conditions. Stoner, who was still involved in the tussle for third crashed out while under pressure from Dani. Shinya Nakano (Kawasaki) stopped on the same lap and it was clear the heat and the sheer pressure of the pace was staking its toll.
Pedrosa soon closed on Vermeulen for second place and then as the final five laps drew near, the heat and the pace began to reap its vengeance. Vermeulen slowed and Melandri and Roberts took advantage of his plight. Perhaps more significantly in terms of the Championship Rossi's machine emitted puffs of terminal smoke, and one lap from the flag he parked his stricken Yamaha at the side of the track.
Hayden took the chequers with his front wheel lofted in the air, Dani followed 3.186 seconds behind, then Melandri and Roberts – a runaway Honda success story under the very toughest race conditions. Vermeulen brought his bike in fifth followed by his team-mate John Hopkins.
A jubilant Hayden said, "I think this feels better than last year, if that's possible. I got a really good start from the inside – I did exactly what my big brother told me and got to the outside – and it worked perfectly into turn one allowing me to pick up a few places. I tried not to go too fast too quickly to preserve the tyre because the pace was quick. And then I tried to relax and chip away. It was really big for the Championship today but there's a long way still to go and I've just got to stay healthy and go for some more wins."
The Spanish rookie Danny Pedrosa, racing on U.S. soil for the first time in his career, looked to keep up the pace on his fellow Repsol Honda rider after fighting through a series of rivals. A high pressure battle with Casey Stoner saw the Australian slide off on lap 15, ending his race. Pedrosa then gradually moved up through the podium places and settled in second with a comfortable advantage.
Marco Melandri, who had started slowly, was in contention for the podium late on in the race, and was one of a number of riders to take advantage of Valentino Rossi's retirement on the final laps. The Fortuna Honda rider overtook Vermeulen to take third in both the race and the World Championship.
Kenny Roberts Jr. was the second highest finishing home rider, taking the holeshot from the front row and keeping up the pace even when passed by a handful of riders. Following Melandri, Roberts was also able to pass Vermeulen in the closing stages after he and his machine began to suffer in the heat.
Rizla Suzuki's young Australian was however the day's standout performer, defying many people's expectations and looking comfortable in the lead before finally being hunted down by Hayden. It was only towards the conclusion of the race that the 24 year-old rookie bowed out of the podium places.
His team-mate John Hopkins completed the top six, ahead of Carlos Checa, Loris Capirossi, front row starter Colin Edwards and Sete Gibernau.
Alongside Hayden's victory, the day's main talking point was the enforced retirement of Valentino Rossi. The reigning World Champion looked to be closing in on the rostrum after a flying series of laps, and a repeat of his previous comebacks this season looked to be on the cards. However, on lap 29, after seeing smoke spew from the back of his M1, the Italian star was obliged to return to the pits and leave Laguna Seca without points. He now lies in fourth in the title chase, 51 points behind Hayden.
Results MotoGP: (32 laps = 115.52 km)
Pos/ Rider / Nat / Team / Motorcycle / Time/ KM/H / Gap
1 / Nicky HAYDEN / USA / Repsol Honda Team / HONDA / 45'04.867 / 153.749 /
2 / Dani PEDROSA / SPA / Repsol Honda Team / HONDA / 45'08.053 / 153.568 / 3.186
3 / Marco MELANDRI / ITA / Fortuna Honda / HONDA / 45'15.796 / 153.13 / 10.929
4 / Kenny ROBERTS JR / USA / Team Roberts / KR211V / 45'16.808 / 153.073 / 11.941
5 / Chris VERMEULEN / AUS / Rizla Suzuki MotoGP / SUZUKI / 45'32.306 / 152.205 / 27.439
6 / John HOPKINS / USA / Rizla Suzuki MotoGP / SUZUKI / 45'43.687 / 151.574 / 38.82
7 / Carlos CHECA / SPA / Tech 3 Yamaha / YAMAHA / 45'49.692 / 151.243 / 44.825
8 / Loris CAPIROSSI / ITA / Ducati Marlboro Team / DUCATI / 45'53.393 / 151.039 / 48.526
9 / Colin EDWARDS / USA / Camel Yamaha Team / YAMAHA / 45'58.095 / 150.782 / 53.228
10 / Sete GIBERNAU / SPA / Ducati Marlboro Team / DUCATI / 46'11.146 / 150.072 / 1'06.279
11 / Makoto TAMADA / JPN / Konica Minolta Honda / HONDA / 46'16.808 / 149.766 / 1'11.941
12 / Randy DE PUNIET / FRA / Kawasaki Racing Team / KAWASAKI / 46'19.274 / 149.633 / 1'14.407
13 / James ELLISON / GBR / Tech 3 Yamaha / YAMAHA / 46'24.150 / 149.371 / 1'19.283
14 / Alex HOFMANN / GER / Pramac d'Antín MotoGP / DUCATI / 46'46.144 / 148.2 / 1'41.277
15 / Toni ELIAS / SPA / Fortuna Honda / HONDA / 45'30.873 / 147.526 / 1 lap
Pole Position: Chris VERMEULEN 1'23.168 156.262 Km/h
Fastest Lap(New record): Dani PEDROSA 1'23.333 155.952 Km/h Lap 6
Circuit Record Lap: 2005 - Colin EDWARDS 1'23.915 154.871 Km/h
Circuit Best Lap: 2005 - Nicky HAYDEN 1'22.670 157.203 Km/h
World Championship Positions:
1 HAYDEN 194, 2 PEDROSA 160, 3 MELANDRI 150, 4 ROSSI 143, 5 CAPIROSSI 126,
6 STONER 91, 7 EDWARDS 84, 8 ROBERTS 79, 9 HOPKINS 74, 10 NAKANO 67,
11 TAMADA 64, 12 ELIAS 59, 13 GIBERNAU 58, 14 VERMEULEN 57, 15 CHECA 53.
---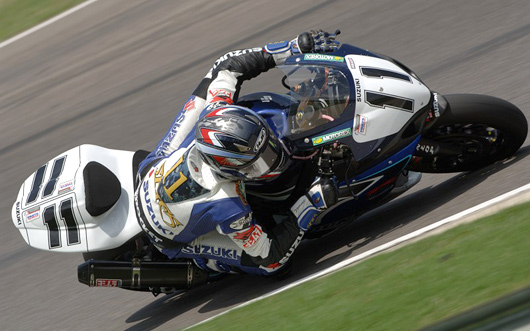 AMA Superbike Championshiop, Laguna Seca, Round 7 of 11
Ben Spies Scorches Laguna in AMA Superbike
July 22, 2006 - Yoshimura Suzuki's Ben Spies scored his eighth AMA Superbike victory of the season at Laguna Seca on Saturday in emphatic fashion. The race may have been the 22-year-old's most convincing yet as he dominated from start to finish. Looking at the championship's bigger picture, it may have also been the most pivotal performance of the season to date as well.
Even before the start of the AMA Superbike race at Mazda Raceway Laguna Seca, there were problems. There was intense, near record heat in the beautiful Monterey Peninsula. There was a lack of practice and qualifying time for the 12th round of the championship, held as a support race for the Red Bull U.S. Grand Prix. And then there was the track itself. A recent repaving had been badly executed and there were extraordinary bumps throughout the track, but especially out of the signature Corkscrew turn.
An opening corner mid-pack pileup forced an immediate red flag. On the restart the Texan powered into the lead and ripped open more than a full second advantage the first time around the undulating circuit. Unconcerned with the jostling for second behind him, Spies upped his advantage to over three seconds by lap 4 -- the approximate gap he would maintain for the remainder of the 28-lap endurance test the riders faced in the sweltering three-digit temperature conditions.
While Spies was exploding away at the front aboard his GSX-R1000 his primary title rival, Mat Mladin, was fighting hard to rebound from a disastrous start. The Yoshimura Suzuki legend bogged off the line and was nearly collected by a rider behind him at the green light. Even after slicing past several opponents on the opening lap, Mladin came around to the stripe the first time down in 14th position. He steadily worked his way back up the field but was unable to climb any higher than sixth by the time the checkered flag waved.
Spies now has nine career AMA Superbike wins, tying him with fellow Suzuki standouts Kevin Schwantz and Aaron Yates on the all-time list. He said, "I've just got to give all the credit to Suzuki and my crew. When we came here I told all my guys we can't waste a whole lot of time making a new bike and trying to make it better. We've just got to show up with a good bike and go. That rarely happens but we showed up and the bike worked from the get-go. We made a couple changes on it today and I just rode as hard as I could.
"It was definitely hot but I'm happy with all the conditioning I've been doing. It was hard with a four-second lead the whole time concentrating and hitting all my marks. It's just what we had to do today."
While Spies slipped away early, the racing just behind him was highly entertaining. American Honda's Miguel DuHamel, Parts Unlimited Ducati's Ben Bostrom, Team Kawasaki's Tommy Hayden, and Aaron Yates waged a huge battle for second in the race's opening stages. Bostrom and DuHamel looked like early favorites to round out the podium but both found themselves overwhelmed by a charging Tommy Hayden as he made his move just over a third of the way into the race.
Hayden first took the Canadian for third with a stunning around-the-outside pass on the brakes heading into Turn 2 on lap 12. Four laps later he took over second from Bostrom with an inside maneuver in the same corner. No one from the early scrap for second had a response for Hayden's mid-race speed in which he set the fastest lap of the race -- a 1:26.100. The Kentuckian broke free from them only to find a charging Neil Hodgson soon on his heels, the former MotoGP pilot having put in a tremendous run from seconds back to move into third on lap 18.
Hodgson hounded the Kawasaki hero late in the race only to fall back and accept third following a near crash that he suffered while looking for a way past his rival. Hayden's second-place result was the first Superbike podium of his career, while Hodgson's third was his first podium of the season.
Hayden, whose previous AMA Superbike best was five fifth-place finishes, said, "For me this is almost like a win. We've had an up and down year and I've been just trying to keep a good attitude and stay focused. I always seem to do pretty good here and I like this track. I just tried to get a good start. I felt in practice that I was comfortable that I could do some pretty good laps. I picked some tires that wouldn't be greasy and rode hard the whole time."
Commenting on his overtaking of DuHamel Hayden explained, "My strongest part was on the brakes -- my bike was really good on the brakes today. I kind of sized it up a few times and went out and got beside him. As the race went on it seemed like my tire was better than his and I got a really good run coming out of the last turn and coming over the hill he kind of pinch off. Instead of losing my momentum I went around the outside of him. When he broke I just went around him pretty much."
Hodgson, who was decked out in special grey Laguna leathers and helmet, remarked, "I feel really pleased. We ran the traction control and it really seemed to help. We only had an hour's practice so it wasn't dialed in properly, but I felt an advantage -- I could be a lot more aggressive on the throttle. Let's hope this is more of things to come. I certainly got to improve my first few laps -- I'm useless on cold tires. If I can get a bit more confidence on cold tires I think I've got a chance of sitting here every weekend.
"Tommy rode a really good race to be honest. He got past Ben and pulled a little bit of a gap and I sort of chased him down and got on him and then I lost the front really badly with three laps to go. I'd be losing it all through the race but I lost it really, really bad and I haven't had a podium all year. I'll take third place. It's been a tough weekend and I needed something to build on. If I had crashed the team would have pretty disappointed in me. I used a bit of intelligence for the first time in my life."
DuHamel came home in fourth with Yates taking fifth, one spot in front of his teammate Mladin. Early race factor Ben Bostrom dropped down the order late, taking the checkered flag in seventh. Miller Motorsports Park winner Jake Zemke fought an uphill battle all weekend long and he never figured near the front of Saturday's 100k contest. He took eighth in front of Jordan Motorsports teammates Jason Pridmore and Steve Rapp. Second works Kawasaki pilot Roger Hayden came home in eleventh in his return to the premier class after being sidelined from Superbike duty since his second round crash at Barber Motorsports Park.
As a result of Spies' perfect weekend and Mladin's struggles, the gap from first to second has increased to 34 points, the largest it's been all season. With just seven races left on the calendar, the heat is on the six-time series king who still controls his own destiny at this point, but only just. The AMA Superbike Championship picks back up on August 4-6 at Mid-Ohio, the 13th and 14th races of the 19-contest schedule. Mat Mladin desperately needs a huge weekend to keep his hopes for a seventh AMA crown realistic in '06 while Spies will have the opportunity to take another big step towards his first.
AMA Superbike:
1. Ben Spies (Suzuki)
2. Tommy Hayden (Kawasaki)
3. Neil Hodgson (Ducati)
4. Miguel Duhamel (Honda)
5. Aaron Yates (Suzuki)
6. Mat Mladin (Suzuki)
7. Ben Bostrom (Ducati)
8. Jake Zemke (Honda)
9. Jason Pridmore (Suzuki)
10. Steve Rapp (Suzuki)

AMA Championship Standings:
1. Ben Spies (Suzuki) 426
2. Mat Mladin (Suzuki) 392
3. Miguel Duhamel (Honda) 329
4. Neil Hodgson (Ducati) 317
5. (TIE) Tommy Hayden (Kawasaki)/Aaron Yates (Suzuki) 304
7. Jake Zemke (Honda) 296
8. Ben Bostrom (Ducati) 268
9. Jason Pridmore (Suzuki) 259
10. Steve Rapp (Suzuki) 226
New 2007
Fast Dates Racebike,
Iron & Lace Custom
& Garage Girls Calendars
Click to Order Now!



Riders Quoted from Laguna Seca MotoGP
1st: Nicky Hayden (Honda):
"I felt a lot of pressure, I didn't want to let the home team down but also wasn't going to let pride get in the way and make a risky mistake. It was really physical out there but that's why you get up with the sun every morning and train. In some races that maybe hasn't been as important as in this one."
2nd: Dani Pedrosa (Honda):
"I'm happy with the result, to finish second in my first race at a circuit is good. I want to thank all the American fans, they were awesome. The conditions were tough and it was a long race, my tyres were sliding all the time but the result is a perfect 1-2 for the team."
3rd: Marco Melandri (Honda):
"It felt as if I'd won today. It was really hard, hot and long. I wasn't fast on the first few laps, I had tyres which were too soft. I Couldn't push early, and using the clutch so much gave me arm pump early on. At the end of the race I was quite fast, then passed Vermeulen to get on the podium."
4th: Kenny Roberts Jnr, KR Honda:. "I could tell right from the beginning that I just didn't have the grip. Not so much with the Suzuki, but with the other Hondas. That's the best we could do today. I was up to my maximum traction control early on and that's usually a sign that I'm in trouble and I just tried to bring it home. I was similar to Melandri, but at the end he started using the front a little bit more. I was just a tiny bit soft and when I tried to load it was like using the tire too much, not the suspension and just risking a crash. Just tried to stay with him as long as I could and hope he made a mistake and he didn't. I'm a little bit disappointed because I wanted to be closer to the leaders from the beginning. Especially with Friday's results. We showed up here and I didn't want to change a lot. I didn't want to tune ourselves out of it I would say. We picked our poison, at least I did. And didn't want to go the other way. And then you lose confidence. So I just stayed with something I knew I had.".
5th: Chris Vermeulen: "Everything went pretty well at the start, the bike was running well and we made – what I think – was the best tyre choice. Thanks to my whole team and Bridgestone for helping me today. But about 12 laps from the end the bike started cutting out, it was not running smoothly and it was hesitating on corner entry - this was making it so hard to ride. It got worse and worse and I only just brought it home. In fact three turns after the end of the race it stopped completely! I'm really disappointed that I didn't get a podium but I think we have proved how strong the Rizla Suzuki, Bridgestone tyres and the whole team were here this weekend, and hopefully we can continue this performance in the next few races."
John Hopkins finished just behind his team-mate in sixth place. After getting baulked at the start, he battled hard in the scorching Californian sun and was able to make his way up the field, continuing with his run of top 10 finishes and enabling him to move up one place into ninth in the World Championship table.
6th: John Hopkins: "I gotta say I feel sorry for Chris. That really sucks for him because he rode an excellent race. I was trying everything I could and when I saw he was in first, if anything it motivated me even more. I got a bit boxed up at the start and had a hard time getting past Colin, and then made a bit of a mistake when Valentino passed me. Once the lead group had got away I just had to concentrate on my own race and try and put some good laps together. Thanks to Bridgestone, they have brought some good tyres that lasted the race in these blistering conditions – so well done to them. It's a shame one of the Rizla Suzukis wasn't on the podium, but we have got six more races and I am sure before the end of the season either one of us will be on there. Now we are going into the summer break and we will get our head together for Brno – that's one race I can't wait for!"
Disapointment for Rossi, Edwards and Yamaha
At Sponsored Race
What looked certain to be another stunning race recovery from Camel Yamaha Team rider Valentino Rossi ended in disaster today as the reigning MotoGP World Champion retired from the US Grand Prix at Laguna Seca with tyre and engine troubles. After starting from tenth on the grid Rossi slowly worked his way through the field and with just five laps remaining he was on course for a valuable fourth place finish. However, with blazing sunshine bringing track temperatures up to a soaring 56ºC, the punishing conditions inevitably took their toll and Rossi's rear tyre developed a problem, which forced the Italian to drop his pace. To add to Rossi's woes, his the water-cooling system then malfunctioned and within moments the engine of his YZR-M1 machine overheated, blowing clouds of smoke into the air and bringing his participation in the race to an end.
Things started out brightly for Rossi's Camel Yamaha team-mate Colin Edwards before also ending in disappointment, the Texan getting a decent start from the front row of the grid and lapping with the lead group before identical tyre troubles began to kick in. With the searing heat also playing havoc on his physical condition, having suffered from flu symptoms and an upset stomach throughout the weekend, Edwards was unable to maintain his pace and he dropped back from fifth place to eventually cross the line in ninth. Nicky Hayden (Honda) took his second victory of the season to extend his advantage at the top of the championship to 51 points over Rossi, who has dropped to fourth overall with six rounds remaining.
Colin Edwards (9th; +53.228)
"My start wasn't great; I got off the line okay but then as I leaned over into turn one the power went a bit and I got slower and slower, so a few guys came past me. After that I just had to give it all I had to hold on and do 24.1s and 2s, which anyway is faster than we were doing on race tyres yesterday. I also had a bit of a problem stopping the bike, which was another thing to contend with. After ten laps I was completely wrecked, I think being ill on Friday took a lot out of me and suddenly I had no power left in my body. I was feeling so bad that I was seriously considering coming in, but then I saw Stoner crash and so I thought I had better hold on and try and get some points! On about lap 20 the tyre started spinning up and it just kept on getting worse and worse on each lap. I had a few big moments where I scared myself a bit, especially coming into turn one a few laps from the end. With about three or four laps to go I looked over at my rear tyre and saw just how bad the problem was, and it was all I could do to bring it safely home. Obviously I'm pretty gutted, the weekend hasn't worked out how we hoped, but that's racing!"
Valentino Rossi (DNF)
"We've been in a really difficult situation all weekend, with a lot of problems and unfortunately things got even worse today! We made a big improvement this morning in warm-up and I was much faster, so I thought that maybe we could do a good job in the race and to start with we made good progress from our grid position. But then we had a problem with the rear tyre and I lost all grip and was forced to slow right down in order not to crash. Then we had a problem with the water-cooling system for the engine, it overheated and when I saw the smoke, I knew it was over. Anyway, now we're 51 points down on Hayden with only six races left, so for the first time I will race for the rest of the season without thinking about the pressure of the championship. My plan is to have a lot of fun over the remaining races and try to win as many as possible, and then who knows what might happen?"
Davide Brivio - Camel Yamaha Team Director
"It's been a very difficult day from every angle. We had two separate problems of a different nature which affected both riders. Colin could have done a really good race but he was hampered by his physical condition and then later by a problem with his rear tyre. Valentino had exactly the same problem with his tyre and then when he slowed down the cooling system on his engine failed and it overheated, so he had to retire. Now we're a lot of points behind in the championship and we have a mountain to climb, but we won't give up and we will fight to the end."
AMA Superbike Approves Traction Control for Superbikes
Ducati Austin Team Will Run it at Laguna
AMA Pro Racing press release
July 17, 2006 - AMA Pro Racing announced today that the newly-formed Road Race Rules Committee unanimously approved a change to the rule regarding traction control in the AMA Superbike Championship.
The rule change, announced this morning via an AMA Pro Racing Competition Bulletin, reads as follows:
Effectively immediately replace E.23A, pg 36 with:
a. For Superstock and Supersport, any form of engine control system that can actively change the performance/acceleration of the engine using input from any sensors that are not OEM on the motorcycle, to create a situation of better traction at the rear wheel at any time while the motorcycle is being ridden is prohibited.
The rule change effectively legalizes the use of traction control devices in the AMA Superbike and AMA Formula Xtreme classes while limiting the application of such devices in the AMA Supersport and AMA Superstock classes.
"It is our belief, and one that was echoed by each member of the rules committee, is that we should continue to limit the use of traction control devices in the stock classes but open it up in the modified classes," said AMA Pro Racing Director of Technical Development, Kevin Crowther. "This rule change is consistent with the spirit of our class rules and objectively recognizes the current state of development of this emerging technology."
Crowther pointed out that OEM application of traction control on production motorcycles is imminent.
Under new AMA Pro Racing rules making guidelines, rules are proposed by a discipline-specific rules committee then forwarded to the AMA Board of Directors for ratification. The Road Race Rules Committee held its inaugural meeting last Thursday at AMA headquarters in Pickerington, Ohio where the committee voted to not only approve this specific rule but also that the board approve its immediate implementation.
"Everyone agreed that this rule change was important enough to have it implemented immediately," confirmed Crowther. "We're happy that the committee acted quickly and was supported decisively by the board."
It has been guessed that Team Yoshimura Suzuki has been running an illegal, but nearly impossible to prove traction control hidden within the programming of its engine management system on their Suzuki GSXR1000s. Their system can be audibly heard working as their engines pop and cut out under acceleration out of corners.
Now with the approval of traction control for AMA Superbikes, Ducati Corse can run their same highly successful system system of track control being used in World Superbike, which allows the less powerful Ducati team bikes to run with the more powerful Japanese inline four machines. In fact, Troy Bayliss is running away with this year's World Championship on the Team Corse 999F06 machine which has visible wheel speed sensors on both the front and rear suspenion.
It will be exciting to see if, beginning with Laguna Seca this weeeknd, if Ducati Austin team riders Neil Hodgson and Ben Bostrom will now be able to run up front with the Team Yoshimura Suzuki bikes of Ben Spies and Matt Mladin.
New AMA Pro Racing Rules Committee Holds First Meeting
July 14, 2006 - The first meeting of the newly-formed AMA Road Race Rules Committee was held Thursday at AMA headquarters in Pickerington, Ohio. The all-day meeting covered a variety of issues related to the AMA Superbike Championship and was an encouraging beginning to a new way of conducting business according to AMA CEO, Patti DiPietro. "I am very pleased with the outcome of our first meeting and the contributions made by each member of this committee," said DiPietro Thursday evening. "We covered a lot of ground today and I'm happy with our initial progress. There is a great deal of work to be done by this group and this was a productive beginning."
Members of the newly-formed committee attending the meeting included Ammar Bazzaz of Bazzaz Performance Design, Erik Buell of Buell Motorcycle, Co., Sean Clarke of WERA, Kevin Crowther of AMA Pro Racing, Gordon Lunde of the Wegman Benefit Fund, Britt Lynn of Moto-R, Nick McCabe of Ducati North America, Keith McCarty of Yamaha Motor Corp., Wendell Phillips of Phillips Motorsport Group, Michael Preston of Kawasaki Motor Corp., Don Sakakura of Yoshimura R & D (representing Suzuki Motor Corp.), Jay Sherritt, and Kevin Smith of the AFM. Committee member Chuck Miller of Honda Motor Co. was unable to attend due to a prior commitment. Additionally, AMA and AMA Pro Racing staff members who attended included DiPietro, Kerry Graeber, Ron Barrick, Ken Rogers and AMA Board of Directors member Carl Reynolds, who chaired the meeting. AMA attorney Timothy Owens was also in attendance.
Earlier this year the AMA and AMA Pro Racing announced a reorganization to its structure specifically designed to improve the rulesmaking process. In addition to a Standing Racing Committee created to provide strategic direction for AMA Championship Racing, a separate rules committee is being formed for each discipline. This committee will deal specifically with AMA Superbike rules. Committees for AMA Flat Track, AMA Supercross/Motocross and AMA Supermoto are being finalized and will be meeting soon. Additionally a committee has been formed to oversee AMA Hillclimb.
Once a rule is decided upon by the respective rules committee it is elevated through the Racing Standing Committee to the AMA Board of Directors for ratification. The board of directors can either approve the rule as is or send back to the rules committee with comment. The board is empowered to either approve or deny the rule but not change it.
DiPietro reported that the Road Race Rules Committee acted on several current issues and that its recommendations have already been sent to the AMA Board of Directors for approval. It is expected that the board will act quickly with announcements coming as early as next week. Typically, rule changes will not go into effect until the following season, but if the situation warrants, rule changes can be implemented immediately.
The next meeting of the Road Race Rules Committee is scheduled for September.
Ducati to Unveil New Superbike at Laguna Seca
12:30-1:00pm - NEW 2007 Ducati Superbike launch – located on Ducati Island. Come and join the Parts Unlimited Ducati Team as Ducati unveils a new 2007 Superbike model. This event is open to everyone.

Will this be a mildly restyled 999 Testastretta? Or will it be the all-new chassis design that is expected to be revealed in the fall of 2007 with the new 2008 season 1200cc desmo Superbike engine, but possibly with the current 999 engine to carry it through until then?
Stay tuned here for the first pictures and innformation to be revealed hereon Monday the 24th.
Friday-Sunday: Ducati Island – located on the infield and with a host of events planned that are all related to Ducati and Ducati owners. This is the eighth year of Ducati Island, and is the largest annual organized gathering in North America of Ducati owners. The island is open Friday through Sunday from 9-6. Activities will include autograph signings with Doug Polen, Frank Scurria, Paul Smart and both the MotoGP and AMA teams, as well as the Ducati Garage Challenge, a Museo filled with some significant bikes, hospitality and many other events.
HODGSON EARNS LAGUNA SECA PODIUM FOR PARTS UNLIMITED DUCATI WITH SPECTACULAR CHARGE Monterey (California) 22 July 2006: Neil Hodgson earned a strong third place in Saturday's AMA Superbike race at Laguna Seca, producing a podium finish in front of the large crowd assembled for the US Grand Prix weekend. Ducati 999-mounted Hodgson charged through the field in the California heat, moving his way through a fierce pack of Superbike riders. Hodgson rose from sixth place in the early stages to challenge for second place in the 28-lap event. Teammate Ben Bostrom finished seventh despite dehydration forcing him to the medical center immediately after the race. Bostrom ran strongly in second place before becoming ill at the mid-point of the event.
"I feel really pleased. I thought the race went really well for us today. Hopefully, we'll become regulars on the podium from here on out," said Hodgson of his charge that saw his best laps come near the end of the race. "We were strong today despite the heat and had some good battles out on the circuit. Tommy Hayden rode a great race and, as it came down to the final laps, it looked as if the two of us would be fighting for second place. He pulled a bit of a gap but I chased him down and was planning my moves for the end. I lost the front really badly with three laps to go. At that point, I felt that it would be best to be content with the podium. It's been a tough weekend and we needed a good result to build on."
Hodgson continued: "The team were really put in a rough spot here at Laguna. This was one of the most difficult races of the year. The heat was tough on everyone. The track was bumpy and we didn't have much practice time, but we all pulled it together and I'm proud of the crew for working so hard," said Hodgson.
Ben Bostrom saw a strong result escape when he became ill. Bostrom thought he might be bound for yet another Laguna Seca victory but saw his hopes foiled when he became ill during the race. "I'm disappointed because I thought I had a great shot at a win today," said Bostrom. "We were about halfway through the race and I had a lot in reserve. I was just cruising out there. Then I got sick and just fell apart, end of story. I should have pulled in because I was so weak I could barely ride. I was done." Still, Ben managed to better two factory Superbike riders even though he had to check in to the Laguna Seca medical center for fluids immediately after the race.
Bostrom is positive on the next races for the Parts Unlimited Ducati Team. "After our tests, the Miller races, and now Laguna, we are super confident going into the next events."
Team owner Terry Gregoricka was pleased with the performance of both the riders and of the team at Laguna Seca. "This is the type of result we've been working for and one we can use to get some positive momentum," said Gregoricka. "Neil's podium was well deserved. It's great watching the team's rider putting in his best laps towards the end of the race. With Ben, he really charged hard and just was a little unlucky today. We're feeling good about the way things are going."