Are you getting our awesome FastDates.com Screensavers? If not click on this picture...


Last year's Fast Dates Calendar shoot at Brands Hatch WSB with Gemma, Monica and Aaliayah is featured in the new 2007 Fast Dates Calendar.

Fast Dates Offical Calendar of the SBK World Superbike Championship
We Return to Brands Hatch to Shoot the 2008 Fast Dates Calendar
August 1st 2006 - Gianatsis Design, producers of the popular FastDates.com Motorcycle Pinup Calendars, is excited to announce it has entered into a new licensing agreement with FGSport, organizers of the SBK Corona Extra World Superbike Championship for the previously 10-year SBK endorsed Fast Dates Racebike Pinup Calendar to now become the Official Licensed Calendar of the SBK Corona Extra World Superbike Championship.
Under the agreement FGSport will continue to provide Gianatsis Design exclusive access at the World Superbike rounds to photograph the top factory racebikes with the beautiful SBK Fast Dates Calenar Kittens for the Calendar. And FGSport will be offering the Fast Dates Calendar for sale with their other official merchandise products on the SBK World Superbike Website - www.worldsbk.com
Plans have been made for the 2006 SBK World Superbike Round at Brands Hatch, Great Britain, on August 4-6th to again be the location for the shooting of the next edition of the Fast Dates Calendar by publisher and photographer Jim Gianatsis. And on race weekend the beautiful Calendar Kittens, professional models Emily Hilton, Katie Pugh and Camille Tranter from the London agency Universal Models will also serve as the official SBK Fast Dates spokesmodels and race grid girls. Meow!!!!
| | | |
| --- | --- | --- |
| Emily Hilton | Katie Pugh | Camille Tranter |
As we head off to England, we are excited to announce that Team Ducati Corse has confirmed that one of our beautiful Calendar Kittens, either Emily or Katie who will be staying on with us at the track through the World Superbike weekend at Brands, will serve the offical Team Ducati Xerox Fast Dates umbrella girl on the grid for current season points leader and former World Champion Troy Bayliss.
And please excuse us if our World Superbike race coverage is delayed until the end of the week after Brands Hatch. What with the Sunday night after the race Brands Hatch Paddock Party, a few days in London to enjoy the sights, and another day flying back to Los Angeles on Virgin, it will take a while to get back to the office. In the meantime, check out last's year's exciting race weekend at Brands Hatch where we shot the newly released 2007 Fast Dates Racebike Pinup Calendar with Gemma, Monica and Aaliayah HERE.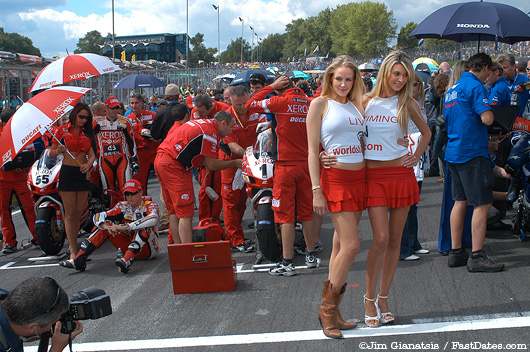 Our Calendar Kittens at Brands Batch World Superbike last year, with 3-times the spectators as the US MotoGP at Laguna. The Brits love motorcycle racing.

Team Alstare Suzuki Encouraged for Brands Hatch After Bruno Results
The last WSB round at Brno, was a very strong one for Team Alstare Suzuki Corona Extra and particularly for Yukio Kagayama. The Japanese rider returned from a short trip home, fit and refreshed and took Brno by storm, winning both races - his first ever WSBK double. Despite problems in qualifying Troy Corser put in a couple of solid finishes, taking a fifth in race one and a fourth in race two. Fortified and encouraged by events in the Czech Republic, Team Alstare are ready to carry on the good work at Brands Hatch, an event that is now much more then just another round in the calendar. Brands Hatch's unique setting and layout always provides close-quarter action and it is arguably the best-attended event in the calendar. Last year Troy won the first race and finished second in the other, with Yukio scoring a lowly pair of ninths. This year, both riders will be going all-out for podium places, with Yukio particularly eager to do well in front of all his British fans.

Troy Corser: "Brands is not just another round of the championship anymore - it's an event! The place has a fantastic atmosphere because the crowd are so close to the track and sometimes you can almost feel them breathing down your neck! It's quite a technical track and not the easiest place for overtaking, so a good grid place is pretty much crucial. I wasn't happy with Brno, so Brands will be a good chance for me to get some good results and keep up the momentum in the championship. Obviously, we all need Bayliss to make a slip-up or two, but otherwise there's going to be a very big battle for second spot."

Yukio Kagayama: "I was so happy after Brno and now I am looking forward to Brands Hatch so much because of the years I raced in England, I have many British fans and I want to do well for them - not like last year! Brands is a special place and maybe the best WSBK event of the year because of all the fans and the big atmosphere. Now that I am almost back to full fitness, I want another couple of good results at Brands Hatch. I am not sure that it will be possible to do another double, but I will be trying my hardest - as usual."
---


$100,000 MotoCzysz Limited Edition 990 Race Replica- Accepting Deposits!
Portland, Oregon July 18, 2006: At midnight,on the eve of the 2006 Red Bull USGP, MotoCzysz began accepting deposits for 50 limited edition replica versions of the first C1 factory race bikes being unveiled
the same weekend. This will be the first opportunity to own what will be known as the most technically advanced motorcycle ever made in America (an easy challenge against the only other sportbike manufacturer in America , Harley-Davidson's Buell).
The non-street legal replica C1 will share many of the specs as the factory race bike, including carbon fiber frame and subframe, 6X Flex front suspension, DUO rear suspension, and of course the longitudinal,
twin crank, triple overhead cam, 990 Z-Line 4 engine. With horsepower figures of 200+ and weighing less than 375lbs, the replica C1 is a stunning example of America's ability to produce a world class race bike. The limited edition bikes are offered at $100,000, and will begin delivering in early 2007. For additional technical specs and information an making a deposit, please visit http://www.motoczysz.com.
Unfortunatley the MotoCzysz limitd production C1 is not a homolagated production bike, qualifying it to race anywhere (although the AMA certainly bends the rules for another American manufacturer), and it's high cost makes it prohibitive to race. And by not being street legal, the C1 can't be ridden to your favorite sportbike hangout to show it off. We don't see more than a few C1s being sold to wealthy collectors who can afford to add it to their collection at this point, and obviously Motoczysz sees this as a quick solution to raise 5 million in income before announcing a lower priced production model. But until a street legal version is produced in large enough quantities so the price drops below $30,000, the Motoczysz may be doomed for quick extinction no matter how inovative it is. One only needs to look at Bimota and its history of financial woes, even using more conventional engines supplied by other manufacturers.
For comparison, the upcoming 2007 Ducati Desmosedici RR has a proven MotoGP race winning heritage, is fully street legal with a waranty and servicing dealers, it could be be homoligated for Superbike racing, and it costs significantly less at $65,000.
MotoCzysz is an American motorcycle company producing the most advanced, high performance motorcycles made in the U.S.A. The world class team of designers and engineers has produced innovative solutions that have been awarded US and world wide patents, including a patent for its unique high performance counter rotating, twin crank combustion engine.
It remains to be seen if the world superbike market is big enough to sustain a high end manufacturer, profitably, to build just high end sportbkes. MotoCzysz has assembled an expensive team of engineers to do just that, hoping their unique design inovations as featured in the C1 will be licensed by other manufacturers to help float the company. It is an excitingchallenge for designer Michale Czysc and we do hope he succeeds.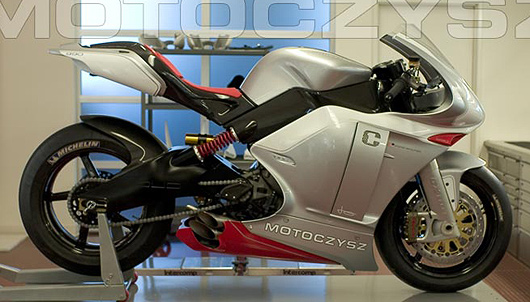 ---

American Iron Pro Builder Class bikes lined up at the Show. Many bikes now use electrical powered air suspension to drop the bikes to the ground for display, without having to lean on a side stand.

A Bigger Purse than any AMA National - $70,000 in Cash and Awards at the
The Biggest & Best Custom & High Performance Street & Sportbike Event in America!

Performance Machine presents the
15th Annual 2006 LA Calendar Motorcycle Show Weekend
America's Premier Custom & Performance Motorcycle Show
Again Blows the Lid Off Long Beach
The Queen Mary, Long Beach, CA July 15-16th, 2006 - The 15th annual Los Angeles Calendar Motorcycle Show Weekend presented by Performance Machine and produced by Jim Gianatsis of Giantsis Design Associates held annually every 3rd weekend in July at the Queen Mary Event Park in Long Beach / Los Angeles continued to kick out all the stops again this year despite the long summer heat wave and the current attendance slump at most other motorcycle events to uphold the Calendar Shows' well earn reputation as the biggest and most exciting Custom and Performance Street Motorcycle Show in America. The expanded Queen Mary Event park venue which has spilled out from the beautiful grass park alongside the Pacific Ocean into the Queen Mary parking lot again was again sold out of exhibitor space and standing room only for spectators both days, hosting 180 major custom bike and product manufacturers, top name custom bike builders and selected venders from across America.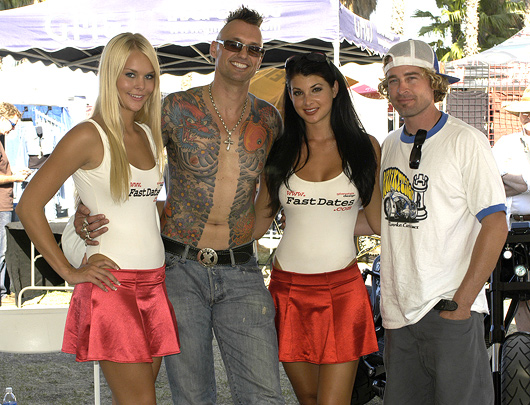 Celebrity uilders Russell Mitchell and Jesse Rooke traded barbs and Barbies with spectators and the TV cameras during their Iron & Lace Calendar Builders Seminars at the Show both days.

Spectators had a chance to meet and attend free Iron & Lace Calendar Bike Builder Seminars with America's top celebrity TV builders featured on American Thunder, Biker Build Off, Build or Bust and V-twin TV (who were also filming there filming) including Russell Mitchell of Exile Cycles in a tag-team seminar with 3-time Show winner Jesse Rooke, putting on a back-and-forth comedy banter that had fans packed in and laughing the full hour. Plus other top Calendar Builders including Roland Sands of Performance Machine, Mike Stafford of MGS Customs, Joe Takai of Mercury Customs, and Mike Powers of Powers Custom Cycles.
Note Jesse Rooke's latest creation in the background, a SuperMoto bike powered by a supercharged 1-cyliner engine (half a Big Twin engine).

The exciting Purrfect Angelz brought the Show to a standstill when they performed their exciting dance and musical stage shows both days, including three different 1-hour Shows on Saturday featuring their USO performance for our troops in the Middle East, and their live performances with Trace Atkins on the CMT and CMA Country Music Awards.
The Purrfect Angelz chose a few lucky spectators each day to join them on stage for a close-up view of their performances. Any girl this limber who owns her own knee pads is definetly a keeper.

All weekend long entertainment included a 2-Day Musical Festival on the Main Stage in the Queen Mary Park showcasing top sexy rockin' girl bands and singers including the Lead Zeppelin tribute band Zeparella, beautiful blues rocker Jesse Payo, with beautiful pop music harpist and singer Marnie Boyd performing with a huge classical harp near the park entry.
How would you like to be pulled over for speeding by a Calendar Kitten on this Ssinster CHP bike?

Plus in the middle of the Show weekend on Saturday night on board the historical Queen Mary ocean liner in the art deco Observation Bar was the big Iron & Lace Calendar Builder's Party where you could hang with the builders, exhibitors, Show producer Jim Gianatsis and his staff, and dance with the Purrfect Angelz all night long to the cover tunes of beautiful Mary Fall and her band Reckless Driver. Bike Show spectator admission included complimentary admission to the historic Queen Mary ocean liner and the Saturday Night Calendar Bike Builder's Party.
Purrfect Angelz magager and Calendar Show Hostess Lisa Ligon (left to right )confers with Model Search Pageant judges and Calendar Kittens, Playboy Playmates Tamara Witmer and Athena Lundburg and Cora Skinner to choose a winning model.
The LA Calendar Motorcycle Show also marks the annual premier of the new 2007 FastDates.com Motorcycle Pinup Calendars and this year the beautiful 2007 Calendar Kittens were in attendance including Playboy Playmates Tamara Witmer and Athena Lundberg, and model Cora Skinner. There was the Calendar Girl Model Search Pageant both days with last year's winner Candice Curtis returning with her sexy on stage striptease to win $500 each day for first place award and a paid calendar shoot. Candice is already featured in the new 2007 Iron & Lace Calendar. Coverage Continues HERE....
---

New 2007 Ducati 999S "TEAM USA" Limited Edition Released
Ducati North America to offer 150 limited edition autographed Superbikes
based on Bostrom's and Hodgson's AMA Superbike machines
The 999s Team USA edition is closely designed and based on the race bikes used by both the Bostrom brothers and Neil Hodgeson during the 2005 and 2006 AMA Superbike seasons.
The 2007 Ducati 999S Team USA is powered by the 143 HP 999cc Testastretta engine that delivers a track-hungry 143 hp and a Corse-derived low sump crankcase for consistent oil feed even during full race conditions. The extra power is delivered in a smooth, linear fashion to boost performance whether you are riding around hairpin bends halfway up a mountain or powering around a race track.
All Team USA edition 999s are built exclusively for the North American market as a limited production run. Only 150 units will be made and each motorcycle will be signed by Neil Hodgson and Ben Bostrom on the tail section. The motorcycle will be produced only as a single seat version and will be available at Ducati Dealers throughout North America beginning in August, 2006 with a 2007 MSRP $19,995 USD.
This price is a relative bargain for a Ducati Superbike since the previous 999S model, with its Ohlins suspension and uprated engine, when it was first introduced back in 2003 was priced at $23,000. Now that it is a little long in the tooth, a new generation Superbike is 12 months away from being introduced, and other limited edtion superbikes like the Ohlins suspended Yamaha R1 Limited priced at $17,995, Ducati USA is forced to be more competitive on the price. Now for just $1,000 more than the Yamaha LE you get Ducati USA's race team graphics and the autographs of the two Ducati USA team riders. We do however, suggest budgeting an additional $3,600 for the Ducati Performance full race Termognini Race Exhaust System with calibrated ECU module which will slim this baby down another 20 pounds and give it 999R performance. For additional tuning and swetup details check out our FastDates.com Ducati 999S project bike in The Paddock Garage
Restyled Multistrada 1200 to kick off 2007 Ducati LineUp?
Ducati is in desperate need to gain ground on the world markets again after several years with shrinking sales particularly in Europe and at home in Italy. The Ferrari of sportbike bikes has been their 999 Superbike , but next year Ducati will have a completely new animal to knock out any other protagonist to that particular throne with the Desmosedici RR MotoGP replica.
But more importantly, Ducati has increased displacement on its aircooled 2-valve L-twin which will find its way into all the range topping models for us less privileged people. The talk goes that the new 1200 will find its way into both the Multistrada and Monster ranges. We still aren't sure of the need for a 1200cc Testastretta Superbke motor to find its way into the 999, but really it's in an aircooled lower cost Monster and Multistrada that a bigger engine can let that anticipated brutal torque curve loose on the roads.
Ducatis with the trademark dry-clutch set up tends to be a bit grabby in the early gears. According to sources Ducati might have a wet clutch in the new 1200cc engine. If it really is true that Ducati has developed both an air-cooled 2-valved 1200 and a liquid cooled 1188 superbike 4-valveengines, we think we could be up for a treat. Word has it the new 1200cc Multastradas are ready to roll off the production line at the Ducati factory, ready to be turned loose in dealerships, possibly rightafter the annual new bike year introductions at Intermot in a few months or when the factory reopens after summer's August break.
---
Ally and AJ not too long ago, all sweet, sugar and spice.
Chicks That Kick Ass!

Ally and AJ
From Disney Pop Princesess to Sexy Rock Divas
We're suckers for beautiful pop rockers like Avril LaVigne, Christine Aguilera, Anna Nalick, Natasha Bedington, M2M and our own Calendar Motorcycle Show band the Beu Sisters. The newest addition to our favorite girl singers list is the teen sister group Ally & AJ Michalka who have pened and performed songs for a number of Disney pre teen movies and whose first full length CD "Into The Rush" which was release late last year features an incredible collect of their own excellent origional written and performed hits with incredible vocals, with good looks to match!
When we found out Ally and AJ were performing this past weekend at the House of Blues in Hollywood, CA, we were there in a flash to see the teen pop princess sisters in action. Still under the radar, the sisters have yet to be discovered by the adult listening audience and we found ourselves jam pack into the standing room HOB club house with about 500 hard core pre teen girls aged 8-10 chaparoned by their parents. When Ally and AJ took to the stage the piercing screams from their grade school girl fan club was more deafening than anything you could image.
But it was quite obvious from their sexy attire and new hard rock looks that the Michalka sister were all grown up and looking like veteran rock divas at this home town stop in the middle of their 4 month road tour. And they were playing for an adult audience who had yet to discover them. Incredibly beautiful and sexy, every AJ and Ally song is potentially a chart topping hit. Even more impressive was the fact how incredibly talented they are as musicians. Both performed on electrical and acoustal guitars, piano and electric keyboards, and then if we could be amazed enough, then on one song they got down on their knees with mini conga drums between their legs and hammered out a latin rock jazz melody duel that was additionally incredible.
There's not many male bands this talented, let along a couple of girl teens.

Click to Order! New Enhanced - Into the Rush CD with added Songs and Video
Just like Ann and Nancy Wilson of the band Heart back in the '70-80's, Ally and AJ are destined for greatness as the top girl rock group of this decade and onward as the rest of the music world discovers these sext rock divas. Click on their CD cover Into the Rush here to order ithere now online, and visit their website to hear and see more of these incredibly talented and beautifully sexy siters. AlyandAJ.com

Ally and AJ on their "Chemical React" national summer tour, all grown up, very sexy and rockin' hard!
New 2007
Fast Dates Racebike,
Iron & Lace Custom
& Garage Girls Calendars
Click to Order Now!



Internet Bidder Pays 80K For Jesse Rooke¹s X-1 Calendar Show Bike During 2nd Annual MCBA.
July 28, 2006 ­ He wasn¹t anywhere near Monterey last weekend. In fact, he was busy running his Harley-Davidson of New Orleans store. But that
didn¹t stop one motorcycle aficionado from doing something no one¹s ever
done before: outbidding the rest of the world for a Jesse Rooke custom-built
motorcycle, at the second annual Monterey Classic Bike Auction held in Monterey at the Portola Hotel in conjunction with the US MotoGP weekend.
Jesse Rooke's X-1 bike was featured in our advertsing campaign for the 2006 LA Calendar Motorcycle Show, and is featured in the 2007 Iron & Lace Calendar.
The Suzuka 8 Hours
F.C.C. TSR Honda victorious in
Suzuka 8 Hours
July 30th, Suzuka, Japan - The F.C.C. TSR Honda pairing of Shinichi Ito and Takeshi Tsujimura raced their XX-F Class CBR1000RR to victory at the Suzuka 8 Hours today. The Japanese pairing led the race almost all the way from start to finish completing 210 laps of the 5.821km circuit to take the win by one clear lap from the Harc Pro Honda of Yoshiteru Konishi and Tsuyoshi Yasuda, racing under Japanese Superbike regulations (JSB). Nobuatsu Aoki and Atsushi Watanabe brought the Yoshimura Suzuki (JSB) home in third place.
Near veteran Ito, now 39 years old started the race from pole position and quickly established the order of play by leading the first hour of the gruelling eight-hour sprint race. The Harc Pro pairing were in close contention with their Toy Story liveried CBR1000RR holding at bay the Seven Star 11 HRC CBR1000RRW (JSB) machine of Tady Okada and Osamu Deguchi in third place again on a JSB spec machine.
Into the second hour the Toy Story Honda eased ahead of Ito and Tsujimura with the Yoshimura pairing demoting the number 11 Seven Star team to fourth, just a ahead of team-mates Kiyonari and Tamada on the second HRC CBR1000RRW.
Hours three and four saw the race pattern set with Ito and Tsujimura pushing hard to maintain their lead over the Toy Story Harc Pro pairing with Yoshimura holding a solid third place. The two Seven Star teams were now fourth and fifth. But the number 7 machine of Kiyonari and Tamada was experiencing 'front end judder' attributed to brake problems on the CBR1000RRW bringing Kiyo into the pits for two unscheduled stops. The demise of #11 saw Kiyonari and Tamada slide down the order to 10th place.
The top three held their positions through the next two hours but Kiyonari and Tamada were fighting back and with two hours to go were up to fifth place and chasing their Seven Star team-mates, Okada and Deguchi, holding fourth, both teams one lap down on the leading trio.
The pace at the front was relentless with Ito and Tsujimura slowly easing away from their pursuers throughout the seventh hour to establish a one-lap cushion over the Toy Story combination of Konishi and Yasuda. The Seven Star teams continued their comeback with Okada and Deguchi holding their fourth place from the hard charging Kiyo and Tamada.
Ito was chasing his third Suzuka 8 Hours victory and was in no mood to slacken the pace as the race entered its final hour. Tsujimura had yet to win Japans most prestigious two wheeled race and his determination matched that of his team mate the two men pushing running a fast pace through the final hour to win by over a lap from the Harc Pro Honda with Yoshimura taking third place at the flag.
Okada and Deguchi took fourth with Kiyo and Tamada ending their troubled race in fifth place, one lap down on their team-mates. The Masked Rider Honda pairing of Yamaguchi and Tokudome were next home a further two laps down in sixth place.
The Yoshiteru Yokkaichi Honda of Japanese rider Yoshiyuki Sugai and Australian Joshua Brookes crossed the line in seventh, one lap clear of the Tsuruta and Matsudo (Kawasaki). The second F.C.C. TSR Honda in the hands of Yasuke Tejima and Gaku Kamada completed a good day for the team with ninth. Yamaha Austria rounded out the top ten. Honda CBR1000RR machines took no less than 10 of the top 15 places in the race.
Takeshi Tsujimura, F.C.C. TSR Honda: 1st. "I am relieved because there was an atmosphere that we must win the race. I did a lot of night running during the free practice as I was going to do the final stint . We made a lot of advantage before the dark so I could stay cool till the end. Although we are a private team, people from Kayaba, Nisshin and OGK were with us throughout the race. We were disappointed when we lost the Suzuka 300km Race and that is why we could win today."
Shinichi Ito, F.C.C. TSR Honda: "I still can't believe we won the race. It is like a dream come true. I am very much relieved because I was invited to the team to win the race. The reason why I was doing the start was that we knew two Seven Stars Honda would push from the start and thus the pace would be high and we wanted to make a fast rhythm. I was surprised to see Kiyonari making an irregular pit-stop. After that we made an advantage to the others. The main reason for the win was that both our machine and Bridgestone tyre was in good condition till the end. I was thinking that if we can't win this year it doesn't mean anything to continue participating in the 8 hour race, so I am quite happy that we won."
Results 8Hours:
Pos/ Team / Nat / Bike / Class / Riders
1 / F.C.C. TSR Zip-FM Racing Team / JPN / Honda CBR1000RR / XF1 / Takeshi Tsujimura (JPN), Shin'Ichi Itoh (JPN)
2 / Toy Story RT Run'A & Harc-Pro. / JPN / Honda CBR1000RR / JSB / Yoshiteru Konishi (JPN), Takashi Yasuda (JPN)
3 / Yoshimura Suzuki With Jomo / JPN / Suzuki GSX-R1000 / JSB / Atsushi Watanabe (JPN), Kohsuke Akiyoshi (JPN)
4 / Seven Stars Honda 11 / JPN / Honda CBR1000RR / JSB / Osamu Deguchi (JPN), Tadayuki Okada (JPN)
5 / Seven Stars Honda 7 / JPN / Honda CBR1000RR / JSB / Ryuichi Kiyonari(JPN), Makoto Tamada (JPN)
6 / Masked Rider Kabuto Honda Dream RT / JPN / Honda CBR1000RR / JSB / Tatsuya Yamaguchi (JPN), Kazuki Tokudome (JPN)
7 / Team Yoshiharu Yokkaichi & K1 Racing / JPN / Honda CBR1000RR / XF1 / Yoshiyuki Sugai (JPN), Joshua Brookes (AUS)
8 / Trick Star & B-Line / JPN / Kawasaki ZX-10R / XF1 / Ryuji Tsuruta (JPN), Matsudo Naoki (JPN)
9 / F.C.C. TSR Zip-FM Racing Team / JPN / Honda CBR1000RR / XF1 / Yusuke Tejima (JPN), Gaku Kamada (JPN)
10 / Yamaha Austria Team 07 / AUT / Yamaha YZF-R1 / SBK / Igor Jerman (SLO), Gwen Giabbani (FRA), Sebastien Scarnato (FRA)
11 / Team Plus One & Showa / JPN / Honda CBR1000RR / JSB / Hidemichi Takahashi (JPN), Izumi Matsubara (JPN)
12 / Team Sakurai Honda / JPN / Honda CBR1000RR / JSB / Yukio Nukumi (JPN), Kazuma Tsuda (JPN)
13 / Moto Win Racing / JPN / Honda CBR1000RR / JSB / Shingo Suzuki (JPN), Takaomi Takahashi (JPN)
14 / Team Cha-llenger / JPN / Yamaha YZF-R1 / JSB / Norihiko Fujiwara (JPN), Nobuyuki Ohsaki (JPN)
15 / Moto Map Supply / JPN / Suzuki GSX-R1000 / JSB / Yoshihiro Konno (JPN), Yuki Hatano (JPN)
Sete Giberneau Undergoes Further Collarbone Operation
Thursday Jul 27 2006 - On his return from the races at Sachsenring and Laguna Seca, the Spanish rider discovered a problem with the titanium plate inserted in his left collarbone. Gibernau's participation in the next MotoGP race at Brno is probable but not certain.
The first corner crash at the Circuit of Catalunya on June 18th was the start of a difficult period for the Catalan rider, who is encountering further obstacles on his return to full fitness.
Sete broke his left collarbone in the crash, which occurred in the first of 5 races to be held over a period of 6 weeks. He underwent an operation at Barcelona's Dexeus Hospital where surgeons Xavier Mir and Ignacio Ginebreda removed the plate that had remained from a previous incident and replaced it with a larger titanium one.
After going through the necessary period of convalescence and receiving the OK from doctors to race again, Gibernau returned to the track on his Desmosedici GP6 to take part in the German and US GPs.
As soon as he returned from the USA, Sete went to Barcelona for a check-up and an X-ray scan revealed complications, caused by a weakening of the plate itself.
To avoid any further problems, Mir and Ginebreda decided to strengthen the main plate bolt and boost the bone healing process with injections of 'growth factors' extracted from the rider's own blood.
Yesterday (Wednesday 26th July) Gibernau again underwent an operation on his collarbone and was able to return home today.
Gibernau's convalescence should be quicker than the one following the first operation and Dr. Mir maintains that Sete will be able to take part in the next race but only a medical check scheduled for Wednesday 2nd August will establish whether or not the Ducati Marlboro Team rider can race in the next round of the MotoGP World Championship at Brno, Czech Republic on August 20th.
Ducati Cuts Workforce Temporarily
Thursday July 27th - Ducati Motor Holding S.p.A. has initiated trade union discussions with regard to implementing a temporary workforce reduction of 100 employees for 17 calendar weeks starting from the end of August.
The manufacturer said the temporary workforce reduction comes from a need to reduce production in the last four months of the year when, in line with the company's annual budget, reduced sales to the network are expected.
Company officials said lowering production is necessary to avoid creating high stock levels which would have "inevitable and significant consequences" on the company, and which would compromise the success of new models due out next spring.
AMD World Championship
Custom Bike Building Party at Thunder Road on Saturday August 5
Just in case you missed your invite, come and join us for the industry and builder viewing party at the World Championship of Custom Bike Building, Thunder Road, Sturgis on Saturday August 5 starting at 7.00pm.
We look forward to also seeing everyone back on Monday August 7 at 4.00pm for the awards ceremony and crowning of the new World Champion.
Pro Italia Cafe Desmo Saturday, August 12th
Join Pro Italia Los Angeles on Saturday, August 12th for Cafe Desmo, our annual Italian bike show.
Cafe Desmo features a little something for everyone; restored vintage bikes, tweaked custom rides, exotic 2-wheeled art, beautiful stock machines, and a bike show with winners chosen by you the enthusiasts. To see what we're talking about, we've got images from Cafe Desmo 2005 and 2004.
2006 will be our first weekend event. This year's shindig will be Saturday, August 12th from 3pm to 7pm.
Show classes for 2006 will include Best Vintage, Best Custom, Best Monster, Best Sportbike, Best Sportstourer, Best Non-Italian class and whatever else we can dream up.
Mark your calendars, schedule time, polish up your pride and joy and we'll see you on August 12th. For more information contact Pro Italia Los Angeles at 818 249-5707