Official SBK World Superbike Fast Dates Screensavers
Sexy Irish Supermodel and SBK Fast Dates Calendar Kitten Gemma Gleeson gets up close and personal with the DFX Team Sterilgarda Yamaha R1. You can get up close and personal with them both by joining our Monthly Screen Savers & Members Corner
---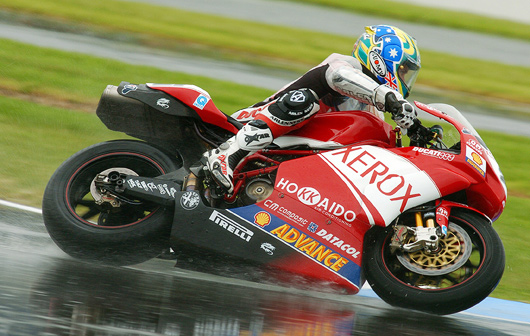 SBK World Superbike Championship, Assen Netherlands, Round 10 of 13

With a Crash and a Win...
Bayliss One Step Closer to World Superbike Title at Assen
Assen (Netherlands), Sunday 3 September - Troy Bayliss (Ducati Xerox) moved another step closer towards taking a second World Superbike title with his tenth win of the season at Assen. The Australian crashed out of the first race, held in dreadful wet weather conditions and won by Chris Walker (Kawasaki), but then had a relatively easy run to the maximum points in the second counter after his three main rivals Noriyuki Haga (Yamaha), James Toseland (Honda) and Troy Corser (Suzuki) were involved in a first-corner incident. Troy now leads the championship with 332 points, 100 ahead of Toseland and 102 ahead of Haga, with 150 points still up for grabs in the remaining three rounds.
"In my opinion race 1 should have been stopped because there was far too much rain coming down" declared Troy. "In the end I was having trouble seeing where I was going and I went too much on the inside of the fast left down the back and completely aquaplaned. The back of the bike came around, with 210 km/h on the telemetry, threw me over the handlebars and that was it. Race 2 on the other hand was pretty easy after the first few laps. I'm really happy with how it turned out but honestly Assen has always been a rollercoaster ride for me and today was no different. I had a very fast off this morning in the rain but I've managed to increase the points lead and we all leave here very happy this afternoon".
Preview
World Superbike Title Countdown Gets Underway at Assen

Aug 31st - Sept 3rd, 2006 - The World Superbike Championship enters a crucial phase with the final third of the season unfolding over the coming weeks. Following the Brands Hatch thriller, which saw Troy 'Superman' Bayliss increase his stranglehold on the championship for the Ducati Xerox Team, the first of two double-header events to conclude the series is this weekend at the Assen TT circuit, followed in seven days time by the German round.

This year's race at the legendary Van Drenthe TT track will take place on the new layout of the circuit, which has been shortened by one-quarter of its distance to 4.55 km to make way for a new car park and spectator complex. As a result all records will now have to be rewritten.

Left: SBK Fast Dates Calendar Kitten and Ducati Corse Grid Super Girl Katie Pugh reveals Superbike Super Hero Troy Bayliss.
Bayliss comes to Assen with a points cushion over Noriyuki Haga (Yamaha) that is sufficient to control the situation but not enough to clinch the title this weekend. The Australian has had mixed times at the TT circuit on the three occasions he has raced there, retiring twice in 2000, then clinching the 2001 title at the Dutch round but crashing out the following year to ruin his chances of a title repeat.
"I've had mixed results at Assen but every time I've been there I've been at the front, which is good to know. The first part of the track has changed a bit now and it's going to be different so that makes me a bit more optimistic about the place. The last race at Brands was pretty much situation normal again and I feel like we're back on track again now. I thought Corser was going to be the most consistent but it's turned out to be Haga now. The other guys are right there as well but I'm on form and they're going to have a hard time to beat me. The strategy remains the same. I always treat every session like we're planning to win at the weekend but you can't say anything until the lights turn green and then you see how the situation is."
Troy Bayliss (Ducati Xerox) has scored more wins than any other rider this year so far, an impressive nine, and thus his immediate aim will be to reach double-digit wins at Assen. His current championship lead of 77 points (with a maximum possible 200 points available for any rider who wins all eight races from now on) puts him in an enviable position, but a clutch of strong challengers are ranged behind Bayliss, sharing an equal level of determination to push him all the way.
Second place in the championship, based on consistency rather than outright levels of winning, is Noriyuki Haga (Yamaha Motor Italia). He scored his first 2006 race victory at the most recent round at Brands Hatch, and has won at Assen before, albeit way back in the 2000 season. The third placed rider in the current series, 2004 champion James Toseland (Winston Ten Kate Honda) has also scored an Assen race win, taking victory in race one during his championship winning year. He sits 11 points behind Haga, and his bulldog spirit will ensure that Bayliss will be chased all the way to the finish. Assen is one of the few circuits that current overall fourth placed rider Troy Corser (Alstare Suzuki Corona Extra) has never scored at least one race win at, and given his recent reversals of fortune, the 1996 and 2005 world champion could find no better place to rediscover the winning touch which he has demonstrated twice this year already.
Having to learn the nuances of Superbike racing in what is his rookie SBK season, the otherwise vastly experienced Alex Barros (Klaffi Honda) now finds that even the familiar will feature yet another set of learning curves, as he - like his fellow riders - approaches an unfamiliar layout of Assen circuit. A proven Assen winner in his MotoGP days, Barros is a fan of the 'old' Assen, and is expected to allow at least a part of his circuit knowledge to shine through from the first session to the final chequered flag. With some impressive performances under his belt already, but still no win, Assen may be his best opportunity to rediscover his podium form, and maybe even score that elusive win number one. That particular 25-point maximum landmark has already been reached by a rider in his second full season of SBK racing, Andrew Pitt (Yamaha Motor Italia), who scored his first career SBK win at Misano in June. Having got a taste for winning, Pitt will be satisfied by nothing less at Assen, as he tries to make up the short gap of nine points to Barros, in fifth place.
After the huge misfortune of being skittled from a probable race win in round one at Qatar, Corser's talented team-mate Yukio Kagayama (Alstare Suzuki Corona Extra) has surged back into the upper echelons since his third place at round six at Misano. His double race win at Brno was possibly a surprise to some, but it underlined the class that everyone knows Kagayama has. He currently sits in a lonely seventh on points, ready for any slip form the riders above him to take his second overall top five finish in his second year of SBK competition. Behind Kagayama, a two-rider points tie sees 2005 race winner Lorenzo Lanzi (Ducati Xerox) and Chris Walker (PSG-1 Kawasaki Corse) battling for supremacy, with Walker the highest-place rider in the three man PSG-1 squad. The top ten is rounded out by another Brno sensation, Michel Fabrizio (DFX Treme Honda) who is out to add to his double podium in round seven, at Brno.
Another two current riders have garnered SBK wins at Assen in previous years, with Ruben Xaus (Ducati Sterilgarda Berik) having won race one in 2003, while riding for the factory Ducati squad. His solid season thus far sees him 11th, and another private rider, Pierfrancesco Chili (DFX Honda), shares his status as a former Assen winner, thanks to a magnificent ride in the 1998 season. Chili is currently 20th, after sustaining serious injury at the mid-season point.
THE CIRCUIT - STATISTICS: revised circuit.
Name: Van Drenthe Circuit Assen TT, Length: 4.55 km, Pole Position: left. Race distance: 2 x 22 laps/100.210 km
CHAMPIONSHIP POINTS (after 8 of 12 rounds): Riders - 1. Bayliss (Ducati Xerox) 307; 2. Haga (Yamaha) 230; 3. Toseland (Honda) 219; 4. Corser (Suzuki) 193; 5. Barros (Honda) 166; 6. Pitt (Yamaha) 157; 7. Kagayama (Suzuki) 126; 8. Lanzi (Ducati Xerox) 96. Manufacturers - 1. Ducati 317; 2. Honda 267; 3. Suzuki & Yamaha 259; 5. Kawasaki 140; 6. Petronas 4.
2005 RESULTS: Race 1 - 1. Vermeulen (Honda); 2. Toseland (Ducati); 3. Haga (Yamaha). Race 2 - 1. Vermeulen; 2. Haga; 3. Toseland.
TV COVERAGE: Eurosport (Pan European): Sunday 3 September - 1200 SBK race 1 (live); British Eurosport (UK): Saturday 2 September - 1545 Superpole (live), Sunday 3 September - 1130 SBK race 1 (live), 1745 race 2 (delayed). Eurosport 2 (Pan-European): Sunday 3 September - 1515 SBK race 2 (live). La7 (Italy): Sunday 3 September - 1430 SBK race 1(delayed), 1525 SBK race 2 (live). RTL7 (Netherlands): Sunday 3 September - 1630 SBK race 1 & 2 (delayed).
SUPERSPORT WORLD CHAMPIONSHIP The early season runaway performances of Sebastien Charpentier (Winston Ten Kate Honda) have been halted by a combination of pelvic and shoulder injury, plus the resurgent form of his main championship rivals, Kevin Curtain (Yamaha Motor Germany) and Broc Parkes (Yamaha Motor Germany). Charpentier and Curtain now share the lead, with Parkes some 12 points behind - and with 100 up for grabs to any rider who can win all of the last four races. Robbin Harms (Stiggy Motorsports) still sits an impressive fourth, with proven race winning rookies Massimo Roccoli (Yamaha Team Italia) and Yoann Tiberio (Megabike Honda) fifth and sixth respectively. Two podium finishes in the last two races have put Kenan Sofuoglu (Winston Ten Kate Honda) equal on points with Tiberio, and in his team's home country the Turkish rider will be looking to help out his team-mate Charpentier, as well as going for his first career WSS win.
SUPERSTOCK 1000 FIM CUP Alessandro Polita (Celani Suzuki Italia) continues to lead Ayrton Badovini (Biassono Unionbike MV Agusta) in a battle of the men most likely to score overall championship victory, but Luca Scassa (EVR Corse Ormeni Racing) run of third, second and then first (the latter at the previous round in Brands Hatch) have taken him to within 19 points of the lead, with four rounds to run. The only other 2006 race winner, Claudio Corti (Yamaha Team Italia) is forth overall, some 50 points from Polita, while the top-placed English speaking rider is Brno podium placer,
Richard Cooper (MS Racing Honda).
SUPERSTOCK 600 EUROPEAN CHAMPIONSHIP Xavier Simeon (Alstare Suzuki Corona Extra) extended his lead over Niccolo Canepa (Ducati Xerox) to 39 points after a thrilling Brands race, while another 2006 season find, Davide Giugliano (Lightspeed Kawasaki), slips further away from the fight for the title. In this exciting class for younger riders on virtually stock machines, the top three places are held by riders on machinery of disparate origins.
SBK ON THE MARCH RIGHT AFTER ASSEN After the Dutch treat at Assen the entire SBK paddock heads immediately to the Eurospeedway Lausitz for the German round of the championship, round 10, between 8 and 10 September. The final two rounds take place at Imola (Italy) and Magny-Cours (France), with racedays on 1 and 8 October respectively.
Friday Qualifying - Bayliss Heads the Way on New Assen Layout
POINTS LEADER TAKES A CLEAR ADVANTAGE ON DAY ONE
Friday Sept 1st - Having recently confirmed that he will ride for his current Ducati factory squad for two more seasons, 2001 world champion Troy Bayliss (Ducati Xerox) set about the first day of work at Assen with some relish, leading the field for the majority of the first qualifying hour before setting an unbeatable lap of 1'39.336 near the end of the session. He was only followed into the 1'39s by his own team-mate Lorenzo Lanzi, who set an opening day personal best of 1'39.888 at the new-look 4.555km Assen circuit.
With rain always a possibility at Assen, it was important for the top riders to post a fast first day time, in case the second and final regulation qualifying session dawns wet. Thus the competition from third place to 16th place (the last spot in Superpole) was covered by less than a second. In third place on the timesheets Michel Fabrizio (DFX Treme Honda) posted a 1'40.171, 0.8 seconds behind Bayliss. James Toseland (Winston Ten Kate Honda) pushed his way to fourth, despite losing time in the first section of the track; the modified and shortened section.
With a new crew chief to oversee operations, Alex Barros (Klaffi Honda) scored fifth fastest time on his first visit to the new Assen, holding off the close attentions of top Yamaha qualifier, Andrew Pitt (Yamaha Motor Italia). Yukio Kagayama (Alstare Suzuki Corona Extra) was an assured seventh and top Ducati privateer proved to be former Assen race winner, Ruben Xaus (Sterilgarda Berik), blooding the nose of many riders on ostensibly faster machines.
Noriyuki Haga (Yamaha Motor Italia) made a relatively safe Superpole qualifying performance on day one, leading Karl Muggeridge (Winston Ten Kate Honda) on the time sheets by 0.134 seconds. Top Kawasaki rider on day one was Regis Laconi (PSG-1 Kawasaki Corse) 11th, but ahead of first day toiler, Troy Corser (Alstare Suzuki Corona Extra). Seldom has the third row held so much proven race-winning talent.
Reigning Champion Troy Corser had this to say after Friday Practice (12th fastest, 1:40.837)
No dramas, no worries today, just cruising, learning the track and trying out different gearing. I don't like the new section at all and feel the flowing nature of the track has been spolit. But I understand why they've done what they've done and it's up to all of us to just get on with it. I had a few little problems with the brakes, but nothing too serious. I'm not worried about being twelfth today, it's what happens tomorrow that counts.
Friday Qualifying Tims: 1 Bayliss (Aus-Ducati) 1:39.336, 2 Lanzi (I-Ducati) 1:39.888, 3 Fabrizio (I-Honda) 1:40.171, 4 Toseland (GB-Honda) 1:40.242, 5 Barros (Bra-Honda) 1:40.415, 6 Pitt (Aus-Yamaha) 1:40.474, 7 YUKIO KAGAYAMA (J-Alstare Suzuki Corona Extra) 1:40.567, 8 Xaus (E-Ducati) 1:40.581, 9 Haga (J-Yamaha) 1:40.612, 10 Muggeridge (Aus-Honda) 1:40.746, 12 TROY CORSER (Aus-Alstare Suzuki Corona Extra) 1:40.837.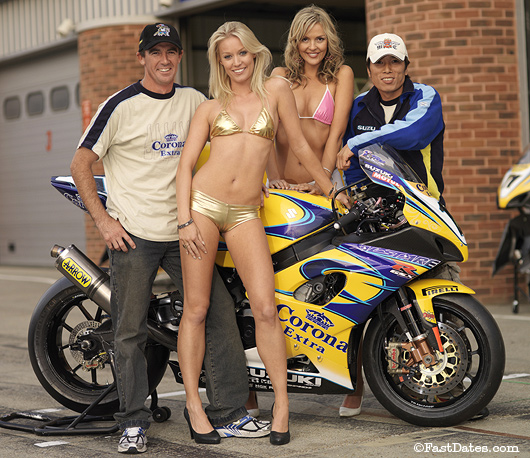 Our Fast Dates Calendar shoot at Brands Hatch 2006 last month with the reigning SBK World Superbike Championship team Corona Suzuki and Troy Corser, FastDates.com Calendar Kittens Katie Pugh and Camilla Tranter, and season race winner Yukio Kagayama.
Troy Coirser Extends his Superpole Record at Assen
Saturday Sept 2nd - Team Alstare Suzuki Corona Extra rider Troy Corser shrugged off the problems in qualifying to take Superpole at Assen today. It was his first Superpole since Monza in early May,and his third of the season. It is also the 37th Superpole of his career and pushes him further ahead of his nearest rival Carl Fogarty, who has recorded 21 pole positions. It was a particularly good Superpole for Team Alstare because Troy's team mate Yukio Kagayama set the third quickest time of the day and will line up on the front row of the grid. Between him and Troy is his good friend Noriyuki Haga (Yamaha), with series leader Troy Bayliss (Ducati) in fourth place. Bayliss still retains the quickest lap of the weeked at 1'36.965 set earier in pratice.
TROY 1st, 1:38.965 - After the small problems in qualifying, it's fantastic to take Superpole today. It's been a bit of a while, but once we'd improved the clutch feeling and got some more grip, I knew that I was in for a chance of a front row place on the grid. And, to be honest, that's what I expected, so to get Superpole is a bonus. Front row is so important here, as any race, because the first section of the track consists of four or five slow turns and you have to be up the front or else you'll get left behind. Tyre life is going to be a real factor tomorrow because nobody will have good grip in the second half of the race. I really hope that it doesn't rain tomorrow, because that'll ruin the races and not make it so much for the fans

Superpole Final Qualifying
1 TROY CORSER (Aus-Alstare Suzuki Corona Extra) 1:38.965, 2 Haga (J-Yamaha) 1:39.009, 3 YUKIO KAGAYAMA (J-Alstare Suzuki Corona Extra) 1:39.176, 4 Bayliss (Aus-Ducati) 1:39.304, 5 Barros (Bra-Honda) 1:39.419, 6 Muggeridge (Aus-Honda) 1:39. 543, 7 Toseland (GB-Honda) 1:39.565, 8 Pitt (Aus-Yamaha) 1:39.756, 9 Nieto (E-Kawasaki) 1:39.958, 10 Lanzi (I-Ducati) 1:40.149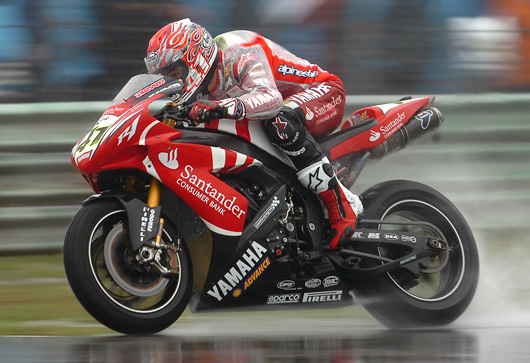 Noriyuki leads Race One before splashdown. Note the cool new Ohlins Superbike brakes with piggyback remote resevoirs and lower postion brake caliper mounts. The works Yamaha team's performance parts for the R1 can be purchased from Yamaha European distributors as featured in on our Paddock Garage.

Race Report by Andy Rixon

Superbike Race One - Stalker Stems the Tide for his First Superbike Win
Sunday Sept 3rd - After 3 days of dry conditions for Practice and Qualifying, the heavens let loose on Sunday morning at 9am just to remind the World Superbike teams and race fans what Assen is well known for...RAIN! The First Race a few hours later kicked off in the downpour on a soaking wet track with points leader Bayliss jumping into an amazing lead from his inside line back on the 2nd rot, followed by Corser, Kagayama and Haga. With the conditions atrocious the four front runners started to pull away from the main pack. The conditions didn't stop the action though with Corser, Bayliss and Haga all swapping the lead in the early laps.
Four laps into the race the heated fight for the lead took its first of the 4 protagonists with Corser the first of the leaders to crash out, loosing the front end at the first corner on lap 7. He was very lucky as his Suzuki spun around over him but managed to miss the reigning champion. Two laps later Haga ran wide pushing Bayliss out onto the gravel. The Ducati rider managed to rejoin just in time to see Yukio Kagayama have a big highside in front of him. The Japanese rider was ok but the damage to his Suzuki prevented him rejoining.
Two laps later Bayliss ran off at the same place this time without any assistance from anyone else. He again kept his Ducati upright and rejoined the race, but this had allowed Haga to pull further away. Bayliss looked like he was throwong caution to the wet rather than protecting his points lead as he should, and continued to run off the track a few more times before finally loosing the front of his Ducati and crashed out leaving Haga as the
only one of the original four front runners still upright. At this point Walker had managed to get up into 6th place and was looking very menacing.
Haga was looking in a very strong position with a comfortable gap back to second placed rider Andrew Pitt but more importantly a 25 point advantage over Bayliss in the championship. Unfortunately at the end of the lap he
lost the front end of his Yamaha and crashed out in a nearly exact copy of Bayliss' crash.
This left Pitt in first place with Fabrizio in second and the charging Walker in third. On the 14th lap Walker passed Fabrizio and was pushing hard to catch Pitt. The next lap Walker was all over the back of Pitt's Yamaha
and threw his Kawasaki up the inside of Pitt on the final corner to take the lead. Pitt tried to respond but could only manage to maintain the gap never closing it up. Walker then had the longest 7 laps of his life keeping the PSG-1 Kawasaki upright to take a very emotional win. Pitt was second with Fabrizio taking the final podium position.

Other notable crashers included Ruben Xaus, who had looked to be very threatening after putting in a number of fastest laps and moving up the field. Karl Muggeridge crashed out but managed to rejoin eventually
finishing 9th just ahead of his team mate James Toseland.




Walker jubliant over his first WSB win, sharing the podium with Pitt, Fabrizio.
Alex Barros had looked to be in with a good chance starting from 5th place but he went backwards from the start and retired on lap 4. Haga was the biggest loser of the race throwing away the chance to close to within 52 points of championship leader Bayliss. Toseland only managed to pick up 6 points putting him 5 points behind Haga in 3rd place. Corser remains in 4th 114 points behind Bayliss. With the conditions starting to
clear up here it's possible we may have a dry second race.
SUPERBIKE Race 1: (Laps 22 = 100,210 Km)
Pos /Rider /Nat. /Team / Time /Gap
1 / C.WALKER / GBR / PSG-1 Kawasaki Corse / 44'23.501 /
2 / A. PITT / AUS / Yamaha Motor Italia WSB / 44'28.466 / 4.965
3 / M.FABRIZIO / ITA / D.F.X. Treme / 44'47.631 / 24.13
4 / F. NIETO / ESP / PSG-1 Kawasaki Corse 2 / 45'00.469 / 36.968
5 / N. ABE / JPN / Yamaha Motor France-Ipone / 45'00.679 / 37.178
6 / M.NEUKIRCHNER / GER / Alstare Eng. Corona Extra / 45'00.825 / 37.324
7 / L. LANZI / ITA / Ducati Xerox / 45'04.431 / 40.93
8 / R. ROLFO / ITA / Ducati SC - Caracchi / 45'05.358 / 41.857
9 / K. MUGGERIDGE / AUS / Winston Ten Kate Honda / 45'16.883 / 53.382
10 / J. TOSELAND / GBR / Winston Ten Kate Honda / 45'19.370 / 55.869
11 / I. CLEMENTI / ITA / Team Pedercini / 46'03.336 / 1'39.835
12 / S. MARTIN / AUS / Foggy Petronas Racing / 46'23.225 / 1'59.724
13 / S. NAKATOMI / JPN / Yamaha Motor France-Ipone / 44'50.446 / 1 Lap
14 / H. VAN BEEK / NED / Motoport Den Bosch - Suzuki / 45'23.035 / 1 Lap
15 / V. IANNUZZO / ITA / Celani Team Suzuki Italia / 46'24.755 / 5 Laps
Fastest Lap 6° Ruben Xaus 1'57.291 139,806 Km/h
Bayliss (21) pulls out an easy lead on the 2nd lap of Race Two with Corser, Haga and Toseland alreay eliminated.

Superbike Race Two - Bayliss Reasserts his Dominance
Start Crash between Corser, Haga and Toseland gives away the Championship
Xerox Ducati's Troy Bayliss put his Race One DNF behind him in dominant fashion, and for the afternoon's Second Race on a drying track at Assen finishing 9.3 seconds clear of second place rider Andrew Pitt.
Bayliss' championship position was further boosted by his three main rivals all being caught up in a first corner accident. Troy Corser tangled with Nori Haga's Yamaha as they went into Turn One , and Corser couldn't stop his Suzuki from going down and taking James Toseland with him. Haga came off further round the same corner. Toseland managed to get going again and eventually finished in 9th place.
Bayliss wasn't to have it all his own way as he was followed by Yukio Kagayama, Andrew Pitt, Ruben Xaus, Karl Muggeridge, Regis Laconi and Fonsi Nieto. These riders made up a fright train for the first six or seven laps. Kagayama took lead from Bayliss on the third lap by throwing his Suzuki up the inside of Bayliss. He was swiftly followed by a charging Xaus who couldn't resist the chance to get one over his ex team mate.
Bayliss fought back and two laps later he passed Xaus and then three laps later he got the better of Kagayama. From this point on Bayliss pulled the pin and took off building a comfortable gap from the following riders and
maintaining the pace until he took the chequered flag for his 10th win of the season and to claim a championship lead of 100 points.
Behind Bayliss the battle for the two remaining podium positions was getting very intense. Nieto was putting on a charge and passed both Xaus and Pitt, however on the 16th lap he ran wide and this allowed Pitt, Kagayama and Xaus to pass him. Nieto manhandled his Kawasaki back past Xaus and then caught Kagayama. The Japanese rider fought back immediately but Nieto passed him again and managed to make it stick. Pitt crossed the line in second place with Kagayama managing to hold off a ery determined Xaus to take third.
Race one winner Chris Walker couldn't replicate his race one performance and half way through the race his race times started to drop off and he finished in 14th. Foggy Petronas rider Steve Martin had a steady pair of races with his 11th place in race two, one better than his 12th place in race one. His team mate Craig Jones had a pair of DNF's although he was running in a strong 12th place in race two before his retirement. Alex Barros fought his way back from a poor start, dropping down to 12th at the start, to finish in 7th place, just behind Bayliss' team mate Lorenzo Lanzi who had had a long battle with Regis Laconi.
With Bayliss 100 points clear in the championship and only 3 Rounds / 6 Races to go (with 25 points awarded per win) it looks as if he's got it tied up! But you can never tell, remember he crashed out in MotoGP and missed the last three rounds of last season with a wrist injury, so stranger things have happened. But with Ducati having announced early this week that Troy has resigned with the Ducat team for another 2 years, his future is very wel set.
There's not long to wait for the next round with the championship moving onto Lausitzring in Germany next weekend. Will Bayliss tie up the championship? Can Haga fight back? Can the Foggy Petronas team get some good results before they disband after their 5 year run? All will be revealed here next week at FastDates.com!
SUPERBIKE Race 2: (Laps 25 = 92,575 Km)
1 / T. BAYLISS / AUS / Ducati Xerox / 37'29.307 /
2 / A. PITT / AUS / Yamaha Motor Italia WSB / 37'38.649 / 9.342
3 / F. NIETO / ESP / PSG-1 Kawasaki Corse / 37'40.955 / 11.648
4 / Y. KAGAYAMA / JPN / Alstare Suzuki Corona Extra / 37'42.050 / 12.743
5 / R. XAUS / ESP / Sterilgarda - Berik / 37'42.118 / 12.811
6 / L. LANZI / ITA / Ducati Xerox / 37'49.152 / 19.845
7 / A. BARROS / BRA / Klaffi Honda / 37'58.548 / 29.241
8 / R. LACONI / FRA / PSG-1 Kawasaki Corse / 38'03.392 / 34.085
9 / J. TOSELAND / GBR / Winston Ten Kate Honda / 38'11.420 / 42.113
10 / M.FABRIZIO / ITA / D.F.X. Treme / 38'21.122 / 51.815
11 / S. MARTIN / AUS / Foggy Petronas Racing / 38'22.915 / 53.608
12 / R. ROLFO / ITA / Ducati SC - Caracchi / 38'25.439 / 56.132
13 / K. MUGGERIDGE / AUS / Winston Ten Kate Honda / 38'26.475 / 57.168
14 / C.WALKER / GBR / PSG-1 Kawasaki Corse / 38'30.363 / 1'01.056
15 / J. BROOKES / AUS / Kawasaki Bertocchi / 39'03.736 / 1'34.429
Fastest Lap 16° Troy Bayliss 1'40.767 162,732 Km/h
Record Lap: R.Xaus 1'57.291 139,810Km/h 2006
Riders Championship Standings:
1 BAYLISS 332, 2 TOSELAND 232, 3 HAGA 230, 4 PITT 197, 5 CORSER 193,
6 BARROS 175, 7 KAGAYAMA 139, 8 WALKER 123, 9 LANZI 115, 10 NIETO 112,
11 FABRIZIO 109, 12 XAUS 95, 13 ABE 88, 14 LACONI 80, 15 MUGGERIDGE 76.
Sofuoglu Wins Wet 2-Leg Supersport Race for Ten Kate Honda
Heavy rains and a crash mid-way at lap 10 through the Supersport race at Assen made for a two-part aggregate race in Holland, with WSS rookie Kenan Sofuoglu (Winston Ten Kate Honda CBR600RR) doing enough in leg one to allow his team-mate Sebastien Charpentier (Winston Ten Kate Honda CBR600RR) to lead the field home in the second leg, and yet still let the young Turk take a popular first WSS race win by over four seconds.
Behind Sofuoglu in was the fight was for the World Title, and Curtain seemed to be quite comfortable in second position, ahead of Andersen and Charpentier when the race was stopped for the crash.. The second part was started on Full Rain tyres but with the weather getting better every lap, an almost a dry line appeared at the end.

Sofuoglu took the final victory, even if Charpentier crossed the checkered line in first position, (because of the aggregate regulations), while Curtain, finishing 2nd, took the Championship lead. Third on the podium was Andersen, with his Suzuki, for the first time. Riders could try the wet tyres on the track only this morning during the warm-up, but looking at the times they immediately found a good feeling, offering the public a great show.
Charpentier finished fourth on aggregate, and with his main championship rival Kevin Curtain second, Sebastien lost his championship lead for the first time this season. He now sits second, on 144 points, with Curtain leading on 151. Sofuoglu's superb performance on his Winston Ten Kate squad's home circuit puts him fifth overall, with 92 points.
Sofuoglu looked an assured and composed winner at Assen, after a disappointing ninth in dry qualifying. "I am particularly happy because it didn't start right for me, Friday and Saturday were not particularly nice," said Sofuoglu in the post race press conference. "I started from ninth position but when it started to rain I knew I had a different chance. I am now really happy to win especially at Assen because it is Ten Kate's home race and I live just 30km from here. So it is particularly nice. Now we got to Lausitz and I know it and like it. Hopefully I can win another race in the three that remain."
SUPERSPORT RACE: (Laps 21 = 95,655 Km)
Pos /Rider /Nat. /Team / Time /Gap
1 / K. SOFUOGLU / TUR / Winston Ten Kate Honda / 41'49.124 /
2 / K. CURTAIN / AUS / Yamaha Motor Germany / 41'53.705 / 4.581
3 / K. ANDERSEN / NOR / Hoegee Suzuki / 41'58.365 / 9.241
4 / S. CHARPENTIER / FRA / Winston Ten Kate Honda / 41'58.613 / 9.489
5 / A. VOS / NED / J&E Sport Ten Kate Honda / 42'19.118 / 29.994
6 / B. VENEMAN / NED / Hoegee Suzuki / 42'20.982 / 31.858
7 / G.VIZZIELLO / ITA / Yamaha Team Italia / 42'43.436 / 54.312
8 / M.ROCCOLI / ITA / Yamaha Team Italia / 42'45.209 / 56.085
9 / R.HARMS / DEN / Stiggy Motorsports / 42'58.859 / 1'09.735
10 / S. EASTON / GBR / Team Manila Grace SC / 43'03.023 / 1'13.899
11 / M.BERGER / FRA / Gil Motor Sport / 43'10.575 / 1'21.451
12 / S. LE GRELLE / BEL / Legrelle - Honda Belgium / 43'15.582 / 1'26.458
13 / A. VELINI / ITA / Umbria Bike / 43'21.261 / 1'32.137
14 / V. KALLIO / FIN / SLM Racing / 43'26.501 / 1'37.377
15 / G.NANNELLI / ITA / Team Manila Grace SC / 43'34.481 / 1'45.357
Fastest Lap 21° Kevin Curtain 1'55.516 141,954 Km/h
Lap Record: new track
Riders Championship Standings:
1 CURTAIN 151, 2 CHARPENTIER 144, 3 PARKES 119, 4 HARMS 94, 5 SOFUOGLU 92,
6 ROCCOLI 86, 7 TIBERIO 67, 8 STIGEFELT 57, 9 FORES 49, 10 VIZZIELLO 46,
11 CHECA 29, 12 SANNA 27, 13 FUJIWARA 22, 14 ANDERSEN 21, 15 BROOKES 21.
---
2008 Fast Dates Photo Shoot at Brands Hatch World Superbike

by Jim Gianatsis

August 10th 2006 - The first week in August again saw us leave our palacial FastDates.com Mansion offices in Los Angeles and jump aboard Virgin Atlantic Airways (great in flight movies with personal video screens!) to Heathrow Airport outside London, England, and then by rental car to the SBK Corona Extra World Superbike round at Brands Hatch Raceway to shoot our next year's official SBK 2008 Fast Dates Racebike Pinup Calendar.

Brands Hatch is one of the premier rounds of the World Superbike, situated at a beautiful modern facility in rolling wooded hills, this year pulling a huge crowd of some 115,000 fans. We started shooting the calendar last year at Brands when the U.S round of the World Superbike Championship at Laguna Seca was dropped from the schedule and replaced by the MotoGP.
Guys always think I've got the greatest job in the world, being able to hang and shoot with the top roadracing racing teams, their bikes and riders, and the most beautiful swimsuit models in the world. And most times I do, but every so often problems do come up.... Continued HERE.
---

Mladin stayed at the top of the podium again this week at road Atlanta ahead of team mates Ben Spies and Aaron Yates.

AMA Superbike Championship, Road Atlanta, Round 10 of 11
DuHamel Secures Third in AMA Superbike Championship
Mladin -Spies -Yates Both Days at Road Atlanta "Ho-Hum, Yawn"
Braselton, GA, Sept 1-3rd, 2006 - American Honda's Miguel Duhamel was guaranteed a third place finish in the 2006 AMA Superbike Championship, despite a frustrating weekend at Road Atlanta, site of the penultimate round of the championship. Miguel spent the weekend trading 4th place wins with Ducati's Neil Hodgson as the dominate Yoshimura Suzuki team of Matt Mladin, Ben Spies and Aaron Yates made picture purfect their 1-2-3 finishes in the weekend's 2 Superbike Nationals.
Saturday was the stronger of the two days for Duhamel. He led the first lap, ran second on the second lap, then settled into third for the duration. It was only on the 24th of 25 laps that he lost the spot to Aaron Yates, the Suzuki rider drafting pass on the long back straight. Duhamel countered with a strong move into the hard braking turn ten, but couldn't find his away past the Georgian. The difference at the flag was .533 seconds.
"I was frustrated," Duhamel said. "After that race I was like, man, I let one get away." Duhamel was determined not to let it happen again on Sunday. Again he started well and slotted into third, but was dropped to fourth on the 11th of 25 laps. Yates came past four laps later and, soon after, a lapped rider cost Duhamel any hope of keeping up with the lead pack.
"That eight-tenths of a second, or whatever it cost me-I did a 26-something (1:26.084)-that was the difference between me getting back to those guys at the end of the race and getting a shot at third again," Duhamel said. "So that was very frustrating, but at least at the end I found myself again." With only the final round of the championship remaining, at the Mid-Ohio Sports Car Course in a month's time, Duhamel is an unassailable third in the championship.
Teammate Jake Zemke spent the weekend trying to find a good set-up, not only for the race, but also for next season. Zemke and Duhamel both struggled with rear grip problems on Saturday, the result of the suspension overworking the tire, and had more success on Sunday. On Saturday Zemke was sixth and he came eighth on Sunday, but in a spectacular way. Zemke was smoking the rear tire of his American Honda CBR1000RR to keep up with the leaders. But eventually he wore the tire out and Zemke's forward march was slowed.
"Every time we've gone out on the track we've had a completely different motorcycle, just trying to find some answers for next year," Zemke said. "We kind of did the same thing we did at the last race, just kind of said, 'Alright, look, we need to figure out our stuff sooner than later and let's not worry too, too much about our results and try and get the bike figured out."
The podium was identical both days, with Mat Mladin leading Suzuki teammates Ben Spies and Aaron Yates.
Miguel Duhamel 4th/5th: Saturday - "It was a really good result considering I overheated the rear tire and it chunked with 12 laps to go, like almost at mid-race. And the whole time I was thinking, 'Should I just come in and change the tire.' It went through my mind to point to the team and show them the tire. Even with the chunked tire I think my bike would've been good enough to get third. I made a little mistake in the chicane, which I was struggling a bit and (Yates) got away there and I just couldn't get close enough to make a safe pass again, so Aaron got third.
Sunday - "Today we tried a different set-up, tried to get more grip, made the bike a little shorter. We used the same tire, shaved down a little bit to help with the heat. The grip wasn't as good as yesterday because of the shaving down, obviously, but at least it didn't overheat. And I spun it ten times more than yesterday. I tried really hard to stay with the Suzuki for a while. I was kind of enthused about that, because I was staying with Mat (Mladin) and Ben (Spies). Nobody had nothing for Mat. But I was going 'Wow, I might get Ben.' Next thing you know I think I got caught by Neil (Hodgson) and Neil got by me and then (Aaron) Yates got by me and I was just trying to get used to the new set-up. It had different strengths and I had to try to find them before the end of the race and I found them about halfway."
Jake Zemke 6th/8th: Saturday - "We lacked grip quite a bit; most of the guys did. Everybody, I think, was kind of in the same boat. But being that we were searching around for a set-up, I think ours was a little bit worse and our bikes don't make funny sounds (of traction control) coming off the corners and that doesn't seem to help us at all either. Especially on a track like this where it's pretty slippery. It's definitely an advantage here. And when everybody you're racing against, you can hear their bikes make funny noises, it's a little tough."
Sunday - "I got a little bit better start today for sure. At least I could see the front for a while. But the same thing; the bike was so different. The first time I rode it was the first lap of the race, basically. It was good until the tire started to drop off a little bit, after about eight laps, and then after that it was all downhill. We could run at a fairly good pace, at least for the guys fighting for third, but we couldn't sustain that pace. We were definitely working the tire, but if I back off enough for the thing to have grip and not have it out of line, to keep the wheels in line, the guys just drive away from me. It's the only way I could even keep up to where I was, to do what I was doing."
Saturday Superbike:


1. Mat Mladin (Suzuki)
2. Ben Spies (Suzuki)
3. Aaron Yates (Suzuki)
4. Miguel Duhamel (Honda)
5. Neil Hodgson (Ducati)
6. Jake Zemke (Honda)
7. Tommy Hayden (Kawasaki)
8. Steve Rapp (Suzuki)
9. Jason Pridmore (Suzuki)
10. Jake Holden (Suzuki)

Sunday Superbike:


1. Mat Mladin (Suzuki)
2. Ben Spies (Suzuki)
3. Aaron Yates (Suzuki)
4. Neil Hodgson (Ducati)
5. Miguel Duhamel (Honda)
6. Roger Lee Hayden (Kawasaki)
7. Ben Bostrom (Ducati)
8. Jake Zemke (Honda)
9. Tommy Hayden (Kawasaki)
10. Jake Holden (Suzuki)
Championship Standings:
1. Ben Spies (Suzuki) 625
2. Mat Mladin (Suzuki) 605
3. Miguel Duhamel (Honda) 496
4. Aaron Yates (Suzuki) 451
5. Neil Hodgson (Ducati) 440
6. Tommy Hayden (Kawasaki) 430
7. Jake Zemke (Honda) 424
8. Jason Pridmore (Suzuki) 374
9. Ben Bostrom (Ducati) 364
10. Larry Pegram (Honda) 331
---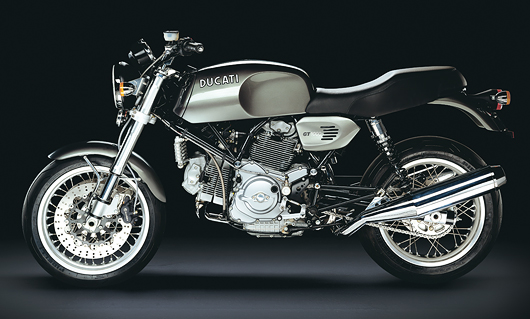 Ducati GT1000 Finally Hits Dealer Showrooms after 3-year wait...
The essential beauty and timeless style of the Ducati GT models of the 1970s now comes to life again withthe new Ducati GT1000, a bike to be ridden every day, with a balance of two-up comfort and Ducati Desmo Twin performance. The classic tradition of Italian Grand Touring returns in a successful mix of style and performance. The philosophy that lies behind the new Ducati Sport Classic family finds further emphasis in this new model, which completes the Ducati Sport Classic Range and fully lives up to the expectations and promises made at its Tokyo Motorshow launch in October 2003.
The shapes of the GT1000 are modern interpretations of the classic lines of the original GTs of the 70s. The rather slim fuel tank features knee cut-outs on the sides and deep sculpting that allows a comfortable riding position. Full fender front is mounted with elegant aluminium tubing braces. The trim side covers remind us of the 70's originals, and feature small venting holes for accent. Many of the details like the top crowns, fork caps and handlebar mounts are finished in polished aluminium, and are complimented with the chrome surfaces of the wheels, instrument trim, handlebars and horn covers. Finally, the classic look is completed with chrome full-length exhaust pipes and mufflers, one per side.
The rider's position on the GT1000 is one of comfort and control. The chromed tubular steel handlebars enables an upright riding position to be maintained. A well-padded dual seat is sewn in a classic pattern and features 'Ducati' printed in white proudly on the back. Rider footpegs are placed conservatively forward allowing comfort and good ground clearance at the same time. The GT1000 is a true two-seater, so the passenger's footpegs are also sensibly placed for all-day comfort.
The advanced Desmo 1000 Dual Spark engine powers the GT1000. The torquey air-cooled L-twin is the perfect match for the GT1000's comfort and performance attributes. Alloy cylinders, with their traditional cooling fins form the classic "L" configuration, reminding us of the original Taglioni design. Slim between the legs and exposed for all to see, the latest two-valve Desmo system, fuel-injection, computer controlled engine management and Ducati Testastretta technology ensure that the 1000 DS engine is powerful, dependable and thrilling to ride. Some of us though, will miss adjusting valves and cleaning points.
New 2007
Fast Dates Racebike,
Iron & Lace Custom
& Garage Girls Calendars
Click to Order Now!




2007 SI Swimsuit 15-inch Wall Calendar w/poster
Motorcycle Land Speed Record Finally Falls at 341.7 mph!
On September 3rd, the first day of racing at the International Speed Trials by BUB, on the legendary Bonneville Salt Flats, the long-standing record of Dave Campos was finally eclipsed.
At present official confirma! tion is still awaited, but the Ack Attack crew served notice with an initial run of 344mph. Turning the streamliner round for the return run as required by regulations, rider Rocky Robinson recorded 340mph on this pass. The mean figure of 341.7mph, if approved, will become the new world benchmark.
Dave Campos' figure has stood for no less than sixteen years. Campos recorded 322mph in a double Harley-engined streamliner at Bonneville in 1990. A number of challenges have been put up since then and some efforts have even exceeded the record, including the Ack Attack team in 2004. This became a record, but not the coveted and FIM-sanctioned World Record, which requires a number of conditions to be met.
The Ack Attack team, sponsored by Top 1 Oil, is led by designer Mike Akatiff. The current bike is about 20-feet long and uses two highly modified and turbo-charged Suzuki Hayabusa engines, totalling about 2,600cc and delivering about 900 horsepower. The framework is constructed of chrome-moly tubing and the streamliner's outer skin is of carbon-fiber.
Rocky Robinson, the successful rider, has competed in many disciplines of motorcycle sport. He has also previously taken part in land speed racing attempts with BUB Speed Trials organizer Denis Manning.
With the salt in prime condition and a track length of nearly twelve miles available, the next few days of competition will be interesting. Other streamliner teams such as Sam Wheeler's E-Z Hook and Denis Manning's own #7, have yet to respond.
Bayliss Re Enlists With Ducati in WSB for
2 More Years
Capirossi Re Signs With Ducati in MotoGP for
1 More Year
Bologna (Italy), Thursday 31 August 2006: Troy Bayliss has brought an end to all speculation about his racing future by re-signing for the Ducati Xerox Team. The Australian will now lead Ducati's attack on the World Superbike Championship throughout the 2007 and 2008 seasons.
The 37-year-old former World Superbike champion, currently leading this year's standings, has agreed terms for a two-year extension to his contract with Ducati Corse where he will remain until the end of 2008.
Troy Bayliss (Ducati Xerox Team rider): "I've thought long and hard about it because it's a big decision to do a couple more years. But honestly I still love riding the bike, I'm in a good position in this year's championship, I've got a great team around me and it's still not time to stop. I would also like to beat Fogarty's record of race wins so all this will keep me occupied for a while! The fact that I came back from MotoGP and am winning races again has also been a major factor in my decision. Basically I'm happy where I am and have no inclination to go anywhere else."
Claudio Domenicali (Ducati Corse Managing Director and Ducati Motor Director of Product Development): "We are delighted to have reached an agreement with Troy for the next two years. Regarding Ducati's participation in World Superbike, this will allow us to look to the future with confidence as Troy will be involved in all future development and testing work. The confirmation of Troy underlines the renewed commitment of Ducati in Superbike, a championship that we consider to be important and strategic for the continuous improvement of our road-going products".
Bayliss, who was catapulted onto the world scene by Ducati Corse in 2000 when he stepped in as replacement for Carl Fogarty following the Ducati legend's career-ending injury, made an immediate impact in World Superbikes, winning two races in his first year and taking the championship in 2001. After just missing out on a second crown in 2002, Bayliss then stepped up to MotoGP with the Ducati Desmosedici. A superb first season was followed by a difficult 2004 and then after switching to a rival manufacturer for his final season in MotoGP, Bayliss returned to World Superbikes with the Ducati Xerox Team in 2006 at the age of 37. This year Troy has produced a series of outstanding performances, taking nine wins on the factory 999F06 machine, and he currently has a lead of 77 points with four rounds and eight races remaining.
Agreement between Loris Capirossi and Ducati renewed one more year.
Capirossi, who has raced the Desmosedici machine since 2003, the year Ducati made its debut in the MotoGP championship, has played an important role in the development and the growth of the project. The renewal of the contract linking him to Ducati is the natural continuation of a successful and functioning partnership.
The Italian rider and the Italian bike have accumulated 5 GP victories - including 4 in the last twelve months - 11 podiums and 7 pole positions together over three seasons plus the one in course. With this new agreement, Loris Capirossi can now look forward to a fifth successive year together with the Ducati Desmosedici, a year in which both rider and machine will be aiming to achieve greater success and to continue the constant development of new technologies that will be applied to Ducati's production bikes.
Loris Capirossi (Ducati Marlboro Team rider)
"I am very pleased to renew the agreement with Ducati. The collaboration that has tied me to them since the start of the project fills me with honour and pride. The fact that a satisfactory agreement for both parties has been reached well before the end of the championship is a demonstration of the unity and trust that has come about during the last four years.
I feel part of the Ducati family, I am satisfied and pleased with the team and believe that, even at this early stage, I can easily declare that the new 800 cc powered Desmosedici GP7 has got off to a good start and that we're going to enjoy ourselves next year.
Now I have a lot of motivation to conclude this season and tackle next year with the same amount of determination and optimism and, as is my style, I will give my everything for this to happen.
Ducati's dream is also mine. We work well together and together we are aiming to complete the project, bring it to its climax and fight for the world title with an Italian bike."
Claudio Domenicali (Ducati Corse Managing Director and DMH Director of Product Development)
"We are satisfied that we have reached an agreement with Loris for the 2007 season: this allows us to look to the end of the season and to the future serenely and with great optimism.
With his talent, his determination and his professionalism, Loris has had a fundamental role in the success of the Desmosedici project, which represents the cutting edge of the process of innovation and improvement of the competitiveness of Ducati.
The understanding that has been created between Loris and his Desmosedici demonstrates, to fans throughout the world, the passion that runs through Ducati.
Loris represents the most important 'sensor' of our bike and his indications, thanks to the close rapport of esteem and trust between him and Filippo Preziosi (Ducati Corse Director General) and the entire team, are turned into an increasingly greater spin-off of technology between racing and production".
---
Photo Highlights from
Brands Hatch 2006
staring the Fast Dates Calendar Kittens
The Complete Story Here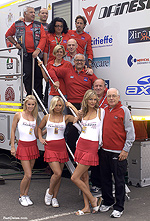 The Calendar Kittens stop by the Clinica Mobile in the Paddock to say hello to our friend Dr. Massimo Corbascio (center with glasses) and his staff.
So cute and oh so deadly, the Calendar Kittens on Friday afternoon before or annual Fast Dates calendar shoot.
Read the complete story HERE
Camilla and Katie in their Team Ducati uniforms on Sunday in from of the Pit Garage.
Paolo Ciabatti adjusts Katie's Supergirl cape as they head out to the starting grid for the Superbike race.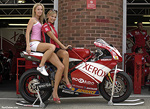 Our girls Katie and Camilla get ready to go for a ride on the Ducati 999R Promotional bike with Italian racer Dario Marchetti, chief instructor at Ducati's DRE (Ducati racing Experience) track schools. Note how the tires are scrubbed to the edge.....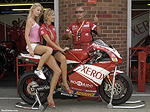 Katie on the starting grid with Troy Bayliss and his wife Kim, Paolo.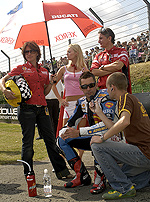 Above: Superman logos on the gas tanks pf the team's 999F06 Superbikes.
Below:Supergirl Katie exposes Superhero Bayliss.
The very popular andlegendary 43-year young Franki Chili waves "good bye" to the fans during a parade lap to honor his final race at Brands Hatch.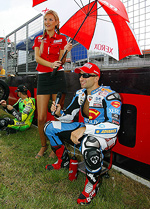 Camilla helps keep Lorenzo Lanzi cool in the shade just before the start of Race One.
---
Fustration for Corser & Kayayama at Assen
After two days of dry conditions, the Assen circuit was soaking wet by the time the first race got under away today. A lot of oil had been spilled in the morning warm-up and the cleaning trucks had gone out twice before the WSBK riders felt confident enough to venture out in the rainy conditions.

In race one, Team Alstare Suzuki Corona Extra riders Troy Corser and Yukio Kagayama both fell foul of the slippery surface and were out of contention by eight laps. Corser crashed because his visor fogged up and he couldn't see where he was going and Kagayama crashed when he hit a large puddle of standing water. The race was one of attrition and in the end only fifteen riders (out of twenty-eight) finished. Amongst the casualties were three of the top four in the title chase. Chris Walker (Kawasaki) started from last place, but stormed through the field, mastering the difficult conditions to take his maiden World Superbike win. Second was Andrew Pitt (Kawasaki), with Michel Fabrizio (third).

By the time the second race started, the track was virtually dry, though there were still a few damp patches waiting to catch the riders out. Corser's race lasted only to the first turn. His front wheel was hit by Haga's bike, destroying the rim and damaging the disc in the process and when he tried to hit the brakes nothing happened and he crashed. Kagayama led for a substantial part of the race until his tyres went off. After that, all he could do was keep going and try and bring his GSX-R1000 Suzuki safely home. In the end, he took a hard-fought for fourth behind Troy Bayliss (Ducati), Andrew Pitt and Fonsi Nieto (Kawasaki).

YUKIO Race 1: DNF, Race 2: 4th - "I am not so happy today, because I believed I was going to get two podiums. The rain ruined everything and all I managed in the end was just one fourth place. The first race was very difficult because there was so much water on the track. In the beginning I was very careful in the (new) first section of the track because it felt very slippery there. I got into third place by lap seven and thought maybe I could stay in that position. I was particularly careful on the corner where Troy-san crashed, but maybe that was my undoing, because I then crashed on the next corner! I hit a big puddle and the bike aquaplaned and that was it! In the second race, I made a good start and had a good battle with Bayliss. I think I Ied the race for maybe seven laps and then my tyres started to go off a lot. When Bayliss passed me, I could do nothing about it and from then to the end of the race, I had to try and keep going as best I could."
TROY Race 1: DNF, Race 2: DNF - "I guess you could say that today was one to forget and the only good news is that I never hurt myself in the two crashes. The first race started well enough and I managed to lead Bayliss in the wet for a couple of laps. But soon my visor started fogging up and I was having to try and look out of the side of it just to see where I was going! At the kind of speed we were going, that isn't good enough and when I looked up one time, I was off line and heading into a large patch of water. Next thing I knew I was down and my race was over. In race two, there was an even bigger disaster. Haga was next to me off the line and heading toward turn one I think he missed a gear and then hit me. At first I didn't know what happened and I tried to brake for the turn, but nothing happened. I went down and it was only when I looked at the front of my bike that I realised that the impact had broken my front wheel rim and damaged one of the brake discs. What a frustrating and disappointing day it has been - especially after taking Superpole yesterday. If today had been dry, I feel I would've taken two podiums for sure, but that's racing."
Toseland Moves to 2nd
in Superbike Points at Assen as Fabrizio Scores Podium
Assen, NL, Sept 3rd - James Toseland (Winston Ten Kate Honda CBR1000RR) rode as hard as he has all season at his team's home race but failed to score the podium places his practice form had promised. Tenth in race one and ninth in race two were his reward, and the points he gathered put him second in the championship, leapfrogging double crasher Noriyuki Haga. Michel Fabrizio (DFX Treme Honda CBR1000RR) made the most of an almost flooded Assen circuit in race one to score third place, Honda's highest placed rider in either of the 22-lap SBK races.
Race one saw almost half the riders in the race fall or retire at some stage, with Chris Walker taking his first career World Superbike win, from Andrew Pitt and Fabrizio. Michel had started from 14th on the grid after a disappointing Superpole, but was assured in his forward progress.
Karl Muggeridge (Winston Ten Kate Honda CBR1000RR) went ninth after crashing and rejoining, with James Toseland (Winston Ten Kate Honda CBR1000RR) on the gravel at one stage, returning to the track to finish tenth. Alex Barros (Klaffi Honda CBR1000RR) retired with front suspension set-up concerns, having been forced to slow from a strong starting position of fifth. Pierfrancesco Chili (DFX Treme Honda CBR1000RR) crashed out of contention on lap five.
In race two Barros was top Honda finisher, in seventh, but Toseland was taken out on the first corner, when he and Troy Corser tangled, in a crash where Noriyuki Haga also fell. James attempted to restart and rejoin the race, and fought his way back to a creditable ninth, one place up on Fabrizio, who had experienced gearbox issues.
Muggeridge found his rear traction dropping off in an unexpected and dramatic fashion in race two, as he went from fourth to 13th, while Chili retired from race two.
Toseland was unsure what to make of his Assen weekend, which promised much and delivered little.
"In race two I had a decent start and got into the first corner OK - until I saw a Suzuki on top of me," said James. "I understand he might have clipped Haga, so it may not be all Corser's fault, but I went down and then climbed back on the bike. I still had my brakes working, but no fairing. But I got points and fought to the finish, and that gave me second place in the championship back. I did what I always do, and I never give up. If I had stopped and quit I would still be third. In race one we set off well, but my front locked on the first corner and I had to go straight. Unfortunately it took me a little bit of time to come back on track, and then I had a very bad feeling with the front tyre. If there we no problems and the track was dry we would have had two podiums for sure."
Fabrizio was delighted with race one, less so with his problems in the second race, including having to start from pitlane after a clutch change. He is now 11th overall, on 109 points.
"Race one was perfect after a good dry qualifying but a bad Superpole result," said Fabrizio. "Race two was very hard, as I had some internal problem in selecting gears and it really held me back. But I kept going to get the points."
Barros fifth in Superpole, found race one a trial despite a good start, but got some recompense in race two. He is now sixth overall, on 175 points.
"I'm very disappointed about the races because the beginning of the weekend went very well," said Barros. "I think I could win a race. But in the first race I had a big problem with the front. I just dropped down. I'm sure I stopped some of the riders at my back because this was a bike you could not ride. I could have crashed any time. In the first lap I still tried to attack a little bit but then I was pushing and pushing. In the second race the dry line in the beginning was very small and had to pay attention not to crash. It was a hazard to overtake other riders. So I lost a lot and after this I had to overtake other riders later in the race. This cost me a lot of time. When the track was clean I was not able to ride faster because I had no grip on this surface."
Muggeridge was on schedule for two strong results but one small error in race one and the unexpected outcome in race two finished his chances of making top three results.
"My rear tyre just tore up after five laps in race two, and I went from doing low twos to low fives in one lap," said Muggeridge. "Couldn't do anything with that rear. I made a small mistake in race one and missed out on the podium really."
Chili retired in race two because he made a bad start and had two off track excursions, and he pulled in.
"In the first race the conditions were terrible," said Chili. "I was not the only one who crashed. In the second race I made a really bad start and then ran of track twice, so I decided to stop, rather than carry on for nothing."
WSS and SBK classes now head to Eurospeedway Lausitz, for round ten on 8-10 September.