Ducati Withdraws from AMA Superbike for 2007
Following our Pit Lane News Exclusive Interview last week with Ducati's Paolo Ciabatti where we gave you the inside line that Ducati would not race in AMA Superbike next year if FIM Superbike technical rules were not adopted, Ducati USA issued the following press release today:
Cupertino, CA (August 22, 2006) - Ducati North America and Ducati Corse today announce that their participation in the AMA Superbike Championship with a factory team will cease at the end of the 2006 season.
The Parts Unlimited Ducati Team has successfully raced with the 999 Superbike in each of the last three seasons (winning five races as of today) and the American based Ducati subsidiary will now take a year to consider its future options.
"Our primary objective of raising the profile of our brand and of the 999 Superbike has been achieved", said Michael Lock, CEO of Ducati North America. "We have increased our sales over 60% since 2003 and the USA has become a powerful export market for our parent Italian factory. There are a lot of exciting developments coming to our business in the next couple of years and we have decided to take a step back in 2007 in order to plan most effectively for our long term future. Hopefully in the meantime the AMA technical rules, which currently force twin-cylinder bikes to have more standard parts than in World Superbikes, thus making it really difficult for Ducati to compete with the best four-cylinder machines, will be revised for the future. We remain a very strong and committed supporter of the AMA and, when our bikes will be allowed to participate with a fair chance of challenging for the final championship win, we expect to be racing competitively again very soon in the AMA Superbike series. I would personally like to thank the team, the riders and our sponsors, particularly Parts Unlimited, for their role in the resurgence of Ducati's success in the USA."
Paolo Ciabatti, Ducati Corse Superbike Director added "We have enjoyed a very good relationship with Terry Gregoricka and his team and are very proud of the results achieved together with them. It is always a difficult decision to end a successful partnership, but we respect the reasons behind Ducati North America's change of strategy. A special thanks to Terry, Tom, Gabry, Gary, Ben and Neil and all the boys at Parts Unlimited Ducati Team for their hard and professional work. We are sure that they will do their best to finish the racing season on a high note".
Ducati North America will remain committed to racing in the United States through the continuation of a national and regional Contingency program as well as various other racing support programs.
---

Capirossi takes the Czech Moto GP win at bruno in convincing fashion.

MotoGP World Championship, Gauloises GP Ceske Republiky, Bruno Round 12 of 17
Ducati Claims the most dominate MotoGP Victory all season
Rossi and Pedrosa battle for distant 2nd, Hayden back in 9th
Capirossi Runs Away from the Field
by 1/2 Second a Lap to Win the Czech MotoGP
Bruno, Czech Republic, Sunday August 20, 2006 - A second victory of the season for Loris Capirossi on the factory Marlboro Alice Ducati Desmosedici was achieved in spellbinding fashion at the Gauloises Grand Prix Ceske Republiky, completing his full recovery after a horrific crash at Catalunya earlier this year. Capirossi took the holeshot and continued to pull away from the pack at a pace 1/2 second quicker than his next nearest competitor, second placed rider Valentino Rossi, who had a rather more difficult time battling with Honda's young pretender Dani Pedrosa. Their strong 2-3rd place finsihes would help them close the points gap on Mocky Hayden in this year's title chase.

Capirossi had stormed out of the blocks and stamped his authority on the race before the rest had time to react, and led from flag to flag to seal just his second win of the year on board the Ducati machine. Capirossi also set a new fastest lap on his way to the 25-point haul, then backed off his winning pace in the final laps to still finish the race five-seconds clear of his compatriot Rossi.
Camel Yamaha's Italian star certainly had his hands full with Repsol Honda's Pedrosa, who after following behind for a number of laps pushed past the reigning World Champion on lap 19. There then followed a breathtaking series of exchanges between the two, ending on the final lap when Pedrosa misjudged a corner and lost valuable time on his opponent Rossi. It had been the first direct back-and-forth battle between the two World Champions, a thrilling moment of history that fans had been eagerly waiting for, and one which will have left them begging for more.
Having dropped down the field in the initial stages of the race, Kenny Roberts Jr fought his way back to take an impressive fourth after starting on the front row. The former World Champion had his hands full with a number of riders going all-out to improve their positions, with the eventual top six being rounded off by Marco Melandri and Casey Stoner. The young Australian showed great maturity throughout the race and avoided another of the crashes that have plagued him recently whilst in good positions.
John Hopkins made a late push to get past both Shinya Nakano and World Championship leader Nicky Hayden, who will be bitterly disappointed with his performance, which saw his championship lead over team-mate Pedrosa cut to just 25 points with a ninth place finish. Colin Edwards rounded off the top ten.


Rossi Smashes Pole Record at Brno
Saturday Aug 19th - Valentino Rossi will start a MotoGP race from the front of the grid for only the second time this season in tomorrow's Czech Republic Grand Prix after clocking an incredible pole record time in today's single qualifying session at Brno. Rossi's time of 1'56.191 was almost 1.5 seconds inside the previous best lap at this track and followed up an impressive performance yesterday, when he also set the pace. A trial run on a qualifying tyre in those first free practice sessions paid dividends today as the Italian defined his race set-up for the YZR-M1 machine before setting a devastating pace which knocked Loris Capirossi (Ducati) off the top spot in the dying moments of the session. Capirossi will line up in second place whilst Kenny Roberts (Team KR) completes the front row.
Rossi's Camel Yamaha team-mate Colin Edwards also enjoyed a productive day working on his race setting and was on course to challenge for a place on the front two rows before a minor mistake in the first section of his fast lap cost him vital tenths. It meant that his final effort recorded 1'56.967 on the stopwatch - enough for eighth place and a third row start. Tomorrow's race is the first of a final run of six, which will determine whether Rossi can cut back a 51-point gap to series leader Nicky Hayden (Honda) and defend the title of MotoGP World Champion for a fifth successive season.
Rossi confers with team manager Jermey Burgess on his lap times for different corners of the circuit.
Valentino Rossi (1st - 1'56.191; 25 laps) "I think the practice today was a great emotion for everybody but especially for us! We worked well on the bike, especially the tyres, because we have suffered too much this season during the practice sessions and my team and Michelin did a great job today. When I saw Loris' time I thought it was very fast and didn't know if I could beat it but I was very determined and I pushed hard on all three qualifying tyres. In the end the final lap was great and to set a 1'56.1 was unbelievable! For tomorrow pole position is definitely better than starting from the fifth row like in other races so for this I am very happy. We still need to decide two or three things about the setting before the race, but I am quite competitive."
You've gotta look close to see how incredible this picture is and how confident Loris Capirossi is.... It's the opening lap at Bruno, the entire MotoGP pack headed by Valention Rossi is hot on his tail, and Loris has the composure to look around behind at his persuers while fully cranked over in the corner and taking his left hand off the handlebar! Don't try this at home or you will fall off the couch!

The Title Race Tightens as Hayden Struggles in Bruno
Loris Capirossi (Ducati) won this MotoGP race easily from Valentino Rossi (Yamaha) in second with Dani Pedrosa (Repsol Honda RC211V) third. World Championship leader Nicky Hayden (Repsol Honda RC211V) was ninth, his worst result of the season. And the title implications, although not that far-reaching yet, suggest that this season's World Championship chase may yet have more twists and turns to it. With Capirossi likely to be strong again in Japan and Malaysia, Nicky cannot afford to drop points to this extent with Dani just 25 points behind and Rossi now just 13 behind Dani.
Capirossi had so much more pace than anyone here that he finished nearly five seconds ahead of Rossi at the flag, and even held a seven second lead on lap 15 before backing off his winning pace for the 22-lap encounter run in cloudy conditions at 24-degrees with the track at 36-degrees. The Italian Ducati man led into turn one on lap one and never looked back until the final lap when he took two, long lingering gazes backwards to see just how far out of touch his pursuers were. Far away they may have been, but the action was frantic as they fought for the remaining places.
Hayden held second on lap one from Rossi who soon deprived the American of that spot and set about trying to stay with Capirossi. Nicky gradually slipped down the race order when a clutch problem compounded a lack of traction as his team-mate Dani moved up from fifth on lap one.
Casey Stoner (LCR Honda RC211V), who eventually finished sixth, was another man who was up with the early action in fourth place on the opening laps. The Aussie rookie would finish more than 15 seconds down on the leader, but locked in massive group fight for fourth to ninth place.
Rossi and Pedrosa battled back and forthfor the 2nd spot on the podium, making this the battle to watch as Capirossi ran away with the race.

By lap three Dani was in fourth past Stoner and he would leave that group behind as he began to close on his team-mate Nicky in fourth. Hayden fought hard to hang onto his place, but Dani dislodged him in the space of a lap and began to work on Rossi for second. It was an intense battle and one in which neither rider was prepared to yield. There was contact, sheer bravery, tests of nerve and feints to deceive – everything race fans wanted to see between these two stars of the scene. But it was Rossi who prevailed this time to hold onto runner-up spot in this race.
Further downfield the scrap for fourth was every bit as monumental as the tussle further up ahead, with Kenny Roberts (Roberts KR211V), Marco Melandri (Fortuna Honda RC211V), Stoner and Hayden all involved with Shinya Nakano (Kawasaki) and John Hopkins (Suzuki). The verdict went to Roberts with Melandri fifth, Stoner sixth and Nicky a frustrating ninth. Hayden can only hope that this will remain an aberration in what has been a copybook season for him so far.
LORIS CAPIROSSI, race winner, 5th overall on 151 points - "This has been an unbelievable weekend for me! After Friday morning I wanted to take the plane back to Monaco because the bike wasn't working so well, but after that we did a great job, with strong support from Bridgestone.

"Yesterday I could see my rhythm on race tyres was really good, a little better than everyone else's, so this morning I told my team that my dream was to make a great start, push hard during the first few laps, make a gap and I saw from my pitboard that my advantage was growing bigger and bigger. I would like to say from my heart thanks to the team and all the sponsors who believe in us. Of course, I am also a little upset about my bad luck at Barcelona but the three-week break before this race was a big help, it allowed me to rest and get my fitness back, so I came here feeling 100 per cent.

"I don't want to talk about the world championship yet. I will just do my best at the last five races and we will see, you never know. We stay here to test tomorrow. First we try some new tyres on the GP6, then in the afternoon maybe we try the new 800. I will be like a kid tonight, too excited to sleep!"
Valentino Rossi (2nd; + 4.902) "It was a good race today and I am very happy with the weekend. Obviously starting from pole position you hope that you can win but today Loris had a completely different pace to the rest of us and I couldn't believe the gap he made! We weren't perfect today and we still had a few problems, but anyway I was able to do a good race and fight hard to the end. I had a great battle with Pedrosa with many good overtakes, which was great fun, especially since I finally managed to finish in front of him!
Even though I didn't win today this is a very important result for the championship; we are now third and we've gained on Pedrosa and Hayden. After this weekend the situation is much clearer for us with the bike and the tyres and now we have two days of testing, during which we have some new things to try in order to help us be even more competitive for the final five races. This weekend my M1 worked well from Friday morning, which is very encouraging after the problems we've had during practice this season. Everyone at Yamaha has worked so hard to come back to this level so I want to thank my team and all the engineers. Now there are five more races and five riders who can still fight for the championship, so I think it's going to be a very exciting end to the season!"
Dani said, "Third was good for me seeing as I started from ninth. I made a good start, although it could have been better. And I was strong on the brakes and could overtake. When I caught Valentino I waited because it was quite early in the race and Capirossi was already gone. We made some good moves, all very aggressive. We were pushing hard, but I made a mistake, lost a second and could not recover the time."
Nicky said, "I had a few issues in the race, but I'm not going to go into them. The bottom line is that this is not the sort of result we wanted here this weekend. One week you win and the next week you're ninth – that's the level of competition we're dealing with here. I've had some tough results before and battled through, and that's what we'll try to do again."
Kenny said, "I hated to see Nicky (Hayden) back there, because he's leading the championship, and I know every point for him is valuable. Once I got past him he was boxed in. I had a chance to get past Casey (Stoner) and Marco (Melandri) later on the same lap. It's hard following people all race long, then to try and open up a bit of a gap when they're trying as hard as they can. So I just tried to keep it tidy, and we made it."
Fifth-placed Marco said, "Considering my position on the grid, I have to be satisfied. However, I expected a better result at this circuit. After making a good start I climbed through the field and made it up into fourth position. I had a good rhythm and was lapping strongly but could not attack when I wanted. Pedrosa and Rossi pulled away from me and I could not catch them again. I have closed the gap on Nicky by four points although I wanted a better result. All the team did a good job."
"That was hard race," said Stoner. "There was a lot of overtaking going on sometimes three times in one lap. But I didn't have enough rear tyre left to race for fourth place. They'd already destroyed themselves when I was behind Hayden. That was close racing and while I would have liked a better result sixth will have to do for now. I really needed an extra Red Bull this morning."
Results MotoGP
Race Classification MotoGP : (22 laps = 118.866 km)
Pos/ Rider / Nat / Team / Motorcycle / Time/ KM/H / Gap
1 / Loris CAPIROSSI / ITA / Ducati Marlboro Team / DUCATI / 43'40.145 / 163.318 /
2 / Valentino ROSSI / ITA / Camel Yamaha Team / YAMAHA / 43'45.047 / 163.013 / 4.902
3 / Dani PEDROSA / SPA / Repsol Honda Team / HONDA / 43'48.157 / 162.82 / 8.012
4 / Kenny ROBERTS JR / USA / Team Roberts / KR211V / 43'54.945 / 162.4 / 14.8
5 / Marco MELANDRI / ITA / Fortuna Honda / HONDA / 43'55.170 / 162.387 / 15.025
6 / Casey STONER / AUS / Honda LCR / HONDA / 43'55.844 / 162.345 / 15.699
7 / John HOPKINS / USA / Rizla Suzuki MotoGP / SUZUKI / 43'56.920 / 162.279 / 16.775
8 / Shinya NAKANO / JPN / Kawasaki Racing Team / KAWASAKI / 43'57.087 / 162.269 / 16.942
9 / Nicky HAYDEN / USA / Repsol Honda Team / HONDA / 43'57.206 / 162.261 / 17.061
10 / Colin EDWARDS / USA / Camel Yamaha Team / YAMAHA / 43'59.580 / 162.115 / 19.435
11 / Toni ELIAS / SPA / Fortuna Honda / HONDA / 44'02.360 / 161.945 / 22.215
12 / Chris VERMEULEN / AUS / Rizla Suzuki MotoGP / SUZUKI / 44'04.123 / 161.837 / 23.978
13 / Makoto TAMADA / JPN / Konica Minolta Honda / HONDA / 44'05.112 / 161.776 / 24.967
14 / Randy DE PUNIET / FRA / Kawasaki Racing Team / KAWASAKI / 44'09.106 / 161.532 / 28.961
15 / Carlos CHECA / SPA / Tech 3 Yamaha / YAMAHA / 44'09.441 / 161.512 / 29.296

Pole Position: Valentino ROSSI 1'56.191 167.403 Km/h
Fastest Lap(New record): Loris CAPIROSSI 1'58.157 164.618 Km/h Lap 3
Circuit Record Lap: 2005 - Valentino ROSSI 1'58.787 163.745 Km/h
Circuit Best Lap: 2006 - Valentino ROSSI 1'56.191 167.403 Km/h
World Championship Positions:
1 HAYDEN 201, 2 PEDROSA 176, 3 ROSSI 163, 4 MELANDRI 161, 5 CAPIROSSI 151,
6 STONER 101, 7 ROBERTS 92, 8 EDWARDS 90, 9 HOPKINS 83, 10 NAKANO 75,
11 TAMADA 67, 12 ELIAS 64, 13 VERMEULEN 61, 14 GIBERNAU 58, 15 CHECA 54.
Results 250cc
Race Classification 250cc: (20 laps = 108.06 km)
Pos / Rider / Nat / Team / Motorcycle / Time / KM/H / Gap
1 / Jorge LORENZO / SPA / Fortuna Aprilia / APRILIA / 41'29.204 / 156.281 /
2 / Andrea DOVIZIOSO / ITA / Humangest Racing Team / HONDA / 41'31.711 / 156.124 / 2.507
3 / Hiroshi AOYAMA / JPN / Red Bull KTM GP 250 / KTM / 41'31.728 / 156.122 / 2.524
4 / Roberto LOCATELLI / ITA / Team Toth / APRILIA / 41'44.498 / 155.326 / 15.294
5 / Hector BARBERA / SPA / Fortuna Aprilia / APRILIA / 41'59.302 / 154.414 / 30.098
6 / Shuhei AOYAMA / JPN / Repsol Honda / HONDA / 41'59.427 / 154.406 / 30.223
7 / Martin CARDENAS / COL / Repsol Honda / HONDA / 42'08.609 / 153.845 / 39.405
8 / Sylvain GUINTOLI / FRA / Equipe GP De France - Scrab / APRILIA / 42'13.004 / 153.578 / 43.8
9 / Marco SIMONCELLI / ITA / Squadra Corse Metis Gilera / GILERA / 42'20.960 / 153.098 / 51.756
10 / Jakub SMRZ / CZE / Cardion AB Motoracing / APRILIA / 42'21.019 / 153.094 / 51.815
11 / Dirk HEIDOLF / GER / Kiefer - Bos - Racing / APRILIA / 42'23.176 / 152.964 / 53.972
12 / Alex DEBON / SPA / Aprilia Racing / APRILIA / 42'30.788 / 152.508 / 1'01.584
13 / Andrea BALLERINI / ITA / Campetella Racing / APRILIA / 42'32.897 / 152.382 / 1'03.693
14 / Arnaud VINCENT / FRA / Arie Molenaar Racing / HONDA / 42'45.445 / 151.636 / 1'16.241
15 / Arturo TIZON / SPA / Wurth Honda BQR / HONDA / 42'45.576 / 151.629 / 1'16.372

Pole Position: Jorge LORENZO 2'02.292 159.052 Km/h
Fastest Lap: Andrea DOVIZIOSO 2'03.404 157.618 Km/h Lap 4
Circuit Record Lap: 2005 - Dani PEDROSA 2'02.554 158.712 Km/h
Circuit Best Lap: 2005 - Jorge LORENZO 2'02.261 159.092 Km/h
World Championship Positions:
1 LORENZO 199, 2 DOVIZIOSO 192, 3 TAKAHASHI 133, 4 AOYAMA 132, 5 DE ANGELIS 131,
6 LOCATELLI 127, 7 BARBERA 111, 8 GUINTOLI 73, 9 SIMONCELLI 62, 10 AOYAMA 58,
11 WEST 58, 12 SMRZ 40, 13 DEBON 39, 14 CARDENAS 37, 15 POGGIALI 31.
---

The first of the new 800cc MotoGP bikes for 2007 emerge as Ducati used Monday after the Czech GP at Bruno to track test their new Desmosedici GP7 bike with (above, left to right) test rider Vittoriano Guareschi, the still recovering Sete Gibernau, Loris Capirossi and technical director Filippo Preziosi.
Capirossi Completes His First Track Test of the new Desmosedici GP7
Monday Aug 21 2006 GP7 Test - Brno The day after his superb win at Brno, Loris Capirossi makes his track debut with the new 800cc Ducati Desmosedici. Sete Gibernau, also present in the pit garage, had to sit out and watch. In the wake of Loris Capirossi's fifth win in MotoGP - and his second of the year - at the Brno track on Sunday, the Ducati pit garage was today the scene for more frenetic activity as the Italian team geared up for another important day of action at the Czech Republic circuit.
The new Desmosedici GP7 was finally given to Sunday's race winner and official Ducati Marlboro team rider Loris Capirossi to test for the first time. The new 800 cc powered machine, created by Technical Director Filippo Preziosi together with his team of Ducati Corse engineers just under one year ago, had its first shakedown tests in the hands of test-rider Vittoriano Guareschi, who put the bike through its early paces at the Mugello circuit, where it made its debut on May 2nd.
At 12.20 this morning the bike that will be entered in the 2007 MotoGP Championship by the Ducati Marlboro Team was given to Loris to test and the Italian was immediately impressed right from the start. After carrying out a series of tyre tests with the GP6 in the morning, the Italian set to work with the GP7 and completed 28 laps with the new machine, his best being 1m59.6s.
Vittoriano Guareschi and Shinichi Ito (both present with their respective test teams at Brno) together with Sete Gibernau were also in the Ducati garage, watching Loris test the GP7. The Spanish rider, who missed out on last weekend's exciting race after doctors advised him not to take part, wanted to see the new machine in action. If all goes according to plan, Sete will be back on the track at the next GP at Sepang, Malaysia on September 10th.
Filippo Preziosi (Ducati Corse Technical Director) - "Today was another important day for all of us. Of course it is far too early to give a definitive opinion on the GP7 because it was the first time Loris had stepped onto the bike and because we still have to face up to our rivals. I can only say that I am satisfied: the bike seems to have got off to a good start. We have structured the project in an attempt to iron out some of the weak points of the GP6 that emerged chiefly with the chassis: we think we have identified them and have managed to resolve them. In fact Loris's comments that the bike reacts well and has a good
'Rideability" are positive. For sure it's a good start but we've still got a lot of work to do: the bike that won the race yesterday is the one we've been working on for the last four years and this one has just been born. A big thanks to all the guys in Ducati Corse, the guys in the team and all our sponsors who believe in us and who give us important support all year round".
Loris Capirossi - "This morning I did some tyre testing which went quite well and which might allow us to have some interesting developments for the next few races. Then we started with the GP7. As a first test it was very positive even though the bike still has to be developed. We expect to have to do a lot of work but the first impression was positive. The bike's handling has improved a lot and that's important. This bike has to be ridden in a different way to the GP6, it's actually very enjoyable, a bit like a 250 machine and testing it now was interesting and useful so we can immediately start to work on it. The engine is different, obviously less powerful but it makes a great noise! It has been a fantastic day, I'm very happy and tomorrow we'll continue to work hard".
Sete Gibernau - "Yesterday I was over the moon for Loris's win! I feel part of the family and I am always happy when the guys do well. The GP7 is a very important project and I also wanted to be here for the test. Loris said that the bike is going well and I would love to be able to test it as well but for the moment it's better not to. I should be back on the track in Malaysia: mentally I'm at 100% and I hope that the tests I'll be doing next week will confirm that I will be physically as well. The plate broke at Laguna Seca and now I've got two inside me, held together with 15 screws. If it breaks again, it'll be much worse because I'll have to have a bone graft from my hip to repair it. In any case, I'm sure that this rest period is doing me good and hopefully things will be OK for September 10th: I've had too much vacation and now I can't wait to be back in action!"
---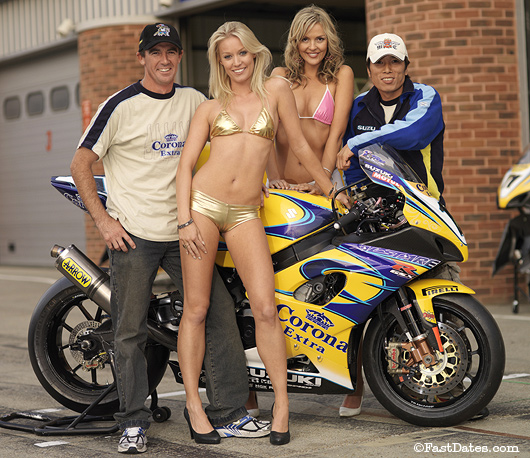 Our Fast Dates Calendar shoot at Brands Hatch 2006 with the reigning SBK World Superbike Championship team Corona Suzuki and it's World Champion Troy Corser, FastDates.com Calendar Kittens Katie Puch and Camilla Tranter, and season race winner Yukio Kagayama.

2008 Fast Dates Photo Shoot at Brands Hatch World Superbike

by Jim Gianatsis

August 10th 2006 - The first week in August again saw us leave our palacial FastDates.com Mansion offices in Los Angeles and jump aboard Virgin Atlantic Airways (great in flight movies with personal video screens!) to Heathrow Airport outside London, England, and then by rental car to the SBK Corona Extra World Superbike round at Brands Hatch Raceway to shoot our next year's official SBK 2008 Fast Dates Racebike Pinup Calendar.
Brands Hatch is one of the premier rounds of the World Superbike Championship, situated at a beautiful modern facility in rolling wooded hills, and this year pulling a huge crowd of some 115,000 fans. We started shooting the calendar last year at Brands when the United States round of the World Superbike Championship at Laguna Seca was unfortunately dropped from the schedule and replaced by the MotoGP. Hopefully, someday, there will be an opportunity for both Roadracing World Championships to have a U.S. round.
Guys always think I've got the greatest job in the world, being able to hang and shoot with the top roadracing racing teams, their bikes and riders, and the most beautiful swimsuit models in the world. And most times I do, but every so often problems do come up.... Continued HERE.
---

Mladin returned to the top of the podium at VIR ahead of team mate Ben Spies.

AMA Superbike Championship, Axton, VA Round 9 of 11
Mladin Retruns to the Top of the AMA Podium at VIR

Alton (Virginia) Aug 19-20 2006 - Mat Mladin significantly brightened his faded '06 AMA Superbike title hopes at Virginia International Raceway on Sunday, completing the weekend double and drawing to within 29 points of his Yoshimura Suzuki team mate and series leader Ben Spies after coming into the round 45 points down.
Sunday's victoryfor Mladin was significantly harder than Saturday's cake walk. Despite starting from pole, the Aussie was shuffled back to eighth on lap one after running alongside teammate Spies in the opening corner. He quickly sliced his way up to third, taking the position from Spies on lap 5 of 28, but found it difficult to make his way past early leaders Aaron Yates and Miguel DuHamel.
Second-ranked DuHamel refused to be taken by on the brakes heading into Turn 1 and successfully held the six-time series champ at bay for an extended run. Mladin finally came at the Canadian with an inside pass in Turn 4 on lap 11. Once through into second, he found the leading Georgian easier to tackle in Turn 1, drafting past him and outbraking him the very next time into the corner.
Yates didn't keep Mladin behind him long once he had moved into second, yet Yates continued to do an admirable job of keeping Mladin honest after he came through. While the champ's weekend speed suggested he might be able to break free once he had a clear track in front of him, his long-time teammate fought back and even came alongside him on the front straight on lap 13.
Mladin gradually worked up a small gap, upping it to 2.7 seconds on lap 17, but Yates clawed back to within 1.6 seconds with just eight laps remaining. The defending class champ ultimately broke Yates' challenge, however, and carried on to a 5.279-second margin of victory.
The win was Mladin's fifth of the year and a record-extending 48th of his career. "After Mid-Ohio I said the only way we could win this championship is if Ben loses it. And it's up to Ben if we're going to win this championship. All we can do is try to win races and that's what we did this weekend."
"In Atlanta (during a recent test at Road Atlanta, where the next AMA Superbike round will take place ) we found a few things with the bike and it's starting to feel like 2005. Something we haven't really had this year as much as I would have liked. But that's the way it goes. We maybe left our run a little bit late but it's nice to get a couple wins."
"I'm looking forward to Atlanta," Mladin continued. "The test there was good for us -- we were pretty fast. I really enjoy the racetrack and have done very well there. Hopefully we can get a couple more and keep the pressure on."
Aaron Yates picked up second, his first Superbike podium finish of his '06 campaign. "I don't know what's been going on but we found some things this weekend I think. The bike was really comfortable for me and I was able to go fast. Basically I just got a really good start. I got up there in the front and was able to go. I've been suffering there pretty good, getting stuck behind guys and having a hard time passing. I had a good race there with Mat. I knew he was going to be strong. I tried to keep the pressure on him but I was sliding around a lot and it was pretty hard work."
After his impressive early challenge, DuHamel faded back to a lonely yet relatively satisfying third. "The bike was good. To be honest I think I could have been a little closer to Aaron to be honest… But I got bad luck in traffic and I knew from yesterday's Dunlop data that we could overheat the tire that we were using. At the pace I ran today, I was probably doing that. So when you have 14 seconds on fourth and you came from the third row -- tenth place to third, you start thinking about these things a bit. I'm not saying I could have gotten Aaron or Mat but I could have been a little closer but the risk factor was too high."
Fighting through the pain of his two-day-old hand break and getting an early scare from Parts Unlimited Ducati's Neil Hodgson, who crashed out of third inches in front of him on lap 2, Spies took a fourth that could be described as both brave and safe. It was Spies' first Superbike result off the podium this season.
American Honda's Jake Zemke came out on top of a four-rider scrap for fifth with Ducati's Ben Bostrom fifth and Team Kawasaki's Roger Hayden sixth. Tommy Hayden actually looked to be the man on the move among this pack mid-race, but his shift lever came loose on lap 23 while the Kentuckian looking for a way around Zemke.
While Mladin made significant inroads into his title advantage, Spies is still in command, leading 561 to 530 with only three races left to be run this season.
Saturday Superbike:


1. Mat Mladin (Suzuki)
2. Ben Spies (Suzuki)
3. Neil Hodgson (Ducati)
4. Miguel Duhamel (Honda)
5. Aaron Yates (Suzuki)
6. Jake Zemke (Honda)
7. Jason Pridmore (Suzuki)
8. Tommy Hayden (Kawasaki)
9. Roger Lee Hayden (Kawasaki)
10. Steve Rapp (Suzuki)

Sunday Superbike:


1. Mat Mladin (Suzuki)
2. Aaron Yates (Suzuki)
3. Miguel Duhamel (Honda)
4. Ben Spies (Suzuki)
5. Jake Zemke (Honda)
6. Ben Bostrom (Ducati)
7. Roger Lee Hayden (Kawasaki)
8. Jason Pridmore (Suzuki)
9. Matt Lynn (Suzuki)
10. Eric Wood (Suzuki)
Championship Standings:
1. Ben Spies (Suzuki) 560
2. Mat Mladin (Suzuki) 531
3. Miguel Duhamel (Honda) 443
4. Aaron Yates (Suzuki) 393
5. Neil Hodgson (Ducati) 387
6. Tommy Hayden (Kawasaki) 384
7. Jake Zemke (Honda) 376
8. Jason Pridmore (Suzuki) 332
9. Ben Bostrom (Ducati) 329
10. Larry Pegram (Honda) 299
New 2007
Fast Dates Racebike,
Iron & Lace Custom
& Garage Girls Calendars
Click to Order Now!



Capirossi's Remarkable Bruno Win
Aug 20th - Ducati Marlboro Team rider Loris Capirossi rode a remarkable race at Brno today, leaving the rest of the MotoGP grid trailing in his wake for his second victory of 2006. The Italian led from start to finish, increasing his advantage at an astonishing rate until he was eighth seconds ahead, he then eased his pace to win by a very comfortable 4.9 seconds. Team-mate Alex Hofmann, subbing for the injured Sete Gibernau, had a more difficult race, finishing 16th.

Today's victory was greeted enthusiastically but it also had his crew wondering what might have been if he hadn't suffered injuries at June's Catalan GP that handicapped him at the next four GPs. Capirossi led the World Championship going into Catalunya and currently lies fifth overall.

The Ducati Marlboro Team stays here to test for two days when Capirossi will have his first ride on the team's 2007 bike, the all-new 800cc GP7.
Capirossi's fifth MotoGP victory also makes a little bit of history - the former 125 and 250 World Champion now has the longest winning career in GP history, spanning more than 16 years. Capirossi scored his first victory in the British 125 GP at Donington on August 5 1990.

Rossi clinches crucial second place at Brno
- Moves Back into Contention with Hayden and pedrosa for the Championship
Valentino Rossi picked up 20 vital points in the Czech Republic today after taking second place in a race which saw series leader Nicky Hayden (Honda) stumble to ninth - a result which reduces the gap between the pair to 38 points with five rounds remaining. Loris Capirossi (Ducati) took a dominant victory, leading from the first corner to finish with a 4.902 second advantage, whilst Rossi had to fend off a valiant challenge from rookie Dani Pedrosa (Honda) four laps from the end before comfortably sealing the runner-up spot.
It was an even tougher afternoon for Rossi's team mate, American Colin Edwards, who started out in equally impressive fashion to his team-mate but faded in the second half of the race to finish in tenth. The Texan started from eighth on the grid and was keen to get in touch with the leading riders as soon as possible, making up three places on the opening three laps. However, his efforts took their toll on the rear Michelin tyre of his YZR-M1 machine and, without the perfect set-up to rely on in the latter stages of the race, he was forced to drop back and settle for another top-ten finish.
Colin Edward (10th; + 19.435)
"At the beginning things felt alright and over the first few laps I was actually quite excited. I was able to be quite aggressive and pass a few people, but then after a while things just went downhill. The balance of the bike didn't feel right and I just couldn't keep the same level. Then the tyre started to go off after about eight laps and that just acted as a limiter and my pace went right down. I was fighting really hard just to keep the pace I was running and it was nowhere near fast enough to be competitive. The bike didn't feel perfect under braking either and that makes life difficult here! We've spent all weekend playing around, trying to find the right balance but we just couldn't find exactly what we needed.
Honestly we've worked hard all weekend but things just weren't right today. We've got two days of testing now and plenty of work to do if we're going to improve for the final few races."
Photo Highlights from
Brands Hatch 2006
staring the Fast Dates Calendar Kittens
The Complete Story Here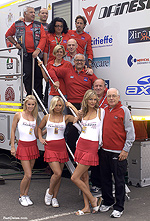 The Calendar Kittens stop by the Clinica Mobile in the Paddock to say hello to our friend Dr. Massimo Corbascio (center with glasses) and his staff.
So cute and oh so deadly, the Calendar Kittens on Friday afternoon before or annual Fast Dates calendar shoot.
Read the complete story HERE
Camilla and Katie in their Team Ducati uniforms on Sunday in from of the Pit Garage.
Paolo Ciabatti adjusts Katie's Supergirl cape as they head out to the starting grid for the Superbike race.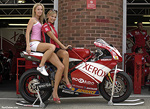 Our girls Katie and Camilla get ready to go for a ride on the Ducati 999R Promotional bike with Italian racer Dario Marchetti, chief instructor at Ducati's DRE (Ducati racing Experience) track schools. Note how the tires are scrubbed to the edge.....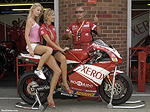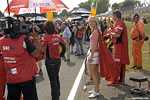 Katie on the starting grid with Troy Bayliss and his wife Kim, Paolo.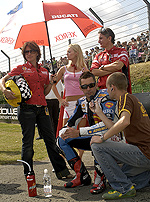 Superman logos on the gas tanks pf the team's 999F06 Superbikes.
The very popular andlegendary 43-year young Franki Chili waves "good bye" to the fans during a parade lap to honor his final race at Brands Hatch.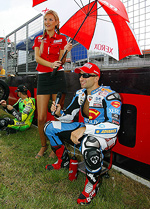 Camilla helps keep Lorenzo Lanzi cool in the shade just before the start of Race One.
---
Kawasaki's Nakano takes hard faught 8th over Hayden

Kawasaki's Shinya Nakano brought his Ninja ZX-RR home in a hard fought eighth place in today's Czech Grand Prix at Brno, to consolidate his tenth position in the World Championship Standings.
Nakano got a good start from the second row of the grid, but dropped down the order after getting his Ninja ZX-RR sideways while battling for position on the opening lap.
The 28-year-old Japanese rider was quick to rejoin the battle for fourth place, but was forced to ride on the limit and was unable to fight his way through to the front of the group.
After lapping consistently throughout the race, Nakano waited until the last lap before setting up Nicky Hayden for a pass, but as the Kawasaki rider positioned himself to overtake the current championship leader, Suzuki's John Hopkins managed to find space on the inside to pass both riders for seventh place.
Undeterred, Nakano set up Hayden again at the final turn, squeezing up the inside of the American to steal eighth place at the line.
Like his Kawasaki teammate, Randy de Puniet also got a good start from the fourth row of the grid, but all his good work was undone in the first turn, when he went for the brakes too early and allowed four riders through, to leave himself down in 15th place.
The 25-year-old Frenchman quickly dispatched Alex Hofmann to move up one position, before chasing hard after the battle for tenth place. De Puniet managed to close onto the back of Chris Vermeulen, but was forced to back off without challenging for the position when the rear of his Ninja ZX-RR started to slide under power.
Although disappointed not to finish higher up the order at the chequered flag than 14th, de Puniet took some consolation from his consistent pace over the 22-lap race, and the fact that he now has one more race finish under his belt, in this, his debut MotoGP season.
The Kawasaki Racing Team will stay on at Brno for a development test on Monday, during which both riders will test and evaluate a range of chassis and suspension settings, as well as conducting tyre tests for Kawasaki's tyre partner, Bridgestone.
Shinya Nakano: 8th
"I got away from the start pretty well, but then I had a big slide halfway round the first lap, which lost me some time and dropped me to the back of the group fighting for fourth. While it was possible to match the pace of the guys in front of me, passing was a different matter. I was right on the limit just staying in touch, and with such a big group battling for position, it was difficult to even see a way past the riders in front. On the final lap I decided to have a go at Nicky Hayden but, as I lined myself up for the pass, John Hopkins charged up the inside of both of us to steal seventh place. I managed to get up the inside of Nicky going into the final corner and was able to hold on to the line to take eighth place, and the all-important championship points. Overall, although I would obviously have preferred to finish higher up the order, I'm happy enough with this result ahead of the overseas races."
Randy de Puniet: 14th
"A mistake going into the first turn cost me dear today. I got a reasonably good start, but then I got on the brakes too early going into the first turn and allowed too many people to come past me. I managed to find a way past Alex Hofmann and, by the mid-point of the race, I'd closed onto the battle between Chris Vermeulen and Toni Elias. At this point I thought it would be possible to pass both, but then, with just eight laps left to run, the rear tyre started sliding whenever I got hard on the gas out of the turns, and I was unable to maintain the same pace. Although I am disappointed with my finishing position today, it is good to have gained more experience on the Ninja ZX-RR, and I'm happy to have another race finish under my belt."
Harald Eckl: Team Principal
"Shinya's eighth place finish doesn't really do justice to his performance today. He managed to stay with the battle for fourth place for most of the race, and in different circumstances I think he could have finished fifth or sixth. Maybe he should have tried a move on the riders in front one or two times, but it's difficult to know whether this was even possible watching from the pit wall; only he can make that decision. But at the end, Shinya rode a good race, the bike and the tyres worked well, and I think we have to be satisfied with his result. Randy's mistake into the first turn really messed up his race. This is something we need to work on with Randy, and I hope that if we can help him improve in this area, he will then be able to realise his full potential and get the results that he deserves."
AMA Completes Review of EPA Guidance of Streetbike rules
Aug 9th - The American Motorcyclist Association (AMA) has announced that it's completed its review of an Environmental Protection Agency "Letter of Guidance" on the subject of motorcycle-emissions regulations.
The July 25 letter, which serves to clarify existing regulations, came less than six months after meetings between EPA technical officials and AMA Government Relations, in which the AMA sought clarification of regulations for "kit" and "custom" motorcycles.
"One of the AMA's goals in meeting with EPA officials was to encourage the agency to issue just this sort of clarification," said AMA Government Relations Vice President Ed Moreland. "We're pleased that the EPA heard our concerns, along with the concerns of other groups and individuals, and did its part to help American motorcyclists know exactly what the regulations mean."
Kit bikes are motorcycles typically built by individuals using off-the-shelf components, while custom bikes are generally show bikes built by a business and sold to a customer.
Under the regulations, a person is allowed only one kit motorcycle in their lifetime that is exempt from meeting EPA emissions requirements. For custom motorcycles, a builder may create and sell up to 24 bikes a year that don't meet EPA emissions requirements, but those machines must be labeled as exempt and are show bikes that only rarely may be ridden.
The AMA's review of the recent Letter of Guidance confirmed that by using an EPA-certified engine, an individual will, in fact, be permitted to build a kit motorcycle without invoking the "one per lifetime" rule, subject to restrictions on exhaust systems, carburetors, fuel injection, and certain other components. From the EPA Letter of Guidance:
"New highway motorcycles certified in this manner may be operated or re-sold without restriction, as long as all requirements of this procedure are met and the anti-tampering requirements of the federal Clean Air Act (42 U.S. C. sec. 203(a)) are met."
Before the EPA adopted these rules in 2004, it was illegal for anyone to ride a street motorcycle built in 1980 or later if it didn't meet EPA emissions requirements.
The EPA rules adopted in 2004 require new road motorcycles sold nationwide beginning with the 2006 model year to meet strict emissions standards adopted earlier by California. The first phase of the California standards went into effect with model year 2004, with a second tier scheduled to go into effect with model year 2008.
The EPA adopted the same standards but with a two-year delay, meaning the first phase took effect with the 2006 model year, and the second phase will take effect in model year 2010.
New motorcycles sold in California beginning with the 2004 model year, and nationwide beginning with the 2006 model year, may not emit more than 1.4 grams per kilometer of hydrocarbons and nitrogen oxides, and 12 grams per kilometer of carbon monoxide.
The California standard gets tougher in model year 2008, with a limit of 0.8 grams per kilometer of hydrocarbons and nitrogen oxides and 12 grams per kilometer of carbon monoxide. The federal standard that goes in effect in model year 2010 is the same.
When the EPA issued its final rules, the provisions related to kit and custom bikes were new, which the AMA notes also has led to the confusion surrounding them.
All major motorcycle manufacturers' streetbikes meet federal model year 2006 emissions standards, and several manufacturers' products already meet the model year 2010 standards.
The AMA actively voiced motorcyclists' concerns to the EPA beginning in 2001, as the federal agency worked to put together the new emissions requirements.
The EPA Letter of Guidance is posted on the agency's website at http://www.epa.go

Aaron Yates Looking for New Ride
Aaron Yates took his Yoshimura Suzuki to second in Sunday's VIR Superbike race, earning the veteran rider earned his first podium of the year in Virginia with a strong run at the front.
It was his best ride of any otherwise poor season, probably becuase he'd learned Yoshimura wouldn't be renewing his contrat for next year, so he neede to get on the gas if he expected another team to sign him.
Yates might have been dropped from his contract last year after the infamous Daytona Superbike incedent where he kicked a fallen rider in the back after they had crashed together. But claiming the 600cc Superstock title for Suzuki helped Yates keep his seat on the team going into 2006. But now that Ben Spies has moved up and is proving to be the top contender for the Superbike Championship this year, along with reigning Yoshimura Suzuki champ Matt Mladin, and Yates has been running off the podium all season long, the handwriting was on the wall.
Yates confirmed during the VIR race weekend that he was looking for a new ride next season. But with so few teams and too many riders in AMA Superbike, we don't expect him to find a competitive ride. Or a job, for that matter, in the motorcycle industry.
"I'm definitely looking for a ride," Yates said candidly of his current situation. "My contract is up." After 11 seasons as a factory Superbike rider and 10 with Yoshimura, the future is uncertain for the reigning Superstock champion.
"There are a few options out there," said Yates. "I'm working on some things for next year and I definitely plan to be back racing next year."
Aaron said he's not letting it affect him at the track. "It's not changing my effort going into a race weekend. I always try hard."