The base model 1098 with Showa suspension. The new bodywork s a little bit Desmosedici MotoGP, a little bit retro 916-998 Superbike. SCREENSAVER
Lots More Power, Better Looks, and a Lot Less Weight and Money....
Ducati Reveals the New Generation 1098 Superbike Family
Nov 2006 - Ducati has introduced its new generation 1098 Superbikes this week at the Milan Motorcycle show in Italy. The new machine produces 160hp and 90.4lbs/ft of torque, which results in making the 1098 the most powerful twin-cylinder motorcycle in the world, with the highest torque-to-weight ratio of any sport bike. In addition, Ducati claims the 1098 is also the lightest open class Superbike available, now weighing in at 381 pounds (dry).
With one dramatic step Ducati has introduced a new generation Superbike, the base 1088 model of which produces significantly more horsepower and is significantly lighter in weight than the out going top rated Ducati 999R model, at a price which is less than half of the former "R" model. This new Superbike is something old, something new, something borrowed and something very red from the Bologna mafia who have needed a winner in the showroom to match their winning World Superbike Championship record on the track. This new bike should definetly do it.
The 1098 will be available in three versions starting in February. The 1098 Biposto will carry a manufacturers suggested retail price of $14.995 (reduced $3,000 from the current generation 999). The 1098 S will be priced at $19,995 (reduced $3,000 from the current generation 999S), while a limited edition 1098 S Tri-Colore will be $24,995. Complete Ducati 1098 Superbike details and photos New Sportbike Index : Ducati 2007
Ducati and NCR team up to recreate Limited Edition "New Blue"
Cook Neilson's 1977 Daytona winner
Milan, Italy (November 16, 2006) - Ducati North America and NCR announce today the unveiling of special new project bike called "New Blue". This motorcycle is a modern replica of the historic Ducati 750SS campaigned by Cook Neilson and Phil Schilling throughout the mid 1970's.
The perfect Battle of the Twins racer?

This starts out as a Hailwood Replica Sport Classic 1000 with the twin shock rear swingarm. Retro sexy!

The inverted positioning of the twin shocks shows off the nice Ohlins adjustable piggybacks and is needed to clear clear the hot mufflers, but increases unsprung weight.
Cook Neilson, the editor of Cycle magazine at the time, possessed a unique combination of skills - those of a successful journalist and those of a successful racer. With the help of Managing Editor and ace mechanic Phil Schilling, they were able to build the 750SS into a remarkably successful race bike. This was achieved by trial and error, superior tuning talent and riding skills.
Phil soon gave their motorcycle the nickname "Old Blue", in reference to the team's attractive livery. On March 11th 1977, at the legendary Daytona Speedway, the team celebrated a monumental victory in the AMA Superbike race. This win stands out as a significant event in the history books as it was the first victory for Ducati at Daytona.
To commemorate the 30th anniversary of this historic event, a recreation of this motorcycle was commissioned by Ducati North America and given to NCR.
"New Blue", which began life as a Ducati SportClassic Sport 1000S, was sent to NCR's factory for a cosmetic replication and race preparation. NCR was able to remove an astounding eighty-four pounds of dry weight and add an additional 30 horsepower to the motorcycle. This was achieved by the usage of lightweight materials such as titanium, carbon fiber and magnesium throughout the project. The revised engine output is 116hp at 8450rpm. The motorcycle is completed with a titanium plate bearing the signatures of both Cook Neilson and Phil Schilling.
"This is a very exciting project, and we are looking forward to seeing Cook and Phil together again" said Michael Lock, CEO of Ducati North America. "We inducted both of them into the Ducati North America Hall of Fame at this year's annual Ducati dealer meeting, and now we are honoring the special bike that they built as well. The combination of rider, tuner and motorcycle made a very successful team."
The North American introduction of the motorcycle will take place at Ducati New York on Thursday, January 18th. The motorcycle will be on display at the remainder of the 2007 IMS Motorcycle Shows. In addition, NCR will be building a limited quantity of these special production motorcycles for the American market. This highly modified NCR bike might cost about $50,000 in limited production, but US replicas will certainly have stock smog legal engines, and be priced much lower.
---
Playboy Playmate Tamara Witmer Shoots with Sands KR MotoGP Boardtracker for 2007 LA Calender Motorcycle Show Marketing Campain
The Queen Mary, Long Beach, CA Nov 7th - Beautiful Playboy Playmate Tamara Witmer joined photograher Jim Gianatsis again this month at the Queen Mary facility in Long Beach to shoot with us and the Roland Sands (Roland Sands Design / Performance Machine) designed KR Retro Boardtrack Racer. The photographs will be used in the marketing campaign for the upcoming 2007 LA Calendar Motorcycle Show on July 14-15th 2007 (the weekend before the US MotoGP at Laguna Seca), as well as in the the next 2008 SBK Fast Dates World Superbike Racebike and Iron & Lace Custom Motorcycle Pinup Calendars while will premier at the Show.
The KR Boardtracker was commissioned by none other than former AMA and World Champion Kenny Roberts, Senior, owner of the KR MotoGP racing team which features his own son Kenny Roberts, Junior, also a fomer World Grand prix Champion, as the team's principal rider. The engine used in the hand built custom bike which mimicks the style and geometry of a 1910's American board track racer is one of the team's previous season, 5-cylinder Proton 990cc MotoGP engines putting out close to 230 horsepower!

We doubt that, without any front brakes, the KR Boardtracker will ever be toppingthe 200mph speeds it's engine was achieving on the MotoGP circuit, but it certainly will be one of the centerpieces at the Roberts Ranch in Sacramento, CA.

Left: Tamara is featured in all the 2007 FastDates.com Calendars and the 2007 Playboy Calendar. Just click to order!
And you can certainly bet, as always, the 2007 LA Calendar Motorcycle Show will again play host to literally hundreds of incredible custom and performance bikes from America and the World's top custom motorcycle builders.
Playboy Playmate Tamara Witmer and other many of the other beautiful FastDates.com Calendar Kittens will be there as well to meet fans, and personally autograph their photos in the new 2008 FastDates.com Fast Dates, Iron & Lace and Garage Girls Calendars. Go to: Calendar Bike Show
---
MotoGP World Championship Winter Tests

Rizla Suzuki dominates at Sepang MotoGP test
only their 800cc bikes shatter 990cc lap record
Sepang, Malaysia, 17/11/06 - Rizla Suzuki MotoGP racers John Hopkins and Chris Vermeulen finished the 3-day MotoGP team Sepang tests at the top of the timesheets for the second day in succession, as the new Suzuki GSV-R800 continued its impressive introduction into MotoGP.
Hopkins recorded a time of 2'01.63 - half a second inside the current lap record held by Loris Capirossi on a Ducati 990 and almost a second quicker than the best lap-time that he recorded at this year's Malaysian Grand Prix. Hopkins used his 48 laps today to test and refine engine mapping characteristics and to complete thorough evaluations of Bridgestone's latest tyre developments. The Anglo-American's quickest lap was set using one of Bridgestone's new development race tyres during a 5 lap run.
Vermeulen was equally impressive and his time of 2'02.04 was also inside the current lap record, as he too found the new 800 to his liking. He completed 61 laps of the 5.5km Malaysian circuit and was able to post consecutively fast times throughout the day. Vermeulen worked tirelessly with his crew on engine and chassis settings as well as continuing with a thorough tyre test for Bridgestone.
Rizla Suzuki MotoGP will now re-group for the final pre-2007 season test at Jerez in Spain between the 28th and 30th of November, where everybody involved with Rizla Suzuki MotoGP will be hoping to develop further the high potential already shown by the 800cc GSV-R.
John Hopkins (21) : "It's been a really good test and I'm happy with the way things have gone. I've gotta say I'm really impressed with the 800cc bike! Suzuki has stepped up to the plate and given us a good package right out of the box. We have been able to get straight into testing and work on engine strategies and all sorts of detailed stuff. We did a lot of tyre testing with Bridgestone and at the end of the day I found a tyre that really suited the bike and the track, and was able to set some fast and consistent lap-times. It's great for the team to have such a good package at this time and moral is higher than it ever has been in my career at Suzuki. We don't want to get too excited because there were a couple of very fast riders not at this test, but right now we can't wait for the next test as it seems things are starting to happen!"
Chris Vermeulen (71) : "I've been to Sepang a few times with a 990, but this was the first time on the 800 and I felt quite comfortable out there today. I felt like I could lap consistently at the pace we were doing and Suzuki has certainly made some good steps with the bike coming to this test from Valencia. We tried many different engine and chassis settings, plus a lot of different Bridgestone tyres over the three days to find the best combination for the bike. I enjoyed riding the GSV-R800 a lot and we seemed to be competitive with the other bikes and riders here. Hopefully we can continue the progress at Jerez before our time off."
Paul Denning – Team Manager: "Following on from the Valencia test our initial hopes for the new bike were reconfirmed at this three-day test, and the 800cc engine has shown superb promise. Nobu Aoki did a good job for the team on day one and helped us to get a good base engine setting for John and Chris to get down to some serious work. Both the riders put in a huge effort and their testing was all done at a very high rhythm. The information they obtained over the three days will be relevant to both Suzuki and Bridgestone as we work on getting the 800 to its full potential.
"The lap-time of the new GSV-R800 has certainly surprised us! John and I had discussed that to get within two seconds of the 990's lap-time at Sepang would be a reasonable result, but to be a second quicker is quite shocking! Some of our major competition was not present at this test, but nonetheless this result can only give us great hope as we move forward.
"It is also very encouraging that the Factory has a clear target to develop the bike further and improve both engine and chassis performance. To have such a solid base to work from in November gives us good reason to hope Rizla Suzuki MotoGP will be competitive in 2007."
---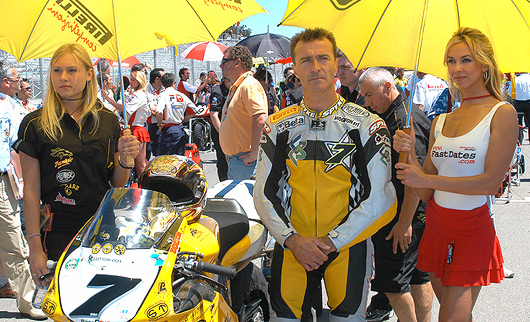 Frankie on the start at Laguna Seca World Superbike 2004 with SBK Fast Dates Calendar Kitten Andra Cobb.
Frankie Chil Retires from World Superbike at age 43
November 2006 - The end of the 2006 World Superbike Championship season also brought to a close the illustrious racing career of Italian super hero Pierfrancesco "Franke" Chili. One of the most popular motorcycle roadracers ever, both for fans and members of the the World Superbike circus. Frankie has competed in 278 WSB races through this 2006 season, riding for numerous teams including Ducati Corse, Klaffi, DFX and PSG-1.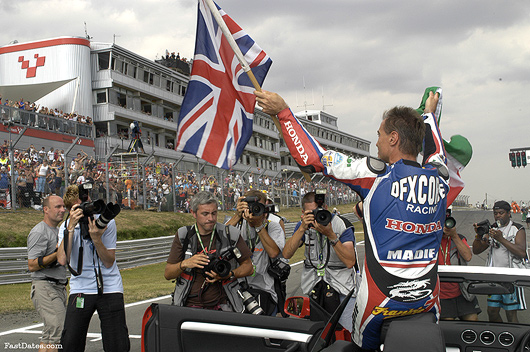 Frankie was honored with a big farewell and a parade lap at Brands Hatch this year.

Frankie's most outstanding races came while riding Ducati bikes, and we still vividly remember his 3-way battle for the race win at Monza in 2002 with Ducati Corse team mates Carl Fogarty and Troy Baylis. And again a few years later at Monza in 2004 while riding for the private PSG-1 team on an older 988R Ducati, Frankie soundly beat the factory Ducati Corse riders on their newer 999F04 bikes. Monza was Franki's home track and he was nearly invincle there. His career record in World Superbike includes an incredible 18 race wins, 26 -2nd places, and 28 -3rd places to position him in the top eight of all time winningest World Superbike riders.
Fortunately, Frankie won't be leaving us as he moves into a a team management position in 2007 with the DFX team. Frankie's bikes have been featured in nearly all the Fast Dates Calendars since 1997. We'll look forward to seeing Frankie's smile face at many more World Superbike races to come. You can follow Frankie's exploits and his biography on his website at: http://www.eng.frankiechili.it



Frankie helps shine up his Klaffi Honda CBR 1000RR at Brands Hatch 2006 with beautiful Calendar Kitten Gemma Gleeson for appearance in the 2007 Fast Dates Calendar.
---
AL & AJ do Christmas
Accoustic Hearts of Winter
Our favorie new sister pop rock princesses Aly & AJ have just released their first Holiday album "Accoustic Hearts of Winter". It's made up of all the well known popular holiday tunes sung to their playing acoustic gutars it a nice pop musical style the entire family will like. Click on the CD cover to buy online, and while your shopping be sure to pick up their awsome new rock album "Into the Rush" You can also sample their music and check out their hot music videos and tour dates on their website at AlyandAJ.com
---
There's more! Go to Pit Lane News NEXT PAGE

Hot Calendar Girl and Bike News! Go to: Fast Dates • Calendar Girls • Iron & Lace





BikerKiss.com - the largest biker personals site!


New 2007
Fast Dates Racebike,
Iron & Lace Custom
& Garage Girls Calendars
Click to Order Now!
More 2007 Calendars!
In Our Calendar Store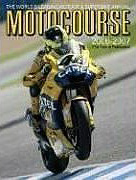 Motocourse 2006-2007
New Moto Books
for Christmas

Valentino Rossi
MotoGenious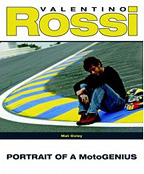 ---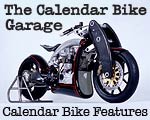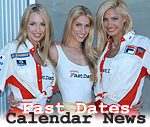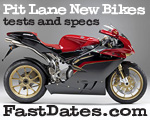 ---
Suzuki's Hopkin's and Vermeulen Top 800cc MotoGP Tests at Sepang
The top factory teams completed 3 days of testing this week at the Sepang racetrack in Malaysia. Suzuki rider John Hopkins was fastest again on each dday with a best lap of 2'01.64, followed by his team-mate Chris Vermeulen, who recorded a time of 2'02.04. Hopkins times were significantly faster than the track's record lap times set earlier this year on the bigger 99cc bikes. Colin Edwards was third with a time of 2'02.43 after 32 laps.
See the additinal report from Team Rizla Suzuki at left.
Unofficial Lap Times (800cc Bikes)
1. John Hopkins (USA) Suzuki, 2'01.64
2. Chris Vermeulen (AUS) Suzuki, 2'02.04
3. COLIN EDWARDS (USA) Yamaha, 2'02.43
4. Nicky Hayden (USA) Honda, 2'03.28
5. Makoto Tamada (JPN) Yamaha, 2'03.36
6. Toni Elias (SPA) Honda, 2'03.55
7. Carlos Checa (SPA) Honda, 2'04.27
8. Tadayuki Okada (JPN) Honda Test Rider, 2'04.44
Sepang Lap Record: Loris Capirossi (Ducati) 2006, 2'02.127
Sepang Best Lap: Valentino Rossi (Yamaha) 2006, 2'00.605
The Camel Yamaha Team will reconvene for the final test of 2006 in Jerez, Spain, on 28th-30th November, when Colin Edwards will be re-joined by team-mate Valentino Rossi. Valentino has been in Australia competing in a World Championship Rally Car round during this off season.
Edwards Finishes Off First Yamaha 800cc Test in Positive Fashion
Colin Edwards completed his first test of the 800cc era with another good morning's work at Sepang today, making more progress on the development of Yamaha's new prototype machine and finishing the day with the 3rd fastest time in the process. Edwards once again spent the time working on general set-up with his team, especially chassis and suspension, as well as testing some new tyres for Michelin.
COLIN EDWARDS (3rd – 2'02.43, 32 Laps) - "Today was another really good day. I was quicker again and it felt really good to be able to consistently run fast times comfortably. We got a lot of great work done on a variety of things, even though we only tested in the morning. We did a fair bit for Michelin, they've got some good stuff and it seems pretty clear what the right direction is for us to go in with regards to tyres. We've played about with the chassis and the suspension, as well as a few other things, and when we came to add everything together you could see we were making some good progress. As far as getting input for the final bike they're going to roll out for us next year, I think we've done a pretty good job during these three days. I'm really happy with my first test on the 800, we seem to get on okay and now I am looking forward to the next test in Jerez, where I am sure Valentino and I together can make even more progress."
DANIELE ROMAGNOLI – COLIN EDWARDS' CREW CHIEF
"This has been an encouraging first test for our team and for Colin with Yamaha's new 800cc bike. We've changed quite a bit with the overall set-up and we've definitely made some big improvements from the bike we first tried on Wednesday. We've also worked quite a lot on tyres with Michelin and found some options that seem to be working well for us. The most important thing is that Colin already seems to be getting on very well with the bike, he can ride it well and he's been fast all week. We're very satisfied with this first test and it seems like we're in good shape for this stage of development."
Hayden Fastest Honda rider on final day of Sepang MotoGP test.
MotoGP World Champion Nicky Hayden ended the MotoGP test at Sepang as the fastest Honda rider over the three-day session. The American has always worked hard in testing and today was no different Nicky put in 70-laps of the 5.548 km track in dry conditions and ventured out for another 17-laps when the expected late afternoon rain storm arrived.
Hayden tested various alternative chassis and suspension parts and settings over the 70-laps. He started with different front and rear suspension and with the steering head raised slightly. The front suspension changes were of no distinct advantage but he felt happier with the rear end than at anytime this week.
Once comfortable on the RC212V Hayden began serious tyre testing for Michelin testing new tyres designed for the 800cc, which is easier on tyres than its 990cc predecessor. In sweltering heat he tried a selection of front and rear tyres giving the Michelin technicians quality feed back data that will help with their development work as they prepare for the Jerez MotoGP test later this month.
Toni Elias and the Gresini Honda were again impressive. The young Spaniard worked diligently all day, including an 18-lap session on wet tyres at the end of the day. Elias did not spend too much time on chassis work apart from trying head angle variations in combination with a different rear suspension unit. The team changed the gearbox ratios overnight and also made changes to the mapping to provide slightly less engine braking
After several laps with that configuration Elias returned to the original 'standard' suspension unit then adjusted his riding position before dedicating the rest of the day to testing the Bridgestone tyres he will race on in 2007
Toni and the Bridgestone engineers began working on testing tyre construction and profiles before trying various rubber compounds. Elias ended the day faster than yesterday and more consistent with a best lap time of 2m 03.505s.
Elias took to the wet track late afternoon and was impressed with the performance of the Bridgestone rain tyres. Toni completed 18-laps in the rain before calling an end to the three day test.
Carlos Checa really began to get a feel for his RC212V around the 5.548 km circuit today. Checa put in another heavy-duty day of testing working step by step to get the best out of the prototype 800cc to provide the HRC engineers with valuable data to work with as they continue the development of the RC212V for the MotoGP test sessions in mid-January 2007.
Carlos began the day working on refining the base-line settings of the machine by altering the castor angle by half a degree to improve front-end feeling before switching his attention to ride height and working on the electronic mapping in a bid to improve the engine braking characteristics. On day two of the test Checa thought he needed more help from the engine under deceleration but today he preferred a softer setting. .
The Spaniard the moved on to tyre testing for Michelin trying reacquainting himself with the various newly developed tyre since he last race on Michelins. He tried various constructions profiles and compounds produced for racing by the French manufacturer.
The final Honda MotoGP test of 2006 will be held at the Jerez Circuit, Spain on November 27-29

Honda rider lap times and quotes.
Nicky Hayden, Repsol Honda: 2m 03.30s - 70 dry laps, 17 wet laps.
"We learned a lot about the bike at this test and I'm beginning to understand it better. We went through a lot of stuff here and today I tried some suspension changes and improved the rear and made it a little better than yesterday, we have good traction. We also raised the front end a bit but that didn't give me what I needed it to so we went back to the original setting. We definitely need to find more power and speed to stay in touch with our rivals but I'm confident that Honda and the guys in my team will find that before I test the bike again. In the afternoon concentrated on testing tyres for Michelin all sorts of stuff, different constructions and compounds and found a front I like. When the rain came I went out on wet tyres and it was productive because they gave me a front tyre that worked well in the wet. The strong point is definitely my team they are so positive, I mean everybody is working so hard."

Toni Elias, Gresini Honda: 2m 03.505s - 49 dry laps, 18 wet laps.
"I like the machine the seating position makes it easier to ride than the 990cc. I am very satisfied with the chassis although we didn't work on that too much today apart from trying different rear shock and various suspension settings. We also changed the gearbox overnight because we were to close to the ratios we used on the 990cc machine. In the afternoon I concentrated on testing for Bridgestone and tried many different constructions and compounds. The Bridgestone's are good in the wet and I did 18-laps in the rain and found a front tyre I really liked it gave me a good feeling with the wet track. I am getting more comfortable on the bike, not 100% yet but at the January test I'm sure we will finalise the base set up we need to make the bike perform the way we want it. We have a lot of work to do on the engine but I am confident HRC and my team will do their best to be ready for my next test."
Carlos Checa, LCR Honda: 2m 04.00s - 71 laps.
"Basically we spent a lot of time looking for better chassis settings trying to establish a better base line to work from in future testing. We played with the castor angle and ride height of the bike looking for a better base line. Traction is good but I found it a little difficult find a good contact feeling from the front, the bike needs to turn faster. The weather didn't help us today I had hoped it would have held off so I could use the last hour of the day but no luck. But Honda know which areas of the bike they have to work on and we have helped to clarify the parts that need improving. I am grateful for the opportunity to work with this team and it has been good to be here and get to know everybody better."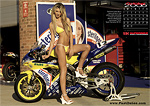 NEW! FastDates.com
Monthly Screen Savers
Click to Find Out What Day It Is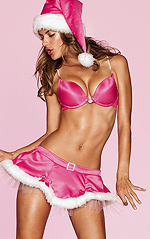 Click to visit Victoria's Secret. Event updstes Insert Keyword: FASHION
Victoria's Secret
Fashion Show
on CBS Dec. 5th 10/9c
Just so you don't go into total withdrawl now the racing season is over, here's something you can really look forward to to warm up a cold night.