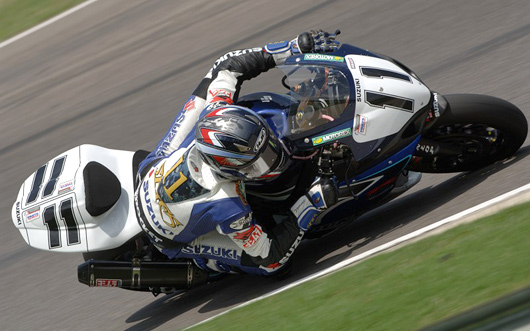 New 2006 AMA Superbike Champion Ben Spies on the Yoshimura Suzuki GSXR1000RR.
2006 AMA Superbike Championship, Imola Round 10 of 11
Ben Spies Clinches AMA Superbike Championship at Mid-Oho
Yoshimura Suzuki Team Mate and 6-time Champ Mat Maladin is Runner Up
Lexington (Ohio) 1 October 2006: Yoshimura Suzuki's Ben Spies put the finishing touches on his tremendous 2006 campaign today at Mid-Ohio to lock up his first career AMA Superbike title. The rising star did exactly what he needed to do on Sunday, finding a safe area between traffic and cruising his way to history with a seventh-place ride. The 22-year-old from Longview, Texas showed equal amounts of sheer talent, speed, intelligence, and grit -- all of which were necessary to topple his legendary teammate, Mat Mladin, who entered the season with six titles in seven years and as the heavy favorite to claim number seven in '06.

Spies overcame the major mental hurdle in beating the long-dominant Aussie and threatened his team mate's single-season wins record. After scooping up ten victories in the season's opening 14 races he displayed the savvy to cool it down late in the year when a wrist injury put his hard-earned championship advantage at risk.
Spies described his challenge this season, "Coming from the season prior, winning one race -- and that was because Mat had a mechanical -- this was an awesome season. The bike just worked really good and the team worked awesome. It was a little bummer we made a mistake at Virginia and had to ride hurt a little bit, but we worked our way through it. Mat came on strong at the end but luckily we brought it home. It hasn't quite sunk in yet but I can already tell the feeling is getting there.
"Now we know what to expect with a full year leading, and the pressure, and all that stuff. Now we'll go home and train and try not to take a step backwards but take a couple steps forward. It's going to be tougher next year so that's the goal."
This first AMA Superbike Championship tasted sweet to Ben, "This title is especially nice because last year the points were close but we had a whole lot of help from (Mladin)," Spies continued. "To win it outright with nobody really having any issues is a huge deal. I know they're coming back. I know that's going to happen. He's got a fire lit under him. He's going to do his training and come back hard and we've got to do the same thing. The hard work is ahead of us to keep going at this pace and keep winning."

Mladin won the AMA final, but it didn't help him keep the Number One for next year.
Mat Mladin too did exactly what he needed to do at Mid-Ohio 2, as the 2006 AMA National series returned to Mid-Ohio Raceway for the 2nd time this year to wrap up the Championships at the series' most popular race venue. But rather than the normal double header weekend for the premier Superbike class, this final weekend featured just one final Superbike race on Sunday.
Controversey actually preceed Sunday's race as rain for both Friday Practice, and then on Saturday for the Superbike Qualifying Heats saw the top factory riders banding together to not race in the rain for "safety concerns" at the AMA's premier showcase circuit. World Superbike champ Neil Hodgson was flabergasted over the situation, seeing the rain as a great equalizer for him, and that the trackj conditions at Mid-Oho were no worse than many of the European tracks he has raced on in the rain. But Hodgson did sit out Saturday's Qualifier as well to show his solidarity with the other factory teams, particularly since he was still looking to find a ride for next season with Ducati's withdrawl from AMA. Privateer Ben Thompson secured Pole for Sunday;s Superbike race from his heat win on Saturday, and all the top factory riders who sat out the Qualifing Heats were grided from the 3rd row and back for Sunday's Feature race based on their current points standings.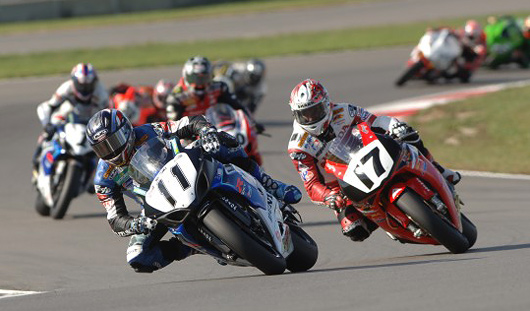 The early laps saw Spies out front of Duhamel (17) Hodgson (100) and Mladin (1).
With this year's Championship realistically out of reach (Mat had to win the race and Spies finish 17th or worse for Mladin to pass him in the final points tally), Mladin still wanted finished the year with a flourish, claiming five straight victories to close out '06 and look forward to next year's rematch. Mladin broke free at the front late in the once red-flagged final to drop fellow podium finishers Aaron Yates on the third Yoshimura Suzuki and Parts Unlimited Ducati's Neil Hodgson and claim his eighth win of the season, the 51st of his record-setting career.
The only other time anyone has stolen Mat's title, the new champion (Nicky Hayden) immediately bolted for the world stage. But Spies has already signed on for at least two more years with Suzuki in the States, setting up an epic clash in '07 and beyond.
"I'm looking forward to it for sure," Mladin remarked. "What can you say? When you've won six championships and you win a few in a row and all the rest of it… Last year we won fairly comfortably even though the points weren't that comfortable -- we gave a few points away -- but we ran reasonably comfortably. And by the time I had realized complacency had set in this year the championship was pretty much over as I said a number of races ago.
"We've been working hard and we sorted a few things out and got the bike good. The real shame for me is that Ben was leading the championship and he could control it from the front and he really didn't have to race at the same time I feel we picked it back up.
"Next year is going to be fun and I'm looking forward to it. I've won six championships and 51 races and by the time I had realized that complacency had set in, it was a bit too late. I think Ben is smart enough to know that we're not going to go away easily. We'll be back ready to rock and roll next year and I can't wait. He's a great young rider and for me it was awesome to have someone to pick my game back up."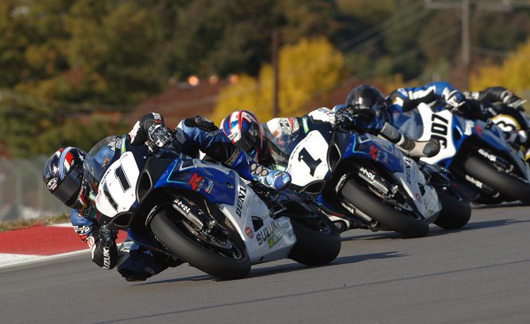 Mladin (1) closes in on Spies to take over the race lead. Privateer pole sitter Thompson (907) is just behind them.

Yates did his offseason job hunt some good, challenging for today's win before accepting second, his fourth-straight Superbike podium after opening the season with fifteen consecutive finishes off the box.
Neil Hodgson finished off the 2006 season with a podium result at Mid-Ohio Sports Car Course and teammate Ben Bostrom was fourth to end the AMA Superbike season for Parts Unlimited Ducati. Hodgson ran strong in both ends of the red-flagged race, leading the event on lap 15. The Englishman challenged for the win on the Ducati 999 and in the middle portions of the race was especially strong in the "Thunder Valley" section of the track.
"Today's race was a good opportunity for us. We pushed hard and battled," said Hodgson. "We had a solid race and it was fun racing at the front. I enjoyed the competition and it would have been nice to get a win, but a third is a good result. It's hard to believe the season's over. From Laguna onward, we improved. We were more competitive every weekend."
Ben Bostrom took fourth place, making a remarkable leap up the leader board on the second start. Bostrom rocketed into third with an excellent launch from the second row and raced with the leaders before finishing fourth in the 26-lap race. "The bike was really good, and I thought it was good enough to have raced for the lead the whole time. On the second start, we improved our position because the Ducati 999 is a good starter," said Bostrom. "We ended up fourth on the day, and we wanted more for the last race of the year but this was a solid race for us."
Team Kawasaki's Tommy Hayden was sixth in his last race aboard the ZX-10RR before he takes over Yates' spot at Yoshimura, followed by new champion Spies.
American Honda suffered a difficult '06 finale in their first race breaking in their new MoTeC traction control system. While they showed impressive speed, they struggled to put a complete race together. Duhamel had less luck than his fellow Honda rider in the red flag-interrupted AMA Superbike Shootout. The American Honda team was racing their Honda CBR1000RR's with traction control for the first time after a successful test in California. Tire problems in both the first and second parts of the race slowed Duhamel, but couldn't deny him third in the AMA Superbike Championship.
Miguel Duhamel, 16th Place - "For me this weekend it would have been almost too much to ask with everything we had on the agenda and the shortened amount of time we had here, to go out and win. It was a really good test. We learned a lot, obviously. We need to look at all the data and look at what actually transpired and how come we had a tire issue. It's just a big learning curve and I'm happy and proud of the guys that they had the fortitude and knowledge to bring it out so quick. We'll have to do a lot of laps in winter testing and it's going to be a different crew and a different objective for next year, I can tell you that."
Teammate Jake Zemke also had traction problems after getting shuffled to the back of the pack by the actions of another rider. Neither of their problems were the result of the tires themselves, but a lack of set-up and practice time caused by inclement weather. The teams had only a brief practice session prior to the race to find a race set-up and pick a race tire.
Jake Zemke, 8th Place - "We made an educated guess [on the tire] and the other problem is that with our little practice session we wanted to run the tire we thought we were going to race on and we did that. We had that tire on three rims and we only had four rims on the width we needed - because we're running a little bit narrower than what we normally would run and it didn't work out so well. We got caught out. We knew the other tire wasn't going to be any better and we couldn't run on the same tire and what we tried wasn't the right thing. That's part of it."
2006 turned the AMA Superbike world on its side. 2007 promises to be a titanic struggle to define where its headed going forward.
AMA Superbike Race Results:


1. Mat Mladin (Suzuki)
2. Aaron Yates (Suzuki)
3. Neil Hodgson (Ducati)
4. Ben Bostrom (Ducati)
5. Jason Pridmore (Suzuki)
6. Tommy Hayden (Kawasaki)
7. Ben Spies (Suzuki)
8. Jake Zemke (Honda)
9. Marty Craggill (Suzuki)
10. Ben Thompson (Suzuki)

2006 Final AMA Superbike Rider Standings:


1. Ben Spies (649)
2. Mat Mladin (641)
3. Miguel Duhamel (511)
4. Aaron Yates (484)
5. Neil Hodgson (469)
6. Tommy Hayden (455)
7. Jake Zemke (447)
8. Jason Pridmore (400)
9. Ben Bostrom (391)
10. Larry Pegram (351)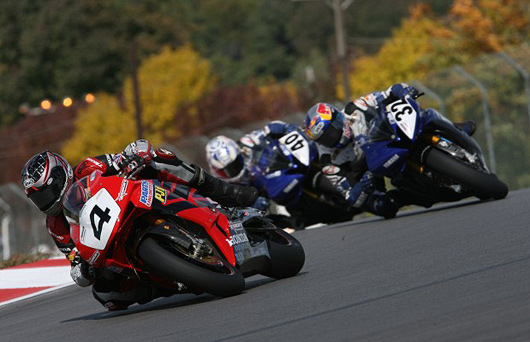 Josh Hayes stays out of reach of the 2 factory Yamaha riders in the otherwise lightly contested.
Josh Hayes takes Honda to another Formula Xtreme Championship
For the third year in a row, an American Honda's CBR600RR took the top spot in the AMA Formula Xtreme Championship. Following two years of domination by American Honda's Miguel Duhamel without any real involvement or competition from the other factory distributor teams, American Honda turned over its highly modified Honda CBR600RR bikes after this year's prestegious Daytona season opener, to satelite team Erion Racing so American Honda to deflect contnued criticism of cherry picking the class. Erion Honda's Josh Hayes stepped up and took the 2006 crown in a nail-biting finale at the Mid-Ohio Sports Car Course.
The 11-race championship came down to a winner-take-all final, with Hayes up to the challenge. The Mississippian quickly moved to the front of the 16-lap final and controlled the pace, leading all 16 lap en route to the race win and his second AMA championship.
"It's awesome," two-time Formula Xtreme champion Miguel Duhamel said. "Obviously, Kevin Erion's crew did a great job and Josh [Hayes] did a terrific job. They learned a lot and came out and won the championship and proved that CBR600RR is the class of the field in Formula Xtreme. That bike is a wonderful machine and I was proud of Josh going out there and the Erion guys did a wonderful job."
Gulfport, Mississippi boy Josh Hayes celebrates his 2nd AMA national title at Mio-ohi. To the right is his giorlfriend, and next to her is personal manager Gina Prichard. Editor Jim Gianatsis and Gina grew up in Gulfport and raced motocrtoss together in the late 1960s!
---
Honda Tries to Get Rossi Penalized for Phillip Island Missed Yellow Flag Infraction
Motegi, Japan 9/26/2006 - With the points race coming down to the final round between Valentino Rossi and Nicky hayden, Honda is trying all it can to help its rider Hayden in a controversial aftermath to the now infamous "yellow flag" incident at Phillip Island during the Australian Grand Prix.
Honda escalated the warfare on the eve of the Japanese Grand Prix at Motegi, revealing they had sent a strongly worded letter to the FIM, the world controlling body. The Honda letter was highly critical of Race Direction and in part, called "into question the ability of this group of people and their capability to perform such duties." The letter was signed by Suguru Kanazawa, President of the Honda Racing Corporation.
Although it did not mention Valentino Rossi by name, the letter raised the stakes on the Phillip Island incident when Race Direction missed Rossi's yellow flag pass on Australian rider Casey Stoner. The letter says the move was at a critical moment of the race with American rider Nicky Hayden briefly changing his race strategy as he anticipated a penalty when he saw Rossi's move form behind.
Rossi finished third, with Hayden fifth, a result that closed the points gap in the world championship. After viewing more detailed video evidence, Race Director Paul Butler apologized to Hayden for the error, admitting that in hindsight Rossi perhaps had a case to answer for passing under the yellows.
HRC boss Kanazawa made a pointed reference to the letter, addressed to the FIM chief Francesco Zerbi, at the Honda-owned Motegi Circuit. Kanazawa insists that the current rule must be changed and a higher level of competency demanded of officials in Race Direction.
Honda's letter triggered a hurried response from the Grand Prix Commission who issued a statement, which now lays a large part of the blame on the volunteer corner workers and flag marshals at Phillip Island. The GP Commission called an extraordinary meeting on qualifying day at Motegi and issued a statement just prior to the start of the race on Sunday.
In part, the GP commission statement says: "Immediate action includes a letter sent by the Race Direction to the Australian organization pointing out the failings of their officials that caused the controversy." This is at odds with Butler's unwillingness on the Sunday evening of the Phillip island race to blame the corner workers, who come under the radio control of the Clerk of Course and Race Direction.
Privately, Honda are unimpressed with the attempt at blame shifting and they continue to insist the yellow flag rule needs to be clarified, perhaps to enable a post-race penalty to be applied.
---


Million Dollar Paper Weights
Normally secretive Honda was happy to show off their RC 211 V-5 cylinder engine and all its internal parts to spectators at Motegi. With just 2 races left in the current MotoGP 990cc formula these engines are soon to become very expensive paperweights and door stops.

Already Quicker than the Outgoing1000cc Bikes!
Ducati and Honda Test the New Formula 800cc MotoGP BIkes
Monday & Tuesday Sept 25-26th 2006 - Both Team Ducati and Team Honda stayed on at the Motegi, Japan race track after Sunday's MotoGP to test and develop their factory's new 2007 season MotoGP bikes for the 800cc engine displacemnt limit begins next year. Ducati team rider Sete Giberneau immediately got down to posting a time of 1:47.44 seconds which was quicker than this year's Motegi circuit record, and only slightly bested by the new lap record set by Valentino Rossi in Sunday's race.
Nicky Hayden never got to test the 800cc bike because his concentration was focused on testing the V-5 1000 cc bike for the next MotoGP round at Estoril in Spain where he needs to defend his Championship lead, and Nicky was unofficially able to best best Rossi's newtrack record set in Sundays's race.
Ducati maintains the same V-4 engine design used in the current Desmosedici 1000cc racebike, but Honda was required to design an all new V-4 engine in replacment of the current V-5 for the smaller 800cc formula. One would assume that Honda might be keeping the same proven bore and stroke from thei rold engine, since dropping of one of five cylinders would reduce the dispalcement as needed. Ducati however, would probably have reduced primarily, just the stroke of its current moter to gain higher revs and make up for lost power.
Below are Ducati and Honda's press releases from the test. And shown immediately below are the current 1000cc MotoGP lap records at the Motegi circuit for comparison.
Fastest Lap (New record): Valentino ROSSI 1'47.288 161.095 Km/h Lap 16
Circuit Record Lap: 2005 - Loris CAPIROSSI 1'47.968 160.080 Km/h
Circuit Best Lap: 2006 - Loris CAPIROSSI 1'45.724 163.478 Km/h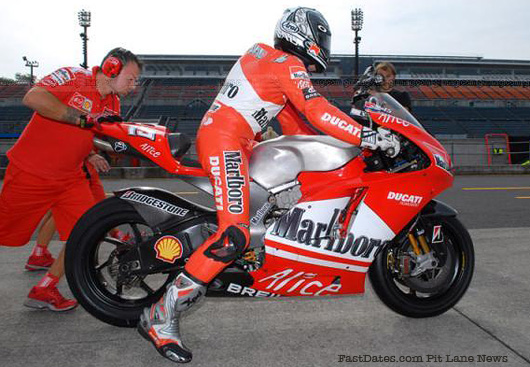 THE DUCATI MARLBORO TEAM TESTS THE GP7 800 AT MOTEGI
Following yesterday's extraordinary victory, the Ducati Marlboro Team stayed on at the Motegi track today to continue development work on the new 800cc GP7 machine.
Sete Gibernau, who rode the 800 for the first time, confirmed the positive impressions that Capirossi received at Brno during the Italian's first contact with the GP7. Sete did a total of 43 laps, setting a best time of 1m47.44s

Loris Capirossi did the same number of laps, concentrating mainly on testing braking components, which come under considerable stress at the Japanese circuit. Loris set a good pace and a quickest time of 1m47.91s.
HAYDEN MAKES FURTHER IMPROVEMENTS AHEAD OF ESTORIL
The Repsol Honda Team wrapped up a valuable testing programme today at the Motegi circuit with Nicky Hayden trying further clutch and chassis improvements in preparation for the final two MotoGP races of the season. The 25-year-old American completed 54 laps on his evolution RC211V, trimming his best lap-time on race tyres at Motegi down to 1m 47.18s.
Hayden was due to get his first taste of Hondas impressive new 800cc MotoGP prototype today but rain this afternoon put paid to that plan. The world championship leader will get his chance to fully test the new bike after the final race at Valencia. Haydens team-mate Dani Pedrosa did not ride today having returned home to fully recover from the damage he sustained in a crash in Malaysia three weeks ago.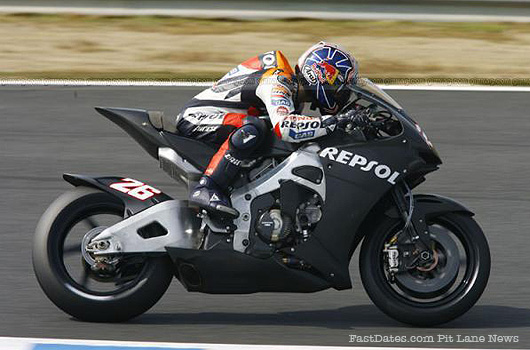 HRC test rider Tady Okada was also testing for Honda today, completing 14 laps on the 800. The six-time grand prix winner gathered useful data before escaping unhurt from a crash exiting Motegis Turn Four in the wet. The exciting new 800cc machine will be officially unveiled in Repsol Honda colours at the Grand Prix of Valencia on the weekend of October 27-29. Tady Okada's best time on the new bike was 1m 50.3s -nearly 3 seconds slower than Giberneau.
After a stretch of intense MotoGP activity, including races on three successive weekends in Malaysia, Australia and Japan, the Repsol Honda Team will now take a break for two weekends before the penultimate race of this captivating season. The Estoril circuit hosts the Grand Prix of Portugal on October 15.
Nicky Hayden Lap time: 1m 47.18s Laps completed: 54
We spent the morning evaluating some machine settings and testing a few more clutch ideas so that were ready for these last two races. It was good to get in some more laps and I improved my pace with a 1m 47.1s lap which was a bit quicker than yesterday and over the weekend. I was getting ready to do a few laps on the 800 when it started to rain, but Ill get my crack at that bike soon plus Ive got enough other stuff to focus on right now. The new bike looks really cool and the future seems bright for the new 800. I want to thank all the team and engineers for staying here and testing for a couple of days after nearly a month away from home its good to have them in my corner helping me. Now well just wait these two weeks out and get ready for Portugal its going to be a huge race.
Below: Suzuki's new GP800cc bike.

---

The Hypermoto is Ducati's most desireable and exciting new bike in years. It will be available in 2007 in both the Base viersion shown here and a hotter S Performance model with full Ohlins Suspension
2007 Ducati Hypermoto Base and S-Models Available in March
October 1st - Our local Ducati delaer just called us to tell the new Hypermoto's release date is March 2007 in both Base and S-Models. Pricing is expected to be around $11,995 for the Base Model and $13,995 for the S-Model with full Ohlins suspension. We are first in line at our dealer with a deposit on the S-Model.
No other details are available on the S-Model at present other than the fact it will have full Ohlins suspension including front forks, and possibly Marchesini magnesium racing wheels. We also hope it will get dual rotor front brakes and some sort of engine performance upgrade. And hopefully rweight will be reduced even futher down from the base modles reported 385 lb dry weight - a little too much for an aircooled twin - as much as a watercooled 4-cylinder Suzuki GSXR1000 sortbike! We should find out full details of all the new 2007 Ducati by the Milan International Motorcycle Shownext month.
Ducati Hypermotard takes the power, the pleasure and the performance of a supermotard bike to a new extreme and interprets it in Ducati's unmistakeable style. With 100 horsepower and just 175 kg (385 lbs.) of dry weight.
---
FastDates.com Screensavers
Get up close and personal every day of the month with the hottest bikes and pinup models featured in the FastDates.com Calendars by joining our Monthly Screen Savers & Members Corner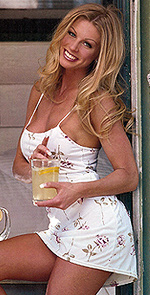 Texas Tea Anyone?
Click to Check It Out!
Our World Superbike Fast Dates Kitten and 2007 Iron & Lace Calendar cover model Miss Texas Rockin' Robin Cunningham has a new Website, 2007 Calendar
and Radio Show!!!
New 2007
Fast Dates Racebike,
Iron & Lace Custom
& Garage Girls Calendars
Click to Order Now!




2007 Maxim 15x17-inch Wall
featuring FastDates.com Calendar Kitten Joanna Krupa


Lausitz Crash Fest
Here's a great look at the first turn incident 3 weeks ago at Lausitz Ring in Germany which took out Troy Bayliss's top 3 championship contenders - Noriyuki Haga (41), Troy Corser (1) and James Toseland (52).
OUCH!
HODGSON AND BOSTROM PREPARED FOR DUCATI's LAST USA RACE, AMA SEASON FINALE IN OHIO
Thursday Sep 28 2006
Preview Mid-Ohio 2
Lexington (Ohio) 28 Sept 2006: Parts Unlimited Ducati Team racers Neil Hodgson and Ben Bostrom will conclude the 2006 AMA Superbike season this weekend at Mid-Ohio Sports Car Course. The Ducati 999 pilots will race the Ohio circuit for the second time this year as the series returns for the finale, which boasts a unique format consisting of heat races and a single national championship event on Sunday.
Instead of the traditional timed qualifying, Hodgson, Bostrom, and the other AMA Superbike competitors will take part in five-lap heat races on Saturday afternoon. The top 20 finishers will race in the Parts Unlimited-sponsored final on Sunday, with the rest entering a consolation race.
Neil Hodgson's last race at Road Atlanta was disappointing as the Englishman showed the speed to earn a podium spot only to be passed going into the final turn for third place. The energetic former World Superbike champion says he's looking to finish up 2006 with a good result. "We'll be looking to race hard this weekend and end the season on a high note. It's best to go into the winter with a positive result. Being totally honest, if we are going back to a track for a second event of the year, I'd rather it be anywhere but Ohio," laughed Neil Hodgson. "We've struggled there the times we have raced at Mid-Ohio in the past and there are other tracks that suit us better. That said, the riders really appreciate the efforts the track has made to resurface and make the place safer for the competitors."
Ben Bostrom has improved his speed over the course of the season and ran near the front at Utah and Laguna Seca, but an illness has made racing difficult over the last few events. The Californian says he and his crew are excited about having another chance in 2006. "We've worked hard this year but haven't always gotten the results we've wanted. It's a shame because I love the Ducati 999 and it is by far the best race bike I have ever ridden. We're looking at this race as an opportunity to prove what we can do," said Ben.
Sunday's contest will be the 19th AMA Superbike event of the season.
Ducati Corse has already announced it will not race in America in 2008 because the current AMA rules will not allow them to race more competitive WSB spec bikes. Hodgsen may have an opportunity on the table to race to return to World Superbike with the official factoy or a satelite team, but Bostom is left seeking another team to ride for.
The Circuit: The 15-turn, 2.4 mile (3.86 kilometer) Mid-Ohio circuit is a tight track with some elevation changes but also has a straight that allows drafting and passing on the brakes. The circuit, famous for The Keyhole turn, has seen safety improvements the last few years and was resurfaced in the off-season.
Points standings (after 18 rounds): 1. Ben Spies, Suzuki 625 2. Mat Mladin, Suzuki 605 3. Miguel Duhamel, Honda 496 4. Aaron Yates, Suzuki 451 5. Neil Hodgson, Parts Unlimited Ducati 440 6. Tommy Hayden, Kawasaki 430 7. Jake Zemke, Honda 424 8. Jason Pridmore, Suzuki 374 9. Ben Bostrom, Parts Unlimited Ducati 364 10. Larry Pegram, Honda 33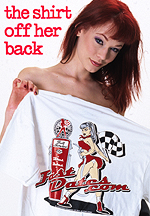 ---
Jason DioSalvo Wins AMA 1000cc Superstock Final at Mid Ohio Mid-Ohio, OH, Oct. 1st. - Graves Yamaha's Jason DiSalvo picked up his second victory of the 2006 Repsol Superstock championship at the Mid-Ohio season finale in a chaotic dogfight that saw not one, but two potential winners crash out of the race.
Jordan Suzuki's Jacob Holden threatened to close out '06 with a shock victory, taking over first from DiSalvo on lap two of 16 and holding the position through the completion of lap 5. However, the scrapper pushed a bit too hard the next time through seven, losing the front just in front of the pressuring New Yorker.
"That actually scared the bejeezus out of me," DiSalvo admitted. "We got up in there and the pace was really, really hot at the beginning. I couldn't believe how fast we were going. We got off of six and drove up there and he tipped in and I tipped in behind him and he just went out of my vision sideways. I flinched a little bit and got right back on the gas."
DiSalvo then found himself with a bit of a gap over the pursuing group comprised of teammate (for now) Jamie Hacking, who had already locked up the Superstock title, defending champion Aaron Yates, Team M4 EMGO Suzuki's Geoff May, and Jordan Suzuki's Steve Rapp.
The padding at the front quickly evaporated as Hacking eyed his chance to leave Yamaha with one last victory. DiSalvo refused to budge, however, and the two came together entering Turn 6 hard on the brakes at the end of the back straight.
Hacking, who was attempting an outside pass, was pushed wide and crashed. He quickly leapt back up onto his feet, his anger obvious, while DiSalvo carried on at the front and ultimately to the checkered flag.
Photo Highlights from
Brands Hatch 2006
staring the Fast Dates Calendar Kittens
The Complete Story Here
Camilla and Katie in their Team Ducati uniforms on Sunday in from of the Pit Garage.
Travelling By The Numbers - The Cost to attent the Far Eastern MotoGP Rounds
As the exhausting three-in-a-row sequence of consecutive MotoGP races has just drawn to a close in Japan, the grand Pan-Pacific tour underlined the true meaning of 'long-haul' races for all those involved. None more so than the Rizla Suzuki MotoGP squad. If you've ever wondered what it takes to get the people, machines and backup equipment around the world and back again, the following numbers can't fail to impress…
21 days - the amount of time the team was away from its UK base, having left on 4th September and returned 25th September. 1 Euro = $1.20 US
4,330 Euro - the cost of each team member's business class seat for the London - Malaysia - Melbourne - Japan - London flights. And there were over 20 people flying!
48.35 hours - the average time each member spent in the air. Doesn't include stop over time and extra check in time for security at Heathrow.
Circa 10 USD per kilo - cost of transporting equipment, per flight.
12,000 kilo - approximate total freight weight.
45 - the number of customised aluminium honeycomb/composite flight cases to fit all equipment in.
1480 to 3700 Euro - the individual costs of each flight case, depending on size and construction.
Eight sets - bodywork.
Eight sets - crash damage parts - handlebar assemblies, footrest assemblies, cowling brackets, etc.
40 sets - wheels.
Six sets - general bike parts.
Eight sets - engine rebuild parts.
Eight sets - suspension parts.
Four - frames (optional specs affect total quantity).
Eight - swing-arms (optional specs affect total quantity).
Six sets - electronics packages i.e. harnesses, sensors, etc.
30 sets - power adaptors for each country visited.
2,000 - parts per machine/mobile workshops.
Six - industrial disposable paper rolls for workshop use each race.
How did it get there? - IRTA/Dorna appointed freight company Tempora Freight, Italy ships all items on ATA carnets - from entire machines to a throttle cable. Spare parts and special repair equipment for the freight boxes were even included in the very same cases they are used to repair, as all the loading/unloading takes an inevitable toll on them on this particular triple-headed trip.
Out of the ordinary? - As well as the essentials to keep the bikes running and the tools twirling, the human needs during this hectic period meant that some personnel carried some of the strangest things. How about hair trimmers, to keep them neat and tidy? Or thermal underwear? Because Phillip Island can be so cold and windy, many a team uniform had a thermal layer underneath. As you might expect from a team based in the UK, they even took along their own teabags! PG Tips were the infusion of choice - and only Nescafe coffee (decaf and caffeinated) - was shipped along with everything else.
How tough is this trip? - Despite the pressure of travel and the intense work schedule - from the steamy heat of Sepang to the sometimes-bitter chill of Phillip Island - some of the team actually prefer the fact that all the equipment was in boxes, and they didn't have to drive it everywhere. As Parts and Logistics Manager for the team, Russell Jordon, says, "I prefer the fly-aways. Once we are packed and working from flight cases, it all seems easier to manage. For me, I would prefer all races to be fly-aways."
AMA AND MAZDA RACEWAY LAGUNA SECA CONSIDERING ADD'L AMA SUPERBIKE EVENT, FEWER CLASSES AT RED BULL U.S. GRAND PRIX
AMA Pro Racing press release
September 29, 2006
Officials from the AMA and Mazda Raceway Laguna Seca announced today that they are exploring the possibility of adding a stand-alone AMA Superbike event in 2007. The companies are also considering reducing the number of AMA classes involved with the Red Bull U.S. Grand Prix from four to two.
The 2007 Red Bull U.S. Grand Prix featuring the MotoGP World Championship and AMA Superbike Championship will be held at Mazda Raceway Laguna Seca on July 20-22, 2007.
Kerry Graeber, AMA Pro Racing Vice President, Director of Communications said the conversations are very preliminary at this point but that the AMA and Mazda Raceway Laguna Seca would like to see both initiatives happen.
"We're excited about the possibility of adding a stand-alone AMA Superbike event at Mazda Raceway Laguna Seca," said Graeber. I also think everybody agrees that trying to run all four AMA classes at the Red Bull U.S. Grand Prix is overly optimistic. Featuring two classes instead of four is better from a logistics standpoint and will result in a better overall show. It will also benefit our competitors with increased track time for practice and qualifying sessions."
Gill Campbell, CEO/General Manager of Mazda Raceway Laguna Seca echoed Graeber's thoughts. "We want to continue showcasing AMA road racing alongside the MotoGP World Championship while simultaneously creating a new AMA weekend for later in the season. We see this as the best of both worlds for competitors participating in the AMA Superbike Championship."
No date for the separate AMA event has been determined but Campbell confirmed that the companies are looking at September. "There are a couple of weekends in September that work from our perspective," said Campbell. "The AMA is finalizing its 2007 schedule right now and determining how those two options work overall."
Laguna Seca Raceway has traditionally held n International Sportscar race in September, but dewindling factory race team involvement, and hence fan attendance, has Laguna exploring another motorsports event for that event time slot. It remains to be seen if a stand alone AMA National weekend at laguna, just 2 months after the MotoGP weekend, would draw a decent attendance.
The last AMA/ World Superbike weekend at Laguna Seca in 2004 only drew about 5,000 spectators. So a stand along AMA National weekend without World Superbike, 2 months following MotoGP, might possibly only draw half that number.
However, it might also offer World Superbike a better chance of returning to America if it could run again with an AMA Superbike weekend. And if AMA adopted World Superbike tecnical rules so the top American riders could race in the U.S> World Superbike round as wild card riders.
A final decision on both issues is expected within the next two weeks.