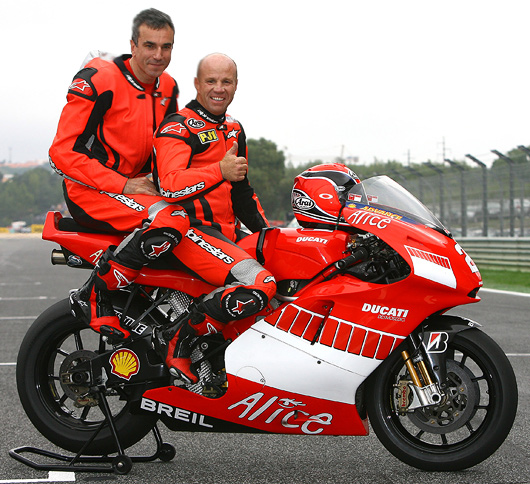 Actor Daniel Day-Lewis Lives the MotoGP Experience
Sunday Oct 15th, 2006 - Oscar-winning actor Daniel Day-Lewis got to experience the full force of MotoGP at Estoril this afternoon, riding two high-speed laps of the Portuguese circuit aboard the Ducati Marlboro Team Desmosedici two-seater behind multiple GP winner Randy Mamola.
Day-Lewis, a long-time motorcycling fan, enjoyed the ride hugely, especially because it gave him the ultimate insight into a sport he loves.
"That was radical, I beat my own personal heartbeat record and I think I'll be talking Martian for the next few minutes!" beamed the British actor who lives in Wicklow, Ireland. "That was just unbelievable, definitely the best cure for anyone who thinks they can ride a motorcycle. I've ridden one track day but the braking was totally different, amazing. You're used to releasing the brake as you crank into corners but Randy just kept braking all the way to the apex. And the acceleration was astonishing, you get the full measure of it down the big straight. As much as you feel the force of the braking throwing you forward, it's the opposite when he gets on the power. These guys are real athletes, Randy could probably carry the bike on his back if he wanted to!

"But the really lovely thing about the ride was that it gives you a taste of what it would feel like if you were able to ride a bike really well. And it gives you a huge insight into what these guys do, now I'll be able to see the racing a little from the inside. I've been into bike GPs for years, watching Randy, Rainey, Schwantz and Doohan and then the current guys, and Joey Dunlop was a huge hero of mine."
Day-Lewis won his Academy Award for best actor in My Left Foot. His other films include Gangs of New York, Last of the Mohicans, In the Name of the Father and My Beautiful Launderette.
Next up on the two-seater was Portuguese rally champion Armindo Araujo. "That was a fantastic experience," said the former motocross rider. "The performance is incredible in every way but what really got me was the braking because in bikes you brake all the way inside the corner, it was a special."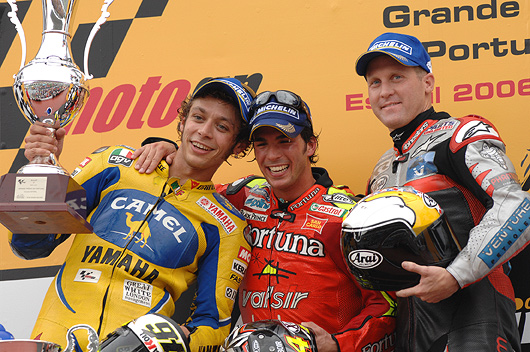 A jubliant podium at Estoril with Rossi into the points lead, Tony Elias beating the champ for hisfirst race win, and Kenny Roberts finally back on the podium after a very long drought.
2006 MotoGP World Championship, Portuguese Grand Prix at Estoril Round 16 of 17
Elias Wins, Rossi Takes Championship Lead in Penultimate Estoril Thriller as Hayden Gets Torpedoed by Team Mate Pedrosa
Estoril, Portugal, Sunday 15th October 200- A fantastic team effort from Yamaha today saw Valentino Rossi take the lead in the MotoGP World Championship by eight points ahead of the final round of the season at Valencia, after taking second place in a race that saw Nicky Hayden (Honda) dramatically crash out at Estoril. Rossi missed out on victory by just 0.002 seconds after a photo finish with Toni Elias (Honda), the Spanish youngster slipstreaming the Italian to the line to take his maiden success in the class. Nevertheless the 20-point haul means that second place for Rossi at the final race in two weeks' time will be enough for the title, regardless of who wins.
Colin Edwards also played a crucial role for the team today, turning in one of his best performances this season to battle with the lead group throughout the race before being forced to settle for fourth in that breathtaking finale. The Texan got a great start from the front row of the grid and fulfilled his promise to help out Rossi for the opening laps, protecting his team-mate from the attentions of Dani Pedrosa (Honda) and Hayden. Whilst Rossi tried to escape at the front, a pass by Edwards on Pedrosa for second place on lap three proved critical, as the Spaniard then became involved in a tussle with his own team-mate Hayden before sensationally colliding into the American to send them both tumbling into the gravel. Rossi and Edwards looked set for a one-two finish, mirroring their qualifying result, but a late charge from Elias, who was followed by Kenny Roberts JR (Team KR) put paid to those hopes as the top four crossed the line separated by just 0.864 seconds.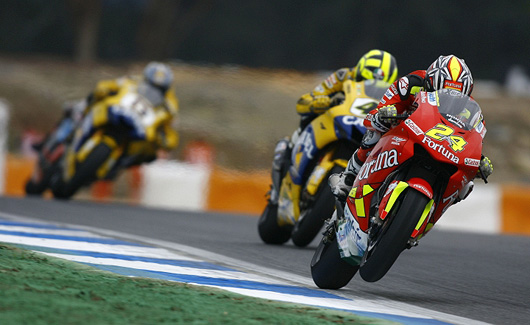 Tony Elias (Fortuna Honda) in the closing laps ahead of Rossi, followed by Edwards and Roberts.
This race will certainly go down in history as the greatest debacle in motocycle racing history as the factory HRC Repsol Honda team had the World Riders Championship in their grasp with Nicky Hayden leading the points throughout the year, and looking like he could maintain that lead against Rossi this weekend. But rather than instruct Pedrosi to support his team mate Hayden by staying behind him, the Honda team managent had no instructions and allowed Pedrosi to race and then pass Hayden on the opening lap. Hayden then repassed his team mate for 3rd place, before being taken out by Pedroas on the very next lap when Pedrosa lost the front end of his bike trying to outbrake and block Hayden on the inside of a high speed corner.
VALENTINO ROSSI (2nd ; +0.002) "I'm really happy to be finally leading the championship; this is the most important thing for today, even if I am disappointed not to have won! I made a good start and was in front after turn one, but I knew that my pace wasn't as fast as yesterday, because it was about ten degrees colder and this gave us some problems. When I saw that Colin was behind me this made me quite relaxed because I knew he would help me as much as he could. He rode a great race and I have to say a big thank you to him, I am so sad that he's not on the podium with me today.
It was a very hard race for me and I had to push all the way because Kenny, Toni and Colin were very fast too. Going into the last chicane I knew I had to come out in front, but then Toni was just a little bit faster than me to the line. Well done to him for his first win, he really rode a hard race today! Now we have two weeks until the final showdown, so we need to relax and stay focused and try to do another weekend like this in Valencia! Once again of course I need to thank my team and everyone involved, I think we've really shown today that we have real 'team spirit' at Yamaha and Colin and I are really lucky to be able to race in a team like this."

Rossi claimed the Pole at Estoril in Spain as he closes the gap on Hayden's decreasing points lead.

Rossi on Pole with Edwards, ahead of Hayden
as the MotoGP Championship Chase Rises Towards a Climax
Saturday October 14 2006 - Qualifying for the penultimate MotoGP round of 2006 was a frantic affair resulting in series points leader Nicky Hayden (Repsol Honda RC211V) starting from the front row as third fastest qualifier behind Yamaha duo Colin Edwards second fastest and Valentino Rossi on pole.
Camel Yamaha Team riders Valentino Rossi and Colin Edwards will start the Grand Prix of Portugal from the front two places on the grid tomorrow, after a sensational qualifying practice that saw the Italian seal his fourth pole of the season with a record time of 1'36.200. Edwards was just 0.278 seconds off the pace of his team-mate to equal his best qualifying position of the campaign ahead of what promises to be a mouth-watering penultimate round.
Both riders worked hard on the race setting of their YZR-M1 machines throughout the day, building on positive recent tests at Motegi and an exhaustive first day of practice yesterday. In the morning they were second and fifth fastest but the momentum grew in the afternoon when they both dipped under the 1'38 mark on race rubber before launching their grid attack in an exciting climax to the session, Rossi setting his definitive pole time on the last of three impressive efforts.
Tomorrow's race, which gets underway at 1pm local time (CET -1), will see the reigning World Champion aim to reduce a 12-point deficit to series leader Nicky Hayden, who clinched the final front row spot in third place, before the final round of the season at Valencia in two weeks' time.
Valentino Rossi (1st - 1'36.200; 27 laps) - "With the championship as it is now I think it was fundamental to be on pole position today and for Colin to qualify second is perfect - I am really pleased for him and all his guys. We've worked hard this weekend because the right setting was quite difficult to find and all the team had to give 100% so I'm really thankful to them and to Michelin for a great tyre. Of course the important thing is tomorrow and with Hayden on the front row with us it looks like it will be a great battle for the victory. There are a lot of other riders with good pace too but for now I'm really happy with the pole position. My first two qualifying laps were quite good but the last one was unbelievable - it is so much fun to ride the M1 when it's working so well like this. Hopefully the weather will stay like this tomorrow and we can have a good show for everybody."
Colin Edwards (2nd - 1'36.478; 27 laps) - "It's a fantastic feeling to be back on the front row and running with consistent times that we know can make us competitive in the race. Hats off to my team and to Michelin as well, because we had a lot of help from them today. After Motegi we stayed and tested and finally figured out the little piece of the puzzle that has been missing all year. Now the bike feels easy to ride - I can push it to the limit, even go over the limit, and I don't know how to thank the guys enough. Personally I feel good and feel that I'm riding great. Tomorrow looks like it's going to be really interesting so hopefully I can play my part for the team and we'll see what happens."
In bright, warm conditions with a track at 36-degrees and with a 25-degree ambient temperature it was Casey Stoner (LCR Honda RC211V) who was at instant ease at the beginning of practice with this 4.182km track. The only change made since 2005 has been resurfacing of the final 'Parabolica' turn onto the main straight. Stoner topped the timesheet with a 1m 37.531s lap with Dani Pedrosa (Repsol Honda RC211V) second quickest and Edwards third after 15 minutes had elapsed. Nicky was working hard on race set-up and a series of broadslides out of the Parabolica showed just how hard the Kentucky Kid was working his RC211V.
Casey then upped the pace with a 1m 37.403s lap as Rossi climbed to third with 40 minutes of the hour session remaining. At the half-way point the order was Stoner, Pedrosa, Rossi, Makoto Tamada (Konica Minolta Honda RC211V), and then Nicky. As the first of the field fitted qualifying rubber with 20 minutes of the hour to go it was Carlos Checa (Yamaha) who sped to the second fastest time, but he could not dislodge Stoner who then bested his own provisional pole time with a 1m 37.066s lap.
Nicky lay ninth with 15 minutes left until he turned a 1m 37.065s lap to steal the pole. But his dominance was short-lived as Rossi put in a 1m 36.627s time to hold number one slot. Then Dani pushed Rossi off the pole with a 1m 36.569s time. Hayden was into the gravel at turn six in his bid to get back onto the head of the grid and with five minutes to go John Hopkins (Suzuki) hoisted himself to third while Rossi reduced his lap time to 1m 36.200s to retake pole from Dani.
In the dying minutes Nicky got back onto the front row as second fastest man again while Stoner elevated himself to fourth before Edwards snatched second relegating Casey to fifth.
Said Nicky, only 0.349s off the pole time, "On my second qualifier I had a good lap going – that Michelin was a little bit softer – and it felt pretty good, but I got into turn six a little deep and went straight on. So on my last qualifying lap I felt a bit of heat because I knew I couldn't afford to just completely let it hang out – I had to get in a good solid lap to try to get on the front row. This is definitely the best my bike has felt for a few races and I'm enjoying riding more this weekend than I have in a while. Tomorrow's race is going to be a shoot-out and I think all the fans at home should get ready for it and take the phones off the hook because it's going to be a good one."
MotoGP television coverage caught the decisive Pedrosa / Hayden crash form 4 camera angles - this inside corner camera here, then from outside the corner, from the onboard rear facing camera of Hayden's bike and the front forward facing camera on Pedrosa's bike. The crash was all Pedrosa's fault as he tried to pass Hayden by outbraking him into the corner and lost the front end, sliding into the rear of Hayden's bike and taking out the Championship leader. The HRC Honda team manager should be fired for not issuing team orders for Pedrosa to help support Hayden's points lead in these final crucial rounds.

Elias Triumphs, Rossi Handed the Points Lead as
Hayden Is Delt Distaster by Team Mate Pedrosa
Sunday October 15, 2006 - This epic MotoGP race will be remembered as much for a stunning maiden victory for Toni Elias (Fortuna Honda RC211V) as it will for the misery suffered by the Repsol Honda Team – Dani Pedrosa (Repsol Honda RC211V) crashed taking out team-mate Nicky Hayden (Repsol Honda RC211V) as he tumbled. Valentino Rossi (Yamaha) was second, Kenny Roberts (Roberts KR211V) third.
A race of high drama played out in front of a 41,000 crowd, with overcast skies and a track temperature of 26-degrees and an ambient 20-degrees. Rossi hit the front from the lights followed by his team-mate Colin Edwards with Dani and Nicky in close pursuit. Dani wasted no time disposing of Edwards for second while Nicky rode around the outside of the Yamaha man at turn one on the next lap.
Casey Stoner (LCR Honda RC211V) crashed on lap two taking down Sete Gibernau (Ducati) with him, while Edwards re-passed Hayden for third and then retook Pedrosa for second on lap three. Rossi meanwhile put in an early fastest lap of 1m 39.019s. The race was hotting up. Roberts, making his way through the field from a fifth row start, showed he was right on the early pace with a fastest lap of 1m 38.4 seconds, while Hayden wanted to get on terms with the two front men and barged past Pedrosa for third.
Then on lap five the incident that every team dreads unfolded. Dani outbraked himself at the same tight left turn where Nicky had passed him and lost the front end. Dani's bike skittled Nicky and the two hit the gravel – Dani's race over, Nicky's title hopes compromised by the crash.
Toni Elias who had been fifth until the demise of the Repsol duo, was now third and working on Edwards for second. Roberts had now eased past Loris Capirossi (Ducati) for fourth setting another fastest lap of 1m 37.9s in the process. By mid-race distance Elias had secured second after a hard fight with Edwards and the Spanish star was now working on reducing the 1.1 second gap that Rossi held for the lead. By lap 19 of the scheduled 28 Tony was just 0.4 seconds adrift of Rossi and Roberts was shadowing Edwards who was still third.
On lap 22 Elias swooped up the inside of Rossi on the brakes at turn one before the reigning Champion grabbed back the lead on the next lap at the uphill chicane. But Roberts had now taken Edwards and then he moved on Elias for second.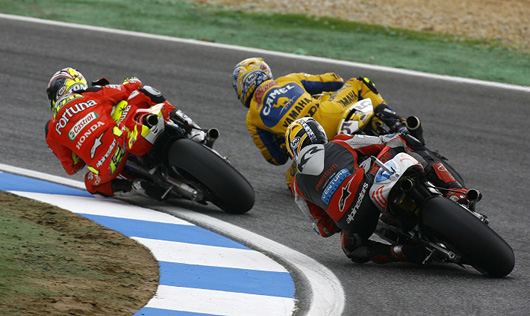 The racing was close as Tony Elias (Fortuna Honda) slides inside of Rossi, followed by Kenny Roberts.
On the penultimate lap Roberts made his bid for the lead at turn one and held onto it for the lap (Kenny would later reveal he miscounted the laps and expected to see the flag at the end of that lap). But on the final tour of Estoril's 4.182km Elias made the same move from third place taking both Rossi and Roberts in one hit.
Rossi stole second back from Roberts and then slipped past Elias at the final chicane – but Toni held his ground and kept the power down on the outside and as the pair rounded the Parabolica onto the finish straight, Elias slipped out of Rossi's draft to win by two thousandths of a second.
The World Championship has now swung in Rossi's favour. The Italian has 244 points to Hayden's 236 with the final round to be played out in Valencia in two weeks time.
Elias said, "That was perfect. All weekend I had been having big problems and now I have this incredible moment. I got a good start and when Stoner crashed out and then Dani and Nicky I was on the leaders and thought I could get a podium. Then I saw that Vale was only faster in some parts and I saw an opportunity that I had to take. Thanks to everyone who is supporting me… Honda, Michelin, Fortuna, my fans… everyone."
Roberts said, "We'd improved quite a bit from Japan and I knew if I got a good start I'd be OK, but I didn't want to be taking anyone out so I tried to get past Rossi on the last lap. But I miscalculated and when I crossed the line I thought I'd see the chequered flag – but there was one lap to go. I probably should have pulled this one out – but I won't make the same mistake in Valencia – if I get the chance."
A dejected Nicky said, "It just hurts. I had a really hard race tyre on especially for the left-handers and I couldn't believe how comfortable I felt in the first few laps. I was a lot faster than Edwards and I felt I could go and see what Valentino had. I didn't expect Dani to pull over and let me past but I didn't expect him to do that. We're professionals and Dani did come by my motorhome and we shook hands. I proved this weekend that I wasn't going to give up without a fight and even now I believe I'm still pretty strong. The World Championship is still possible."
Dani said, "I made a mistake and I'm really sorry. It's the first time I've hit another rider in my career. It's never happened in six years and then now at the worst possible moment. I'm unhappy and so is Nicky and I just want to apologize. I wish I could change it. I braked and my rear wheel came off the ground and then when it came down again I got a little more speed and couldn't stop the bike. I have a fractured finger but I should be OK for Valencia."
Stoner said, "I don't know if I lost the rear in the middle of the corner. It seemed to slip a bit and as it came back it flicked out on me. All I remember is another bike hitting me pretty hard. I think Sete's bike smashed into the lower part of my right leg, but nothing's broken. I was waiting to make a move and didn't get the chance."
MotoGP Results: (28 laps = 117.096 km)
Pos/ Rider / Nat / Team / Motorcycle / Time/ KM/H / Gap
1 / Toni ELIAS / SPA / Fortuna Honda / HONDA / 46'08.739 / 152.251 /
2 / Valentino ROSSI / ITA / Camel Yamaha Team / YAMAHA / 46'08.741 / 152.251 / 0.002
3 / Kenny ROBERTS JR / USA / Team Roberts / KR211V / 46'08.915 / 152.242 / 0.176
4 / Colin EDWARDS / USA / Camel Yamaha Team / YAMAHA / 46'09.603 / 152.204 / 0.864
5 / Makoto TAMADA / JPN / Konica Minolta Honda / HONDA / 46'27.158 / 151.245 / 18.419
6 / John HOPKINS / USA / Rizla Suzuki MotoGP / SUZUKI / 46'33.920 / 150.879 / 25.181
7 / Carlos CHECA / SPA / Tech 3 Yamaha / YAMAHA / 46'38.087 / 150.654 / 29.348
8 / Marco MELANDRI / ITA / Fortuna Honda / HONDA / 46'40.552 / 150.522 / 31.813
9 / Chris VERMEULEN / AUS / Rizla Suzuki MotoGP / SUZUKI / 46'48.856 / 150.077 / 40.117
10 / Randy DE PUNIET / FRA / Kawasaki Racing Team / KAWASAKI / 46'50.235 / 150.003 / 41.496
11 / Alex HOFMANN / GER / Pramac d'Antín MotoGP / DUCATI / 46'50.272 / 150.001 / 41.533
12 / Loris CAPIROSSI / ITA / Ducati Marlboro Team / DUCATI / 46'53.515 / 149.828 / 44.776
13 / James ELLISON / GBR / Tech 3 Yamaha / YAMAHA / 47'27.852 / 148.022 / 1'19.113
14 / Jose Luis CARDOSO / SPA / Pramac d'Antín MotoGP / DUCATI / 47'49.455 / 146.907 / 1'40.716
15 / Garry McCOY / AUS / Ilmor SRT / ILMOR X3 / 47'35.294 / 126.545 / 4 laps
Pole Position: Valentino ROSSI 1'36.200 156.498 Km/h
Fastest Lap (New record): Kenny ROBERTS JR 1'37.914 153.759 Km/h Lap 10
Circuit Record Lap: New circuit
Circuit Best Lap: 2006 - Valentino ROSSI 1'36.200 156.498 Km/h
World Championship Positions:
1 ROSSI 244, 2 HAYDEN 236, 3 MELANDRI 217, 4 CAPIROSSI 209, 5 PEDROSA 202,
6 ROBERTS 126, 7 STONER 119, 8 EDWARDS 117, 9 HOPKINS 111, 10 ELIAS 106,
11 VERMEULEN 98, 12 GIBERNAU 95, 13 TAMADA 92, 14 NAKANO 83, 15 CHECA 69.
Dovizioso Takes 250cc GP
Andrea Dovizioso (Humangest Racing Honda RS250RW) rode a superbly determined 250cc race to win here and keep his World Championship hopes alive. His series rival Jorge Lorenzo (Aprilia) could do no better than fifth here and Dovi now goes to Valencia in two weeks time with his title hopes firmly alive. Lorenzo has 276 points to Dovi's 263.
Roberto Locatelli (Aprilia) powered away from pole to lead into turn one with Lorenzo in pursuit, Hiroshi Aoyama (KTM) holding third and with Dovi fourth. But by lap two Dovi had disposed of Aoyama to begin hounding Lorenzo for second. It took one more lap, and as Dovi began eating into Locatelli's lead, Lorenzo was off the pace and dropping back.
Alex De Angelis (Aprilia) was now in the running by mid-race distance of this 26-lap contest and a front four of Dovi, Locatelli, Aoyama and De Angelis would now fight for the win while Yuki Takahashi (Humangest Racing Honda RS250RW) and Marco Simoncelli (Gilera) relegated Lorenzo to seventh.
The final laps were a master-class in race tactics from Dovi. He led into turn one on the final lap, using his Honda's superb stability under braking, and then rode defensively while De Angelis and Aoyama fought for second. Dovi got superb drive out of the final turn to cross the line just one hundredth of a second ahead of Aoyama in second and De Angelis third.
Lorenzo eventually finished fifth ahead of Takahashi in sixth, while Shuhei Aoyama (Repsol Honda RS250RW) retired with machine trouble with 11 laps remaining. Aprilia leads the Constructors' World Championship by 332 points to Honda's 280 points.
Dovi said, "I'm so happy to win here, but I had problems with my visor and couldn't see that well. Under braking, that made things so difficult. But I managed to go fast enough to get the result I needed here and we now have some hope going to Valencia."
250cc Results: (26 laps = 108.732 km)
Pos / Rider / Nat / Team / Motorcycle / Time / KM/H / Gap
1 / Andrea DOVIZIOSO / ITA / Humangest Racing Team / HONDA / 44'30.727 / 146.565 /
2 / Hiroshi AOYAMA / JPN / Red Bull KTM GP 250 / KTM / 44'30.742 / 146.564 / 0.015
3 / Alex DE ANGELIS / RSM / Master - MVA Aspar Team / APRILIA / 44'31.075 / 146.545 / 0.348
4 / Roberto LOCATELLI / ITA / Team Toth / APRILIA / 44'32.569 / 146.464 / 1.842
5 / Jorge LORENZO / SPA / Fortuna Aprilia / APRILIA / 44'37.129 / 146.214 / 6.402
6 / Yuki TAKAHASHI / JPN / Humangest Racing Team / HONDA / 44'40.346 / 146.039 / 9.619
7 / Marco SIMONCELLI / ITA / Squadra Corse Metis Gilera / GILERA / 44'45.030 / 145.784 / 14.303
8 / Sylvain GUINTOLI / FRA / Equipe GP De France - Scrab / APRILIA / 44'47.949 / 145.625 / 17.222
9 / Anthony WEST / AUS / Kiefer - Bos - Racing / APRILIA / 45'05.546 / 144.678 / 34.819
10 / Hector BARBERA / SPA / Fortuna Aprilia / APRILIA / 45'08.703 / 144.51 / 37.976
11 / Jakub SMRZ / CZE / Cardion AB Motoracing / APRILIA / 45'12.311 / 144.317 / 41.584
12 / Manuel POGGIALI / RSM / Red Bull KTM GP 250 / KTM / 45'13.656 / 144.246 / 42.929
13 / Aleix ESPARGARO / SPA / Wurth Honda BQR / HONDA / 45'13.749 / 144.241 / 43.022
14 / David DE GEA / SPA / Repsol Honda / HONDA / 45'13.767 / 144.24 / 43.04
15 / Andrea BALLERINI / ITA / Campetella Racing / APRILIA / 45'14.662 / 144.192 / 43.935
Pole Position: Roberto LOCATELLI 1'41.511 148.311 Km/h
Fastest Lap: (New record) Hiroshi AOYAMA 1'41.676 148.070 Km/h Lap 12
Circuit Record Lap: New circuit
Circuit Best Lap: 2006 - Roberto LOCATELLI 1'41.511 148.311 Km/h
World Championship Positions:
1 LORENZO 276, 2 DOVIZIOSO 263, 3 DE ANGELIS 203, 4 AOYAMA 193, 5 LOCATELLI 171,
6 TAKAHASHI 156, 7 BARBERA 136, 8 SIMONCELLI 92, 9 GUINTOLI 90, 10 AOYAMA 89,
11 WEST 78, 12 SMRZ 53, 13 POGGIALI 42, 14 DEBON 39, 15 CARDENAS 37.
---
British Superbike, Race of the Year
Rizla Suzuki's New Provisional Riders Walker and Crutchlow
Win British Superbike Race of the Year
Malory Park, England, Oct 15, 2006 - Rizla Suzuki's Chris Walker led from start-to-finish to win The Race of the Year at Mallory Park today and was followed home in second place by his team mate Cal Crutchlow. Riding with the aim of securing a permanent seat in the Rizla Suzuki team for 2007, Walker started from second place on the grid to take the holeshot and was never challenged during the 20-lap race.
Crutchlow, on his debut ride for Rizla Suzuki, dominated practice and despite a crash late in qualifying took his maiden Superbike pole position. His number one bike was repaired but he pulled in after his warm up lap to switch to his spare GSX-R1000 for the race. He enjoyed a battle with Yamaha's Billy McConnell before eventually pipping him to the post for runners-up spot.
The Race of the Year was the final race for Rizla Suzuki in 2006. The team's next outing is at Valencia in Spain on November 1st and 2nd when it will debut test its all-new 2007 GSX-R1000 race bike. Crutchlow will be joined by his team mate for next season and they will test alongside an exclusive group of MotoGP riders. An announcement on who will partner Cal Crutchlow in the Rizla Suzuki team in 2007 is imminent.
Chris Walker: "Hats off to the Rizla Suzuki team for working so hard to give me a bike I could win with today. It's a lot to ask to jump on a new bike with unfamiliar tyres at a circuit that I haven't visited for six years and to win; and much of the credit for the result must go to the quality of the team supporting me."
"It's great to be back in Britain and winning again. The crowd has been brilliant and I want to thank all the fans for turning out to cheer me on. I hope I have done enough to prove to Rizla Suzuki that I am the right person for the job in 2007."
Cal Crutchlow: "During the warm-up lap something felt a little off with my bike, perhaps caused by my crash earlier in the day during qualifying. I switched to my spare bike and despite it being set up exactly the same, it felt slightly different and that was the difference between Chris and me today.
"I am disappointed not to have won, but overall I am happy because on my debut Superbike ride for Rizla Suzuki I have scored a pole position and second place - you can't be bad to that. Being a Superbike rider is simply brilliant, I'm loving every minute of it and the Rizla Suzuki team is fantastic to work with. I can't wait until we start testing in earnest."
Simon Buckmaster - Team Manager: "It's been a good day for Rizla Suzuki and I'm delighted with the performance of the riders and the team as a whole. It's great for the new staff to win on their first weekend racing and it's an encouraging start for Cal to take a podium on his step up from Supersport to Superbike. Well done to the whole Rizla Suzuki team.
"Chris did a great job today and we will be reviewing who will partner Cal in the team for 2007 over the next week.
"This is the first step in Rizla Suzuki's preparations for the 2007 season and we will be taking the next one at Valencia in just over two week's time when we start our winter test programme."
Mallory Park Race of the Year Results: 1: Chris Walker (Rizla Suzuki) 17:29.314, 2: Cal Crutchlow (Rizla Suzuki) +7.764, 3: Billy McConnell (Yamaha) +8.009, 4: Peter Hickman (Kawasaki) +14.126, 5: John McGuinness (Honda) +20.419, 6: Ian Hutchinson (Kawasaki) +34.176.
---

HP2 Megamoto turns off road bike into canyon racer.

New 2007 Pavement Scratchers
BMW HP2 Megamoto
Oct 14th - BMW unveiled at this month's INTERMOT motorcycle show in Koln, Germany, a street supermoto version of their hot HP2 off road bike. This one gets more power and an Akrapovic Exhaust system, street shoes, dual superbike front brakes, and shorter travel suspension and a lower ride height with Marzocchi front forks and Ohlins coil-over rear shock to replace the off-road model's air shock. This should be one for the sports bike owner that wants something different without sacrificing big bike torque with more than 100bhp available to play with. It competes with the new KTM 950 SM R and Ducati Hypermotard, but at a significantly higher cost, close to $20,000. There's also a smaller X650 single cylinder versionavailable. We dig it! More details in: New Bikes / BMW
---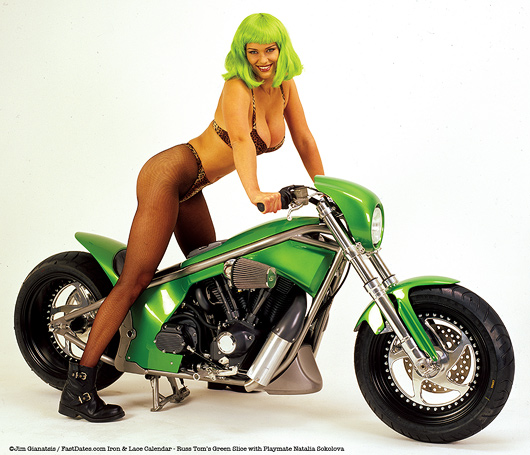 Russ' "Green Slice" with Playboy Playmate Natalia Sokoloka was featured in the 2001 Iron & Lace Calendar. This Big Twin performance style sportbike / bar hopper defied classification, featured a unique Softail perimer frame around the top of the rear engine cylinder, tuned wrap-around megapone exhausts, and looked like a highly desireable production bike that any manufactuer migh build (if they were smart).

Russ Tom, Celebrated Iron & Lace Calendar Builder
Dies in Helicopter Crash



Russ Tom 1960 -2006

Seattle, Washington, Sunday Oct 8th - North Western region motorcycling icon and celebrated custom bike builder Russ Tom was killed on Sunday in a private helicopter crash into Lake Tapps (near Seattle, WA) after departing from his home there.

It is suspected the crash was due to mechanical failure of Russ' Robinson R44 model helicopter that he was piloting. Witnesses on Sunday said they heard a "Bang" and the aircraft dropped into the lake. Also injured but surviving the crash was his girlfriend A.J.. Russ leaves behind two children from his prior marriage, along with A.J with her own child, all of whom were living with him.
Many of the uniquely original custom motorcycles designed by Russ and built at his shop, Downtown Harley-Davidson, Seattle, were regularly featured in the Iron & Lace Custom Motorcycle Pinup Calendars photographed and produced by Jim Gianatsis, Gianatsis Design Associates, during the years 1996 to 2001. And while much of his worked centered on building custom Harley roadbikes for his store's customers, Russ actually designed and built more inovative, origional American V-twin powered sportbike designs than any other builder or manufacturer in America has, including Buell or Confederate. It was only because the American V-twin media ignored Russ' sportbike designs, and the sportbike media ignored his bikes because they were American V-Twin powered, that Russ has remain unnoticed in the sportbike community.
He enjoyed helping others, sponsoring up and coming racers like Kenny Bernstein who went on to become NHRA National Pro Fuel Drag Racing Champion, and motorcycle pro Stock racer Steve Huff. Russ helped raised money for manycharities, including Children's Hospital and Regional Medical Center in Seattle.

Born Aug. 18, 1960, Russ Tom entered the motorcycle business at his family's Seattle home in Rainier Valley. His father, Carmen Tom , started fixing up bikes. He began selling them in front of the house, and the business started in 1958 on Martin Luther King Jr. Way outside of Seattle. The shop did so well selling brands such as Triumph, Vespa, Suzuki and Harley-Davidson that the family tore the house down to build a larger structure.



Divers take a break after the wreckage of a helicopter reaches shore Monday.A team of federal investigators will begin analyzing the wreckage of the light helicopter to determine what caused the aircraft to crash into Lake Tapps on Sunday, killing pilot Russell Tom and injuring his girlfriend.
From kindergarten through high school, Russ Tom attended Seattle Christian Schools. There, his knack for motorcycle design accelerated. His early custom bikes included a chopperized 1972 Honda CB750. Together with his dad they originated the "Coffin" style gas tank which became part of custom bike building culture during the time and spread worldwise.
"Russ was my favorite builder to be featured in the Iron & Lace Calendar during those years," remembers Iron & Lace calendar photographer Jim Gianatsis, "and remains today one of the most innovative and exciting custom V-Twin bike builders of all time. Each one of his show bikes was original, unique, beautiful and exciting in their own way, whether it was a full-bodied custom or a hot rod sportbike theme. Russ' bikes were so totally original and creative, not looking like anything that came before them, and many of his designs have yet to be equaled, still, after 10 years."
A complete about face from his radical full bodied customs, this Big Twin powered naked sportbike with full sportbike suspension and brakes, featuring under dual exhausts, looks just as inovative today as when we shot in for the 1999 iron & Lace Calendar with beautiful Tiffany Gramza outside at night in the pouring rain.

Sportbike themed V-Twin customs like Russ' are just now being embraced by the newer builders on the scene like Roland Sands and Jesse Rooke, and are being replicated by specialty bike manufacturers like Confederate and Echelon. What is or was impressive about every Russ Tom bike are their pure simplicity, beautifully clean lines, and basic construction. So much so that they could easily have been a manufacturer's show concept bike ready to be put into production the next day.
If you ever saw a new Russ Tom designed bike for the first time, you wouldn't recognize it as one of his bikes, just because it would always be so different and unique from what Russ had done before it. Additional story & photos in Iron & Lace News. "Thanks for a great ride, Russ!" - Jim Gianatsis
New 2007
Fast Dates Racebike,
Iron & Lace Custom
& Garage Girls Calendars
Click to Order Now!





2007 Playboy 17-inch
Lingerie Wall Calendar
featuring FastDates.com Calendar Kittens Tamara Witmer and Athena Lundberg.
---
New FIM President announced in Brazil
Tuesday 17th October
At the beginning of the 123rd FIM Congress taking place yesterday in Salvador, Brazil, Mr. Vito Ippolito (Venezuela) was elected as FIM President, in the presence of the delegates from 79 National Federations.
Amongst the four candidates (Vito Ippolito, Hans-Robert Kreutz, Jean-Pierre Mougin and Jos Vaessen) who took part in the first ballot, no one obtained the necessary majority. As Messrs Ippolito and Vaessen obtained the best results, both took part in the second ballot. Mr Ippolito was elected with 75 votes, against 70 for Mr Vaessen.
As commercial rights-holders to the MotoGP World Championship, Dorna Sports SL. expressed its congratulations to Mr. Ippolito on his succession of Mr. Francesco Zerbi, and CEO Carmelo Ezpeleta extended his own personal best wishes,
"First of all I would like to express my gratitude for the work of the outgoing President Mr. Zerbi, and thank him for the close relationship and collaboration we have enjoyed over the past years. In turn, I offer my most sincere congratulations to Mr. Ippolito on his appointment as the FIM President. As with previous Presidents, we offer our complete collaboration and support to Mr. Ippolito, and express the hope that the relationship between Dorna and the new administration can be a long and fruitful one."
Vito Ippolito is Venezuelan. He is 54 years old, married, with 3 children. He has been President of the FMV (Venezuelan Federation) since 1992. He was member of the FIM Road Racing Commission from 1984 until 1990. He was FIM Vice-President from 1990 to 1996, and then FIM Deputy President since 1997. He was also President of the ULM (Union Latino-Americana de Motociclismo) from 1984 until 1998. He was manager of the team Venemotos whose rider Carlos Lavado became 250 Grand Prix World Champion in 1983 and 1986.
Vito Ippolito is the first non-European elected President of the FIM since its foundation in 1904.
Simon Buckmaster
Signed as Rizla Suzuki Team Manager in British Superbike Championship

Chris Walker joins Team for the Race of the Year as tryout for 2007
Cct 12th - Former Australian Superbike Champ and AMA Champ with Graves Yamaha, Simon Buckmaster has found a new home in Great Britain as the new team manager for the factory Rizla Suzuki team in the British Superbike Championship.
And British fan favorite Chris Walker, who did not has his contract renewed for next season in World Superbike with the PSG-1 Kawasaki team with the Chris Walker will ride a Rizla Suzuki GSX-R1000 at this weekend's Race of the Year at Mallory Park in Leicestershire, with the clear target of impressing the team and securing a full-time ride in British Superbikes in 2007.
Walker finished ninth in the World Superbike Championship in 2006, taking a memorable maiden victory at Assen on the way. Now the 34-year-old wants to return to British Superbike racing and go for the title with a team he knows can win.
"Rizla Suzuki is a proper team with a bike that can challenge for the BSB crown - I should know because I nearly won the Championship with Suzuki in 2000," said Chris. "I am honoured that Rizla Suzuki is considering me for 2007 and giving me the opportunity to work with the team at Mallory Park this weekend.
"It has been six years since I last raced at Mallory and there is at least one new chicane so I will hardly recognise the place! On top of that I need to get used to a new bike, new team and Dunlop tyres. We have a private test on Friday so that will help and then I'll be giving it my all for the team and the Stalker fans on Sunday.
"In all honesty though, the best result I can achieve from this weekend is to gel with the Rizla Suzuki team and secure a seat with it for 2007, that's my real target."
Walker has finished runner-up in the British Superbike Championship four times, the most recent in 2000 with Crescent Suzuki, a relationship which finished in acrimony at the end of the season when Walker chose to forego Suzuki's offer of a WSB partnership in 2001 in favour of a GP ride.
"The chance to ride for Suzuki again is something I have dreamed of for many years now but never thought it would happen," explained Nottingham-based Walker. "I am a believer in time being a healer. I think I've grown up and learnt a few lessons on how to treat people properly, and understand the rights and wrongs a lot better than I did in 2000. I view this as an opportunity to make amends with Suzuki and as a second chance, which I am grateful for - I really want to make the most of it.
"I have unfinished business in BSB and want more than anything to win the Championship with Suzuki. I know it isn't going to be easy and I'm under no illusion about the level of the competition but I know Rizla Suzuki is the team that can bring it all together. I just hope it works between us this weekend at Mallory Park so I can have the opportunity to go for the title in 2007 with a team I believe in."
Rizla Suzuki Team Manager Simon Buckmaster said: "Chris didn't leave Suzuki on the best of terms in 2000 but he has come a long way since then and he wants to give this opportunity his absolute best shot. Suzuki and the team have given him this chance at Mallory Park and if he can work well with us then there is a strong possibility he will race for Rizla Suzuki in 2007."
Walker will test alongside Rizla Suzuki 's new signing, 20 year-old Cal Crutchlow, at Mallory Park in a private test session on Friday, October 13th, before taking part in the Race of the Year on Sunday, October 15th.
Walker Wins
Race of the Year
Oct 15, 2006 - Rizla Suzuki's Chris Walker led from start-to-finish to win The Race of the Year at Mallory Park today and was followed home in second place by his team mate Cal Crutchlow.
Riding with the aim of securing a permanent seat in the Rizla Suzuki team for 2007, Walker started from second place on the grid to take the holeshot and was never challenged during the 20-lap race.
Complete race coverage at left.
MotoGP Rider Quotes from Estoril
Toni Elias, Fortuna Honda: 1st. "It's incredible, I can't believe it. I am really happy. It was a very hard race, really hard. I made a good start and over the first few laps felt very comfortable on the bike. I was behind Colin and realised that he was holding me up, so I pushed hard to get past him. I pushed until I closed up on Valentino and then passed him to lead a MotoGP race for the very first time. The next lap I made three errors all at once and I decided not to risk too much by trying to get past him again at that stage. I felt very comfortable at the first corner all race and was able to out-break people and so I did not want to let the opportunity pass on the final lap. At no time did I give up, that's my riding style. I want to thank the team for the great job they have done and thank all the fans that came to see the race."
Kenny Roberts Jnr, KR Honda: 3rd. We improved the bike quite a bit in testing the day after the last round in Japan, and it was good in practice - but my qualifying got messed up. I had to get a good start, and that worked out well. When I got up to Valentino in the lead, I'd seen Pedrosa take Hayden out, and I wanted to be real careful, because I didn't want to do the same thing to him. At the end, I mistook two laps to go for one, and when I crossed the line next time I thought I'd get the chequered flag. But there was one more lap. It took me off guard, or maybe I could have blocked them better in turn one. Earlier in the year it was hard to get within ten seconds of Rossi, my old championship rival. Now I'm happy that I was within a tenth of two. With the momentum we've built up this year, next year could be really good. I just hope I get the chance to make the same mistake in Valencia in two weeks time.
Kenny Roberts – Team Owner: We had the race pace today, obviously - we got that after Japan. We're getting closer and closer every time. We thought we took a step backwards in qualifying, but he never did seem too bothered by it. He said when I get race tyres on I'm okay, and if I get a good start I'll be fine. We were probably more worried than he was.
Makoto Tamada, Konica Minolta Honda: 5th: "During yesterday's qualifying, I realized I had found a good race set up and this morning, during the warm up, I was able to easily define the choice of the rear tyre. Tires worked very well for the first half of the race, while, for the remaining time, I had understering problems when entering the corners. At that point, I preferred not to force too much and keep my position."
Marco Melandri, Fortuna Honda: 8th. "It was a very difficult weekend. I started the weekend with a fall which impeded my performance. Along with my team and Michelin we worked really hard, but we couldn't find what we needed. The bike was working well but I had not enough grip to go fast. Considering that it was such a strange race and the difficulties I have had, a 8th result is not so bad. I have maintained third place in the championship and I hope to put in a good performance at Valencia. I want to congratulate Toni, it was a great win, but I also feel very sorry for Nicky."
Nicky Hayden, Repsol Honda: dnf – crash: "I don't know what to say really – it just hurts. I had a really hard tyre on for the race, especially for the left handers, and it came in and I couldn't believe how comfortable I felt in the first few laps. I was a lot faster than Edwards and I'd just made up my mind that I'd pass him right there on the brakes and I felt I could go and see what Valentino had. I don't expect Dani to pull over and let me by but I definitely didn't expect him to do that. We're professionals and Dani did come to my motorhome and talk to me afterwards and we shook hands. I've proved this weekend that I wasn't going to give up without a fight and even now I believe I'm pretty strong. This was not one of my best track and I've come here and gone quick – I was fastest in one session, got on the front row and had a good race pace. I need Dani's help now because anything could happen in Valencia, so I hope his hand's ok. I told him there's a way to make it up to me and that's if we run one-two in Valencia the championship's still possible. It's racing."
Dani Pedrosa, Repsol Honda: dnf – crash: "What can I say? I made a mistake and I'm really sorry. It's the first time I've hit another rider in my career – it's never happened before in practice or racing in six years and it's happened at the worst moment that I could do it. Obviously I'm very unhappy and Nicky is not happy and I just want to apologize because I made a mistake. I said sorry to Nicky and that I can understand that he is very upset – I wish I could change it. I didn't want to pass him at that moment. I braked and my rear wheel came off the ground and then it touched the ground again I got a little more speed and I couldn't stop the bike and there was nowhere to go. I have a fracture in my little finger but we have time for it to be ok for Valencia."
Casey Stoner, LCR Honda: dnf - crash. "I don't know if I lost the rear in the middle of the corner, it seemed to slip a little bit, and as it came back it flicked out on me. All I remember is another bike hitting me and feeling that pretty hard. I've got no idea exactly what happened. I think Sete's bike smacked into the lower part of my right leg, it's very sore, and I hope nothing is broken. My rear tyre wasn't gripping the best and it was easy to stay with the leaders, I was waiting to start making a move but I didn't get a chance. "
Yamaha USA New 2007 Bike Unveilings around the USA with Factory Riders
Then unveilings of the new 2007 Yamaha motorcycles have been a closely guard Secret untit revealed here in Pit lane News. . At select locations, celebrate the occasion with Yamaha Road Race team members and former world champions. And enjoy giant Jumbotron MotoGP footage, free Yamaha hats and
refreshments. So don't miss this rare opportunity to see, touch and throw a leg over the bikes that everyone else will be trying to catch a glimpse of all next year.
LOCATION INFO:
Daytona Int'l Speedway, Daytona Club Pad · Daytona Beach, FL - Friday, Oct. 20 · 6:00PM-9:00PM
Lone Star Rally, Harborside Lots · Galveston, TX - Thursday, Nov. 2 though Saturday, Nov. 4 · 10:00AM-10:00PM
Sunday, Nov. 5 · 10:00AM-6:00PM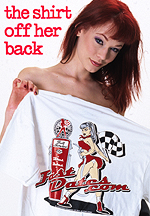 ---