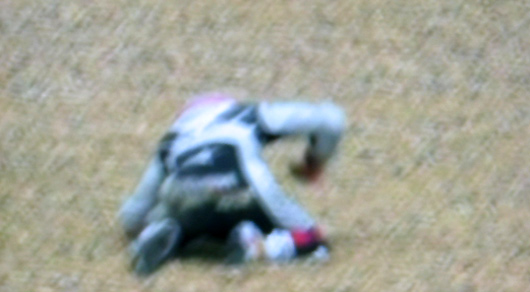 After being taken out by team mate Pedrosa, Nicky Hayden drops back down to his knees in the gravel trap and hammers his fist to the ground in extreame fustration while ranting and screaming.
2006 MotoGP World Championship, Portuguese Grand Prix at Estoril Round 16 of 17
Nicky Hayden's Nightmare at Estoril
Estoril, Portugal, Sunday Oct. 15th - Nicky Hayden drops to his knees in the gravel trap and pounds his fist to the ground as he rants and screams in disbeliefe. Team mate Dani Pedrosa has just slid into him and crashed him off the track while attempring and impossible pass, taking Hayden out of his season long points lead for the 2006 MotoGP world Championship. The accident came just as Hayden was reeling in on race leader Rossi who is seen below in the first photo of this crash sequence thanks to TiVo. Rossi now leads the Moto Championship by 8 points going into the final race next weeknd at Valencia in Spain. Nicky now has to win the race in Valencia and hope that Rossi finishes 2 positions behind him, in order for Nicky to win the title. Apologic team mate Pedrosa vows to run interfearance for Hayden at valencia to keep Rossi at bay.
Complete coverage of last week's incredible Estoril, Portugal, MotoGP race.

MotoGP television coverage caught the decisive Pedrosa / Hayden crash form 4 camera angles - this inside corner camera here, then from outside the corner, from the onboard rear facing camera of Hayden's bike and the front forward facing camera on Pedrosa's bike. The crash was all Pedrosa's fault as he tried to pass Hayden by outbraking him into the corner and lost the front end, sliding into the rear of Hayden's bike and taking out the Championship leader. The HRC Honda team manager should be fired for not issuing team orders for Pedrosa to help support Hayden's points lead in these final crucial rounds.
---

Team strategy at Yamaha worked for Rossi and Edwards 2 weeks ago at Estoril to give them the Championship points lead and assured that Colin would be resigned by the team for next year. There certainly wasn no stragety in place atHonda's Hayden and Pedrosa.

2006 MotoGP World Championship, Portuguese Grand Prix at Valencia, Round 17 of 17
Title Showdown This Weekend for Rossi and Hayden
Oct 23rd, Valencia, Spain - One of the most exciting seasons in the history of the MotoGP World Championship reaches an intense climax next weekend as Valentino Rossi and Nicky Hayden (Honda) go head-to-head for the title in a final-round shootout at Valencia. The amphitheatre-style surroundings of the Ricardo Tormo circuit on the outskirts of the Spanish city provide the perfect stage for the ultimate instalment of a 17-round epic that began on the Iberian peninsular in less than perfect fashion for Camel Yamaha rider Rossi nine months ago.
Since being knocked from his bike in the first corner of the first race at Jerez, the Italian has been through virtually every emotion known to a motorcycle racer. A dramatically unpredictable season of twists and turns has seen Rossi visit the gravel traps, the hospital and the top step of the podium in almost equal measures, with technical problems also robbing him of vital points in the first half of the season. However, since finding himself a massive 51 points behind Hayden after round eleven at Laguna Seca, the five-time World Champion has shown his true colours with a string of five consecutive podium finishes.
His latest, second place in the Grand Prix of Portugal at Estoril, coupled with a crash for Hayden, finally lifted him above the American to the top of the standings for the first time this season and opened up an eight-point gap between the pair with one round to go. It means that for the first time in fourteen seasons the destiny of the MotoGP World Championship will be decided in the final round, with the drama set to unfold in front of a sell-out crowd in excess of 120,000 people in the firecracker atmosphere of Cheste.
Colin Edwards will once again be looking to play the role of good team-mate after his star performance at Estoril just over a week ago. The Texan was back to his best form in Portugal, qualifying second on the grid and providing a crucial helping hand to Rossi in the early stages of the race - only to narrowly miss out on his second rostrum of the season as he took fourth place at the line. This weekend Edwards' clear objective is to go at least one position better and make sure he is celebrating alongside Rossi on Sunday evening.
Valentino Rossi: My one chance
Valentino Rossi travels to Spain this week knowing that he cannot afford to let this incredible opportunity slip after admitting that a fifth title defence was effectively out of his hands just five rounds ago. Hayden's well-publicised misfortune in Portugal has perhaps overshadowed the fact that it is Rossi's own form - a run of nine top-three finishes from the last eleven races - that has propelled him to the top of the standings and fulfilled his target of arriving at the final round with a sixth consecutive premier-class title in sight.
"Things went very well for us in Estoril - we've achieved our goal of coming here still fighting for the championship and for this I have to thank everyone in the team so much," says Rossi. "Each person has worked at 100% to bring us back to this position and now we're all very excited about this final race. Of course it's not going to be like other times, when I have won the championship with some races to spare and less pressure. Now I only have one chance. It's a big pressure for everyone but it's great for the show.
"Valencia isn't one of my best tracks and we also know that Hayden is really strong there, so it's definitely not going to be easy. On the other hand we know that the M1 works quite well there and in the race last year it was very good in the second half of the race especially. If we can start from the front then I think we can try for the win, but whatever happens it's going to be a really exciting race. Hopefully Colin and I can be at the front together like in Estoril and we'll just see what we can do!"
Colin Edwards: A team player
Colin Edwards says his number one aim this weekend is to help out his great friend and team-mate Valentino Rossi in his quest to win the title. The best way to do that, of course, is for the Texan to keep his excellent form going and continue with the recent progress the pair have made with the set-up of their YZR-M1 machines. Edwards' attitude is a reflection of a tight team ethic at Camel Yamaha and it is something he hopes will pay dividends when the chequered flag greets the 2006 MotoGP World Champion on Sunday.
"I'm pretty excited about the last race of the season, it's going to be pretty close I reckon," says Edwards. "Estoril worked out well for the team and I was able to help Valentino out, which was the number one aim. Obviously I was disappointed not to be on the podium but my bike worked great and I think that we're in good shape to do it all again at Valencia."
"I've raced at Valencia for years so I know it really well and I know I am quite fast there. Like in Estoril, the aim is going to be to get on the front row alongside Valentino and then just to help him out in the race as much as possible. Of course this time out I want to be on the podium too, a Yamaha one-two would be the perfect end to the season!"
Davide Brivio: The final push
For Camel Yamaha Team Director Davide Brivio the Grand Prix of Portugal epitomised the togetherness and spirit shown by his riders and staff since bouncing back from the brink of failure midway through the season. With just one round remaining the Italian is asking for one final, definitive push before a well-earned break and the start of the new 800cc era in 2007.
"Since the summer break we have just taken the races one-by-one, working our hardest and keeping our focus, and the results have been excellent," reflects Brivio. "Our objective from Brno onwards was to keep fighting until the end of the season and try to get to the last round with a mathematical chance of winning the title. After Portugal that mathematical chance is a lot stronger than we expected but it is not over yet and, as we all know from our experience this season, anything can still happen.
"It looks like being another dramatic weekend but from our point of view the objective is just the same as it has been for the last five or six races - to keep our heads down, work hard and stay focused on the job of giving our riders the best possible package for Sunday. If we can do that then I'm sure Valentino and Colin will do their part too, and hopefully we can celebrate together on Sunday."
Technically speaking: Valencia according to Jeremy Burgess
With its unique stadium-style surroundings the Ricardo Tormo circuit in Valencia is a spectacular, if somewhat cramped facility characterised by a never-ending burst of tight corners, connected by short straights. The long penultimate looping left-hander and the fast entry to turn one contrast violently with the otherwise geometric flip-flop chicanes and slow-speed corners of the infield.
"Valencia isn't one of Valentino's favourite tracks because it is so tight and twisty, but we won there in 2004 and finished third last year after starting well down the grid, so we know the M1 works well," says Jeremy Burgess, Chief Engineer to Valentino Rossi. "One of the big lessons we have learnt this season is that if you want to win in this class nowadays then you really have to start from the front so we will again be using the free practice sessions to make sure we have the right bike settings for both qualifying and the race.
"Technically there is not much to say about Valencia other than the obvious fact that it has a lot of low gear usage and very little throttle - with the back straight and the start-finish straight being the only two high speed sections. The last long left is different to any other corner in the world and it can be crucial to the outcome of the race so for that reason it requires special attention when setting the bike up to make sure you have the speed coming towards the line. The rest is slow and anti-clockwise - there's not much else to say about it really!"
Valentino Rossi: Information
Age: 27
Lives: London, UK
Bike: Yamaha YZR-M1
GP victories: 84 (57 x MotoGP/500cc, 14 x 250cc, 12 x 125cc)
First GP victory: Czech Republic, 1996 (125cc)
First GP: Malaysia, 1996 (125cc)
GP starts: 172 (113 x MotoGP/500cc, 30 x 250cc, 30 x 125cc)
Pole positions: 44
World Championships - 7 Grand Prix (1 x 125cc, 1 x 250cc, 1 x 500cc, 4 x MotoGP)
Colin Edwards: Information
Age: 32
Lives: Conroe, Texas
Bike: Yamaha YZR-M1
First GP: Japan, 2003 (MotoGP)
GP starts: 65 x MotoGP
World Championships - 2 World Superbike
Valencia Lap Record: Marco Melandri (Honda) 2004, 1'33.043
Valencia Best Lap: Sete Gibernau (Honda) 2005, 1'31.874
2005 Valencia Grand Prix Results:
1. Marco Melandri (ITA) Honda, 46'58.152
2. Nicky Hayden (USA) Honda, +0.097
3. Valentino Rossi (ITA) Yamaha +2.959
8. Colin Edwards (USA) Yamaha, +25.678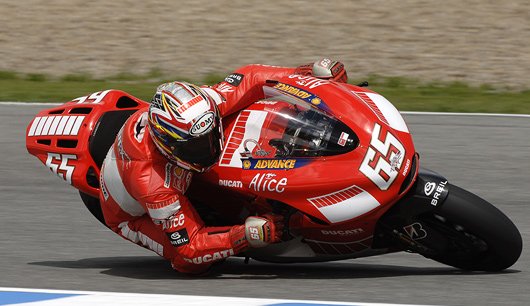 Valencia just might be an all Italian show with sold-out 125,000 Spectators and Capirossi toppi the time sheets on Friday aboard the Ducati.

Loris Capirossi Steals the Rossi-Hayden Thunder, Tops Valencia Friday Practice
Ducati Brings in new World Superbike Champ Bayliss to be the Spoiler
Friday 27th October - As the countdown continues for the crucial season finale in Valencia this weekend, the atmosphere surrounding the MotoGP paddock has reached new levels of anticipation. Good weather and a huge turnout added to the hustle and bustle as the riders undertook their first practice laps today.
Loris Capirossi took it upon himself to remind fans that the Gran Premio bwin.com de la Comunitat Valenciana will not be as simple a straightforward battle between Valentino Rossi and Nicky Hayden, topping the timesheets on the first day of practice for Sunday's race. The Italian rode round the Ricardo Tormo Circuit in 1'32.220, ahead of two of this year's MotoGP rookies. Randy de Puniet (Kawasaki) and Chris Vermeulen (Suzuki). Rossi and Edwards will look to close the gap as they work on further setting refinements to their YZR-M1 machines in the final free practice session tomorrow morning, before official qualifying gets underway at 2pm local time.Randy de Puniet and Chris Vermeulen completed the all-Bridgestone top three, whose fastest laps were the only ones under 1 minute 33 seconds.
Loris Capirossi, Ducati Marlboro Team, 1st, 1m 32.220s - "I'm very happy because we've worked very well today - the team is being very reactive. We totally changed the set-up for this afternoon, so the bike is now pretty competitive here. We have learned so much this season, understanding that the Desmosedici's settings needs very careful attention to work at each track. And everything we have learned this year will be crucial for the future because the GP7 chassis is very similar to the GP6 chassis. I'm happy with the new race tyres that Bridgestone have brought here. I did a run of 15 laps on the same tyres, setting the fastest pace of the day in race trim without any endurance worries. This season I have tried many different qualifying tyres and sometimes it's easy to lose your way with qualifiers, so it was good to test one today, even though it wasn't exactly what I wanted for this track. I'm very happy to have Troy as my team-mate here and I'm hoping to end the season as well as I can."
Ahead of the biggest race of his career, Nicky Hayden was less than a second off Capirossi's blistering pace, with two more MotoGP rookies Casey Stoner and Dani Pedrosa completing the top six. Pedrosa knows that if he can repeat his practice performances in qualifying it would be a huge boost to team-mate Hayden's title aspirations. The American would certainly like a repeat of today's timesheets, as his fellow Repsol Honda rider came in ahead of World Championship leader Valentino Rossi, who took seventh.
Camel Yamaha Team rider Valentino Rossi today began preparations for the race that will decide the destiny of the MotoGP World Championship title as the first free practice sessions took place at Valencia. Fans have already begun to stream into the Ricardo Tormo circuit to witness the first exchanges of what promises to be another historic chapter in this sport's great history, with bright sunshine and warm autumn temperatures of 25ºC welcoming them to the eastern coast of Spain for the final round of the season.
In the morning session Rossi and his Camel Yamaha team-mate Colin Edwards helped raise the heat with a series of quick laps that left the Italian on top of the time sheets, with the American sixth fastest, over lunch. However, the pace picked up considerably in the afternoon as a number of riders tested out their qualifying rubber ahead of tomorrow afternoon's grid decider and the pair slipped down the order, with Rossi ending the day seventh fastest overall and Edwards, who was unable to improve on his best lap from the morning, down in eleventh.
Valentino Rossi (7th - 1'33.274; 51 laps) - "We found a good setting this morning and we were quite fast from the start, but this afternoon some of the others made big improvements and caught up with us! This afternoon we tried a lot of different things and quite a few tyres, trying to find the best possible package for tomorrow and Sunday. Tyres are fundamental here and its very hard on the left side of the tyre especially. This track isn't so easy and it takes time to find the right setting, but the feeling from the bike is good and in general our race pace is quite fast so we're not really worried. We've got one or two things to improve, especially in a couple of the hard braking areas, but I think if we can make just a couple of improvements then we will be able to fight at the top. For now we will stay calm and focused and tomorrow things will be clearer."
John Hopkins, Shinya Nakano and Troy Bayliss completed the top ten, the latter marking his return to MotoGP action with a time just over a second behind Ducati team-mate Capirossi. Just outside the first ten today, Colin Edwards today announced that he would be continuing for Camel Yamaha next season as team-mate to Valentino Rossi.
Today also saw the presentation of the Best Grand Prix of 2005 prize, accepted on behalf of the circuit by Mr. Alejandro Font de Mora, Minister of Culture and Sport, Valencia.
Superbike Champ Troy Bayliss Supports Capirossi at Valencia
Ducati's new 2006 Worlsd Superbike Champion , Troy Bayliss will be taking over injured Sete Giberneau's Desmosedici for the final MotoGP race at Valencia. Ironically, Casey Stoner who will be replacing Giberneau in the Ducati MotoGP team next yert, crashed into Giberneau l2 weeks at at Estoril and re broke Giberneau pinned collarbone injury where, leaving Giberneau unable to finish out the season.
Bayliss, who recently secured his second World Superbike crown with Ducati, enjoyed a warm welcome from the Ducati Marlboro Team, with which he contested the 2003 and 2004 MotoGP series. The Australian immediately felt at home, working to get the best out of the Desmosedici GP6 for its last race. Four years ago Bayliss gave the GP3 its public debut here on the occasion of the 2002 Valencia GP.

Troy Bayliss, Ducati Marlboro Team, 10th fastest, 1m 33.433s - "I'm very happy with the start I've had, considering this is my first time on Bridgestones. I haven't used a qualifier yet, so I'm doing okay. When I first went out the bike felt quite a bit different to the Superbike but after a couple of laps it felt like I've been on this bike before. Of course, a few things have changed since 2004, but it wasn't long before I felt reasonably good on it but a little bit away from perfect. Ernie (Ernesto Marinelli, Bayliss' Superbike crew chief) and myself don't know the Bridgestones, what temperature the front works best at and so on but we've got a few got a few good ideas to test tomorrow. Loris made a couple of changes this afternoon that really helped him, so now we know what to do. With Sete injured it made sense for me to come here, I want to do a good job but I'll just do what I can do."
---

HP2 Megamoto turns off road bike into canyon racer.

New 2007 Pavement Scratchers
BMW HP2 Megamoto
Oct 14th - BMW unveiled at this month's INTERMOT motorcycle show in Koln, Germany, a street supermoto version of their hot HP2 off road bike. This one gets more power and an Akrapovic Exhaust system, street shoes, dual superbike front brakes, and shorter travel suspension and a lower ride height with Marzocchi front forks and Ohlins coil-over rear shock to replace the off-road model's air shock. This should be one for the sports bike owner that wants something different without sacrificing big bike torque with more than 100bhp available to play with. It competes with the new KTM 950 SM R and Ducati Hypermotard, but at a significantly higher cost, close to $20,000. There's also a smaller X650 single cylinder versionavailable. We dig it! More details in: New Bikes / BMW
---
FastDates.com Screensavers
Get up close and personal every day of the month with the hottest bikes and pinup models featured in the FastDates.com Calendars by joining our Monthly Screen Savers & Members Corner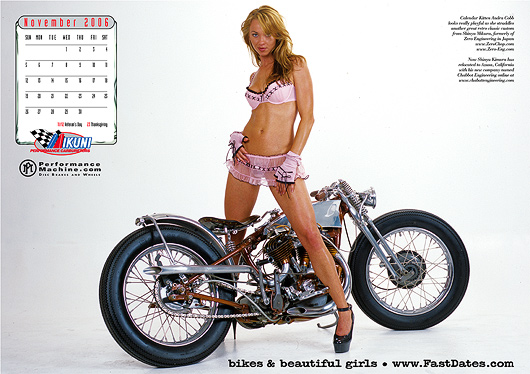 Above, another Shinya Kimura bike is featured in the 2007 Iron & Lace calendar with beautiful Andra Cobb, available as a full size screensaver in Screensavers.

LA Calendar Best of Show winner Shinya Kimura relocates to America
October 2006 - Japan's legendary custom bike builder Shinya Kimura, formerly of Zero Engineering fame and Best of Show winner at the 2004 Los Angeles Calendar Motorcycle Show, has now relocated to Southern California in the city of Azua, opening a new bike building shop under the name Chabbot Engineering.
Shinya originated the now hugely popular retro classic style of bike building from old basket case American V-twin bikes and leftover parts. His first motorcycle repair shop in Japan was called Chabott, and later with partners evolved into Zero Engineering which became world famous for Shiny's eclectic motorcycle designs.
After coming to America in 2004 to compete in the the LA Calendar Motorcycle Show's Calendar Bike Building Championship, win and have the winning bike featured in the FastDates.com Iron & Lace Calendar, Zero Engineering decided to open a 2nd shop in Las Vegas to better serve the American market. Shinya has had his unique bikes continuously featured in the Iron & Lace Calendar for 3 years now, with bike photo galleries and screensavers available on the www.FastDates.com website.
Now after 2 years, Shinya has parted ways with Zero Engineering, the company he founded, and is now on his own again under his original shop name of Chabott Engineering. Chabbot Engineering, Suite 7, 1101 West Foothill Blvd, Azusa, CA 91702. Phone 626.334.5136. ChabottEngineering.com

Shinya Kimura from Zero Engineering, Japan, flew in just for the Show and took the coveted Performance Machine Best of Show Trophy. His bikes are back ordered 4 years! He's flanked by Roland and Ted Sands from PM, plus FastDates.com Calendar Cover Angels, Miss Great Britain Nicki Lane and Laura Niles.
---
New Generation Ducati 1088cc Superbike to Premier in November
Oct 20th, 2006 - Ducati is waiting until their home country EICMA 64th International Motorcycle Show Nov 14-19th in Milan, Italy, to unveile the next generation Ducati 1088cc Superbike. We expect the new bike to be released shortly after to dealers worldwide, as Ducati USA has already been holding private showings of all their new 2007 model Ducati bikes to favorite customers at selected Ducati dealers. Motorcyclist magazine will feature the new Superbike in their December issue which will hit the newstands in about 2 weeks as well.
The new generation bike will leave the controversal Pierre Treblanche designed 999 generation superbike bike behind and return to the popular looks of the prior generation 916-998 Superbikes built from 1993 to 2002, but with more modern and aerodynamic styling as shown in the artist's redendition above, with bodywork similar to the upcoming Desmosedici RR and the current Yamaha R1. The new bike will be much smaller physically and some 40 pounds lighter with thise who know comparing it to a 600cc class sportbike. We are happy to report that the new bike will return with the very popular single sided swingarm which the owner's of the previous 916-998 generaton bikes loved for ease of maintaince and chain adjustment.
The lighter, shorter chassis will return the new Superbike to the quicker handling of the old generation bike, which was lost with the bigger and longer wheelbase 999. If you remember in World Superbikke back in 2004, Frankie Chile was able to beat the factory 999s on the tighter WSB racetracks with is older NCR 998 machine.
The new bike will get the currtent 4-Valve Ducati Testastretta engine enlarged tofrom 998cc to 1088cc. We know that Ducati has been lobying to the FIM and FGSport to allow V-Twins to go to a full 1200cc in World Superbike beginning in 2008. So this new 1088cc engine might just be an interm step so the new 2006 World Superbike champions won't have too much of a power advantage in the first few years if they do race this bike in 2008. We also don't know if the architecture of the current Testastretta V-Twin is at its maximum displacement with 1088cc, and the engine might need a major redesign to increase to a full 1200cc.
We do know that for 2007 World Superbike racing the Ducati Corse team will continue with the current bike, the 999F06. In part, because in the hands of Troy Bayliss it is still the winningest bike in World Superbike, in part because Ducati may still have a lot of the corrent production 999 Superbikes they need to sell, and because a new 1088R production model may be another year away before they can qualify it for homologation.
The new 1088 production Superbike which will premier nect month and released soon afterwill be the "Base" model with less costly, but fully adjustable suspension, a strong 140ho engine and dry weight right dowen there with the Japanese superbikes around 385 lbs. Price will drop a huge amount, down $3,000 from the current 999 Base model's privce of $17.995 to $14,995. You may have noticed that Ducai USA has already been selling special edition AMA Superbike replica 999S models down $3,000 form the previous list price of $23,995.
We expect that the new generation, higher spec 1088cc S and R model Ducati Superbikes to be another 9-12 months away from being released. And as Ducati has done in the past, the R-model is always the first in the model line to get a bigger, newer engine to homologate it for World Superbike. Team Director Paolo Ciabatti has told us that Ducati would prefer to race a larger displacement Superbike under "superstock" engine rules with very little modifications, as the current smaller 998cc Testastrettas F (factory) engine is very highly stressed, requiring many expensive special parts and a lot of maintaince to keep it competive with the other 4-cylinder superbikes.
---
Aly & AJ - Move over Pussycats! here's the hottest new pop rock vocal group in years! - HERE
New 2007
Fast Dates Racebike,
Iron & Lace Custom
& Garage Girls Calendars
Click to Order Now!





2007 Playboy 17-inch
Lingerie Wall Calendar
featuring FastDates.com Calendar Kittens Tamara Witmer and Athena Lundberg.
---
Valencia MotoGP Finale Sell Out at 125,000!
Ticketless fans asked to stay away from Valencia race
Gran Premio bwin.com de la Comunitat Valenciana - Wednesday 25th October

The promoters of this weekend's Gran Premio bwin.com de la Comunitat Valenciana are asking fans without tickets to stay away from this weekend's race, and enjoy the race in the comfort of their own homes thus preventing a logistical nightmare at the Spanish track.
On June 1st, the Circuit de la Comunitat Valenciana Ricardo Tormo put tickets on sale for this weekend's race, and in just three months all seating was sold out. The installation of the new MVA Grandstand was then given the all-clear, adding 7,500 extra places which were also snapped up in a matter of days.
A predicted 125,000 spectators will be in attendance for the thrilling climax of the 2006 season on Sunday, and due to the capacity of the parking areas and the security requirements of the organisation those unable to purchase tickets are requested not to attend the event.
Eduardo Nogues, General Director of the Circuit, stated, "It has become necessary to ask that all spectators without tickets refrain from coming to the track, to ensure ease of access for those who have purchased their tickets in advance."
Yamaha and Edwards Renew their partnership for 2007
Friday, 27th Oct. - Valencia, SpainYamaha Motor Co. Ltd is pleased to announce that Colin Edwards will continue with the Japanese factory for a third year in 2007, racing in the official Yamaha Factory Team. The 32-year-old American, who has previously won two World Superbike titles and has a best finish of fourth in the MotoGP World Championship with Yamaha, joined the Team in 2005 and has scored points in all but one of his 33 starts for them. Edwards has signed a one-year agreement, which will see him race on Yamaha's new 800cc bike alongside Valentino Rossi again next season.
Managing Director of Yamaha Motor Racing Srl, Lin Jarvis, commented, "We are very happy to have retained Colin for another year. Although he hasn't had the easiest of seasons in 2006, he has given a strong showing in the last few races and has proven he can fight at the top of the MotoGP World Championship. He fits very well into the Yamaha 'family' and we're sure that he will play a key role in the development of the new 800cc Yamaha MotoGP bike alongside Valentino."
Edwards, who began his international career with Yamaha in the World Superbike series in 1995 before returning to the Factory last year, said "I couldn't be happier to be staying with Yamaha for another year. It's no secret that this season we haven't achieved the results we should have had, but in the last few races I feel that things have started to turn around and we hope to finish on a high in Valencia. I couldn't ask for a better team-mate or team, I'm really happy at Yamaha and I can't wait to start working on the new bike!"
"The good partnership between Colin and Valentino is one of the strongest assets of our team," added Davide Brivio, Team Director of Yamaha's Factory Team. "We think that, for various different reasons, Colin wasn't able to show his full potential this year and that's why we're very glad to have the chance to work again together next year. We are confident that we can offer him the right package to enable him to stay at the top throughout next season. Working with Colin is a real pleasure and we're very happy to continue with him for another year."
Valencia MotoGP WarmUp
Thursday 27th - The MotoGP paddock always attracts a large following, even on a pre-race Thursday without on-track action. The Ricardo Tormo Circuit in Valencia welcomed an even larger crowd than normal as the riders prepared for their final battle of 2006, the Gran Premio bwin.com de la Comunitat Valenciana.
Even the most casual follower of MotoGP is aware of the circumstances surrounding Sunday's race. Valentino Rossi leads Nicky Hayden in the championship by eight points, and one of the two stars will leave Spain as the last ever MotoGP World Champion on a 990cc bike. Both riders were present in the customary pre-event press conference, joined by Hayden's team-mate Dani Pedrosa, the victor 2 weeks ago in Estoril Toni Elias and last year's race winner Marco Melandri. Along with fielding the inevitable questions about the title race, Repsol Honda duo Hayden and Pedrosa were also quizzed about the accident which dealt a serious blow to the American's title chances in Portugal.
Ahead of tomorrow's practice sessions, there were a number of pre-event activities around Valencia. John Hopkins, Toni Elias and Randy de Puniet all headed down to the stunning new port area to meet members of the BMW Oracle Racing team, an outfit aiming to take part in the 32nd America's Cup next year. They had the opportunity to see next year's boat in all its glory in the dedicated boathouse.
Dani Pedrosa also headed outside the hustle and bustle of the paddock, participating in a special event for the launch of the Official MotoGP videogame which goes on sale this week. The Spaniard pitted his gaming skills with some rapid thumb-work against five contestants, winning a two lap race which he said "would undoubtedly be easier than Sunday's Grand Prix."
With the British version held at Donington earlier this year, Valencia was the setting for the Spanish "Day Of Champions." A fundraising event put on by Riders for Health, MotoGP's official charity, various activities were held on the day including a pit lane visit, a stunt show on the starting grid and the always-popular MotoGP auction, with items signed by various World Championship riders put on sale to the highest bidder, with all proceeds going to the good cause.
Michelin gave a special presentation this evening to all their MotoGP riders, in which they presented them with tyres adorned with their national colours.
Having announced his departure from Konica Minolta Honda earlier this week, Makoto Tamada also today confirmed his move to Herve Poncharal's Tech 3 Yamaha team, keeping both rider and team in MotoGP next year.
With the rumour mill running at full steam, it had been speculated that Loris Capirossi and returning rider Troy Bayliss would give the 800cc Desmosedici GP07 its first race run-out in Valencia this weekend. Ducati MotoGP Project Manager Livio Suppo dismissed a sneak preview of the new bike, stating that the Gran Premio bwin.com de la Comunitat Valenciana would hopefully mark the perfect end to the 990cc Ducati era.
Troy Corser's First Ride on the Yamaha R1
Mugello (Italy), Wednesday 25th October 2006 - Troy threw his leg over one of this year's Yamaha Italia's R1 WSBK bikes for the first time today and left Mugello at the end of the day with a smile on his face!
Weather conditions were nigh on perfect at the undulating Tuscan circuit and Troy and his new team were able to start their new job together in the best possible way.
At the end, Troy got down to some really good lap times - all without even pushing hard. The day went smoothly and completely without any dramas and now Troy is looking forward to the official tests in Valencia in just over two week's time.
"I can't believe how well today went and I'm really happy with my first day on a Yamaha Superbike", Troy said afterwards. I started off with one of Andrew Pitt's bikes and worked with the crew getting a comfortable position and the usual stuff. The engine feels flatter off the bottom and is a bit peaky, but the bike is very stable under braking and the handling is pretty good also. The spin and wheelie control is very adjustable and, of course, one of the biggest differences is the suspension - which is now Ohlins.
At the end of the day, I tried a few laps on one of Haga's bikes, but it was way too hard for me! I'm happy today because it took me hardly any time getting comfortable and I was able to get down to some pretty good lap times without pushing hard at all! I had no dramas, no crashes, no running off the track or anything like that, and I am surprised how well it's all gone gone today. Now I'm really looking forward to riding it at the Valencia tests and seeing how it stacks up against the rest of the boys.
See ya!" - Troy Corser
GP Winner Casey Stoner Joins the Ducati MotoGP Team
Oct. 19th - The Ducati Marlboro Team have reached an agreement with Casey Stoner to take part in the 2007 MotoGP World Championship, with an option for the following year.
The start of a new era for MotoGP, which will see 800 cc bikes taking the place of the 990 cc powered machines, also marks the start of a fresh chapter in Ducati.
Following the first positive tests carried out with the Desmosedici GP7, the Borgo Panigale-based team are looking to the future with confidence and have decided to offer an opportunity to the talented young Australian.
As the former 2005 250cc Grand Prix World Champion, Ducati Corse obviously feels the new smaller engined 800c MotoGP machines will need to be ridden with a higher cornering speed like in the 250cc GP class, making the former 250cc Champ a perfect choice to replace Sete Giberneau. The fact the Stoner has also adapted well to the bigger and more powerful MotoGP bikes, actually beating Valentiono Rossi for the race winthis last weekend at Estoril, gives Ducati an extreamely strong rider lineup together with Loris Capirossi for the 2007 season.
With the benefit of Loris Capirossi's enormous experience and the support of the entire team, Casey can now get to grips with the new technical package that will be made available to him and fully demonstrate the great talent that he has already expressed this year on his debut in the top category.
Casey Stoner
"I am really happy to have been given this opportunity to race with the Ducati Marlboro Team next year. Ducati have made a lot of progress in the last couple of years and I think they can also do a great job with the new 800.
It's a great privilege for me to be Loris Capirossi's team-mate. I watched him race before I started my career and now it's a real honour to be in the same team as him on the same bike.
Finally I'd like to thank Lucio Cecchinello. We have worked well together over the years but I feel that the possibility of racing in a factory team is the best thing for my future".
Claudio Domenicali (Ducati Corse Managing Director and Ducati Director of Product Development)
"It's always nice to welcome someone to our large family but it is just as difficult to say goodbye to someone who leaves. We are at the end of a season that has given us great satisfaction but which on the other hand has proved to have been particularly difficult for Sete. Despite his devotion and his undoubted talent, a number of factors have prevented him from obtaining the results to live up to everyone's expectations. Our heartfelt thanks go out to him for his commitment and professionalism and we wish him all the best for his future.
I am delighted to welcome Casey to Ducati. He is a very promising rider, with talent and determination in abundance. We are sure that with the help of our and Loris's experience, he will get to know our bike and his experience will mature in line with the development of the GP7. With his enthusiasm and aggressive riding style, Casey is sure to give our fans some extraordinary emotions, in the best spirit of Ducati".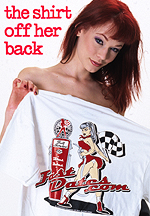 ---
John Hopkins to Trade MotoGP Bike for Tonio Liuzzi 's F1 Car

On the last day of October, John Hopkins and Tonio Liuzzi will be taking part in a Rizla Suzuki MotoGP – Scuderia Toro Rosso "Seat Swap" at the Valencia circuit in Spain.
The Italian F1 driver will cock his leg over the saddle of John Hopkins' Rizla Suzuki MotoGP bike just two days after the Anglo-American will have raced it at the same Spanish circuit at the final round of the MotoGP championship. Hopkins, will get the opportunity to sit behind the wheel of the Toro Rosso F1 car, sporting a Rizla-blue fire suit and an Arai car helmet painted in his distinctive Red Bull colours. Liuzzi is having a special set of leathers made for this event, as well as switching to a motorcycle specification helmet.
Like most Italians, Tonio is mad about bikes, using one to ride round the F1 race tracks prior to race weekends, as well as riding superbikes back in his native Italy, where he regularly heads out on the road on a Suzuki GSX-R750. He has also been know to indulge in the occasional track day, but don't tell his team-boss as it is probably strictly forbidden in his contract. You can imagine what the other customers think when Liuzzi, an instantly recognisable figure in his homeland, turns up, pays a few Euros and heads out on the track with all the other amateurs!
But on Tuesday 31st October, Hopkins and Liuzzi are not going to meet one another on the track as, in the name of safety, they are not being allowed out of the pits at the same time! Just think of the insurance premiums.
"I'm looking forward to this very much," said Tonio. "Especially as I was supposed to do it earlier but John had had an accident and it was not possible. I had some preparation riding a 750 Suzuki round Silverstone and riding at Valencia should be very interesting as I will be able to compare my times to what the 'real' racers did on the Sunday before."
"I'm really excited about this," commented Hopkins, "it's the first time I've been given the chance to drive a F1 car properly and the team are telling me to give it a bit of throttle – which makes me excited but a bit nervous too! I think it will be a really interesting day, with Liuzzi on the bike and me in the car, and our respective crews having to work with different guys using their machines. It's going to be an experience of a lifetime and I'm really grateful to Red Bull and Rizla Suzuki for making it happen. I'm really pumped up for it and can't wait for it to happen!"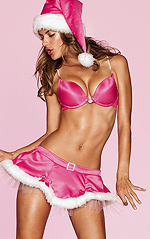 Click to visit Victoria's Secret. Event updstes Insert Keyword: FASHION
Victoria's Secret
Fashion Show
on CBS Dec. 5th 10/9c
Just so you don't go into total withdrawl now the racing season is over, here's something you can really look forward to to warm up a cold night.
Makoto Tamada joins Tech3 Yamaha for 2007 MotoGP
The Tech 3 Yamaha Team have chosen Makoto Tamada to join their team for the 2007 MotoGP World Championship season. The 29-year-old Japanese will ride the new 800cc Yamaha and continue the development of Dunlop tyres of which the performance has significantly improved during the 2006 season.
"We are very happy to welcome Makoto Tamada" says Herve Poncharal, Tech 3 Yamaha Dunlop team manager. " He is an excellent rider who has already proved his potential by winning two Grands Prix and being on the podium five times in the MotoGP era. We are sure that he will be able to help Dunlop becoming more competitive - a challenge that has become even more interesting as we will all jointly work with the new Yamaha 800 with the full support of the Yamaha factory."
Makoto Tamada, who made his MotoGP debut in 2003 also looks forward to joining this project: "I am happy to be back on Dunlop tyres again, and have good memories of riding on Dunlop in the Japanese Superbike Championship. I am excited by the challenge that the Tech 3 Yamaha Dunlop project offers. I was able to judge at close quarters the current level of the Yamaha Dunlup package during the Portuguese GP, where Carlos Checa and I raced very close together."