New 2007
Fast Dates Racebike,
Iron & Lace Custom
& Garage Girls Calendars
Click to Order Now!
More 2007 Calendars!
In Our Calendar Store
New Moto Books
& DVDs for Christmas


Valentino Rossi
MotoGenious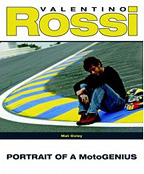 TV and Internet Media Hurting Motorcycle Newsprint
Major metrapolitain newspapers across America like the New York Times, Boston Globe and the Los Angeles Times have seen huge drops in their circulation by millions of readers in recent years because of the increased competition from TV cable news channels and the electronic media (internet).
The same holds true for motorcycle print media. In the American motorcycle market the publication most affected by declining readership is our old friend Cycle News.
From the 1970s - 1990s Cycle news was very much the only source for off-roadracing / motocross racing and roadracing news and they maintained a strong readership base around 60,000 paid readers weekly.
In 1997 the Speed TV channel was born and cabel subscribers could now get more exciting and quicker TV coverage of International and National motorcycle racing. And then around the year 2000 a number of web based news site like ourFastDates.com's Pit Lane News was born and quickly drew many more readers than print. A typical motorcycle news website like FastDates.com draws some 150,000 unique readers / 300,000 return monthly.
And you are getting very much the same news and information, since all the factory racing teams supply the same race reports and photos to both the print and internet media. The print media like Cycle news and Roadracing World still have their exclusive race reporters, but today you can cover a race much better by watching it on TV with cameras around the track, then standing in a corner of the track and watching bikes go by one ever 1 1/2 minutes.
A reporter at the track does have the capacity to still provide exclusive background coverage of what a team manager may be thing, who's ride is in jepardy, and who used want tire in practice. And for 10% of the hard core enthusiasts that might be imnportant. But for 90% of us its not.
Back in 2005 Cycle News saw its paid monthly readership drop to around 40,000. Then this past Novemeber 2007 their readership was reported to have dropped another 20% in just one year to 36,000. Keep in mind that over half of Cycle News readership is off road dirt and motocross. For a good indication of how many Cycle News readers are actually interested in sportbikes and roadracing you only have to look at their main competitor in that market, the monthly newspaper Roadracing World who's paid monthly circulation has remained right at around 16,000 readers these past few years.
In looking at Roadracing World you can see they have all the aftermarket product companies advertsing there to the club racers.
Cycle News doesn't get this afterarket advertising because as a weekly newspaper, they charge just as much for their ad space, but you have to pay 4-times as much to reach those same 16,000 readers for a full month in Cycle News.
Cycle News does continue to almost fully support by full page advertsing from the major motorcycle manufacturers. The reason being everyone inside the industry reads Cycle News, and its the quickest and most high profile way for the motorcycle distributors to thumb their noses at the others by touting a race win or a new modrel bike in a big, expensive 2-page color spread. When Yamaha runs a 2-page Royal Star touring bike ad in Cycle News not very many prospective buyers are seing it, but it impress the corporate honchos at American Honda and makes the Yamaha dealers feel good.
And now this past year Cycle News is geting some new and really big competiton for a couple of new motocross newspapers which have sprung up, including a bi-weekly named Motocross Illustrated. MXI uses uses former top Cycle News staffers Scott Rouseau and photographer Kinney Jones who Cycle News had to let go as their circulation dropped. MXI is alrerady doing a beeter job than Cycle news in the motocross market, so we'd expect Cycle News paid circulation to decline even further in 2007.
Cycle News has been the industry enthusiast's bible for some 38 years now. I, myself served as editor of the former Cycle News East Edition for 3 years in the early 1970's, and continued with it as their principal national motocross reporter until 1980.
More recently the print and production quality of Cycle News has improved greatly with better graphics, 4-color throughout and better paper. But circulation will continue to decline in the face of all the increased and more focused newsprint competition.
Cycle News needs to really re-invent itself, possiby with the format of a monthy magazine if it hopes to survie this decade. Leave the local race coverage to the more focused competion, and possible concentrate on broader national and international motorcycle news, tests and features.

Click to take Kylie for a ride.
Kyle Minigue Gets Provacative
Join Pop Diva Kyle Minogue as she does a little wild bull riding with Agent Provocateur.
RealPlayer.com Video.
You'll also be thrilled to see supermodel kate Moss is the new spokesmodel for Agent Provocateur. Its amazing that kate was photographed snorting cocaine a year ago and found her fading modeling career revitalized and vaulted back to superstar status with cover features in all the top modeling magazines and major endorsements.

Kate's been a bad, bad girl.
In motorcyle racing, get caught with a little marijuana and your career is over. Just ask fomer Honda motocross rider Ron Lichein.
Hannnspree TV/Computor Monitors from Taiwan Sponsors Gresini Honda MotoGP Team for 2007
The Honda Gresini Team can count on the support of a very important partner in the challenge for the 2007 MotoGP World Championship, HANNspree, a Taiwanese Company, Market Leader, producer of TVs and LCD Monitors.
Marco Melandri and Toni Elias will be the colour bearers on track of the enthusiasm and energy that characterize HANNspree's world, synonymous for creative energy as its name says: HANN in fact is a Chinese word meaning "huge" and "infinity", Spree comes from English and means "outburst of activity".
Supersbike Models Dominate Sales in England
Dec 12th - Powersports dealers in the United Kingdom sold 118,266 motorized two-wheelers during the first 10 months of 2006, nearly equal the 118,036 units sold during the same period in 2005.
The Motor Cycle Industry Association Ltd. (MCI) represents the interests of the supply side of the UK motorcycle industry. The MCI said dealers sold 98,263 motorcycles and scooters with engines over 50cc in size and 20,003 mopeds, or two-wheelers with engines of 50cc or smaller.
In the motorcycle and scooter category, the Supersport segment accounted for 22,492 units; followed by the Naked segment with 18,749 units; Scooters, 16,388 units; Sport Touring, 9,867 units; Custom, 9,773 units; Trail/Enduro, 8,476 units; Adventure Sport/Supermoto, 8,140 units; and Touring with 3,003 units.
The ten best-selling two-wheelers in the UK during the first 10 months of 2006 were the Honda CBR1000RR with 1,964 units; Suzuki GSX-R750, 1,852 units; Yamaha YZF-R6, 1,821 units; GSX-R600, 1,820 units; GSX-R1000, 1,792 units; Kawasaki ZX-6R, 1,636 units; CBR125R, 1,585 units; Yamaha YBR 125, 1,522 units; Honda SCV 100 Lead, 1,373 units; and BMW R1200GS, 1,287 units.
The UK statistics are quite a change when compared to America where Harley-Davidson outsells all other motorccyle brands combined. Suprisingly, the Ducati 999 doesn't make the top 10 even though Ducati dominates the British Superbike Championship.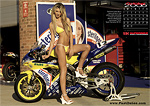 NEW! FastDates.com
Monthly Screen Savers
Click to Find Out What Day It Is

Click for Feature Story
Aly & AJ
Into the Rush
Enhanced Music CD & DVD
Rush (QuickTime_Hi)
Rush (QuickTime_Lo)
Rush (Real Player_Hi)
Rush (Real_PlayerLo)
Rush (Windows MV_Hi)
Rush (Windows MV_Lo)
---
Marty Moates, 1956-2006
Dec 8, 2006 - Marty Moates, the first American ever to win a World Championship Motocross Grand Prix on American soil, took his own life near his Carlsbad, California, home, yesterday. He was 50.
Moates, a San Diego, California, native, was 23 years old when he earned his historic victory at Carlsbad, California, on June 22, 1980, shocking the factory establishment by winning the United States Grand Prix at Carlsbad, California, aboard an LOP-backed privateer Yamaha YZ465.
"Laurens [Offner, of LOP] was really talented, and he knew how to make the bike fast," Moates commented two years ago while being interviewed in a retrospective story on the magic victory. "White Brothers did the shock, and it handled really well. It was a good bike."
Moates went 1-1 for the victory that day, stating years later that the win meant as much to him on a personal level as it did in terms of elevating the status of American motocross on the World stage.
"The one thing that really stands out to me is, my father was hurt in World War II, and he was dying at the time of that GP," Moates once said. "He never got to see me race that often. I remember going to the hospital the day after that race, and I was on the front page of the San Diego Union-Tribune. I walked in there, and my dad was reading the newspaper with all the nurses. He never got to see the ABC Wide of World Sports [telecast of the GP] because he passed away before it came out, but the joy of watching him tell the nurses, 'That's my son,' made everything worthwhile."
FastDates.com publisher and editor Jim Gianatsis was a good friend with Marty during the 1070's when covering the sport of motocross for Cycle News. And on occassion tested Marty's race bikes for Cycle News.
The news of Moates' passing has spread quickly throughout the motorcycle industry. Former 500cc World Champion Brad Lackey, one of the men that Moates beat en route to the 1980 Carlsbad GP win, said that Moates' untimely passing is a tremendous loss for the motocross community.
"With Jimmy [Pomeroy] just having his accident, and now this, it's premature to lose two of the great riders of our time," Lackey said. "I just hope that it doesn't come in threes."
Lackey said that Moates' Carlsbad victory still sticks out in Lackey's mind.
"I definitely remember him winning, more than what my results were that day," Lackey said. "It was a big step for America because we hadn't won a 500 race here. It was huge, and it gave a lot of hope to the privateer guys. It showed all those privateer guys that with a little money and some good guys, that you could beat the factory teams. That was an important step. My condolences go out to all his family and friends. I'm really sorry. This is such a loss for our sport."
After retiring from racing in 1984, Moates was successful in the motorcycle industry. He was a founding member of the No Fear clothing company in the 1990s, and more recently had headed up the FMF International clothing brand.
---