Troy Bayliss takes his Race One victory lap alongside Francisco Nieto on the factory PSG-1 Kawasaki.
2007 SBK Corona Extra Superbike World Championship, Round 2 of 13
Seagulls and Bikinis and Brilliant Racing
Bayliss is Back, Trading Wins with Toseland Down Under
By Andy Rixon and a Whole Bunch of Other Guys

Phillip Island, Australia, Sunday 4. March 2007 - Phillip Island provided the perfect backdrop for two of the best Superbike races ever witnessed at the classic track, with Troy Bayliss (Ducati Xerox) winning the first from James Toseland (Hannspree Ten Kate Honda) then Toseland took the second race win from Bayliss. Up to five riders were involved in the fight for podium places, with each race coming down to a man-to-man fight over the last few laps. Toseland now leads the championship by 16 points, 90-74, over Max Biaggi (Alstare Suzuki Corona Extra).
The contenders get to trade-in last week's sandbox in Qatar for seagulls and bikinis at Phillip Island.
Preview: Can the Aussie Champs Stage a Come Back at Phillip Island?
Phillip Island (Australia),Wednesday Feb 28th - After an even more dramatic and unpredictable start to World Superbike racing's 20th year of continuous action than anyone could have predicted at Losail a few days ago, it's the turn of Phillip Island to form the backdrop to what will surely be just as momentous a weekend. The SBK championship will have its Australian visa stamped at Phillip Island for the 17th time this time around, making the seaside circuit one of the longest serving - and most popular - in SBK's 20 years of racing life. Its entire 4,445km length is littered with challenges to any rider's abilities, with wind and weather also capable of playing their part in any individual race outcome.
With Max Biaggi (Alstare Suzuki Corona Extra) winning on his Superbike debut and with James Toseland (Hannspree Ten Kate Honda) scoring the second leg win the series is currently tied, but of almost as much importance to the local Aussie fans right now is the question of how the European based Australian riders will fare after Qatar's disappointments. Reigning champion Troy Bayliss (Ducati Xerox) was in the rare position of having his team-mate Lorenzo Lanzi (Ducati Xerox) step on the podium instead of Troy himself, but on his home track the technical and tyre choice issues that dogged him at Losail should be eradicated before raceday. Lanzi is currently third in the table, with Bayliss seventh. The other double championship winning Aussie Troy, Troy Corser (Yamaha Motor Italia), scored pole and a podium for third place in race two in round one, and at his all-time favourite circuit, all things seem possible - even in what will only be his second meeting on the new Yamaha. The good news for the Aussie duo is that not just home advantage but also previous form favour them - with Corser and Bayliss each winning a PI race in 2006.
Despite some brilliant showings in practice at Losail, Noriyuki Haga (Yamaha Motor Italia) was unfortunate on raceday, but few would write off Haga on the eve of a meeting as important as Phillip Island. He will be joined by a fellow Japanese rider in the list of PI possibles, Yukio Kagayama (Alstare Suzuki Corona Extra), who is only two points ahead of Haga in the points table. Another Suzuki rider, Max Neukirchner (Suzuki Germany) will be out to repeat his stunning sixth place from race one at Losail, which helped make him the best-placed rider on a non-factory bike in Qatar, of any vintage.
An unfortunate clash with his team-mate put Fonsi Nieto (PSG-1 Kawasaki Corse) out of race one at Losail, but a brilliant fifth place in the second running showed Nieto's true mettle when it counted. Another Spanish rider Ruben Xaus (Sterilgarda Ducati) is one place ahead of Nieto, after two top tens in Qatar on the 2006 factory-spec 999 Ducati. Roby Rolfo (Hannspree Ten Kate Honda) had one solid seventh and a DNF at Losail, but the talented Italian is well on his way to better things. The current top 12 is rounded out by the second factory Kawasaki of Regis Laconi (PSG-1 Kawasaki Corse).
Steve Martin and Michel Fabrizio (both DFX Corse Honda CBR1000RR) will be two riders to watch in Australia, while more Aussie talent resides in the Alto Evolution Honda team, with Karl Muggeridge and Josh Brookes looking to overcome a relative lack of pace from their current spec of engines. Shinichi Nakatomi (Team Yamaha YZF) scored a point in only a single race at Losail, but in his second SBK season, Phillip Island should not be so daunting a challenge as last year.
Troy Bayliss (Xerox Ducati) and Roberto Rolfo (Hannspree Ten Kate Honda) front the annual group picture at the Losail opening round. CLICK FOR BIG SCREENSAVER
SUPERSPORT WORLD CHAMPIONSHIP
The rapid development of Kenan Sofuoglu (Hannspree Ten Kate Honda) in World Supersport was remarkable at the tail end of the 2006 season, and his winning curve got higher at the first round this year, after Sebastien Charpentier (Hannspree Ten Kate Honda) fell from their battle for the lead. In Australia, Charpentier is sure to shine again as he goes for three race wins in a row at PI, while Losail's second placed rider, Kevin Curtain (Yamaha SSP Racing) is ready to push all the way for his second home victory. Curtain's team-mate Broc Parkes is looking for his first points of the 2007 season at his home circuit.
On all-new machinery GIL Kawasaki riders Fabien Foret and Pere Riba had superb fourth and fifth place finishes in round one, while Gianluca Nannelli (Team Caracchi Ducati SC 749R) struggled after a bright qualifying battle. For Suzuki, a winter test at Phillip Island will help their official duo, Barry Veneman and Vesa Kallio, from the Hoegee Suzuki team. Practice for Supersport, like in Superbike, gets underway on Friday 2 March.
SuperPole - Bayliss Powers Back into Contention with His 13th Career Pole
Phillip Island (Australia),Wednesday Feb 28th - After a shockingly poor finish in first round of the 2007 SBK World Superbike Championship seasonlast week at Losail the 2001 and 2006 champion Troy Bayliss (Ducati Xerox) smashed his way back into the public consciousness at his home circuit by setting a new qualifying best of 1'31.887, and then winning a delayed Superpole contest, with a 1'32.145. Just behind Bayliss in both qualifying and Superpole came James Toseland (Hannspree Ten Kate Honda) who also prevented third place Superpole rider Troy Corser (Yamaha Motor Italia) from turning 40 in terms of Superpole wins. In a good period of final grid allocations for the Yamaha Motor Italia team, Noriyuki Haga overcame an eighth place in regular qualifying place to go fourth, and now start from the front row.
| | |
| --- | --- |
| | "We've come quite good in the last couple of days, trying long-runs and working hard to try and find the race tyre, but everyone knows how Phillip Island is" declared Troy. "Conditions can be very different during the day, hot and cold, wet and dry and it was very gusty this afternoon for Superpole. I thought the wind had died down but it was still blowing hard on the inside of turn 1 as I set off. My lap was actually quite messy and I was surprised to take Superpole, my last split can't have been that bad because I was down at the first one. I also ran very wide on Lukey Heights but really I can't complain and I'm very happy to be on pole in front of my friends and family. Both the races are going to be long and difficult tomorrow and we hope for cooler conditions which will help with the duration of the tyres." |
Max Biaggi (Alstare Suzuki Corona Extra) scored a second row start at Phillip Island and a cosmopolitan first few Superpole places included sixth placed Fonsi Nieto (PSG-1 Kawasaki Corse), sixth. Once again the talent and cool-headedness of German rider Max Neukirchner (Suzuki Germany) took him to a top starting position, with his seventh place ride displacing the 2006 factory spec Ducati of Ruben Xaus (Sterilgarda Ducati).
Regis Laconi (PSG-1 Kawasaki Corse) made an upward movement after a disappointing first day, despite the high winds that plagued the second day of track action. Losail podium finisher Lorenzo Lanzi (Ducati Xerox) was only tenth after a disappointing Superpole run.
Second fastest Honda rider was Steve Martin (DFX Corse Honda) in 11th place.
TIMES: 1. Bayliss (Ducati Xerox) 1m32.145s; 2. Toseland (Honda) 1m32.198s; 3. Corser (Yamaha) 1m32.605s; 4. Haga (Yamaha) 1m32.879s; 5. Biaggi (Suzuki); 6. Nieto (Kawasaki) 1m33.132s; 7. Neukirchner (Suzuki) 1m33.188s; 8. Xaus (Ducati) 1m33.367s; 9. Laconi (Kawasaki) 1m33.368s; 10. Lanzi (Ducati Xerox) 1m33.969s.
TV COVERAGE: Eurosport (Europe): Sunday 4 March, 0100 race 1 (live), 0700 race 2 (delayed). British Eurosport (UK): Saturday 3 March, 0815 Superpole (delayed); Sunday 4 March, 1245 race 1 + race 2 (delayed). Eurosport 2 (Europe): Sunday 4 March, 0900 race 1 (delayed), 1015 race 2 (delayed). La7 (Italy): Saturday 3 March, 2030 Superpole (delayed), Sunday 4 March, 0200 race 1 (live), 0530 race 2 (live), 1400 all races (repeat). Eurosport (Italy): Sunday 4 March, 0200 race 1 (live), 0430 race 1 (repeat), 0800 race 2 (delayed).
World Champions in top form as Bayliss(21) and Toseland (52) diced and sliced in both races.
Race Day Battle of Champions
Race One: Troy Bayliss Fights off Toseland to Win on Home Turf
Sunday March 4th - Toseland. Reigning champion Troy Bayliss put aside his disappointment from last weekend's races in Qatar to win the first race at Phillip Island after a race long battle. Troy and his Xerox Ducati had pole position on the grid but saw himself pushed back to 3rd at the start as first Toseland and then Corser went past him with Biaggi and Haga just behind. The front three really put the hammer down and proceeded to pull away from the remainder of the pack creating a significant lead of around 6 - 8 seconds by two thirds of the race. Although Toseland had got away in first both Bayliss and Corser were determined not to let him get away and to take the top podium position. Bayliss managed to pass Corser on the 9th lap and was all over the back of Toseland. The Ducati's power disadvantage was very obvious on the climb up to the final corner and then the drag down the main straight. Despite this Bayliss could make up any disadvantage on the corners and with Phillip Island having a lot of corners that run into each other Bayliss could stay with Toseland.
On the 17th lap Bayliss had made the decision to get past Toseland as he felt that he could make a break if he got past him as he'd been able to conserve his tyres. However wanting to get past Toseland and actually doing it are two very different things. Toseland is as happy to bash elbows and rub fairings as Bayliss is. Bayliss tried to pass Toseland but found the Honda rider straight back underneath him in a move that saw Toseland wave a hand in apology. On the next lap Bayliss threw his Ducati up underneath Toseland and made the move stick. He pulled a little distance out on the Honda but couldn't break him. It was obvious that Toseland's tyres had worn badly and he managed to stay with Bayliss but could do nothing to catch the flying Australian.
Bayliss was ecstatic as he crossed the line, showing that despite being written off by a lot of the international media he is still a major force in the series and one of if not the man to beat. Anyone who tries to write him or Ducati off doesn't know them very well. Bayliss is a fighter and relishes a challenge, you tell him you can't do this or that then he'll go out and do it. Just remember this is the man that won the last MotoGP race at Valencia last year as a wild card!
Corser had seen his challenge dissipate even sooner than Toseland. The ex champion had gradually dropped away from the front two and it was obvious that his tyre wear was far worse than the others. With 3 laps to go Corser couldn't keep his Yamaha in a straight line, he found himself sideways going over the top of Luki heights and suddenly found himself being passed by a charging Max Biaggi. To make matters worse he was passed on the last lap by his team-mate Nori Haga, a man that is notorious as a tyre eater. If Yamaha can sort their tyre wear problem out then both riders would be championship contenders but until then they run the risk of being left behind in the championship race.
Biaggi and Haga had had their own private battle after the front three pulled away from them. Both the Suzuki and Yamaha rider's swapped places but neither could generate enough of a gap to get away from the other. Biaggi found out on lap 2 just what a hard rider Haga is and why all the other riders give him such respect. Haga launched his R1 up the inside of Biaggi forcing the Roman to lift his Suzuki up t avoid him. Biaggi has now been officially Haga'd in world superbikes!

On the 11th lap Biaggi passed Haga and made enough ground to keep a steady gap until the Japanese rider found his tyre wear coming into play. With Biaggi able to conserve his tyres better thanks to his 250 GP riding style Haga found himself being dropped by the Suzuki. Biaggi then went on and caught Corser for the last podium position. Haga couldn't believe his luck when he came up on his team mate on the last lap and passed him. Haga knows that he is harder on his tyres than Corser, or most other riders for that matter and must have been shaking his head in disbelief at his good luck.
Behind them Lorenzo Lanzi had put in a solid race to finish in 6th place despite a poor superpole performance, thanks to a mechanical problem with his Ducati, which saw him start in 11th position on the grid. The Italian had fought with Reuben Xaus, Fonsi Nieto and Regis Laconi through most of the race but he got the better of all of them to take 6th place.
Steve Martin finished in 10th place on the DFX Corse Honda and Josh Brookes brought the lone Alto Evolution Honda in 12th after is team mate Karl Muggeridge damaged his ankle in qualifying after Brookes' engine let go dumping oil all over the track. Yukio Yanagawa is another rider missing this weekend as he's still in hospital after a crash on Friday that left him with some chest injuries.
SUPERBIKE RACE ONE Race 1: (Laps 22 = 97,790 Km)
Pos / Rider / Nat. / Team / Time / Gap
1 / T. BAYLISS / AUS / Ducati Xerox Team / 34'11.276 /
2 / J. TOSELAND / GBR / Hannspree Ten Kate Honda / 34'13.372 / 2.096
3 / M.BIAGGI / ITA / Alstare Suzuki Corona Extra / 34'21.419 / 10.143
4 / N.HAGA / JPN / Yamaha Motor Italia / 34'30.199 / 18.923
5 / T. CORSER / AUS / Yamaha Motor Italia / 34'31.018 / 19.742
6 / L. LANZI / ITA / Ducati Xerox Team / 34'36.041 / 24.765
7 / R. XAUS / ESP / Team Sterilgarda / 34'38.680 / 27.404
8 / M.NEUKIRCHNER / GER / Suzuki Germany / 34'45.890 / 34.614
9 / F. NIETO / ESP / Kawasaki PSG-1 Corse / 34'46.615 / 35.339
10 / S. MARTIN / AUS / D.F.X. Corse / 34'47.514 / 36.238
11 / R. ROLFO / ITA / Hannspree Ten Kate Honda / 34'49.343 / 38.067
12 / J. BROOKES / AUS / Alto Evolution Honda / 34'58.354 / 47.078
13 / S. NAKATOMI / JPN / Yamaha YZF / 35'09.847 / 58.571
14 / J. SMRZ / CZE / Team Caracchi Ducati SC / 35'19.276 / 1'08.000
15 / A. POLITA / ITA / Celani Team Suzuki Italia / 35'33.860 / 1'22.584
Fastest Lap 3° Troy Corser 1'31.826 174,264 Km/h
Bayliss (21), Biaggi (3), Haga (41 and Corser (11) in persuit of Race Two winner Toseland (52).

Race Two: Toseland Wins Titanic Battle with Race One Winner Bayliss
Toseland rode perhaps the best and most mature race of his career to take the win in race two at Phillip Island after holding off a determined Troy Bayliss on his Ducati. James battled his way to the front on the third lap and tried to pull away but Bayliss, Corser and Haga where not going to allow that and theywere later joined by Max Biaggi. This front group pulled away from the rest of the pack and proceeded to beat each other up.
The action at the front was stunning, Bayliss passed Corser on the sixth lap and Haga took his team-mate on the 11th lap. This instigated a wholesale swapping of positions on this lap with first Bayliss hitting the front then being passed back by Toseland. Haga then threw himself under Bayliss but the Australian then went round the Yamaha rider to retake second place. Not to be outdone Biaggi stuffed his Suzuki passed Corser. This set the tone for the rest of the race with no one prepared to give quarter.
On the 18th lap Toseland and Bayliss pulled away from the rest. Bayliss did everything in his power to catch and pass Toseland but the Ten Kate Honda rider was not having any of it and he put his head down and held on for dear life determined not to let Bayliss past. Toseland held off the current champion to take the flag just under 0.3 seconds ahead of the Ducati for a phenomenally deserving win.
The battle for third place was even more exciting with Haga, Corser and Biaggi beating hell out of each other. Corser had dropped back a little and look as though his tyre wear problems from the first race were coming back on him but he went up a gear and was soon back on the rear end of Biaggi.
On the 18th lap, when the lead pair broke away, Haga passed Biaggi, the Italian chased the Yamaha down and retook 3rd on the next lap. Haga then came back at him on the next lap and before he had time to catch his breath Biaggi saw Corser scream past him. Exiting the last corner Corser ran wide and found himself in the muck and grass at the side of the track. This allowed Haga and Biaggi past. Corser kept the throttle pinned open and rejoined the tarmac just behind them and proceeded to reel them in again. Biaggi saw an opportunity and went past Haga but Nitro Nori was not going to be denied a podium finish and on the last lap he went underneath Biaggi and made the move stick to the finish line. Corser also saw an opportunity and went around Biaggi. It looked as though the Suzuki rider had done enough but Biaggi got the drag down the start finish straight and muscled Corser out for fourth place.
Ruben Xaus on the Sterilgarda Ducati had a great race to finish in sixth place. Xaus, on Bayliss' old bike, had a race long battle with Regis Laconi on the PSG-1 Kawasaki and Lorenzo Lanzi on the second Xerox Ducati. Xaus saw off strong challenges from both riders. Biaggi had fallen back into the clutches of this pack at the start of the race and all of them had gotten past the ex MotoGP man, much to their delight, but once Biaggi found his feet he soon made short work of them and set off for his battle at the front.
Troy Bayliss today showed that you can't write off a rider after just one round. True the Ducati is down on power compared to the other front running bikes but the quality of the team and rider means a hell of a lot. Phillip Island was a better circuit for the Ducati with it's many corners flowing into each other meaning it isn't a horsepower circuit, if no more work is done they will suffer on the real power circuits but don't think Ducati don't know this!
Max Biaggi needs to get into his stride straight away rather than leaving it 3 or 4 laps. In both races he hit the front at the first corner only to be swallowed up into the pack. If he can get straight into it then he'll be fighting at the front every time. In race two he made up a huge amount of time and was then battling for third so if he'd got away with them at the start would it have been a different story, maybe?
James Toseland rode the best race of his life and is a deserving championship leader. This is a strong field and the Englishman has got a great package under him in the shape of the Ten Kate Honda Fireblade but he's facing some stiff opposition. With the next race being his home round at Donington he'll be fired up and awaiting all comers!
The next race is Castle Donington on the 1st April but before that everyone meets up in Valencia for the SBK test in two weeks time. Will Toseland win on home ground? Will Bayliss continue to ride the wheels off his Ducati? Will Biaggi get on the pace immediately? Will Xaus be on the podium? Will Nitro Nori continue to entertain? (Of course he will)! All will become clear right here on FastDates.com as it happens.
SUPERBIKE RACE TWO: (Laps 18 = 96,840 Km)
1 / J. TOSELAND / GBR / Hannspree Ten Kate Honda / 34'16.990 /
2 / T. BAYLISS / AUS / Ducati Xerox Team / 34'17.264 / 0.274
3 / N.HAGA / JPN / Yamaha Motor Italia / 34'23.906 / 6.916
4 / M.BIAGGI / ITA / Alstare Suzuki Corona Extra / 34'24.003 / 7.013
5 / T. CORSER / AUS / Yamaha Motor Italia / 34'24.042 / 7.052
6 / R. XAUS / ESP / Team Sterilgarda / 34'40.166 / 23.176
7 / L. LANZI / ITA / Ducati Xerox Team / 34'43.461 / 26.471
8 / M.FABRIZIO / ITA / D.F.X. Corse / 34'43.476 / 26.486
9 / M.NEUKIRCHNER / GER / Suzuki Germany / 34'43.476 / 26.486
10 / R. ROLFO / ITA / Hannspree Ten Kate Honda / 34'54.926 / 37.936
11 / J. SMRZ / CZE / Team Caracchi Ducati SC / 34'58.298 / 41.308
12 / J. BROOKES / AUS / Alto Evolution Honda / 35'05.662 / 48.672
13 / S. NAKATOMI / JPN / Yamaha YZF / 35'05.707 / 48.717
14 / F. NIETO / ESP / Kawasaki PSG-1 Corse / 35'30.085 / 1'13.095
15 / A. POLITA / ITA / Celani Team Suzuki Italia / 35'30.872 / 1'13.882
Fastest Lap 4° Noriyuki Haga 1'32.621 172,769 Km/h
Record Lap: 2007 T.Corser 1'31.826 174,260 Km/h
Best Lap: 2007 T.Corser 1'31.826 174,260 Km/h
Riders Championship Standings:
1 TOSELAND 65, 2 BIAGGI 61, 3 BAYLISS 44, 4 LANZI 35, 5 CORSER 34, 6 HAGA 34,
7 NEUKIRCHNER 24, 8 KAGAYAMA 23, 9 XAUS 22, 10 NIETO 18, 11 ROLFO 14,
12 MARTIN 11, 13 BROOKES 7, 14 NAKATOMI 7, 15 LACONI 5.
Foret takes Kawasaki to Stunning Supersport Win
Phillip Island, Australia, 4 March 2007 - Pole position rider Fabien Foret (GIL Kawasaki Ninja ZX-6R) had to wait until only the second round of the 2007 season to score a first race win on the new Ninja ZX-6R, showing patience to come from behind and give Kawasaki second spot in the Manufacturers' Championship Pere Riba (GIL Kawasaki Ninja ZX-6R) was forced to use a slightly older spec engine than he did in qualifying, but still stormed to a sixth place finish. He was very close to making it a top five, only missing out by a couple of bike lengths.
Foret's win was a remarkable effort considering he was down in a lonely fifth place at one stage, but a few audacious passes up the inside at the slow MG corner and Foret was into an unassailable lead for the last three laps. It is Kawasaki's first win in Supersport since the last officially supported season of racing in 2003; with that Misano victory also coming from Foret.
Foret is now second in the championship overall, with 38 points, only seven points behind leader Kenan Sofuoglu. Riba sits fifth overall, after two strong rides on a machine that is still at the start of its development curve. "Please tell me it is not a dream! I did not think we could get this result but I just tried my best. I thought maybe we could get a podium. But a win, honestly, I didn't imagine it this weekend. We made good practice and took pole but I really expected a hard race. A win is a dream and we made the best of things all through. I had to follow the leaders at the beginning of the race but as it wore on I could pass step-by-step, and I am so happy to win for Kawasaki, the team and everyone."
SUPERSPORT RACE: (Laps 21 = 93,345 Km)
Pos /Rider /Nat. /Team / Time /Gap
1 / F. FORET / FRA / Team Gil Motor Sport Kawasaki ZX6 / 33'46.218 /
2 / K. SOFUOGLU / TUR / Hannspree Ten Kate Honda / 33'46.922 / 0.704
3 / B. PARKES / AUS / Yamaha World SSP Racing / 33'48.461 / 2.243
4 / S. CHARPENTIER / FRA / Hannspree Ten Kate Honda / 33'52.633 / 6.415
5 / K. FUJIWARA / JPN / Althea Honda Team / 34'01.303 / 15.085
6 / P. RIBA / ESP / Team Gil Motor Sport / 34'01.410 / 15.192
7 / R.HARMS / DEN / Stiggy Motorsport Honda / 34'09.064 / 22.846
8 / B. VENEMAN / NED / Pioneer Hoegee Suzuki / 34'10.727 / 24.509
9 / L. ALFONSI / ITA / Althea Honda Team / 34'12.364 / 26.146
10 / Y. TIBERIO / FRA / Stiggy Motorsport Honda / 34'15.631 / 29.413
11 / K. CURTAIN / AUS / Yamaha World SSP Racing / 34'15.924 / 29.706
12 / G.LEBLANC / FRA / Vazy Racing Team / 34'15.977 / 29.759
13 / S. GIMBERT / FRA / Yamaha - GMT 94 / 34'21.536 / 35.318
14 / C. JONES / GBR / Revè Ekerold Honda Racing / 34'29.371 / 43.153
15 / D.SALOM / ESP / Yamaha Spain / 34'29.628 / 43.41
Fastest Lap 2° Sébastien Charpentier 1'34.976 168,485 Km/h
Lap record: 2003 K.Fujiwara 1'36.642 165,580 Km/h
Best Lap: 2007 F.Foret 1'35.166 168,150 Km/h
Riders Championship Standings:
1 SOFUOGLU 45, 2 FORET 38, 3 FUJIWARA 27, 4 CURTAIN 25, 5 RIBA 21, 6 HARMS 19,
7 PARKES 16, 8 VENEMAN 15, 9 CHARPENTIER 13, 10 ALFONSI 10, 11 ROCCOLI 9,
12 NANNELLI 8, 13 TIBERIO 6, 14 KALLIO 6, 15 JONES 6.
TESTING THEN AN OLD FAVOURITE AWAITS ON EUROPEAN RETURN
After the long trek back to Europe is completed, the SBK paddock reforms in Spain, but not quite in readiness for the Valencia race. On 17, 18 and 19 March, there will be an official FGSport test at Valencia, but this year the first European race will be held at Donington Park, with race day itself taking place on 1 April. This will be the first Donington SBK race since 2001, and the first of three SBK rounds in the UK in 2007.
---
Rockin Robin does the MV F4 1000 Screensavers
---
the best damn thing
Its been a long 3 year wait, but sexy hot punk pop rock skater princess Avril Lavigne finally has a new CD album hitting the stores next month. Its called the best damn thing and we're sure it is, based on the early radio release first single called "Girlfriend" from the album.

For our special FastDates.com Fans you can order the best damn thing right now at a super special price of just $12.99 which is a $5.99 discount (32%) off the list price.

Just click on the CD cover at left and it will be the best damn thing you've done all day! Damn Straight.
---
Yamaha Motor Co. Ltd. and FIAT Automobiles S.p.A.
annouce two-year title sponsorship and unveil new team livery in Milan
Milan, Italy, March 5th - During a presentation in Italy today, Yamaha Motor Co. Ltd announced that it has reached a two-year agreement with Fiat Automobiles S.p.A. to become title sponsor of the Yamaha Factory Racing Team in the MotoGP World Championship. The Team's Official Launch took place in Milan this afternoon and the Team will be known from now on as the "Fiat Yamaha Team".
Yamaha's two Factory riders, Italian Valentino Rossi and American Colin Edwards were present at the event today as well as Yamaha Motor Company's Masao Furusawa, General Manager for Engineering Operations, Lin Jarvis, Managing Director of Yamaha Motor Racing and Davide Brivio, the Fiat Yamaha Team Director. The Yamaha line-up were joined on stage by Luca de Meo, CEO of Fiat Automobiles S.p.A.
"We're very excited about our new two-year partnership with Fiat," said Lin Jarvis, Managing Director of Yamaha Motor Racing. "Fiat, like Yamaha, is a truly global brand and we feel that there is a great match between our two companies. It's good for our sport to welcome a new sponsor of Fiat's calibre and we feel sure that they will enjoy their involvement with our team. We look forward to working with them over the coming two seasons and hopefully sharing many victories together."
Fiat Yamaha Team Director Davide Brivio added "It's nice to be able to finally unveil our new livery and our new sponsorship with Fiat. It's a new start for us – a new bike, a new sponsor and a new challenge as we try to win back the title! It's been a long pre-season for us but we're finally ready for the first race this week; let's hope we can mark our first outing in Fiat Yamaha Team colours in victorious style!"
The Fiat Yamaha Team will contest the opening round of the 18-race 2007 MotoGP championship this Saturday, 10th March in Qatar.
---
There's more! Go to Pit Lane News NEXT PAGE

Hot Calendar Girl and Bike News! Go to: Fast Dates • Calendar Girls • Iron & Lace





BikerKiss.com - the largest biker personals site!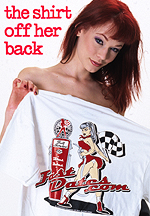 ---


Ducati Riding & Racing Experience Set to WOW
This year the Ducati Riding Experience returns in grand style. The most coveted bike on the road, the new Ducati Superbike 1098, is being added to the DRE team. Ducati's latest product will be available to DRE participants, with the 1098 version for trainees of the Racing Course and the 1098S for participants in the Master racing course.
But that's not all: this year Ducati Riding Experience will branch out from the prestigious Italian circuits of past editions and add to two European racetracks, Magny Cours in France and Pannoniaring in Hungary.
The 2007 DRE will also be held at the recently renovated Enzo and Dino Ferrari racetrack in Imola, providing students of the Ducati Riding Experience with an updated setting to perform their skills.
FastDates.com attended the DRE Racing School at Misano in Italy during World Ducati 2004 and had an incredible time. Read all about it HERE.
Program registration starts in March. For scheduling and further information, please visit ducati.com
.
Ducati North America Announces Exciting Events for 2007 Daytona Bike Week.
Feb 27th = This year Ducati is making the Daytona experience better than ever, with a four day celebration of the company's culture and roadracing heritage. From Wednesday, March 7 through Saturday, March 10, Ducati will transform the area located directly beneath Daytona International Speedway's Nextel Tower Grandstand into "Ducati Village" - featuring Desmo-only parking, hospitality, live TV feeds, the 2007 Ducati model range and a place to meet fellow Ducatisti.
On Friday, March 9, the Village will host non-stop entertainment as Ducati.net presents the annual DucatiDayDaytona party (DDD). DDD 2007 will feature favorites such as the Concorso DucatiDayDaytona; the longest running Ducati-only motorcycle concours in North America, a contest for the best sounding Ducati and two rounds of the exciting Fashion Show.
This year's event also marks the 30th Anniversary of Cook Neilson and Phil Schilling's historic 1977 Daytona Superbike win on a Ducati. To commemorate this occasion, Cook Neilson and Phil Schilling will once again return to the Speedway. On Friday they will attend DDD to meet fans and celebrate their legendary success at Daytona.
Another special guest of the festivities is Gianandrea Fabbro, the Senior Designer of the new 1098 Superbike. Gianandrea is making a special trip from Italy to attend DDD on Friday afternoon where fans can learn first hand about the development of the 1098 during a special presentation. Gianandrea will be available at the event for the duration of the day to answer questions, sign autographs and enjoy all that bike week has to offer.
Full details of the week's events, including a complete schedule, can be found at www.ducatidaydaytona.com and www.ducatiusa.com

Click to Listen & Buy It Now
What's Hot!
Kari Kimmel
Incredible new singer/song writer
featured on top TV and Movie sound tracks will be performing music from her awesome new CD live at our upcoming LA Calendar Motorcycle Show July 14-15th!
---
British Superbike Teams Winter Testing in Spain
Feb 28th - Rizla Suzuki's Chris Walker and Cal Crutchlow both slashed more than a second from their lap times during the final day of testing at Almeria in Southern Spain, as they mixed it with the other main British Superbike contenders.
Changes to the rear link and Ohlins shock allowed Stalker and Cal to make big improvements on the final of three days at the 4.3km-long twisty and fast circuit. As the previous days, the weather was warm and sunny, ideal for testing.
Based on unofficial lap times from all the teams, Stalker ended third fastest overall on a 1min 35.7s, just half a second down on the quickest rider, Honda's Jonathan Rea. Cal finished a few 10ths slower than his team mate on 1min 36.3s to claim seventh.
Rizla Suzuki now travels to the nearby Guadix circuit for another two day test on Friday and Saturday.
Stalker: "We are genuinely the only team at this test with two new riders who are not only learning new bikes, but coming to grips with new generation Dunlop slicks for the first time as well. Bearing that in mind I think it has been a fruitful test and I am very happy with progress and the performance of my technicians.
"I was able to bite the screen and set a fast time that was encouraging - it has also given us a direction to follow at Guadix for further improvement. We will work on being consistently fast rather than just one-lap wonders, as that's what's needed to win races."
Cal: "We made loads of changes to the rear link on my bike and it paid off. At first the changes we made didn't work and then we tried completely opposite settings and found something that allowed me to go faster. It was a bit of trial and error but it succeeded and we now have a good stepping stone to continue improvement at the next test.
"I am the only rider at the test never to have visited Almeria before and to be able to string together a lot of consistent low 1min 36s laps I think is respectable. I am happy with how competitive we are and I'm looking forward to more testing."
Simon Buckmaster, Team Manager: "It has been a very good test for us and pleasingly we are in the ballpark with the main BSB title contenders. We have completed many different chassis, suspension and tyre tests, while our engine performance and management has been almost flawless.
"There's a lot of work still to be done but we are getting through our test plan gradually and making significant progress every time we take to the track. What is very encouraging is that we set our lap times on soft race tyres rather than qualifying rubber; that hints there is more speed to come if needed but we didn't lose focus of the fact this is a test, not a qualification session.
"Chris and Cal both impressed with their speed and feedback to their crews. They know they are close to the competition and there is still a lot of unlocked potential to be released from their bikes, so they are happy. Morale within the team is high and everyone has gelled together as a unit; there is real motivation and desire to succeed driving us all forward."
Unofficial Test Lap Times:
1: Jonathan Rea (Honda) 1:35.
2, 2: Leon Haslam (Ducati) 1.35.4, 3: Chris Walker (Suzuki) 1:35.7,
4: Gregorio Lavilla (Ducati) 1:35.8, 5: Ryuichi Kiyonari (Honda) 1:35.9, 6: Shane Byrne (Honda) 1:35.9,
7: Cal Cruthlow ( Suzuki)1:36.3,
8: Tom Sykes (Honda) 1:36.5,
9: Leon Camier (Honda) 1:36.8.

NEW! FastDates.com
Cell Phone Wallpapers!
Yamaha Factory MotoGP Team To Run In Special Blue Livery In Jerez
Yamaha's Factory MotoGP Team will take part in the Official MotoGP Test in Jerez this weekend sporting a special blue Yamaha livery.
The livery reflects the familiar blue colours used in other Yamaha racing disciplines and also makes a direct connection with the blue colours and the famous Yamaha speedblock stripe used on the high-performance Yamaha R1 and R6 machines throughout the world.
The one-off livery will be used by Valentino Rossi and Colin Edwards over the three days of the test, including during the traditional televised timed 'qualifying' session on Sunday.
Pirelli's $10 Million Action Car Chase Web Film with Uma Thurman
What do you do when you are the world's largest tire company with Billion dollars to spend on advertising? Sponsor the SBK World Superbike Championship. Produce the world''s most expensive nude Pirelli PinUp Calendar featuring famous Hollywood starlets and then don't let anyone buy it. How about make an action bhort website movie for $10 million dollars staring Kill Bill actress Uma Thurmond?
www.pirellifilm.com
Lame Ducks
Reprinted Courtesy
RoadRacer X magazine

By Mark Gardiner
January 18, 2007 - Last week's World Superbike test at Phillip Island ended with a Ducati 999 Superbike (in the hands of Troy Bayliss) a full second faster than the best of the four-cylinder machines. All in all, the 999 flies pretty well, for a lame Duc. Still, that's what it is. The 999 is officially obsolete—replaced by the 1098.

Not that long ago, the World Superbike Championship was derided as a Ducati spec series; half the grid was 998s. This year, the permanent entry list counts only two factory 999s and three privateers. Next year, Ducati won't race or officially support the 999 at all. That means that unless the FIM and FGSport get together and allow twin-cylinder bikes larger than 1000ccs to compete, the 2008 World Superbike grid will not have any Ducatis. The series will, to say the least, be poorer for it.
Continued Here
Toseland Wins Again and Takes Early Points lead
POINTS AND QUALIFYING
James Toseland (Hannspree Ten Kate Honda CBR1000RR) scored a second and first place at Phillip Island to put clear water between himself and the opposition in the championship table, after two dramatic and exciting 22-lap Superbike races. Toseland, who had qualified second on the grid, now leads Max Biaggi by 16 points, 90 to 74, with race one winner in Australia, Troy Bayliss, third on 64 points.
Toseland looked like a potential winner in race one until a late spurt of pace from 2006 champion Bayliss made his break with five laps to go, leaving Toseland a determined second, by a margin of two seconds. He had led for 17 of the 22 laps. Third was Biaggi. Steve Martin (DFX Corse Honda CBR1000RR) was next best Honda finisher, in tenth. Roberto Rolfo (Hannspree Ten Kate Honda CBR1000RR) held off Joshua Brookes, (Alto Evolution Honda CBR1000RR) for 11th place.
In race two Toseland and four other riders disputed the lead for the most part, but in the final stages only Toseland and Bayliss were in it, with Toseland's late injection of speed and aggression pushing him to a margin of victory of 0.274 seconds. It was his second win in four 2007 season races, and his now only ten points from perfection, finishing second in the other two races. Next best Honda rider in race two was first race retiree Michel Fabrizio (DFX Corse Honda CBR1000RR) who was classified eighth after a photo finish, with Rolfo tenth and Brookes 12th. Martin retired early from race two.
Toseland scored an incredible race two win and was delighted to have been competitive in every single race of the year so far.
"In race two, I tried to preserve the tyre and I managed to keep Bayliss behind me," said Toseland. "I knew it would be hard but I just kept going and I got the win. It's an honour to be riding with such great competition and to hear Bayliss complimenting me is very flattering. It's a great feeling to be going to Donington as the Championship leader. I feel like I am getting better and better and I can't wait to race at home. I controlled race one for the most part and I was waiting for the gap to go up as Troy developed traction problems, but it didn't happen. I just kept getting plus zero on my board. I pushed 100 to try and get away but we it was frustrating for me."
Rolfo's rode solidly once more, but wants more as the season progresses.
"The feeling today has been quite strange," said Roby. "I had a difficult first race. The biggest problem was that I was too far out on the second corner and it gave other riders the chance to overtake me. It was then difficult for me to get back up to the position I lost. I had a bit of problem with the front of the bike and it felt quite heavy to ride. We made some changes for race two and immediately the bike was much better. I maintained my position and overtook three riders. I had five good laps, but then I had a sliding problem in the rear and it was very difficult to control. I picked up a few points and I am joint tenth in the standings now, so I just hope for better luck in Donington in a few weeks time."
Martin, who had qualified 11th in Superpole, went tenth in race one, but was forced out of race two after one lap, with clutch problems.
"The first race went well for me until I had a contact with Nieto and lost some time," said Martin, "The set-up and pace was quite good and we know we will be able to do even better when we get to the European races."
Fabrizio did not get the chance to finish race one either, and was in a close battle for a good top ten result in race two, finishing eighth.
"Both tyres lost grip in the first race and I decided I had to come in," said Fabrizio. "In race two, we went back to Friday's settings and the bike was good, competitive in the top ten and the racing was good."
Brookes had two results of the same value in points terms, but he was disappointed with his race two.
"Race one was OK and I am reasonably happy because we got two solid results, no crashes, and we go back to Europe now full of ideas on how to improve the bike," said Josh. "It wasn't a good idea to listen to the influence of other people and we should have stuck with our own thoughts about tyre choice. We went with a harder tyre and it didn't pay off. We will get there, I know we will."
Karl Muggeridge crashed out of practice on Saturday, falling on oil from another rider's machine, and injuring his left ankle, ruling him out of his home race. He has dislocated a tendon and suffered a mild concussion.
"It was a shame to miss my home race," said Muggeridge. "My ankle tendon was dislocated for a time and I was knocked out but I feel not bad now and the swelling on my tendon is already down. They say four or five days and I should be OK.
Biaggi Holds 2nd in Championship - Suzuki teammatre Kagayama Out With Injury
March 4 - Team Alstare Suzuki Corona Extra Max Biaggi and his GSX-R1000K7 raced to third place in the first World Superbike race at Phillip Island today and was on course for another podium in the second before losing out on the very last lap.
Biaggi leaves the Australian circuit in second place in the Championship, 16 points behind leader James Toseland (Honda).
Biaggi's team mate Yukio Kagayama was a non-starter today due to a heavy fall yesterday, but the Japanese rider should be fit for the Valencia tests on March 18th and 19th.
Kagayama missed the Phillip Island race due to doctor's orders. Saturday , Yukio crashed in timed qualifying and was taken to The Alfred Hospital in Melbourne with suspected fractures of his left collarbone and three or four ribs and possible damage to his spleen. But, after further checks at The Alfred, it was found that Yukio had not broken any bones, though there was some damage to one of his lungs. As a precaution the medics there declared Yukio unfit to take part in the races - a decision that was endorsed by the race jury, the FIM and race direction.
Troy Bayliss (Ducati) and Toseland battled it out for victory in the first race, with Bayliss taking the win in front of his home fans by just over two seconds. Biaggi took third after a tremendous charge up the field in the closing laps after disposing of both Troy Corser and his Yamaha team mate Noriyuki Haga.
The second race saw yet another Toseland v Bayliss fight, but this time it was Toseland who took the honours by a narrow margin. Biaggi had fought both Corser and Yamaha again in the closing laps and was about to take third, until Haga muscled past on the last lap and held on by less then a tenth of a second.
Max Biaggi - Race 1: 3rd, Race 2: 4th: I enjoyed the racing again today, especially getting a podium in the first race. From Friday until today, I never really got a good feeling with the front end of the bike and that probably prevented me from getting two podiums here. Tyre wear is always a problem at Phillip Island and I think I was more aggressive in race two and tyre went off more - certainly more then in race one. Our bike was pretty close today and now we will work more on set-up details and getting it working better for the next race at Donington. I am not unhappy today, though it would've been good to take that second podium.