Playboy Playmate and FastDates.com Calendar Kitten Tamara Witmer warms things up at our Bike Show's Queen Mary venue with the Roland Sands KR 5-Cylinder MotoGP Board Track Racer. Tammar will be hosting this year's Show and will be featured in all 3 of our Calendars! Yeow!
New Sponsors and Activities highlight our next
LA Calendar Motorcycle Show Weekend July 14-15th 2007
Star Motorcycle Metric Midway with Demo Rides,
S&S Cycle World Record Horsepower Dyno Shootout
Iron Works Magazine Bike Building Championship
Long Beach, CA, January 25, 2007 - The Performance Machine sponsored Los Angeles Calendar Motorcycle Show Weekend welcomes three major new Associates Sponsors, Yamaha's Star Motorcycles, S&S Cycle and Iron Works magazine, to America's premier custom and performance streetbike event scheduled for July 14-15th 2007 at the Queen Mary Event Park in Long Beach, CA.
"I am really excited to have these three great names in the motorcycle industry joining us beginning this year," said Jim Gianatsis of Gianatsis Design Associates, producer of the LA Calendar Motorcycle Show Weekend. "No other motorcycle show in the America offers both its manufacturers and visitors so much excitement, entertainment and media coverage. This will be our 16th year for the Show and it only continues to get bigger and better thanks to great partners like these."
Yamaha's street cruiser Star Motorcycle line will be join the Calendar Show beginning this year as title sponsor of the Star Motorcycles Metric Midway which featuring activities, exhibitors and the Calendar Bike Building Championship Contest classes for all makes of metric Twin cruisers, sportbikes, along with a new Star Motorcycle Contest Class with awards. Star Motorcycles will have a huge big rig display area featuring their newest bikes and exotic Star based customs from some of the Show's top name builders.
Show attendees will be able to take FREE Star and Yamaha Motorcycle demo rides throughout the weekend along Queens Highway parkway around Long Beach Harbor on the beautiful Pacific Ocean. Sign up and show your valid motorcycle operator's license to ride a new Royal Star Tour Deluxe, Royal Star Venture, Roadliner, Road Star, V Star, or Road Star Warrior models, and Yamaha FJR1300, V Max, FZ1, and FZ6 sportbikes. Star Motorcycle Club Members will receive special Show admission pricing and preferred Star parking in the Queen Mary's main parking lot.
S&S Cycle is the world's leading manufacturer of high performance American V-twin engines and performance parts used by many of the top custom bike manufacturers and builders in attendance every year at the Los Angeles Calendar Motorcycle Show. Direct sponsorship by S&S Cycle of the Calendar Motorcycle Show's exclusive World Championship Horsepower Dyno Shootout makes a perfect partnership to showcase the S&S Cycle performance image. Along with running the S&S Cycle World Championship Horsepower Dyno Shootout exclusively with a Super Flow Dyno, S&S Cycle president Brett Smith is expected to be on hand with his and his staff and a product display to answer attendee's engine, performance questions.
IronWorks magazine returns this year, after a brief one year hiatus, as the Calendar Motorcycle Show's exclusive American Twin magazine associate sponsor. Well respected editor, Dain Gingerelli will assist with judging and awards presentations on Sunday for the Calendar Bike Building Championship and the IronWorks sponsored Pro Builder, Sportster, Bobber Classes, and other classes to be announced. Show attendees can stop by the IronWorks magazine display throughout the weekend, meet Dain and the rest of the magazine staff, and sign up for a specially priced Iron Works subscription discounted for show attendees and enter to win the IronWorks/Lickscycles Bobber Motorcycle Giveaway.
Additional LA Calendar Motorcycle Show information HERE.
---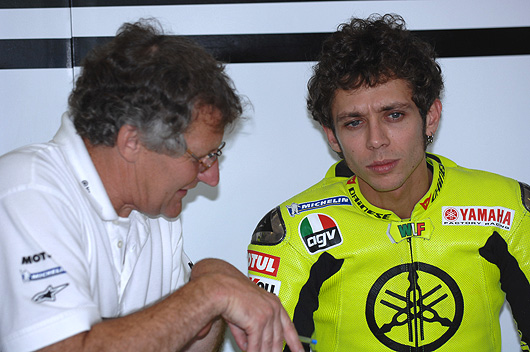 Valentino confers with crew chief Jermey Burgess
2007 MotoGP World Championship 3-Day Tests

Rossi on Top in Final Day of MotoGP testing at Sepang
MotoGP Testing Day 3/3 - Sepang, Jan Wed 24th - Valentino Rossi concluded the first 3-day test of 2007 by clocking the fastest lap of the MotoGP teams' visit to Sepang in Malaysia. The five-time MotoGP World Champion clocked a blistering 2'00.936 lap on the 800cc Yamaha M1, in an ominous sign for the rest of the grid.
Valentino Rossi, Position: 1st Time: 2'00.936
"Today was another good day for us. We concentrated a lot on braking and definitely made some improvements, although I think we can still make it even better and this is something we will work on when we come back here. We had an important technical meeting today and came to some interesting conclusions, which will help Yamaha's engineers to continue to improve our new bike. We've got through our entire programme for this test, including testing many new tyres for Michelin. Today I also had the chance to try a qualifying tyre and I was able to go below 2.01; I think that Michelin have done a very good job over the winter. We tried the 16" tyre again and I am still sure that it's good for us, although we still need more time to work on it with Michelin. Overall it's been a very positive test for us. Most of the other teams will go to Phillip Island now, but we will return here in ten days with more new things to test. We still need to work on the engine, although for this early stage it's very good. So far we have concentrated on power delivery, rather than on the power itself, but this only the first test of the year so there is plenty more time!"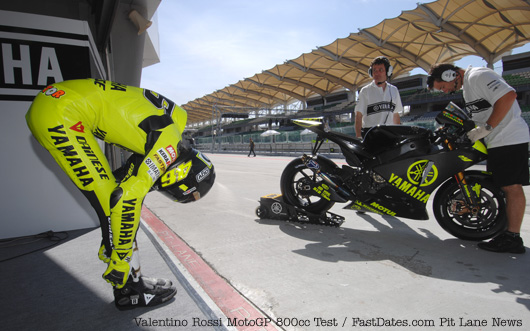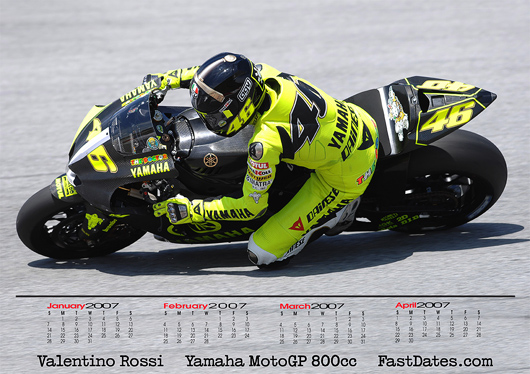 Click for a exclusive FastDates.com Calendar Screensaver of Rossi on the new M1 Yamaha

The Doctor was closely followed by Suzuki's Anglo-American rider John Hopkins, quickest over the first two days and who this morning put in a race simulation on the GSV-R800 to conclude his scheduled program. Most riders opted to test the durability of their bikes and tyres over the kind of distance they will face over the coming season, with the added benefit of gaining yet more experience on their new 800cc prototypes.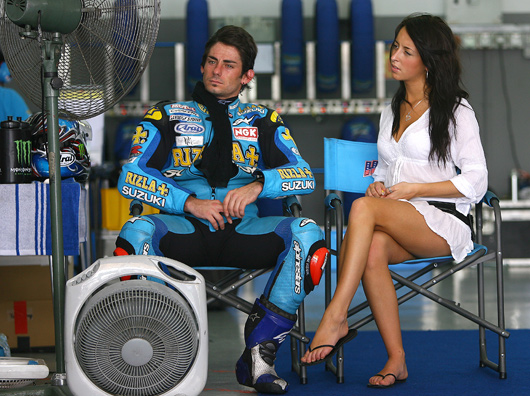 Having a hot pit tootsie next to him may be somewhat detremental to John Hopkins really cooling down in the pits, but it sure help his speed on the track (below) as he scrapes his pucks to 2nd quickest for the week.
Loris Capirossi, the Ducati rider involved in an epic battle with Rossi in the Malaysian race last year, improved on his times from yesterday by over 1.5 seconds. The Desmosedici GP7 is being put through its paces not only at Sepang (courtesy of the factory team and the d'Antin satellite outfit) but also at Jerez in Spain by official test rider Vittoriano Guareschi.
Honda were out of the top six yesterday, but their riders picked up speed today as RC212V development continues. Dani Pedrosa was the fastest rider for the Japanese factory, putting four different factories in the top four spots on the timesheets.
Australian star Chris Vermeulen, like team-mate Hopkins, has taken advantage of Suzuki's breakthroughs with their new machine, and was fifth quickest ahead of Kawasaki's Randy de Puniet, another rider impressing in Malaysia.
2006 World Champion Nicky Hayden, along with Colin Edwards, Casey Stoner and Marco Melandri rounded off the top ten, ahead of Carlos Checa. The 34 year old Spaniard had taken part in an unusual bike exchange with Kenny Roberts Jr. today to gather data from and share opinions on the Honda engine used by both riders.
Weather at the Asian circuit was typically hot, with temperatures hitting well over 30 degrees celsius and humidity at 50%. If nothing else, such conditions will help those riders dropping weight for the smaller 800cc bikes to shed a few extra pounds before January 30th, when several MotoGP teams head to Australia for the Phillip Island Test.
Click for Close Up of Rossi New M1 Yamaha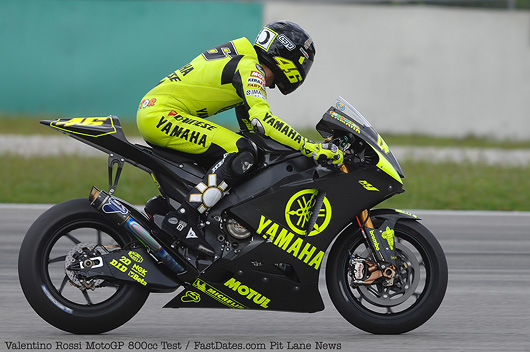 Sepang Test MotoGP: Day Three
1. Valentino Rossi - Yamaha Racing 2'00.936
2. John Hopkins - Rizla Suzuki 2'01.026
3. Loris Capirossi - Ducati MotoGP 2'01.274
4. Dani Pedrosa - Repsol Honda 2'01.664
5. Chris Vermeulen - Rizla Suzuki 2'01.691
6. Randy De Puniet - Kawasaki Racing 2'01.878
7. Nicky Hayden - Repsol Honda 2'01.884
8. Colin Edwards - Yamaha Racing 2'02.266
9. Casey Stoner - Ducati MotoGP 2'02.407

10. Marco Melandri - Honda Gresini 2'02.489
11. Carlos Checa - Honda LCR 2'02.583
12. Alex Barros - Pramac d'Antin 2'02.630
13. Toni Elias - Honda Gresini 2'02.927
14. Alex Hofmann - Pramac d'Antin 2'03.040
15. Shinya Nakano - Konica Minolta Honda 2'03.077
16. Makoto Tamada - Yamaha Tech 3 2'03.308
17. Kenny Roberts JR - Team Roberts 2'03.330
18. Olivier Jacque - Kawasaki Racing 2'03.592
19. Shinichi Ito - Bridgestone MotoGP 2'03.973
---

Welcome back Eraldo! Former AMA Superbike Championship winning team owner Eraldo Ferracci (middle, blue shirt) returns to AMA Superbike this after a 10 year hiatus. Ducati is gone from the scene, but now we have a new underdog to cheer on against the Japanese hordes.

First Test for Ferracci MV Agusta AMA Superbike Team with Lynn and Jennings
Dec 12th - The return of MV Agusta to racing in America is a reality. Using the F41000R in Superstock trim, Eraldo Ferracci brought the rudiments of his team and a pair of young riders to the Jennings GP track for a private two-day test. Scassa is well acquainted with the MV Agusta motorcycle and brought his suspension settings with him to an unfamiliar track. Lynn has raced at Jennings GP but started from scratch on a bike he had never seen or ridden. Both worked through the challenges diligently to arrive at a point where they could begin fine-tuning and offering feedback to keep the MV Agusta technicians heading in the direction of fielding a competitive machine for the US Superbike series.
By afternoon on the first day, both riders were already tantalizingly close to the track record of 1:15:444 of Canadian champion Pascal Picotte set earlier this spring at a joint test of all the Canadian Superbike teams.
Just before lunch on day two, Scassa went 1:15.448 and Lynn 1:15.545 hand-timed. Under sunny skies and with track temperatures climbing nicely, Scassa smashed the record in the mid-afternoon with a 1:14:81 and backed it up a lap later with a 1:14:85 on spec Pirelli tires identical to those used in the Canadian Superbike Championship. Lynn's best of 1:15.2 was also under the old track record and two seconds faster than he had ever been at Jennings GP.
Scassa said, "It's cool being in America, but for sure I came here to do a job and we did some good work. We have much more to do to make the MV Agusta into a superbike but the bike is good and work is OK for me. I'm excited to do this." "I'm really excited," Lynn added. "We came here with a blank sheet of paper and went to work. It was a lot different from what I have been riding, but once we got the MV basically set up it was really fun. Eraldo knows what he's doing and what he wants. We just kept at it and that's what we need to do. I can't wait to ride it some more. It's fast!"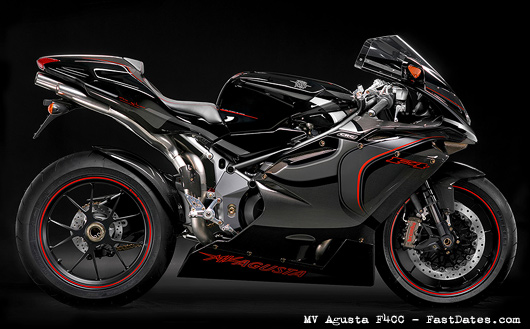 F4CC Screensaver Right Side • F4CC Screensaver Left Side

The New MV Agusta F4CC - A 200hp Italian Dream for a mere $130,000
"I decided to put my name to this bike as I originally dreamed of it for myself". This is how Claudio Castiglioni, the Managing Director referred to the new F4 that now carries his initials "CC". The boss of MV did what any of us might well have done and gave in to his inner instincts, gave in to the temptation to create a motorbike, not just to meet strategic market needs, but to create something really special, something truly magnificent - just for the sake of it. To create the F4CC project, he obviously utilised everything at his disposal; exclusive materials and the latest technology to attain the utmost in performance.

The figures for the new MV speak for themselves: 315 kph (195 mph) top speed (auto-limited by tyre specification). Unique in its genre, sculptured by his friend Massimo Tamburini, made with luxurious design and high components hidden in the MV closet, right in that corner where the embryo start to develop: the MV AGUSTA racing department. This model however will never see a race track in earnest due to the size of its 1078cc engine. What is important is the uniqueness of the F4CC project and the name that it carries. It doesn't matter if the ignition keys are never turned in the lock, if the bike rests on a stand in someone's home or if it only does the occasional mile or two to "give it a run". What does matter for a true enthusiast is to possess just one of the 100 models made and treat it as if it were a priceless painting worth millions. This was part of Claudio Castiglioni's dream. This is why the F4CC will be presented in "an evening dress" A specially boxed certificate of origin will make the delivery of each machine something very special - more a ceremony. Each machine will have a platinum plate at the top of the steering column bearing the model number from 1 – 100. The F4CC titanium exhausts and engine management unit together have the task of taming the power of the 1078 cc engine yet making it "sing" even sweeter when unleashing all of its 200 CV. The F4CC doesn't just want to entice with its looks - it wants to out-perform everything else. It wants to leave everyone stunned – for once and for all.

THE EQUIPMENT DIFFERENCES WITH THE F4R
The F4 CC is at the absolute top of the F4 hierarchy. The main differences between it and the more "commercial" F4R can be summed up as follows:
- over 90% of the components are individually tailor made;
- brake and clutch levers that "fold" at the tip in the event of a fall;
- 1078 cc engine;
- 200 Horse Power power with titanium racing exhaust system;
- new timing system;
- smaller alternator;
- one-off mechanical type slipper clutch;
- new forks interior set-up and mono shock absorber
- Brembo Racing monoblock brakes;
- kerb weight 187 kilos without fuel

THE BIGGEST NEWS LIES IN THE ENGINE
All 1000 cc engines like that in the F4R have been tuned more and more not just to provide better performance, but also to better use the dynamics of four cylinders working in unison. This is why we increased the bore from 76 mm to 79 and left the stroke unchanged at 55 mm. Cubic capacity thus became 1078 cc – the maximum obtainable from this engine. This is where the MV Agusta racing department managed by Andea Goggi began to work. Their aim was to improve internal fluid dynamics by polishing ducts and working their magic on "chamfering the innards" to gain a few CV.
The new combustion chamber geometry was part of an overall reworking of the heads where computer controlled equipment guaranteed work of the very highest order. The pistons were made lighter than those in the 1000 and con-rod geometry was changed. The real difference however lies in the timing system that was made from different sized exotic materials for each and every element. The intake and exhaust valves are still radial (unique MV AGUSTA figure), but are now titanium and the intake valves are now bigger measuring 31 instead of 29 mm. With the wider bore, changes were also needed to the camshaft profile. On the other hand, the valve bowls (still steel) were decreased in size to lose a few grammes weight. They were decreased from 28 to 26 mm but still have double springs. These bowls, along with the keepers, valve guides and valve seats are all made by Del West, the American market leader in this sector, and despite the exorbitant price of these components, they were perfect for a machine as exclusive as the F4CC.
The weight saved by these higher working speed components led to improved engine "usability" not to mention the fact that they shaved 4 kilos off the weight of the F4CC engine as against the F4R. Other components that contributed to weight savings were the magnesium timing, gearbox, clutch, blow-by and alternator covers.
The alternator cover in particular made a significant difference to the scales given that it alone made a difference of about 2 kilos in comparison to the one fitted to the F4R.

Size, obviously makes a difference so the new smaller version meant modifications had to be made to the upper block due to the shape of the new alternator and new hose connections. The fuel feed system included bigger throttle bodies that went to 48 mm as against the 46 mm ones fitted to the F4R. Like the F4 1000 Tamburini, the key to the F4CC engine performance lies with the revolutionary, patented Torque Shift System (TSS). The end result is again an engine withoutparallel. Like its 2007 "R" sister, the F4CC fully complies with Euro 3 standards with the following components: lambda probe, catalyser and one-piece exhaust system. The Engine Brake System (EBS) must also be mentioned. This acts as a torque limiter under deceleration. This system was first launched with the F4 1000 series. The F4CC also features a mechanical type slipper clutch with ramps and roller bearings. It is a one-off item of equipment.

THE FRAME NUMEROUS TAILOR MADE COMPONENTS
Not one item is made using traditional industrial methods and this has an obvious effect on the price of the F4CC. All the frame peripheral components were tailor made. This includes the fork feet, the footpegs (shim adjustable and "filed down" to reduce weight), the upper steering column plate and levers. Every item has been carefully designed then hand built using techniques that the racing department has applied over the years. The F4 frame is made from chrome molybdenum that, while being very light, offers the rigidity that any Superbike putting out more than 200 CV must have. This frame is used widely in the F4 range and remains unchanged on the F4CC. The swing arm and frame plates are superlight magnesium and the choice of a mono arm demonstrates not only how solid this unit is, but the sight of one side of the rear wheel being completely "exposed" further underlines the fact that this is a 100,000 $uro / $130,000 US MV Agusta.

THE SUSPENSION NEW SUSPENSION SOLUTIONS
All the components at the front are Marzocchi like the enormous 50 mm forks. These items provide solidity and strength under braking and cornering. The forks are carbon nitride treated to decrease friction but this effect also adds to the bike's overall aggressive image. The one-off steering damper and racing mono shock absorber are both made by Sachs. The mono unit can be adjusted for rebound at high and low speeds. In effect, the F4CC is fitted with racing suspension.

BREMBO RACING BRAKES
The F4CC is fitted with 100% Brembo Racing brakes. This system is an exact copy of the one used on racing bikes that have two 310 X 6 mm discs up front with monoblock calipers housing 4 pistons and 2 pads. A single 220 mm disc looks after braking at the rear. The only difference between the "official" Brembo race brakes lies in the second dust cover fitted to road going F4CC version. This serves to reduce wear on the brakes that certainly will not be serviced as often as those on a pure racing version.
The forged aluminium Brembo Super Light "Y" spoked wheels come in a new colour and measure 3.50 x 17" and 6.00 x 17". They are fitted with Pirelli Dragon Supercorsa Pro tyres measuring 120/70 and 190/55.
---
Tamara and A.J. Shoot for Garage Girls 2008
Jan 2007 - While you were sitting on your ever growing butt over the Christmas holidays eating Mum's yummy stuffed turkey, and pukein' your drunken guts out New Year's Eve on the sidewalk outside some strip club, we stayed hard at work getting ready the next edition 2008 Fast Dates, Iron & Lace and Garage Girls Calendars so you'll have something to look forward to again, this time next year. Our calendar need to ship to the printer in March in order to have them ready for their world premier at our big LA Calednar Motorcycle Show in July.
Helping to brighten up our holidays was an indoor studio photo shoot with beautiful Playboy Playmate Tamara Witmer and all new Calendar Kitten Andra (just call me A.J.) Almasi. Needless to say, things heated up under the studio lights very quickly and it soon proved difficult to keep clothes on our adoreable little Kittens. Here is just one of hundreds of out takes from their upcomng 2008 Garage Girls Calendar to help wet your whistle.
Also joining Tamara and A.J. in Garage girls 2008 will be 2007's most popular Kittens, World Superbike girl Gemma Gleeson and Hooters Honey Cora Skinner.

And all you were thinking about over the holidays was stuffing your turkey? See all of our beautiful Calendar Kittens right now in Members Corner.
---
There's more! Go to Pit Lane News NEXT PAGE

Hot Calendar Girl and Bike News! Go to: Fast Dates • Calendar Girls • Iron & Lace





BikerKiss.com - the largest biker personals site!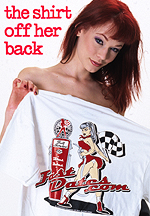 New 2007
Fast Dates Racebike,
Iron & Lace Custom
& Garage Girls Calendars
Click to Order Now!



NEW! FastDates.com
Cell Phone Wallpapers!
Must Have New Books...

MotoGP 2006
Season Review
---
MV AGUSTA WINS AUSTRALIAN SUPERBIKE CHAMPIONSHIP'S FIRST ROUND
Jan 22nd -Great debut for the MV Agusta Australian Team in the first round of the East Cost Road Race Series. The team's 22 years old rider Brendan Clarke dominated the race and won the three scheduled heats, after conquering the pole position.
Steve Trinder, MV Agusta team manager, was enthusiast: "This was an impressive debut for us! In many years if racing I never saw anything like this, our authority in the round was almost embarrassing, event thought there was a tough competition. The F4 1000R is perfect, the motorcycle's Ferrari."
Next round of the East Coast Race Series will be held on March 18th in Wakefield Park, Goulburn.
Winter Testing Session Team Press Releases from Sepang, Malaysia Wednesday Jan 24, 2007
Rizla Suzuki MotoGP right on the pace in Malaysia
Rizla Suzuki MotoGP racer John Hopkins completed 2007's first test at Sepang in Malaysia today with a simulated race distance, bettering his 990cc race time from 2006 by an incredible seven seconds.
The Anglo-American star conducted the long distance test during the hottest part of the day, with track surface temperatures rising to over 60°C. His overall time for the twenty flying laps was 41 minutes and one second, in comparison to his 2006 time of 41'08. The new Suzuki GSV-R800 performed with consistency over the race simulation and, allied to the latest generation of Bridgestone race tyres, the Rizla Suzuki MotoGP package is looking increasingly competitive for the forthcoming season.
Hopkins and team-mate Chris Vermeulen also tested some of the latest Bridgestone qualifying tyres for the first time on an 800cc Suzuki and were able to give very consistent data to the engineers. Hopkins recorded a quickest time of 2'01.026 with Vermeulen clocking a fastest time of 2'01.691 on their qualifiers to give them second and fifth place respectively on the timesheets.
Vermeulen also completed a race simulation and was very pleased with the results, even though he was hampered by the weather half way through as rain started to lightly fall. He completed 43 laps today and recorded his best ever lap around Sepang. Hopkins completed 38 laps and the data that he and Vermeulen collected will prove valuable to themselves, the team and Suzuki's hard-working engineers as they move forward onto the next test.
Rizla Suzuki MotoGP now travels to Phillip Island in Australia for the second test of 2007, starting on Tuesday 30th January. The first race of the MotoGP season is in Qatar on Saturday 10th March.
John Hopkins: "I'm really happy with the way the week has gone. We've got a new bike here so at first we needed to get it set-up, which we did on the first day to the way I liked it and from then it's only been simple little changes. We have tested a lot of tyres for Bridgestone and everything has been going really well. Today I tried some qualifiers as I'd never used them on the 800 before and it was good to see how they worked. Then I did a race distance and I'm really excited about how that went! We did it at the hottest part of the day and we managed to run a very competitive time. Everything at the moment feels good and overall I'm thoroughly happy with it. This is a big year for me and I've got a couple of new personal sponsors with Monster Energy drinks and Amp'd Mobile coming on board, so I really want to do well for them as well as for Suzuki, Rizla and all the people who have supported us!"
Chris Vermeulen: "It has been a good test on the whole. We got three good days of dry weather – which is unusual here in Malaysia – and we've got through lots of work. We tested front, rear and qualifying tyres from Bridgestone, as well as a lot of Suzuki test items. John and I both had the 2007 bike which was good to use and found some good things with it. I went quicker and quicker and I did my fastest ever lap around the circuit during this test. This afternoon we did a race distance which was quicker than I did in the race last year – even with some rain falling over on the back of the circuit. I felt really comfortable out there and I am now looking to getting to Phillip Island and carrying on from here!"
Paul Denning – Team Manager: "The test couldn't have gone any better, apart from maybe Mr Rossi going 0.09 slower on his qualifier so that John would have been fastest on all three days! The new 2007 GSV-R has further improved from the prototype that we used last year. Both riders got through a mountain of work and the reliability and consistency of the new bike has been superb. Obviously it's nice to be on the top of the timesheets, but it is more pleasing to see how competitive we were on the long runs during the final day. We have also provided the Bridgestone guys with lots of good data to assist them with their development programme.
MotoGP Performance
Riding Techniques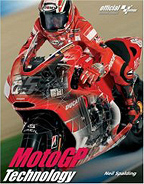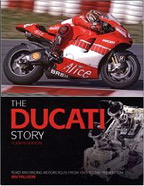 Ducati's Capirossi and Stoner on Pace in Testing at Sepang
The third and final day of testing in Malaysia came to a close today in stifling heat, with Loris Capirossi successfully completing set-up work on his Desmosedici GP7, both on an engine and suspension level and with the tyres. Loris in fact completed an eleven-lap race simulation at an excellent pace, similar to his record time set last year. The Italian ace recorded his quickest time on race tyres, 2m02.146s, on the final lap of his long run, a performance that gave great satisfaction to himself, the Ducati team and to Bridgestone. Like most of his colleagues, Loris then bolted on a qualifying tyre to set the third quickest time of the day.
Casey Stoner opted not to fit the softer tyres but despite still suffering slightly from arm cramp and taking more time than his Italian team-mate to find the right set-up, he recorded a good time on race tyres to positively conclude the three-day session at Sepang. The young Australian is now looking forward to the next tests at his home circuit where he expects to make further progress.
The Ducati Marlboro Team will continue pre-season testing next week in Australia at the Phillip Island circuit from January 30th to February 1st.
Loris Capirossi (61 laps - Qualifying tyre: 2m01.274s, Race tyre: 2m02.146s) "I am really pleased with the work we've done over the last three days. We have made a big improvement and are now competitive. The fact that I set my best time on race tyres at the end of a long-run of 11 laps means that both the bike and the tyres also go well on this circuit. For the first time we used qualifying tyres with the 800 and I am quite satisfied with my time. We can see that the GP7 needs different qualifying tyres than the 1000 because you are leaning over longer in the corners and this puts more stress on the soft tyre. Now the Bridgestone guys have got a lot of data to work with and I am sure they will do a good job. We are going to Australia in a confident mood and I can't wait to lap on one of my favourite tracks".
Casey Stoner (53 laps - Race tyre: 2m02.407s) "It was a tough day today. We struggled a bit to find the right set-up but got there in the end! We changed the settings a lot and half-way through the day I was a bit confused because we couldn't find the right solution, but the team was great and in the end we solved the problems and found the right direction. Thanks again to the guys from the Clinica Mobile: with their treatment I was able to lap without too much discomfort in my arms. I just felt a bit of pain during my last exit but without them I couldn't have got through the day! Now we're off back home and I can't wait to test the GP7 at Phillip Island!".
Livio Suppo (MotoGP Project Director) "We are very pleased with the way these tests went. Everyone did a great job and we are competitive. Special thanks go to Shell, with whom we are working very closely to perfect the fuels and lubricants and improve the efficiency of the engine, which is fundamental in reducing fuel consumption. Today we were able to maintain an excellent pace with the bike always in race trim. It's a great result for the start of the 800cc's development curve and it's all come about thanks to the work of our engineers and Shell's experience in racing. Bridgestone are also doing an excellent job and we can only be happy with this start to the season".
Sepang lap record : Loris Capirossi (Ducati) 2006, 2m02.127s
Sepang pole record : Valentino Rossi (Yamaha) 2006, 2m00.605s
Pedrosa tops Honda times on final day of successful Sepang MotoGP test
January 24, 2007. - The three-day MotoGP test at Sepang, Malaysia ended today with Repsol Honda factory rider Dani Pedrosa the fastest of the Honda RC212V riders at the test. In temperatures exceeding 30 degrees with high humidity the young Spaniard set a lap time almost 1.5 seconds faster than his best over the previous two days of the test. Pedrosa set his best time of 2m 01.884s on Michelin qualifying tyres following solid runs in the mid 2m 02s bracket.
Pedrosa's Repsol Honda team-mate, reigning MotoGP World Champion Nicky Hayden concentrated on overall machine performance testing many chassis, suspension and tyre combinations. At the end of the day American tried the new 16-inch Michelin race tyres as he strove to get the best out of his RCV. Hayden did not push himself to the limit during the test as he is still experiencing stiffness from the shoulder operation he underwent in early December.
The Gresini Honda team leave Sepang for then three-day test at Phillip Island, Australia in buoyant mood. Team riders Marco Melandri and Toni Elias met the objectives that the team had set for their first RC212V test of the year.
Italian Melandri worked diligently on tyre testing for new supplier Bridgestone and was particularly impressed with the performance of a range of front tyres he was given to test. Spaniard Elias continued chassis setting work while testing changes to the geometry of his RCV before moving on to tyre testing. At the end of the day both riders had lowered their previous best lap times by over a second.

Konica Minolta Honda rider Shinya Nakano had hoped to end the Sepang test with lap times inside 2m 03s but the popular Japanese struggled with a front-end problem again today and missed his target by less than a tenth of a second. The front wheel chatter was minimal in the cooler temperatures of the morning session but performance deteriorated as the temperatures rose after lunch. On the positive side Nakano was pleased the team completed their Sepang test programme and he is now much closer to understanding the characteristics of the Honda.

Carlos Checa made a big step forward on the final day and announced himself satisfied with the results of the three-day test where he set his best time on race tyres with fifth fastest tie on race rubber. Checa also took part in an unusual bike exchange with Kenny Roberts Jnr today. The 34 year old Spaniard rode the KR212V Honda powered Team Roberts framed machine while Roberts Jnr took to the track aboard Checa's LCR RC212V Honda. The two teams making the switch in a bid to gather data from and share opinions on the Honda engine used by both riders.

There was a very positive vibe in the Team Roberts camp today after Kenny Jnr swapped machines with Carlos Checa and was really pleased with the feedback from Checa's LCR, as well as getting pointers to where the KR212V could be improved - particularly on the exit of the super-fast Turn 3 where is was unstable and hard to ride. Following the swap Kenny Jnr was able to improve his time and felt that if they had put in the more high performance race Michelin tyres they could have dipped into the high 2m 02s.
The Honda teams now move on to the superb Phillip Island circuit in Victoria, Australia for the second MotoGP test of the year on January 30, 31 and February 1.
Honda rider quotes
and lap times.
Nicky Hayden, Repsol Honda: 2m 01.884s – 64 laps. "We definitely learnt a lot about the bike at this test and got some valuable information for my crew chief Pete Benson and the boys to work with. And myself, I felt like I rode the 800 better than I did here in November. It would have been nice to have been closer to the front and I know we didn't set the world on fire, but we've definitely got some positive stuff to take away. We found some Showa forks I liked and some good settings, plus we tried the new 16 inch Michelin front which felt good. On the straight I feel like I'm a little bit out in the wind and that's where I'm losing time - towards the end of the straight. I don't know if it's partly engine performance and partly aerodynamics. It's definitely good that we're going to Phillip Island because we can check the things we tested here at a completely different track next week. I would have liked to have done a long run here but I didn't really have the strength in my shoulder. The most I did was ten laps in a row because the doc didn't want me getting carried away here because shoulders sometimes take a while to heal. I'm looking forward to Phillip Island where there's not so much hard braking."
Dani Pedrosa, Repsol Honda: 2m 01.884s – 75 laps. "Today we were able to take some steps with the bike and the feeling is a little better – so that's positive. We also confirmed some of the areas where we have to improve which is also good to know. We've also tested some tyres for Michelin including the new 16-inch tyres - yesterday the front tyre and today the rear. It's still early and difficult to have a definite answer about these tyres, but the feeling was good so maybe it's the future. I was fastest at the last test in Jerez but this is a different track, the temperature is higher and there are many differences riding here so we will analyse the data and work how to improve further at Phillip Island. This is normal for testing."

Marco Melandri, Gresini Honda: 2m 02.489s – 69 laps: "I'm satisfied, we worked with method following an intense programme and I can say that we have met our target. Today I tested different kind of tyres and I'm satisfied. In particular I like a lot the front tyre but also the rear tyre is working quite well. It was important to work along side the Bridgestone technicians to understand the line to follow so that we can go on improving. I wanted to do a race simulation but unfortunately I had to stop after 12 laps because I was suffering too much on my right foot because of the heat. Now I need to work on the boot in order to solve this problem. I go to Phillip Island very confident. There is a lot of work to do but I'm happy for the situation at this stage of development".
Carlos Checa, LCR Honda: 2m 02.583. "Today was much better! I feel very satisfied about the set up work we developed over the last three days. I spent most of the day riding on race tyres and my best lap time was the 5th fastest overall. Then, in the last part of the session, I came out on qualifying tyres but I need more time to adapt. I also swapped my bike with Kenny Roberts Jnr to gather data and to share our opinions on the engine. This bike has a strong potential but we must continue our development during the next test sessions. As the RC212V is the smallest bike of this class I have to adapt also my body to improve the aerodynamics. Thus last winter I had a steady training loosing 3 kilogrammes and I will probably receive a new seat and a new faring much higher for next Australian tests."

Kenny Roberts, KR212V: 2m 03.330s. "For sure today we learned a tremendous amount today. I've got to thank Honda because they promised me at the last race at Valencia last year that they'd let me ride one of their bikes here - because it was gonna be our first test. We did it at about one o'clock today and so thanks to Carlos Checa and his guys. The problem was that in some of the fast stuff I'd been really fighting our bike and blistering my hands, but I'd just kinda thought it was either me or the line. But Carlos's bike was much more stable coming out of turn three and that kinda kicked stuff off for us to work in that direction. I was fighting it non-stop and my corner speed through there wasn't very good. So for the last hour we made some big improvements and for here darn-near fixed it completely. At first, we didn't really know how to fix it, we thought it was coming from the link and the shock. But to cut a long story short, it seems like we've made a big improvement. Laptime-wise, we weren't able to do much tyre testing for Michelin, but we did a low 2m 03 on race tyres but I'm sure I could have been somewhere in the 2m 02s if we'd worked at it. So we're at a good stage right now."